Blast Outdoor Dirt With Our Pressure Washer Buying Guide for 2019
It's fair to say that a pressure washer removes the burden of carrying out arduous exterior cleaning. It allows you to clean everything from garden furniture, vans, trucks, cars to bikes.
The benefit of a pressure washer lies within its adaptability to clean areas such as driveways, patios, decking and paving. Although it might appear that a power washer uses more water than a regular garden hose it actually doesn't! It uses a fraction of the water compared to a garden hose when carrying out a similar job, therefore, is kinder to the environment.
The choice of pressure washers currently on the market is vast, therefore, it can be daunting to figure out the best jet washer for your outdoor cleaning requirements. In this guide, I'll walk you through the available options to help you pinpoint the best choice.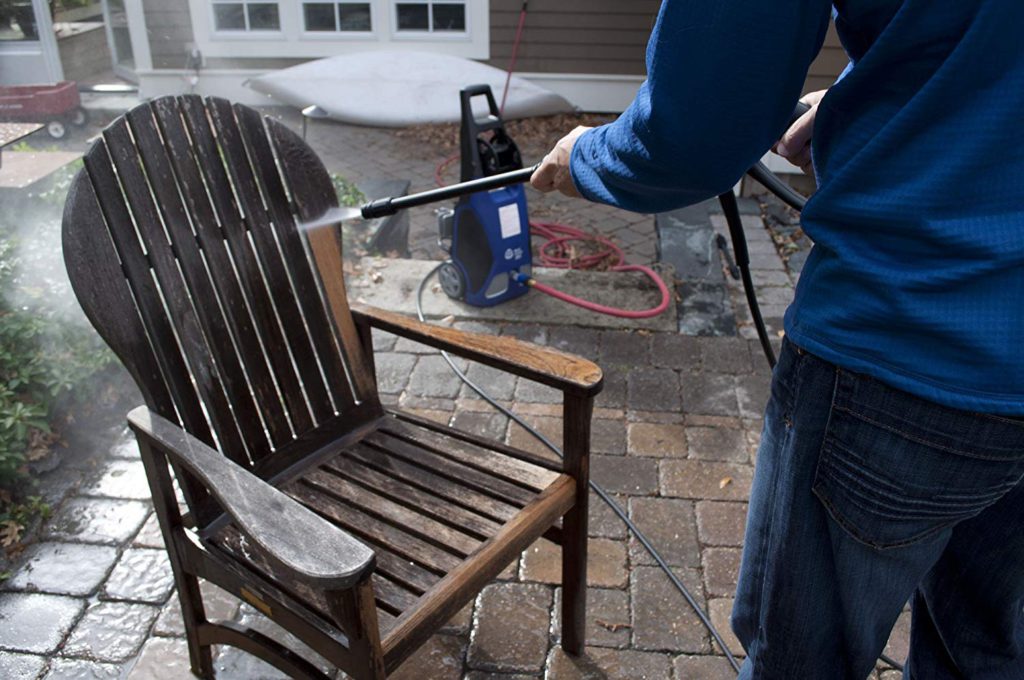 The first thing we need to draw our attention to is the power of the pressure washer. The power can be measured in 3 different ways-
The water flow rate is calculated in Litres Per Hour.
The pressure at which the water is expelled, calculated in Bars.
How powerful is the pressure washer? This is calculated in Watts (W) for electric or Horsepower (Hp) for petrol-powered washers.
If you've set your sights on buying a pressure washer or jet washer you've come to the right place. It will speed up the rate of cleaning difficult areas that would normally take considerably longer to clean manually.
Before rushing out to go buy a pressure washer you need to know a few important features that will save you a lot of hassle and frustration later on. Reading through this guide will arm you with the knowledge of the type of functionality to expect from a pressure washer and provide you with a good idea of how to use one. I'll demystify any of the questions you might have so that you can buy with confidence.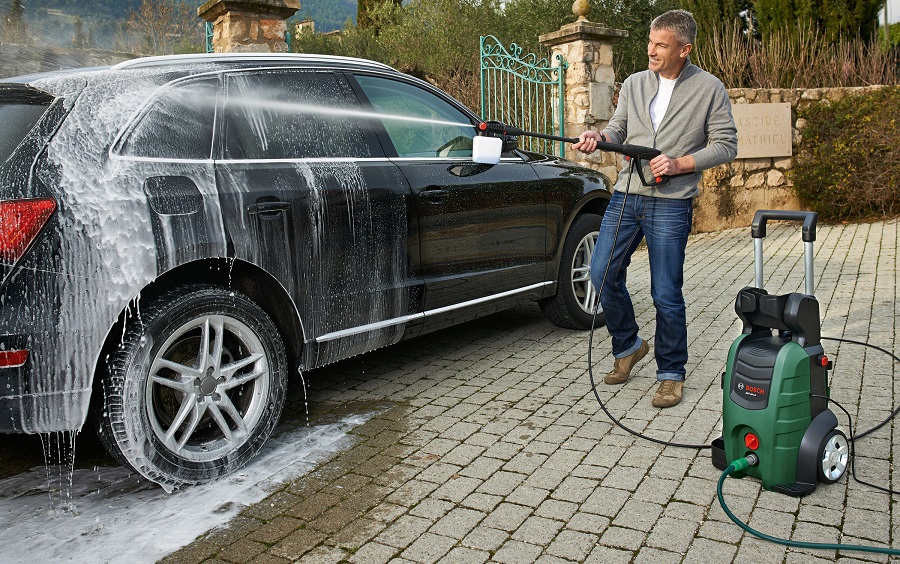 At the very least, you will require liquid soap, an adapter to connect the machine to a hose, and a hosepipe to operate the pressure washer effectively. To get the most from your pressure washer, it will need to come with accessories and attachments to ensure that it can carry out various tasks on different types of surfaces. For instance, there are foam cannons, that can be attached to a pressure washer to help with car cleaning.
If your new pressure washer is supplied with brushes then you are going to find the whole cleaning process much easier. Brushes will improve the removal of residue, stains and stubborn dirt. You can even use an angled wand attachment to clean hard to reach areas such as gutters.
An extension wand is one of the most important accessories to help with extending your reach and speed up cleaning time. My advice would be- the more accessories and attachments the better! It will save you the cost of buying different machines for different jobs.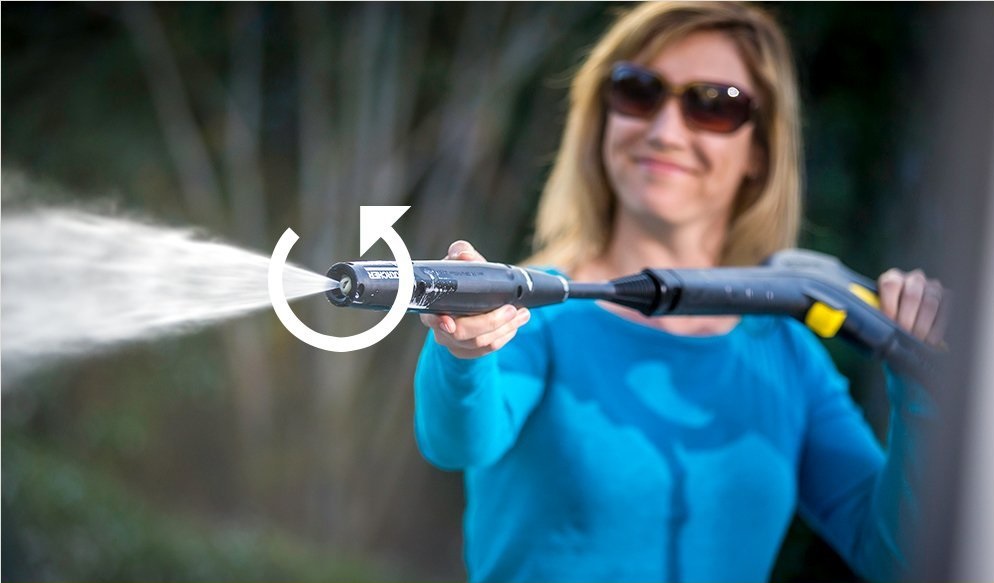 The two vital calculations to look out for are water flow and water pressure. A powerful pressure washer will be equipped with a higher bar. Focus on finding an appliance with a good balance between the two to help you get the most out of your beloved jet washer.
The Best Pressure Washer For Car Cleaning, Driveways & Patios
Water Pressure. What Is The Flow Rate?
Before you decide on the amount of water pressure and flow required you should think about the types of tasks your pressure washer is intended for, how frequently you want to clean and the amount of dirt you need it to clean. An appliance with good pressure and flow will ultimately reward you with great cleaning and rinsing results.
Higher water pressure will tackle tough dirt more effectively and challenging terrains such as concrete slabs or pavements. A good water flow rate will ensure that a thorough rinse is delivered to complete the job. If you're after a pressure washer to clean your car quickly, you want one with a high water flow rate.
As a general rule, the higher the pressure, the more suitable the tool is for cleaning stubborn dirt and harder surfaces – such as paving and concrete. The water flow rate reflects its performance when rinsing. So, if you're looking to speed up tasks like car cleaning, a higher water flow rate can be helpful.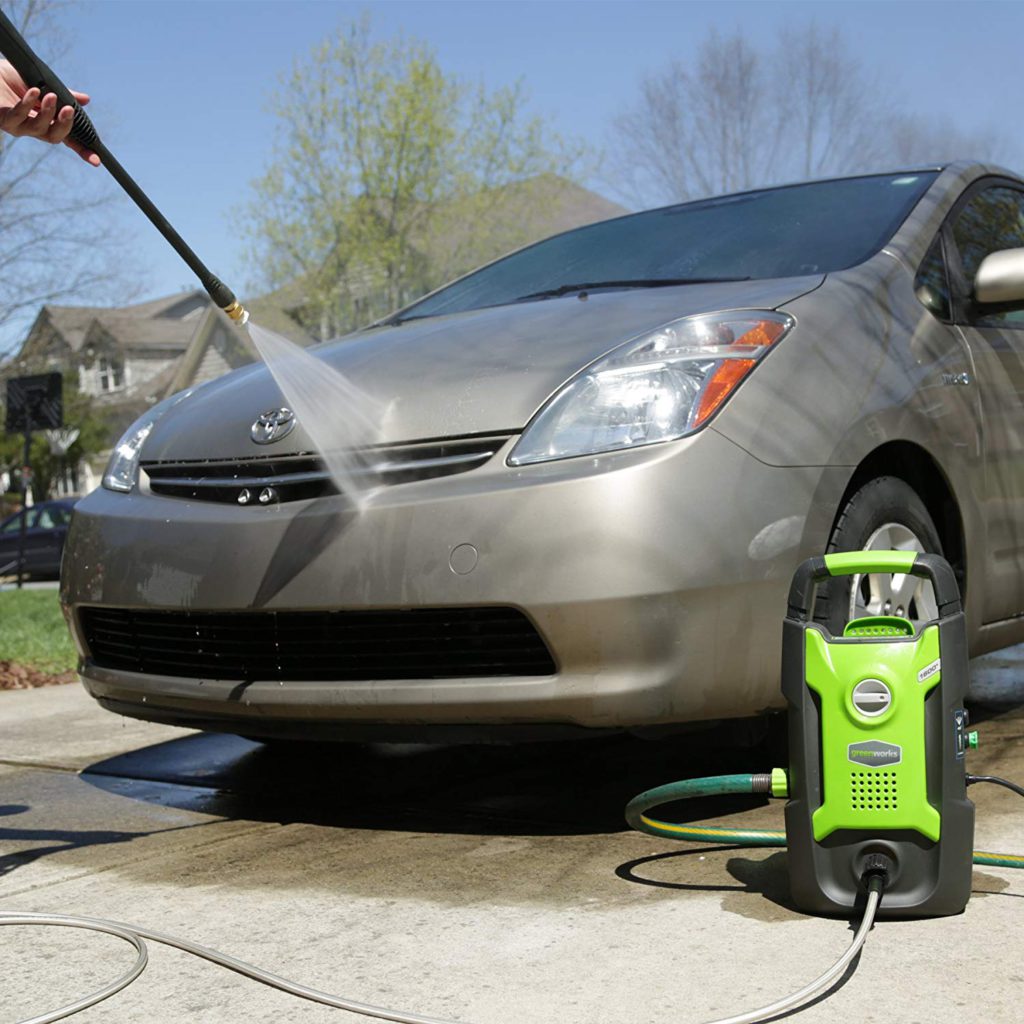 Most modern pressure washers come with the convenience of adjustable pressure for different tasks. A high-pressure unit can usually be adjusted to work at lower pressures for less demanding tasks.
It's advised not to use pressure washers to clean glass or brickwork as the water pressure is too high and can potentially degrade or destroy them. I would recommend using a window vacuum as an alternative.
PRESSURE WASHERS HAVE MANY USES BESIDES CAR CLEANING
When deciding to buy a pressure washer or jet washer you should remember that this nifty device can be used for a lot more things besides just car cleaning. Why not clean your driveway or courtyard whilst you're at it! Always check that your potential appliance is robust enough to carry out the tasks you intend it to do.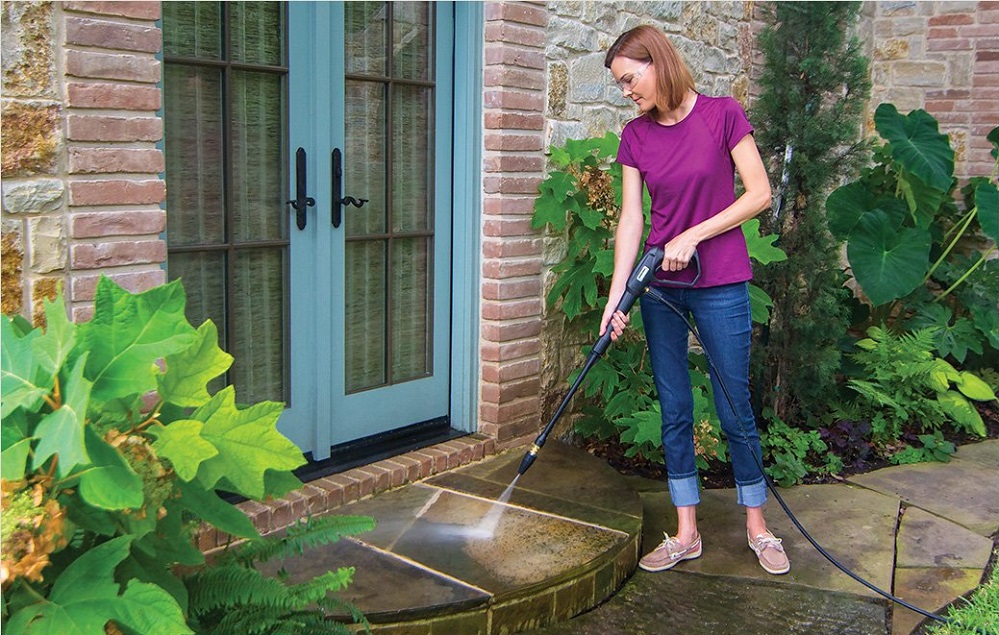 I've summarised a list of some of the tasks that you can expect to carry out according to the different pressure levels:
100 Bar- Occasional usage
Cleaning garden or outdoor furniture.
Cleaning your rubbish bin.
Rinsing mud from garden tools.
110 to 130 Bar- Moderate usage
Washing your car, truck or van.
Cleaning your swimming pools or jacuzzi.
130+ Bar- Intensive usage
Cleaning concrete slabs on driveway and paving.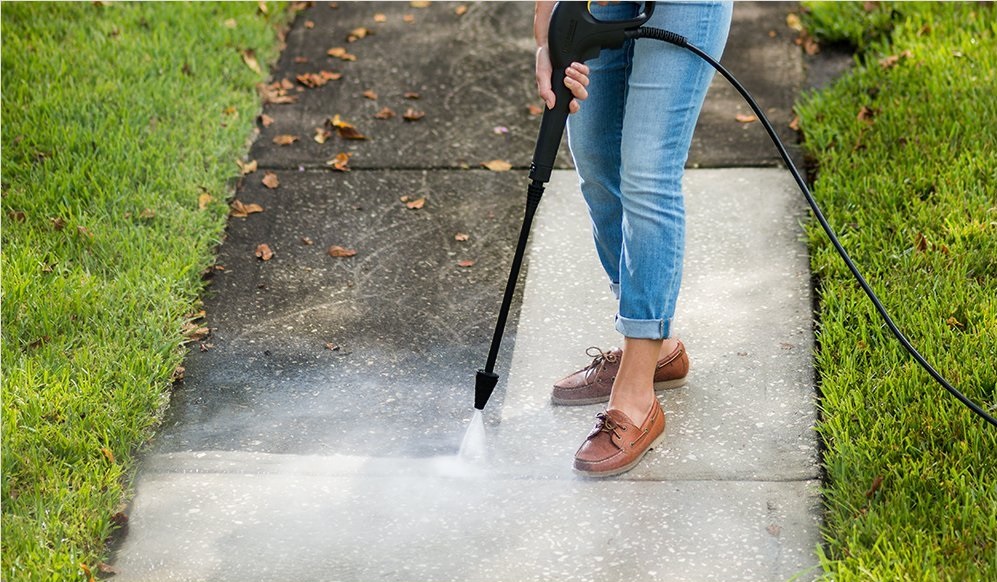 If you're considering a pressure washer mainly for car cleaning then a midrange appliance is more than adequate. You don't want to use a unit that is too powerful as you could risk damaging your car's paintwork with the high pressure.
If you intend on focusing mostly on tougher jobs such as washing away years of dirt that has accumulated on your patio or paving then a device with high pressure is best. You want a pressure washer that can achieve more than 130 Bar of pressure for tougher tasks.
The Best Pressure Washer For Car Cleaning, Driveways & Patios
Should You Buy an Electric or Petrol Pressure Washer?
Did you know that pressure washers can either be powered by electric or petrol?
Electric Pressure Washers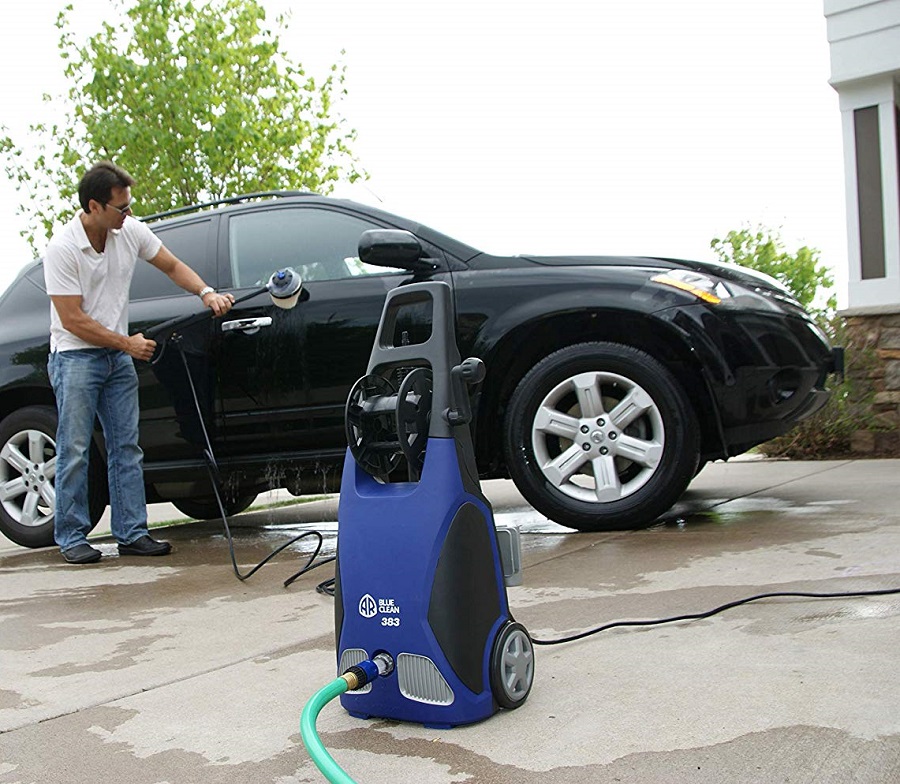 Generally, if you're looking for a pressure washer for domestic use it will be electrically powered. Household brands such as Sun Joe, Karcher or GreenWorks supply different electric variants ranging from light to intensive usage. Simply connect your new pressure washer into an exterior power supply that is protected with an RCD (residual current device) and you're good to go.
It's also a good idea to have an outdoor extension lead readily available so that you can extend the range of the cleaning area and speed things up.
What about Petrol-Powered Pressure Washers?
Petrol powered pressure washers are not as popular as electric models but are extremely handy for larger spaces. They are useful for areas with limited power supplies and if you need to clean areas that are further than your domestic space.
The advantage of a petrol pressure washer is that you're not limited to a power supply, which makes it an ideal appliance for commercial usage plus you don't need to worry about cables tangling up.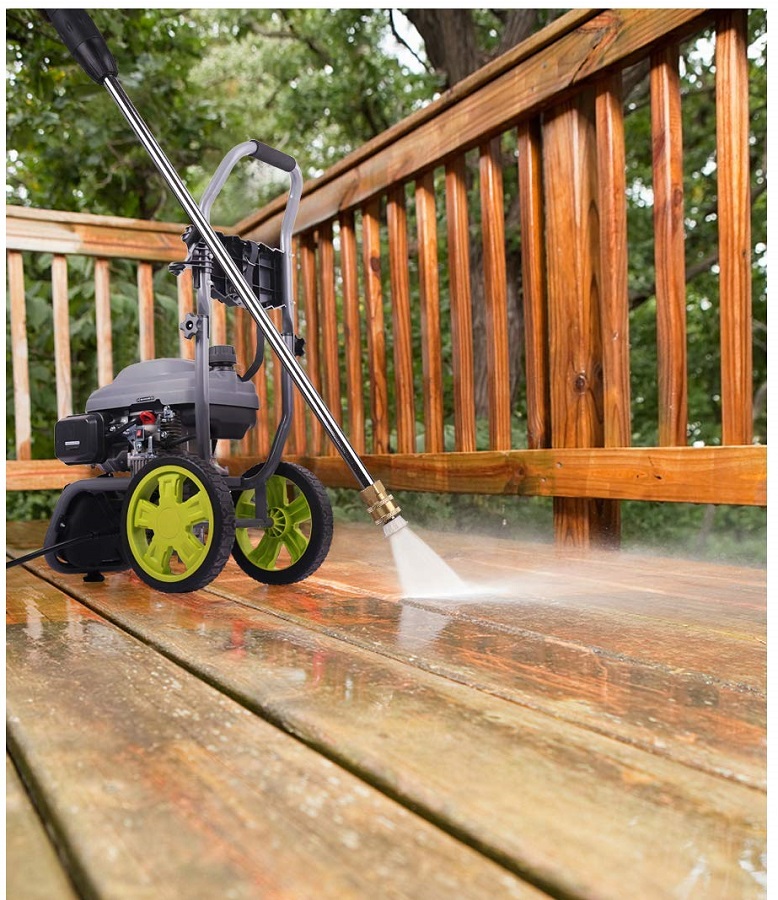 It's also worth noting that petrol pressure washers are equipped with a higher range of power, thus, making them the ideal accessory for difficult jobs. Bear in mind that you will need to purchase enough fuel whenever you need to use it. Always check that you buy the correct fuel, and as an extra precaution, you should invest in a robust container to store the fuel.
Pressure Washer Motors
Did you know that not all motors in a pressure washer are the same?  In fact, there are three different types that you can find but it's not something that you need to worry about. Below is a summary of the different motors-
Universal motor:  This is a basic portable motor that works at a high speed, however, it is louder than the alternatives and often has a shorter shelf life.
Brush motor: This motor contains brushes that constantly connect with the revolving section of the motor. The drawback is that over time the resulting friction minimises efficiency and wears it out.
Induction motor – This is one of the best types of motors found on a pressure washer. It is a sophisticated motor built to operate at a lower noise level and to last longer than other motors.
Pressure Washer Features
Before settling on which pressure washer to buy, there are some handy features that you should be aware of that will vastly improve the performance of your washer.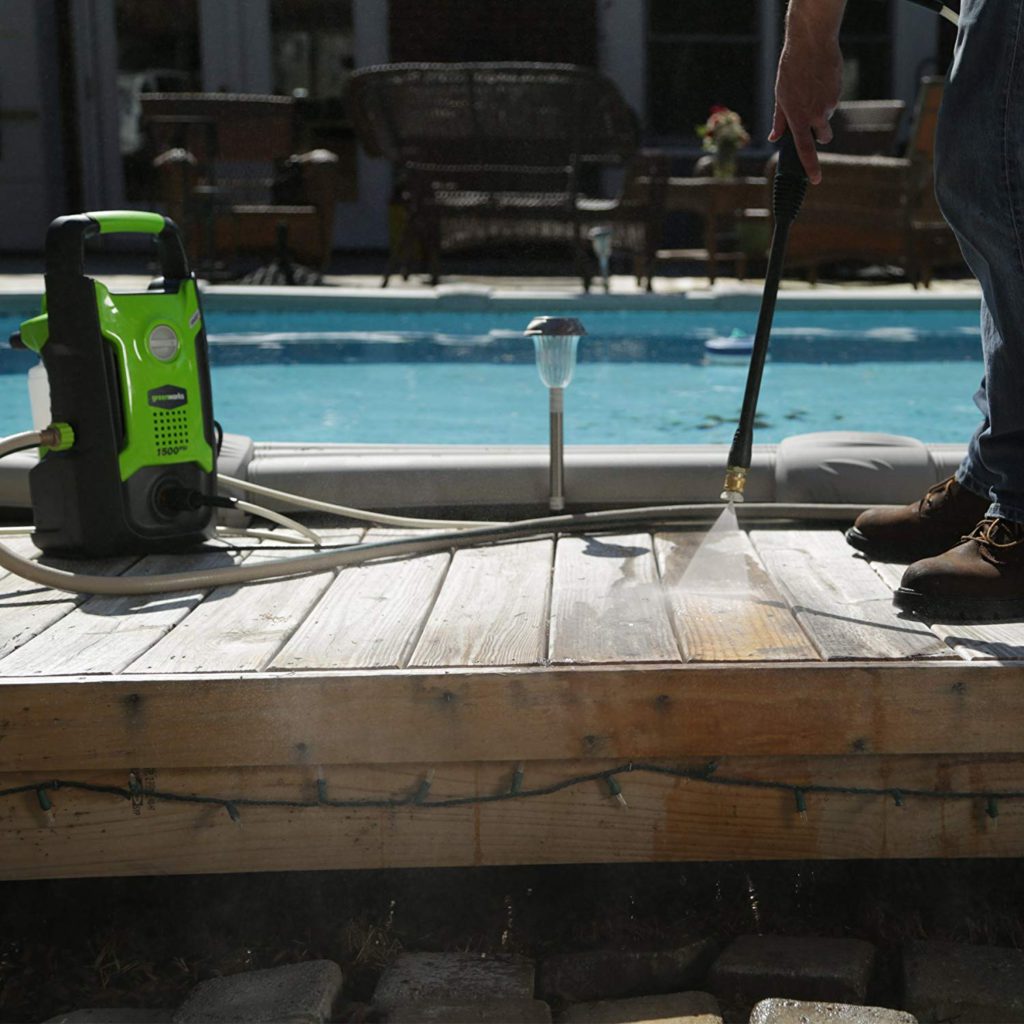 The Best Pressure Washer For Car Cleaning, Driveways & Patios
How Long is the Hose?
The length of the hose is usually measured in metres and is the middle man between the primary unit and trigger gun. Always check that the hose length coincides with the size of the area that you intend to clean. Don't get caught out with a short hose.
Pressure Washer Lance
The lance is connected to the trigger gun to give better control of the flow of water. Some models will allow you to lower or increase water pressure whilst maintaining the same rate of water usage. Clever huh? The benefit of using a lance is that it improves the precision in which you clean, therefore, targeting the exact areas that you need the water to go.
Handling Your Pressure Washer
For bigger jobs like cleaning the patio or driveway, it's best to buy a pressure washer with wheels and a handle so that you can move it easily from one area to the next. Wheels are also handy if you are going to be storing the unit in an area that's separate to where you'll be cleaning. A model that's easier to wheel around will speed up the job and avoid unnecessary delays.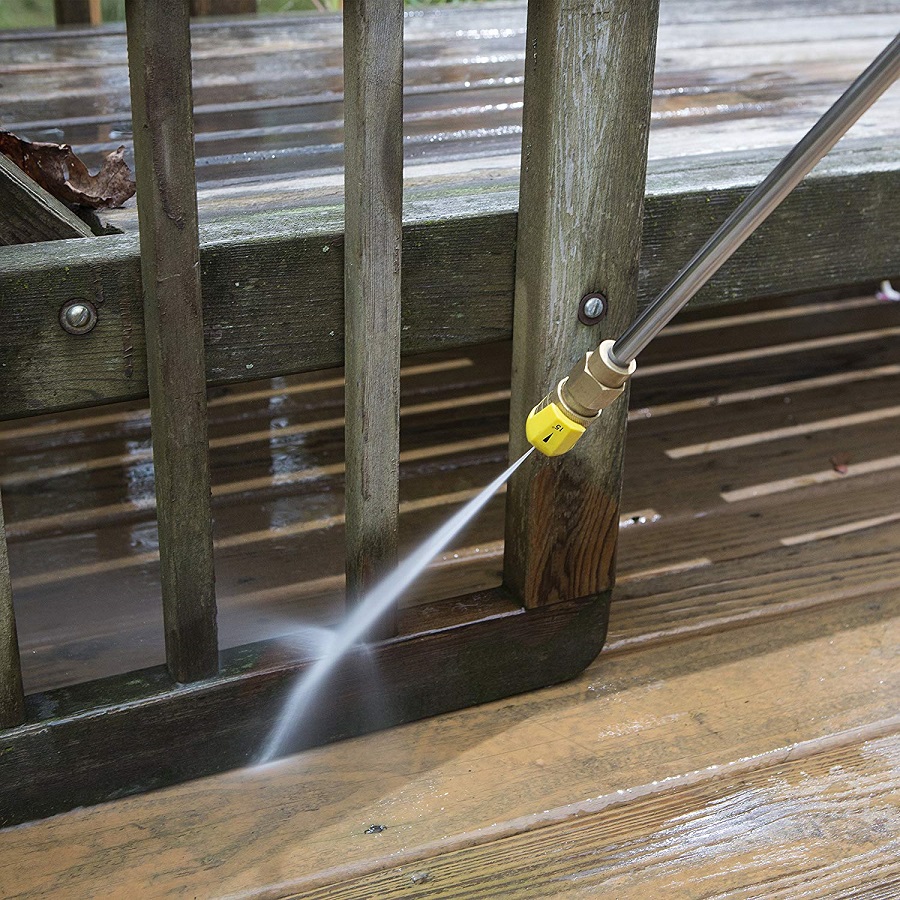 Automatic Pressure Washers
Modern pressure washers now have the ability to automatically start and stop to conserve water. The start/stop mechanism uses the trigger on the spray gun to control the water flow instead of manual switching it on the primary unit. You can easily position yourself to the exact area before spraying water and as a result, you'll use up less water and soap.
Pressure Washer Accessories
When it comes to using a pressure washer effectively, accessories are invaluable. You can get a lot more done with a good set of accessories and tackle a variety of chores.
At the very least, all pressure washers are supplied with a generic spray head for regular cleaning tasks, however, a machine with a generous set of attachments will improve your cleaning experience and effectiveness. Don't forget to use a good detergent.
Pressure Washing brushes
Pressure washers can be connected to special brushes adapted for car cleaning. A good set of brushes will efficiently remove dirt from motorbikes, vans, trucks and ease the burden of cleaning difficult areas such as wheel arches, rims or hub caps.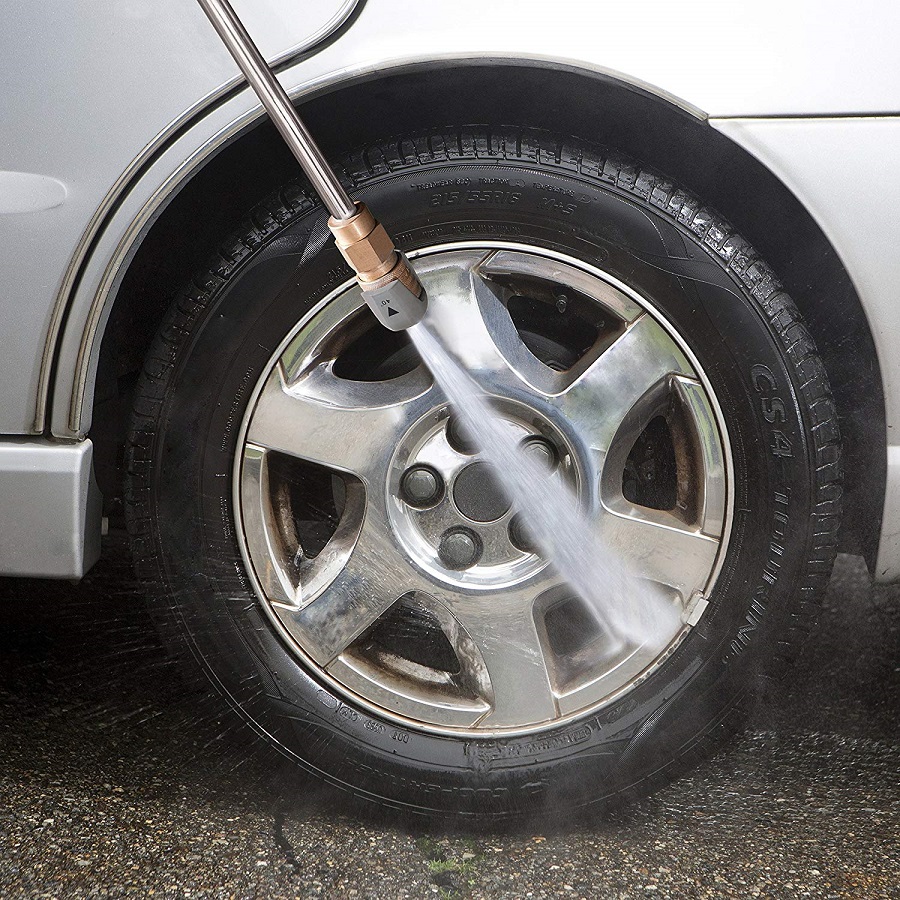 Cleaning Patios and Larger Areas
Clearing dirt from pathways, concrete slabs and the pavements is not easy. For this, you need a patio cleaning accessory to remove mess without causing more mess!
The attachment focuses the water pressure and water flow onto a specific area to remove layers of dirt that have built up over many months or years. The tool is adapted for large spaces and helps you to cover more ground in less time.
The Best Pressure Washer For Car Cleaning, Driveways & Patios
Onboard Accessory Storage
Some pressure washers are cleverly fitted with onboard storage so that you can keep all your tools in one place. It means that your new machine and its attachments will take up less space, accessories won't get lost and are always within easy reach during a job.