Paper shredders like the Amazon Basics Paper Shredder are an excellent investment since they shred any sensitive documents that your firm wishes to discard. When you throw papers in the garbage, you lose your rights to privacy and ownership, which is why paper shredders are so important for record destruction.
It appears to be simple; paper shredders work by inserting a piece of paper into them. It's devoured by the tiny teeth. It comes to a halt after the paper has been chomped through. So there you have it!
However, once you get into the logistics, it's easy to become lost. When there is paper in the machine, how does it know? What mechanism does it use to determine when the paper is finished?
What Is a Paper Shredder and How Does It Work?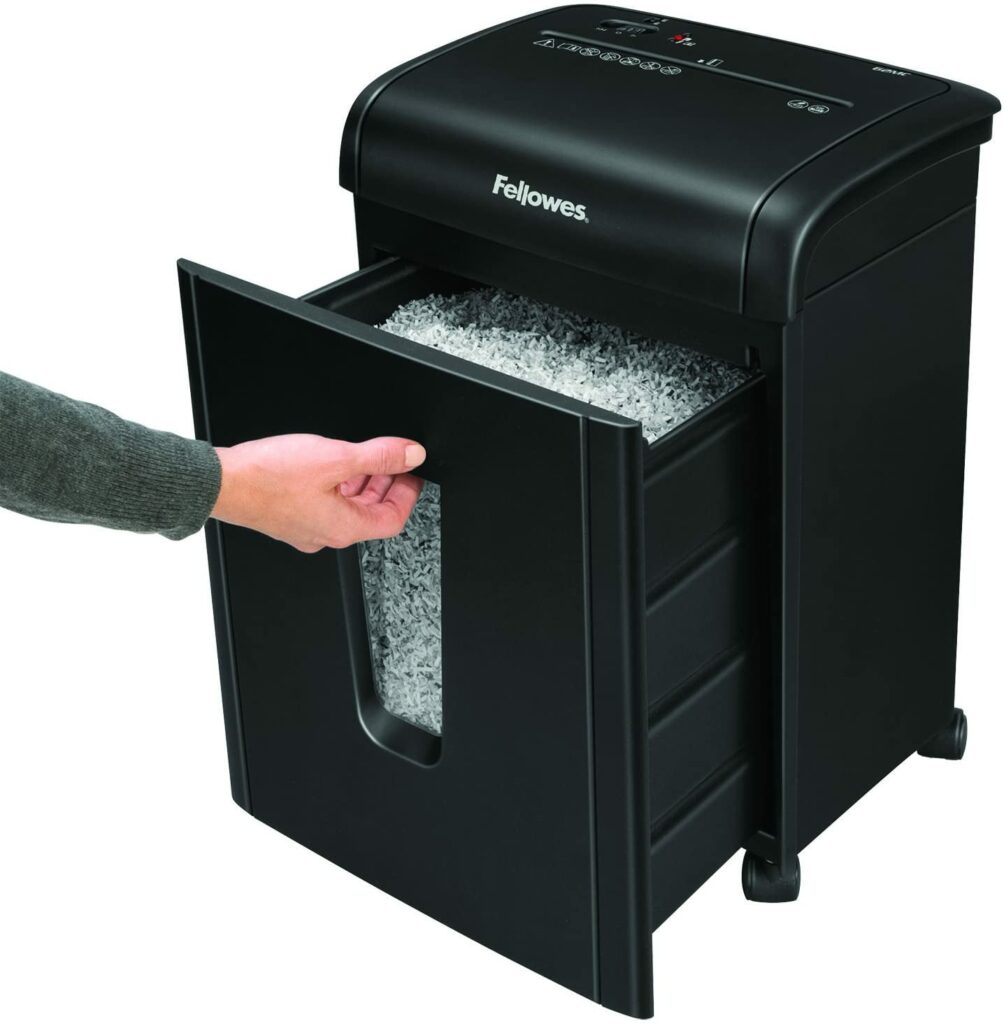 Let's start with the basics and discuss the smaller shredders we're used to seeing in the office. Paper is generally chopped into strips or confetti-like squares by shredders. The paper shredder usually has a receptacle or container where the shredded debris is collected.
The paper is put into a slot on the top of the bin, which is covered by a lid. Cross-cut shredders employ two sets of teeth that move in opposite directions to produce a much smaller, square particle, whereas strip-cut shredders use revolving blades to cut the paper.
When paper (or any object) comes into contact with the cutting head, a sensor activates, and the sharp teeth or knives revolve, pulling the paper into their jaws until it falls to bits in the bin.
In other words, for the device to perform correctly, the machine head must be securely in place, which is a fail-safe preventing it from turning into a land-based "Jaws" before it is properly in place.
Even more helpful, a lot of shredders have an emergency shutoff feature that allows you to turn off the power to the teeth quickly.
Amazon Basics Paper Shredder Review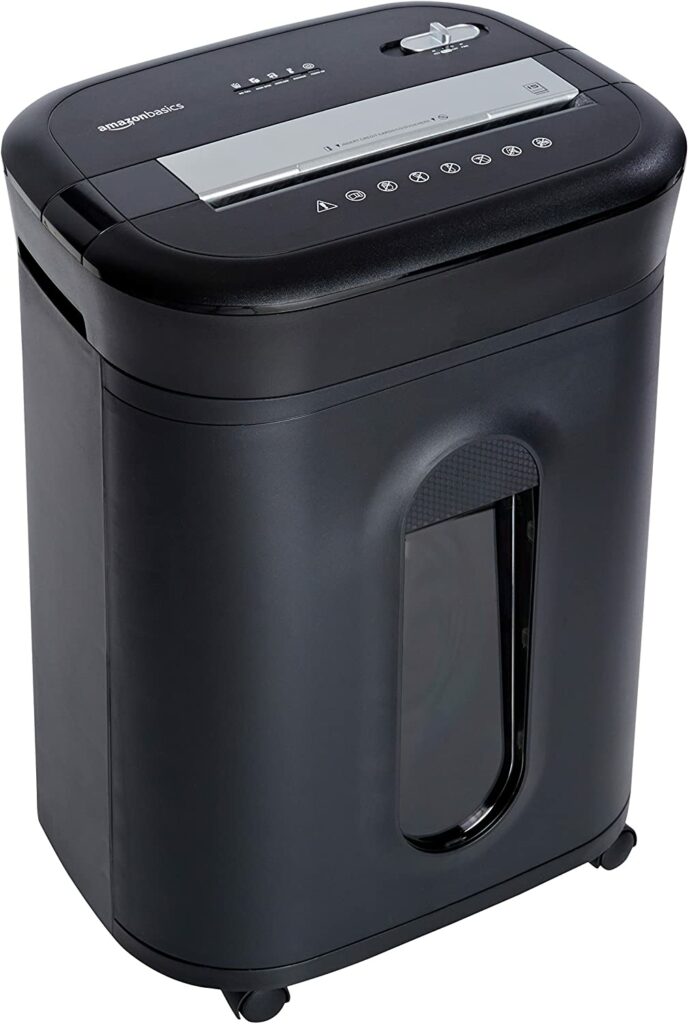 Do you want the king of all shredders at a low cost? Here's a review to the Amazon Basics Shredder 15-sheet crosscut paper shredder.
You can rip paper, credit cards, even discs with it. This machine will serve you well, whether it is for personal use or for eliminating confidential papers.
The unit is strong and transforms things into 3/16-inch by 1-7/32-inch strips. However, this isn't the only thing it can accomplish; it has a slew of other functions as well—take let's a closer look at them.
15-Sheet Crosscut Paper Shredder from Amazon Basics
You can shred fifteen sheets of paper at once with the shredder. On the other hand, it can simultaneously rip through plastic cards and CDs.
These features are advantageous since they assist you in getting rid of recyclable clutter in your home. Because you may dispose of critical documents at home, the medium-duty machine eliminates ID theft.
It includes a 6-gallon container that is easy to remove and clean, so you may shred up to 800 pieces of paper per day. There's no need to worry about the equipment burning out because it features a ShredSafe feature that shuts it down immediately.
You acquire a P-4 security level and can use it for a total of 20 minutes.
The standby time, overheat, overload, door open, and bin full are all indicated by LED indicators. The large pull-out basket is simple to remove and comes with casters.
Ease of Use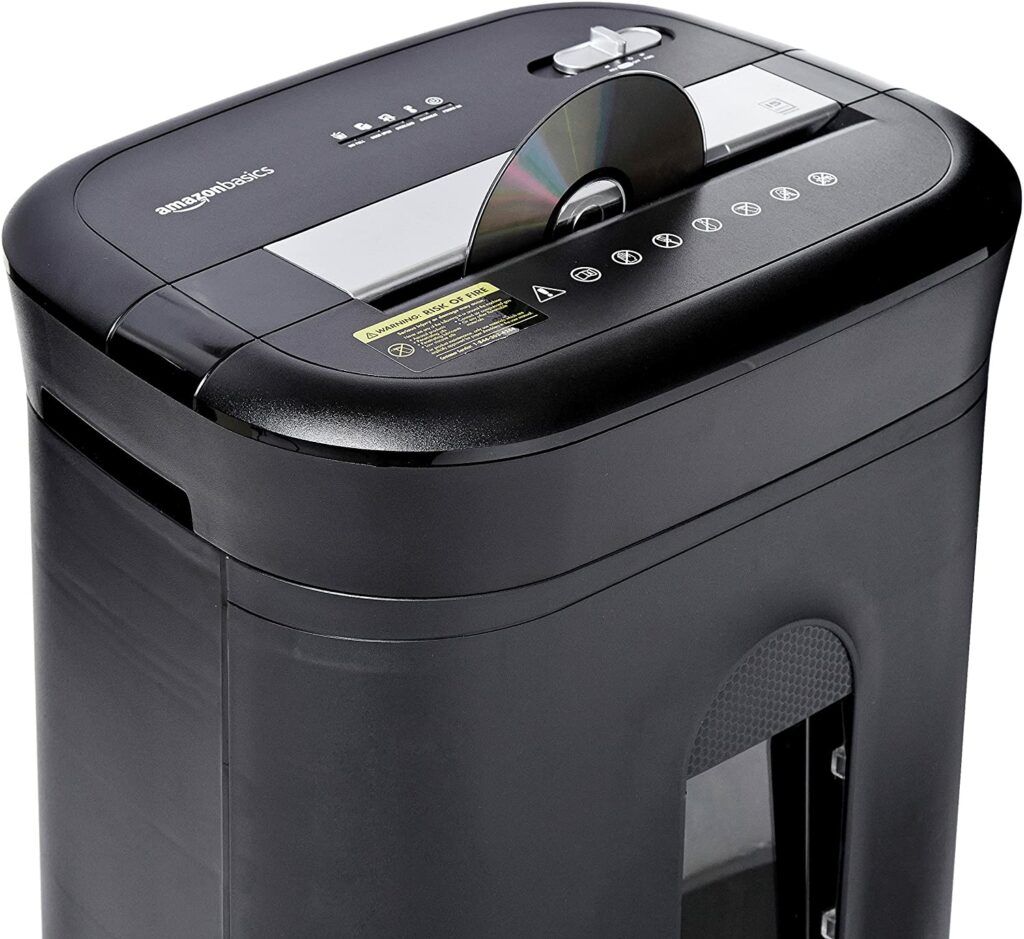 The AmazonBasics crosscut shredder is one of the easiest shredders to set up. All you have to do now is connect the wheels and turn it on. To turn it on, operate it in auto/forward, or reverse it for paper jams, there is a four-mode switch.
It can even be used to disintegrate staples and paper clips, giving you more time to shred and finish the job. The basket contains a window to view the state of paper on the inside, and the noise level is 66 to 68 dB.
Furthermore, a one-year warranty is included. Check out our review of the AmazonBasics 12 Sheet Micro Cut High-Security Paper Shredder.
Product Specifications: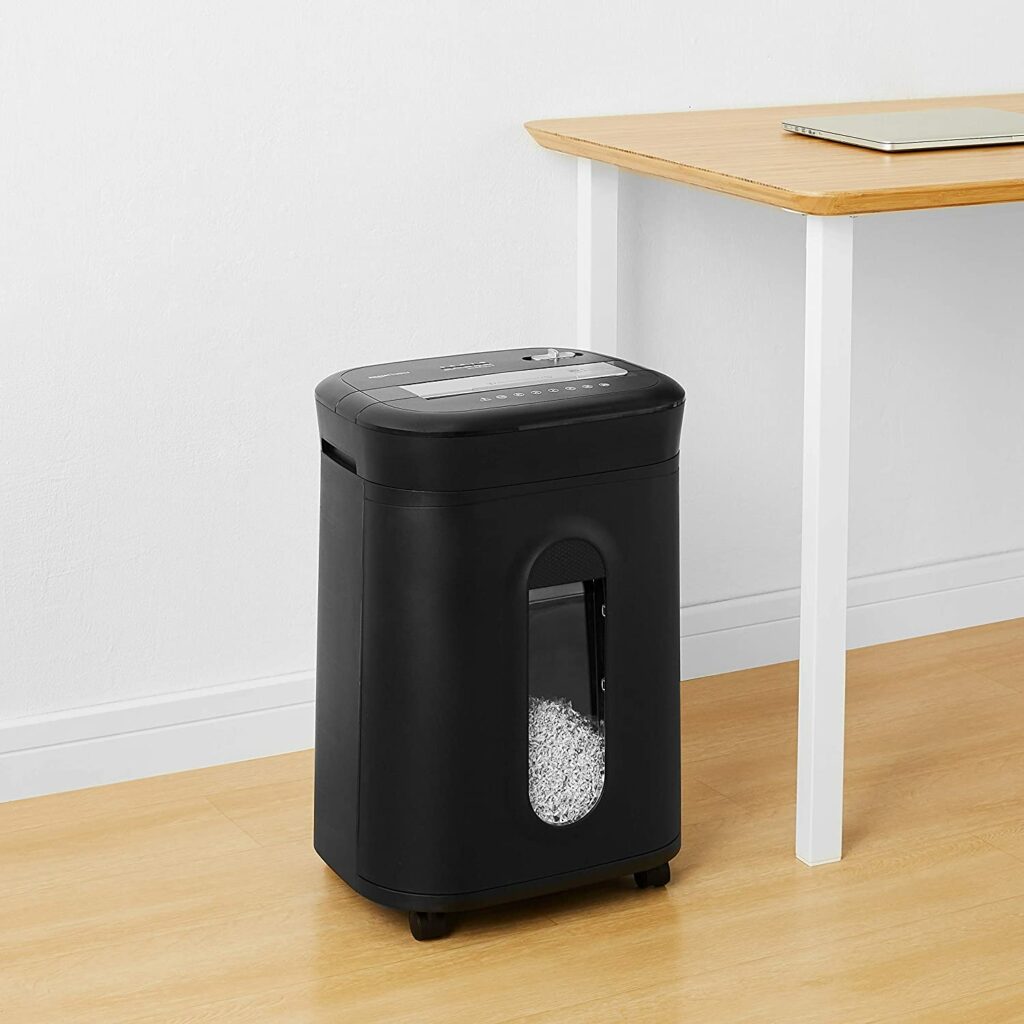 Shred Type & Size: Cross-cut, 3/16 x 1-27/32-Inch (5 x 47 mm)
Item Dimensions: 11 x 14.4 x 20.9 inches
Item Weight: 22 lbs
Sheet Capacity: 15 Sheets of 20 lb. bond paper
Paper Shred Size: 3/16 in. x 1 7/32 in. pieces
Paper Feed Entry Width: 4.7 mm x 31 mm pieces/ 8.7 in. (22.0 cm)
Credit Card & CD Capacity: 1 at a time
Duty Cycle: 20 min. on / 45 min. off
Voltage: 120V~60Hz / 4.0 A
Pros:
It is a quiet machine.
Paper is shredded into small pieces.
The feeding opening isn't large enough to shred your fingers, but it may be used with a shredder bag.
Works quickly and is simple to use.
Durable
Affordable
Cons:
Paper adheres to the cogs near the machine's exit, making it messy.
After being opened, the bin is difficult to close.
Frequently Asked Questions
Is lube included with this shredder?
No, the lubricant is not included with this shredder. It is, however, very simple to oil. To oil your shredder, you can purchase paper shredder oil or lubricant sheets.
Can I use vegetable oil to lubricate my shredder?
Yes, you can use vegetable oil as a lubricant to keep your shredder running smoothly. Another tip is to take a couple of sheets and drench them in vegetable oil. Allow it to soak for a few minutes.
Then, in the shredder, shred the sheets. As a result, you can easily and effectively oil your shredder.
Is it necessary to remove staples from the paper before recycling it?
Staples, bulldog clips, paper clips, treasury tags, and other metal stationery that keep documents together do not need to be removed. Papers can be shredded without being pre-treated.
Shredding one sheet at a time takes a long time. It could also result in a data breach. The AmazonBasics 15-sheet cross-cut Paper Shredder can shred documents with staples, bulldog clips, paper clips, treasury tags, or other metal stationery.
Is it simple to empty it? Is there shredded paper all over the place?
Yes, emptying this shredder is a breeze. And don't worry about the shredded papers; they'll all go into the bin.
Is the voltage required 110 volts or 220 volts?
It needs 11 volts.
Is it possible to shred cardboard in this shredder?
It is dependent on the cardboard thickness. However, despite having a 15-sheet shredding capacity, it is not suggested because this shredder is not designed to shred cardboard.
Keeping Your Paper Shredder in Good Condition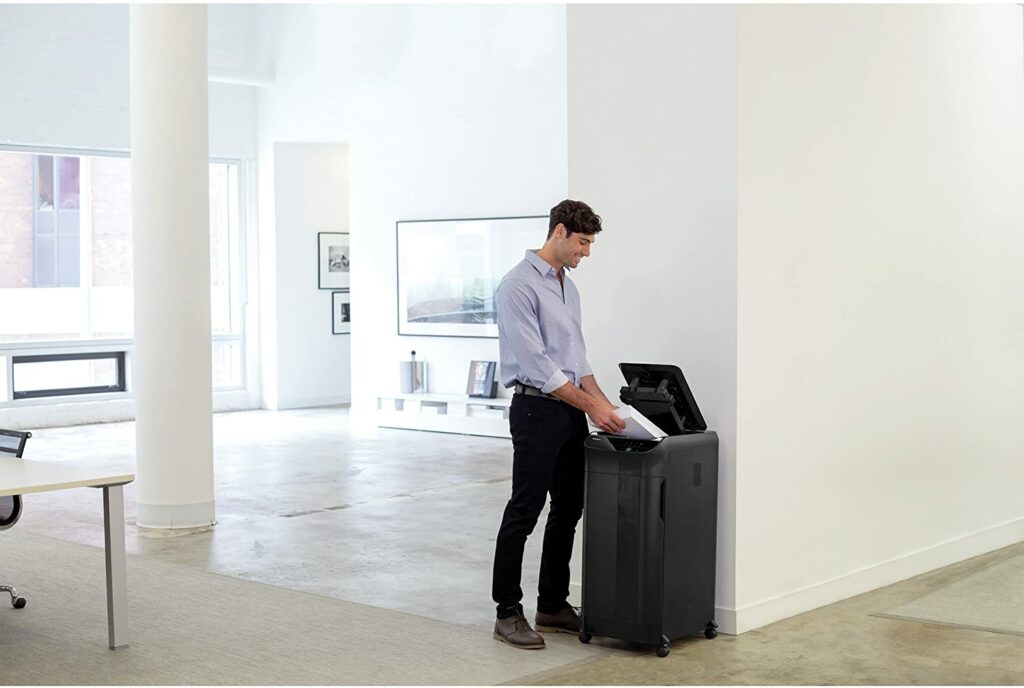 Some modest maintenance chores can be used to maintain your paper shredder functioning at top performance and to prevent needless or premature wear to the motor and components.
In principle, these guidelines apply to all paper shredders, whether they are small personal shredders or massive industrial shredders. It doesn't matter what sort of shredder you have, what brand you have — basic maintenance may make a big difference in performance and equipment longevity.
Make sure your shredder is well lubricated.
Another vital maintenance step to keep your shredder working at its best is to oil it. You wouldn't drive a car or operate machinery if the vital components were not adequately oiled, and you shouldn't use a shredder either.
Excess heat can be generated without lubrication, and blades might rub against each other more harshly. Shredders that are properly oiled are quieter, run smoother, and put less strain on the engine and cutting cylinders.
Oiling a shredder can be done in a variety of ways, so pick one that works best for you.
Always Check the Manuals
Check your user handbook as well, as there may be a specific method recommended for that equipment, which should always be your first choice. You may also lookup the suggested oil change frequency in your owner's manual. When your bin is full and has to be emptied, a good general rule of thumb is to grease it.
Some shredders, such as tiny cross cuts, may require more frequent oiling than others, such as strip cuts. If you notice your paper shredder working slower than usual, producing strange noises, or straining to shred, it's past its oiling due date.
Keep your Shredder Clean
A paper shredder in a commercial context should be cleaned every month or so, depending on the volume of use. Individuals who use a personal shredder infrequently may find that once every few months or perhaps once a year is sufficient.
Cleaning your shredder is straightforward and just requires a few steps to remove the stuck paper from the cutting cylinders. This will help the blades last longer by keeping them sharp and free of debris.
It will also clear paper dust build-up, which may not be apparent but can harm your shredder if it accumulates too thickly. Not to add that paper dust is harmful to one's health.
Don't Overload your Shredder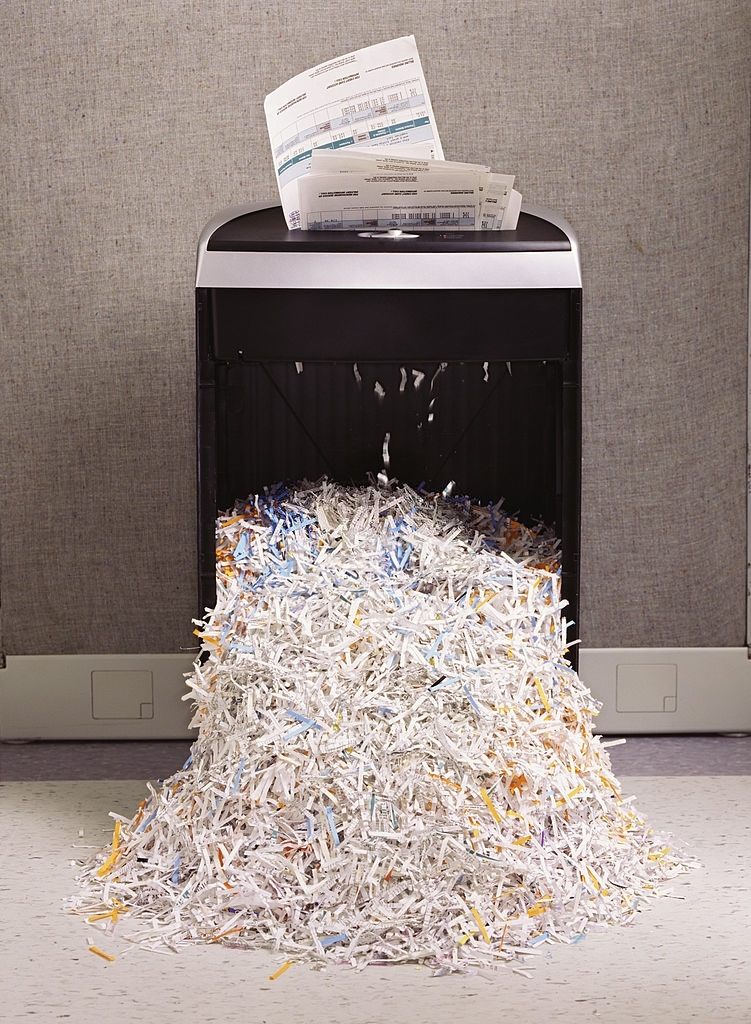 You may have considered the shredding capacity before purchasing your shredder. Keep in mind that this is the highest capacity it can handle at any given moment, and it's usually based on thin copy paper stocks. It's never a good idea to run your shredder at full capacity all of the time.
As you can expect, driving an automobile at high speed all of the time would quickly wear down your engine. The same may be said about office equipment, such as shredders.
While it may be capable of handling X sheets each pass, this does not imply that you should constantly run X sheets. Allow your machine to cool down after shredding a large number of pages in a batch.
Final Thoughts
The Amazon Basics Shredder provides secure shredding with superior security features. You have a constant reverse auto-feed that you can employ with a forward function if necessary.
When the basket is pulled out, it has rollers on the back that slot into the tracks and holds it in a straight path. The big viewing window allows you to see if the basket is full, and the indicator light is also helpful.
So, if you're looking for a low-noise machine to shred paper and other materials, this is the type to acquire. If you want more specifications and technical details, a user guide will be more useful.