Affiliate Disclosure:
I am grateful to be of service and to bring you content free of charge. In order to do this, please note that when you click links and purchase items, in most cases I receive referral commissions. Eventually, I may earn enough to buy a beer or two 🙂
The cold and dry air can create chaos on your sinuses and skin as temperature falls. But there's no reason for you to suffer from dry lips, runny nose, or cracked palms.
The best home humidifiers can do miracles to make the air quality in your home better if the surrounding air in your home is persistently dry from the heat or air conditioning operations, or you just want to fight the cold.
What is a Humidifier and What do they do?
The health condition of your home can be compromised by very dry and very humid weather. If air is too moist, it can facilitate the growth of mold or mildew and may lead to health problems, as well as pose possible harm to your home.
Dry air can make it worse if you have asthma or other respiratory problems. According to pulmonologists, putting up a home humidifier is the best option to improve the indoor air quality and your breathing.
A humidifier is an air system device that increases and improves the humidity in an area. The humidity is between 40 and 60 percent in an ideal case. If the humidity drops below 40 percent, you will get dry eyes or dry skin, for example.
A home humidifier ensures that the air retains moisture so that the humidity is at the appropriate level. It can be installed on your HVAC system. It works with your heater in colder months to bring moisture into dry air so your home feels more cozy and warm.
We've come up with the 8 best home humidifiers to know which type and model is the best for you.
#1 Best Budget: Elechomes SH8220 Home Humidifier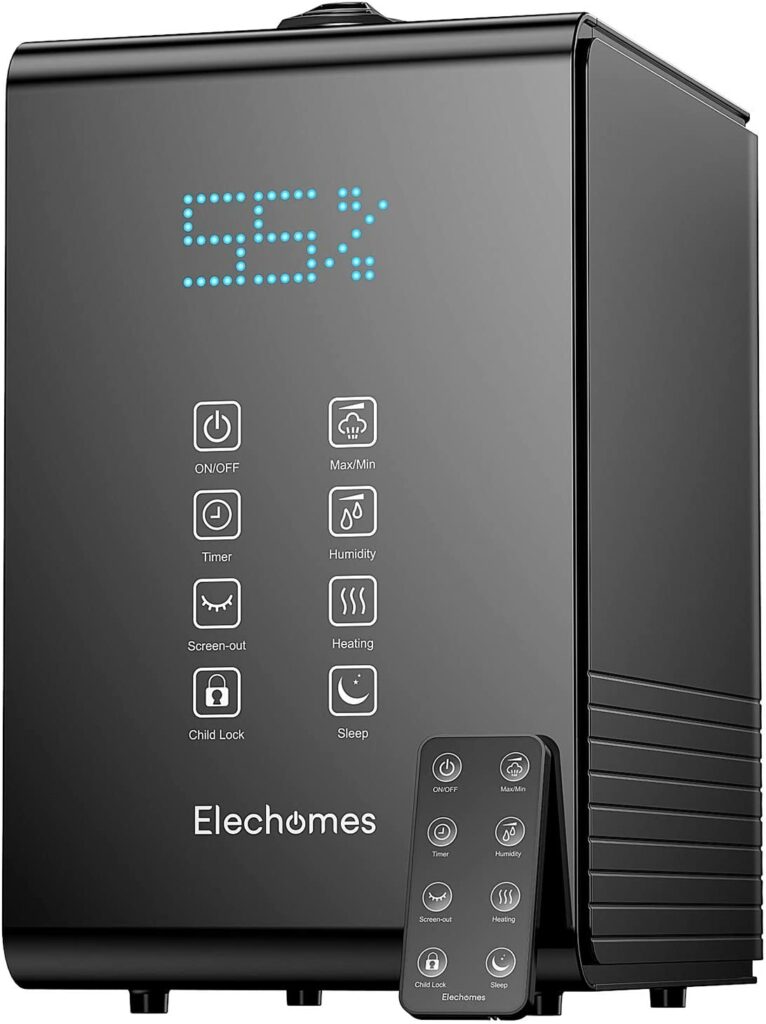 Warm mist humidifiers work to produce steam using an internal heating feature. The steam is emitted into the air for a more humidifying effect.
The Elechomes SH8820 Humidifier has a warm mist feature and a water tank of 5.5 liters that runs for up to 40 hours. For areas up to 755 sq ft, this humidifier is well suited and has a remote control for easy use.
The Elechomes SH8820 Ultrasonic Top Fill Humidifier is filled from the top and is actually a deal-breaker for a lot of people because of its convenience.
This humidifier is pretty dynamic too. It has both cold and warm mist settings. There are also several timers, fan modes, and other options to help configure and monitor the device.
Elechomes SH8820 has also an enhanced water tank, which is larger, more usable, and normally better than previous versions of the same unit.
Design
Let's have a look at the overall design before we get into the more technical features. The SH8820 has a sleek, white style that will look right at home in a high-end electronics shop, unlike a lot of humidifiers, which can look awkward on your shelf.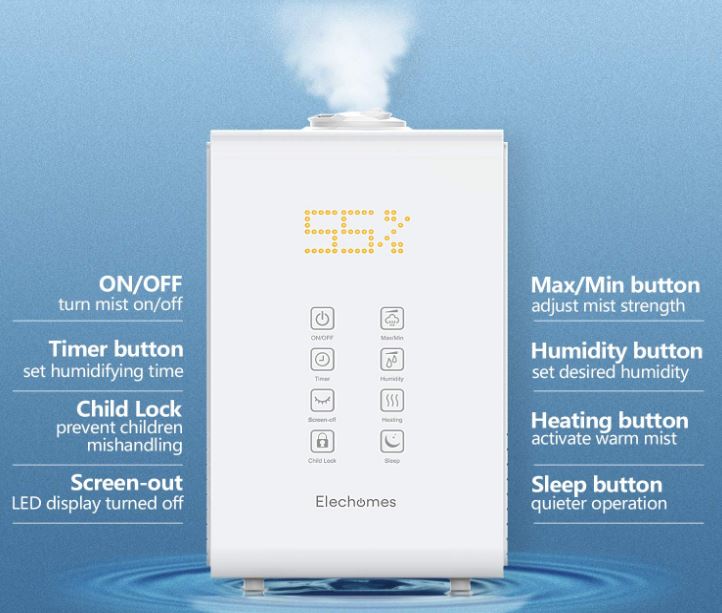 The front panel shows your actual humidity level with bright LED lights that are easy to read easily.
You can find these 8 light-touch buttons under the display:
On and off switch for the device
To adjust the humidity level
For selecting maximum or minimum power levels,
Setting a timer
To activate sleep mode
Switch between hot and cold humidity,
Child lock activation
Sleep button for a quieter operation
Ease of Use
The SH8820 is so easy and simple to use on a daily basis. The best way to run it is to automatically adjust and set the humidity level. You simply select your desired humidity level with this feature, and the SH8820 will do the work.
The LED indicator will temporarily quit displaying the current humidity level when you press the humidity button and will now show the level to which you set it.
The configuration will be changed in 5 percent increments, from 50 percent all the way up to 100 percent by continuously clicking the button.
Hot or Cold Feature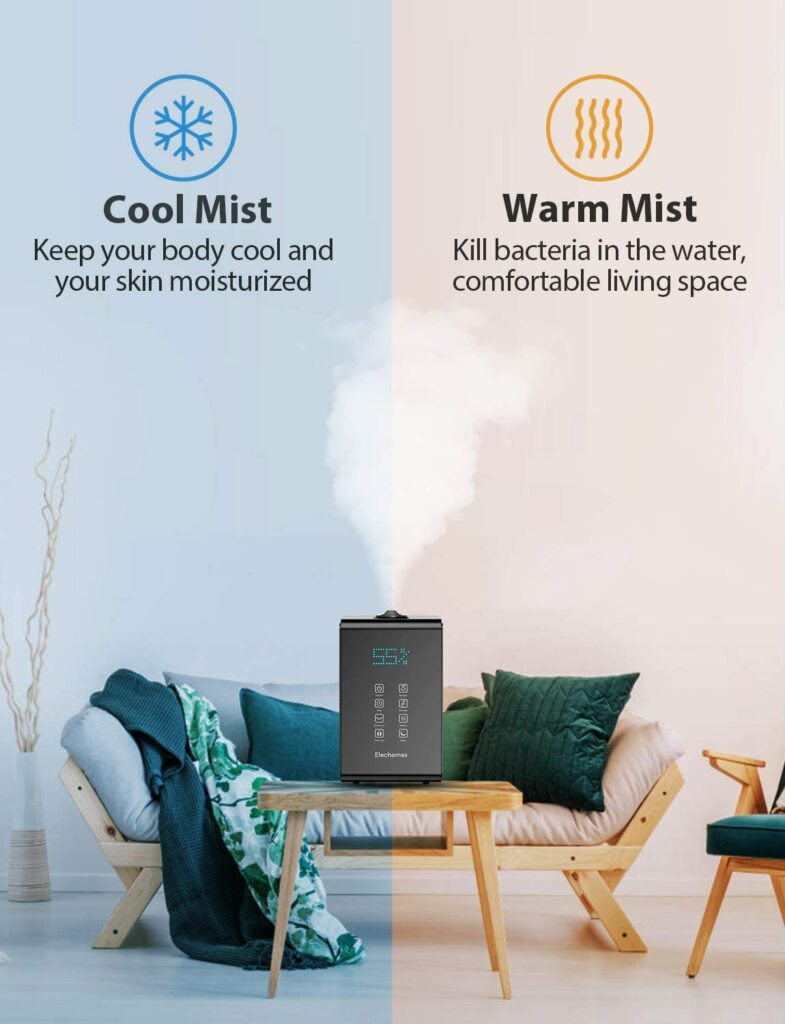 We've previously stated that the SH8820 acts as a cold or warm humidifier as well. So what distinction does it make between such two settings? We're going to break it down.
To start, warm humidifiers first heat up the water to produce steam. This allows moisture to be released more easily, as warm steam is more readily absorbed into the air than a cold mist.
If you have a frequent cold or a sinus infection, this will be the best humidifier for you. Just position your face towards the unit's top, (but not too close) and breathe. This will offer a great deal of relief and comfort.
It's important to note that to operate a warm humidifier you must bring the water to boil. You'll have to ensure that this type of humidifier is really out of reach of children or pets for their safety.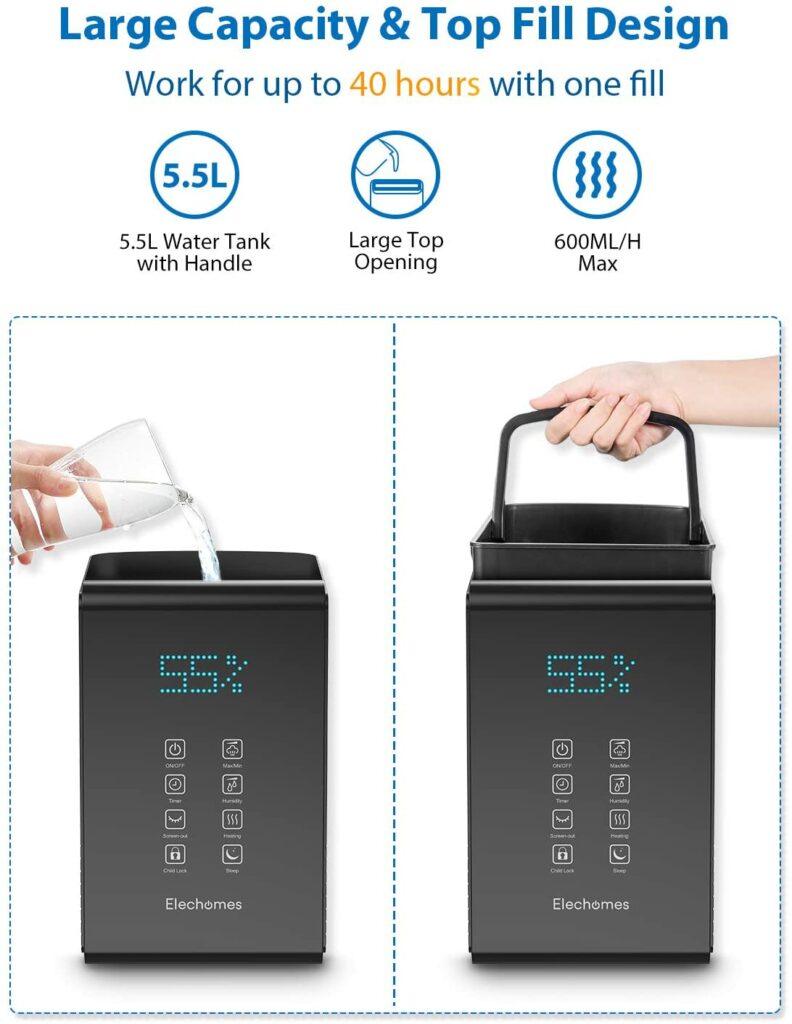 Specifications:
Product Dimensions: 10.4 x 7.2 x 12 inches
Top-Filled
1-12hours Timer
With Sleep Mode
6.3 Pounds Item Weight
12-40 Hours Working Time
600ml/h Maximum Humidity
5.5L/1.45Gallon Capacity
Cool & Warm Mist
Child Lock Feature
With Humidity Display
5.5. liters Volume
Pros:
You will surely love the warm feature if you are frequently experiencing a runny nose.
Perfect for your kids, as it features a quiet mode so you can run it without that noise.
Child lock feature
Screen shut-off mode
It has a good tank capacity for a good price humidifier
Easy to use and refill
Cons:
Where to buy Elechomes SH8220 Home Humidifier
See Our Individual Product Review for Elechomes SH88220 Home Humidifier
#2 Best Design: Levoit LV600HH Home Humidifier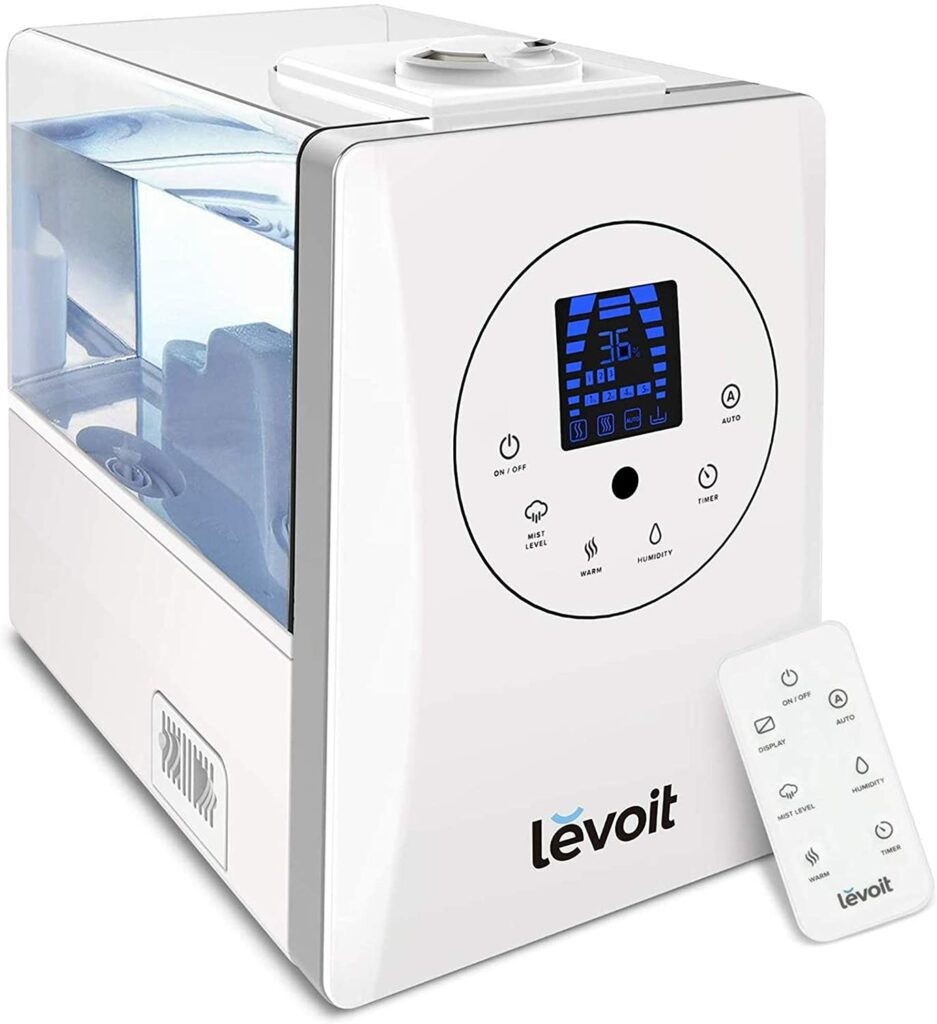 The Levoit LV600HH Home Humidifier, by far is one of the best humidifiers within its price range, with a remarkably accurate humidistat and strong mist output. This is also true for rooms that are a little bigger since spaces greater than 150 square feet can be covered by this humidifier.
Cool and Warm Mist Feature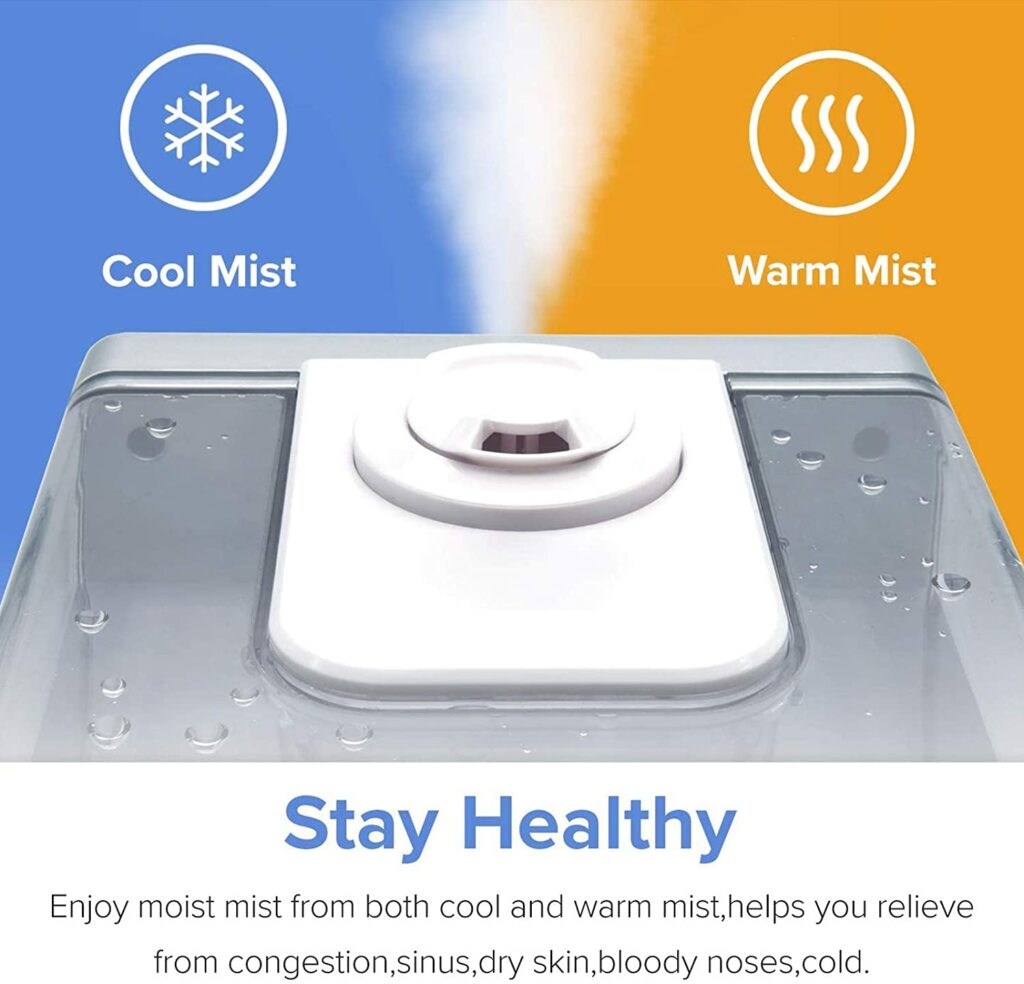 The Levoit LV600HH is an "Ultrasonic Hybrid Humidifier" that can be either a hot or cold humidifier for mist.
You have two buttons on the control panel intended for any function. Depending on your choice, you can choose the cool mist button from three settings: low, medium, high.
For the warm feature, all you have to do is push the specific button if you'd like some warm mist for your living room. Remember that the built-in heat source heats up the water to eliminate any hazardous microorganisms until the Levoit LV600HH sends out warm water into the air.
Just like the cooling mist feature, you can choose between three settings for the warm-mist, low, medium, and high.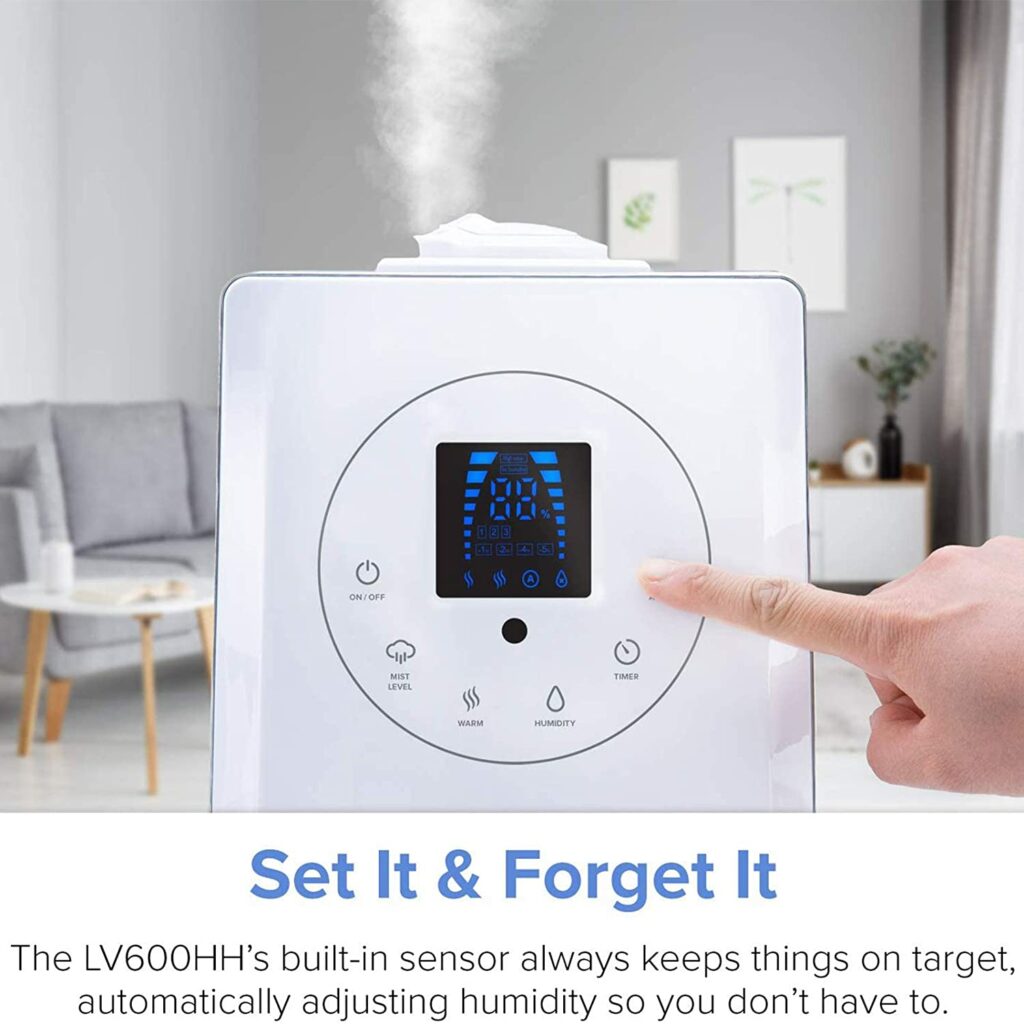 Control Buttons
TheLevoit LV600HH is built with an LED monitor and a touch screen control. You may view and change the following characteristics and features through this screen. It also comes with remote control.
Level of Mist
Humidity Level
Timer
Warm and Cold Mist
Automatic Mode
You can see these on the display:
Indicator for the relative humidity (RH) level
The humidity level of the cool mist
Warm humidity-level
Timer
Indicator for auto mode
Indicator for the low water level
High-temperature alert
Cleaning Ease
Thanks to a wide opening, you can fit your hand inside so you can easily clean it. It also has a small brush to reach certain nooks and crevices where bacteria and mold can hide.
Noise
Compared to other humidifiers, the Levoit is on the louder side, but it's still fairly reasonable. With some other ultrasonic solutions coming in with sound below 40, it records 44 decibels.
Specifications: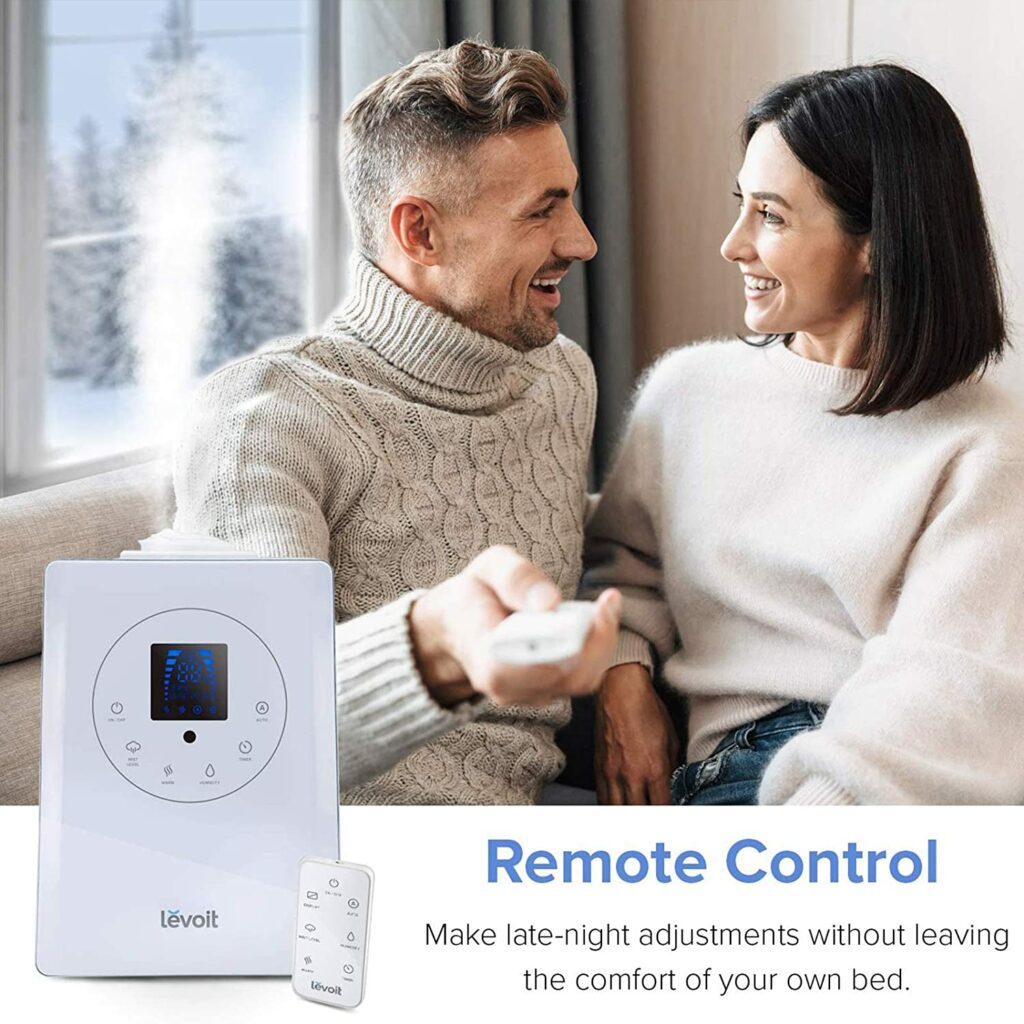 Dimensions: 7 in. (L) x 11.3 in. (W) x 10.5 in. (D)
1.5g/5.6L Water Tank Capacity
300 mL/h Max Cool Mist Output
500 mL/h Max Warm Mist Output
Power Supply: AC 120V 60Hz
Range: 430–753 ft² / 40–70 m²
Pros:
Strong and Powerful
Precise humidistat to prevent over-humidification,
Handy remote control
Auto mode
Perfect for large rooms
Can be used for aromatherapy
The auto-shut-off feature maintains safety, specifically when water is running out to prevent burns or fire accidents.
Cons:
Noisy
On the expensive side
Where to buy Levoit LV600HH Home Humidifier
See our Individual Product Review for Levoit LV600HH Home Humidifier
#3 Honeywell HCM350 Cool Mist Humidifier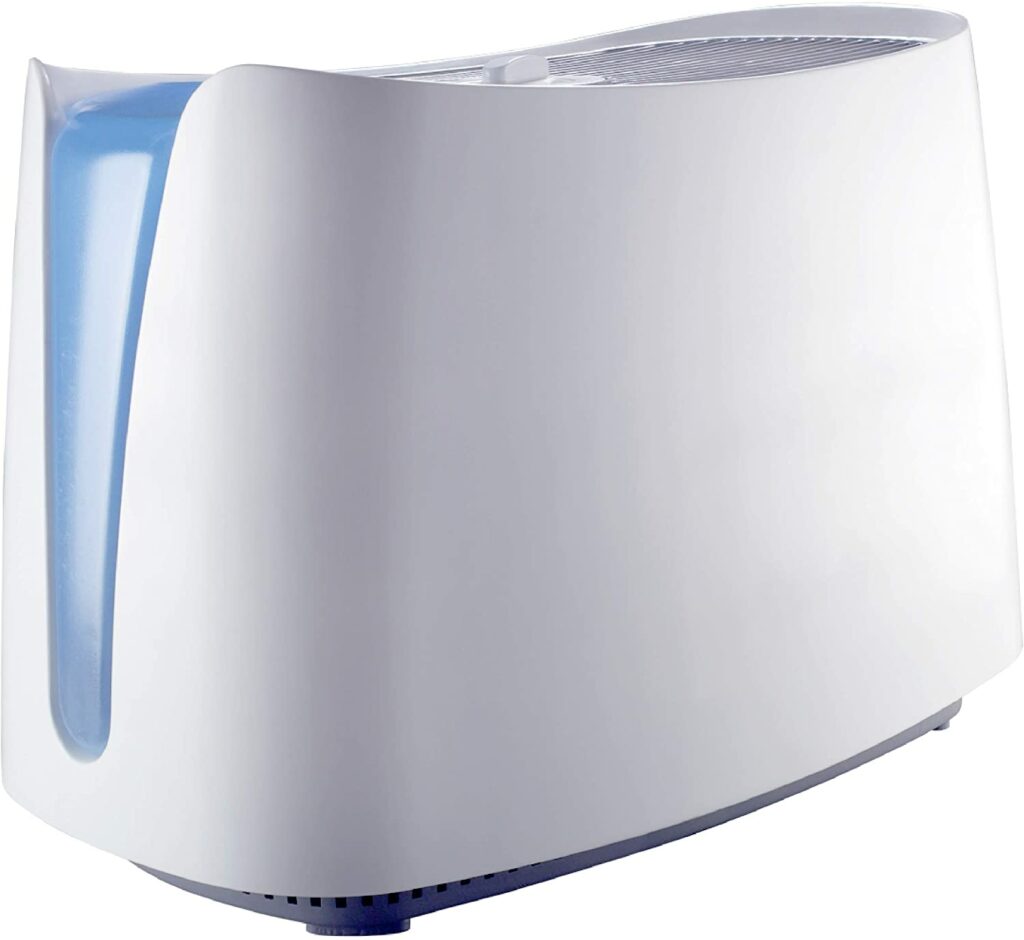 For most homeowners, the Honeywell HCM- 350 is a popular alternative. It's an effective and economical unit, suitable for your house's medium-sized spaces. Because it's an evaporative device, you don't need to think about hot water hurting the kids themselves.
Also, the unit is very easy to put. Since it is an evaporative unit, some of the ultrasonic units are not as innovative, but it is still a common choice for those looking for the efficiency of evaporative technology.
The Honeywell HCM-350 humidifier offers efficient relief from seasonal allergy symptoms and dry skin. This evaporative type of humidifier, which is typically used in spaces up to 500 sq ft, uses only 2 gallons of water a day.
It also utilizes a germ-fighting technology to make sure that the mist it diffuses into your home is free from germs and other dust particles.
Honeywell HCM350 Design
The overall design of the Honeywell HCM-350 is elegant so you can put it somewhere in your house without looking clunky. The water tank has a sleek bottom shape, also the handle is one of the most convenient on the market.
That makes it very easy to fill the Honeywell HCM-350. The lid is also quick to get off and on, as well.
The Honeywell HCM-350 is 12-inch tall, 18-inch wide, and 10-inch deep. Such a large height, but just 9.9 pounds in weight. You can conveniently position the couch, nightstand, etc. wherever you want.
Humidifying Efficiency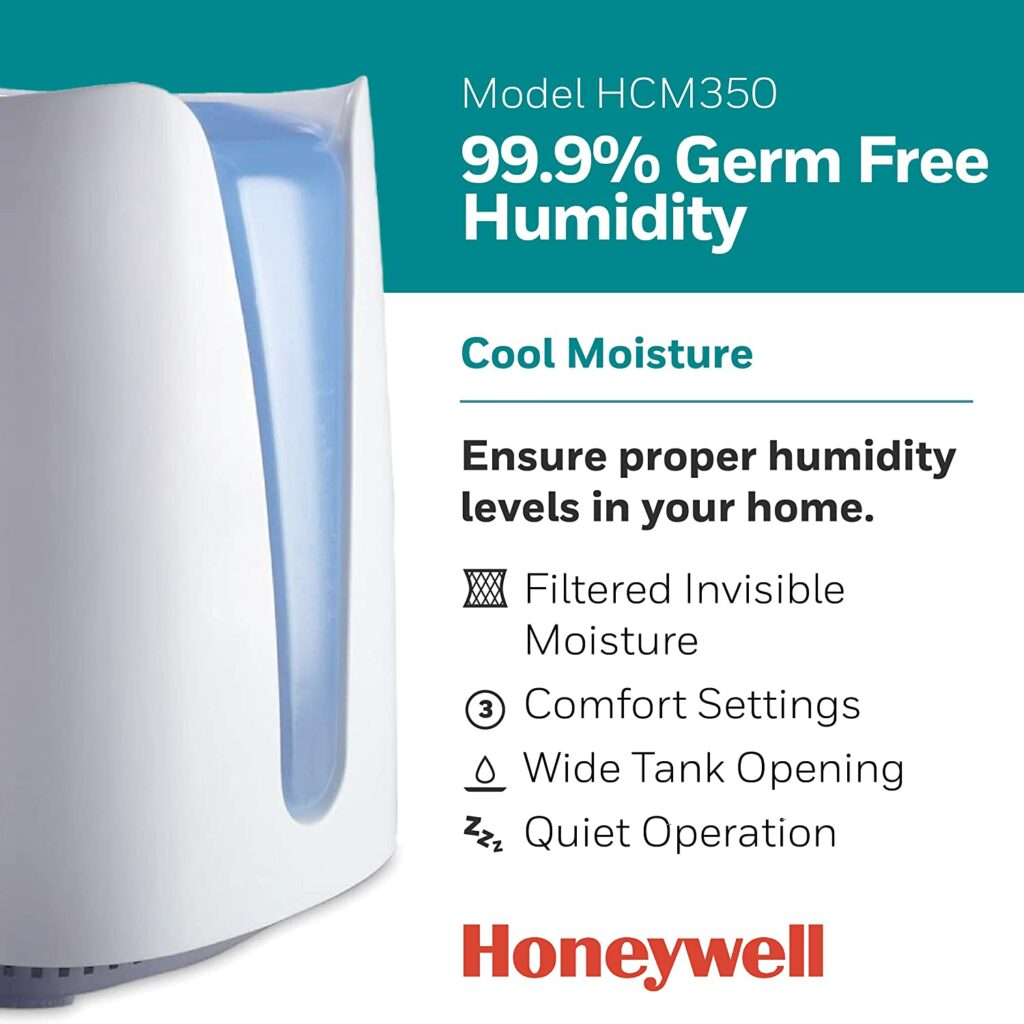 The Honeywell HCM-350 has the evaporative advantages rather than sonic. It means that it uses a fan simply to blow air over a wet sponge. If the moisture is so high, water will automatically stop evaporating from the sponge.
You don't have to think about over-humidification. However, you do need to replace the wet sponge filter every after 6 months.
Noise
There is some white noise, but this machine works silently, unlike most other evaporative humidifiers. This is a good option if a little white noise is not a concern.
Specifications: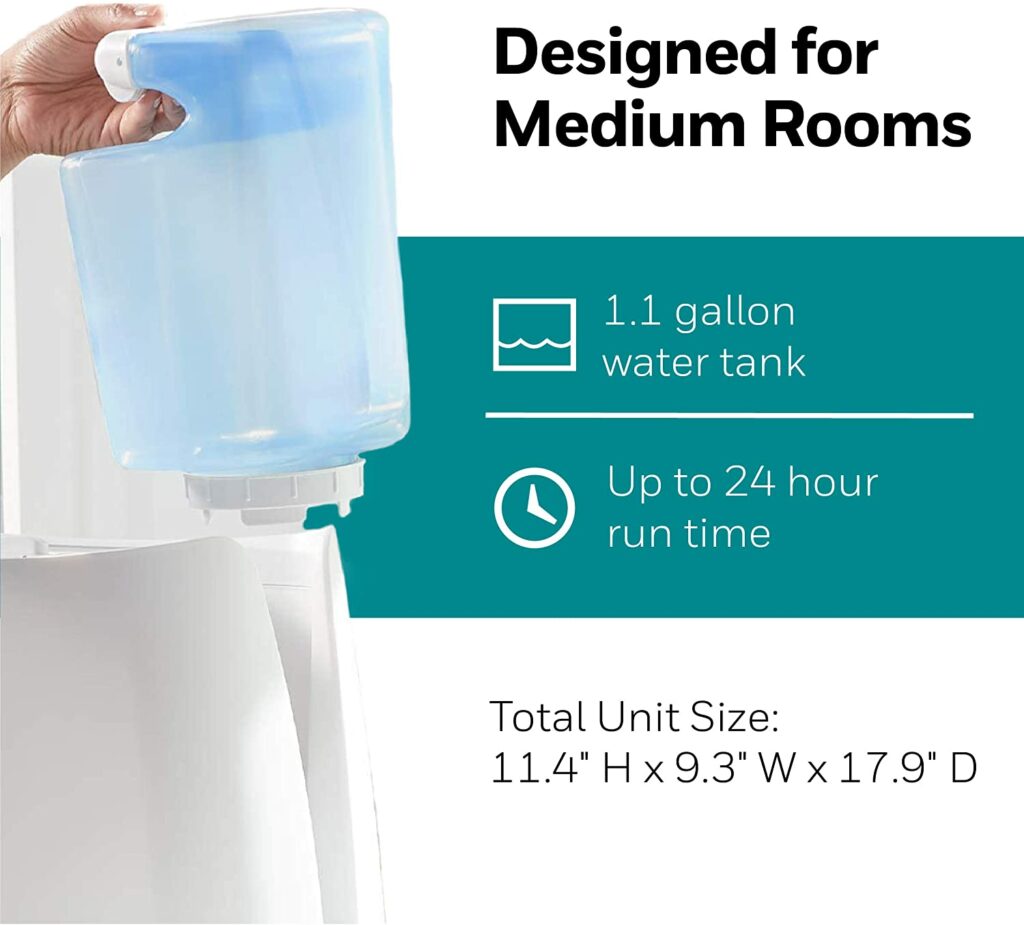 Product Name: Honeywell Germ-Free Cool Mist Humidifier
Weight: 9.55 lbs
Product Dimensions: 17.5 x 9.4 x 11.8 in.
Power Source: Plugin
Water Capacity: 1 gallon
Running Time: 24 hours
Where to buy Honeywell HCM350 Cool Mist Humidifier
#4 Best Cool Mist: Taotronics Cool Mist Ultrasonic Humidifier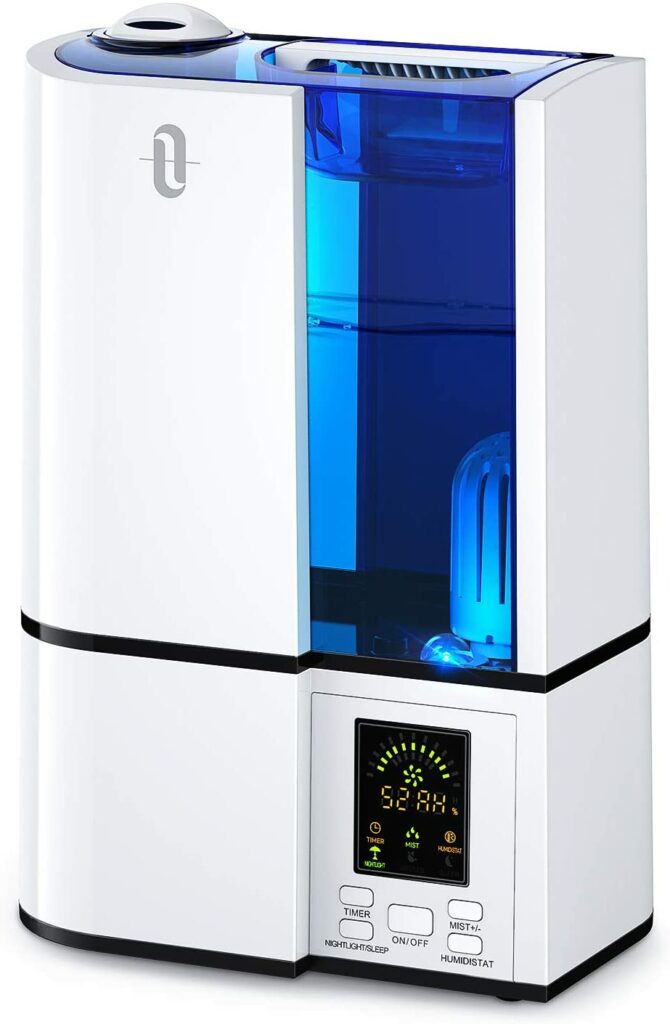 Say goodbye to dry skin and sinuses with this cool-mist humidifier by TaoTronics.
Styled for modern spaces to look fantastic, this humidifier creates an even flow of mist that you really can customize to accommodate the size of the room and your level of personal convenience.
It's one of the heaviest, but there are definitely characteristics that will make you interested in the TT-AH001about their unit. Should you get one for your home? Read on to find out.
Convenience
The settings on this humidifier is as easy to modify the mist output.You can also set the timer, place the device in sleep mode, and even adjust the humidity level of the ambient air with the push buttons placed below the LED panel.
You can rely on the water to still be fresh and safe due to the reservoir's screw-in filter, whether you are using the cool-mist humidifier in your bedroom or home office.
Thanks to the large capacity of the tank, which has a carrying handle to make trips to the sink quick, so you would only need to do it once a day.
Energy-Efficiency and Quiet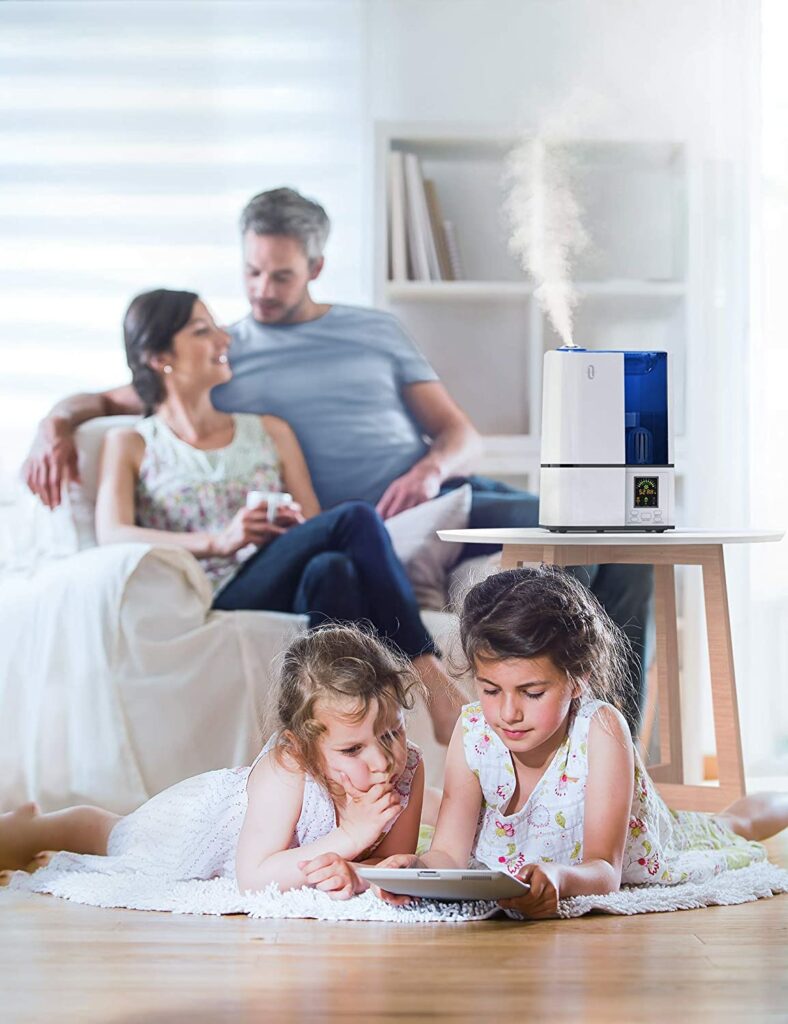 With utility bills that seem to spike a little higher each year, keeping both the power bill down and also enjoying modern comforts is a struggle.
Since the Taotranics operates on a 30-watt engine only, it would not actually increase your monthly electricity bill. Its 12-month warranty that includes replacements is another money-saving perk.
The system of mist-making introduced by TaoTronics suggests that the humidifier is incredibly silent. This apparatus produces mist through high-frequency sound vibrations instead of noisy fan-based evaporative humidification.
The sound level therefore maxes out at 38 decibels, which is close to the noise produced by light rainfall.
Design
Since the TaoTronics is only 8.07 inches in length and 5.31 inches wide, you can put this humidifier on almost every coffee table, nightstand or counter. The humidifier would not overwhelm all of the furniture as it is just 11.3 inches tall.
This humidifier is also lightweight, in addition to its small scale. At a mere 3.2 pounds, you'll have no trouble loading the whole house with it. It will look amazing everywhere you put the humidifier.
The black ribbons of trim accented the humidifier, and the transparent ocean blue tank contrasts well with its white casing.
Specifications:
Product Name: TaoTronics TT-AH001
Technology: Ultrasonic
Water Tank Capacity: 4L/1.06 gal
Mist Type: Cool Mist
Running Time: 12-30 Hours of continuous mist
Effective Range: 10-30 m²/107-322 ft²
Noise Level: ≤38dB
Mist Output (Mode): Min 100±15ml/h – Medium 200±23ml/h – Max 300±30mL/h
Swivel Nozzle: 360°
With Built-in Humidistat
Auto Shut Off: Yes
Sleep Mode: Yes
LED Display: Yes
Essential Oil Compatible: No
Dimensions (cm / in): 20,5×13,5x30cm/8,1×5,3×11,8in
Operating Voltage: AC 100-120V 50/60Hz
Pros
Holds a lot of water.
Does an efficient job.
Internal light for the tank was fascinating.
The water can last for 2 days before it got close to dry.
Holding 40% humidity well.
Very quiet
Cons
Not compatible with essential oils
Where to buy Taotronics Cool Mist Ultrasonic Humidifier
#5 Most Stylish: Air Innovations Humidifier 1.7 Gal Large Capacity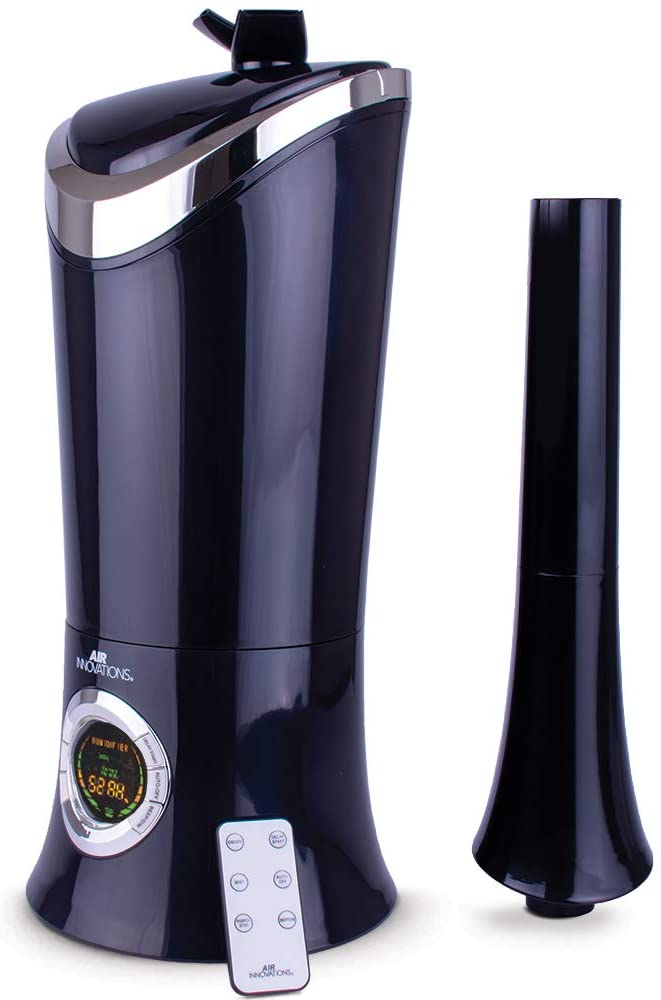 With Air Innovations MH-701B Cool Mist Optical Humidifier you can fight off the effects of dry and harsh indoor air. This cool mist humidifier with a capacity of 1.7 gallons is best suited for large rooms up to 600 sq ft and can continuously work for up to 96 hours.
It is designed with a built-in humidistat, so you just simply pick your ideal humidity level and it will automatically work. This model features a 15-inch mist performance extension nozzle, allowing it to quickly switch from a table top to a floor humidifier in just a few seconds.
To produce humidity in the air, this product utilizes an infrared heater so it is suitable If you are working in an air conditioned room. So if you are dealing with respiratory problems or other medical conditions that can be caused by humidity, this product has many advantages for you.
Of course the Design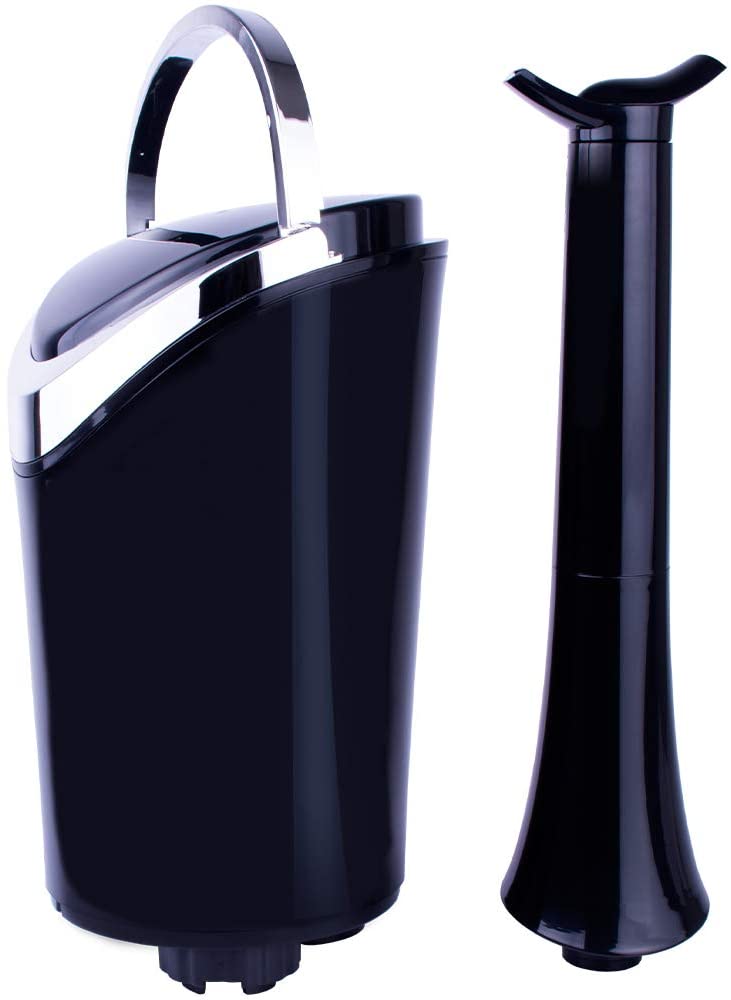 Only because a humidifier is efficient doesn't mean that it can't be elegant. This cool mist digital humidifier from Air Technologies is available in 4 colors, black, platinum, red, and purple, so at the top of the page you will want to make sure you pick the preferred finish.
Adjustable Mist Output
The Air Technologies MH-701B is really a smart humidifier that utilizes a digital control panel. Just simply fill the 1.7-gallon detachable water tank, attach it to the floor, and set the control panel to your desired functionality.
You can manually adjust the level of mist output, too. The machine starts at the lowest setting when it is first switched on. There are 4 additional levels for you to pick from (medium, high, high, turbo).
Additional Features
Remote Control: With the provided remote control, you can easily make changes to your humidifier from across the room.
Germ Defense: Due to its antimicrobial content, the device and its base prevents the growth of mold, mildew, and bacteria in your home.
Permanent Ceramic Filter: Protects the water from contaminants and other impurities.
Automatic Shut Off: The device will automatically turn off when the tank is out of water and a warning light will light up on the LED display.
Delay Start: You can configure the humidifier to turn on up to 24 hours in advance at a specified time.
Programmable Timer: This humidifier can be programmed to turn off automatically in intervals of 1 hour, up to 24 hours in advance.
Specifications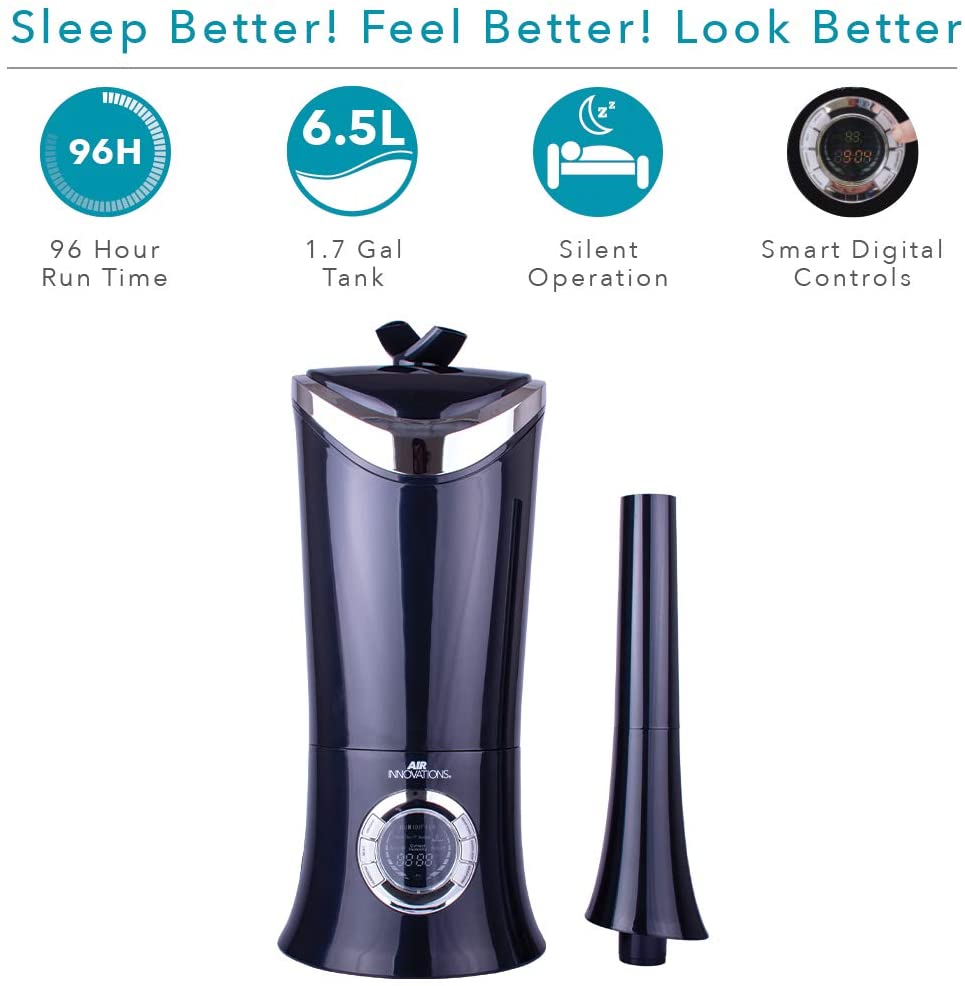 Coverage Area: 600 sq ft
Type: Ultrasonic, Cool Mist
With Humidity Display
With Humidistat
With Mist Output Control
Water Capacity: 1.7 Gallons
Running Time: 96 Hours
With Water Refill Indicator
Removable Reservoir
Electronic Control
Product Height: 33 in
Product Width: 8.25 in
Pros:
Quiet operation for uninterrupted sleep
Easy to use
Nozzle can be extended
Remote control included
Antimicrobial content
No leakages
Runs up to 96 hours on one tank
No replacement is needed for permanent ceramic filters
CONS
Cleaning can be difficult
No water level control
Where to buy Air Innovations Humidifier 1.7 Gal Large Capacity
#6 Best All-in-One: Dyson Pure Humidify+Cool PH01

Today, people are now paying more attention than anyone else to cleanliness and air quality. While Dyson is a no stranger when it comes to humidifiers, air purifiers, and fans, the Dyson Pure Humidify + Cool is the first to incorporate all three into one unit.
It's an excellent move to keep the home space secure and comfortable, but is the price tag really worth it?
Features and Style

The Dyson Pure Humidify+Cool has a base (diameter) of 11 inches and measures just over 36 inches tall, making it shorter and more portable.
On the front, it has a tiny LCD that displays air quality and real-time humidity. It has a remote, and controls it through the Dyson Link App that is available for Android and iOS or you can use the voice commands with Amazon's Alexa or Apple's Siri.
Promotes Health and Cleanliness
If you will look at it on the outside, all the processes occurring inside the Dyson Pure Humidify + Cool are almost difficult to know. It features the technology of Dyson Ultraviolet Cleanse which helps remove 99.9% of the reservoir's waterborne bacteria.
In addition, to capture 99.97 percent of particles as small as 0.3 microns, the air it sucks in is placed into a filtration device composed of HEPA and activated carbon filters. It is so effective at filtering pollen and odors that allergy-sufferers would definitely love this.
Humidifying Efficiency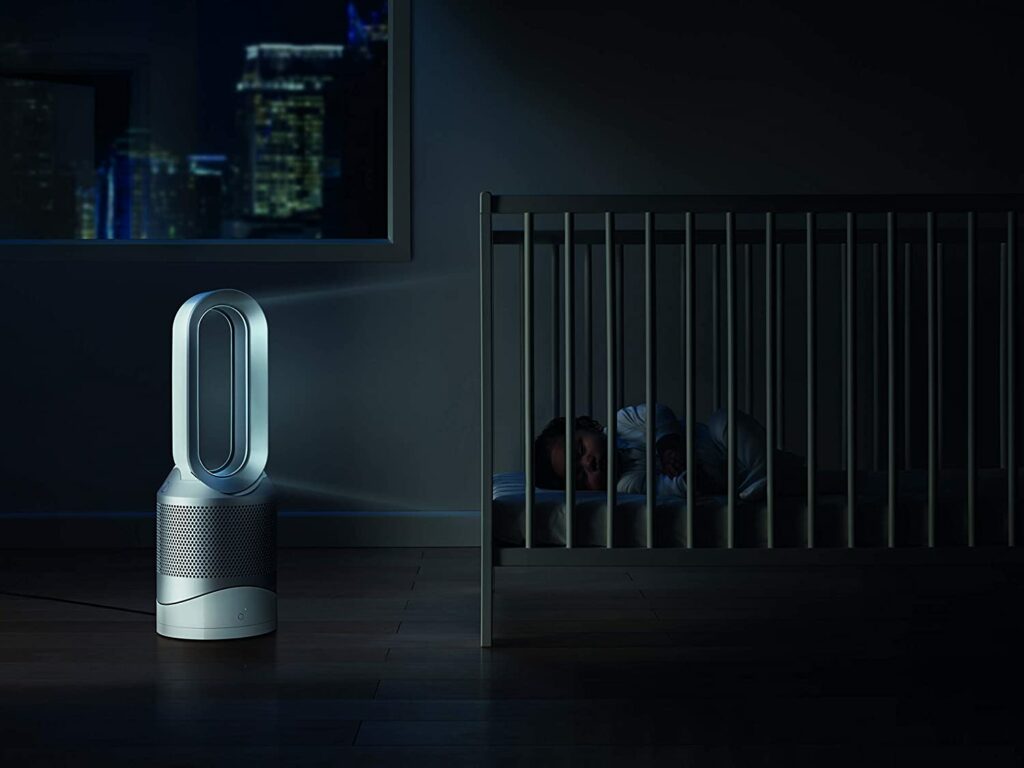 The Pure Humidify+Cool can be filled with tap water from your sink, unlike most other humidifiers that must be filled with distilled water to decrease the chance of bacteria being released into the air.
UV-C light is used to kill waterborne microbes by denaturing their DNA so that they can no longer replicate. Dyson claims that on the first run, this device kills 99.9 percent of waterborne bacteria.
The 3D Air-mesh evaporator (the component that transforms the processed water into water vapor) of the system has interwoven silver strands as a second line of protection, which Dyson states has biostatic qualities that inhibit bacterial growth.
It is More Than A Fan
Dyson Pure Humidify+Cool is a powerful three-in-one system that can purify, humidify and also give you a cooling effect. It promises to capture as little as 0.3 microns of 99.97 percent of airborne allergens, bacteria, and pollen. It turns on in Auto Mode if it detects potentially harmful air pollutants and gases, even if it's in another room, like smoke while you're cooking.
Product Specifications
Model: PH01
Product Weight: 18.28 lbs.
Product Dimension: 11×36.5 inches
90-degree oscillation
10 speed settings
UV Light: Yes
Pros:
Act as 3 different useful devices: fan, air purifier, and humidifier
Effectively kills bacteria in the water when humidifying
Features a deep clean cycle for easy maintenance
Cons:
It is fairly expensive. However, it replaces three different appliances and has still no rivals.
it can be noisy
Where to buy Dyson Pure Humidify+Cool
#7 Best Whole-House: AIRCARE MA1201 Whole-House Humidifier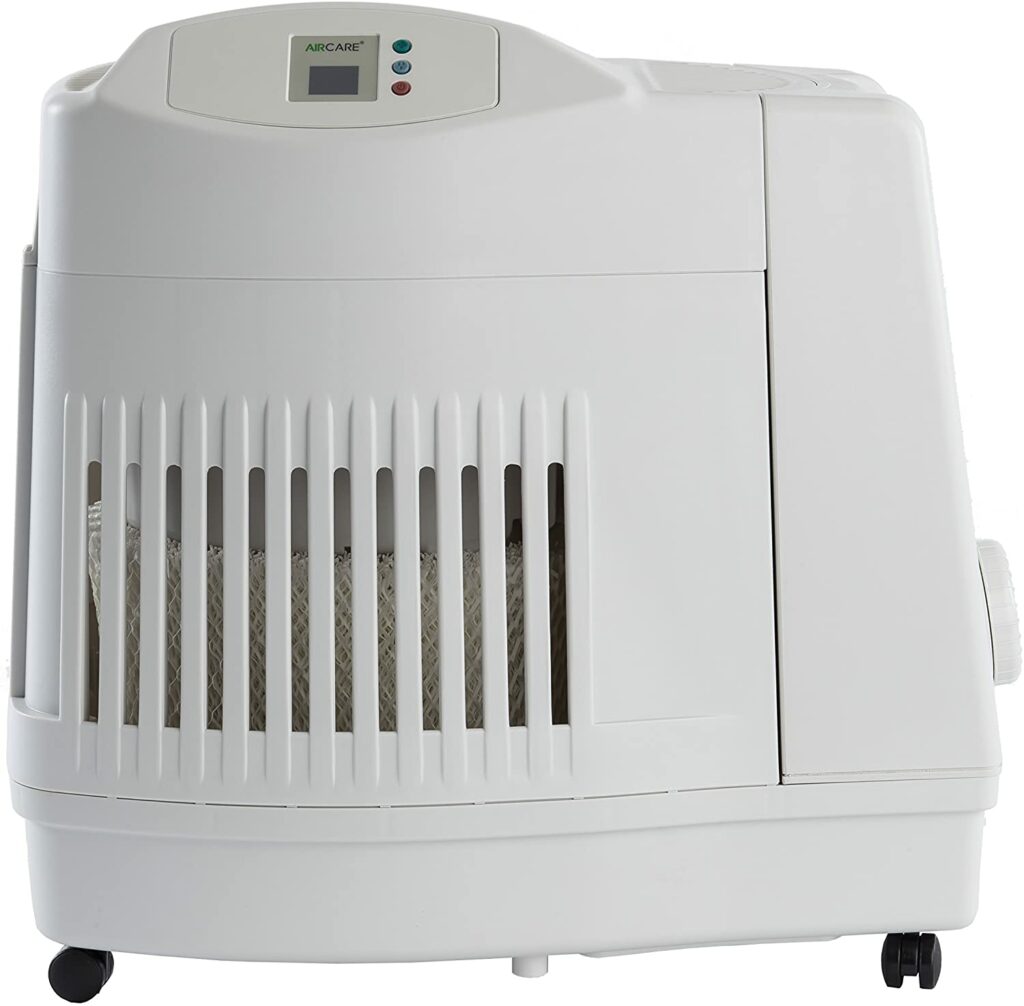 AIRCARE is an Essick Air Products firm that specializes only in mist humidifiers and sells a wide variety of products from small bedside units in ultrasonic, diffuser type to massive whole-home devices.
Aircare MA1201 is a popular brand among customers and has been around for sometime now.It is a classic humidifying device you can use at home to alleviate the low humidity condition.
It has been highly suitable for large spaces, and it's a decent investment despite a few drawbacks.
Whole House Operation
This evaporative humidifier is uniquely built for an entire house and can cover up to 3,600 sq ft. The 3.6-gallon tank provides up to 36 hours of operating time for the system.
When the water tank is empty, the evaporative humidifier turns off as well. When the machine wants more water or when the filter needs care, there are also indications that are activated.
The MA1201 has four different fan speeds, such as a silent nighttime setting and an attractively designed white finish.
Specifications:
Product Weight: 14 lbs
Product Dimensions: 14.5×21.5×20.5 inches
Reservoir Water Capacity: 3.6 Gallons
Ideal Space: 3600 sq ft.
Pros:
One of the best evaporative humidifiers because it has a water tank of large size that does not need regular refills.
Casters allow easy movement from one position to another.
Very easy to use and easy to set the humidity level controls with a single on/off button
Good design that makes this a perfect fit in any decor.
Quiet even in the nighttime setting
Extra wide area of coverage
Indicators for both the refill time and the filter check time
Cons:
The fan is relatively noisy when left on the max settings level
Where to buy AIRCARE MA1201 Whole-House Humidifier
#8 Best with Essential Oils: Everlasting Comfort Mist Humidifier & Diffuser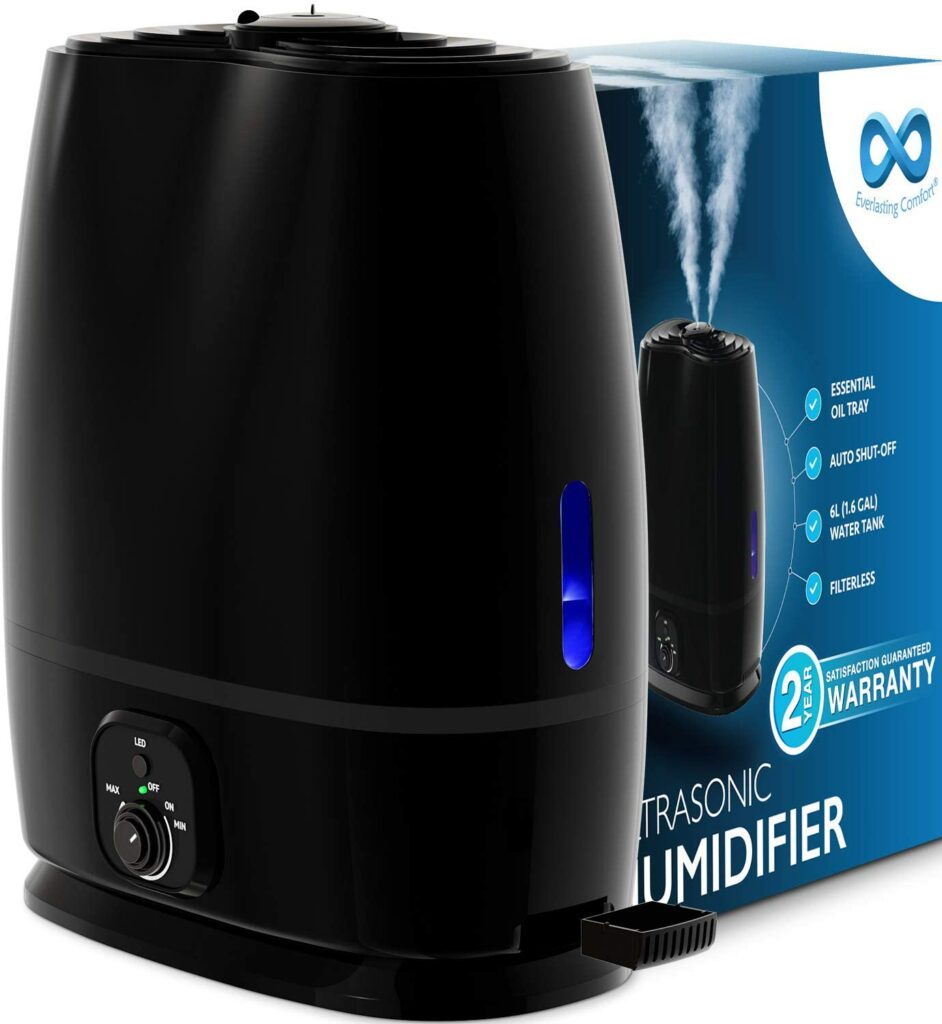 This humidifier comes in a sleek container that holds 6L and lasts between refills for up to 50 hours, all while surprisingly occupying just a little space on the floor of your nightstand or living room.
The Everlasting Comfort Ultrasonic Cool Mist Humidifier provides a fantastic "capacity-per-dollar" value compared to other brands. It has a whisper-quiet function that acts as a humidifier and a diffuser at the same time.
When using it as a diffuser, the separate essential oil tray at the bottom of the device makes it easy to clean and refill the water tank.
Performance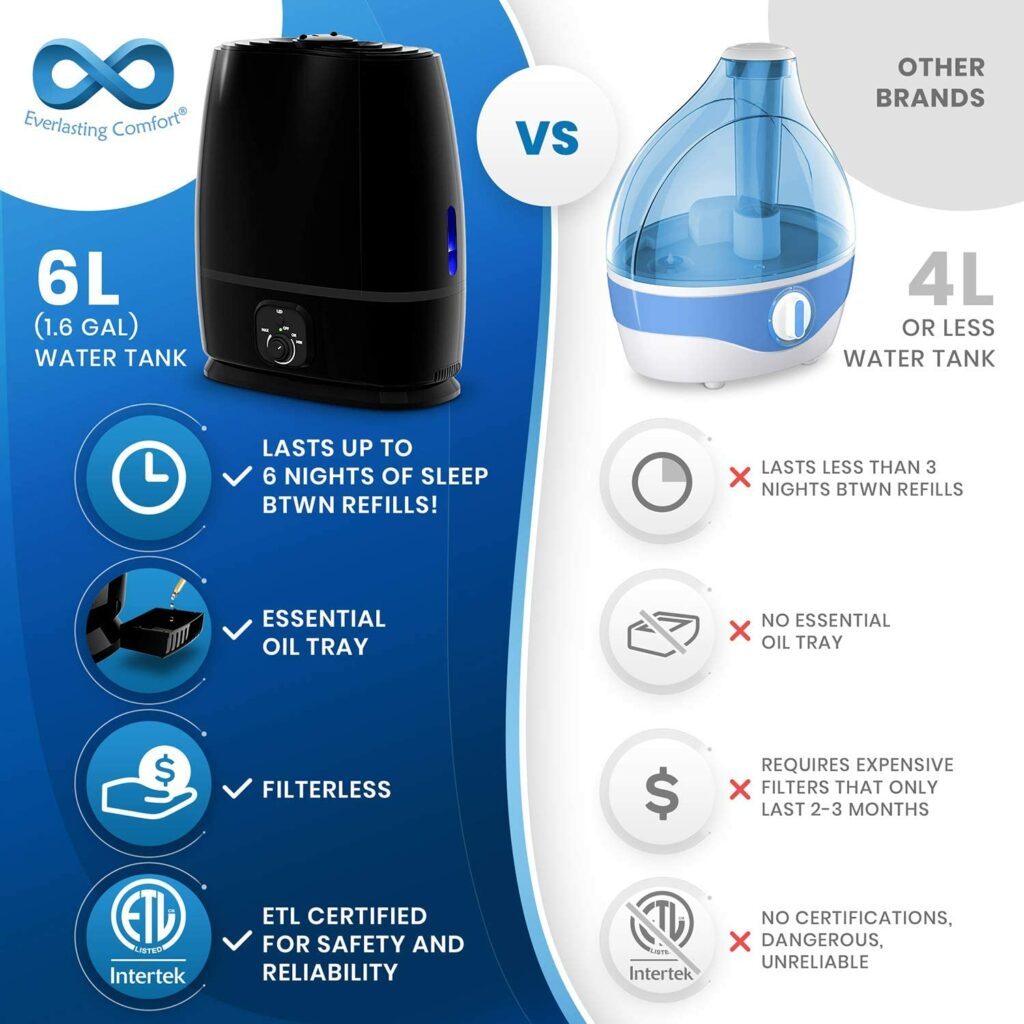 The Everlasting Comfort Ultrasonic Cool Mist humidifier effectively increases the humidity in the room like most humidifiers do. It is much more effective in rooms with 400 sq ft. It operates very well with the 6L water tank and essential oil tray, and people living in it will remain free of any allergies and dryness. The tank performs for about 50 hours with a one-time charging, and it is built to work for a long time.
It maintains moisture above 43%in the room, which is considered to be a healthy environment.
Diffuser
This is by far, one of the humidifier's best functions, as the essential oils help improve the mood and soothe the throat during cold seasons.
Specifications: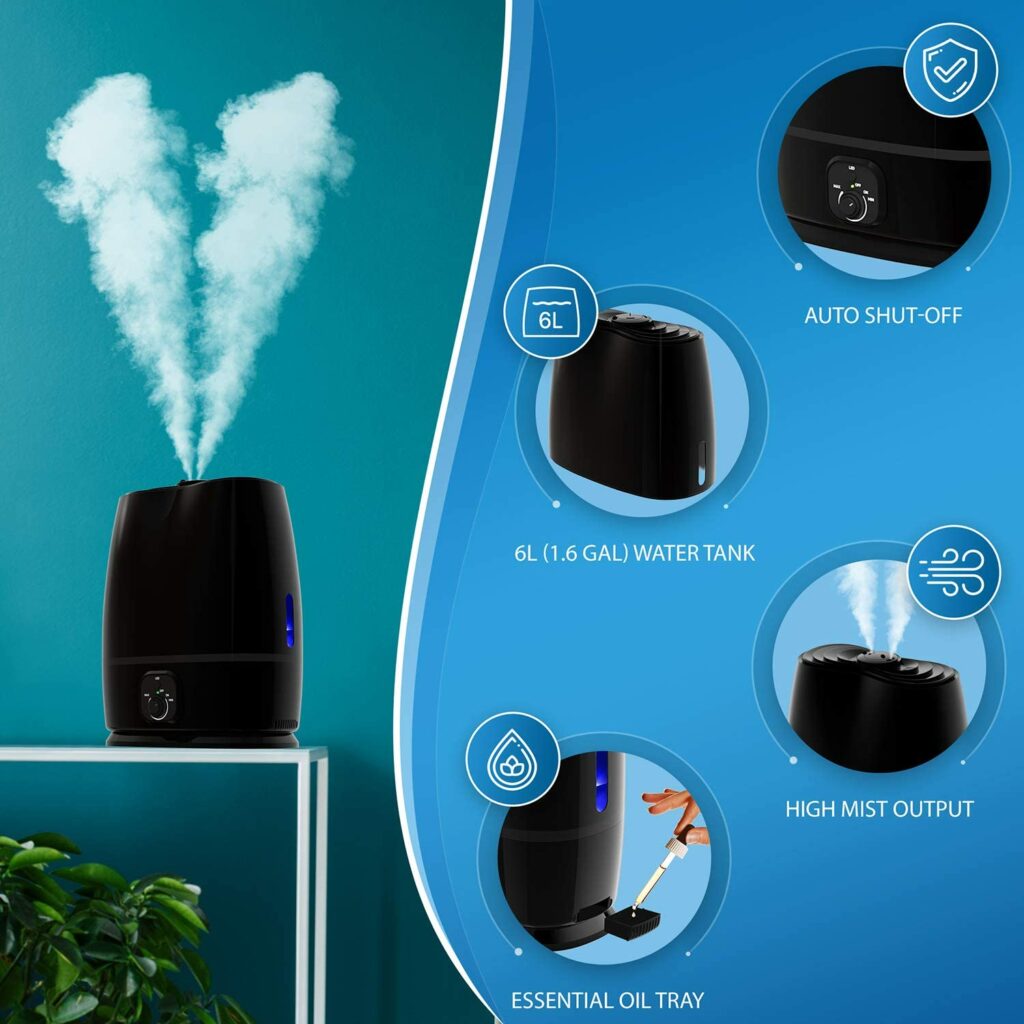 Size: 14.4 x 12.4 x 7.8 inches
Weight: 4.25 pounds
Tank Capacity: 1.6 gallons
Built-in essential oil tray
Night light
Auto Shut-off system
Maintenance and Care
Before cleaning it, unplug the humidifier out, and then raise the tank out of the base every week to clean and achieve good results. To prevent damages, be careful when removing or refilling the tank and avoid leaking by carrying it with a towel or something dry.
It is important to change filters every few months. It is not a big problem to use normal tap water, but to prevent white dust, it is recommended to clean it with distilled water.
Pros:
You can use tap water
Not noisy at all
50 hours of running time
High holding tank capacity
Uniformly disperses mist or vapor
Shuts off when tank empty to prevent damages to the device
Very easy to maintain
Cons:
The lack of a filter could lead to impurities piling up in the tank and other areas of the system.
Where to buy AIRCARE MA1201 Whole-House Humidifier
Choosing the Best Home Humidifier for You: Quick Buyer's Guide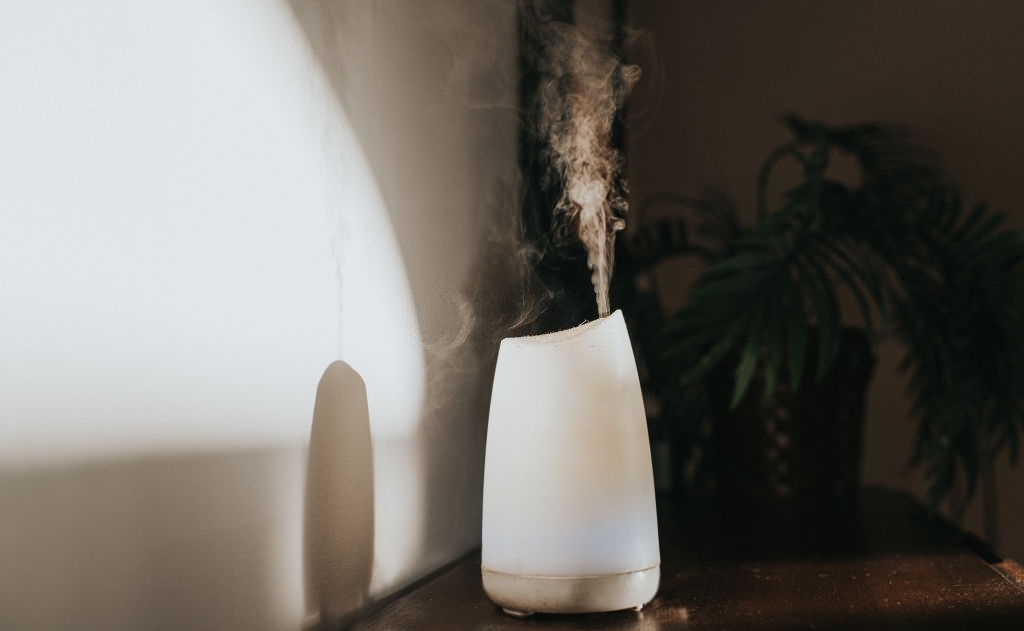 Central humidifiers: This type of humidifier is directly built into the heating and air conditioning system of your home and can regulate the level of humidity in your whole building, it's a bit pricey, but it's the most effective one for sure.
Evaporative humidifiers: A moistened filter blows moisture into this type of humidifier. It works by evaporating water within it and releasing the water vapor back into the air.
Impeller humidifiers: This humidifier produces a cool mist by disks that spin at high speed and drive it out into the room.
Warm mist humidifier: This electric-powered humidifier heats water and cools it before sending the water vapor into the room.
Final Thoughts
Humidifiers are a perfect way to ensure a safe humidity level in your household, from infants to adults. You will safeguard the health of your family, protect the foundation of your home from the effects of dry air, and increase your overall indoor comfort by increasing your indoor humidity level.
You should now have an idea of what kind would suit your needs through these 8 Best Home Humidifiers.