Lawnmowers can be an excellent help for your yard upkeep. If you have a large land, maintaining your lawn can be overwhelming. Having the right machines that can make your life easier is necessary. A lawnmower is a perfect tool for the easy maintenance of your property especially if it has rough terrains.
There are different kinds of mowers and learning about it can help you get the right product for your needs. There are also factors to consider for you to get the lawnmower worthy of your purchase. If you're considering buying this kind of machine, you came to the right place. In this section, we'll give you tips on how to buy a riding lawn mower for rough terrains. 
Recommended for You: Best Riding Lawn Mower for Rough Terrain | Powerful Machines for Easy Lawn Upkeep
Different Lawn Mowers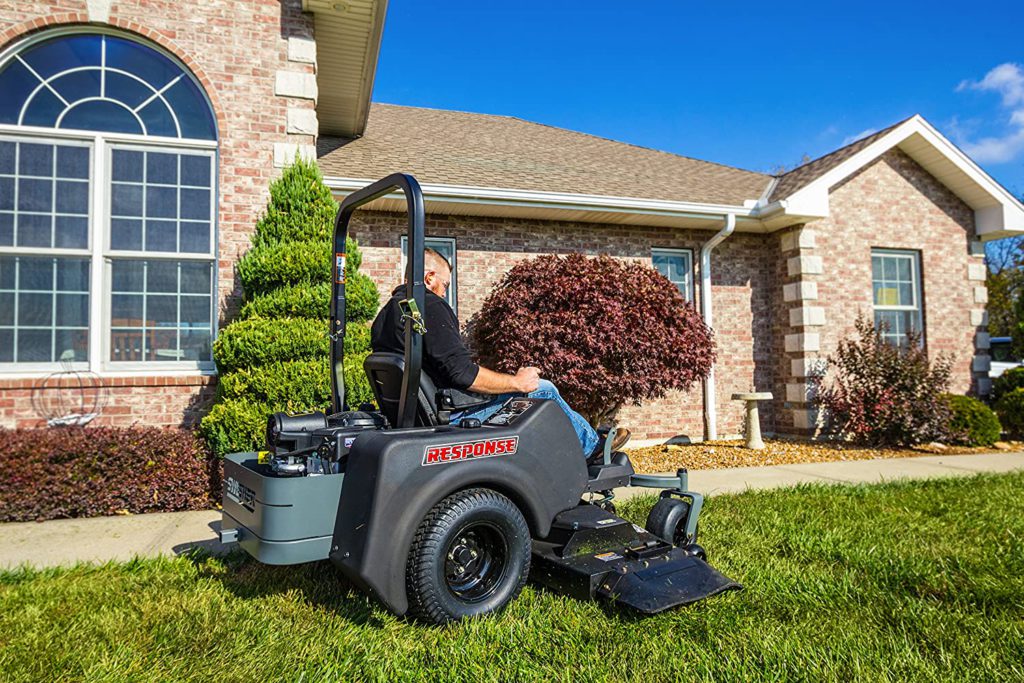 Various types of lawnmowers differ in power, price, size, features, strengths, and drawbacks. Knowing the difference between these mower types will help you purchase the right mower for your needs.
Push Lawn Mower
A push lawn mower, as the name suggests, are models that need pushing from the operator for it to move from one place to another. This type of mower can also be called walk-behind lawnmowers, which you can control by manually directing its path behind the handle. Push lawn mowers are usually the cheapest type among the other kinds. However, they can be the least powerful, too. Push lawn mowers can be a great choice for people with small lawns. They're also the best option if you have a tight budget.
Self-Propelled
Self-propelled lawn mowers are similar to push mowers when it comes to size and built. However, this mower type can move on its own. It doesn't require pushing from the operator. Some self-propelled models are equipped with technologies that allow it to take a straight path remotely.
Many mowers in this category, however, require the operator to direct the path manually using the handle. Self-propelled lawn mowers can either be gas-powered or may run using electricity. 
Riding Mowers
Riding mowers are usually the most powerful type among lawnmowers. These machines, as the work implies, are mowers you can ride and drive. Most of these models are gas-powered. Riding mowers are the option for people with large lawns. You can complete your yard tasks faster using these machines.
However, they can be bulky. Meaning if you have a limited storage space, this might not be the model for you. If you have a budget and you're looking for powerful tractors with a satisfying speed and cutting performance, riding mowers can be the machine for you. 
Recommended for You: Best Riding Lawn Mowers For The Money | Bang for the Buck Tractors for Maintaining Your Lawns
Factors to Consider When Buying a Lawn Mower for Rough Terrains
There are a few factors to consider when looking for a lawnmower for rough terrains. Working on challenging lands that are hilly and have many obstacles can be tricky. For these types of lawns, you must get an efficient mower that's not only powerful but efficient and easy to control. Below are the factors you want to weigh out when purchasing this type of mower.
Lawn Size
Before purchasing a mower, your first step would be checking the size of your property. This factor is one of the most crucial factors as it can be the basis of the cutting width that you want for your tractor. You will also base the speed and built of the mower depending on the size of your lawn. Besides the size of your lawn, you may also want to consider the obstacles around your property.
If trees or flower beds are present in your lawns, we recommend you opt for a model that can work well in tight or small spaces. In such cases, the riding mowers you'll get can be a smaller model or a unit with tight steering for better control in driving. If you have a large lawn that is about ½ acre or more, a riding mower can be the best option for you. For lands of about ½ acre with not many hills, a zero-turn radius mower can be a great choice. Furthermore, for ½ to 1 lawn size, you can opt for rear engine riders
Power
The lawnmower's power may determine the speed and cutting efficiency of the model. You will find mowers with the engine power that ranges from 18, 24, 42, and higher. A tractor with a higher power is expected to offer better performance than less powerful machines. However, these mowers may also be more expensive. Lawnmowers that offer the greatest powers are also typically larger units than the other mower types.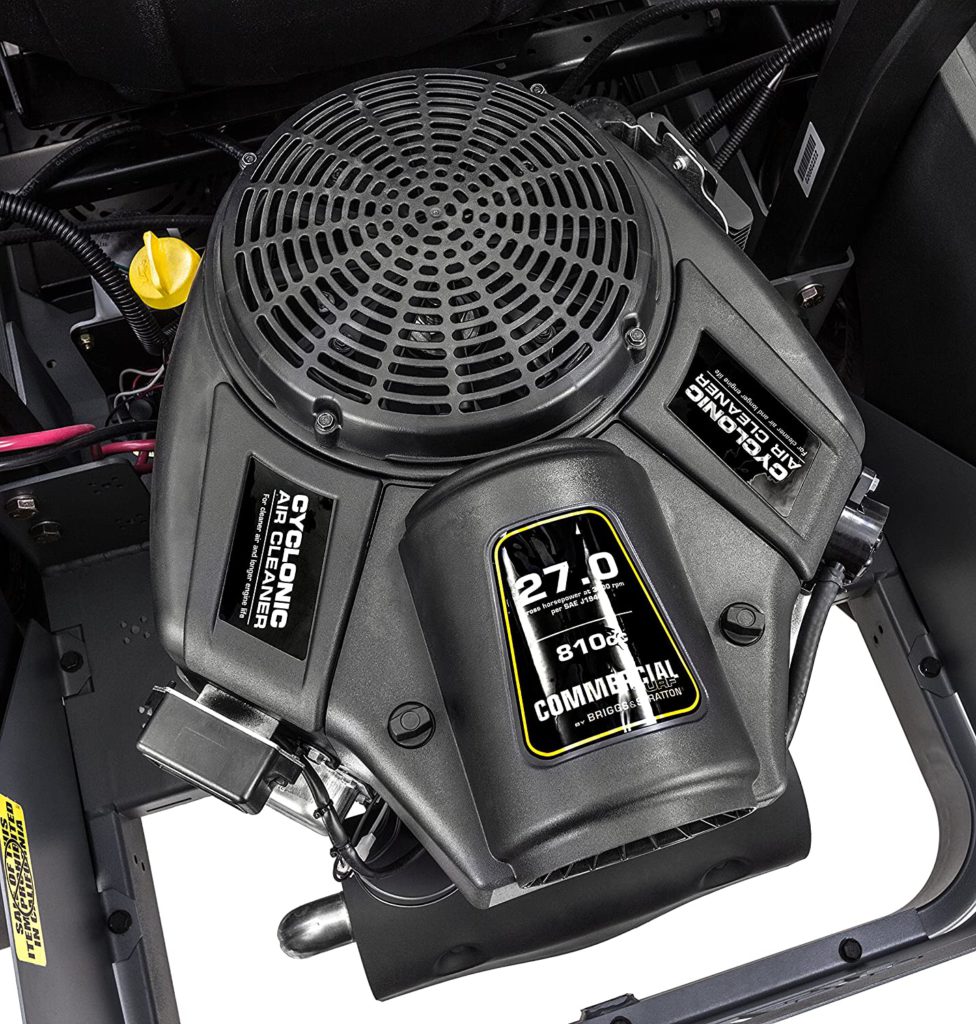 Thus, if you have enough budget for powerful lawnmowers, we suggest you opt for this mower type especially if your lawn has rough terrains. If your lawn is huge with many obstacles, getting a lawnmower with a top-quality machine is for you. You will need a powerful mower especially if your lawn has rough terrains. This way you can efficiently and easily complete your tasks.
Tank Capacity
If you have a land with rough terrains, chances are you will be opting for a gas-powered model. For this type of lawnmower, the tank capacity may range between 1 to 3 gallons for traditional models. On the other hand, tank capacities for commercial use may range between 5 to 6 gallons.
You also have an option to choose battery-operated mowers. However, these models might not be as efficient as the powerful mowers if used for lands with rough terrains. Electric lawnmowers equipped with 75 Ah batteries can operate about two hours on a full charge if the lawn is easy to work on. Although this is usually long enough for your lawn maintenance, you're going to need to recharge more often than you'll have to refuel a gas-powered mower.
Recommended for You: Snapper Lawn Mower 560z 5901564 Review | Durable and Efficient Mower for Easy Lawn Maintenance
Speed
Riding lawnmowers offer varying speeds. For electric models, you can expect speed that ranges from 5 to 8 MPH (forward), and 1 to 3 MPH when mowing in reverse. Gas-operated riding mowers, on the other hand, operate at a near speed approximately about 2.5 MPH driven in reverse. These model types feature larger cutting decks, that can be about 42'' in width or larger.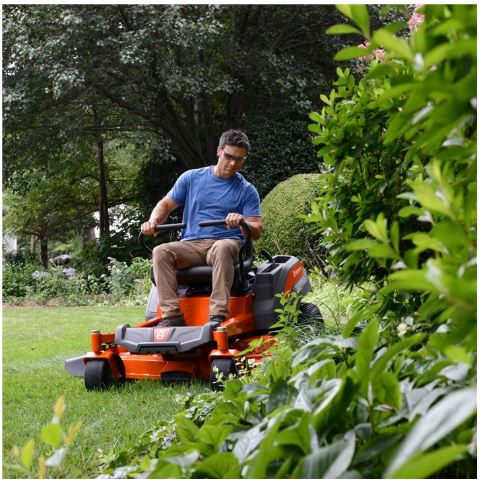 Gas-powered riding mowers are the best choice for cutting large areas. They're durable, faster, more powerful, and allow you to complete your task quickly. However, fuel-operated riding mowers can be more expensive and they require more maintenance. However, for commercial use and large lands with rough terrains, this mower type offers the best perks.
Cutting Width
One of the most important features to consider is the cutting deck of the lawnmower you're getting. The size of the cutting deck means the model's cutting coverage, which can affect how fast you can finish your task. The larger cutting width your tractor has, the faster you can finish your work. You must also consider the cutting width when it comes to the size of your lawn. If you have a small space, you may want to opt for an appropriate size of the mower's deck for precise cutting.
Transmission
You will find different transmission types among riding mowers. This factor dictates the level of ease when driving and maintaining the mower. You will transmission types vary from manual, automatic, and hydrostatic. Each of these transmission types offers benefits and drawbacks.
Mowers with manual transmissions can be the most challenging to control. However, these mowers are usually the most affordable, too. On the other hand, mowers with automatic transmissions are more costly but are easier to control than manual mowers. This transmission type, however, requires more demanding maintenance.
Hydrostatic transmissions provide the most comfort and efficiency when it comes to using and control. Mowers with this transmission type could be the most costly, too. If you have enough budget, we suggest you opt for hydrostatic mowers. Although this mower type doesn't usually offer the best traction, they offer great maneuverability.
Turning Angle
"Zero-turn" means the turning angle capacity of the zero-turn mower. Just as implied, zero-turn mowers offer a zero turning degree. The most beneficial fact about zero-turn radius mower is that it can operate well around tight corners. With this mower type, you can edge hedge easily, as well as, trim and go around tough angles.
Zero-turn radius lawnmowers use various brake systems. Also, you won't find a steering wheel with ZTR mowers. These machines are controlled using two handles.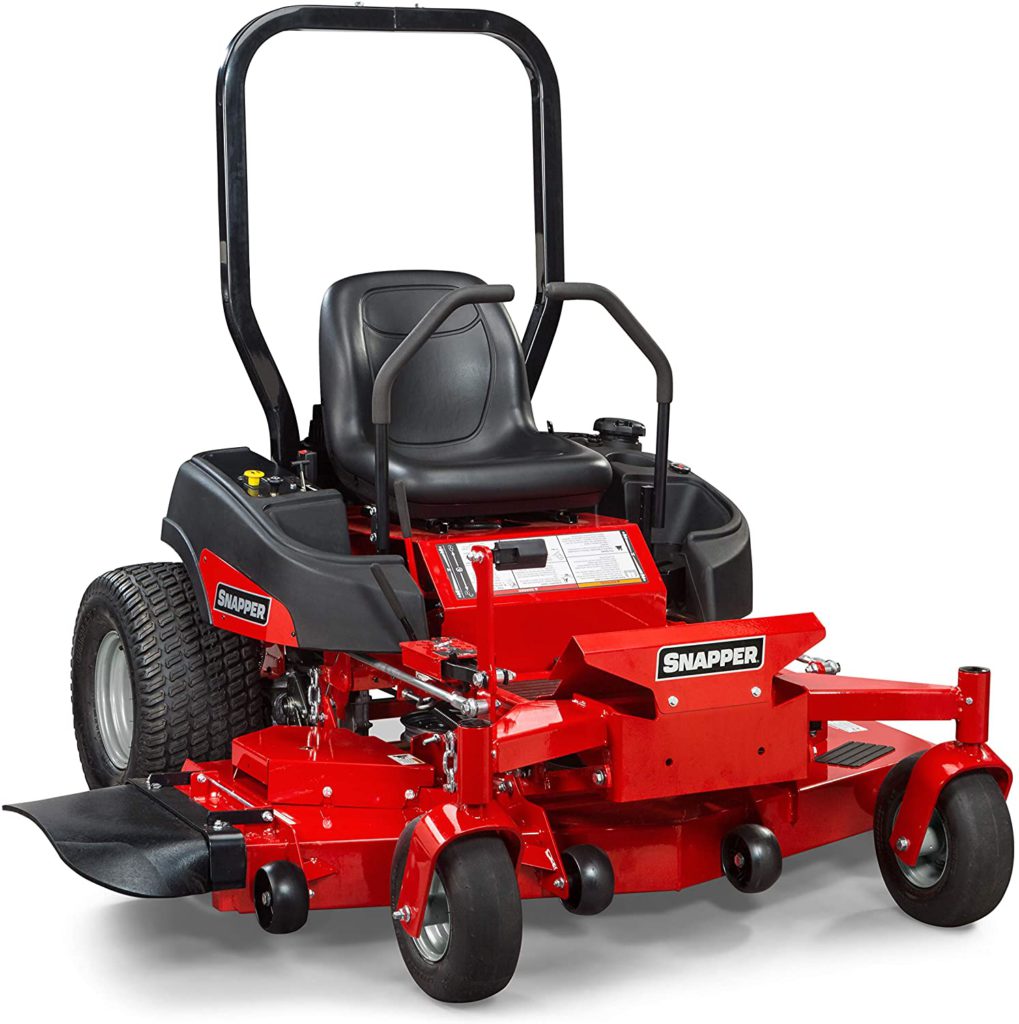 The turning angle of a traditional riding mower is usually not as efficient as ZTR. Most of the time, a riding lawnmower's turning angle range between 4'' and 30''. Although it's a broad spectrum, every manufacturer uses different designs for their lawnmowers. Furthermore, it may also mean that the more expensive the riding mower is, the smaller the turning angles the mower can offer. The smaller turning angles, the more you can optimize the efficiency of the machine.
Features for Comfort
Features for comfort are also crucial factors to consider when getting a riding lawnmower. If you'll work on a lawn with rough terrains, a comfy ride is necessary. Some of the features that support comfort can be cup holders, lumbar support, high back-seat, large legroom, rubber footpads, armrests, and more. These features can make your upkeep a lot easier especially if you will be using the mower for challenging lawns and for long hours.
Attachments that come with the model may also contribute to how comfortable and convenient it is to use. Dump carts, lawn rollers, lawn aerators, rakes, and other attachment features can be great additions for the mower's ease of use. Although attachments are typically separately bought, you can find some models that come with these added accessories.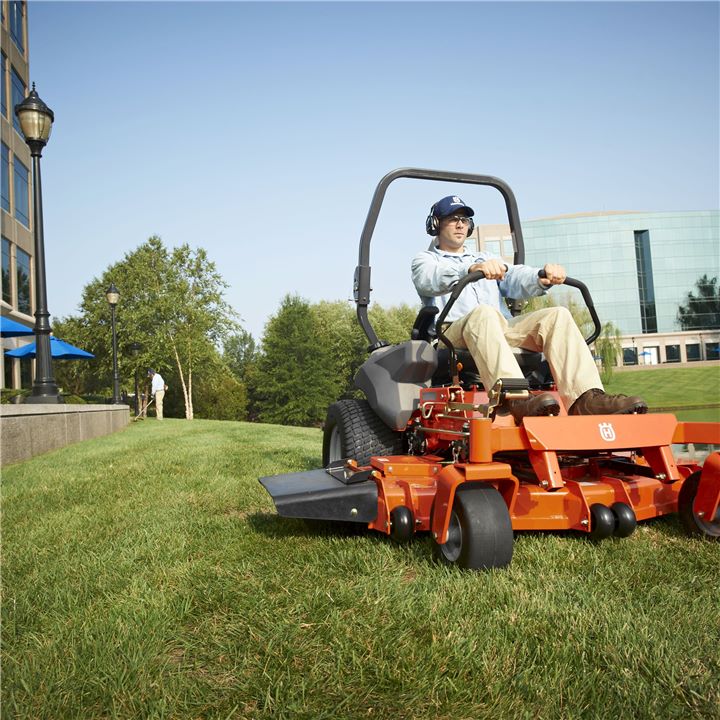 Conclusion
We hope we have provided great tips on how to buy a riding lawn mower for rough terrains. You can use this guide as help when you purchase a riding mower to make sure you're getting the right product for your needs. If you think this post is helpful, please let us know in the comment section below. We'd love to hear from you!
Recommended for You: Swisher Lawn Mower ZTR2766BS Review | Powerful and Safe Mower for Rough Terrains