Are you in search of a powerful leaf blower? The Hitachi RB24EAP gas powered leaf blower is our top pick. In this review I'll take you through everything there is to know and whether this model is the right tool for your needs. To kick things off the Hitachi is equipped with a commercial-grade 23.9cc 2-cycle engine that delivers 441 CFM (cubic feet per minute) of air volume and a maximum wind speed of 170 miles per hour. That's powerful!
The benefit of buying the Hitachi leaf blower over other brands is that you get a PureFire low emission engine system, a purge primer, a sizable 2-finger throttle, an automatic return stop switch and a lightweight machine weighing just 8.6 pounds (3.9 kgs). For peace of mind, the manufacturer provides a comprehensive 7-year warranty for domestic use, a 2-year warranty for commercial use and a 1-year warranty for renting it commercially.
Why Should You Buy a Leaf Blower?
If you've never used a leaf blower before or are thinking of upgrading your existing model and debating whether you should get one then this section is for you. We all know how much of a nuisance dead leaves and pine needles can be. There comes a point where a leaf rake just isn't doing the job. A leaf blower allows you to do the same job much easier and a lot quicker to restore your garden or yard to its former glory.
I would highly recommend a portable handheld cordless leaf blower to get rid of messy leaves and maintain your exterior space. It performs 10 times faster than a rake and takes away the strain. Gas-powered leaf blowers are ideal for medium to large-sized garden or yards and can keep up with the challenges posed by blowing away large and often wet leaves or pine needles. Whether you're a newcomer to leaf blowers or are looking to update your current appliance the Hitachi RB24EAP is a suitable user-friendly appliance with features that are easy to use and even easier to get started.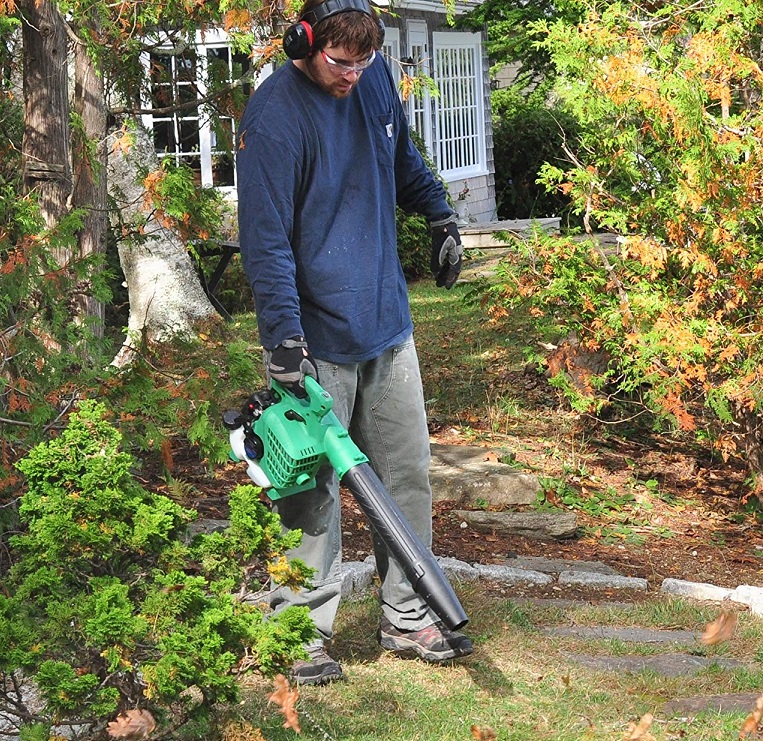 Summary of Hitachi RB24EAP Specifications
Commercial standard 23.9cc engine with 1.13 horsepower.
Maximum wind speeds of up to 170 MPH with 441 CFM (cubic feet per minute).
Automatic return stop switch.
2-stroke engine with a PureFire low emission system.
Product weight: 8.6 Pounds (3.9 kgs).
The handle comes with a bigger throttle lever.
The blower engine complies to the CARB Tier III standard.
Warranty: 7-year for residential use, 2-year for commercial use, 1-year for commercial rentals
Check Out Where The Hitachi RB24EAP Ranked in Our List of the Best Leaf Blowers
Hitachi RB24EAP Full Product Review
The Hitachi RB24EAP is a true workhorse. You will not find many leaf blowers that can rival the performance of this powerful machine. This is our front running leaf blower and there are many advantages of buying the Hitachi blower over others.
If it's power that you're after, there's tonnes of it and as such, you can blow away huge piles of dead leaves or pine needles. If you're undertaking difficult tasks such as moving heavy wet leaves or larger items like twigs, there is plenty of airflow to deal with that.
Hitachi has equipped their leaf blower with a solidly built 23.9cc 2-stroke engine that is strong enough for commercial use such as landscaping businesses. It delivers torque and spins at a quick rate. Most gas-powered leaf blowers are heavier than corded or battery-powered machines, however, that is not the case for the Hitachi RB24EAP. This lightweight appliance weighs a mere 8.6 pounds. The weight is also distributed evenly for improved handling.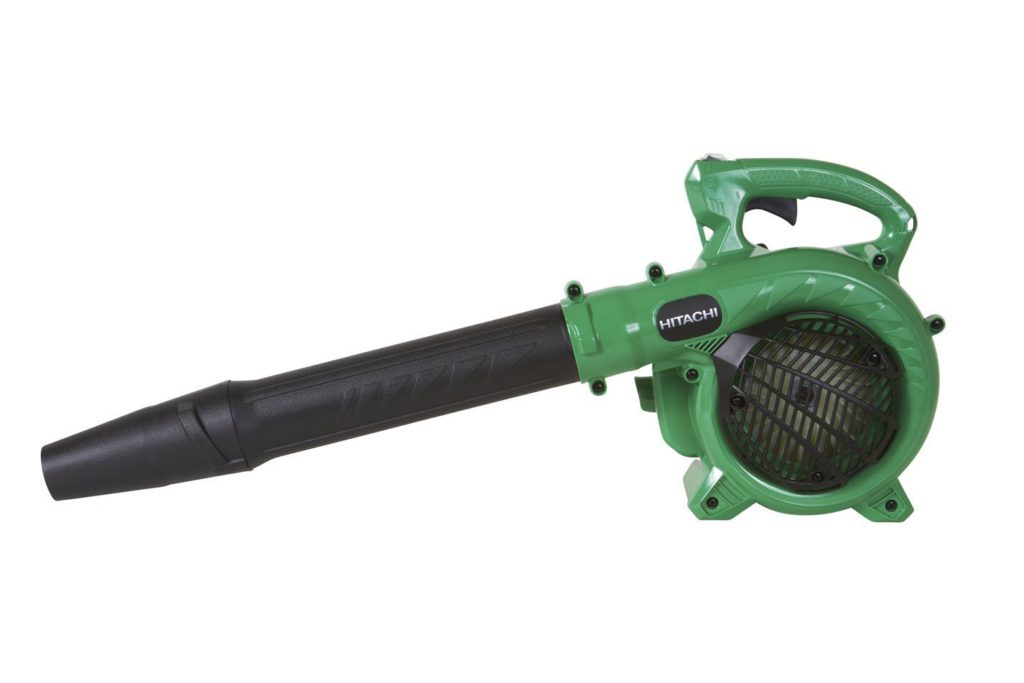 The air nozzle has been smartly designed to concentrate huge volumes of airflow into a steady stream and as a result, it delivers the power required to move leaves, pine needles and other unwanted items from your garden or yard. The Hitachi RB24EAP is manufactured using quality materials and the company is so confident in the appliance's reliability and build that they are providing a long 7-year warranty for household use.
What Users Have Said
Practically all users are impressed by the Hitachi's maximum wind speeds of 170 MPH and 441 CFM air volume delivery. The Hitachi RB24EAP has earned its reputation as being among the strongest handheld leaf blowers currently available. There's sufficient power to deal with most difficult jobs like blowing away wet grass or clearing up masses of Autumn leaves.
Starting up the machine is easy enough thanks to the purge primer that normally takes one or two pulls to get it going. The automatic return stop switch does away with failed starts because of the switch being positioned to off.
For better control of the unit, there's a larger throttle, however, some users have stated that they would have preferred a switch that is continuously on, in cruise control mode, for longer tasks. The lightweight design and easier handling makes it an ideal leaf blower to use even when it's operating at maximum airflow speeds.
You will find the air inlet to the left-hand side of the appliance, therefore, if you are right-handed you might find that the machine will stick to your clothes, if it is held too close to them.
A small number of users have highlighted that the fuel lines can often deteriorate over a period of time. To fix this issue you should use gas that doesn't contain ethanol and add fuel stabilizer into the tank. Users appreciate the 7-year domestic use warranty as it's one of the most comprehensive warranties for gas-powered handheld blowers. Well done to Hitachi.
Pros
A robust engine with plenty of high-performance blowing.
The throttle lever gives better control to handle a variety of jobs.
Easy to start the machine and get going.
Outstanding 7-year warranty which is the best in the industry.
Cons
The design doesn't provide an option to attach a shoulder strap.
Would have been better if the machine came with a continuous on switch for cruise control use.
A small number of users have reported fuel line issues after prolonged use.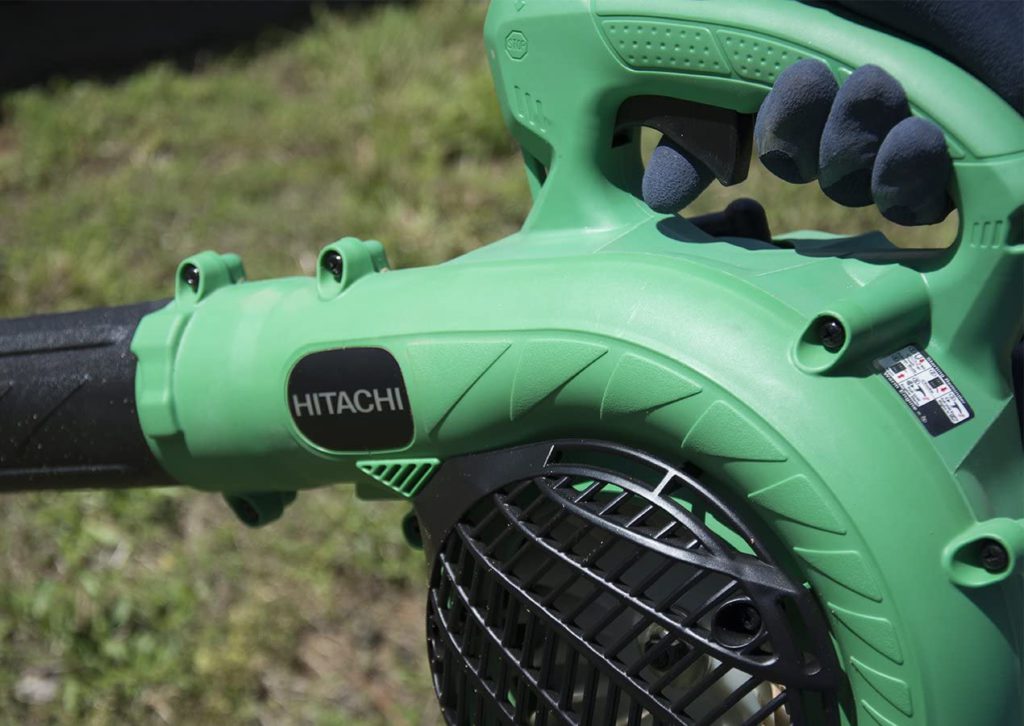 Electric leaf blower users have found the Hitachi leaf blower to be an easier machine to use when making the transition from electric to gas. Understandably electric users will have the apprehension of mixing the oil and gas correctly as well as successfully starting the machine with ease. As it turns out, mixing the fuel is a very straightforward process and should not deter you from switching to the Hitachi gas-powered leaf blower.
Starting up the appliance is very easy too. Besides professional use, the adults at home, both male and female, can get this machine started and operate it without requiring extra assistance. Once the correct fuel mixture is poured into the tank simply lift the machine, pull the purge primer once or twice and the unit springs to life.
Check Out Where The Hitachi RB24EAP Ranked in Our List of the Best Leaf Blowers
Hitachi Leaf Blower Performance
In addition to the simple startup process, the machine boasts a remarkably high-performance track record. One user even went as far as comparing his Hitachi leaf blower with the next-door neighbour's machines which comprised of an Echo gas leaf blower and a Stihl gas blower.
All of them were in agreement that the Hitachi came on top thanks to the tapered concentrator nozzle found at the end of the blower tube. Each of the units weighed roughly the same and the weight was evenly distributed throughout each of the machines, however, the airflow delivered by the Hitachi was superior to the other 2 machines.
We've already mentioned the minor issue with the air intake that is positioned on the left-hand side of the machine, which tends to be a problem for right-handed users as the machine often sucks onto clothing during use. This might not be an issue during the initial stages of the job but poses a problem as your arm starts to get fatigued and you start resting the appliance against our leg. If Hitachi added a shoulder strap to the machine then this would alleviate the problem.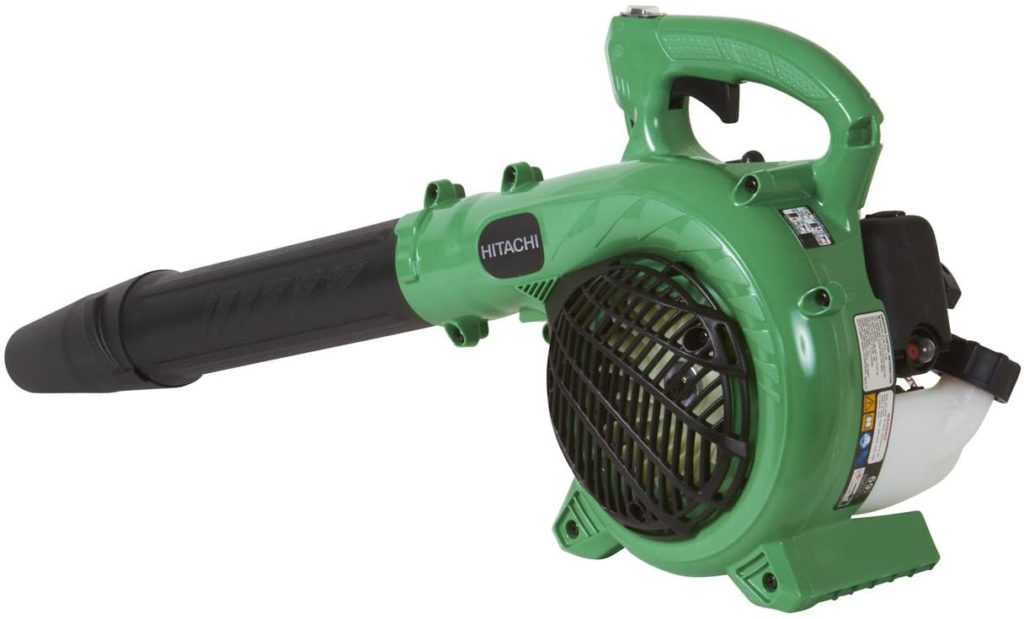 Some users have stated the tube could benefit from being longer to avoid the need to bend over, this could be more prevalent with taller people. However, the powerful airflow should be enough to negate the need to hunch over when you take into account that there's enough power at your disposal to move dry snow without much effort.
When the power is increased to full throttle and you position the opening down to the sidewalk, it can blast away layers of packed snow that people have been walking on for several days, therefore, the tube length is sufficient for most jobs.
The lightweight machine has also been designed to reduce vibration. One user stated that they were able to clear 3 driveways along with the walkways and sidewalks whilst never needing to switch hands.
Setbacks
Although the Hitachi gas leaf blower is a robust, well-balanced and simple machine to get started, it lacks a feature that we've mentioned earlier. We would have liked to see a 'Trigger-Lock Button' similar to the ones found on competing models.
I was a bit surprised to find out that Hitachi didn't have one on this model considering that it would be a very easy and cheap feature for them to integrate into the machine yet it offers massive conveniences and usefulness.
If your garden or yard is large or if you are a professional landscaper that uses a leaf blower for many hours daily then you would definitely benefit from using a trigger-lock, however, for the occasional user, this would be a nice-to-have.
Seasonal Usage: Spring, Summer, Winter, Fall
The Hitachi leaf blower can be used throughout the year including Spring, Summer, Winter and especially Fall when dead leaves are prevalent. The appliance is particularly handy for clearing sidewalks, decking, patios, driveways, grass clippings and of course leaves.
An additional bonus is that you can use it to clear away snow from driveways during the winter months. Most users aren't even aware that the Hitachi can blow away snow rather than resorting to the difficult task of shoveling or sweeping.
Recommended Reading: Best Commercial Leaf Blowers for Dead Leaves and Debris
Conclusion
If you're looking to upgrade your existing leaf blower or transition from a battery/electric blower then the Hitachi RB24EAP is a robust solution. You get all of the benefits and power associated with gas-powered models from this lightweight model.
It lacks a trigger-lock button, however, I wouldn't say that this is a deal-breaker as the machine more than makes up for this in other areas. The engine is easy to start and the unit comes with a long 7-year residential warranty for peace of mind.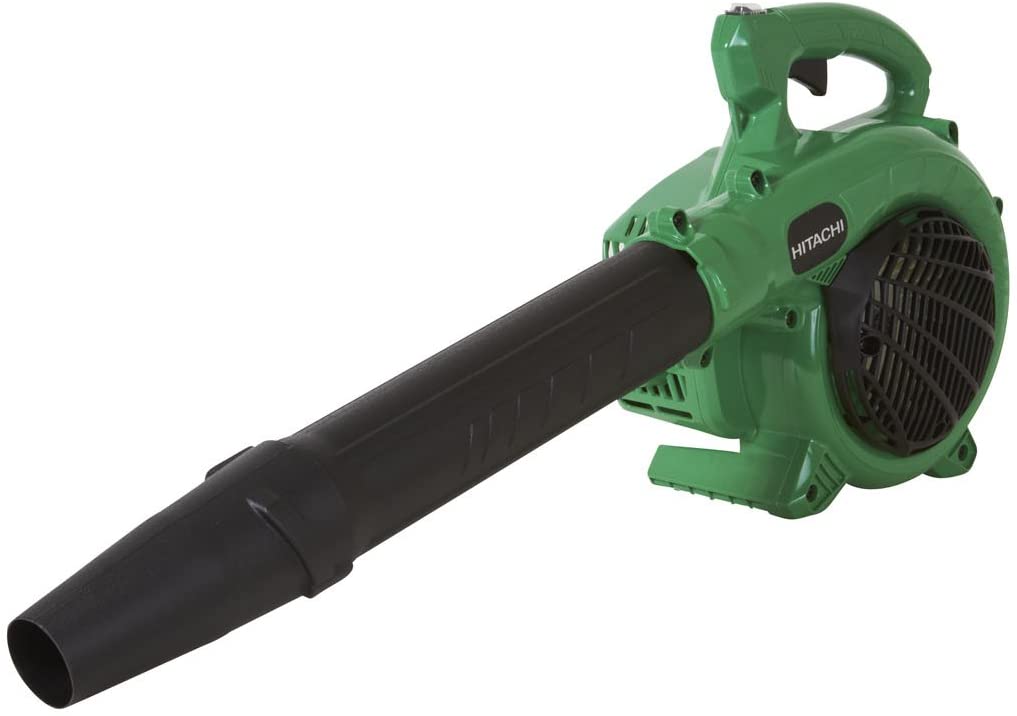 Is the Hitachi RB24EAP the best handheld gasoline powered leaf blower on the market today? Absolutely! It is portable, extremely powerful and quick to get started even for novice users. The leaf blower is handy for many outdoor tasks throughout the year, especially during the winter and fall seasons. You can revive the look of your back garden and restore curb appeal to the front of our property.
You can adapt its uses to both light tasks at home and intensive jobs that are involved with landscaping businesses. The Hitachi RB24EAP is also an affordable solution for those that are looking for a gas leaf blower than can stand the test of time and is backed up with an outstanding warranty.
Have you used the Hitachi RB24EAP handheld blower or are you thinking of buying one? Let us know about your experience with this model by leaving a comment below. Thank you!