When the temperature falls, many households aim to find a way to keep their homes heated without thinking about the heating bills. Although there are other options, space heaters such as the dr infrared space heater have proven to be an efficient and easy way to keep a room warm in the winter. These items may be a lifesaver during cold nights when a warm blanket is no longer sufficient.
Benefits of Space Heaters
Of course, questions remain about how much energy a space heater can save or how much power it consumes. The benefits of using a space heater, however, still outweigh the drawbacks.
Low Electricity Consumption
Space heaters are available in a variety of styles, sizes, and shapes, as well as various heating technologies. Radiant, convection, and fan are the most popular heating technologies.
You'll feel the warmth within a few minutes, depending on the type of heater you want. This is because they disperse heat more quickly and warm the room faster than central heating, which takes a long time to reach the desired temperature.
Space heaters will retain the same temperature for as long as you want until the optimum temperature is reached. This helps you save a lot of money on power and ensures that no energy is lost.
Provides Efficient Heating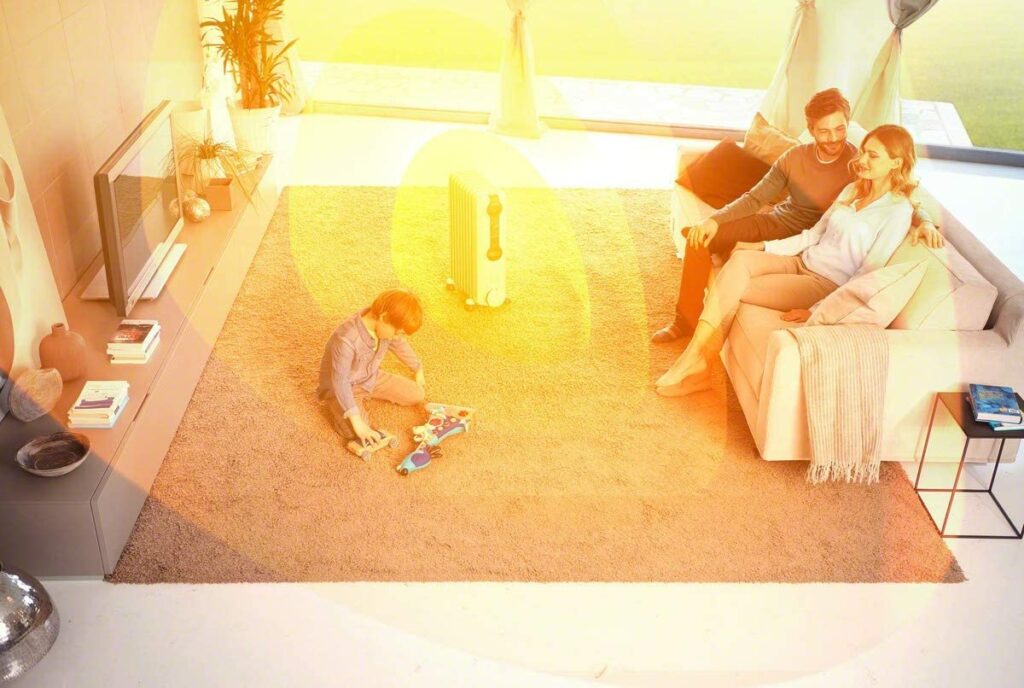 While a central heating system heats the entire building, space heaters are built to provide heat in tiny, enclosed areas. Since the skin and clothes absorb the radiation, it is often believed that this form of home heating is more effective and reliable.
Central heating, on the other hand, warms the air rather than the skin and clothing, which is why it takes so long to provide enough heat for the entire building.
Excellent for Space-Constrained Environments
Small spaces where a large heating system cannot be built, such as a bedroom or bathroom, are ideal for space heaters. They are small and don't need flues. If you can find a spot to plug it in, you can use the heater almost anywhere.
Portable
This is most likely one of our favorite features of a space heater. Most of them are lightweight; you can carry them around from room to room, and heat the area. Some of them can be used outside so moving them isn't a hassle.
About Dr. Infrared Space Heater
The Dr. Infrared Heater DR968 is described as "newly designed," with an integrated dual heating system. It uses infrared heating, which sets it apart from other heaters. The following are some of the benefits of this mechanism:
– it will quickly heat a room
– it heats things in the room rather than the air, so you'll be comfortable and warm while conserving electricity.
Dr. Infrared is a brand of infrared space heaters that are lightweight and compact. These small heaters save both space and money, and they work remarkably well to efficiently heat large spaces.
Although the idea is sound, the real question is whether the DR968 will deliver on its promises. So today, we'll look at their best and most common model: the Dr. Infrared Heater DR968 (1500 Watt).
In any case, if you're looking for a portable space heater, the Dr. Heater line is probably your best choice for a variety of reasons, which we'll go over shortly.
Dr. Infrared Heater Dr968, Features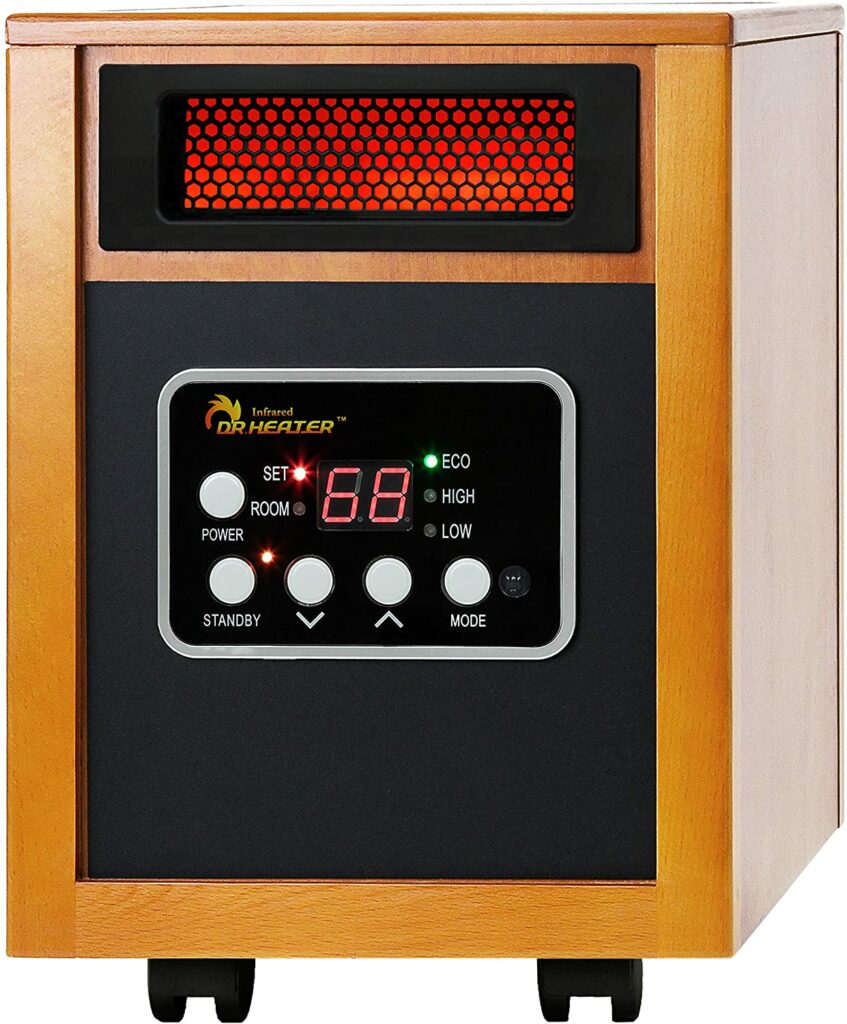 This type of infrared heater can easily heat a room while remaining cost-effective and energy-efficient. Let's take a closer look at this 1500 watt model that has received so much attention. We'll start by going through the features that make this heater so impressive.
Dual Settings
Another fantastic feature of the Dr Heater range is that it has two modes. You can reduce the power from 1500 to 1000 watts if you only need a small amount of heat. If you want to save money while staying warm, this is a great choice.
It still produces a lot of heat and works very quickly, but not as much or as quickly as the 1500-watt mode. The idea is that you don't necessarily need full heat, in which case the 1000-watt mode is preferable, allowing you to save even more money on your energy bill.
Quiet Operation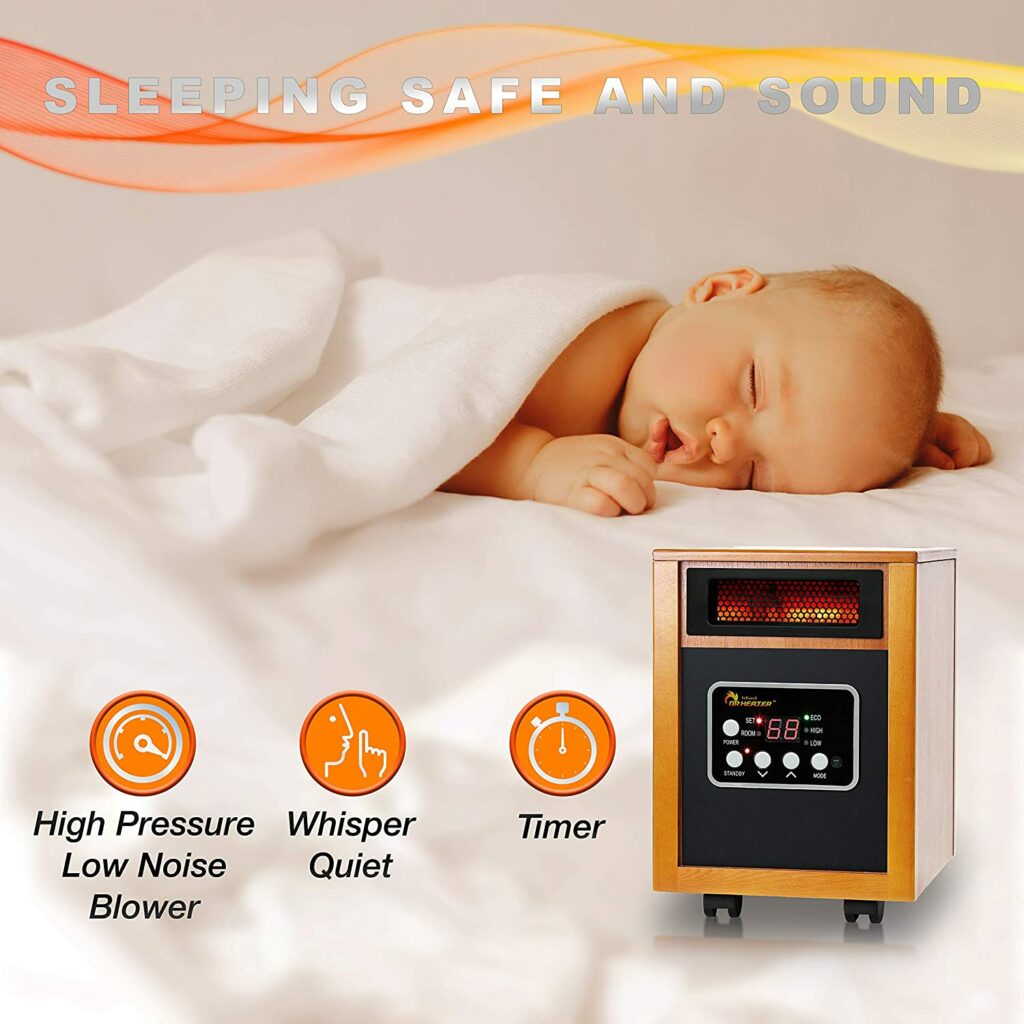 One of the features of this Dr. Infrared model that we particularly like is that it is a quiet space heater. Many models are very noisy, to the point that listening to music or watching television is practically impossible.
This model, on the other hand, is extremely quiet. It is so quiet that you can hardly hear it running even though there are no other noises in the building.
The Dr. Infrared Portable Heater employs advanced technologies to filter a large amount of air at a low blowing speed, resulting in extremely low noise levels.
Durable and Long-Lasting
Another issue with many other portable space heaters is that they typically don't last too long. The heating elements and mechanical components are prone to wear and tear.
This heater, on the other hand, will run for an incredible 80,000 hours without breaking down. For those that aren't fond of numbers, that equates to more than 9 years. While most of them live much longer, 80,000 hours is the minimum possible lifespan you can expect.
Space-Saver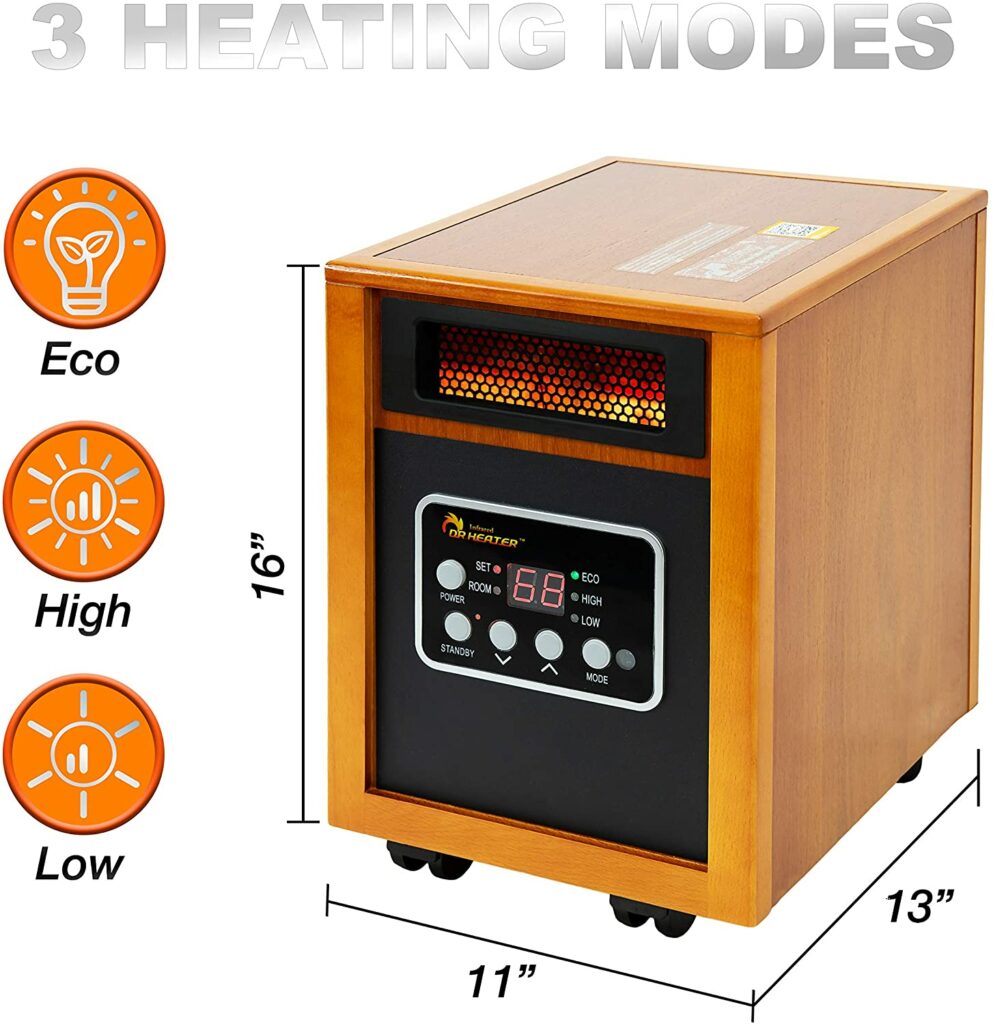 The small size of this heater is another explanation why we prefer it to most other space heaters. The heater itself measures 13 x 11 x 16 inches, making it very small.
It is therefore an excellent option for smaller rooms and areas with limited space. It accomplishes its goal without consuming excessive amounts of valuable real estate.
Cost-Efficient
It's also worth noting that this infrared space heater is reasonably priced. First and foremost, it is inexpensive to buy, which is always a plus.
Furthermore, the Dr. Infrared portable heater employs advanced technologies to provide you with the greatest amount of warmth in the shortest amount of time while consuming minimal fuel.
The key to efficiently heating a space without blowing your budget is to choose the appropriate product. Cutting costs on your energy bill is vital, and thanks to the heater's efficiency, you can do so without shutting down the heat.
When the set temperature is reached, the Dr. Infrared heater can switch itself off to save some money. It will also turn off after 12 hours if it has been going.
Integrated Dual Heating System
The use of a special dual heating system is one of the causes this unit is so effective and simple at heating your house. It generates primary heat using infrared heating, which is low-cost, fast, and effective.
Simultaneously, it employs the power of convection to generate still more heat. The simple truth is that this Dr. Infrared portable heaters produce more heat in less time than almost every other space heater currently on the market.
Fast Heating
The fact that the Dr. Infrared range is simply better and quicker than any other heaters on the market today is the next thing that really stands out about it. It can heat a reasonably large room much more quickly than any of its competitors.
We've already discussed the unique dual heating technology employed, but how quickly can it produce heat? Most other 1500-watt heaters will deliver air at 155 degrees Fahrenheit at a rate of about 2.2 meters per second.
The Dr. Infrared Heater DR968, on the other hand, can deliver air at 250° F at 3.5 meters per second. As you can see, this small infrared heater packs quite a punch.
Product Specifications: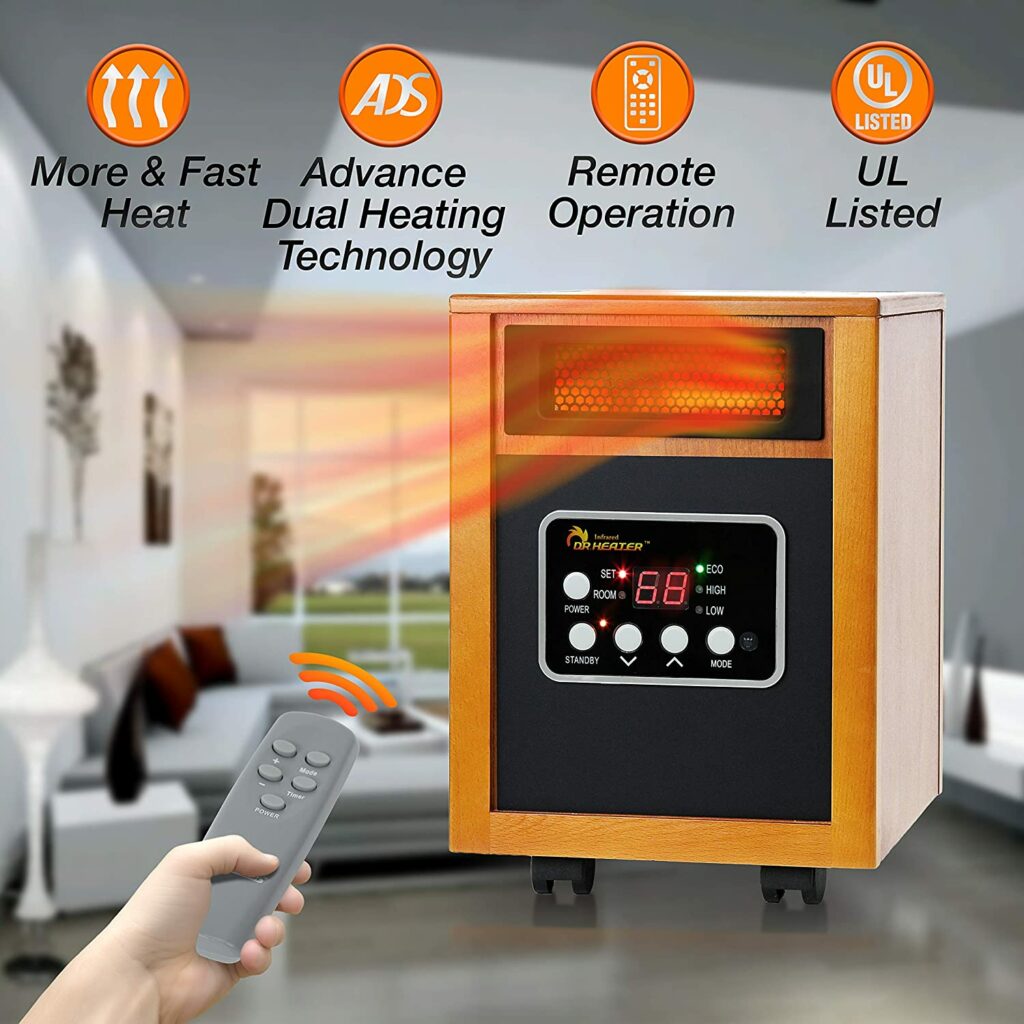 Running watts: 1500
Voltage: 120V, 60Hz
Heating coverage: 1000sq.ft
Output: 5200 BTUs
Warranty: 3 years
Weight: 24 lbs
Size: 13 x 11 x 16 inches
Weight: 25 lbs.
Height: 17 inches
Width: 12.5 inches
Depth: 13 inches
Electric Cord: 72 inches long
Amps: 12.5
Watts: 1500
What We Like About the Dr. Infrared Space Heater
As with any product, there are some pros and cons to consider, so let's go over our key takeaways from the heater.
Heats up spaces quickly – much quicker than the other brands.
For optimum power, a dual heating system is used.
Is extremely cost-effective.
Operation that is quiet
Using a remote control
Excellent value for money
Controls and interfaces that are easy to use
Filter built-in
What We Don't Like About the Dr. Infrared Space Heater
Keep curtains and fabrics away from the back and front of because it gets very hot there.
The thermostat that comes with the package isn't very accurate.
What to do When My Infrared Space Heater Is not Turning On?
Several factors may be to blame for this issue, but if it's an electric infrared heater, make sure it's plugged in and the cord isn't damaged.
Check to see if the thermostat is set too low if the device has one. Check that the electrical socket is in good working order by plugging in a known good gadget, and that the circuit breaker or fuse box is also in good working order.
For any other natural gas or propane-fueled heaters, this necessitates the presence of the gas tanks, which must be filled with the valve open. When spraying the pipeline with a spray bottle filled with soapy water, look for bubbles to ensure there are no leaks.
Fix the leaking faucets. Before you try to light the heater, make sure you can hear the gas flowing through it. If the problem persists, detach your tubes and blow air through them; if they are clogged, the sky will most likely clean them out and enable them to operate properly.
Final Thoughts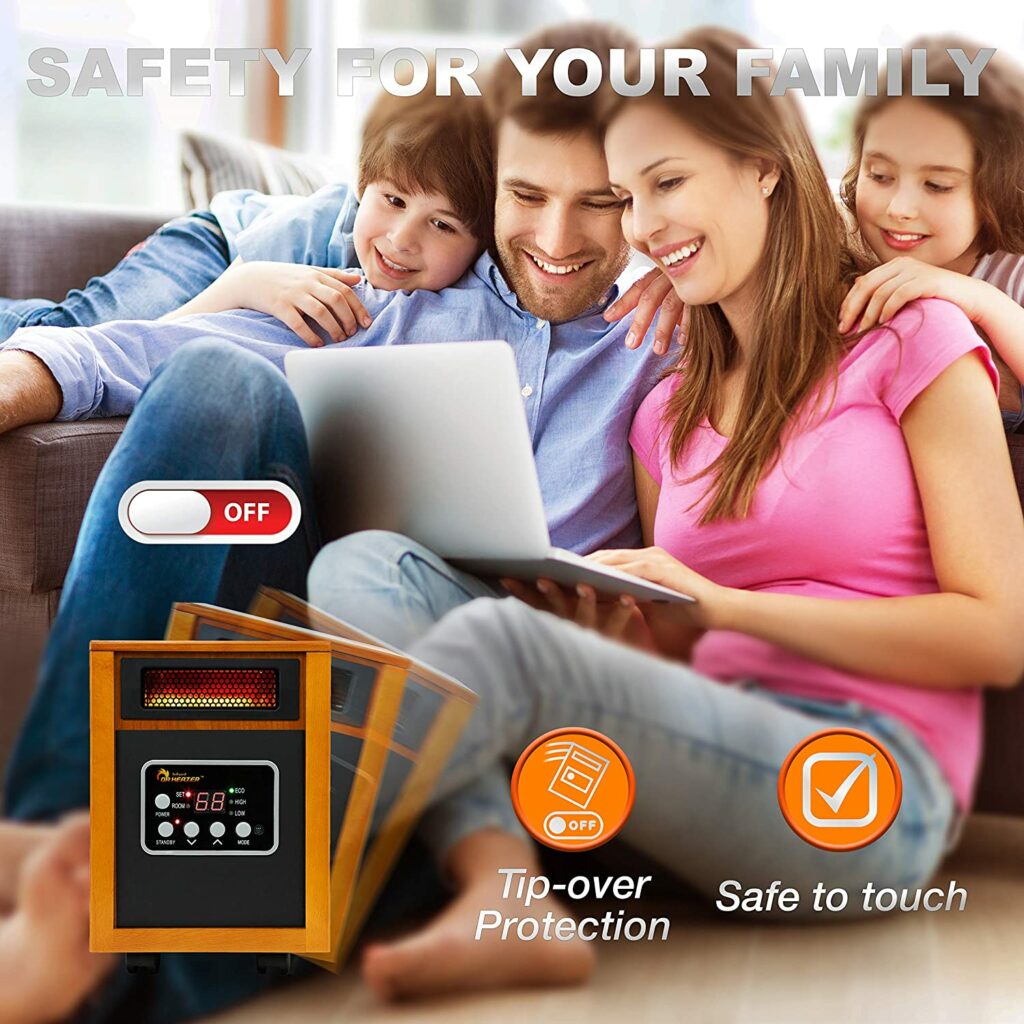 If you're in the market for a new space heater, the Dr. Infrared line is worth considering. One of the heaters we've spoken about today is both energy efficient and good at heating rooms.
Overall, if you want a space heater that feels warm and doesn't dry out the air, the Dr. Infrared Space Heater DR968 is a decent option.
After a thorough review of this product, we decided to give it a rating of 8.9/10.