To keep your garage tidy at all times, an efficient vacuum cleaner is a great tool that you can use to maintain it. If you're particularly after a model for your garage, you must know that there are different vacuum types in the market. Your garage has specific needs when it comes to the right vacuum cleaner that can work for it as this area of your home can get dirty often.
Therefore, here, we'll discuss the features to consider when getting a vacuum cleaner for your garage. Knowing these factors will allow you to get the right product for your needs. This section will be all about how to get the right garage vacuum cleaner.
Recommended for You: Best Vacuum Cleaners For The Garage | Best Cleaning Tools for your Garage Up-Keep
Crucial Features of Vacuum Cleaners for the Garage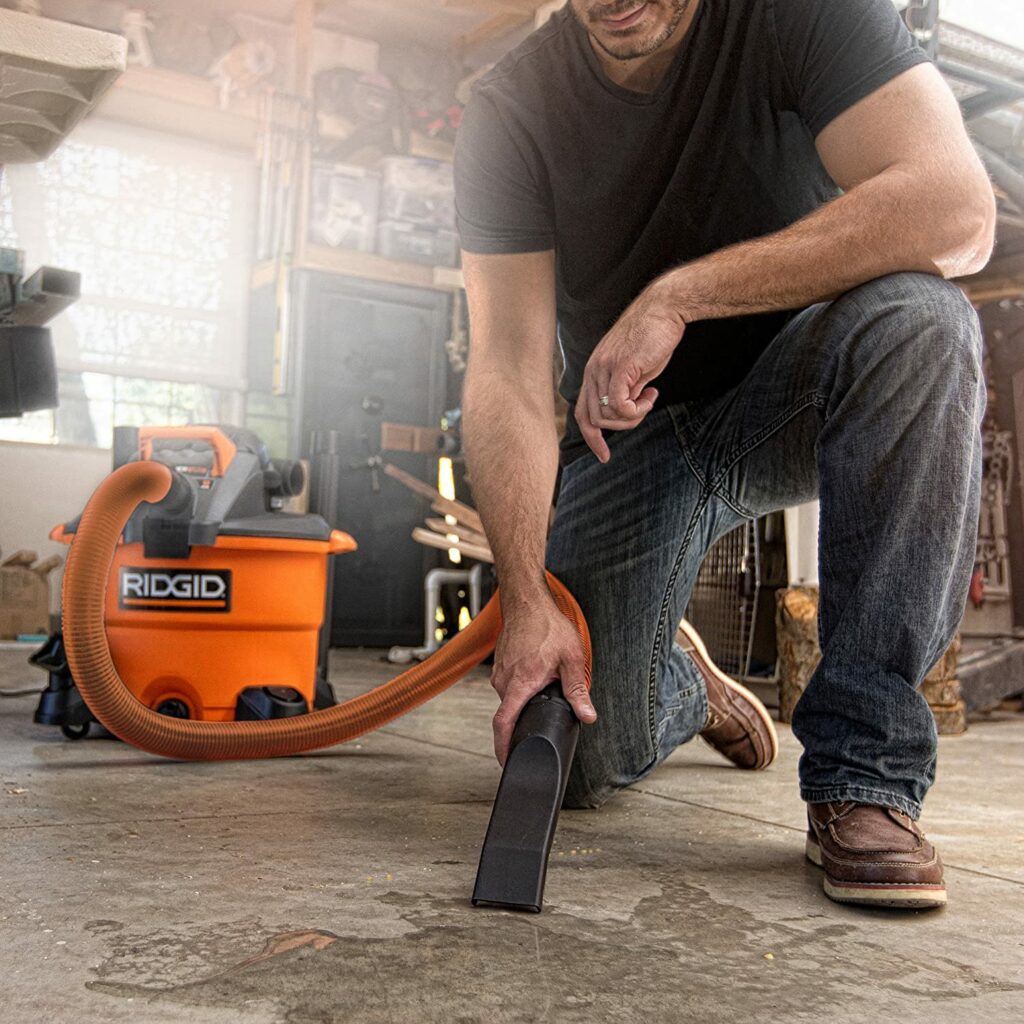 There are a few features to consider when purchasing a new vacuum cleaner for the garage. There's a lot to know about this type of vacuum cleaner. So we saved you from the wearying task of researching, and did the work for you. In this section is the summary of the few factors to consider when purchasing a vacuum cleaner for your garage.
Whether it'd be budget, model, brand as well as filtration systems, build type, bags, functions, and more, we covered the essence of each trait for you to get the right model for your specific needs. 
Size
One of the most important factors to check when getting a vacuum for your garage is the size of the model. The vacuum size must complement the size of your garage as well as the obstacles in it. Especially if you're going to buy a wall-mounted vacuum cleaner, you should assess the size of the area where you will place the vacuum. Another factor to consider is choosing between a standard mount or a heavy duty mount. Consider the size of the vacuum, which should fit your space.
You must be able to freely move around the garage when using the vacuum. To be able to do this, assess the size of your garage where you will place the vacuum. When you do this, you will have an idea of the dimensions of the model you're getting, which can fit the area where you will place the machine.
Assessing the size of your garage is a highly suggested step before you purchase a product. Doing this allows you to have enough space for the vacuum and avoid ending up having a limited space, especially if you'll opt for a wall-mounted model.
Dirt Bin or Bag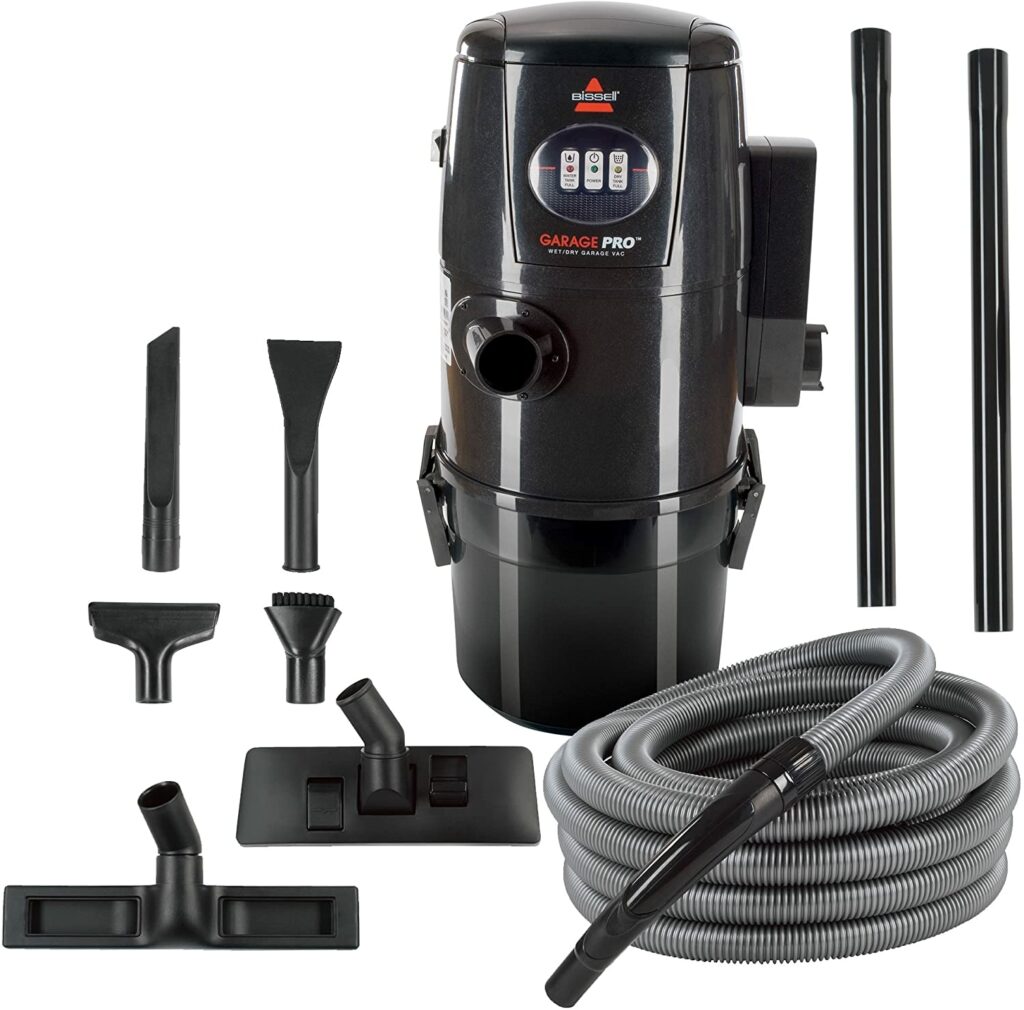 It's also important to consider the size and capacity of the vacuum you're getting on your purchase. The vacuum's dirt bin capacity determines how frequent you should discard the collected dirt. This means, the less often you need to empty the bin, the more productive you can be at cleaning.
Various models offer different bags or dirt containers and the capacity of these vary too when it comes to their ability to hold dirt. You can base the capacity of the vacuum to hold dirt on the area you'll be working on. If the space tends to gather a lot of dirt, you must get a model that can hold more dirt than the average vacuum cleaners.
For instance, if you're going to use the vacuum often or everyday, you may want to choose a model which won't require you to empty the bins or the bags frequently. Otherwise, it will be counterproductive as you will be needing to go to the trash bin to empty the contents frequently.
Therefore, it's important to consider the capacity of the model to hold dirt before deciding which vacuum to buy. There are many options for vacuum cleaners with a spacious dirt bin or bag. These models can save you from tedious maintenance, and these models come at varying costs, too. You can get the model with a great dirt bin capacity that fits your budget.
Motor
When buying a vacuum cleaner for the garage, you must know that the power of the model can affect the cleaning efficiency of the machine. Go for a model with a powerful motor if you're going to have heavy-duty tasks. Usually, you will find vacuum cleaners with a minimum of 5 hp motor power.
There are, however, many models with a more powerful motor. You may also want to choose a vacuum cleaner from a reputable brand. Most of the time, known brands are equipped with quality motors that won't only provide powerful suction but can also last for many years.
Recommended for You: Ridgid Wet Dry Vacuum and Blower VAC1200 | Powerful Compact Vacuum For Your Garage
Hose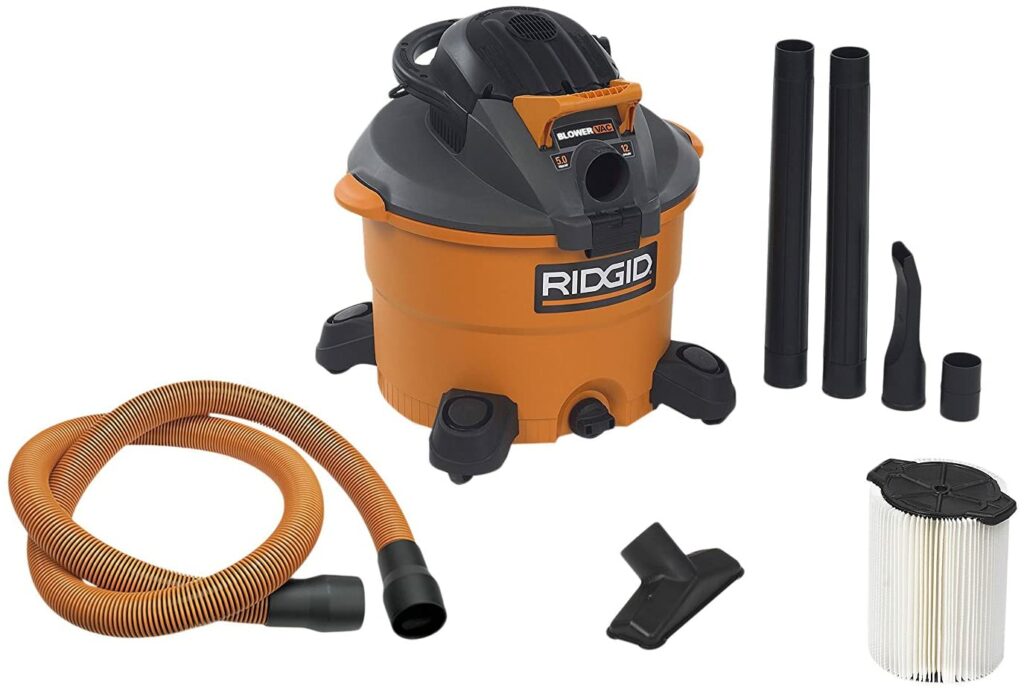 The hose of the vacuum and its length is another factor to consider when buying a vacuum cleaner. The ideal hose length of the model you'll get depends on how you will use the machine. For improved versatility and cleaning efficiency, you may want to choose a model with a longer hose.
Usually, you can get a model with a hose that is 30 ft long. You can use the model far from the socket with this hose length. The unit  with a lengthy hose can be handy, especially if you will use it outdoors or places without near sockets such as cars.
You will need a hose that is longer than 30ft as a general rule of thumb when buying a garage vacuum cleaner. Refine your options based on this and keep it in mind. You can find vacuum cleaners with extension wands, although you can't entirely rely on this fact. It may mean additional cost for the extension wands which means a disadvantage especially if you have a tight budget.
Bags
A vacuum is HEPA filtration is another feature to consider when getting. Opting for a model with this type of filter can be especially useful if you have asthma or dust allergy, which will prevent you from inhaling the collected dust everytime you empty the bag. Choose a model vacuum with HEPA filters if you think this feature is especially important.
Furthermore, the model won't need you to renew the model's bags if you want a bagless vacuum cleaner. These models are equipped with a dirt container. Bagless vacuum cleaners can still provide you convenience when it comes to emptying the contents. But disposing the dirt from the bin can be a bit messier for these models.
Bagged vacuum cleaners can cost you more, however, but disposing the dirt is easier. Bagless models, on the other hand, will save you from additional expenses, but it will need more effort from you when discarding the contents. You may base your decision on these factors, which you will have to think about before getting a vacuum cleaner.
Recommended for You: Vacmaster Vacuum Cleaner Wall Mounted VWM510 Review | Powerful Silent Vacuum for your Garage
Attachments and Accessories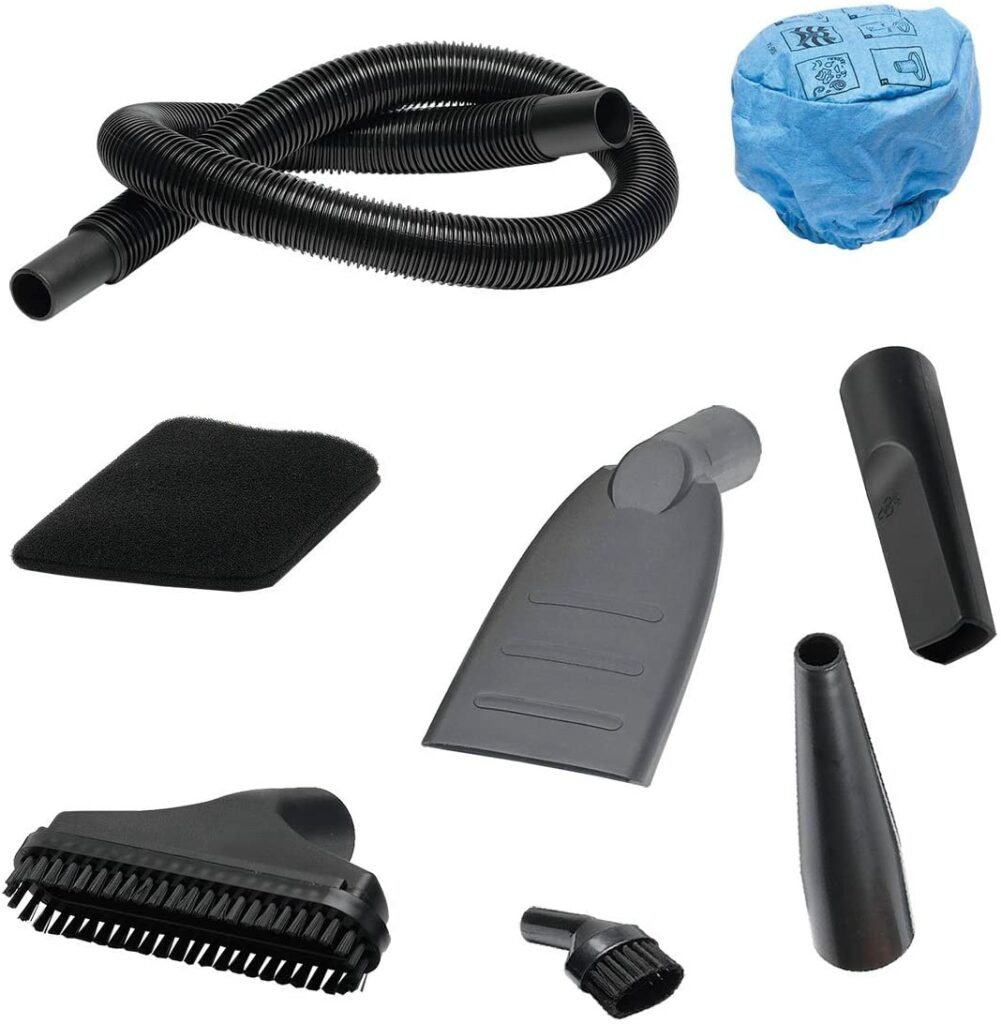 Another factor that further the capabilities and perks of the model are the different attachments that come with it. Vacuum cleaners with small brushes can offer cleaning efficiency especially for surfaces like carpets. There are models with small nozzles as well that can help you clean corners or skirting boards of areas.
Another feature to consider getting a model are upholstery tools, which can help clean areas like car seats. Vacuum cleaners with additional accessories can optimize the money you spent on the model.
Storing your Vacuum Cleaner
You may also want to consider the storage area for the model when getting a vacuum cleaner for your garage. There are models that allow you to keep the machine in the garage. Storing it in your garage will be easier especially if you're going for a model with a wall mount. In case, you end up with a wall-mounted vacuum, opt for a mount that is durable, sturdy, and can carry the weight of the vacuum.
You will find various types of vacuum cleaners for your garage in the market. Weigh out the highlights, features, strengths and disadvantages of your options for you to get the right product of your needs.
You may also seek tips from professionals before you buy especially if you don't know a lot about vacuum cleaners. To do this, you can ask about the products in the physical stores where you will buy the machine. You may also contact the sellers online if you want to know more about the model you're planning to get.
Conclusion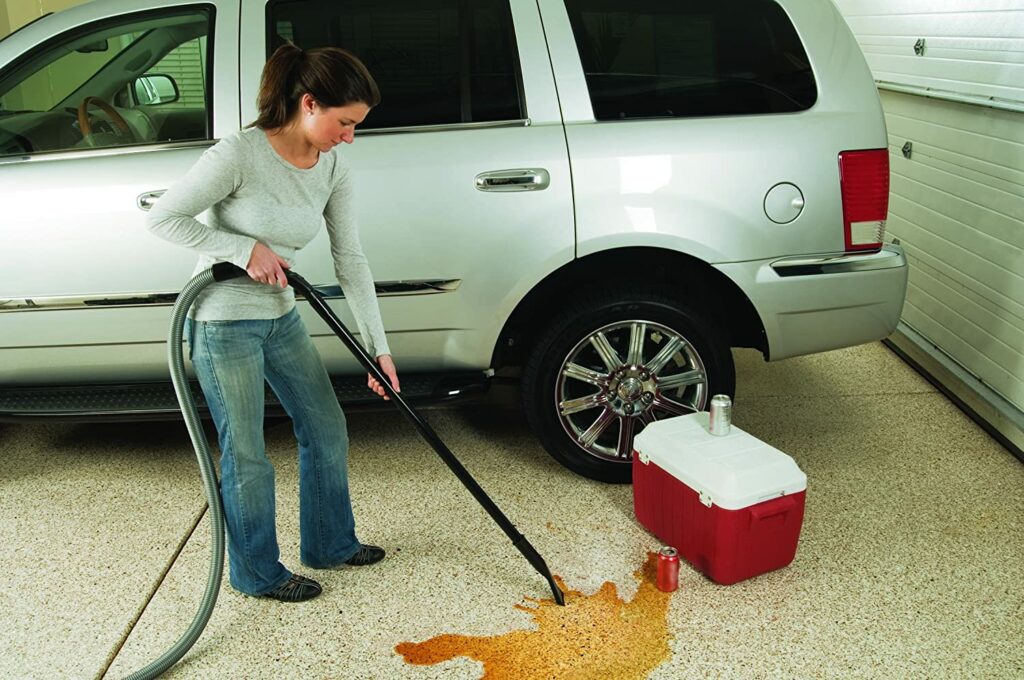 We hope we have provided valuable insights on how to buy the right garage vacuum cleaner for your needs. You may use this guide that we created prior to you purchasing the model of your needs. There are many important factors to know and consider before you get the right model for you. If you want to make the most of your purchase, it's important to be wise about your decision-making.
You may also want to look for a warranty when buying a vacuum cleaner, as this factor can protect your investment. Vacuum cleaners, especially, the models for heavy-duty work can be costly. To help you avoid getting the wrong product, be picky about your choices.
If you think this post helped you get to know more about vacuum cleaners for the garage, let us know in the comment section below. We'd love to hear from you!
Recommended for You: Best Vacuum Cleaners For Berber Carpet 2020 | Efficient Yet Gentle Vacuum Cleaners for Berber Carpets