Green Air Encore Air Purifier Review
Clean air is not only important but also necessary for all of us. Some may argue, however, that due to the ongoing degradation and pollution of the air, pure air is no longer feasible.
Even the cleanest surroundings, room, or air can contain invisible and even visible particles and debris that can be harmful to your health or worsen existing health problems. One of the reasons air purifiers are beneficial is that they minimize pollutant concentrations.
Air purifiers are devices that help remove contaminants from the air and they're very useful for persons with asthma or allergies.
They're also used to eliminate secondhand smoke, so air purifiers are required if there's a smoker in the house. They are appropriate for both business and residential settings.
One of the most common air filters utilized by air purifiers is the air ionizer. Instead of using electricity to emit a cloud of negative ions to electrically charge the air molecules, the freestanding air ionizer utilizes energy to emit a cloud of negative ions (or anions) to suck filthy air into a physical air filter.
As a result, the negative ions charge and attract airborne particles, causing them to fall into either a charged collecting plate or a mechanical air filter nearby, or just the neighboring walls and ceilings.
The Advantages of Using an Air Ionizer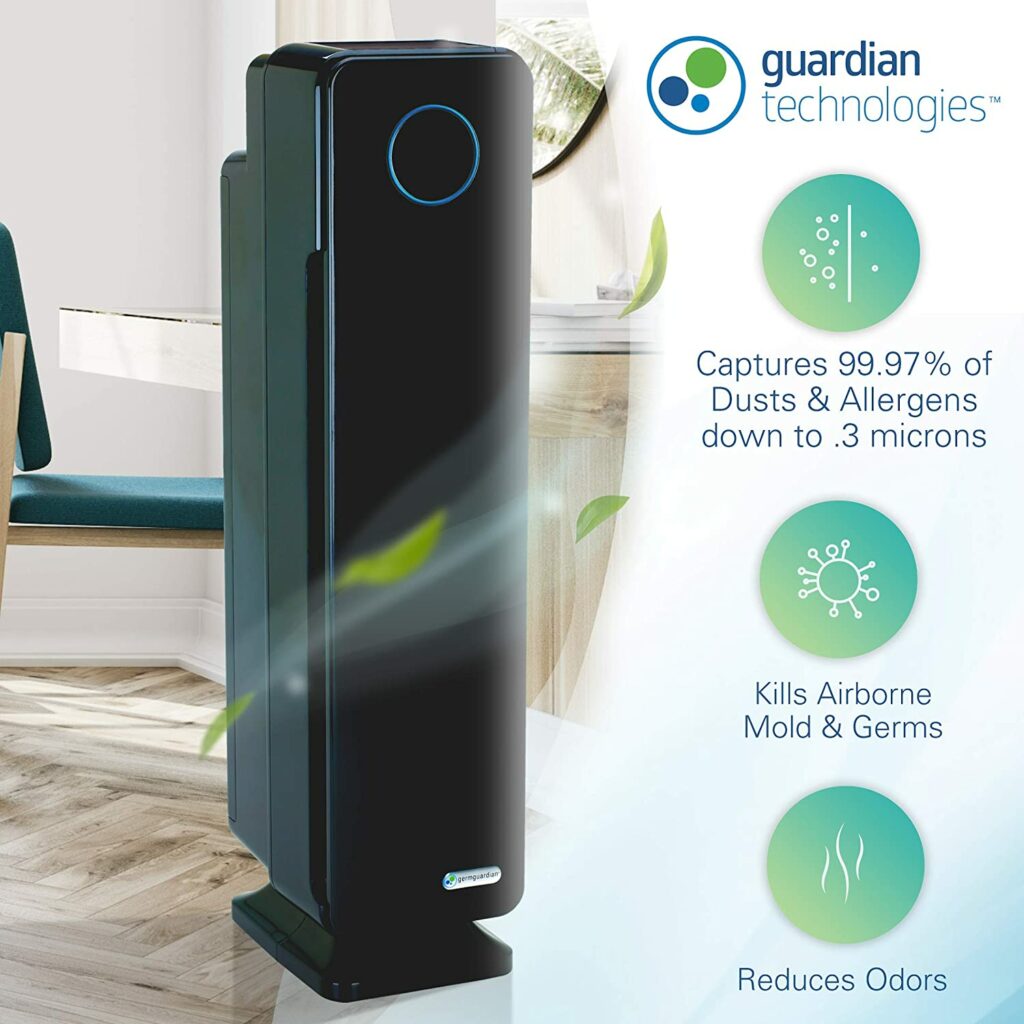 By electrically charging air molecules, an air ionizer purifies the air in a room. To remove toxins from the air, several air purifiers employ fans and filters. Ionizers remove particles, microorganisms, and odors from the air by using ions.
Air ionizers purify the air in a space, making it healthier to breathe, especially for persons with allergies, asthma, and other respiratory problems.
If you've never used a gadget like this before, you should have a look at how it works to keep your house smelling fresh and eliminate problems with residual odors.
So, today we'll be looking at the Green Air Encore HEPA Ion Cluster Technology, which is one of the top ionic purifiers on the market right now.
About Green Air Encore Ion Cluster Purifier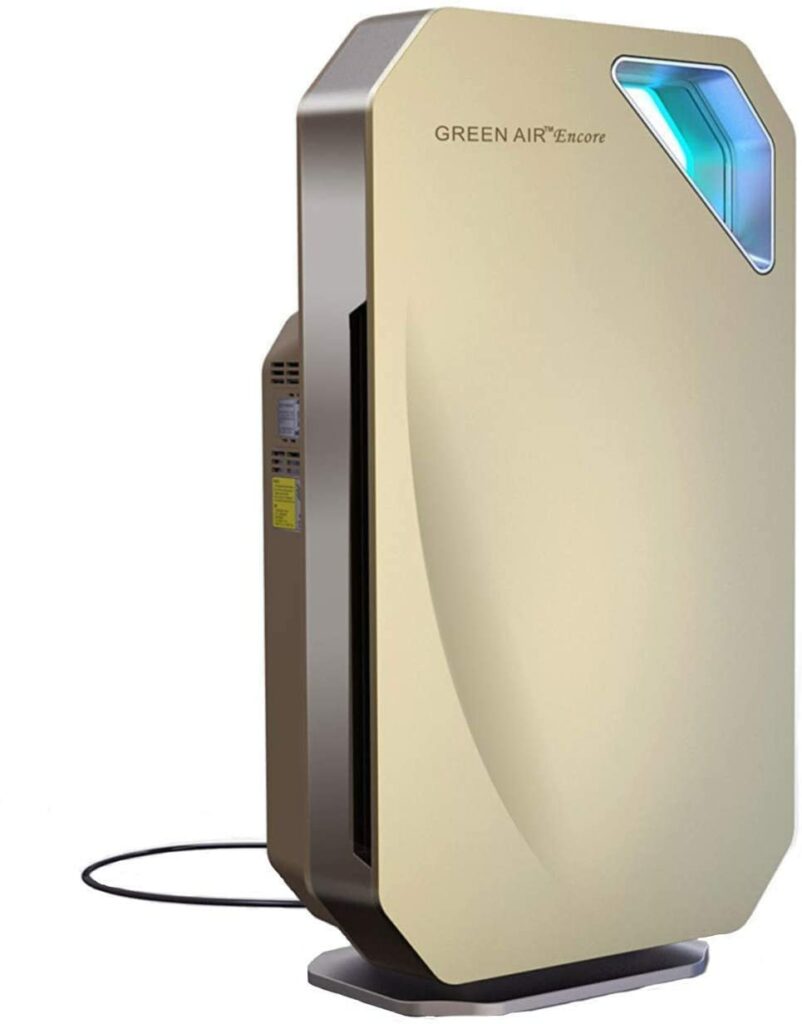 Many clients are turned off by the appearance of some air purifiers, which look like they came from the 1970s. There is no such equipment as the Green Air Purifier. This air purifier appears to be from the distant future.
This air purifier is in the list of the most beautiful air purifiers because of its golden hue and great design. But it's not all about appearances. This machine is a force to be reckoned with.
It has a large air intake and can quickly clean a room for various items. This device should be considered by anyone looking for a good air purifier with significant capabilities.
Elegant and Stylish
This perfect appliance needs a color that is more than just black, white, or silver. All key components are encased in a gorgeous champagne gold shell to boost the air purifier's appearance.
The rectangular Green Air Encore's squared-off corners minimize its profile, standing little over 2-feet tall and weighing 16 pounds. A trapezoid-shaped air-quality indicator glows in one of four different colors based on the particle measurement from the integrated sensor in the top right corner.
Green Air Encore IonCluster Technology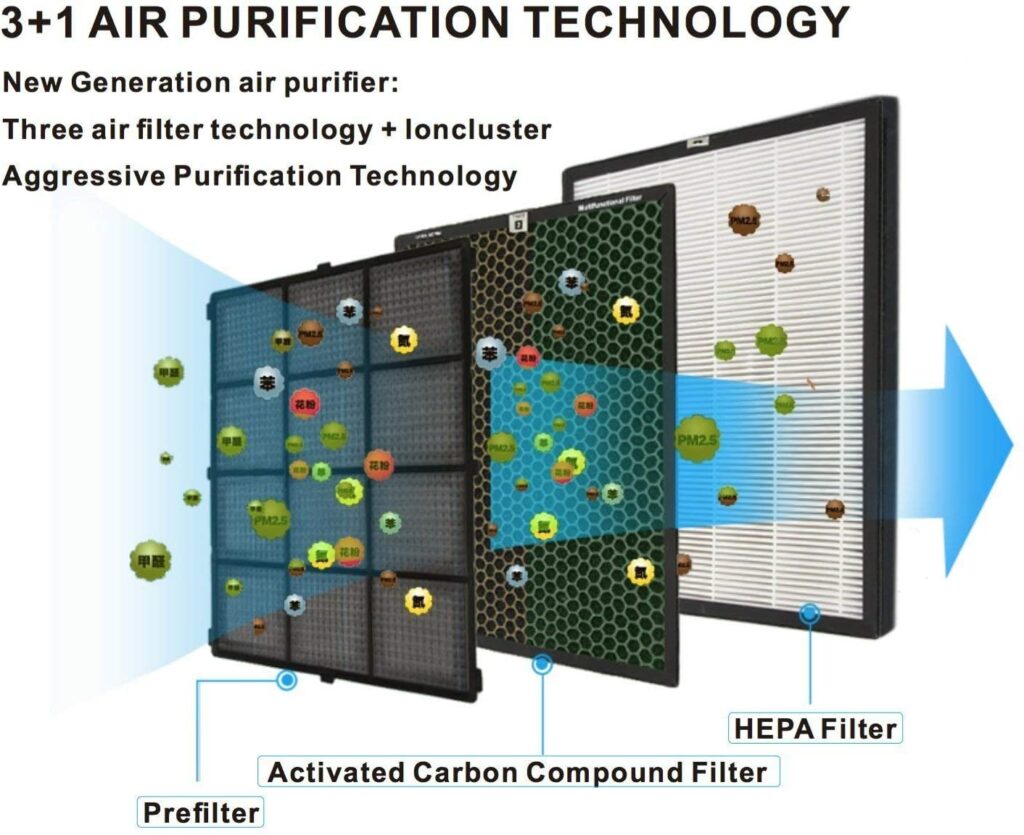 The proprietary feature of this air purifier is the IonCluster technology, which takes air purification to a whole new level.
This air purifier features an ionization generator, but it is trademarked, and it releases ion clusters that fight airborne particles before returning to the air in the form of water.
It is easier for the air purifier to filter the particles utilizing the filtration system once they are in the form of water. Viruses, germs, and even bacteria are likely to be killed by such cutting-edge technology.
Green Air Encore Three Stages Filtration System
Although a HEPA filter should always be present in an air purifier, it is insufficient to eliminate unpleasant odors in the air. In addition to the HEPA filter, the air purifier features a granulated carbon filter that lasts 6 months to a year.
True HEPA filters can capture 99.97% of particles, but with ion cluster plasma, some smaller particles expand and are caught in the HEPA filter.
Works Extremely Silent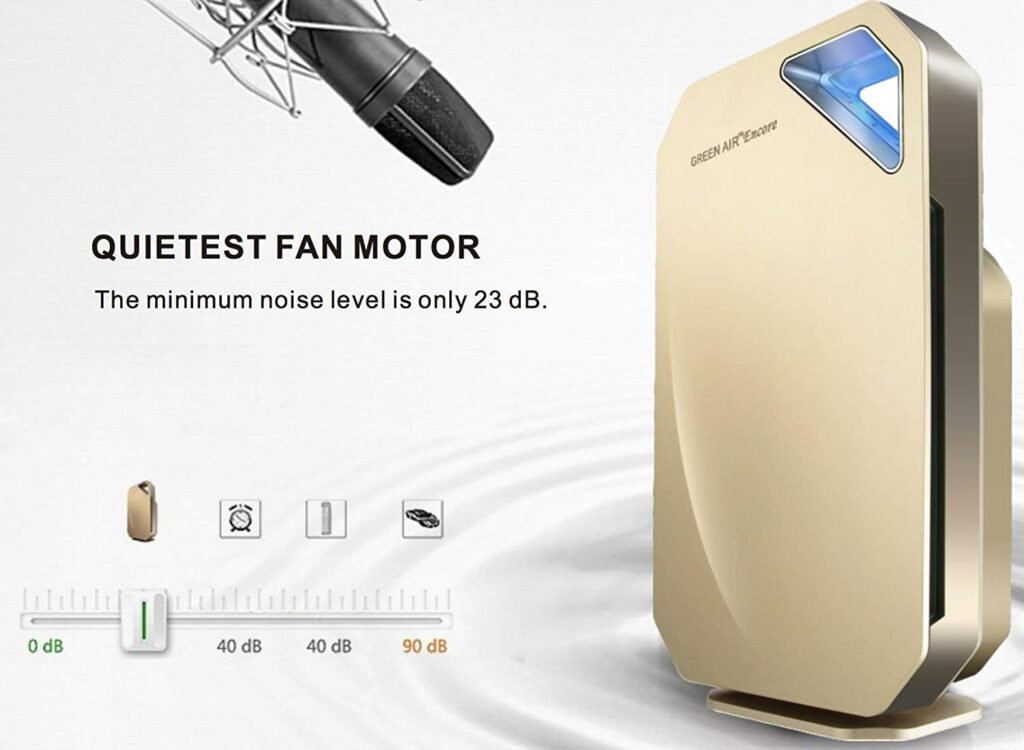 Ventilation systems are noisy, and many of them cannot be utilized in a bedroom since they would prevent you from getting a good night's sleep.
You can, however, sleep like a baby with this air purifier. This air purifier produces as little as 23dB in night or silent mode. That is really low, and you will not notice it when sleeping.
Sensors
When set to Auto mode, the Green Air Encore has a lot of sensors that help it work on its own. These sensors are also used to monitor the air quality in the room.
The unit's color will shift from blue to red. If it turns red, the air in the room is severely contaminated and needs to be cleaned right away.
Green Air Encore Operating Options
Auto Mode
Auto option is for those who simply want to keep the air in the room clean. When you turn it on, the auto air purifier will function on its own and detect air pollution with its costly sensors. It will begin the purifying process on its own as soon as air pollution exceeds the recommended level.
Fan Mode
You may manage the ventilation by turning on the fan and deciding how quickly it should clear the air by selecting the fan.
Night Mode
This is the best mode for sleeping at night.The air purifier will generate the least amount of noise possible, and all lights will be turned off, allowing you to get a good night's sleep while also reducing air pollution.
Silent Mode
If you want to have a quiet moment in the room while still keeping the air purifier on, you can select the silent mode, which will filter the air but silently.
Energy Saving Mode
This powerful air purifier can filter air in a space up to 1000 square feet while also conserving energy. It can run on as little as 58 watts per hour.
If you put this gadget in a 350 square foot area, it will cycle the air every 12 minutes, ensuring that the air is exceptionally clean.
Green Air Encore Ion Cluster Purifier Specifications:
Product Dimensions: 25 x 14 x 7.5 inches
Weight: 16 Lbs
Area Coverage: 1,000 sq. ft.
Sound Level: 23 dB (minimum)
Fan Speeds: Adjustable
Filter Type: True HEPA Filter, Granulated Carbon filter, Pre-filter
CADR: 250 CFM
Odor Reducing Filter: Yes
Control Style: Electronic
Timer Function: None
What we Like About Green Air Encore Ion Cluster Purifier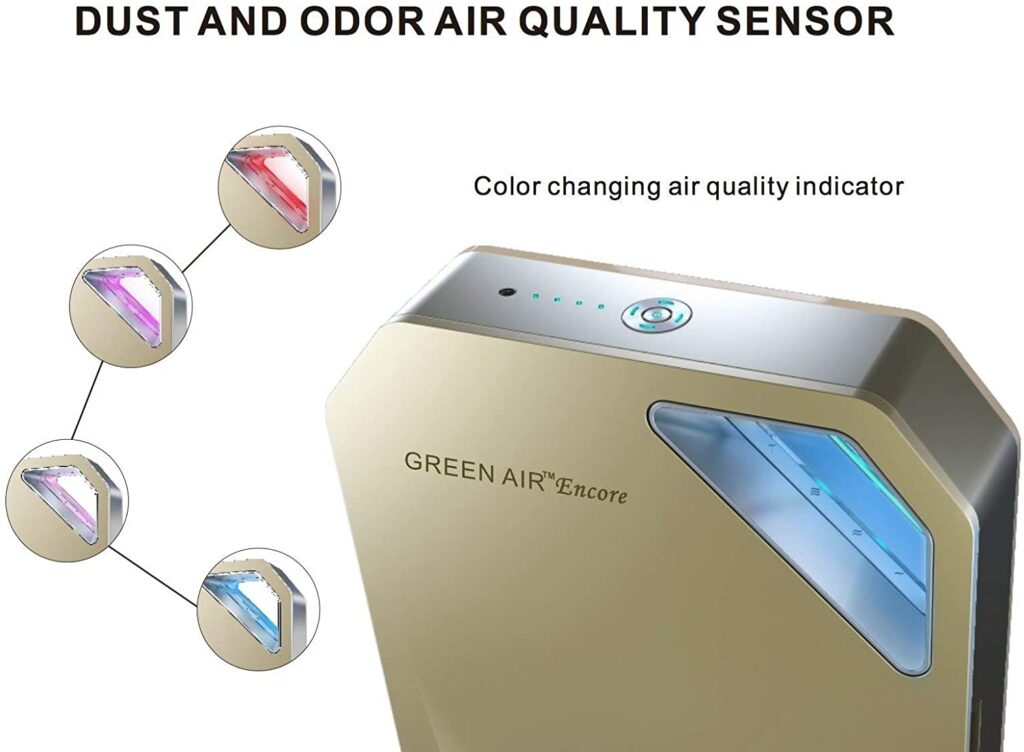 Air Purifier with a High-Performance
Sensors and a range of options
One-Year Limited Warranty
Filtration technology that is patented
Price that is reasonable
Different Working Modes Can Be Used in Large Rooms
What we don't Like About Green Air Encore Ion Cluster Purifier
If you place this model in a large room, you might anticipate replacing the filter sooner than the customary 12 months.
Tips on How to Clean and Maintain an Air Purifier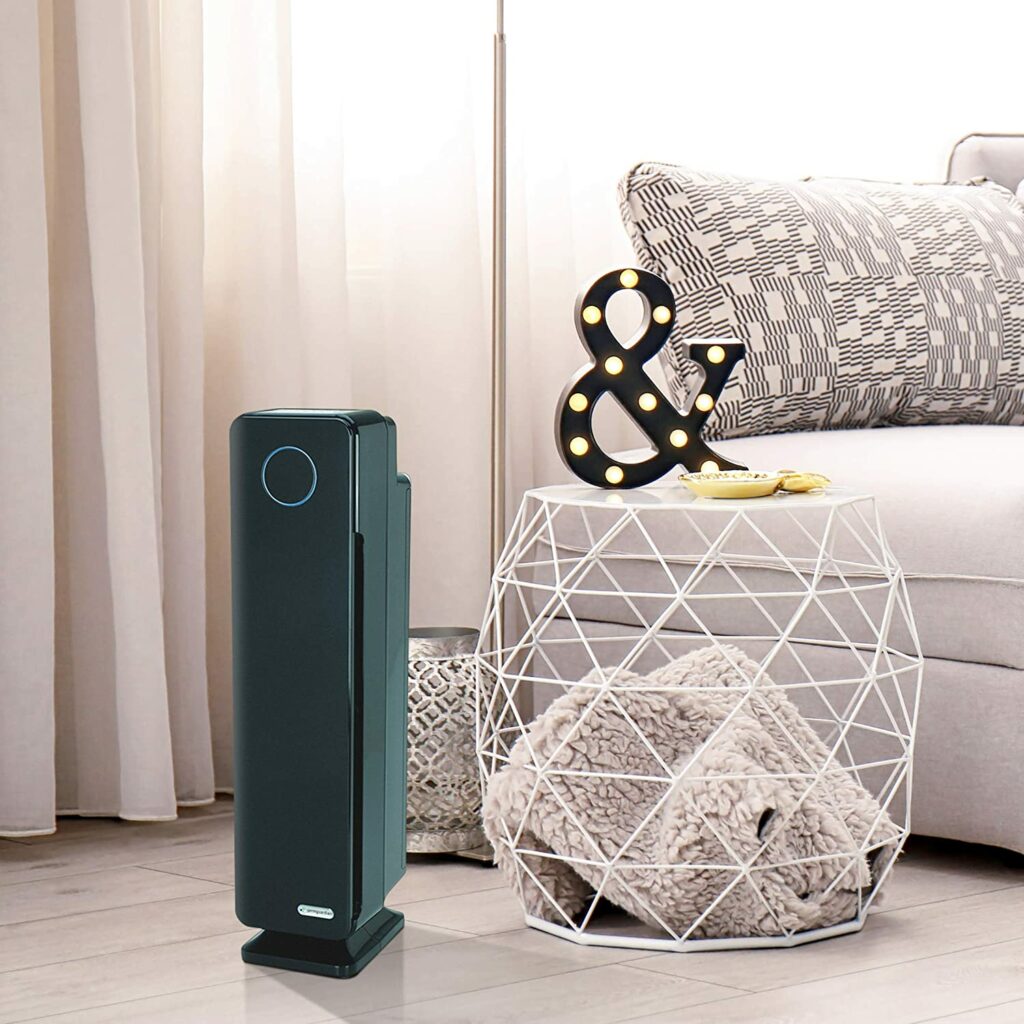 First and foremost, and as a safety, the appliance must be turned off and unplugged from the voltage source whenever it is cleaned.
A lot of dust builds in the grids that it has, and this must be thoroughly cleaned with a little brush in order to remove the dust from all available possible spots
A gentle, somewhat moist towel can be used to clean the device's surface. – You must carefully open the gadget according to the manufacturer's instructions in order to remove the internal meshes.
Once the meshes and grilles have been removed, they must be cleaned, preferably with soap and water, to remove any particles or debris.
The water used to clean the meshes or grilles should be warm; washing them with cold water is not recommended.
It is critical to properly dry any grilles or meshes before reinstalling them in the appliance; moisture must be removed to avoid damage.
If the device has to be cleaned internally, the dirt must be removed with a dry cloth, and moisture must be avoided inside the device.
If you are in front of the filters, they should not be washed under any circumstances, regardless of the type of filter.
This maintenance and cleaning procedure must be done every two or three weeks.
The need for maintenance is becoming increasingly apparent, as both the filters and the grilles reach a point when they are entirely saturated, performing all functions mediocrely and failing to provide optimal service to its consumers.
If you want to maintain this equipment for a long time and ensure that it does its purification work successfully and correctly, it's vital to take a few minutes every now and then to clean the air purifier so that you can keep your home environment cleaner for longer.
How Much Should Your Air Purifier Be Maintained?
Depending on the model, air purifier maintenance will differ. The period with which you maintain it is determined by how much you utilize it.
You will need to maintain an air purifier less frequently if it is placed in a relatively clean environment. You will need to clean it more frequently if you expose it to a lot of dust, pollen, or cigarette smoke on a regular basis.
Cleaning the entire unit every 6 months is a decent rule of thumb for most individuals. Unless your air purifier is getting dirtier more frequently, making a note on your calendar to maintain it at least twice a year is an excellent strategy to follow.
Final Thoughts: Elegantly Wrapped and Cleverly Designed
The Green Air Encore HEPA and Carbon Filter Air Purifier is a good option if you want an air purifier that doesn't look like an appliance. It has a beautiful gold appearance and is quieter than similar models.
The Green Air Encore also contains three different types of filters that clean and deodorize the air. Its IonCluster technology also kills germs without producing ozone.
There are four purification settings that can cover even the largest of spaces, as well as a color-changing air quality meter for your convenience.