There's a reason why professional landscapers are choosing the Greenworks HT40B210 40V cordless hedge trimmer over other brands. Landscaping is a demanding job, but with this tool, you can get the job done quicker and easier with the help of a robust 40V engine that runs off lithium-ion batteries.
The dual-sided blades measure 24-inches and are also dual reciprocating. This is one of the best hedge trimmers for intensive tasks, providing a high level of comfort thanks to the rotating rear handle which helps you to trim from multiple angles.
The trimmer is heavier than its rivals, however, there are plenty of advantages to benefit from this model over others. In this review, we'll cover everything that you need to know to help you decide whether this is the best hedge trimmer for your needs.
Specification Summary of Greenworks HT40B210 Cordless Hedge Trimmer
It is equipped with 24-inch blades
Dual blades
Product weight: 8.3 pounds
Ergonomic rotating handle to trim from multiple angles
Can cut through 3 quarters of an inch
Powerful 40V engine
Battery Running time: up to 1 hour
Guarantee: 4-Year Warranty
3200 SPM (Strokes Per Minute)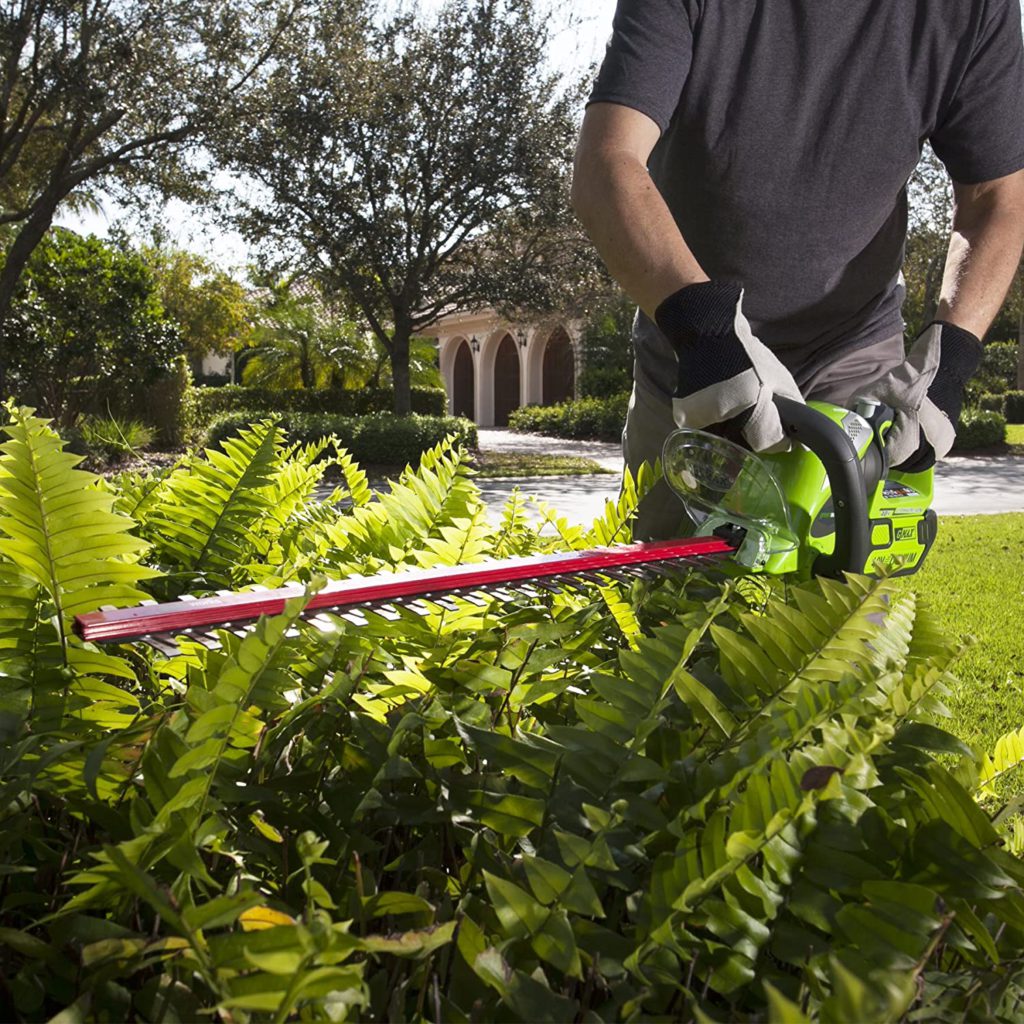 Who doesn't like a neatly trimmed bush? Shrubs and hedges can transform the exterior of any house, provided that they are maintained regularly. Neglected bushes are unsightly. It's important to keep them looking their best and the easiest way to achieve this is with a hedge trimmer.
Cordless hedge trimmers such as the Greenworks model come with the added convenience of eliminating electric cables that can often get in the way, get tangled or limit your range. Battery-powered hedge trimming appliances are not all created equal, we've found that the running times will differ between each model. The majority of hedge trimmers come with a dual-action blade that makes the machine considerably more efficient and capable of cutting through ¾ inch thick sticks and branches. Not bad at all!
Cordless hedge trimmers can be expensive depending on the model that you decide to buy and for this reason, we've chosen to review the Greenworks HT40B210 which not only provides high performance but is also competitively priced to suit most budgets.
See Where The Greenworks 40V Cordless Hedge Trimmer Ranks On Our List of The Best Cordless Hedge Trimmers
Greenworks 24-Inch 40V Cordless Hedge Trimmer Full Review
Summer's here and it's time to prune the shrubs outside. If you're thinking about upgrading to a battery-powered hedge trimmer then the Greenworks HT40B210 is a model worth considering. It comes with a powerful 40V lithium-ion battery as well as a fast charger that can juice up a flat battery in just 60 minutes.

Unfortunately, the market is flooded with hedge trimmers that promise long battery running times, however, the reality is that most of them never live up to their claims when put to the test. Thankfully, this is not the case with the Greenworks 24-Inch 40V cordless hedge trimmer. You can expect a running time of up to 1 hour on a single charge. The machine is also equipped with a battery indicator so that you can keep an eye on the battery life whilst trimming.
Comfort During Use
This Greenworks trimmer is a joy to use. It's extremely comfortable to handle and makes full use of the dual-action blade made from hard-wearing steel. It is designed to reduce vibration during use and boasts a handle that rotates 180-degrees. Whenever you need to trim awkwardly positioned branches, all you need to do is adjust the handle until you are happy with the angle. The flexibility to trim high-reaching or low areas speeds up awkward tasks.
Product Weight
One thing that you will notice is that this hedge trimmer is slightly heavier than alternative units. It weighs just above 8 pounds. This isn't an issue for short jobs, however, you might start to notice the weight after 15 minutes of continuous use. Having said that, the Greenworks trimmer gets tasks done faster because of the powerful 3,200 SPM that it produces.
Branch Thickness
As mentioned before, the Greenworks 40V hedge trimmer can cut through sticks and branches that are up to ¾ inch thick. Anything thicker than that and it struggles to deliver a smooth cut. Therefore, I would recommend using this model if your shrubs and hedges are thinner and not as dense, although we've heard mixed reviews (more on this later).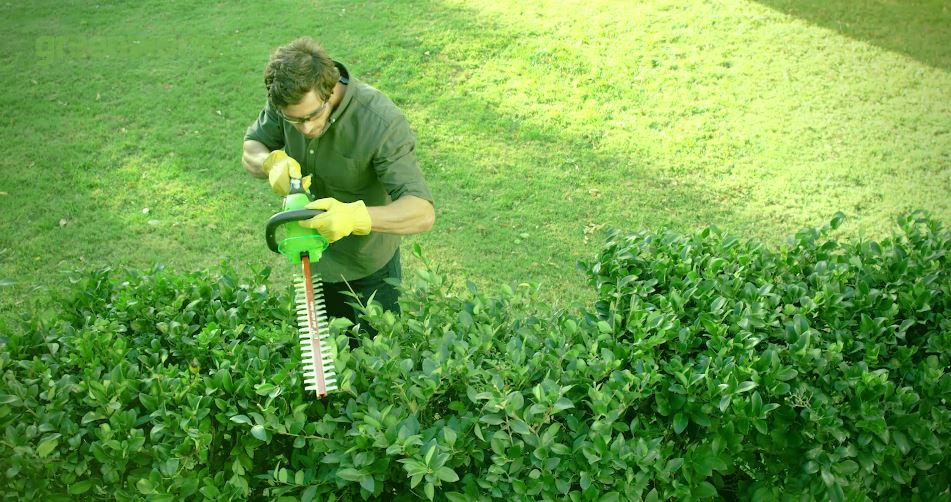 Pros: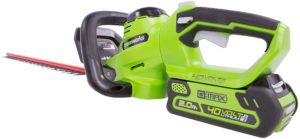 Produces considerably less vibration and noise
The battery runs for 1 hour on a single charge
The 24" dual-action blade is made from durable steel
The quick charger tops ups the battery in just 1 hour
Cons:
Some users could find this model a bit heavy for longer tasks
Highly Recommended for Heavy- Duty Yard Work
The Greenworks 24-Inch 40V cordless hedge trimmer is a workhorse. It's easy to use and the handling is brilliant. It cuts through ¾ inch thick branches like a hot knife through butter. Most uses have praised its performance even during prolonged periods of usage. The trimmer is not shy of intense jobs and extensively clears challenging thorny weeds/brush.
If the machine gives off a whining sound you can easily get rid of this by spraying the blades with silicone-formula WD-40 while the machine is running, and this will help eliminate the straining sound especially when using the trimmer for long periods of time.
Outstanding Battery Power
If your a professional landscaper who is used to using gas-powered hedge trimmers then you might be a bit hesitant to make the switch from gas to battery in fear that the performance might be compromised. You will not be disappointed by the Greenworks trimmer's impressive results.
It cuts through dry thick branches and still performs well on lush leaves. You might need to passes through thinner shrubs a few times for better results but the 24-inch blades ease the task. The handle's rotating features allows you to cut with the blade position above your head whilst its upside down.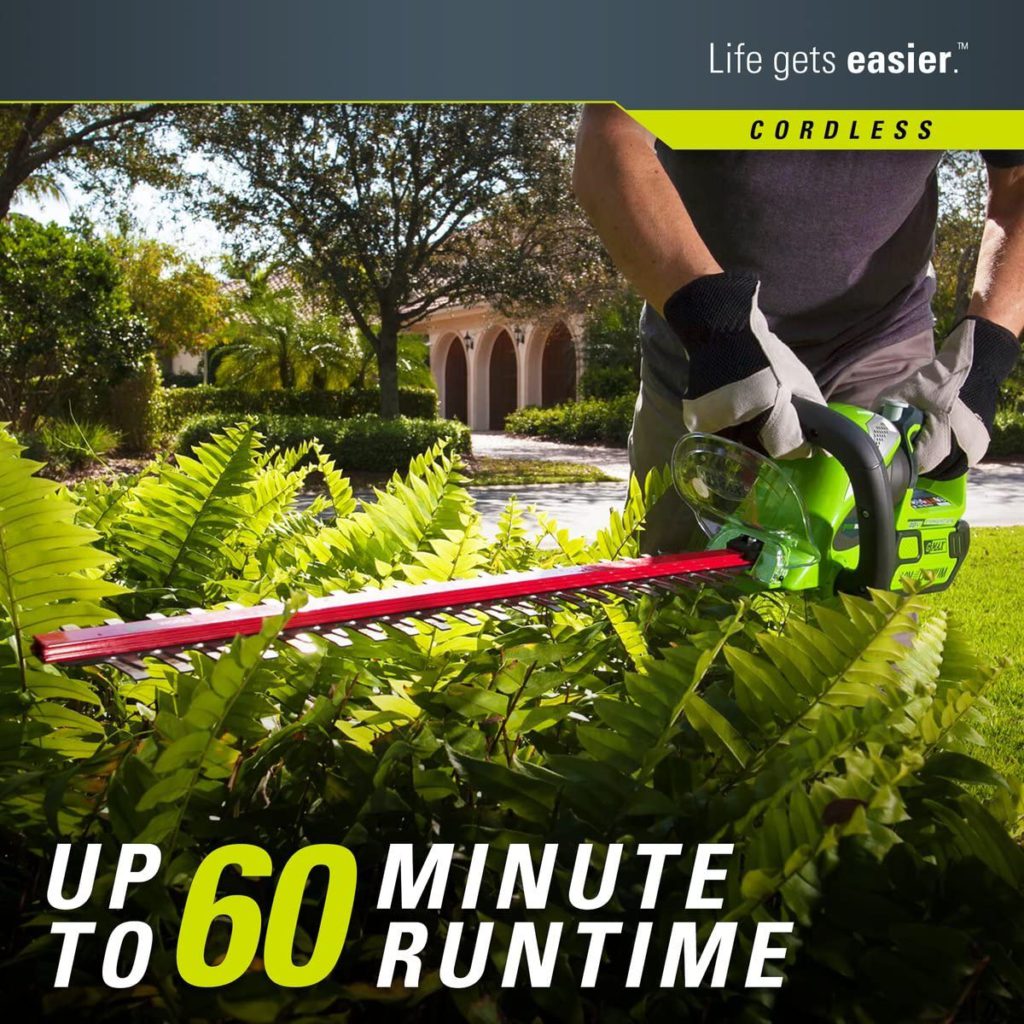 When comparing the battery-powered Greenworks trimmer to a gas-powered hedge trimmer it provides virtually identical performance and offers the same cord-free advantages. It's lighter than the gas models thus less strain on your hands and arms and the convenience is that it's always ready to go rather than a gas model that requires you to mix and pour fuel.
See Where The Greenworks 40V Cordless Hedge Trimmer Ranks On Our List of The Best Cordless Hedge Trimmers
Performance on Different Types of Hedges
Setting up the Greenworks trimmer for first-time use is a breeze. All you need to do is unbox it and slide in the 40V battery. You will need to pull back the dead man's switch with your thumb, press the trigger and the machine comes alive. The appliance also comes with a guard to cover the blade when stored away.
Trimming yew hedges is extremely easy and you can feel that the trimmer is very sturdy even when you put it through its paces. There is more than enough power and the unit feels well balanced which makes it easier to produce consistently clean cuts. You can work through hedges and flatten the sides and the top of them in record time.
Equally, trimming a burning bush is just as easy. You would think that the Greenworks trimmer would struggle with the thicker branches, however, the machine is never deterred and is always up for the challenge.
What about buckthorn shoots? Same story, the trimmer diligently works through buckthorn and trims it neatly as it passes through. The results are pleasing. You can even use the trimmer with one hand to reach parts of the shrub that are further back though this is only recommended if you are strong enough to do so. One-handed use is a bit awkward but still feasible. You can trim 400 sq ft of buckthorn very quickly. The trimmer never stalls and it delivers fresh-looking clean results each time.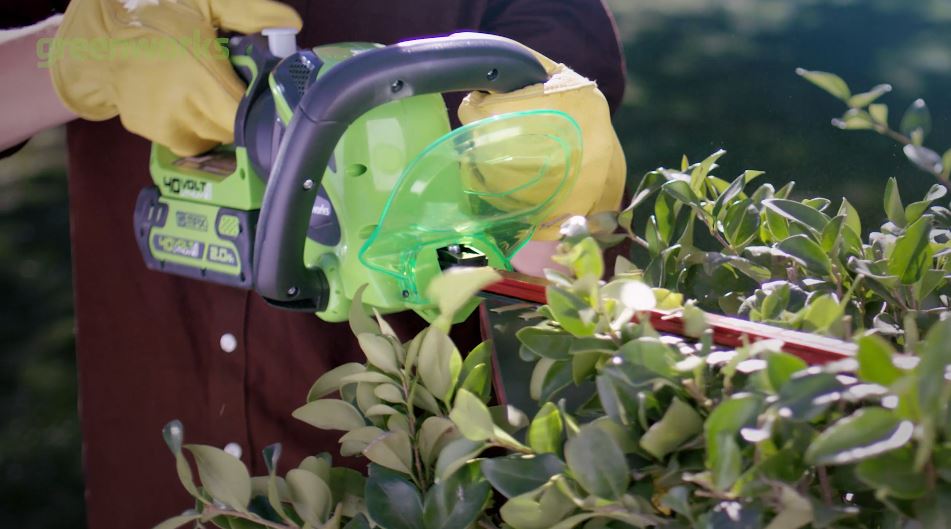 If spireas are overgrown, simply walk alongside it whilst holding the trimmer up against it vertically and it will neatly cut back the spireas that are leaning over into unwanted areas.
Are the dogwoods looking like they could do with a trim? The Greenworks trimmer can cut through most of the stems although it might need a bit more time to concentrate on thicker stems. You will need to focus its power on thick branches so that it can gnaw the wood, which only takes a few seconds before the branch falls.
The beauty of going cordless is that you can get to work straight away. There's no need to worry about extension cords which often get tangled up or in some cases can get cut by the trimmer itself. With a battery model like the Greenworks, all you need to do is to slot in the battery and it's good to go.
This model is designed to speed up tasks thanks to the simple setup and rock-solid performance. Trimming is done in a fraction of the time which means that you can cut shrubs more often rather than just twice a year.
Great Customer reviews
The Greenworks HT40B210 40V cordless hedge trimmer has received plenty of great reviews from satisfied landscapers and domestic users alike. This unit is adaptable for both commercial and home use. One user with arthritis in their hand had long been considering switching from their dated cumbersome corded trimmer.
The switch couldn't have come sooner! This user immediately noticed the difference. No more cables or extension cords to drag around and the interchangeable battery provided a much-needed convenience. The high-performance blades reduced cutting times by half.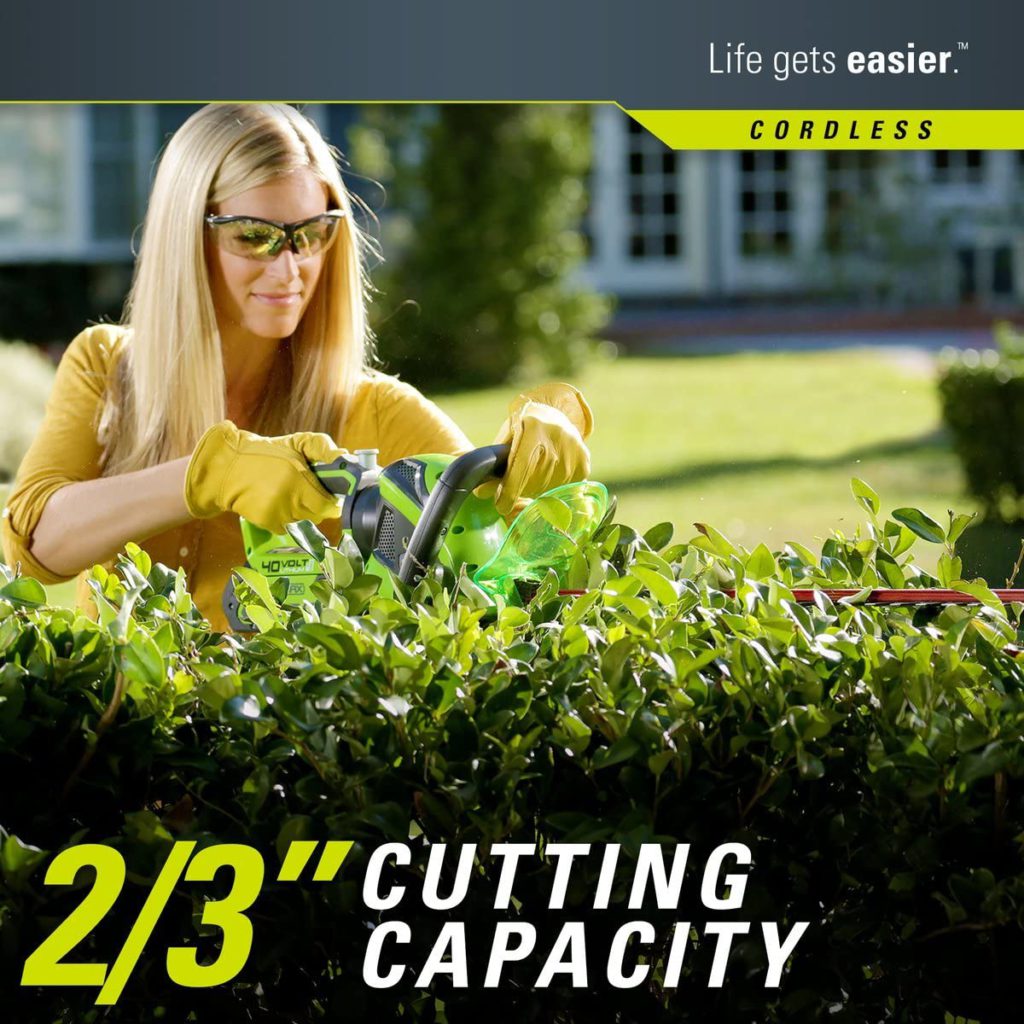 Users are notably impressed by the even weight distribution, together with the rotating handle makes this one of the most comfortable cordless trimmers to handle.
The 60-minute high-grade battery means that users can enjoy a fade-free performance, which has been well-received. The 4-year warranty also gave users the peace of mind that help and support are always available and it just goes to show the confidence that the manufacturer has placed in the reliability of their trimmer.
Conclusion
Overall, the Greenworks 40V Cordless Hedge Trimmer is a solid piece of kit with consistent performance. Generally, once a user invests in Greenworks tools, they tend to stick with the brand for its reliability. Most users prefer this model over an electric model.
The fast charger means that you can alternate between 2 batteries during longer jobs since the charging time is equivalent to the running time (1 hour). In light of this, I would recommend buying a spare battery.
The cutting performance is outstanding and the unit does not jam. The rotating handle is one of the devices best features, not only does it increase comfort considerable but it speeds up trimming times as well. If you're looking for an affordable cordless hedge trimmer that offers solid performance and the reliability to match then you should seriously consider the Greenworks HT40B210.
See Where The Greenworks 40V Cordless Hedge Trimmer Ranks On Our List of The Best Cordless Hedge Trimmers