There are different types of lawnmowers in the market today. If you have a lawn to maintain, getting this kind of tool is necessary. However, before you purchase a mower, you should know the important details about this product. Lawnmowers can be a hefty investment as they can be expensive.
Meaning, if you want to make the most of your purchase, getting the right mower for your needs is the only way. In this section, we'll talk about self-propelling electric lawn mowers. We'll give you a few tips on how to buy an electric lawn mower here, but first, you must know a few crucial pieces of information about these tools.
Recommended for You: Best Self Propelled Electric Lawn Mowers | Powerful Electric Mowers for Easy Up Keep of your Lawns
Different Types of Mowers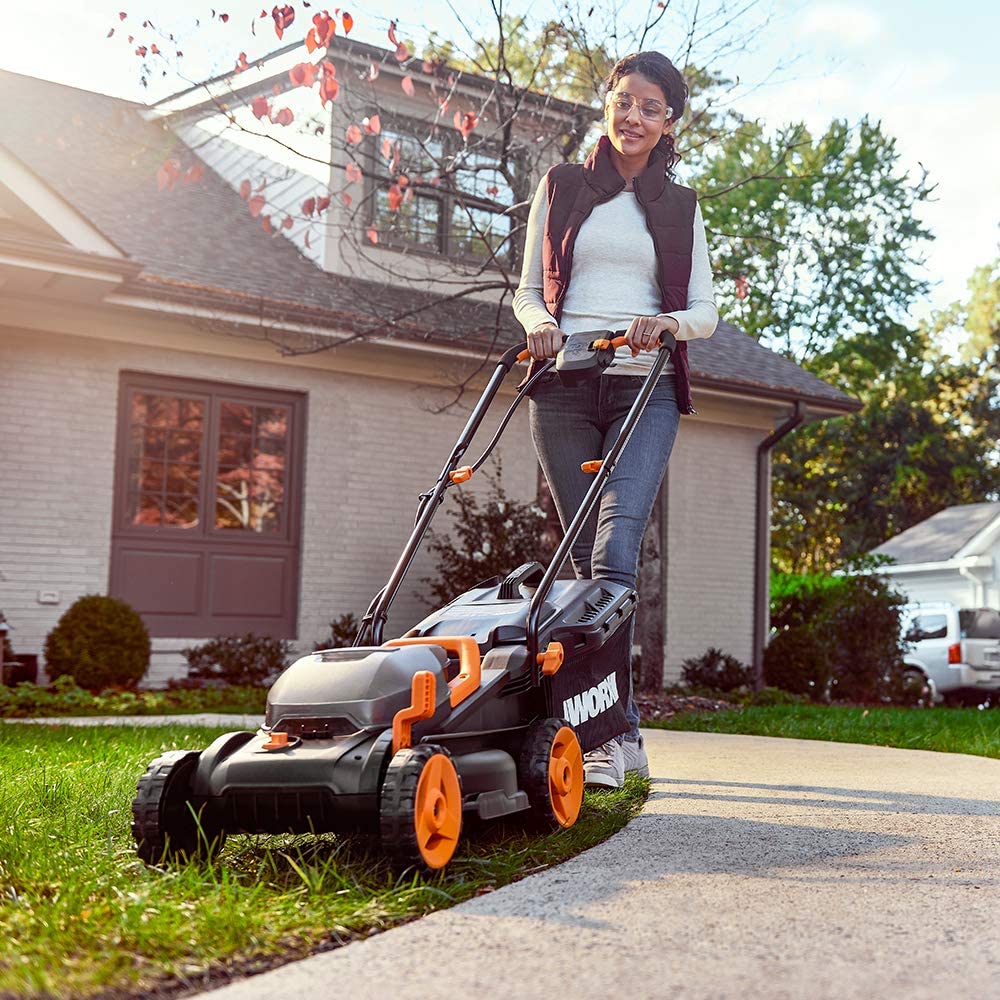 There are various mower types, and the model you're getting must fit your needs. You would want to choose a model that is best for your lawn size, the obstacles present, your budget, and other important factors. Below we'll differentiate a few of the mower types that you can find in the market. There could be more classifications in this product category. However, we've enlisted some of the most common kinds of lawnmowers that are usually available.
Riding Mower
A riding mower is probably one of the most powerful types in this product category. This lawnmower is a tractor that you can drive and is typically best for large lands. This type of mower is usually the most powerful. However, it could be difficult to control if you have a small lawn with plenty of obstacles. Riding mowers are usually powered by fuel as well.
Push Lawn Mower
A push lawn mower, as the word implies, needs pushing from the user to work. This type can be powered by fuel or electricity. It fits small-sized lawns and could be the type of mower for you if you're on a tight budget. Push lawn mowers are usually the most compact out of all the categories. Most of these types of models are cheaper as well. Meaning, if you're budget conscious, a push lawn mower could be the product you're looking for.

Self Propelling Lawn Mower
Self-propelling lawn mowers may look similar to push lawnmowers. The difference between the two types is that self-propelling models do not require pushing to move. It can move on its own, and can sometimes take a direction without controlling. Self-propelling mowers are mostly powered by electricity.
They can be in the middle price range between the other mower types. Self-propelling mowers could be for you if you have small to average-sized lawns, as well as if you prefer battery-operated models than the ones that work using fuel.
Recommended for You: Snapper 82v Lawn Mower Review | An Electric Self-Propelling Mower for Easy Lawn Maintenance
Benefits of a Self-Propelling Electric Mower
Now that you know what a self-propelling electric mower can do, you probably have an idea of the benefits this tool can provide. Let's dig deeper into the reasons why you should get a self-propelling electric motor for your lawn.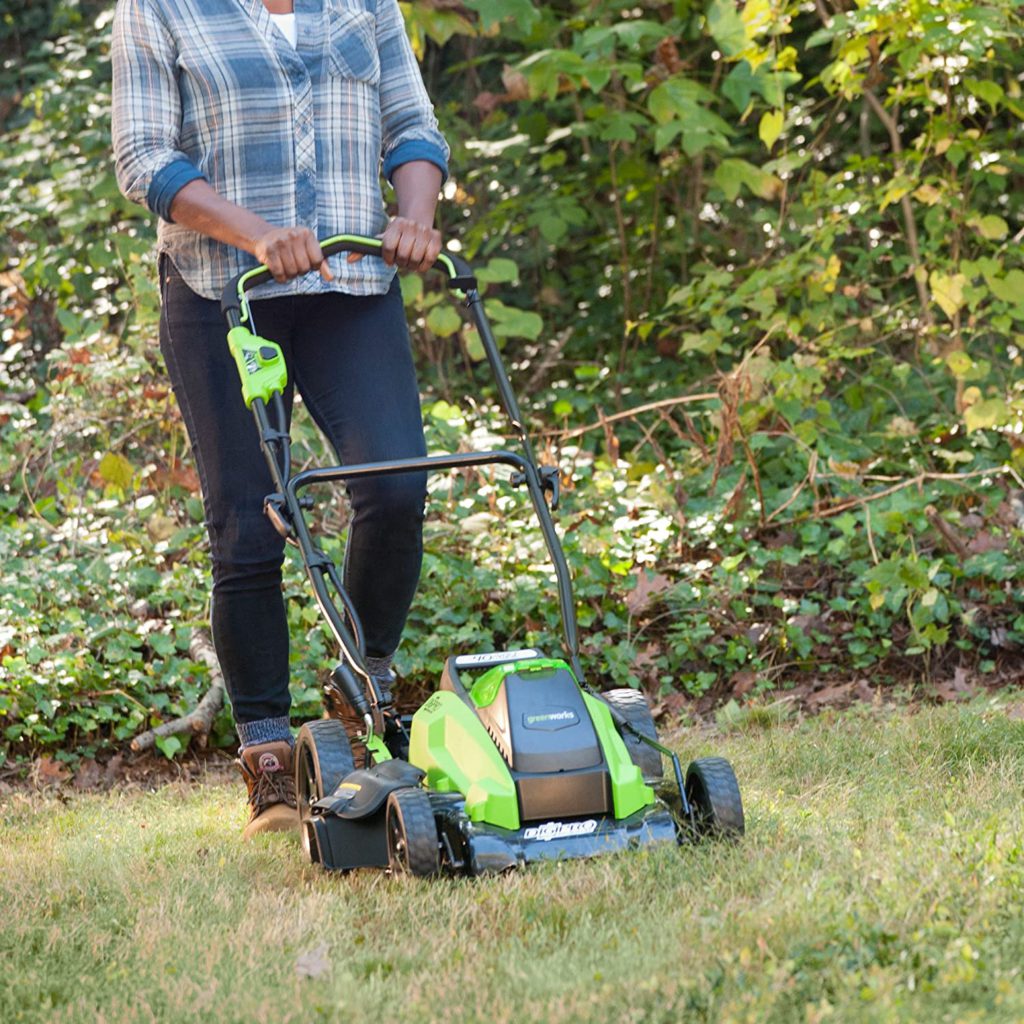 Time Saver
When you get a lawnmower, no matter what kind of model you're going to get, you will save a lot of time as you work. Compared to when maintaining your lawns manually, you can finish your task way faster using a lawnmower. Although different models may offer varying speeds when it comes to the completion of work, you can still definitely save a lot of time when you opt for a mower when it comes to maintaining your lawn.
Energy Saver
Saving time during your lawn work also means you will get to save energy when maintaining your lawns. Especially for self-propelling electric mowers, these machines do not require pushing. Meaning, it's the best option for people who want to exert minimal effort when taking care of their lawns. This type of mower is mostly battery-powered as well. Many models in this class require a lower voltage to work compared to others. Meaning, you won't only save physical energy as a user, but also your power consumption.
Eco-Friendly
Most self-propelling mowers are battery-powered. Not needing fuel to work means these machines are eco-friendly. If you want to help the environment while also being productive and keep your lawns looking nice, a self-propelling electric lawn mower could be the product for you.
Recommended for You: Greenworks 40v Cordless Lawn Mower Review| Self-Propelling Electric Mower with a Long Battery Life
Factors to Consider When Getting a Self-Propelling Electric Mower
There are several factors you may want to consider when you get a self-propelling lawnmower. The features below will determine the electric mower's strengths and ability to satisfy your needs. You may want to check the following features when getting a self-propelling lawnmower to make sure you're getting the right product. These factors assure you're making the most of your purchase.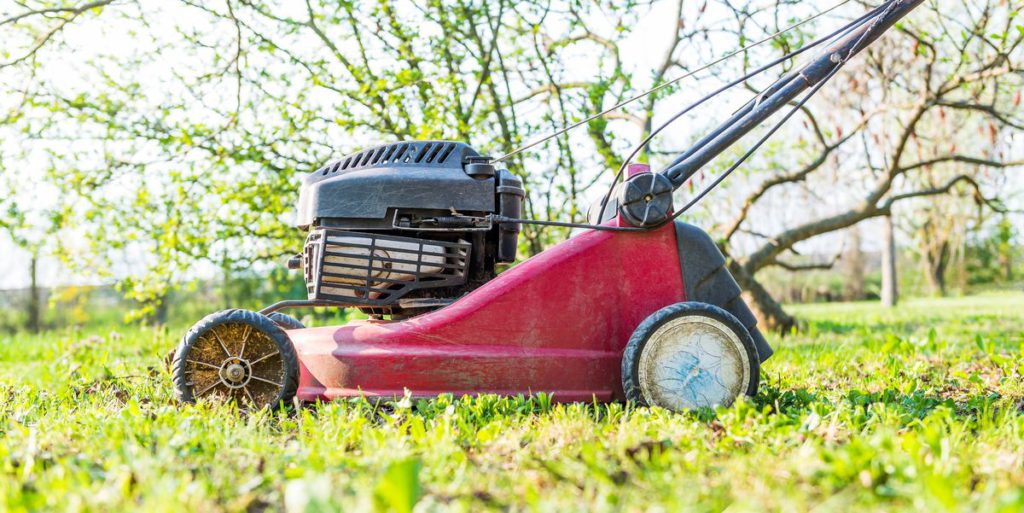 Power
Different electric lawn mowers offer varying power. Although all models in this class use battery, the voltage and the quality of the battery may differ. Therefore, various mowers offer different power. The higher the voltage, the more powerful the machine can be. It can affect the cutting speed, as well as the precision of the mower. However, the kind of battery may also mean an increase in product cost. Usually, for these machines, lithium-ion batteries are used, as this type of power source is typically durable and reliable.
Battery Life
You may also want to consider the battery life of the mower you're getting on your purchase. If you have an average to medium-sized lawn, you may want to choose a model with long battery life.
A good battery span for compact, self-propelling electric mowers, may reach about 60 minutes. In some models, you can optimize the battery use with the technologies added to the device. For instance, some technologies prevent wasted energy that can happen when power is transmitted from the batteries to the blades. The battery type may also contribute to the length of work a mower can provide. You can get more information about the mower's battery life by reading the product description.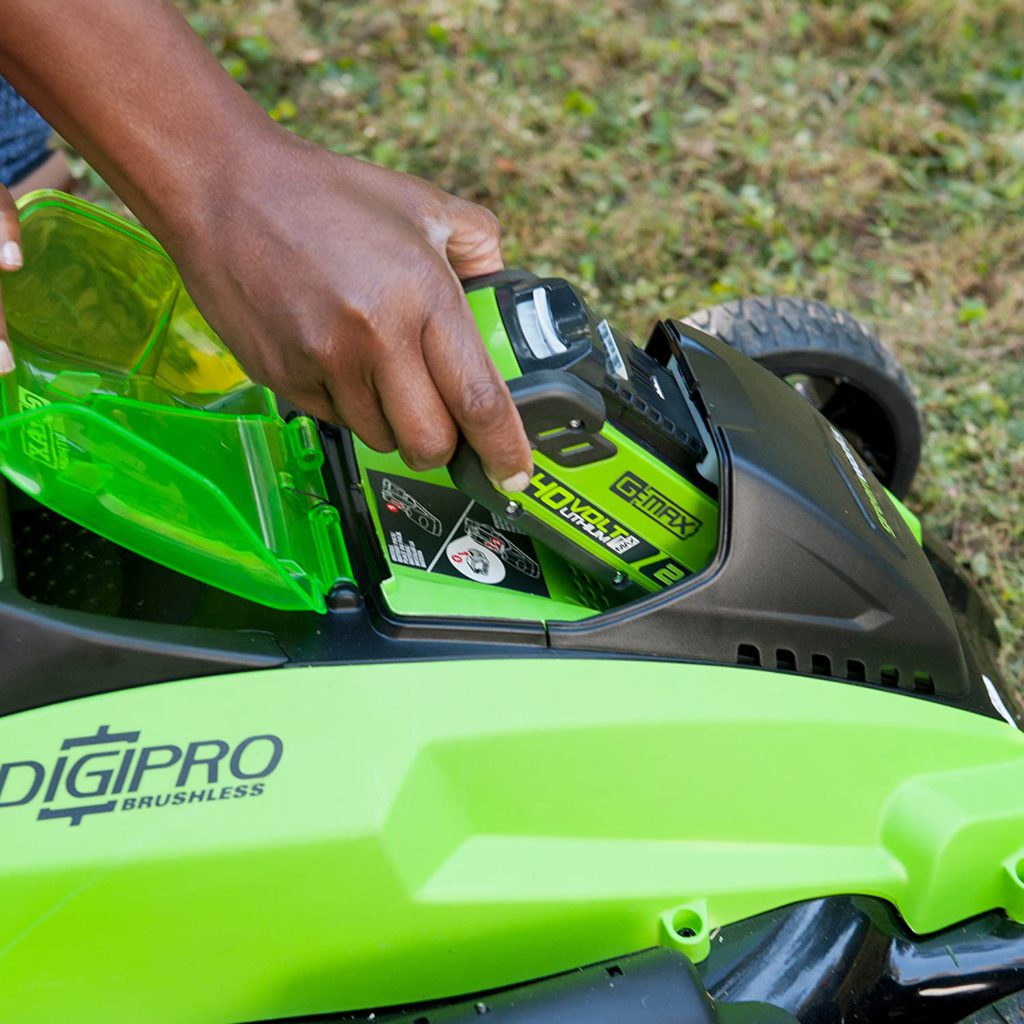 Cutting Width
The cutting width for compact, self-propelling electric mowers, may range from 17 inches to 21 or more. When choosing the right cutting width for your mower, you may want to consider the space of your lawn and the obstacles present. Although a larger cutting deck could help you complete your tasks faster, it's not always recommended especially if you have tightly-spaced lawns.
You may also want a smaller cutting deck if there are many obstacles present in your lawn such as flower beds and trees. Opting for the right size of the cutting deck contributes to your product's efficiency and cutting precision.
Size and Weight
The size the mower you're getting must fit your lawn space and the obstacles you might encounter during your task. Choosing a compact lawn mower will help you get in tight spaces, and precisely cut while avoiding the areas you don't want to pass by. The size of the mower must as well complement your storage space.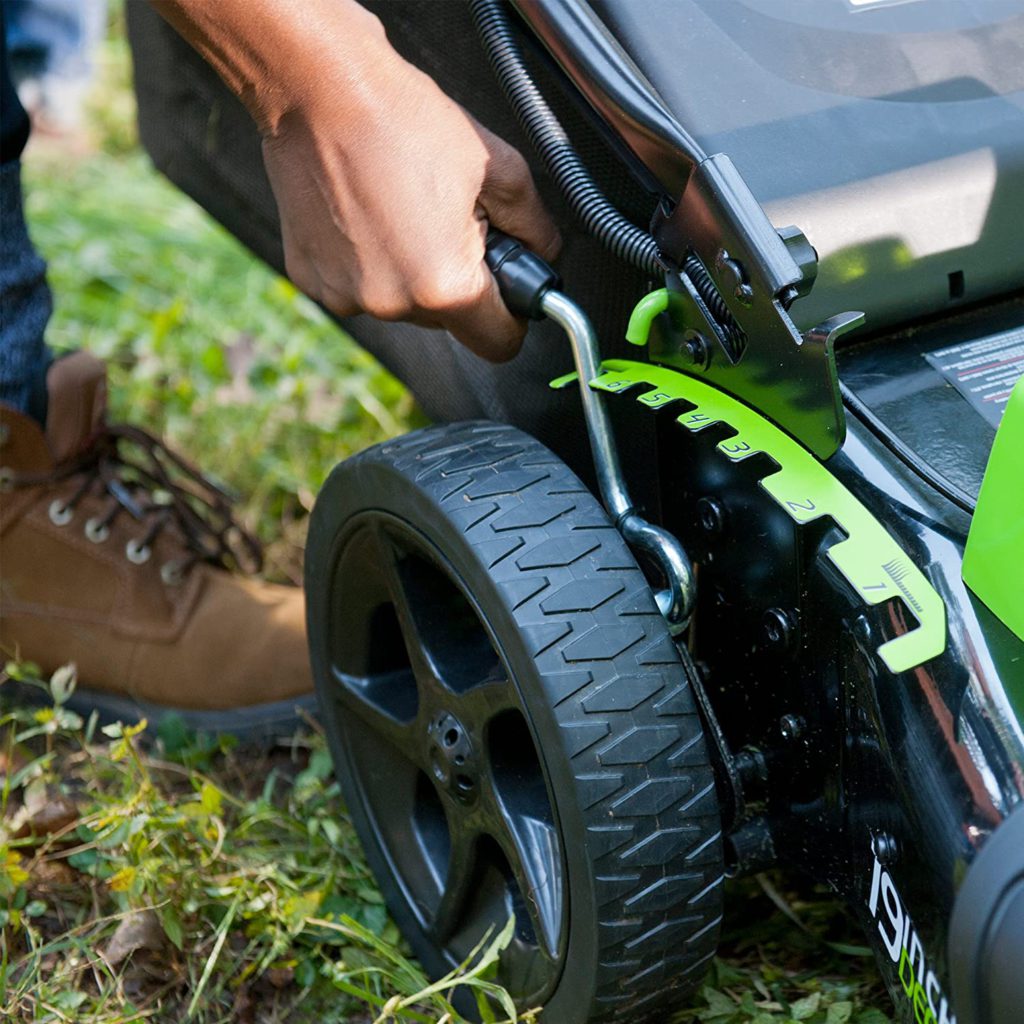 For people who have a limited parking space, if possible, you may want to opt for foldable models. On the other hand, the weight of the mower must be considered if you want a machine that is easy to move from one place to another. Although, these products have wheels, moving heavier models might still strain your back.
Technologies
Added technologies that you can find in lawnmowers can add to its efficiency and convenience. For instance, you can find innovations that prolong the battery life of the mower. Some models are intelligent, too, which can detect the user's pace, and adjust automatically to it.
It's always a benefit when you see more technologies added to the machine. Meaning, it can improve its performance, and you, getting the most of your investment.
Ease of Use
When you purchase a lawnmower, you may want to check if the model is easy to use. Some mowers are uniquely equipped with materials or technologies that further the product's ease of use. For instance, some mowers can start working with just a push of a button.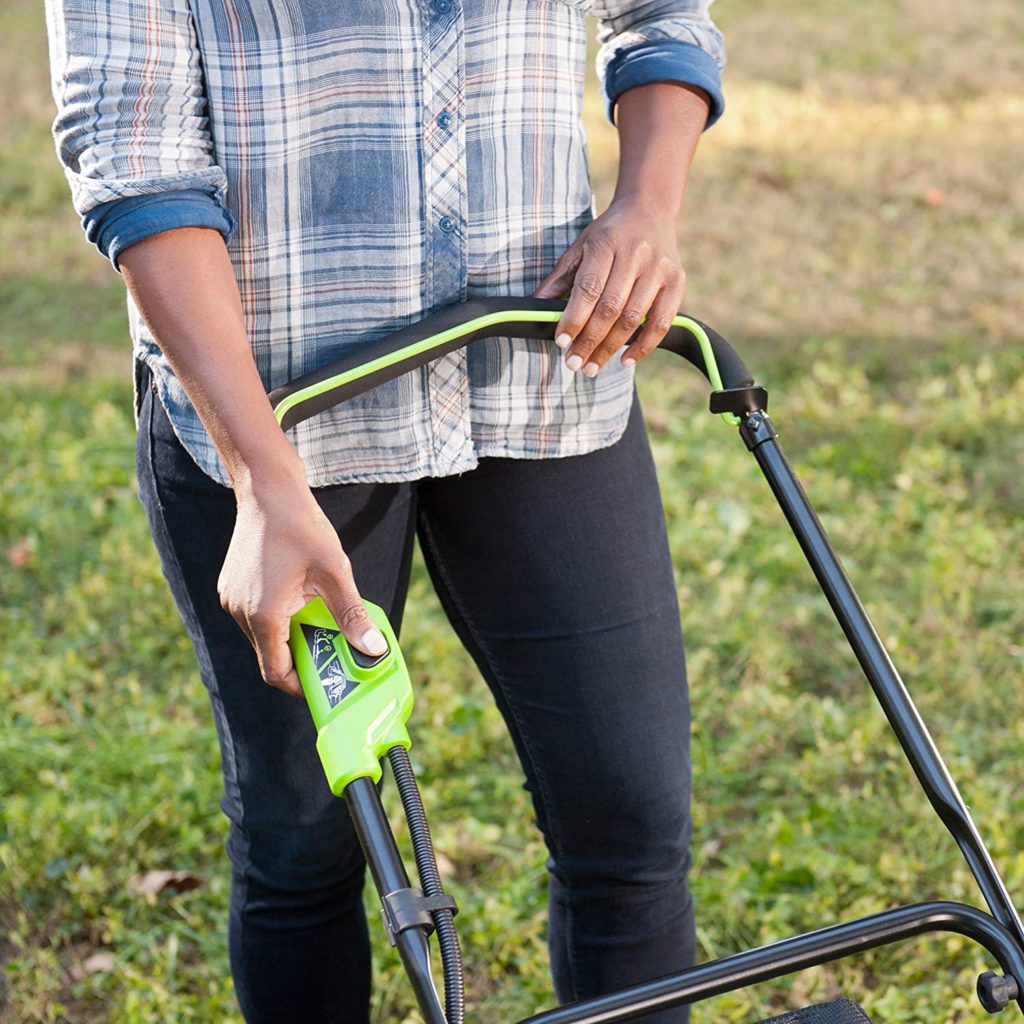 Compared to other models that require pulling a cord to start, a mower that is easy to begin working is more preferable. There are also electric lawn mowers that can mulch, bag, or side discharge. This feature is another example of a component that adds to the product's ease of use.
Warranty
Varying self-propelling electric lawn mowers offer different warranties. If you have begun looking around the available models in the market, you probably know that this device is not cheap. Lawnmowers can be expensive. Although you may find models at a fair price especially for compact, electric lawnmowers, you would still want to make the most of your investment.
One way you can do this is by choosing a product that offers a generous or a fair warranty. The warranties vary from 1 to 5 years or more. Some mowers come with labor and parts included in the warranty. If the warranty details are not available in the product description, you can always ask the seller about it.
Conclusion
We hope you've learned a few notable information about how to buy an electric lawn mower. These machines can help you greatly in making your life easier when it comes to maintaining your lawn. If you have a large land to upkeep, a lawn mower is a necessity.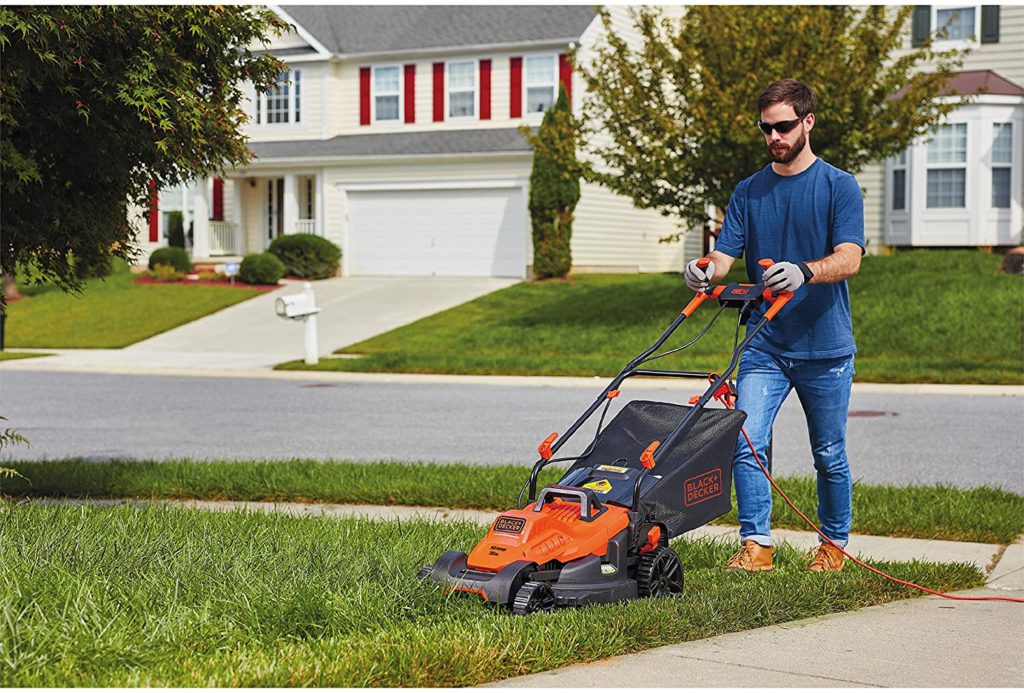 Self-propelling, electric lawnmowers are heaven-sent for people who desire an efficient tool that doesn't require fuel, as well as too much energy from the user. If you think our post helped you know important information about self-propelling electric lawnmowers, let us know in the comment section below. We'd love to hear from you!
Recommended for You: Best Riding Lawn Mowers For The Money | Bang for the Buck Tractors for Maintaining Your Lawns