Choosing the right vacuum cleaner in the market for your needs can be overwhelming. Products in this category vary, and there are a lot of options out there. If you desire to purchase the right vacuum cleaner for you, especially if you're elderly, first you must know the various kinds of models. Knowing the factors to consider during your purchase will help you end up with the perfect vacuum cleaner for your needs as well. In this section, we'll tell you about the lightweight vacuum cleaners for seniors.
Recommended for You: Best Lightweight Vacuum Cleaners for Seniors | Easy to Handle Vacuum Cleaners for a Spotless Home
Different kinds of vacuum cleaners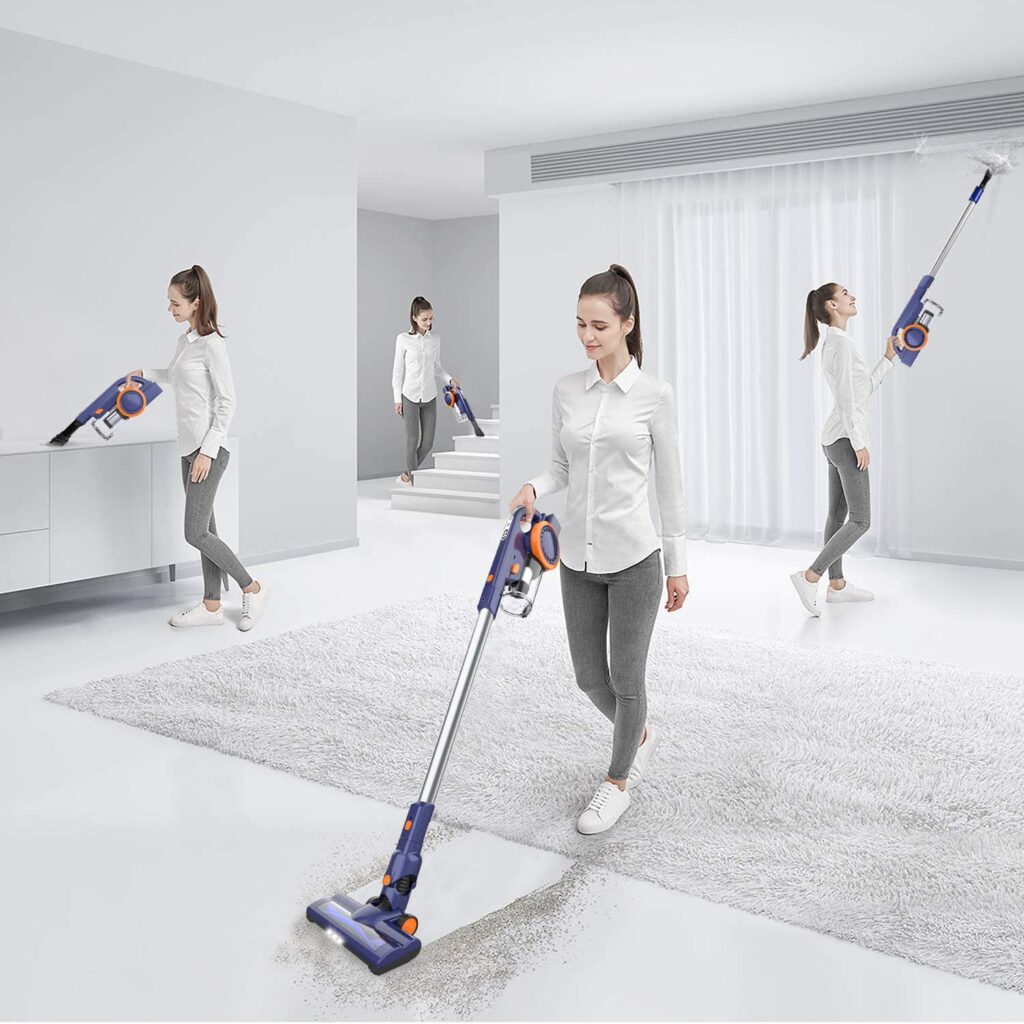 Vacuum cleaners available in the market differ in shape, size, weight, features, and function. When buying this kind of product, know if it fits and serves your needs. Older adults have different needs when it comes to vacuum cleaners. Because they have limitations and different capabilities when it comes to operating this type of device, there are factors to consider to get the right product. The following is a quick guide on how to get the perfect vacuum cleaner for older adults.
Why Older Adults Need a Vacuum Cleaner
House chores can be more challenging to do especially in our later years. We can always opt for hiring a person who can maintain our homes for us, but there are times when we can't always rely on others to perform the tasks. Good thing, we now live in an age where technology helps us to do such tasks easier. Vacuum cleaners are excellent cleaning tools that can help us keep our homes clean.
Older adults, however, have specific preferences to be able to optimize this kind of device. First, let's identify the benefits of vacuum cleaners for seniors.
Easy Home Upkeep
Having an efficient, easy-to-use vacuum cleaner can help seniors maintain a clean home without a sweat. There are many options for vacuum cleaners which require minimal effort from the user. For example, robot vacuum cleaners are equipped with cutting edge technologies, which allow these devices to work on their own. There are self-propelled vacuum cleaners, too.
Models that need less monitoring are better for older adults. Press-and-play vacuum cleaners are a better option than models with complicated set-up requirements.
Save Energy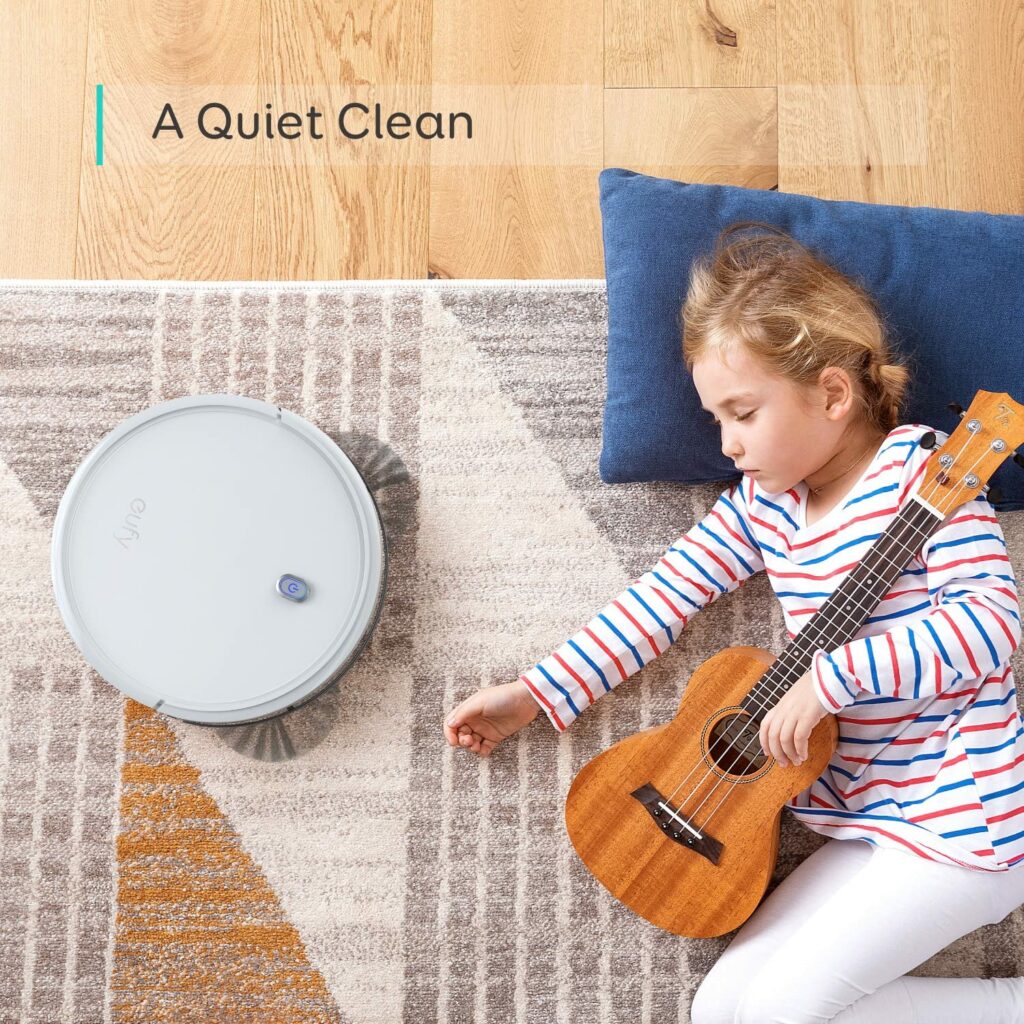 With vacuum cleaners that are easy to operate, it can help older adults to save energy. Lightweight models are ideal for the consumers in this age bracket, as these vacuums are easy to carry. High-tech devices such as robot vacuum cleaners are also an excellent option. Using products that are lightweight, and smart can help the user save energy.
Opting for this type of vacuum cleaner allows you to leave the machine on its own while you rest, or use your time on more valuable activities. Using efficient cleaning tools, you can make the most of your time and energy.
Use Time for Worthy Activities
Doing house chores can take time. Especially if you have a huge home to maintain, it can take hours just to maintain one area clean. Time is critical, and you can do other activities that are more important or valuable than cleaning your home. Using cleaning tools like vacuum cleaners will allow you to make use of time in more valuable ways. For instance, a robot vacuum cleaner with advanced technologies can be pre-programmed after the user's needs.
Some models are app and AI integrated, which adds convenience for use. Vacuum cleaners with such features usually boast voice commands, setting up cleaning schedules, and floor mapping. With these strengths, these devices can work on their own. Thus, users won't need to monitor the machines and use their time for other activities.
For a Safer Home
For people with more sensitive health like the elderly or infants, keeping the home safe from harmful particles is necessary. Dustmite, mold, mildew, and allergens are examples of these particles, which can trigger asthma or allergy attacks. Using vacuum cleaners with high-efficiency filters can get rid of these particles and keep the home safe.
If you or your loved one is suffering from allergy or asthma, getting a cleaning tool like vacuum cleaners can help you have a house that's not only clean and safe but every fresh as well.
Recommended for You: Dyson Cyclone V10 Motorhead Cord Free Stick Vacuum Review | A Great Vacuum Cleaner for Seniors
Factors to Consider When Buying a Vacuum Cleaner for Seniors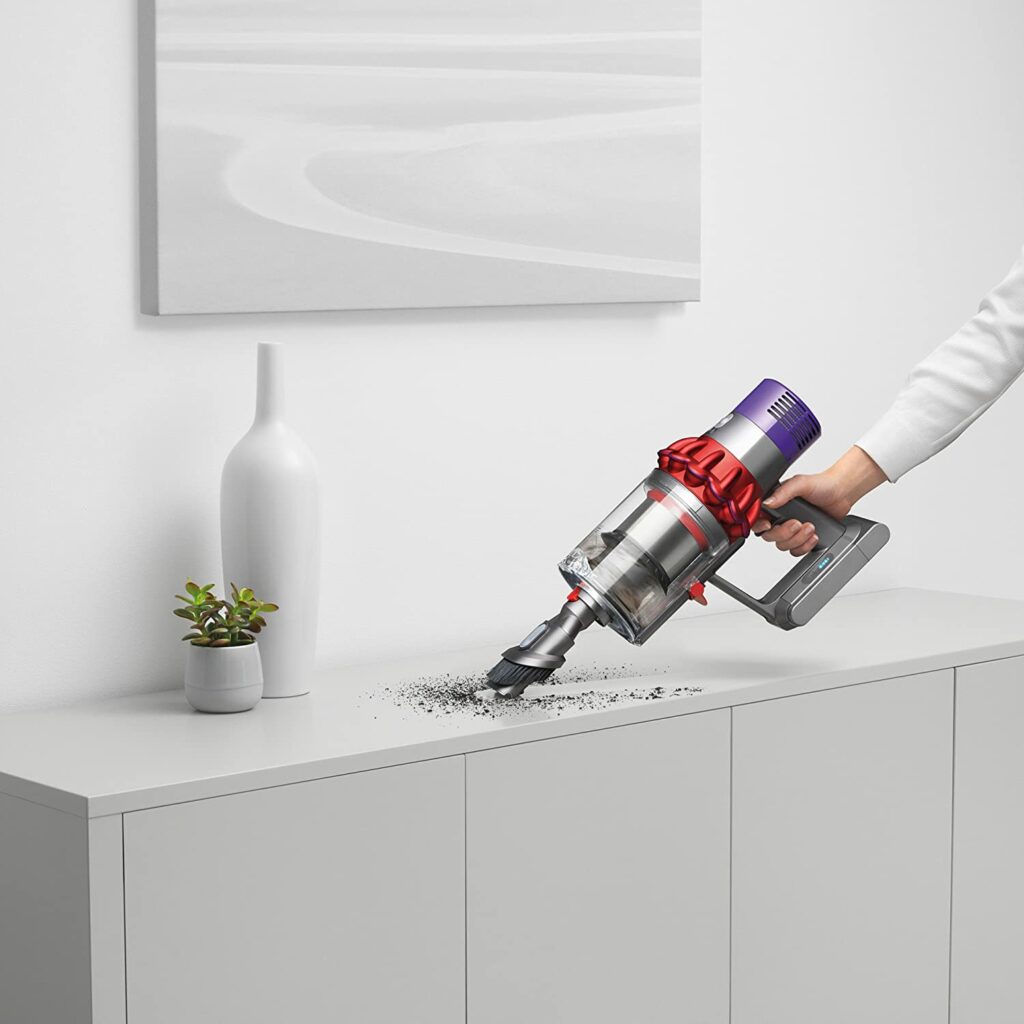 Vacuum's weight
If you're a senior looking for a vacuum cleaner, you must opt for a lightweight model. The model you're getting must also be compact and easy to move from one place to another. Typically, older adults have limited energy, which makes lifting and moving equipment more challenging. Therefore, it's wise to acquire a portable vacuum cleaner.
Factors that can affect the vacuum's portability are dimensions, weight, ergonomics, and wheels. The best option for vacuum cleaners that's good for the elderly weighs about 5 pounds or less. However, it's usual that lightweight vacuums can be less powerful than their bigger and heavier counterparts. So when purchasing the right vacuum cleaner, apart from weight, suction power is another factor to consider.
Front lights
Front lights are another important factor that seniors need to consider when buying vacuum cleaners. Due to age, most older adults suffer from poor eyesight. That's why it's a good move to buy a vacuum cleaner with front lights that can help you see better around the area you're cleaning. A front LED light helps boost visibility for more efficient cleaning.
Using a vacuum cleaner with lights will reduce your chance of missing a spot of dirt, dust, or grime. This factor is especially useful when cleaning high pile carpets, as well as hard floors. Front lights can also be a safety feature while you clean. Vacuum cleaners with front lights help you avoid slipping or falling as you get better visibility of the area you're cleaning.
With or without cords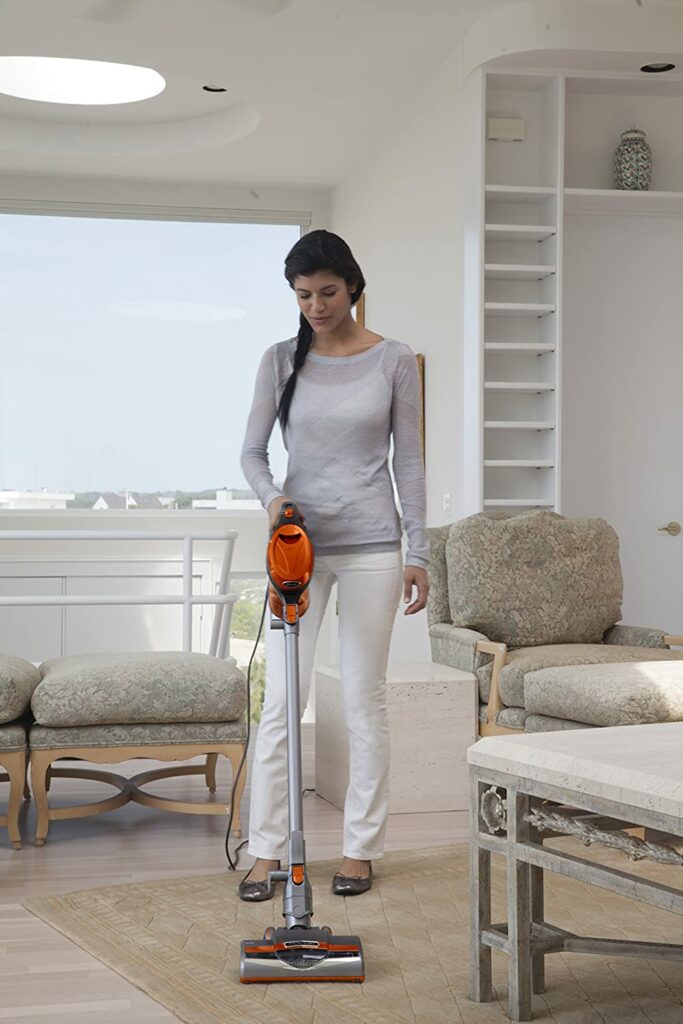 Vacuum cleaners can either be corded or cordless. Though simple, cords can be a crucial factor to consider when getting this kind of device. A corded vacuum cleaner gets power directly connected from the electricity source, therefore, plugged. On the other hand, a cordless vacuum works using batteries, which you can recharge.
Both vacuum cleaners with cords or without cords offer benefits and cons. For instance, if you opt for a corded vacuum cleaner, using it may limit your mobility. While a cordless vacuum cleaner may give you more freedom to move around, the runtime of these devices may be limited. Therefore, you may want to consider the advantages and disadvantages of corded or cordless vacuum cleaners on your purchase. Doing this can help you choose the best product for you.
Suction Power
Another important factor to include when buying a vacuum cleaner is suction power. For older adults, a vacuum cleaner with the strongest suction power is not always the best choice. Models that are too powerful may mean more effort as you push or pull the vacuum. Therefore, causing strain. On the other hand, a vacuum with weak suction power that is too weak isn't the best option as well.
The vacuum cleaner for the elderly must be in the middle with an average suction power that is still efficient for cleaning. It's suggested that when getting a vacuum cleaner for seniors is to opt for a model with suction power between 400 watts and 1000 watts. Suction power with too much power may cause strain to the user, while lower than it may not be efficient in cleaning.
Recommended for You: Eufy by Anker BoostIQ Robovac 11s Review | Smart Robot Vacuum for Easy Cleaning
Self Propelling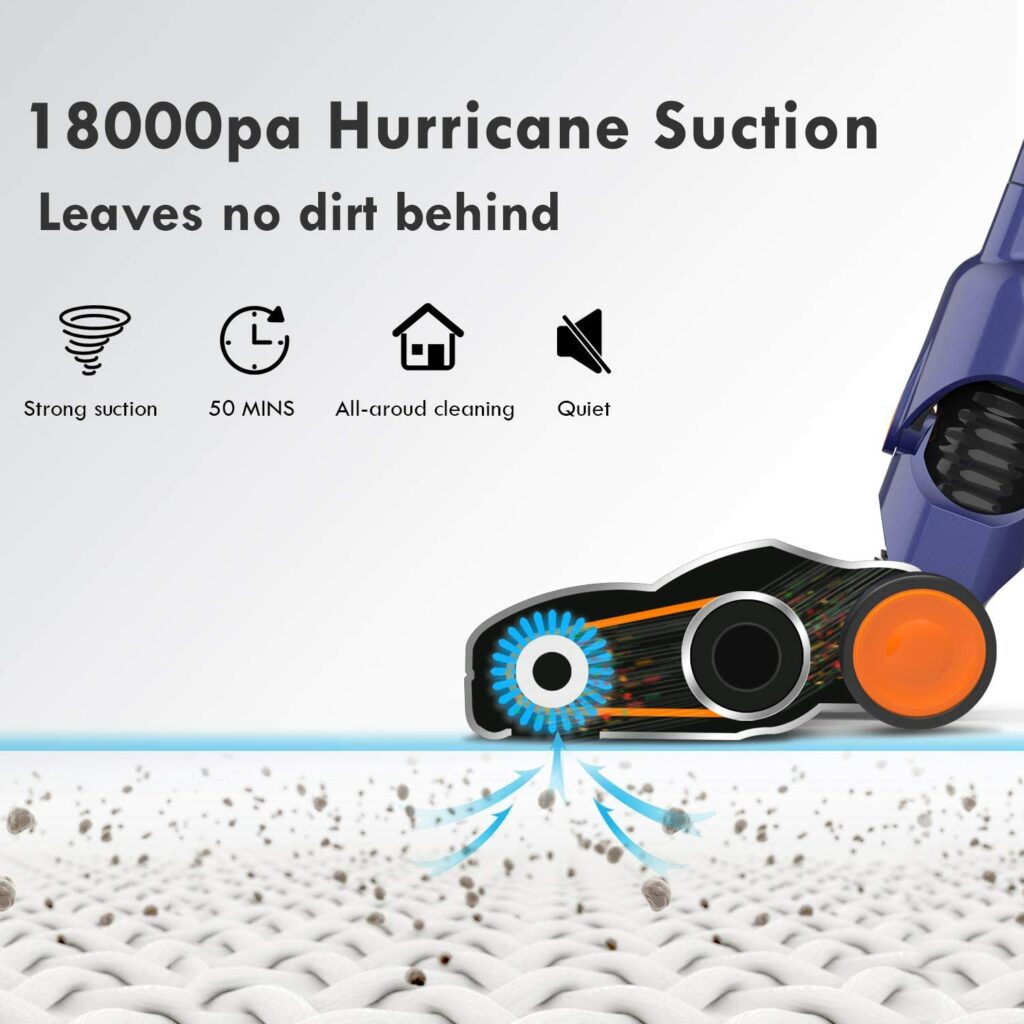 Some vacuum cleaners are self-propelled. Meaning, these devices can move on their own and need minimal monitoring. Most seniors prefer self-propelling vacuum cleaners as they bring less strain to the user. This kind of vacuum cleaners is not the same as robot vacuum cleaners. Self-propelled vacuum cleaners are upright and typically bigger. Opting for this kind of vacuum cleaner might be a better option for older adults, as it requires less effort than non-self-propelling types.
You won't need to exert energy for pushing or pulling the vacuum. Meaning, self-propelling models can help you save energy. It's a highly important factor to consider especially for people with health conditions like arthritis or back problems. Users with limited mobility are suggested to opt for self-propelling vacuum cleaners.
Choosing self-propelling models can help you make your cleaning time easier. Furthermore, you can also avoid potential health risks if you choose this kind of vacuum cleaner.
Health Problems
Many elderly suffer from chronic health conditions which limit them from performing physical tasks. So when buying a vacuum cleaner, you must also consider if you have health problems. For instance, a lightweight upright vacuum or a robot vacuum cleaner could be the best option for you if you have joint problems or back pain. Using this kind of model means you won't need to bend when using the vacuum.
It can prevent you from hurting your back or joints. Furthermore, if you have limited mobility, you may opt for a vacuum cleaner that can move on their own like self-propelled models.
Pets
Another crucial factor to consider when getting a vacuum cleaner are pets. Many older adults have pets at home. There are vacuum cleaners that are especially created to get rid of pet hair that is stubborn to remove. If you have a fluffy pooch at home, we recommend you get a vacuum cleaner that can be efficient in cleaning pet hairs.
There are vacuum cleaners equipped with parts like brush rolls which make them more efficient in eliminating fur on all different surface types. If you have pets, it's recommended that you get this kind of vacuum cleaner.
Conclusion
We hope we have provided valuable insights regarding lightweight vacuum cleaners for seniors. There are many options for this kind of cleaning tool in the market today. You may use this guide
for you to end up with the vacuum cleaner that is perfect for your needs. Because devices like this can be expensive, it's wise to be careful about your sifting.
If you think this post helped you know how to buy the best vacuum cleaner for you, let us know in the comment section below. We'd love to hear from you!
Recommended for You: Best Upright Vacuum Cleaners | Different Types Upright Vacuums for Different Needs