The Midea MAD50C1ZWS Dehumidifier is a wonderful option for a dehumidifier that can work for different parts of the homes with high moisture such as the basement. This model is efficient and its ability to work on areas about 4,500 sq ft makes it a great product for large rooms. Know more about the Midea 50 pint dehumidifier MAD50C1ZWS and how it provides a clean and safe place for you and your loved ones by reading on.
Recommended for You: Best Rated Dehumidifiers For Basements | Top Dehumidifiers for a Fresh and Dry Basement
Summary of Features: Midea Dehumidifier MAD35C1ZWS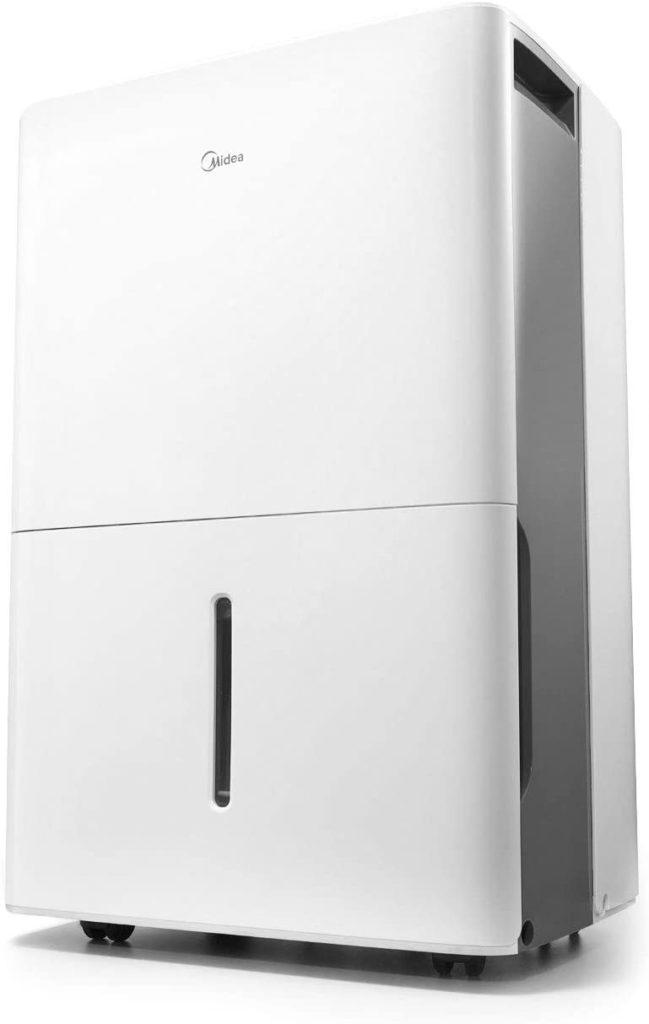 Humidity range from 35% to 85%. The Midea Dehumidifier MAD35C1ZWS can adjust the humidity levels of a room from 35% to 85%. This humidity range is broad enough to adjust to different temperatures and conditions. Ideally, good humidity levels for health and comfort would be around 40-50%. However, the ideal humidity levels of a room can still vary depending on temperature and weather conditions.
Auto-restart function. Having an auto-restart function is highly convenient for a dehumidifier. This feature is beneficial during a power outage. The Midea Dehumidifier MAD35C1ZWS safely restarts on its own if the power source gets cut off. Once the machine restarts, it will have the same settings before the dehumidifier runs out of power. It's convenient for users, as you won't need to set up your preferred programs.
4,500 sq ft coverage area. The Midea Dehumidifier MAD35C1ZWS can cover up to 4,500 sq ft coverage area, which is impressive for a compact model. 4,500 square feet is more than enough for small to average-sized basements, living rooms, bathrooms, etc. This coverage area can even work for commercial use.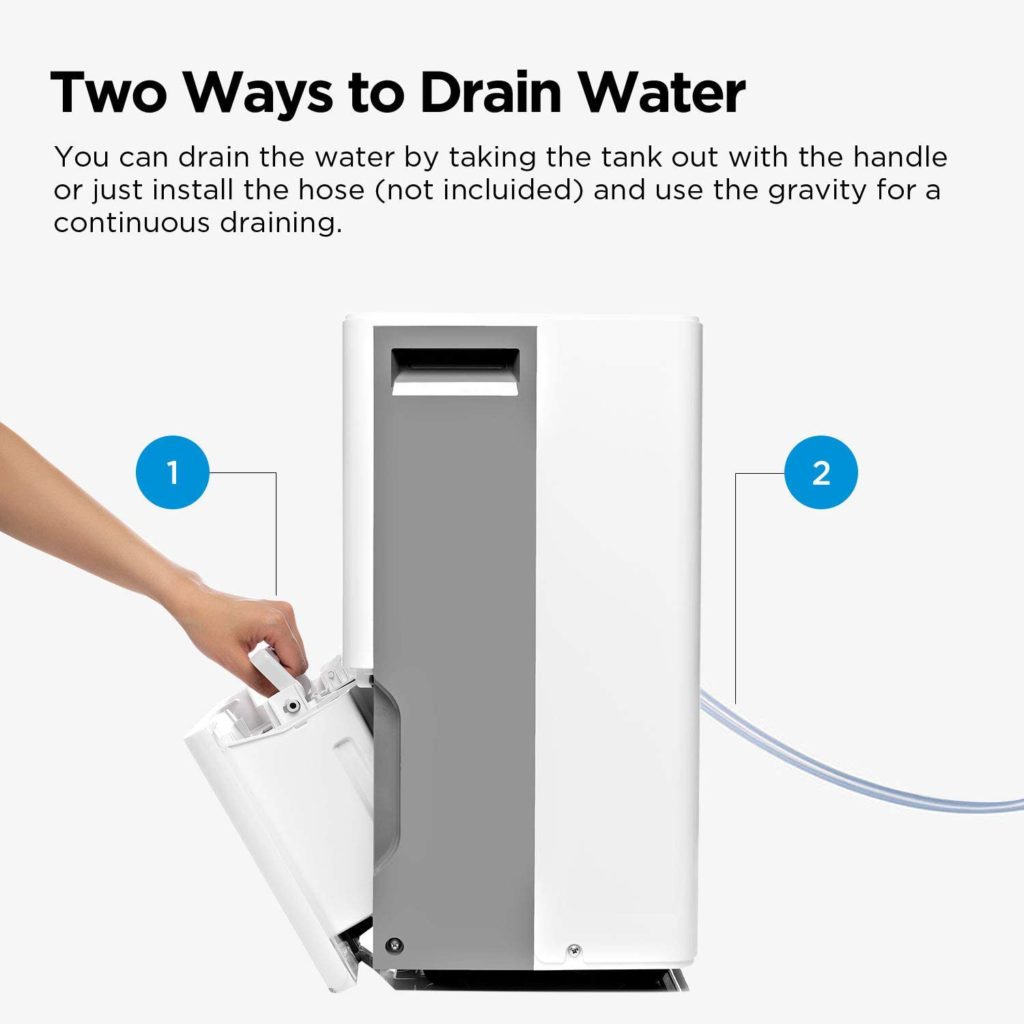 Operating Temperature: 41℉-95℉. When choosing a dehumidifier, getting a model that works on a wide range of temperatures is an advantage. It means you can use the machine despite weather changes. The Midea Dehumidifier MAD35C1ZWS' temperature range, 41℉-95℉ is wide enough for good versatility and efficiency under varying climate conditions.
Reusable filter. Reusable filters are highly efficient as well as cost-effective. Not all dehumidifiers have reusable filters. Some models require regular changing of filters for optimum performance. With the Midea Dehumidifier MAD35C1ZWS, you will get washable filters that can last for a long time.
51 noise level. The Midea Dehumidifier MAD35C1ZWS can also work quietly, producing only 51 decibels at maximum settings. When getting a dehumidifier, it's important to opt for a silent model as these products typically work for long hours if not the whole day. With only 51 decibels, you can be sure that this dehumidifier won't disturb people around while it works.
24-hour timer. The 24-hour timer is another highlight, which contributes to the product's convenience. With this feature, you can set your ideal time when you want the dehumidifier to work. It's perfect for people who have a busy lifestyle. It can also help save time and energy.
Auto-defrost function. An auto-defrost function is a critical feature for dehumidifiers. This capability prevents the coil from frosts. Meaning, the machine can function well despite temperature change. It also protects the coils from damages and rusts, allowing the machine to be in good condition for a long time.
Recommended for You: Best Commercial Dehumidifiers | Top Dehumidifiers to Keep Your Home Safe and Clean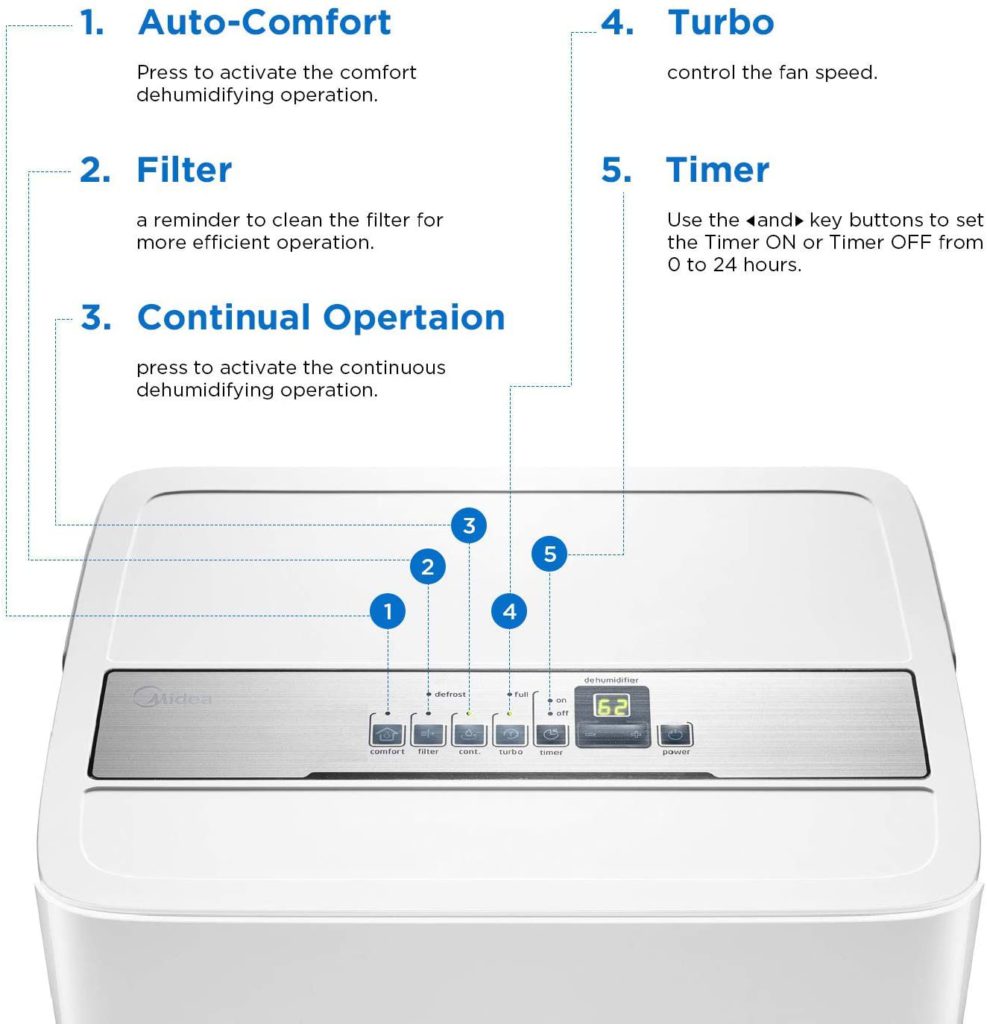 70 PPD. 70 pints per day is an impressive water removal capacity for a compact dehumidifier like the Midea Dehumidifier MAD35C1ZWS. It's large enough to gather moisture from average-sized to large rooms that are highly humid like the basement and bathroom. It's a satisfying PPD for a dehumidifier for home use.
Turbo mode. Turbo mode is highly useful for places with high moisture. This can speed up the drying process of areas, as well as for drying up clothes. What's great about the turbo mode of the Midea Dehumidifier MAD35C1ZWS, is it doesn't produce too much noise. You can still have a peaceful time even if the machine is running at maximum settings.
Auto-comfort mode. Using the comfort mode, the Midea Dehumidifier MAD35C1ZWS maintains the 45%-55% humidity threshold. In this mode, continual dehumidification efficiently eliminates moisture during rainy weather and other extreme conditions such as flooding. This feature is convenient and gives you peace of mind, as you let the machine work on its own.
Clean-filter indicator. Another great highlight of this model is its clean-filter indicator. It gives the user notifications whenever the filters require cleaning to achieve its optimum performance. It's a feature that can't be easily found among dehumidifiers. Though it may sound simple, this highlight is actually highly useful and prolongs the lifespan of the machine.
Two-Way Drain. With the Midea Dehumidifier MAD35C1ZWS, you will have two options for draining of the collected water. You can discard the water in the tank by manually taking out the container or by attaching a hose from the tank to the nearest drainage. Using the hose, you can conveniently use gravity and let the water flow out on its own.
Durable caster wheels. Dehumidifiers must have wheels for easy portability. Products like these are typically moved from one place to another as they are used in different parts of the house. The Midea Dehumidifier MAD35C1ZWS doesn't only have wheels, but caster wheels which can easily move in 360 degrees for easy portability of the machine.
33.5 pounds. The Midea Dehumidifier MAD35C1ZWS is lightweight. Weighing only 33.5 pounds, you can easily move this machine from one place to another. If your home has above floors, light dehumidifiers are the perfect models for you. With only 33.5 pounds, you can easily carry and place the Midea Dehumidifier MAD35C1ZWS to the above floors.
15.94 x 11.54 x 24.29 inches. The Midea Dehumidifier MAD35C1ZWS is compact, too. With dimensions, 15.94 x 11.54 x 24.29 inches, this dehumidifier can fit in tight spaces. It won't be a hindrance in areas like the living room, bathroom, or basement. Compact dehumidifiers are a great option for people with homes with limited space like apartments, studio, boarding house, etc.
Midea Dehumidifier MAD35C1ZWS Review
There are various Midea products in the market, including dehumidifiers. The Midea MAD50C1ZWS is an excellent product that didn't disappoint consumers. We recommend this product for home use as it has a coverage area of up to 4,500 sq ft. This dehumidifier can as well adjust the humidity levels of a room from 35% to 85%, which is ideal for a comfortable and safe environment.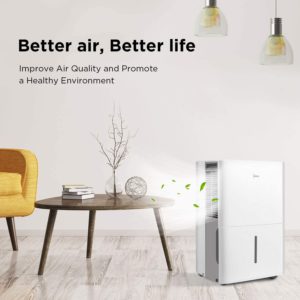 The Midea MAD50C1ZWS boasts an auto-defrost function. Auto-defrost function is important for dehumidifiers as it keeps the coils working well and keeps the machine in good condition. The Midea MAD50C1ZWS can work quietly, too. It produces noise at levels around 51 dB.
The Midea dehumidifier offers temperature working conditions between of 41-95 degrees F. With the machine's reusable filters, you will be able to save a few bucks as you won't need to buy filters regularly. Another noteworthy feature is the dehumidifier's 70 PPD, which is higher than the average models.
The Midea MAD50C1ZWS also boasts a two-way drain system. You can either attach a hose to the nozzle or manually remove the water container to discard the collected moisture. With the Midea MAD50C1ZWS, you can also opt for the turbo mode. This option speeds up the machine's fan, resulting in a faster drying up process.
You will also have an auto-comfort mode with the Midea MAD50C1ZWS. This feature lets the machine to automatically select the right humidity level of a room depending on the environment and temperatures. This dehumidifier also has a clean filter indicator, which notifies the user if the filter needs cleaning for optimum performance.
Recommended for You: Best Dehumidifier and Air Purifier Combo | 2-in-1 Machines for a Safer and Cleaner Home
Who Needs a Midea Dehumidifier MAD35C1ZWS?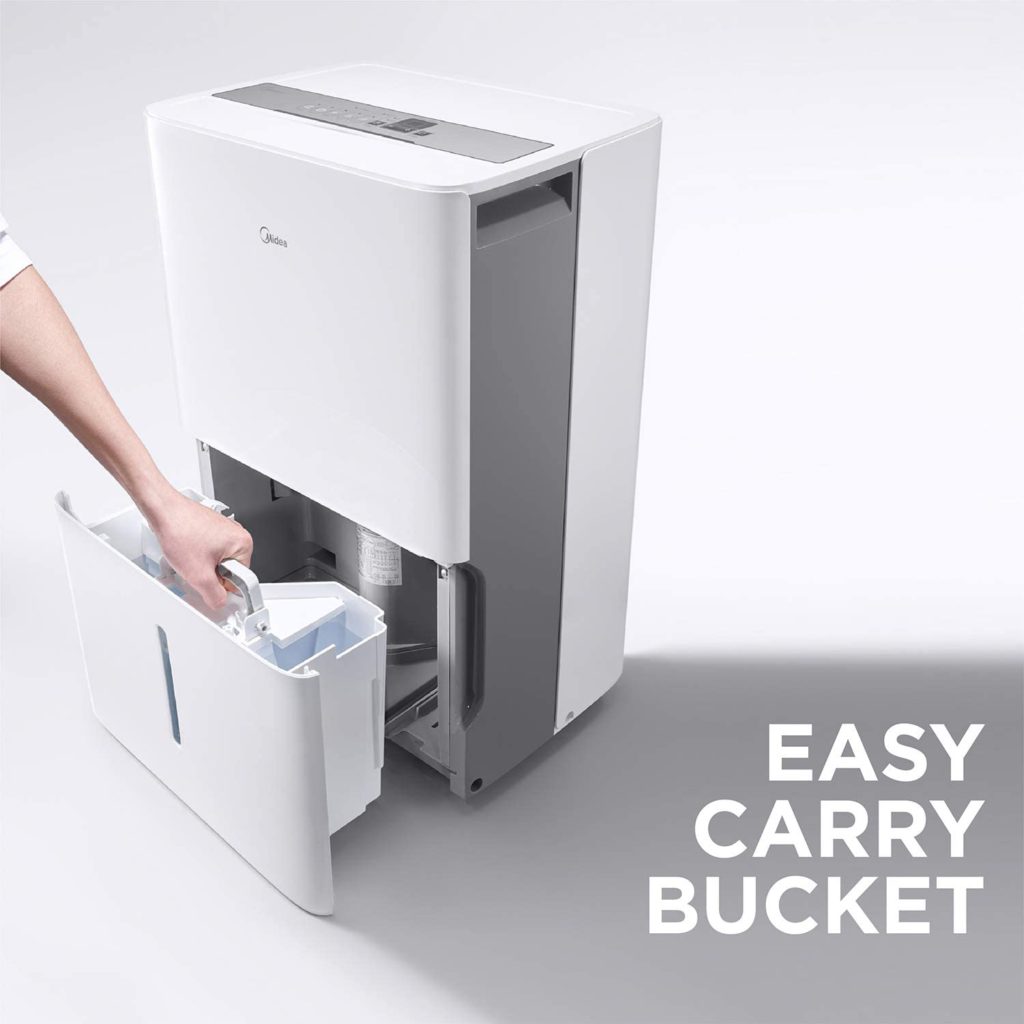 Mold and mildew formation. If have molds and mildew anywhere in your home, you resolve it fast. These particles can be detrimental to health. Especially for the people who have asthma and allergies, molds or mildews when inhaled can constrict the lungs and cause breathing to turn difficult. Exposure to mold can as well irritate the eye, skin, nose, throat, and lungs. The molds can even get into the lungs, and result in lung cavities, leading to diseases. Therefore, if you find mold and mildew inside your home, using a dehumidifier can prevent these problems.
Musty home. A musty smell can be the result of damp areas, which could be from flood or if the room is highly humid. You can get rid of the musty smell using a dehumidifier. With the use of this kind of machine, moist areas can dry out. Mold and mildew could also cause a musty smell, and using a dehumidifier can eliminate these particles. With these products, your place can smell fresh 24/7. Furthermore, you can also eliminate harmful microorganisms.
Suffering from asthma and allergies. If you or your loved one is suffering from asthma or allergies, the Midea Dehumidifier MAD35C1ZW is for you. It can provide a safe and comfortable home for you and your family as it can eliminate harmful particles like molds and mildew. It can also provide an ideal environment with the right humidity levels, as well as fresh air.
Midea Dehumidifier MAD35C1ZWS Specs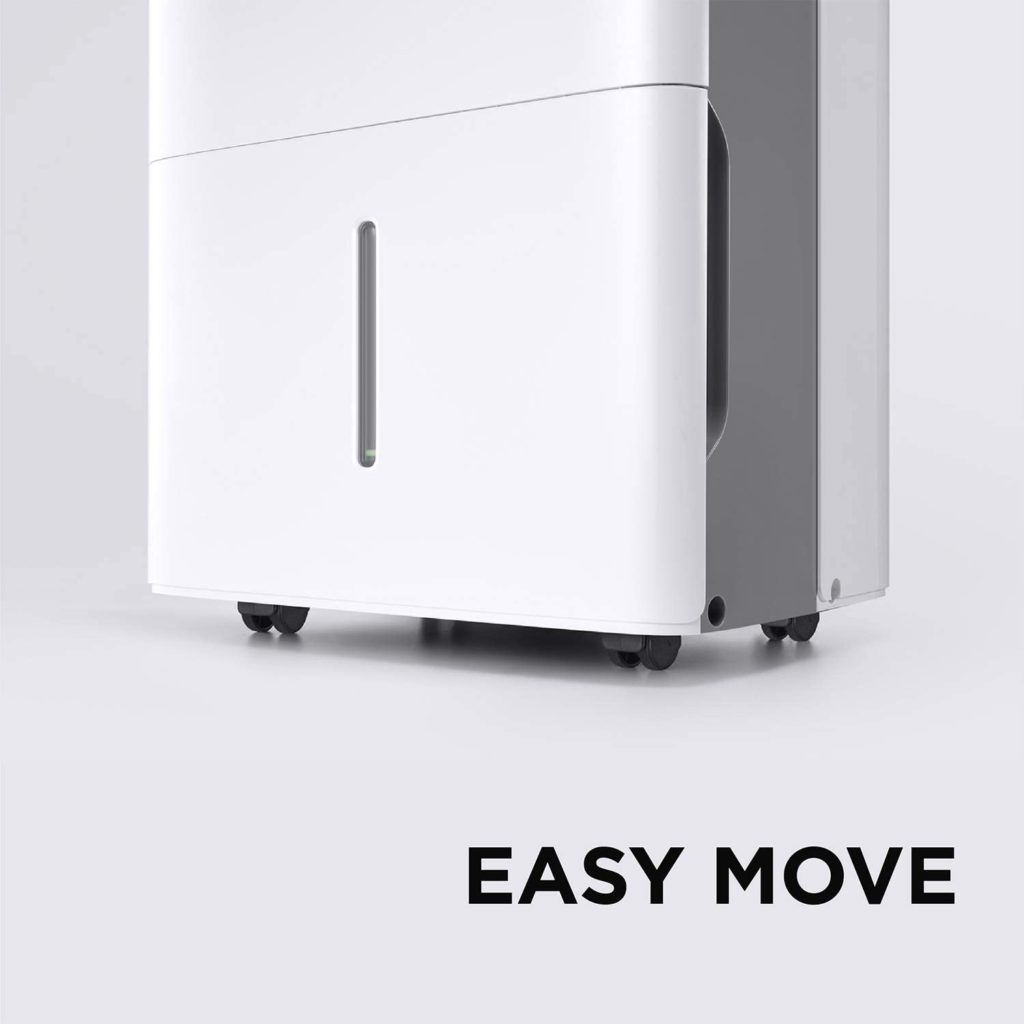 Auto-restart function
Adjust humidity from 35% to 85%
4,500 sq ft coverage area
Reusable filters
51 decibels noise level
Operating Temperature: 41℉-95℉
24-hour timer
70 pint
Auto-defrost function
Turbo mode
Clean-filter indicator
Auto-comfort mode
Two-Way Drain
33.5 pounds
Durable caster wheels
Compact
Pros and Cons of Midea Dehumidifier MAD35C1ZWS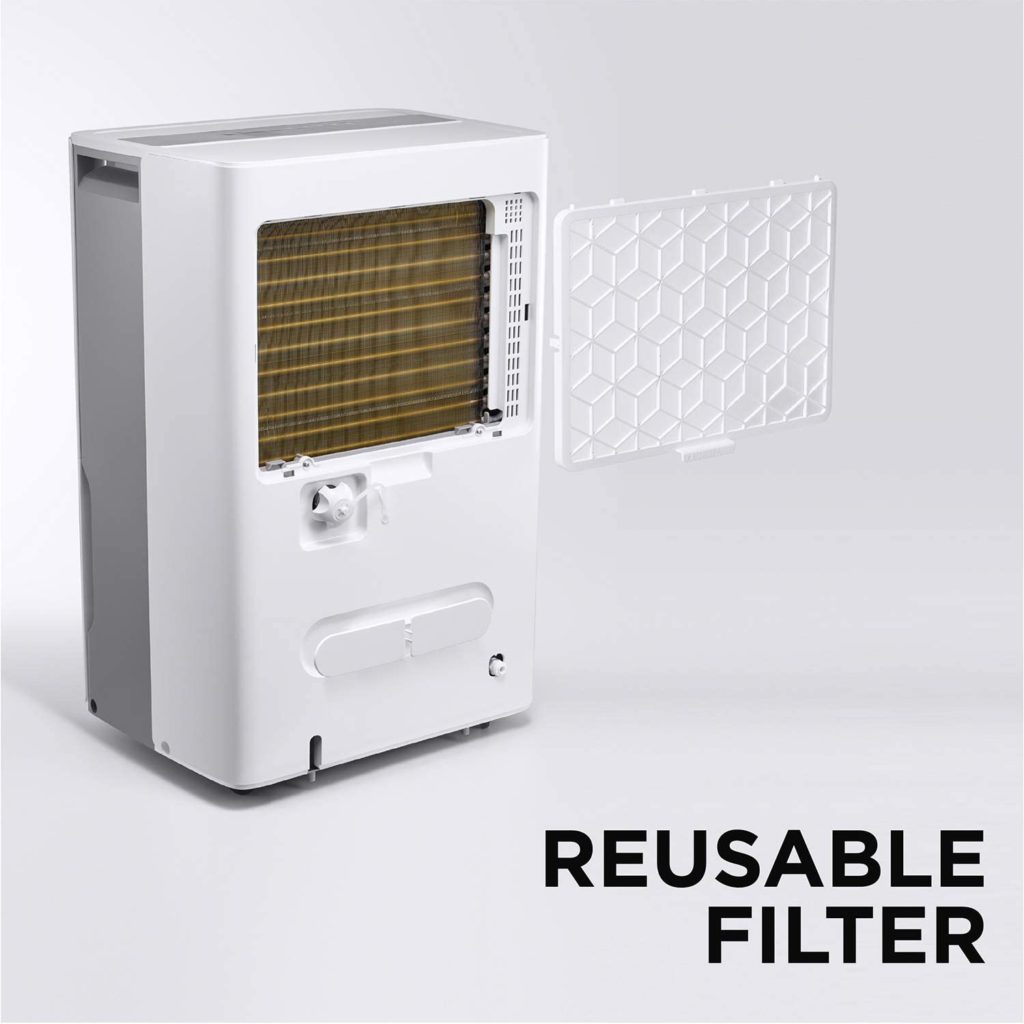 Pros
4500 sq ft coverage area
Auto defrost function
Has wheels
70 PPD
Compact
Lightweight
Cons
Can be loud
Conclusion
We hope we have provided valuable insights regarding the Midea 50-pint dehumidifier MAD35C1ZWS. This model is compact, efficient, and easy to use. It's perfect for home use, and areas that have high humidity. Dehumidifiers like this won't only provide a fresh and comfortable place, it's also a necessary product to keep your home safe from harmful particles. If you think the Midea MAD35C1ZWS is the product you're looking for, let us know in the comment section below. We'd love to hear from you!
Recommended for You: Afloia Air Purifier and Dehumidifier Review | Compact and Efficient Product for a Safer and Fresher Home