A wet and dry vacuum cleaner is a useful tool for any workplace. It's essentially a vacuum at its core, but with added functionality and capacity for a wider range of indoor and outdoor applications. Whether you need one in your home or office depends on your cleaning requirements; read on for a detailed review.
What is the difference between a wet and dry vacuum cleaner?
Wet Dry Vacuum Cleaners
A wet and dry vacuum cleaner works similarly to a standard vacuum, except it can clean both dry and liquid messes, whether inside or outside the house. It usually uses a two-bucket system that separates the sediments from the liquids instead of a vacuum bag.
The two independent compartments also ensure that the device is safe to use, with no chance of harm or electric shock. It has a foam filter for liquid spills and a paper cartridge filter for dry elements, both of which will need to be replaced from time to time.
Why should you invest in a wet/dry vacuum?
Wet and dry vacuum cleaners are most typically used for industrial cleanings, such as cleaning commercial premises, but they're also versatile enough to be used for everyday cleaning around the house.
Most wet and dry vacuum cleaners come with long power cords and a variety of brushes for various jobs, such as cleaning car seats and mats and removing grout from tiling. These devices can also be used for:
After renovations, clean up the dirt, wood shavings, and leaves (with a blower function)
Cleaning up a variety of spills, such as a busted pipe, a bath overflow, or a bottle of wine.
Unclogging a clogged sink (with a blower function)
Taking on wooden floors and a wide range of fabrics, including drapes (with additional attachments)
Water mattresses are being emptied (most models stop automatically when the tank is full)
Advantages of Wet Dry Vacuum Cleaners
Having a wet-dry vacuum in your home is a great alternative to using a mop and bucket. Wet-dry vacuum cleaners, in reality, work on the same principles as standard vacuum cleaners, with the exception that they have far superior air intake and use a bucket instead of a bag. However, this isn't the only benefit they have.
Power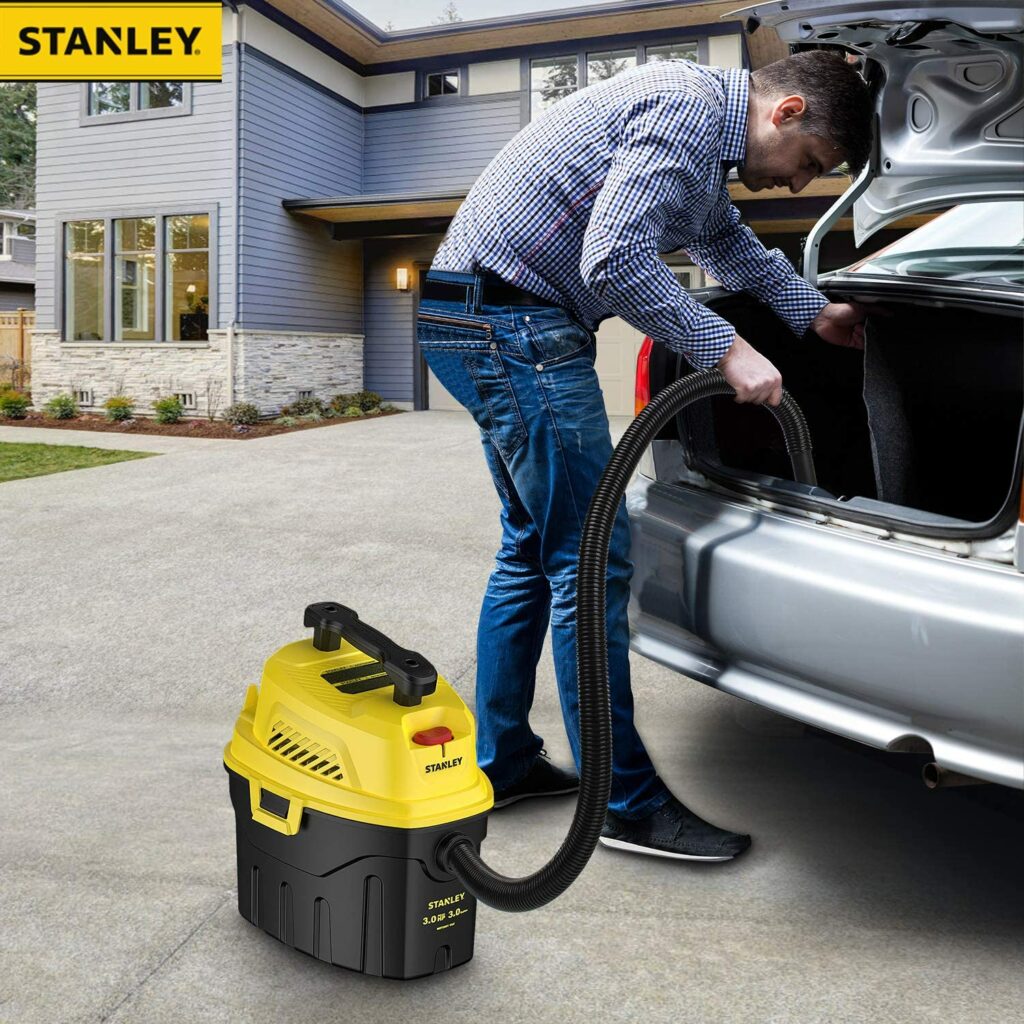 Wet-dry vacuums have extremely strong lifting and suction capabilities, making them extremely efficient and effective at removing liquid and dust particles. Wet-dry vacuums also have easy storage facilities for collected liquids or debris because they come with a separate tub or collector with fixed motors.
Even if your wet-dry vacuum does not have a large tank, it will still have a powerful suction.
Versatility
The versatility of use is among the most essential features of wet-dry vacuum cleaners. It can pick up tiny too big amounts of debris, clean up wet spills, inflate mattresses and pool toys, retrieve objects from a sink, and even unclog a pipe; can clear out your fireplace or woodstove.
Shop vacuums can also remove snow from paths, to name a few tasks. Wet-dry vacuum cleaners, in reality, are a very useful and powerful instrument that can be used to replace a variety of traditional tools such as air pumps, mops, brooms, and spades.
Liquid Waste Disposal
There are two ways to dispose of wet-dry vacuum cleaners. The drain hoses to which they are connected make liquid disposal a breeze, and the gathered debris may be removed by opening the collector's lid.
Because these vacuums are fitted with easy-to-use disposal units, you won't have to lift any hefty tanks to eliminate the gathered items or spills.
Movement
Wet-dry vacuums can be utilized in any household, despite the fact that they are powerful devices. In reality, they are currently quite convenient and easy to transport. This is due to their rubberized non-marking wheels, which allow them to move around without causing any inconvenience.
What to Consider When Buying Wet/Dry Vacuum
A shop-vac, often known as a wet/dry vac, works in the same way as a regular vacuum cleaner. A shop–vac, on the other hand, can pick up bulky things like nails or small wood scraps. A shop-vac can also be used to clean up wet spills and messes, such as a clogged toilet. This versatile vacuum is excellent for any household or business. Consider what you'll be utilizing the shop-vac for before making your buy.
Size & Capacity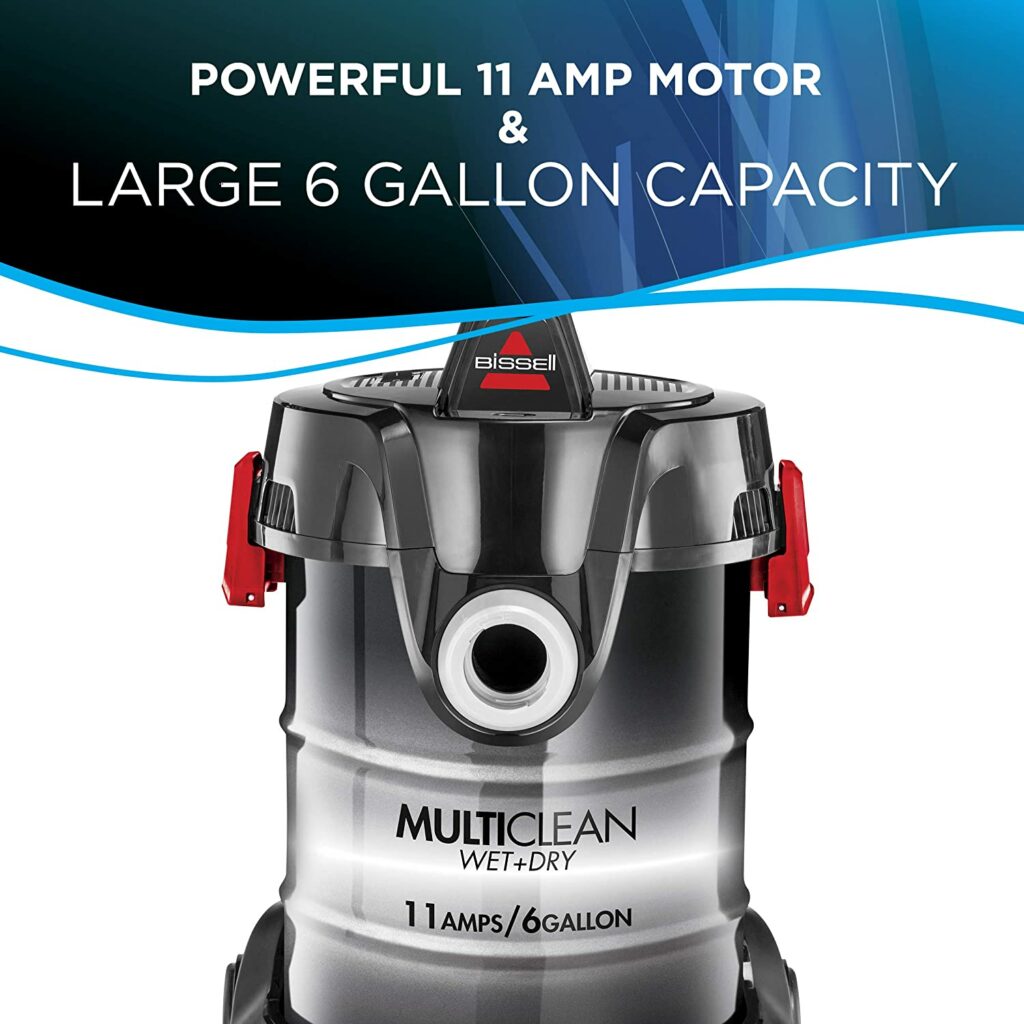 The capacity and size of the tank are the most significant features to consider. A smaller capacity tank will suffice if the main goal of your shop–vac is to clean up little messes in your vehicles, such as pet hair or ordinary detritus.
These portable shop vacs are ideal for storing in your car or apartment. The tank capacity of small shop vacs ranges from two to six gallons.
A shop-vac with an 8- to 14-gallon tank size is ideal for cleaning up around the house or workplace. If your basement is prone to flooding, you'll appreciate having a shop-vac of this capacity in your home. The high suction of the shop-vac is ideal for cleaning up liquid spills.
Heavy-duty tasks, such as cleaning huge commercial warehouses, can be performed using the largest shop vacuums. They're also great for easy cleanup in large workshops. A 14- to 18-gallon tank is standard on larger shop-vacs.
Just be aware of the tank's weight when it's full. Make sure you don't buy one that's too heavy to lift and dispose of when it's full.
Tank Material
The majority of shop vacs are composed of tough plastic. This is the most popular and widely used option. Plastic is a less-weight material that is easier to transport from room to room.
Tanks made of metal are also available. Metal is ideal for use in high-traffic places like body shops and construction sites.
Power
Shop–vacs are, on average, more powerful than regular vacuum cleaners. In general, the stronger the suction of a shop–vac, the more horsepower it has. Consider the types of jobs you'll be doing with your shop-vac once more.
Choose the strongest horsepower available for the size shop–vac you've opted to buy if you want to be sure you'll have enough suction for any job.
Storage
Where will your shop–vac be kept? This should not be an issue if you have enough room in your garage or tool shed. Consider how much space you'll have if you're going to store your shop-vac in a small basement closet or a corner of your laundry room. Some shop-vacs with wall brackets are a superb space-saving solution for centralized cleaning.
Power Sources
Different sorts of power sources are available for shop–vacs. Some have power lines, which are ideal for cleaning around the house or cleaning jobs that take a long time. Others are battery-operated, making them ideal for minor projects and difficult-to-reach areas. Your battery will quickly be depleted if you are working on a huge project.
Accessory and Functionality
Shop-vacs are available with a variety of functions and attachments. A built-in liquid pump, a blower, and various hose lengths and widths are all features you might find useful. Filters that are allergy-friendly, auto cleaning brushes, special filter bags, cartridge filters, and extension wands are also available.
How to Clean a Shop Vac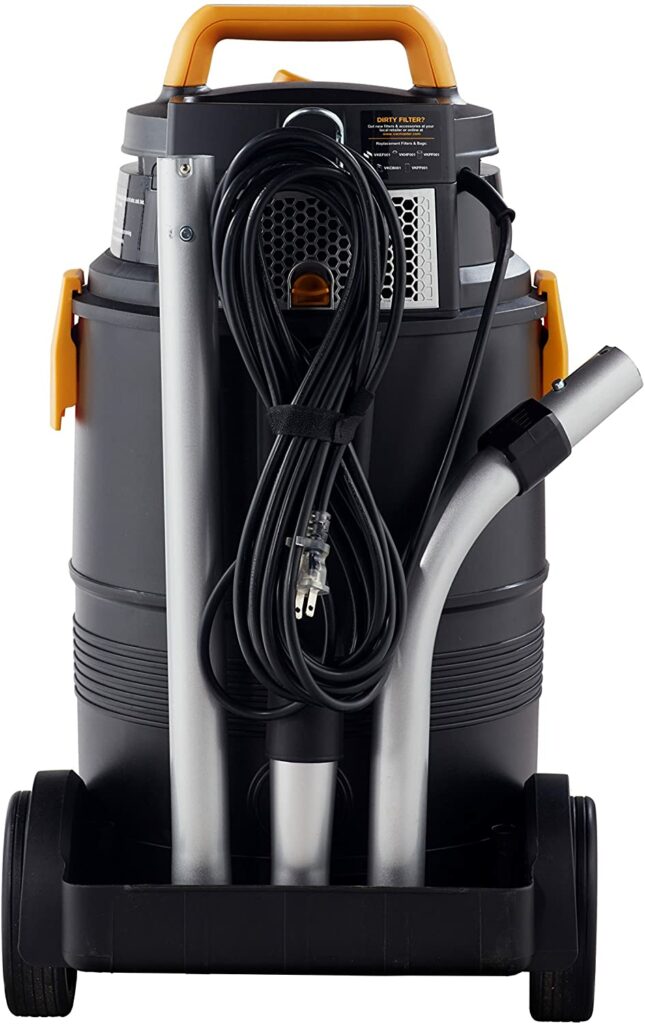 Shop Vacs can suck up a lot of dirt and debris and shoot it out. There are good things, horrible stuff, and everything in between. You don't want to handle some of the stuff in the Shop-Vac, but it needs to be cleaned out.
If left in the wrong place for too long, Shop Vacs can grow bacteria and airborne ailments. It's not difficult to clean a Shop-Vac, although it can get filthy.
Step 1
Remove any debris from the machine. Take off the tank's lid. Dump the contents of the tank onto a trash bag that has been placed over the tank's base. Seal the bag and toss it in the trash. Allow no dust particles to escape.
Step 2
Fill the tank with warm water and dish soap and set it outside. Add a cup of bleach to the tank and let it sit for an hour.
Step 3
Clean the Shop Vac's top. Vacuum out the top with a second vacuum. The filter should be replaced or washed in warm soapy water. Wipe down the top of the machine using cleaning wipes. Use Clorox Wipes or the Franklin Brand wipes from Costco. 98 percent of bacteria are killed by these wipes. Allow the lid to air dry.
Step 4
Disconnect the hose and clean the attachments. In the bathtub, spray water with a hose or outside with a garden hose. In the hose, spray a germ-killing cleaning chemical. Then spray down and through with the hose and hang to dry in the breeze.
Step 5
Remove the soaking tank from the exterior and clean it. Protect your hands from the bleach by putting on plastic cleaning gloves. Using a disposable sponge, clean both the inside and outside of the Shop-Vac. 
To eliminate any leftover soap residue, repeatedly spray the tank with a hose. Spray the tank with a garden hose sprayer to remove any hard-to-clean debris.
Before you use your clean equipment, replace any old or worn parts, filters, or cartridges.
Which Wet Dry Vacuum Should You Buy?
The amount of the mess you generally have to clean up after determines which wet dry vacuum you should use. A smaller wet dry vacuum can suffice if you are a hobbyist with a tiny shop.
However, if you're cleaning up a construction site or running a professional cleaning service, one of the larger, more powerful versions will provide you with the necessary power and capacity. Based on their power and capacity, shop vacs are divided into four categories.