Alkaline water is making a splash nowadays. It not only tastes better than ordinary tap water, filled with beneficial minerals, but it's also being praised for its many health benefits.
If you're on the lookout for a filtration device to filter your water, why not pick one that boosts the pH as well? Then consider the APEX Countertop Drinking Water Filter.
What is Alkaline?
Water that has been ionized is called Alkaline water, which means the water pH level has been increased. On a scale of 0 to 14, a pH level is a number that determines how acidic or alkaline a substance is.
If the amount is 1, for example, that means the material is very acidic and it is very alkaline if it is 13. The pH level of alkaline water is about 8 or 9, and the pH level of regular tap water is 7, which is acidic.
Because of its alkaline nature, alkaline water is known to benefit people with excess acidity as it helps neutralize the acid in the body. This mechanism of the body's neutralization of acids helps avoid different ailments.
By using special filters, faucet attachments, and additives that boost the pH levels, there are ways to increase the alkaline properties of water, making regular tap water go from neutral pH to alkaline.
Benefits of Drinking Alkaline Water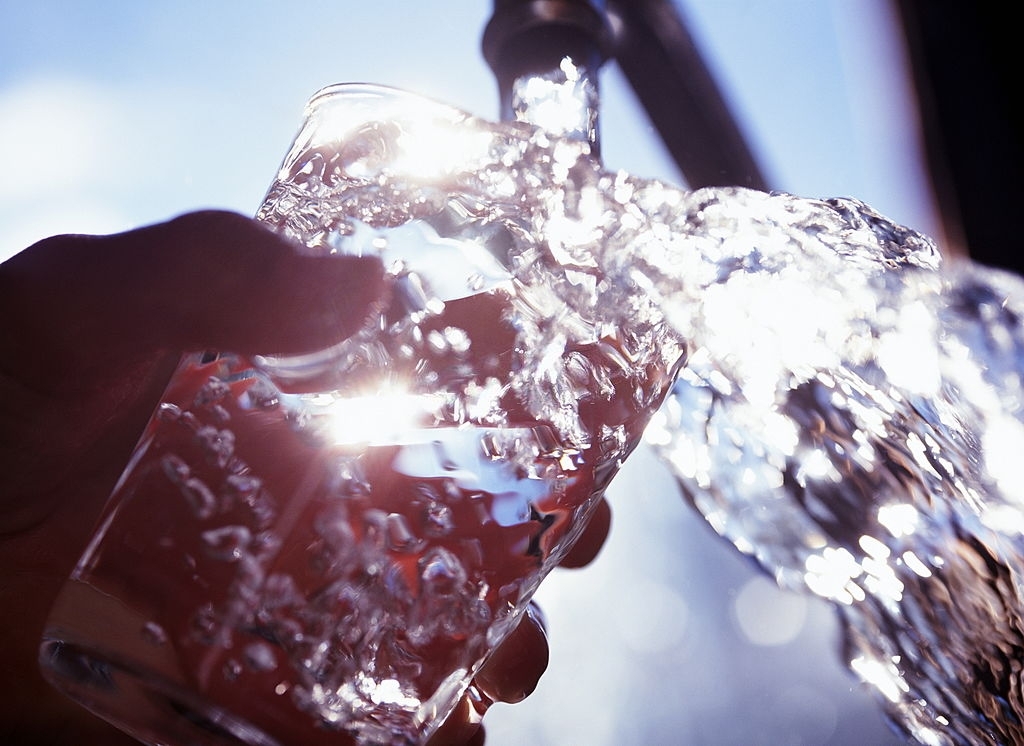 Although established scientific evidence is still lacking, different proponents of alkaline water continue to believe in the following advantages of alkaline water:
As compared to normal water, alkaline water has incredibly hydrating properties. For individuals who work out on a daily basis and need more water in their system, this can be a helpful drink.
The water molecules in alkaline water, biologically speaking, are smaller and more quickly absorbed by your cells, allowing the body to re-hydrate easily.
Boosting immunity is also one of the alkaline water's benefits. Your immune system will help to neutralize the acidity that is attributed to poor diet, stress, and environmental contaminants in your body.
It is said that alkaline water has different minerals, such as magnesium and calcium, which are both important for the maintenance of healthy bones.
Alkaline water has several potent antioxidants that help prevent free radicals in the body from destroying cell growth, which can further accelerate the aging process.
About APEX MR 1050 Water Filter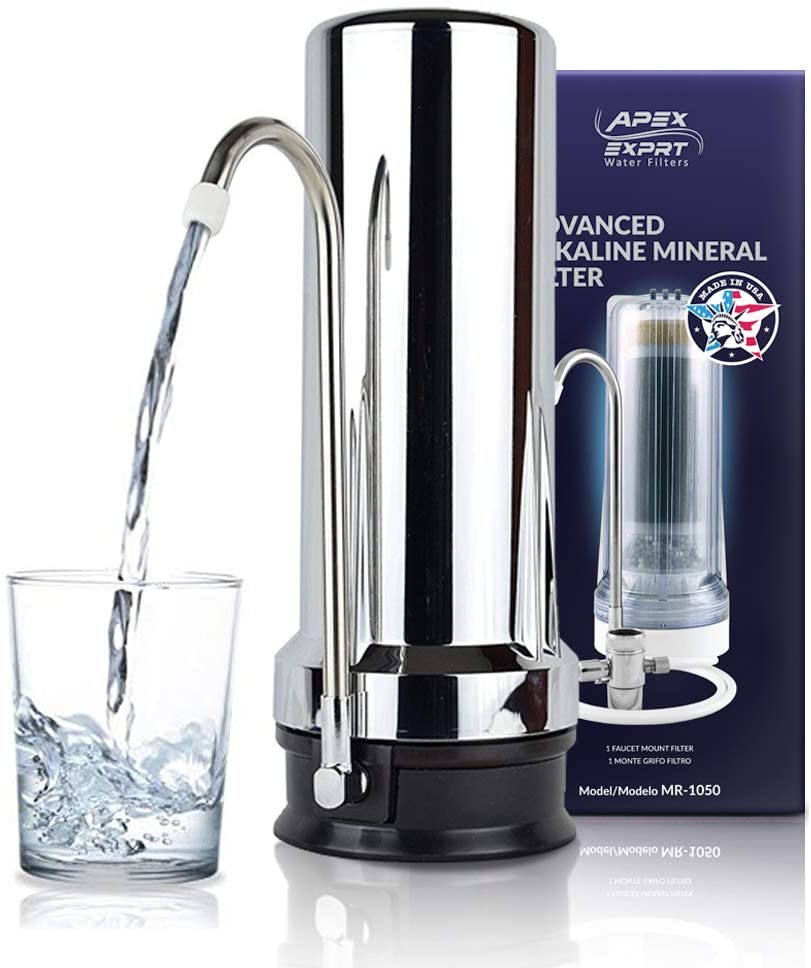 Made in the US with NSF-certified filtration media, the APEX eliminates a wide range of worrisome contaminants when adding calcium, magnesium, and potassium to improve pH.
It's inexpensive, stress-free to install, and each cartridge produces high-quality, alkaline water of up to 750 gallons. You're going to save money and keep more than 5000 bottles of plastic out of the landfill.
This water filtration system from APEX is a compact countertop water filter that connects to your faucet directly. Attach it in minutes; the package comes with everything you need, including a filter wrench.
To provide thorough filtration, a mixture of activated charcoal and KDF 55 media blends, eliminating toxins from chlorine and chloramine to mercury and lead. Mineral beads increase alkalinity, a distinction that you can sense and taste.
Features
In order to give you cleaner drinking/cooking water, most countertop filters are highly effective at removing pollutants. However, by generating excellent tasting water that is also very good, Apex's MR-1050 tops this off.
The APEX MR-1050 Countertop Drinking Water Filter is a groundbreaking system that eliminates impurities. It affects drinking water's color, taste, and protection, but it's not just what you drink from the water that makes it a must-have for the home.
This filtration system also helps to regulate the water's pH, rendering it alkaline to fit the chemistry of your body better.
5-Stage Process of Filtration
A 5 Micron KDF Sheet, a Granular Activate Carbon Layer, a Calcite Layer, and an Alkaline Layer, including a MicroFlet Pad. This system is the key center where treatment and remineralization of tap water are carried out.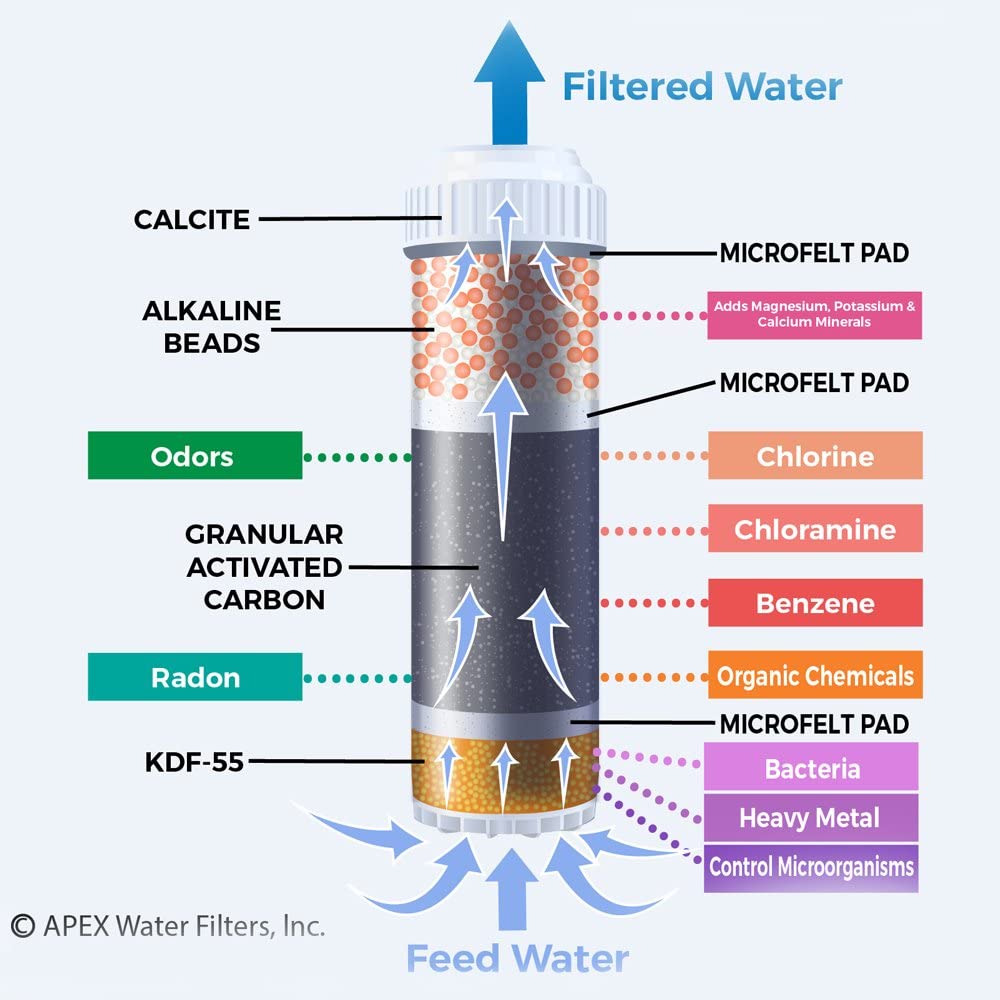 MicroFlet Pad, which prevents larger sediment particles such as sand, dust, and rust.
5 Micron KDF Plate, which eliminates heavy metals and microorganisms.
Activated Carbon Layer Granular – this eliminates chlorine and chloramines, enhancing taste.
Alkaline Plate, which remineralizes potassium and magnesium in water.
Calcite Layer – this brings calcium back into the water.
This APEX filter is more advanced in that it re-introduces minerals that have been filtered into the water than normal countertop water filters. These minerals do not need to be present, but they contribute to the alkalinity of the water and can greatly enhance the taste.
Many individuals choose to drink alkaline water, and while still promising safe drinking water, the MR10-50 has found a way to make this possible.
Performance
With its performance skills, the APEX MR10-50 definitely gives under-sink water filters a run for their money. This unit produces notably different changes in water throughout its lifetime, especially water with cloudiness and pouring taste.
The 5-stage filtration thoroughly eliminates chlorine and other toxins, but it does not eliminate fluoride, so look elsewhere if that's what you're seeking.
The flow of water from a faucet is very slow, but not at an irritating amount. The filters generally function quickly in their job, and the filter for remineralization is incredibly effective. You can do a pH test if you want to verify this.
This will provide a reading of the alkalinity of your water after going through the MR10-50-it comes out at between 7 and 8.5 for most individuals.
Maintenance & Installation
The APEX filter doesn't need installation as a countertop water filter system. It's already set up, and you can carry out the work you have to do by yourself. At your kitchen sink, you'll only need to connect the machine to an existing faucet.
You may order one of two faucet adapters from the manufacturer if your faucet is not the right size to attach to the device.
You would be able to simply mount the faucet connector to the end of your faucet in most situations, turning it until it's secure. Once you have done this, you can run water through the machine to make several glasses worth drinking, at which time it will be safe to drink.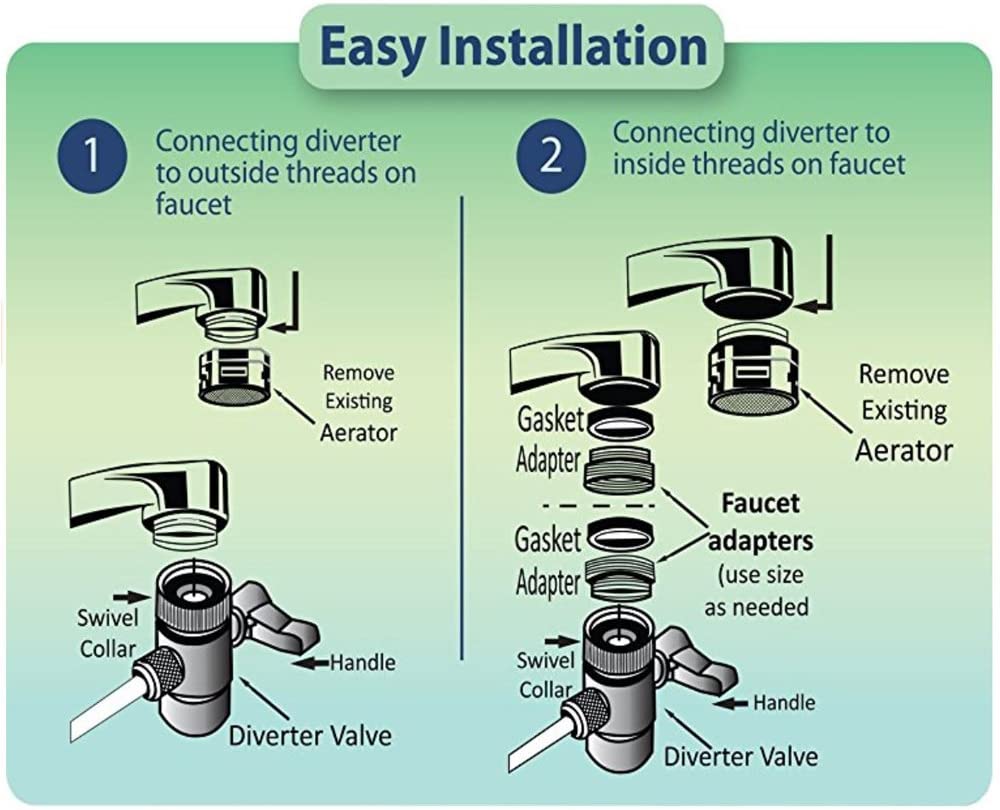 A simple advantage of the APEX MR10-50 is that it is compact, and whether you're going home or taking a break, you can quickly switch it from one sink to the next. The work takes five minutes and can be completed by anybody. You don't need a plumber to uninstall and reinstall the device.
Cost-Effective Water Filter
You can avoid wasting money on small disposable bottles of water that just get thrown away when empty by using an APEX countertop alkaline mineral countertop filter. It's costly and boring to buy bottled water for everyday home use.
To enjoy new, clean drinking water, you don't have to bring heavy water jugs or cases. The solution is APEX water filters.
Filter Life
The APEX countertop alkaline water filter is definitely a favorite with filtered water fans, but how does it deal with the environmentalists among us?
Well, the resources required to create the systems, as with any water filter product, as well as the fact that you need to replace the alkaline filter system each year or so, mean that it is not exactly as eco-friendly as simply drinking tap water.
A countertop filter system, however, is an environmentally friendly choice compared to purchasing endless plastic bottles of pre-packaged water and has the added benefit of keeping your body clean and balanced at the same time.
APEX water systems like this one are also a commodity that saves money. If you purchase bottled water regularly, the cost will actually add up over time. Instead, purchase a reusable glass bottle and drink your own filtered water straight from the tap.
Definitely, a cost-effective option that ensures that high-quality purified water will never run out.
Technical Specifications
Weight: 5 lbs
Product Dimension: 4.5″L x 4.5″W x 12″H
The pressure of Max Feed Water: 85 PSI
Flow Rate: GPM 0.75
The APEX countertop drinking water filter is a home water filter that is simple to use and has many features to make your water cleaner and tastier. We've written a list of pros, as well as the disadvantages associated with the device, to understand this piece of technology a little better.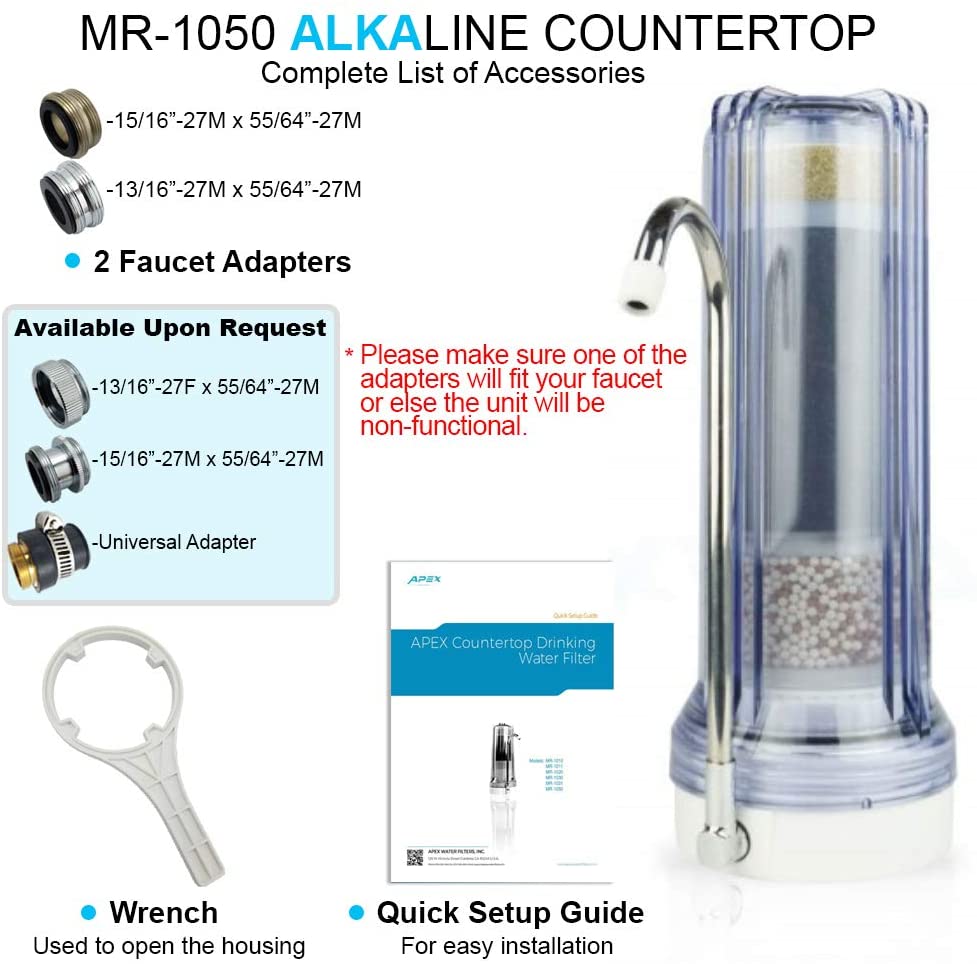 Pros:
Lightweight and compact
Increases the taste of water by extracting chlorine and re-adding safe minerals
Fast and easy installation
Helps to eliminate toxins in tap water and pollutants
Connecting easily to your daily faucet
Save money on the purchase of bottled water
Ideal for the eco-conscious customer
APEX is a trustworthy water purifier brand
Accessible in many color choice
Apex water systems are manufactured in the U.S.
Final Thoughts
The APEX countertop water filter is a leading instance in its field for a system that you can start using instantly, is simple to install, and provides a limitless supply of healthy, freshly filtered water that all the family can enjoy.
Another key selling point is the impressive list of toxins and chemicals that the APEX alkaline technology can eliminate, one of the easiest to build and also one of the most effective when it comes to filtering out pollutants.
The refreshing taste and health benefits of this revolutionary water filtering device would all be enjoyed by those who wish to look after their health and that of their family members and loved ones and clients who live in areas of, especially acidic water.
Overall, APEX countertop drinking water filter seems to be an impressive water filter system full of benefits for your health, your wallet and the environment. The ease of installation and the impressive list of advantages make it one of the most available products on the market.