Affiliate Disclosure:
I am grateful to be of service and to bring you content free of charge. In order to do this, please note that when you click links and purchase items, in most cases I receive referral commissions. Eventually, I may earn enough to buy a beer or two ?
Water is life's utter necessity. It makes up about 60% of the body and is involved in many critical body functions, ranging from controlling the temperature of the body to flushing out contaminants and protecting body tissues, joints, and spinal cord. In carrying out many of the chemical reactions of the body, water also plays a critical role.
Without water, it will lack the proper form and fullness of parts of the body, such as the skin. This article will go into detail about the Best Countertop Water Filter 2021 so that you drink the best quality of your water to keep you safe.
How Does Water Filter Works?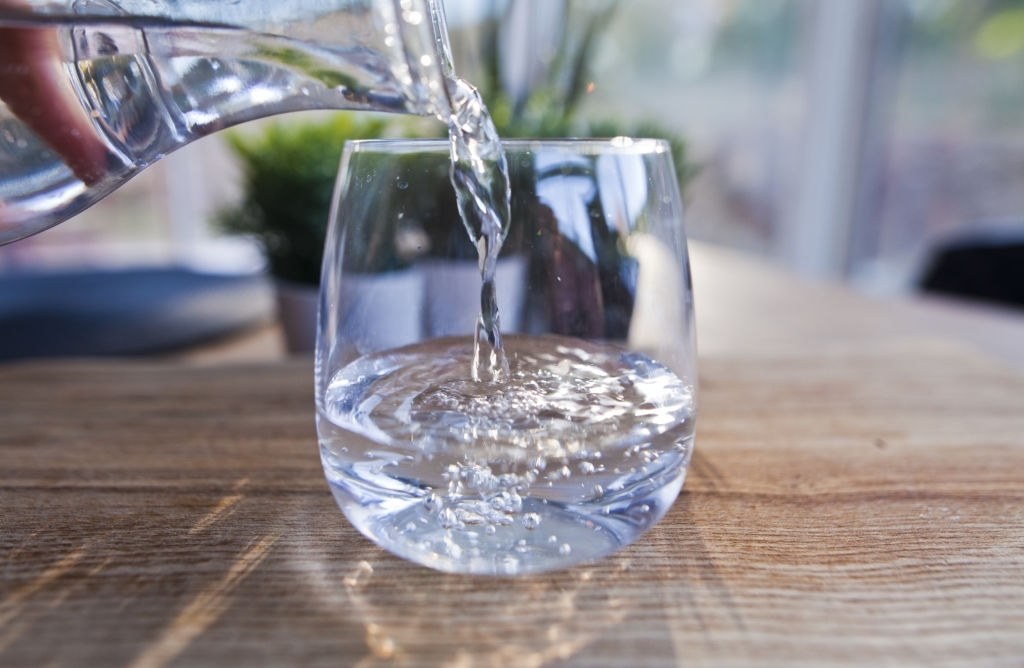 The demand for water filtration has never been higher because of the high risk associated with impure water. As we cope with pollution, climate change, and a rapidly rising population, our natural resources are also under threat. Tap water, which is supposed to be safe for drinking, can sadly be very dangerous as pollutants affect the overall quality of water.
A countertop water filter is a cost-effective alternative to bulk-buying bottled water if you are not a fan of the taste or consistency of your home's drinking water. It cleans out the pollutants in the water that give it an odd taste, such as chlorine and copper.
In all drinking water throughout the world, these pollutants are present. Although they can not affect your health, when those pollutants are filtered out, most people find that water tastes far more pleasant.
The best water filter for countertops is commonly elegant in style and portable. Countertop water filters are virtually ready to go from the moment you buy them, unlike under sink water filters, which are bulkier and need a more detailed installation. This makes them a good choice for consumers who are looking for an easy means to generate filtered water immediately.
We have found the best representative for every form of countertop water filter after several rounds of selection based on product specifications and checked customer reviews.
#1 Big Berkey BK4X2 Countertop Water Filtration System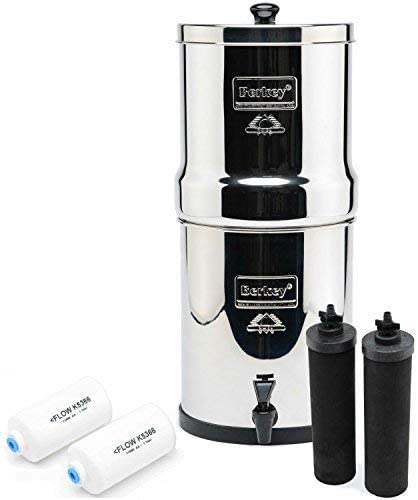 Berkey Water Filters is a premium brand and is known for producing the best water countertop filters on the market based on gravity. There is no need for installation, just pour your water into the top chamber and enjoy the best water a gravity water filter can provide.
Berkey is one of the few gravity filters on the countertop that also has an effective fluoride filter, a big problem for a lot of people in the United States. It's also one of the only water filters for stainless steel countertops to fit your kitchen appliances.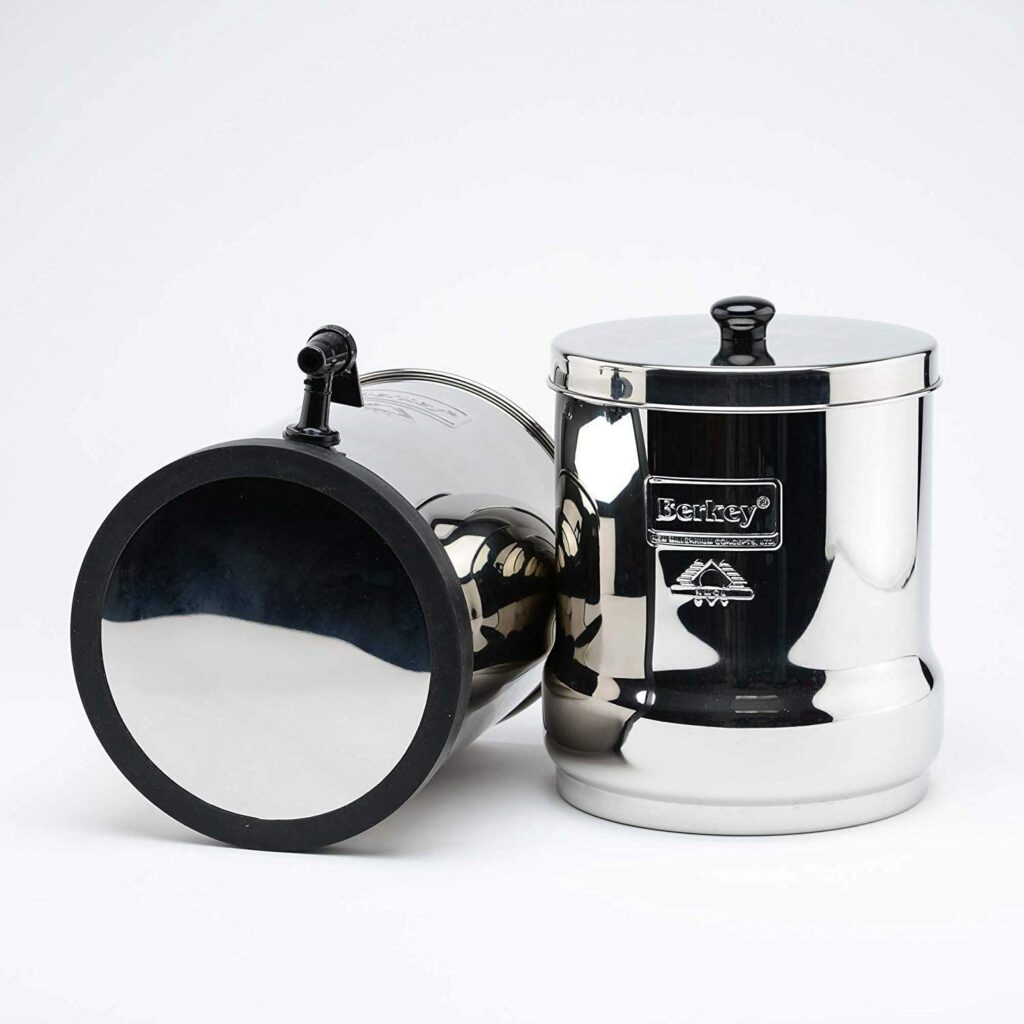 There are very few countertop water filters that rival the Major Berkey BK4X2 when it comes to efficiency and quality. This device is widely considered by many to be the best and most creative water gravity filters on the shelf and is very successful in eliminating harmful microbes and chemicals that make water hazardous for consumption.
The design requires 4 stages of water purification and a holding capacity of 2.25 gallons, which ensures that enough water is provided to accommodate a family of four. Interestingly, this device and Big Berkey's other models do not need electricity to function; this means that you can save on energy bills.
Pros:
Outstanding filtration
Portable and user-friendly
Sleek design,
Low maintenance and easy installation
Convenient travel for emergency preparedness
Making clean and fresh water
Does not require electricity
Long-lasting filter
The filter components have an incredible life cycle of 6,000 gallons.
Can be used for well water filtering
Does not need electricity or water pressure to clean and sanitize the water source.
Made in the USA, approved by the EPA, and certified in excess of NSF/ANSI requirements by their laboratories.
An adequate supply of water for up to 3 people.
Cons:
Physically larger than other countertop water filters
Does not filter water instantaneously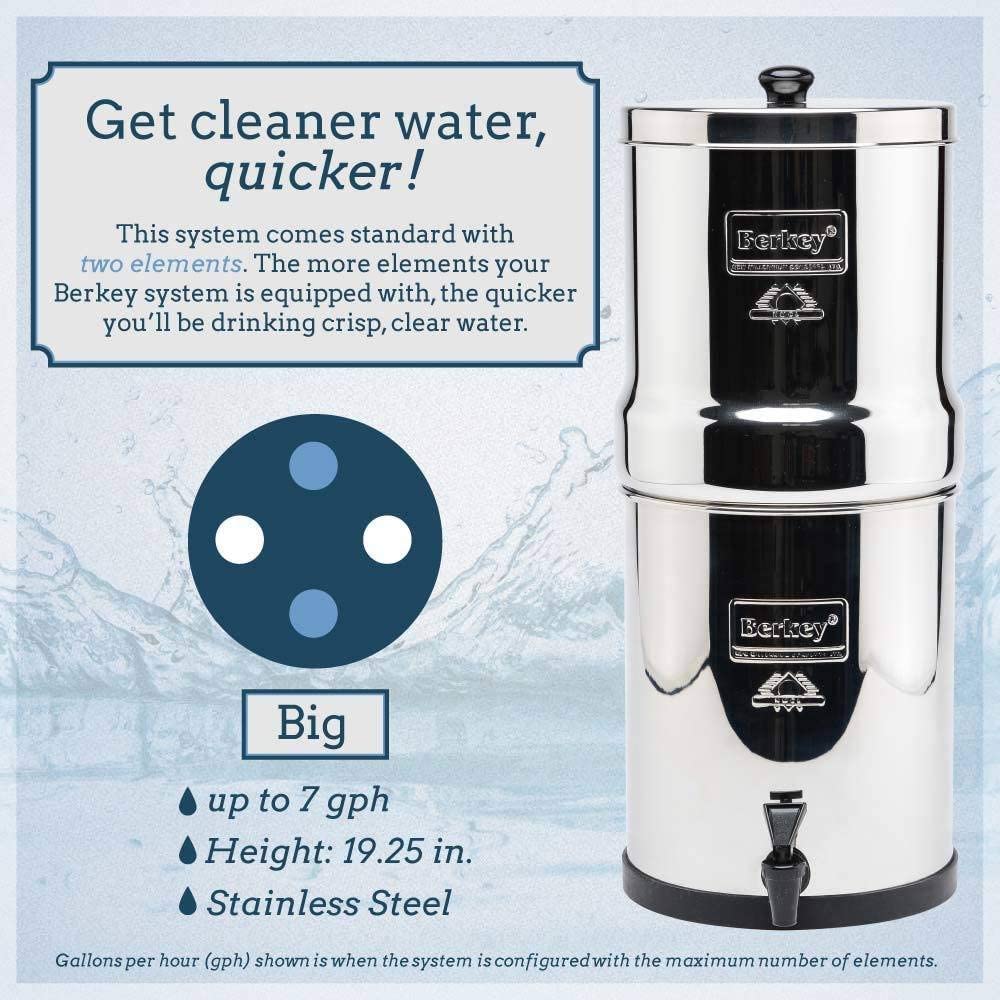 Check out our Individual Product Review here: Big Berkey Water Filter Reviews | #1 Countertop Water Filter
Where to buy Big Berkey BK4X2 Countertop Water Filtration System
#2 Santevia Gravity Countertop Water Filter System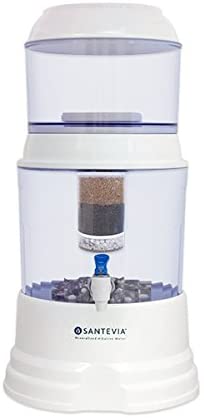 If you are looking for a very high-quality alkaline water filter countertop that will provide the best value for your money, then you might want to consider the fluoride filter Santevia Gravity Countertop Water System. The best available choice for those who can not afford the Big Berkey is this device.
You could have come across Santevia in your search if you are in the market for an alkaline filter with some additional water quality benefits.
This unit is equipped, as you would expect, to eliminate fluoride, arsenic, chlorine, and other impurities that are commonly present in most supplies to the community. As an alkaline water filter, the water it creates not only meets your body's requirements internally but also satisfies your taste buds.
It looks amazing and can render any kind of kitchen design a great addition. The device is ready to use; there is no need for any installation that saves all the trouble for you. The cheaper price does not mean lower quality. In reality, if you want to enjoy a healthier life, it is one of the best switches you can make.
Features:
Increases pH and alkalinity to make alkaline mineralized water
Infusion of calcium, magnesium, and other good minerals with water
Like a pristine mountain source, the water tastes smooth and fresh.
Features an award-winning, lengthy, multi-stage filtration system
Reduces chlorine, fluoride, lead, herbicides, microplastics, and other dangerous pollutants
Replaces 2,920 disposable water bottles for use every year
100 days of clean water donated for every purchase to fight water insecurity
Pros:
Fluoride filter lasts up to 4 months
BPA & BPB Free
Can take up to 4 months Fluoride Filtering
Enhances Alkalinity
Cost-efficient
Natural purification process
Environment-friendly
Does not need electricity
Cleaner, clearer, and delicious tasting water
Cons:
Changing filters is difficult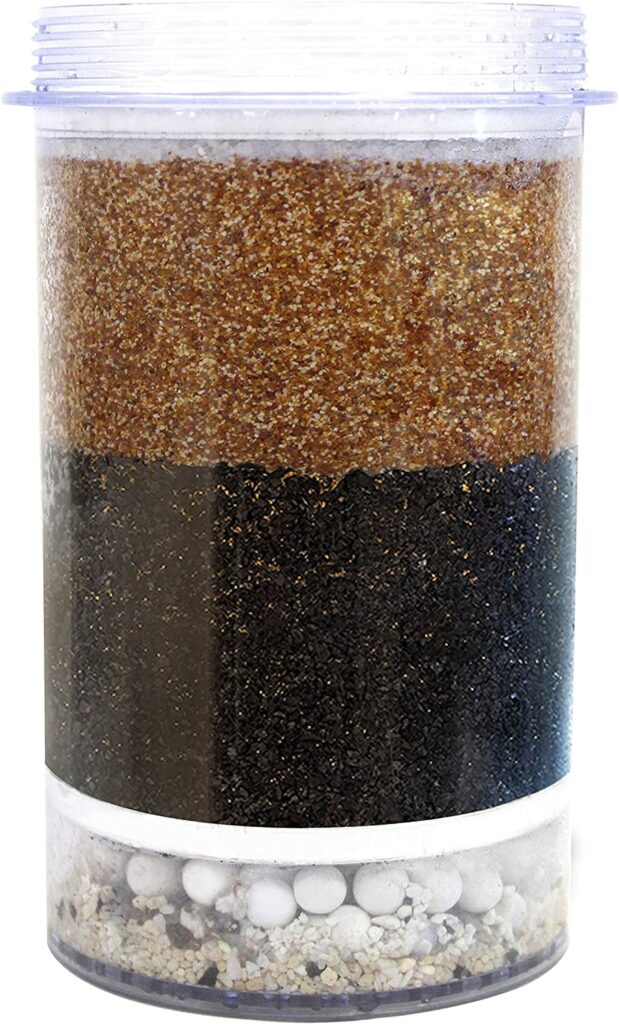 Where to buy Santevia Gravity Countertop Water Filter System
#3 Apex Quality Countertop Drinking Water Filtration System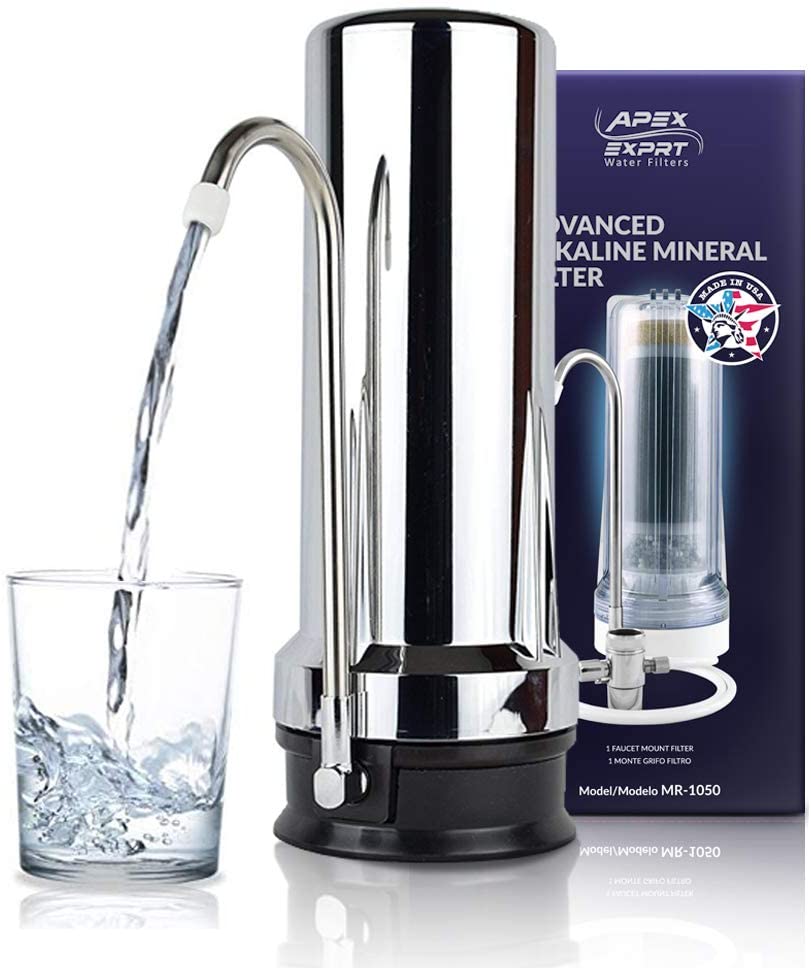 The Apex countertop water filter can eliminate up to 99% of the contaminants in your drinking water. This water filter can remove bacteria, chlorine, fluoride, arsenal, parasites, and toxic minerals and metals like sodium and lead.
The capacity of the filter to add minerals to your water is also exceptional. The filter will add beneficial minerals to it after it extracts the toxic particles in your water, making it alkaline and safe to drink.
The fact that it has low maintenance is another positive thing about this filter. You may not have to regularly clean the filters, and up to 750 gallons of water can be filtered by a single filter.
Features: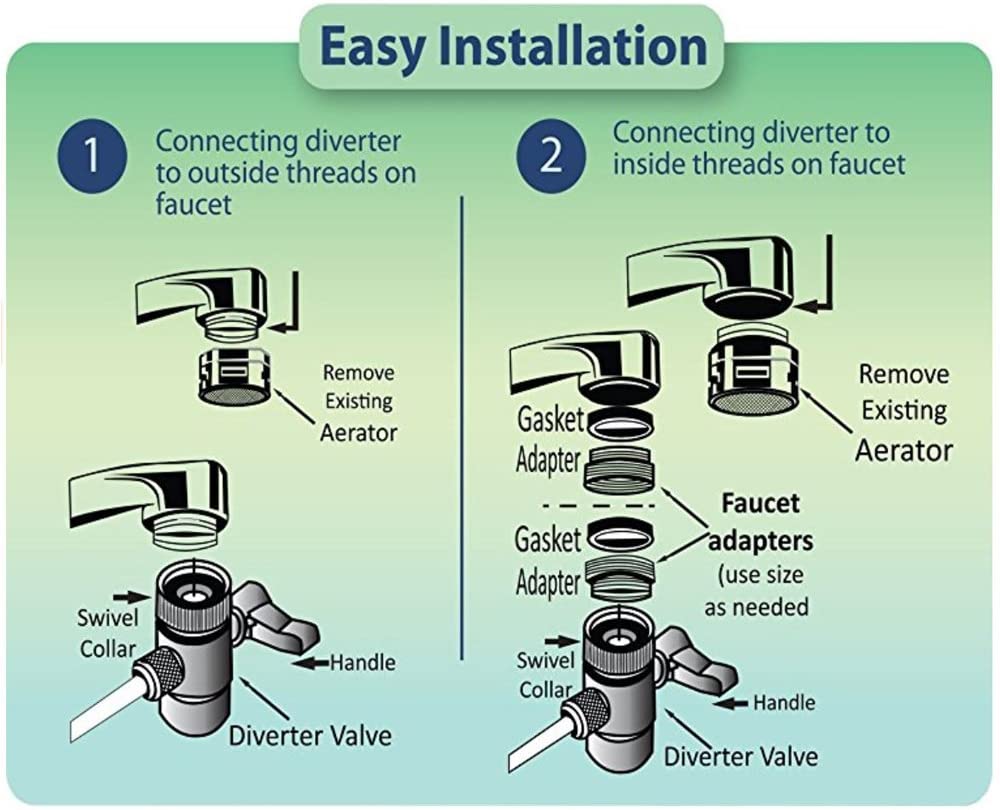 Easy Installation. The APEX filter doesn't need installation as a countertop water filter system. It's already set up, and you can carry out the work you have to do by yourself. You'll only need to connect the machine to an existing faucet at your kitchen sink. You may request one of two faucet adapters from the manufacturer if your faucet is not the right size to attach to the device.
With its excellent performance, the APEX MR10-50 definitely gives under-sink water filters a run for their money. This unit produces notably different changes in water throughout its lifetime, especially water with cloudiness and pouring taste. Though it does not eliminate fluoride, the 5-stage filtration thoroughly eliminates chlorine and other toxins, so look elsewhere if that's what you're seeking.
For it to work, the APEX MR10-50 water filter must be connected to your kitchen sink, and it comes with all the instruments you'll need to do so.
Pros:
Lightweight and compact
Enhances water taste by removing chlorine and re-adding healthy and safe minerals
Quick installation
The water filter may be effective, but it is slow as well. When you filter the water, you will need to be patient.
Cons:
Some consumers have struggled with the filter replacement
The life of the filter is relatively short,
Does not eliminate fluoride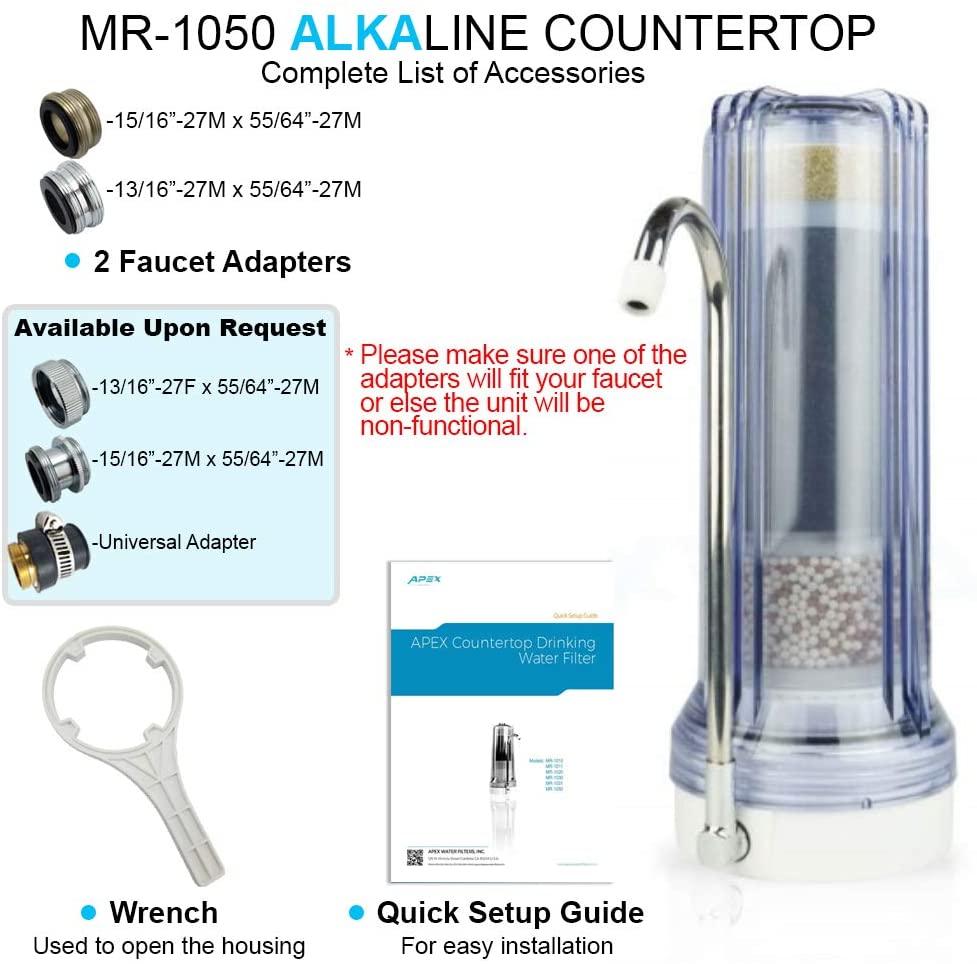 Check out our Individual Product Review here: Apex Countertop Drinking Water Filter | Best Alkaline Water Filter
Where to buy Apex Quality Countertop Drinking Water Filtration System
Aquasana AQ-5300.56 Chrome Faucet 3-Stage System Water Filter
On the quest for the best countertop water filter? One of the pioneers in the industry is the Aquasana. Up to 97 percent of chlorine can be eliminated from the Aquasana Countertop water filter and is approved by the NSF to eliminate different contaminants from drinking water.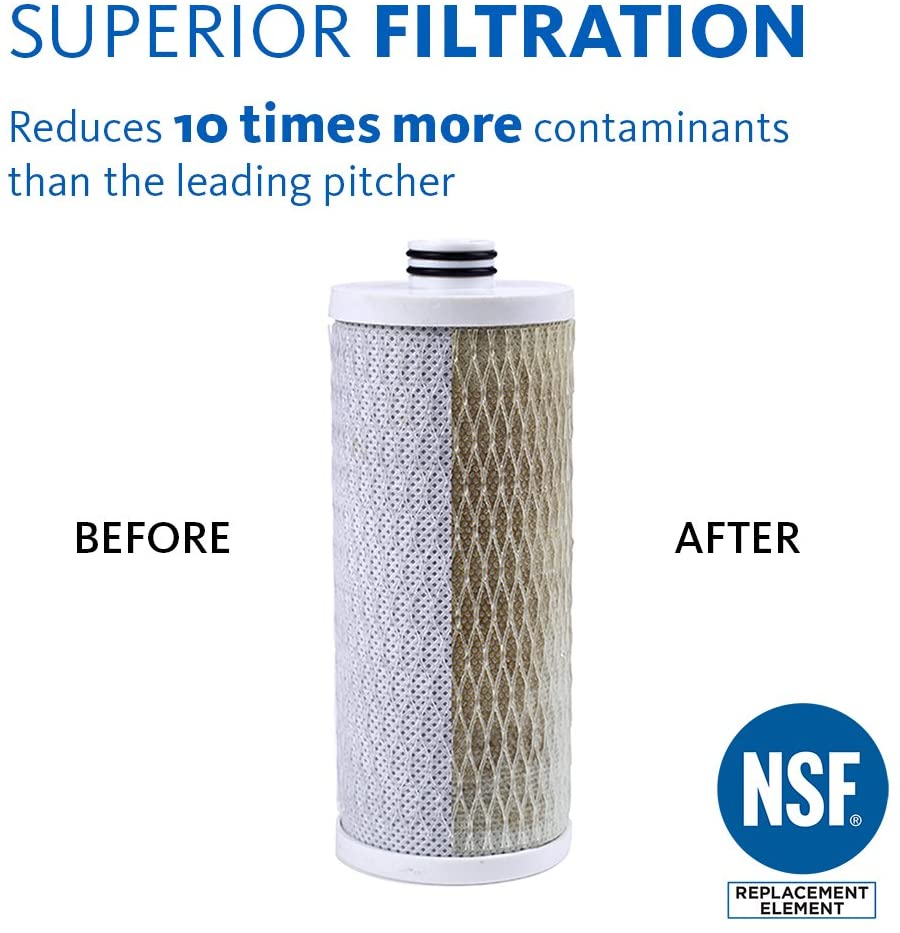 This is an amazing feat that is distinctive among countertop water filters to our knowledge. What this credential means is that it is possible to trust this device to do the following things:
Reduce heavy metals, including mercury and lead, in water
Reduce organic substances such as herbicides and pesticides
Reduce ibuprofen and estrone pharmaceuticals
Almost removing 99.99% cryptosporidium and giardia
Easy Installation
One of the main under-counter filter deterrents is the problem with installation and the inconvenience it can cause.
It really is a case of just adding the filter and getting ready to pour with this Aquasana countertop water filter. You don't need any plumbers and in less than two minutes, you should be up and running.
Performance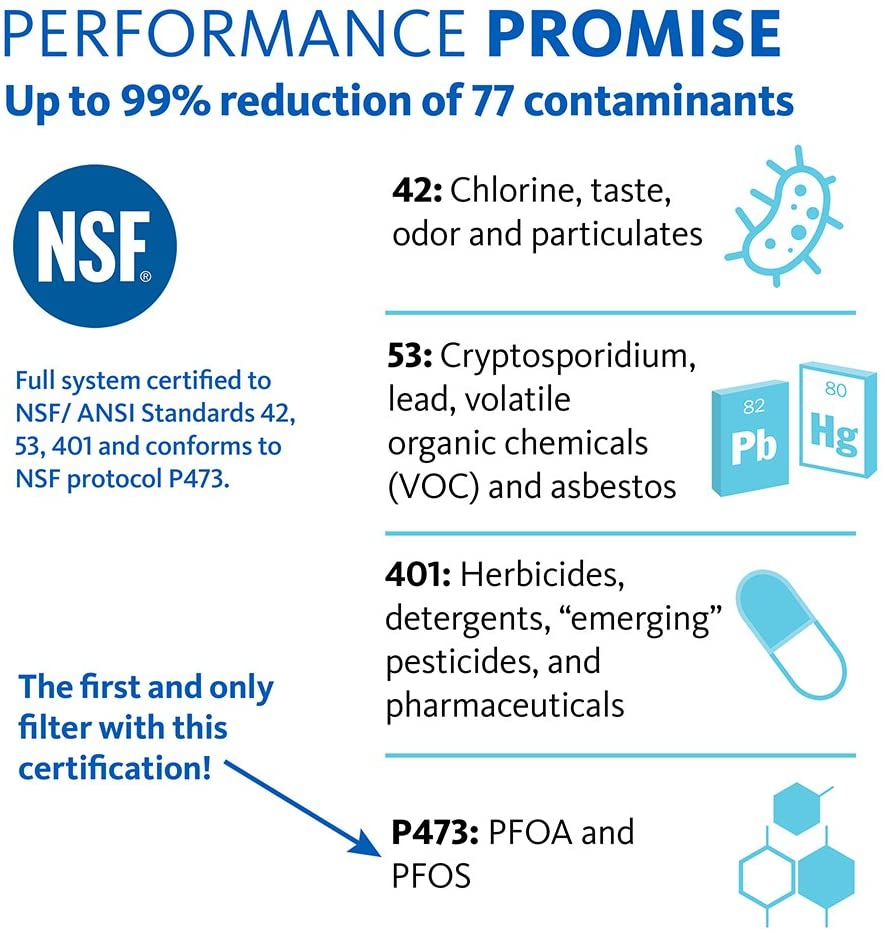 A two-stage filtration device known as Claryum®, a special form of technology that beats the opposition into submission, is used by the Aquasana AQ-5300.
Aquasana is very diligent with the filtration they use and making sure it is correctly approved. This means you know exactly what you are getting and that it is possible to trust the statements they make about the purity of the water created.
Specifications:
Measurements: 4.2 x 12 x 12.9 inches
Three Stages (sediment pre-filter, activated carbon filter, and catalytic carbon filter)
Filtering Capacity: 800 gallons or about 6 months of use
Water Type: Chlorinated city water
Sediments, heavy metals, ammonia, chloramines, herbicides, pesticides, VOCs, molds, cysts, and algae are removed.
Installation: DIY Installation
Links to the manuals:
http://cdn.aquasana.com/assets/AQ-5100-5200-5300_Install.pdf
http://cdn.aquasana.com/assets/AQ-5300+_Install.pdf
Pros:
A very fair flow rate makes it possible to quickly access filtered water
Twin cartridges improve efficiency
NSF qualified to filter 77 pollutants
Cons:
Not all faucets fit the Aquasana AQ-5300
Where to buy Aquasana AQ-5300.56 Chrome Faucet 3-Stage System Water Filter
#5 Brondell H2O+ Cypress (H630) Countertop Water Filter System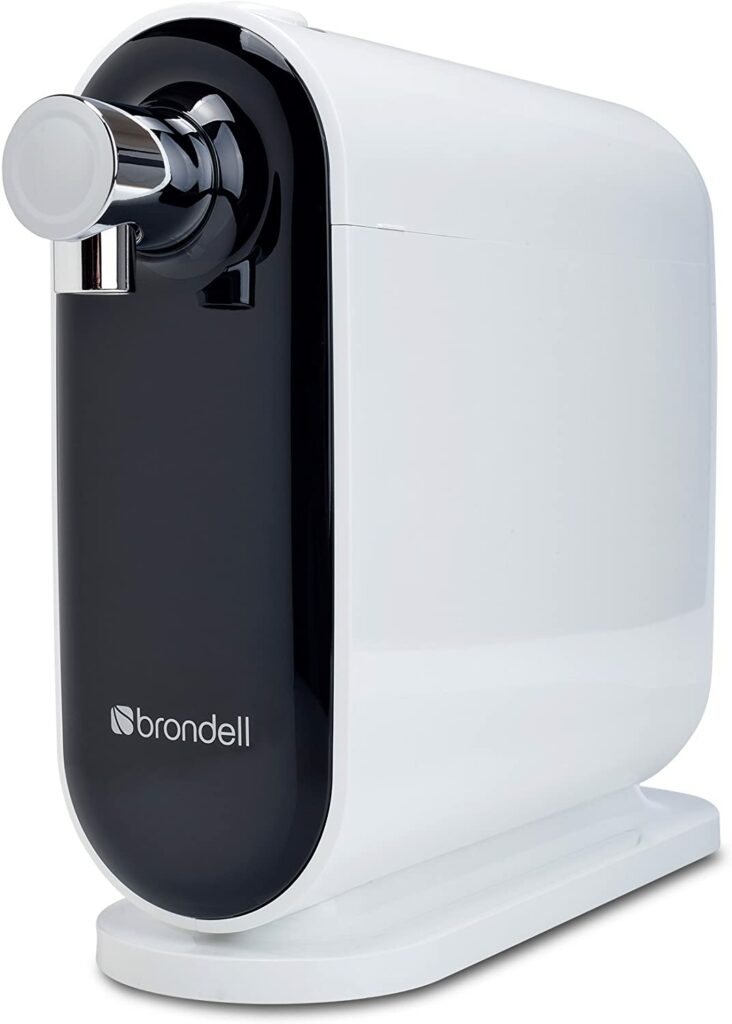 The Brondell Cypress Countertop Water Filtration System (H630) is both powerful and simple to install using triple filtration technology. This Brondell filter is certified by the Water Quality Association (WQA) and is also certified according to NSF/ANSI standards 42, 53, and 372.
The H360 helps eliminate nasty contaminants such as Atrazine and Chlorobenzene, as well as pesticides, herbicides, and other volatile organic compounds by running the water through three different specialized water filters. The Cypress also helps to remove unpleasant smells and tastes in your water due to the complexity of the filtration system.
Water is constantly filtered by the machine and no water is wasted. This model is ideal for individuals who are searching for a good design and also live in an environment with high water supply costs, since no water is wasted during the process.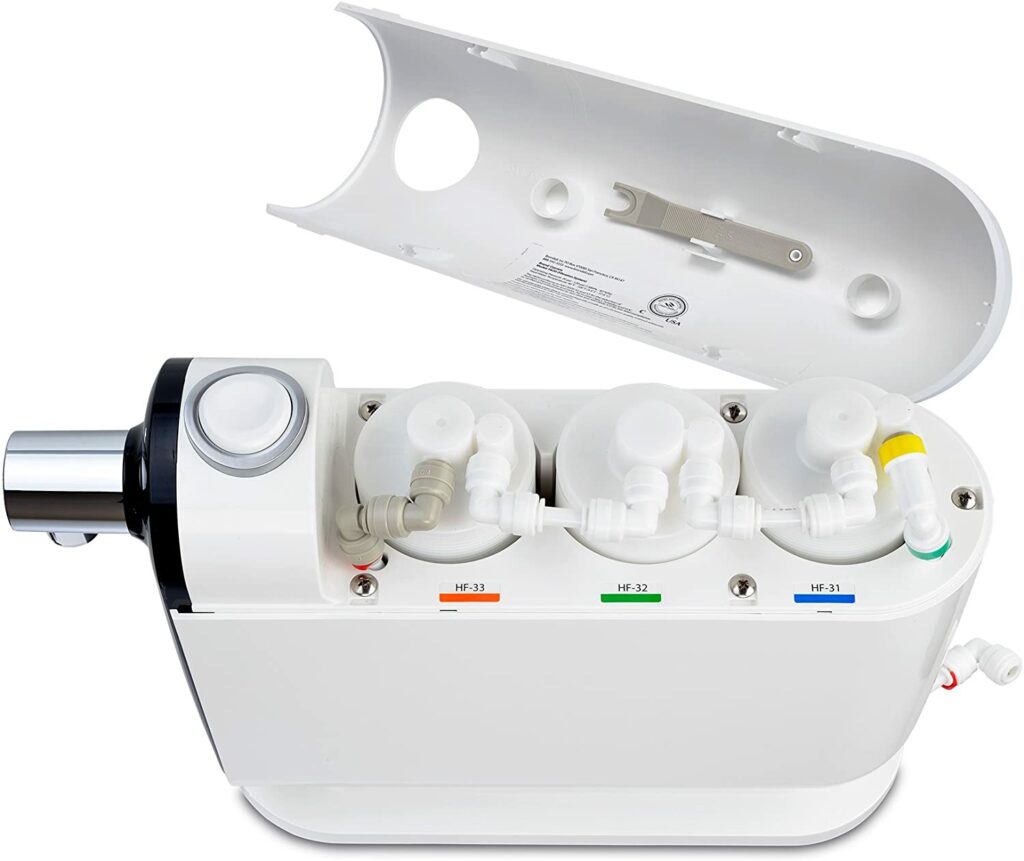 A few disadvantages to note is that there is no reminder system, so you will have to recall when you have replaced a filter and the filter tap is really small, so filling a bigger bottle can be uncomfortable.
The Cypress can be mounted in under 10 minutes and up to 99 percent of home faucets can suit with the included faucet diverter. If you own a T-valve, the water connection under your sink may also be mounted.

Pros:
The classy design of slim profile countertops
Effective filtration in 3 stages with patented nano trap technology
The triple filter system typically offers high-quality filtration seen only in more complex sink systems.
Ongoing filtered water (with no wastewater like complex R.O. systems)
For the dispensing of water, ergonomic pushbutton power
Fast and simple replacement of filters
Compatible with 99% of standard kitchen faucets with adapters given in less than 10 minutes, standard DIY installation
Checked and authenticated by WQA (Water Quality Association)
Cons:
In a few units, the pushdown button is defective after a short time.
High maintenance because regular replacement of the filters is required.

Where to buy Brondell H2O+ Cypress (H630) Countertop Water Filter System
#6 AQUATRU Countertop Water Filtration & Purification System – Reverse Osmosis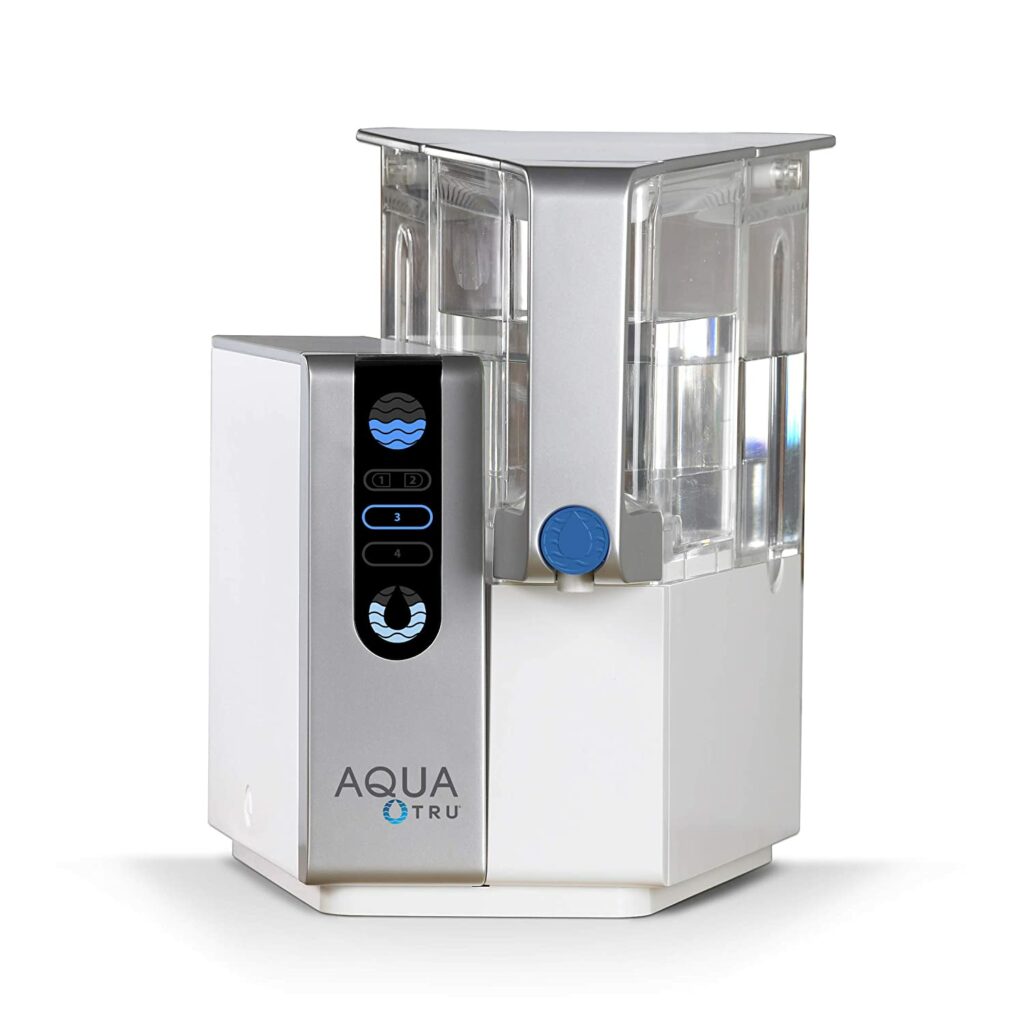 AquaTru's Water System can filter 15x more toxins than leading countertop filters, ensuring a steady supply of safe, delicious drinking water. Aside from quality filtration, AquaTru didn't compromise looks. Any kitchen countertop will complement this elegant, modern device.
RO (Reverse Osmosis) is an effective method of filtration that removes almost everything extracted from the water that you like. The method of AquaTru requires NSF approved filtration that eliminates 83 pollutants, including lead, chlorine, nitrates, fluoride, PFAs, and more. Made with Tritan BBA and BPS-free plastic,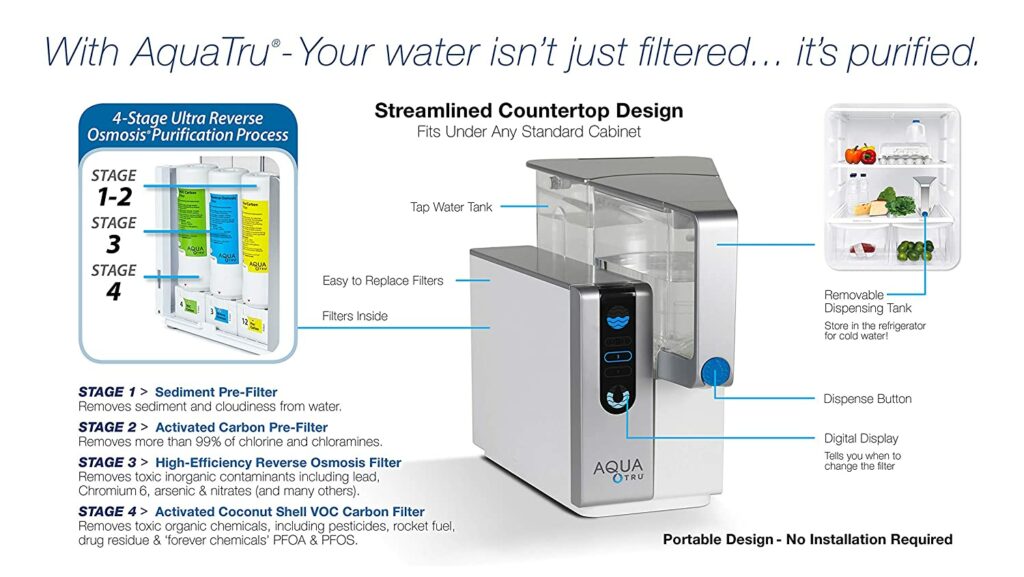 This countertop filter measures 14 x 14 x 12 inches and weighs 16 pounds. It measures 14 x 14 x 12 inches and weighs 16 pounds.
The AquaTru is among the most efficient reverse osmosis systems in terms of water waste, especially when compared to a standard sink design. While these systems usually waste about 3 gallons of water for every 1 gallon created, only about 25% of water from the reverse osmosis process is wasted by the AquaTru.
Pros:
NSF approved for elimination of 82 contaminants
Durable and modern look
Easy installation – This filtration system does not require fairly extensive installation or the aid of a plumber to get started, with the set-up taking just 3 minutes to complete. Just the click of a button involves switching the system on and dispensing water.
Compact and portable
Ease of Use- nothing is better than turning a tap on and quickly bringing filtered water out.
Water lines and pipes have even less mineral scaling and build-up, which improves the service life of the water line.
Cons:
Depending on water consumption, 1 gallon tank may seem relatively low
Where to buy AQUATRU Countertop Water Filtration & Purification System – Reverse Osmosis
#7 Megahome Countertop Water Filter Distiller
MegaHome is a well-regarded company with a good reputation for delivering top-quality products.
The Water Distiller MegaHome Countertop is no different. Built with water filtration efficiency in mind from the ground-up, it complies with all UL water safety requirements. The slow filtration speed is the catch. Over the course of every 5.5 hours, the unit purifies only a single gallon of water.
The long, specialized method of filtration, of course, results in a better final product. To guarantee that absolutely all pollutants are extracted from the water, a special steam distillation process is used.
Features include:
Material used: high quality stainless Steel 304, and Glass
Flow Rate: 5.5 hours / 1 gallon
Top Unit for Condensing
Distiller Body
Glass Bottle Set
Sachets of Activated Charcoal (Package of 6 filters)
Cleaner for Boil Chamber
Cord for Main Power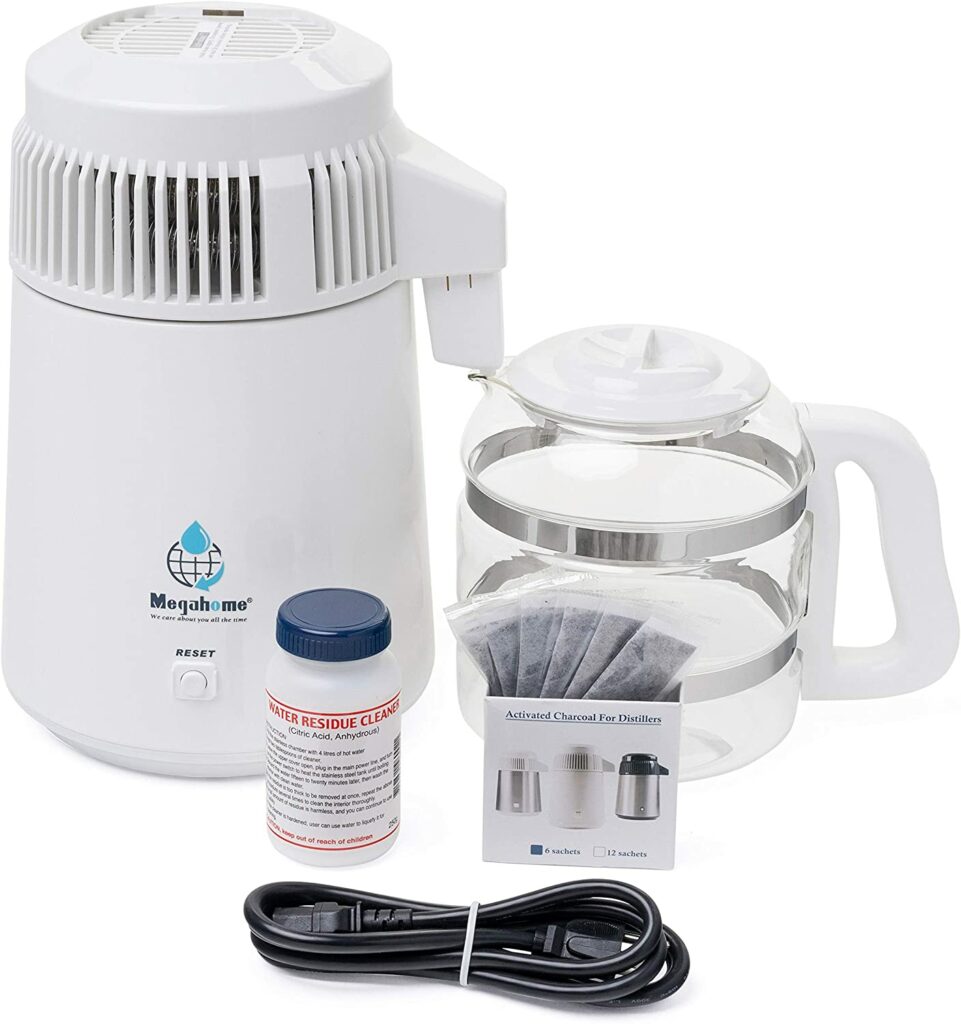 This Megahome product is ideally suited for families who need a quality water filter machine that will not break the bank. This product not only distills water efficiently, but also turns it off for energy conservation. This reputable product that is cost effective without compromising quality would be enjoyed by families of all sizes.
Pros:
Quiet – level of noise comparable to a computer desktop fan
Excellent water taste
Plenty of sediment left, so it does the job.
Pure, limitless water
Reduces trash from a plastic bottles
Very easy to clean
The water doesn't touch any plastic
Carbon filter for final stage cleaning
It's got a reset button
It comes with a cleaner and a carbon filter kit.
It's not necessary to tote water from the grocery store
Lightweight and portable
Cons:
Where to buy Megahome Countertop Water Filter Distiller
#8 Brio Countertop Stage Water Filter and Dispenser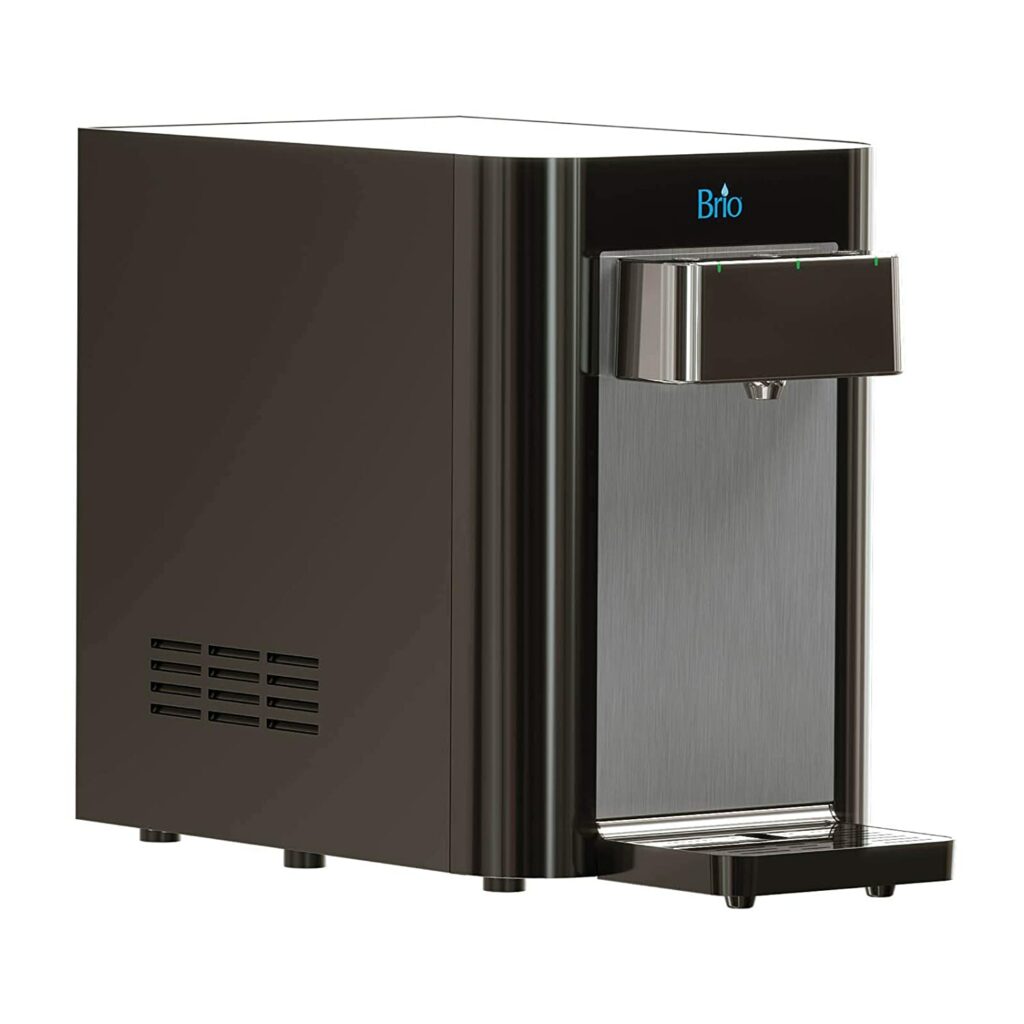 This model has a two-stage filter, control over your water's dispensing temperature, and a UV light self-cleaning feature, and is one of the best options out there.
It filters to eliminate a wide variety of impurities, including rust, chlorine, VOCs, odors, and other chemicals, using a two-stage system of a sediment filter followed by a carbon block filter.
You will love its unique UV Care self-cleaning.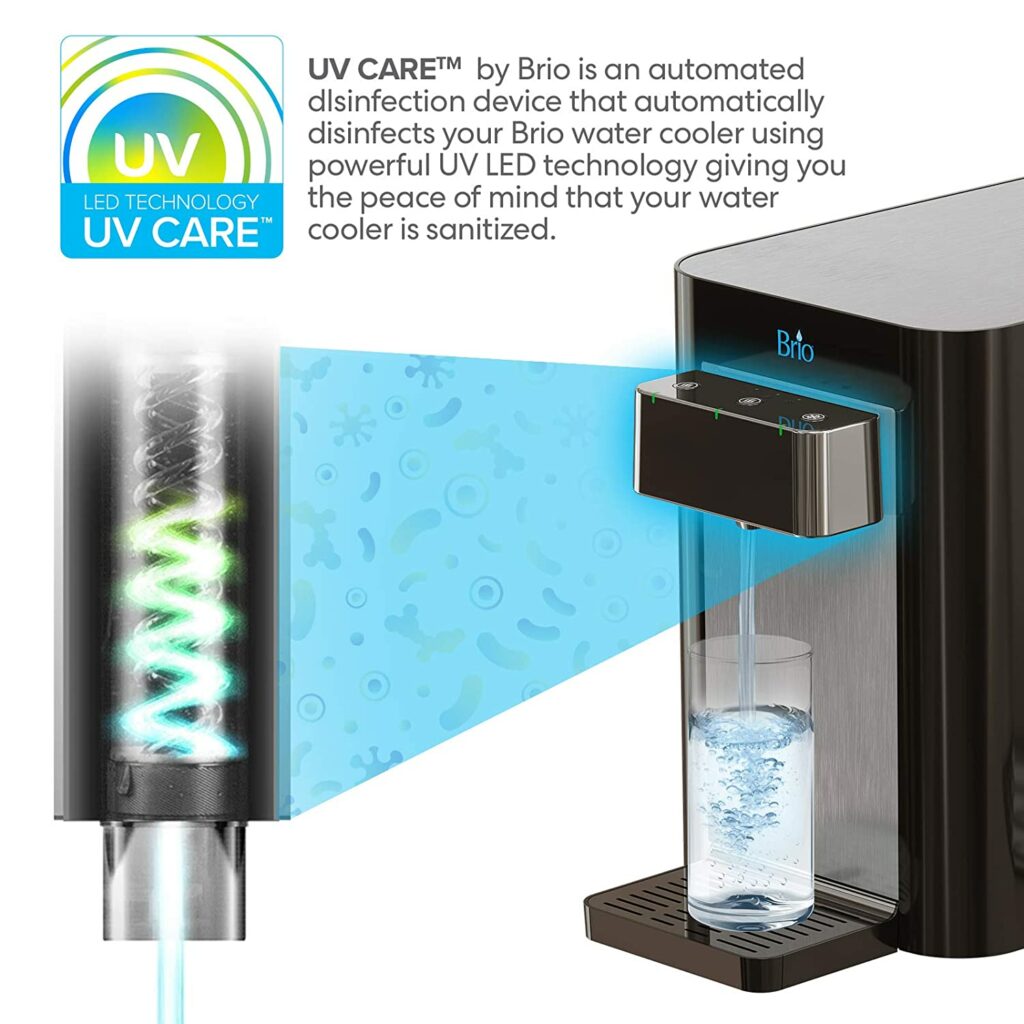 You can choose between three dispensing buttons once your water has been filtered: room temperature water, hot water, or cold water. This way, without making ice or digging out the kettle, you still have the water temperature you like.
Pros:
Adjustable temperature water
UV-light self-cleaning kills bacteria and viruses
Two-stage system of filters
Nightlight LEDs
Hot Water Child-lock
Stylish look
Cons:
It must be plugged in
Needs to be connected to your water line
No RO (Reverse Osmosis)
Need to run a hose from under the sink to counter
Where to buy Brio Countertop Stage Water Filter and Dispenser
#9 Express Water Reverse Osmosis Countertop Water Filtration System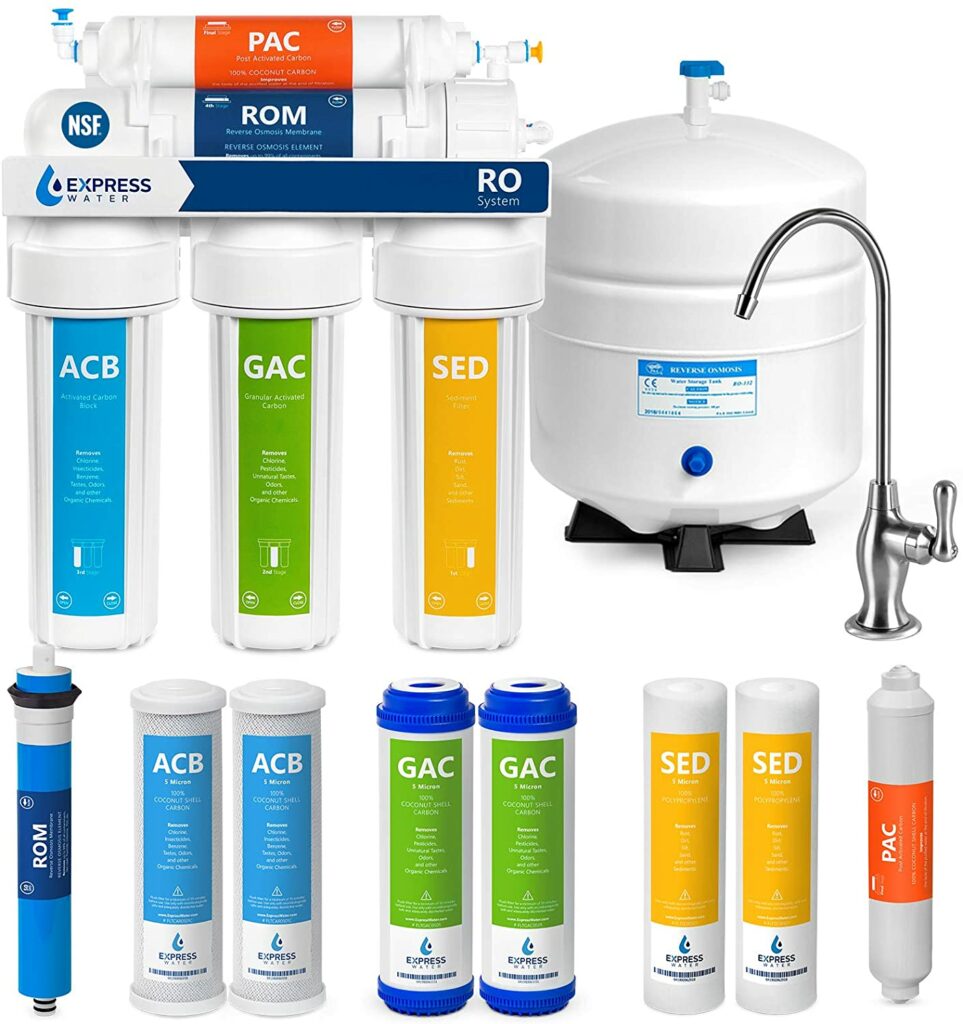 Last on our list. This countertop water filter system from Express water, allows you to add an adapter to a regular faucet and then choose whether water usually comes from the faucet or goes to the water filters.
99.9 per cent of chemicals and pollutants are eliminated by four filters (including the RO membrane).
With this unit, the main difference being that this system has a dedicated filtered water faucet connected to the filter system instead of the filtered water coming from the faucet adapter.
This is the same sort of faucet that you would hope to get with your installation of an undersink water filtration device. This can make the dispensing of water more convenient, depending on your needs.
This is another system around the filtration system without a case, so it is not as appealing. This machine travels well when you want to carry it with you because of the faucet attachment.
Features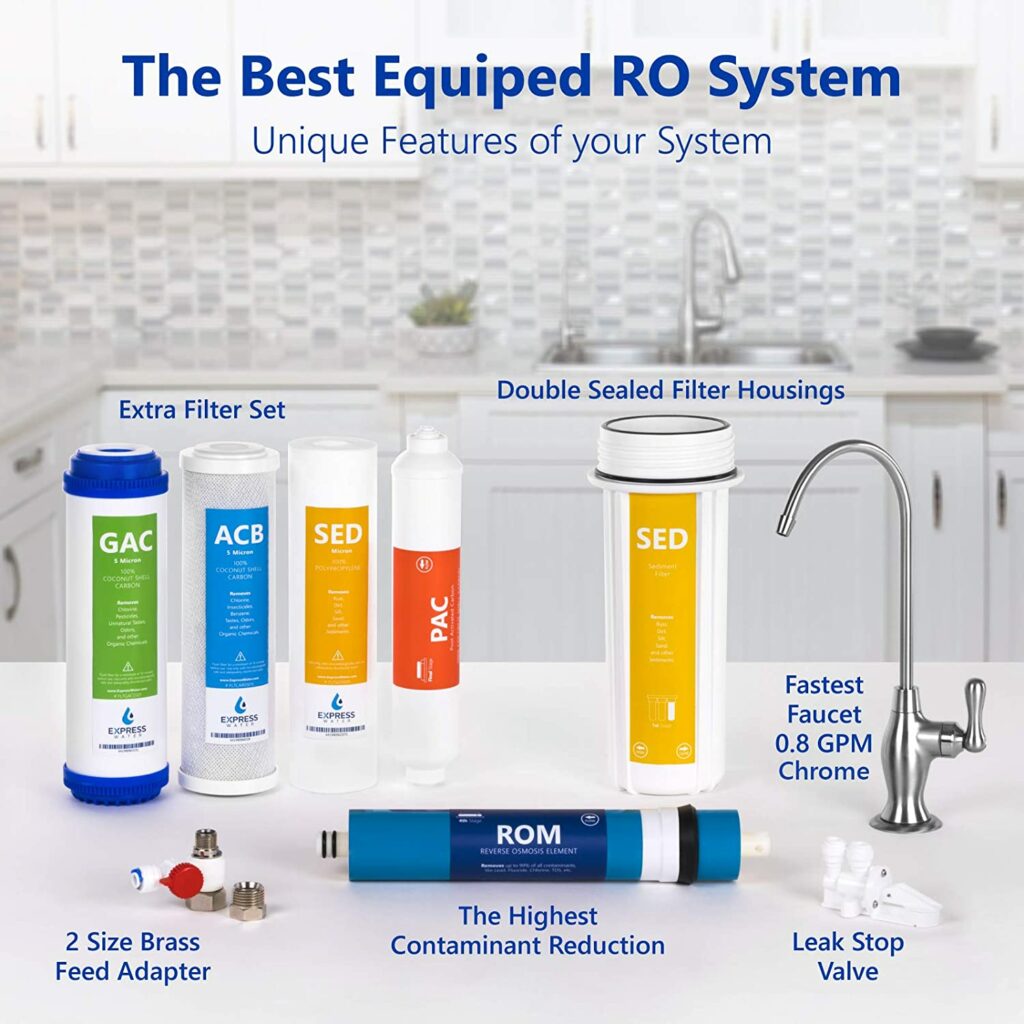 A sediment filter that catches dirt, dust, sand, and rust particles is the 1st stage. The 2nd stage is a filter of granular carbon that eliminates pollutants such as chlorine, organic volatile chemicals, and any other compounds causing odor.
The 3rd stage includes the real Reverse Osmosis Membrane, which focuses on contaminants such as lead, arsenic, chromium, fluoride, TDS, radium and others that are most challenging to extract.
A Post Activated Carbon Filter that performs a final pass on the water, eliminating any potential tastes or odors that might have made it through the first three stages in any way, is the 4th and final stage.
The Express Water Countertop Reverse Osmosis Water Filtration Device undoubtedly catches the eye at first glance. It really looks like some sort of science experiment in some respects, or maybe a method of water softening that is usually tucked away and out of reach.
With this device, four bottles are connected to each other and attached to a metal tray, with the middle protruding from a metal faucet spout. The device is directly connected to the tap faucet on the faucet head and uses a special attachment that allows you to move easily from standard tap water from the usual faucet to the faucet of the filtration system.
Pros:
Removes almost all contaminants. This is a seriously effective filtration device that removes from your water almost every form of contaminant. Many typical household filter systems simply use a carbon filter, but on top of that, this system uses three additional methods. A four stage reverse osmosis device is unbeatable if you're searching for the purest water possible.
Easy to install. The Reverse Osmosis Water Filtration System for Express Water Countertop uses a simple and easy four-point setup that takes only a few minutes for complete installation. In the end, what you really do is hook a tiny hose up to the head of your faucet, something anyone can do.
Easy to use. It is as easy to get filtered water from this machine as flipping the switch on the faucet head of your sink. This routes the water into the reverse osmosis device instantly. Simply turn the switch back until you're finished and you can use the tap on your sink like you usually would.
Cons:
No casing which is not appealing. This system is going to throw things off a little if you're someone who enjoys a tidy, unified, and minimal appearance in your kitchen or bathroom. Express Water did not find it appropriate to provide a cover for the device for some reason, so you're forced to only put an unsightly set of plastic tanks on your counter.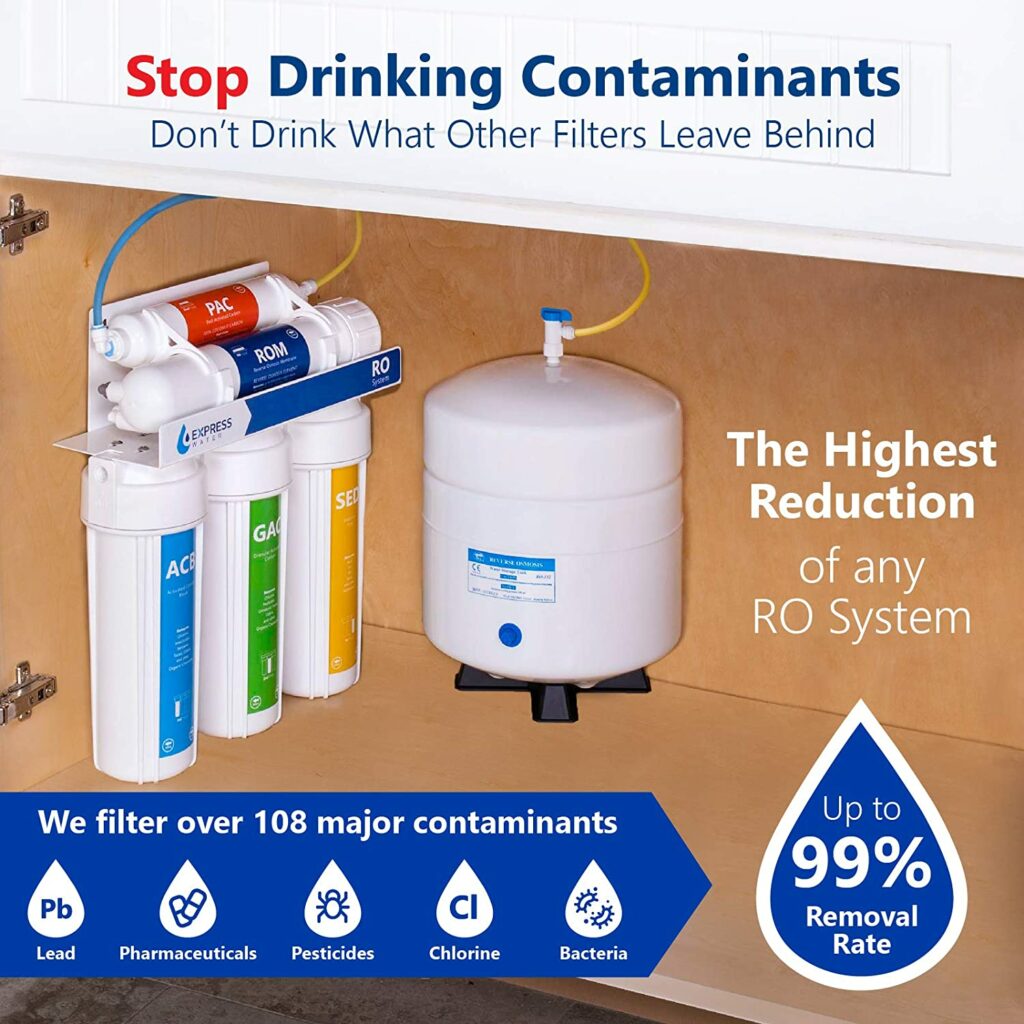 Where to buy Express Water Reverse Osmosis Countertop Water Filtration System
Choosing the Best Countertop Water Filter 2020: Buyer's Guide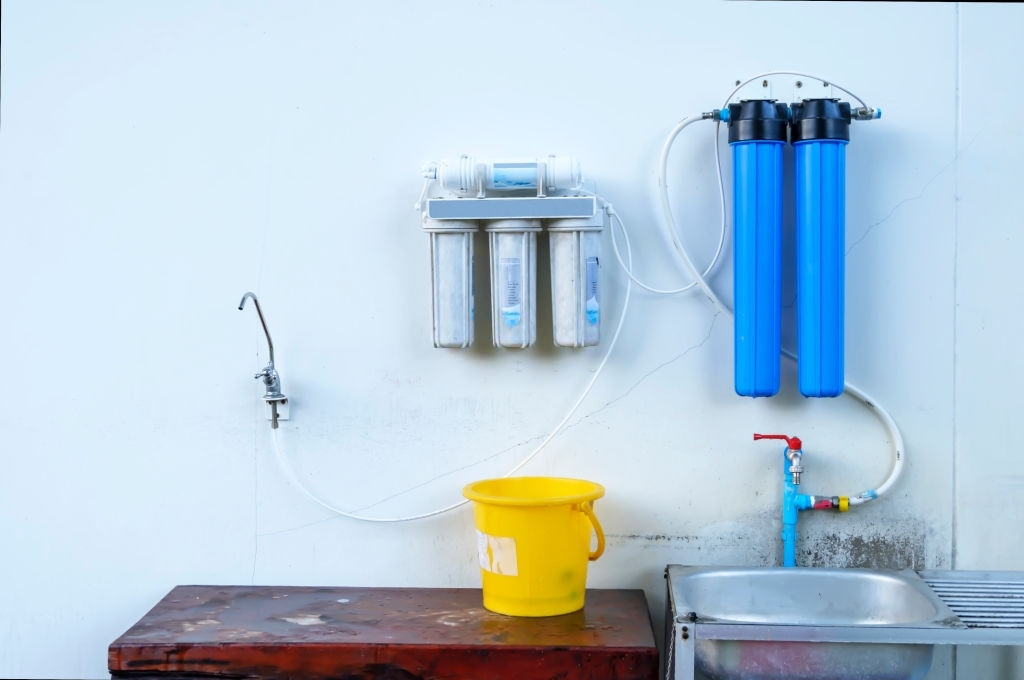 The best countertop water filters will change your life for the best.The contaminants in your drinking water will be removed with the use of these filters.
Not only can the use of countertop water filters eliminate the toxins and harmful chemicals in your water, but your drinking water will also be alkalized, making it safer for your health and optimal for weight loss.
Countertop water filters are designed to be very lightweight so that they can fit without being bulky in the room around your sink. Moreover, these water filters are easy to bring, and if you go on vacation, in your vehicle, and even in your yacht, you can even take them.
The explanation for this is that, in order to use them, these water filters do not need permanent installation or plumbing.
To make sure you select the right countertop water filter, here are a few steps you can take.
Price Range
Before you begin to search for one, you should determine how much you are willing to spend in a water filtering system. You risk going down the rabbit hole if you don't, and spending more on a model than you're expected to.
Water Test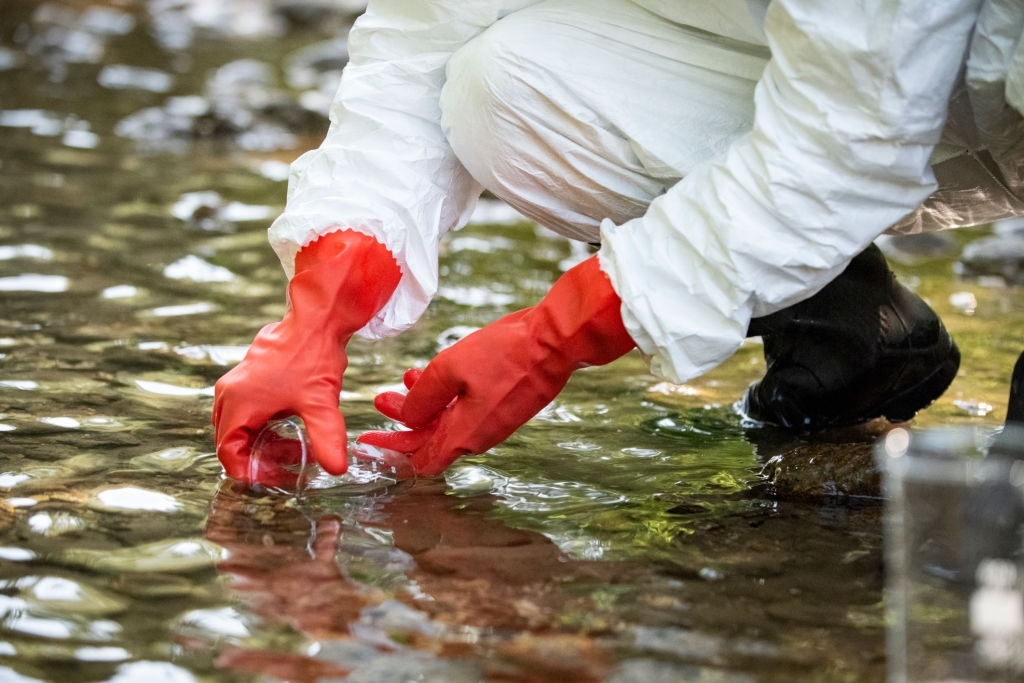 Checking your water is the second thing you should do before purchasing a water filter. To test your drinking water, there are a lot of water test kits you can use, and most of them come at reasonable prices. Some models may also be able to tell whether pesticides, herbicides, and pharmaceuticals are contaminating your water, but these appear to be more costly. If you believe, however, that your water can be polluted by these chemicals, you can also test it.
Research about Contaminants
Once you find out which pollutants are in your water, to find out which of them are more dangerous, you can do some quick online research. This can be evident in some ways, since anyone can say that lead is more dangerous than chlorine, but it can be more difficult in others. But the difference might not be so clear if you had to pick between nitrates and chloramines. Do your research, then.
Find a Compatible Model
You can look for a water filter that can avoid most of them, now that you know the pollutants are the most dangerous in your water, and their estimated numbers. If none of the water filters you find will eliminate all of the pollutants in your water supply, selecting the one that can remove the most dangerous ones would be the best choice.
Size
For countertop water filters, you should make sure to look into the various sizes available.
If you are planning on buying a water filter, it is prudent to calculate the room near your kitchen sink. Imagine the annoyance of buying a machine and realizing that it didn't fit in your available kitchen counter comfortably.
You should also remember size versus available space if you are thinking of buying a water filter pitcher. Many individuals want to store their pitcher in the fridge, so you might want to make sure you don't buy a design that's too large or too wide to fit properly.
Maintenance
Countertop water filters use cartridges that need to be replaced after a specified time span. Many brands require the replacement of cartridges every four months for up to one year.
Choose the product that you can change conveniently, the filter is available for replacement and the cost is affordable.
To Wrap Things Up
There is no such thing as a universal best model, as you may see in our countertop water filter reviews. Every model is best suited for a particular task. Some filters can extract more chlorine but less fluoride than others. Others will do a better job at removing heavy metals, but will not be so effective at removing pharmaceuticals.
You can first test your water to see which pollutants impact it if you want to find the best countertop water filter. Once the pollutants are detected, you can easily choose a model that will be effective in preventing them from reaching your drinking water.
All of the best countertop water filter 2021 in this list are worthy, and there is one here to fit your desire, depending on how much you want to spend or how much you want to filter your water.
The filters do an excellent job of eliminating toxins from tap water, making you want to drink more water, providing a healthier drinking experience. Start investing in a countertop water filter system today.
Recommended for You: What is the Best Commercial Dehumidifier | Buyers Guide on Getting the Best Dehumidifier