These Big Berkey Water Filter reviews will take you through the specifications and performance levels that you can expect from this high-performance water purifier. Helping you through our review to come to an educated purchase decision and determine if this is the right gravity water filter for you need.
You may feel like Goldilocks searching for the right water filter system; most models are too big, some are too small, and some don't have the right combination of features. Let us introduce you to the Big Berkey Countertop Water Filter System, one that is just right.
It's the right size for home use, but compact enough to follow you anywhere, and it can make water safe to drink from any source without electricity for peace of mind.
Here's a closer look at why the Big Berkey is winning our best water countertop blue ribbon.
Next, through an ion exchange process, heavy metal ions (mineral molecules) are collected where they are electrically connected to the media. Last, but not least, the filter elements are built so that it can take several minutes for each water molecule to pass through these elements.
In addition, in other filtration systems, the same method actually takes microseconds. And this is actually an advantage of this device, as the longer, the water molecules are in contact with any filtration media, the greater the elimination of the different contaminates.
About Big Berkey
Some of the very few countertop filtration systems that make water both better-tasting and potable are developed by Big Berkey. It removed 99.9999% of water-borne pathogens during testing, a level of protection that other filters do not approach.
Berkey filters are gravity filters, which means they use the force of gravity to move water from the top chamber to the bottom chamber via the filter. No moving components or electricity are required, so it's ideal for off-grid applications.
Also more than 99.9% of heavy metals that are especially harmful to children such as arsenic, aluminum, lead, and chromium.
It looks handsome on the counter with its stainless steel build, and it takes just 8.5-inches of room. It breaks down easily for travel and the components nest together. It's suitable for houses, camps, RVs, and hotels.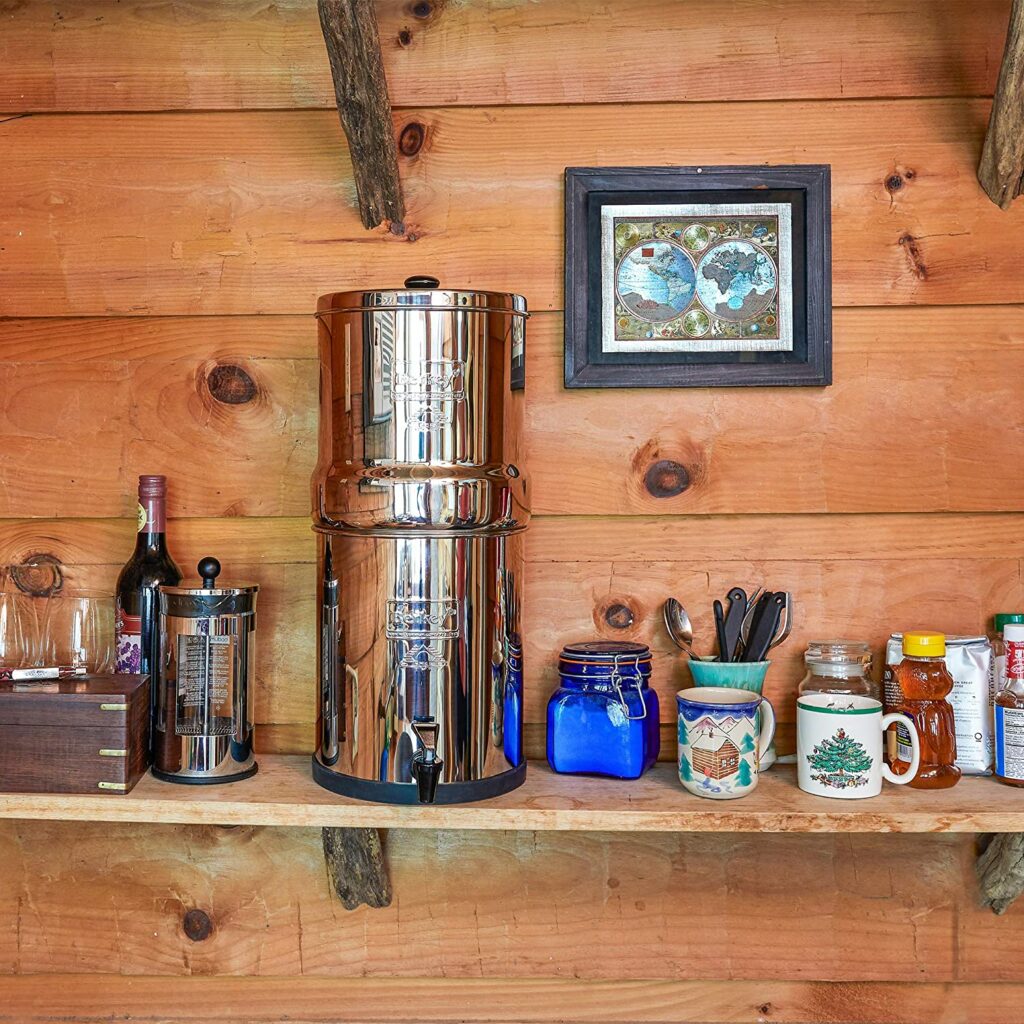 It's excellent for emergency backup if you already have a filter that doesn't make the water pathogen-free.
How Big Berkey Gravity Water Filter Works
Big Berkey premium water purifiers operate using many different methods of filtration found within each Black Filter. These components consist of a formulation of over half a dozen different types of media formed into a very fine matrix that produces millions of micro-fine pores.
The pores are so small that they can not be pushed through by pathogenic bacteria, cysts, parasites, sediments, and sedimentary minerals – a mechanism similar to reverse osmosis.
Both 'absorb' some impurities and 'adsorbs' other contaminates found in polluted water in the media formulation. This is the mark of every effective system of filtration.
Big Berkey Water Filter Features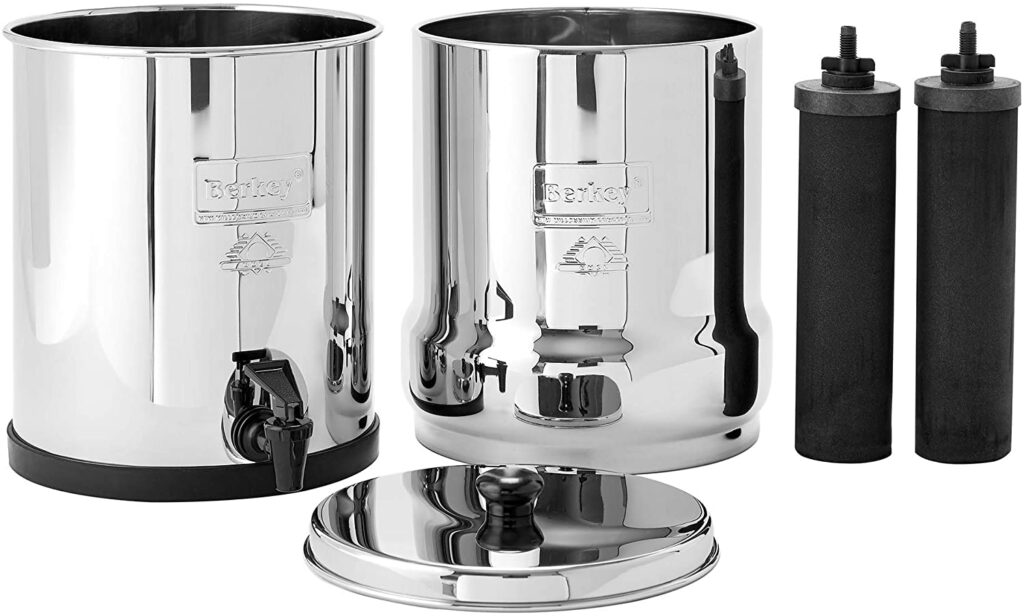 The Big Berkey Countertop water filter system eliminates levels of up to 95 percent of lead, MTBE, volatile organic compounds, and other heavy metals.
By minimizing it to a harmless amount to promote general health, the black Berkey water filter system gets rid of chlorine almost completely.
It has a 304 stainless steel shell that is highly polished.
There are gravity-fed systems in this range of filters that do not need plumbing or tap water hookups for purifying water.
Every Black filter has a life span of 3,000 gallons (6,000 used in pairs).
It efficiently filters bacteria and viruses up to 99.99999% level
The PF-2 filters of the Big Berkey reduce fluoride found in tap water as well as arsenic that can be present in other sources of water.
Red dye can easily measure the replacement time of the fluoride filters (no expensive water tests to ascertain water quality).
Non-public water (streams, lakes, etc.) can also be used to provide clean drinking water in emergencies.
Black Berkey filters surpass EPA log 7 ANSI / NSF filtration standards and are identified as water purifiers.
Pathogen Removal
The removal of pathogenic bacteria is one of the points that makes Berkey stand out from its competition. It says that the pathogen is 100% eliminated to a non-detachable stage.
Portable and Doesn't Need Tubing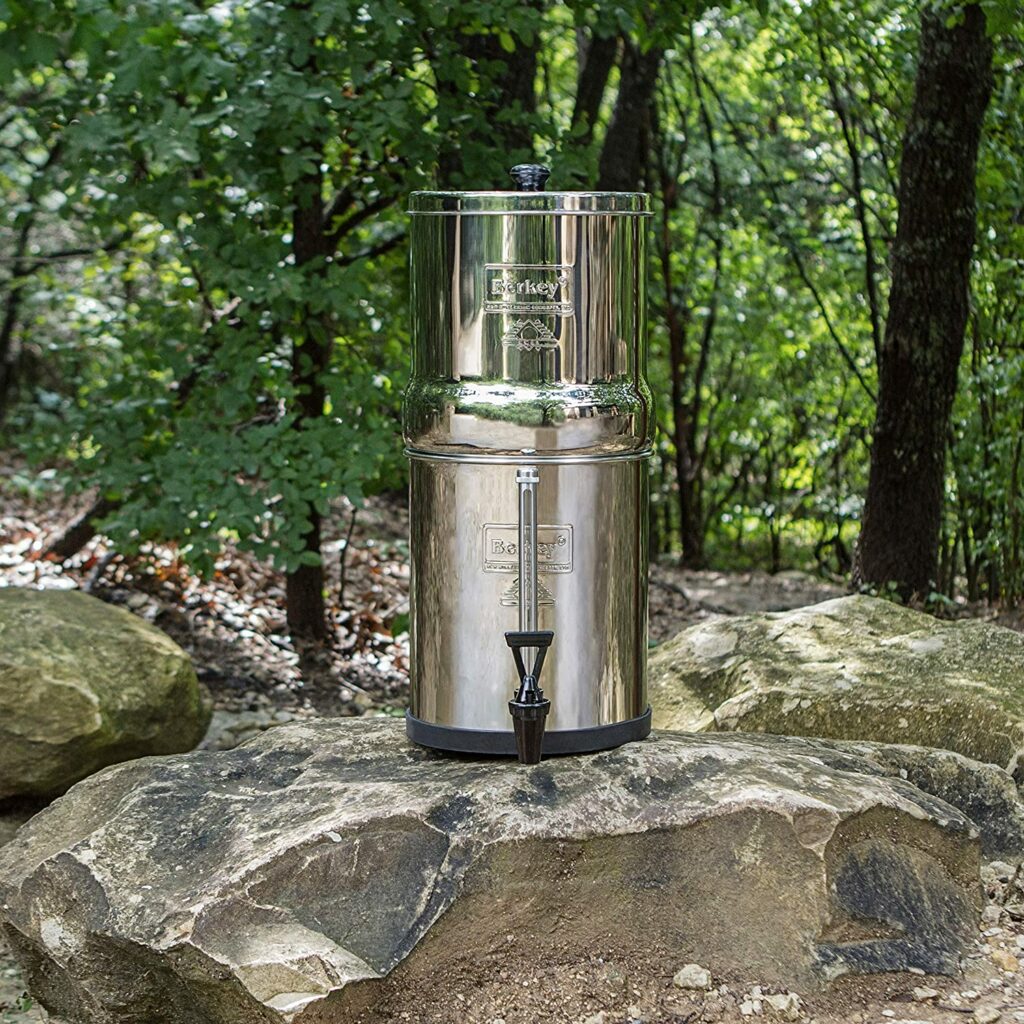 All Berkey water filters are filters fed by gravity that do not need any connection to pipes. Therefore, no pipe is linked to the device and it can actually be somewhere in the house.
Filter Capacity
For all Berkey schemes, the primary filter is the Black Berkey filter.
Black Berkey: This is a microporous filter that comprises pores with a diameter of less than 2mm. It is a cleanable purifier element that filters in the water from bacteria such as pathogens and viruses.
PF2 Fluoride Filter: This filter absorbs mainly fluoride, arsenic, and even some of the water's heavy metal ions. We ranked this system as one of the great fluoride-removing water filters.
Here is What Makes Big Berkey Special
First, they have very detailed filtration. Viruses (most rival models will not remove these), bacteria, heavy metals such as lead and mercury, VOCs, chlorine are pollutants that can be eliminated from the water, and the list goes on from there.
In fact, Black Berkey purification components can be categorized as water purifiers. 99,9999 % of pathogenic bacteria and 99,999% of viruses have been eliminated as shown by tests performed by an accredited laboratory. The test results exceed the criteria of NSF Standard 53.
How is it even feasible? Well, it turns out that water treated by a Berkey device has an extended interaction time with the filter components, as opposed to filtration systems that operate through their various phases based on pressure to push water molecules.
Lastly, the filters have high capacity and can last for a very long time, which not only saves you money, you also end up paying cents for 1 gallon of filtered water if you do the math. It also saves you time and pain by not having to buy new cartridges and replace old cartridges every month or so.
Summary of Specifications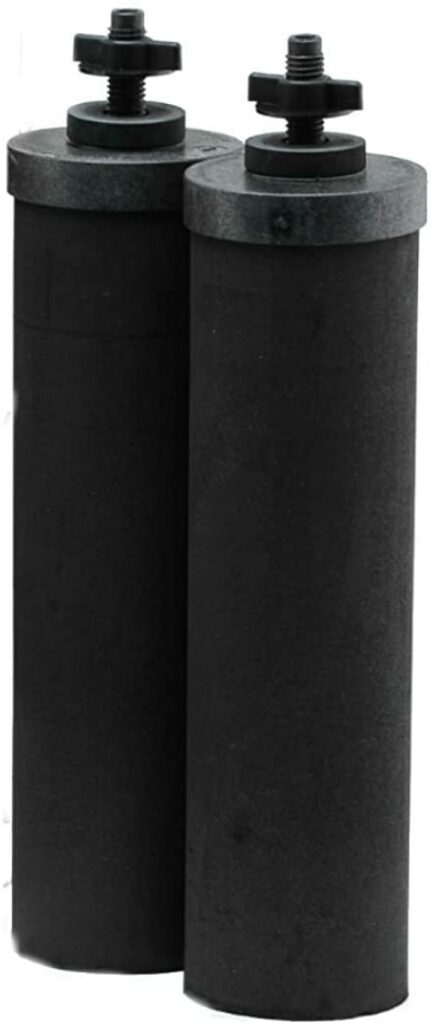 It is made of 304 stainless steel, which is highly polished. It also came equipped with two purification components and uses the latest technological advances.
Storage capacity: 12.3 liters, or 3.25 gallons.
Height: 23 inches.
9.5 inches in diameter.
The upper chamber of the system nests inside the lower transport chamber and stands just 15.25 inches in height this is what it makes highly compact.
The flow rate of the device is calculated as approximately 4.0 gallons per hour upon testing.
There are 2 PF-2 fluoride and arsenic filters installed in the lower chamber of this system for fluoride removal.
A cap, washers, nuts, 2 blocking plugs, and a rubber gasket also come with this water purification system.
The entire system has a substantial cost, but it is well within what one might expect from a high-quality countertop water filtration system.
Installation and Maintenance of Big Berkey Purification Water Filter System
It doesn't take long to assemble this water filtration system, as it is very simple to set up. A user should be able to quickly assemble and install the filtration device in less than 30 minutes without any plumbing expertise or prior experience, with some of that time being used to clean the whole system.
The only part of which most individuals may not have any experience is adjusting the water filters. It is simply achieved by using a gasket provided to hold the filter against a water faucet, thus pushing water through the filter. This approach is used to ensure the filters are clean and ready for clean water to be filtered.
Follow the instructions manual to the word while doing this. It is advisable to change the water of this purifier 3 or 4 times until you bring them into use. This way you'll be sure that even the very first drop of water you drink would be of the highest quality. You may want to watch this video below if you are concerned about your lack of knowledge.
Pros:
Removes most of the bacteria, parasites, and cysts
For small families, the dual-filter 6000-gallon capacity is suitable
Appealing, stainless steel 304 housing
Portable and compact
Space-saving footprint
Cons:
Required daily filter cleaning
Quite large and difficult to store out of sight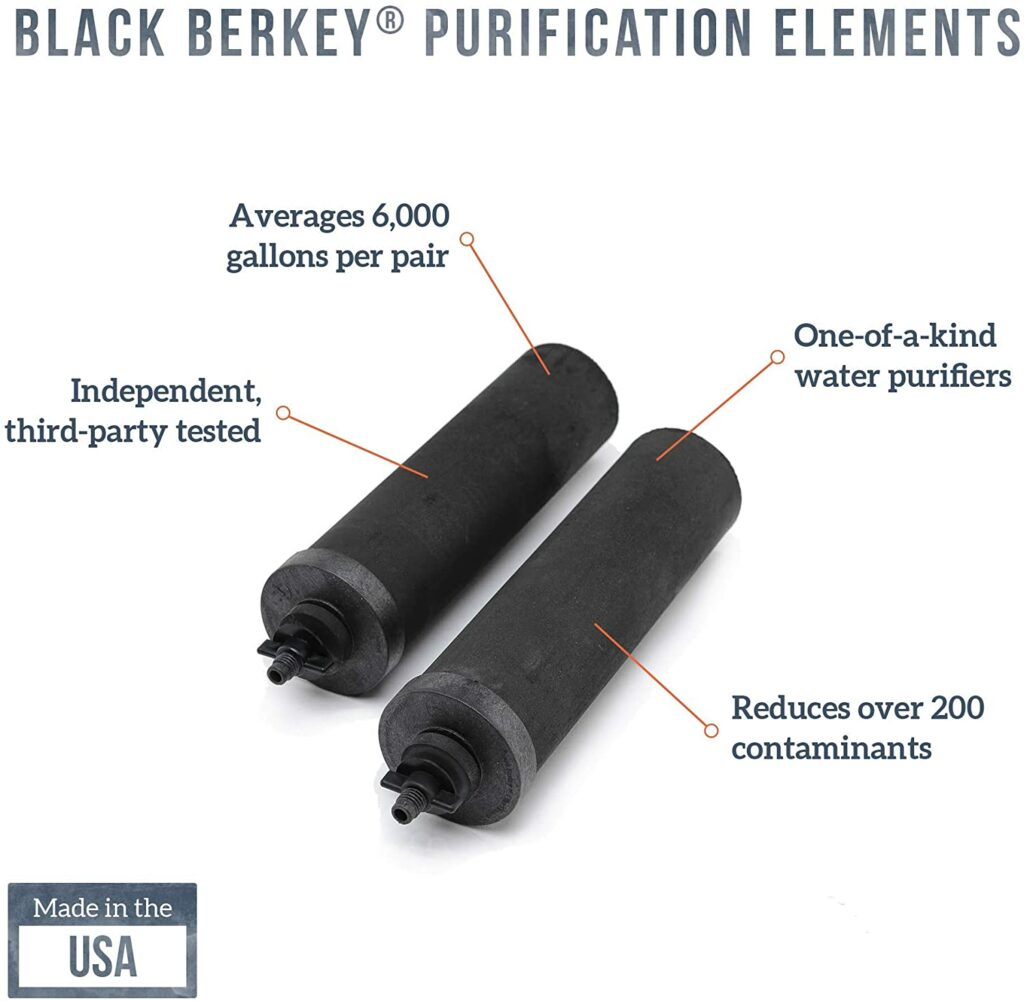 Frequently Asked Questions
Q: How often are changing filters required?
A: On average, you should expect your filters to be replaced every six months. This varies on a few factors, however, such as the consistency & quality of the water in your home, how many filters you use (2 or 4), and how many times you load up your filter every day.
Q: Does the Big Berkey affect water pH level?
A: No, the pH of the filtered water depends on the pH of the water source.
Q: After being filtered, how long does the water remain in the holding chamber?
A: The manufacturer advises that you not allow water to stay for more than 3 days in the holding chamber. Throw out the old water and re-filter a new batch if this is the case.
Q: Does fluoride eliminate this filter?
A: Yes, but you will need PF-2 fluoride filters.
Q: Does fluoride filters contain aluminum?
A: Filters use aluminum oxide that is safe, not pure aluminum that can be health-hazardous.
Q: Can Big Berkey eliminate chlorine?
A: Certainly! 99% chlorine and 99.9% free chlorine are eliminated.
Conclusion
The Big Berkey is one to consider if you are looking for a great long-term water purifier for your home that also comes at a price that is great for its efficiency, and many favorable customer of Big Berkey water filter reviews will agree.
Since it is extremely flexible and provides unprecedented security for the entire family in emergencies, the Big Berkey is our choice for the best countertop water filter.