We like futuristic-looking products, especially appliances because not only that they look good, but they offer many perks as well. One great example of this kind of product is a bladeless fan. People who haven't yet purchased a bladeless fan probably think that it's not worth it to buy.
However, consumers who bought the right bladeless fan and have experienced the advantages of this product know that they made the right investment. If you, too, have been pondering on the idea of getting this product, here we'll tell you factors that make the best bladeless fans.  Get the right model that suits your needs by reading on.
Reasons Why Consumers Go For Bladeless Fans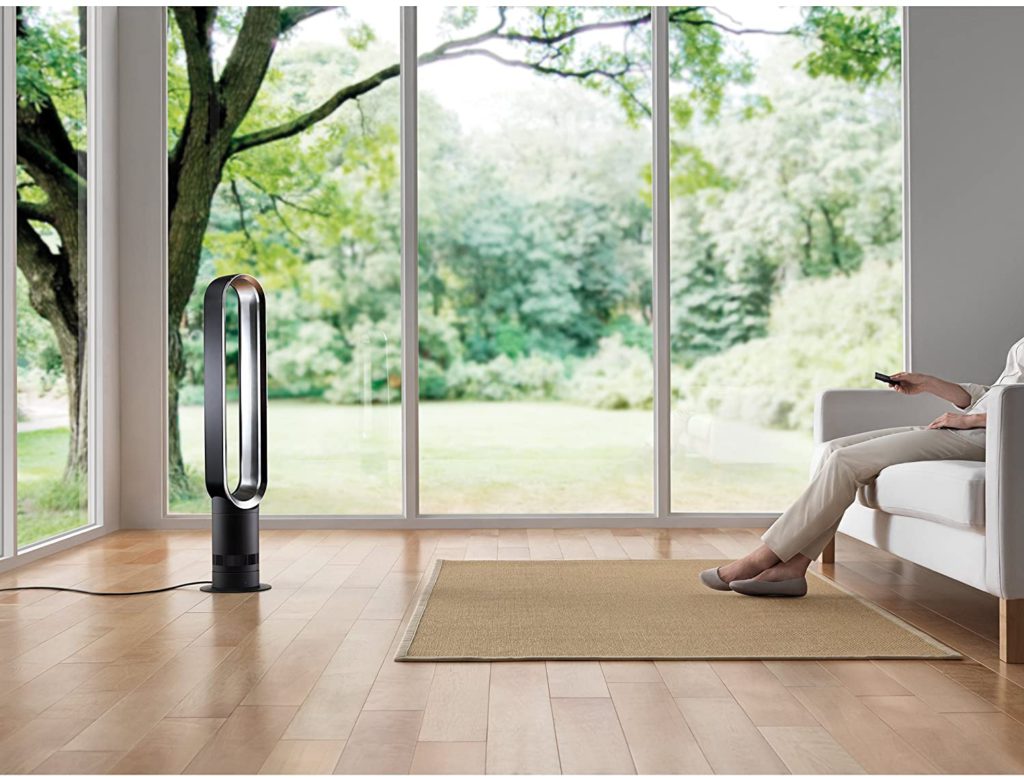 We can't deny the fact that bladeless fans are way pricier than the conventional electric fans. However, we might be able to justify why bladeless fans are better than conventional fans. In this section, we will share the reasons why more and more people opt for bladeless fans and ditch the old models. This kind of product offers many benefits than just cooling off an area, which you will all know in the following section. 
Recommended: Best Bladeless Fans 2021 | Safe and Powerful Fans for a Cooler and Fresher Home
Safety
Safety is mostly the main reason why people choose a bladeless fan than ordinary electric fans. Because bladeless fans don't have propellers, this product is safer to use especially around children and the elderly. Many accidents have happened with the use of conventional electric fans. Some people got their fingers injured when they got in contact with the blades of conventional fans. You can avoid such accidents and protect your loved ones from injuries by opting for a bladeless fan.
This product works using high-velocity vanes hidden inside the fan's body, which produces the air. The air is released through the holes across the ring of the fan and because this product doesn't need blades to produce breeze,  you will have peace of mind even when your kid plays around and comes to the fan.
Design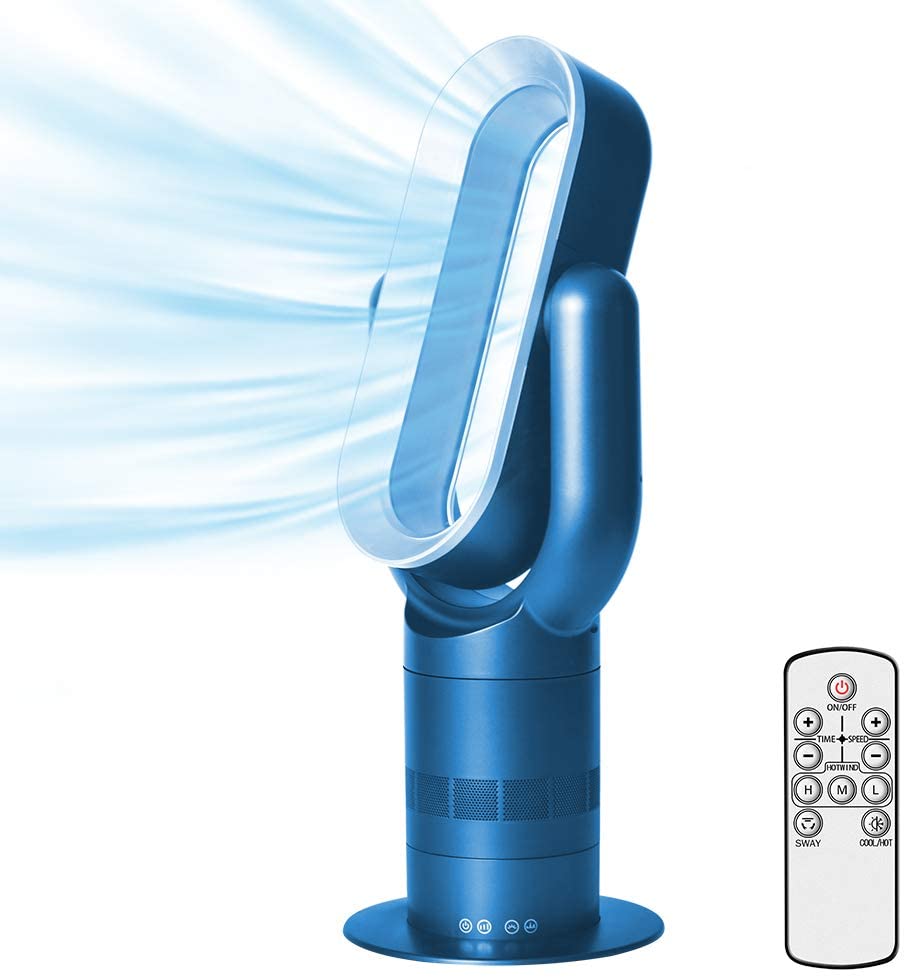 Another typical reason why consumers opt for bladeless fans is because of their looks. As mentioned earlier, this product looks sleek which can nicely complement modern homes. Though most bladeless fans have a futuristic design, the aesthetic look of the models still vary.
The shapes of the models vary from circle,  elliptical,  rectangular, and so on. The body dimensions and the weight of the models also differ from one another.
Compact bladeless fans are ideal that perfectly fit any corner of a home.  You might also want to prefer bladeless fans with easy-touch buttons on the body which provides convenience and versatility when it comes to options for control. Many consumers buy bladeless fans because of how they look. This home appliance can be a decoration apart from proving airflow in a room.
Comfort
Bladeless fans offer comfort as it can improve the air circulation in a room as well as cool off an area. Although conventional fans can also provide this use, bladeless fans typically offer more options for airflow settings.
More options mean finding the setting that fits your needs and your desires for comfort. Although different models have varying air-flow power, all bladeless fans provide comfort by improving the environment of a room.
Energy Saving
Because bladeless fans are more advanced than the conventional electric fans, many models offer an energy-saving feature. You can find bladeless fans that offer a sleep timer, which lets you program the settings and the schedule of when you'd like to use the fan.
Some models offer an option of pre-setting time intervals which can help in saving electricity. With this feature, the fan can turn off automatically when the room is cold enough,  and turn on when the area gets warm.
Factors to Consider When Buying a Bladeless Fan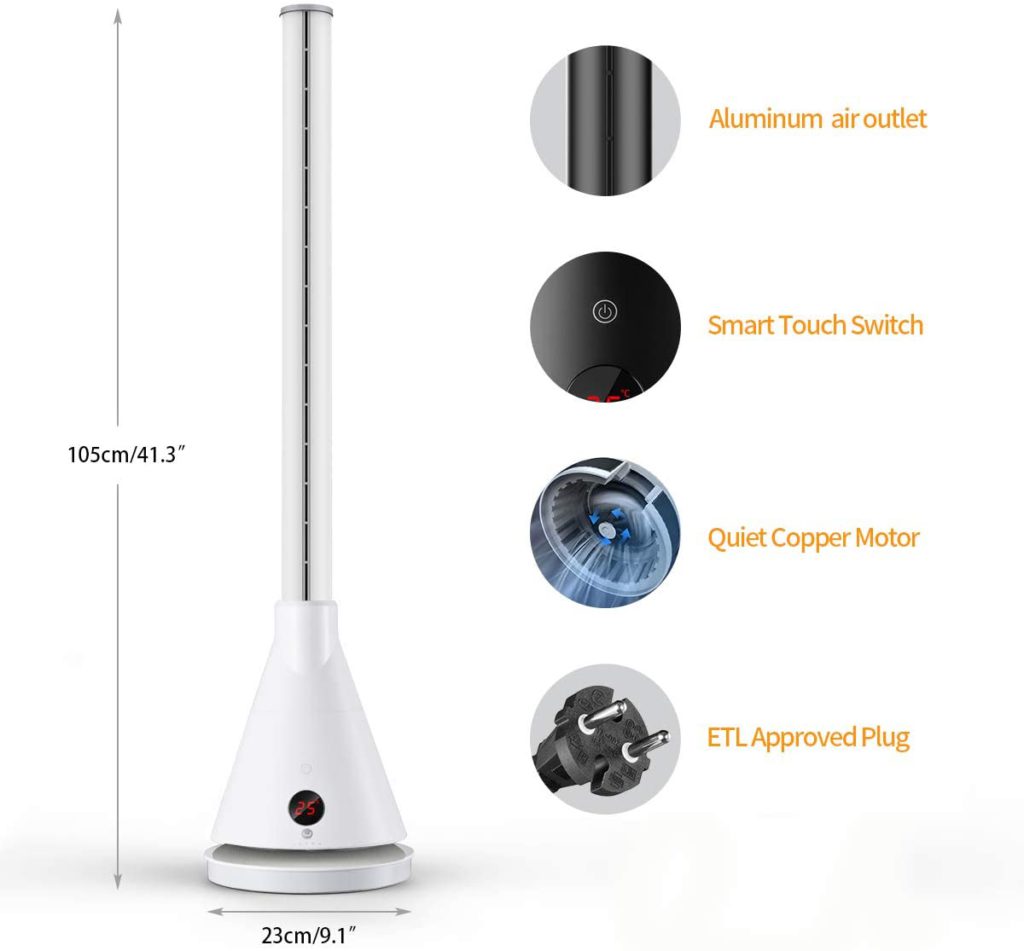 There are factors to consider when you purchase a bladeless fan. These factors are the product features, and strengths that you can use to know if the product fits your needs. Below are a few of the factors you may want to check when getting a bladeless fan.
Airflow Power
Different bladeless fans have varying airflow power. This is one of the most crucial factors when getting this kind of product. You don't want to purchase a bladeless fan that can barely produce air. If you're buying this kind of product online and you won't be able to test the product's airflow power,  you can always check the details about it from the product description.
If details about the fan's airflow power are not available or mentioned in the product description, you can always check this detail from the consumer's feedback or the manufacturer's website. 
Recommended: Bladeless Fan Dyson AM07 Air Multiplier Review | Safe and Powerful Bladeless Fan of the Future
Noise
You would also like to consider the level of noise that the bladeless fan produces. Different models have varying noise levels. Ideally, you would want a bladeless fan that can work silently so you can have a peaceful time whenever you use the product, especially during slumber.
Levels of around 50 decibels or lower are good numbers, which means the fan isn't loud. 50 decibels or below is equal to the noise of a normal conversation. 
You can see the noise level of a fan in the product description. However, if such details are not available, you can always research more about the product, or look around the comment section to know if the bladeless fan you're getting tends to be loud.  Usually, you can determine the noise of a fan at its maximum settings. 
Design
When it comes to design, apart from the looks, the fan's body dimensions and weight are also included. You would want a fan that is lightweight as this appliance is typically moved from one place to another. Getting a bladeless fan that is compact or slim is also preferred, so it won't take a lot of space inside a room.
If you're also considering the looks or the aesthetic appeal of the bladeless fan you are getting,  you would want something that can complement the design of your home. Modern-looking fans will complement contemporary or modern homes.
Added Technologies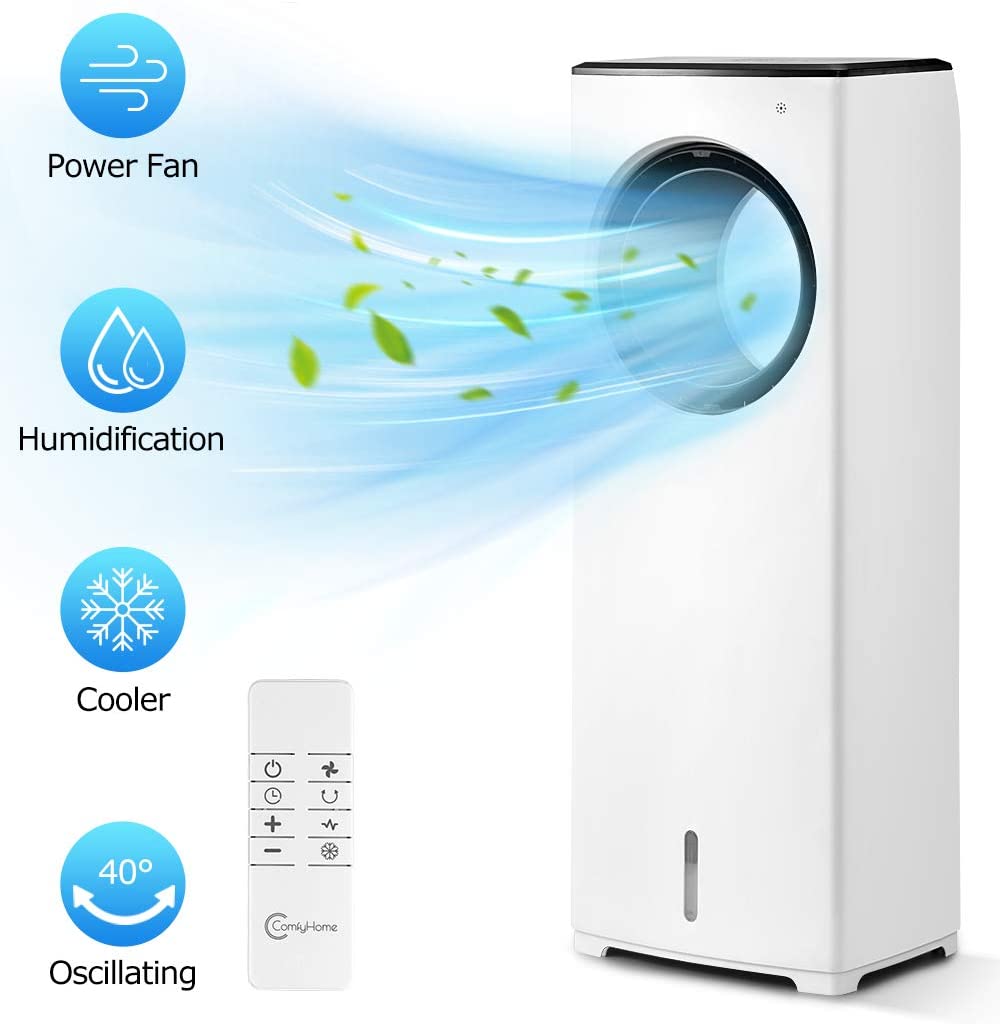 Because bladeless fans are a product of the future, many of the models come with added technologies. These technologies usually contribute to the product's ease of use, convenience, versatility, or the model's capability to save energy. More advanced bladeless fans are even app integrated.
You might encounter technologies like Air Multiplier as most of the fans in this category have this feature. This technology allows fans to work without the need for blades. Many bladeless fans can also work as an air purifier or a humidifier apart from providing airflow to a room.
If you are, if you have a family member who has an allergy or asthma, getting a bladeless fan that can get rid of allergens would be ideal. Some fans can even produce moisture or vapour into a room to set the right levels of humidity. Some bladeless fans can even get rid of bacteria using a hygienic mist that is projected into the air.
To get the most of what you will pay for this kind of product, we recommend that you get a fan with added technologies, and use apart from delivering airflow to a room.
Oscillation
Oscillation is another feature to consider when getting a bladeless fan.  Not all models provide great oscillation or versatility when it comes to directing the flow of air. A fan with a 90-degree oscillation is an ideal model. You can also find bladeless fans that blow air in a wider vertical reach.
You can find the details about the fan's oscillation in the product description, or you can check it when you try the model in a physical store where you will purchase a product. Oscillation is an important factor to consider as it determines the fan's airflow reach, as well as it's speed when it comes to cooling off a room.
Warranty
Checking the warranty of the bladeless fan you're getting is another crucial factor to consider when buying a product like this. Bladeless fans can be a hefty investment, especially the more advanced models. It will be wise if the product you're getting comes with a generous warranty.
Most manufacturers provide two or more years of warranty that includes labor and parts. To make sure your investment is going to be protected,  opting for a product that comes with a good warranty is highly recommended. You may also want to know or research the product's durability.
You'd want to opt for a bladeless fan that can last many years or at least more than the provided warranty. Not only that the warranty can protect your investment but also allows you to get the most of what you paid for.
Conclusion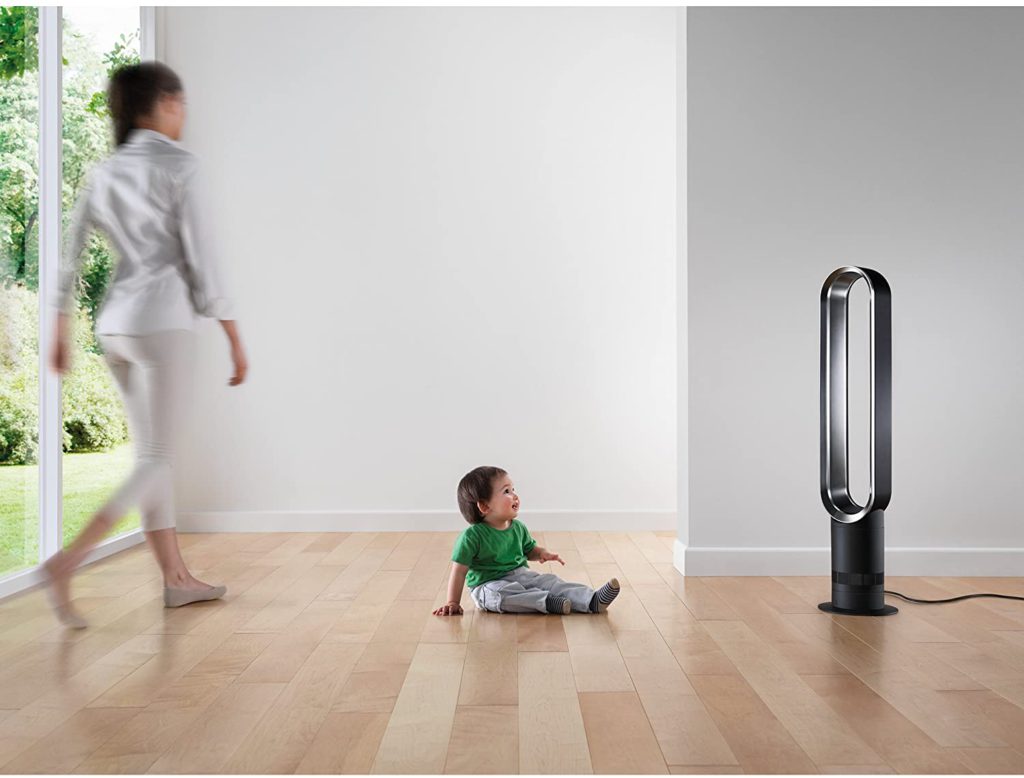 You're probably now ready to get a bladeless fan of your needs. We hope you learned from this guide, which you can use when getting the fan of your needs. With this buyer's guide, you're now one step away to purchasing the right bladeless fan that is worth every cent.
When products like this can be expensive, it's just wise to be careful about your spending. Use the factors we discussed above as your basis if the bladeless fan that you want is a bang for the buck or is a worthy investment. If you think this post helped you know the characteristics of the best bladeless fans, let us know in the comments section below. We'd love to hear from you!
Recommended: Dyson AM10 Hygienic Mist Humidifier Review | 2-in-1 Bladeless Fan for a Cleaner Fresher Air