Best Double Drawer Dishwasher 2021
Affiliate Disclosure: I am grateful to be of service and to bring you content free of charge. In order to do this, please note that when you click links and purchase items, in most cases I receive referral commissions. Eventually, I may earn enough to buy a beer or two 🙂
Hand-washing dishes can be time-consuming, from adding detergent to rinsing with water to drying. But there is no need to waste time. One of the most important inventions that have made dishwashing more convenient is the best double-drawer dishwasher.
It works like a robot, completing your chores in a single tap. It adds warm water, drains dirty water, and even has timers and regulators for maximum performance.
This article highlights some of the best, innovative dishwashers on the market today to help you get the most out of this breakthrough. To make the right purchasing decision, read our dishdrawer reviews and buying guides.
How a Dishwasher Differs from Hand Washing?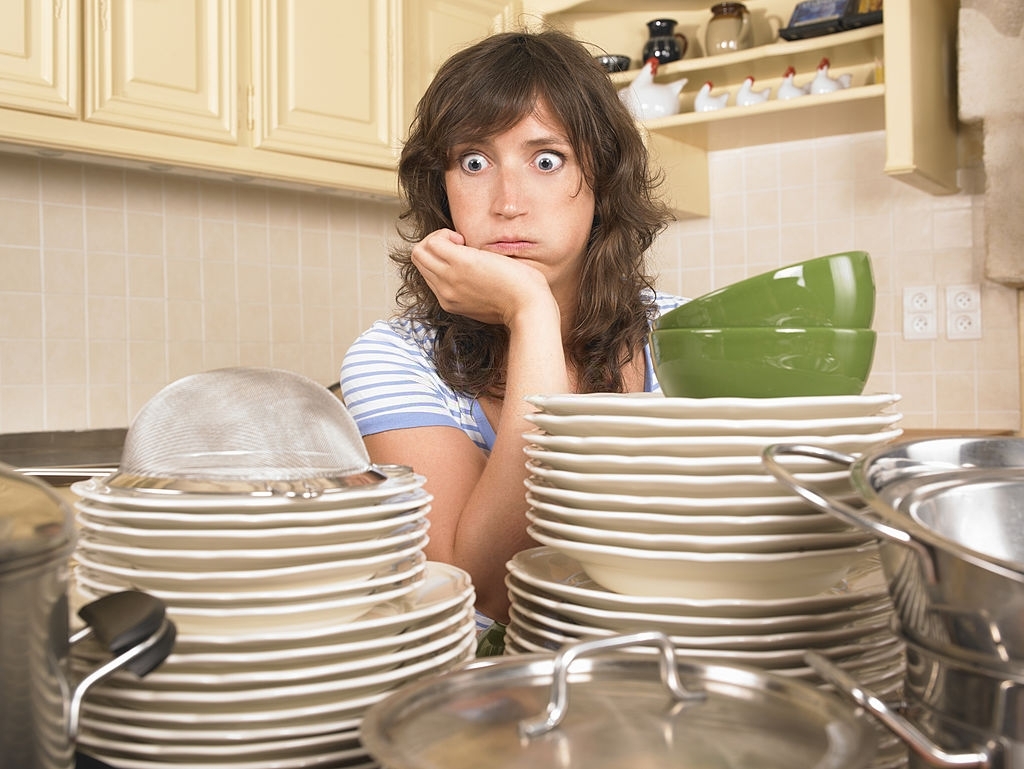 The water and soap stay put in the bowl or sink , and you clean the dishes with a cloth or a brush while you pass them around when you wash your dishes by hand. In a dishwasher, however, the reverse occurs: the dishes and cutlery remain stationary in plastic baskets as hot water is sprayed all over them by pressurized jets.
That means a dishwasher must be kept completely closed at all times it is in use, otherwise the water will spray everywhere—including all over your kitchen floor!
A dishwasher begins the cycle by bringing cold water into the system through a hose.
A heating component begins to warm the machine after a certain amount of water has accumulated in the bottom of the machine. The element is nothing more than a thick metal bar that heats up as an electric current passes through it, gradually heating the water during the first part of the wash cycle.
Warm water is forced up pipes in the machine's side and through two spinning paddles by an electric pump. Under the bottom rack of dishes is a metal paddle, and below the top rack is a plastic paddle.
The water falls back to the bottom of the device after hitting your dishes and pans, where it is heated up again by the element and pumped around for another cycle. For around half an hour, the water pumps around the unit until all the dishes and plates are clean.
Some big bits of debris are caught in a sieve at the bottom of the system (to save it from jamming), while smaller bits (and food remnants) simply flush down the drain.
What are Double DishDrawer Dishwashers?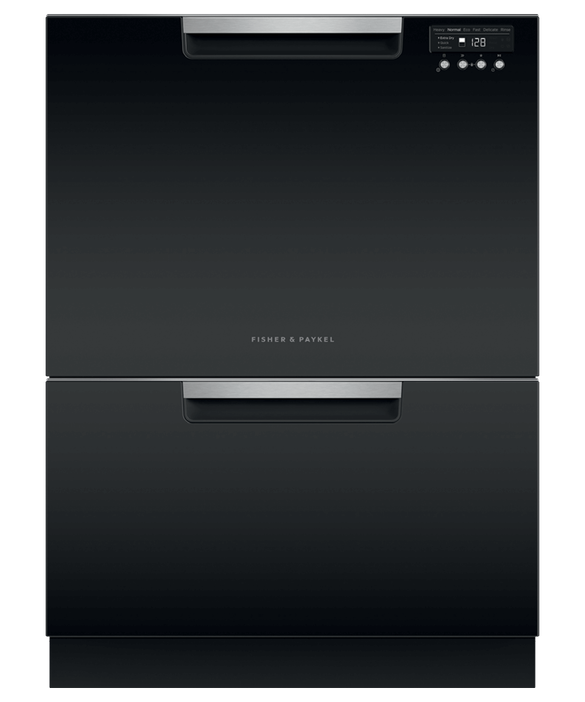 DishDrawers come in a pack of two drawers that are stacked on top of each other. Although they have the same capacity as a single conventional dishwasher when combined, having two smaller separate dishwashers has a few advantages.
Instead of making a messy pile in the sink or on the counter, users should run a wash cycle in one drawer while stacking dishes in the other. It also allows for the simultaneous use of different wash cycles, such as a fast eco load for washing cups and mugs in one drawer and a longer, more intense mode for scrubbing pots and pans in the other.
Fisher & Paykel Double Dishwashers
Just one company in the world that makes a double dish drawer, which is a dishwasher that is divided into two tubs and has cleaning systems and racks that slide out like drawers rather than sliding out from behind a single folding panel.
The DishDrawer series from Fisher & Paykel, based in New Zealand, includes a wide range of white, black, and stainless steel dishwashers, all with different handle styles, panel-ready or not, and sold under the Fisher & Paykel and DCS brands.
Without further delay, here are the best dishwasher drawers we could find online, along with a helpful buying guide at the bottom of the page if you still need more details.
#1 Fisher Paykel DD24SAX9 Double Dishwasher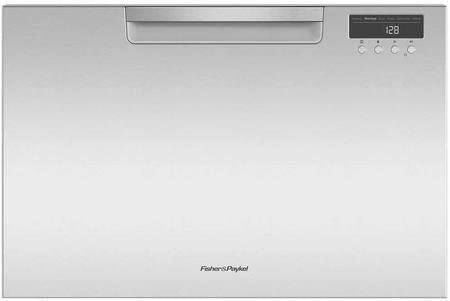 The Fisher Paykel DD24SAX9 isn't just famous because of its small size; it's also a stylish, well-built contender that will last a long time and require little maintenance. This drawer dishwasher is perfect for you if you have a small kitchen because it only takes up a small amount of space.
The drawer is made of stainless steel and has a fingerprint-resistant finish. The material's power, toughness, and resistance make it a good value for money.
The inner section of this single dish drawer is spacious enough to accommodate a number of dishes, allowing you to clean as many utensils as possible in a single session. Because the DD24SAX9 model has 6 unique cleaning programs, you can choose how you want to clean your utensils before running the machine.
Energy Efficient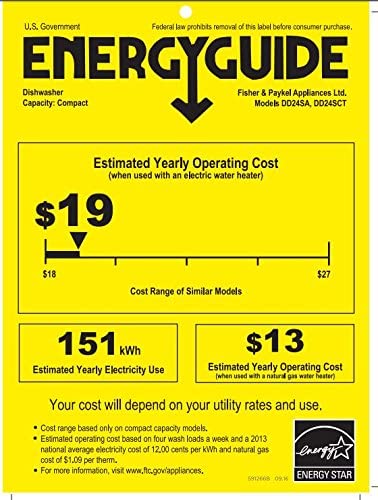 Fisher Paykel dishwashers are all energy efficient, with each wash cycle using less than four gallons of water. The interior of the dishwasher is made of custom molded plastic rather than stainless steel. There is a story why the interior was not stainless steel.
The interior of Fisher Paykel dishwashers is molded to deflect water at just the right angle, ensuring that every dish is washed. As a result, there is more space in the tub to fit large plates and there is no need for a spray arm on the tub's top. In a drawer setting, Fisher Paykel noticed that water bouncing off stainless steel is louder than water bouncing off plastic.
Product Specifications:
Capacity: 14 place settings
Washing Cycles: 6 (Delicate/Fast/Heavy/Normal/Normal Eco/Rinse)
Washing Programs: 6
ADA Compliant: Yes
Energy Star Rated: Yes
Amps: 15A
Voltage: 120V
Parts and Labor Warranty: 3 Years
Width: 23 9/16 inches
Depth: 22 9/16 inches
Height: 32 5/16 inches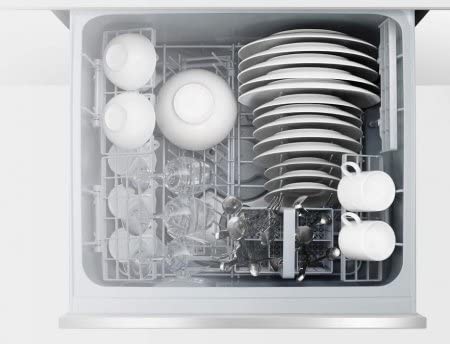 Pros
Low-noise activity (52 dB) ensures minimal disruption.
6 different wash cycles for cleaning soiled dishes of bacteria and germs
Style that is both compact and space-saving
It cleans even the dirtiest dishes in less than 2 hours.
Dishwasher with high efficiency and low power consumption
Dishwasher that is simple to set up and operates quietly
More space and comfort are provided by two drawers.
Cons:
Where to buy Fisher Paykel DD24SAX9 Double Dishwasher
#2 Fisher & Paykel DD60DDFHB9 Integrated Double DishDrawer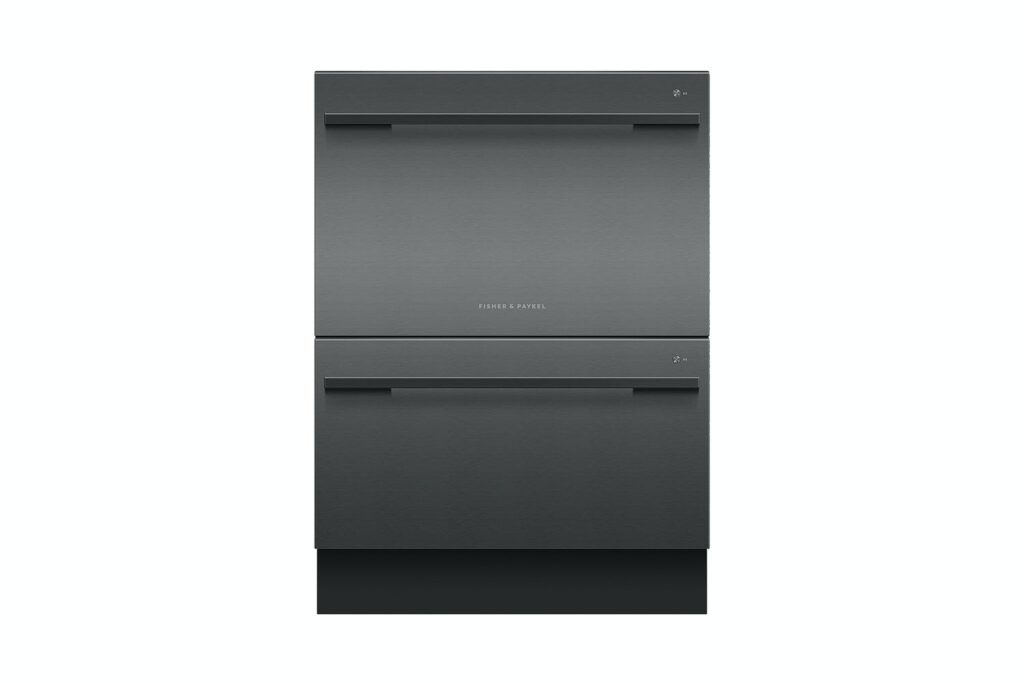 This is a versatile dishwasher model that can handle all of your washing up, no matter when or how much there is to do, thanks to adjustable tines and height adjustable cup racks.
There is a 12-hour delay start option, which allows you to prepare ahead and take advantage of the lower energy prices overnight. In addition to the regular programs, there are three add-ons that will give your dishes extra attention.
Sanitizing products such as baby bottles, dummies, and pet bowls will be taken care of by the sanitize option.
Extra Dry Feature
An extra dry feature can help with more difficult-to-shape objects such as plastic storage tubs and any utensils that you want to put away as soon as the cycle is complete. Then there's the quick cycle, which produces the same high-quality results in a fraction of the time, ideal for when you're in a hurry to finish a job.
A child lock feature is included as an added benefit, which ensures that all settings stay consistent while the appliance is in operation, protecting it from unintended adjustments. The actual control panel, with single-touch settings, is also pleasant and clear.
Product Specifications:
Dimensions: H82 x W59.9 x D57.3cm
Energy Rating: A++
Noise Level: 45dB
Auto Program: Yes
Control Type: Button Control
Cutlery Basket: Yes
Energy Rating: A+++
Freestanding / Integrated: Integrated
Width: 60cm
Manufacturer Guarantee: 1 year
Pros:
The Quiet Mark has been awarded to this appliance.
Racks that can be adjusted
Child lock feature for safety
Extra-dry feature makes work faster and easier
Cons:
It's a little more expensive than some other options that are quite similar.
Where to buy Fisher & Paykel DD60DDFHB9 Integrated Double DishDrawer
#3 Fisher & Paykel DD24DCTX9 Double Dishwasher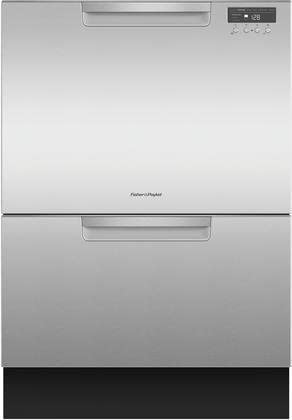 The Fisher & Paykel DD24DCTX9 dish drawer has all of the features of a standard dish drawer from the company. The only difference is that it is taller, allowing huge plates to be better accommodated.
Since you can clean 13-inch plates or higher with ease, flexibility is the main advantage here. Furthermore, this double dish drawer's height can be conveniently adjusted from 34 to 36 inches and back.
This drawer dishwasher is constructed of high-quality stainless steel, making it more durable, less prone to dents, stable, and dependable. The top drawer is usually the best choice for anyone who wants to clean utensils without bending.
Design & Features
The low-light LED timer on the right side of the top drawer tells you how long it will take to finish the cleaning job. Furthermore, the DD24DCTX9 model has six programmable wash cycles, giving you the versatility you need to clean your utensils quickly.
Another attribute that distinguishes this double dish drawer from other dishwashers on the market is its low noise level. The Fisher Paykel DD24DCTX9 operates at 45 decibels, which is one decibel higher than the DD24SAX9 model. It is so quiet that you can use it before going to bed.
Sanitizing Feature
When it comes to getting rid of bacteria, the built-in sanitize feature comes in very handy. At the very least, it heats the water used to wash and clean your utensils, destroying germs and bacteria and making them hygienic and healthy to use.
Product Specifications: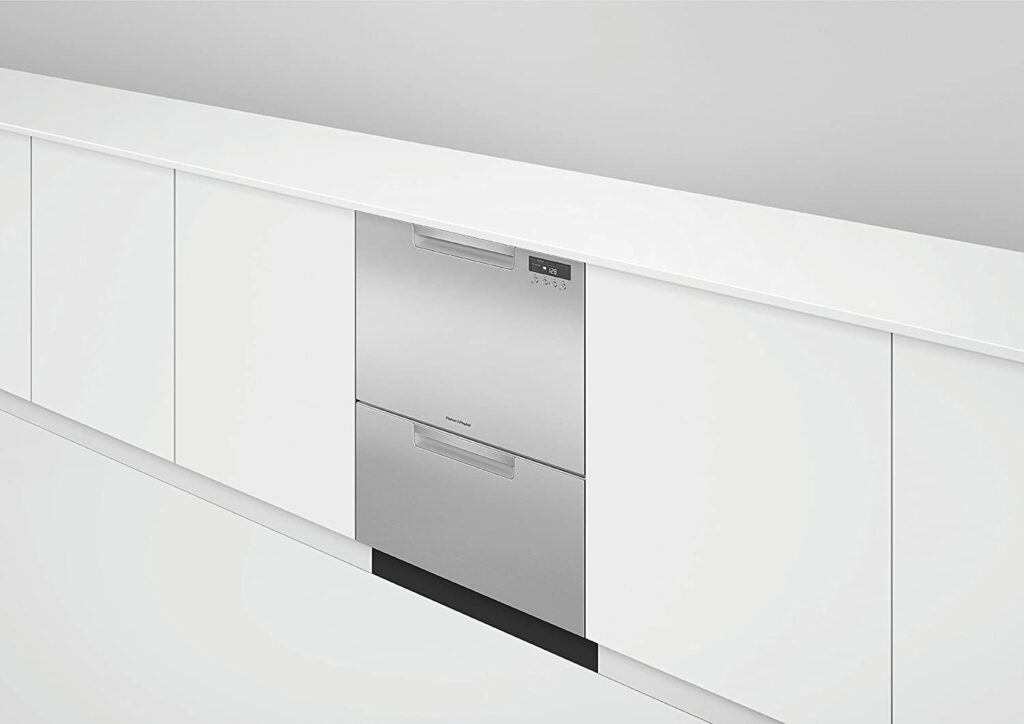 Amperage: 9.6A
Electric Circuit: 3
Rated Current: 15A
Supply Frequency: 60Hz
Supply Voltage: 120V
Capacity: 14 place settings
Number of Wash Programs: 15
Wash Modifiers: 3
Wash Programs: 6
ADA Compliant: Yes
Energy Star Rated: Yes
Parts and Labor: 3 Years
Width: 23 9/16 inches
Depth: 22 9/16 inches
Height: 34 – 36 3/8 inches
Pros:
All of the dishes come out completely dry.
Energy-saving.
It has a sanitize function.
When it comes to getting rid of bacteria, the built-in sanitize feature works a treat.
The Fisher Paykel DD24DCTX9 is so quiet that you can use it before going to sleep.
Cons:
It takes some time to dry the utensils.
It's a little pricey, but it's well worth it.
Where to buy Fisher Paykel DD24DCTX9 Double Dishwasher
See our Individual Product Review for Fisher Paykel DD24DCTX9 Dishwasher Drawer
#4 Fisher & Paykel DD24DAX9N 24-inch Drawer Dishwasher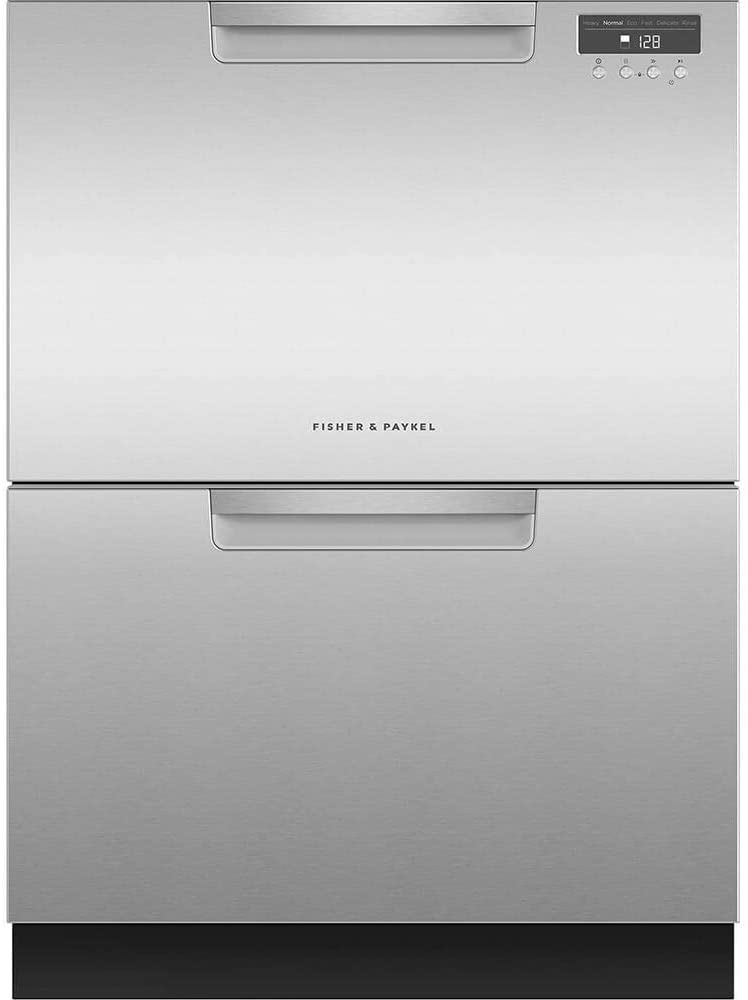 The Fisher & Paykel DD24DAX9N 24-inch drawer dishwasher combines intelligent washing technology with the true meaning of dependable efficiency. The unit is small and simple to use. All of the controls are placed in a convenient location. Its overall dimensions of 40 x 26 x 24 inches allow it to fit neatly into any kitchen cabinet.
The Fisher Paykel DD24DAX9N 24 inch drawer dishwasher has a capacity of 14 place settings on the inside. Given its small scale, this is remarkable. The exterior is made of stainless steel, which is scratch, rust, and corrosion resistant. It's also very easy to keep clean.
Incredible Features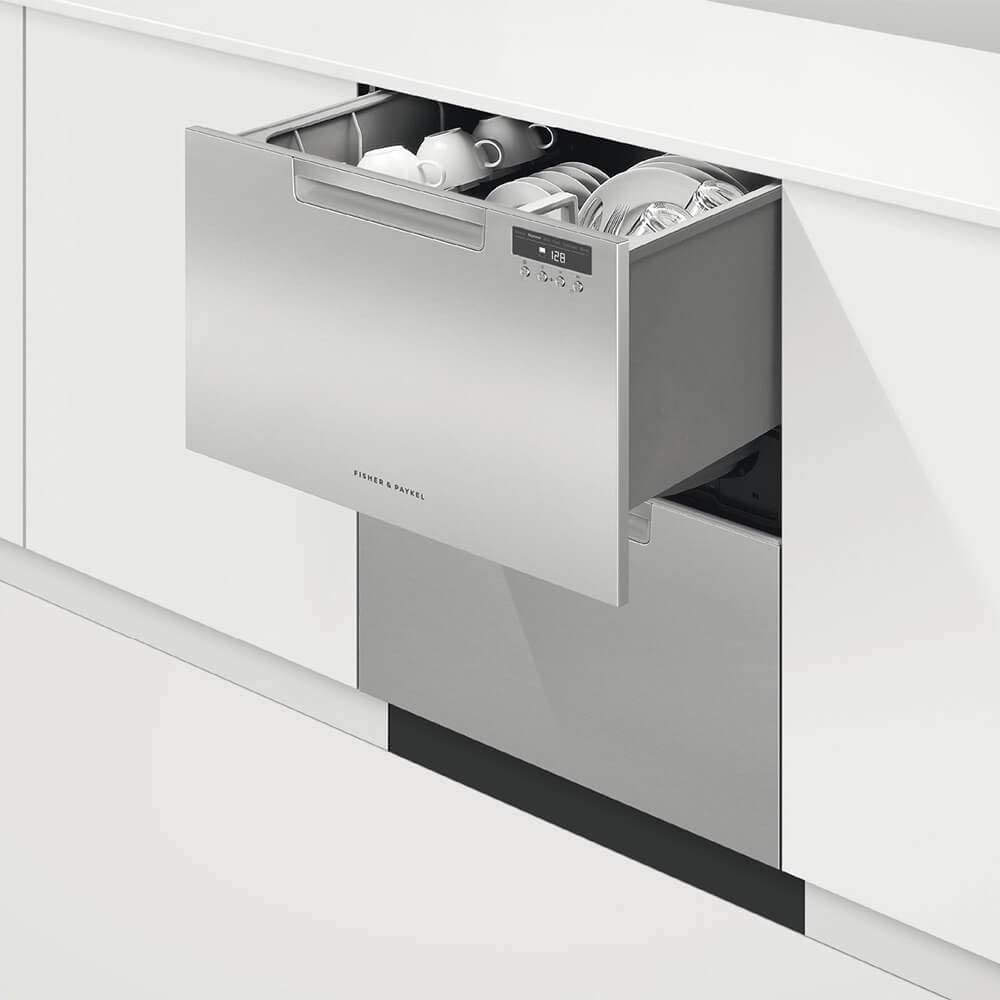 This double drawer dishwasher comes with impressive features including folding tines, a cutlery basket, and flexible racking to fit a variety of kitchen utensils. This dishwasher can handle up to six different washing cycles.
This system removes food residues using filters rather than a food disposer cleaner, rendering it extremely quiet when in operation (noise level of 45 dBA). Its smart technology allows for a gradual release of water. This aids in water conservation.
It has a flow-through detergent dispenser, which helps to avoid clogging. After washing, the built-in fan drying assist keeps your dishes dry.
This dishwasher has a three-year warranty and an energy star certified ranking, indicating that it is energy efficient.
Pros:
It is equipped with a digital control system.
It has an ergonomic handle that makes loading a breeze.
The brushless motor's smart drive technology allows for smooth water spraying depending on the selected wash cycle.
It has more room for individual washing.
Energy star ratings show how effectively power is used.
Cons:
Pre-rinsing is still needed before loading into the dishwasher.
Where to buy Fisher Paykel DD24DAX9N 24 inch Drawer Dishwasher
#5 Fisher Paykel DD24DDFTX9N Built-in Fully Integrated Dishwasher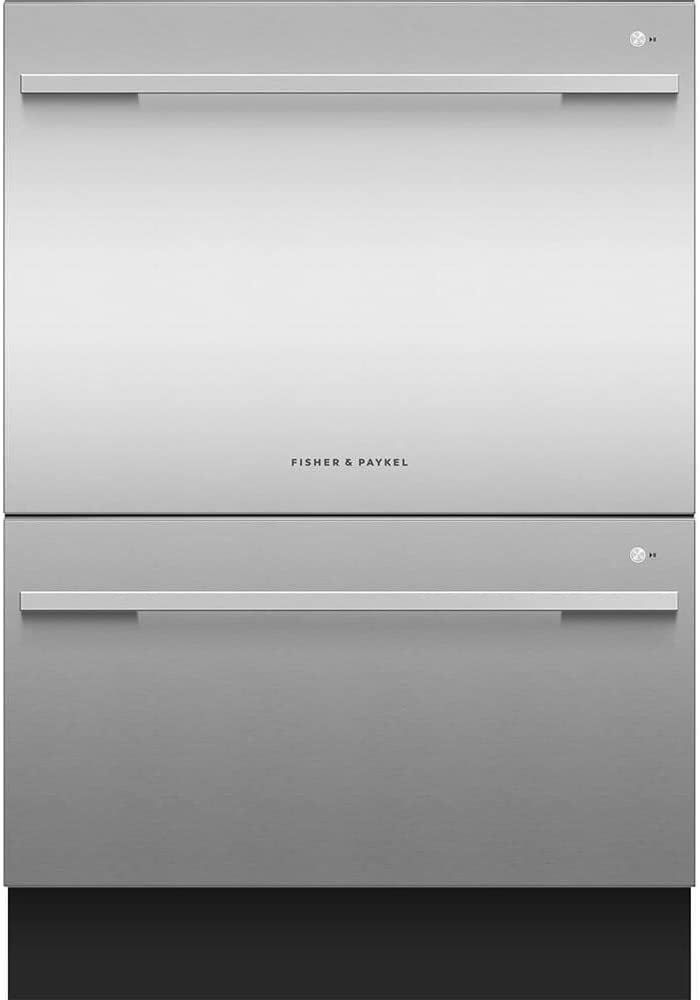 Perhaps you prefer large dishwashers that can clean all of the utensils you toss in at once. Fisher Paykel DD24DDFTX9N can come in handy if that's the case. It's a 24-inch tall double drawer dishwasher with more space for different-sized utensils.
This dishwasher is incredibly user-friendly. Simply place your wishes in the rack, close the door, turn on the dishwasher, choose your cleaning cycle, and then sit back and relax while the machine takes care of the rest.
Quick Dry and Sanitation Feature
The sanitize feature is one of the features that makes this product valuable. Cleaning utensils is more than just scraping food particles trapped in them, when you think about it. Make sure they're bacteria-free as well.
The sanitize feature heats the wash and rinse water, and uses the hot water to quickly remove bacteria from your utensils.The Quick wash modifier allows you to get a faster wash without sacrificing efficiency. The Sanitize choice adds an extra layer of defense by destroying 99.9% of bacteria in the final rinse. For plastic dishes, the Extra Dry environment is ideal.
Complementary Design
DishDrawerTM Dishwashers are built to complement the Fisher & Paykel family of kitchen appliances, with matching handles, luxurious styling, and high-quality materials to give your kitchen a polished look.
True Half Load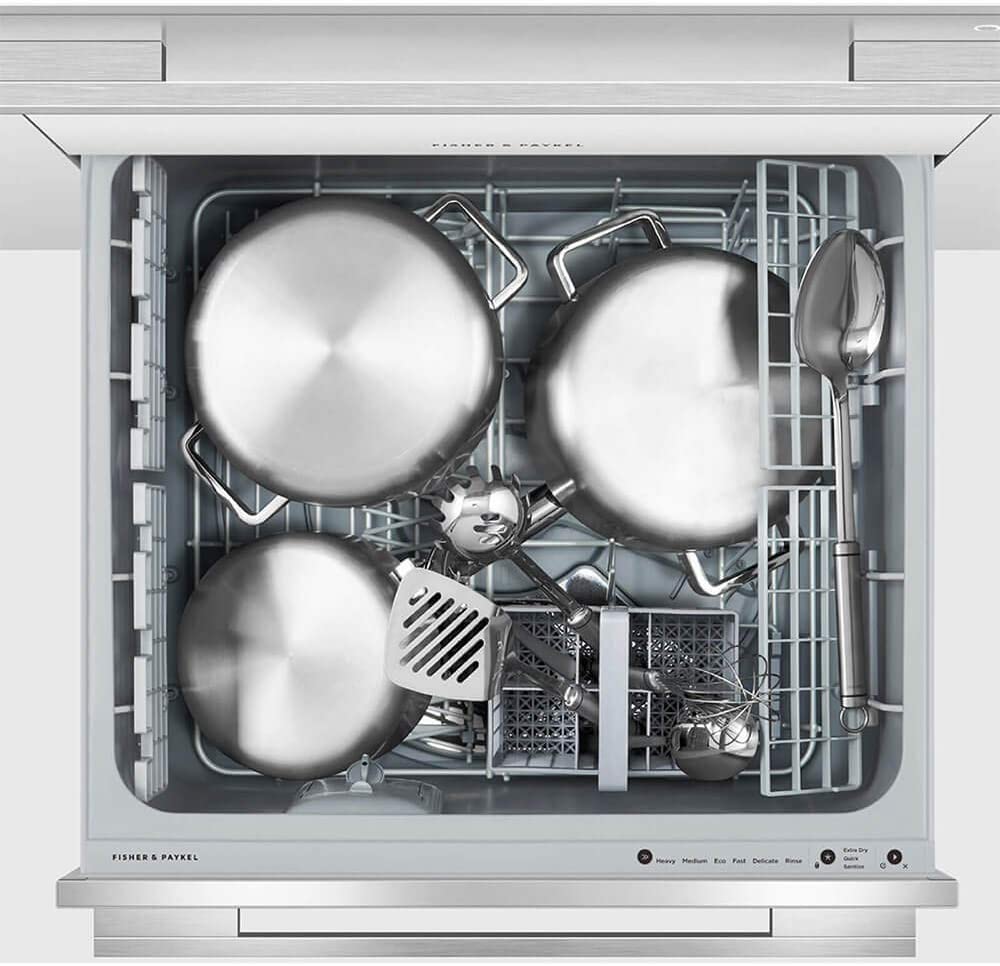 Each drawer holds a full half load of dishes for guilt-free small washes and fast dish turnaround. Both drawers work independently, allowing several wash cycles to run at the same time to accommodate a wide range of loads.
Product Specifications:
Height: 34 – 363⁄8 inches
Width: 239⁄16 inches
Depth: 229⁄16 inches
Amperage: 9.6A
Electric Circuit: 3
Rated Current: 15A
Supply Frequency: 60Hz
Supply Voltage: 120V
Cutlery Basket: 2
Energy Usage: 263kWh/year
Water usage: 3.28 gal running both tubs
Parts and Labor Warranty: Limited 2 Year Parts & Labor
Inlet Water Temperature Max: 140°F
Water Pressure: 0.03 Mpa-1 Mpa (4.3-145 psi)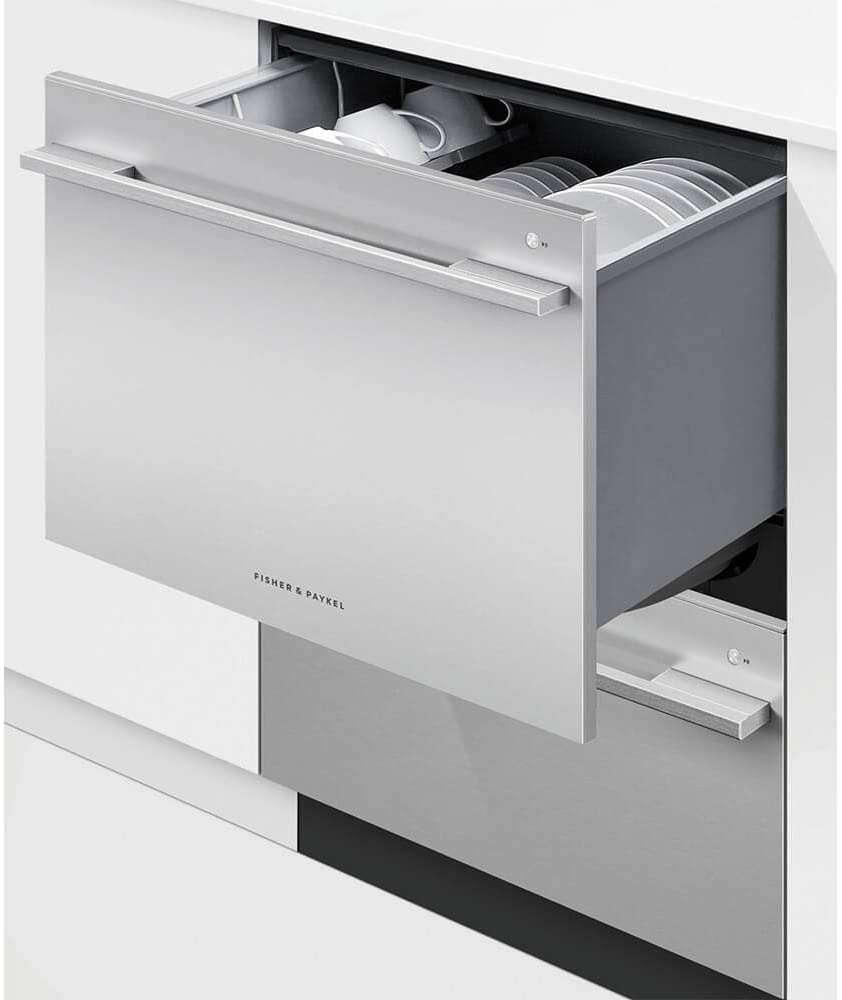 Pros:
It is constructed of stainless steel.
Bacteria are killed by the sanitize function.
Tines for folding are included.
The sanitize function is one of the features that makes this product useful.
This dishwasher is simple to operate.
Cons:
It's a little on the heavy side.
Where to buy Fisher Paykel DD24DDFTX9N Built-in Fully Integrated Dishwasher
See Our Individual Product Review for Fisher Paykel DD24DDFTX9N Dishwasher
#6 Fisher Paykel DD60DDFHX9 Integrated Dishwasher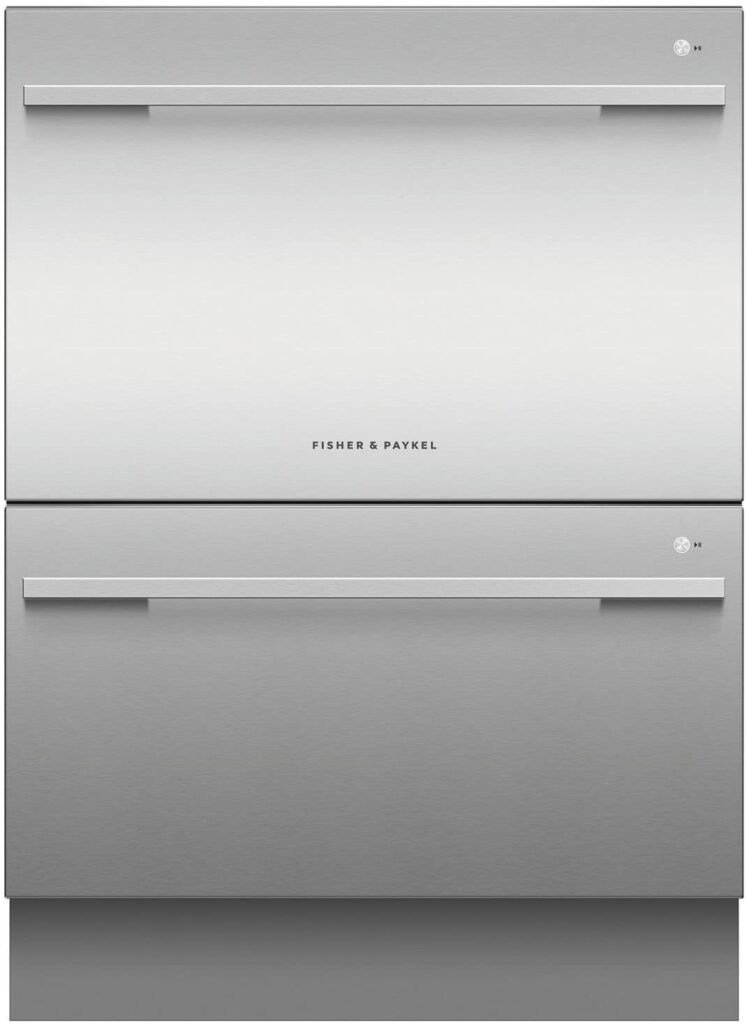 Dishwasher drawers from Fisher Paykel have been on the market in the United States for over 20 years. We found that the manufacturers' catalog is vast and difficult to follow, as much as we love these items in terms of shape and function.
Fisher Paykel currently only manufactures dishwasher drawers. The Fisher Paykel DD60DDFHX9 Dishwasher could be the best option if you're looking for a regular model.
It can be adjusted to fit your needs, and the tines can be folded flat to accommodate a full load of pans.
It has an energy efficiency rating of A++, which means it won't cost you a fortune to work. This is fantastic news, since the two drawer design means you can wash when and when you need to. Sensor-controlled washing also ensures it uses the least amount of water possible.
Summary of Features:
Built-in water softener
Fan assisted drying
Flow through detergent dispenser
Quiet operation
SmartDrive™ technology
Simple to Use
DishDrawerTM Dishwashers open and shut as easily as kitchen drawers, rendering the dish loading a breeze. Flexible racking helps you to change the height of the shelves to match a variety of dishes.
Independent Dishwashing
The DishDrawerTM Dishwasher can wash anything from fine glass and crystal to highly soiled pots and pans thanks to the ability to use both drawers separately and choose various wash programs.
Designed to Complement
DishDrawerTM Dishwashers are built to complement the Fisher & Paykel family of kitchen appliances, with matching handles, luxurious styling, and high-quality materials to give your kitchen a polished look.
Product Specifications:
Height: 820 – 880mm
Width: 599mm
Depth: 573mm
Accommodates Round Plates Up To: 280mm
Place Settings: 6
Drying Rating: A
Energy Rating: A++
Energy Usage: 152kWh/year
Water Usage: 2184 litres per annum
Amperage: 8.5A
Water Pressure: 0.1 Mpa – 1 Mpa
Noise on Standard Cycle Top Drawer: 45dBA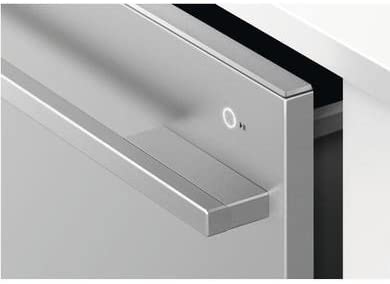 Pros:
14 place setting capacity
Kick strip
It includes knife clip & multipurpose clip
Internal wash selector
Wireless remote
Equipped with SmartDriveTM technology
9 wash programs included namely Delicate, Delicate eco, Fast, Fast eco, Heavy, Heavy eco, Normal, Normal eco, Rinse
Cons:
Where to buy Fisher Paykel DD60DDFHX9 Integrated Dishwasher
What Distinguishes Fisher and Paykel Dishwashers?

Traditional dishwashers and the 'DishDrawer' series, which is designed as a drawer rather than an appliance with a hinged door and slide-out dish racks, are two types of dishwashers produced by Fisher & Paykel. The DishDrawer line stands out because it's a unique concept that offers a lot of benefits.
It takes up less space, which is ideal for small kitchens, and it holds about a half-load of plates, allowing you to run it more often and eliminate the need for stacks of plates to get you through the week.
The entire Fisher & Paykel line is very user-friendly, but there are a few features that stand out in particular. Some versions include a wireless remote control, while others include a knife clip and a multipurpose clip to hold knives and other utensils safe throughout the wash cycle.
Guide To Buying A Dishwasher Drawer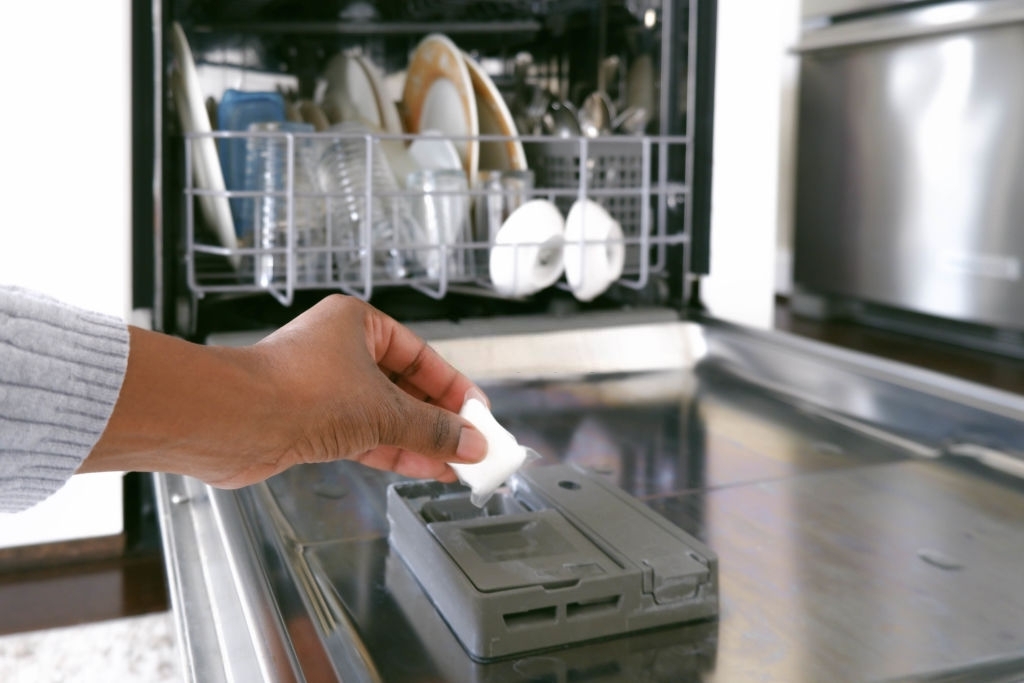 Fisher Paykel drawer dishwashers can be useful if you're tired of dirty dishes in your sink and have limited cabinet room. In a small kitchen, single drawers save room and allow for additional cabinets or drawers beneath the unit. Double drawers, on the other hand, allow you to operate each drawer independently, saving precious sink and counter space.
When you buy a dishwasher, you'll spend less time thinking about the dirty dishes and your dishes will be cleaner than when you wash them by hand. The best ones save water, electricity, and time by leaving plates clean and dry, cutlery gleaming, and glassware sparkling.
Built-in, Portable, Drawer, or Countertop Type
If you rent or own your home, the size of your home, and the size of your household will all influence your decision to purchase a built-in, portable, or countertop dishwasher. Each dishwasher model has its own set of advantages and disadvantages.
Countertop models and some portable units are the most cost-effective options. The countertop models are the smallest and may not be enough for a large family, but if you are renting an apartment and have limited space, this may be your best choice.
Design and features affect the prices of built-ins, higher-end portables, and drawer dishwashers. If you don't need the bells and whistles, there are plenty of affordable built-in and portable options. A portable dishwasher is superior to a built-in dishwasher if you are renting and intend to take it with you if you pass.
Dishwasher Or Hand-washing: Which Requires Less Water?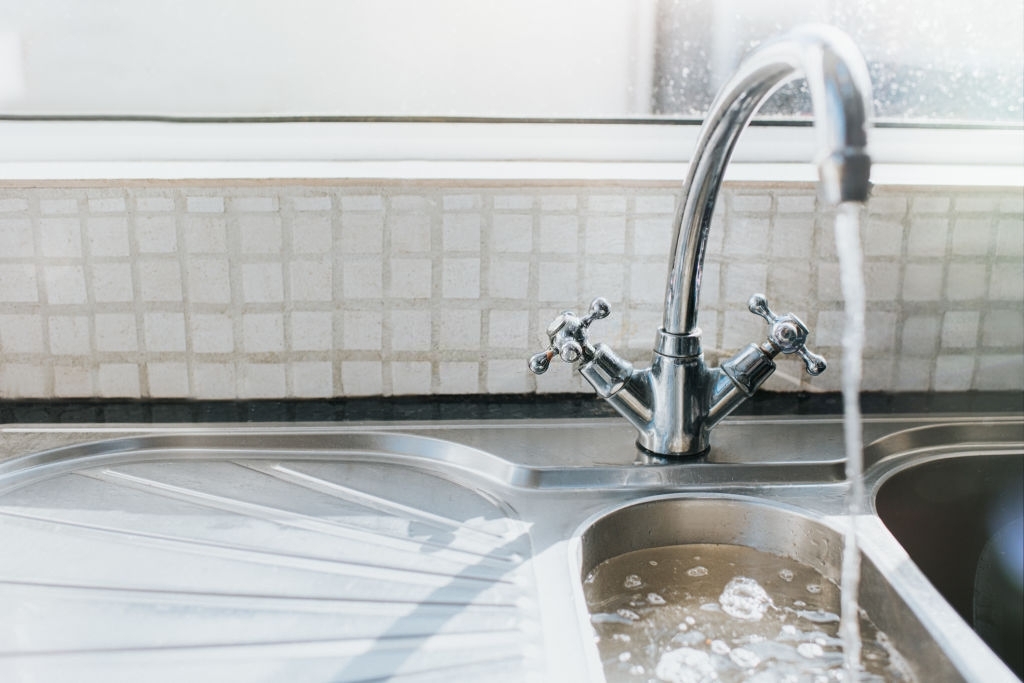 Hand-washing a full dishwasher load took an hour and even used 49 litres of water, according to a Finish's research. In comparison, when using the dishwasher, 12 litres of water are used. In the analysis, the loop took over an hour, but it used significantly less power.
Dishwashers operate at higher temperatures and use more powerful detergents than we do. These aid in the eradication of bacteria. It's best to just run the dishwasher when it's complete if you want to be reliable and save water.
Dishdrawer Capacity
If you only have a small household consisting of 1-3 people for example, a single DishDrawer should suffice. Single drawer DishDrawers can hold between 6 and 9 place settings, depending on the model, making them ideal for couples or singles.
A single DishDrawer saves room in the kitchen, making it ideal for small kitchens or apartment living. It also aids in the efficient use of resources and water.
Alternatively, whether you have a big family or regularly host, a double DishDrawer is a good investment. Double DishDrawers can hold up to 12 place settings, making it easier than ever to finish the dishes after a long day.
Of course, before you make your decision, you should carefully measure your kitchen to ensure that your new dishwasher would work.
Energy Efficiency
Every dishwasher has an energy rating so you can see how energy efficient it is at a glance. The higher the number of stars, the higher the energy efficiency. DishDrawers have generally good energy ratings, and they also allow you to run a half load when you don't have a lot of dishes to wash.
Most DishDrawers also have an Eco setting to help save water and energy. Energy efficiency is becoming a more critical concern for all households as the cost of electricity rises.
Performance
The number of washing levels has an impact on performance because it determines how and where the water jets are circulated during the dishwashing cycle. A three-tier system will give you a decent wash, and adding more tiers will give you even more coverage, but it will cost you more.
If your bedroom is next to the kitchen and you run the dishwasher at night, a quiet model is also a good option. Dishwasher detergent and rinse agent dispensers are commonplace and ensure that the correct amount of detergent is used to clean the load.
Electronic dirt sensors are unquestionably desirable functions. If you have small children, a child protection lock is important.
Feature for Disposing of Hard Food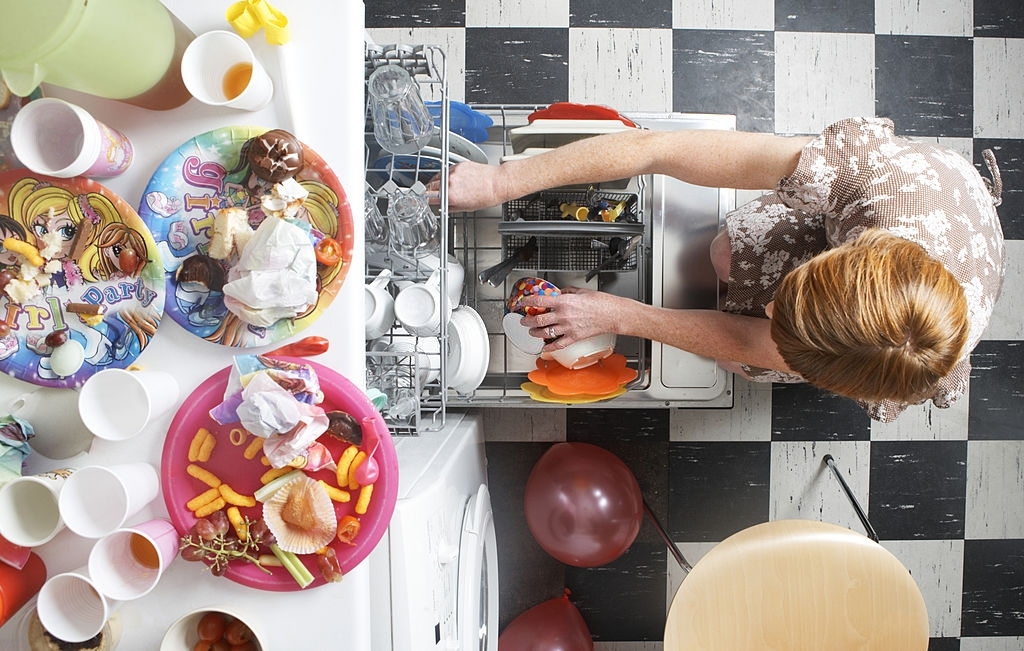 If you don't want to scrape, pre-wash, or rinse your dishes before putting them into the dishwasher, this is a must-have feature. This function, which is built right into the appliance, removes food residue and grime during the initial rinse cycle, so it doesn't swish your clean dishes around during the final rinse cycle.
Verify the type of filtration device the dishwasher has so you know what to expect in terms of maintenance. Some models have self-cleaning filters, while others have filters that must be removed and cleaned manually.
Water Ratings
Consumers can easily see how water efficient a dishwasher is thanks to the WELS (Water Efficiency Labelling and Standards) scheme. The more stars, similar to the energy rating system, the more water efficient the appliance.
Most DishDrawers have a WELS rating of 3 to 4 stars, which is very fine, depending on the model. To put it in perspective, a Fisher & Paykel DD60DDFX6 Double DishDrawer uses just 14.8 litres of water for a standard wash, which is incredible given that the average kitchen sink contains about 25 litres.
Since water is becoming a more valuable resource, it's important to choose an appliance that conserves it.
Features & Programs
One of the best features of a Double DishDrawer dishwasher is the ability to run two separate cycles at the same time. So now you can do a delicate cycle for your glass and chinaware in the top drawer while doing a hard program for dirty pots, pans, and baking trays in the bottom drawer.
This not only saves you time, but it also protects your dishes and reduces energy and water waste.
DishDrawers come with a variety of wash cycles, including Delicate, Eco, Quick, Heavy, Normal, and Rinse, depending on the model. Furthermore, Fisher & Paykel Smart Drive intelligent technology detects how dirty the load is and adjusts the cycle duration to achieve the best wash results.
Noise Level
In every dishwasher, noise levels are a significant factor to consider. DishDrawer dishwashers run at a decibel range of 45-51, which is quieter than regular conversation.
To avoid detergent residue from forming on your dishes, Fisher & Paykel's flow through the detergent dispenser dissolves the dishwashing detergent until it reaches your dishes. Furthermore, the DishDrawer's completely adjustable racking system with folding tines helps you to store more, including bulky pots and pans.
Most DishDrawers have a delay start feature (up to 12 hours) that allows you to run the dishwasher when it's most convenient for you.
Reduce Flooding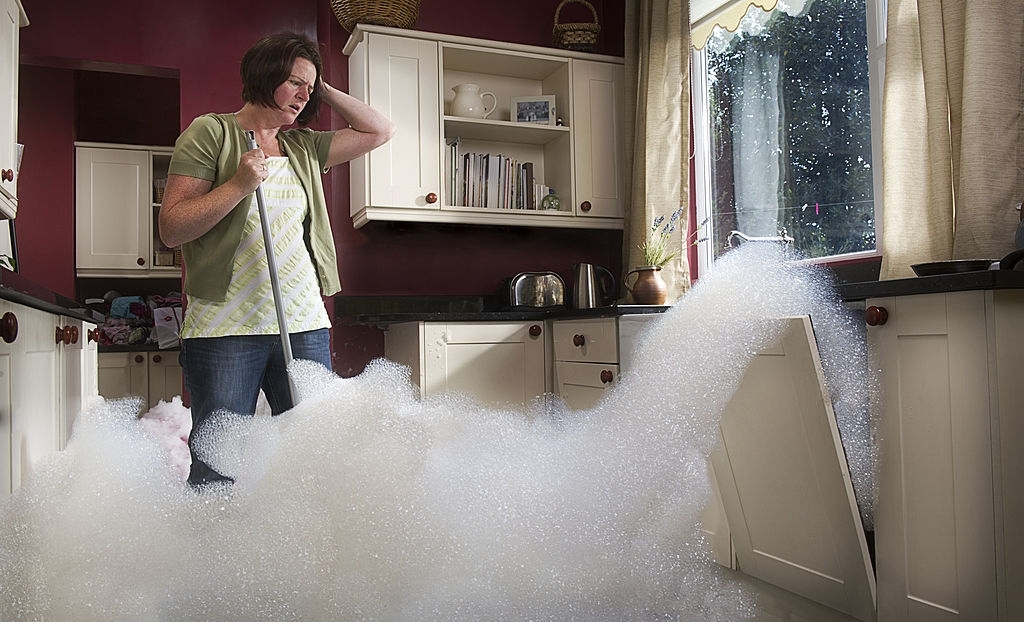 Some people choose to run their dishwasher at night to take advantage of cheaper electricity and have sparkling clean dishes when they wake up.
Also, if you have small children, you should consider purchasing a dishwasher with a child lock feature. DishDrawer dishwashers come with a key lock to keep the kitchen secure from mischief.
Finally, flood safety is a critical option to consider when purchasing a dishwasher. To reduce the chance of overfilling, Fisher & Paykel DishDrawers have three flood control mechanisms. Flood security in three stages gives you valuable peace of mind.
Final Verdict
Anyone looking to save energy and water should consider a double drawer dishwasher. Their double drawer helps them to produce outstanding results by using a fraction of the energy used by traditional dishwashers.
They're around the same size as a normal dishwasher, so they don't take up a lot of space. However, the consistency of the Double drawer dishwashers that you purchase is extremely important.
If you want your dishwasher to last as long as possible, we suggest purchasing from the list above.