Best Brands Dishwashers and Buyers Guide
Affiliate Disclosure: I am grateful to be of service and to bring you content free of charge. In order to do this, please note that when you click links and purchase items, in most cases I receive referral commissions. Eventually, I may earn enough to buy a beer or two 🙂
After a heavy lunch, the last thing you want to do is wash the dishes. Having a dependable dishwasher to clean up the mess is a practical answer that may be just as satisfying as the food on the plate.
So, where should you look for the greatest dishwasher money can buy? If our recent customer evaluations are any indicator, you'll have to spend a little extra to get the most bang for your buck when it comes to dishwashing.
While dishwashers aren't necessarily necessary in the kitchen, they are seen in many households.
Instead of standing over the sink scrubbing dishes clean, then hand drying them or leaving them on a rack to air dry, a dishwasher simplifies the procedure by requiring users to merely load dishes onto pull-out racks, add detergent, and select a wash cycle. Simply put the dishes away after the cycle is finished.
However, due to the widespread popularity of dishwashers, determining which model is best for your home can be challenging. Take a look at the finest dishwasher brands on the market today to learn about how to carefully choose the best dishwasher for your needs.
Best Brands of Dishwashers
Farberware

This brand focused mainly on cookware and small appliances, and is well known as a countertop and portable dishwasher manufacturer. Farberware started back in 1897 but was officially founded three years later in Manhattan.
The Meyer Corporation currently owns the company, and it specializes in producing cookware and bakeware. However, Farberware also manufactures some appliances, including toaster ovens, blenders, and countertop/portable dishwashers.
Farberware's dishwashers are ideal for apartment or condo living, where a full-size dishwasher is often unnecessary or likely to take up too much room in a kitchen.
These appliances typically hold four to eight place settings and have five to seven distinct wash cycle options. Some of its dishwashers even have a manual filling option for washing dishes while camping with a generator.
Danby
It might take days for a small family to generate enough dishes to fill a full dishwasher. A portable or tiny version is a far superior option. Danby® has a number of versions to choose from depending on your needs.
Choose from a small tabletop, a compact built-in, or a portable alternative to meet your specific needs. Their goods come in sizes ranging from 6 to 8 place settings.
Stop leaving dirty dishes to sit for days or squandering resources by running your dishwasher when it's almost full. Compact, utility-driven appliances from Danby are ideal for apartments, cottages, and vacation homes.
Bosch
Bosch is a German appliance and electronics manufacturer noted for its sleek, functional designs that never compromise quality in favor of flashy extras.
It is based in Germany and founded in 1886 but did not become a popular international brand until after the inventor went gone. This was partly owing to tensions in Germany during the early half of the twentieth century, but the corporation today has offices all over the world, including one in Michigan.
They produce high-end electronics and appliances that are well-rounded in terms of functionality and design.
Black + Decker
Black+Decker Inc., located in Towson, Maryland, north of Baltimore, is an American producer of power tools, accessories, hardware, home improvement goods, home appliances, and fastening systems.
it formed when Black & Decker and Stanley Works combined on March 12, 2010, but still a totally owned subsidiary of that corporation.
The Black + Decker brand is well-known in the tool industry, but it also makes wonderful home appliances like coffee and tea makers, juicers, cookers, food processors, cookware, bakeware, and more.
Fisher & Paykel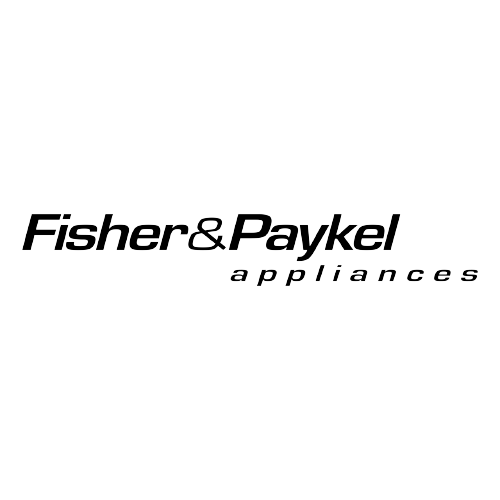 Though it isn't one of the first brands that come to mind when thinking about dishwashers, Fisher & Paykel is the top maker of drawer-style dishwashers, profiting from this unique design.
The company makes a drawer-type dishwasher, which is a unique style of the dishwasher. You can install this device into existing cabinetry and simply pulls it out, providing a convenient way to wash dishes without taking up a lot of space in the home.
Due to the specific design of products, Fisher & Paykel dishwashers aren't as popular as other companies, but the business is the leading manufacturer of drawer-style dishwashers, which are ideal for condos, apartments, and smaller homes.
Best Dishwasher Buying Guide
The best dishwashers are the ones you don't even realize you have. They discreetly keep your family healthy and your home clean by offering shining dishware with every load.
However, It's difficult to know which dishwasher is best for your home when there are so many options. You've come to the right place if you're trying to improve an existing model, looking for a new home, or simply sick of doing dishes by hand. We've compiled a list of things to consider.
Types of Dishwashers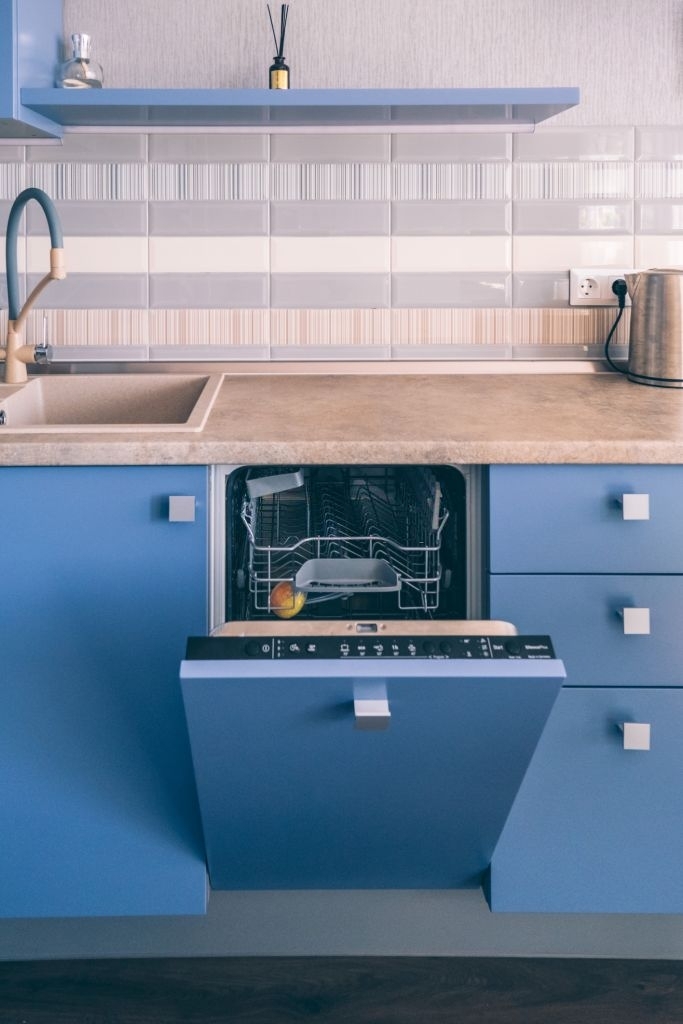 It's a must to have clean dishes. With such a long-term chore, learning about the numerous features and options can assist you in selecting a dishwasher that best meets your household's demands. Dishwashers are classified into four categories based on their installation in your home: Built-in standard, panel ready, compact, and portable.
The majority of households have conventional built-in dishwashers. They can have an outside handle or a pocket handle, depending on your personal desire. Top-control dishwashers hide the buttons on the top lip of the door, while front-control dishwashers feature visible buttons on the exterior.
Panel ready dishwashers are placed with a cabinet door linked to its face to hide the look of the equipment in the kitchen.
Compact dishwashers have a thinner design to fit into compact places, allowing you to avoid doing all of your dishes by hand.
Portable dishwashers are mobile variants of normal dishwashers that you can move about your space if you don't have a designated installation location.
Size
A dishwasher's average width is 24 inches, and it can clean between 12 and 15 place settings. A large family that eats a lot of food requires a larger dishwasher to meet the enormous number of dishes that must need washing each day.
Someone who is single and only uses their dishwasher once a day could benefit from something simple. The smaller units are capable of cleaning approximately 6-7 place settings.
Loading Options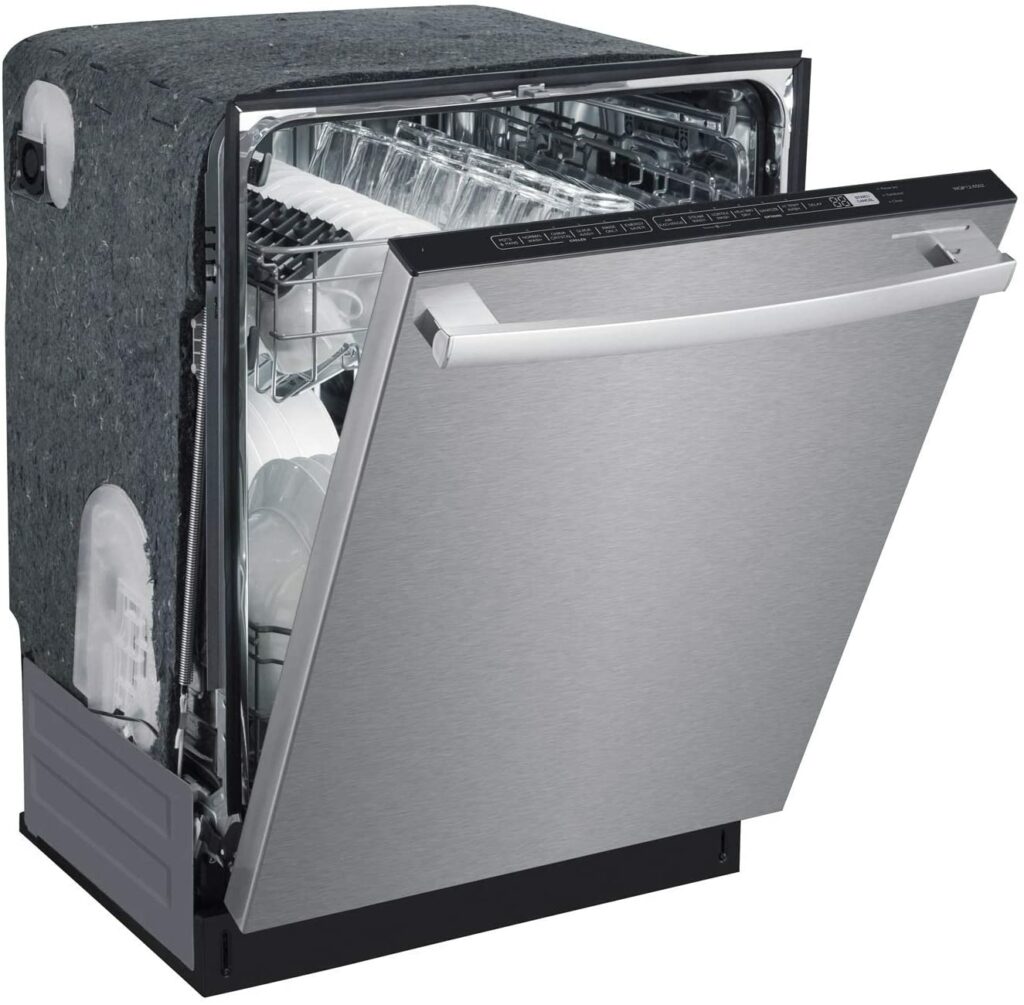 Dishwashers come in two sizes: two racks and three racks. Dishwashers with a third rack add capacity to the top level, freeing up space in the lower racks for dishes.
Some dishwashers offer a 3rd rack dishwasher with increased wash action in the third level rack for focused cleaning of bowls, cups, and utensils that loads ordinarily in the lower racks.
Drying Options
Upgrades to the drying system might save you time and money by reducing the amount of time you spend wiping dishes before putting them away. To dry dishes, less priced models rely on the heat left in the tub after the cycle.
Dishwashers with a heated drying option or a fan drying option will add extra heat and/or circulated air for better drying results. Dishwashers that have a heated drying option or a fan drying option add extra heat and/or circulated air for faster drying.
Noise Level (dBA)
The decibel level of a dishwasher is measured in decibels (dBA), with lower numbers quieter than higher numbers. The dBAs of dishwashers are often around the 40s and 50s.
How to Keep Your Dishwashers Clean
It may be odd to be concerned about how to clean your dishwasher. After all, it's equipment that's supposed to clean dishes. However, much like your other kitchen gadgets, these useful machines require regular cleaning.
Step 1: Cleaning the Door
Wipe the exterior of the dishwasher door with warm, sudsy water to keep it fingerprint-free. Alternatively, make your own dishwasher cleaner. 1 quart of water plus 1/4 cup baking soda. Avoid using aggressive cleaners or scouring pads that could harm the dishwasher's surface.
Wipe the door dry with a soft towel once cleaned. You can also remove stubborn fingerprints and smudges with a soft, dry cloth and a little rubbing alcohol.
Step 2: Scrub the Tub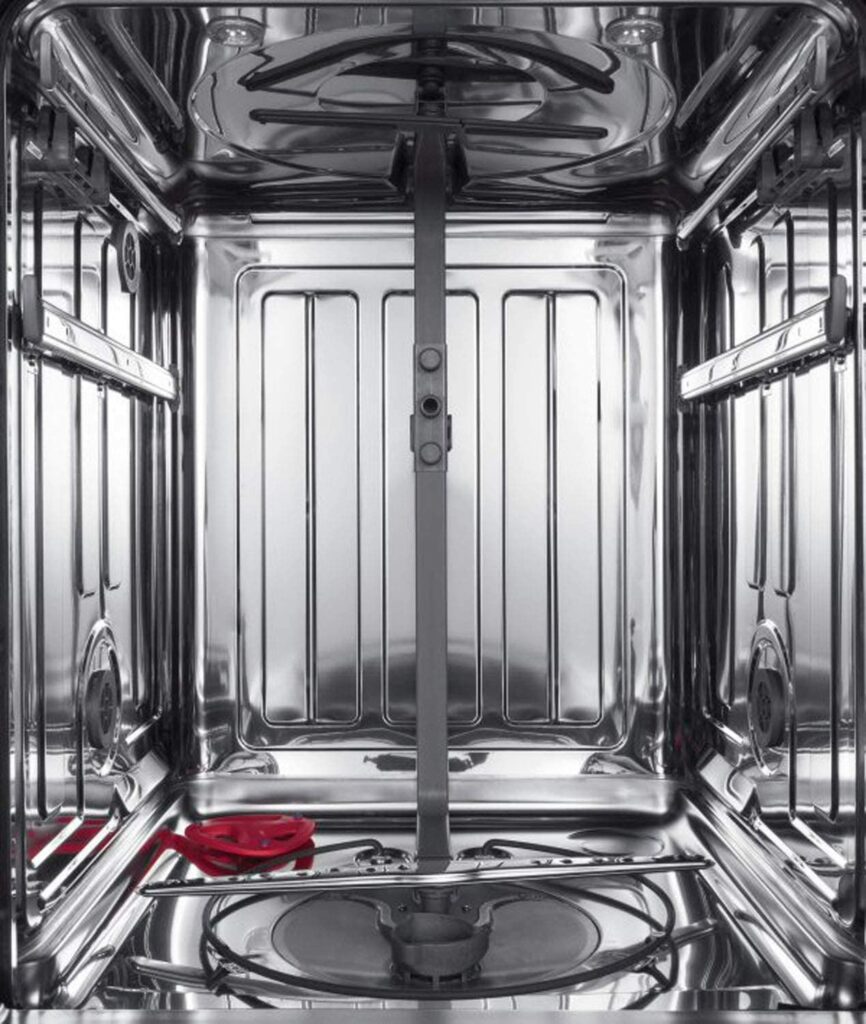 Use a handful of paper towels to catch any debris from the dishwasher's base before you start cleaning the tub. The majority of the material is near the drain.
After you've cleaned the junk out of the dishwasher, run a cycle to clean it. One of the various DIY dishwasher cleansers is available. Here's how to use vinegar to clean a dishwasher:
Simply place a cup of simple white vinegar in the top rack of the dishwasher. Then, run a full cycle with the hottest water available to disinfect the unit while on the cleaning process. Wipe off the interior of the dishwasher with paper towels or a clean, dry cloth once the cycle is through.
Step 3: Clean the Parts and Accessories
Clean the dishwasher's accessories and parts after that. Remove the utensil holders and racks. Remove any stuck-on food particles or other debris using a damp cloth.
Step 4: Dishwasher Filter Cleaning
Pull the bottom rack all the way out to get to the dishwasher filter. The filter is normally found in one of the appliance's bottom, back corners. Remove the filter from the dishwasher.
Twist it out and rinse it under hot running water to remove food particles and other dirt. Using a moist cloth, sponge, or toothbrush, clean the area beneath the filter inside the dishwasher. Replace the clean dishwasher filter in its original location once cleaned.
Step 5: Take Care of the Rust Stains
Mineral or rust stains may appear within your dishwasher, depending on your water source and the condition of your pipes. Products that remove rust stains from clothing or appliances is found in the laundry detergent area of your local home center.
Fill the soap dispenser cup in your dishwasher with the product and sprinkle some liberally on the bottom. Run the dishwasher through a full cleaning cycle while it is empty.
Step 6: Get Rid of Hard Water and Mineral Deposits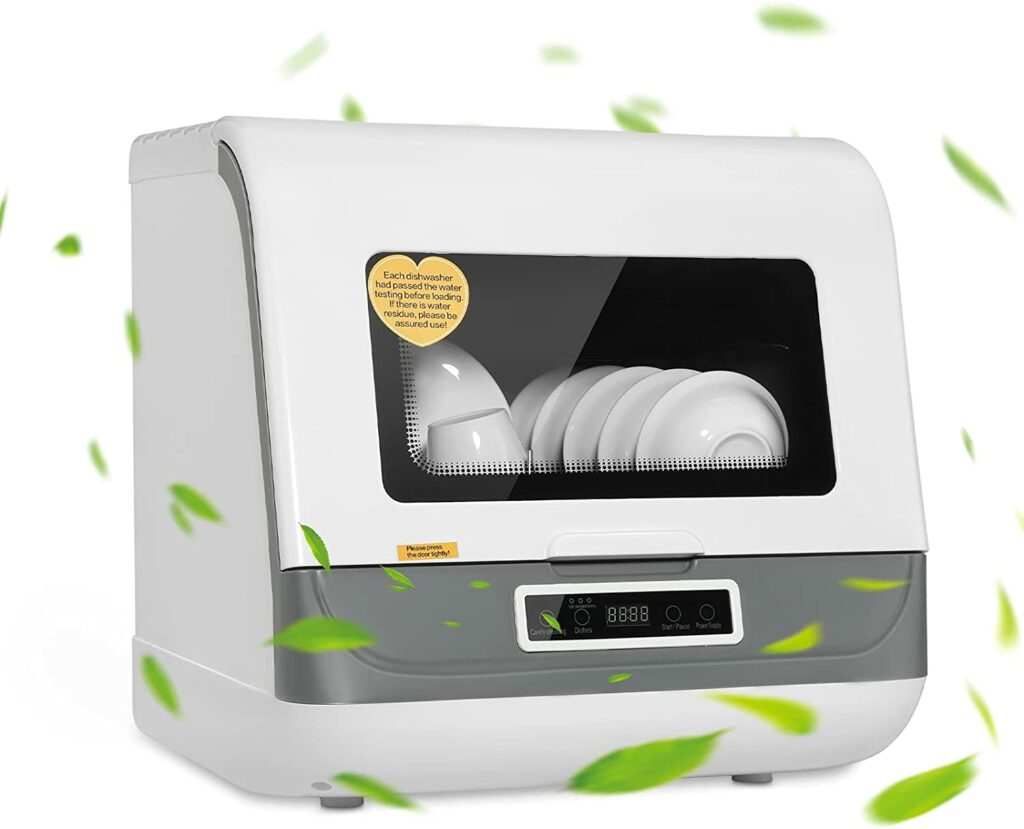 Your dishwasher may be subject to hard water deposits or mineral accumulation depending on the type of water you use. Cleaning with lemon can be quite effective.
Run a standard cycle with a cup of lemon juice in the top rack or basket of your dishwasher. Hard water stains and iron buildup will be removed by the acidic lemon juice.
Final Thoughts
While we've discussed a lot of ground in this article, we hope it provided an excellent foundation for selecting and purchasing a new dishwasher. The best advice we can give you is to get what you need, not what an ad or a blog article says you need.
It's easy to get caught up in brand names and high-tech features, and some of these brand names and features have a history of improving consumer satisfaction. But, in general, the most important thing is that you choose a machine that fits your budget while also meeting all of the standards for what you'll expect of it on a daily basis.