Farberware Countertop Dishwasher Review
It's no secret that we eat all day while we stay at home! We enjoy cooking a wide range of cuisines, but the downside is the endless dishes to clean. Nobody enjoys cleaning up a sink full of soiled dishes, especially after a filling lunch.
Dishwashing is an unpleasant task that we all try to avoid. But don't panic; we've put together a list of everything you need to know about your savior, the dishwasher.
Yes, you can always wash dishes with your hands; many of us prefer to do so. However, repetitive washing can get exhausting by the end of the day.
Benefits of Dishwashers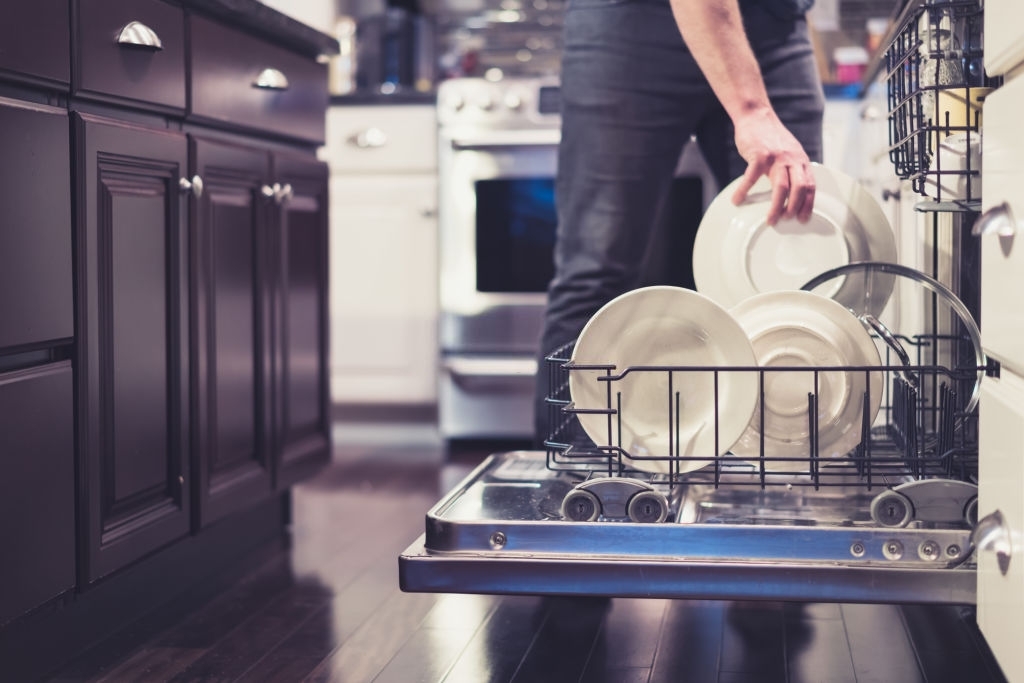 According to the United States Department of Energy, utilizing a dishwasher can save you up to 230 hours of personal time every year. Not only will the dishwasher save you time, but it will also clean your dishes.
Dishwashers heat water to 140 degrees Fahrenheit, which is far hotter than most people can stand yet cleans and sanitizes dishes more efficiently.
Let's just say dishwashers are here to alleviate your fears about continual interaction with toxins from soap. They have been influencing our way of life for the past 50 years. It is undeniable that this invention has made our lives easier. We've included all you need to know about the dishwasher right here.
Convenience
The simplicity and time savings are perhaps the most significant advantages of using a dishwasher. Instead of washing and rinsing dishes by hand, simply load the dirty plates and glasses into the dishwasher, press the button, and let the machine do the work.
Dishwashers Save Energy
Using a dishwasher rather than hand-washing dishes not only saves you time and energy, but it also saves you money on water and electricity. Not only will you save money, but you will also be helping to save the environment. Fewer energy consumption translates to less pollution and greenhouse gas emissions.
Hygiene
It's a no-brainer on this one. Regular sponges and scrubbers are prone to bacteria and can lead to food poisoning. Dishwashers, on the other hand, feature hot water and hygiene options to help you stay healthy and avoid bacteria. Dishwashers appear to be a safe bet, especially after this outbreak.
If you've ever been without a dishwasher, whether at home, at work, or at camping, you know how much time it saves you. There's always the portable option if this isn't an option for your building or business.
Today we'll look at the Farberware Portable Countertop Dishwasher, which is one of Amazon's best-rated dishwashers.
About Farberware Countertop Dishwasher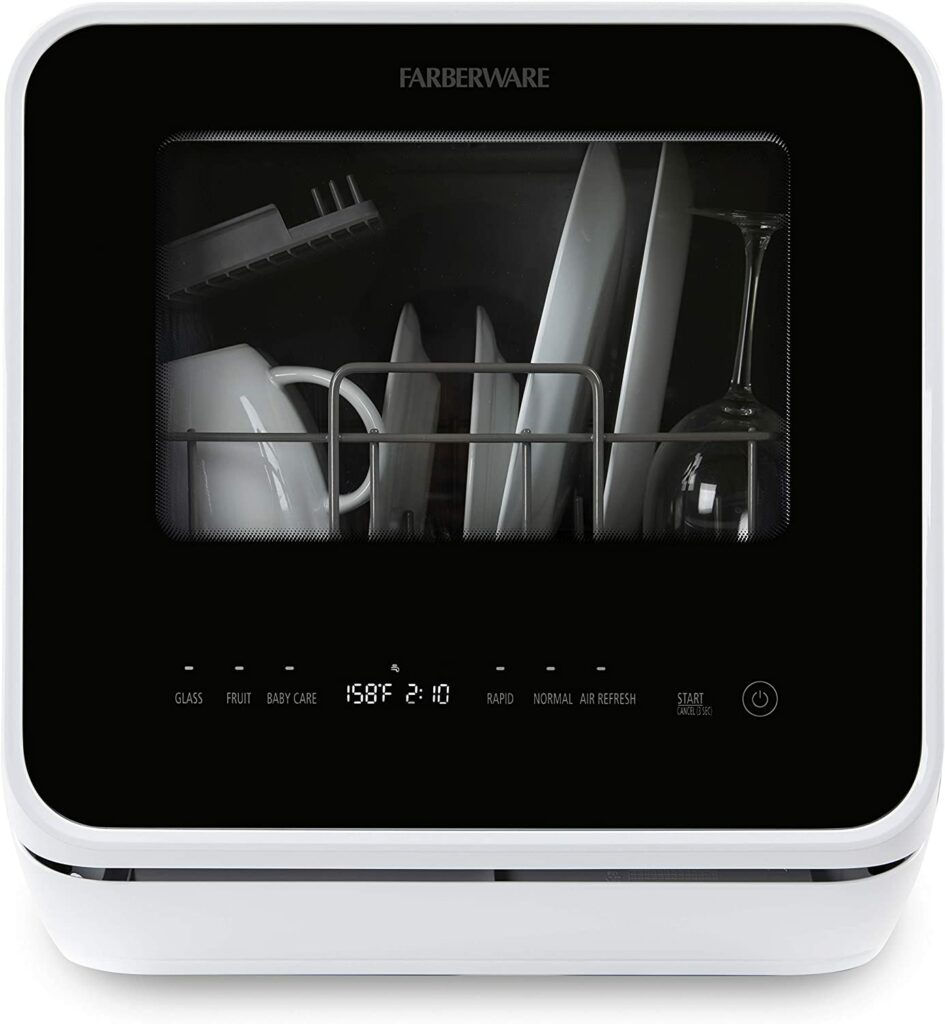 Meet Farberware, a well-known home appliance company that has just released a breakthrough portable countertop dishwasher. With 5 wash options, this machine is ideal for sanitizing baby bottles, toys, and glassware.
This washer is ideal for tiny flats, campgrounds, RVs, and more. It combines convenience with a sleek design that mixes in with most kitchen decor. The FDW05ASBWHA dishwasher is suitable for apartments, small houses, boats, and cruises, etc.
Farberware Countertop Dishwasher Features
Let's have a look at some of the fantastic features of the Farberware dishwasher.
Modern Sleek Design
Customers can always expect high-quality products from Farberware. The FDW05ASBWHA dishwasher is one of their best, with a sleek and appealing appearance. It also includes a LED display.
Dishes with a diameter of up to nearly 12 inches can be stored in the dishwasher. It has a front glass pane that allows you to keep an eye on your dishes as you're washing them.
This feature is also useful for checking how much space is left in the dishwasher without having to open it.
This thing is also beneficial if you want to check how much space is left in the dishwasher without even opening it.
Five Washing Modes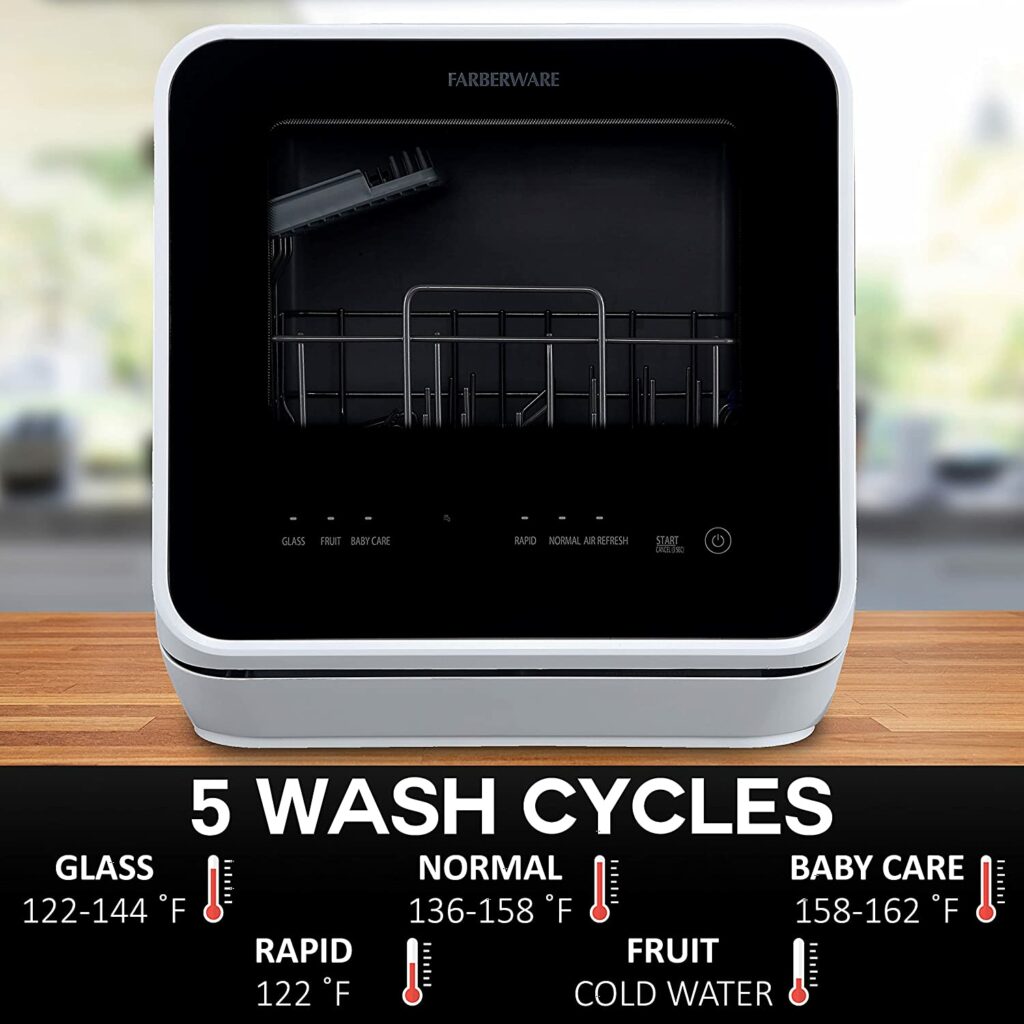 The marvelous dishwasher is going to provide you five different washing cycles named baby care, normal, fruit wash, rapid, and glass. The two most unique modes are baby care and fruit wash.
In fruit wash mode, the machine will make use of the fruit basket available in it and ensure that your vegetables and fruits are ready to serve.
Air Freshening Technology
This amazing dishwasher's air fresh feature aids in the elimination of unpleasant or undesired odors. This operation can be used with any washing mode. When you're through washing the dishes, this feature will help you with the drying process.
While in the baby care mode, the dishwasher releases steam which helps in cleaning the baby bottle and also eliminates all types of smells present in them.
Latest LED Controllers
The LED display, on the other hand, is user-friendly and includes a water level indicator. When it's time to replace the water, you'll be able to tell right away. The controls are more clearly visible thanks to the LED display.
Wash Large Dishes Without Hook-ups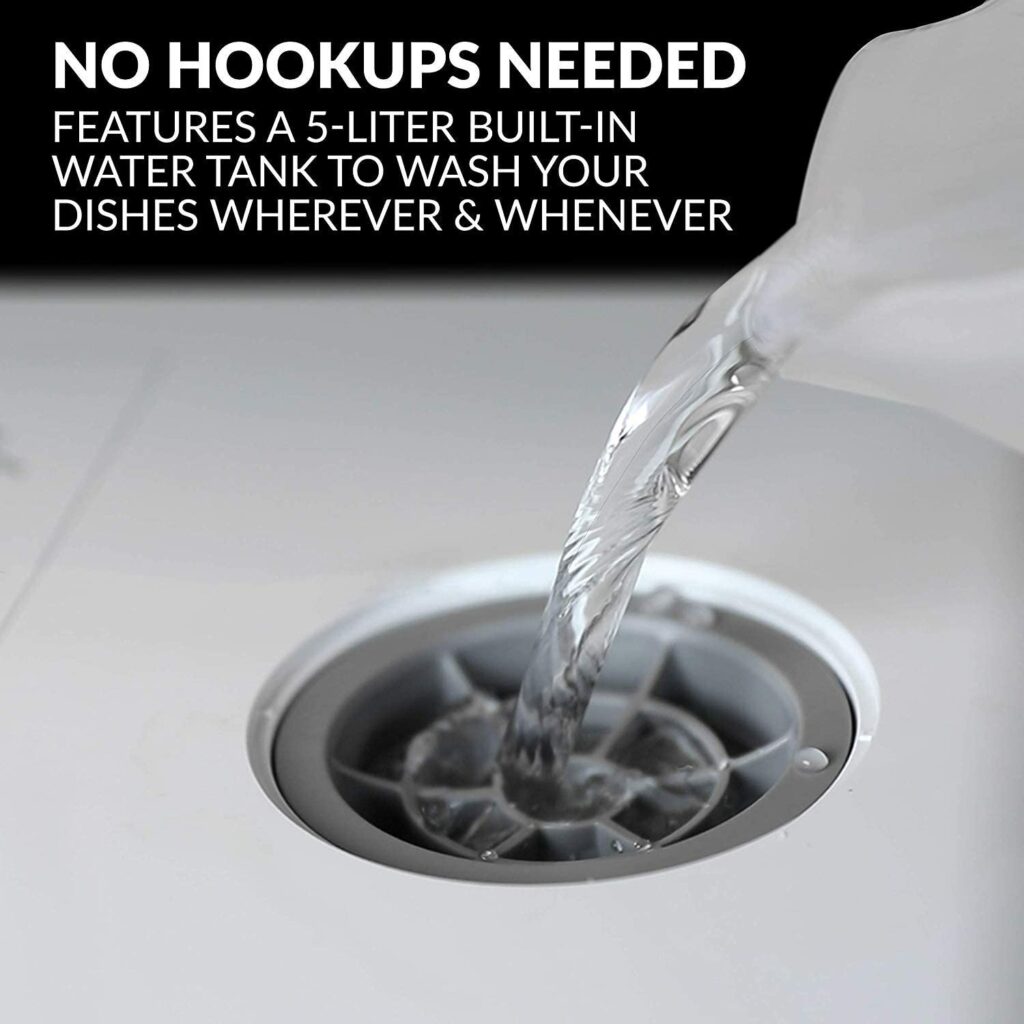 The FDW05ASBWHA dishwasher does not require additional hook-ups. This is due to the fact that it has a 5-liter built-in water tank. Without the need for a faucet, this tank can be utilized and filled.
It means that you can use the machine without a sink or water supply. Another unusual feature of this fantastic dishwasher is that it can accommodate numerous dishes with a diameter of up to 12 inches.
Minimal Noise
The farberware dishwasher's quiet functioning is another appealing feature. Many dishwashers do an outstanding job of cleaning the dishes, but they make a lot of noise while doing so. This excellent dishwasher, on the other hand, operates at a decibel level of 62.
It means you won't have to worry about the dishwashers' annoying background noises any longer. When compared to hand-washing utensils while standing in front of the sink, the dishwasher uses less energy.
Dishwasher with Multi Detergents
Different detergents, such as powder, liquid, and laundry pods, can be used in the fantastic dishwasher. If you're using the long cycle wash, however, we recommend using the tablet cleaner.
This is because it will aid in the complete dissolution of the tablets as well as good dishwashing. The machine is lightweight, weighing only 16.2 pounds. It's offered in a striking black color.
Large Washing Machine Technology in a Small Size
This compact washer not only has upper and lower spray arms, but it can also safely store and wash dishes up to 12 inches in diameter if they are put at an angle. Any form of dishwasher detergent is acceptable to use, but pods are only recommended for longer cycles to guarantee thorough dissolving.
Specifications: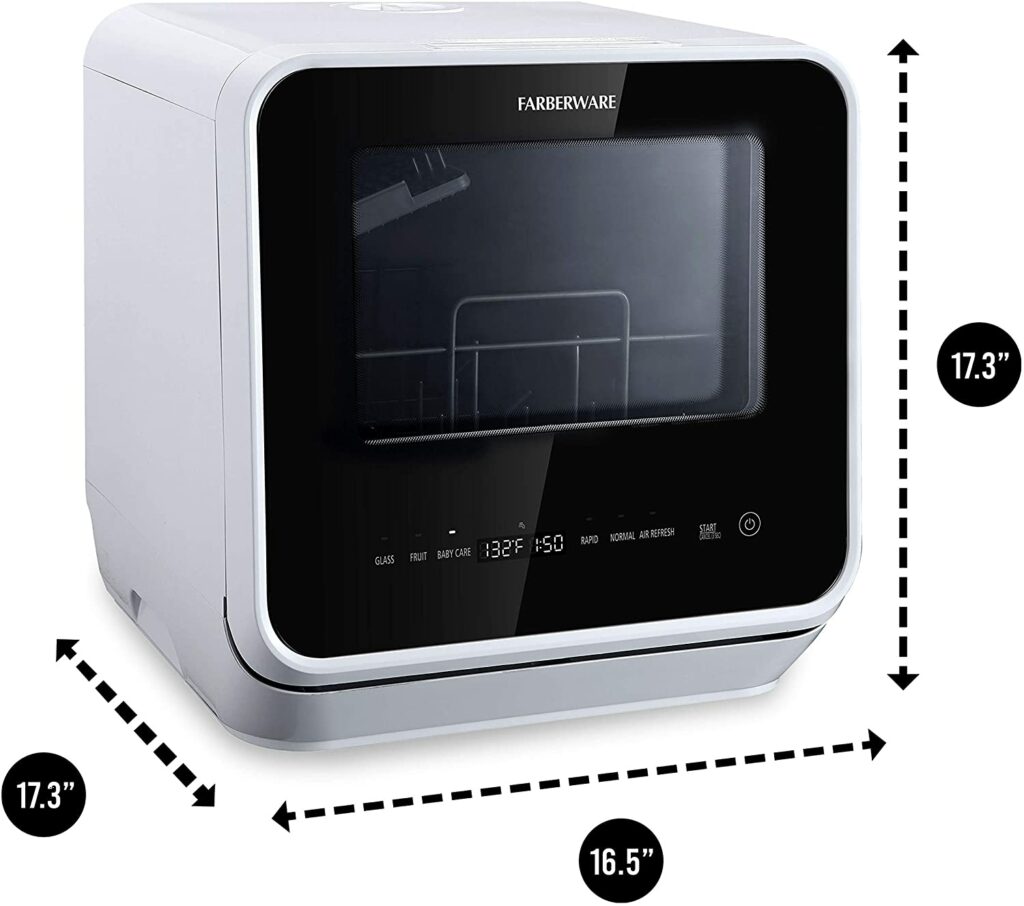 Place Settings: 2
Weight: 45.5 lbs
Dimensions: 17.3″ x 16.5″ x 17.3″
Standard Cycles: 5
Place Settings: 2
Sound Level: 60 dB
Form Factor: Built-In 5-Liter Tank
Control Console: Full Panel
Material: Plastic
Dispenser: Detergents
Display Type: Seamless digital
Shortest Cycle Time: 40 minutes
Other Specs & Features
Voltage: 120 V
Warranty: 1 year
Wattage: 750 watts
Pros:
Installing and using it is simple.
Cycles and modes for washing
Fruits and vegetables can be washed with it.
You don't need to plug it into a faucet because it has its own water tank.
Cons:
It may be too small for large households
Frequently Asked Questions
How Many Washing Modes Are There in the Farberware FDW05ASBWHA?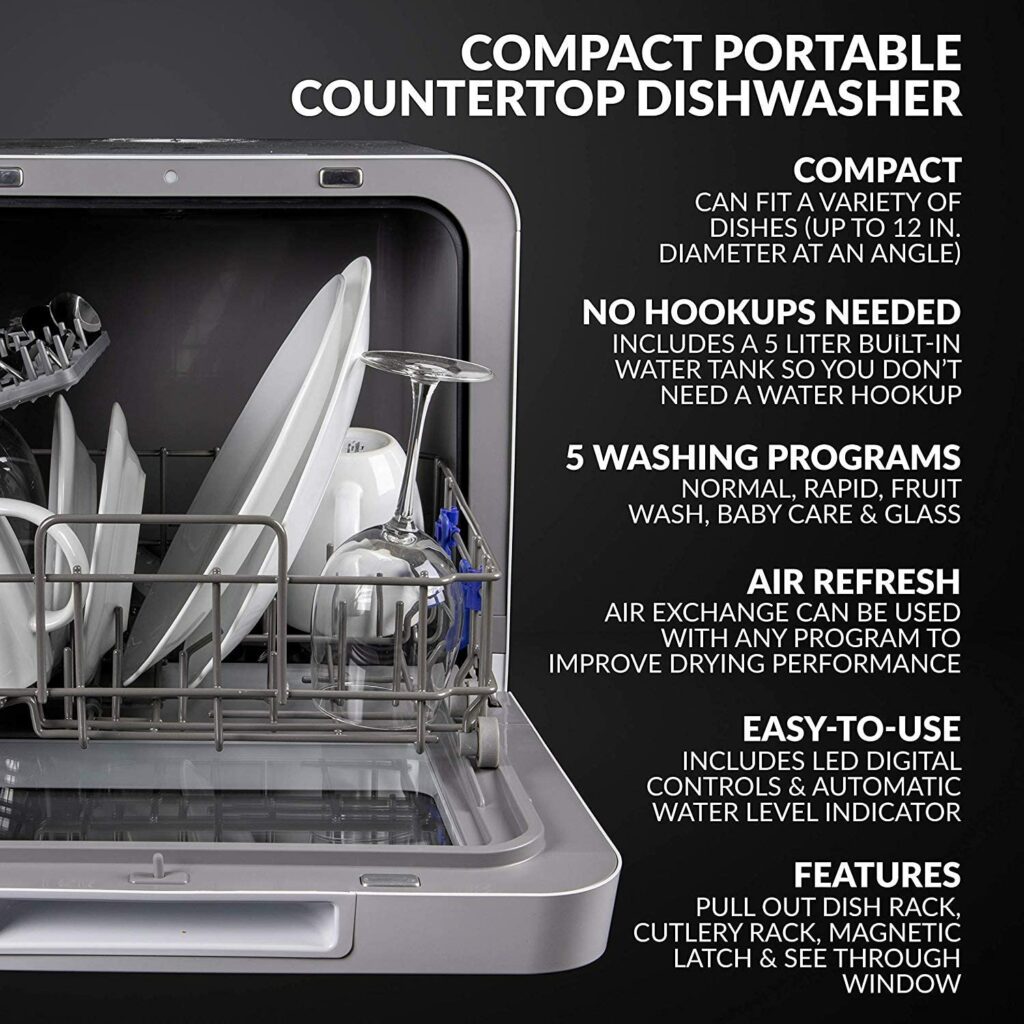 The Farberware FDW05ASBWHA Dishwasher has five different wash cycles. These are some of them:
A standard mode
Rapid cycling for 40 minutes
Sanitizing baby toys and feeding bottles with a Babycare cycle
A cycle of glassware
A cleaning cycle for fruits
What is the Farberware FDW05ASBWHA's size?
By any standard, this is a compact and small unit. It is even smaller than many other portable dishwashers, with dimensions of 17.3 x 16.5 x 17.3 inches. While its small size makes it suitable for small kitchens, it also means it can only handle dishes up to 12 inches in diameter.
How To Use the Farberware Countertop Dishwasher?
The Farberware FDW05ASBWHA dishwasher functions in the same way as any other dishwasher. Simply turn it on and select your chosen washing program to use it. This has a touchscreen display that is very user-friendly.
Water may be easily poured into the water tank. To fill the tank, simply detach the cap and pour the water in. The device even includes a water pitcher for filling the tank. When you're through washing, there's a drain line to dispose of the wastewater.
It's also quite simple to load the dish rack with dishes. The rack can be pulled out much like a regular-sized dishwasher, however, it can only accommodate a limited amount of dishes, which is a plus given the dishwasher's small size.
Is the Farberware FDW05ASBWHA dishwasher efficient?
This dishwasher does a great job with little objects like silverware, cups, and bowls. It should be able to handle the dish efficiently as long as it fits into the rack. It's worth noting, however, that this unit is best suited for single or two-person homes.
This dishwasher performs admirably for a little dishwasher. It effectively washes dishes and cleans up most of the objects you put in them.
Key Takeaways: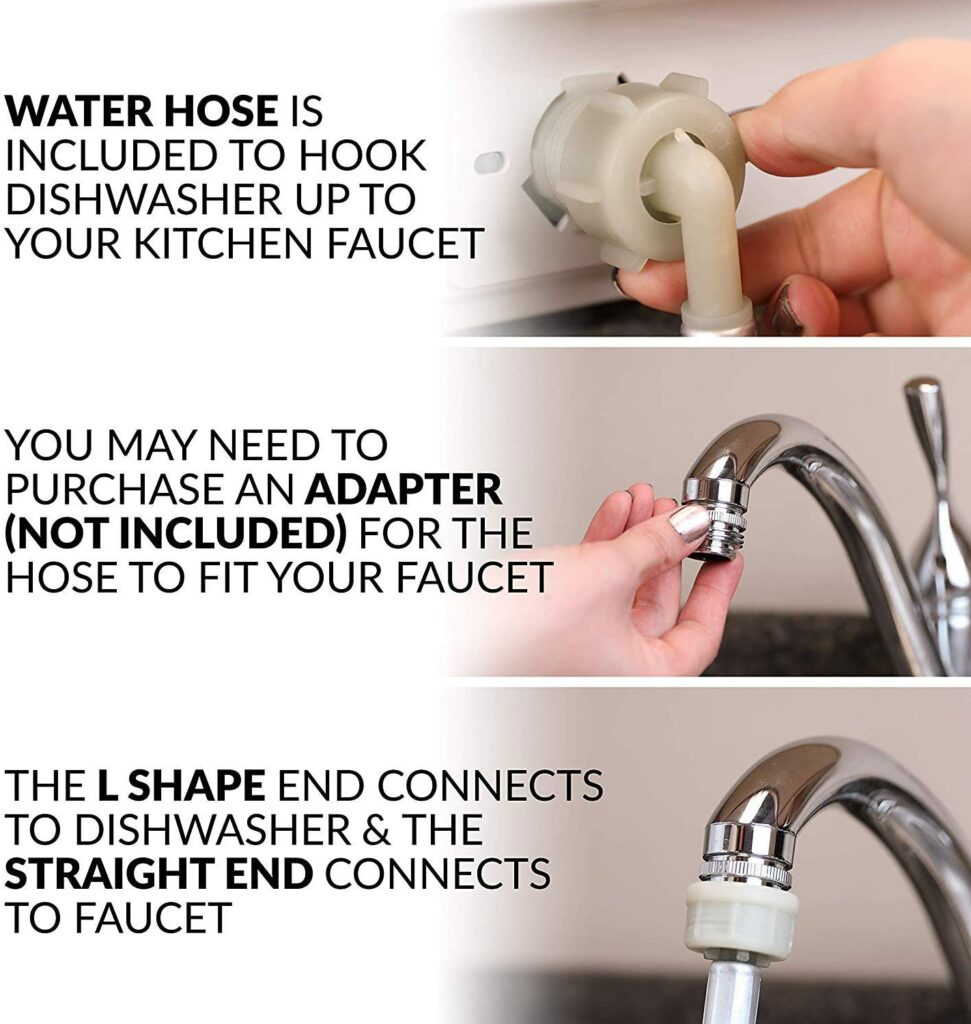 If the connecting hose isn't long enough to reach the sink's faucet, you can always fill the washer's 5-liter tank to get through a wash cycle.
The tank is protected from dust and other elements while not in use by a screw-on cap.
This dishwasher comes with a variety of handy accessories as well as a selection of dishwasher detergents.
It takes tabs, pods, liquids, and powder detergents similarly when it comes to detergents, so you might want to investigate some of the best natural dishwashing detergents.
Many people have never seen a dishwasher that can wash fruits.
A lovely freebie is the fruit basket given.
The packaging is sturdy, with only about 5% of evaluations citing damages or dents that occurred during transit.
Through the transparent front window, you can see the dishwasher in action.
If you have to wash dishes at night with the lights turned out, the internal light allows you to see clearly.
It's surprisingly quiet for a machine rated at 60 decibels. The majority of customers indicated they wouldn't know it was running until the inside light was turned on. The Farberware FDW05ASBWHA makes excellent use of its two place settings thanks to improved plate space.
Final Verdict
When it comes to portable dishwashers, the Farberware Countertop Dishwasher FDW05ASBWHA has it all. It's not only small and light, but it also looks excellent and does the job well.
The additional features, such as the baby care and fruit cleaning modes, are also popular among customers. It's ideal as a luxury addition to your existing dishwasher or as a stand-alone appliance for single or two-person families.