It's time to worry about how you'll prevent hot air from ruining your enjoyment as you turn the calendar pages towards summer and the temperature starts to climb. You don't need to do any work at all if you already have a powerful central system, just adjust the filters and you're good to go.
However, if you don't have enough air conditioning, now is the moment to make your preparations such that an early heatwave doesn't take you off balance. You have a variety of choices if you're dreaming about cold weather, like a portable air conditioner. In the past decade, they have become increasingly popular, but are portable air conditioners worth it?
What is Portable Air Conditioner?
To beat the summer heat, a portable air conditioner is a perfect choice for you. It is a great fit for home or office use so you can establish a more comfortable environment in which you can work or sleep, without that bulky equipment.
How They Work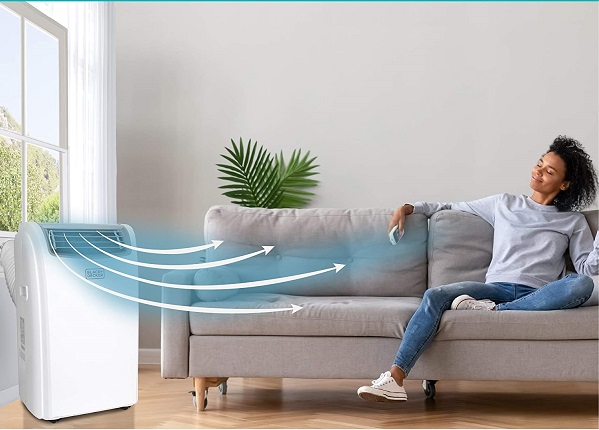 All air conditioners, be it a window unit, portable, or a central air conditioning system, operate a lot like any other type of air conditioner. In a series of coiled pipes, the chemical refrigerant flows through and collects the heat from the inside.
Through an exhaust hose, the heat is then emitted outside. The key distinction is that the heat is emitted by the part of the device that hangs out of the window with the window AC.
Warm air is directed outdoors by a single or dual hose that appears like a lightweight dryer vent for portable units. Usually, a portable AC device would come with a single hose and a window package that helps you to rapidly and conveniently set up the venting system.
It's a bit of a myth that it is possible to move the portable air conditioning units on a whim into different spaces. Owing to the need to exhaust air through a window, it would also require changing the exhaust vent to move a device around.
For a window kit, this is better, but many individuals won't find it as easy as moving a space heater from room to room.
About Black + Decker Portable Air Conditioner
BLACK+DECKER has continued to rely steadfastly on consumer needs. The Black Decker BPACT14WT portable air conditioner is sure to be a suitable option for those who don't get too enthusiastic about having a wall-mounted air conditioner in their home. It has a 14000 BTU cooling capacity and is designed for medium-sized rooms as wide as 350 square feet.
The machine comes with just one exhaust hose and also has a dehumidifier built-in that helps you to monitor your room's moisture levels. Might this be one of your house's finest air conditioners? Keep reading to find out.
See Where Black + Decker BPACT14WT Ranks in Our Best Portable Air Conditioners Shortlist
Design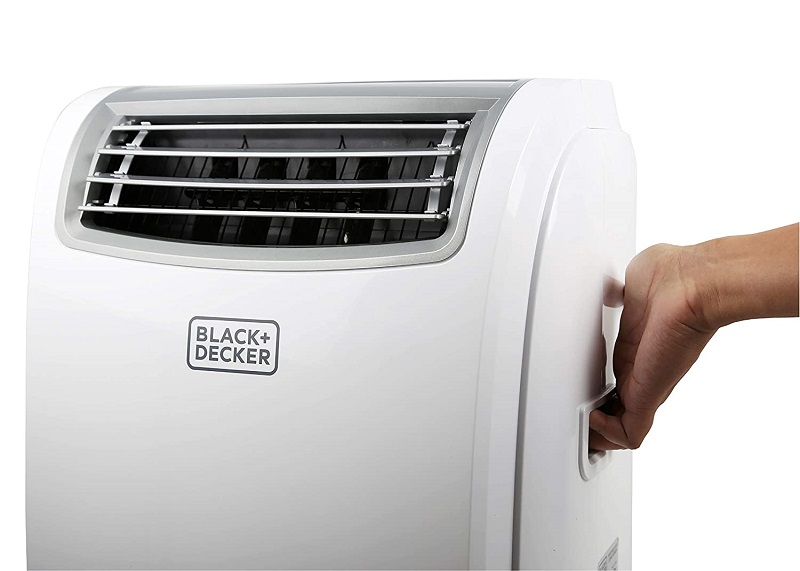 Thanks to its excellent wheel design, this portable AC can be moved anywhere you want. There is an exhaust hose that releases from the dehumidifier all the junk gathered.
To support you set up your AC, every window unit comes with a window kit. For the days when you want to feel a little colder, there is even a heat pump equipped. This unit stands at 14,000 BTU, which brings you 65 degrees of cold air at the lowest temperature.
Performance
This 14000 BTU portable air conditioner will cool down to 65 degrees in whatever room you put it in. There are also three operating modes that are cold, fan, and dehumidify.
The air conditioner comes with a washable filter, which you only need to clean twice a month or so. The air conditioner features a 75dB working noise for those who like to sleep comfortably and is silent enough not to interrupt you while watching TV or listening to music.
You may still switch it to sleep mode for its quietest activity, and with your room still being well conditioned, you can have uninterrupted sleep.
Features
Cooling Capacity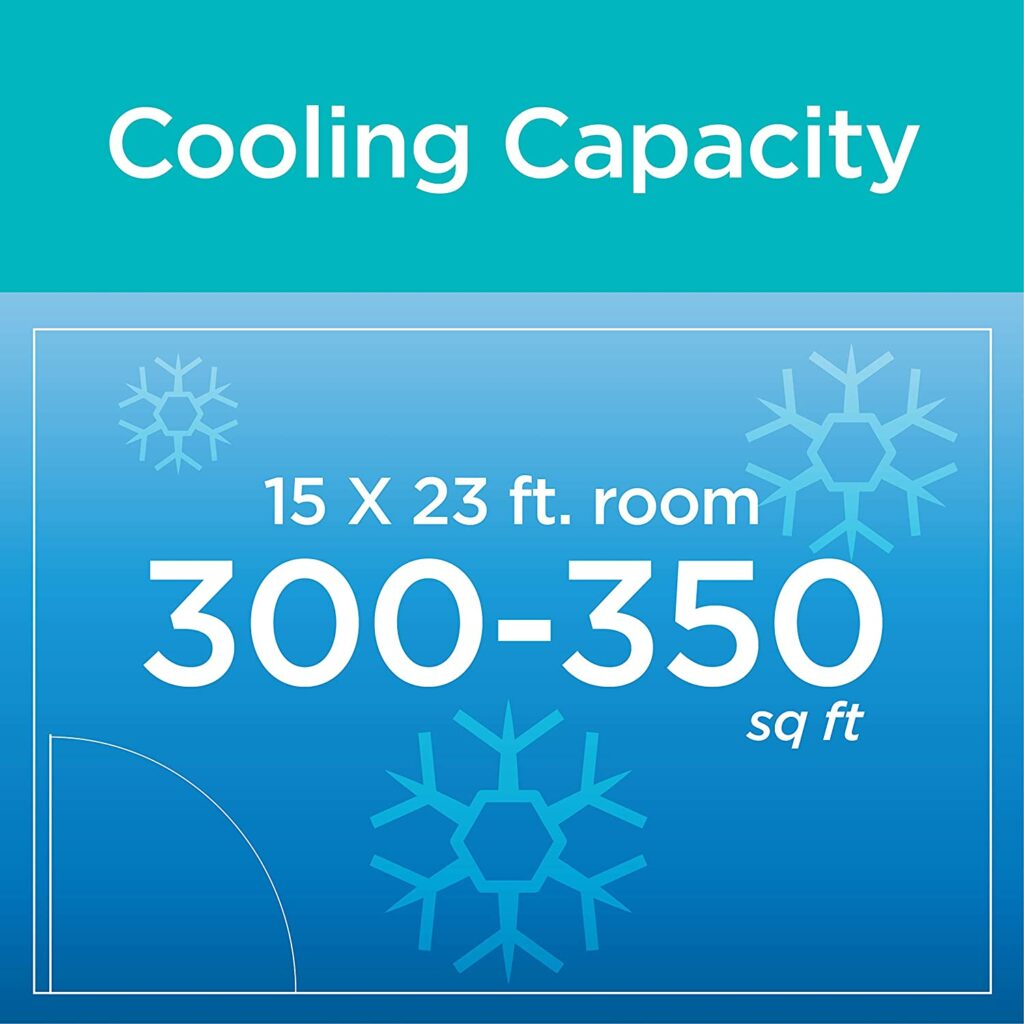 The other air conditioners will usually have a capacity smaller than 10,000 Btu. With a capacity of 14,000 Btu, this air conditioner means that you can cool a larger room comfortably. The coding speed is on the faster side as well.
Cooling a Large Room
With such high power, a space of up to 350 ft.2 will cool comfortably. This means that, with the help of this air conditioner, most rooms can be comfortably insulated.
Programmable Timer
From 1 hour and 24 hours, you can set the programmable timer on this air conditioner. This means that the kind of cooling you want can be achieved. In addition, for the time span that you like, the air conditioner would function precisely.
LED Digital Display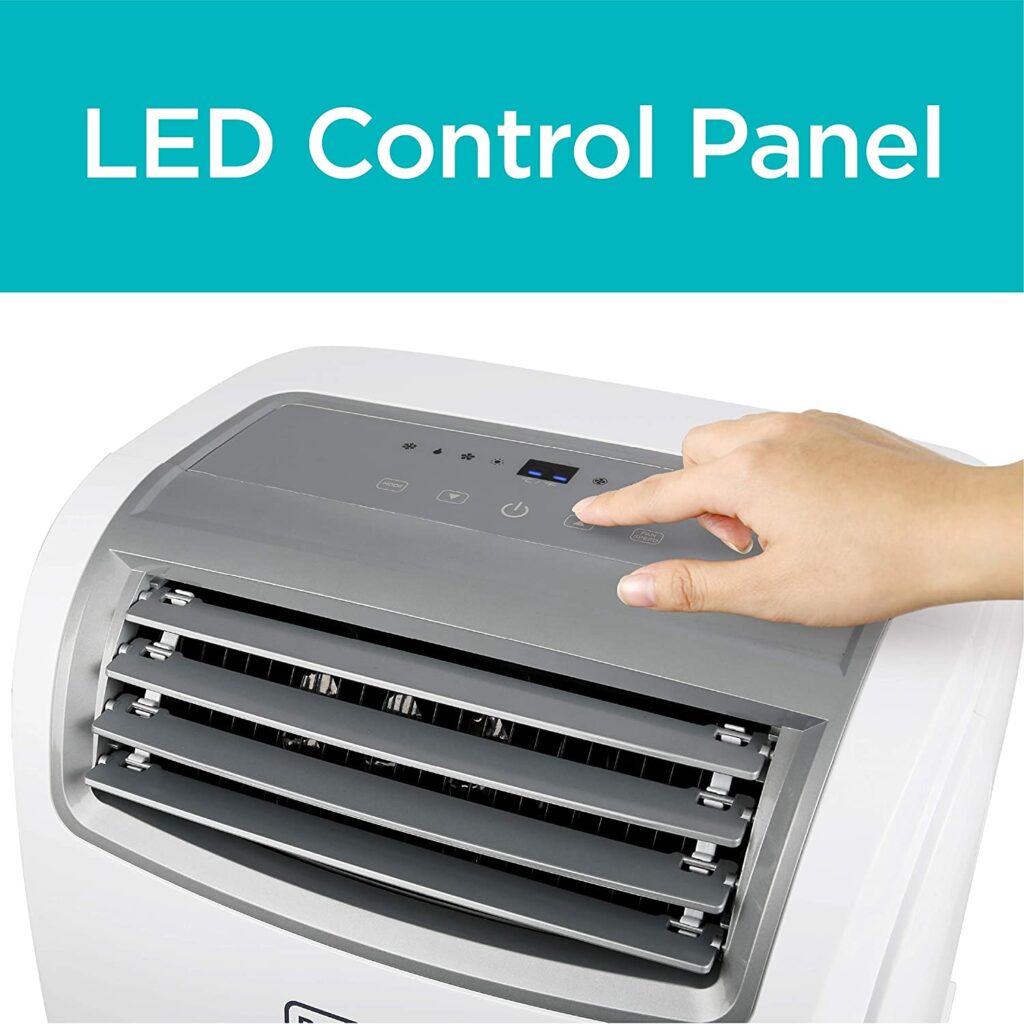 The LED digital monitor shows reasonably simply the temperature settings and also the mode settings. This means that the mode in which the air conditioner works can be identified at any point in time.
Three Different Modes
This air conditioner can operate, in the fan mode, as well as the cooling mode and even the dehumidifier mode. This means that running the air conditioner in the configuration you want is much simpler for you.
Remote Control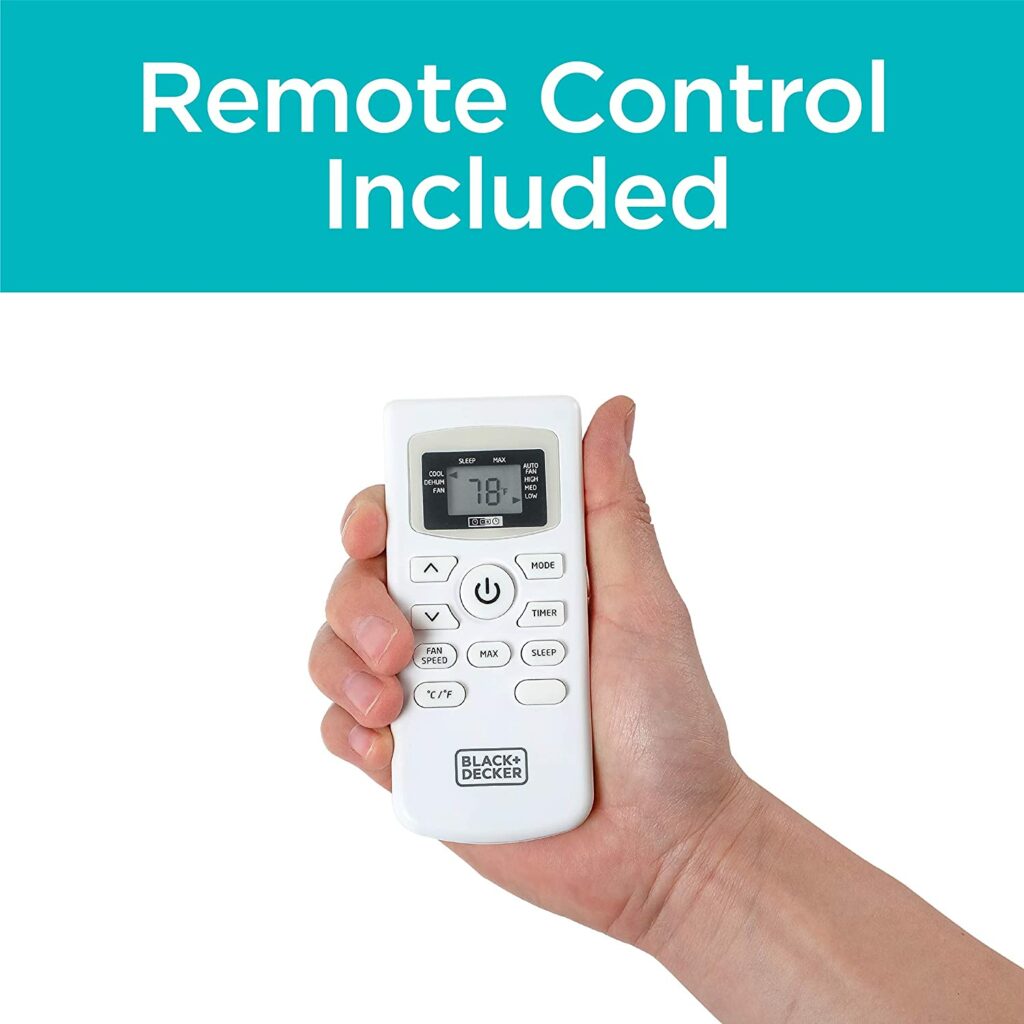 Black and Decker BPACT14WT comes with remote control. This means that you can remotely do so if you wish to monitor the functions of the air conditioner.
Easy Filter Cleaning
In most other air conditioners, you will have to opt for competent cleaning if you are looking to clean the filter, black decker BPACT14WT portable ac filter. However, you do not have to worry about that with this air conditioner. By extracting it yourself, you can quickly clean up the filter.
Compact and Easy to Move
You can be sure that moving around this air conditioner is very easy. With handles attached to it, you'd be able to switch it very quickly from one room to another.
Quiet Operations
You can be confident with the absolutely quiet activity that even though you run it through the night, there will be no noise. Moreover, the sound of the air conditioner will therefore not affect the adjacent spaces. This assumes that you will be able to use the air conditioner very conveniently in any form of premises.
Comes with a Window Kit for Installation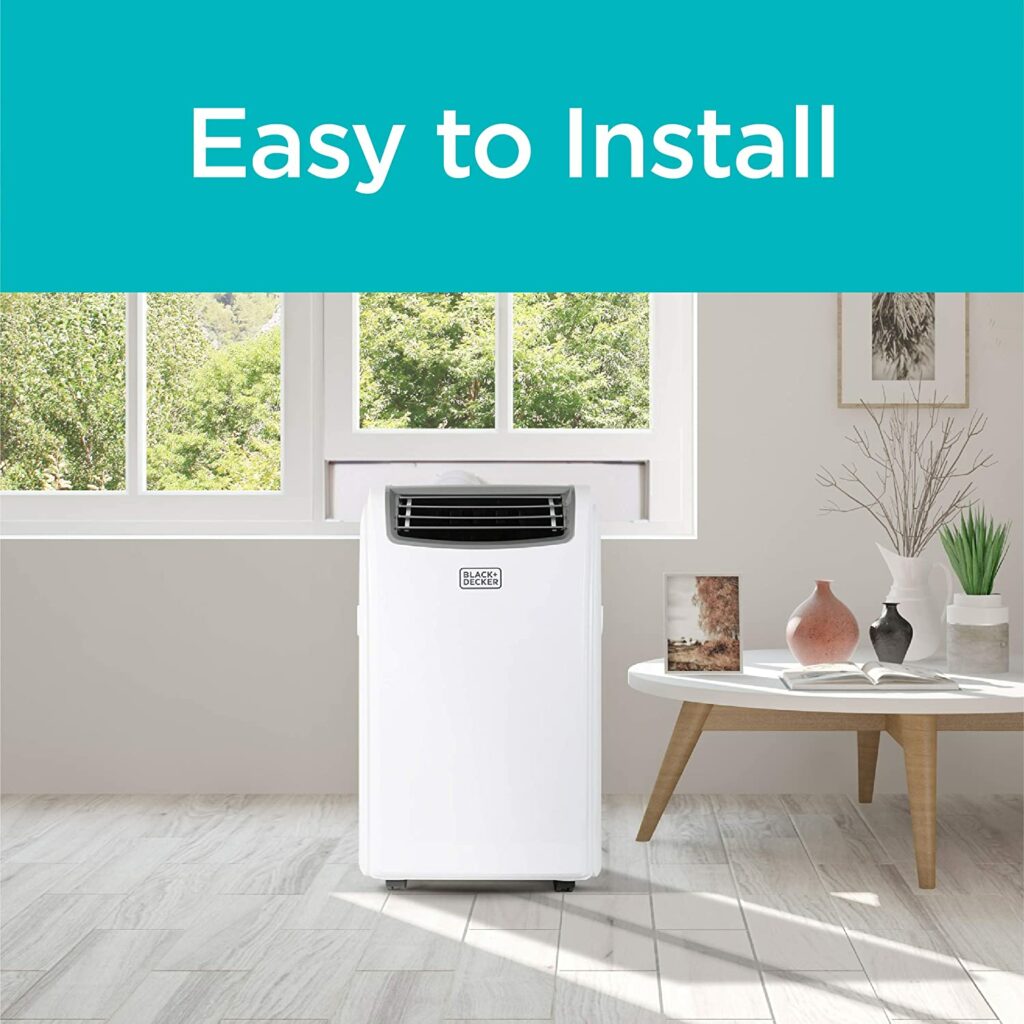 It is one of the few portable air conditioners with the window mounting package that comes with it. This means that it would be easy for you to get it finished if you were to install it on the window.
Pros
Three different operational modes
The filter is easy to remove
Programmable timer for convenience
A space of 350 ft.2 in the region can effectively be cooled.
Since it is lightweight moving it from room to room is incredibly easy
LED digital display, including remote control.
High cooling capacity at 14,000 BTU.
It's extremely lightweight and powerful.
Cons
When turned on and off, it creates a bit of noise.
It takes some time for the compressor to turn on.
Product Specifications: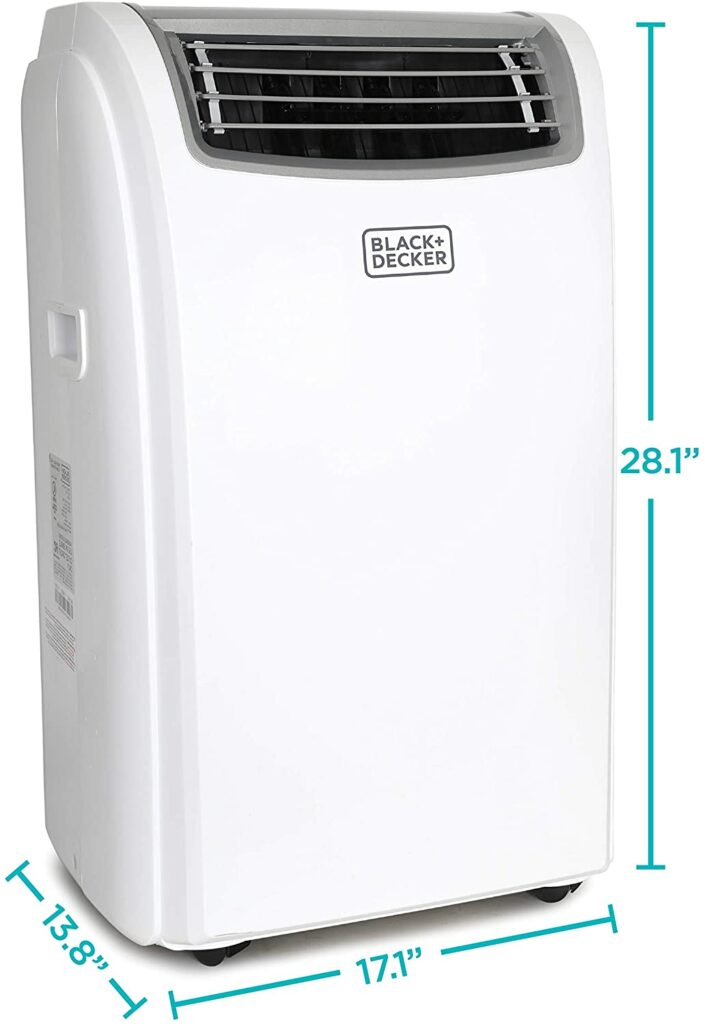 Cooling Capacity: 14000 BTU
Built-In Dehumidifier: Yes
Recommended Room Size: 350 square feet
Auto Restart: Yes
Max Noise Level 75 dB
Timer: Yes
Self Timer Duration: 24 Hours
Control Method: Remote
Product Dimensions: 17.1 x 13.8 x 28.1 inches
Item Weight: 28 pounds
Voltage: 115 Volts
Cleaning Your Black+Decker Portable Air Conditioner
Switch off the appliance by clicking the button on the control panel or the button on the remote before cleaning or servicing. Wait a couple of minutes then unplug the electrical socket.
Cleaning the Unit
The appliance should be cleaned with a partially moist cloth and dried with a clean dry cloth.
Do not clean the air conditioner with water. It could be risky,
Do not use fuel, alcohol, or solvents to clean the unit.
Do not spray liquids or other insecticides.
Cleaning the filter
You should clean the filters every week of operation to maintain your air conditioner running effectively.
Safety Precautions
1. The air conditioner must be wired to the proper electrical outlet with the right electrical outlet and the correct electrical source.
2. To decrease the chance of shock and explosion, adequate grounding must be assured. Do not remove or cut the grounding prong. If the wall does not have a three-prong electrical receptacle socket, have the right receptacle installed by a licensed electrician. The wall receptacle should be grounded correctly.
3. If the power cord is corroded or otherwise impaired, do not run the air conditioner. If there are any fractures or abrasion damage along the length of the plug connector, or if the device fails or is disabled in any way, stop using it. For evaluation, improvements, or repairs, contact an accredited service technician.
4. Do not use an adaptor or a cord extension.
5. Airflow around the air conditioner can not be blocked. Any obstructions should be free of the exhaust hose.
6. Still unplug before servicing or moving the air conditioner.
7. Do not mount or use an air conditioner in any environment where combustible gases are found in the atmosphere or where the atmosphere is oily or sulfurous. Prevent any contaminants from getting into touch with the air conditioner.
8. Do not put any objects at the top of the air conditioning device.
9. Do not run the air conditioner without the filters.
air10. Do not use t conditioning unit near the bathroom, shower, or sink.
Final Verdict
This 14,000 BTU unit is more than enough for a wide room to cool off. Thanks to its standalone configuration plus wheels, what's much cooler about this machine is that you can drive it everywhere.
This is an AC that, packs a cold punch though it is quieter than most other models. For optimum coolness, the Black Decker BPACT14WT is a great unit that will not only cool you down but also dehumidify your room.