Cadet Com-Pak Electric Heater Review 2021
When it comes to beating the cold, whole-house or workplace heat isn't always enough. If you've ever shivered at home or at work, you've probably considered investing in a space heater. Many people are concerned about safety, particularly in areas with high traffic or children, in addition to concerns about space heater performance.
Fear not: when used correctly, space heaters have significant benefits in terms of both heating and cost savings. You can save money and keep warm by properly using your space heater and following a few simple guidelines.
In this article, we'll look at the benefits and drawbacks of space heaters, as well as the features of one space heater that we will review today: Cadet Com-Pak Bathroom Electric Heater.
What is a Space Heater, and How Does it Work?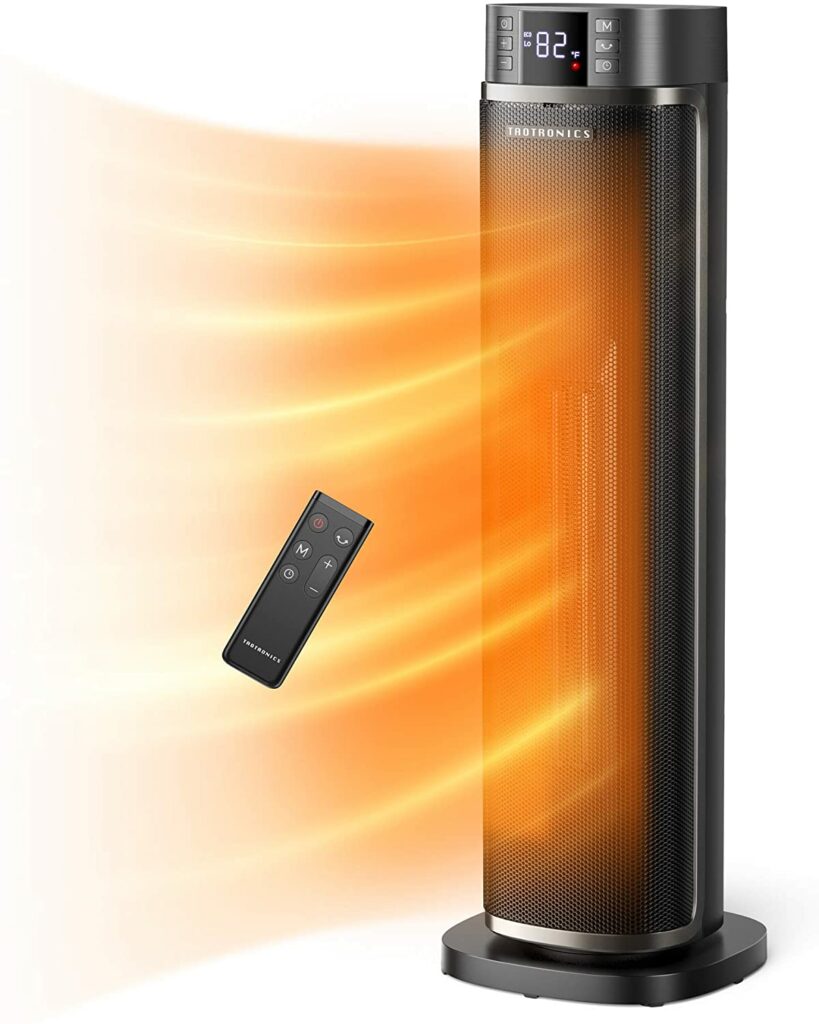 Using various technologies, space heaters efficiently produce heat to warm up a room. Unlike central heating systems, they can't heat connected rooms; instead, they're best for enclosed spaces. Simply put, they are a way to make a space more cozy and hold the winter chills at bay.
There are a variety of options to it, some people use electricity, and others use propane or natural gas as a fuel. Radiation and convection are two other methods used by space heaters to distribute heat.
The Advantages of Space Heaters
Space heaters are an excellent source of supplementary heat for both homes and offices. This isn't to say that space heaters should be your primary source of heat; however, if you have an especially drafty room in your home or part of your office building, a space heater can work hard to keep that area warm.
Your space heater's heat output and cost efficiency are entirely dependent on how you use it. The advantages of a space heater are well worth it if you only need to provide heat in one room or small area.
However, if the heat in your home or business isn't cutting it and you've got one in every room, the space heater's efficiency will suffer.
About Cadet Com Pak Electric Wall Heater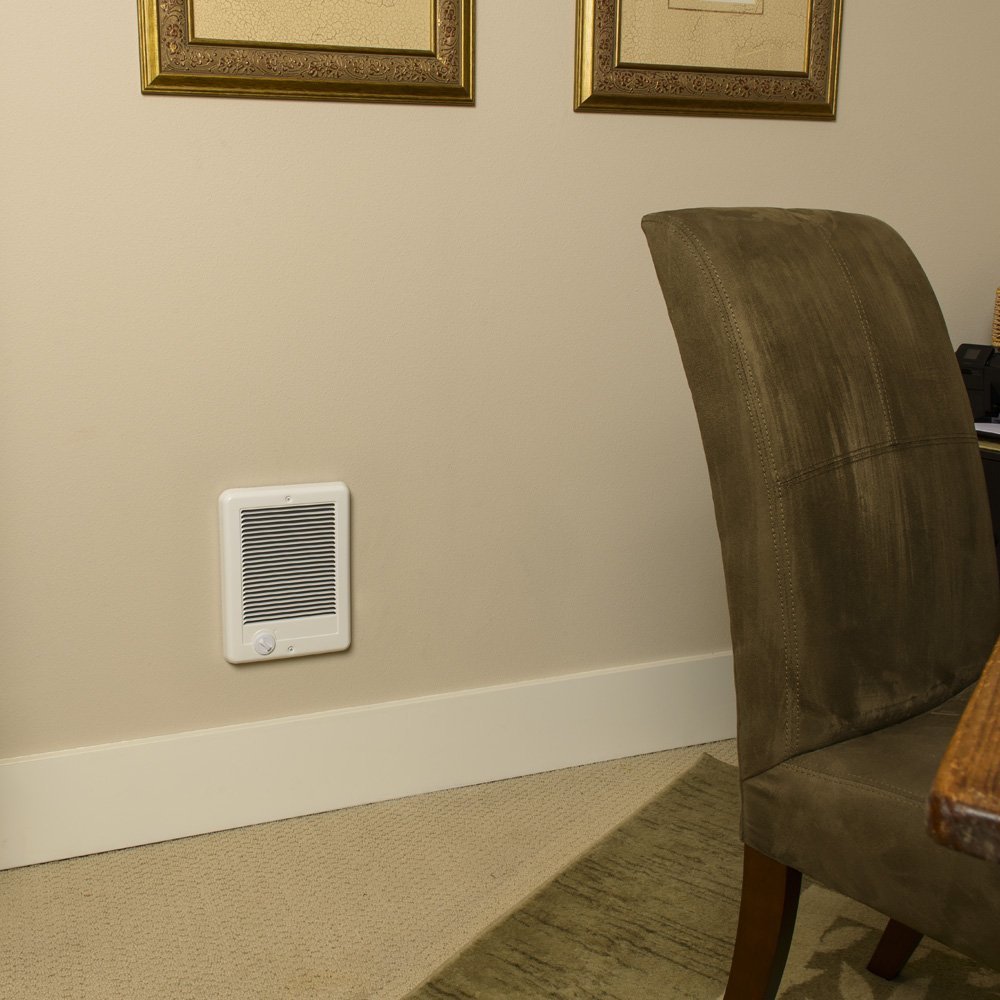 The Cadet Com-Pak is a cost-effective and convenient way to add warmth without ductwork. The Com-Pak provides your family with secure, sensible warmth for years thanks to its various installation options and tested safety features.
The Cadet Com-Pak Bath Heater provides dependable and fast bathroom heating. It can be hardwired into a wall for immediate warmth, and its thermostat can be used to change your heating needs.
Your cold bathroom will become a warm haven with the Cadet Com-Pak Bath Wall Fan Heater. This powerful fan-forced heating system is designed for in-wall installation and needs no floor space, unlike large heaters that need floor space.
60-Minute Timer
The Cadet Com Pak Bathroom Heater is a powerful and stylish heater with a 60-minute timer and constructed thermostat. It's a fantastic way to add supplementary heat to any space. For instant warmth and comfort, the 60-minute auto timer overrides the thermostat function.
Both multi volt and multi watt options are available for the Cadet Com Pak Bathroom Heater. The Cadet Com Pak Bathroom Heater is a great choice for replacement, remodel, or new construction as it fits into any C series wall can.
Comes with an Integrated Thermostat
This device comes with all of the necessary components, including a wall can to expedite the installation process. There's no need to buy a thermostat because this unit comes with an integrated thermostat and a 60-minute timer for fast heating.
There is a thermal safeguard that ensures the device shuts off at dangerous temperatures for added protection. You can trust this heater to last because it is made of high-quality materials like steel and is made in the United States. This powerful heating system is perfect for bathrooms, but it can be used in any room of your house.
Wall Installation
Since it is built for in-wall installation, this efficient fan-forced heating system uses up no floor space at all, and the low profile grill is just a half inch deep, barely protruding from your wall.
Advanced Elements
There's no need to buy a thermostat because this device comes with one built-in for simple temperature control and a 60-minute timer for fast comfort.
Other Features of the Top Cadet Com-Pak Electric Wall Heater
A fast-heating coil element combines with a powerful, quiet fan to quickly distribute warmth throughout your space.
If the heater's normal operating temperature is exceeded, a safety shut-off is enabled.
The powder-coated paint finish eliminates sharp edges while offering a long-lasting finish. This also ensures there are no rough edges, making them suitable for children and pets.
Any room will benefit from a subtle vent design.
Mounting Options: This model can be mounted vertically or horizontally on your wall.
For maximum comfort, these heaters have a heating range of 40 to 85 degrees Fahrenheit.
Variable fans control noise and energy output by adjusting their speed.
Cadet heaters are proudly produced in the United States of America.
Automatic Safety Shut Off: If the Energy Plus heater detects overheating, it automatically switches off the power.
Listed by the UL For proving to be a safe heating choice, the award was given.
A thermal safeguard ensures that the device shuts off if it reaches dangerous temperatures, which is an additional safety feature.
Cadet Com-Pak Electric Heater Product Specifications: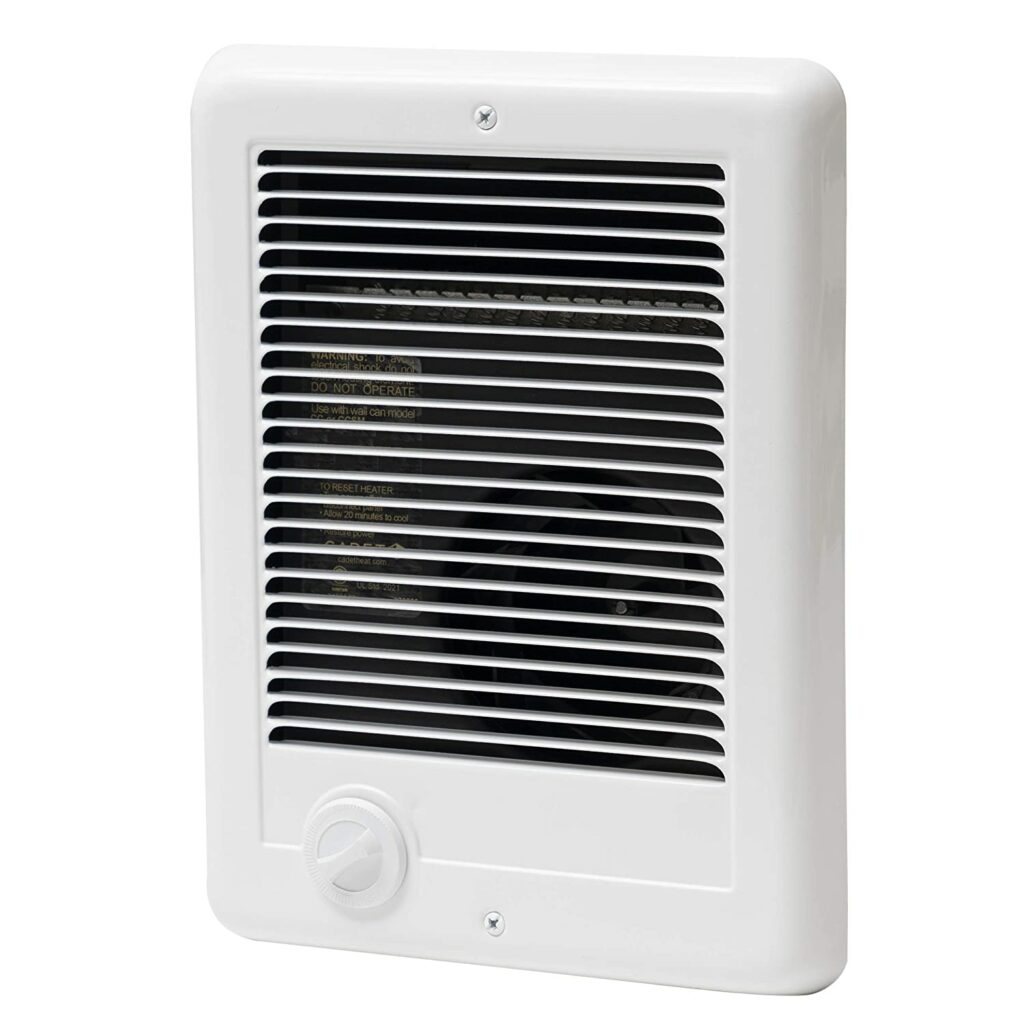 Heater Technology: Infrared, Fan-forced
Heating BTUs: 5118 BTUs
Height: 16.2 inches
Width: 13 inches
Depth: 10.8 inches
Space Heater Type: Floor
Weight: 20.6 lbs.
Number of Heat Settings: 2
Bathroom-Friendly: No
Adjustable Thermostat: Yes
Programmable Thermostat: Yes
Remote Control: Yes
Programmable Timer: Yes
Voltage: 110-120 V
Wattage: 1500 W
Wiring Style: Plug
Tip-Over Protection: Yes
Automatic Overheat Protection: Yes
What We Like About the Cadet Com-Pak Electric Heater
This heater is ideal for heating a single occupied space with minimal energy consumption.
Lock for children's protection.
There is a remote control included.
Style of the wooden case is lovely.
A timer that can be adjusted.
A built-in LCD is available.
It's easy to get around.
What We Don't Like About the Cadet Com-Pak Electric Heater
A little bit noisy compared to other wall heaters
How to Maintain Your Electric Heater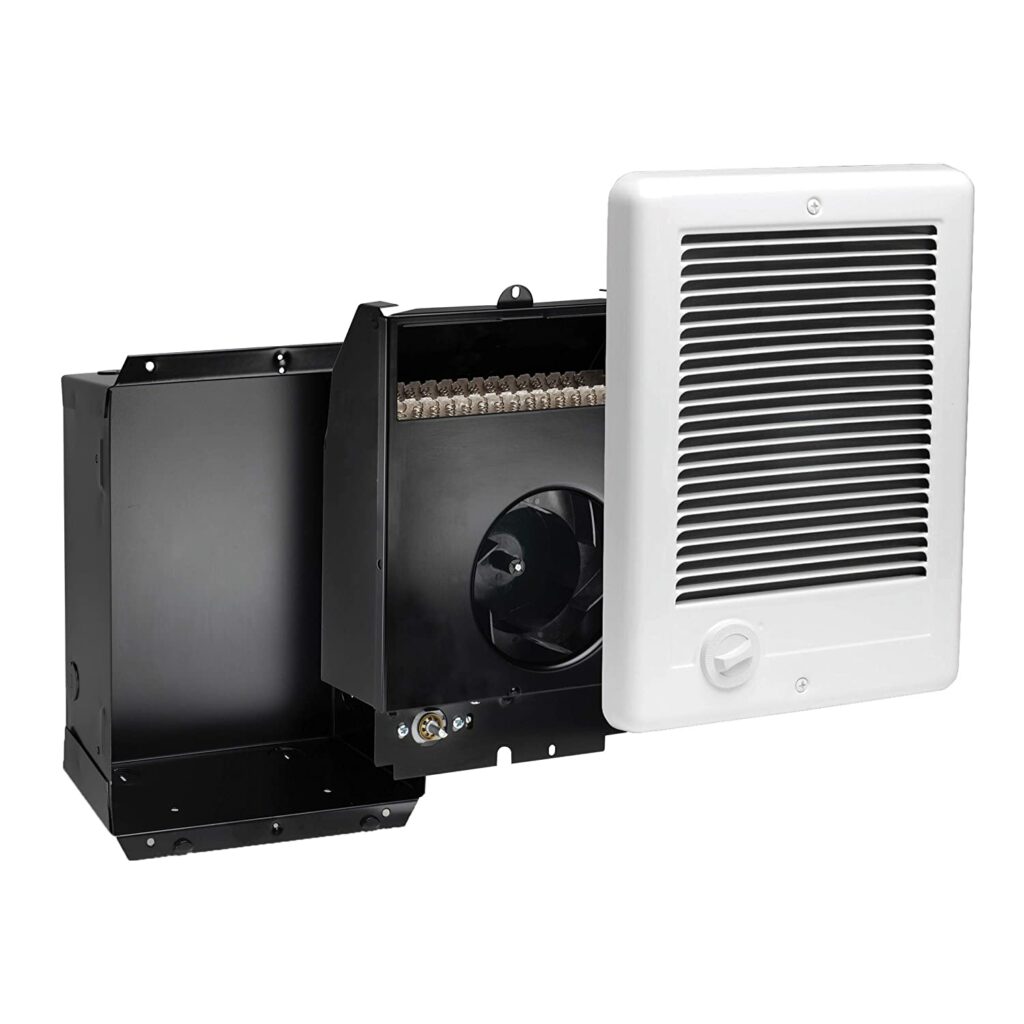 Isn't it true that when you buy a new space heater, you want it to last as hard as needed right?
If you allow a lot of dust and other unpleasant particles to accumulate in your space heater, it will become less powerful and eventually break down. Modern space heaters have a lot of complex components, and if dust gets in the way, you're in for a lot of trouble.
Given that some of the best space heaters will cost hundreds of dollars, it's only natural to look after them. So here are 5 ways to keep your space heater clean.
Clean your Space Heater on a Regular Basis.
Since dust can accumulate in any room of your house, it's a good idea to dust your space heater on a regular basis. For this, we suggest using a feather duster and dusting at least once per week.
It is important that you do not allow dust to accumulate on or in your space heater. If your space heater is currently in use, unplug it and allow it to cool fully before dusting it. You'll be shocked how much a weekly dusting will help your space heater stay clean.
Make Good Use of Your Vacuum Cleaner.
If your space heater has a grille or a vent, you can clean it with your vacuum cleaner's brush mount.This is important since the grille or vent is responsible for airflow. If you allow your grilles and vents to become too clogged, you will experience serious problems.
Clogged vents and grilles are more common in space heaters with fans than in other forms of heaters. If your space heater has a fan, vacuuming the air vents is especially important.
Clean Before Moving it to Another Location
Many space heaters are lightweight and portable, making them easy to carry around. So clean your space heater thoroughly before moving it. Until you start, unplug the heater and make sure it's completely cool.
Remove all of the dirt from the top of your space heater with a vacuum cleaner. Use a damp cloth and dishwashing liquid to remove stubborn dirt.
If your space heater has crevices that need to be cleaned, your brush attachment might not be able to help. To get into the crevices, you'll likely need to use a smaller attachment.
Cleaning Services in General
Sticky finger marks or other issues, such as food spills, are common on space heaters used in homes with families. These are most often found on the outside of space heaters.
It's important that you get rid of these blemishes as soon as possible. You don't want a food spill's dried particles to get into the workings of your space heater. Here, a damp cloth would suffice. Make sure you wring it out completely, and for added cleaning capacity, add a little dishwashing liquid.
Remove the Rust as Soon as Possible.
For rust to form, you don't have to use your space heater outside. Also internal rooms can draw corrosive moisture, which can quickly lead to rust. A reflector plate is a popular location for rust. It's safer to use wire wool (make sure it's fine) and soak it in methylated spirits or even vegetable oil where you see rust spots.
If the reflector plate on your space heater is rusted, you must first remove it. After removing the rust, make sure to thoroughly dry the affected areas. Rust can be avoided by dusting the reflector plate on a regular basis.
Follow the Instructions Manuals
While this may seem self-evident, many people fail to read the instructions that come with their space heater. Many more modern space heaters have special filters that can be removed and cleaned outside of the housing.
When it's time to clean the filter on your space heater, it can flash a warning light. You can clean this area with a brush or your vacuum cleaner. When cleaning the filter, be careful not to harm it.
Final Verdict
If you want to learn more about how a wall-mounted heater can keep you and your family warm and warm during the winter months, check out this in-depth analysis of the Cadet Com-Pak Electric Wall Heater, which covers everything from its features to how to properly maintain it.
After this thorough review, we decided to give it a rating of 8.4/10.