Heimvision HM241 Review
The HeimVision HM241 wireless security camera is well worth having a look if you want a security camera that is weatherproof, has Night Vision, works flawlessly, and isn't too expensive. But, before we look at its functionality, it's important to understand how these security cameras can help a home.
Home surveillance cameras track your property from both the inside and the outside, serving as an extra pair of eyes and ears. We'll look at the advantages of installing indoor and outdoor surveillance cameras in this guide, from their ability to deter offenders to other uses such as pet and baby monitors.
How Security Cameras Can Benefit You?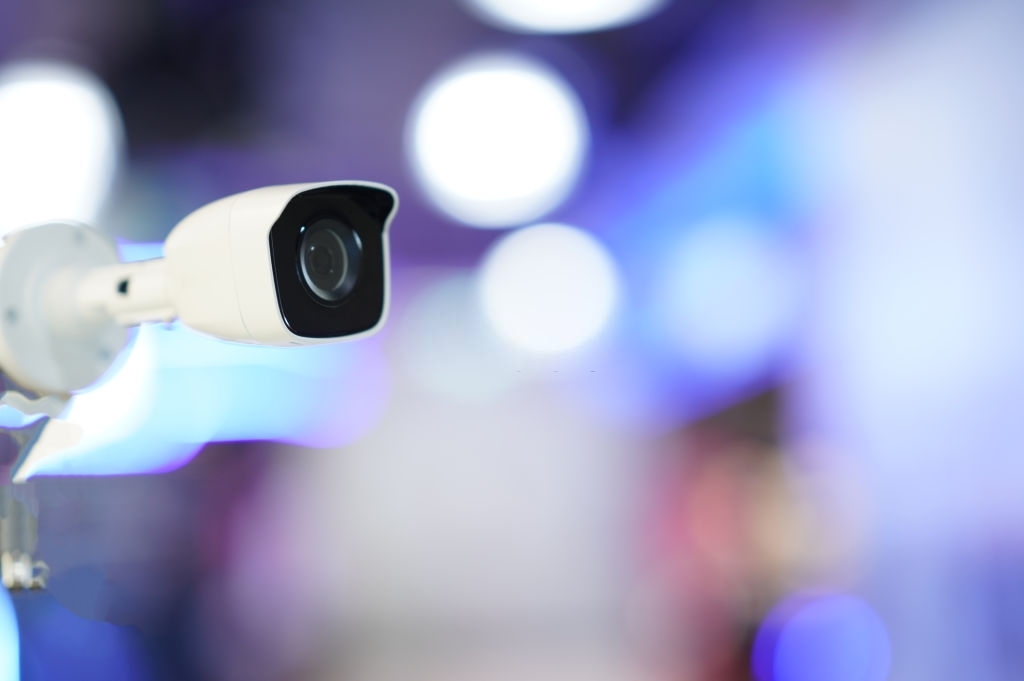 It is easy to underestimate the value of appropriate protection measures for homes and businesses. Surveillance devices are now installed in residential homes, several stores, industrial spaces, educational facilities, and public areas. The recordings can be used to track and prevent criminal activity. In a court of law, CCTV footage may also be used as evidence. 
As technology has progressed, advanced night vision cameras can now catch any movement outside your home at night. This way, you can rest assured that you and your loved ones are safe.
You are Safe from Intruders
You won't have to worry about break-ins or burglaries when you're away if you have CCTV built in your home. Whatever happens, it will be captured on your surveillance cameras. As a result, these cameras allow you to relax and enjoy yourself while on vacation or on business trips.
Some CCTV cameras have special features that allow you to track activity in your home when you are away using your mobile phone. These cameras are linked to your phones through a popular app that provides you with real-time updates from the location where they are mounted while you are away.
Now you know the benefits of home security cameras, we will now take a look at the HeimVision HM241 Home Security Camera.
About HeimVision HM241
Wireless IP cameras could be a good alternative if certain areas of your home aren't reachable via wired Ethernet. The HeimVision HM241 is an all-in-one surveillance system that includes four wireless IP cameras and a wireless NVR that works with them.
The cameras in this kit can be wired up to Ethernet where possible, which is very cool. Depending on the installation site, you can choose between Wi-Fi and Ethernet.
Heimvision is a trademark of Shenzhen VanTop Technology & Innovation Co. Ltd, a Chinese company established in 2017. Heimdarr Vision Tech Co., Ltd. is one of their branches in the United States and Hong Kong.
Camera Quality
The four Wi-Fi IP cameras that come with the HM241 security camera are included with this NVR. The NVR has four more channels, and you can connect up to eight more cameras.
This camera (Model No. CA01) is also available separately from the Heimvision website or Amazon, but bear in mind that it is only compatible with unique Heimvision NVRs. ONVIF compatibility is not officially supported.
The IP camera has a metal housing and is weatherproof to IP66 standards. Each camera includes a 5dB antenna, a 12V / 1A power adapter, and screws for wall mounting. The concept appears to be influenced by Hikvision and Dahua's new compact bullet cameras.
Motion Detection Notification for Intruder Deterrence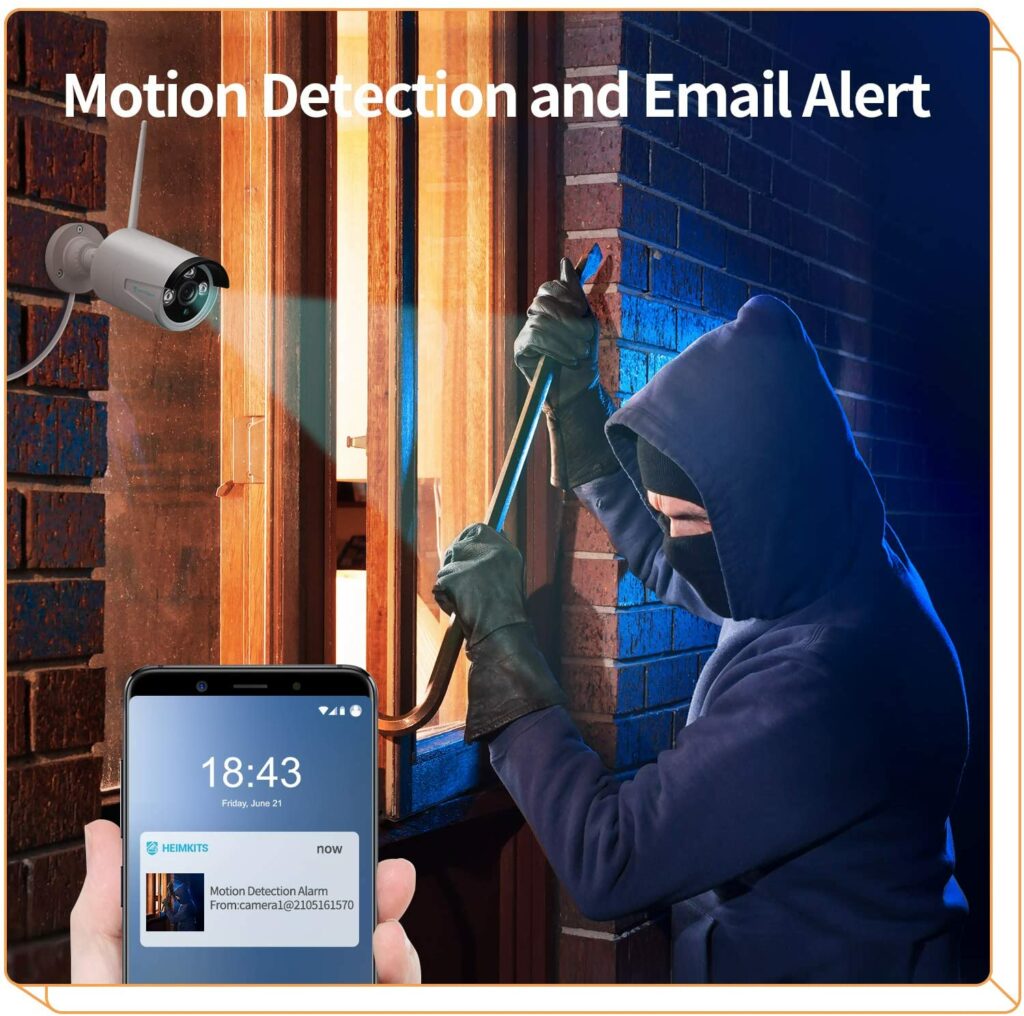 A fixed 3.6mm lens and three 850nm EXIR LEDs are located on the front of the camera. The image sensor has a resolution of 1080p on the features side. The big viewing angle of the 3.6 mm lens is 110 degrees. You will not find advanced image processing technology like the WDR here. On the NVR side, simple motion detection is possible, but not on the camera side.
The motion detector on the HM241 camera detects almost every movement within 30 meters. This will save you disk space that would otherwise be lost if you didn't record something. It's also necessary to turn on phone alerts, which we'll go through in more detail later.
In reality, you can add up to four more cameras to your setup, bringing the total number of cameras to eight.
Wireless Design and Connectivity
The HeimVision HM241 Surveillance System's complete wireless design is one feature you will love. You don't have to lay cables because the cameras link to the control room via an RF signal.
They come pre-configured for your emergency room. Simply connect anything, and your control room will connect to your network through WiFi as well. You can also use your monitoring station without an internet connection. Bear in mind, however, that you won't be able to use any mobile features in this mode.
You can Save Storage Space for Longer Recording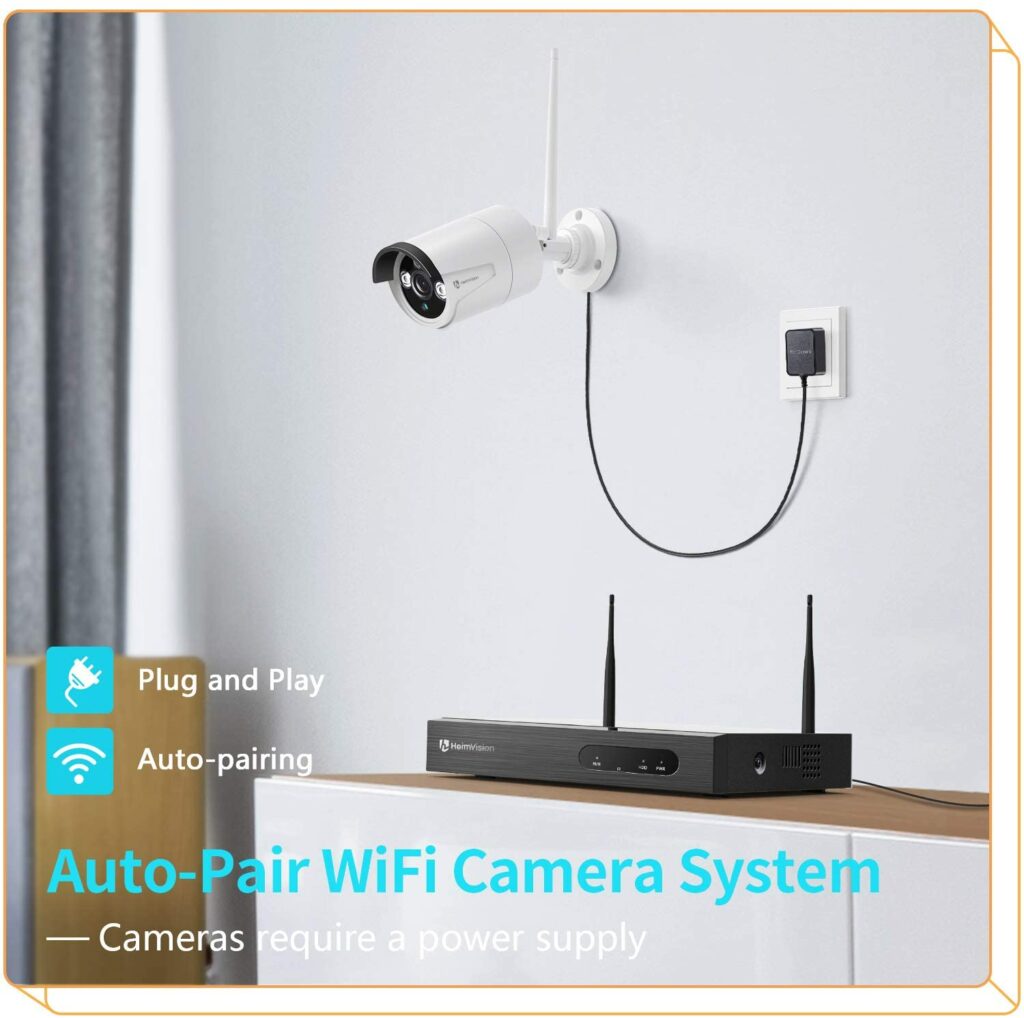 Within 30 meters, the motion detector on the HM241 camera activates almost every action. This will save storage space that would otherwise be lost if you didn't record something. It's also necessary to turn on phone alerts, which we'll go through in greater detail later. Indeed, you can add up to four more cameras to your setup, bringing the total number of cameras to eight.
Since the camera mount has three axes, you can point it in almost any direction. The camera does have an Ethernet port, but it does not support Power over Ethernet. The camera is factory-paired with the NVR and is ready to use in Wi-Fi mode.
However, if you have an Ethernet point near the installation site, you can use it as a wired camera thanks to the Ethernet port.
24/7 Mode for Peace of Mind
The HM241 cameras can record when motion is detected or continuously. It's just what it sounds like 24/7 mode. As long as the cameras are switched on, they can record continuously. In motion sensor mode, on the other hand, the camera will only record when it senses movement. Any time anything moves in this situation, it runs for 30 seconds.
In any case, you'll need to devise your own storage solution. The package does not have any onboard storage. Install a 3.5-inch SATA attached hard drive in the monitoring center to save your videos. There is no online storage as well.
Product Specifications: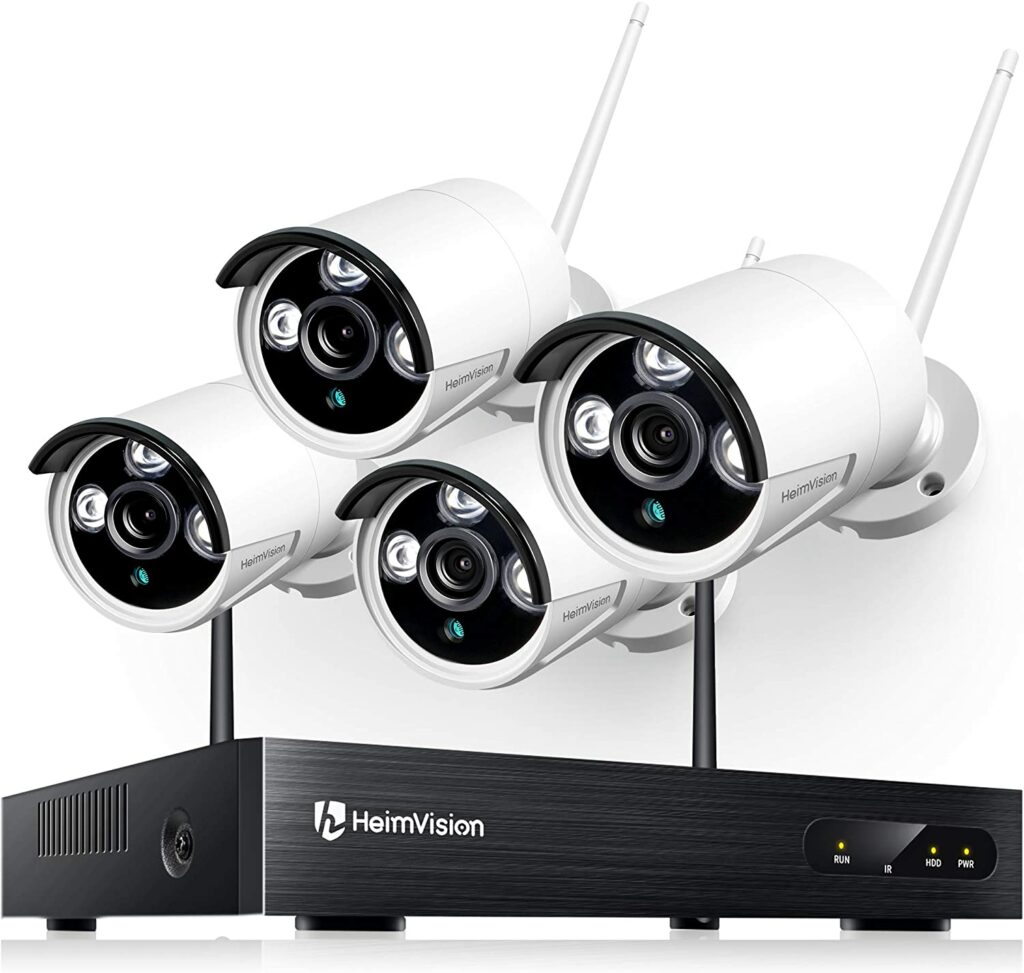 Product Dimensions:12.4″ x 6.9″ x 10.8″
Product Weight: 6.65 pounds
Resolution Ratio: 960P
Frame Rate: 25fps
Field Angle: 110°
Power Input: 12V 1A/2A
APP: HeimKits
What's in the Box?
NVR (Hard Drive not included)
4x IP Camera
Quick Guide
3.3 ft Network Cable
DC 12V/2A Power Adapter for NVR
4x DC 12V/1A Power Adapter Cameras
USB Mouse
Screws
4x 5 dB Antenna
What We Like About HeimVision HM241
Excellent camera quality
Easy access to the internet via WiFi.
Up to 8 cameras can be connected.
The mobile app is both free and useful (Heimkits).
Well-made, with a nice fit and finish.
Simple to set up and use
The wireless range is very good.
Wireless cameras can be used in the same way as wired cameras.
Motion detection that can be customized
Push notifications that are fast and dependable
Great buy
What We Don't Like About HeimVision HM241
There is no advanced motion detection available.
Push notifications require a cloud P2P account.
PoE isn't available.
Setup Instructions for HeimVision HM241 Security Camera
Setting up the HeimVision HM241 Security System is a breeze. The cameras have mounts on the bottom that allow them to be placed almost anywhere in your home.
All that's needed are a few screws and a drill. If you know where you're putting them, you should be able to mount all four in under 20 minutes. HeimVision includes all of the screws, nuts, and bolts you'll need to set up and operate the system's cameras in and around your house.
Choose a location that is close to the NVR for installation. However, do not directly mount the camera.
Before permanently installing wireless cameras, make sure you have a secure connection to the NVR.
Each IP camera should be fitted with the supplied antenna.
Switch on the power by plugging in the supplied 12V/1A power adapter.
Simply plug the NVR in and turn it on, and your camera will begin streaming on the display in minutes. You can't record or play without a hard drive, though.
So, before you turn it on, you'll need to mount a hard drive in the NVRAlthough Heimvision does not sell one, this suggested hard drive for heimvision security cameras can be found here.
Remove the black NVR cover by loosening the four screws on the top and sides of the NVR.
The motherboard already has the SATA data and power cables attached. Connect it to your computer's hard drive.
Align the screw holes on the hard drive with the screw holes on the NVR base before screwing it on. Then, one by one, screw the included screws into each hole from the other side.
We strongly advise connecting the NVR to the HDMI or VGA port to complete the installation. The built-in GUI of the NVR is the only way to access most of the settings.
Connect the USB port to a mouse.
When you turn on the NVR with the hard disk attached, it will automatically connect to all wireless IP cameras and begin recording in 1080p on all channels.
After a few moments, the message "Format Success" should appear. Your photos have now been downloaded to the hard drive.
Final Verdict of the HeimVision HM241 1080p
If you're looking for a 1080p WiFi security camera system that's both affordable and available, you've come to the right place. The HeimVision security camera line is chock-full of value-oriented standouts.
The HeimVision HM241 1080p is a great surveillance camera, but it does cost a little extra because the hard drive isn't included. You still get four cameras with an IP66 waterproof rating, video quality that lasts up to 65 feet, and ema HeimVision products provide excellent value at a reasonable price.
If you've been deciding between different items, we strongly advise you to give HeimVision a shot.