What Is The Best Home Carpet Shampooer 2021
Affiliate Disclosure: I am grateful to be of service and to bring you content free of charge. In order to do this, please note that when you click links and purchase items, in most cases I receive referral commissions. Eventually, I may earn enough to buy a beer or two 🙂
If most of your floors are carpeted and prone to heavy foot traffic and stains then it's time you considered investing in a carpet shampooer. Buying your own machine is an affordable long-term solution instead of paying for your carpets to be professionally cleaned, provided you have the storage for one.
On top of that, you'll have instant access to a carpet cleaner to deal with stains as soon as they occur. You'll have the tools at your disposable to maintain your carpets and keep them looking fresh.
Today we'll be giving you a shortlist of top-rated carpet cleaning appliances to give you all the information required to make an informed decision when making your purchase. By the end of this review, you'll know the how long carpets should take to dry, the level of moisture to expect when cleaning and how to assemble your machine.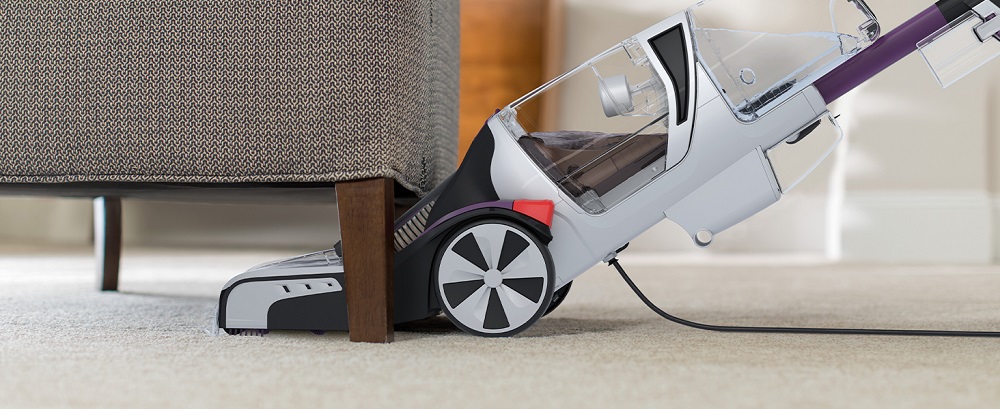 Most of the machines on our list come with attachments to clean upholstery and other fabrics in case you need this. We understand that each home has different requirements especially when it involves carpets, a breeding ground for dirt. Our shortlist includes appliances that can handle mess caused by pets, tackle stubborn stains and clean area rugs.
What To Kow Prior To Buying Your Carpet Cleaner
There are several drawbacks to renting a carpet shampooer. You will need to take in account the cost of collecting and returning it, the cost of shampoo detergent, the appliance will probably have a fair amount of wear and tear and might not be as effective as a newer unit. If you factor all of this, it's better to buy your own machine. Getting the job done yourself will give your carpets and rugs a fresh look and a sense of accomplishment when you see the results.
Weight Of Appliance
Full-sized carpet shampooers are not as light as a regular vacuum cleaner. They require a bit more effort to push and are bulkier to operate. You'll also need to factor in the additional weight of the water in the tank.
Does It Come With Any Special Features?
Look out for machines with brushes that rotate and preferably come with a heating system to dry wet carpets. Other handy functions are features like edge cleaning and appliances that come with a range of attachments. You'll find plenty of models that include tools to clean hard-to-reach areas and complimentary shampoo to get you started.
Check the Manufacturer's Warranty
The warranty information is normally shown on the product listing. Wherever possible, try to buy a machine with a generous warranty in case you encounter faults further down the road.
Prepare For Your Cleaning Day
Before washing your carpets, you need to plan how you are going to get the job done. You should give an allowance of several hours for the carpet to dry. Drying times are roughly between 5-6 hours when using a high-performance washer that doesn't add too much moisture to the carpet. Keep in mind that you might have to wait 24 hours before the carpet is totally dry. It's advisable to leave the moisture to evaporate overnight.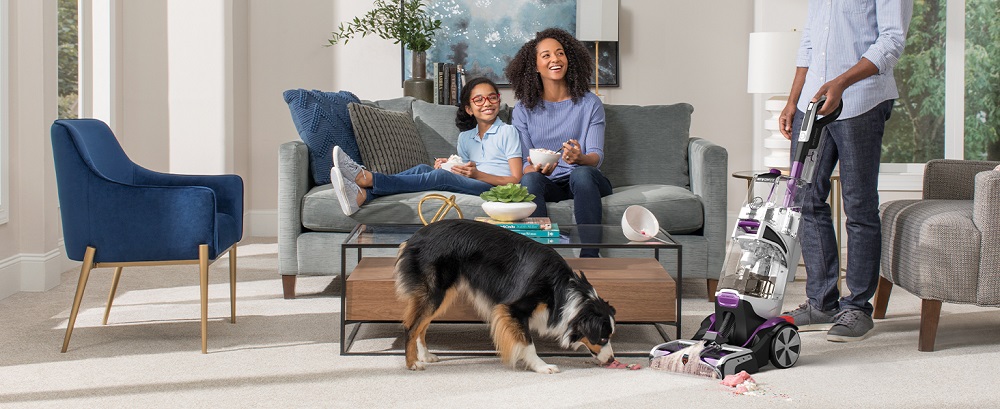 Always ensure that the carpet is fully dried out before moving furniture back to avoid it resting on top of damp areas. If this happens, the carpet could end up suffering from mould.
You'll also have to make sure that carpets don't get too damp while cleaning them. A good carpet cleaner will ensure that the right amount of water is applied to the dirty layer of carpet whilst avoiding soaking the underlay, which could result in mildew.
Now that you know how to wash your carpets and the type of features to look for, let's take check out the recommended carpet shampooers for your home.
#1). ProHeat 2X Revolution Pet Pro Carpet Cleaner
This carpet washer is at the top of our list because of its affordability, ease of use and effective carpet washing. The unit is a full-sized upright that deep cleans carpets. It also performs well on upholstery, stairs and can extract pet hair while washing. The unit is equipped with a unique spray nozzle which focuses on stains. All you need to do is press the pedal rather than bend down to fiddle with separate controls.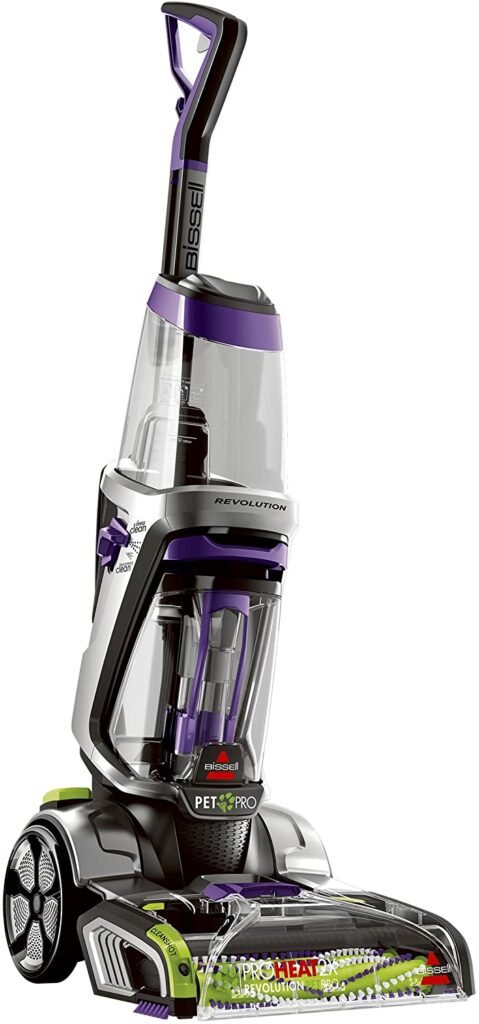 The unit comes with a dual pet upholstery tool which effectively removes troublesome pet hair and cleans stains from mattresses and upholstery. The machine is an improvement from its predecessor's thanks to the lightweight body, which is easy to move around and a removable brush roll cover for better maintenance.
If you're a pet owner and your home is mostly carpeted then you'll want to invest in a carpet shampooer that can eliminate pet mess effectively. The Bissell Pro Heat is designed to tackle difficult dirt caused by pets thanks to the robust wet cleaning mechanism.
It comes with a proprietary stain removal solution called Clean Shot Pretreated as well as a small bottle of Bissell's Professional Pet Urine Eliminator + Oxy. For tougher jobs, there's a deep cleaning mode which boosts cleaning performance and delivers a powerful wash which matches the best rental units. There's also an express cleaning function which leaves carpets dry in just half an hour.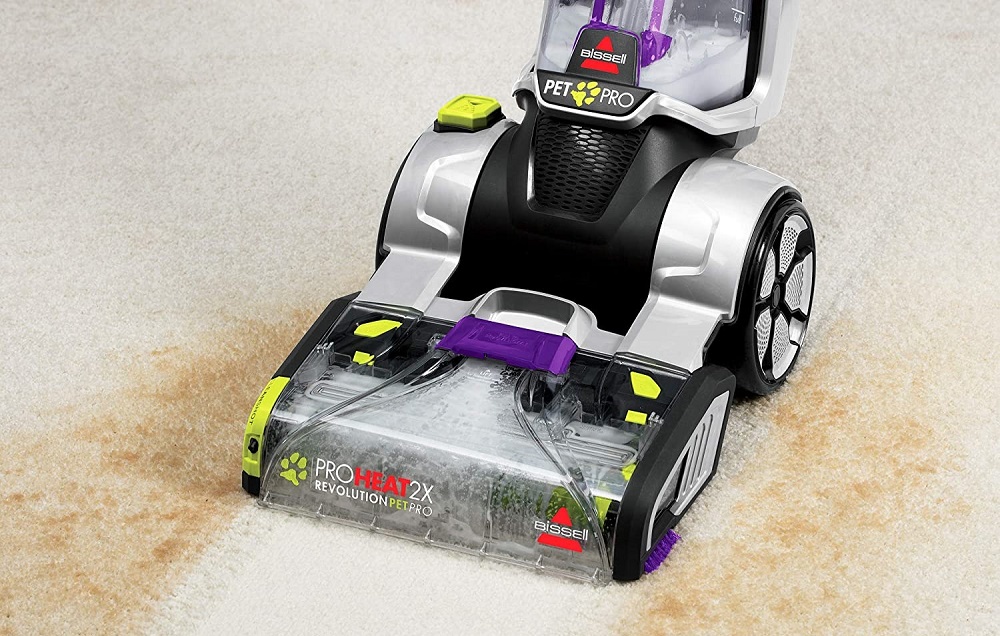 All this high-cleaning performance is packed in a unit easy to manoeuvre and not as heavy as its counterparts. The low-profile cleaning head is ideal for reaching underneath sofas and tables. The Bissell Pro Heat 2X Revolution Pet Pro is a great choice for tackling difficult messes.
Pros
Comes with a tool for difficult stains
An intuitive express cleaning function for dry carpets in just 30 minutes
Easier maintenance thanks to the removable brush roll cover
Cons
There's no storage on the unit for accessories
Where Can I Buy ProHeat 2X Revolution Pet Pro Carpet Cleaner
#2). Hoover Smartwash Automatic Carpet Cleaner
The Hoover Smart Wash offers powerful carpet washing in a full-sized compact appliance. This affordable option provides user-friendly functionality to shampoo carpets without much effort. All you need to do is glide the machine forward to activate its washer with a mixture of detergent and water. Then pull back the unit to extract moisture and dry.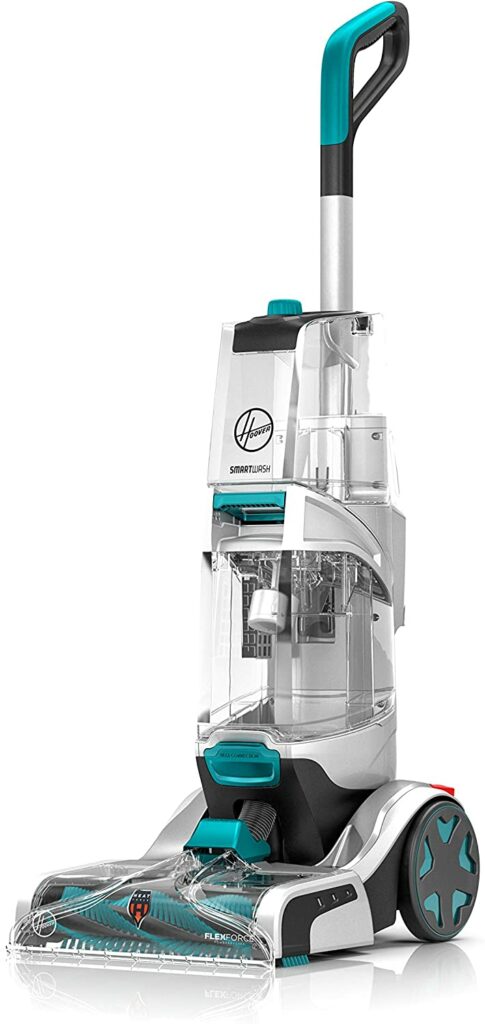 It automatically sprays an accurate mixture of water and shampoo, which means that you don't have worry whether you've poured in the correct amount. If you think that your carpet is too damp, simply choose the "dry only" option and pass over the wet areas a few more times. The unit is equipped with a hose and various cleaning accessories.
The Hoover smart wash carpet cleaner stops you from guessing whether you've done a good job thanks to the automatic washing mode that takes away all of the hard work. It removes complicated controls and is easy to set up.
There's an automatic drying feature which removes water and applies heat to speed up the time it takes to dry carpets. The Flex force brushes are designed to deep clean ingrained dirt to ensure that your carpets are revived to their former freshness.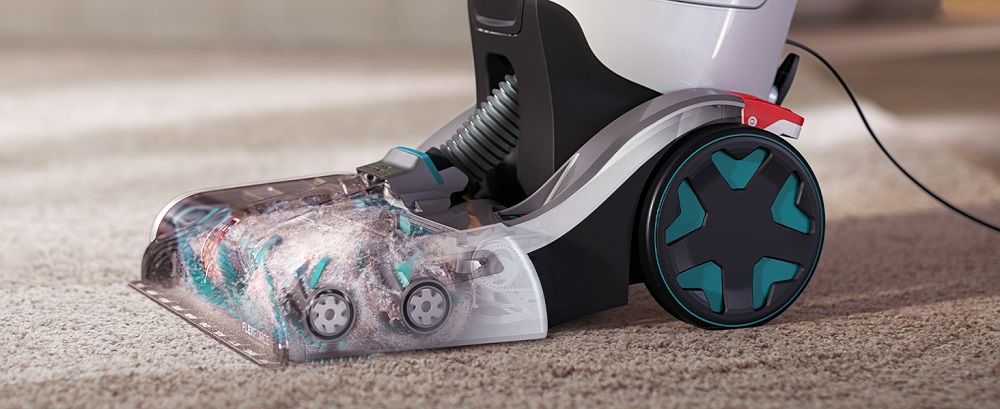 Pros
Automatic mixing of detergent and water to remove the guesswork
A removable nozzle to clean smaller areas
Cons
A bit fiddly to carry between rooms
Where Can I Buy Hoover Smartwash Automatic Carpet Cleaner?
#3). Bissell CrossWave Floor and Carpet Cleaner
If you're looking for a smaller machine to wash low pile carpet such as rugs then this is one of the best solutions. The dirt on low pile rugs can't travel too far down and as such, it does not require stiff bristles for deep cleaning. The Bissell CrossWave uses a nylon brush and a microfiber cloth to clean delicate carpets.
With this machine, you don't have to worry about your short pile getting damaged or the loops getting frayed. This unit is a great solution for rugs and hard floors and can even dry vacuum.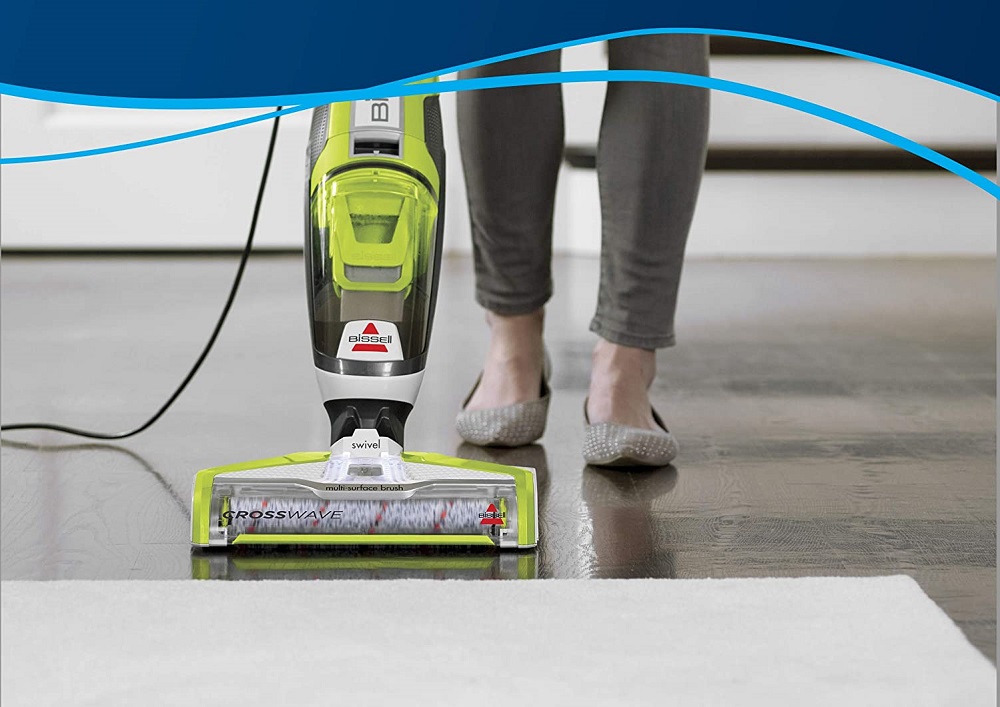 It sprays out the right amount of water to clean effectively but ensures that it doesn't drench the carpets or wet the floor under the rug. The buttons are within a comfortable reach and the machine is easy to handle. You can seamlessly transition from dry vacuuming to washing with the flick of a switch. There's a bay to store the wet brush after use.
The BlSSELL CrossWave is a versatile appliance for homes with different types of flooring. It's designed with multi-surface cleaning capabilities for you to vacuum and shampoo your rug all in one go. The unit can be used on rugs, laminate floors, tiled flooring, wooden floors and many other floor types.
It houses two separate tanks to separate the detergent from the dirty water. Onboard is a Dual-Action rotating brush that spins at 3000 RPM and when you combine that with the powerful carpet shampoo, the CrossWave delivers a thorough clean with less effort.

Pros
Compact appliance capable of wet and dry cleaning
Great for gently cleaning area rugs and hard flooring
Intuitive tray to store wet brushes while avoiding drips
Cons
Not practical for high pile carpet or deep cleaning
Where Can I Buy Bissell CrossWave Floor and Carpet Cleaner?
#4). Bissell Pet Stain Eraser 2003T
If you're looking for a truly compact solution for removing carpet stains then you should consider the Bissell Pet Stain Eraser. This is the ideal machine for dry and wet cleaning around the home and can also be used to clean car seats. It's a battery-powered gadget with around 18 minutes of running time.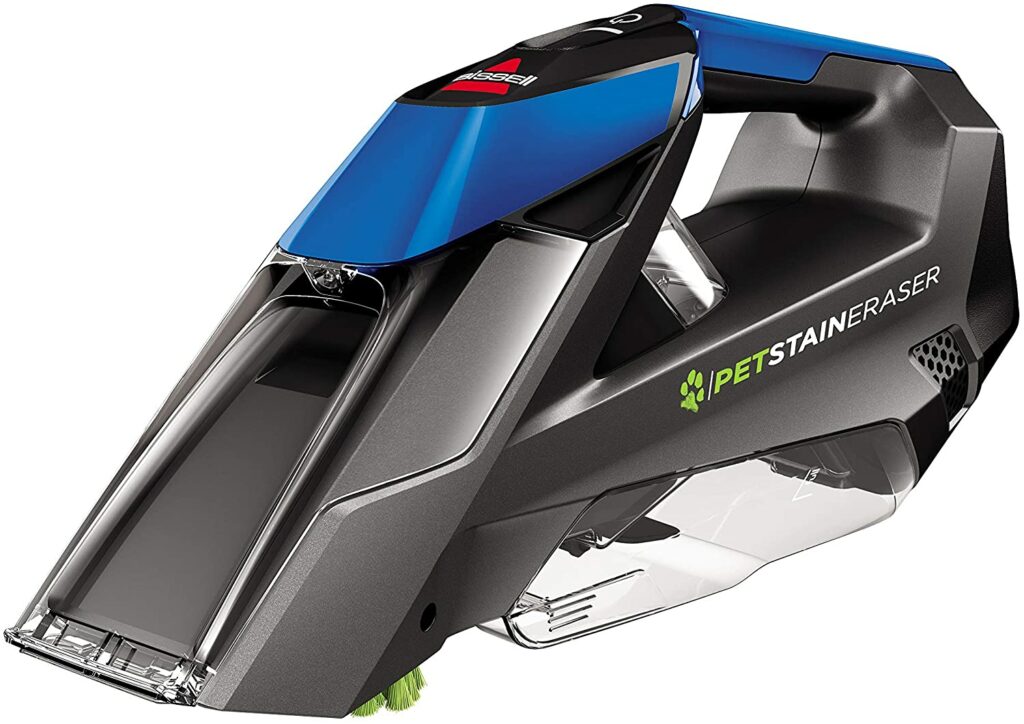 The Eraser can efficiently remove coffee and juice stains from pale carpets. The machine can even eliminate stains more than a month old! It's also very good at removing the nastier stuff such as pet urine, poo and vomit. It comes with a powerful detergent and brushing nozzle for thorough scrubs.
The best thing about the Bissell pet stain eraser is its portability, which lets you keep it close by and activate it immediately from the moment pet stains occur. Use it on carpets, rugs, upholstered furniture, stairs and an endless list of areas that would be more difficult to reach with a full-sized machine.
Bissell also provides a sample of Professional spot & stain + Oxy solution which deals with stubborn stains effectively and immediately. The detergent doesn't need to be mixed and can be poured directly into the machine. It can also be left inside the unit ready to use for the next cleaning session.
All you need to do is apply the detergent to the affected area, scrub with the integrated brush and suck the dirt into the tank. You can stay on top of messy pet stains with this powerful compact cleaner.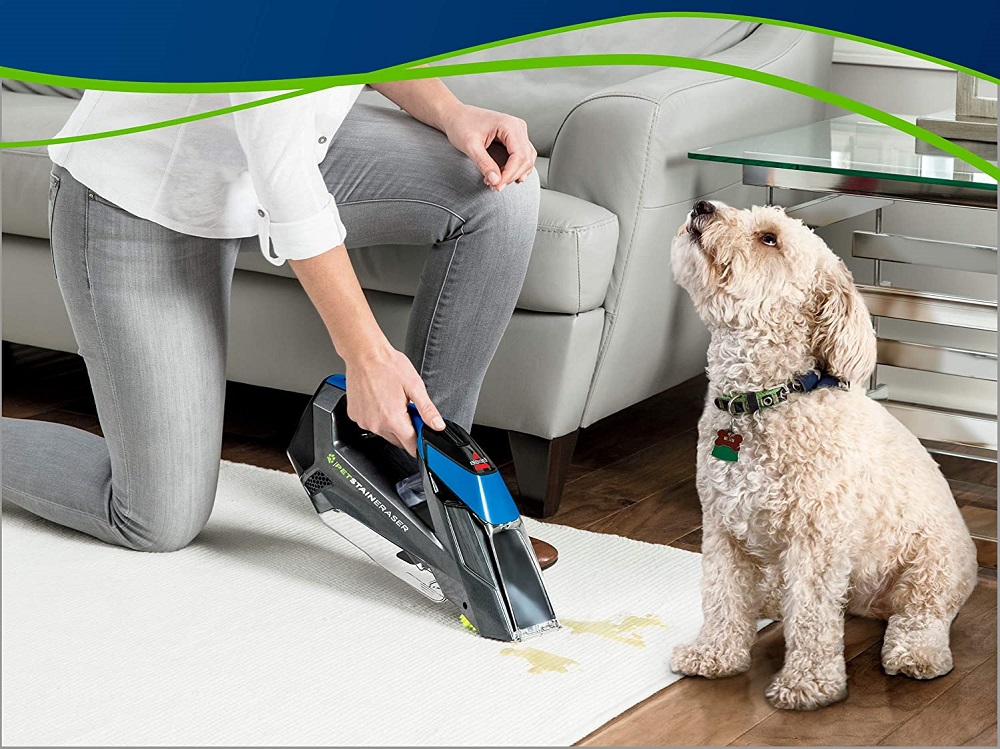 Pros
Effective at removing difficult aged stains
Can be used for dry and wet cleaning
Cons
Takes a bit of getting used to to accurately spray the detergent
Where Can I Buy Bissell Pet Stain Eraser 2003T?
#5). Rug Doctor Mighty Pro X3
For those of you looking for a carpet shampooing experience that verges on professional cleaning, the Rug Doctor is as close as you'll get. There's an option to rent it if you don't have enough storage space. But if you decide to buy it you'll be provided with various accessories and a hose to clean upholstered furniture and stairs. It also comes with a special cleaning formula.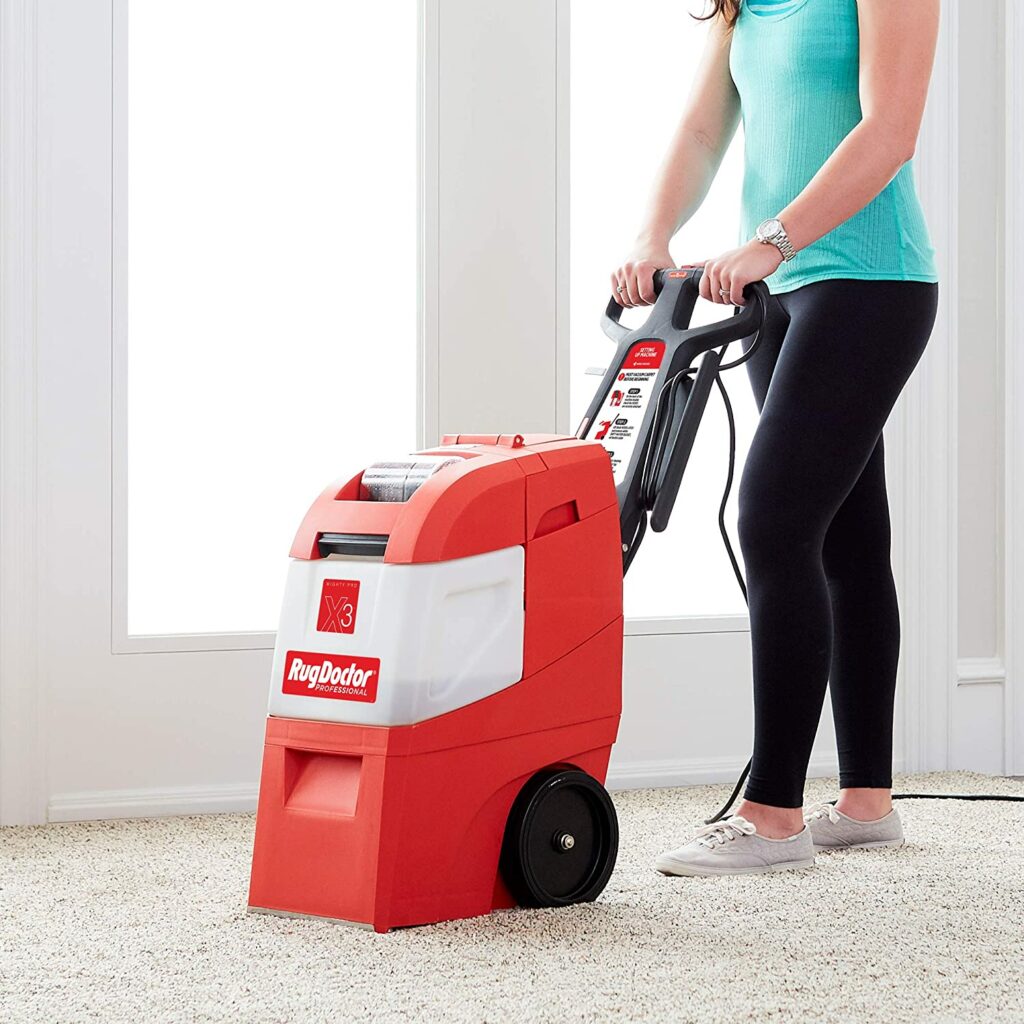 The Rug Doctor is one of the best-rated carpet cleaners for removing soil and moisture and extracting them gently to avoid damaging carpet fibres. The machine works by moving it backwards using a one-pass cleaning mechanism. It sprays, scrubs and sucks moisture simultaneously to thoroughly remove stains, ingrained dirt and bad smells to a commercial standard.
The X3 is equipped with strong jets that spray the shampoo deep into the carpet fibres to start the cleaning process and remove tough dirt.
The brush vibrates to give powerful triple action scrubbing of individual carpet fibres to dislodge dirt and remove smells that alternative appliances often struggle to get rid of.
Pets and kids bring mud from outside and often spill things like food and juice onto carpets, leaving you to deal with the resulting mess. The Rug Doctor Mighty Pro X3 makes light work of eliminating stains and restores your carpets to their immaculate condition. If you're after commercial-grade results then this is your best choice.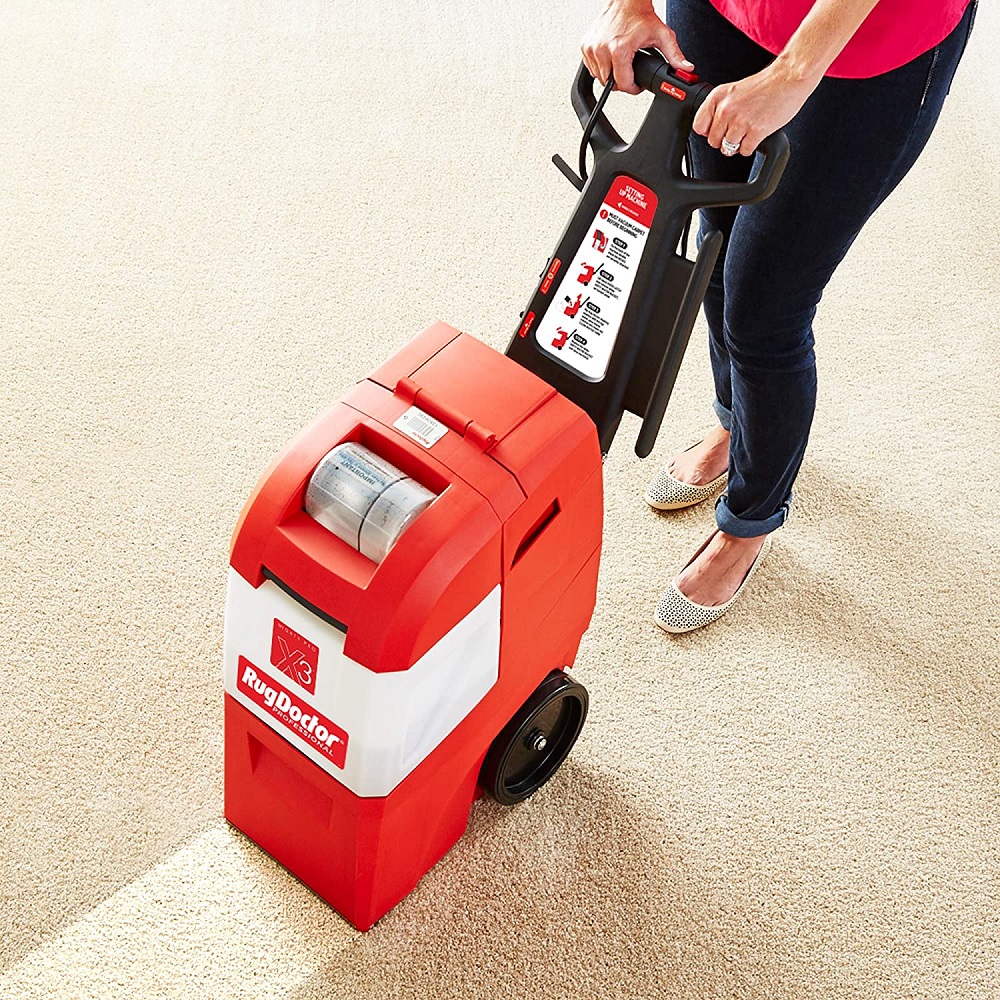 The unit comes with a large 3.9-gallon recovery tank which is over double the capacity of most carpet washers. As a result, you can clean for longer and not need to fill up and empty the tank as often. The robust wheels enable you to manoeuvre the X3 in most parts of the home. The handle can also be folded down for better storage.
There's an additional mini handheld upholstery scrubber accessory that you can buy to clean stains on stairs, upholstery, rugs and smaller areas. Rug doctor provides a generous 2 Year Customer Warranty for peace of mind and support whenever you encounter problems.
Pros
A larger tank that does not need to be filled or emptied as frequently
A lengthy 12-foot hose to extend its reach
The handle can be folded for easier storage
Cons
Where Can I Buy The Rug Doctor Mighty Pro X3Rug Doctor Mighty Pro X3
#6). Bissell Big Green Professional Carpet Cleaner Machine
If you've got the space for a larger carpet cleaner, the BISSELL Big Green cleaner is a high-performance machine that provides professional standard results. It's equipped with robust motors and a larger powerful brush to extract tough dirt and give your carpets the deep clean they've been waiting for. It removes ingrained dirt effectively and the strong suction ensures that dirt is whisked away into the tank.
The unit houses 2 tanks to separate the clean water and detergent from the dirty water. The large tank ensures that you spend less time filling and emptying the machine and more time cleaning your carpets.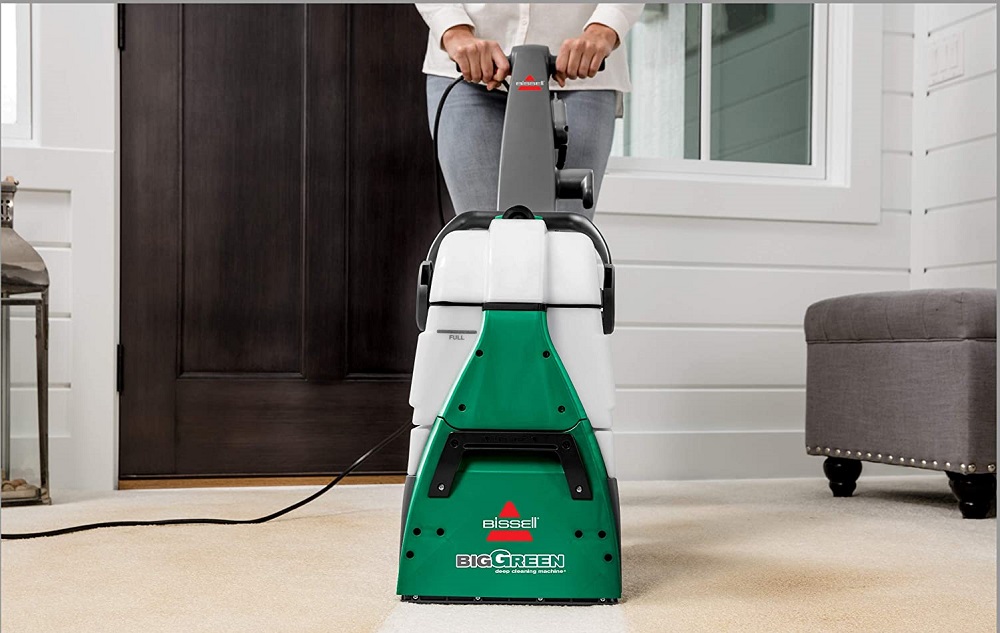 The unit feels sturdy and is designed for heavy-duty tasks thanks to its durable build and high-grade materials. The unit has a lower centre of gravity to ensure that it never tips over. It comes with 2 bottles of Professional Deep Cleaning solution with Scotchgard protection to shield your carpets from further stains.
It comes with a 6-inch Tough Stain Tool to deal with problematic stains on stairs and upholstered furniture. The attachment allows you to spray and scrub awkward areas thanks to the long hose provided.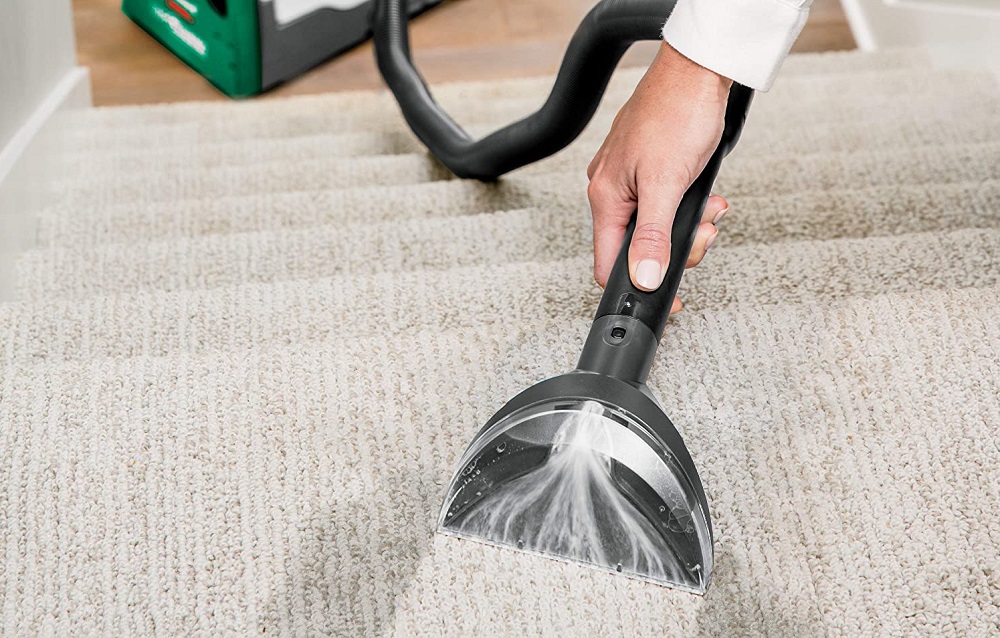 There are many powerful vacuum cleaners out there but vacuuming alone does not remove stains or restore carpets. The BISSELL Big Green provides a deep clean to make your carpets look new again. The appliance makes sure that the right amount of cleaning fluid is applied to carpets, and the brush gets to work immediately to scrub, agitate and extract dirt from carpeting.
Can the BISSELL Big Green clean urine and vomit stains caused by pets?
Absolutely! For the best result, simply apply BISSELL's pre-treatment solution to the affected areas, then clean the carpet with BISSELL professional shampoo detergent. It's as simple as that.
Why should You Consider The Bissell Big Green Professional Carpet Cleaner?
Bissell specializes in carpet washing and offers the best range of deep cleaning appliances for domestic use while providing professional standard results. Their machines perform to a high standard and are designed to be reliable, giving you many years of service.
Pros
Equipped with a robust dirt-lifting brush which provides powerful scrubbing performance
Strong suction speeds up drying times
2 separate high-capacity tanks for heavy-duty cleaning
Comes with a sample of Bissell's professional cleaning solution
A generous 5-year customer warranty
Cons
Bulky machine that some might find difficult to manoeuvre
Where Can I Buy Bissell Big Green Professional Carpet Cleaner Machine
#7). Hoover BH12010 ONEPWR Spotless GO Cordless Carpet & Upholstery Spot Cleaner
If you're looking for a compact machine for spot-cleaning, the HOOVER ONEPWR Spotless GO is ideal for dealing with spillages and pet dirt. The machine is battery powered for added convenience and it easily gets rid of stains by using a combination of powerful suction, cleaning brushes and detergent.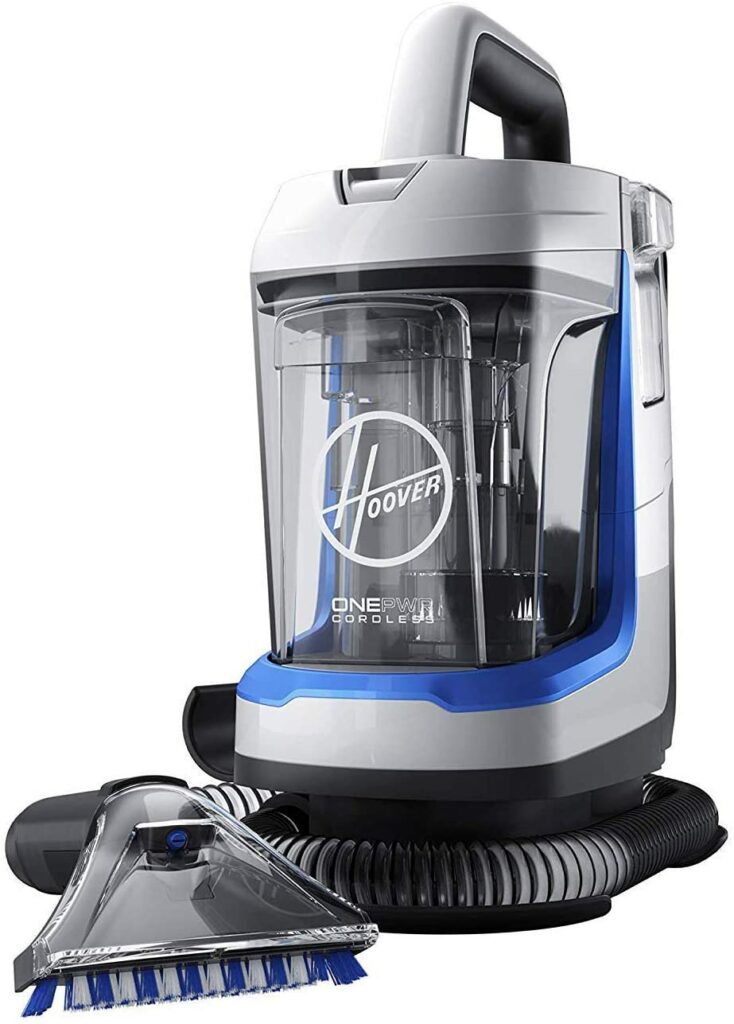 The machine has 2 different tanks for clean and dirty water. Filling and emptying are easily done too! The portable unit can be moved between rooms and stored with ease. This is a great solution for tackling spills as soon as they happen.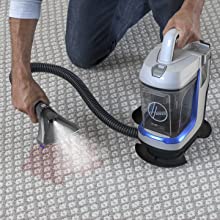 Spotless GO enjoys the benefits of HOOVER ONEPWR's ecosystem, which is an intuitive group of cordless, high-powered appliances that take advantage of the same Lithium-Ion battery for a range of domestic tasks.
HOOVER ONEPWR products are specifically designed for tasks around the home such as cleaning carpets, hard flooring, backyards and much more. This allows you to tackle a variety of jobs without worrying about the limitations of an electric cord.
Okay, let's get back to the Spotless GO. This is the perfect accessories for pet owners and busy households. You can even use it to clean your car seats.
It's received high praise from customers and a lot of attention has been given to its ability to remove carpets stains, pet messes such as mud and urine and food stains on fabric surfaces.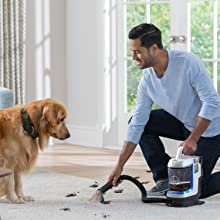 If your mattress could do with a clean, you can spot clean nasty stains in a matter of minutes. With the Spotless GO, there's no need to hire an expensive machine to get small jobs done.
There's an endless list of areas you can use this machine beyond just carpet cleaning, and the portable body allows you to take it anywhere in the house without the limitations imposed by larger machines.
If you're worried about the weight of the machine once it's filled with water, don't be. The tank is not too big and doesn't require much water to perform a good job. It's not intended to soak the surfaces that you're cleaning.
Hoover Spotless GO uses a ONEPWR 20V lithium-ion battery that holds 2.0 Ah capacity and offers enough power to run the machine for 12-13 minutes.
Where Can I Buy Hoover BH12010 ONEPWR Spotless GO Cordless Carpet & Upholstery Spot Cleaner
Carpet Shampooer Buyers Guide
How Should You Use Your Carpet Cleaner
Ensure that the area is vacuumed to remove debris prior to the deep clean. If possible, move furniture out of the room and only move it back once the carpet is completely dry.
Put wax paper or aluminium foil beneath furniture legs if you can't move it out the room. This will stop your carpets from getting stained by wood coating or paint.
Start from the area that's furthest from the door and clean in reverse towards the doorway so that you can exit without stepping on the damp carpet.
Ensure that the room gets as much ventilation as possible to speed up drying times and prevent mold growing in damp carpets. Make sure that doors and windows stay open.
Vacuum the carpet again once it has dried out. This will ensure that any remnants of dirt are sucked up.
Always read the manufacturer's guidelines and instructions before you start cleaning. Make sure you know how much fresh detergent and water to pour into the machine. Most brands will supply a complimentary bottle of shampoo to get you started.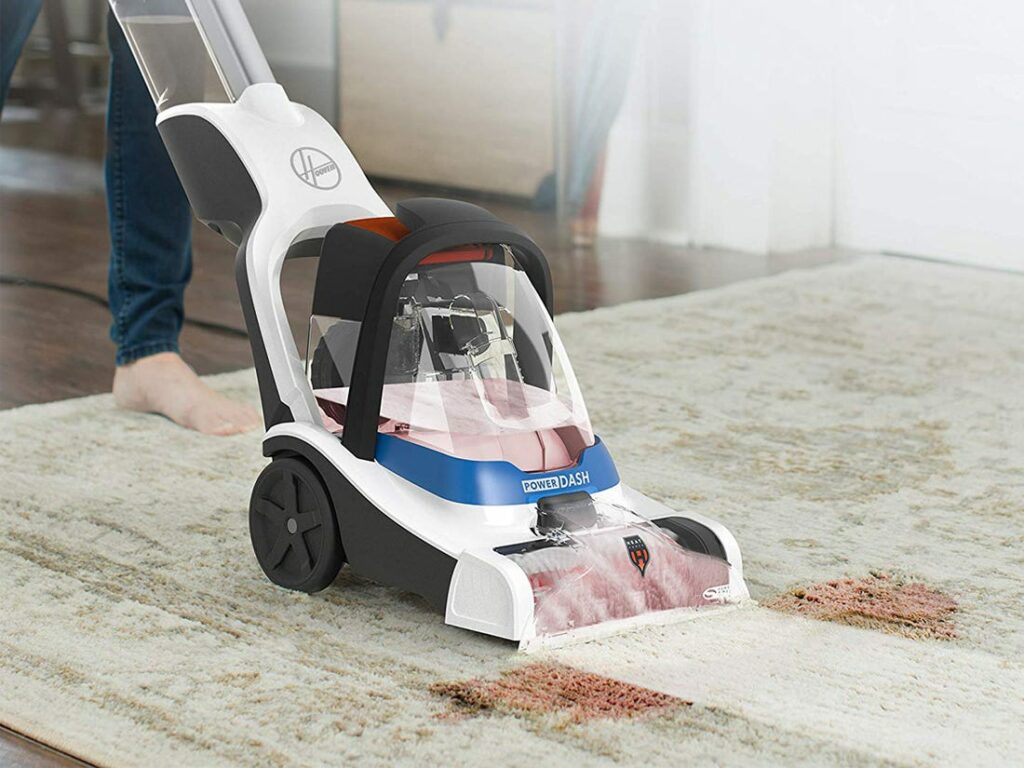 Pay attention to the guidelines regarding the number of times you should pass an area of the carpet. The last thing you want to do is soak the fibres with a lot of detergent and water as this will slow down the drying times and potentially give uneven results.
How Long Will Carpets Take To Dry?
High-performance carpet cleaners will clean with enough moisture to leave the carpets dry in around 5 hours. It will take a freshly-cleaned carpet 24 hours to dry out completely. Always check the carpet cleaner's rating for drying times to make sure that your carpets are not too damp after the job is done. Models with a high rating will leave a drier carpet at the end of cleaning.
Can Carpet Cleaners Remove Stains & Spills?
Carpet cleaners are ideal for deep cleaning tasks which are generally carried out once or twice per year to rejuvenate your carpets. They are great for spring cleaning and most of them can remove wet spillages with the nozzle tools provided. But if you want to remove tough stains such as mud, coffee or red wine, you'll be better off with a spot cleaner that's designed to eliminate stains.
As an overall package, carpet cleaners are generally not that good at removing difficult stains.
What About Water and Detergent?
Warm water is preferable if your chosen appliance allows it. Make sure you don't use boiling hot water. Manufacturers don't recommend boiling water as it could shorten the lifespan of the machine, ruin materials or burn you. Always use colder water for wool blend or pure wool carpets. Never use a carpet washer to clean leather, silk, jute, non-colourfast carpets or rugs.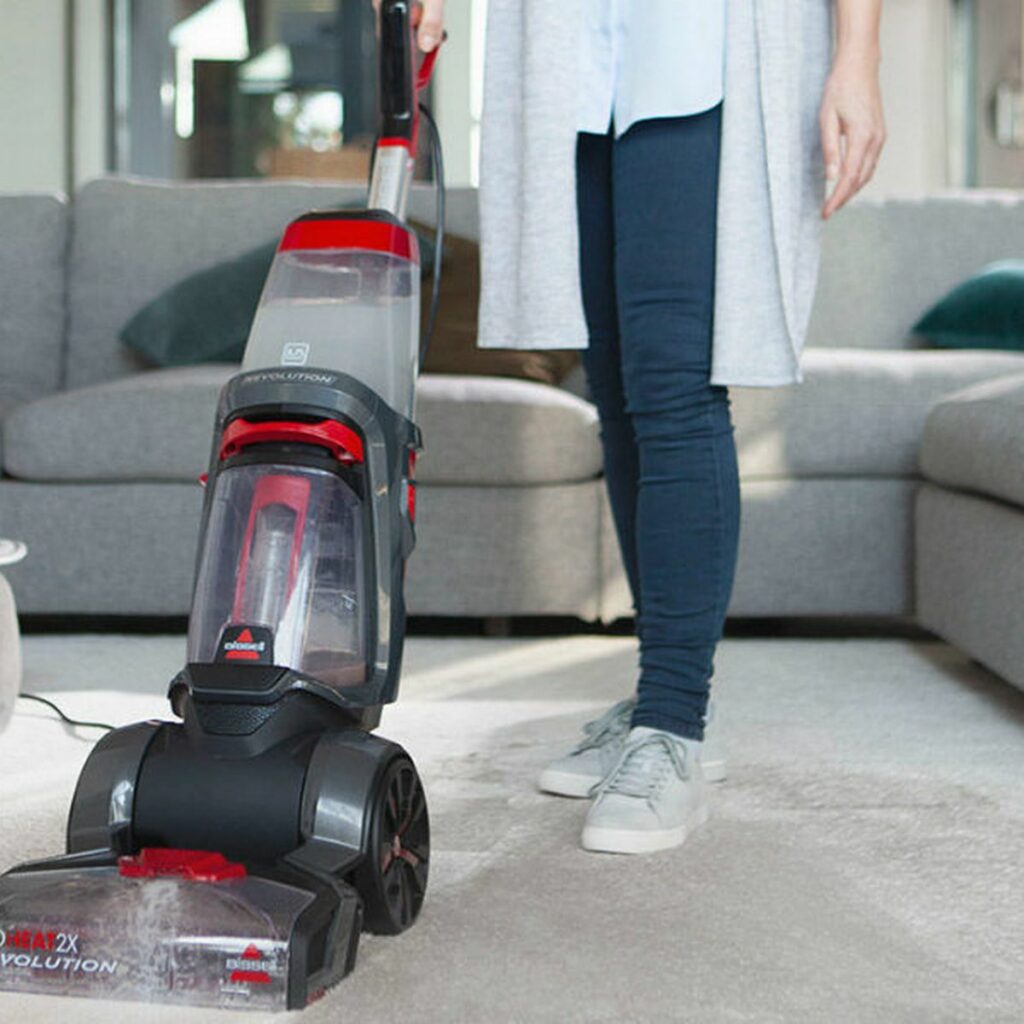 Some models might need the cleaning solution poured into the clean water tank, and other models might have a dedicated tank for the detergent. Most manufacturers will recommend a detergent specifically made for the machine.
Pre-treating Carpets
If your carpet has soiled areas that require extra attention then you should pre-treat those areas. Your chosen model might be equipped with a hose and mini tool to clean upholstered furniture and stairs. You could use this tool to tackle small stains and spills. The carpet will need to be pre-treated 5 minutes prior to cleaning.
However, as mentioned earlier, if you've got tough old stains, you'll need to clean them with a spot cleaner or stain remover. Make sure that you don't apply too much cleaning fluid to the stained patches or else they'll take too long to dry and could suffer from mold growth.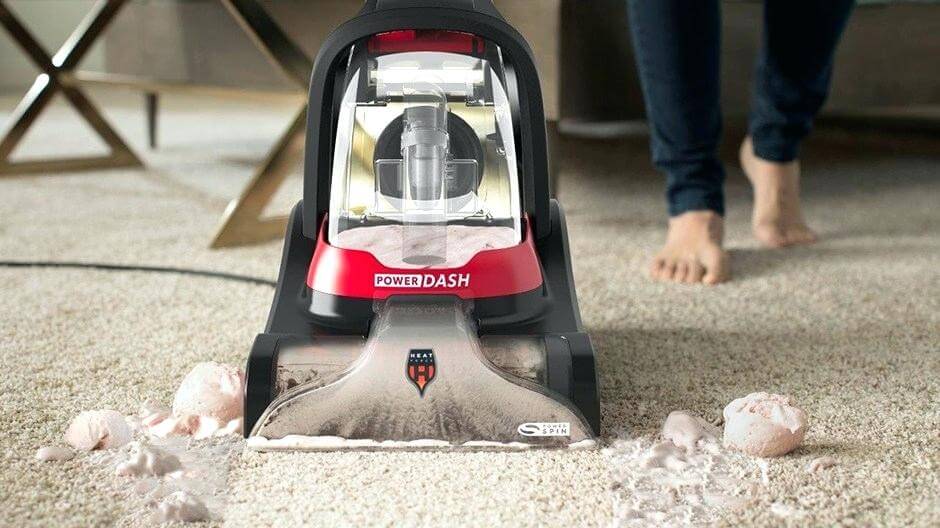 Cleaning Technique
Once you start cleaning, ensure that the machine does not pass over the same area more than once. You should reduce the time spent standing on wet carpet. It's bad enough that you have to walk on it when you return to rinse the carpet but there's no getting around that.
Each model is equipped with different features depending on the brand you choose, the carpet type and the level of dirt. You will want to use a powerful setting for sections prone to high traffic and a moderate setting for edges or areas will less foot traffic.
Always start-off in the corner that's furthest away from the doorway and work in a straight line. Once you get to the end, turn back and continue the opposite way. Clean your carpet following a stripe pattern, similar to when you're using a lawnmower. You should not move the machine in random patterns.
Try to get as close to the skirting board or wall as possible, these are often areas that are neglected. Finally, you should overlap the stripes a little to make sure that you don't skip any parts of the carpet.

That concludes our shortlist and buyers guide for the best home carpet shampooer for 2021. Are you thinking of buying a carpet cleaner or do you already have one? Please leave your comments in the section below. We'd love to hear your thoughts.
Related Articles: