Carpet spillages are almost impossible to avoid and the cost of renting a carpet shampooer or hiring a professional cleaner can soon add up. This helpful guide will show you what to look for when searching for your own domestic carpet cleaner and provide a list of recommended appliances for your cleaning requirements.
In a nutshell, carpet cleaners shampoo the carpet with a special cleaning fluid, warm water and scrubbing brushes found at the base of the machine. Regular usage of a carpet washer will keep your carpets looking fresh, minimise stains and target dirt rooted deep within the carpet pile.
Shampooing carpets will vastly improve their appearance compared to solely vacuuming them. It usually takes about 3 to 4 hours for the carpet to dry after washing.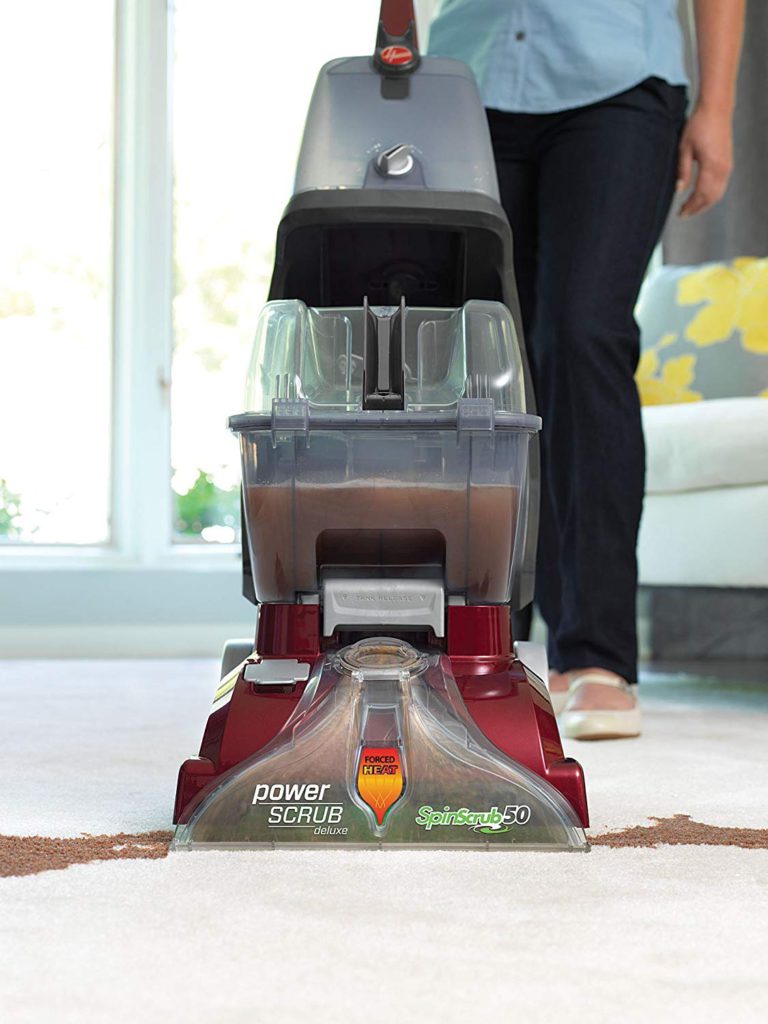 Carpet cleaners are larger than vacuum cleaners because they need to house separate water tanks for clean and dirty water. You can choose a portable machine for smaller jobs such as spot cleaning and eliminating small stains or a bigger machine to clean larger spaces and multiple rooms.
If you want to save yourself money in the long-term but want your carpets to always look as new as the day they got fitted then its time you found a domestic carpet washer that will give virtually the same results as renting a professional appliance.
Lighter-coloured carpets are difficult to maintain and usuall fall victim to stains and spills, they also show signs of ageing much quicker than darker carpets. You can keep on top of this once you get into the habit of periodically washing carpets with your new carpet cleaner rather than putting it off until the next big clean.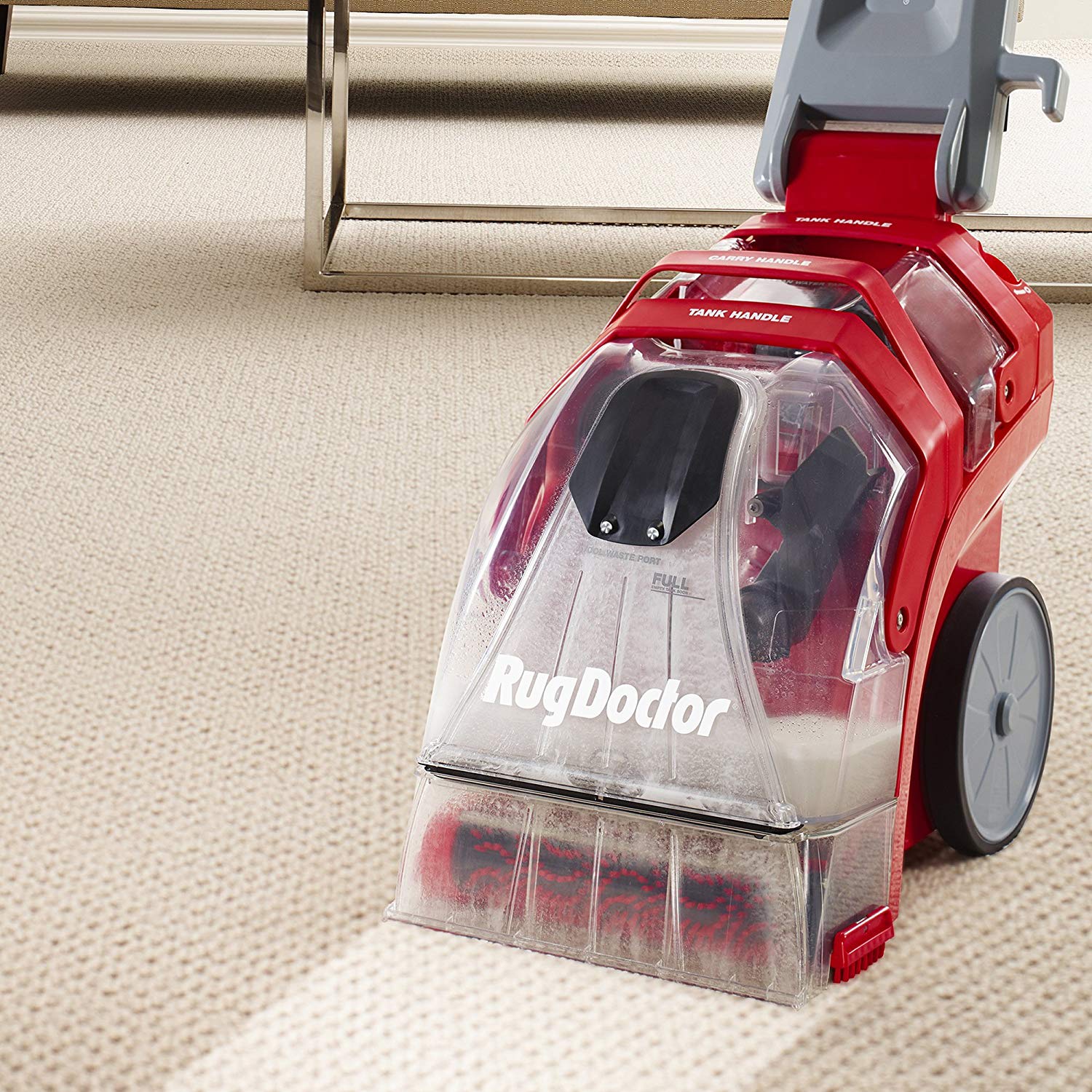 I hate to say this but as lovely as they are, kids and pets are not good for the health of a carpet, and vacuuming alone isn't enough to maintain the life of your carpets. We'll give you the best advice to make an informed choice to buy a powerful carpet washer that deep cleans and dries carpets fast. You can now enjoy the best of both worlds- clean carpets and family time without worrying about dirt and stains.
The tricky part of the process is purchasing a carpet cleaner that provides the functionality to suit your requirements but without costing you an arm and a leg. It can become a difficult task to strike the right balance between performance and affordability. Thankfully we've got you covered. When you're ready to choose your new carpet cleaner you can go straight to the shortlist of our best product recommendations using the link below:
Recommended Read: The Best Carpet Shampooers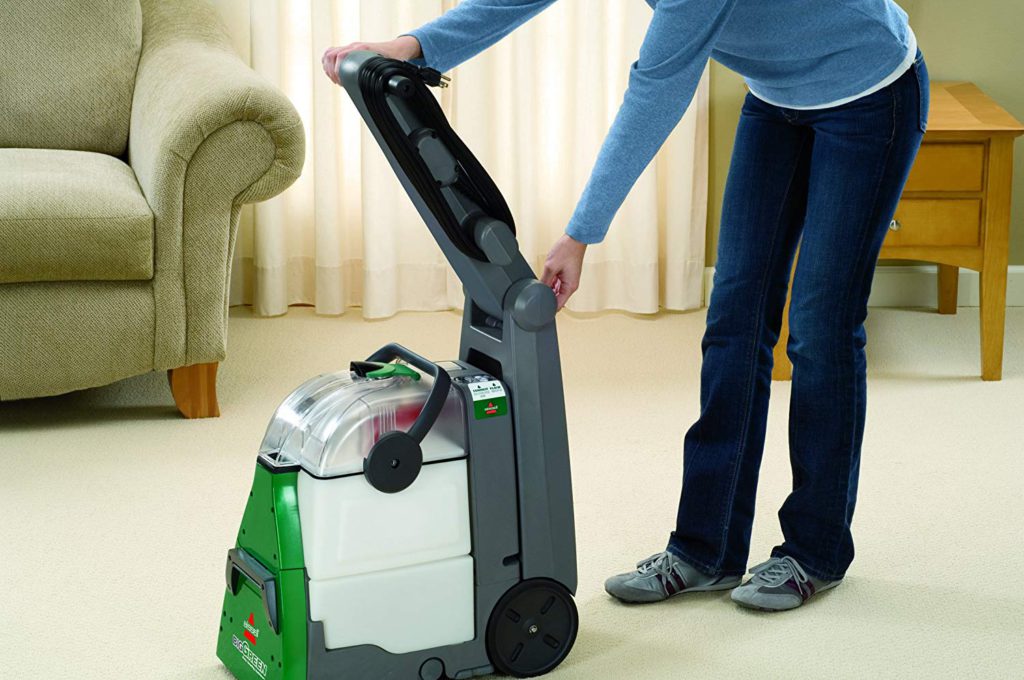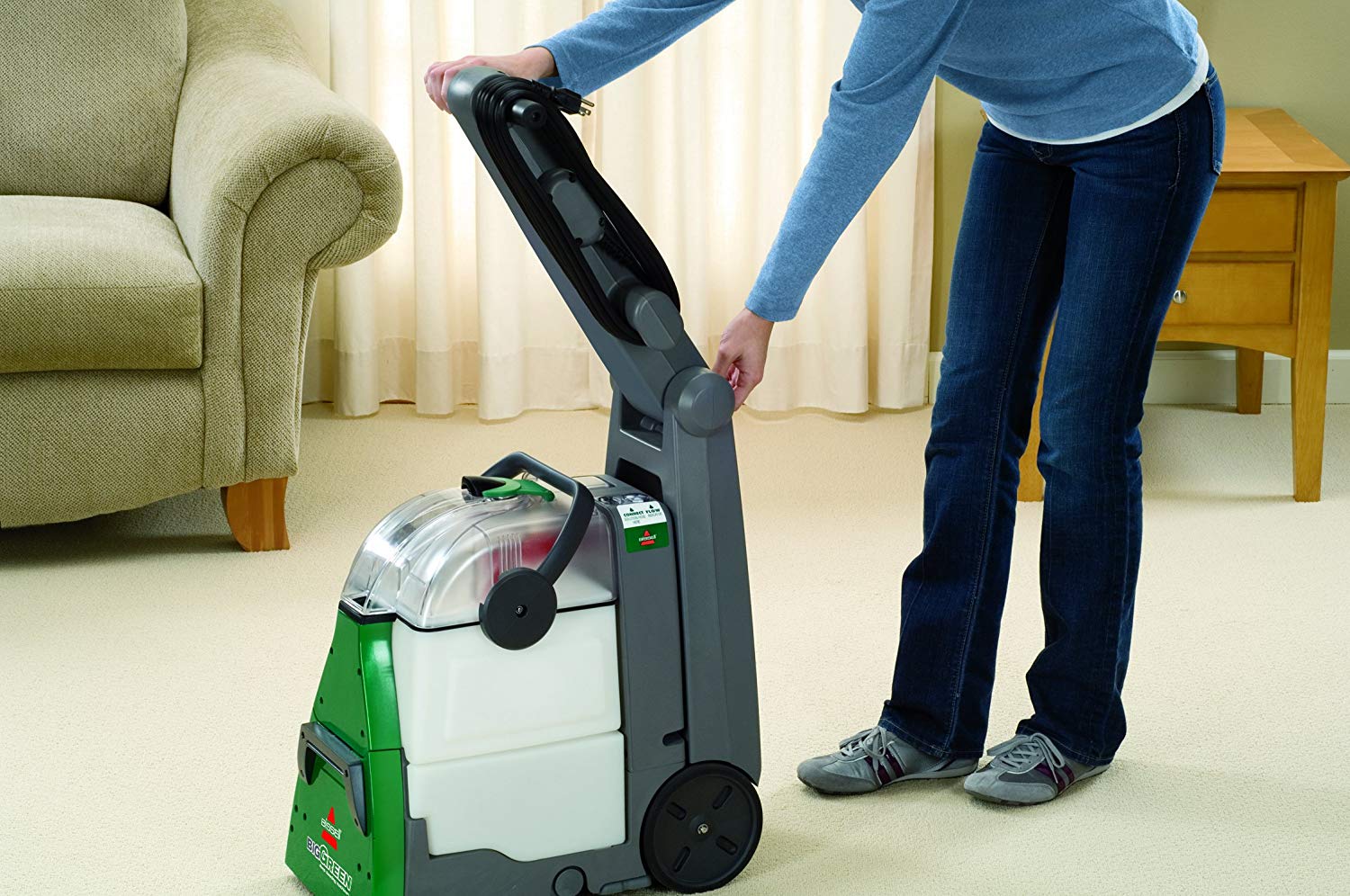 If you want to research more information about carpet cleaners, read on. This guide covers practically everything you need to know before buying a new carpet washer.
---
How Does a Carpet Washer Work?
The majority of carpet washers are equipped with a water container and a section for the carpet detergent. Other machines will integrate both the cleaning solution and water to be mixed in a single tank. As you move the machine across the carpet, it sprays the mixture onto the carpet fibres and simultaneously scrubs the area with the onboard brushes to clean stains and dirt.
The cleaner will then deploy powerful suction to suck up the dirty water, debris, moisture and help dry the carpet quicker. Some machines aren't fitted with a suction feature and will rely on your existing vacuum cleaner to remove the dirt dislodged by the carpet washer.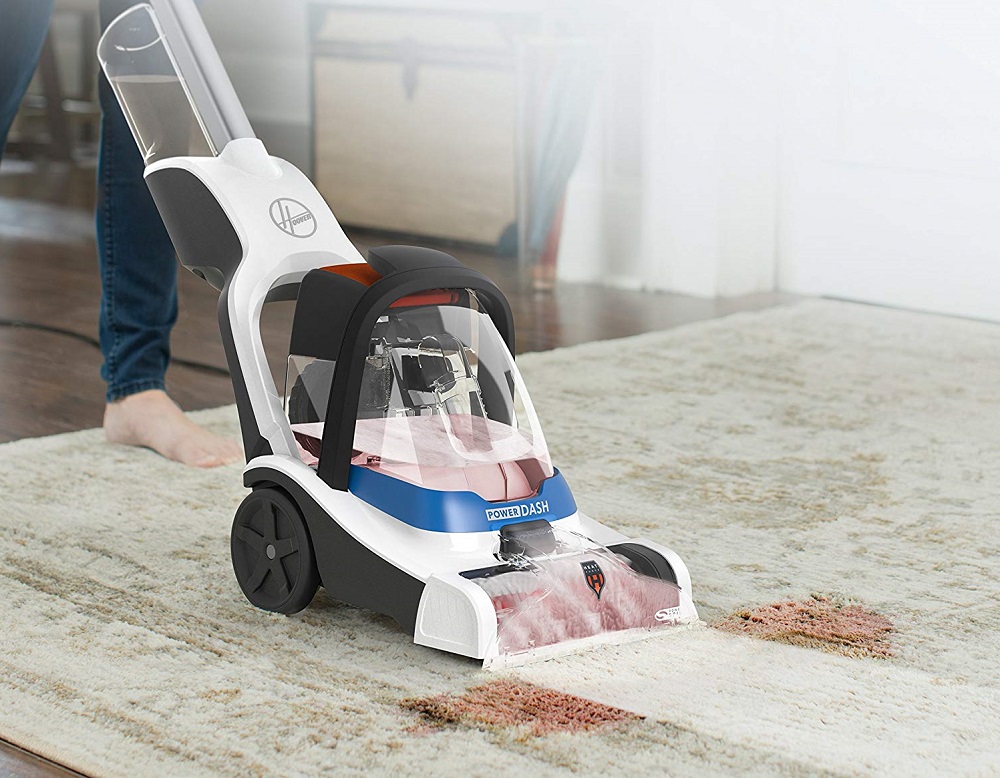 Although carpet cleaners are manufactured with safety features it's always good to be extra careful when using water and a machine connected to electricity. Make sure you plug your new carpet washer into a ground-fault circuit interrupter or GFCI outlet which is a fast-acting circuit breaker designed to turn off electric power in the event of a ground-fault within as little as 1/40 of a second. It's highly unlikely to happen but this mechanism will protect you from electrocution in case water and electricity mix.
Recommended Read: The Best Carpet Shampooers
---
Carpet Cleaner Performance
The cleaning performance of a carpet washer is calculated in watts (W) and as a result, the greater the wattage the greater the power of the machine. Therefore, more power results in better dirt lifting performance and a comprehensive deep clean.
Carpet cleaners with better performance are usually equipped with a motorised scrubbing system that aids in the removal of stubborn dirt and stains.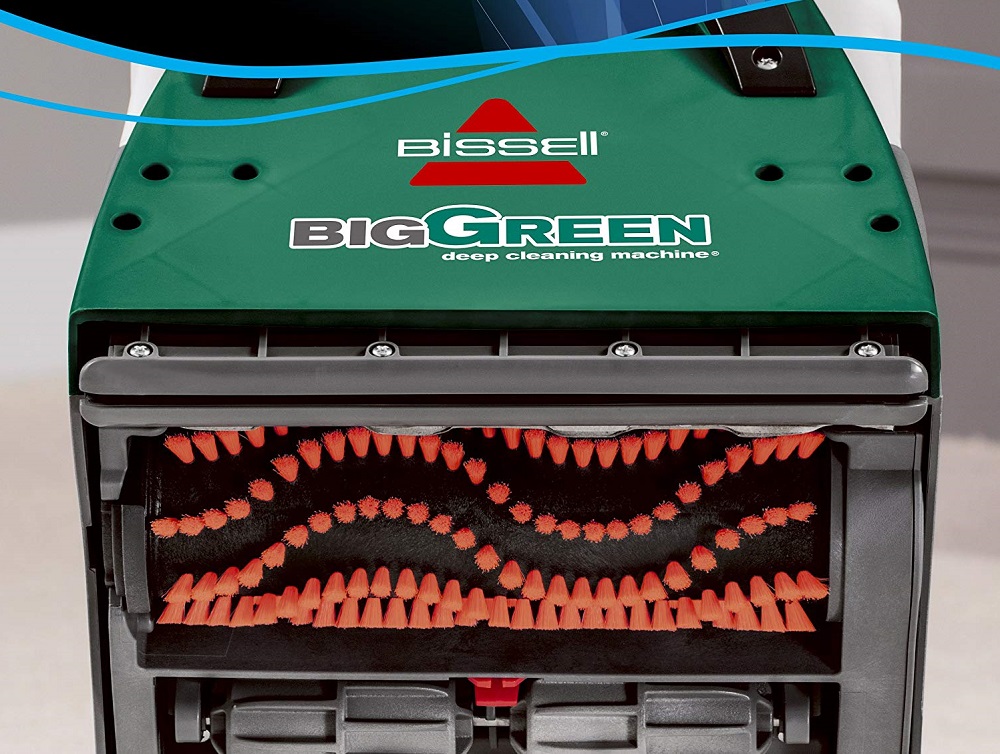 ---
Water Capacity
The capacity of the water tanks is calculated in litres but you need to bear in mind that a carpet cleaner requires at least 2 tanks to hold the clean water and the resulting dirty water. Clean and dirty water is separated when shampooing commences i.e. clean water is applied to the carpet along with detergent then the dirty water is collected into a separate tank as it's sucked up from the carpet.
The benefits of using a carpet cleaner with large water tanks means that you won't need to refill and empty them as often as smaller ones.
---
Carpet Cleaner Heating System
Premium models will often feature a heating system that regulates the water temperature to ensure that it is always heated correctly to optimise cleaning performance. Hot water helps to break down dirt particles and remove grime from carpets for a perfect clean.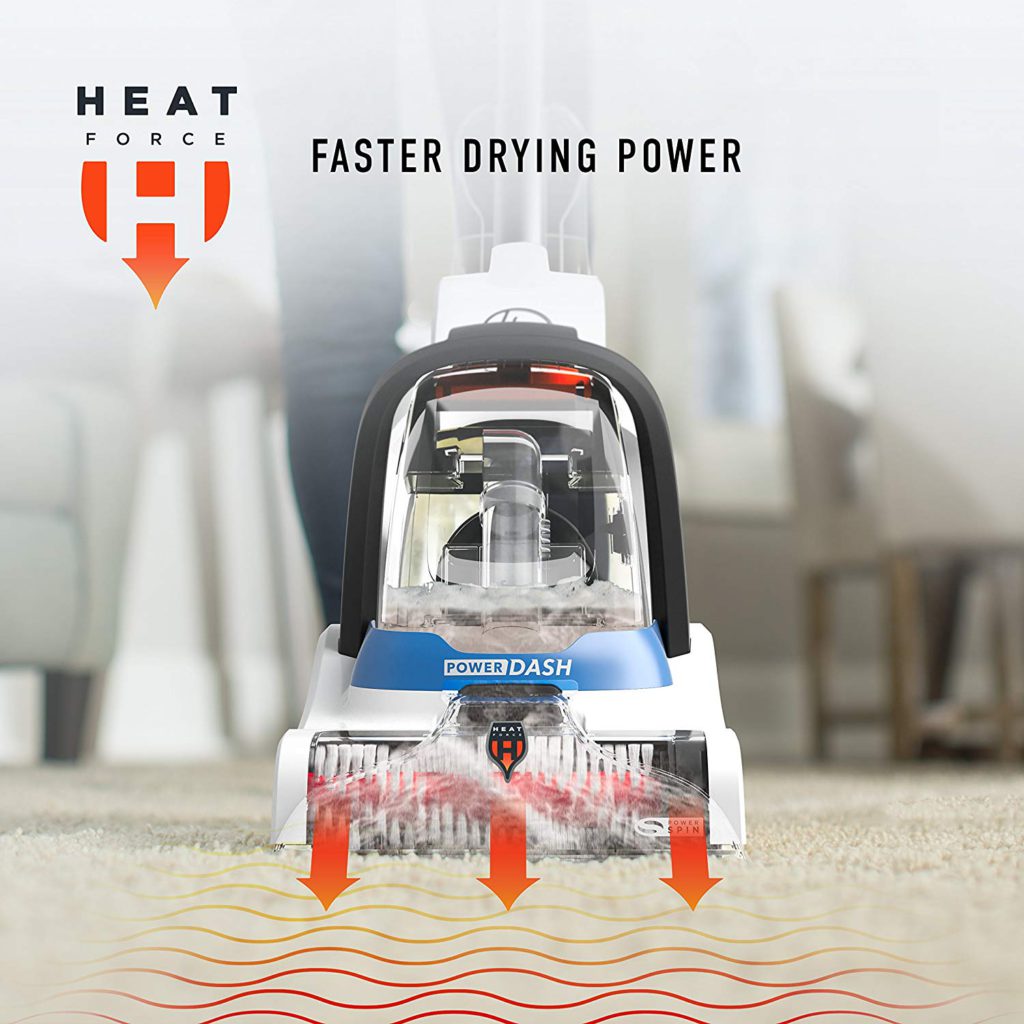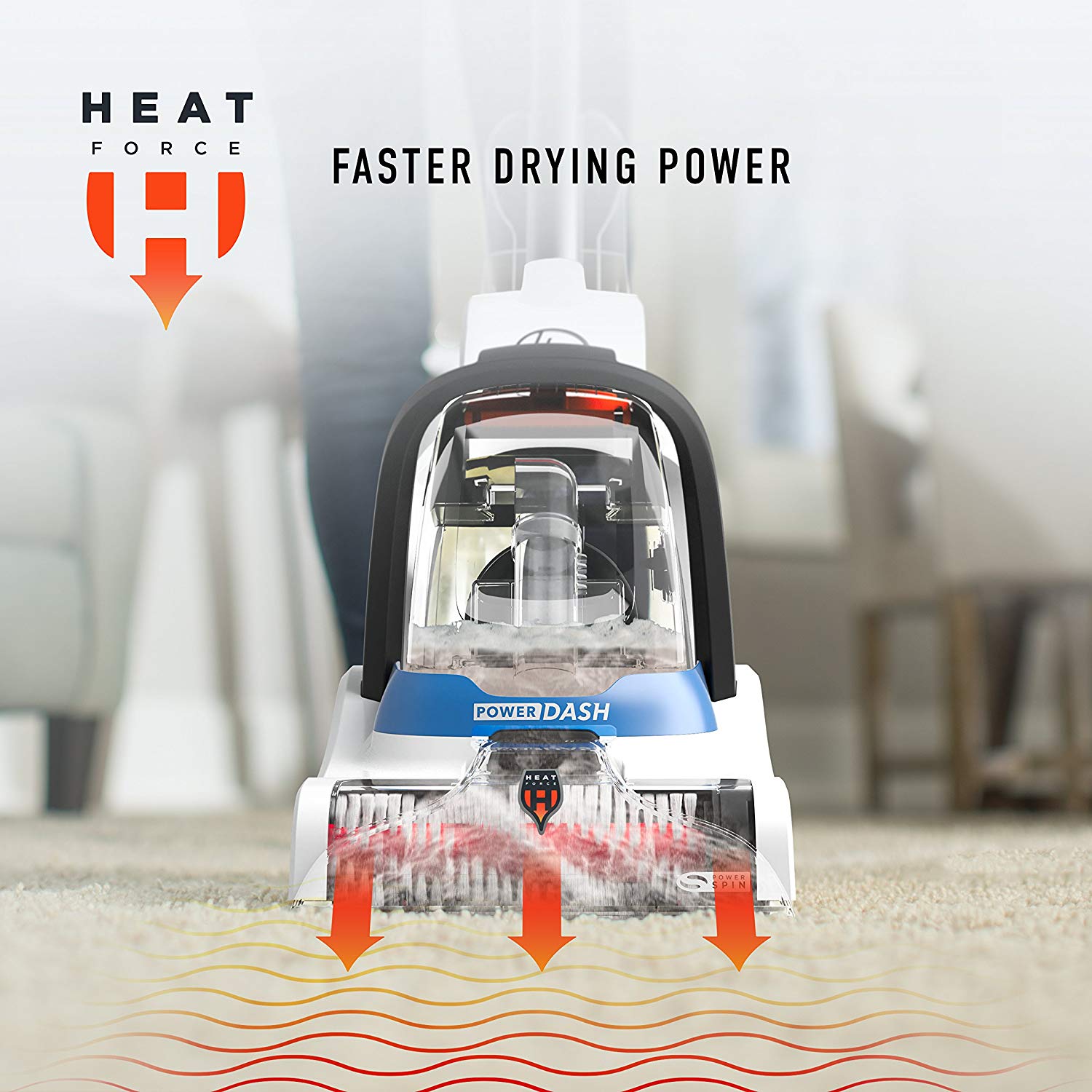 Not all carpet cleaners come with a heating system but I'll help you find the best carpet shampooers with a heated water regulator. Simply click on the link below to access our latest recommendations.
Recommended Read: The Best Carpet Shampooers
---
Machine Measurements
The length of the carpet cleaner will gauge the amount of floor that can be cleaned in one go. Wider units have a greater cleaning range to scrub more surface area, therefore, reducing the time it takes to clean the area.
Certain cleaners with better reach will let you clean right up to the baseboard and corners of the room.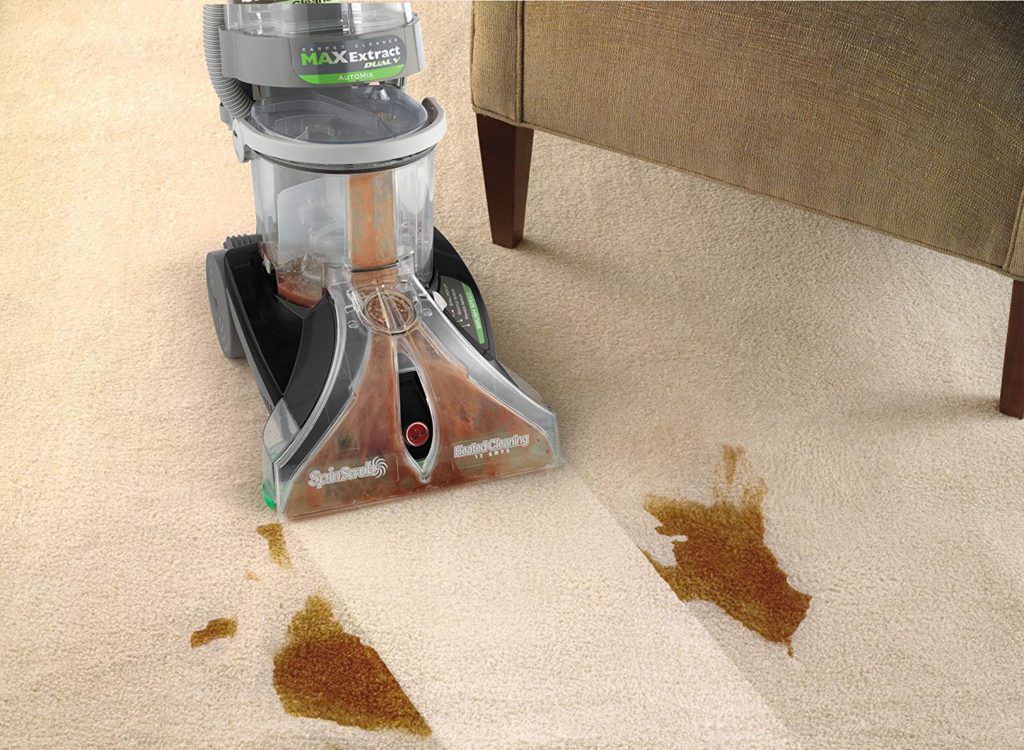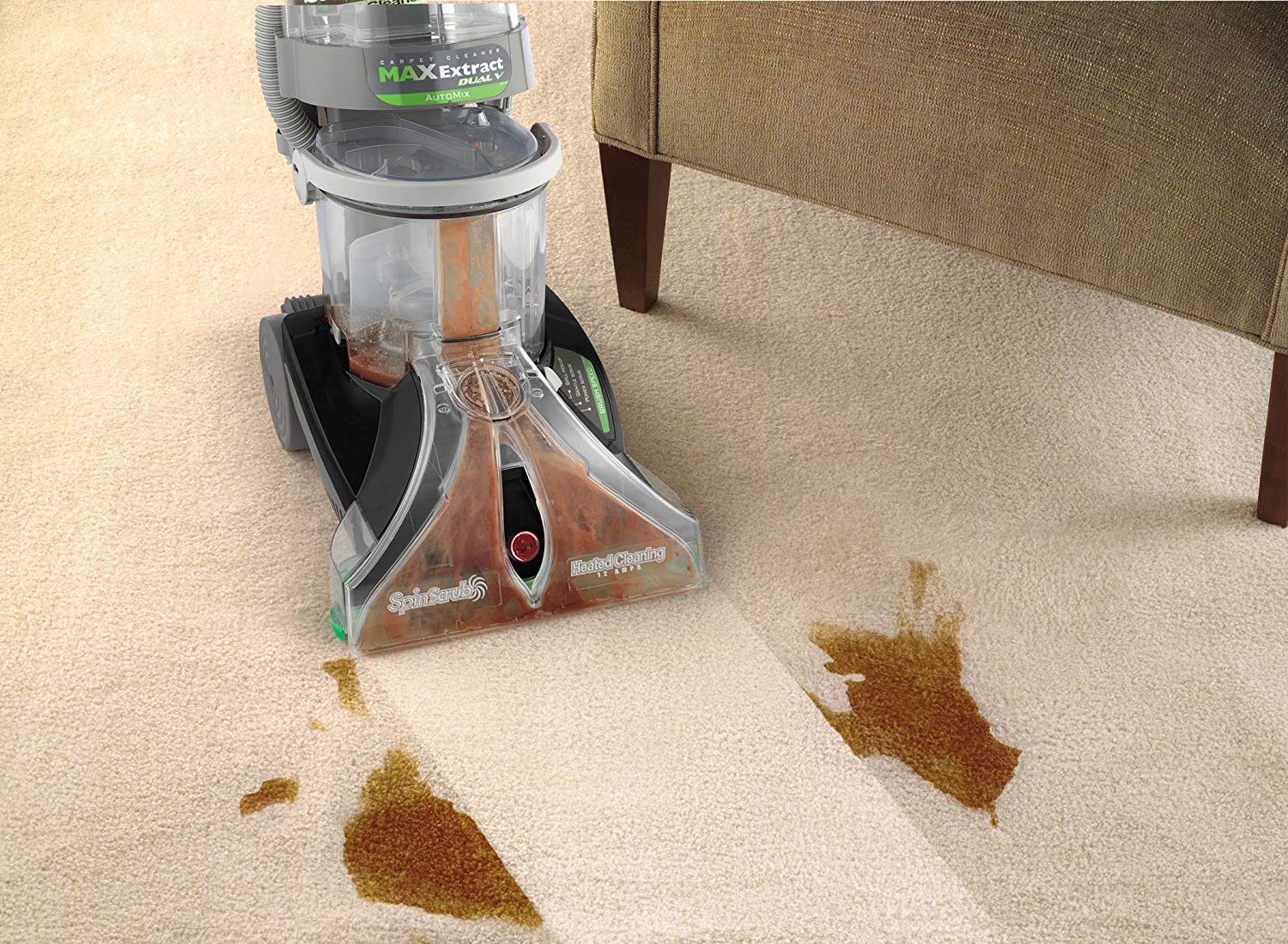 ---
Carpet Cleaning Detergent
For a carpet cleaner to be effective it needs a good cleaning solution. Most manufacturers will ship their units with a complimentary bottle of recommended cleaning fluid designed for use with that specific machine.
The user guide that accompanies the machine will instruct you on the correct quantities required and the number of times you need to pass each area of carpet to get consistent results. Different solutions are formulated for different tasks. Some will be produced to clean stains whilst others will clean your carpet and add a layer of protection to make it less susceptible to stains.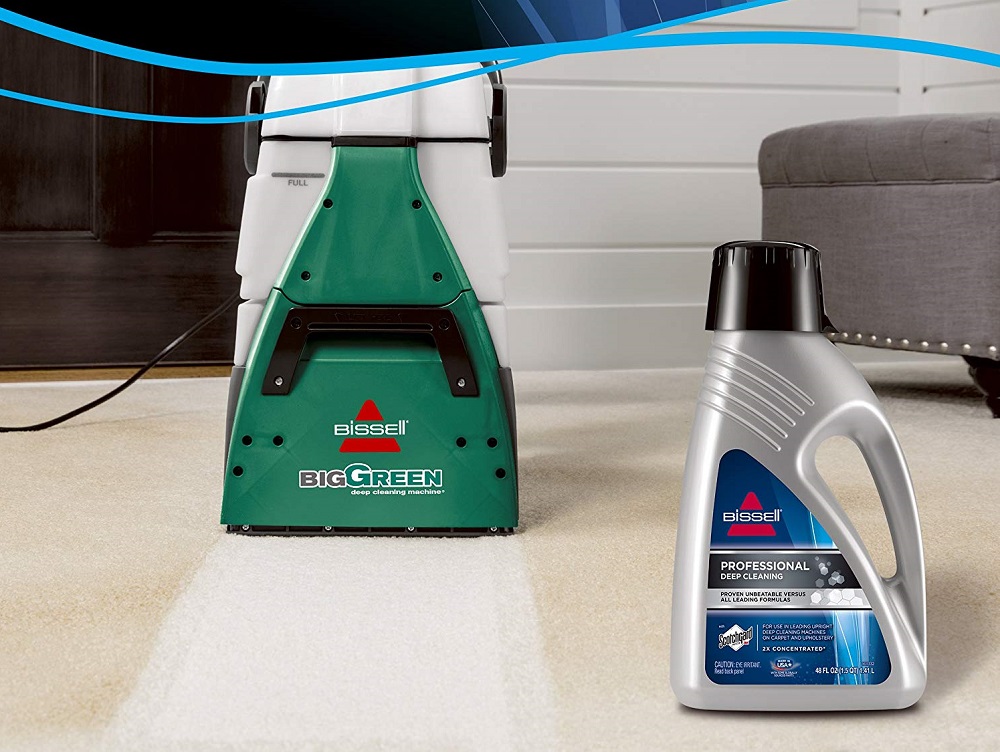 ---
Advantages of Using a Carpet Cleaner
Regular vacuum cleaning is encouraged to remove visible dirt from your carpet but it won't always clean tougher dirt hidden deep down the carpet fibres. The occasional use of a carpet cleaner will result in fresher looking carpets throughout your home.
As mentioned earlier, leasing out a carpet cleaner or employing a professional cleaning company is an expensive option if you intend on doing so regularly, buying a domestic carpet cleaner will drive down costs in the long-term and give you the same outstanding results.
A busy household prone to pet stains and messy spillages will massively benefit from owning a carpet washer because spills and stains can be dealt with immediately as they occur, which improves the likeliness of eliminating them completely.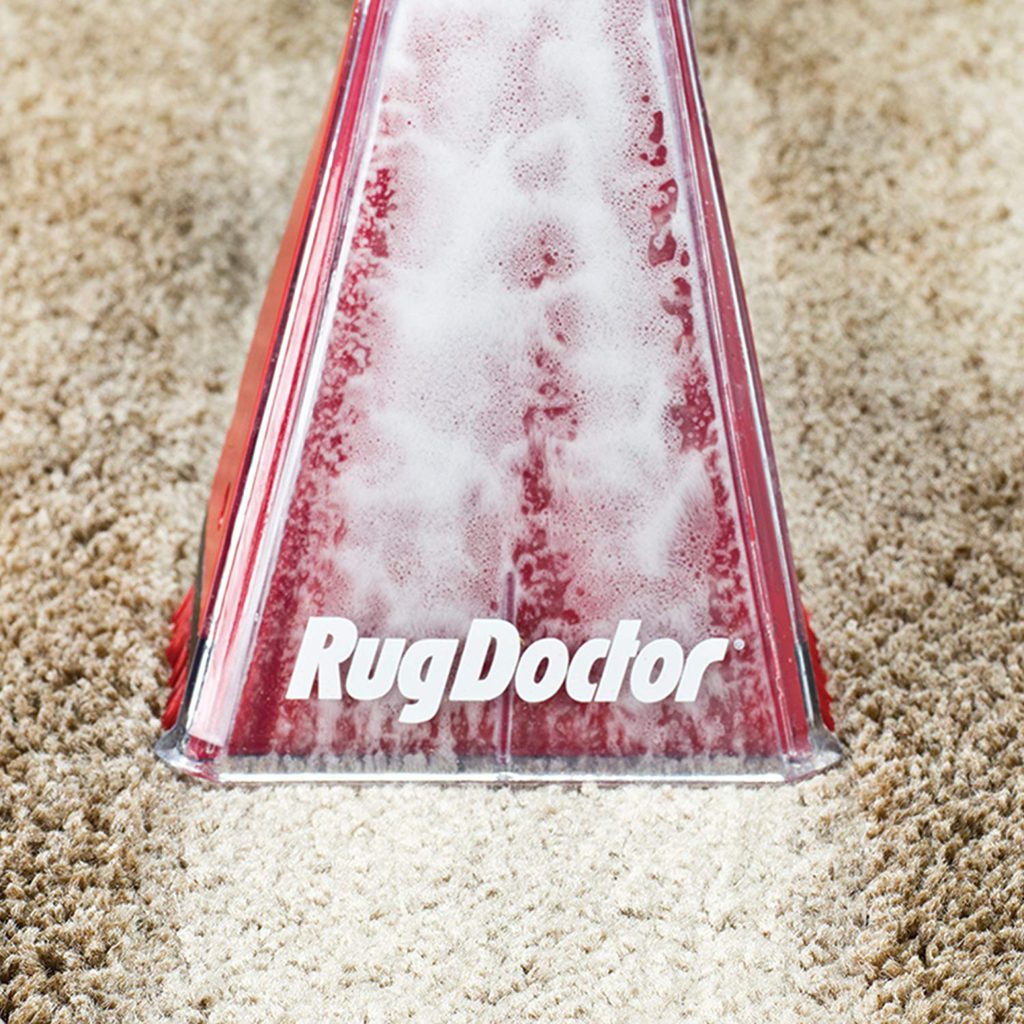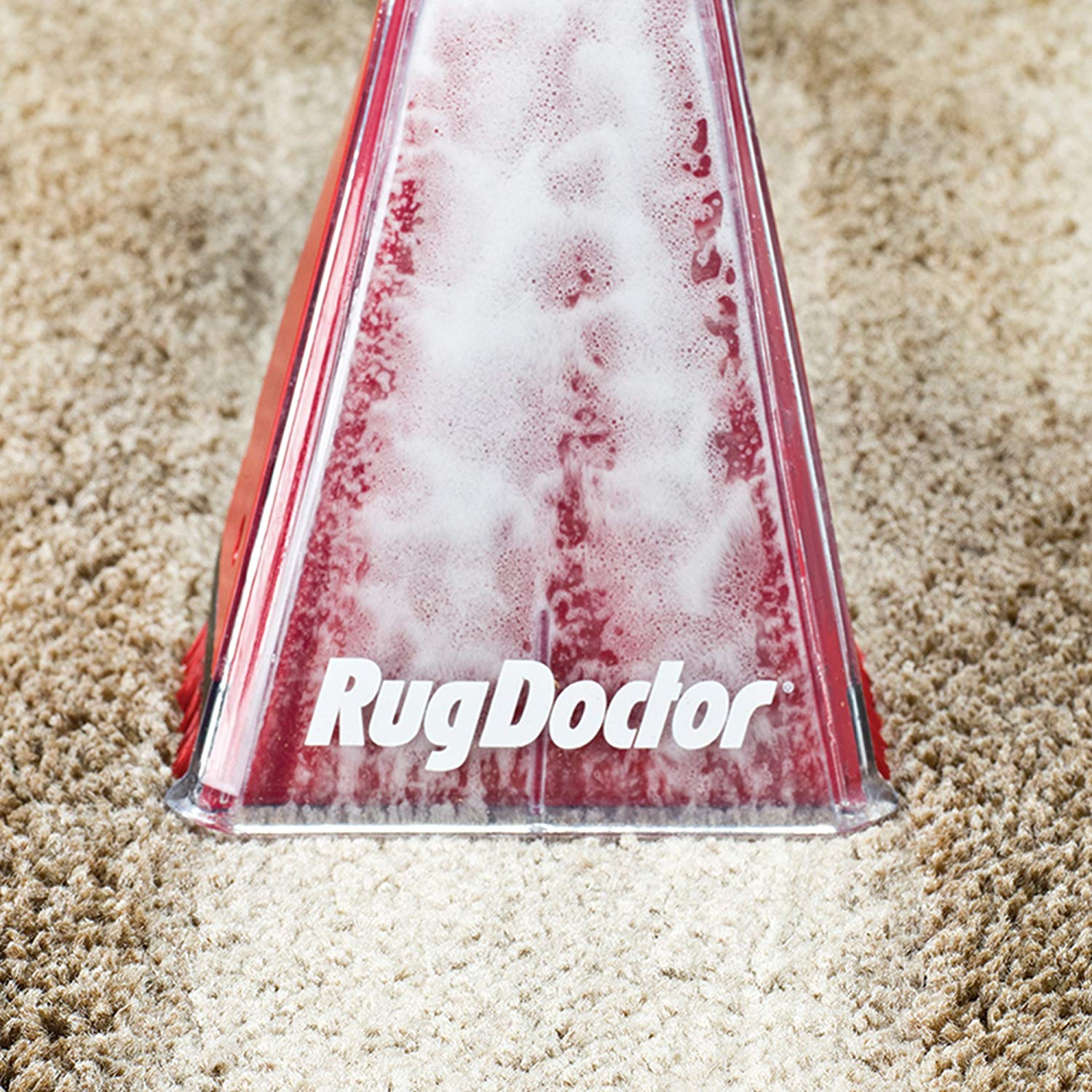 The most effective way of keeping your carpeting 100% fresh and always looking at its best is deep cleaning it a minimum of once a year.
Recommended Read: The Best Carpet Shampooers
---
What To Consider When Buying a Carpet Cleaner
How big is a carpet cleaner and how much does it weigh?
Carpet cleaners weigh more than vacuum cleaners. Some can be as heavy as 50 pounds (22Kgs) and others can be as light as 20 pounds (9Kgs). The dimensions and heaviness of a carpet cleaner can hugely affect its ease of use because cumbersome machines can be challenging to handle.
If you're going to be carrying the machine between different floors then it's wise to consider the weight and how easy it can be lifted up and down stairs. Always check the weight of the carpet cleaner prior to buying it.
Another point to consider is that the machine will get heavier as you pour water into the tank. The benefit of a larger carpet cleaner is that it won't need refilling or emptying as often as a smaller unit. A good tip is to transport the cleaner on an empty tank between floors, then you can always fill it up when you get upstairs.
---
Carpet Cleaner Suction
One of the primary features of a carpet cleaner is its suction performance. It needs to draw out the water, cleaning fluid and dirt from carpeting to make certain that the cleaning is effective. Great suction is crucial to wipe out troublesome stains.
Powerful suction is also necessary to speed up carpet drying times after shampooing is completed. Typically it will take the carpet between 3 to 5 hours to dry after a wash.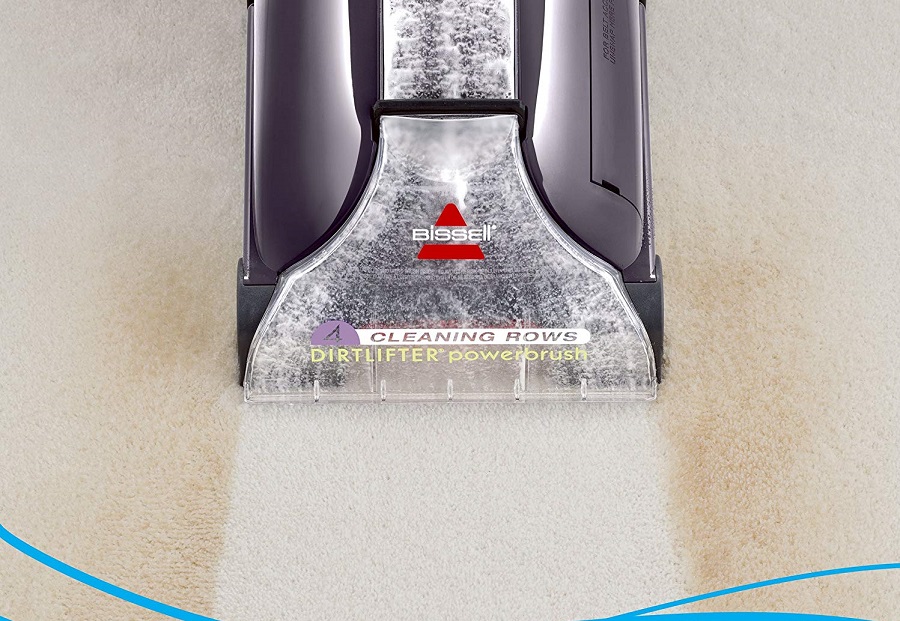 Some carpet cleaners don't come with suction functionality and depend on you to use a vacuum cleaner after shampooing the carpet to extract dampness and dirt. I wouldn't recommend this type of carpet cleaner because it's too much of a hassle and this process could potentially reduce the lifespan of your vacuum cleaner!
Another useful feature is a carpet cleaner that can rinse. This helps you to thoroughly clean the carpet with just pressurised water, after shampooing it, to give it a dedicated rinse.
Recommended Read: The Best Carpet Shampooers
---
Carpet Cleaner Brushes
Carpet cleaning machines are fitted with brushes that agitate dirt and work together with the cleaning mixture (water + detergent) to treat your carpets.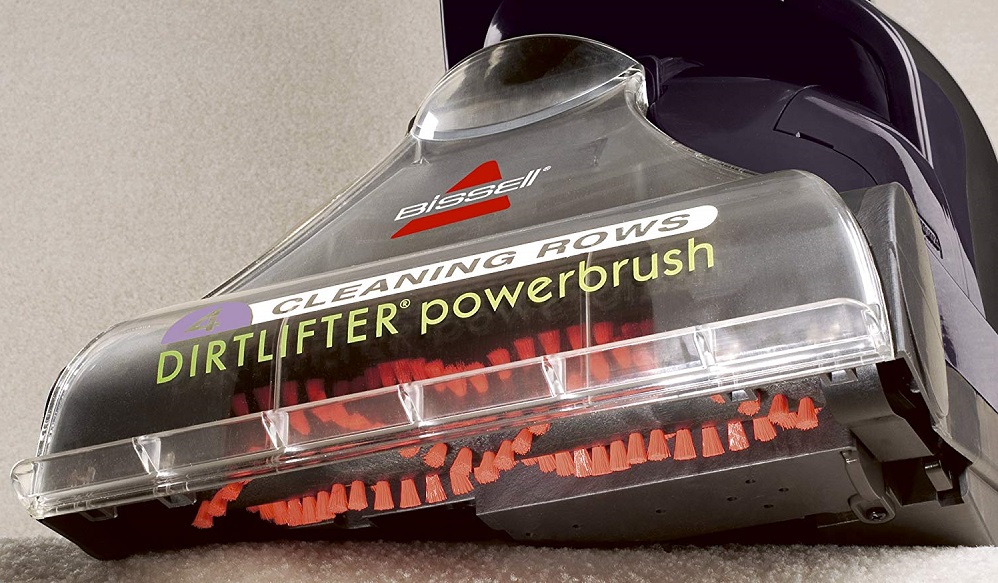 Cheaper cleaners use stationary brushes that don't move without assistance, other machines use motorised brushes that spin unaccompanied in various directions whilst the machine is operational.
Motorised brushes normally give the best scrubbing performance because the independent movement deep cleans the carpet fibres more thoroughly than fixed brushes. Machines with fixed bristles usually cost less but they aren't always the most effective option.
---
Cable Length and Hose
Similar to corded vacuum cleaners the length of the power cable on a carpet cleaner is important because it determines the cleaning range. Longer cables enable you to clean bigger rooms easier. I'd recommend finding a carpet shampooer with a cable that's a minimum of 15 feet long
(4.57 metres).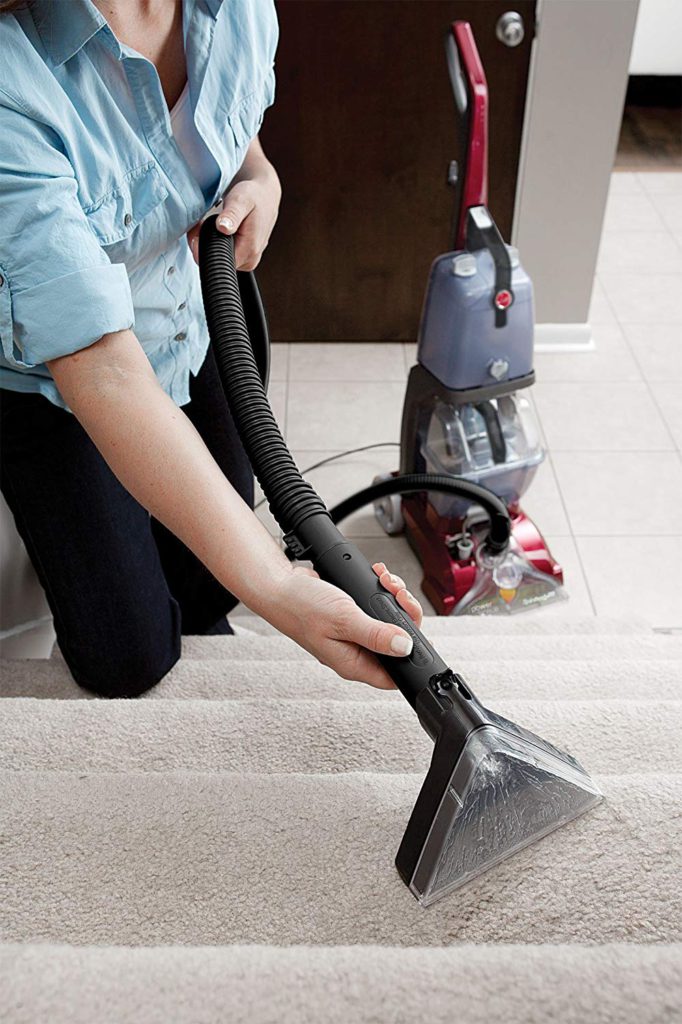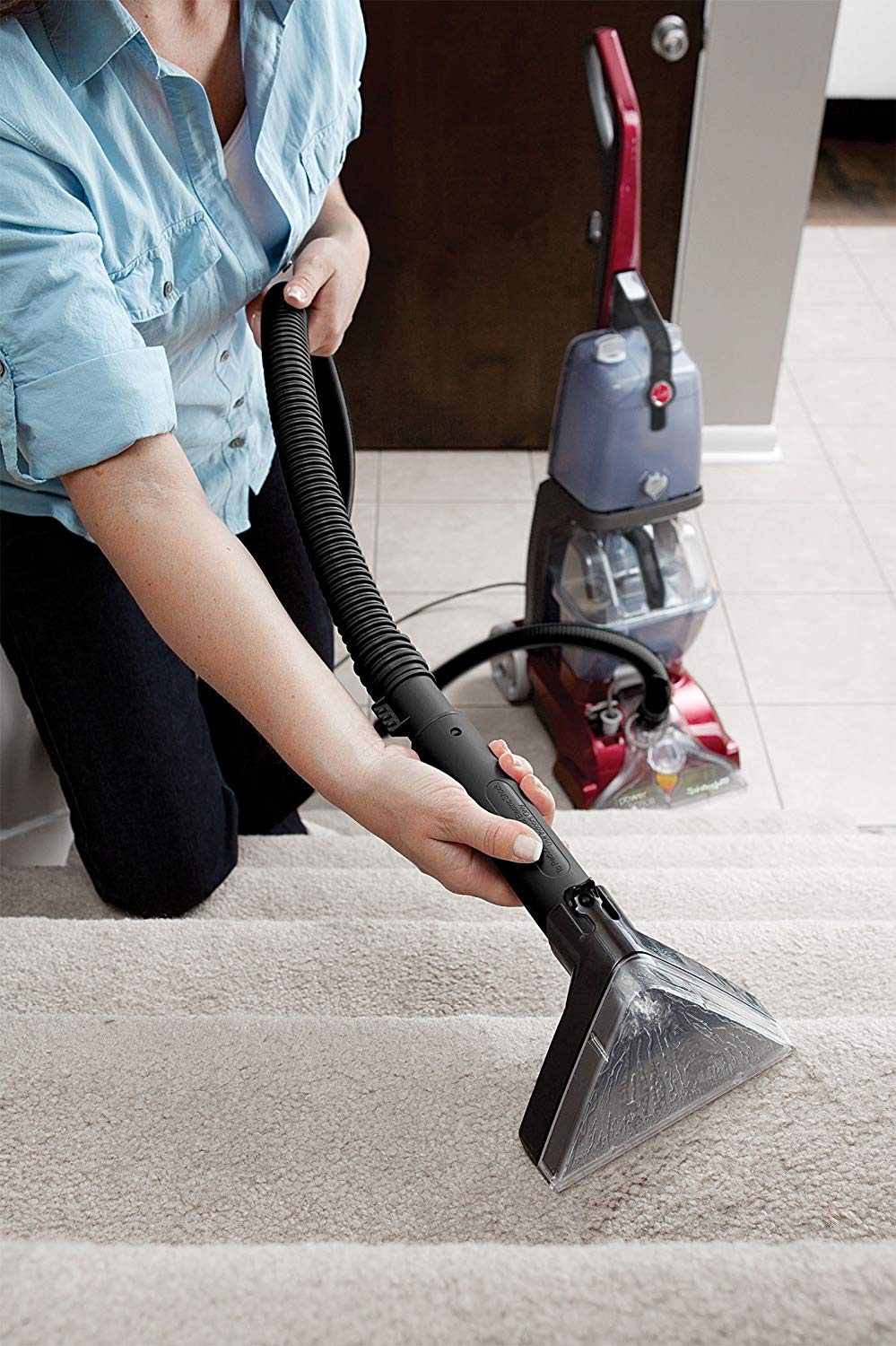 If you can buy a carpet cleaner that is fitted with a hose, I'd urge you to get one because this increases its reachability to clean areas such as stairs, upholstery and car interiors without moving the whole machine back and forth.
If you want a flexible carpet cleaner you should find a model with a hose that is a minimum of 9 feet long (2.74 metres) in length.
Recommended Read: The Best Carpet Shampooers
---
Carpet Cleaner Accessories
Getting a carpet cleaner with accessories is beneficial because it gives you more options to get certain jobs done that would be practically impossible to do with a full sized machine.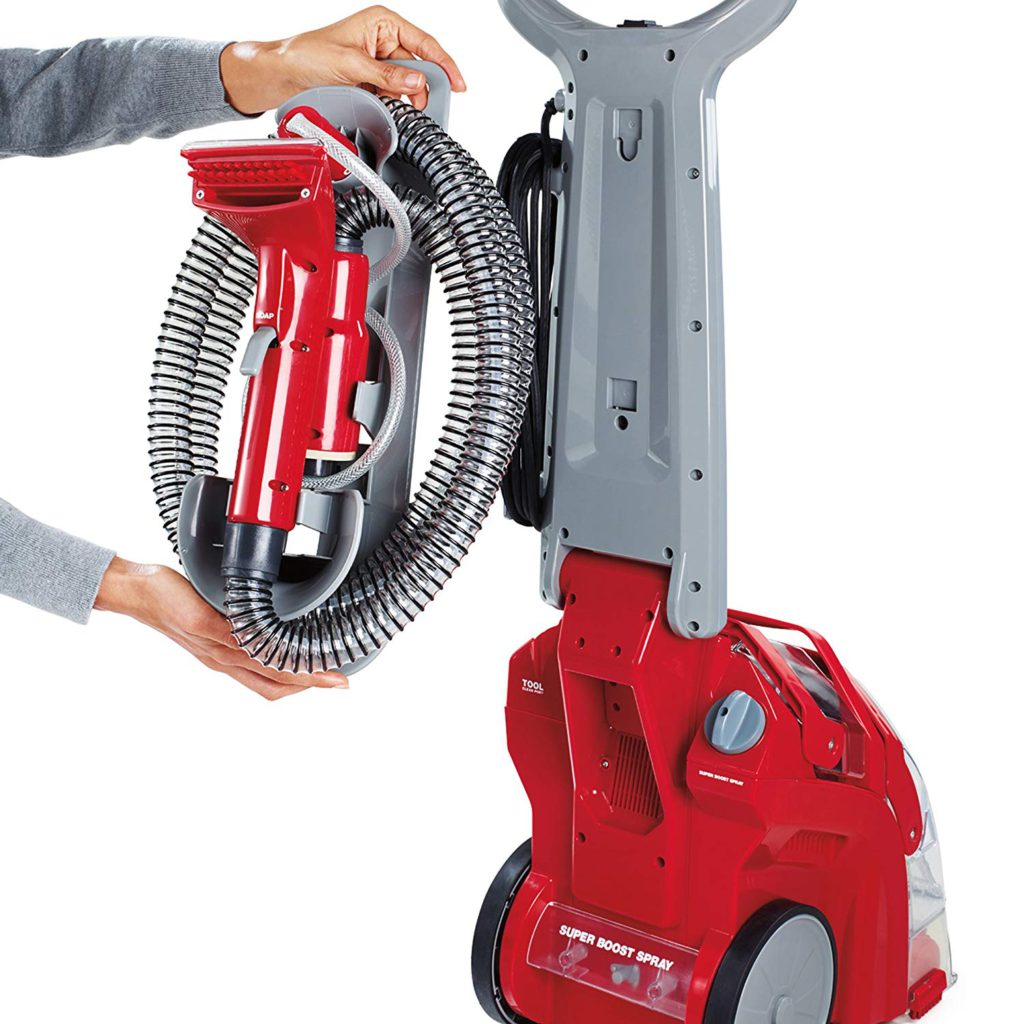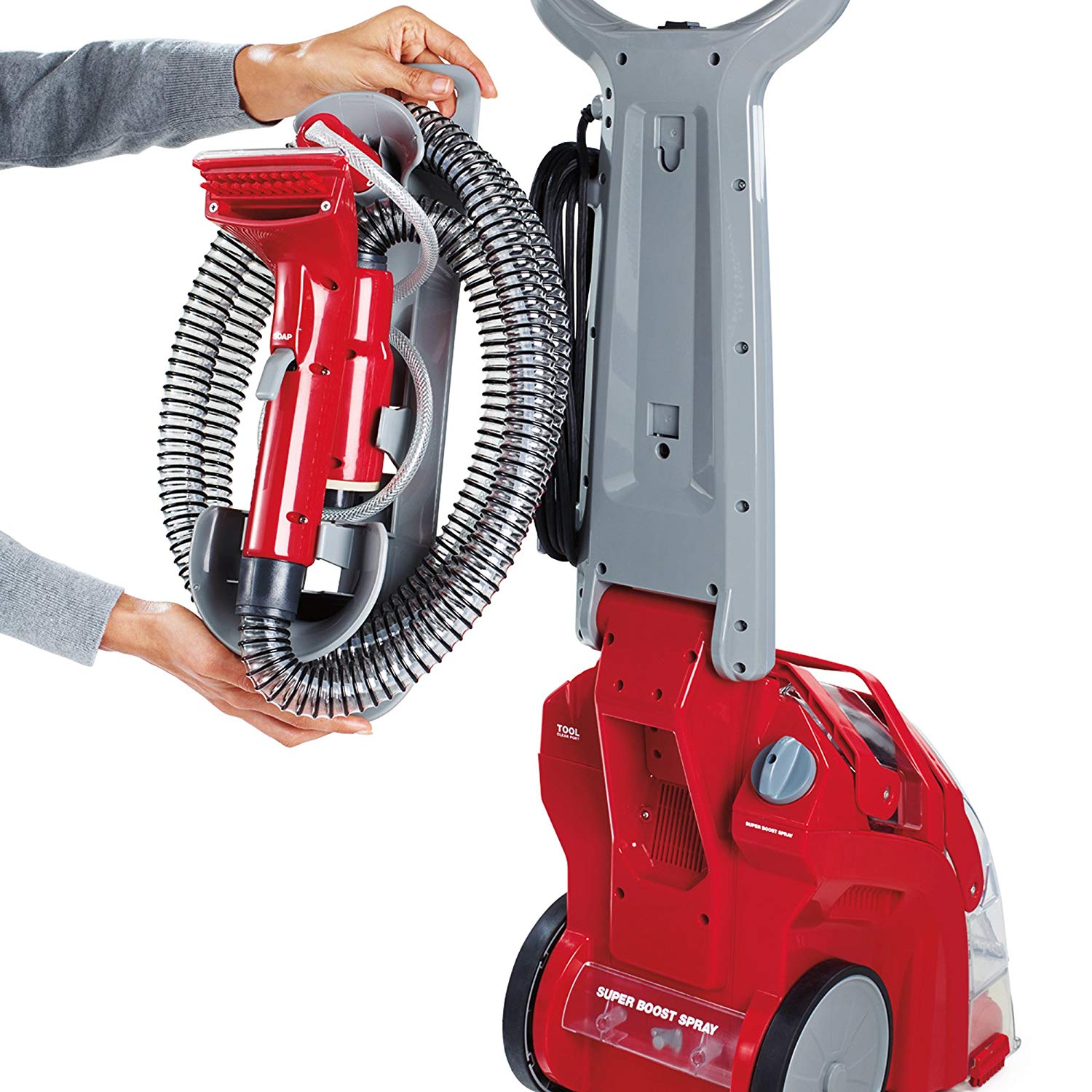 If you plan to clean smaller areas, stairs and fabrics on furniture then you might want a cleaner that is supplied with handheld accessories such as a stair tool, a spray crevice nozzle or a jet cleaning wand for smaller tasks.
---
Carpet Cleaner Water Tank
When analysing the dimensions of your new carpet washer, you should give thought to the size of the water tank. A bigger tank has the benefit of fewer refills during cleaning.
Machines with larger tanks will usually be heavier though, and could potentially be harder to handle but it also depends on the design of the machine.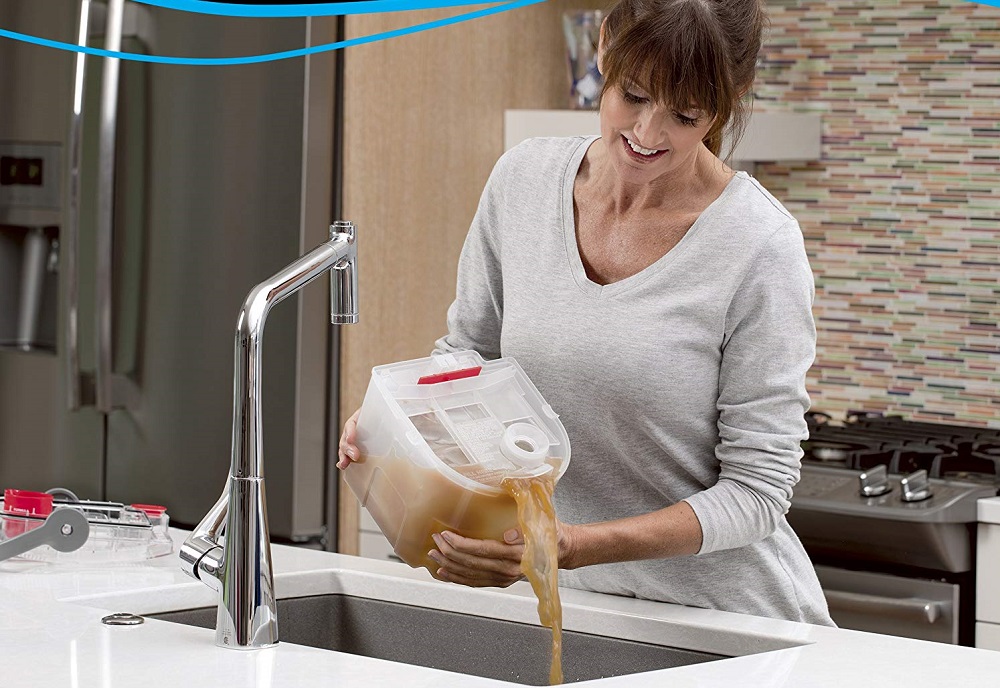 As detailed throughout this guide, most good carpet cleaners are equipped with two water tanks- a tank to hold clean water and another for dirty water. Designs tend to be different, other cleaners will utilize a single tank with a bladder-like system i.e. clean water is contained in a small tank within a bigger one, that collects the dirty water and keeps them apart.
Certain models will dispense the cleaning solution differently. Some will mix it straight into the clean water and other machines will dispense the detergent and water separately at specific intervals.
Recommended Read: The Best Carpet Shampooers
---
What is the Cost of a New Carpet Cleaner?
The price range for carpet cleaners is between $100 to $400 to buy. Premium models with the best features such as high suction, motorized brushes and a sizeable water tank, start at about $200 and can go anywhere up to $400.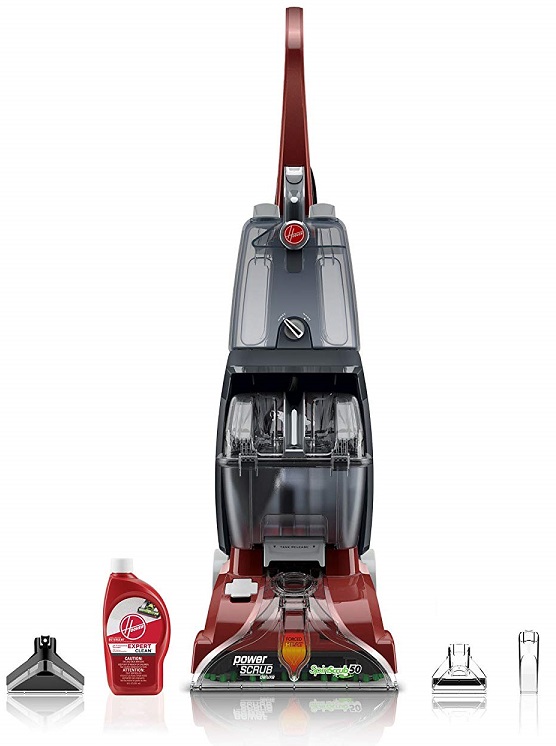 Cheaper models with lower or no suction power, a small water tank and motionless brushes will generally cost between $99 to $150. Thankfully there's an option to suit most budgets.
---
Washing Your Carpets
If you want great results from your new carpet cleaner you need to learn how to use it properly to get the best out of it. Below are a few tips for optimum cleaning performance.
The comprehensive user guide below will talk you through the process and explain what you need to do, from pre-treating your carpet all the way to drying it. For the best cleaning, there are several things to do prior to using your carpet cleaner.
Recommended Read: The Best Carpet Shampooers
Moving Furnishings and Airing Out The Room
To ensure that your carpet is cleaned evenly you will need to shift obstacles out of the way.
Items like t.v. stands, couches, tables and chairs will hinder your carpet cleaner from washing the areas underneath them. These sections shouldn't be overlooked as they normally accumulate hidden dirt over time.
If shifting furnishings out of the room proves to be a challenge then you should try moving them to the centre of the room so that you can clean the outer edges of the room.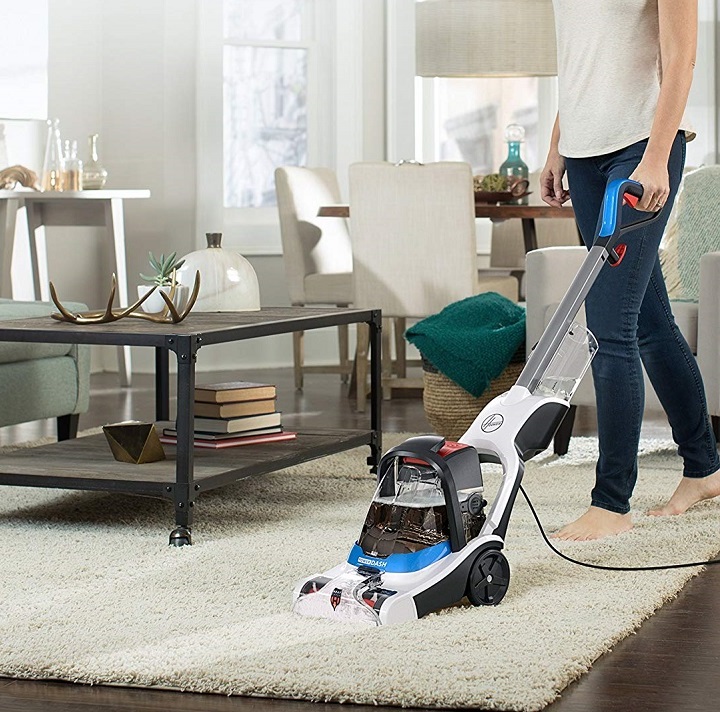 Vacuum Prior to Washing
To enhance your carpet cleaner's performance you should vacuum clean the room prior to shampooing to get rid of dust and dirt sitting above the carpet fibres. Removing this first layer of dirt will allow your carpet cleaner to reach deeper hidden dirt easier.
Try not to get your carpet too damp, usually caused by going over the same area multiple times. Some machines don't provide sufficient suction to completely draw out the wet, which can encourage bacteria and mould.
Stains are best cleaned within a short time of them occurring to improve the chance of removing them completely.
Only use lukewarm water on woollen carpets to prevent harming the delicate fibres.
If your carpets have previously been treated by a stain repellent make sure that you check the machine's instructions so that you know the correct shampoo solution to clean with. Applying the wrong shampoo may compromise the existing coating.
To speed up carpet drying time after washing its handy to switch on a dehumidifier, fan or air conditioning if available.
The dirt in your carpet is made up of three-quarters of soil treaded into the pile. If you've not already done so you should place doormats at the entryways to reduce the transportation of soil from outside into your carpets.
Always use the provided accessories for their specific tasks to simplify and speed up the cleaning process.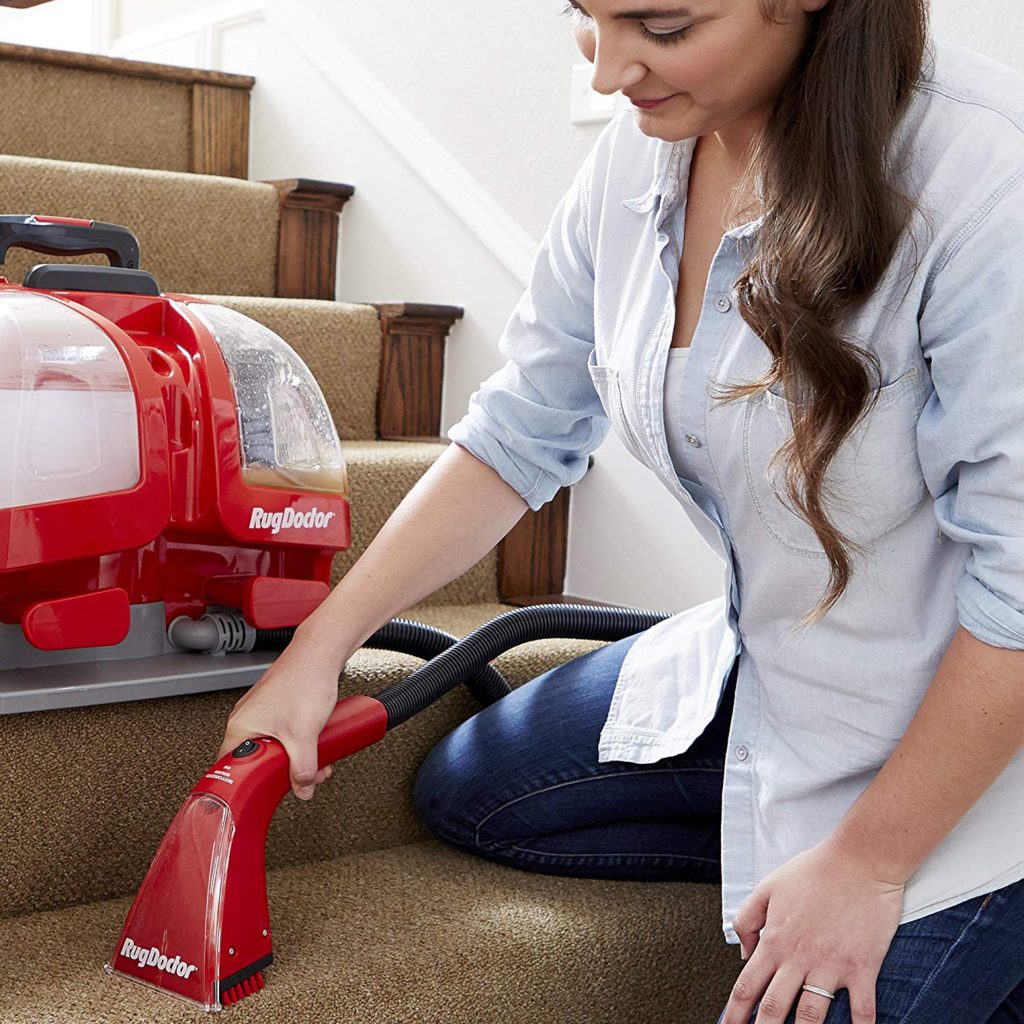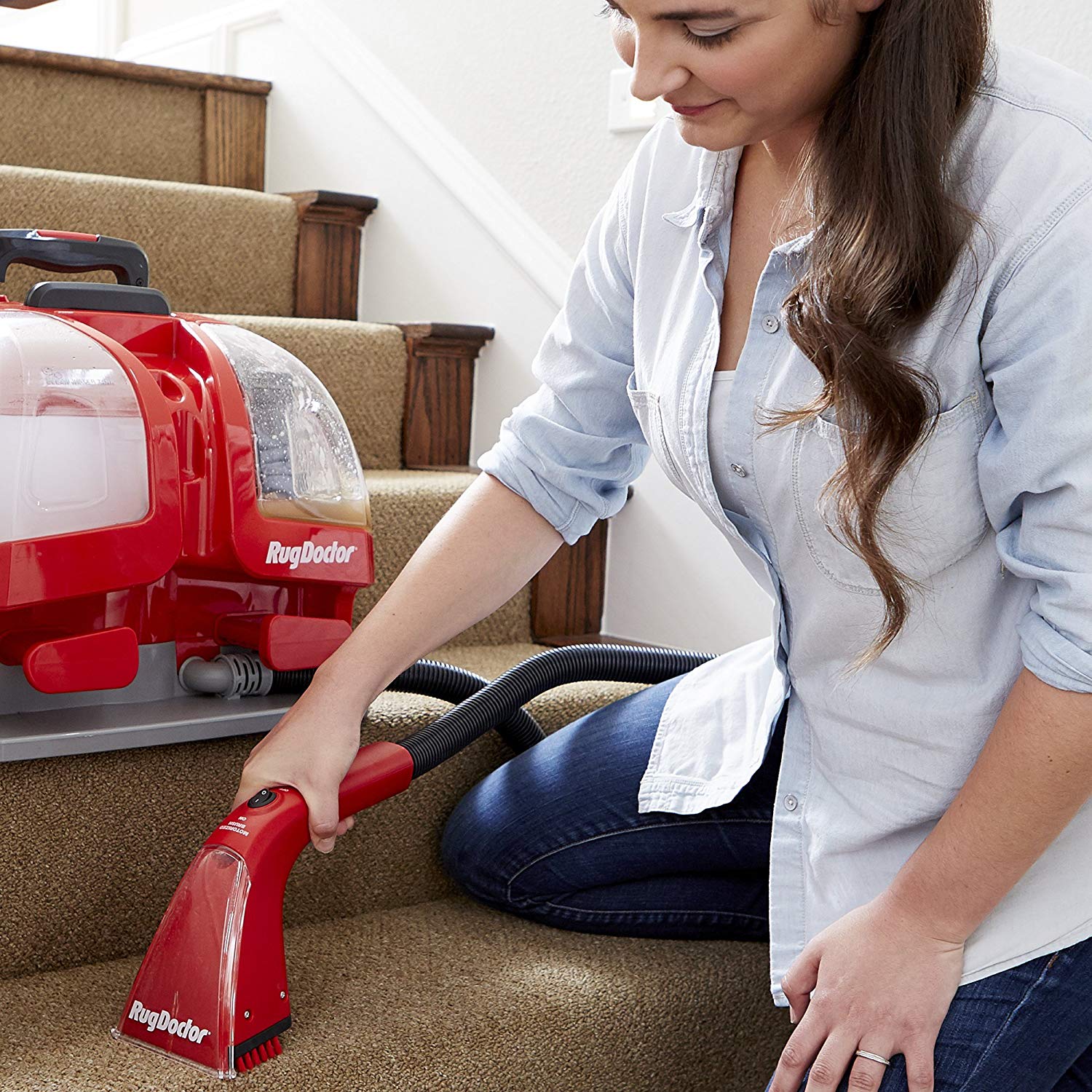 Shampooing your carpet more than once a year will quickly recoup your costs in just 2 cleaning sessions.
Recommended Read: The Best Carpet Shampooers
---
The Bottom Line
That concludes our guide for the best carpet cleaners to buy in 2020. Owning a carpet washer will help keep stains and spillages at bay and freshen your carpeting when it's time to spring clean. Machines such as the Bissell or Hoover brand, with a suction feature, can also collect wet spillages using a nozzle attached to the hose.
It's important to follow the carpet cleaner's guidelines to ensure a hassle-free cleaning experience. The manufacturer's instructions will also show you the number of times to shampoo each area of carpet to make sure that the results are even. Overall, a carpet cleaning machine is great for prolonging the life of your carpets and saving you cash in the long term.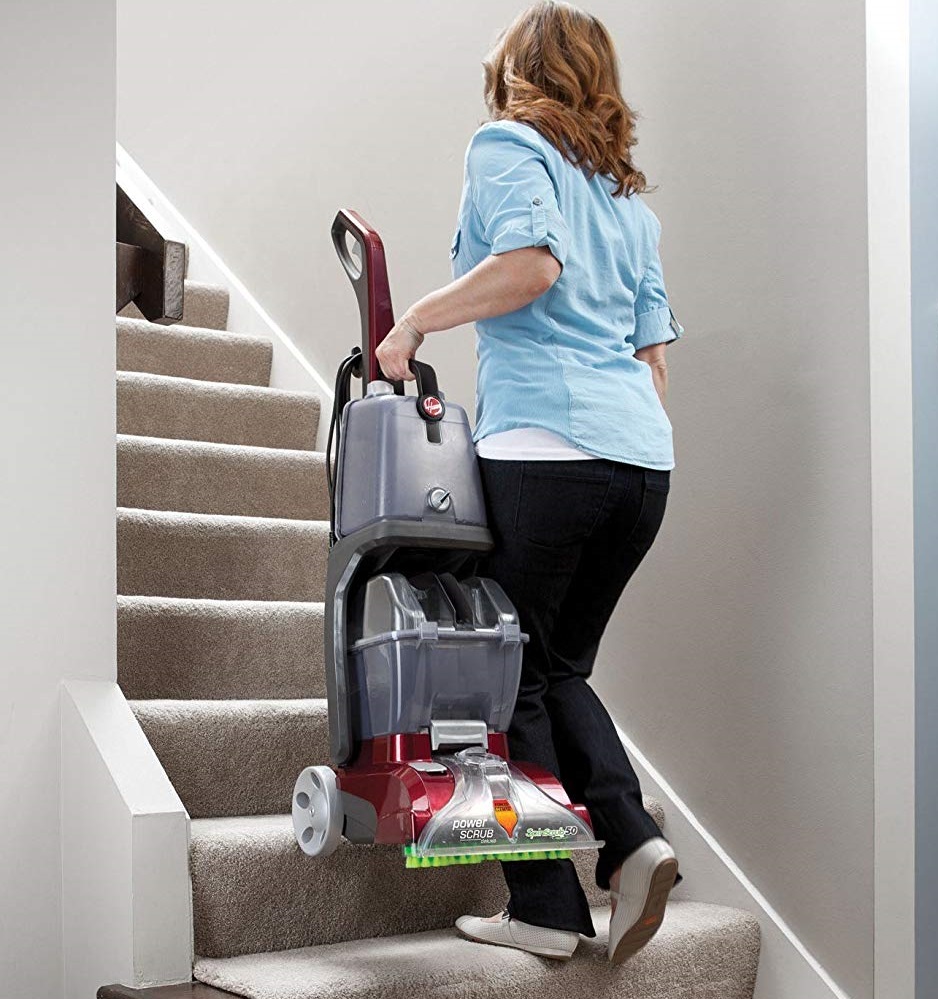 Are you considering buying a carpet cleaner or do you already own one? Please leave your comments in the section below. I'd love to hear from you.
Recommended Read: The Best Carpet Shampooers
---
Our List of the Best Vacuum Cleaners