Affiliate Disclosure: I am grateful to be of service and to bring you content free of charge. In order to do this, please note that when you click links and purchase items, in most cases I receive referral commissions. Eventually, I may earn enough to buy a beer or two 🙂
Get ready to use the power of hot steam to remove grime, grease and stubborn dirt. We've sourced the best home steam cleaners for 2021. If you've never used a steamer before, you need one in your life. If you're searching for the perfect replacement for your old steamer then keep reading.
Steam cleaners are highly adaptable appliances that improve hygiene around the house without the need for chemicals and detergents. You can easily wipe away dirt from troublesome grimy areas and mould which is usually difficult to clean.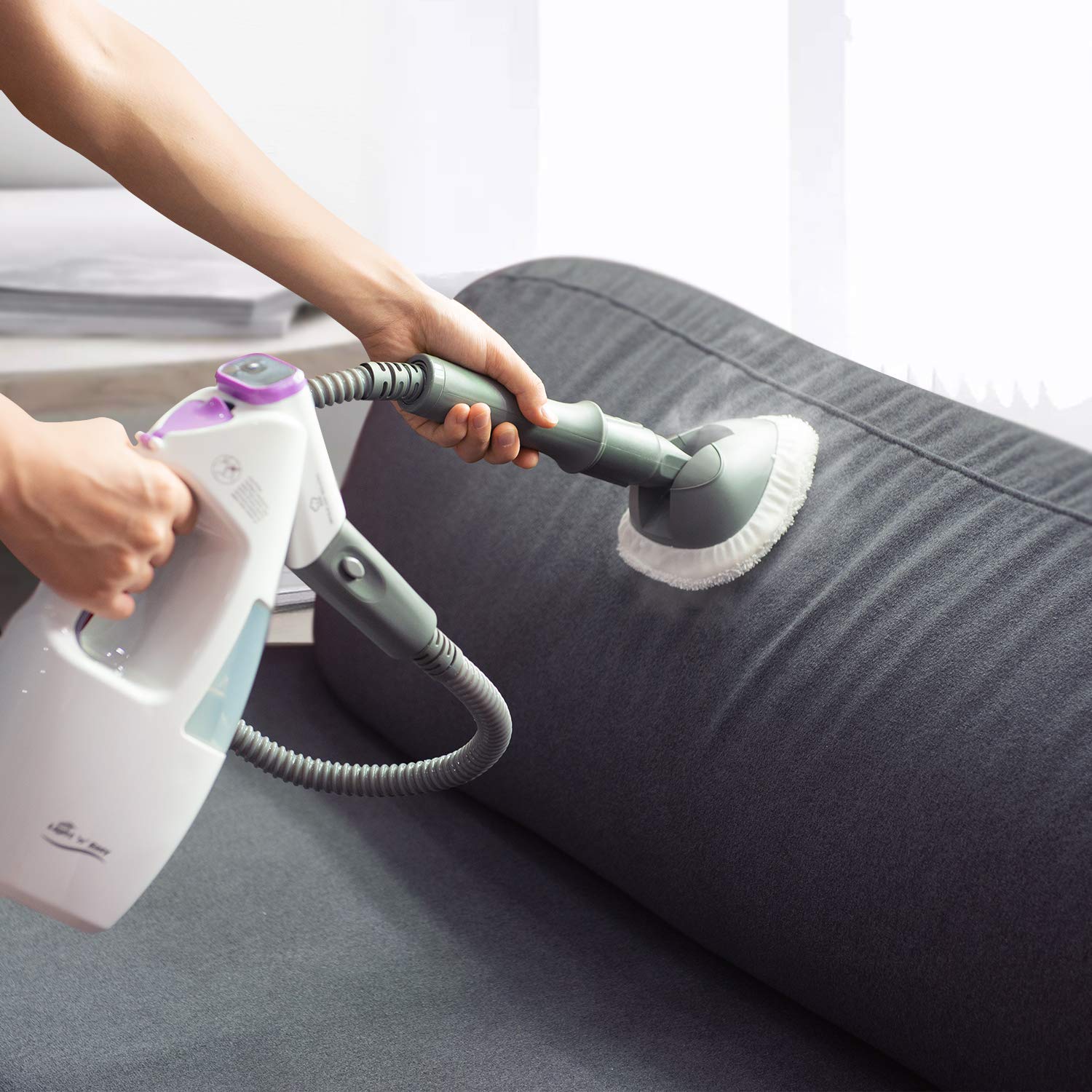 Steamers are multipurpose and extremely effective in your fight against germs and bacteria. With one of these, you can clean virtually any part of your home including tiles, grout, ovens, showers, toilets, bathtubs, hard floors, upholstery, carpets and even windows. We've got the perfect steam cleaner for you further down this article.
Steamer Cleaner Guide: Where To Start
A steaming gadget doesn't need bleach or other chemicals to clean. It saves money and is kinder to the environment. Owners of steam cleaners seldom go back to ordinary cleaning.
Steam is powerfully expelled using various attachments to loosen and lift grime and stubborn dirt. There's plenty of options out there but not all steamers are created equal, make sure you choose the best one from our recommended list below.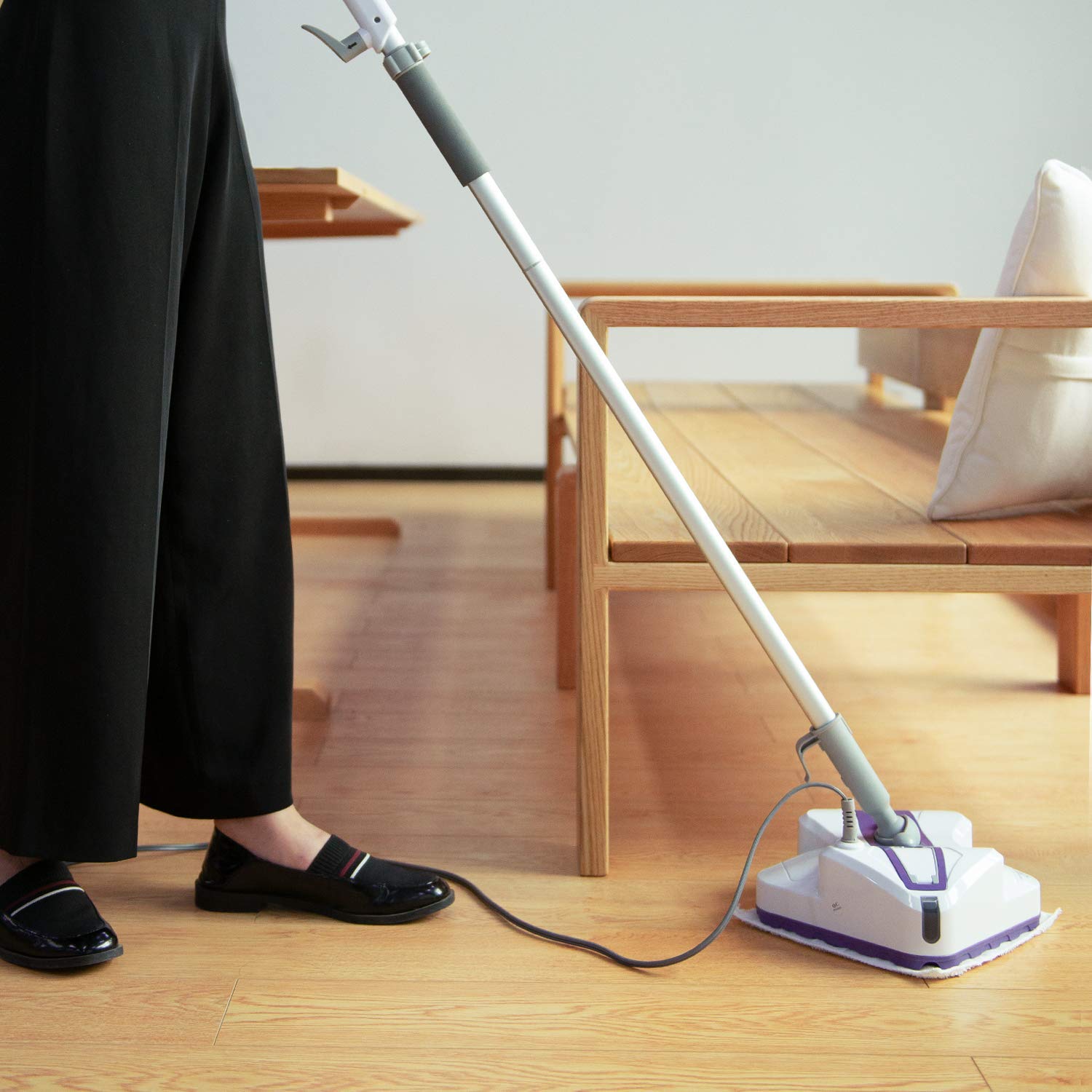 There are various types of steam cleaners but we are going to focus on the 3 main types. Firstly you should consider the types of jobs you want to use it for. If you need a portable steam cleaner for floors and other areas including the bathroom and kitchen then a steam mop is ideal.
Chances are that you'll want to use steam in areas that extend beyond the floors. In this case, you should opt for a cylinder steam cleaner- it's equipped with multiple attachments to clean different surfaces including grouting, upholstery, mattresses and so on.
Not all cylinder steamers can clean everywhere you need them to. Certain units will clean fabrics whereas others won't. Choose your steamer wisely from our recommendations and it will be worth the investment.
3 Types of Steam Cleaners
Steam Mop
Think of a steam mop as your standard mop on steroids. It is light to handle and provides pressurised hot steam to melt away dirt. The majority are designed with a swivelling cleaner head for easier manoeuvring around furnishings and between rooms.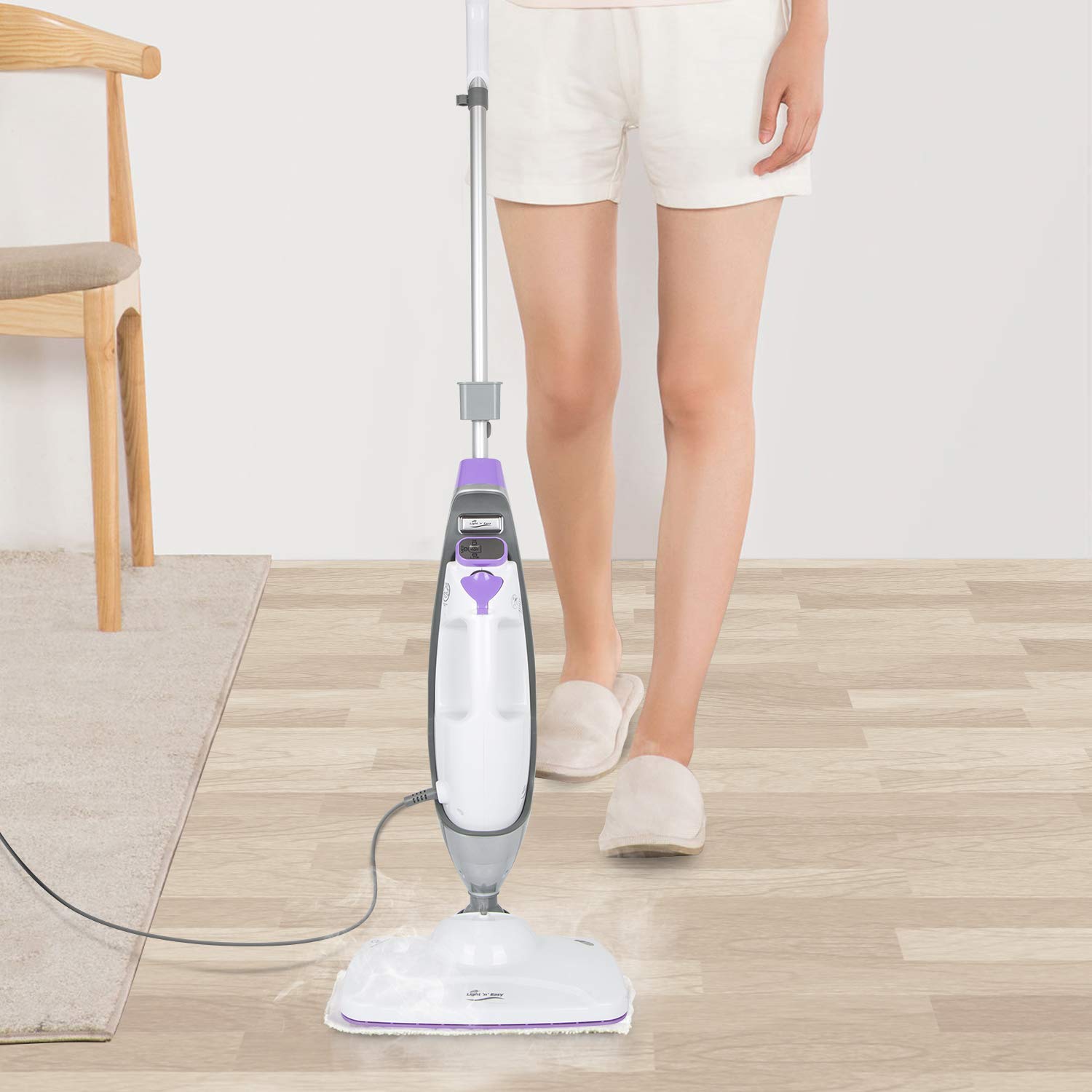 Use it on tiled flooring, and top-spec models are equipped with adjustable steam control making them suitable for wooden and laminate flooring. You can even buy a steam cleaner with special attachments for carpet cleaning.
Steam mops are designed with a water container integrated into the handle. The best mops will heat up the water in less than 20 seconds but require frequent topping up compared to a cylinder steamer.
Cylinder Steam Cleaner
The pressure from the steam of a cylinder cleaner cuts through grease, disinfects surfaces and eliminates allergens and bed bugs. They share a similar design to canister vacuum cleaners but contain a water tank inside the machine and a hose to attach several tools depending on the job required.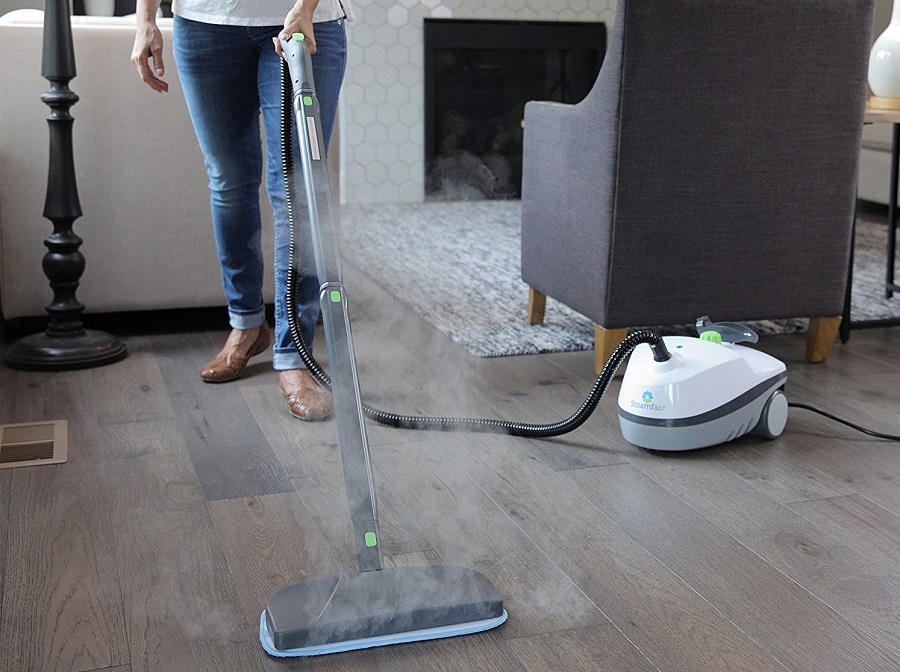 It's always a good idea to find a unit that comes with plenty of attachments to make it as versatile as possible for most cleaning tasks around the house. This gives you plenty of options especially when cleaning areas such as your cooker and hood that are prone to grease or the shower area.
Larger cylinder steam cleaners can usually hold more water but this will result in longer heating times anywhere between 3 to 10 minutes but the longer waiting times means less frequent refilling of the water tank. A steam cleaner with higher pressure will do a better job. As a general rule of thumb, you should stick to a steamer that provides more than 100g per minute for a better performance.
Handheld Steam Cleaner
This is the smallest offering amongst the range. Handheld steamers are suitable for fast, little jobs. Use them to clean drapes and less demanding tasks. Bear in mind that you'll need to refill them often due to their limited water capacity.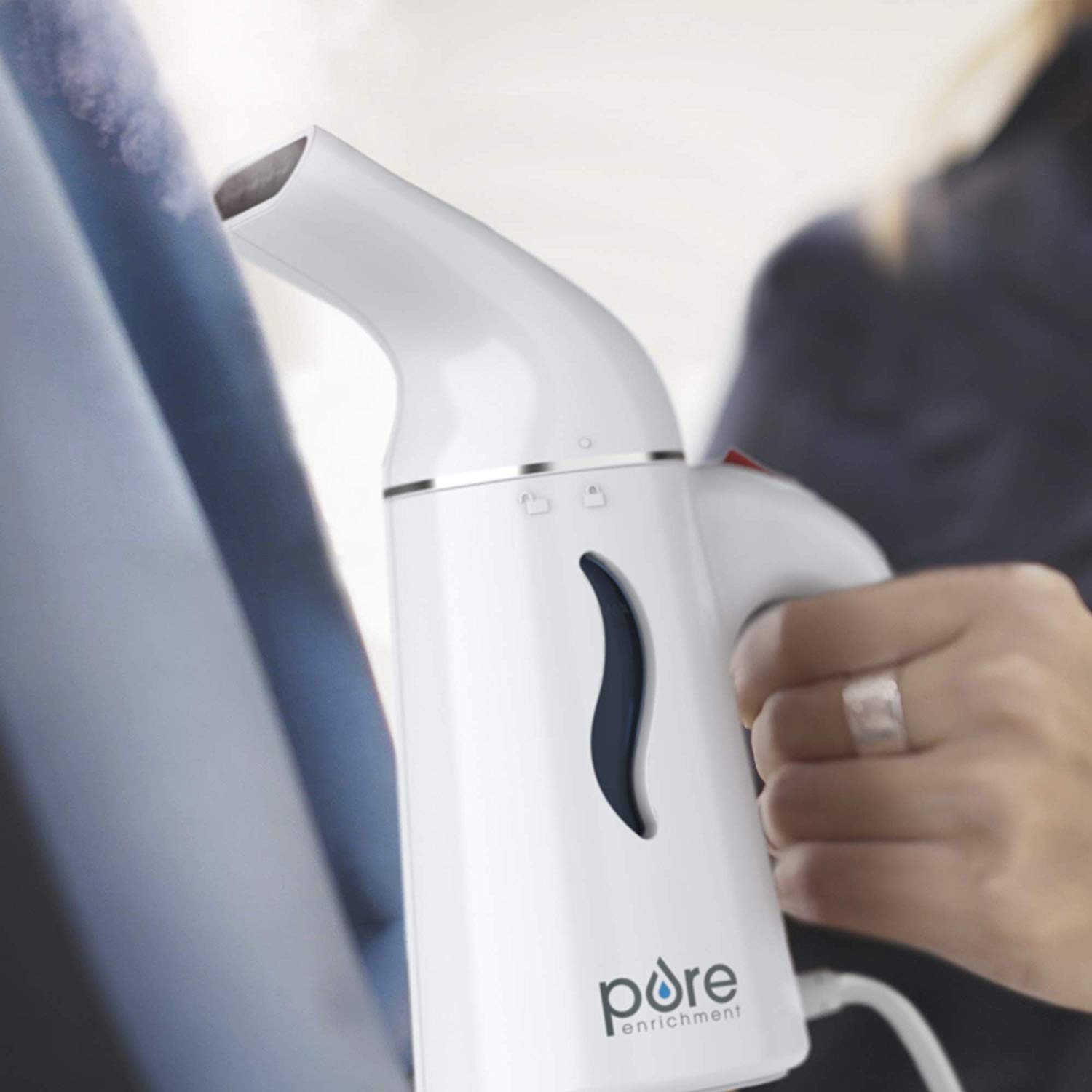 Features To Consider Before Buying a Steam Cleaner
Dual Water Tank- Enables continuous steam output even when refilling the tank.
Pads- The cleaning cloths are normally made from microfibre material for durability and better cleaning efficiency.
Squeegee tool- Can be attached to the steamer to clean windows without causing streaks.
Upholstery attachment- To clean stains and maintain fresh-looking chairs and couches.
Angled jet nozzle- To target smaller areas that are harder to reach.

Anti-calc filtration- This will ensure that the water tank doesn't suffer from scaling in hard-water locations.
Portable scrub brush- To agitate and lift troublesome stains and mould.
Scrubbing Pad- To melt away grease around the kitchen.
Water Tank- Is the tank removable? This makes refilling and emptying water simpler.
Now that you know what to look out for let's jump straight into our list of the best-rated steamer cleaners.
#1. BISSELL PowerFresh Steam Mop, Floor Steamer, 1940
At the top of our list is the Bissell Powerfresh Steam Mop. This is the best steamer cleaner and it has received thousands of positive reviews from satisfied users. It excels at lifting dirt off tile grout, cleaning stubborn food stains and mud stuck to the floor.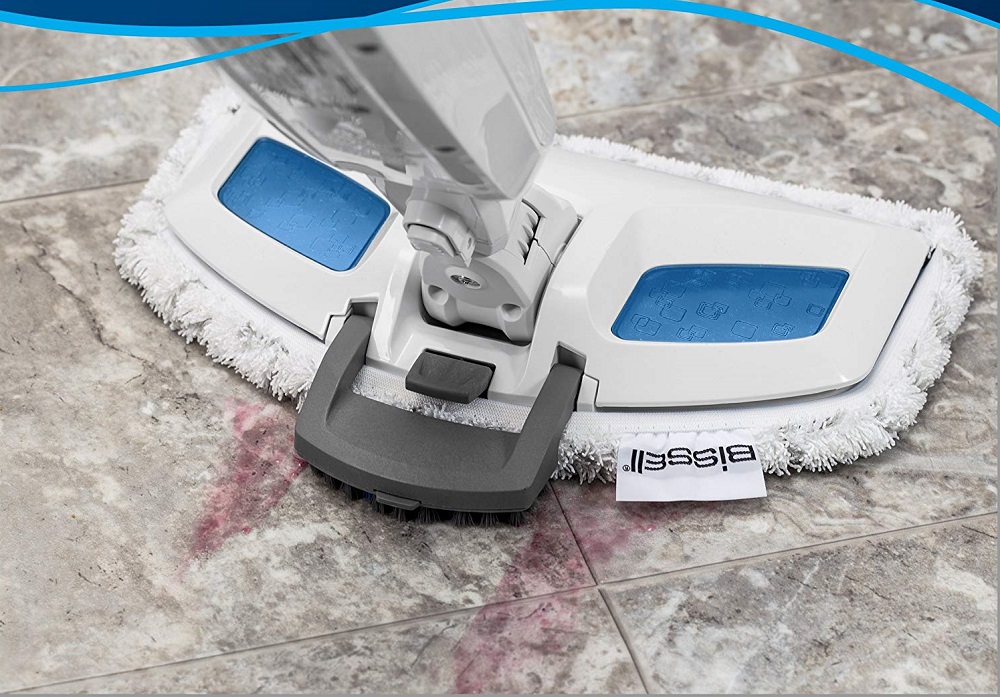 If you're tired of the elbow grease required to clean challenging muck then let the Powerfresh floor steamer do the hard work for you. There is an onboard digital steam control and it cleans multiple surfaces including ceramic, hardwood, granite and marble.
Mopping isn't fun but with the Bissell steam cleaner you can get through difficult tasks much faster. There's even a flip-down scrubber to help eliminate tough sticky dirt.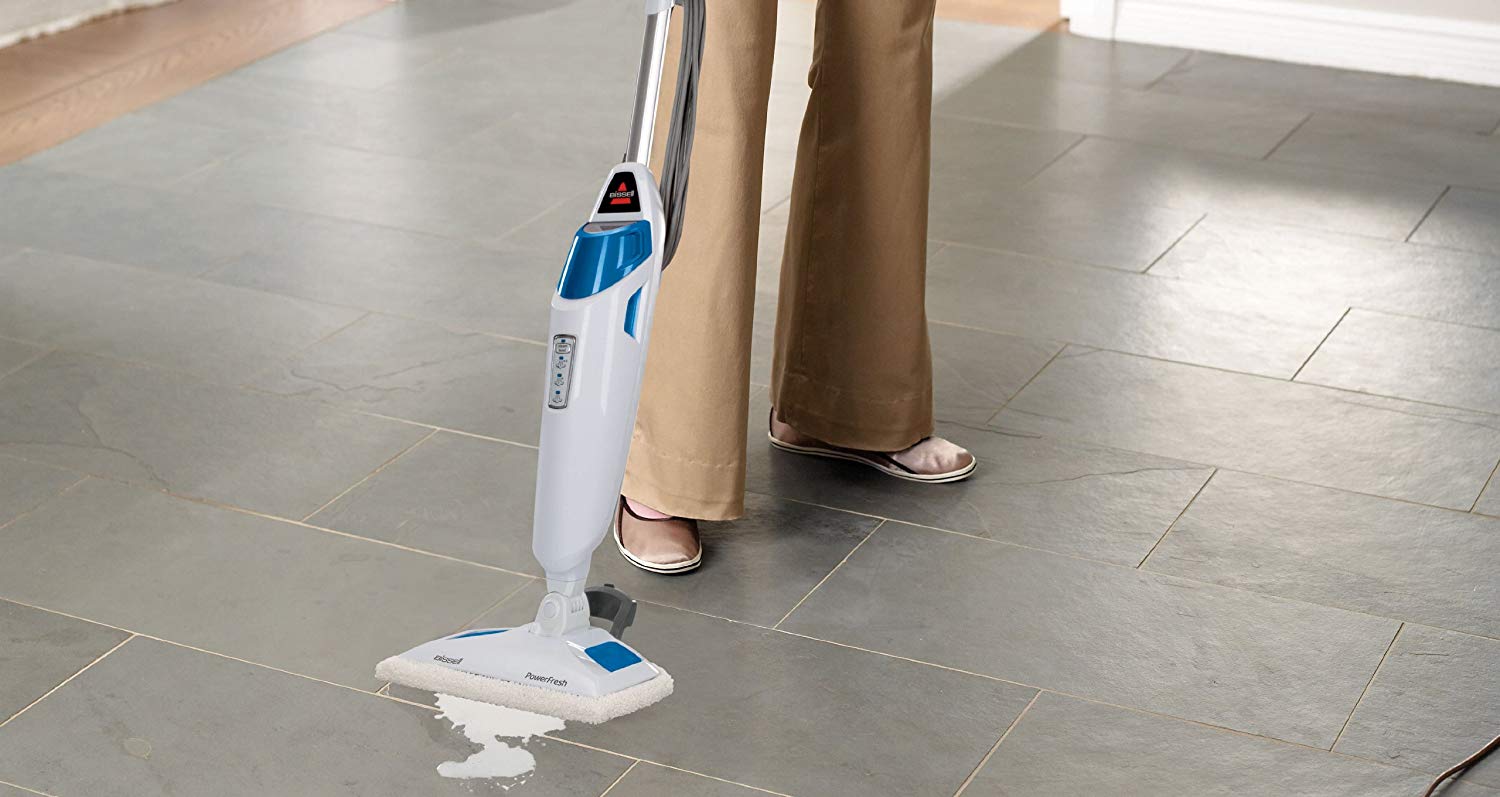 If you're searching for a reliable steam mop for various jobs in a busy household you won't find a better machine than the Bissell Powerfresh. It cleans dirty grout and removes virtually all germs and bacteria with the strength of steam.
Here are some of the benefits to look forward to:
The Bissell steam cleaner is easy to set up. You can have it ready to go in less than 2 minutes.
You will never need to buy floor detergent or cleaning fluid again.
The unit heats up the water incredibly fast. It takes just 30 seconds to start generating steam.
Cut down mopping time and get it done in less than half the time to clean the same area.
The water tank will last about 20 minutes before it needs refilling.
You can currently buy the Bissell steam cleaner for $70 in the sales but usually it costs just under $100 which is a decent price for a top steam mop.
Refilling the water tank is quick and easy. Simply pull out the tank from the handle, top it up and be back to mopping in under 1 minute.
The small scrubber brush is effective at cleaning tile grout. It will leave your old grout looking almost brand new.
It leaves floors shiny clean. Surfaces dry up instantaneously even when you go over the same area a few times.
For stubborn dirt, you should keep the steam concentrated on that spot for roughly 15 seconds and it will lift it off and sanitize.
This thing throws out a lot of steam (which is good) and gets very hot to provide the cleaning power required to cut through nuisance dirt.
It cleans multiple surfaces with consistent performance and doesn't leave remnants behind.
The unit is lightweight and easy to handle. You can lift it upstairs and around the house without causing any strain.
The long 23-foot power cord adds to the convenience of not constantly switching plug sockets.
Product Rating 9/10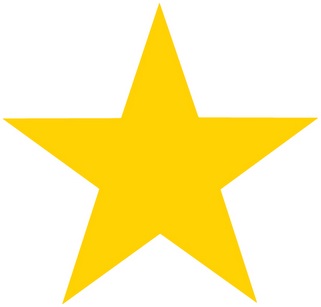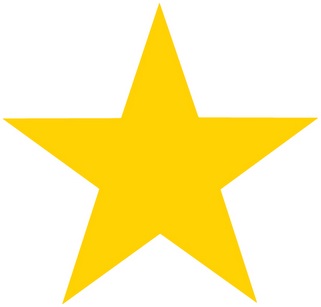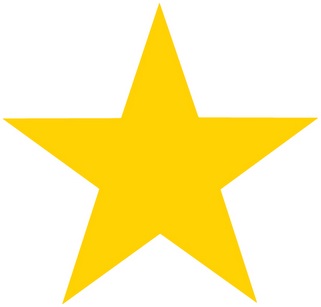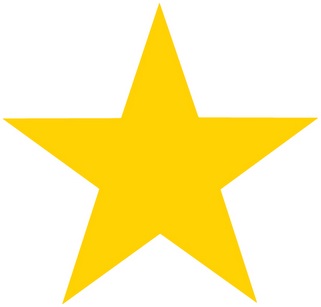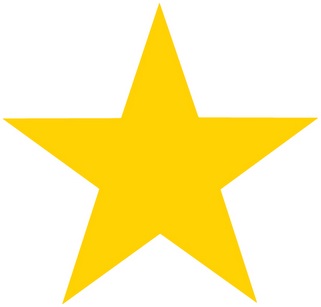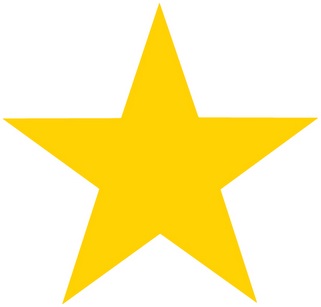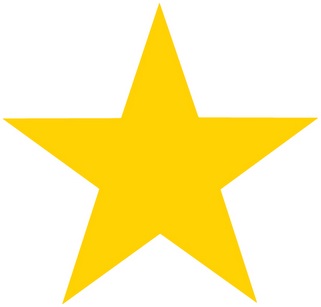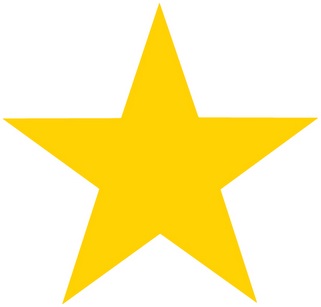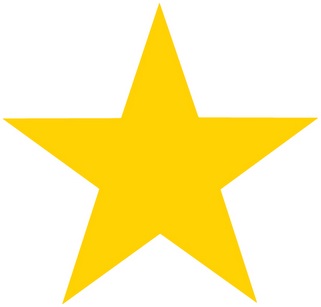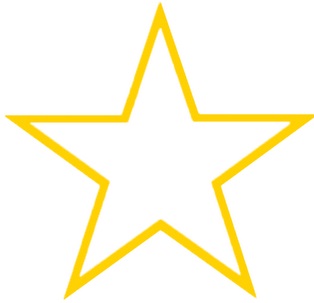 #2.
Bissell PowerFresh Lift-Off Pet Steamer, Tile, Bathroom, Hard Wood Floor Cleaner, 1544A
Second on our list is another Bissell. Yes, these steam cleaners are dominating because they are that good. If you are a pet owner looking for a steamer to clean after your dogs or cats then look no further. PowerFresh Lift-Off Pet Steamer is designed for challenging stains that other cleaners would struggle to get rid of.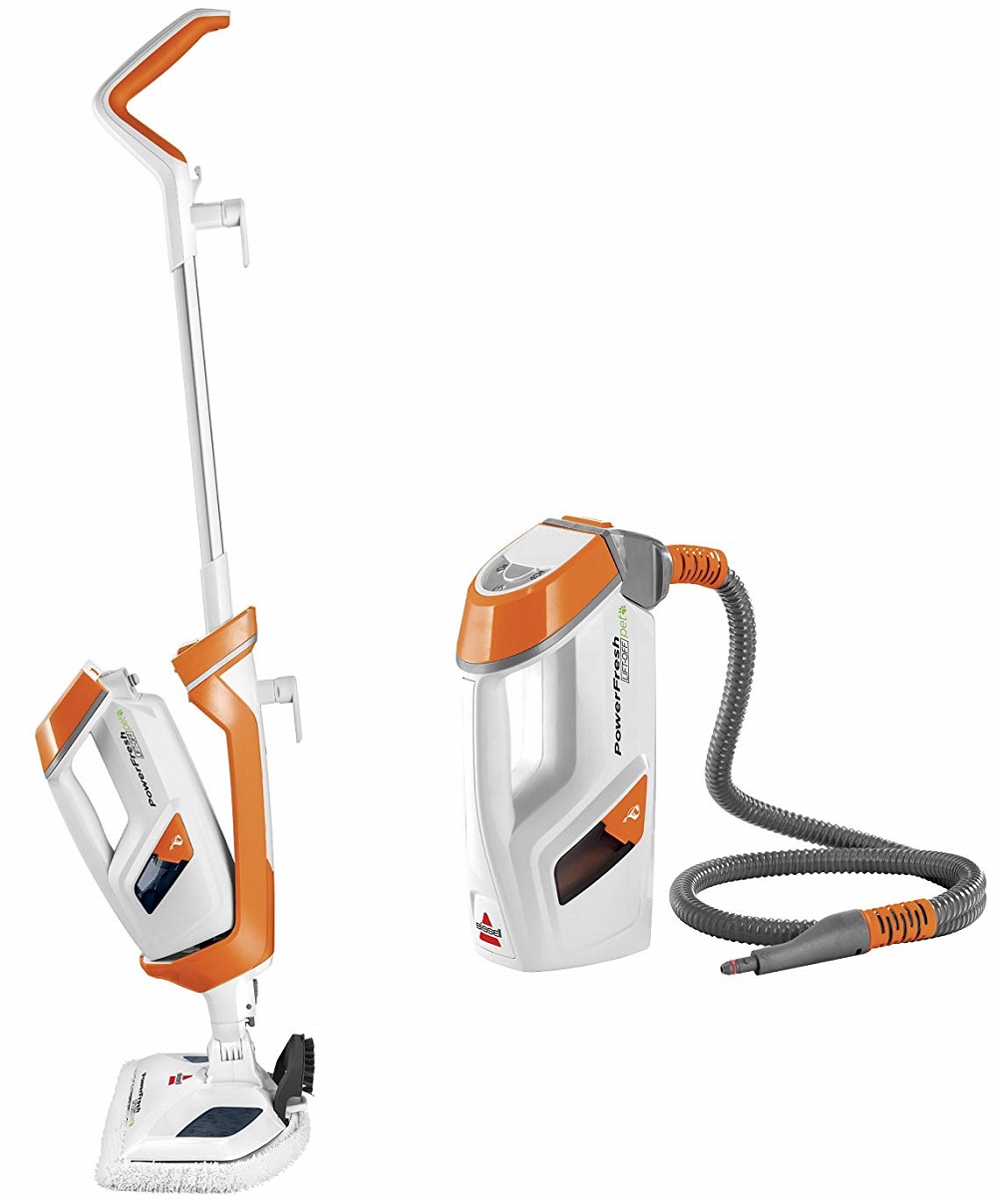 The reason why so many people are buying this steam cleaner is that it's exceptionally good at lifting mess from neglected tiles and grout and areas that are a magnet for dirt. It will clean up pet hair and litter that gets stuck to the floor. The PowerFresh Lift-Off Pet Steamer will clear it up thoroughly.
If you're tired of getting on your hands and knees to achieve good cleaning results then you'll love how this steamer can do so much more with a lot less effort and zero discomfort. The genius design allows you to adapt it from a steam mop to handheld cleaner and it comes with various tools to clean anywhere including windows, ovens, microwaves, countertops and cooker hoods.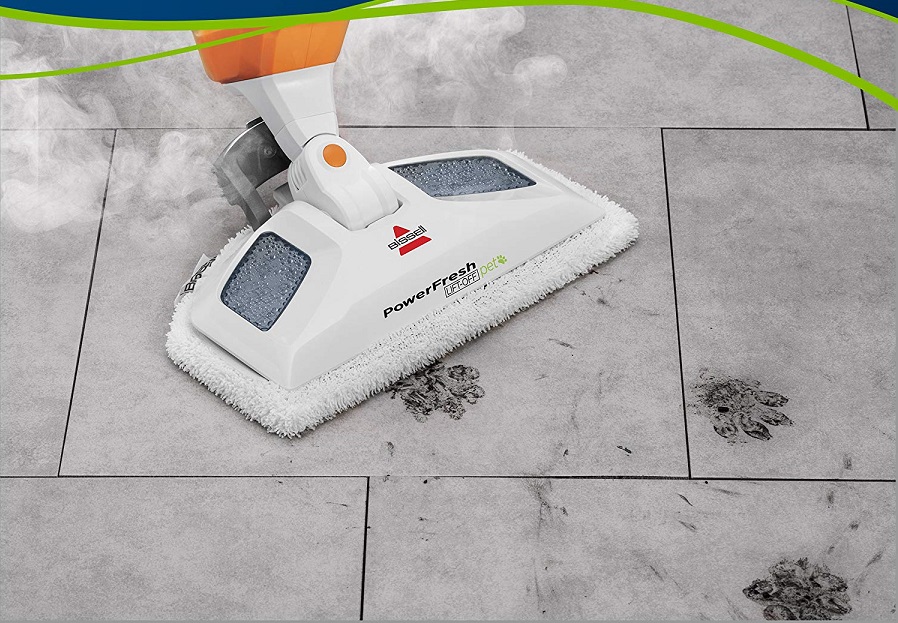 It's incredible to see this machine in action when performing seemingly impossible tasks such as cleaning grout that is over a decade old and restoring it to look almost as good as new. The angled jet nozzle works miracles if you need to remove grime from sinks, bathtubs and the shower area.
If your house hasn't been steam cleaned in a while (or ever) then you will need to spend a bit of time doing the initial clean. Judging by the results of the Powerfresh I'm confident that you'll be impressed at how it cleans scuffs, mud, grease, dirty windows and the 2-in-1 versatility to tackle most sections of your home.
Benefits of the
PowerFresh Lift-Off Pet Steamer
Prolonged reliability even after years of usage. The steam output is consistent and doesn't degrade over time.
The unit is self-standing. It doesn't need to be propped up against a wall.
The variable steam lets you select between low or high steam outputs depending on your requirements.
You get the following attachments: Grout tool, flat scraper tool, window squeegee, angle concentrator tool, fabric steamer, bristle tools and a flat surface tool.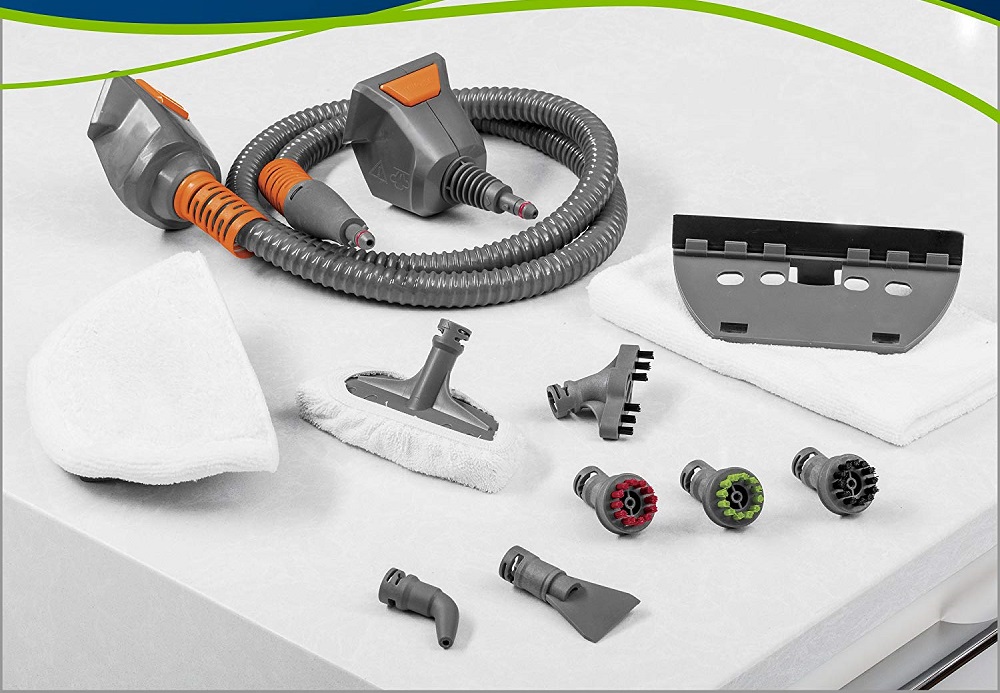 The water tank heats up fast in less than 30 seconds and is easy to detach when it needs refilling.
A full tank has enough water to easily clean 1,000 sq ft of flooring.
The cloth pads are microfibre and washable. They clean tough dirt effectively. It might be handy to buy a spare set of pads so there's always a supply whilst the other set is in the wash.
Product Rating 8.5/10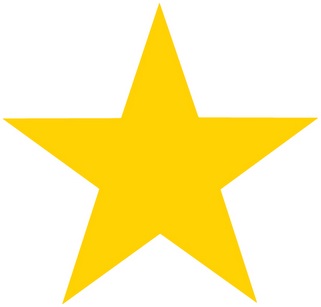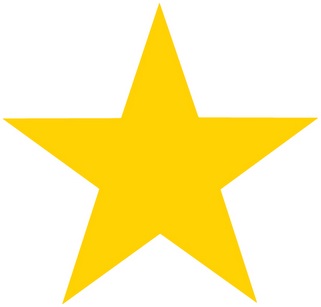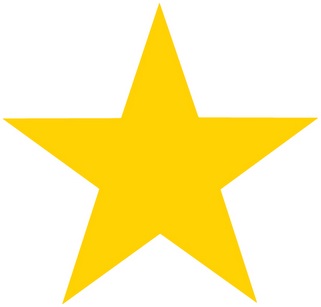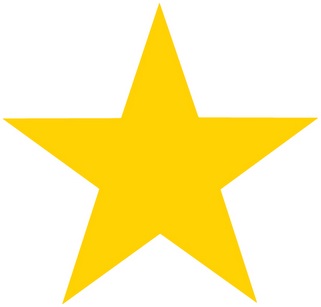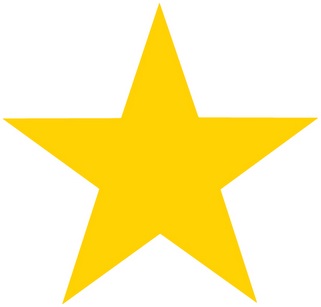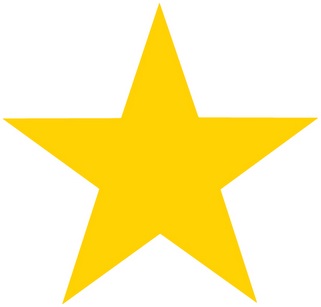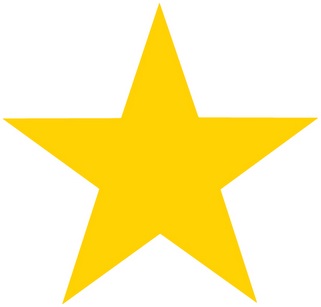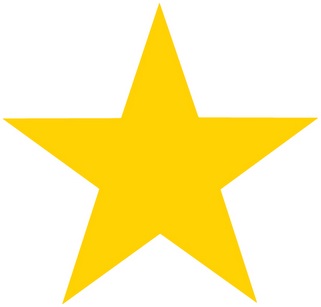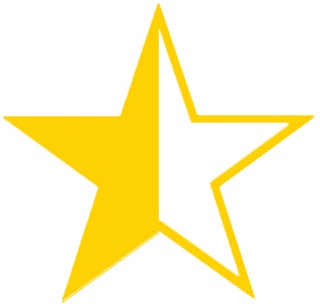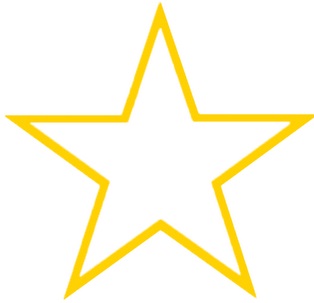 #3.
LIGHT 'N' EASY S3601 10-in-1 System Multipurpose Mop
Next up is the LIGHT 'N' EASY 10-in-1 multipurpose steam cleaner. This unit does a lot for the money you pay. Not only does it clean hard floors but carpets, rugs and upholstery too! It can be detached from the main body to convert into a handheld steamer and it comes with tonnes of accessories.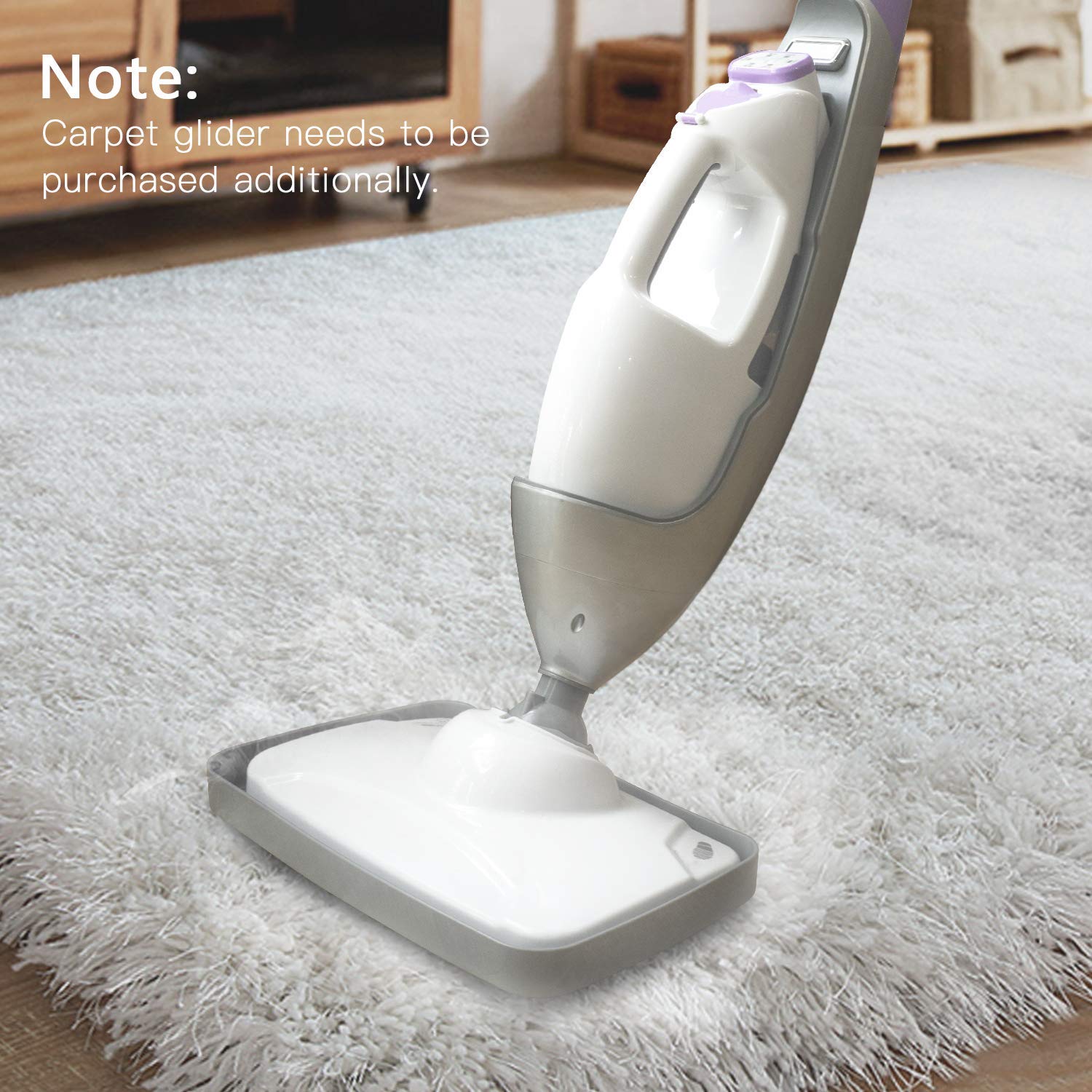 This steamer is lightweight and a doddle to handle. If your tiles and floors need a lot of tender loving care then I'd highly recommend the LIGHT 'N' EASY steamer for its ability to get through hard jobs quickly and effectively.
Steam cleaning your floors is going to be a breeze and you'll probably ask yourself why you didn't buy this appliance sooner. There's no need to use harsh detergents and you'll save money in the long run whilst being kinder to the environment. The floor dries up fast and there's no trace of residue left behind.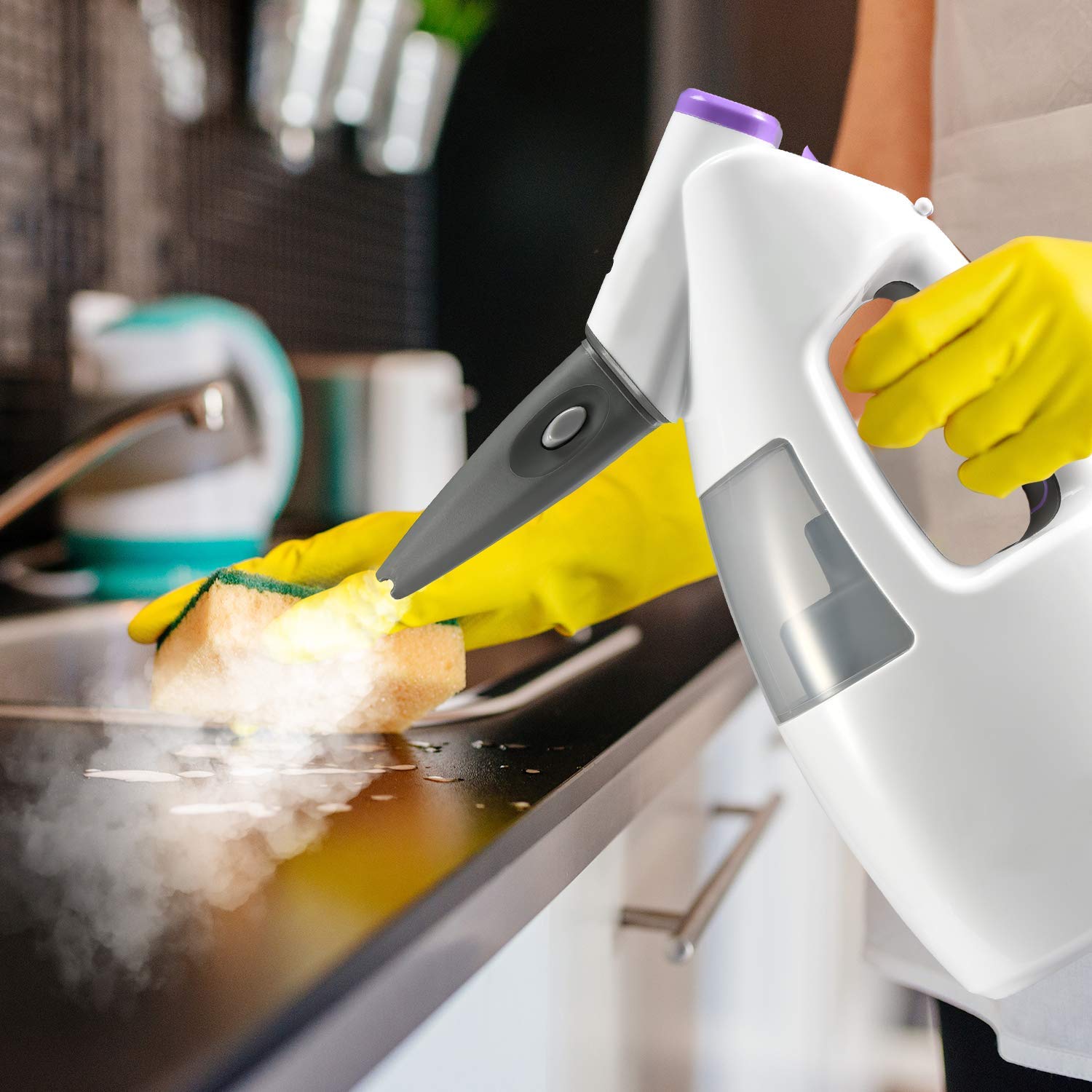 Similar to the top 2 steamers on our list, this unit generates steam within 30 seconds. The steam output can be adjusted between low, medium to high. This portable cleaner is capable of many things including cleaning kitchen sinks, hard floors such as stone and tile, fabric, carpets and windows.
The LIGHT 'N' EASY steam cleaner is very popular and owners are singing its praises namely for its flexibility to perform many tasks without worrying about buying separate appliances to do different jobs.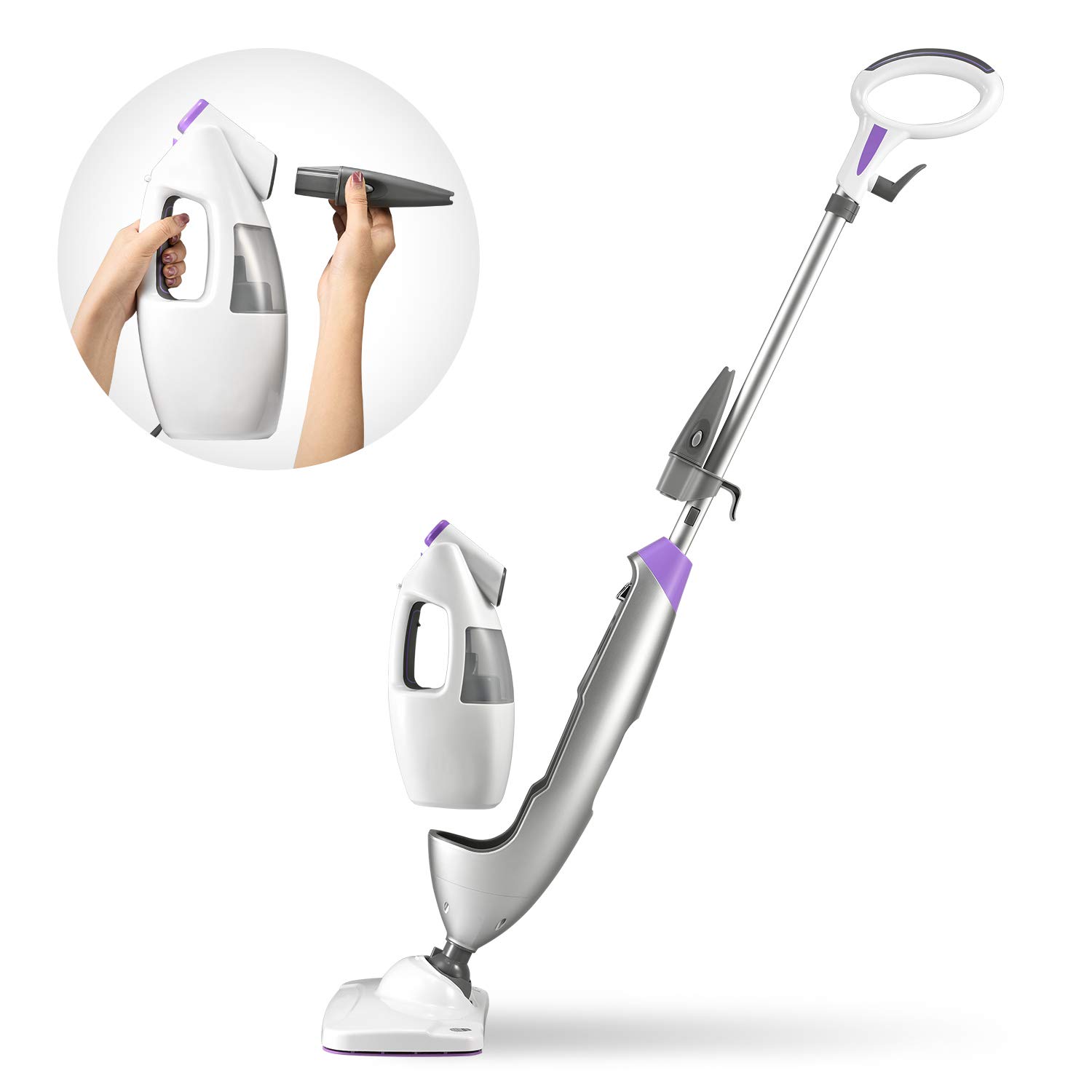 Now you can easily deal with those tough tasks that you'd normally put off. There's no need to break a sweat over the mess that can be easily wiped away with steam power. This multifunctional steamer is much more than just a steam mop, it cleans garments, furniture and is equipped with a smart sensor to automatically activate the steamer when you hold the handle and it shuts off as soon as you let go.
Product Rating 8.4/10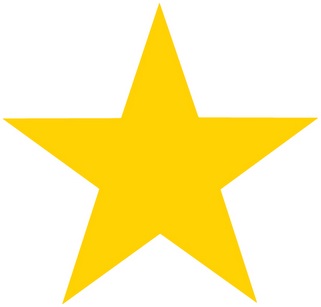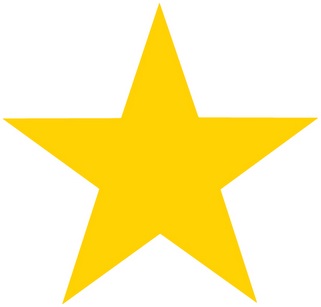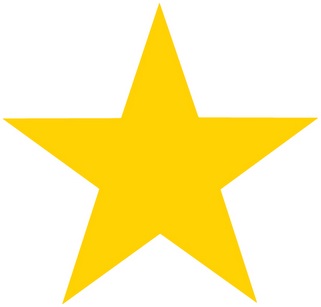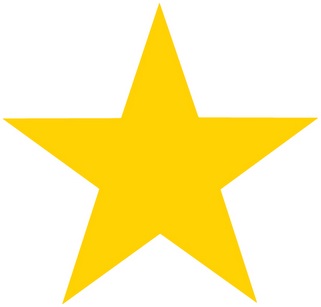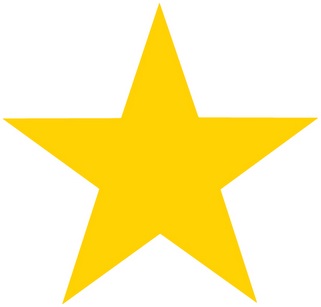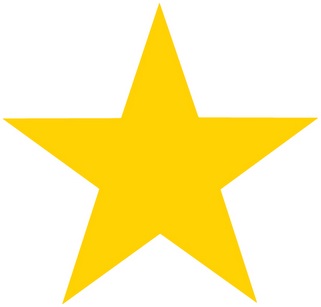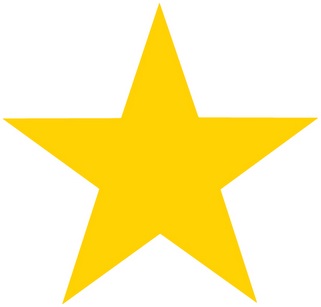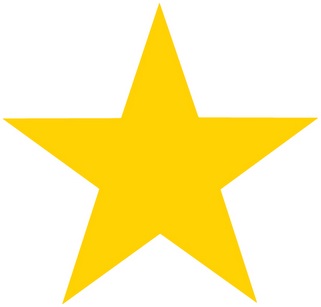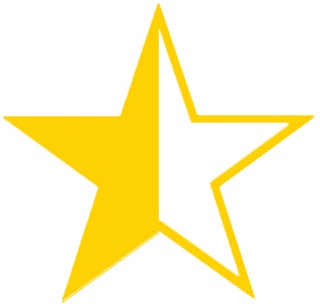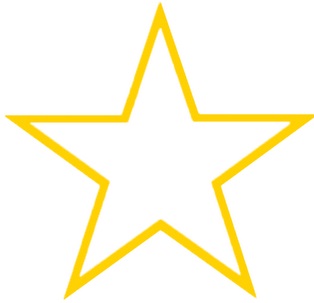 #4.

LIGHT 'N' EASY
Steam Mop for Floor Cleaning With Automatic Steam Control
If you're searching for a floor cleaner with automatic steam control, we've found an appliance that ticks all the boxes. If you'd like to maintain tiles and grout without applying cleaning chemicals, that might corrode them over time, then this Light 'N' Easy steam mop is a sought-after solution.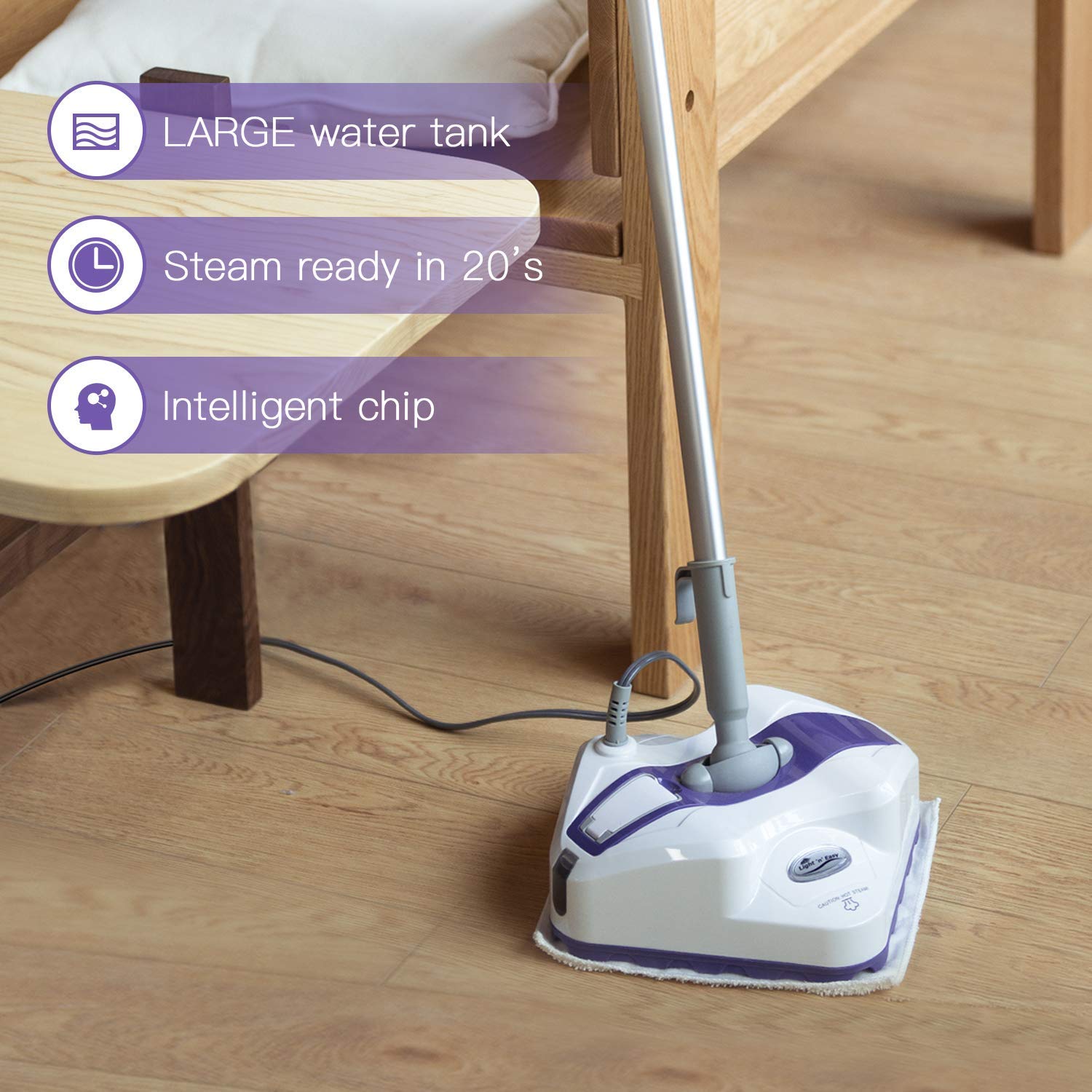 There is an intelligent sensor inside that automatically increases the steam when you move the mop faster, the output reduces when you slow down. The robust cleaning head gets rid of odour from carpets and catches even more dirt from seemingly clean floors.
The mop pads are suitable for use on hard floors, such as vinyl, stone, tiles, wooden floors, linoleum surfaces and ceramic. The high temperature generated by this steamer ensures that unpleasant dirt is wiped away without breaking a sweat. This steam mop is perfect for demanding jobs in busy households.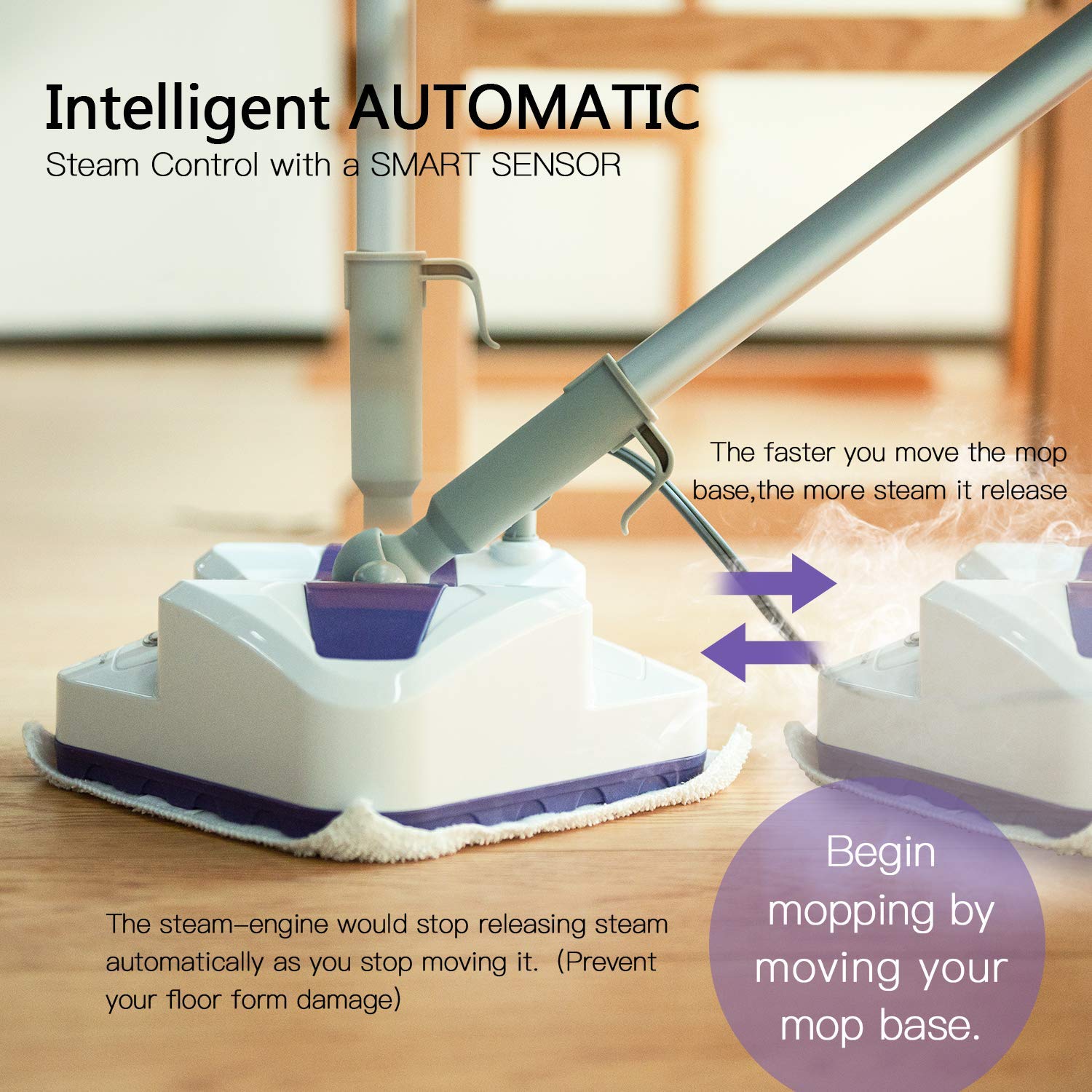 You don't need to settle for an inferior steamer when you can buy the reliable Light 'N' Easy mop to power through the toughest stains and grime. It leaves floors looking shiny without causing streaks.
The flexible handle can rotate a full 360 degrees improving manoeuvrability. The automatic steam system makes sure that excess water isn't applied to the floor.
I like that the water tank is fully integrated into the cleaner head. All you need to do is flip the lid and top-up the water in a similar style as filling up water into your clothes iron. Simple and quick!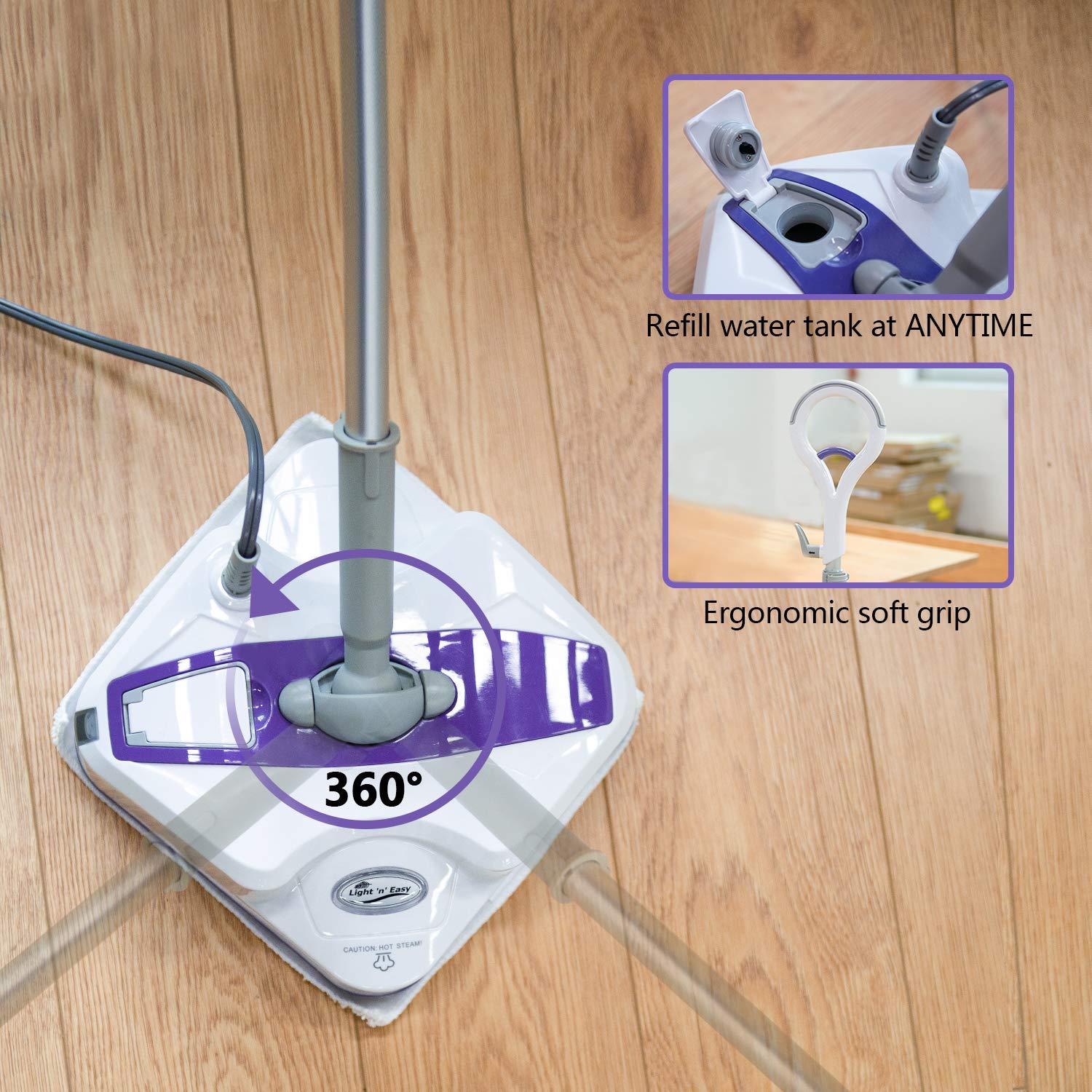 I'd also suggest buying an additional set of cleaning pads so that you always have a spare set available whilst the others are in the wash.
Product Rating 8.4/10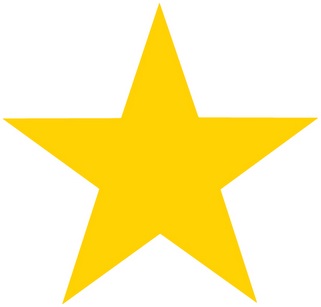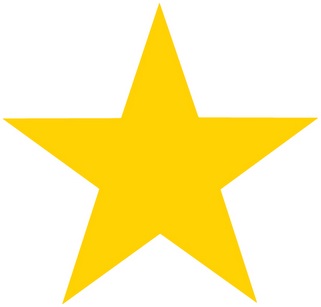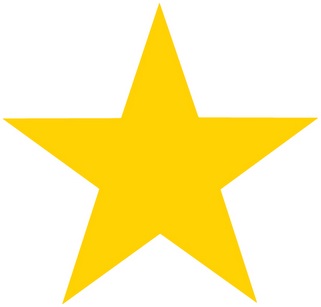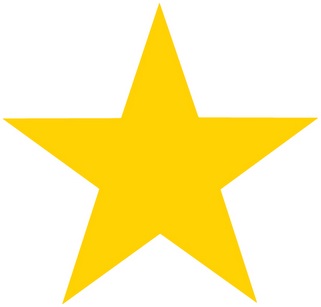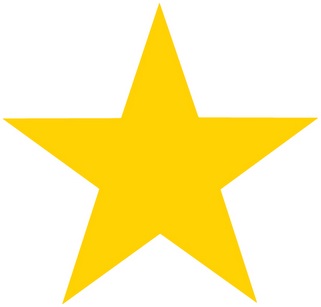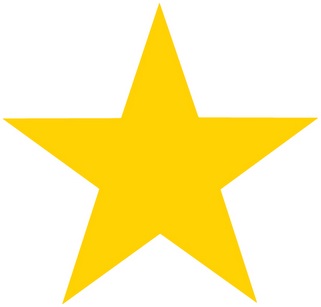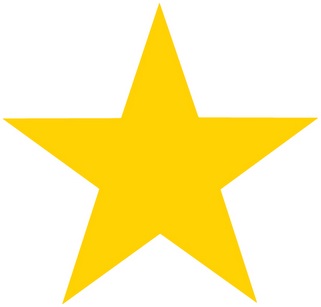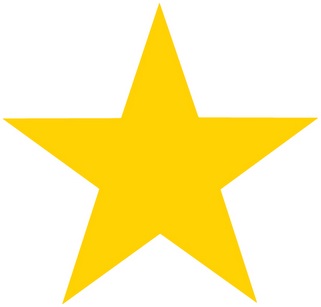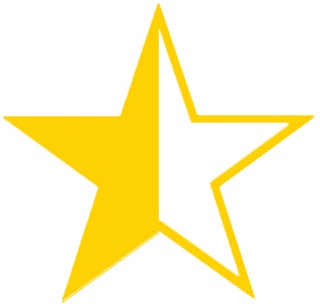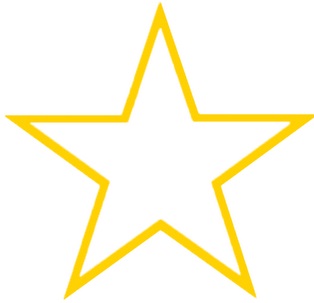 #5.
LIGHT 'N' EASY Steam Cleaner Steamer Mop and Sanitizer (S3101)
Okay, so we've got another Light 'N' Easy steam cleaner on our list. This brand clearly knows what it's doing. This steam mop takes advantage of the specially designed 3-layer mopping pads that provide effective penetration of steam and friction to wipe away obstinate dirt.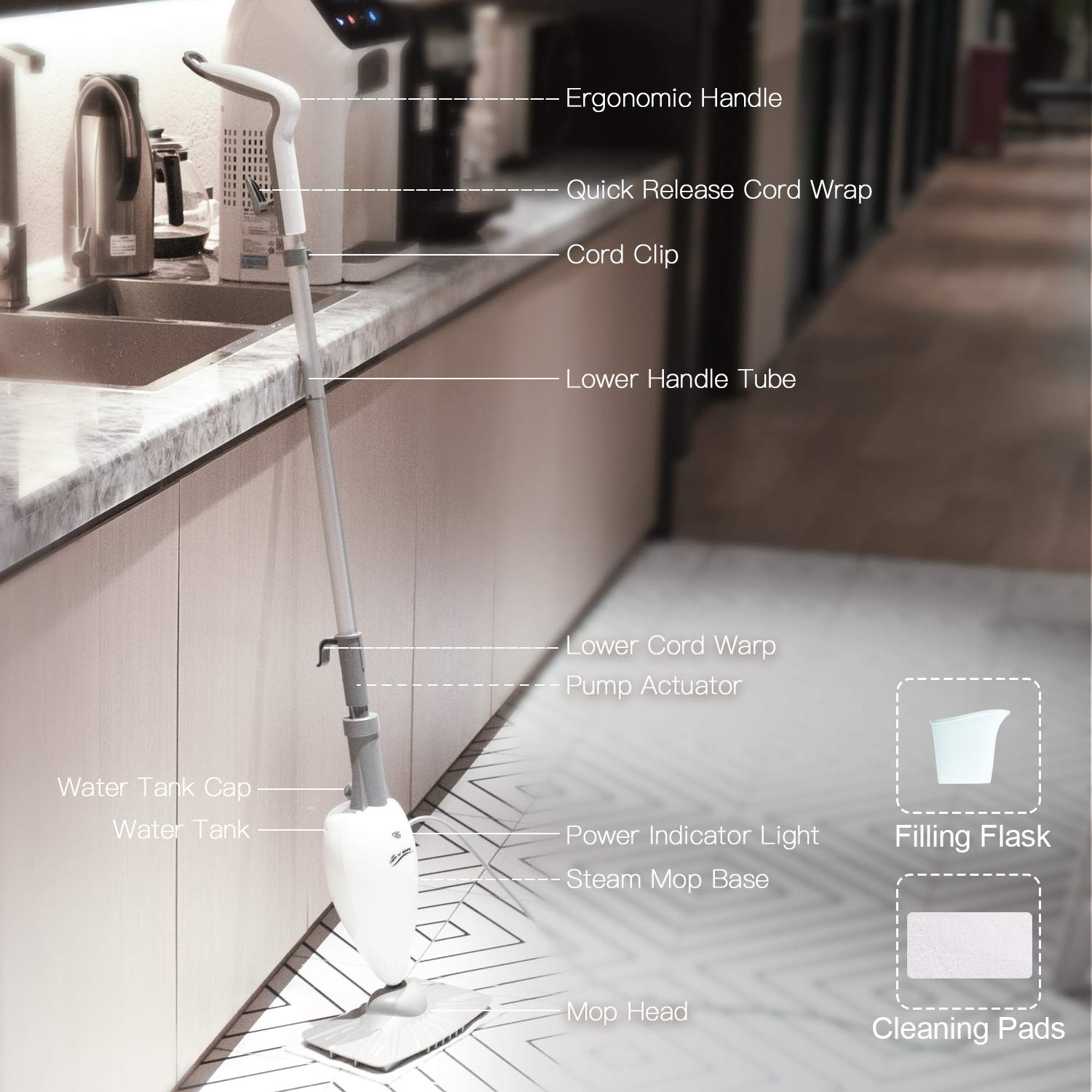 Owners of this steam cleaner are raving about its high performance and are impressed with the immaculate floors it produces. The unit is pleasantly lightweight and easy to move across the floors. The mop pads are also quick to attach or replace.
Light 'N' Easy steamers are always quick to assemble and the brand ensures that you can be ready to go within minutes. The unit takes just 20 seconds to start producing steam. If you like the idea of clean streak-free floors then this steamer comes highly recommended.
The machine has a swivelling mop head for better steering around floors and between furniture without causing discomfort. You should also purchase more cleaning pads as the mop is supplied with just one pad which needs replacing every 2 months. Thankfully the pads are cost-effective and should only cost around $16.99 for a set of 6 branded pads.
What I like about this steam mop is that it produces high temperatures to sanitize your floor and it works across multiple floor types including tiled flooring, grout, laminate floors, hardwood, carpets, vinyl and stone. The quick heating system cuts down on cleaning time.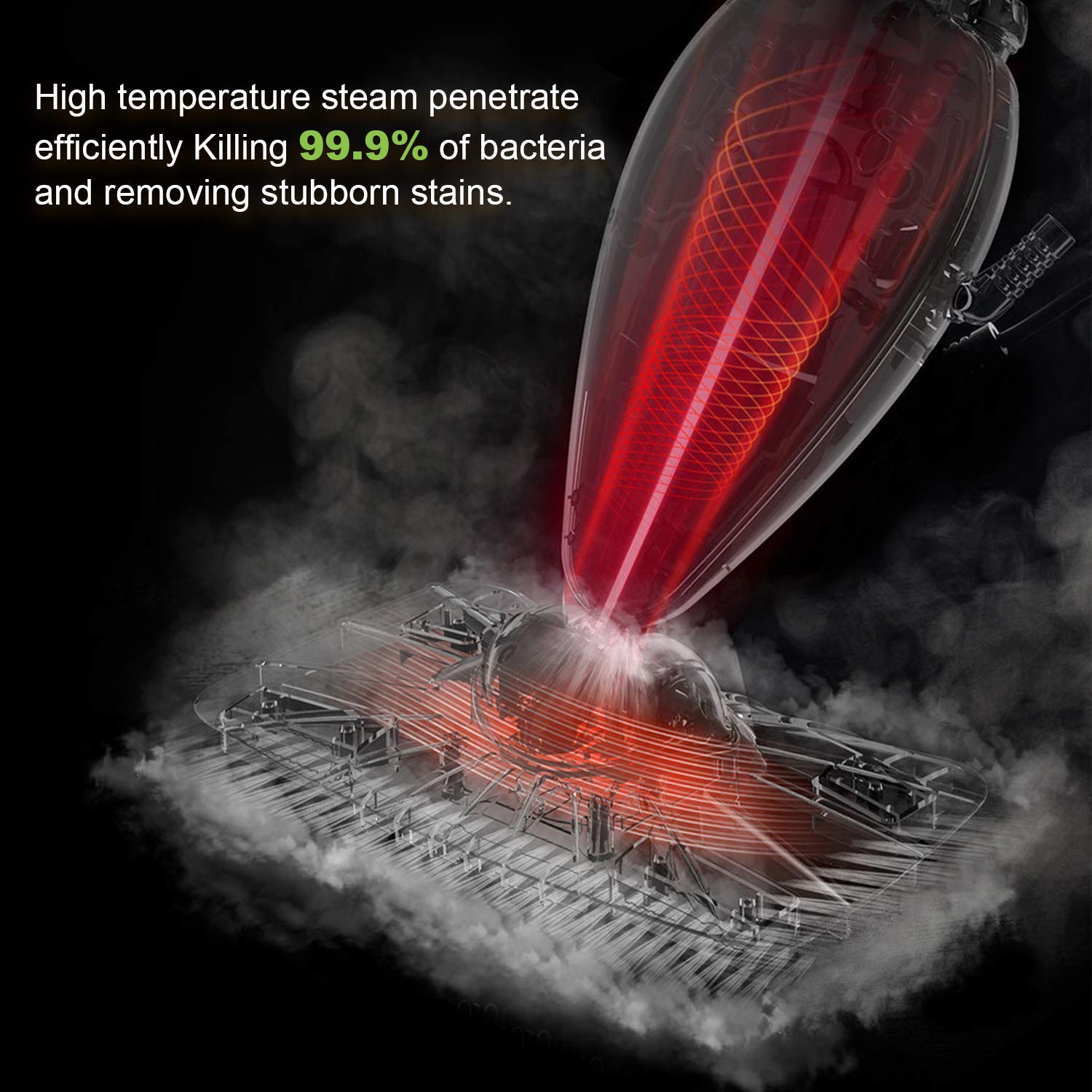 If your floors have to put up with challenging dirt produced by pets, messy kids and mud that comes in with the daily traffic then you'll be glad to have the Light 'N' Easy steam cleaner as your cleaning companion. You can also extend the machine's versatility by buying the carpet glider accessory to steam clean rug and carpets with the same high performance.
Product Rating 8.2/10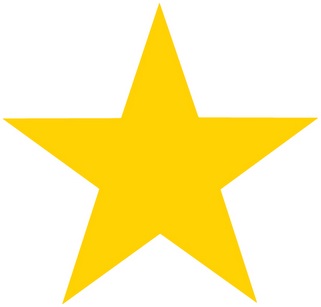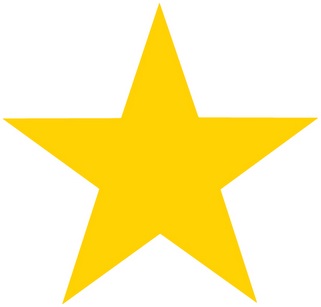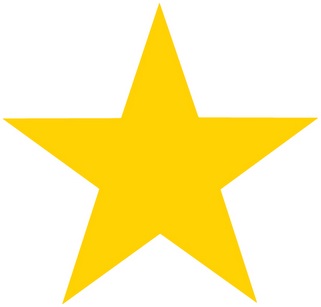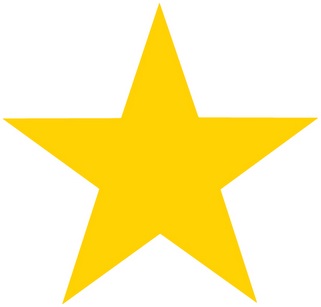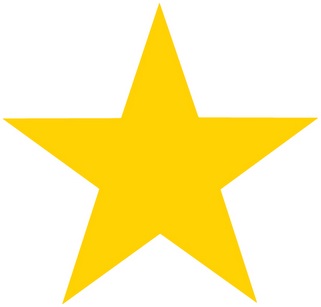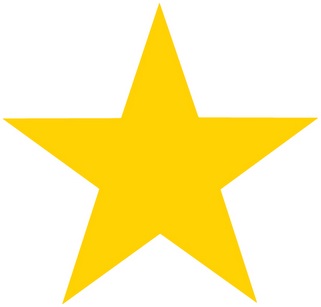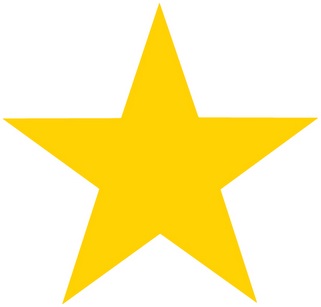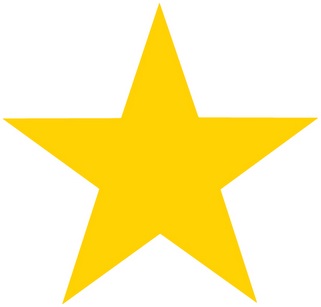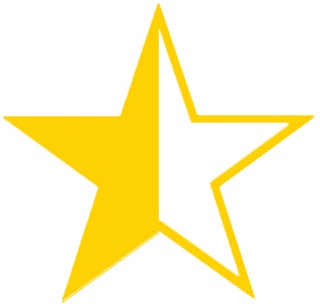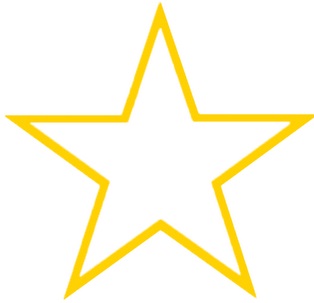 #6.
SKG 6 IN 1 Multifunctional Non-Chemical 212F Hot Steam Mop
Multifunctional steam cleaners are the way forward. They can see to multiple jobs around the house whilst avoiding the additional cost of buying extra appliances to do different tasks. You'll love the SKG 6-in-1 steamer. It's a tough portable cleaner that produces 1500W of powerful steam to give a deep clean.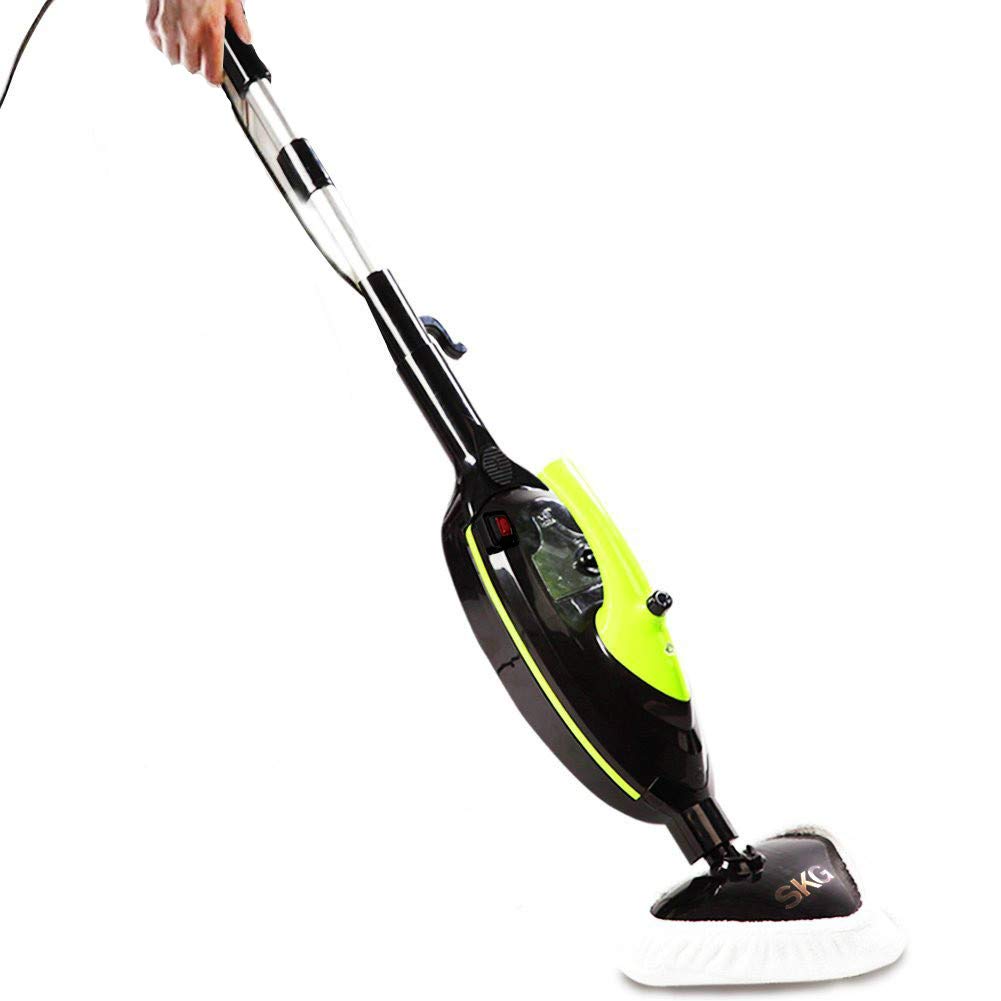 The SKG machine handles any task you throw at it. You can thoroughly sanitize all the nook and crannies such as underneath furniture, behind the fridge, inside the oven, multiple floor surfaces. This steamer can deal with it all! It dissolves difficult stains and produces gorgeously clean floors.
Tasks that would normally take over an hour to do can now be completed in just 15 minutes with the help of powerful steam. Gone are the days of scrubbing on your hands and knees. There are tonnes of accessories in the box including an extension wand and carpet glider to tackle more areas in addition to hard floors. Lovely!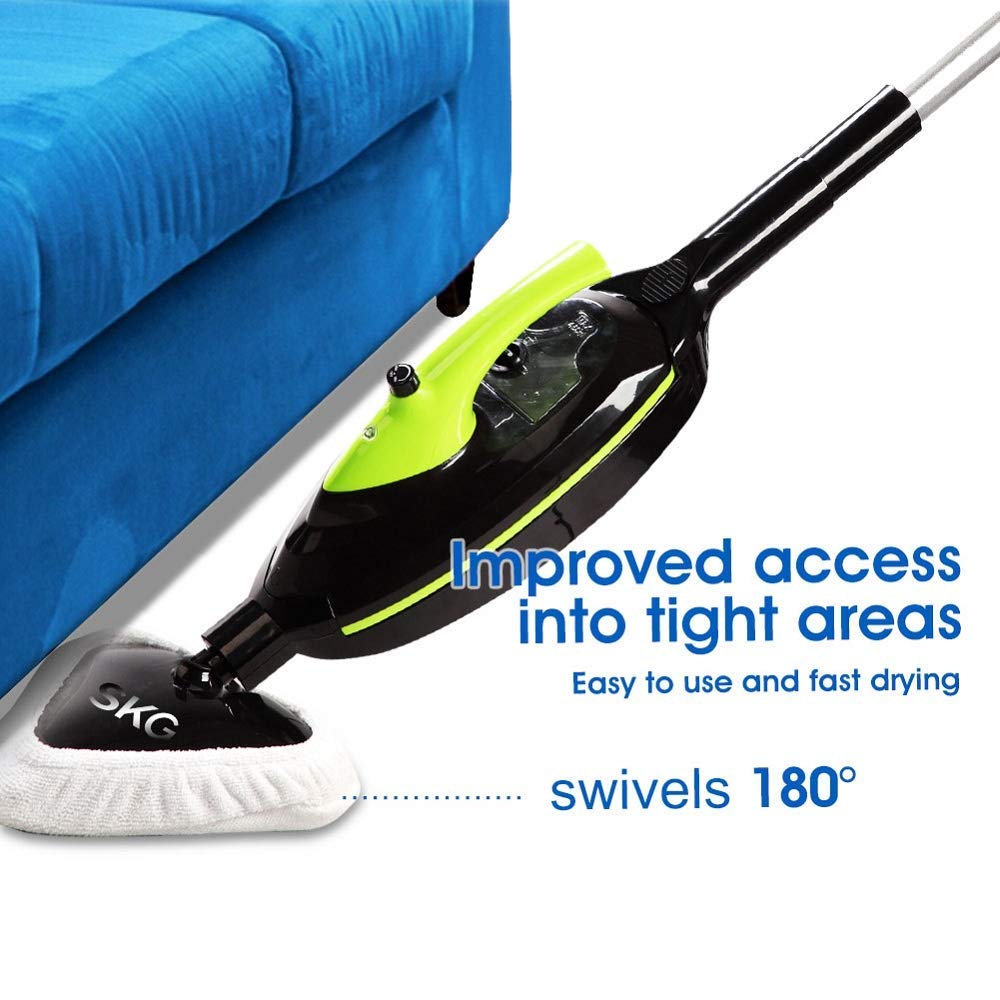 Scrubbing floors and walls manually is not fun, but now you can skip through this process and enjoy an easier life with the SKG steam cleaner. You get a specialised tile steam head and an angled jet nozzle to lift dirt from grout. The copper brush can be used to scrub away grease and films of dirt in ovens and on glass surfaces.
There's even an upholstery cleaning attachment for couches and fabric. The rubber tool is handy for window cleaning and wipes away excess water to give shiny clear windows. You see what I mean when I say that the SKG steam cleaner is multifunctional?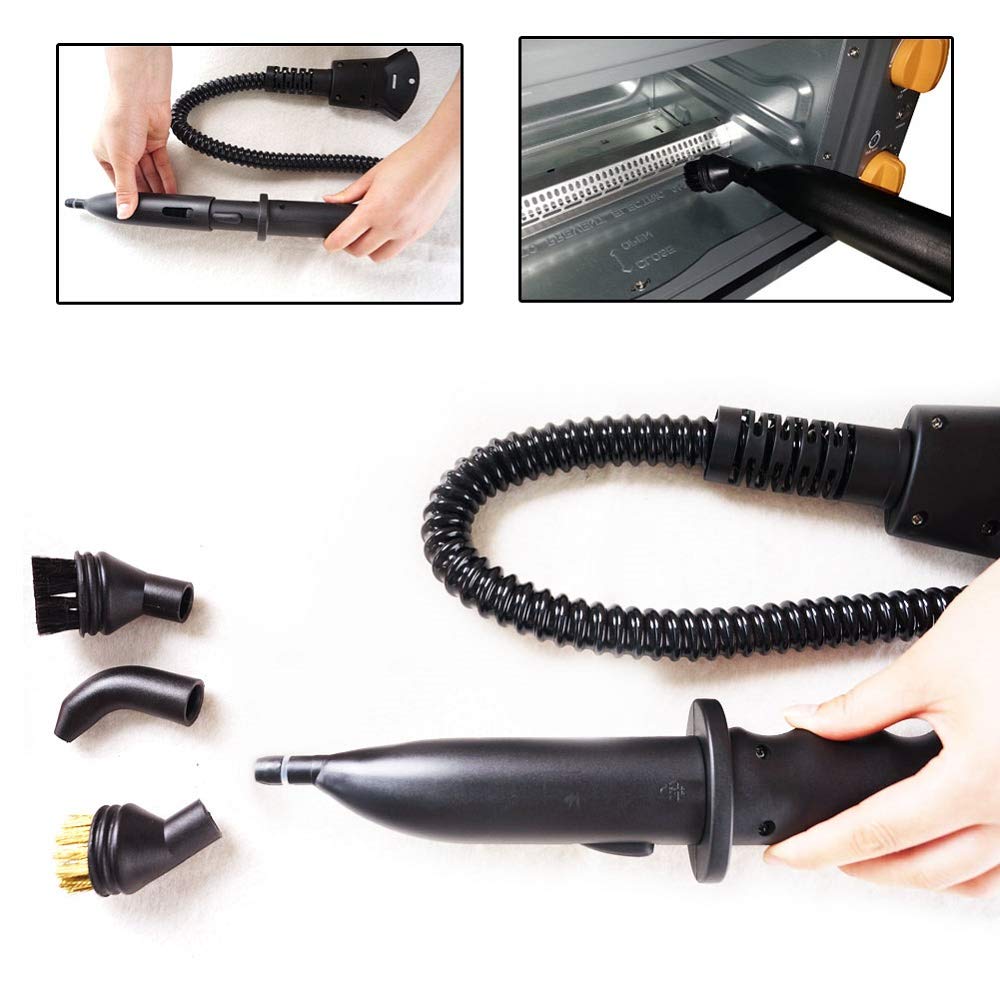 The true benefit of a multifunctional steamer is the time that it saves you. Spring cleaning will now take a fraction of the time when using this thing. The attachments are easy to switch around allowing the flexibility to continue cleaning without waiting for the water to heat up.
The SKG steamer is also designed with an audio alerting system. It cleverly beeps to prompt you that the machine is working at optimum conditions, it will beep louder when the water tank is nearly empty. The sound also acts as a reminder not to leave the steamer turned on by mistake.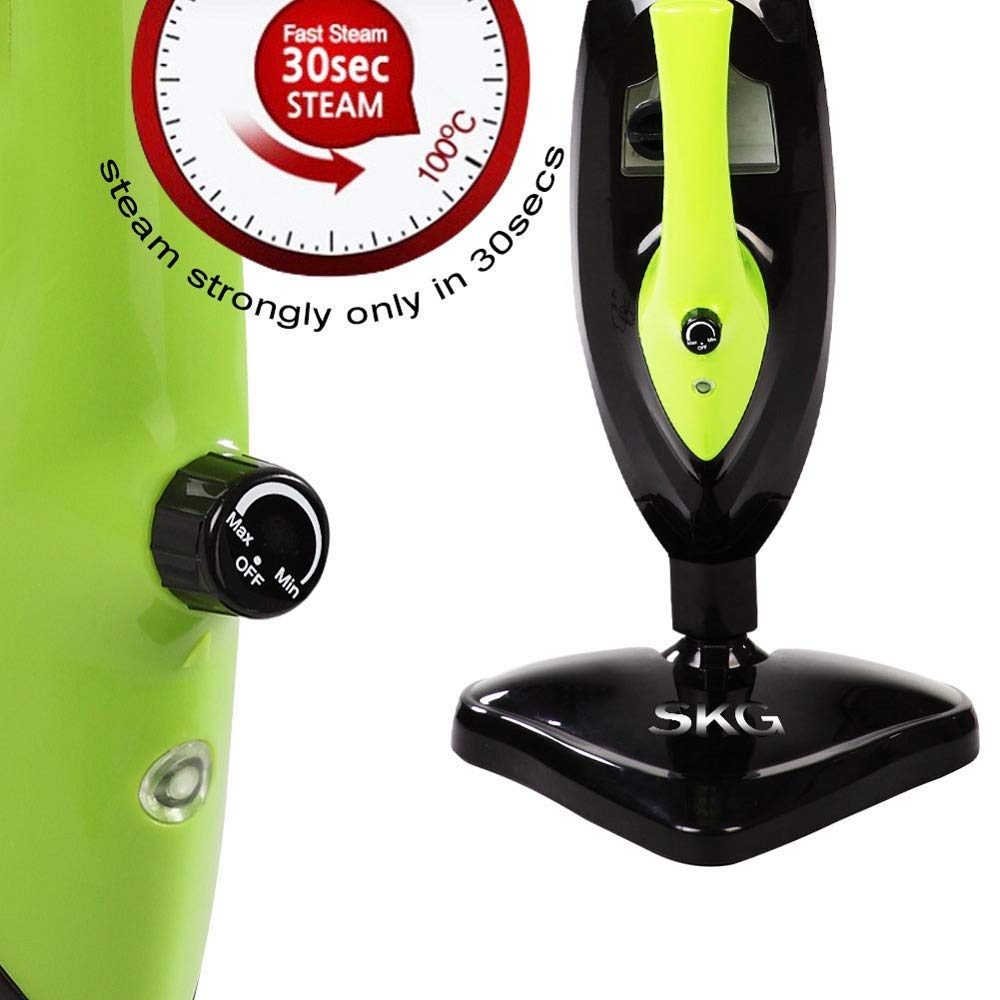 If you're looking to step up your floor cleaning whilst saving a considerable amount of time and effort then the SKG multifunctional steam mop is a clever purchase.
Product Rating 8/10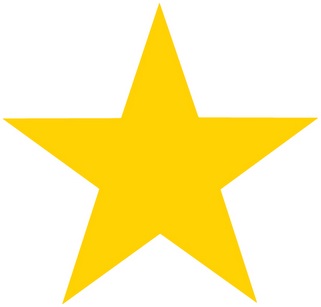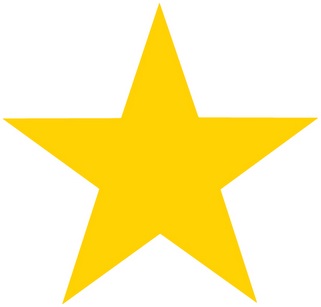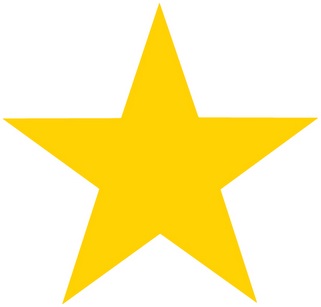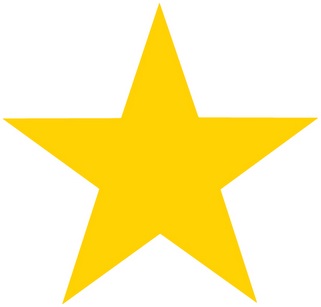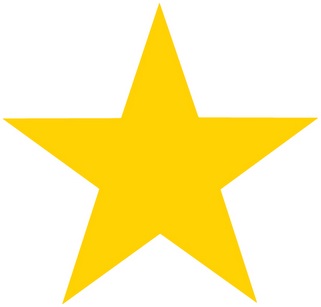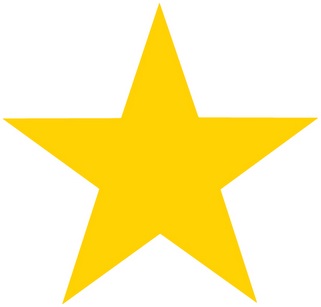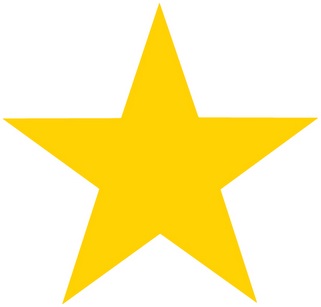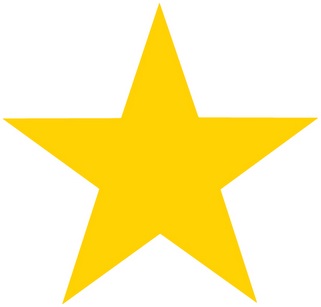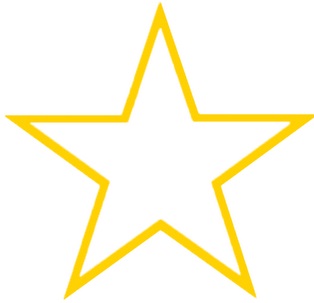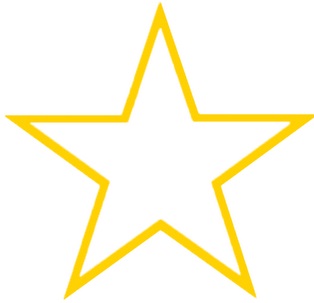 #7.
SKG 1500W Powerful Steamer for Carpet and Floor Cleaning
The last unit on our list is the SKG 1500W steam cleaner engineered for carpet and hard floor cleaning. This handy appliance will take away all the effort required to mop manually and help you to achieve better results in the minimum amount of time.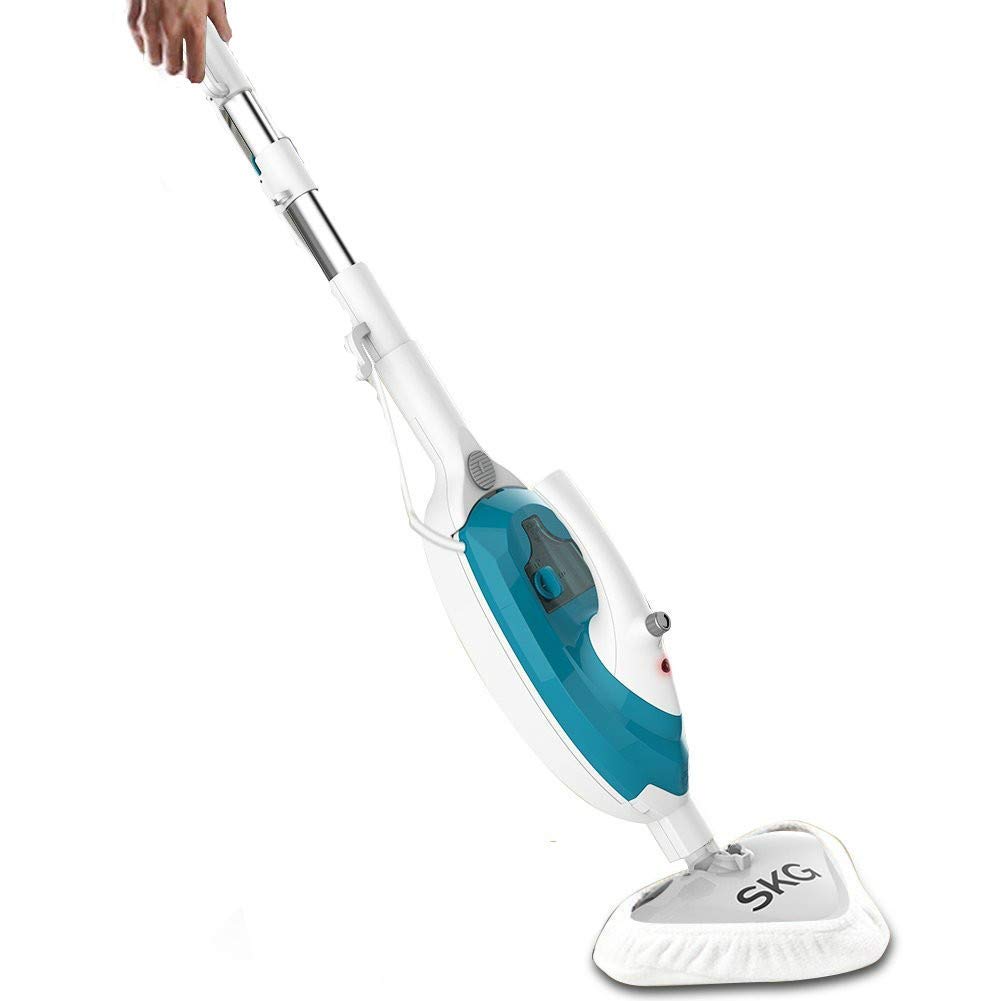 It has one of the fastest water heating times of just 15 seconds. The cleaning pad performs impressively and picks up so much mess until it's almost blackened by the dirt. The result is a floor that shines without the use of bleach or detergents.
The SKG steamer can adapt from a mop to a handheld steamer to help clean surfaces above floor level. You can steam carpets with a special glider tool that comes with the unit. The pads are machine washable and each time your floors are steamed they are cleaned and sanitised to a high level, thus collecting less mess on the pads compared to the initial clean.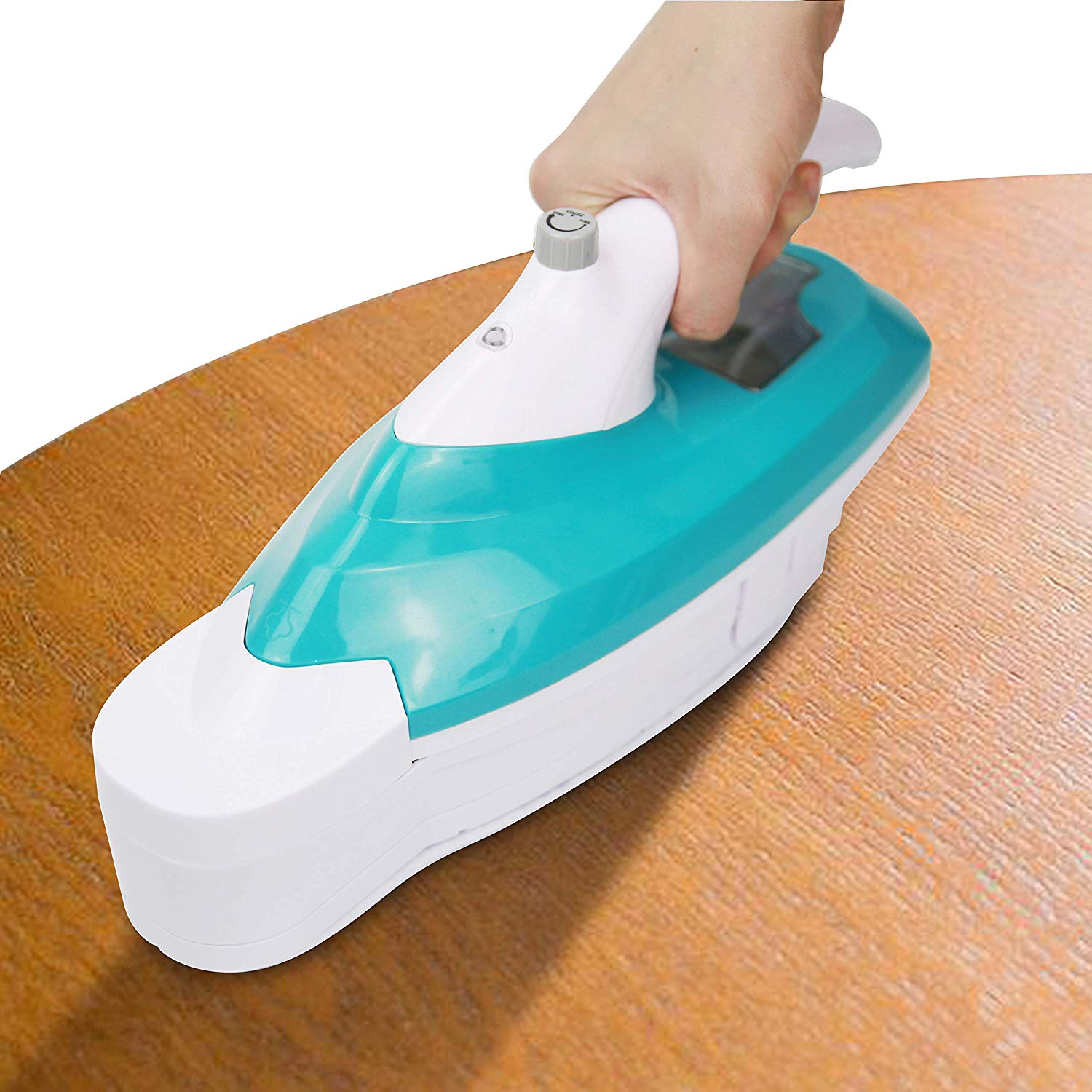 The steam output is adjustable for handling different tasks, some will require more steam than others. The handheld tools make light work of areas such as the shower cubicle, bathtub and toilets.
The device is lightweight and the cleaner head can swivel up to 180 degrees for great handling when it's needed. The cleaning pad is made from microfibre material for durability and improved cleaning efficiency. The tank has been built into the machine and designed in such a way that it holds more water than its rivals to minimise water refills partway through cleaning. The cleaner head has been shaped in a triangular pattern which makes it easier to clean along room edges and corners.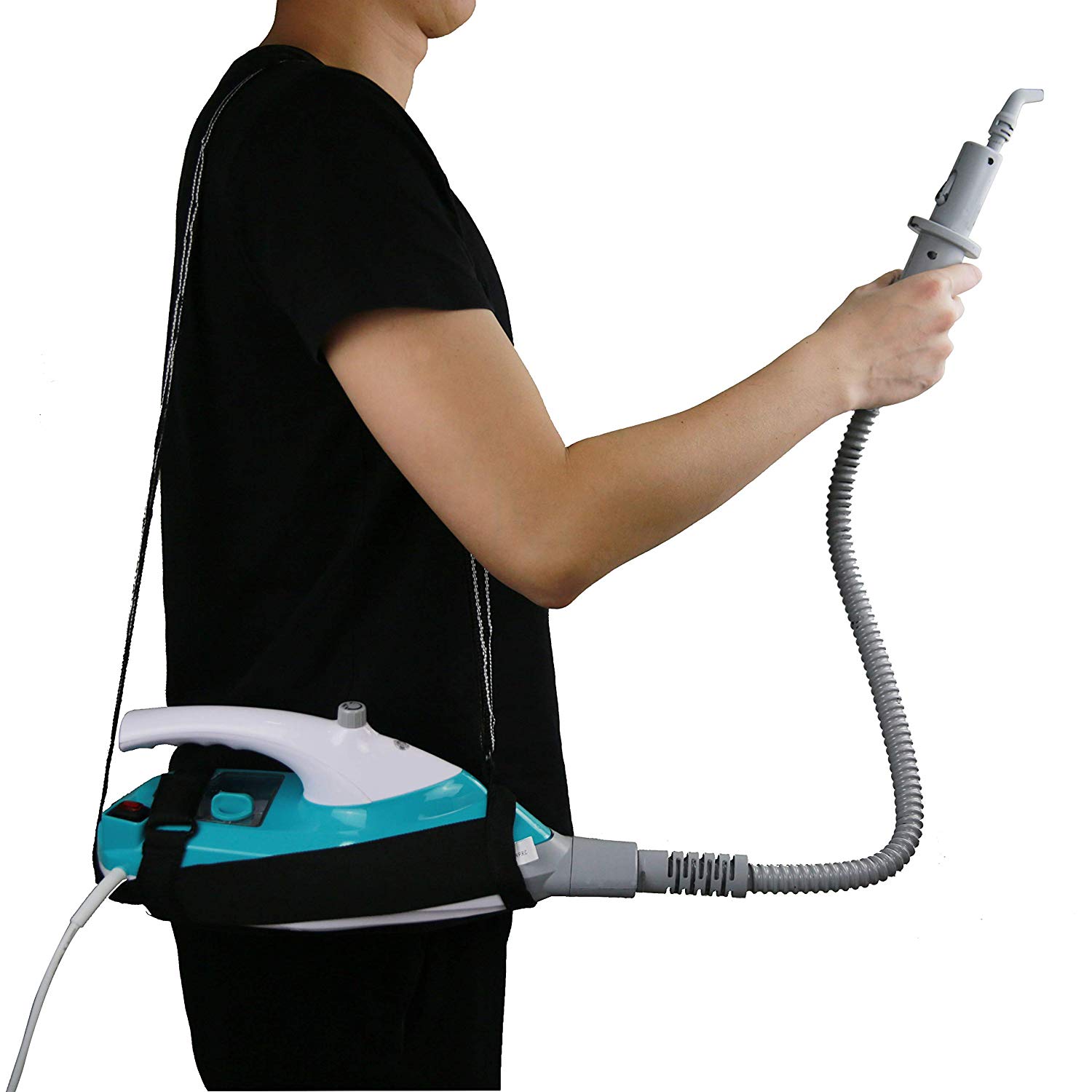 Product Rating 7.5/10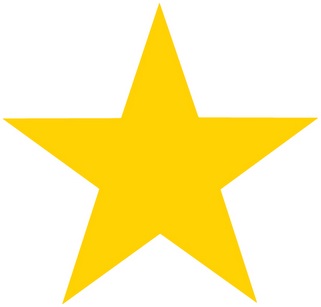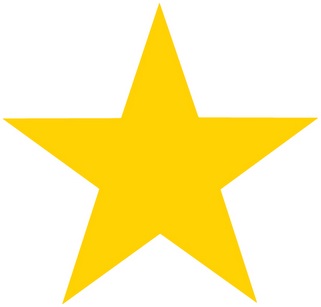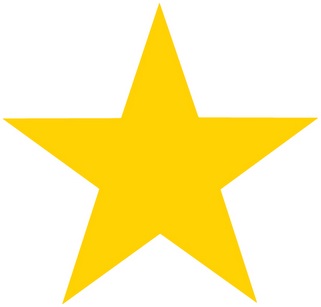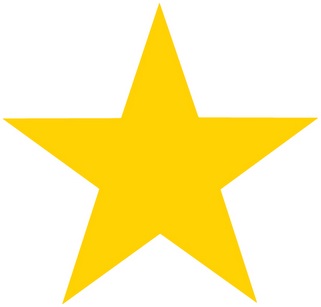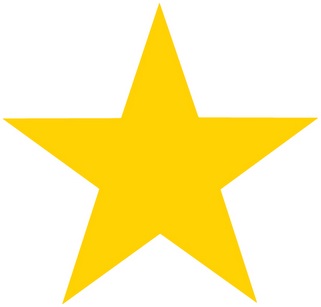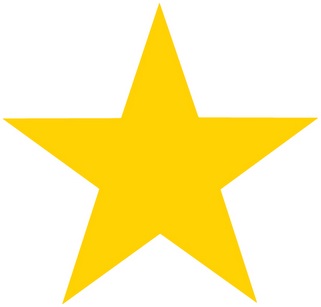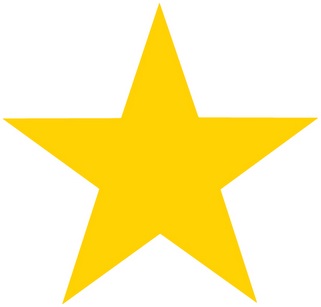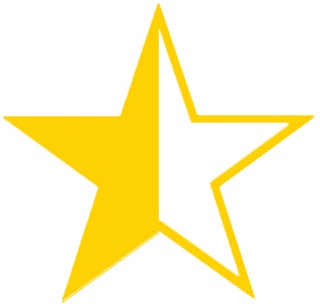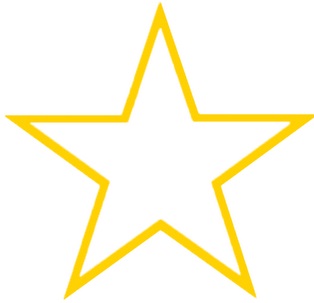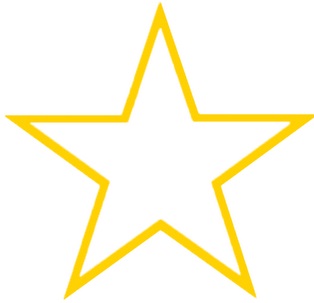 The Bottom Line
That concludes our list of the best home steam cleaners for 2021. There are great benefits in using hot steam to clean and sanitize your home. For starters, it cuts down the time spent on hard tasks such as eliminating sticky grease and lifting unsightly dirt from grouting.
My recommendation is to choose a multi-functional steam cleaner so that you can target more areas across the house in addition to just floor cleaning. Once you buy a versatile steamer it will take less effort to perform multiple tasks in a single cleaning session without the hassle of using different appliances.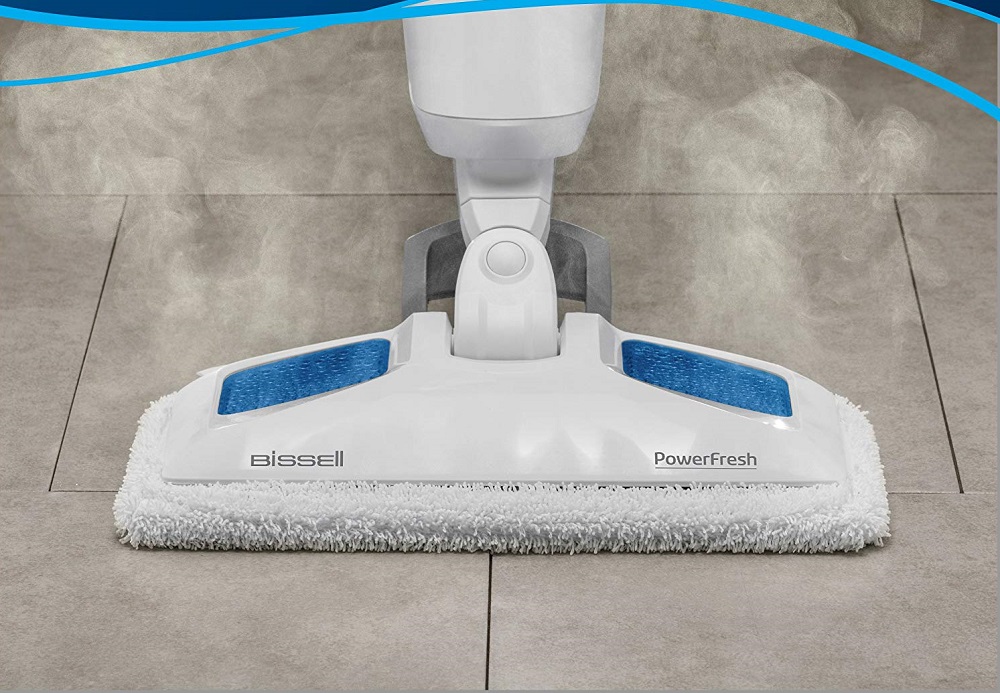 Are you considering buying one of the steam cleaners mops from our list or do you already own one? Please leave your comments in the section below. I'd love to hear from you.
Our List of the Best Domestic Appliances