Affiliate Disclosure: I am grateful to be of service and to bring you content free of charge. In order to do this, please note that when you click links and purchase items, in most cases I receive referral commissions. Eventually, I may earn enough to buy a beer or two 🙂
Hello and welcome. So you've decided that you want to get your hands on the best leaf blower vacuum mulcher for 2021? Well, you've come to the right place. These outdoor leaf gizmos are designed to rapidly pick up the hordes of unwanted leaves lying around outside. The machine utilizes interior blades to cut leaves into tiny pieces. The resulting mulch can be disposed of or used as compost. Job sorted.
In addition to getting rid of those unsightly leaves, you also get the benefit of saving money, as you no longer need to buy expensive mulch from the garden center. With the right leaf vacuum, you can transform fallen leaves into nutrient-rich compost which is a great fertilizer for the garden. Before you go out and buy one in a hurry, let's take a quick look at the different types of leaf mulchers available to buy today-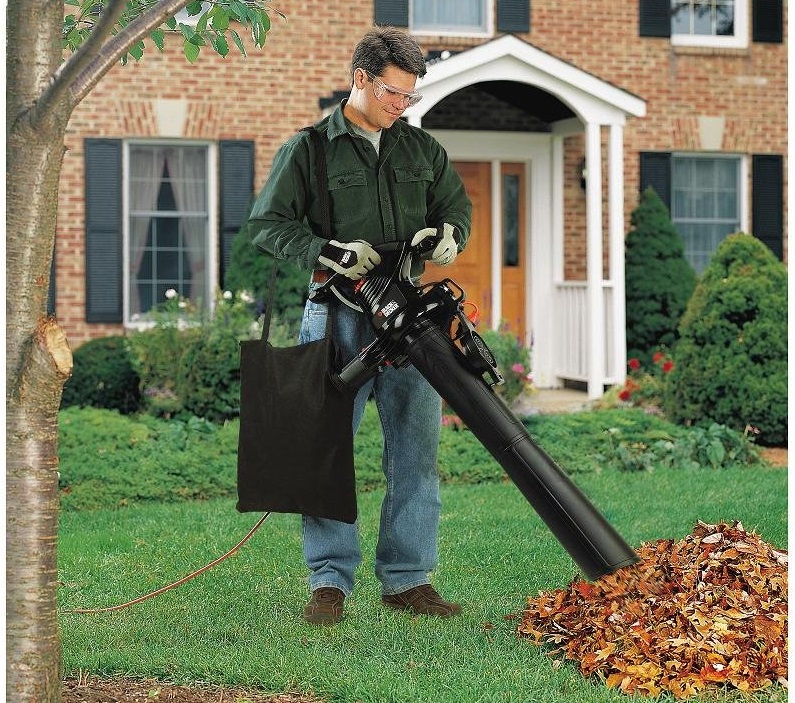 Range of Leaf Mulchers
Currently, you can buy 3 types of leaf mulchers. Let's see what's available-
Electric Mulchers
Electric Mulchers need to be connected to a power supply via a power cord. These models are not as heavy as gas mulchers and operate at a lower noise level. They are also kinder to the environment.
Electric units don't have the issue of leaking gas, therefore, are easier to store. It's worth noting that they operate best in smaller areas and often struggle on bigger lawns (depebding on the model).
Gas Mulchers
The benefits of gas mulchers are that they provide movement freedom, therefore, are not restricted by the length of a power cable. You won't need to fiddle with charging batteries or replacing them.
The advantage of gas-powered mulchers is that they excel at clearing up sizable areas although the units themselves are heavier than electric and battery mulchers. It's also a no-no to use them when the temperature is too hot outside. These machines contribute to air pollution, however, newer models are designed more efficiently.
Battery Powered Mulchers
These units house a compact battery that is used as the main power source. You'll need to fully charge the battery prior to use but the benefit is that it can be used to clear bigger areas than an electric mulcher, however, the running time is not as long as alternative models.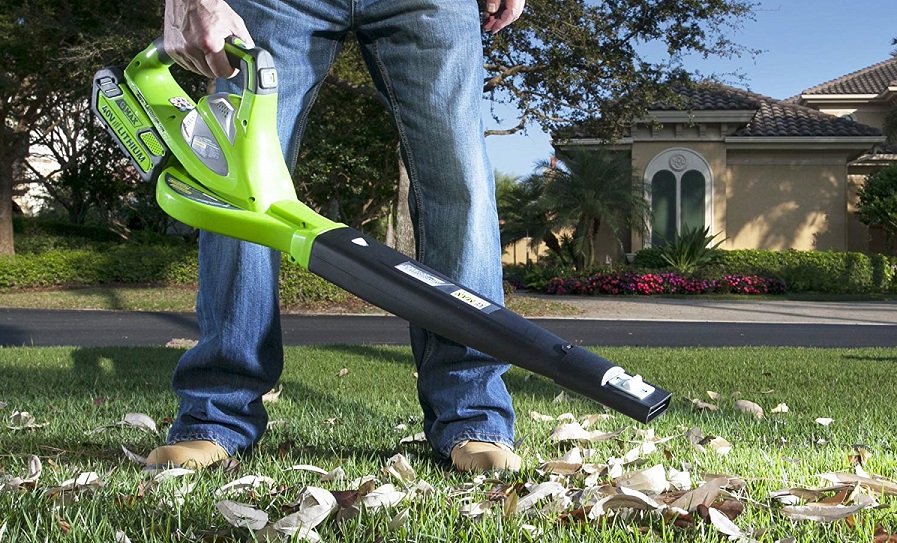 It's possible to operate certain models even whilst the battery is charging, therefore, you are not inconvenienced with stopping partway through a job if the battery runs flat. These units are considerably quieter, in fact, they are noiseless. If you choose to buy an electric mulcher you would be doing your bit for the environment plus they are easier to use as you are free from the burden of cables.
Features to consider when searching for the Best Leaf Vacuum Mulcher
Here is a summary of the foundations that make a great leaf vacuum mulcher-
Variable Speed
Wherever possible, you should buy a leaf mulcher with an adjustable speed. At the very least, you should buy one with a quick and slow speed. The option of switching to a slower speed gives you the advantage of clearing huge leaf piles whilst minimizing clogging.
How Good are the Blades?
Blade quality contributes to the machine's shelf life. Substandard blades are often made from plastic materials and frequently need to be swapped for new ones. High-quality blades will be made from metals and will last much longer.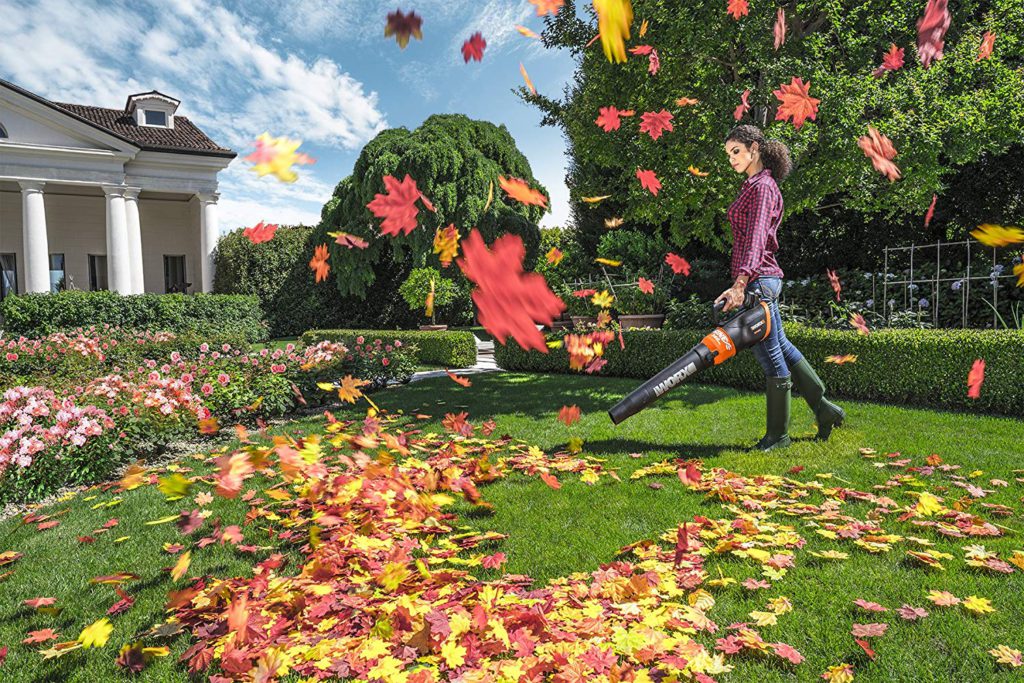 How Powerful is the Motor?
The power inside a leaf vacuum's motor is calculated in Amps. As a rule of thumb, you should buy a leaf mulcher with at least 12-14 Amps of oomph! Anything lower than that will give you an unnecessarily hard life.
What is the Reduction Ratio?
The reduction ratio sounds like a fancy term- it simply means the ratio of the initial leaf volume (prior to mulching) compared to the volume of the resulting mulch. Ideally, you want a mulcher that can reduce leaves on a ration of 16:1 – 18:1.
Leaf Holding Capacity
Naturally, the capacity of your leaf mulcher should meet the requirements of the space it needs to clear up. Bigger lawns or yards will require bigger capacities and vice versa.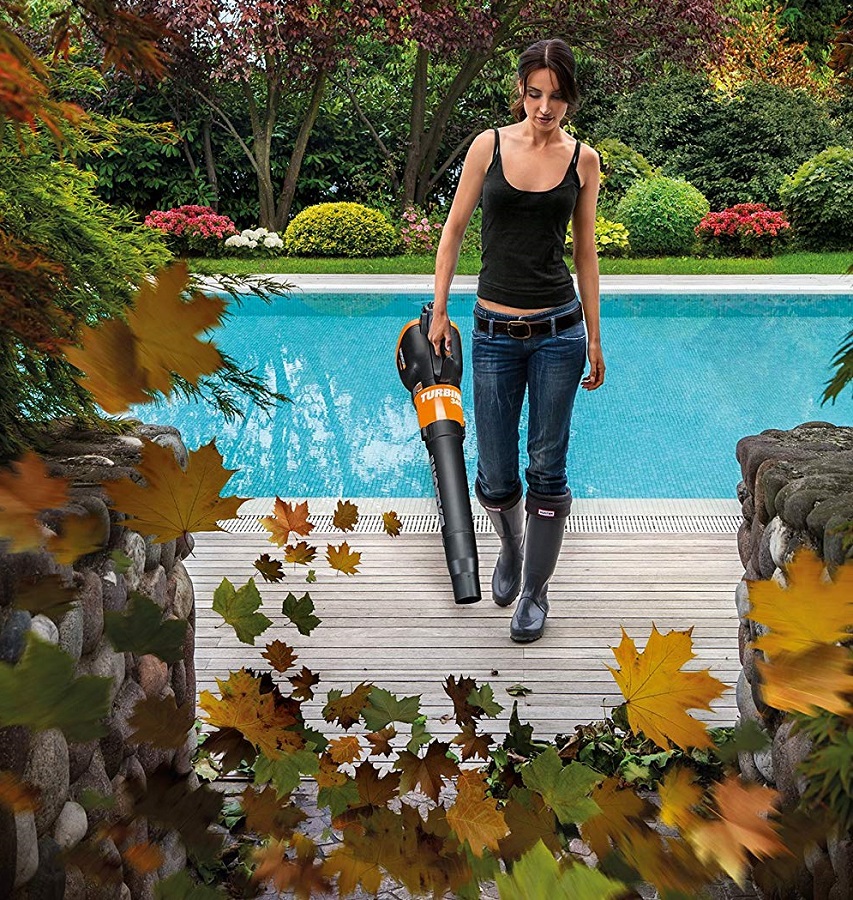 Seamless Mode Adjustment
You want to buy a mulcher that can convert from vacuum to leaf blower whilst in action. This will allow you to rapidly move leaves to the desired location then proceed with mulching all in one go.
Product Reviews of High Performance Leaf Vacuum Mulchers
Now that we know the types of features to look for, lets run through the best leaf vacuum mulchers on the market available to buy right now and help you find a suitable appliance-
1. Worx WG509 TRIVAC 12 Amp Electric Vacuum/Mulcher/Blower –
If you're after the best of the best you should seriously consider the Worx WG509 TRIVAC. This 12 Amp leaf vacuum excels at mulching and leaf blowing, whilst providing all of this in a compact body measuring just 15 x 9 inches. The list of features packed inside this machine outshines the competition and earns this mulcher top spot.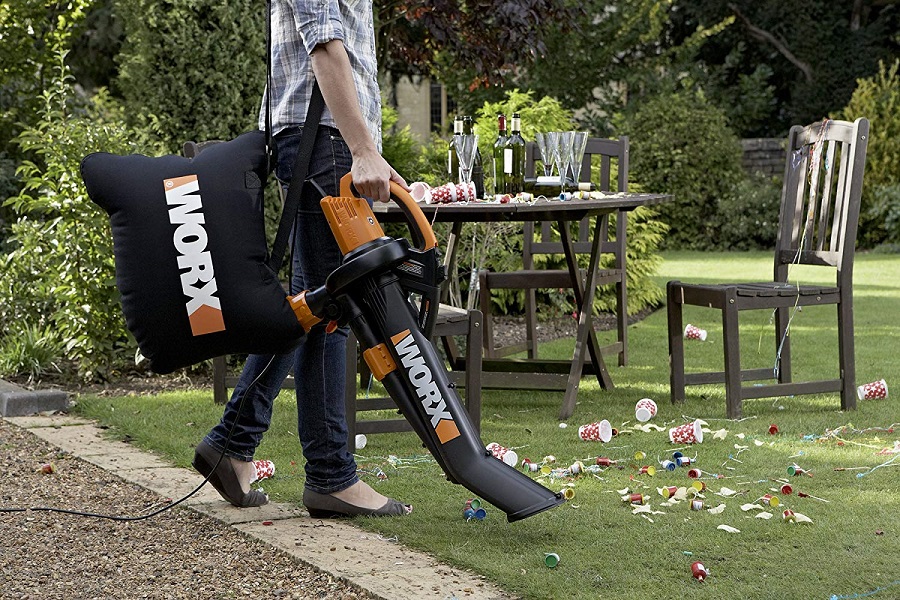 The motor is extremely powerful, at 12 amps it can shred leaves efficiently and can tackle sizable leaf piles without clogging up the machine. The benefit of using the Worx WG509 TRIVAC is that it gets the job done quicker without causing you to break a sweat.
The lightweight body minimizes fatigue to your hands and arms. It's so light that you can use it with just one hand, therefore, freeing up your other hand to multitask with other mulching duties.
The Worx WG509 TRIVAC is made from superior materials and is equipped with a metal impeller that boasts an insane mulching ratio of 18:1 and as a result, the unit has a staggering capacity to hold more than 100 gallons of dry leaves. The leaves are collected into a huge bag that is supplied with the machine. Leaf reduction doesn't get any better than this.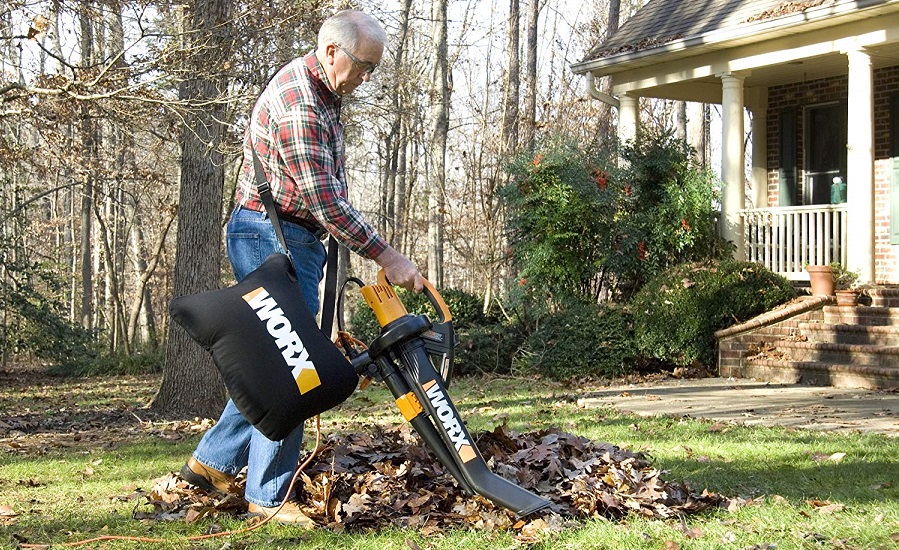 When switched to the vacuum function, the Worx appliance can deliver up to 350 CFM (cubic feet per minute) of air volume. This can be achieved even when the unit needs to reach areas that are harder to access.
When using it as a blower, it provides consistent performance whilst allowing you to seamlessly change the speed from 75 mph (miles per hour) to an impressive 210 mph.
Pros
The Worx WG509 TRIVAC is a versatile appliance capable of vacuuming, mulching and leaf blowing.
The lightweight body can be used with just one hand (if required).
The power inside this machine allows it to forge ahead without needing you to stop partway to swap tubes.
Electric use means that you don't need to deal with the pungent smell of gasoline. It's cleaner.
The large capacity bag allows you to undertake bigger tasks without the need to halt halfway through the job to empty it.
Cons
It's not the best for mulching wet leaves. Some leave might get stuck within the unit's propeller.
It needs to be completely dry after use or else it will start to get rusty over time.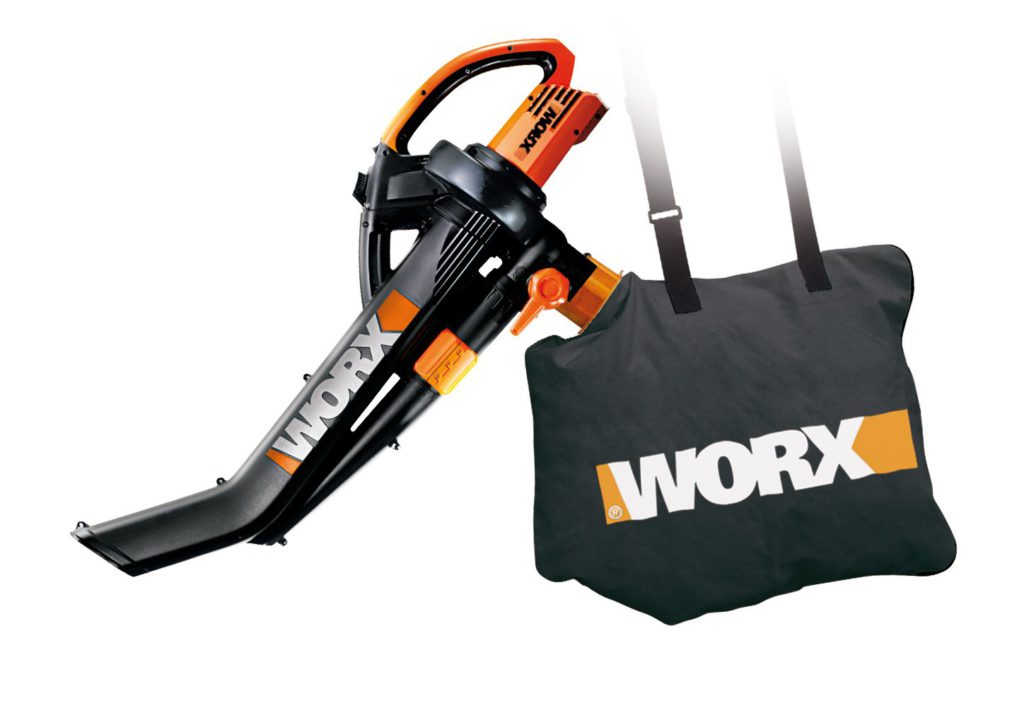 Where can I buy the Worx WG509 TRIVAC 12 Amp Electric Vacuum/Mulcher/Blower?
2. BLACK+DECKER BEBL7000 BackPack Leaf Blower Vacuum & Mulcher
The BLACK + DECKER BEBL7000 is a truly versatile machine that works as a backpack vacuum, leaf blower, mulcher and vacuum all in one appliance. How about that!
Simply hoist it on your back and you're good to go. The high capacity bag can hold twice the amount of leaves than most of the rival mulchers, therefore, making it the ideal accessory for owners of large yards.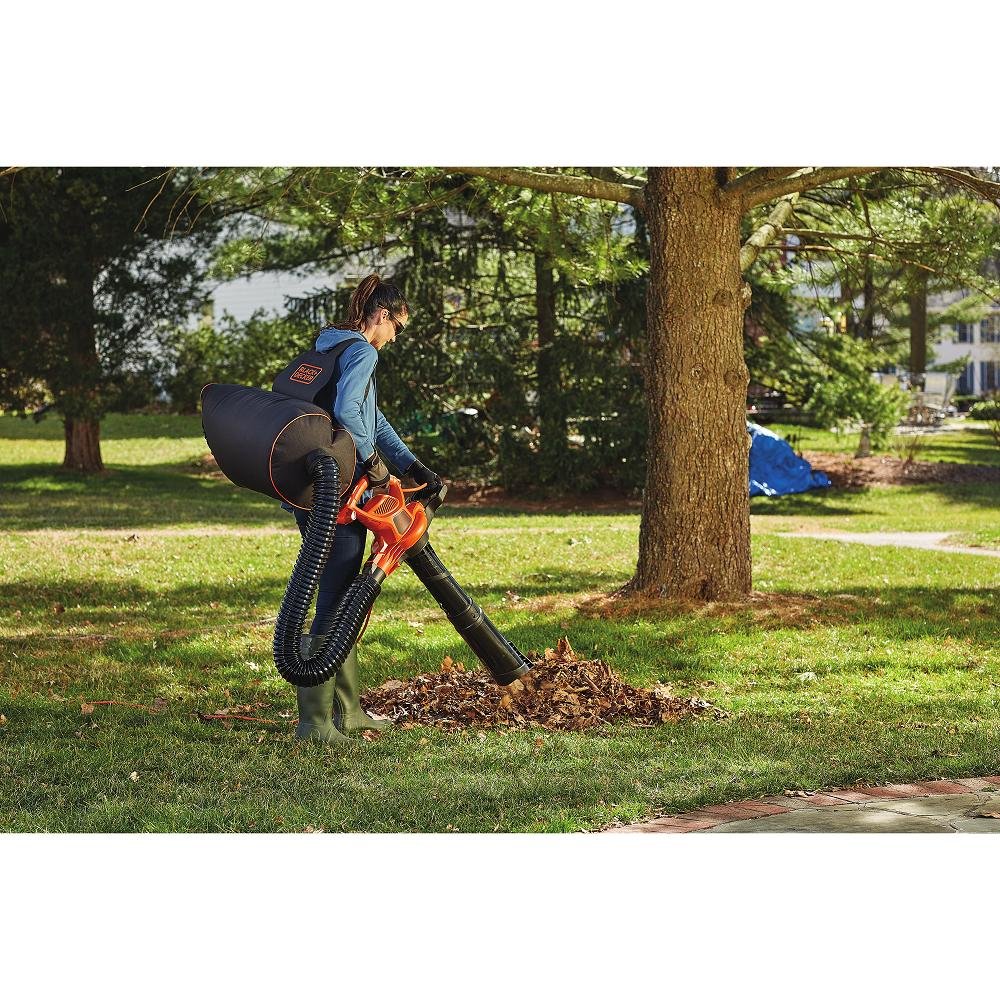 Emptying the collection bag couldn't be any easier or quicker as the BLACK + DECKER Backpack mulcher is equipped with a zipper-less bag designed for rapid disposal.
The compactness of this machine doesn't deter it from providing a high volume of airflow. It's capable of achieving 250 mph to 400 mph CFM (cubic feet per minute) of air volume. Not many leaf vacuum mulcher blowers can provide this.
The unit is optimally designed to switch effortlessly from a leaf blower to vacuum to mulcher so that you spend less time fiddling with settings and more time concentrating on the task at hand.
You will find that the BLACK + DECKER backpack leaf blower vacuum comes with a flexible tube to improve maneuverability around the areas its needed whilst diligently picking up and mulching leaves.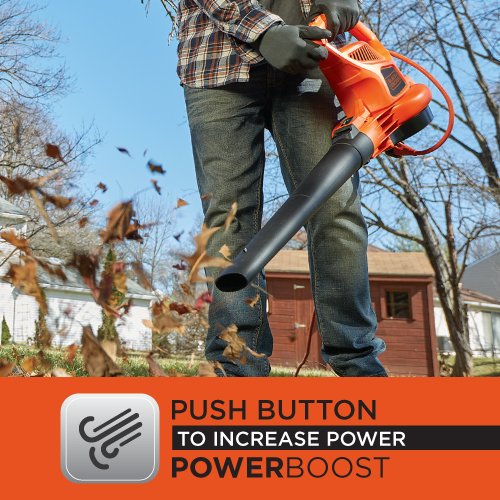 Another clever feature that you will find on this machine is the boost button that ramps up the power of the machine whenever you encounter a difficult task that requires that extra bit of oomph. You won't find the function in alternative mulchers and it simply requires you to press a button to unleash the extra power.
Pros
The big advantage of this unit is the backpack design which eases the burden of carrying the machine around. The load can be distributed across your back.
I like that it's equipped with a boost button to deliver extra power when required.
The Zipper-less bag is great for quick disposal and collection of leaves.
Cons
There's a tendency of wet leaves getting stuck within the appliance, therefore, you need to ensure that it's cleared out.
The hose can be a bit difficult to remove from the machine after use.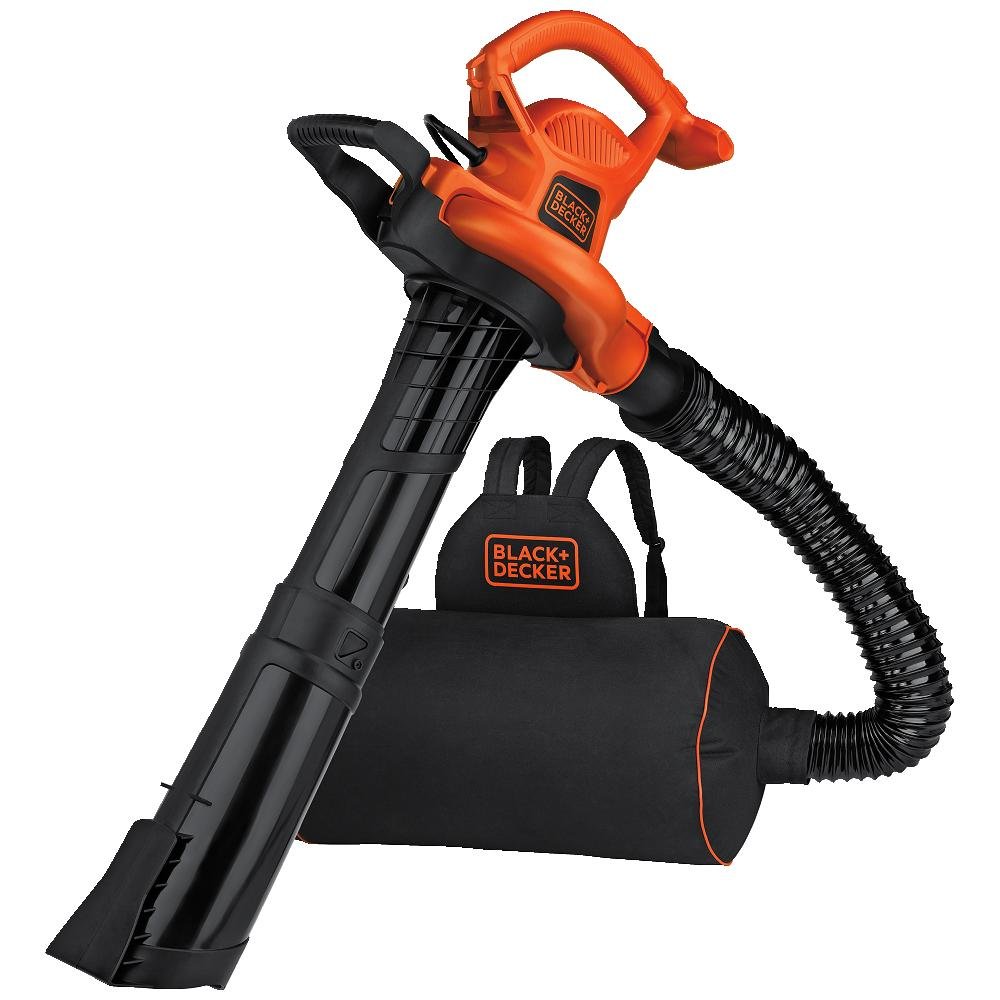 Where can I buy the BLACK+DECKER BEBL7000 BackPack Leaf Blower Vacuum & Mulcher?
3. WORX WG518 Electric leaf blower vacuum
Worx features yet again on our list- they are obviously doing something right. The machine incorporates a 12 Amp motor that reduces large leaf piles into nutritious mulch. What sets this mulcher apart from the rest is that its a commercial grade mulcher, leaf blower and vacuum suitable for professional use. The unit can achieve speeds up to 250 mph to perform a thorough job.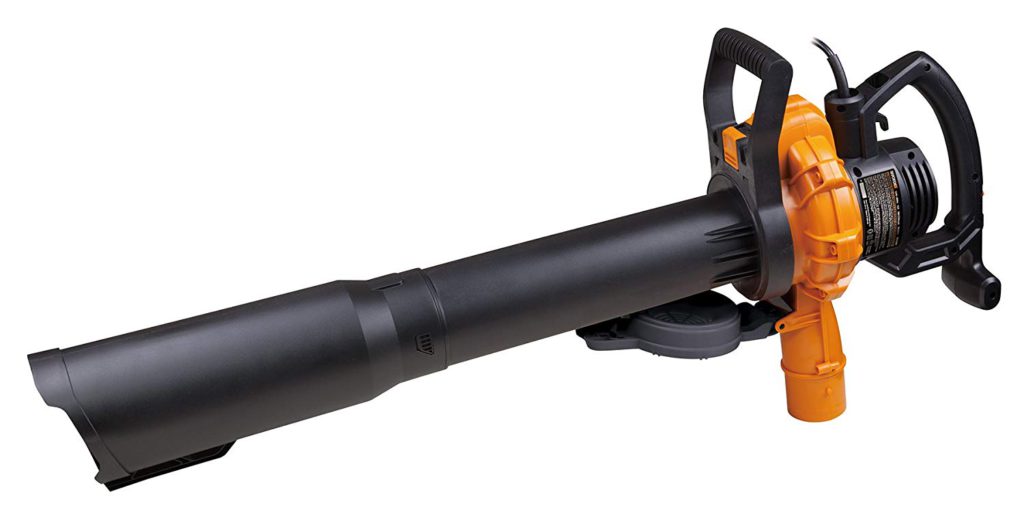 The vacuum is remarkably effective at collecting different types of debris in addition to leaves, it can collect twigs, pine needles and so on. The leaf reduction ratio is up there with the best of them at 16:1 and the high-grade metal impeller reduces clogging as it mulches.
The machine is electric powered and weighs a mere 10.8 pounds, therefore , minimizing strain to your wrists and arms. Cleverly, the variable dual speed is a big bonus for users with a yard that consists of various elements such as flower beds, lawn, gardens and so on. The Worx WG518 can tackle multiple surfaces without fuss.
Pros
I like that it's fitted with a robust impeller that mulches efficiently.
The powerful 12 amp motor can provide an impressive 250 mph speed.
The variable speed can be adjusted to ensure that the machine works around delicate flora.
Switching between functions is a doddle.
Cons
The Worx WG518 electric powered mulcher is a bit restrictive for users with larger yards as the power cord can limit the range, however, there is the possibility of using an extension lead if needed.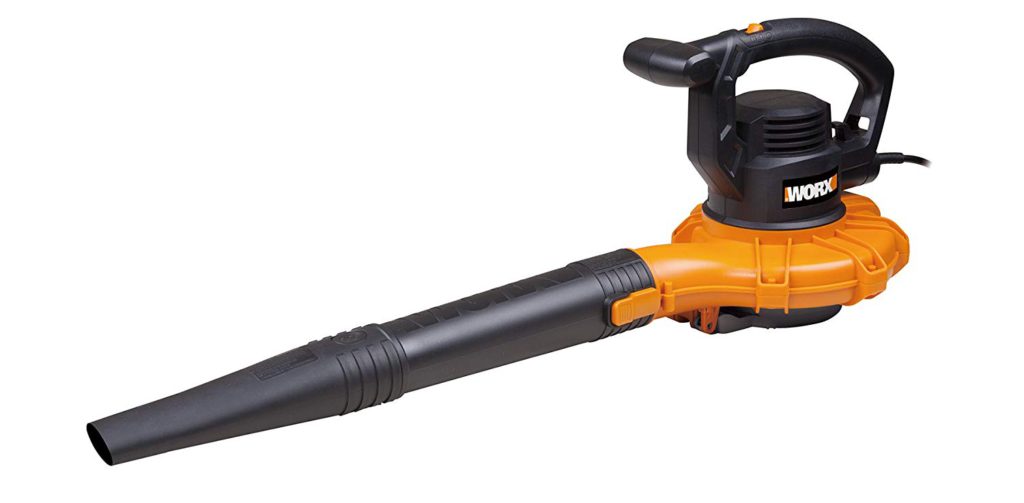 Where can I buy the WORX WG518 Electric Leaf Blower Vacuum?
4. Toro 51621 UltraPlus Leaf Blower Vacuum– Best Leaf Blower Mulcher
Next up is the Toro 51621 leaf blower which comes with a strong 12 amp motor and speeds of up to 250 mph.
Use it for mulching, leaf blowing and leaf vacuuming combined in one machine plus you can change between each function without interrupting the job. The high-quality metal impellers last longer than plastic ones.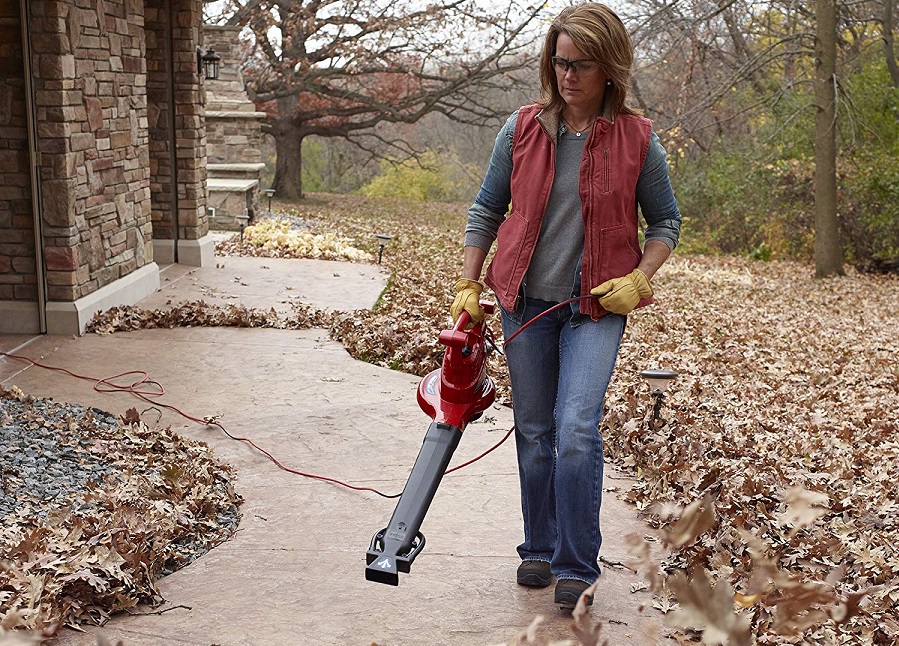 The Toro mulcher comes with a proprietary shred ring that can be attached to the machine to work in conjunction with the impeller to cut down the leaf volume to an absolute minimum. The zipper is smartly located at the base of the collection bag for easier disposal of mulch as opposed to detaching the entire bag every time it needs emptying. It comes with tube attachments specially adapted for damp leaves and areas that are difficult to reach.
The unit weighs a comfortable 8.9 pounds to eliminate back or shoulder strain after prolonged use. This electric powered leaf gizmo is a great addition to any yard cluttered with leaves and in need of clearing out.
Pros
The collection bag doesn't need to be detached from the machine to be emptied.
The tubes are cleverly adapted to deal with damp leaves.
The "shred-all" attachment improves the impellers leaf-reducing efficiency.
The machine combines leaf collection, mulching and leaf blowing in one appliance.
The robust 12 amp motor achieves an impressive speed of 250 mph.
The adjustable speed is ideal for yards with varied styles.
Cons
The electric cable can limit the machine's range in bigger yards.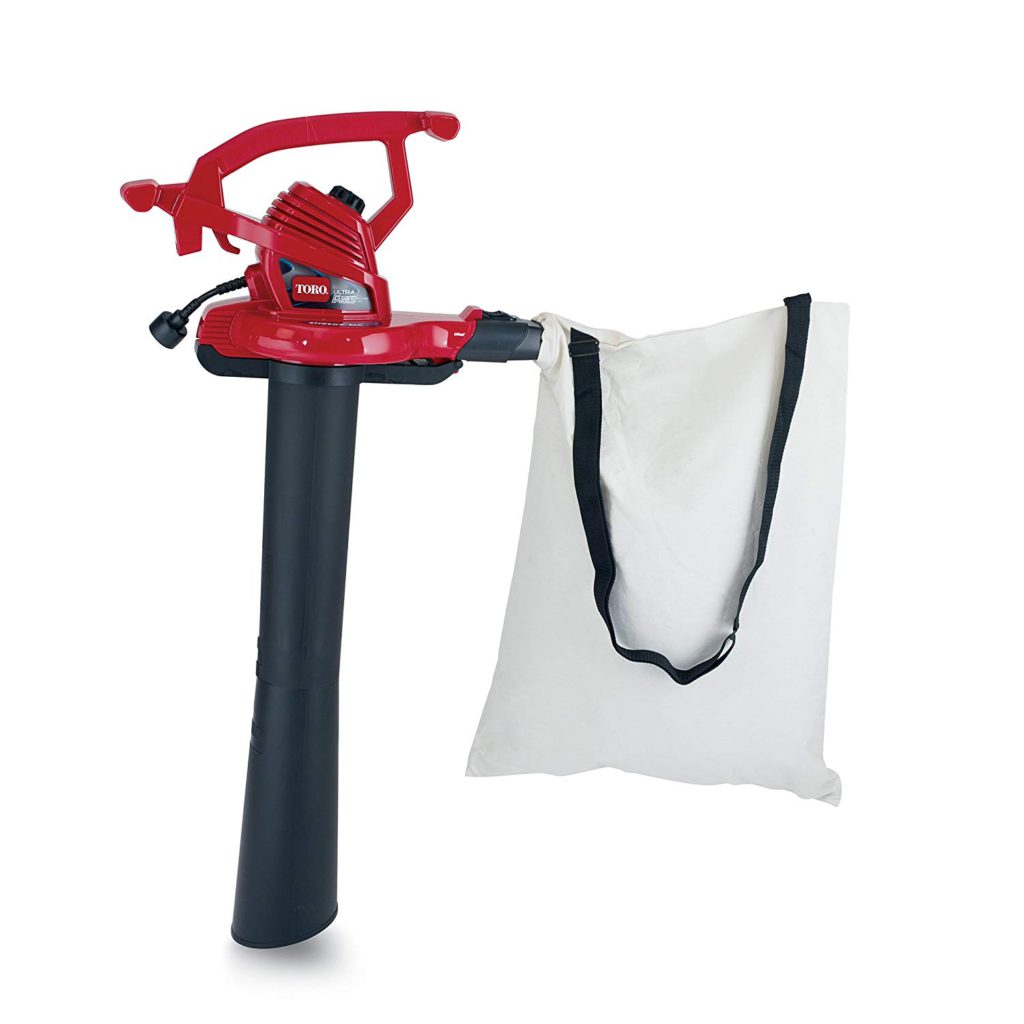 Where can I buy the Toro 51621 UltraPlus Leaf Blower Vacuum?
5. Tanaka Commercial Grade 25cc 1.3 HP
The Tanaka mulcher is a strong appliance suitable for commercial use. It's ideal for domestic use as well as professional applications. The unit can reach volumes of 393 CFM. The functionality found on this device prioritizes convenience. The handle has extra cushioning for a comfortable grip and there is a cruise control feature.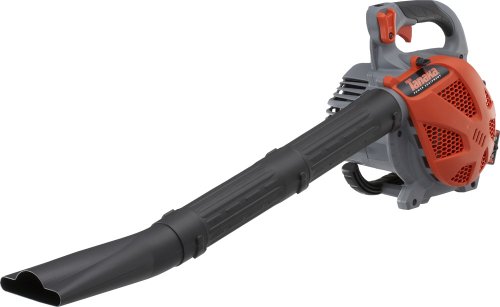 The electric cruise control gives you the option to turn on the machine with the push of a button, therefore, allowing the blower to expel air continuously at the desired speed for ease of use.
The handle feels soft and extra comfy in your hand and alleviates discomfort when undertaking long tasks.
The appliance comes with a fan nozzle which smartly increase the air volume to improve efficiency. The shredder blade is an optional extra and is capable of blowing leaves in the desired direction easily from areas such plant beds and gardens.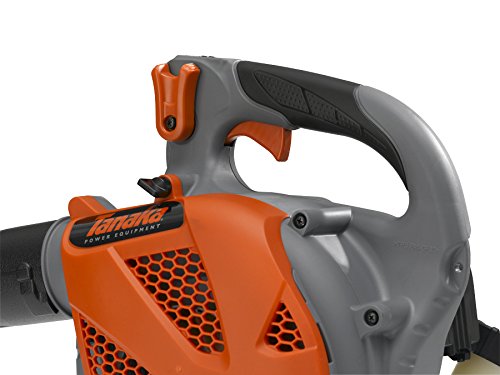 Pros
The Tanaka Mulcher is a dependable outdoor appliance that is ready to clear debris cluttering your yard.
The ergonomically soft grip ensures comfortable usage when undertaking big jobs.
The fan nozzle provides high-volume efficiency for improved mulching.
Cons
It's a bit more expensive than its rivals.
Where can I buy the Tanaka Commercial Grade 25cc 1.3 HP Leaf Blower?
6. DEWALT DCBL720B Lithium Ion XR Brushless Blower
This Dewalt battery-powered leaf mulcher houses a distinctive axial fan configuration that optimizes the air output and battery efficiency.
The trigger works on variable speeds and can be locked to the required speed so that users can take advantage and make best use of the blower's control. The maximum air volume is 400 CFM and 90 MPH air seed.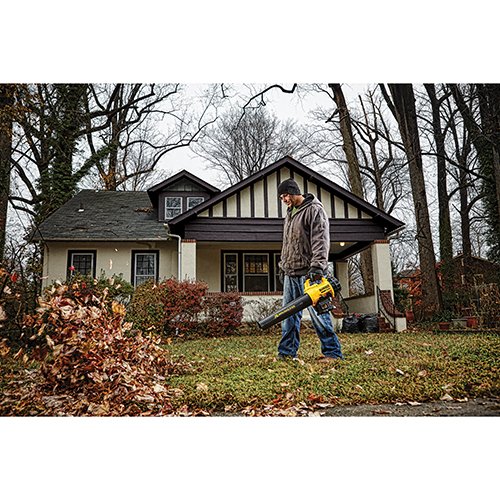 The Dewalt DCBL720B is pleasantly lightweight and user-friendly, weighing just 7.1 pounds.
It is also one of the quietest leaf mulchers on the market producing just 61 decibels of noise thanks to the brush-less motor, therefore, making it suitable for early birds that prefer to work before everyone else gets out of bed.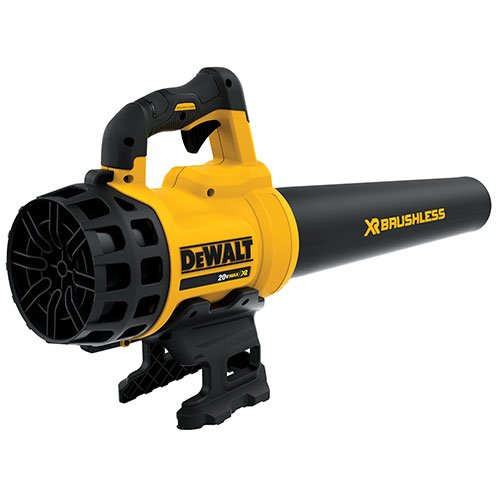 Pros
This is one of the best battery powered leaf mulchers that provides speeds of 90 MPH and 400 CFM of air volume.
The lightweight machine is compact enough to use for an extended period without causing fatigue.
The brushless motor is robust and optimizes performance. The trigger lets you control the speed and lock it where required.
The Dewalt DCBL720B operates at a low noise level without interrupting those around you.
It's a dependable appliance that delivers the power required to mulch and vacuum leaves quickly.
Cons
The battery is sold separately and comes as an optional extra.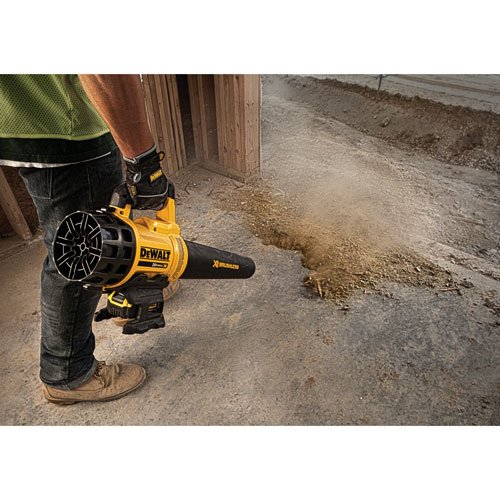 Where can I buy the DEWALT DCBL720B Lithium Ion XR Brushless Blower?
7. BLACK+DECKER BV5600 Blower, Vacuum, Mulcher
The Black + Decker BV5600 can pick up leaves and mulch simultaneously, making it perfect for a range of jobs around the yard.
Its leaf reducing capabilities are nothing short of astounding. It can minimize 16 bags of leaves to 1 bag making it a prized choice for users wanting to eliminate a large volume of leaves whilst keeping the frequency of disposal to a minimum.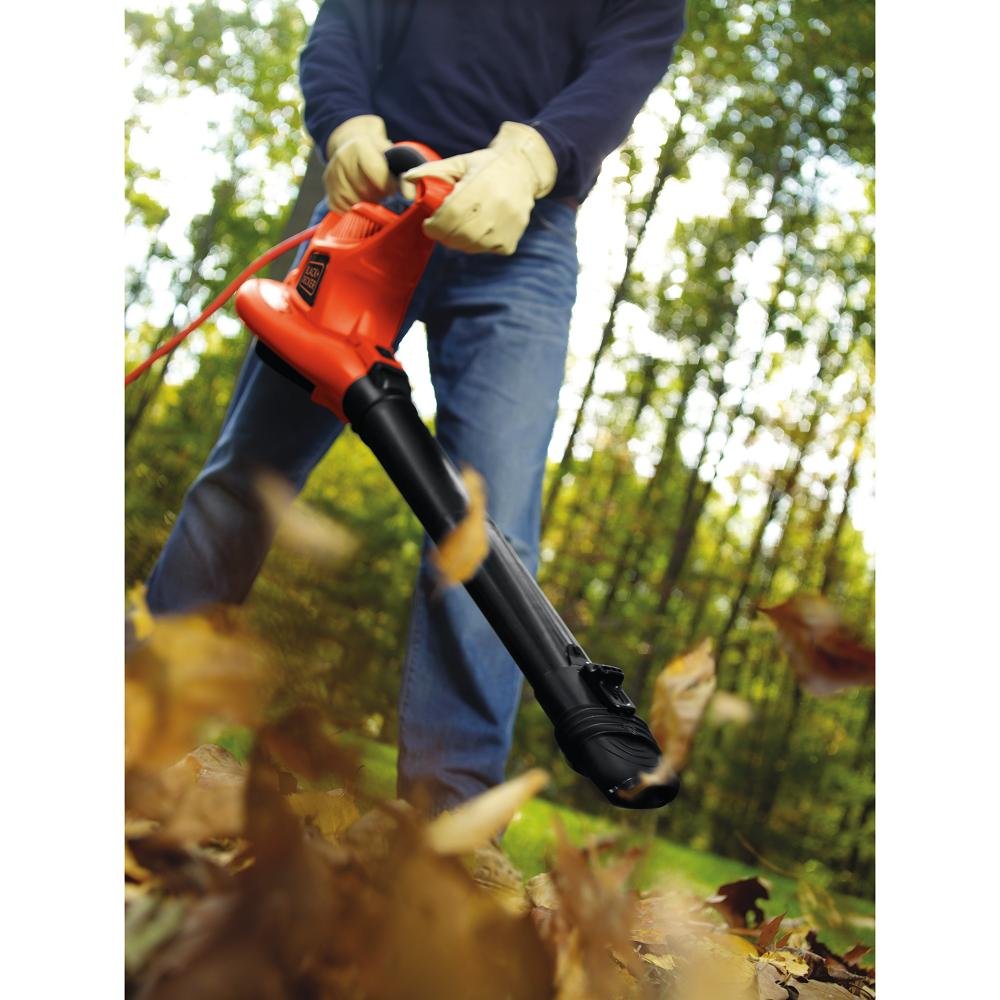 The blower function reaches speeds of 250 MPH to shift leaves and debris with ease. The noise produced by this machine has been reduced by 50% compared to its rivals.
The metal fan is powerfully configured to prevent the unit from clogging up during mulching. The adjustable speed is handy for delicate areas such as garden plots in which flowers are grown.
Pros
The blower reaches speeds of 250 mph for quicker movement of debris.
It works at a quieter noise level of just 68 decibels.
Switching between blower and vacuum is a smooth process.
The integrated cable retainer keeps the cable fixed and plugged in for continuous operation.
Cons
The appliance doesn't pick up other types of debris effectively such as twigs.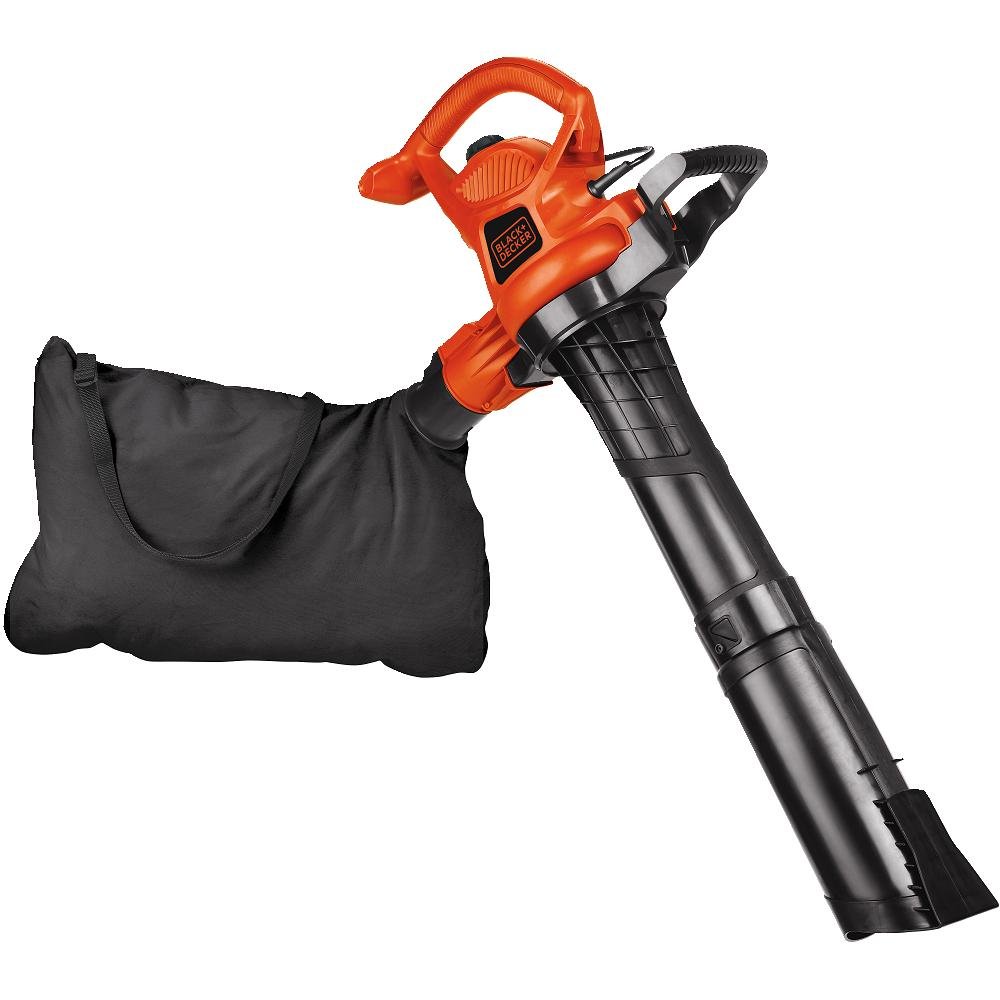 Where can I buy the BLACK+DECKER BV5600 High Performance Blower?
8. Black & Decker BV3600 12-Amp Blower Vacuum
The Black + Decker BV3600 is a robust blower vacuum that features a 12 amp motor to get rid of pesky leaves and clear out your yard.
There is the choice of a mulcher, blower and vacuum at your disposal. The maximum airflow is 230 mph and as a result, its ideal for cleaning up various types of debris, in addition to leaves, from medium to big yards.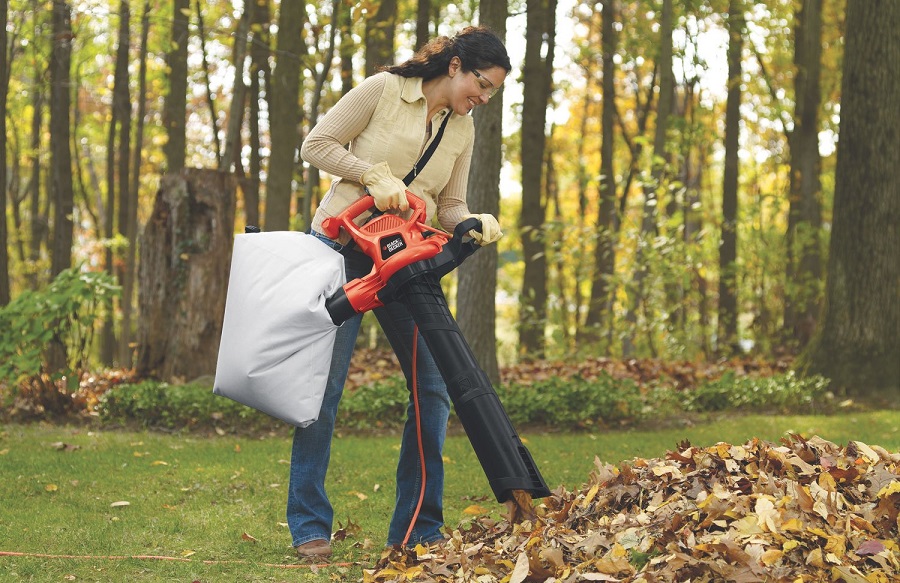 The variable speed allows you to move debris from fragile flowerbeds, however, it has enough power to remove huge piles of heavy leaves. The engine comes to life at the push of a button and offers reliable performance every single time.
Similar to its siblings, it benefits from a lower noise output of only 69 decibels for a comfortable user experience. Converting from blower to vacuum and vice versa is effortless. You'll be glad to know that the collection bag can be emptied in record time allowing you to get on with the job.
The Impeller is designed with an anti-clogging mechanism to prevent blockages whilst mulching. The unit can reduce 10 bags of leaves down to 1 bag! Impressive or what?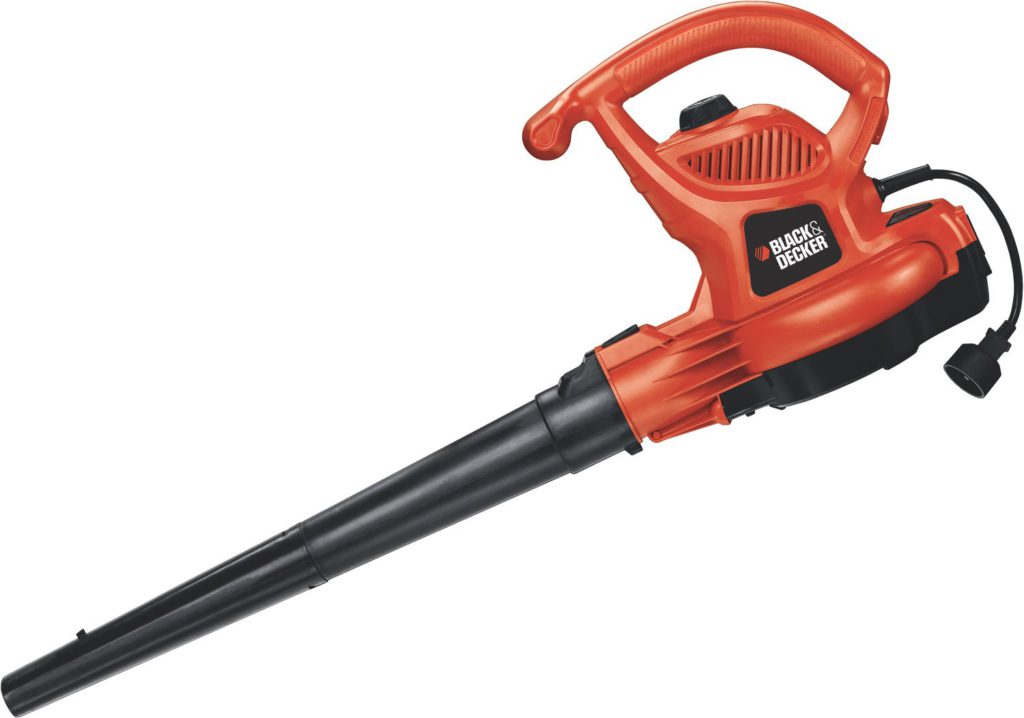 Pros
The weight of the machine is evenly balanced, therefore, improving handling.
The leaf mulching process is remarkably powerful.
On a low setting, the machine is silent.
The unit is great for medium and bigger sized areas.
Cons
The Black + Decker BV3600 is a bit heavier than it counterparts and could require a shoulder strap to use.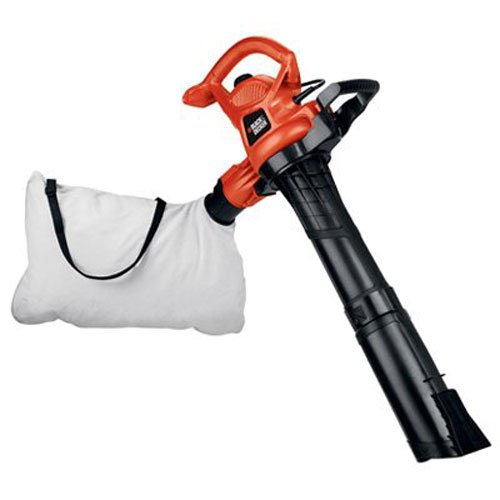 Where can I buy the Black & Decker BV3600 12-Amp Blower Vac?
9. Husqvarna 320iB, 40-Volt 412 CFM 103 MPH Cordless Leaf Blower
If you're not too bothered about a mulcher and simply need a leaf blower, then the Husqvarna 320iB is a worthwhile battery powered blower that operates quietly and is extremely effective at clearing up debris and leaves where it's not wanted. This machine stands out for its balanced performance and ability to direct the air exactly where it's needed plus its quiet enough to use both outside and indoors.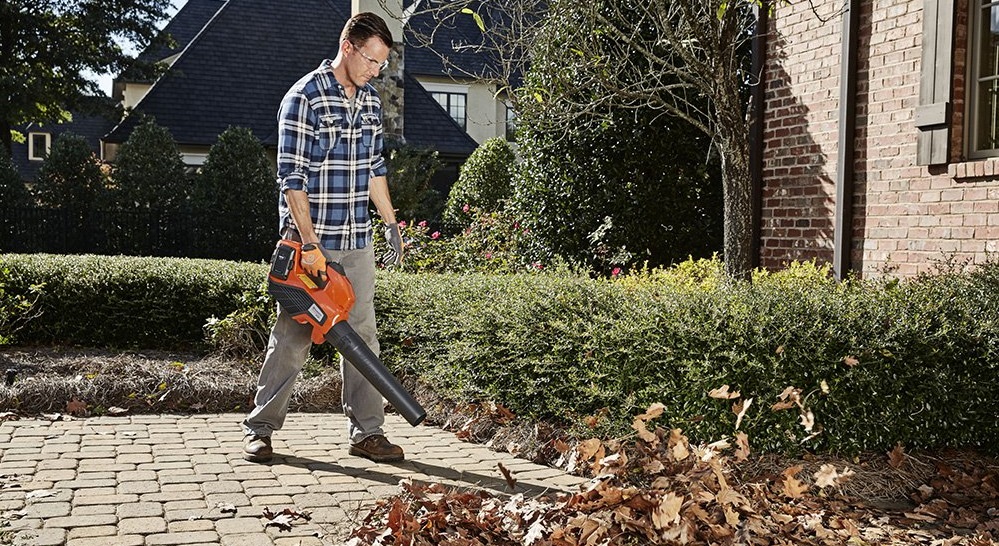 Battery powered blowers have a tendency of under-delivering on running times, however, the Husqvarna 320iB comes with an optimised battery efficiency that provides a runtime that is equivalent to a gas-powered alternative, therefore a single charge will run just as long as one tank of gas. A spare battery will ensure that you can continue with the task without delay.
The battery-powered Husqvarna appliance costs slightly more than some gas-powered machines but it will save you money in the long run because you never need to pay for gas to run the unit. If you're after a longlasting low-maintenance electric leaf blower then you should consider the Husqvarna 320iB. The electrically driven system delivers less downtime and as a result, you can spend more time focusing on getting the job done.

Pros
The wind speed is a breeze to control.
The machine is extremely compact and lightweight, thus, can be used comfortably for extended periods.
There's a choice of different nozzles to tackle a variety of jobs.
It is available with two types of nozzles that can handle various kinds of tasks.
Cons
It costs slightly more than gas-powered blowers, however, it's cheaper to run in the long term.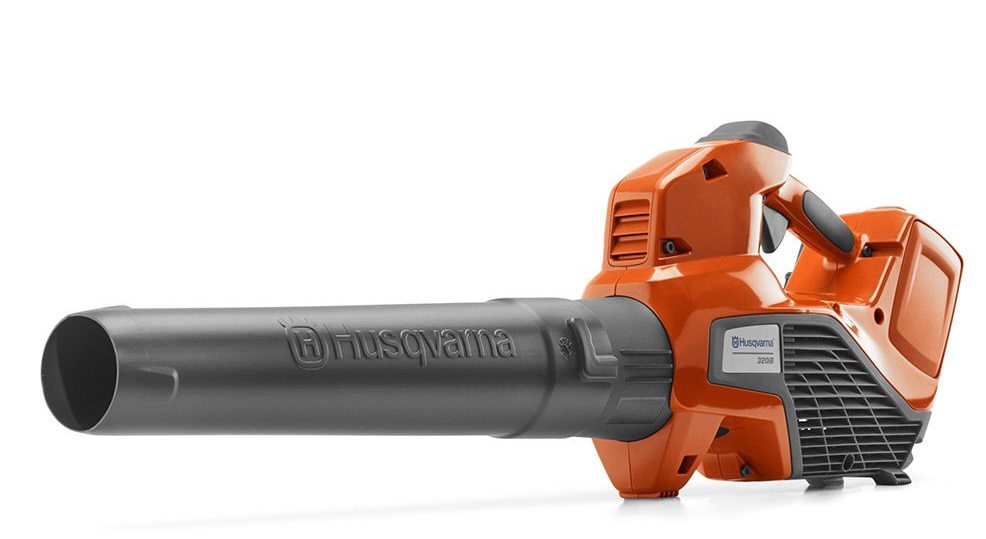 Where can I buy the Husqvarna 320iB Cordless Handheld Leaf Blower?
Conclusion
There you have it, a comprehensive summary of the best leaf blower vacuum mulchers for 2021. These machines save you time and effort when you're undertaking daunting outdoors tasks. I've included a range of gas, electric and battery options to suit any budget and job combination.
Whether you're after a mulcher, vacuum, blower or an appliance that combines all three, you'll find everything that you need right here. Ideally, you want a machine that can cope with your yard size and volume of debris that needs collecting on a regular basis. Once you've considered your budget and outdoor requirements simply select your perfect unit using any of the above links.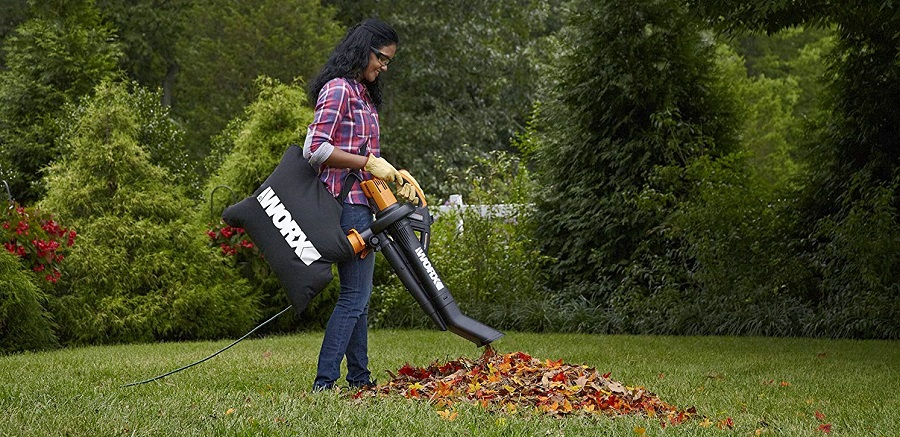 Are you considering buying a leaf mulcher vacuum from our list or do you already own one? Please leave your comments in the section below. I'd love to hear from you.
Our List of the Best Domestic Appliances