Affiliate Disclosure: I am grateful to be of service and to bring you content free of charge. In order to do this, please note that when you click links and purchase items, in most cases I receive referral commissions. Eventually, I may earn enough to buy a beer or two 🙂
Keeping your garage clean can soon become a bother especially if it's a sanctuary for tools and other miscellaneous items. Let's not forget that the car has to fit somewhere in there as well. Easier cleaning of garage spaces comes in the form of a wall mounted vacuum cleaner.
These units take up considerably less space and merge together similar functionalities of a cord-free vacuum and robust wet/dry vacuum cleaner. You can clean the entire garage and your vehicles too.
The best performing wall mounted garage vacuum cleaners speed up cleaning times and are highly resourceful. If your garage is an extension of your workshop you'll benefit hugely from using one. Finding the right type of wall mounted vacuum can be a daunting exercise considering that there is so much choice of units available.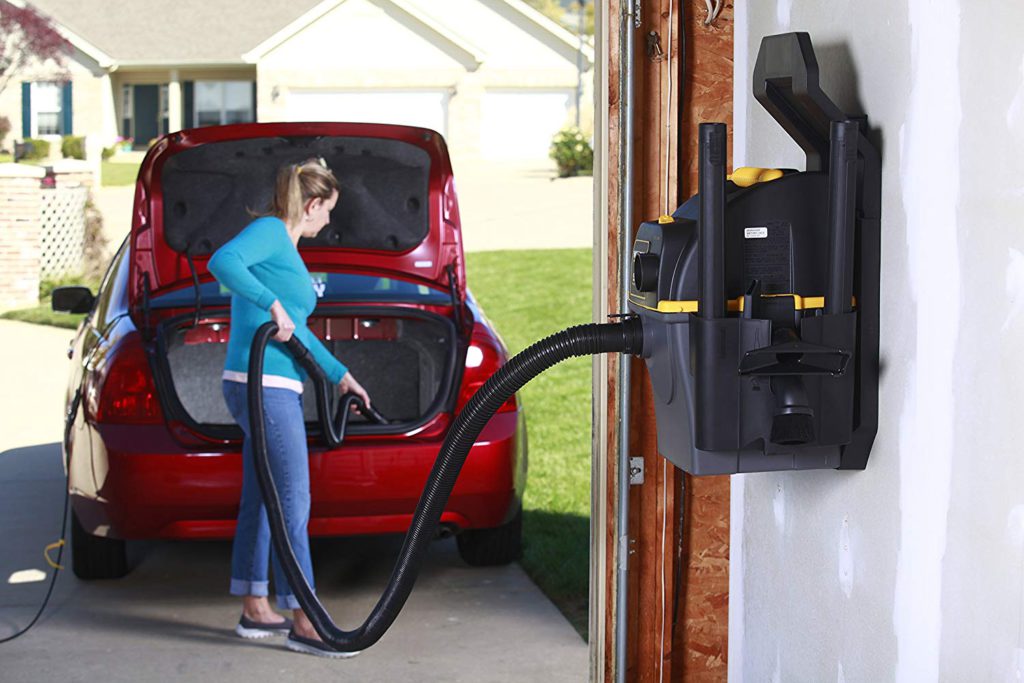 We'll help you find the correct appliances for your cleaning requirements to provide you with the suction power needed to pick up tough mess and give your vehicle the valet that it's been longing for. The immediate advantages of a wall mounted vacuum are top-notch filtration resulting in cleaner air, a huge capacity tank to ensure that big cleans can be done without pausing to empty the dirt.
We've done the hard work for you i.e. researched and summarized a list of the top 7 wall mounted garage vacuums. The specs have been scrutinized to provide you with a simpler selection process. Each machine has its own quirks and we've highlighted these so that you can get the most out of your new appliance.
I've also included a buyer's guide, straight after the product review, to conclude the article. It includes everything and anything that you might not have considered in your search for the best wall mounted vacuum to fit in with your needs.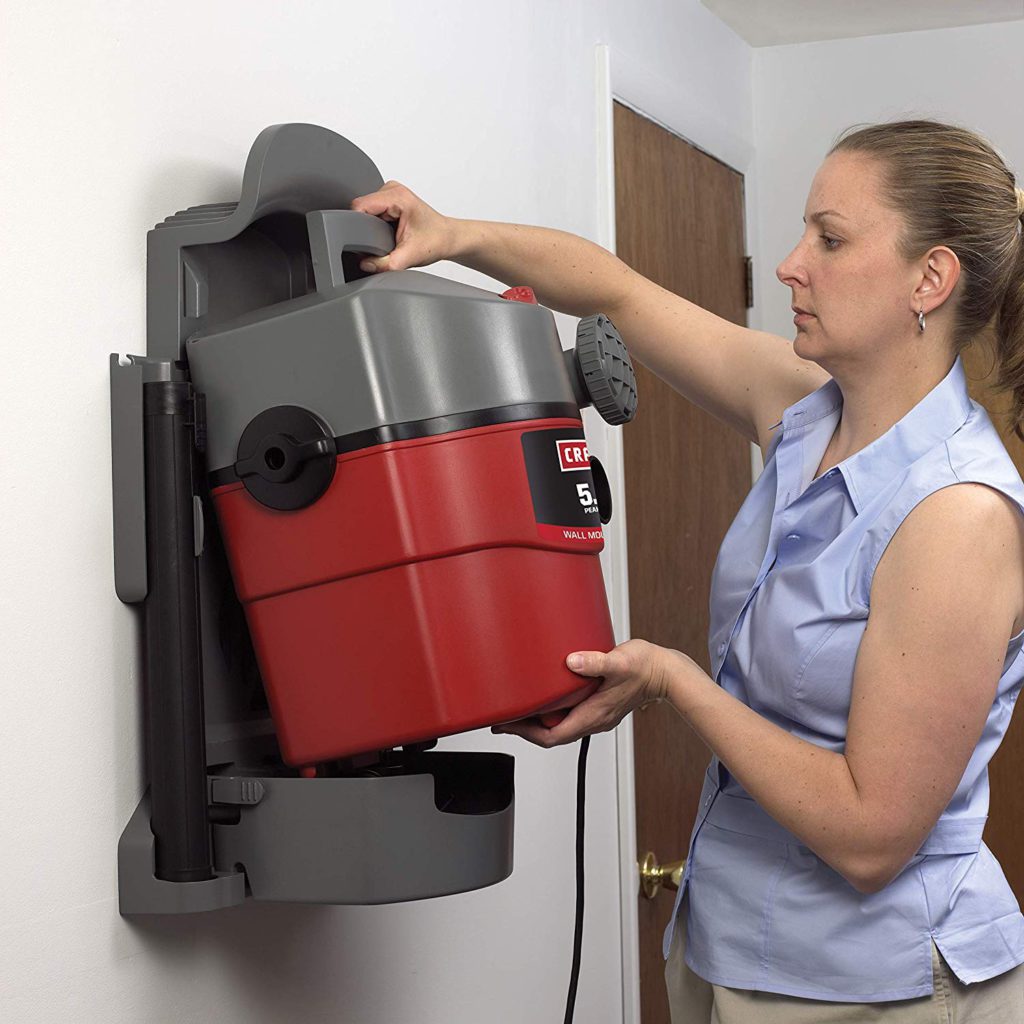 Wall mounted cleaners are becoming a popular purchase because of the convenience they offer. Rather than buying an expensive wet & dry vacuum you can opt for a space-saving vacuum to attach to your garage wall.
The units on our shortlist are ideal for using in a workshop or garage and car cleaning too. Other owners also use them to replace their regular house vacuum for quick convenient vacuuming.
Top performing wall mounted vacuums can suck up fine dust from car mats, car seats, sawdust from work surfaces and wet mess from garage floors after washing the car. So without further ado, let's get straight to our list of the best wall mounted vacuum cleaners available to buy today.
Best Wall Mounted Garage Vacuums
1. BISSELL Garage Pro Wet/Dry Vacuum Cleaner 18P03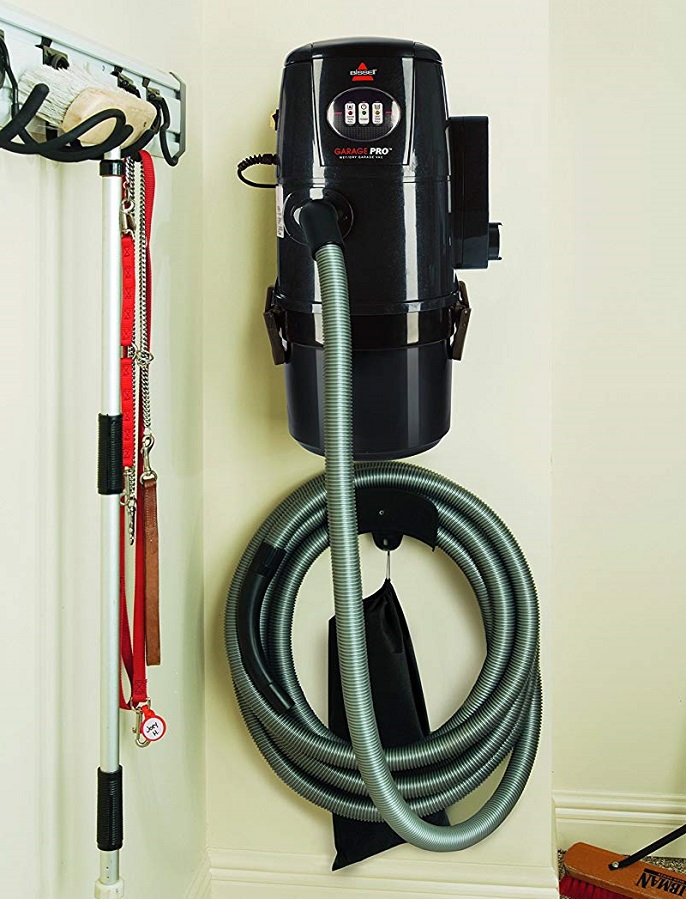 Leading the race is the Bissell Garage Pro which provides the advantage of wet and dry cleaning. It provides the added convenience of vacuuming up after working on different projects that result in a variety of dry debris or wet mess. The tank is bagless and is split into 2 compartments to collect wet in one and dry in the other.
The wet compartment is equipped with an LED light to warn you when the tank is almost at full capacity and the 4 gallon tank for dry debris is fitted with a window to allow you to check when disposal is required.
On top of vacuuming liquid substances and solid mess, the Bissell machine can be converted into a blower to shift sand or leaves that might have made their way into the garage or workshop. The 32-foot hose is a decent length to get most jobs done but might not be long enough to clean items outside the garage space.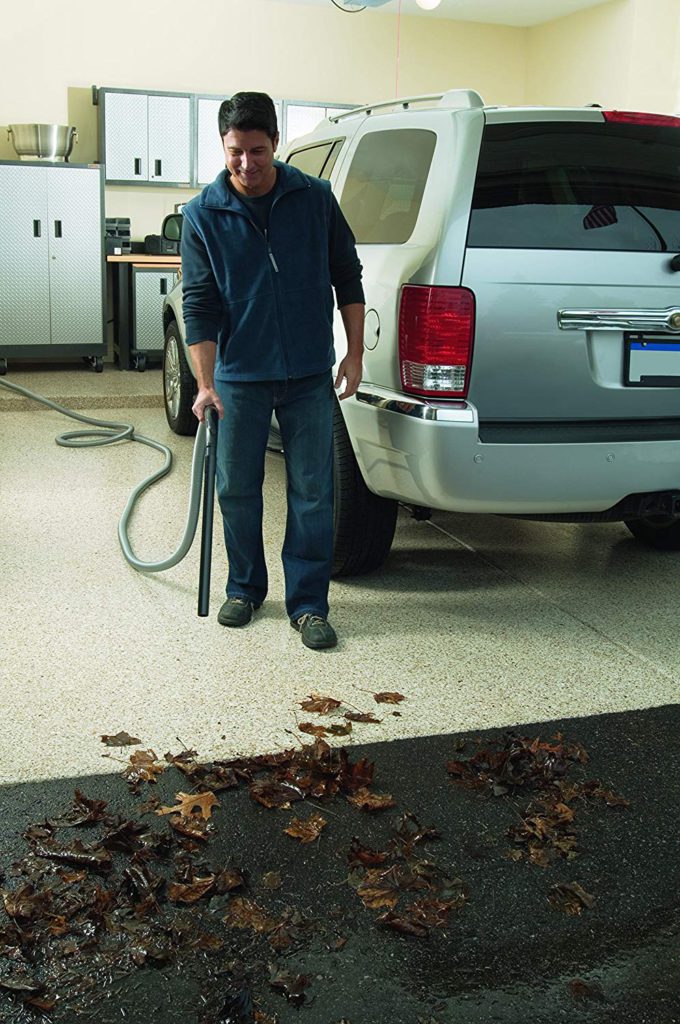 If you intend to valet your vehicle, there is a set of handy accessories including a crevice attachment and turbo brush. The machine is large and as a result, I'd recommend measuring the area to ensure that it can fit in between anything else that might be hanging on the wall.
The Bissell vacuum comes with 7 accessories to help with car cleaning, floor cleaning and getting into smaller gaps between tools and work stations. Within the packaging, you'll also find a wall mounting kit that is easy to fasten against the wall.
The 32-ft hose length is suitable for reaching virtually all sections of your workshop or garage and into your vehicle's interior without needing to detach the machine from its wall bracket. The suction power is amongst the best that you'll get from a wall mounted cleaner and it can cope with demanding tasks such as cleaning up wood chippings and cement dust.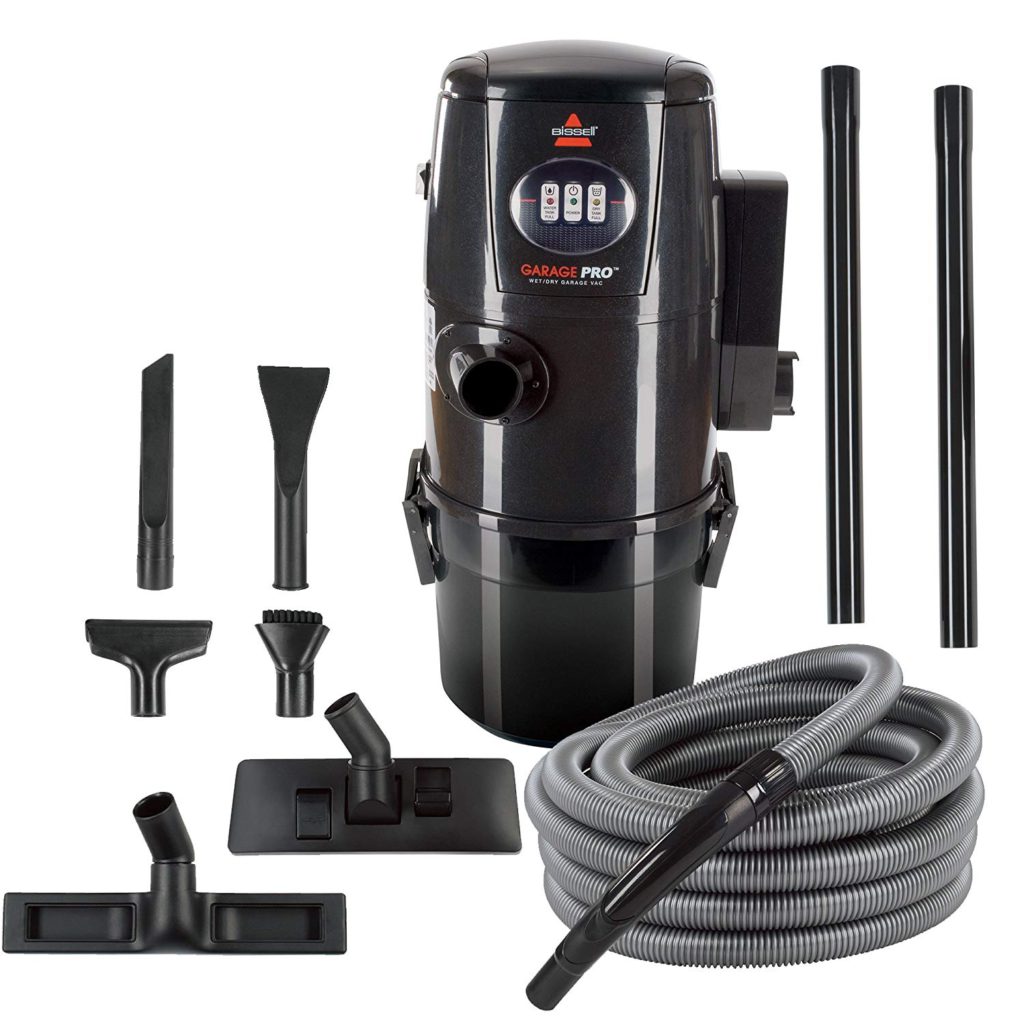 Before you buy the Bissell Garrage Pro make sure you check that it can be serviced in a location near you as not all areas can service or repair it using the included warranty. Switching filters can be a fiddly task if you don't know how to use the spring loaded mechanism, which ejects the filter for convenience.
As mentioned earlier, the Bissell Garage Pro can convert the air flow to change it from vacuum to blower, therefore, providing the capabilities to blow leaves into a pile, unblock sinks or unblock the hose if it gets clogged,
This is one of the best vacuum cleaners to valet your car after a long journey with children on board. Clean up food crumbs in the back seats or soil and grit from the car mats.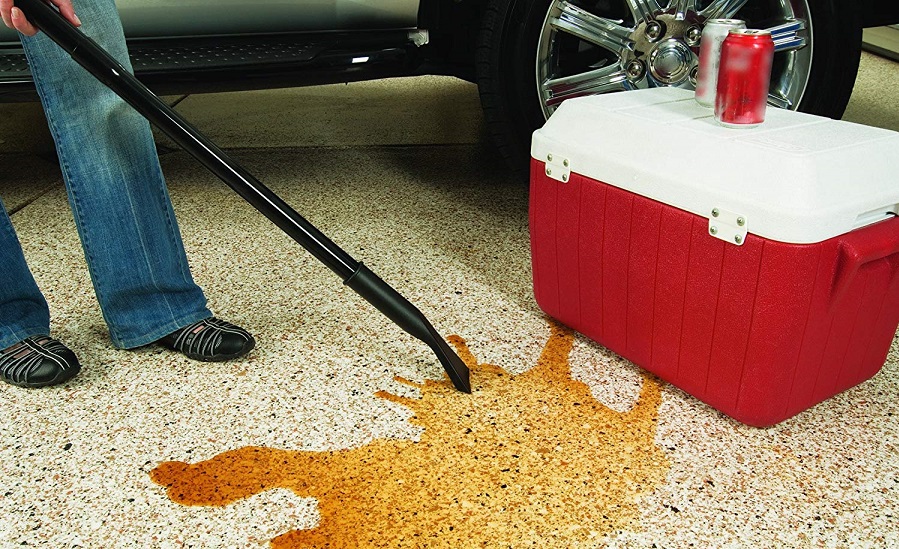 Where can I buy the BISSELL Garage Pro Wet/Dry Vacuum 18P03?
2. VacuMaid GV50PRO Wall Mounted Garage Vacuum
The VacuMaid GV50Pro is equipped with a 15-amp motor to deliver an exceptional level of suction power to keep your garage or workshop in tiptop condition. This extra power produces similar or less machine noise than weaker powered rival vacuums.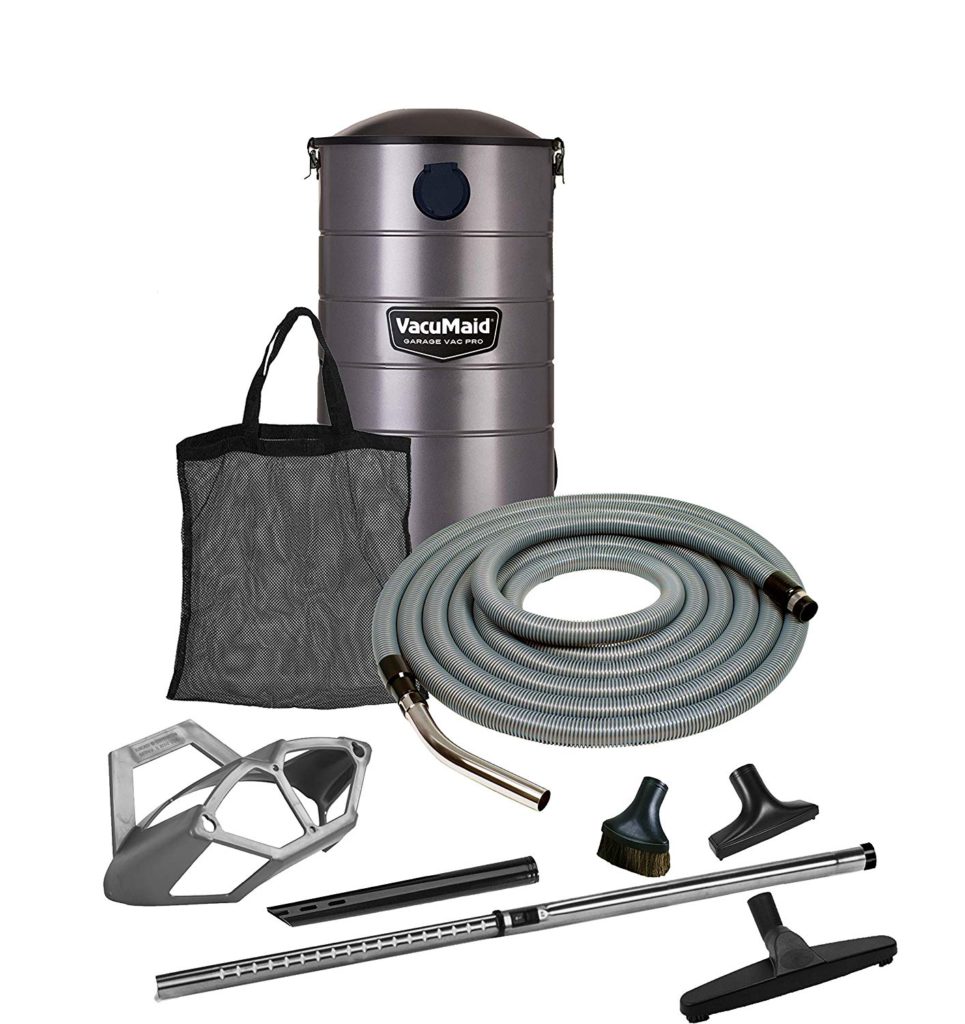 The machine is also supplied with a 50-ft hose that can withstand crushing. The hose is long enough to clean around the entire garage and can stretch all the way outside to clean vehicles in the driveway.
The bagless tank has an incredible 7-gallon capacity making it the ideal vacuum for huge clean-ups. You will love the simplicity of dirt disposal which takes less than a couple of minutes. HEPA filters come as standard and are just as simple to keep clean.
You are provided with a good range of accessories such as a floor cleaning attachment that measures 12-inches for faster vacuuming. Additionally, you get several smaller accessories to help reach into tighter gaps and spaces in your car or workspace.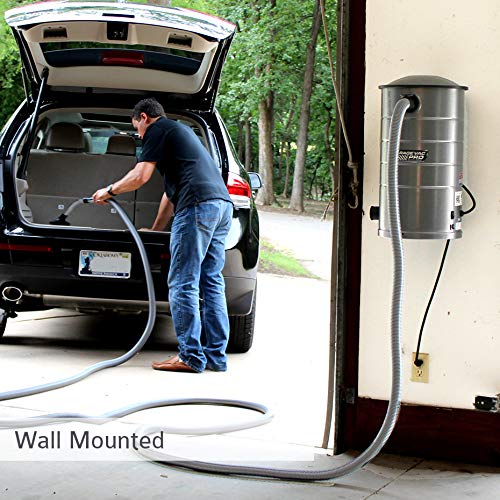 The manufacturers can vouch for the reliability of the VacuMaid GV50Pro and as a bonus, they provide an extended 5-year warranty. You can buy this vacuum with the peace of mind that it will give you many years of high performance and should anything go wrong, it can get fixed under warranty.
Where can I buy the VacuMaid GV50PRO?
3. Prolux Professional Shop Wall Mounted Garage Wet & Dry Vacuum

The Prolux Professional Shop wall mounted vacuum is a hugely popular machine which is fitted with heaps of powerful suction and plenty of handy functions for the user to enjoy.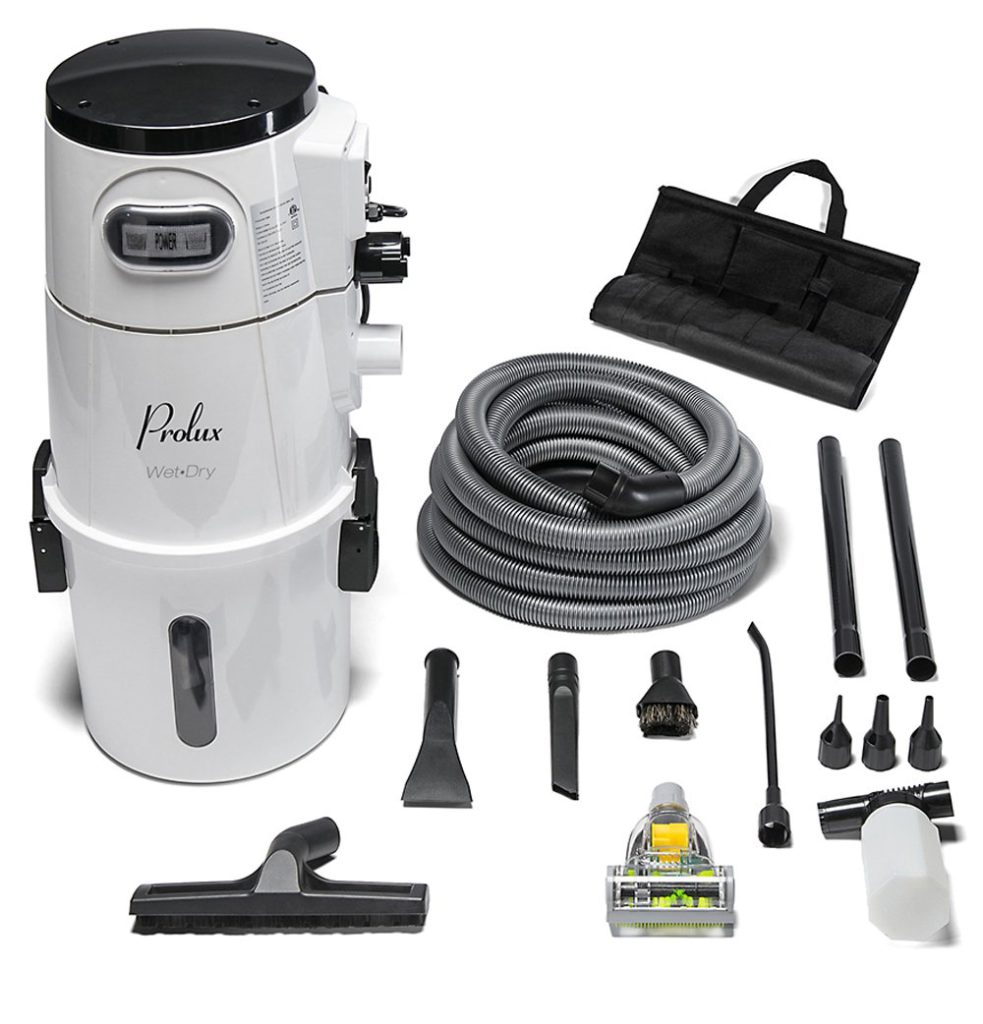 The unit can pick dry debris and wet mess all in one go. It then cleverly splits up the wet substances and solid mess into different tanks. There is an LED light to prompt you when the liquid tank is almost at full capacity and a small window to check the fullness of the 4-gallon debris tank.
The machine can be changed from vacuum to blower if required to shift leaves or keep the hose clog-free. Similar to our top 2 vacuums, The Prolux wall mounted cleaner comes with washable lifetime HEPA filters.
The 32-ft hose is crush resistant for longer life in challenging cleaning environments. It provides a suitable length to manoeuvre around the garage but might struggle to clean cars parked in the driveway.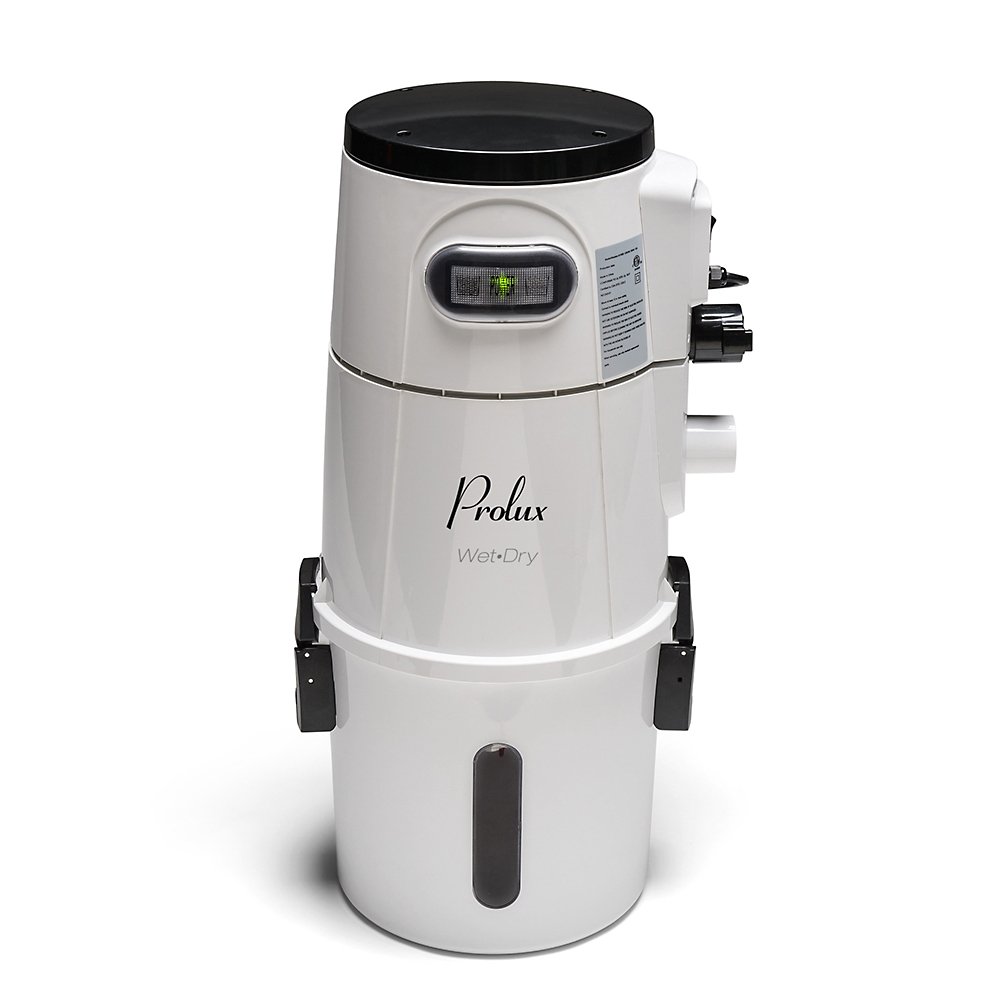 The supplied attachments , especially the small turbo cleaning brush head, excels at vacuuming car seats and carpets thoroughly, therefore, saving the cost of a professional valet. The machine is provided with a 3-year warranty so that you can enjoy stress-free usage.
Where can I buy the Prolux Professional Shop Wall Mounted Vacuum?
4. VacuMaid Wall Mounted Garage Model GV30
The VacuMaid GV30 provides a flexible cleaning experience thanks to the 30-ft hose and an arsenal of cleaning attachments. The machine utilises HEPA-style dirtbags to collect debris and dust and ensures that it doesn't escape back into the atmosphere.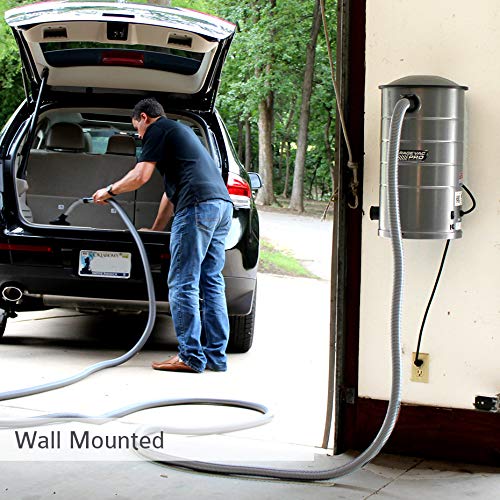 Bagged vacuums have their advantages, especially when it comes to disposing of dirt. A bagless canister is messier and tends to create dust clouds whereas a bagged system such as the one found on the VacuMaid GV30 offers a more hygienic emptying process.
If you regularly travel with pets in your car then this is the ideal appliance for you. It will ensure that pet hairs and allergens are efficiently removed from the upholstery and carpets. I would recommend purchasing a multi-pack of replacement bags to reduce costs.
The VacuMaid GV30 is a bit more expensive than competing models but the extra cost is worth it as you will get a longer lifespan from this machine especially if you'll be using it on daily basis to clean workshops and garages.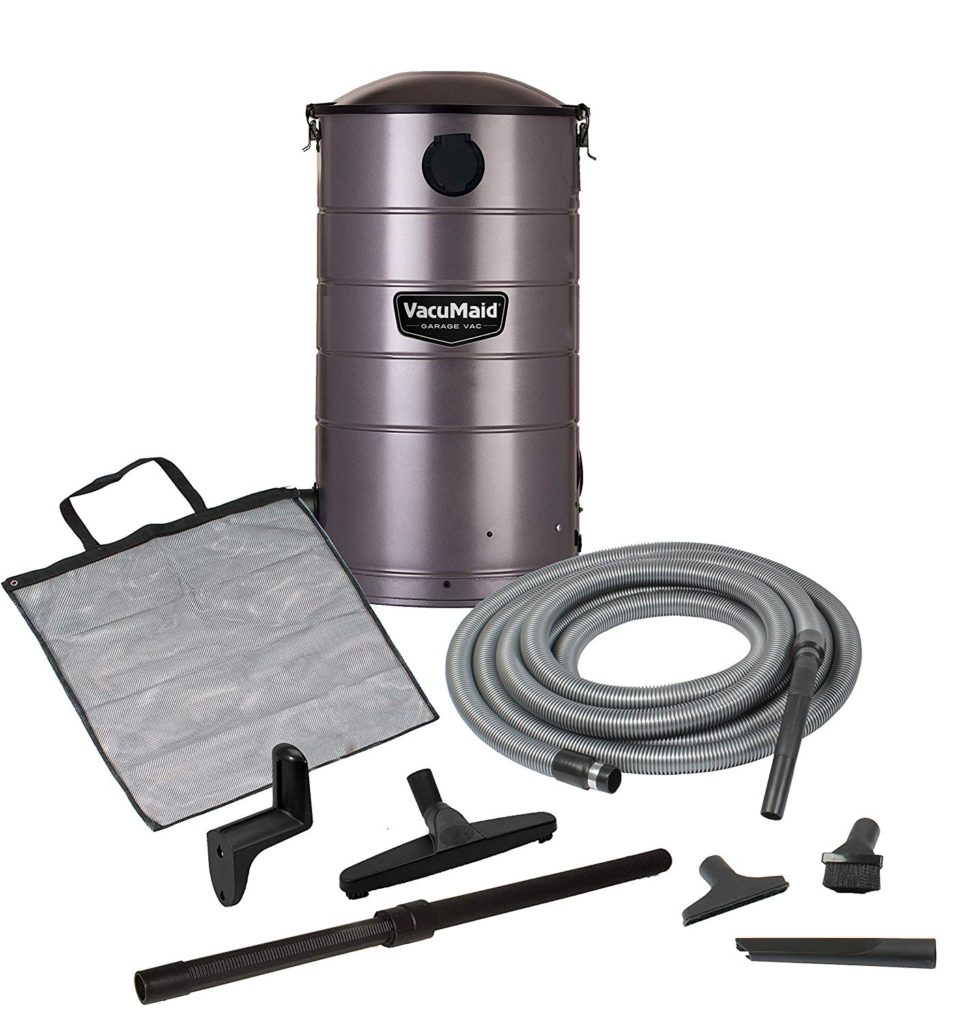 Overall, this machine is among the best bagged wall mounted vacuums currently on offer. If you or anyone in your workshop suffer from dust allergies then you might want to consider the VacuMaid GV30 cleaner to trap allergens and dispose of them hygienically.
Where can I buy the VacuMaid Wall Mounted Garage Model GV30?
5. Hoover GUV ProGrade Garage Utility Vacuum L2310
Next up is the Hoover GUV Prograde wall mounted vacuum which comes with a self-cleaning durable filter. Appearances can be deceiving- the machine looks like it could be a loud workhorse, however, it's actually one of quietest wall mounted cleaners currently available.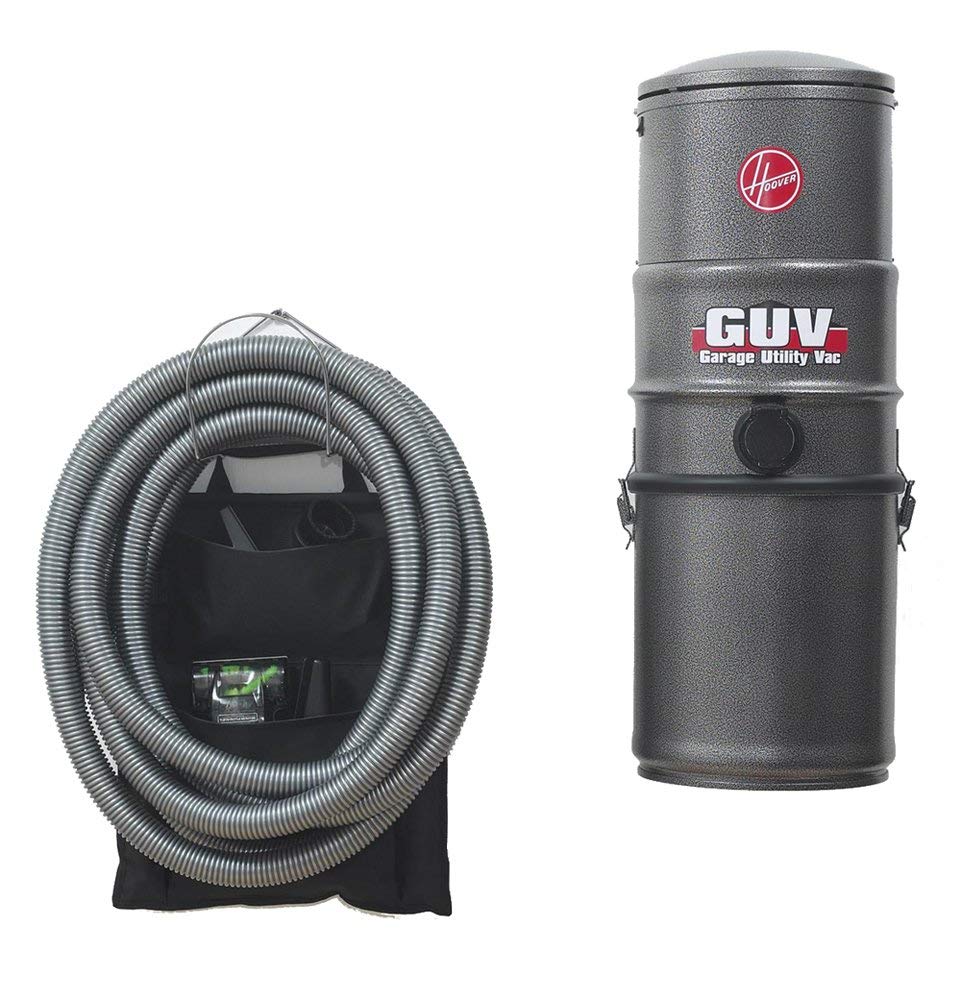 The long 30-ft hose provides a generous cleaning range and as a result, the unit rarely needs to be removed from its bracket- you can reach all 4 corners of your garage without hassles. Filter cleaning and dirt disposal are a quick and mess-free experience.
The accessory kit includes an upholstery tool for car seats, dusting brush, crevice tool for small areas and extension wands for floor cleaning and high-reaching areas. The floor cleaning head does a decent job at sucking up fine dust and sawdust from the ground.
The suction isn't as powerful when trying to lift bigger debris from the floor such as leaves or wood chippings. The suction power takes a dip as the canister fills up with dirt. If you're looking for a wall mounted cleaner that excels at picking up sawdust, cement and plaster dust then the Hoover GUV is a perfect choice.
Hoover has been designing vacuum cleaners for a long time and their appliances are a reliable option for longevity and ease of use. The 5 gallon tank offers plenty of capacity to clean up for long periods without the interruptions of bin emptying.
Bear in mind that there might be a bit of practice required to perfect the technique of detaching the canister and emptying it without causing a mess. The self-cleaning filters are a nice touch and allow you to get on with the job with less focus on maintenance.
Overall, The Hoover GUV Prograde wall mounted vacuum is a competitive appliance although the 30-ft hose could have been given more length to help with cleaning cars outside the garage. The machine offsets the drawback of the short hose by coming with 2 unique extension wands for focused cleaning.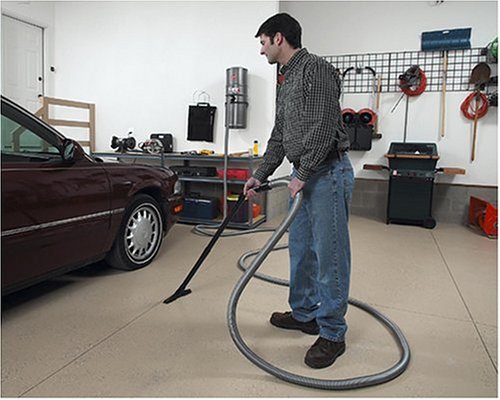 The extra attachments improve the unit's adaptability, therefore, making it easier to deal with debris left behind after a woodworking project or mess on car seats and carpets.
Where can I buy the Hoover GUV ProGrade Garage Utility Vacuum L2310?
6. Vacmaster Wall Mounted Industrial Vacuum VWM510
The Vacmaster wall mounted vacuum comes with a generous 5-gallon tank for high volume cleaning. There is plenty of strong suction to be utilised thanks to the powerful 5 horsepower peak capacity. It operates at a lower noise level than most of the competing vacuums.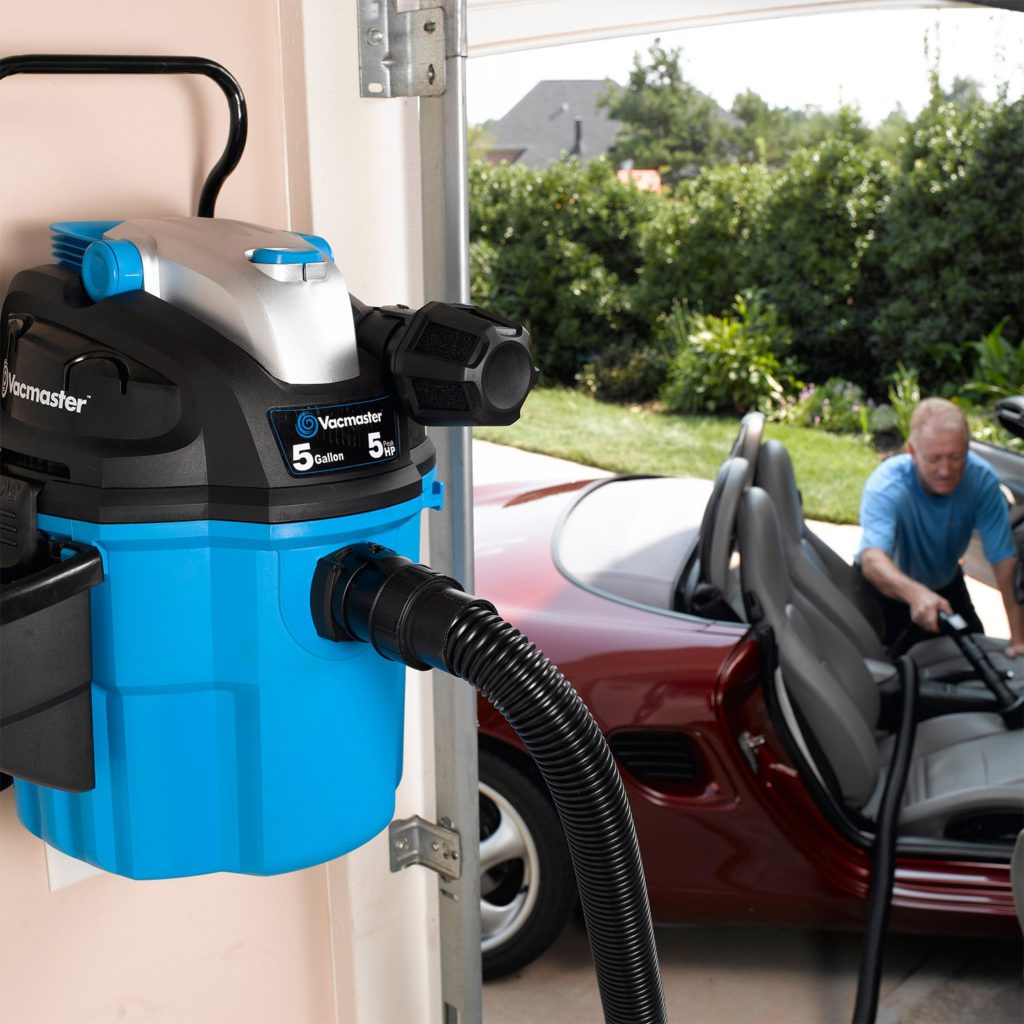 With this unit, you get the freedom of movement that a wall mounted machine provides but it is just as easy to detach it from the bracket and lift around wherever it's needed.
The machine comes with a 21-ft hose and 20-ft power cable. You can keep all the attachments on board the unit for quick access and less chance of losing them. Car cleaning is a doddle if you decide to use the Vacmaster vacuum, particularly if the car tends to transport messy passengers such as children and pets.
Users will enjoy the durability of the Vacmaster VWM510 and high-grade materials offered at a very competitive price. The distinct advantage that this machine has over its rivals is that it can be detached from the wall much easier and is fitted with a convenient handle to help carry to other parts of the workshop or garage if required.
A minor drawback of the Vacmaster VWM510 is the short 21-ft hose which is noticeably shorter than competing vacuums, however, the extension wand extends the coverage and is equipped with a convenient on/off button for you to control the power without needing to go back to the main unit.
The 5-gallon tank is a welcomed addition given the compactness of the unit and the reusable cartridge filters can be washed for repeated usage, therefore, reducing replacement costs- the filter is robust enough to catch sawdust and difficult mess.
The Vacmaster wall mounted vacuum can convert into a blower, however, the unit is not adapted to utilise this function to its full potential as some users have advised that it's too cumbersome to use as a leaf blower. The machine scores top marks for reliability and can be used for many years without performance problems albeit a short 2-year warranty.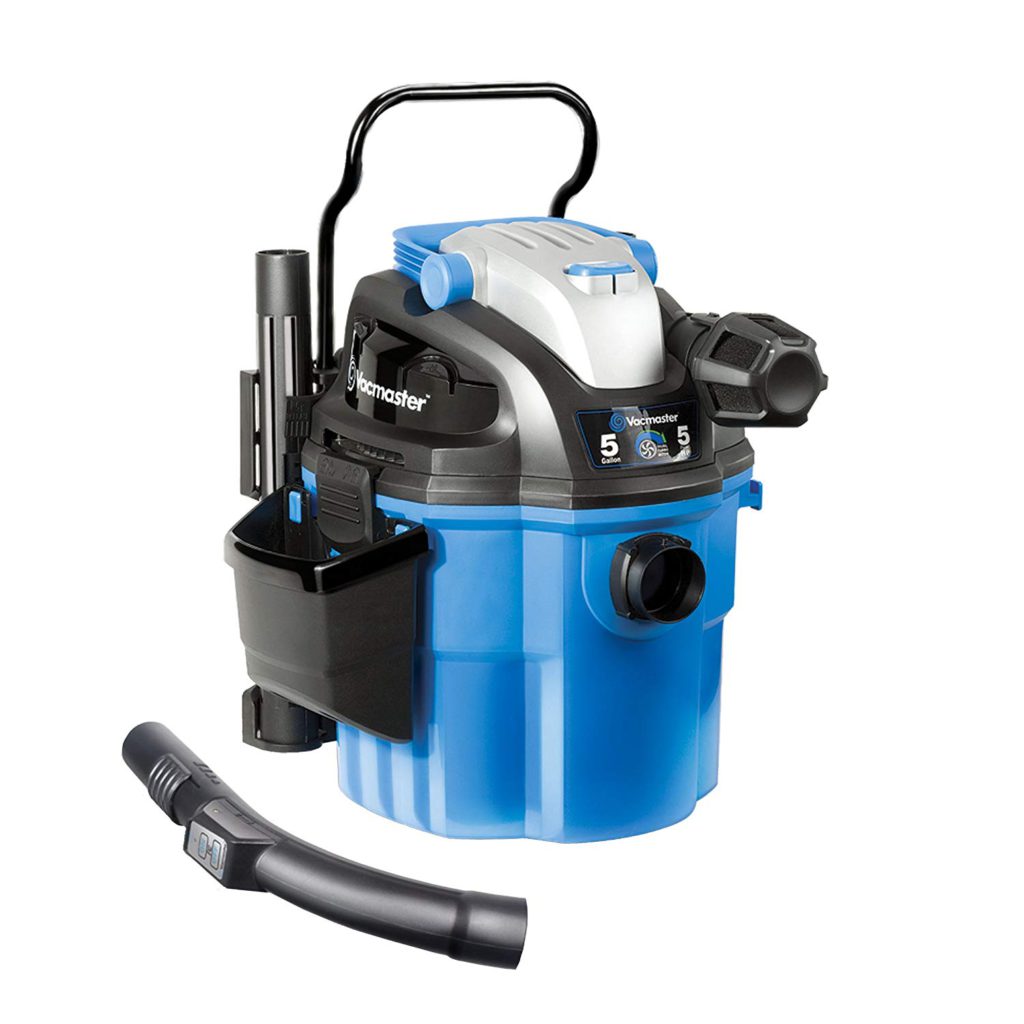 Where can I buy the Vacmaster Wall Mounted Industrial Vacuum VWM510?
7. Shop-Vac Wall Mounted Wet/Dry Vacuum Cleaner 3942000
Last but not least is the Shop-Vac wall mounted vacuum with wet and dry functionality. Similar to Vacmaster vacuum, it comes with a 5-gallon tank, however, the peak horsepower rating is a little less, coming in at 4.5 horsepower.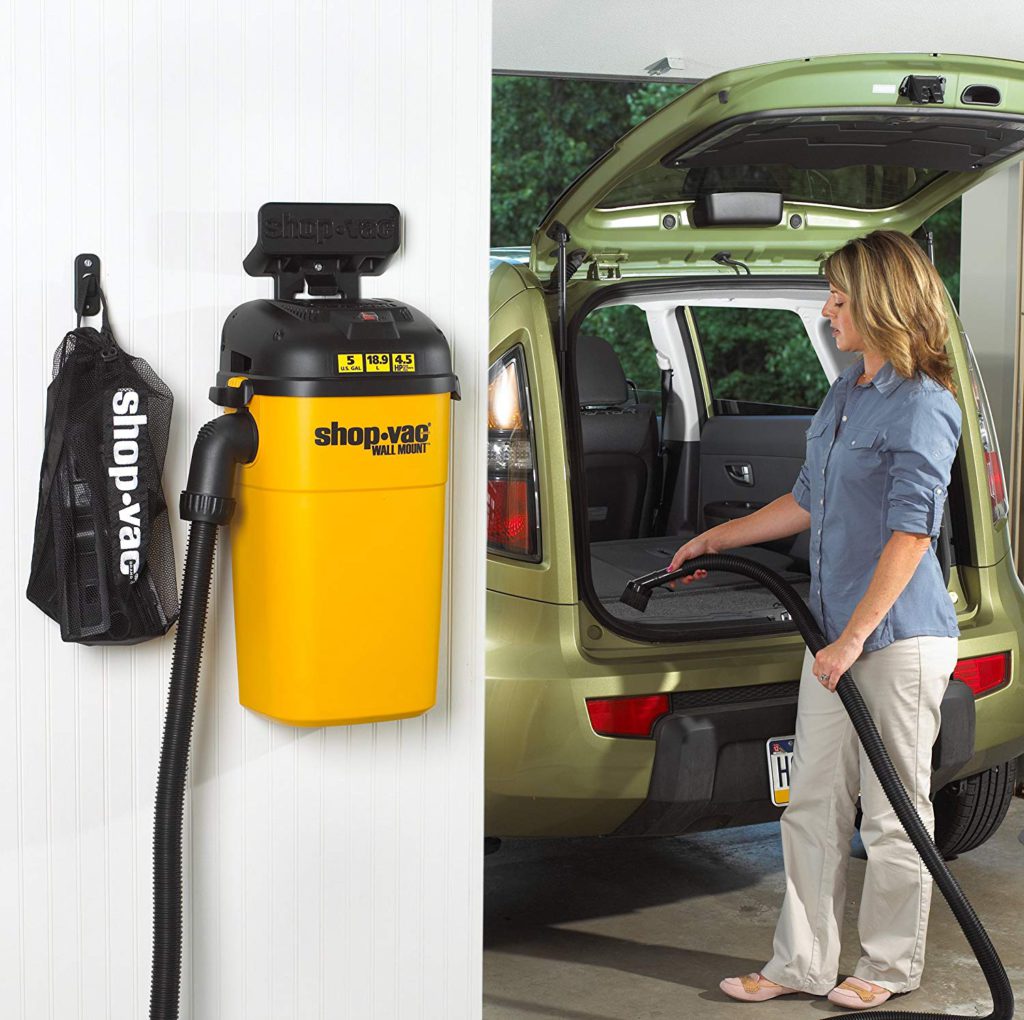 The machine is priced extremely competitively and is perfect for anyone looking for a reliable wall mounted vacuum but is on a tight budget. You can buy the Shop-Vac Wet/Dry vacuum cleaner 3942000 for less than a hundred bucks. Maintenance is cheap too, as the spare filters and accessories are inexpensive.
The vacuum can clean dry debris and wet substances. The suction power is strong enough to lift sawdust following a woodworking job or metallic shavings from a metalworking project, however, it struggles with larger pieces of debris and gravel.
The bonus of buying the Shop-Vac vacuum is the great customer service provided by their team if you encounter any issues. The low cost of purchasing this machine means that you can easily replace it with a new one if the repair cost is too expensive for your liking.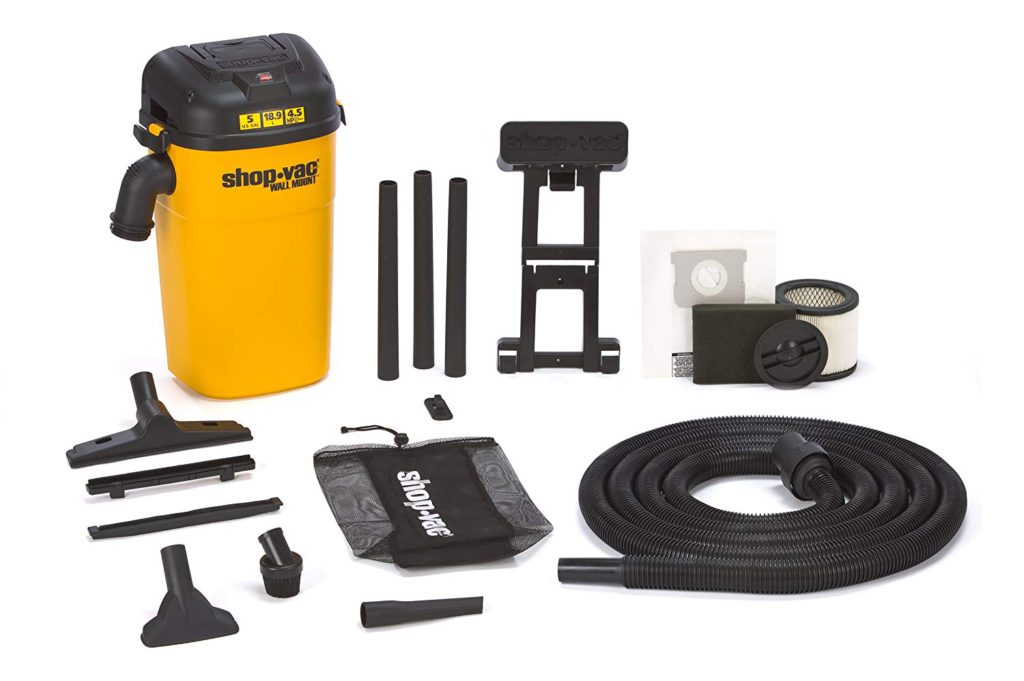 Where can I buy the Shop-Vac Wall Mounted Wet/Dry Vacuum Cleaner 3942000?
Wall Mounted Vacuum Cleaner Buyer's Guide
We've come to the end of our shortlist of recommended wall mounted garage vacuums, however, it's paramount to know the key functionalities that you need so that you can select the ideal vacuum for your home or business.
Before choosing your wall mounted vacuum its vital to determine the type of tasks you'll be doing in your workspace as this will give you an idea of the type of mess you'll be vacuuming, the number of times you'll be cleaning and the amount of dirt your machine will need to pick up and contain.
If you're a regular woodworker, your garage cleaner should be a high capacity dry vacuum with plenty of power to pick up tiny dust such as sawdust. However, if you intend to clean up wet substances, your new appliance should have wet and dry functionality. These are a few things to consider and in this buyer's guide we'll take you through important features to mull over.
Recommended Reading: Best Small Shop Vacs | Best Small Shop Vacuums for a Clean and Dust-Free Workspace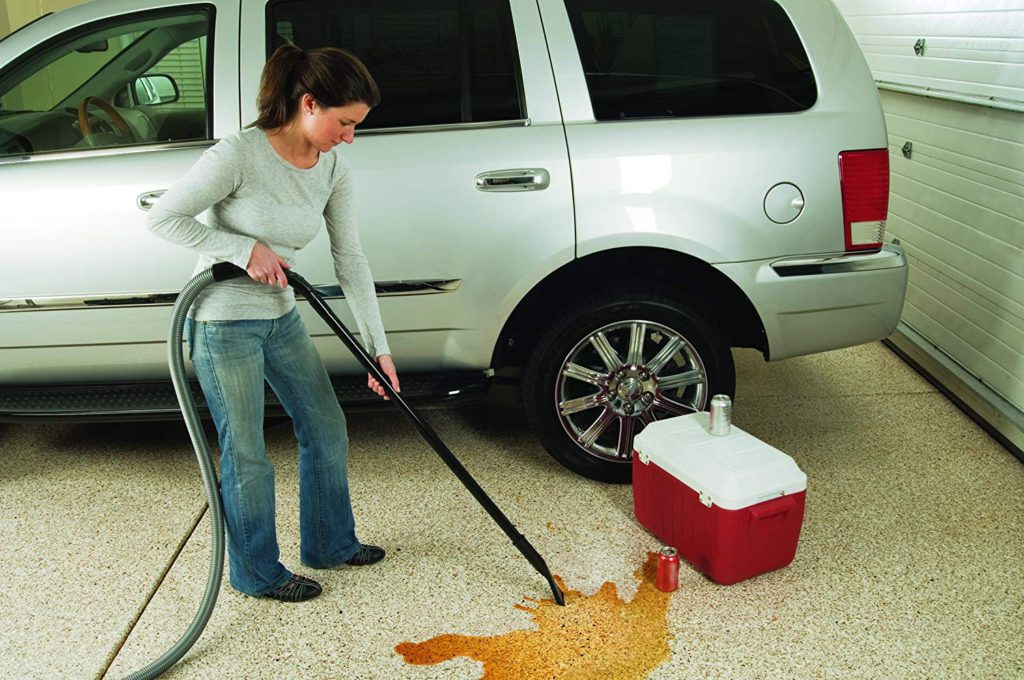 Suction Power
The motor's power is measured in horsepower and will give you an indication of the suction strength, however, more horsepower means a higher cost garage vacuum.
The byproduct of a stronger motor is improved suction power to lift up challenging types of debris such as smaller dust molecules or wet substances, however, if you intend on carrying out small easy tasks then you might benefit from choosing a motor with less horsepower, therefore, making it more affordable.
Motors cannot be changed at a later stage, so it's important to buy a vacuum with adequate suction power from the onset. Machine noise is another factor to consider as wall mounted vacuums tend to be noisier. Motors with a higher amount of horsepower will usually create increased noise, although certain vacuums are equipped with noise dampeners to reduce the motor volume.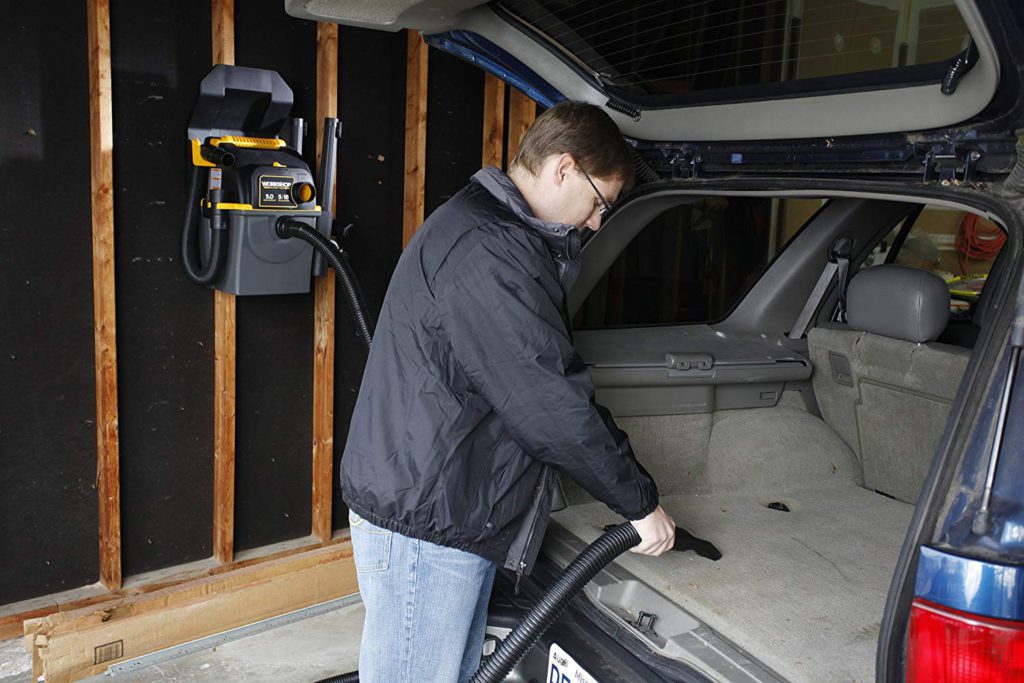 How Long is the Hose?
A wall mounted vacuum is stationary once it's fixed to the wall which is why the length of the hose is hugely important as it will determine the level of coverage the unit will provide around the garage or workshop. A longer hose will let you vacuum further away from the primary machine.
For larger areas or if you need to navigate in between different pieces of equipment or clean car interiors, a hose that measures at least 30-ft is necessary for convenient vacuuming and easy reach. You should be on the lookout for crush-resistant hoses which are hardier and can withstand the rigors of constant use in busy garages and workshops.
Filters
At the heart of your wall mounted vacuum is the filtration system, it separates the dirt from the air as it passes through the machine. A robust filter system is crucial, particularly if you are vacuuming finer dust particles such as sawdust or cement dust.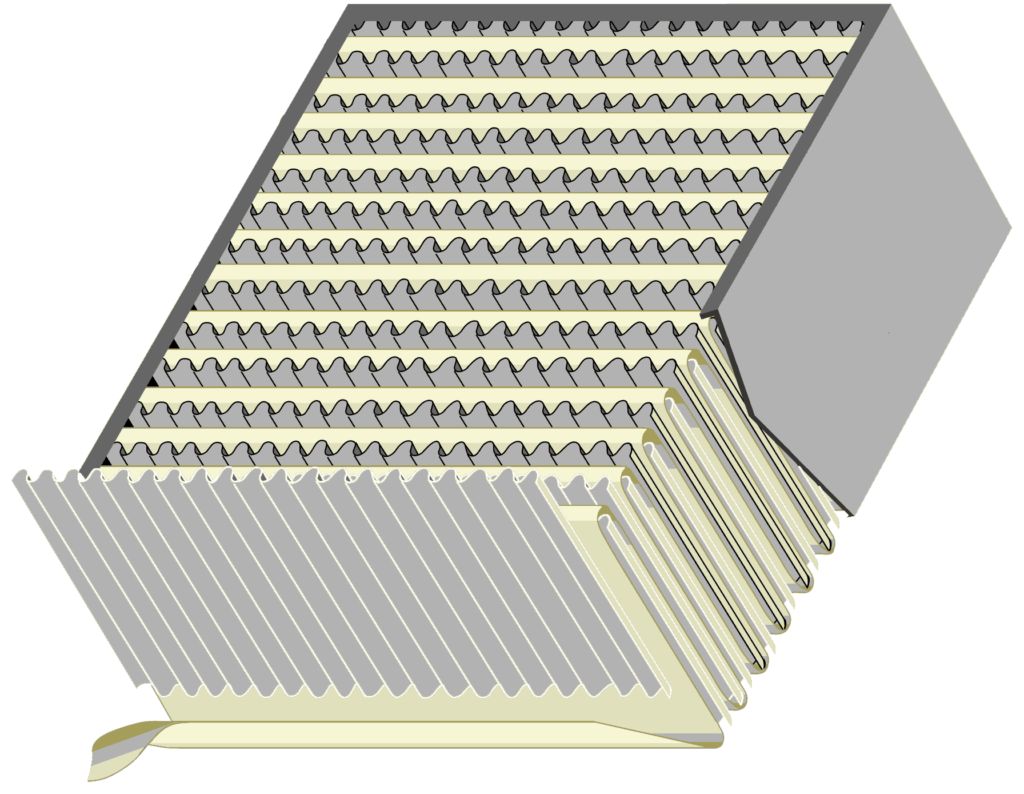 The most efficient filters are HEPA-graded, however, you can also find other types of filters that can provide a remarkable amount of filtration to catch allergens, dirt and dust. The icing on the cake is a filter that will last just as long as the machine. Washable filters are reusable and will help to keep maintenance costs down.
Filters that need to be replaced, after a certain amount of usage, are inconvenient and will add to the cost of running your vacuum in the long run if you intend on using the machine regularly. Garage vacuums are offered with either a bagged or bagless canister. Bagged units are more hygienic when disposing of dirt and won't result in dust clouds that could irritate allergy sufferers.
Bagless units contain a detachable canister that can be emptied directly into the garbage can once full. Is it better to get a bagged or bagless machine? Both have their conveniences and drawbacks and that choice is purely down to personal preference.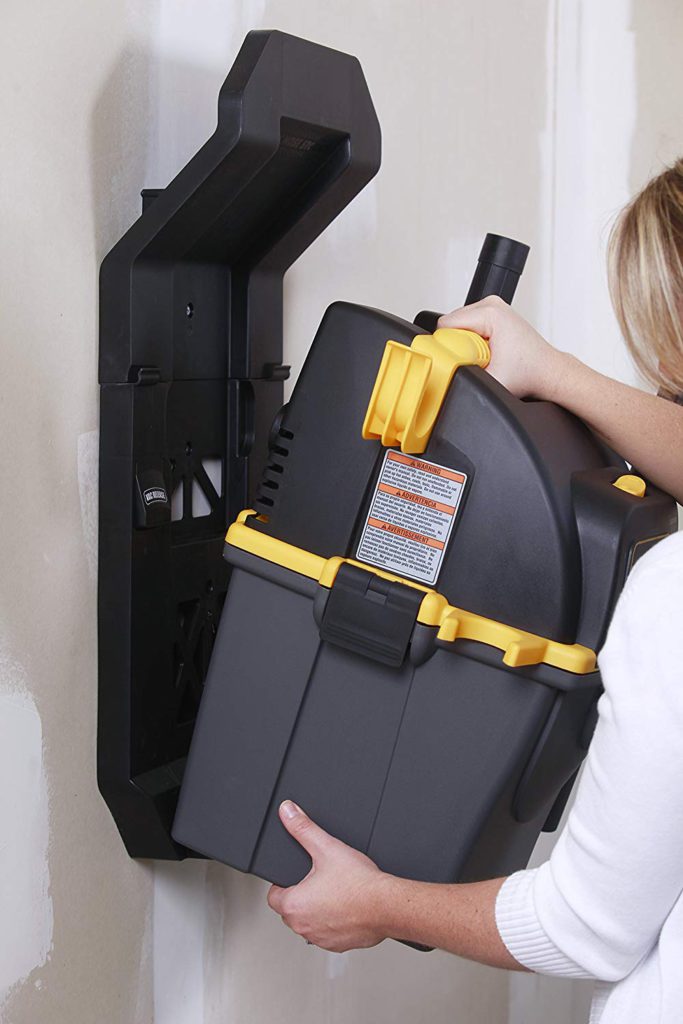 Bagged vacuums will require you to keep a pack of replacement bags readily available otherwise you won't be able to use the vacuum when it reaches full capacity. Our list contains both bagged and bagless models. The choice is yours.
Tank Size
The size of your machine's tank will help you to gauge how often it requires emptying. To minimise interruptions during cleaning, it is a good idea to buy a wall mounted garage vacuum will adequate capacity to carry out big cleans without needing to stop partway through the task.
If you intend to clean big areas or if your work creates a lot of mess, choose a vacuum with a minimum of 5 gallons capacity and if you find a suitable machine with a higher capacity then that's even better.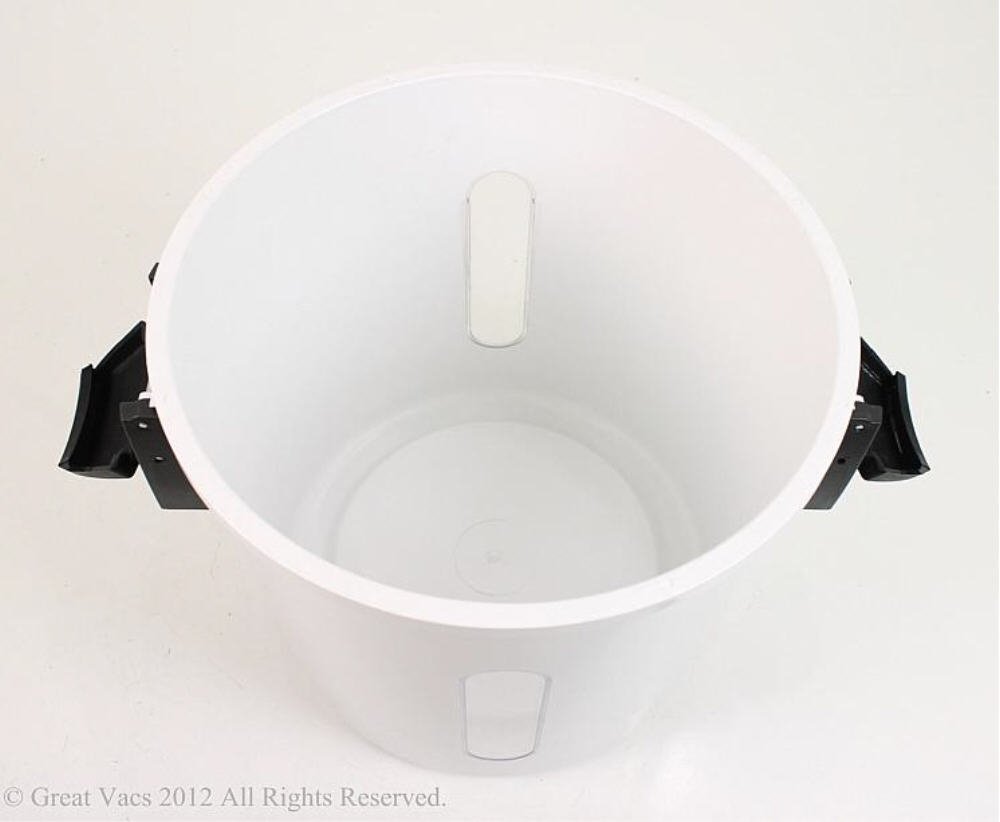 However, if you only intend to clean a smaller area or if space is limited due to the amount of existing equipment in your workshop then it might be worth considering a compact wall mounted vacuum, with less capacity, that takes up less space.
Attachments and accessories
Vacuum cleaner accessories transform your machine into a versatile workhorse. They provide plenty of conveniences especially when cleaning vehicle interiors and the small spaces between equipment. At the very minimum, you should get a crevice tool to help with tight gaps.
Extra attachments for carpet and upholstery cleaning are important if you expect to use the unit around your home or if you plan on cleaning the car after the kids have run riot in the backseat.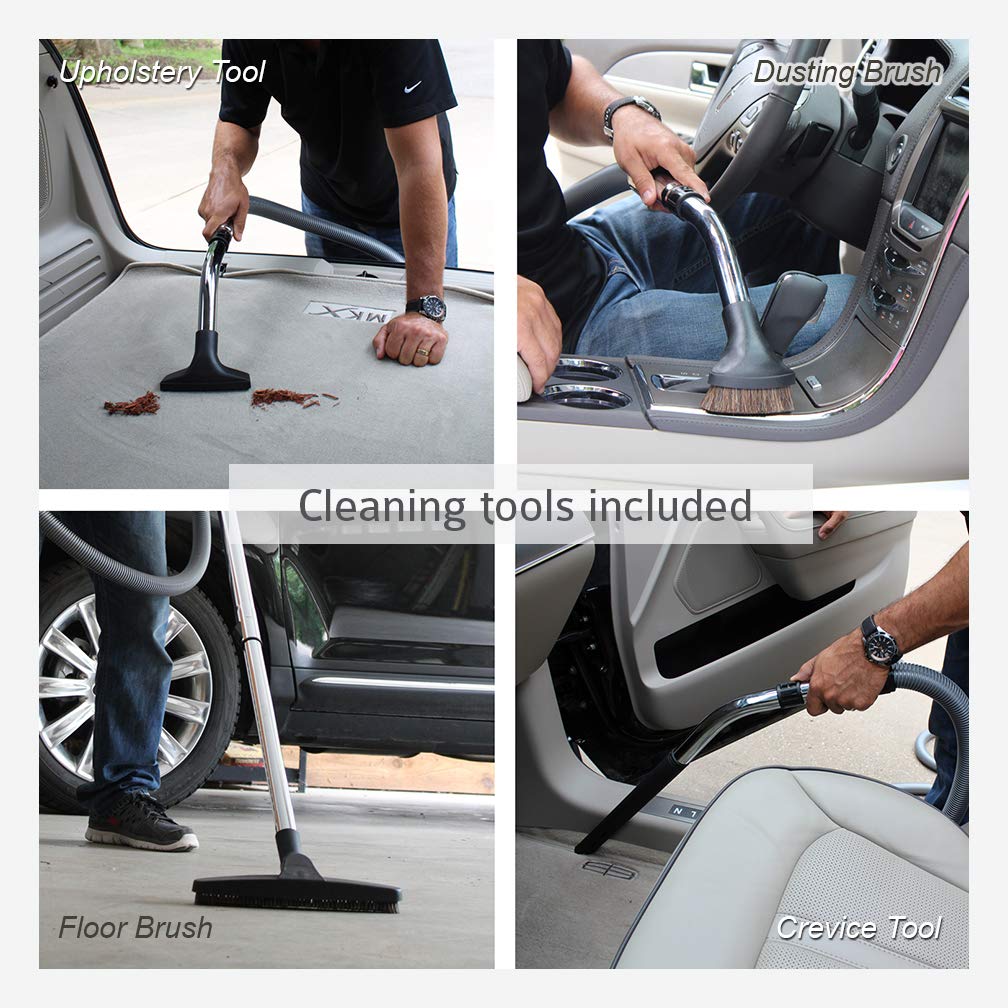 Recommended Reading: Best Vacuum Cleaners For The Garage | Best Cleaning Tools for your Garage Up-Keep
Additional Functions
Wall mounted vacuum cleaners tend to be versatile appliances that provide a greater level of movement freedom, some models can carry out both wet and dry vacuuming or convert from a vacuum to blower.
Cleaning wet substances is usually reserved for wet and dry vacuums, but this functionality can now be enjoyed on certain wall mounted machines. The blower feature can move undesired leaves or grit that needs to be moved from the garage to outside instead of vacuuming it into the machine.
You would be surprised how useful these extra functions can be, even if they are used every now and again. If you wake up to find that high winds have blown a tonne of leaves into the garage it's nice to know that your machine can deal with the problem so that you can get back to the work that you love. It also means that you don't need to buy a separate leaf blower or wet & dry vacuum, therefore, saving space and the extra expense.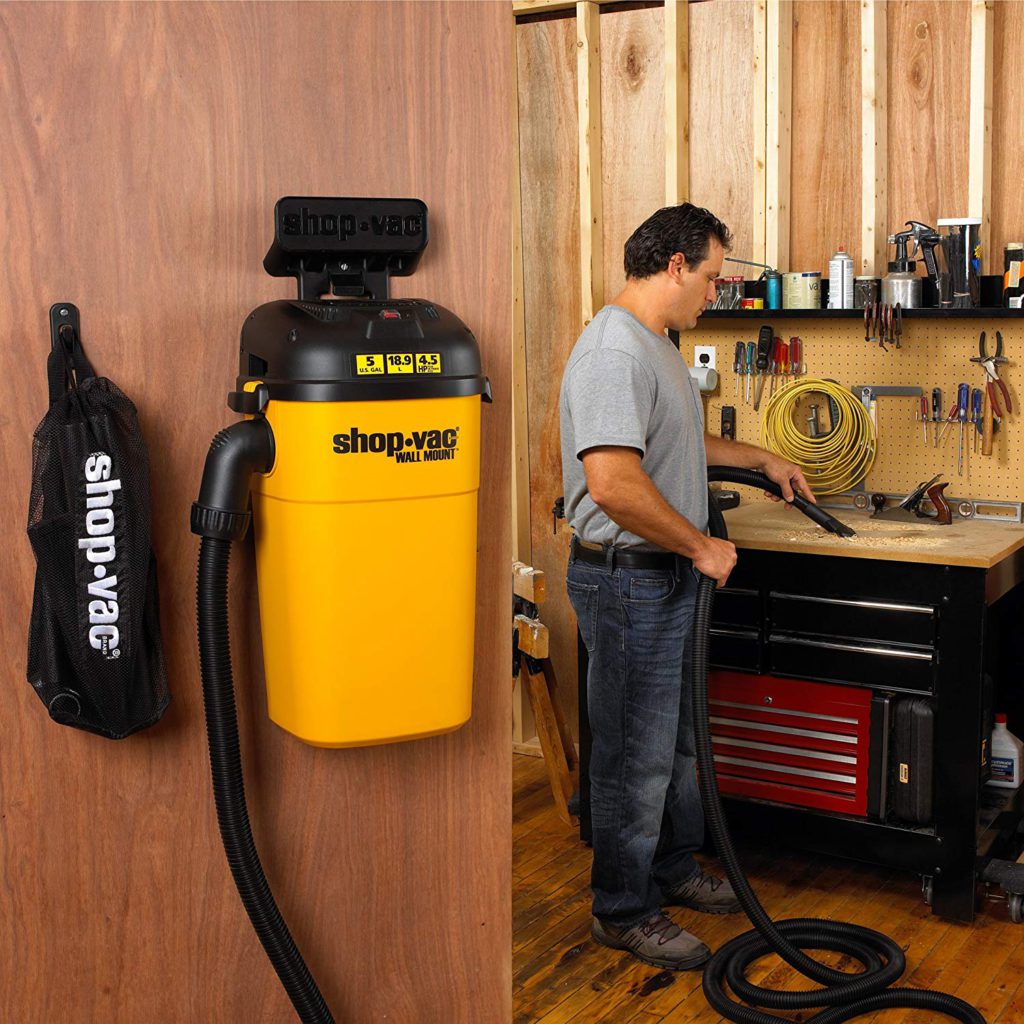 Have You Thought about Warranty?
A comprehensive warranty that lasts for several years is a good indication that the manufacturer has a lot of confidence in their appliance. Wall mounted vacuums are designed for long term use therefore, always check that your chosen unit has a long warranty. I would recommend looking for a warranty that lasts a minimum of 3 years and preferably 5+ years if possible.
To Conclude
That concludes our summary and if you've made it this far into the article then I'm confident that you have all the knowledge required to make an informed decision to buy the best wall mounted vacuum cleaners for 2021.
Garages and workplaces don't need to be dirty neglected areas. You can provide them with the same love and care as your home. After all, you spent a fair amount of time working in these areas, so why not make them a pleasant and clean space to be around!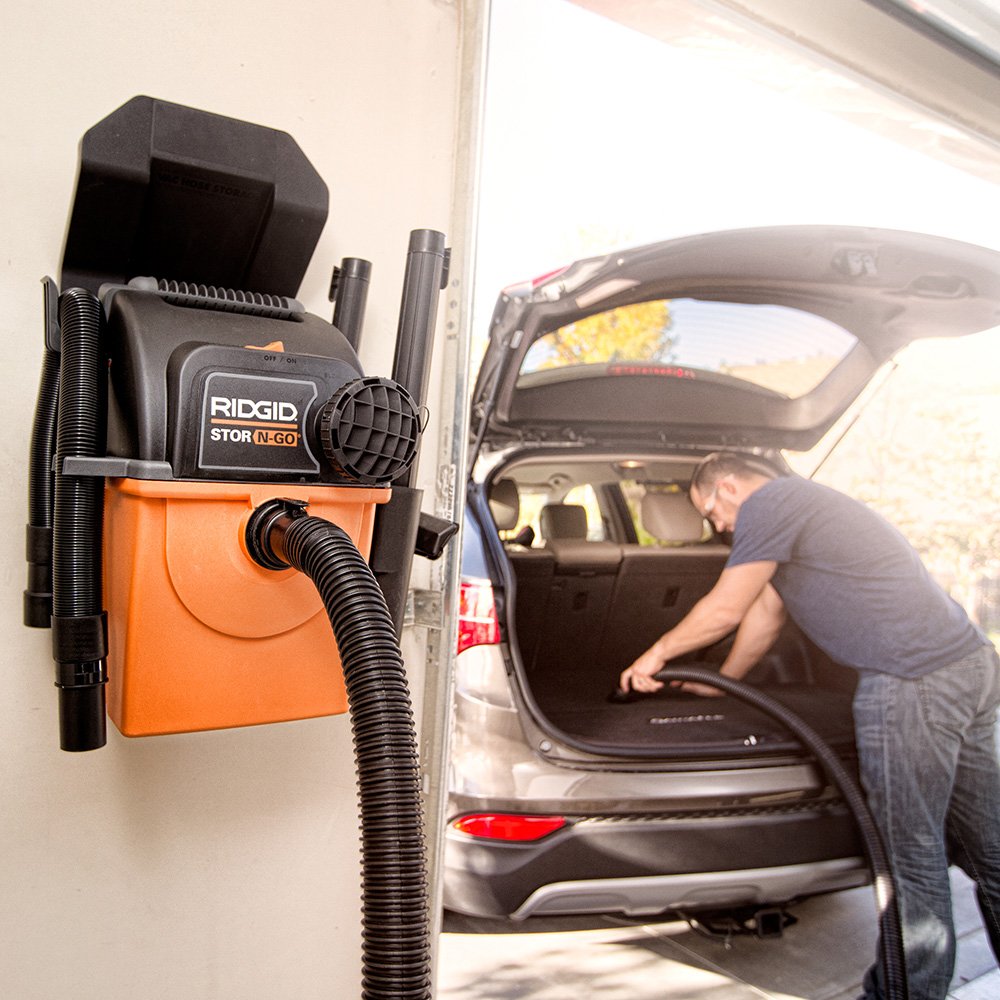 Are you considering buying a wall mounted garage vacuum cleaner from our list or do you already own one? Please leave your comments in the section below. I'd love to hear from you.
Our List of the Best Domestic Appliances