Struggling to see through the grime gathered around your windows? Let's help you find the best window vac for 2021. Our reviews and buyer's guide will ensure that this arduous task can be done in the least amount of time so that you can actually get on with the things that you love.
If you rely on traditional time-consuming window cleaning techniques then I've got good news for you. I've sourced the best battery operated window vacuums that money can buy and you can find everything that you need right here for streak-free windows the easy way.
Portable window vacuums are designed to eliminate debris and dust from window panes with minimal effort. They are thorough, efficient and can achieve great cleaning results in very little time. The added bonus of using a window vacuum cleaner is that it can take away built-up condensation on windows. Neat huh?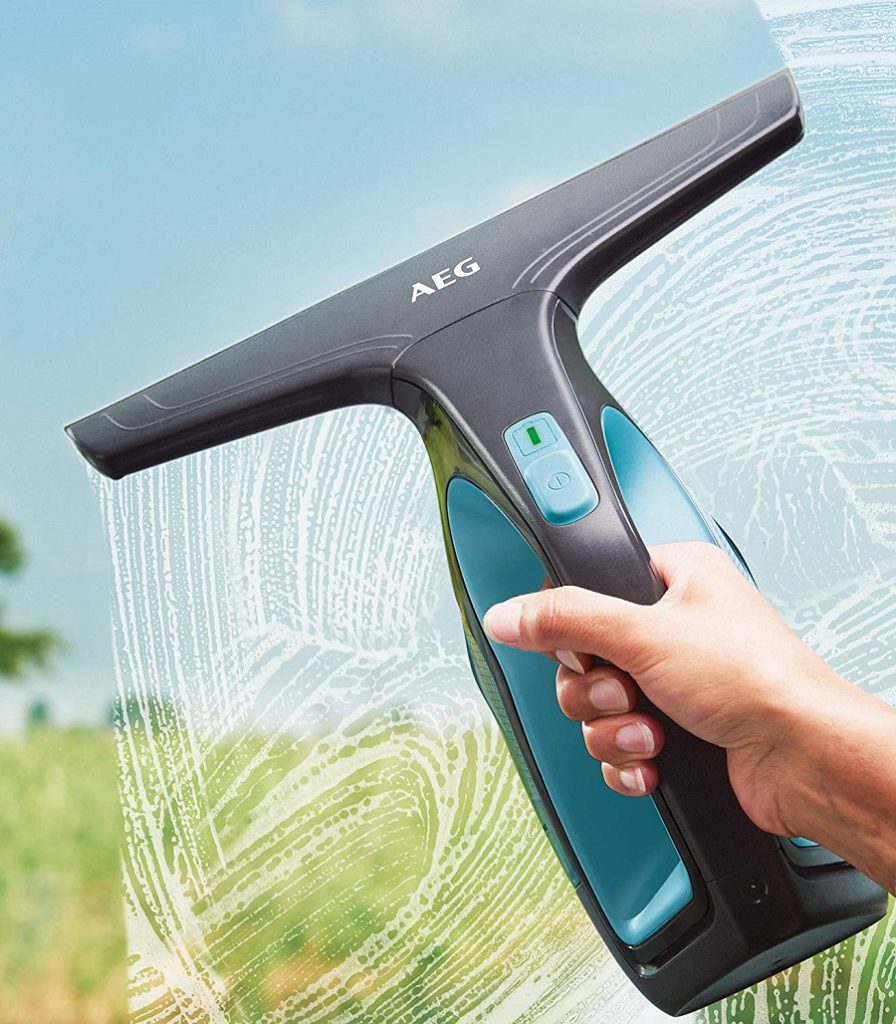 Before you rush out and buy a window vac you need to separate the good ones from the bad. What should you look for? First and foremost, you need a unit with a decent battery operating time and shorter charging times. Look for machines with a minimum running time of 25 minutes.
The next thing you need to think about is the cleaner head shape and if it has been designed to reach the tight corners of window frames. If not, does the appliance come with extra accessories to handle awkward nooks?
The last thing you want to consider is your budget and if it can stretch to buy a premium appliance. My advice is that if window cleaning is going to be a regular occurrence then it's worth investing in a good quality gizmo, especially if your house has a lot of windows, glass doors or a conservatory. That's a lot of glass to keep clean and you need a unit that can cope with the workload!
Without further delay let's take a look at the best window vacs available to buy today. We'll start with the highest performing gadget and work our way down:
1. KARCHER WV5 PREMIUM 2ND GENERATION WINDOW VACUUM CLEANER
If you're after the best of the best, the Karcher WV5 Premium window vacuum cleaner is leading the race. Its a great lightweight all-rounder weighing just 1.1 kgs or 2.4 Pounds.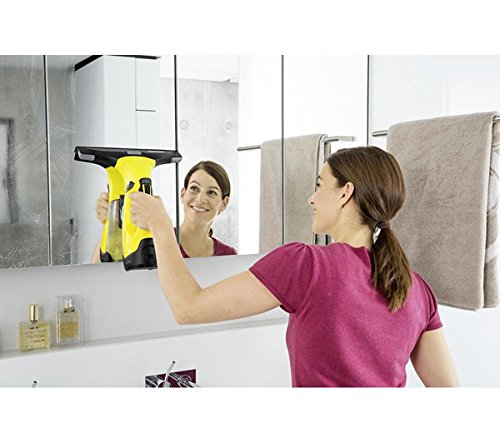 It operates non-stop for 35 minutes and is supplied with a cleaning fluid, a 170mm suction nozzle to reach awkward corners and edges and a microfiber cleaner head. Karcher is a German brand that manufactures appliances to an exceptionally high standard.
Why should you buy the Karcher WV5? It cleans windows fast, including shower screens and mirrors. The unit can also remove condensation and pick up spills. Karcher has built this product to provide optimum results for tasks that would normally take much longer to complete. The WV5 is a comprehensive window cleaning solution that cleans and dries surfaces in next to no time.
This model comes with the guarantee of clear-view windows when used with the branded cleaning fluids, however, many users have reported that the product can be used with any non-branded window cleaning fluid for the same results, which could work out to be cheaper in the long run.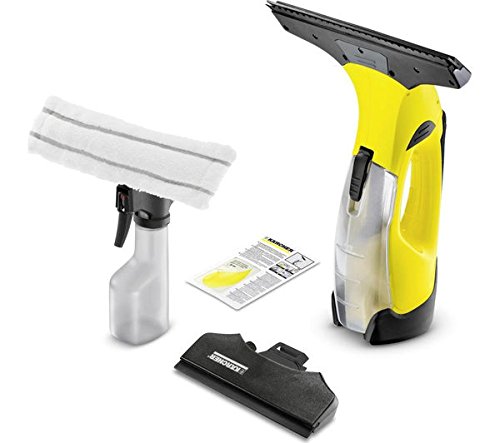 Where can I buy the KARCHER WV5 PREMIUM WINDOW VACUUM CLEANER ?
2. LEIFHEIT 51107 WINDOW VACUUM
Next up is the Leifheit 51107 window vacuum with an extended running time of up to 45 minutes and fast battery charging. It is one of the lightest window vacs weighing a mere 739g or 1.6 Pounds
Why should you buy the Leifheit 51107 window vac? It's incredibly efficient at removing water and condensation from windows and it can get into nooks that would normally be difficult to clean.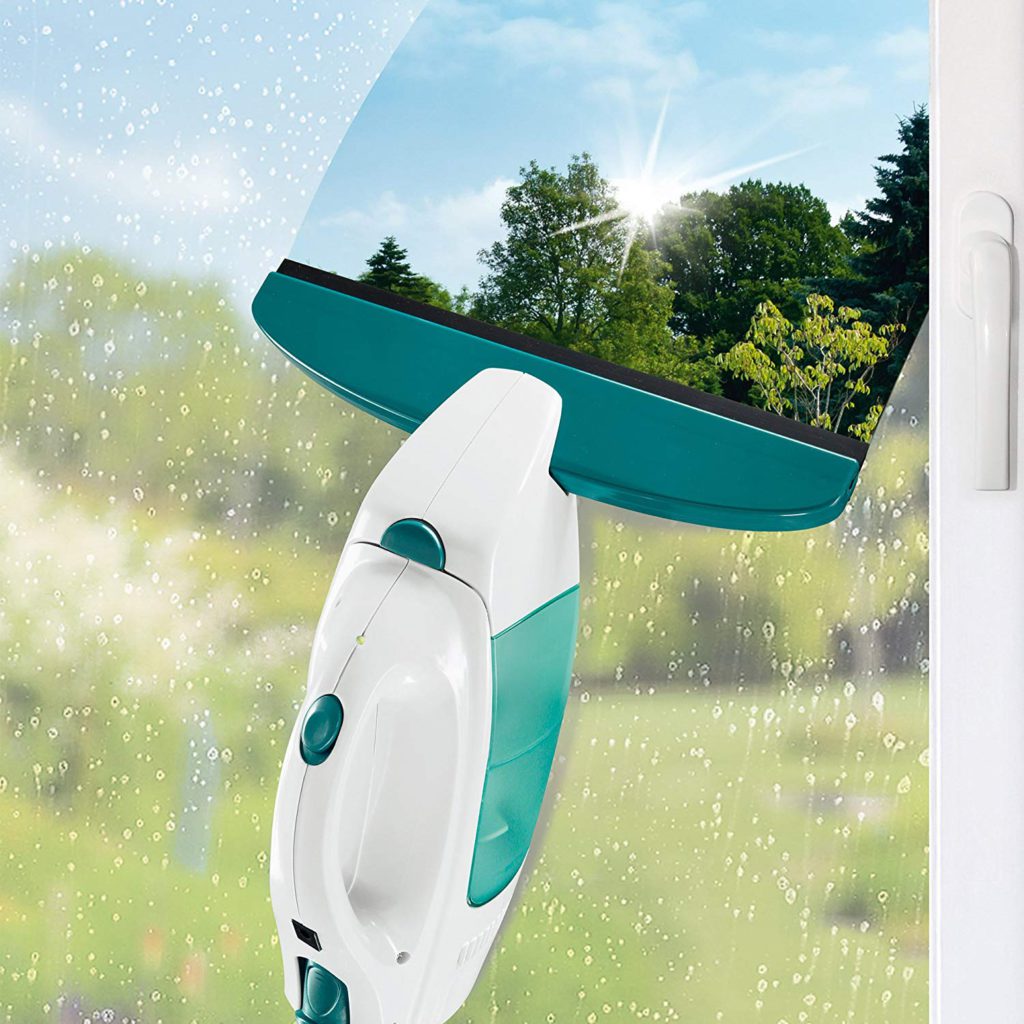 The Leifheit portable gizmo ensures leak-free cleaning from any angle and as a result, skylight windows will not be a problem to clean. Gone are the days of water dripping all over you as you try to clean overhead windows.
Owners of the Leifheit 51107 are satisfied with the product's cleaning results and have left plenty of positive reviews, however, some owners have reported that the cleaner head can occasionally find it difficult to reach into window edges.
The Leifheit cleaner costs a bit less than the leading Karcher WV5, however, you will need to pay extra for some of the attachments. I'd advise purchasing the optional click-system telescopic handle that extends the reach of the unit to enable the cleaning of conservatory roofs and windows that are higher up.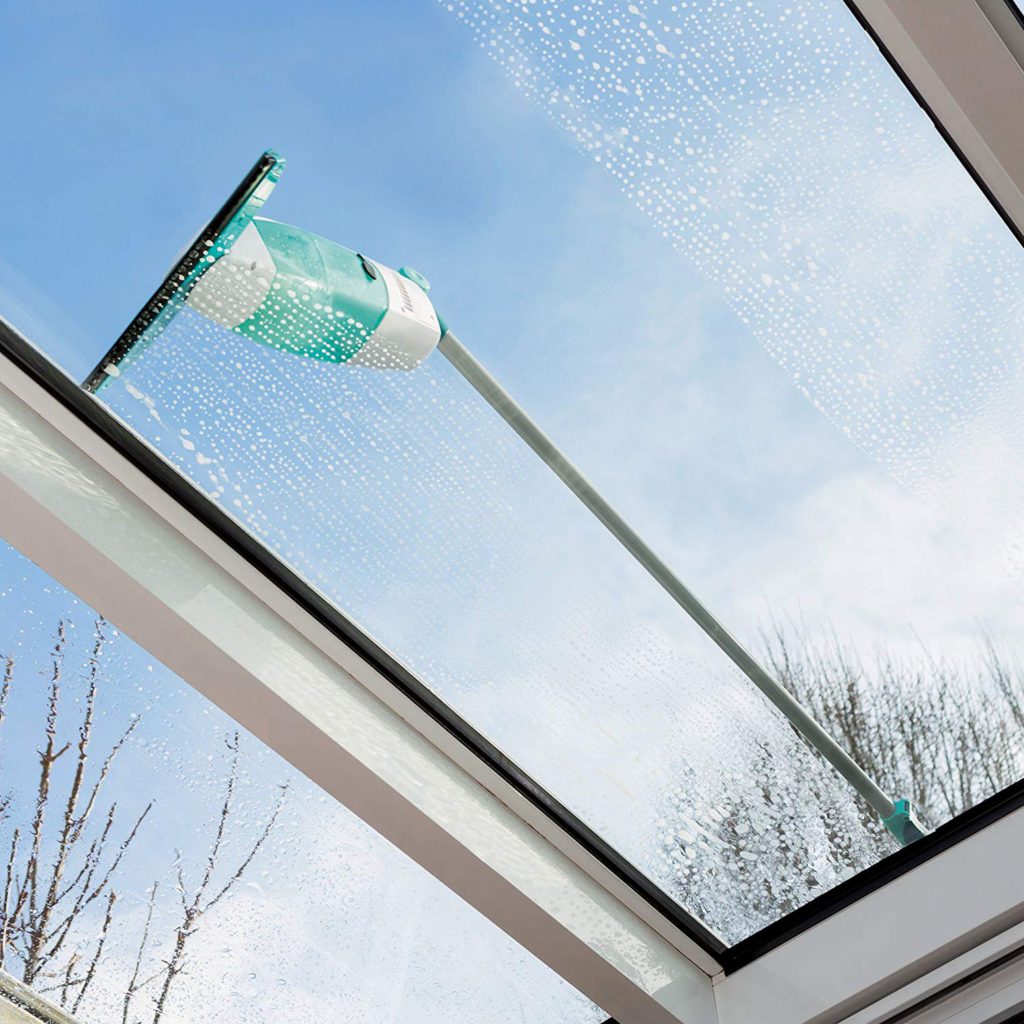 Where can I buy the LEIFHEIT 51107 WINDOW VACUUM?
3. KARCHER WV2 WINDOW VACUUM
The Karcher WV2 is the smaller brother to the WV5 at the top of our list. The compactness of the unit doesn't compromise its performance, this little guy is powerful. As far as weight goes, the unit weighs 1kg or 2.2 pounds and it gives a total running time of 25 minutes.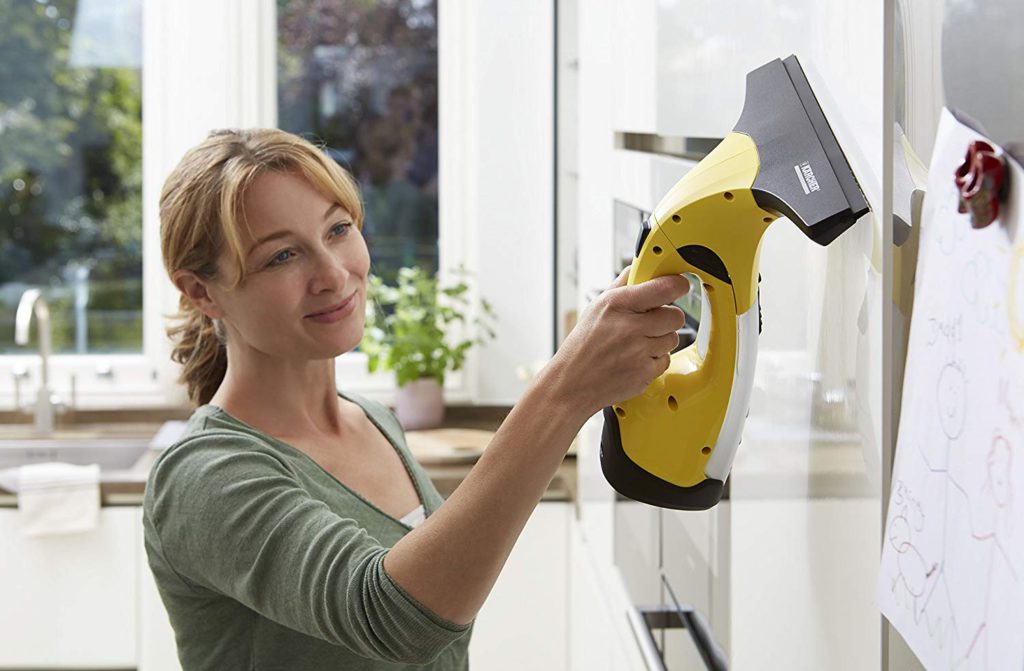 Why should you buy the Karcher WV2? Often, the best things come in small packages and the WV2 is one of them. This gadget is smaller, therefore, easier to clean with. Streak-free results come as standard. You will find a generous supply of accessories including a narrow cleaning head, wide cleaning head, cleaning fluid, microfibre cloth and a spray bottle.
Its 10% smaller and lighter yet it still performs at a high level and gives an impressive finish that you would normally expect from a bigger appliance. The Karcher WV2 excels when it's needed to reach tighter spaces that larger units would struggle with, such as decorative glass panels found on entrance doors.
The only drawback of the WV2 is a shorter running time of 25 minutes, however, the battery charge time is much shorter than the WV5 and as a result, you can get on with the job with minimum disruption. You should be able to clean multiple windows throughout your home with little hassle. Similar to its big brother, the Karcher WV2 has enjoyed plenty of positive feedback from satisfied owners.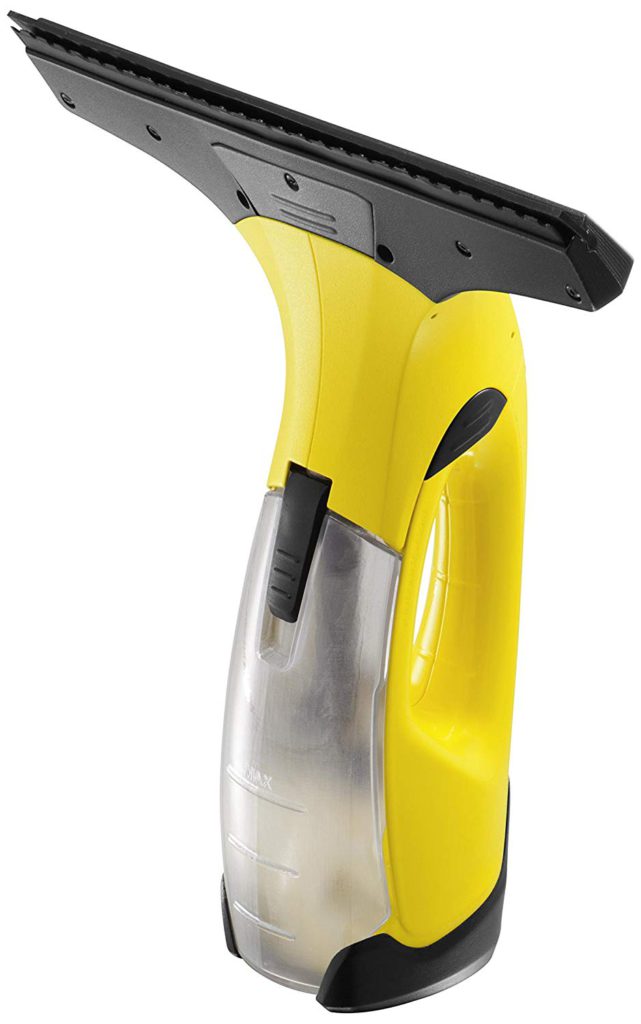 Where can I buy the KARCHER WV2 WINDOW VACUUM ?
4. BLACK+DECKER BDH100WW Powered Squeegee Cordless Vac
The BLACK+DECKER BDH100WW window vac is designed to provide comfortable window cleaning without straining your hands or wrists. The high-grade lithium battery provides consistent power to the squeegee to achieve crystal clear windows.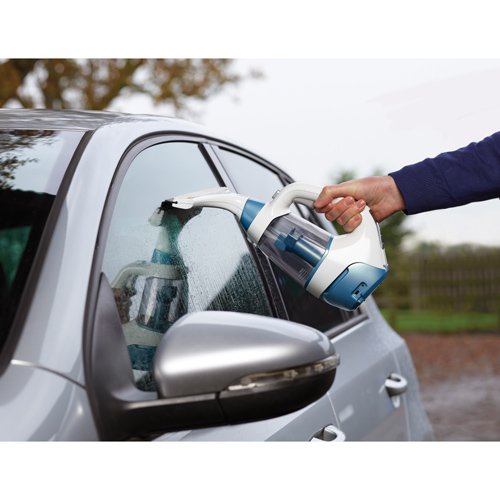 The integrated spray and motorized squeegee both improve the cleaning process. To further enhance its cleaning prowess the unit features a swivelling head that utilizes a microfiber pad to scrub away difficult dirt. Use it to clean any type of glass panes including mirrors, glass tables, car windows and so on.
The squeegee head is 11 inches and is designed to get through multiple windows in a fraction of the time that it takes to clean manually. The Black + Decker window vac is conveniently portable and ideal for both indoor and outdoor use. It powers through window cleaning incredibly quickly without leaving behind drips. You can clean both sides of a large glass door in less than 5 minutes. Impressive huh?
B & D Powered Squeegee vacuum is the ideal portable tool for rapid window cleaning at an affordable cost. It's one of the easiest devices to remove dirt effectively from mirrors and windows one-handed.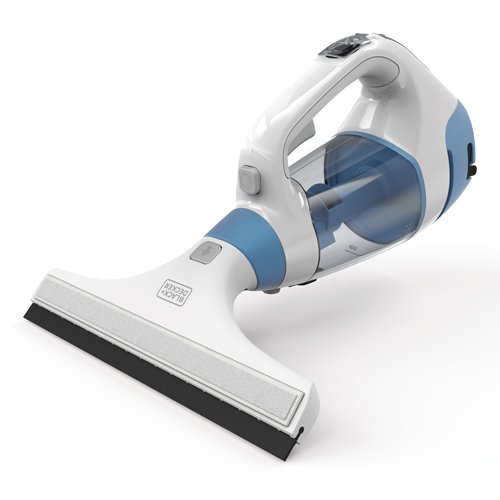 Where can I buy the BLACK+DECKER BDH100WW Powered Squeegee Cordless Vac?
5. Alfawise WIN660 Magnetic Window Cleaning Robot?
If you want to automate your window cleaning rather than doing it yourself why not get a robot to do it for you? The Alfawise WIN660 magnetic window cleaning robot cleverly cleans windows of all sizes. The remote control supplied can be used to guide the robot if you need it to clean specific areas.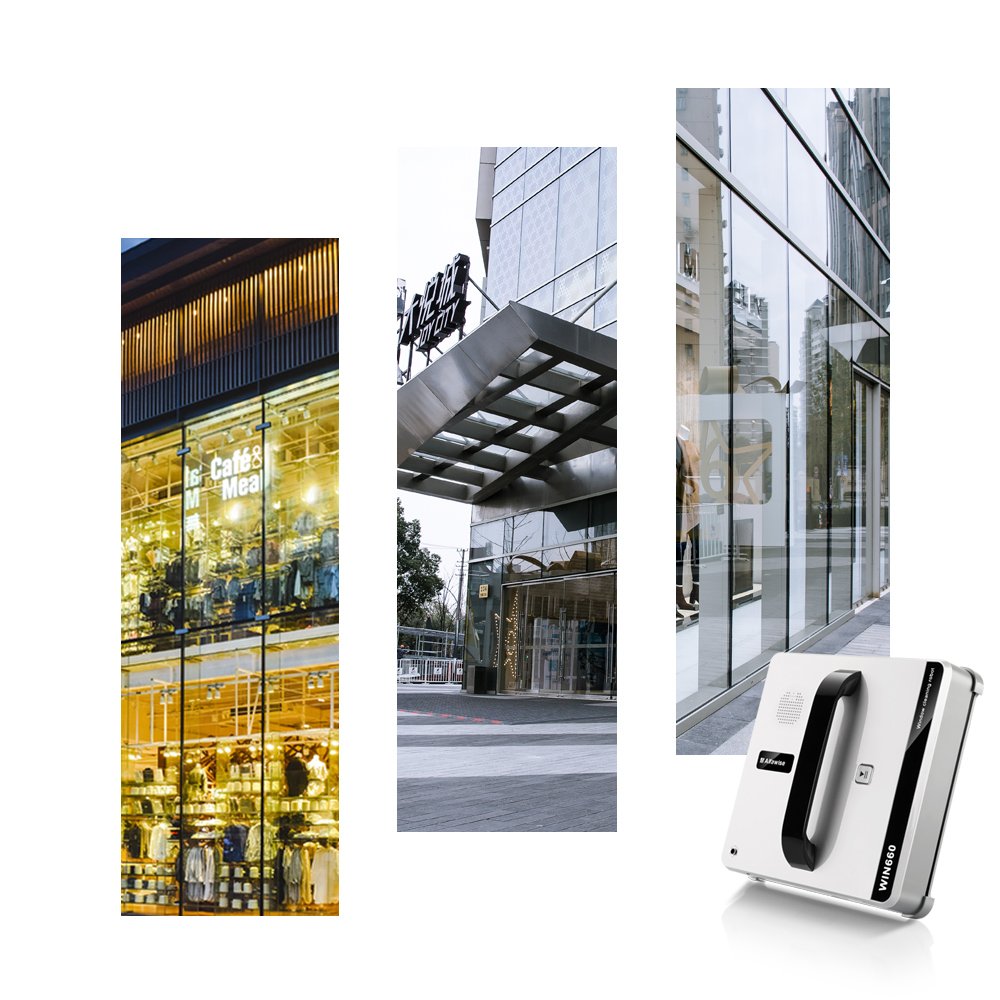 It does need help when it encounters different surfaces such as rubber edges, therefore, the unit will stop because of the resulting friction. Overall, the robot is perfect for small cleaning tasks and the performance is fairly consistent, although sometimes it doesn't follow a specific cleaning routine and will clean randomly, however, it gets the job done to a high standard.
The inbuilt safety system is designed from German technology to ensure that the Alfawise WIN660 robot stays attached to windows throughout the cleaning process. The robot is equipped with a back-up power mechanism which enables the unit to remain safely attached to glass for approximately 25 minutes without a power source.
If the robot accidentally loses suction and falls from the window, it comes with a strong safety rope to catch it and avoid damage to the appliance. The Alfawise window cleaning gadget comes with onboard sensors to keep you updated on the robot's status. It uses a combination of audio signals and warning lights to grab your attention if the robot gets into trouble.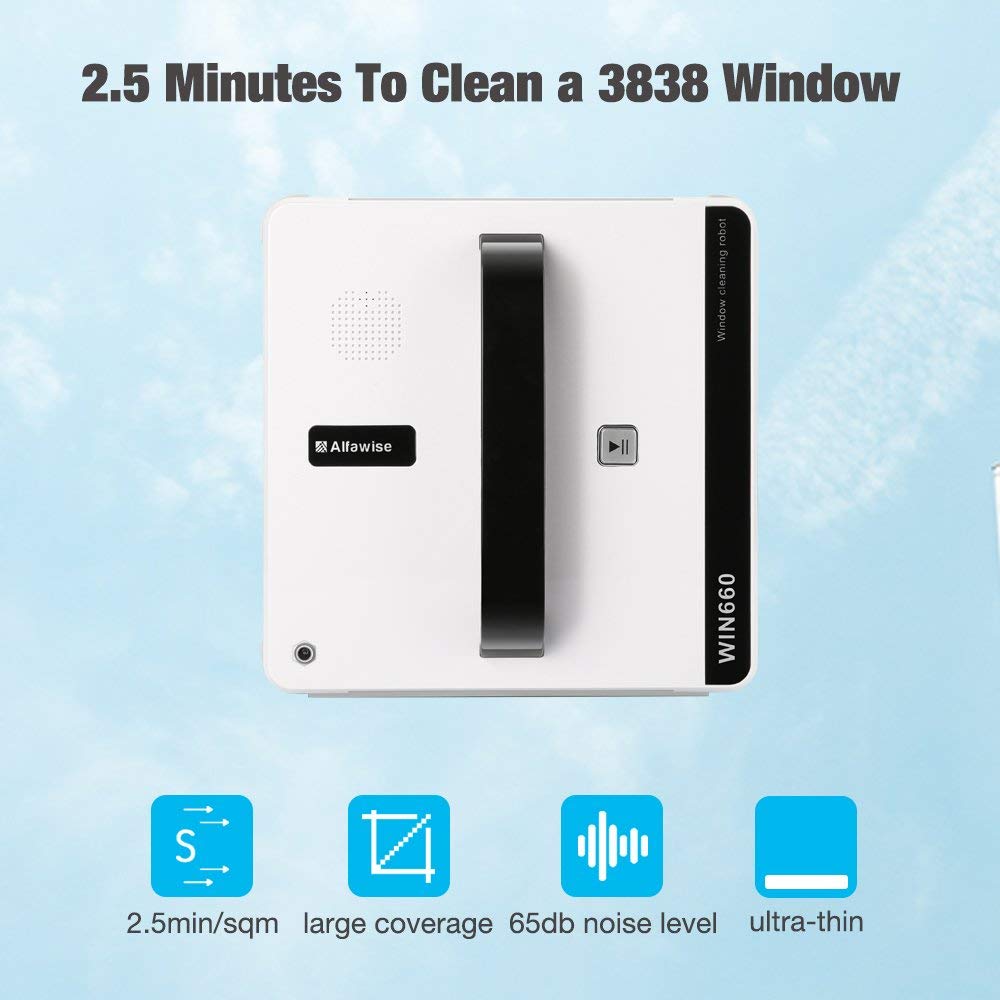 Where can I buy the Alfawise WIN660 Magnetic Window Cleaning Robot?
6. FENGRUI R-C901 Smart Window Cleaner Robot
The Fengrui R-C901 is another window cleaning robot that helps to keep the glass around your home spotless. Using a robot saves time and cost, thus, you won't need to fork out money for a professional window cleaner. On top of that, it's much safer to send a robot up high reaching areas rather than climbing up a ladder to do it yourself.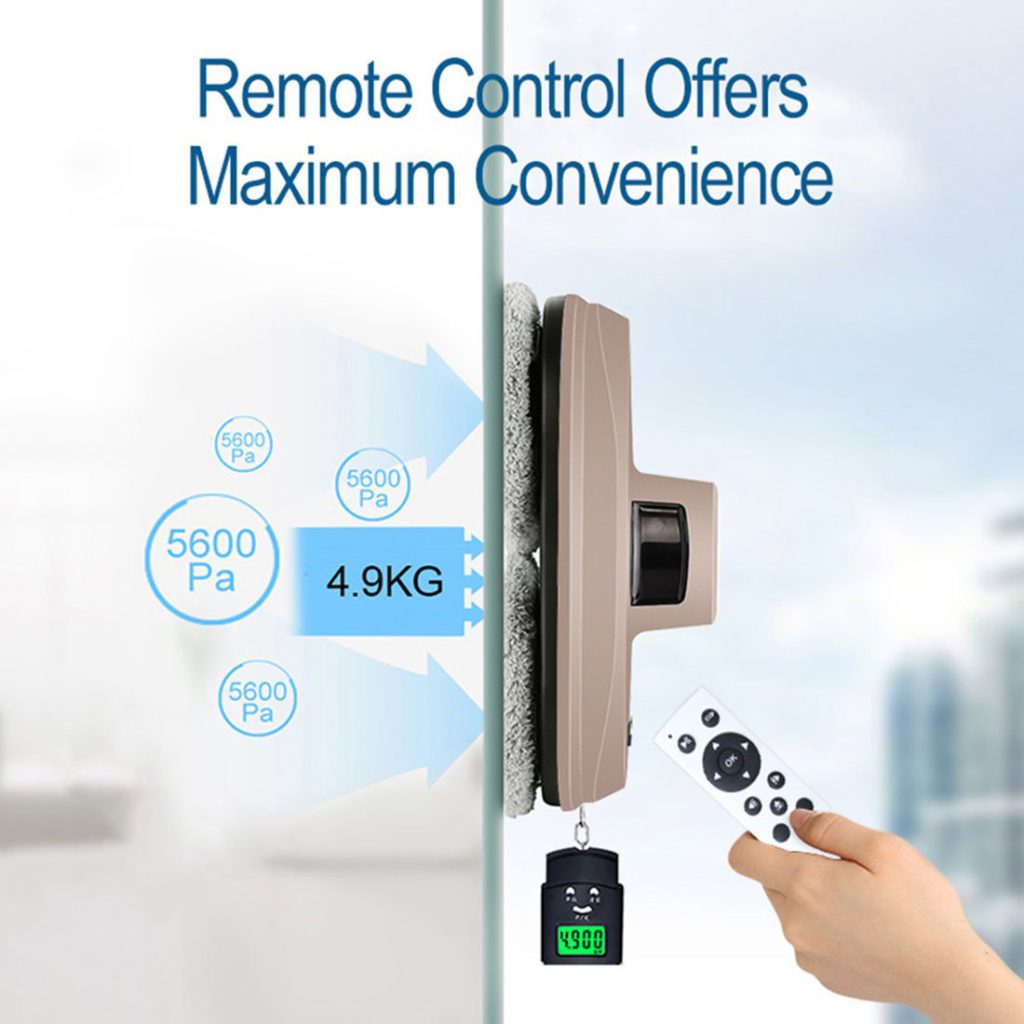 When placed on a window, the Fengrui R-C901 will initially work upwards then change direction from left to right. It achieves over 99% coverage which is impressive for an automated cleaner. It comes with an extension cord that measures 5 meters, therefore, enabling the robot to clean glass in high places.
Once placed on a window the R-C901 robot stays firmly fixed to the glass to carry out its task. You don't need to constantly monitor the machine, simply set it up and let it do its thing.
The unit can clean various types of smooth surfaces and is suitable for all types of glass including mirrors, glass tables and doors. As with all other robot glass cleaners, ensure that you attach the safety rope to the machine before it starts cleaning to protect it from damage in case it accidentally loses suction.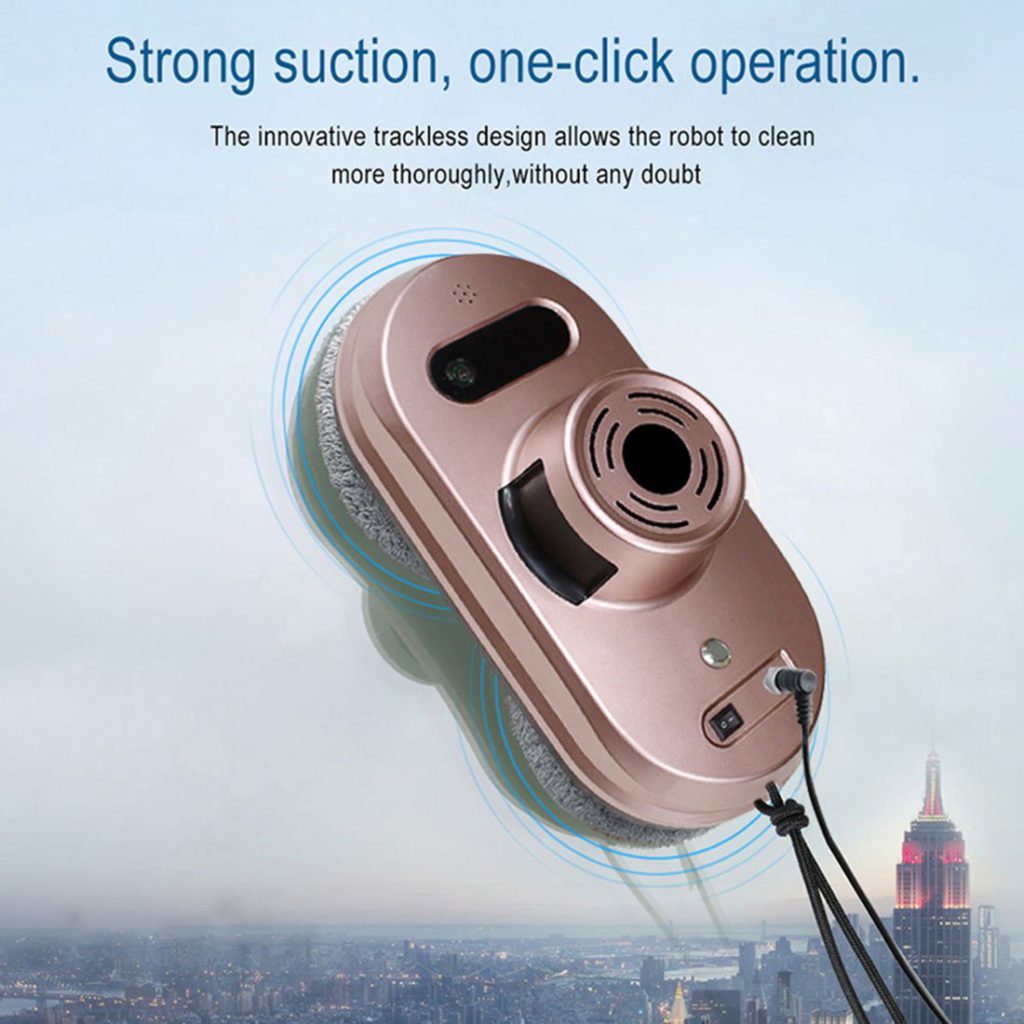 The robot has been designed to provide a higher amount of suction whilst reducing noise levels, therefore, it doesn't interrupt you or the family when it's cleaning interior windows or disturb your neighbours when it's working on exterior windows. This robot provides an economical practical solution to a job that most people either hate or don't have time to do.
It comes with replaceable cleaning pads that efficiently remove persistent stains and dirt. To start it up simply press one button and the robot springs to life. You'll also find an infrared remote control to guide the robot if it encounters obstacles or gets stuck. The inbuilt smart sensors enable the robot to gauge window boundaries.
If the length of the charging cable isn't long enough all you need to do is contact the manufacturer and they'll send you a longer cable free of charge!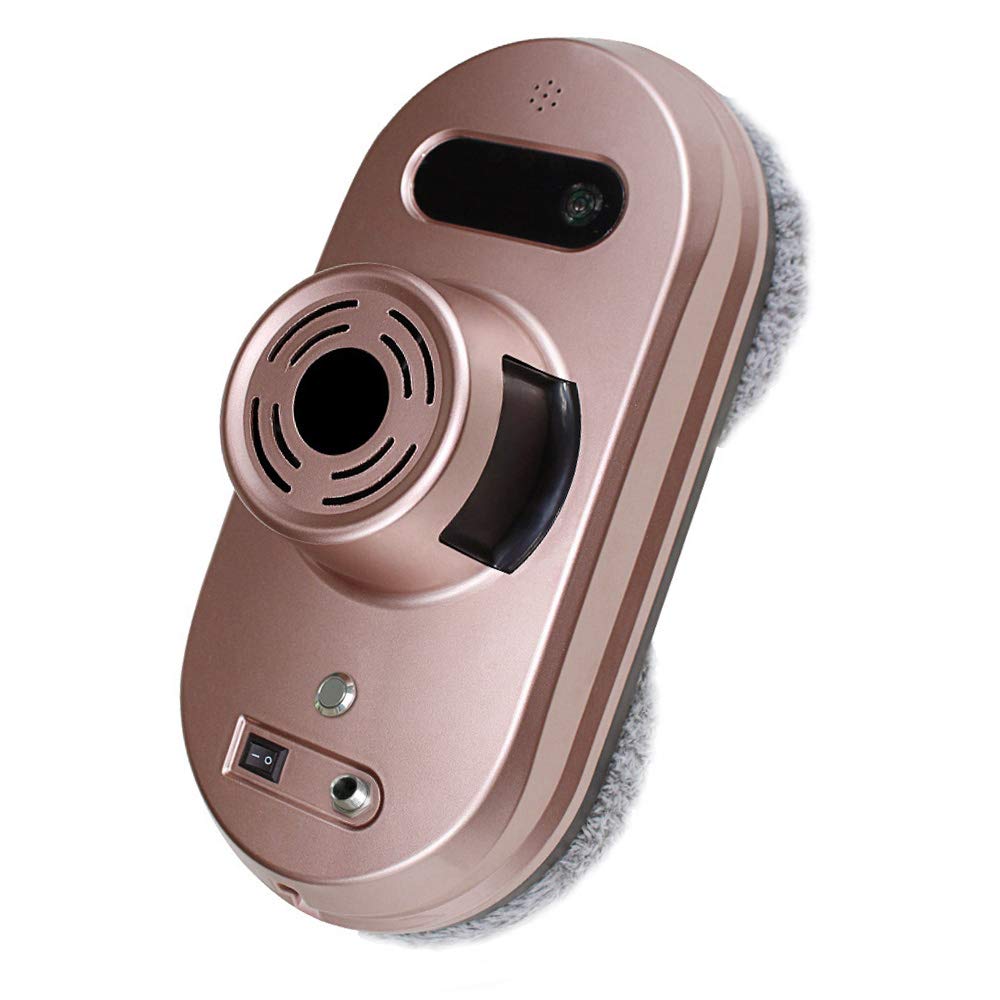 Where can I buy the FENGRUI R-C901 Smart Window Cleaner Robot?
Buyers Guide for the Best Window Vacs
Spotless windows enhance the look of your home but window cleaning is often a task that is overlooked. Most of us avoid it because we can't bear the thought of scrubbing and drying whilst worrying about persistent window streaks.
If you want an easy path to streak-free windows then it's time that you invested in a window vacuum cleaner, which guarantees crystal clear results. Simply apply the cleaning fluid and the unit's squeegee will do the rest. By the cleaning this way you'll also be doing your bit for the environment- you won't need to use a copious amount of paper towels. You can also say goodbye to bits of lint clinging to the windows.
The range of modern windows vacuums is constantly improving to quicken cleaning times and cover more area in less time. There's now a choice of robot window vacs, that work with minimal assistance, and appliances with extendable accessories to help users clean higher up. This small investment will save you plenty of time especially if your home has a lot of windows.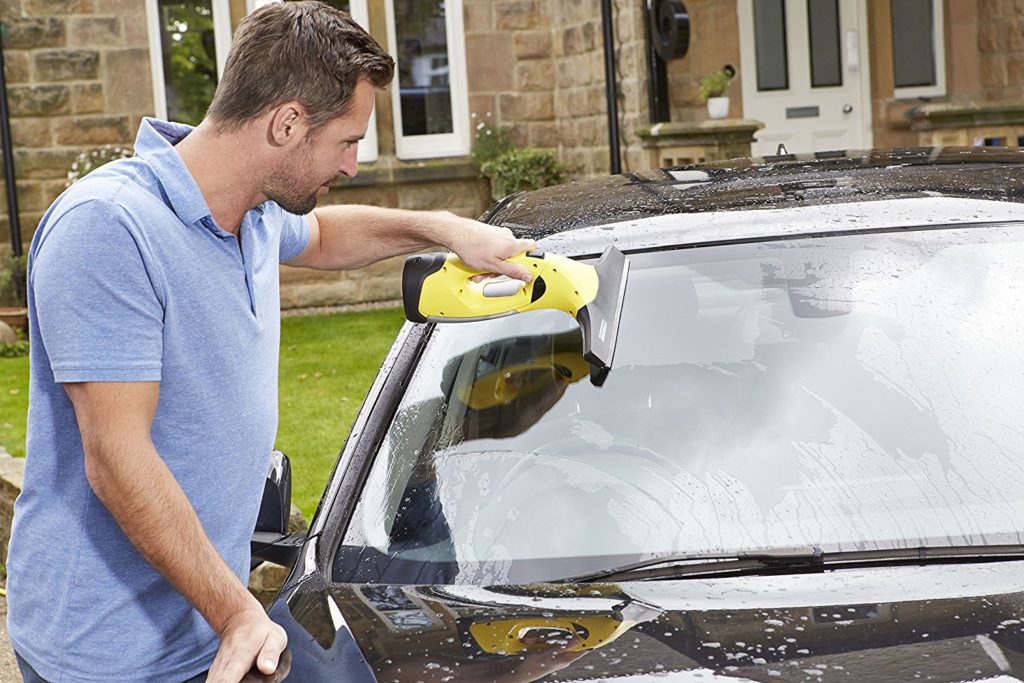 If you've decided that it's about time you got a window vac, to keep your house looking immaculate, then why not look through our shortlist of recommended gadgets to help you decide what's best for you. Simply scroll further up to view our recommendations.
Remember, a window cleaner can also remove condensation from surfaces which is very important to stop the growth of mould that can potentially cause a host of health issues. Your portable gadget will diligently draw out condensation and keep mould away.
What Should You Consider When Buying a Window Vac?
Window Vacuum Type
Conventional Handheld Window Vac– these models are similar to standard handheld vacuums and share the same dimensions but the difference is that they are designed to lift moisture and dirt from windows without causing smudges or streaks. Rather than using a motorised brush, the unit focuses its suction to suck up dirty water and ensures that nothing is left behind.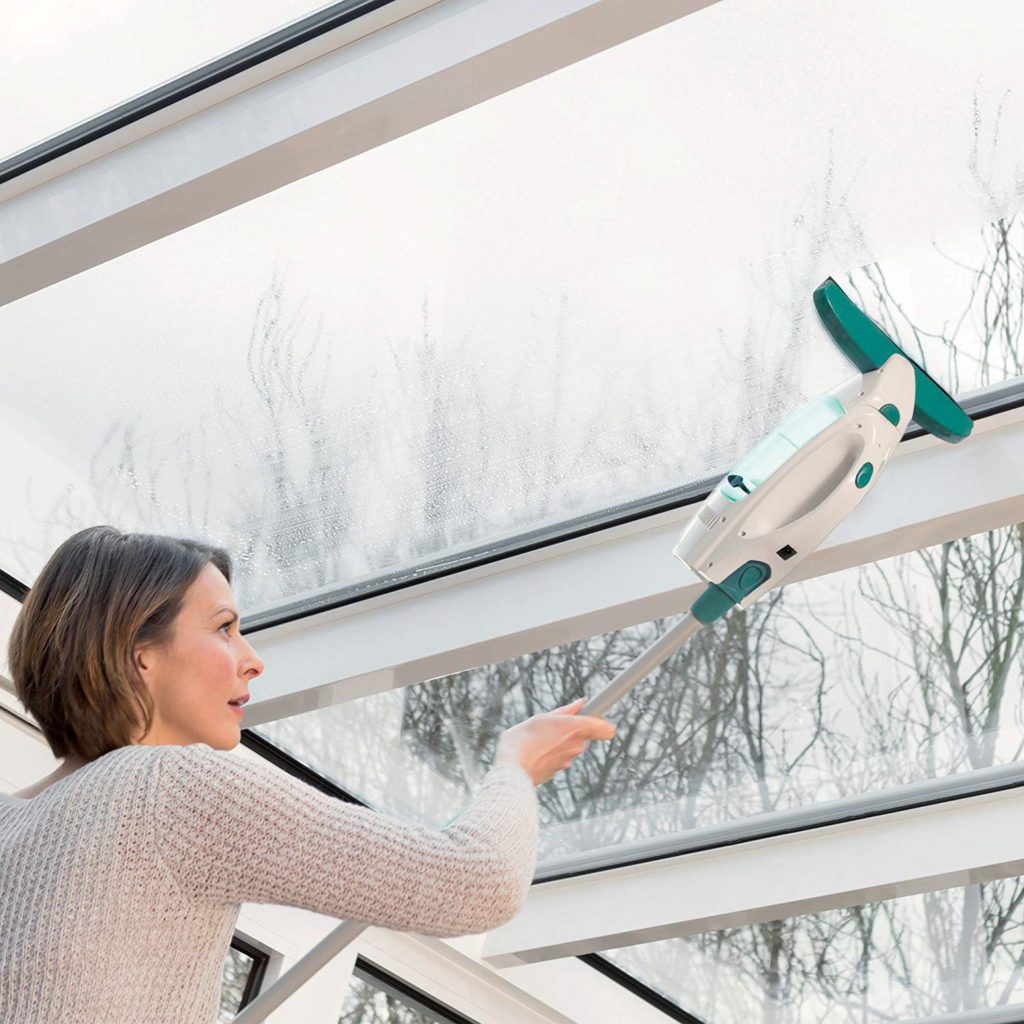 Telescopic Window Vac– The cleaning process is identical to handheld units, however, this variant is equipped with an extendable handle to clean windows on higher floors that would normally require a ladder to reach. These units provide the convenience and safety of cleaning high reaching areas from the ground level without causing any undue strain to the user.
Robotic Window Vacs– These have got to be one of my favourite appliances because I love automating domestic chores. This hands-free gadget simply needs to be placed on the glass and it will give you streak-free windows. All you need to do is pour cleaning fluid into the machine, attach it to the safety rope and press the start button. These units do require some supervision, however, if the robot runs in trouble it will alert you.
Window Vac Water Tank
Window vacuums house a water tank that collects dirty water and condensation and stores cleaning fluid. The tank needs to be big enough to pick up fluids without distracting you partway through the job to be emptied. The average tank size of a window vac is between 100ml to 300ml although larger models often come with larger capacities.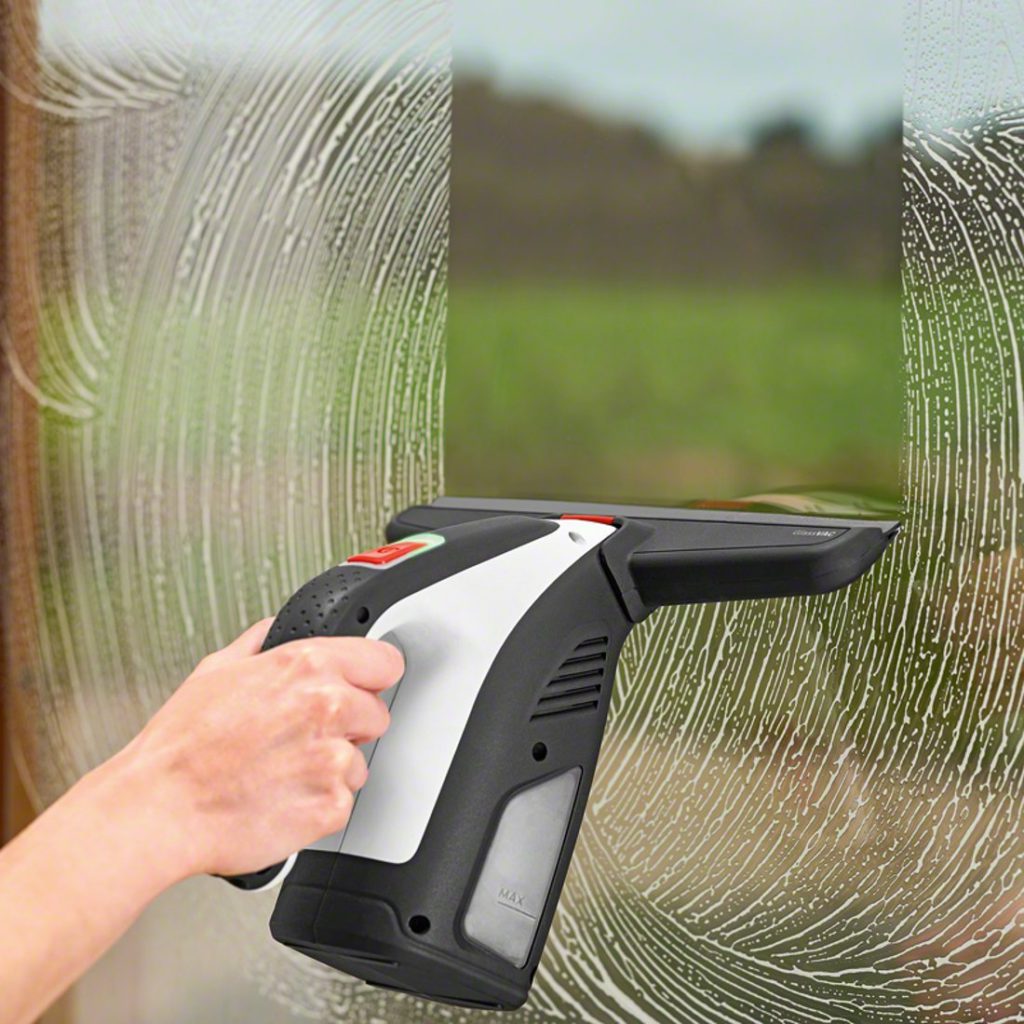 How High Are Your Windows?
Windows higher up are not easy to clean as they need you to get onto a ladder, however, it's very uncomfortable trying to balance on a ladder and clean at the same time. A telescopic handle is the best solution to reach distant windows. Wherever possible, you should opt for a window vacuum that comes with an extension attachment or the option to buy one in future should it be required further down the line.
Window Vacuum Nozzle
The nozzle usually has the dual function of vacuum and squeegee. All you need to do is squeegee the glass whilst the vacuum collects the water into the tank.
The size and shape of the nozzle are hugely important as they determine the cleaning efficiency of your unit. A slim nozzle is great for targeting smaller areas such as bathrooms or front door windows. If you need to clean bigger areas such as glass doors then it's best to buy a window vacuum cleaner with an interchangeable nozzle, therefore, you can swap between slim and wider nozzles. You will get through tasks quicker with the right nozzle.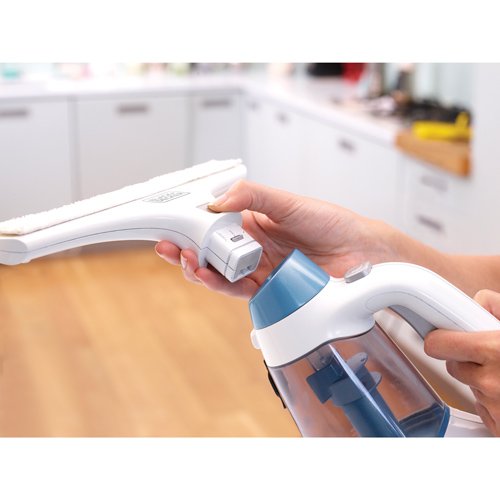 How Heavy Is the Window Vac?
The weight of the unit needs to be comfortable enough for prolonged use if required. Remember that these units are used with just one hand, therefore, you want yours to weigh 1.1kgs (2.4 Pounds) or less.
Can The Window Vac Be Used Indoors and Outside?
In addition to indoor use the majority of window vacuums can be used outdoors as well, however, if you're after a robot vacuum that can clean exteriors windows make sure you check that its designed for outdoor use. It needs to be waterproof and able to withstand the elements, especially if you live in an area that always rains like I do (sigh).
Handy Tips
Don't panic if your window vacuum starts to leak whilst in action. The best thing to do is check the tank as it might need emptying. If the leaking persists, even when the tank is not full, then you should contact the manufacturer.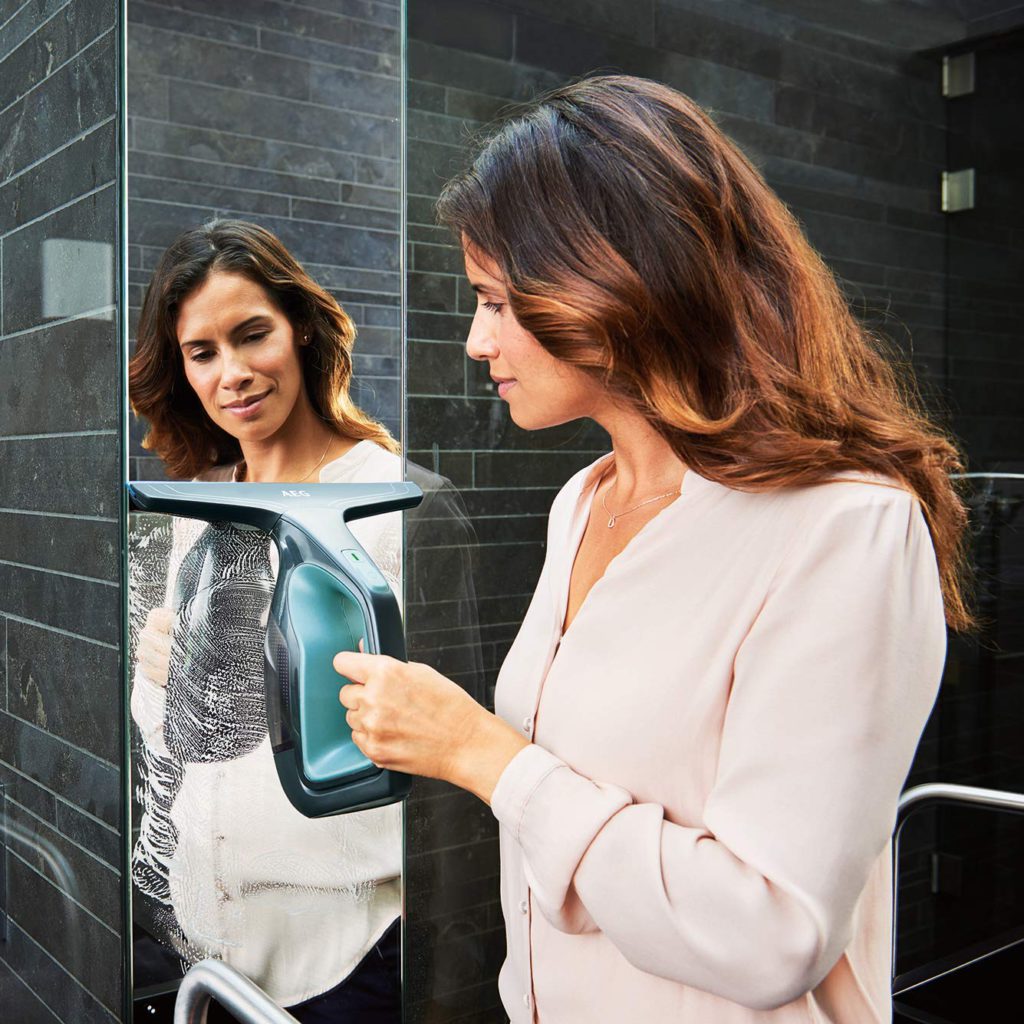 Similar to a standard vacuum, your window vac will emit some noise from the motor. Be sure to check the product specification for the audible decibel levels before purchasing, if your concerned that the noise might disrupt the people around you.
Be sure to clean the nozzle frequently, preferably after each use, to stop debris from passing back from the nozzle to the glass.
Features To Look Out For
Window Vac Accessories
Most windows vacuums come with a decent kit of accessories for different tasks. As a rule of thumb, make sure you get one with interchangeable cleaning heads for both small and big windows. Most models will come with a spray bottle and microfiber pads to get rid of debris whilst achieving a clear-view finish.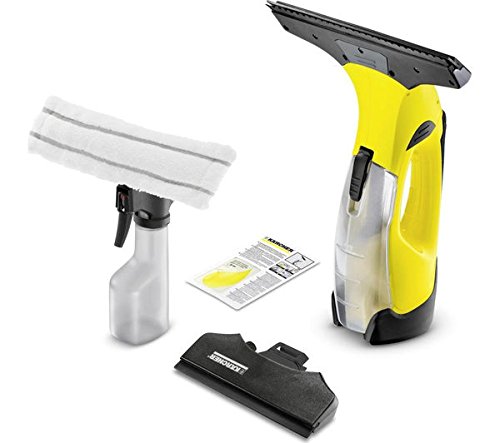 Power
Portable window vacuums generally run on rechargeable batteries and the operating times are usually around half an hour. This might not seem like a long running time, however, the appliances are optimized to clean multiple windows in very little time. You can clean both sides of glass door in under 5 minutes. When the battery runs flat simply recharge it with the supplied
AC power adapter or micro USB depending on the model.
Extendable Attachment
As mentioned earlier, a telescopic attachment is a must-have for a 2 or 3 story home or dwelling with glass roofs. It's much safer and convenient to use an extendable handle for high areas and tall windows instead of attempting to use a ladder. I recommend measuring the highest point that you intend to clean and check that the tool can extend to that point.
Battery Charge times
The battery charge times varies between models. High-end window vacuums are usually equipped with a fast charging feature to minimize delays when you're carrying out bigger jobs such as spring cleaning.
Window Vacuum Pricing
Premium models normally come with longer running times to help you clean several windows in one go, however, you will need to shell out a bit more money for these although they are still very affordable for most budgets.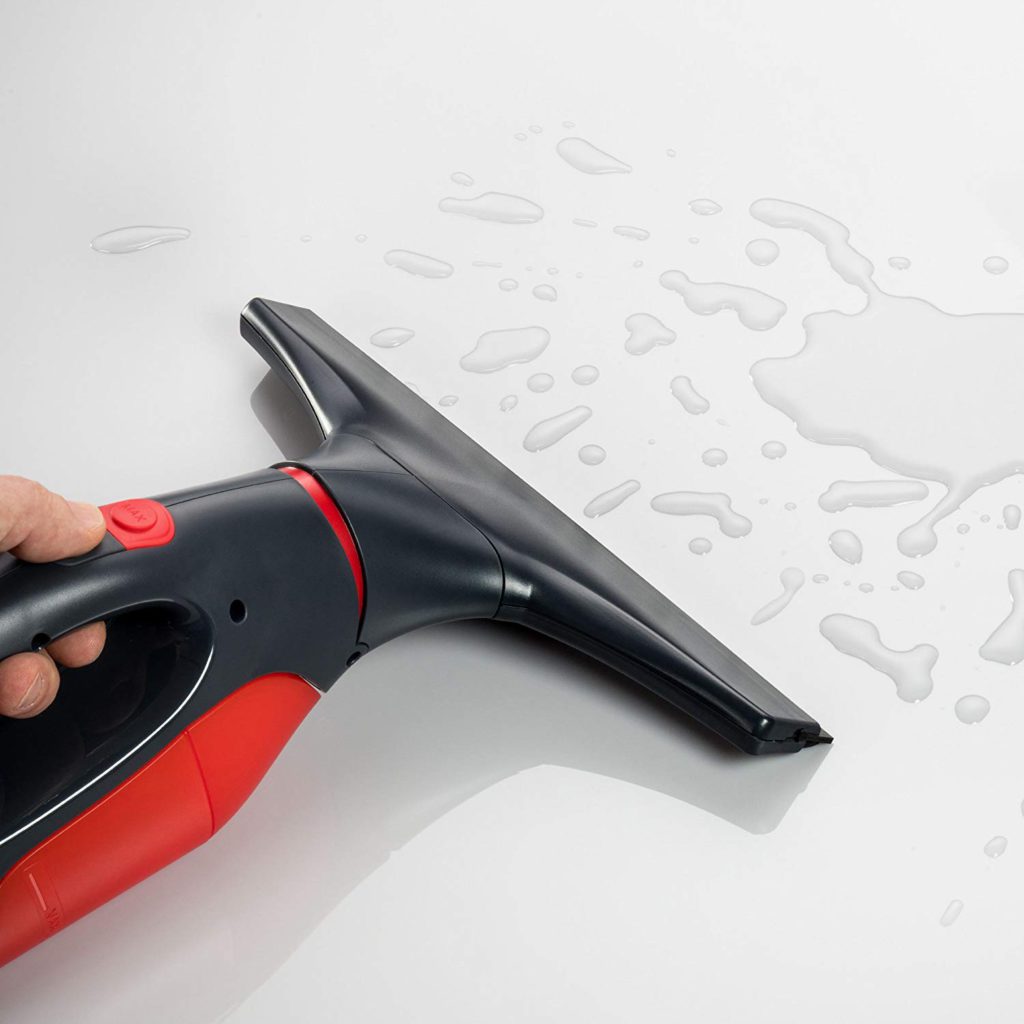 Wherever possible, try to buy a window vacuum cleaner that comes as part of a kit, therefore, you will be supplied with a good range of accessories to tackle multiple tasks. premium models are approximately priced between $100 to $199 and robotic window cleaners are around the $150 to $220 price point.
Other Useful Information about
Window Vacuums
More than just window cleaning you can use a window vacuum on mirrors, shower screens and tiles.
These gadgets are particularly good at getting rid of condensation from bathrooms.
Always ensure that the appliance is fully charged prior to using it.
If your windows are particularly grimy you will need to apply a detergent to clean them before using the vacuum. Most window vacuums are supplied with a cleaning fluid and spray bottle for this.
For best results, spray some cleaning fluid across the whole window and spread it with a microfiber cloth or squeegee then clean in a downward direction with your window vacuum. Job done!
Frequently Asked Questions
Ques. Do all window cleaning vacuums come as part of a set?
Ans. Unfortunately not. Some brands provide the basic unit, therefore you will need to buy additional accessories as optional extras. These units are often cheaper, however, I think it's worth buying a window vacuum with a range of accessories to handle different tasks and various sized windows.
Ques. What's the benefit of a robot window vacuum cleaner over a manual one?
Ans. Robot units provide a good level of automation, therefore, you can set it up and leave it to clean while you get on with your day although I'd recommend checking on the machine periodically. I'm a big fan of automated domestic cleaners and you'll see that I've written plenty of reviews about robot vacuums throughout this site. Robots are not perfect but manufacturers are constantly improving them and the biggest advantage of owning one is the time that it frees up.
Ques. What type of cleaning fluid can I use with my window vacuum?
Ans. I'd always recommend using a window cleaning solution because the mixture is made to stop streaks. As mentioned earlier, some models are supplied with cleaning fluid, however, once that runs out you can purchase any type of window cleaning fluid of your choice.
Are you considering buying a window vacuum from our list or do you already own one? Please leave your comments in the section below. I'd love to hear from you.
Our List of the Best Domestic Appliances