It's now possible to buy uprights with a similar weight and steering capabilities as smaller machines. What is the best upright vacuum cleaner and how do you ensure that it will fit with your household requirements?
Uprights were one of the first vacuum cleaner designs, which is why traditionally they are thought to be louder and cumbersome. Modern innovations have done away with this misconception. It's now possible to sport an upright vacuum that effortlessly glides through your carpets like a fish takes to water.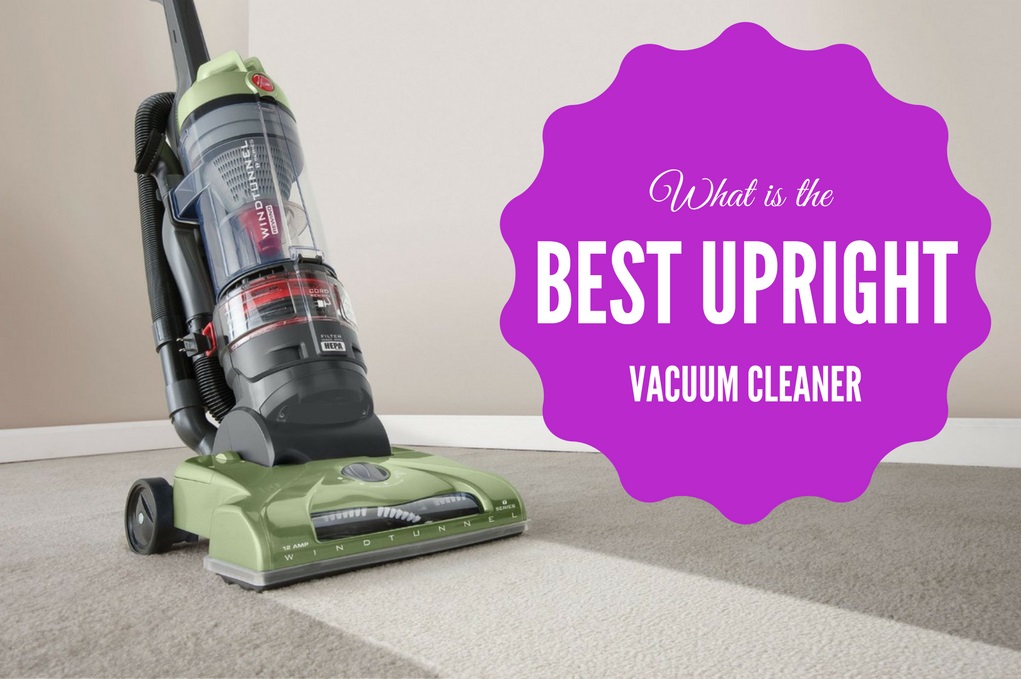 Suction power is aplenty, combined with wide cleaning heads to ensure that dirt is snapped up in very little time. Rotating brushes will deal with dirt and animal hairs determined to stay in your floors.
Lightweight designs allow for easier handling and minimal strain. The Upright vacuums on our list are portable enough to alleviate storage issues. It's an exciting time to buy a vacuum cleaner.
If you live in a multilevel home its worth considering an upright that can convert into a cylinder vacuum for hassle-free cleaning of your stairs. Push the boundaries even further by going cordless to increase flexibility.

#1. Shark Rotator TruePet Lift-Away NV752
The Shark Rotator TruePet Lift Away NV752 is a premium upright that gives outstanding cleaning performance thanks to cyclonic separation which means it will never lose suction during its operating life.
The filters are washable and HEPA graded to capture airborne allergens and dust circulating in the air.
You never need to worry about using the machine late at night or early morning thanks to the ultra-quiet technology that ensures low noise levels.
The swivel steering helps you to manoeuvre throughout the house and clean areas that are hard to reach.
| | |
| --- | --- |
| Pros: | Cons: |
| Surprisingly lightweight for its size | No cordless option |
| Will never lose suction power thanks to Cyclone technology | |
| Low noise level | |
| Motorised brush roll when required | |
| Great selection of tools- crevice tool, dusting brush, TruePet power tool for pet owners, multi-angle dusting brush and cleaning caddy | |
| Extra-long 9-metre power cord | |
| 7 year guarantee comes as standard | |
Rating: 9/10
Price: Under $345
#2. Dyson 206900-01 Ball Multi Floor
The earlier model of the Dyson DC41 Animal received high praise but the most recent version named the 206900-01 Ball Multi floor has been improved on an already high performing upright vacuum.
Remarkably it provides a fifth more suction power and uses 30% less energy. Root Cyclone technology is what Dyson do best and the 206900-01 Ball Multi floor provides bags of uninterrupted suction thanks to this.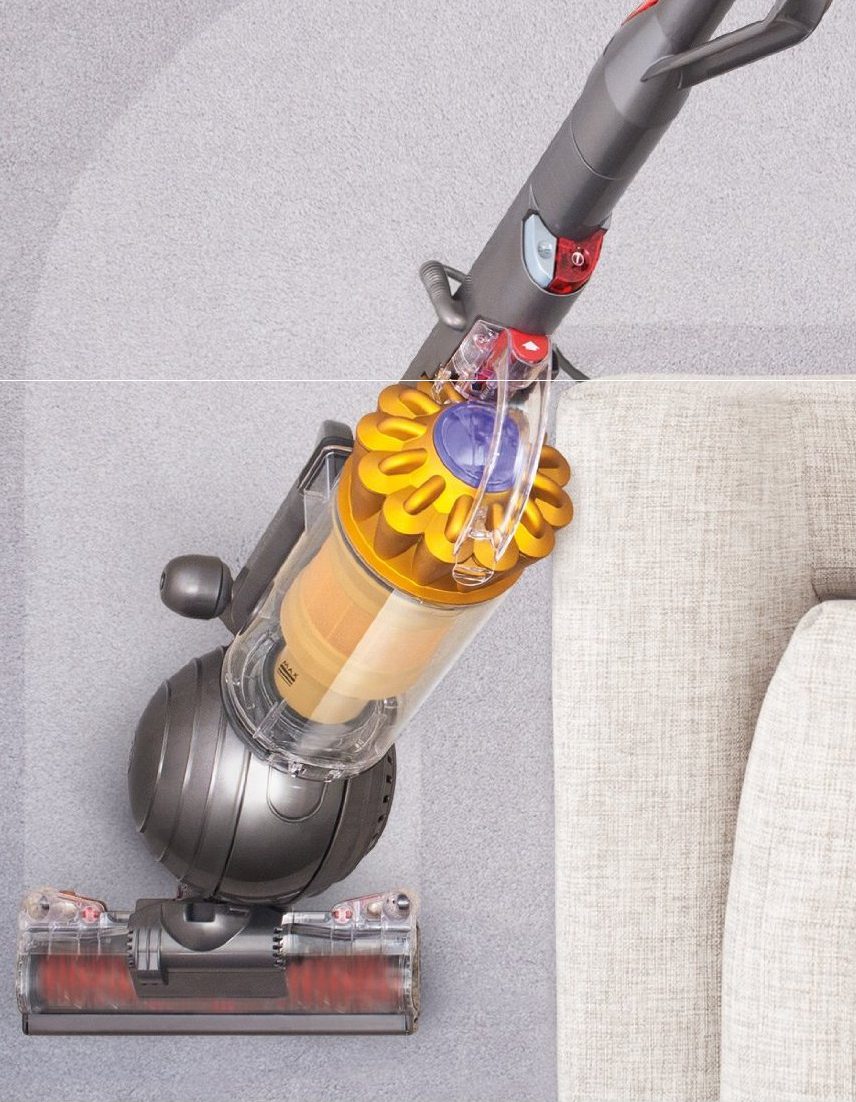 The vacuum's chassis sits on top of a ball to provide one of best manoeuvrability found on an upright vacuum. Dirt and dust will have a difficult time hiding from this cleaning beast.
| | |
| --- | --- |
| Pros: | Cons: |
| Root cyclone technology for powerful suction | Slightly noisier than alternative uprights |
| Bagless | |
| The best steering thanks to the innovative ball | |
| Stylish | |
| Easy dirt disposal system | |
| HEPA filtration | |
Rating: 8.8/10
Price: Under $298
#3. SEBO Automatic X4 Pet Eco

The Sebo Automatic X4 is the perfect upright for pet owners. It sucks up animal hairs like a champ and includes an integrated switch to ramp up suction power in problem areas. The result is a fresh carpet and floor every time.
The built-in hose conveniently extends to reach stairs or cobwebs and dust on the ceiling. Sofas and drapes can be treated to a thorough clean with the use of the turbo brush included.
The power cable is extra long to avoid the need of switching plug sockets every time you move to a different room.
The Sebo Automatic X4 has a long list of strong positive feedback from satisfied pet owners who are happy to pay a little extra for one of the best performing upright vacuum cleaners for pets.
It's a cleaning appliance built to stand the test of time and should be the benchmark on which all uprights are set against.
| | |
| --- | --- |
| Pros: | Cons: |
| Powerful suction | Not the best on hard flooring |
| Pet hairs | |
| Machine Belts have a lifetime guarantee | |
| Hospital grade air filtration | |
| Long power cable | |
Rating: 8.6/10
Price: Under $940
#4. Bissell 1984 AirRAM
The Bissell 1984 AirRam is hailed as one of the best cordless vacuum cleaners for a number of reasons.  This lightweight upright delivers robust cleaning that matches a corded vacuum. It is equipped with various LED lights to light up dark spaces such as under furniture or hidden corners.
Dirt can be disposed in a matter of seconds with a clever easy empty slider. It comes equipped with a premium 22v Lithium Ion battery to ensure that cleaning tasks can be completed without running out of power.

| | |
| --- | --- |
| Pros: | Cons: |
| 30+ minutes of cordless battery run time | No accessories provided |
| LED lights for areas that are difficult to see | |
| Easy Dirt disposal | |
| Swivel steering for easy manoeuvring | |
| lightweight machine | |
Rating: 8.5/10
Price: Under $199.99
#5. Miele Dynamic U1
Miele live up to the term "German engineering". The company has been in the vacuuming business for 90 years.
The Dynamic U1 is a powerful stylish upright vacuum cleaner capable of working through various floor types ranging from thick carpets to tiled floors.

Don't be deterred by awkward spaces as the Dynamic U1 can easily clean hard to reach areas. The suction power is one of the best in it class thanks to a clever notification system which tells you when the filter is ready to be changed.
This not only maintains the vacuum's suction but keeps it working just as good as the day you bought it.
| | |
| --- | --- |
| Pros: | Cons: |
| Stylish | Heavier than rival products |
| Great suction power | |
| Clever notification system | |
Rating: 8.3/10
Price: Under $399
#6. Dyson DC40 Multi Floor
Dyson vacuum cleaners are a hot favourite owing to their innovative and stylish design.
The DC40 Multi-floor upright is a high performance cleaning machine which has enjoyed plenty of positive customer reviews.
It's designed for maximum convenience given that upright vacuums have a tendency of being bulky.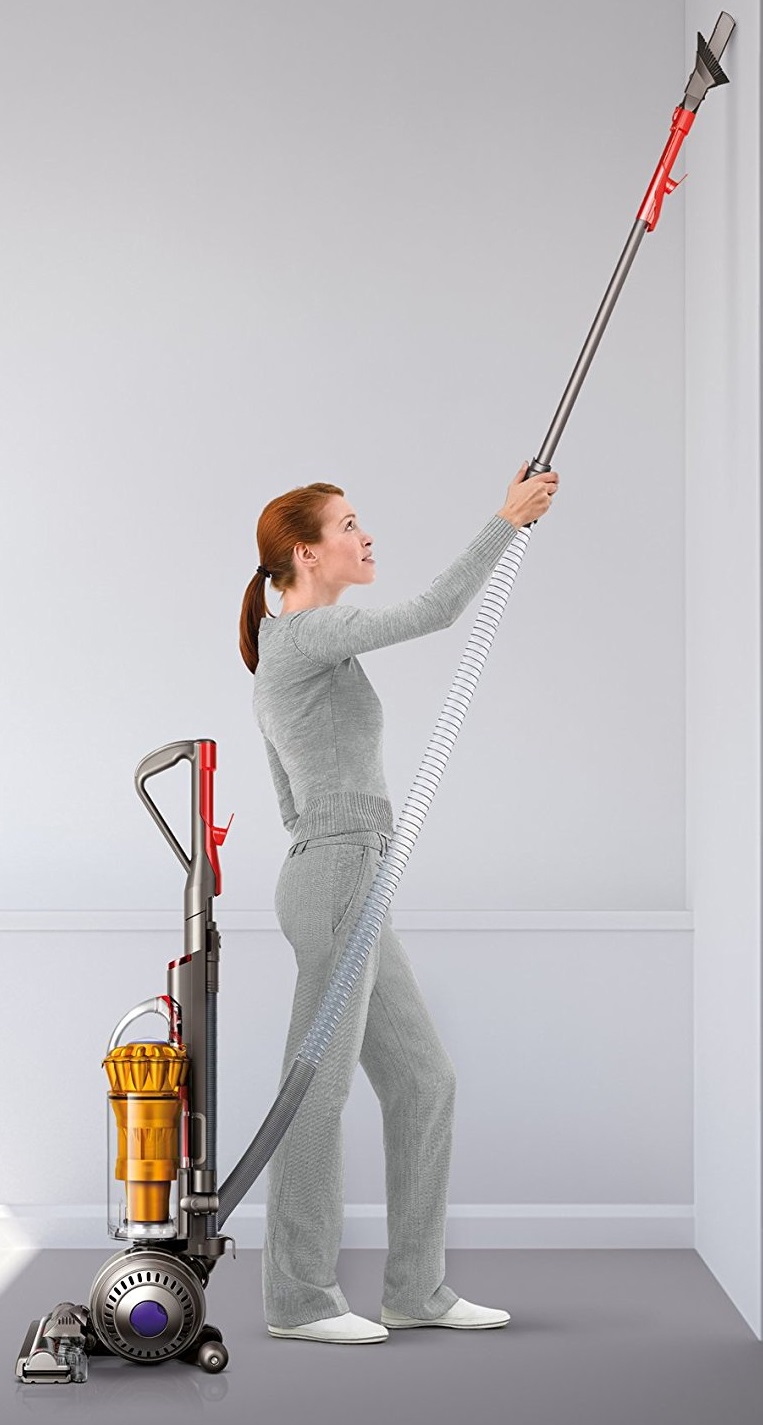 The Dyson ball sits at the bottom of the DC40 and controls the steering to give the best manoeuvring found on any upright vacuum cleaner especially in tight spaces and underneath tables or chairs.
HEPA filters are included to clean dust particles and airborne allergies from the air. The DC40 is a good choice if you're looking for a powerful machine that is agile and looks modish.
| | |
| --- | --- |
| Pros: | Cons: |
| Root Cyclone technology | Slightly noisier than rival machines |
| Great steering | |
| Cleaner head self-adjusts for optimal contact | |
| HEPA filtration comes standard | |

Rating:8.1/10
Price: Under $375
#7. Black+Decker HSVJ415JMBF71 SMARTECH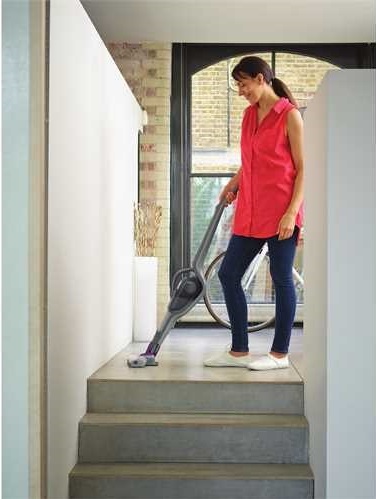 If you're still attached to your handheld vacuum cleaner then the Black and Decker Smartech 2-in-1 gives you the option of switching between upright and handheld mode. Best of all, it is cordless to increase flexibility even further.
If you own a pet and tired of stubborn animal hairs you might want to consider the Black & Decker Smartech which comes with various attachments to clean upholstery and a variety of surfaces.
It has an automatic sensor which adjusts suction depending on the type of floor from hard floors to thick carpets. If you have limited storage space, the slim line body is convenient for storage.
| | |
| --- | --- |
| Pros: | Cons: |
| Slender frame | Battery life could be better |
| Low noise level | |
| Cordless operation | |
| Multi surface cleaning | |
Rating: 8.10
Price: Under $150
#8. SEBO Felix Pet Eco

Sebo have created an economic upright to improve on the original model. The Felix Pet Eco is efficient but does not compromise on suction power, plus it's designed for homes with pets.
It sports a stylish old school look and includes agile contraptions to help clean tight nooks. It works on a variety of floors and is a great all-rounder.
| | |
| --- | --- |
| Pros: | Cons: |
| Flexible neck for hard to reach areas | Struggles on stirs |
| Multi floor cleaning | |
Rating: 7.8/10
#9. Hoover WindTunnel T-Series Rewind UH70120

Hoover have been making vacuum cleaners longer than most of us have been alive. They created the first upright vacuum cleaner and perfected it ever since.
The WindTunnel T-Series Rewind UH70120 is ideal for carpets, rugs and hard floors especially those suffering from pet hair problems.
The vacuum handle has the dual function of adjusting to your height and a detachable nozzle to clean ceilings and awkward spaces.
It features Wind Tunnel technology to boost the suction power leaving all surfaces clean from stubborn dirt.
The cleaning head has multiple adjustments to suit any floor and includes a retractable cable for convenient storage of the 7.6 metre cord.
| | |
| --- | --- |
| Pros: | Cons: |
| Lightweight & Powerful suction | Filters cannot be washed |
| Retractable electric cable for convenient storage | |
| Plenty of accessories provided including extension wand, upholstery brush for leather and fabric sofas, crevice tool, air-powered hand tool | |
Rating: 7.6/10
Price: less than $85
#10. Bissell Bolt Ion Plus
The Bissell Bolt Ion Plus is a cordless upright vacuum cleaner which features a detachable handheld section for multi-function cleaning.
The lightweight slim frame ensures maximum flexibility across your home and delivers powerful suction for up to 30 minutes on a single charge.
It's a great addition to your arsenal of cleaning appliances especially if you're tired of lugging around a cumbersome corded upright vacuum.
Do yourself a favour by making floor cleaning a quick and easy task using the Bissell Bolt Ion Plus.
| | |
| --- | --- |
| Pros: | Cons: |
| Switches from upright to handheld | Filters need frequent washing |
| washable filters | |
| 30 minutes of battery run time | |
| extended-reach tool | |
| Normal/boosted suction settings | |
| 180 degree swivel steering | |
| charging base provided | |
Rating: 7.4 /10
Price: Under $171
Conclusion
Nowadays getting an upright vacuum cleaner doesn't mean that you have to compromise on convenience, storage space or usability. The uprights on this list are awash with innovative features whether you're looking for an interchangeable hybrid or a cordless cleaner you'll be sure to find an appliance that suits your needs and budget.
Are you considering one of the above upright vacuums? Or maybe you've recently bought one. Please drop us a comment in the section below and let us know what you think.
Recommended Articles: