In recent times we've seen the backpack vacuum surge in popularity. Why is this? To begin with, these units are much more convenient to use, they provide the ultimate flexibility and the majority are equipped with HEPA filtration to catch pollen, dust and allergens whilst vacuuming.
The biggest benefit of backpack cleaners is the freedom they offer to reach confined spaces which other models would struggle to get into. Modern motor improvements have resulted in greater suction power whilst reducing the overall machine noise.
In this post, I've summarised the most important features to look out for and other factors you should know before you buy a backpack vacuum cleaner. I've also reviewed the best high-performance backpack units you can get right now. 
So without further delay here is our shortlist- 
1. ProTeam Super CoachVac Backpack Vacuum Cleaner
At the top of our list is the ProTeam Super CoachVac which is an industrial backpack vacuum cleaner equipped with a great range of tools to improve cleaning performance. With this unit, you'll breeze through cleaning floors, furnishings, drapes and upholstery.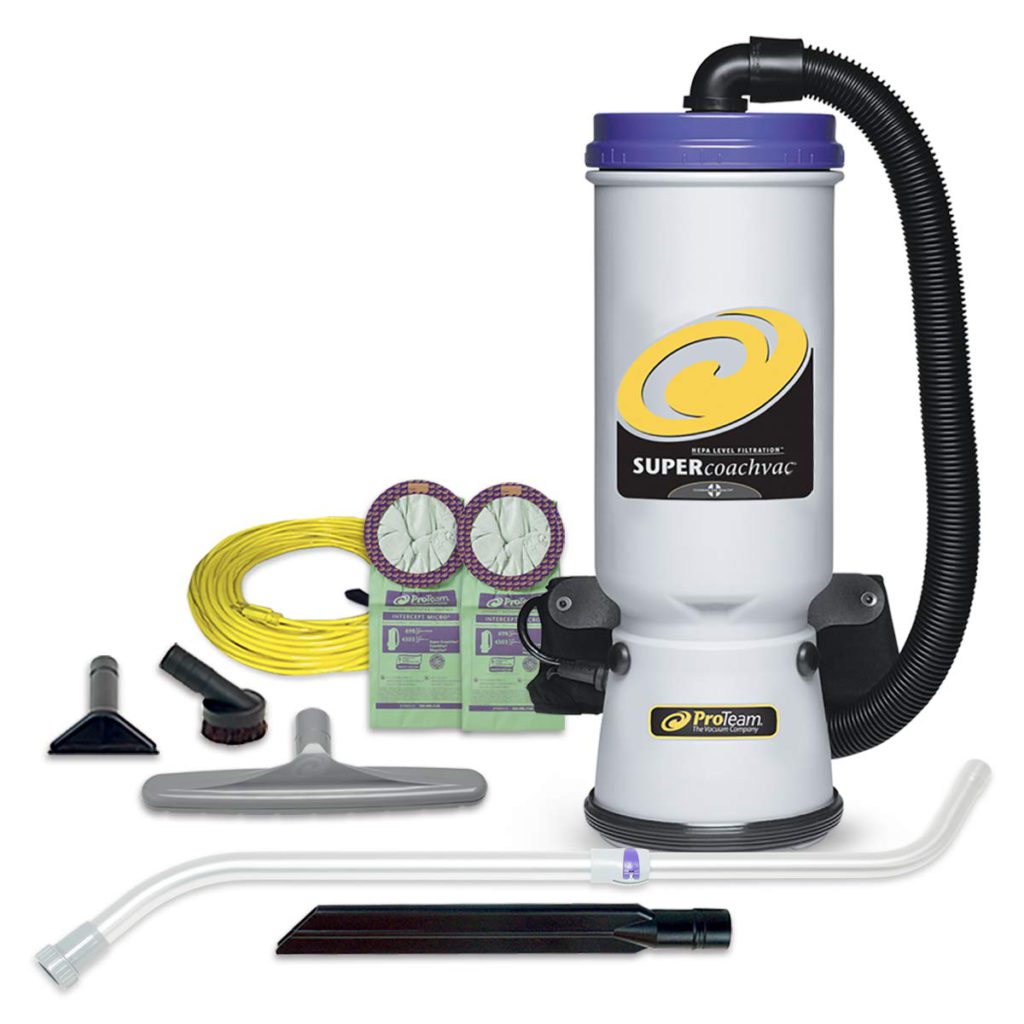 It's adaptable and provides the independence to move across different areas flawlessly. The machine excels at vacuuming multiple floor types including carpets, laminate, hardwood and tiles. High-reaching areas and stairs are more accessible and you are provided with a belt to keep attachments close by at all times during cleaning.  
The ProTeam cleaner handles better than an upright unit and makes awkward areas, such as underneath furniture and tables, more accessible. It comes with accessories to assist with vacuuming furnishings minus the shifting. Chandeliers and ceiling fans are much easier to clean with the Super Coach backpack vacuum.    
Upright vacuums are restrictive and often too cumbersome to clean efficiently. Thankfully the ProTeam vacuum addresses these issues by providing tangle-free cable management and as a result, you can move more freely to get into dirty areas. If pet hairs or airborne allergens are a problem, this compact backpack vacuum will catch and retain over 99.9% of allergens using the most effective inbuilt HEPA filtration system.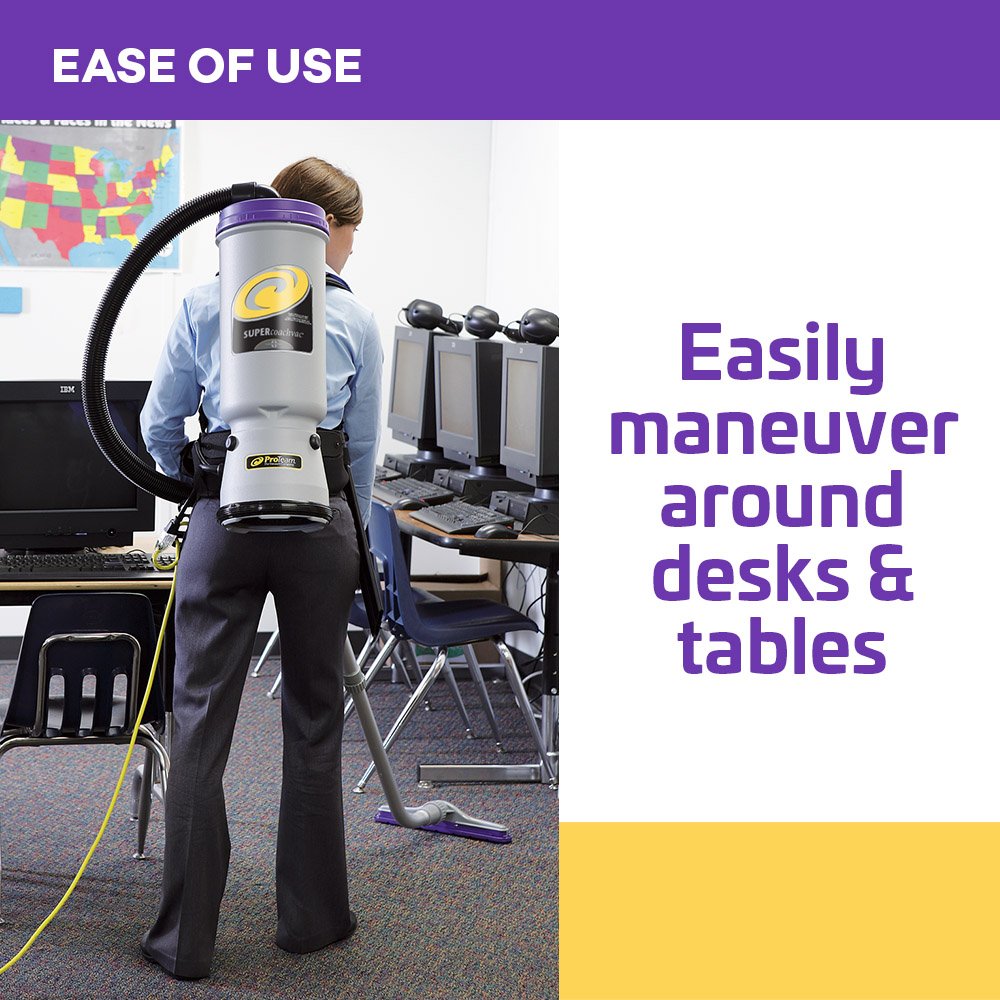 ProTeam are passionate about improving the quality of air circulating indoors and encouraging lung health. They are so passionate about this issue that they are an ambassador of the American Lung Association and have contributed to initiatives to teach consumers about its importance. 
The Super CoachVac is one of the most powerful backpack vacuums available right now. It delivers immaculate results for both domestic and commercial cleaning.
It's well suited for clearing dirt from vast spaces such as office floors and warehouses. This machine lives up to the best performance standards and is flexible to clean virtually any type of space and is lightweight to carry on your back for long periods.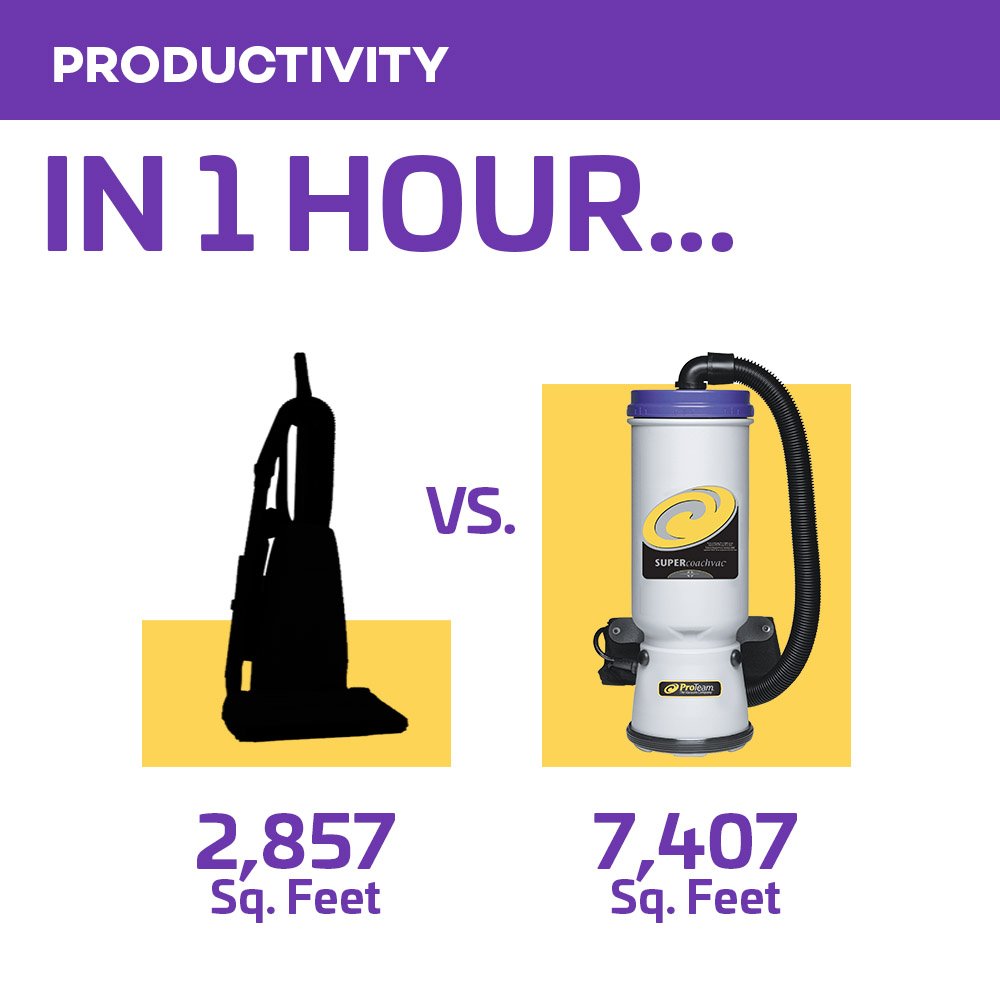 The ProTeam backpack vacuum is extremely comfortable to use and it provides heaps of suction power where it's needed, which is why I recommend it. This compact backpack vacuum has been given the highest rank on our list.
Pros
Long power cable measuring 50-ft which means you can clean larger spaces.
HEPA filtration comes as standard.
A clever cord management system to prevent tangled cords
A decent range of accessories such as a crevice tool, dusting brush, floor cleaning head, upholstery attachment.
Cons
A costly investment but this is because it's designed for commercial use as well.
Where Can I Buy the ProTeam Super CoachVac – Backpack Vacuum?
Check out the latest prices for the ProTeam Super CoachVac Cleaner here.
2. Powr-Flite BP10S Comfort Pro Backpack Vacuum
The Powr-Flite BP10S Comfort Pro is a high-performance industrial backpack vacuum that prioritises cleaning and user-friendliness. I'm confident that you are making a sound investment because this brand has been producing dependable commercial vacuums for over 3 decades.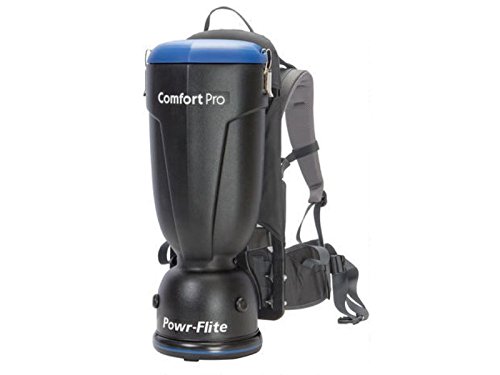 The Comfort Pro backpack vacuum is so comfortable and lightweight that it can be used for hours on end without causing any type of strain to your back or knees. The cleaning results need to be seen to be truly appreciated.
The Powr-Flite backpack vacuum comes with a unique harness that can be customised to an exact fit with 7 different points to choose from and as a result, you get the most comfortable fit that surpasses the competition.    
This compact backpack is designed to deliver supreme vacuuming despite the task. To help with this, you are provided with the best attachments to reach every corner of the room. There is a choice of an upholstery tool, dusting tool, crevice tool, a multi-floor cleaning head for hard floor and carpets, a flexible wand and a heavy-duty hose.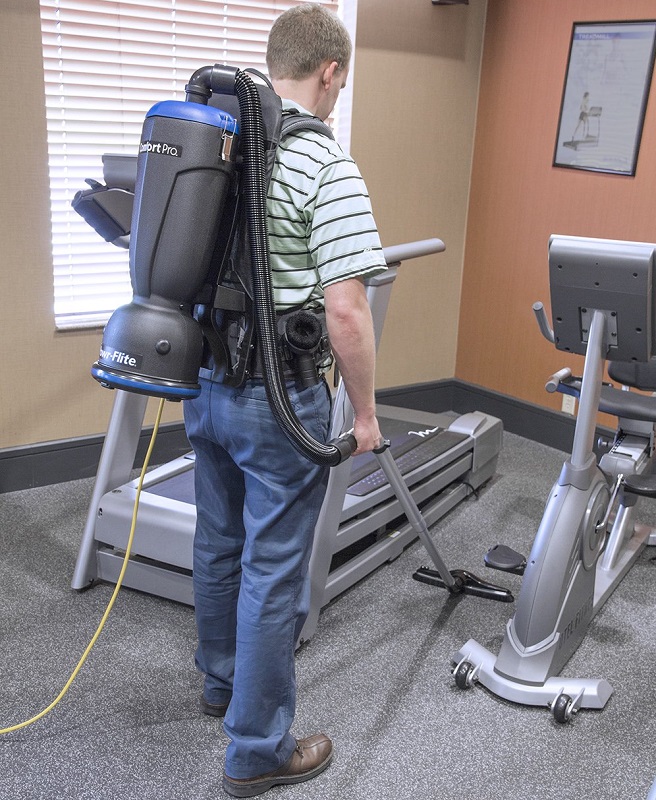 The above accessories can be tucked into the waist belt for quick access during cleaning. The filtration system uses a 5 tiered approach- in addition to the HEPA filter, the machine is equipped with an exhaust filter, SMS shake-out bag and a pre and post-motor filter. The Comfort Pro backpack vacuum was awarded the gold standard by the Carpet and Rug Institute owing to its remarkable cleaning abilities.   
Overall, Powr-Flite Comfort Pro has the advantage of HEPA filters and the most ergonomic user-experience, therefore, it can be used for extended periods without experiencing fatigue.
Pros
Quieter motor noise than the competition.
HEPA filters for the best air quality.
Comfortable to use and vacuum for long periods.
Cons
Pricier than some of the alternatives but remember that this is a commercial grade backpack vacuum.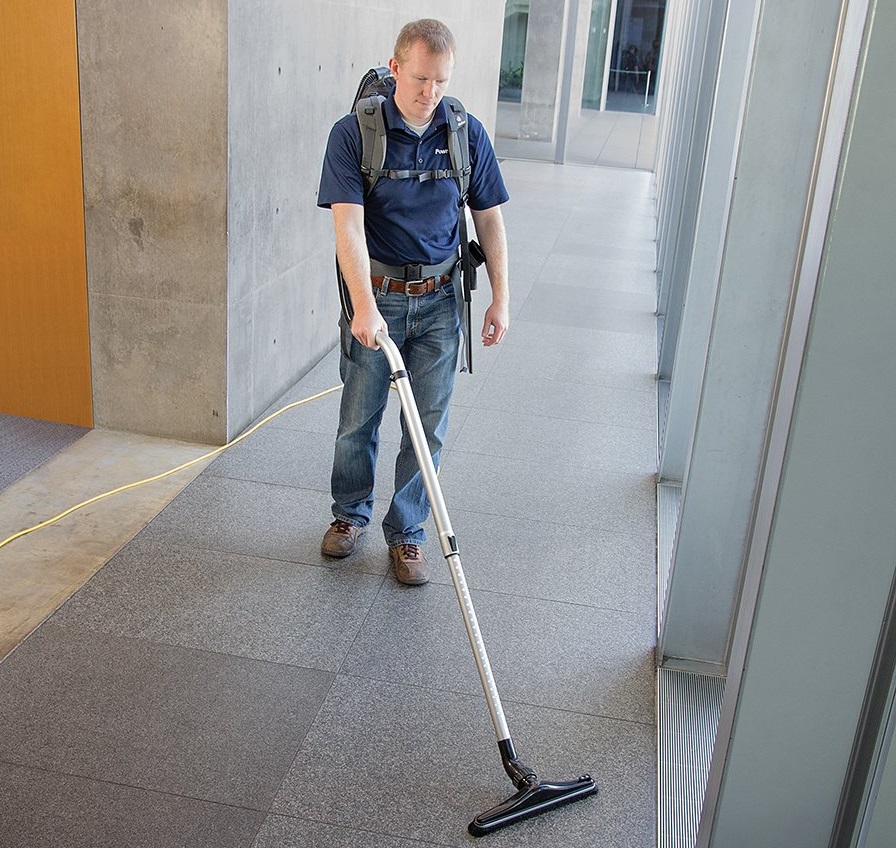 Where Can I Buy the Powr-Flite BP10S Comfort Pro Backpack Vacuum?

Check out the latest prices for Powr-Flite BP10S Comfort Pro Backpack Vacuum Cleaner here.
3. Atrix VACBP1 Backpack Vacuum Cleaner
The Atrix VACBP1 is a low-cost backpack vacuum that produces an exceptional amount of suction power and premium filtration. It fits on your back snuggly with a comfortable weight of just 10 pounds. The unit is portable and weighs very little and as a result, is a doddle to negotiate around rooms.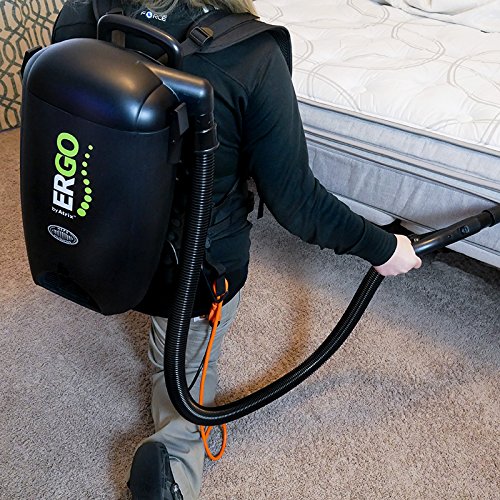 The high-quality HEPA filters are well placed to handle the dustiest areas and can cope with large areas such as canteens, offices, warehouses, schools, mansions and hospitals. For added convenience the Atrix cleaner can be changed from vacuum to blower, therefore, can be used to blow away leaves from the porch.
The Atrix VACBP1 is an economical backpack vacuum that doesn't compromise on features or performance. It's equipped with a powerful 12 amp motor and comes with 4 stage filtration. This is a perfect solution for anyone on a tight budget but wants to enjoy the benefits of a high-quality backpack vacuum.

Pros
4 stage filtration and a HEPA filter are a welcome addition.
More cost-effective than alternatives backpack vacuums.
Snug fit, therefore, can be used all-day if required.
Cons
Not as powerful as some of our other recommendations but then again, it's competitively priced.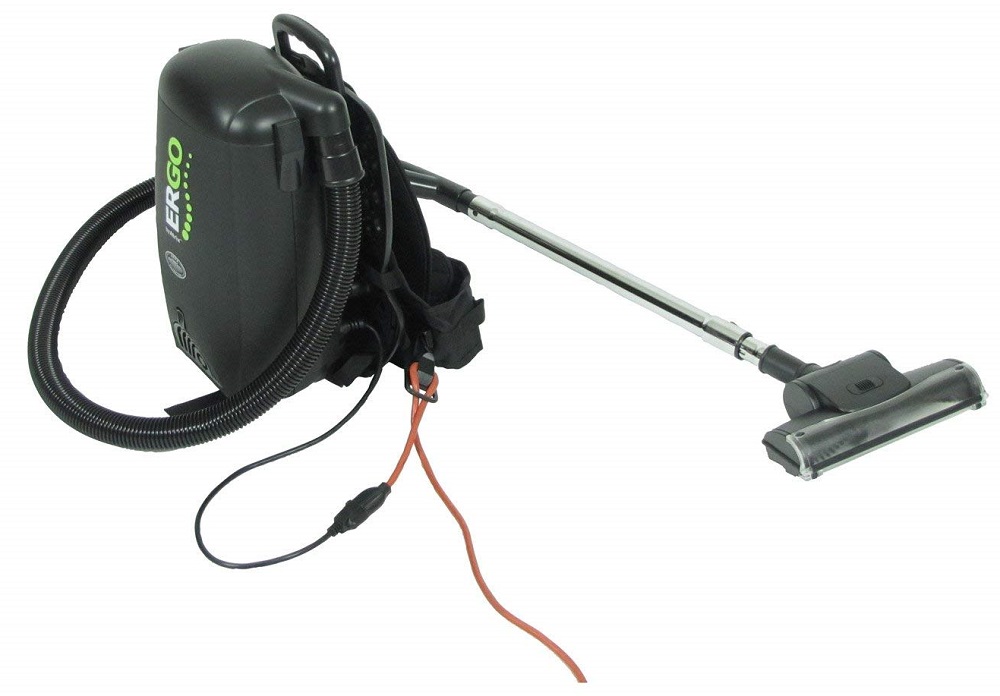 Where Can I Buy the Atrix VACBP1 Backpack Vacuum?
Check out the latest prices for the Atrix VACBP1 Backpack Vacuum Cleaner here.
4. Bissell BG1001 BigGreen backpack vacuum
It's worth considering the Bissell BG1001 BigGreen backpack vacuum if you're searching for a robust commercial cleaner. The design includes a waist belt and shoulder strap that can be adjusted to the perfect fit and as a result, this unit provides an improved level of cleaning freedom.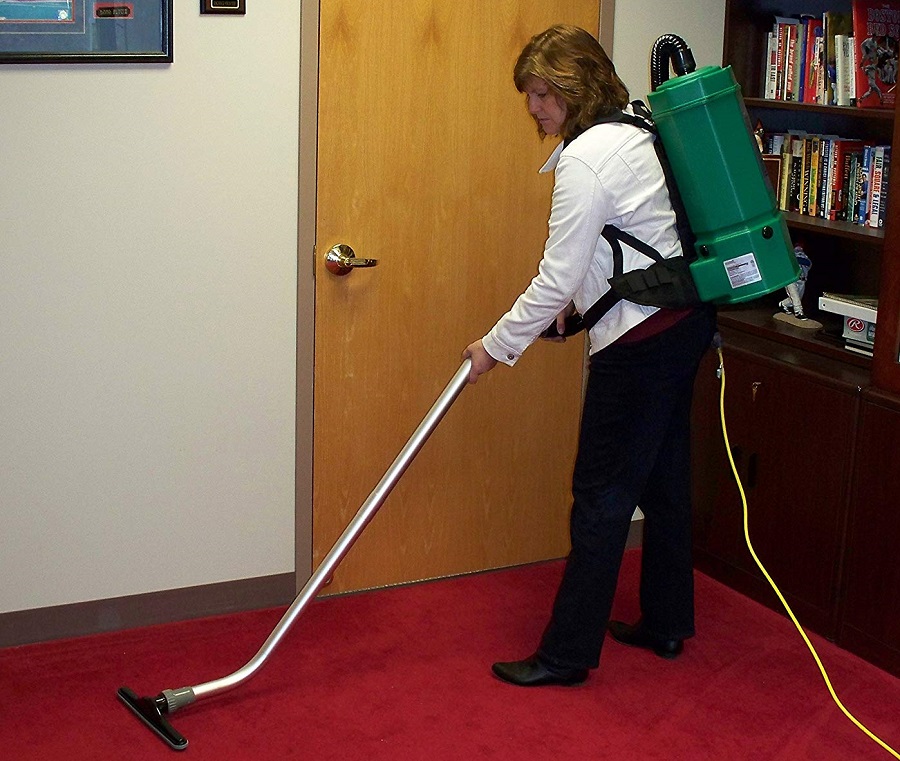 The integrated smart sensor safeguards the motor from overheating once it reaches maximum dirt capacity. It comes with a high-reaching wand that attaches to the unit to clean chandeliers, overhead fans and cobwebs from ceilings. The controls are well placed to activate the machine and turn it off without removing it from your back.
The lid can be quickly removed for easier dirt disposal and there is a lengthy power cable to conveniently clean vast spaces without worrying about constantly changing plug sockets. The accessories provided are plentiful to help clean every nook and cranny with little fuss. The Bissell backpack vacuum provides industrial level suction power at a lower cost than its counterparts.
Pros
Lengthy power cable for easier reach.
Easy to move around as a result of its light weight.
Cons
Suction is not as powerful as some of the alternative backpack vacuums.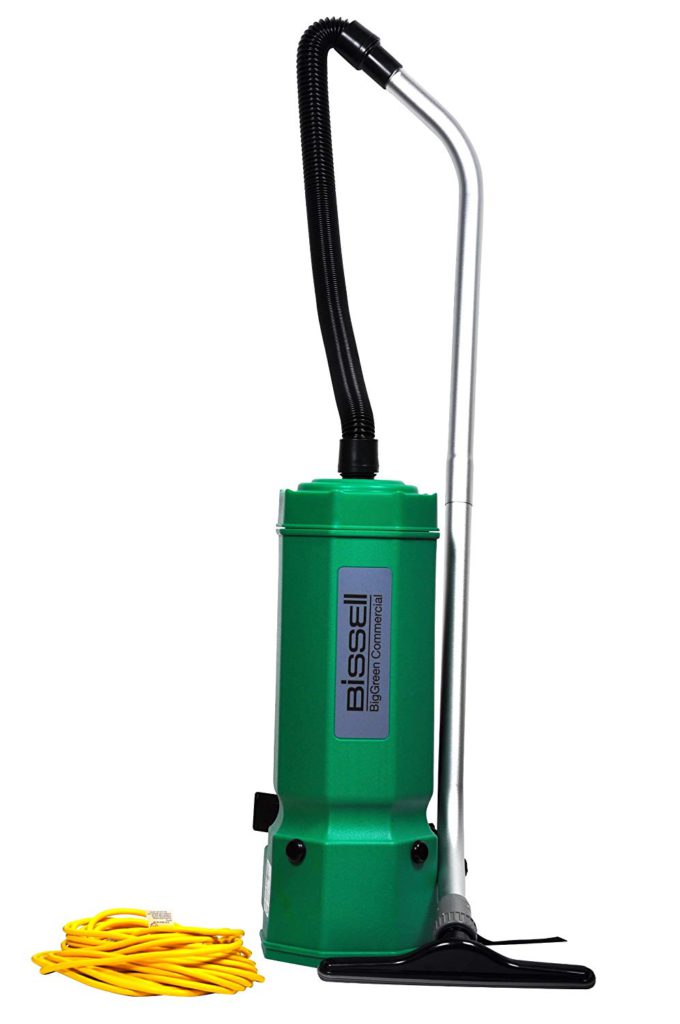 Where Can I Buy the Bissell BG1001 BigGreen
Check out the latest prices for the Bissell BG1001 BigGreem Backpack Vacuum Cleaner here.
5. Dustless Technologies Backpack Vacuum
If you're searching for a machine that can be used for domestic and commercial cleaning then the Dustless Technologies HEPA backpack vacuum is the perfect unit for the job. It's flexible to use around the house, on work sites, offices and other commercial locations.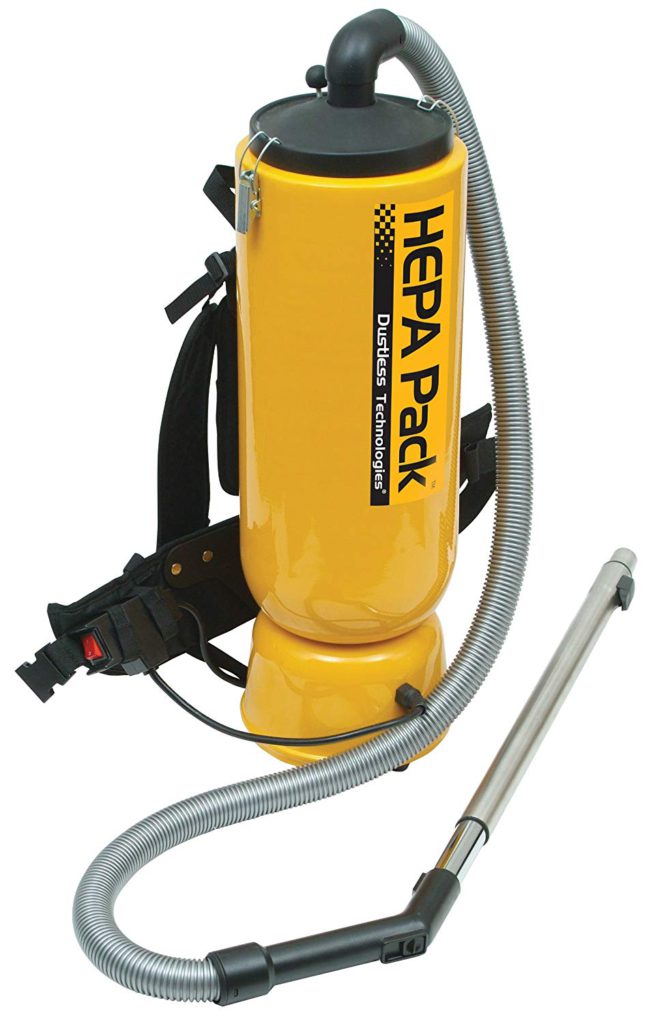 The HEPA filtration is so robust that it can extract harmful silica dust from lead paint. The filters efficiently trap allergens and pollutants floating in the air. This unit also includes adhesive sealing bags and as a result, provide the safest and most hygienic dirt disposal.
Another smart feature is the additional HEPA filter that is placed directly onto the floor cleaning tool to provide an extra layer of filtration and capturing of germs and bacteria from carpets and rugs.
HEPA filtration is also included in the dirtbag, therefore, it traps particles as small as .3 microns.
Pros
Suitable for vacuuming silica dust from lead paint.
Extra layers of HEPA filters are included in the floor cleaning tool.
Suitable for domestic and commercial cleaning.
Cons
For smaller people, the vacuum holster might not be tight enough to keep the vacuum snug.