In recent times we've seen the backpack vacuum surge in popularity. Why is this? To begin with, these units are much more convenient to use, they provide the ultimate flexibility and the majority are equipped with HEPA filtration to catch pollen, dust and allergens whilst vacuuming.
The biggest benefit of backpack cleaners is the freedom they offer to reach confined spaces which other models would struggle to get into. Modern motor improvements have resulted in greater suction power whilst reducing the overall machine noise.
In this post, I've summarised the most important features to look out for and other factors you should know before you buy a backpack vacuum cleaner. I've also reviewed the best high-performance backpack units you can get right now. 
So without further delay here is our shortlist- 
1. ProTeam Super CoachVac Backpack Vacuum Cleaner
At the top of our list is the ProTeam Super CoachVac which is an industrial backpack vacuum cleaner equipped with a great range of tools to improve cleaning performance. With this unit, you'll breeze through cleaning floors, furnishings, drapes and upholstery.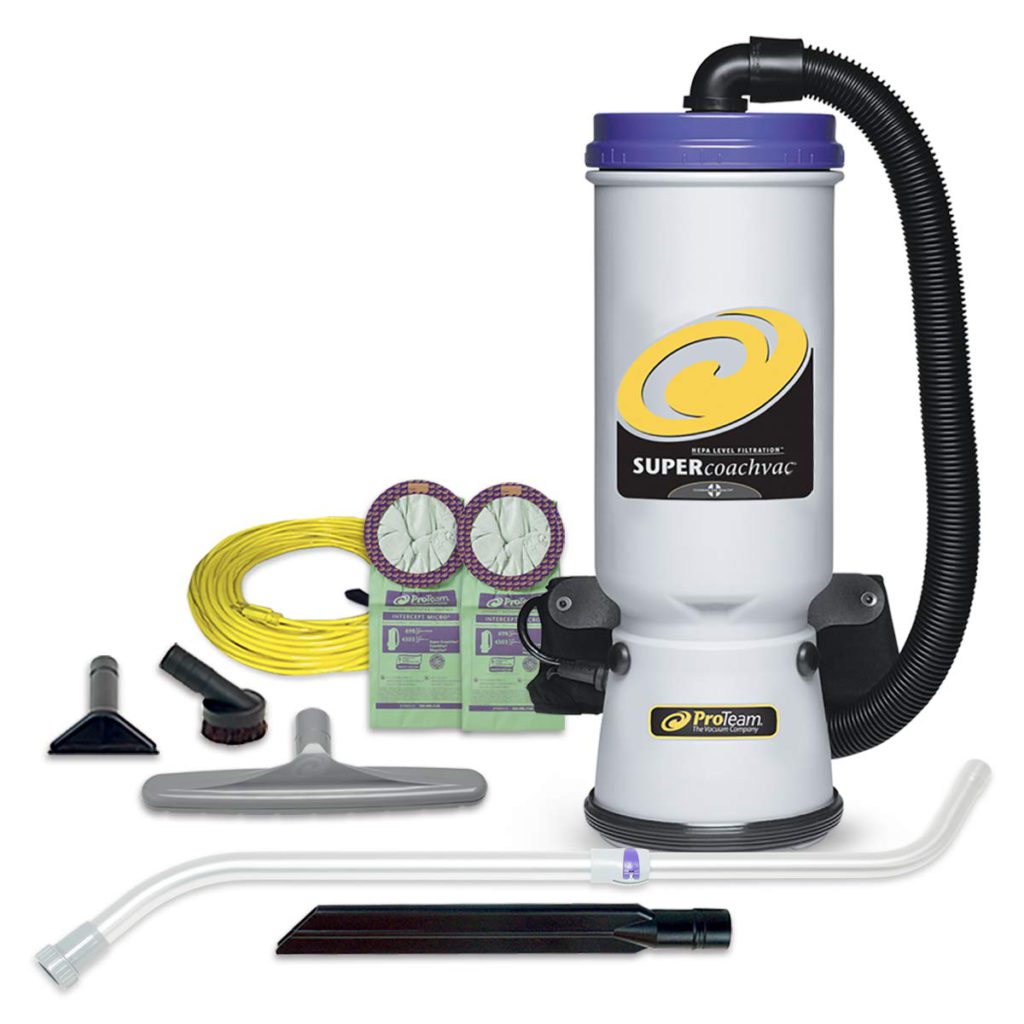 It's adaptable and provides the independence to move across different areas flawlessly. The machine excels at vacuuming multiple floor types including carpets, laminate, hardwood and tiles. High-reaching areas and stairs are more accessible and you are provided with a belt to keep attachments close by at all times during cleaning.  
The ProTeam cleaner handles better than an upright unit and makes awkward areas, such as underneath furniture and tables, more accessible. It comes with accessories to assist with vacuuming furnishings minus the shifting. Chandeliers and ceiling fans are much easier to clean with the Super Coach backpack vacuum.    
Upright vacuums are restrictive and often too cumbersome to clean efficiently. Thankfully the ProTeam vacuum addresses these issues by providing tangle-free cable management and as a result, you can move more freely to get into dirty areas. If pet hairs or airborne allergens are a problem, this compact backpack vacuum will catch and retain over 99.9% of allergens using the most effective inbuilt HEPA filtration system.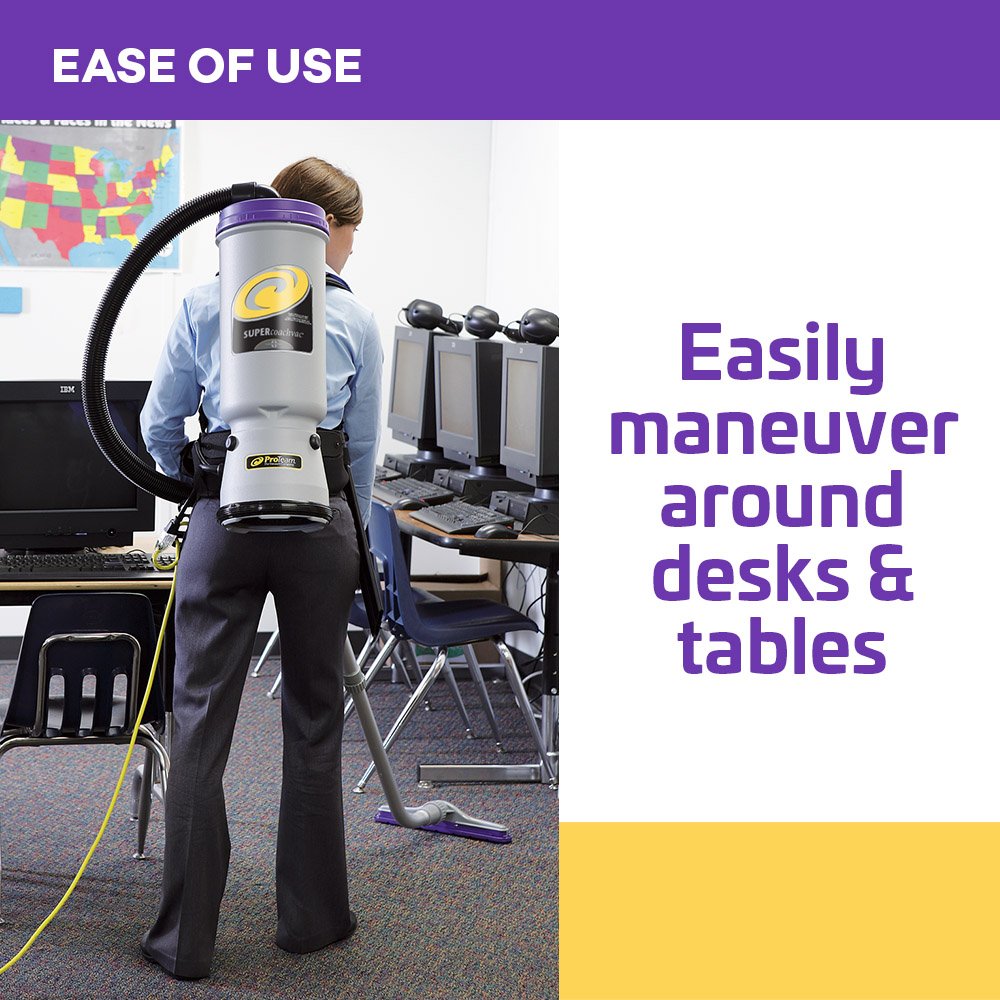 ProTeam are passionate about improving the quality of air circulating indoors and encouraging lung health. They are so passionate about this issue that they are an ambassador of the American Lung Association and have contributed to initiatives to teach consumers about its importance. 
The Super CoachVac is one of the most powerful backpack vacuums available right now. It delivers immaculate results for both domestic and commercial cleaning.
It's well suited for clearing dirt from vast spaces such as office floors and warehouses. This machine lives up to the best performance standards and is flexible to clean virtually any type of space and is lightweight to carry on your back for long periods.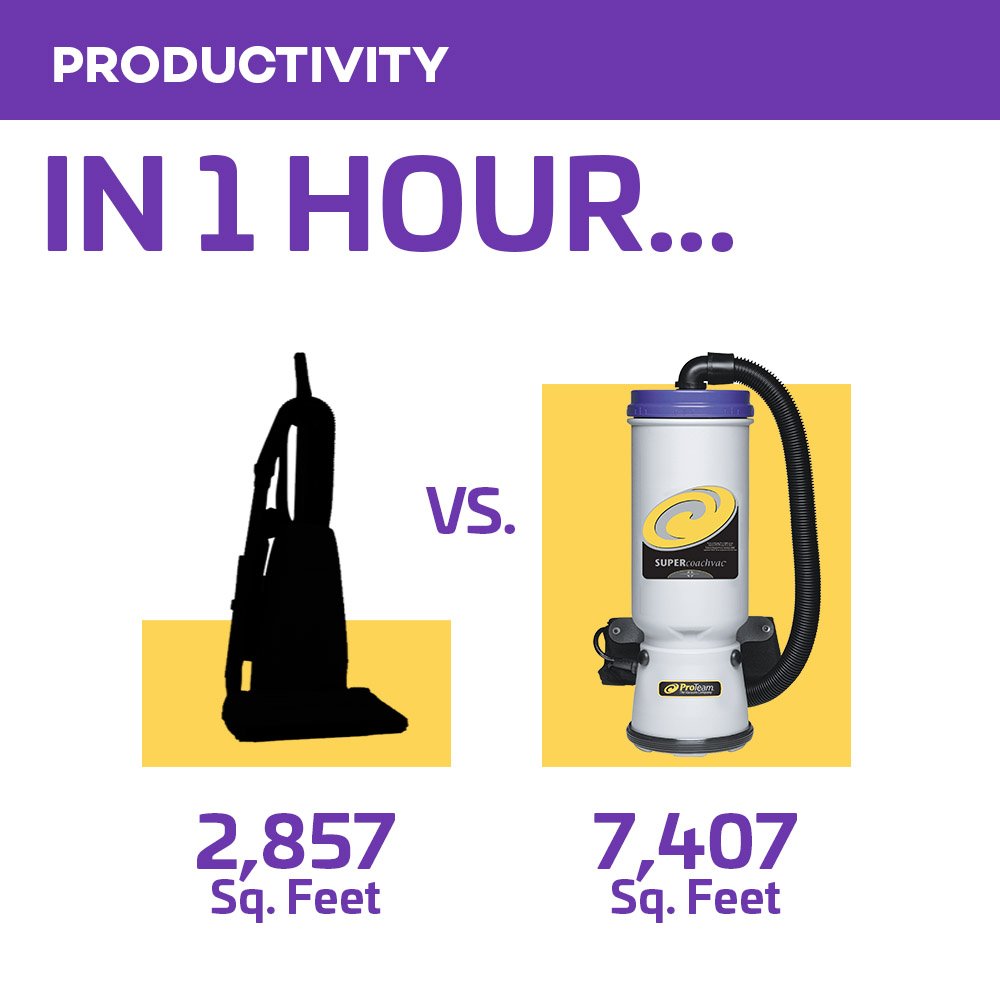 The ProTeam backpack vacuum is extremely comfortable to use and it provides heaps of suction power where it's needed, which is why I recommend it. This compact backpack vacuum has been given the highest rank on our list.
Pros
Long power cable measuring 50-ft which means you can clean larger spaces.
HEPA filtration comes as standard.
A clever cord management system to prevent tangled cords
A decent range of accessories such as a crevice tool, dusting brush, floor cleaning head, upholstery attachment.
Cons
A costly investment but this is because it's designed for commercial use as well.
Where Can I Buy the ProTeam Super CoachVac – Backpack Vacuum?
Check out the latest prices for the ProTeam Super CoachVac Cleaner here.
2. Powr-Flite BP10S Comfort Pro Backpack Vacuum
The Powr-Flite BP10S Comfort Pro is a high-performance industrial backpack vacuum that prioritises cleaning and user-friendliness. I'm confident that you are making a sound investment because this brand has been producing dependable commercial vacuums for over 3 decades.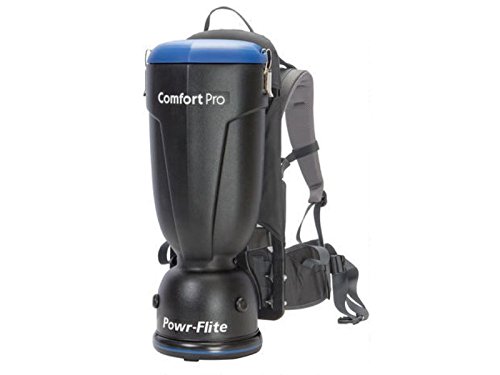 The Comfort Pro backpack vacuum is so comfortable and lightweight that it can be used for hours on end without causing any type of strain to your back or knees. The cleaning results need to be seen to be truly appreciated.
The Powr-Flite backpack vacuum comes with a unique harness that can be customised to an exact fit with 7 different points to choose from and as a result, you get the most comfortable fit that surpasses the competition.    
This compact backpack is designed to deliver supreme vacuuming despite the task. To help with this, you are provided with the best attachments to reach every corner of the room. There is a choice of an upholstery tool, dusting tool, crevice tool, a multi-floor cleaning head for hard floor and carpets, a flexible wand and a heavy-duty hose.