Affiliate Disclosure: I am grateful to be of service and to bring you content free of charge. In order to do this, please note that when you click links and purchase items, in most cases I receive referral commissions. Eventually, I may earn enough to buy a beer or two 🙂
If your worksite or workshop needs a bit of TLC, we're here to help you find the best commercial industrial wet dry vacuum cleaners in 2021.
Industrial wet dry vacuums are manufactured with stronger motors,
to be hard-wearing and to pick up more mess than standard domestic vacuums. In this guide, I've put together some helpful tips and a shortlist of the top-performing commercial vacuum cleaners available right now.
When considering to buy a wet and dry vacuum cleaner, there are a few things that you need to be up to be familiar with before parting with your cash. Functionality and capacity vary between each model and in this case, it's important to know the capabilities of your new machine if it contributes towards the upkeep of your business.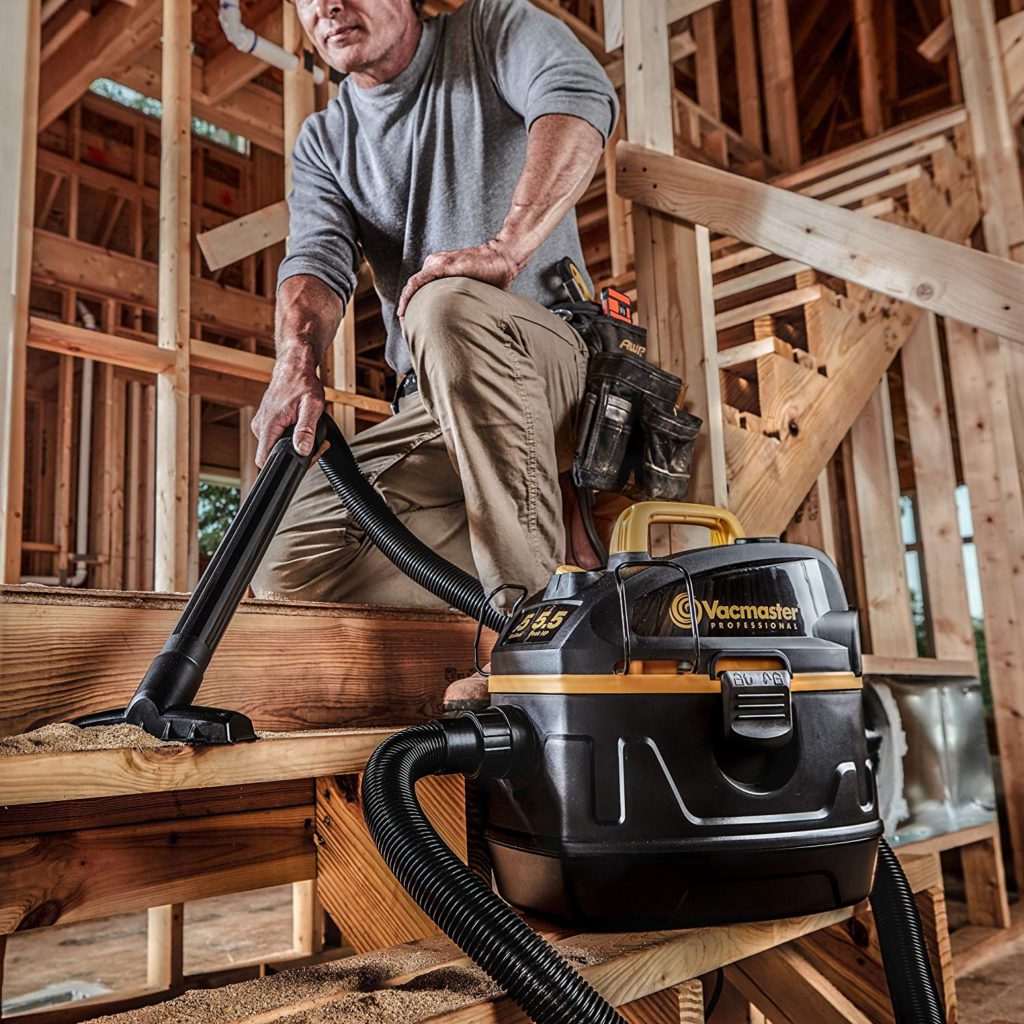 We'll review a selection of 7 of the best industrial wet and dry vacuums to use on a worksite, workshop, building project, shop floors, offices spaces and any other demanding environments. I'll highlight some important functions that can easily be overlooked and show you what to look out for.
When cleaning on a larger scale and when dealing with materials such as wood chippings, sawdust or wet substances it doesn't make sense to try and use a standard vacuum cleaner (it will eventually breakdown). This is where a wet and dry vacuum cleaner comes in to take on all difficult cleaning tasks.
These appliances are designed for tough jobs in commercial scenarios. They are usually equipped with stronger motors than domestic vacuums but they might not be as convenient to use as a portable machine. Industrial vacuums are built to be long lasting, which is vital if it's regularly used on robust jobs for long timespans.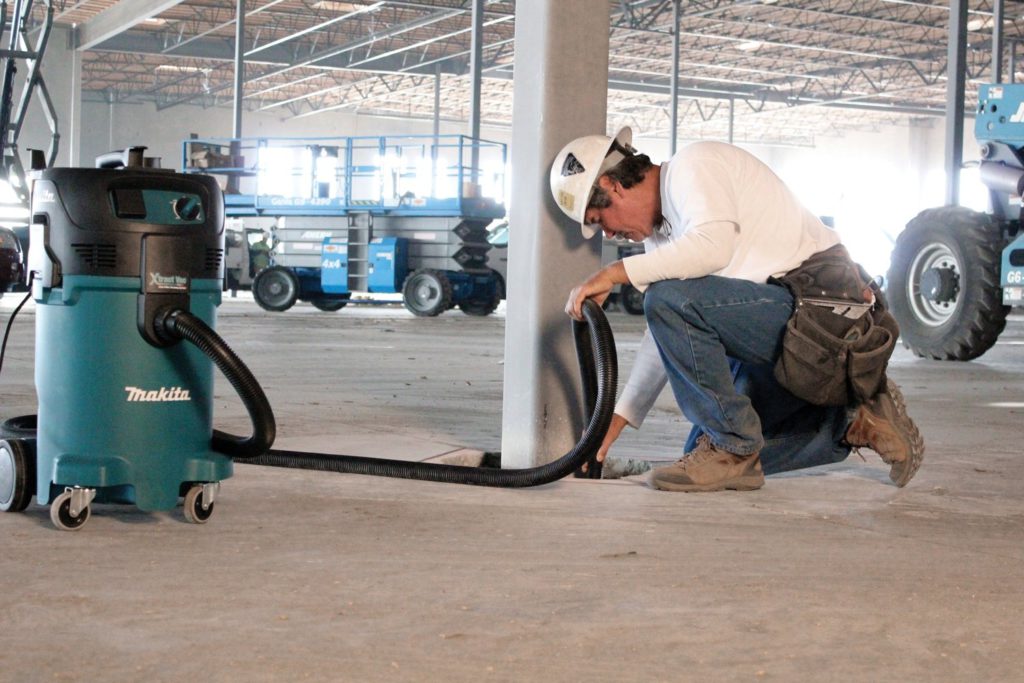 Our shortlist of commercial wet and dry vacuums take into account suction power, the quality of materials, accessories provided, handling, the capacity of dry and wet debris and other practical features. Each of our chosen vacuums has a good performance record and positive ratings from users. If your business is in dire need of a robust vacuum cleaner then keep reading.
Things To Consider For Industrial Vacuums
If you're thinking about buying a wet and dry vacuum for commercial usage it's most likely to help you earn money, for example, a house cleaning business or it might be to clean up debris caused by work tools i.e. sanding or drilling. This type of mess is beyond the capabilities of a regular vacuum, therefore you need a machine with more power and capacity. Below, I've summed up some of the most important aspects to consider.
Cost
Although the machine cost is an important element it doesn't necessarily guarantee good performance, but there is also the danger of buying too cheap and compromising the cleaning standard.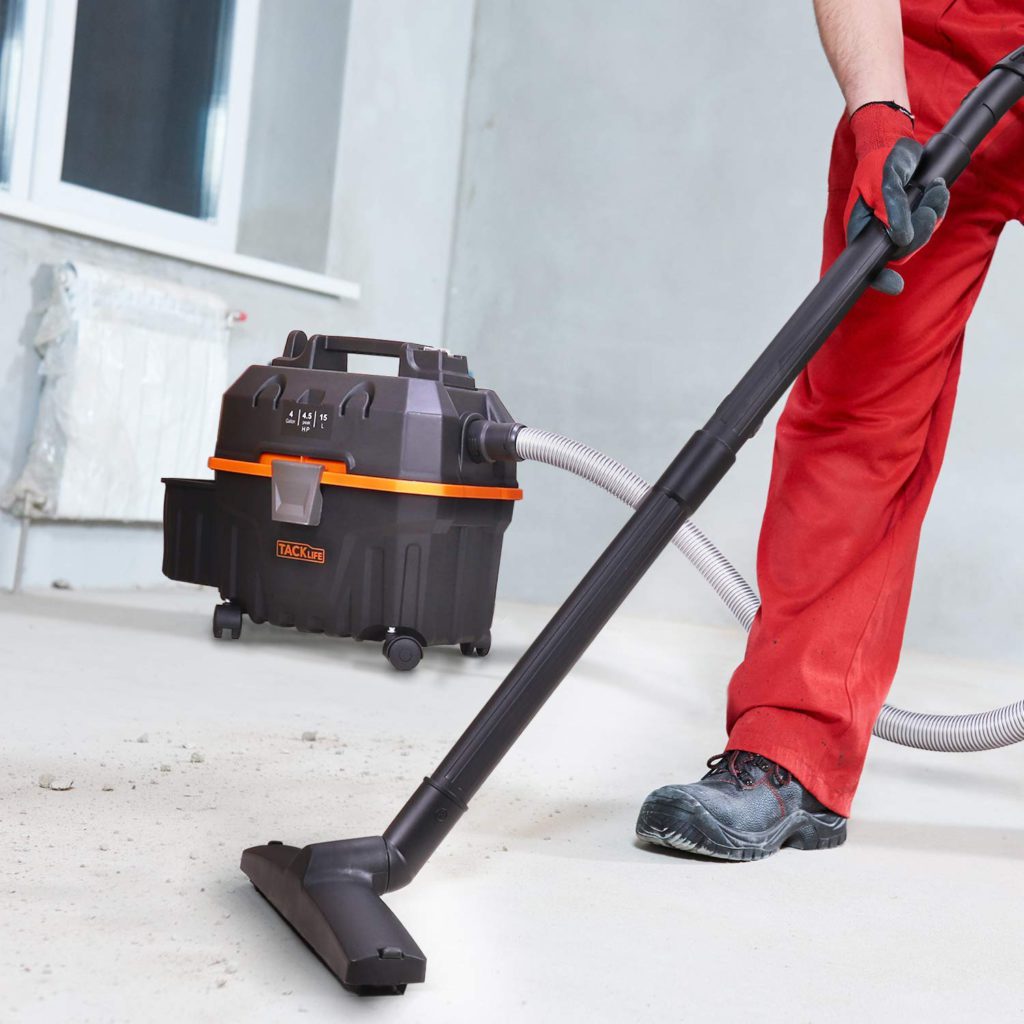 I would recommend looking at all of the features that are relevant for you and your business rather than basing your decision mainly on cost. This will ensure that you buy the best vacuum for your budget. Typically you can expect to pay between $100 – $350 for a good wet and dry vacuum.
How much does it weigh and how big is it?
Power and cost might be the first things you'll typically look into but the size and heaviness of the machine are equally worth considering. It's highly likely that you'll be transporting your wet and dry vacuum between different locations. You might also need to load and unload it from your vehicle everyday and as a result, you'll need a lightweight appliance with a smart design for easier handling.
Suction
Vacuum cleaners that are used for business purposes have to deliver stronger suction power. It will save you time and money to buy a unit that can suck up wet and dry debris at a consistently high rate. If your machine can cope in challenging scenarios without breaking a sweat then you're onto a winner.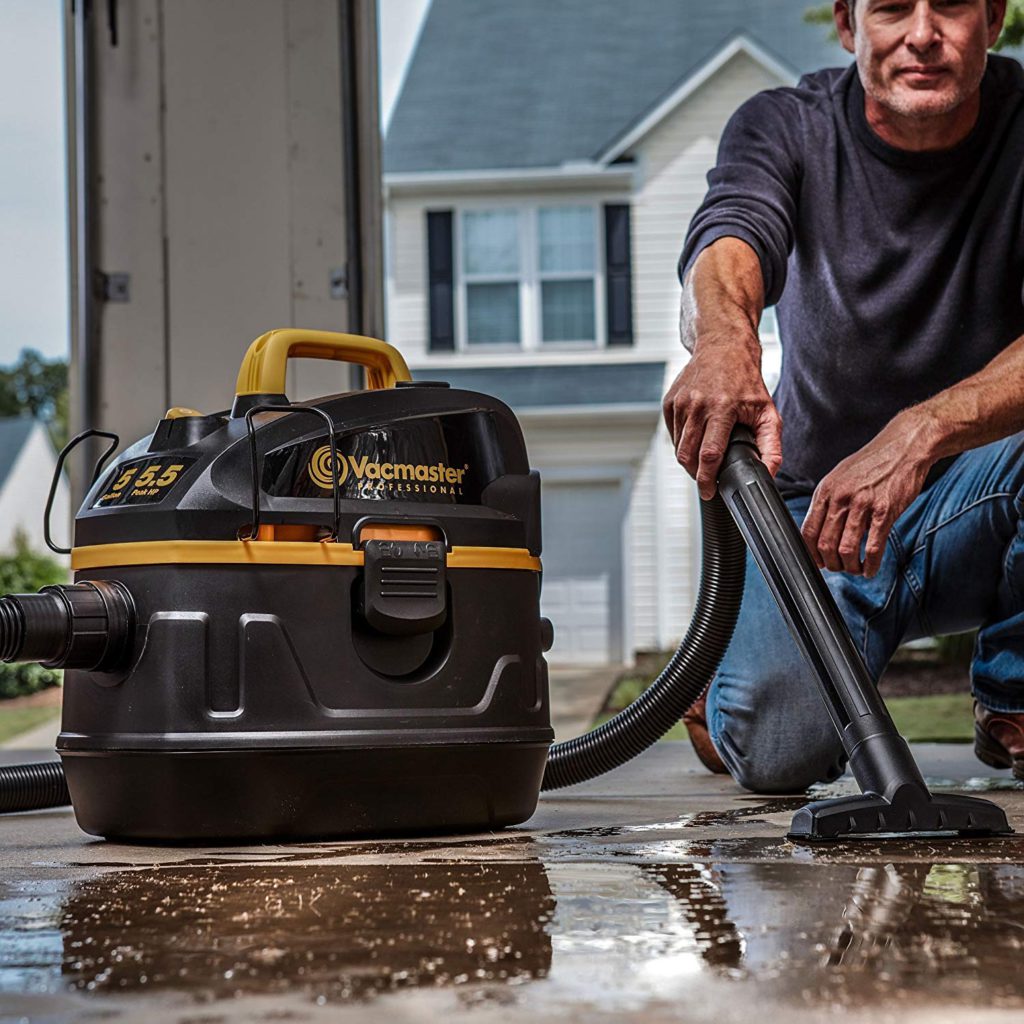 When sourcing your new wet and dry vacuum, powerful suction is key especially when sucking up liquid, as it's heavier than dry mess. Your machine needs to get through demanding tasks rapidly so that it doesn't cause delays that could cost your business.
Capacity
How much dirt can your wet and dry vacuum pick up before it needs emptying? I've selected large capacity models that minimise the hassle of constant emptying and as a result, are time-saving. Consider buying a vacuum with at least 4 gallons capacity.
Cord and Hose Length
To get through jobs faster you need a machine with a long electric cable so that you can work quickly without worrying about switching plug sockets. A lengthy flexible hose also help to access hard to reach areas with ease, thus, making the task of cleaning a stress-free process.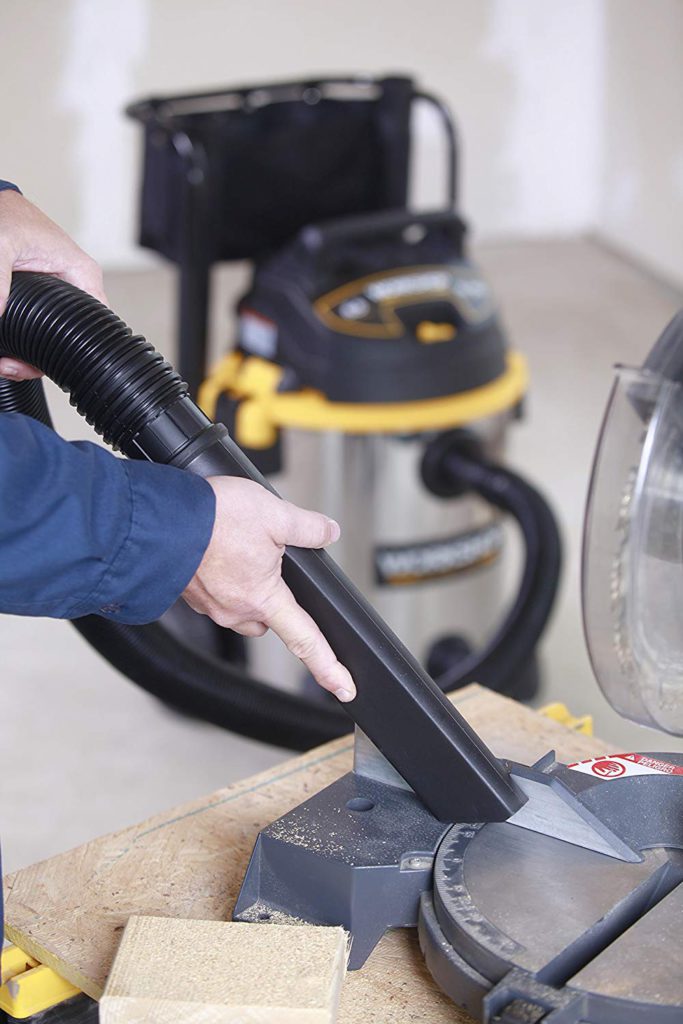 Durability
As mentioned earlier, wet and dry vacuums need to be resilient to cope with the tough jobs placed in front of them. To begin with, these models are fitted with a protective layer that keeps water away from the electrics. The tanks on heavy-duty models are usually built from stainless steel for a longer life.
Without further ado, let's take a look at the recommended wet and dry vacuum cleaners that you can buy for commercial use in 2020.
1. Bissell Garage Pro Wall-Mounted Wet Dry Vacuum Cleaner/Blower
At the top of our list is the Bissell Garage Pro wet & dry vacuum. This model is perfect for workshops and mechanics that want to clean their garages regularly. This is a wall-mounted unit and as a result, it wouldn't be suitable for businesses that work in multiple locations. The Garage Pro is built with space-saving as a priority, you can hang it on the wall to give you maximum floor space, meaning that it doesn't get in the way.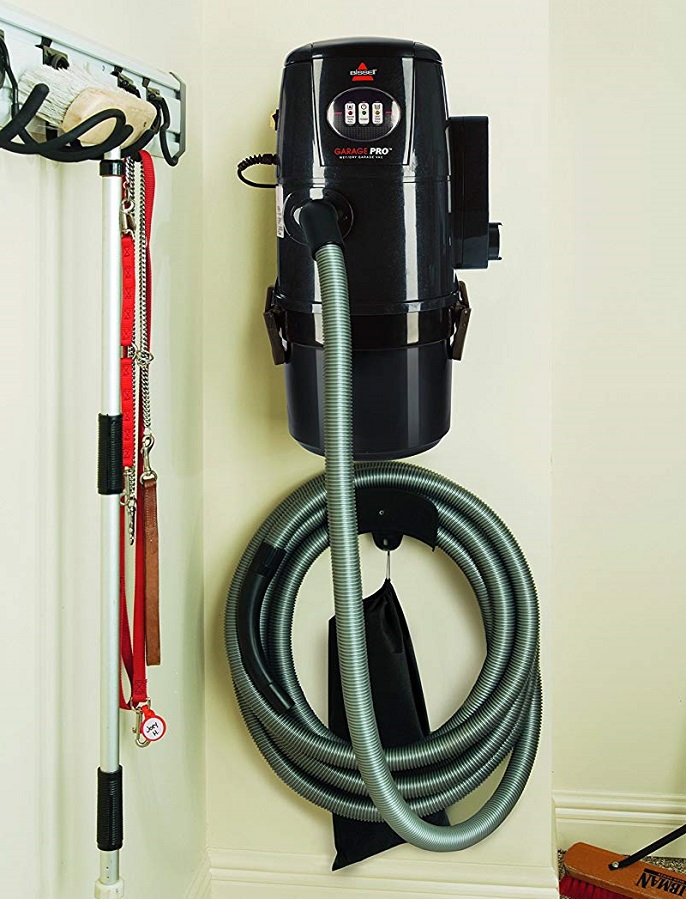 The hose is extra-long and measures 32ft so that you can conveniently reach all 4 corners of the room without hassle, it's perfect for valeting car interiors, cleaning up spillages or picking up sawdust from workstations. The 4-gallon tank provides ample capacity for big cleans and is equipped with an indicator light to notify you when it's full.
You will find a 12-amp motor under the hood which delivers powerful performance wherever it's needed. This machine has been designed to deal with debris and liquids on an industrial level. The motor can be reversed into a blower to remove dust grains from workspaces and tools.
It comes with 7 multi-purpose attachments to simplify difficult tasks, especially when cleaning confined areas such as car interiors. The tools extend the Bissell Garage Pro's abilities making it adaptable to manage a multitude of tasks.
There is an accessory bag to ensure that your tools are all stored in one place and never get lost. The ingenious wall-mounted machine is always prepared to get on with the job but doesn't get in the way.
The motor noise is similar to the majority of shop vacs out there, it's not the quietest machine and the noise level measures about 80 decibels which is equivalent to an alarm clock or a busy road.
The hose has a 1 1/2″ diameter which makes it more practical to use than a standard shop vac. It's long enough to navigate large work areas and to get into all the nooks and crannies without issues. Perfect! At first, it feels a bit awkward (in a good way) to vacuum without physically touching or pulling along the machine, but you soon get used to it.
The suction power is on par with the best performing wet and dry vacuums and is sufficient for picking up debris left over after sanding or drilling. It extracts liquids at a rapid rate and is great for sucking up pools of water after car washes. Setting up the unit on your wall is straightforward and only requires installing a bracket to the wall, then slotting the unit onto it.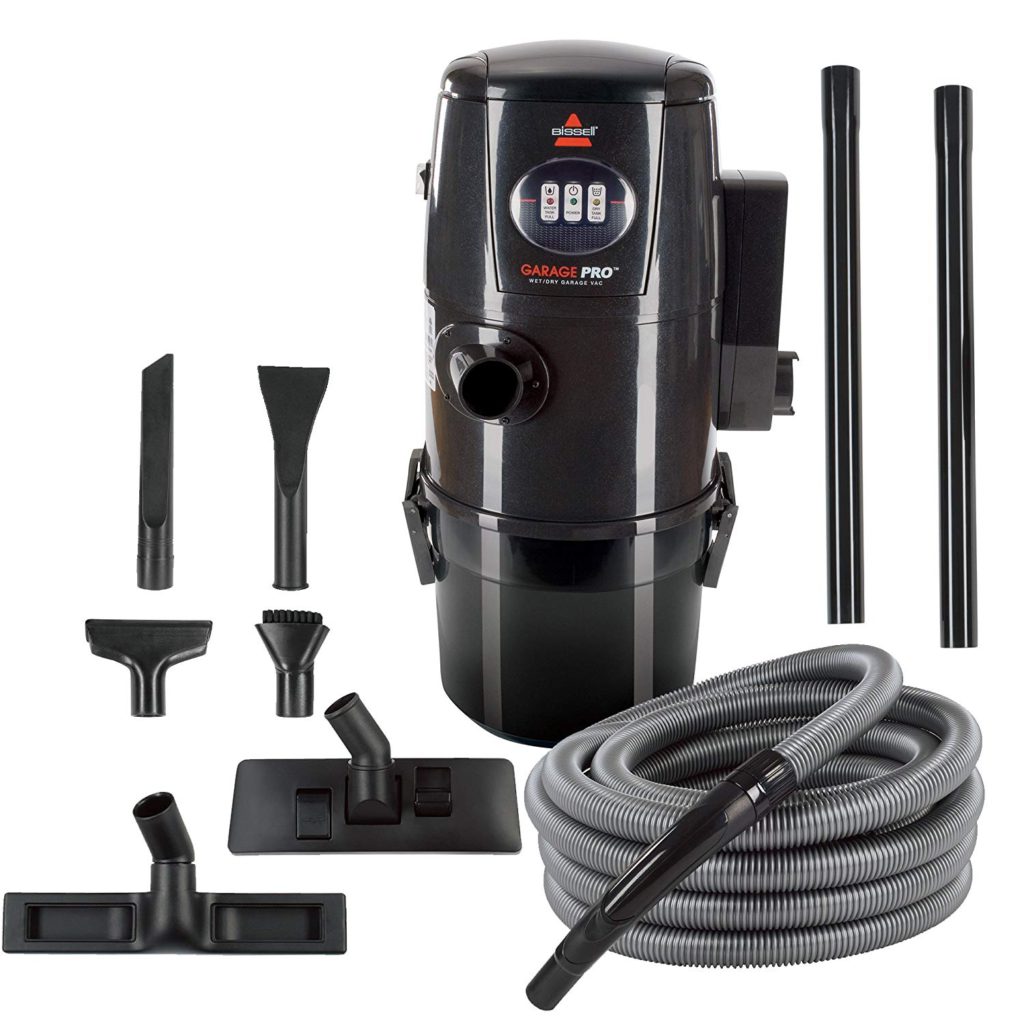 Benefits of the Bissell Garage Pro
The Wall mounted design frees up space.
The 12 Amp motor picks up liquid and dry mess rapidly and is practical for garages, workshops and vehicle interiors.
Can be transformed from vacuum to blower to eliminate dust and grains from tools and workstations.
There are a variety of tools provided to adapt the machine to most cleaning situations. An accessory bag is also provided for handy storage.
It picks up 4 gallons of dirt and as a result, requires less frequent emptying.
There's a dual layer filter system to keep dirt where it belongs, inside the tank.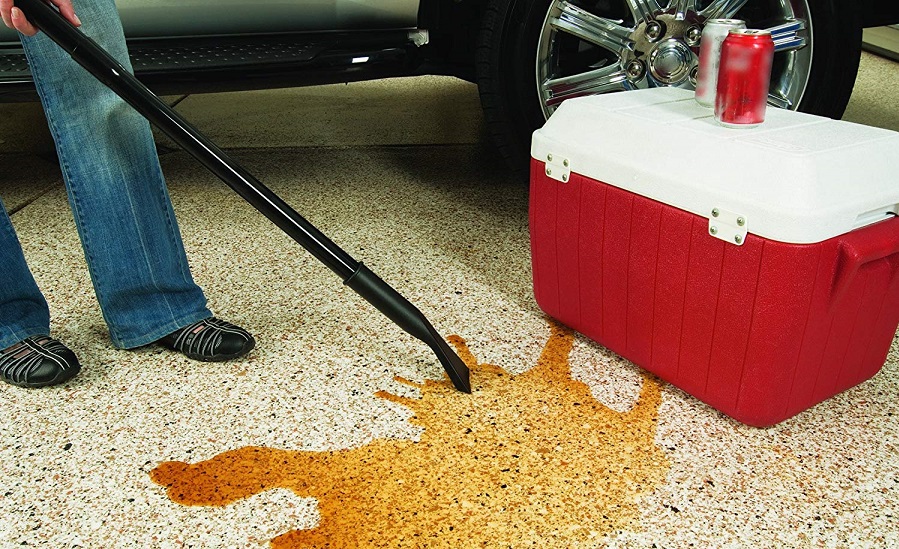 Where Can I Buy the Bissell Garage Pro Wall-Mounted Wet & Dry Vacuum Cleaner?
2. Powr-Flite PF54 Wet Dry Vacuum with 15 gallon Capacity
If you prefer cleaning on the go instead of a wall-mounted unit our second best machine is the Powr-Flite Wet and Dry Vacuum which is equipped with a two-stage filter system that comprises of a washable cloth filter, to stop dust escaping back into the room, and a high-grade paper cartridge filter to optimise the filtration process. The hose can rotate 360° thanks to the clever connector which makes the unit a joy to move around.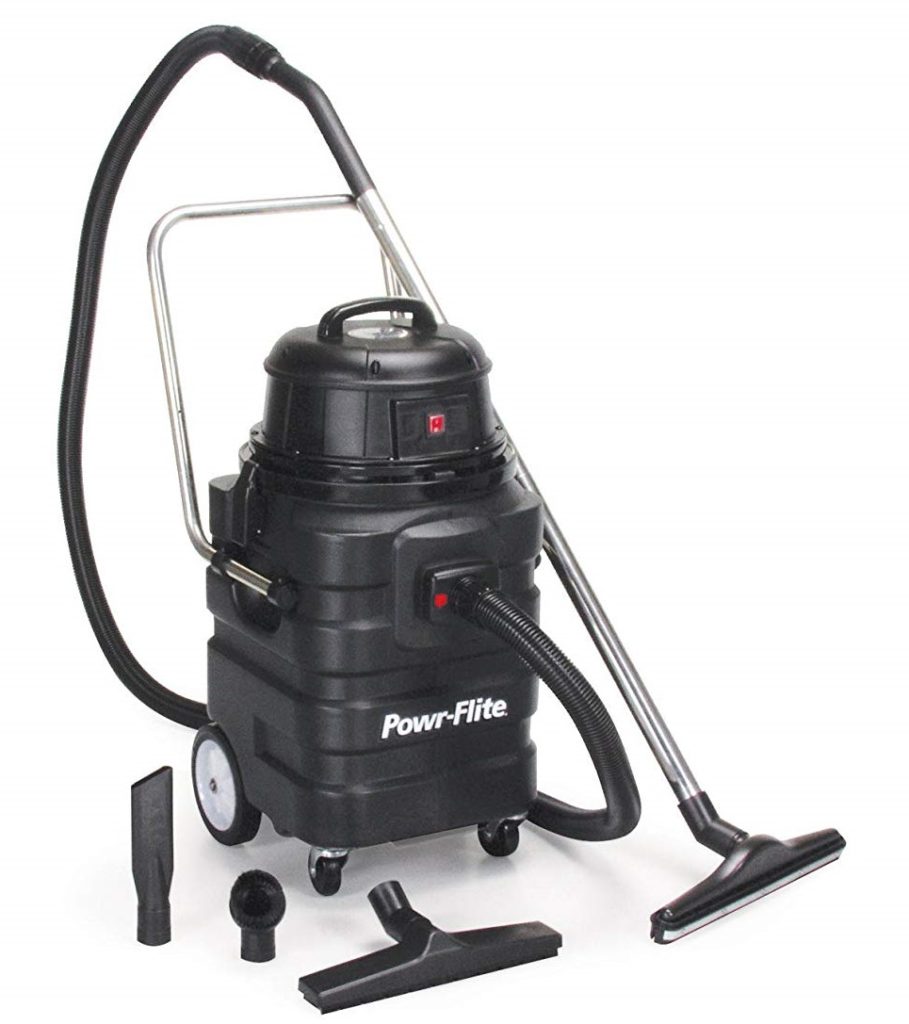 This unit is built for the toughest jobs and can sustain long cleaning sessions with the help of the high-capacity 15-gallon tank which means less emptying and fewer delays. It manoeuvres flawlessly and is very steady during operation.
If you're a professional in need of a robust cleaning solution the Powr-Flite Wet and Dry Vacuum is well-suited for strip tasks, sawdust extraction, site maintenance, leaks, spillages and virtually anything else that needs cleaning.
There is also an optional front-mount squeegee system which helps to clean up liquids quicker than the regular method. You can use it in awkward areas and to recover water from corners and room edges. This accessory is incredibly handy and is worth paying a little extra for the time that it saves you.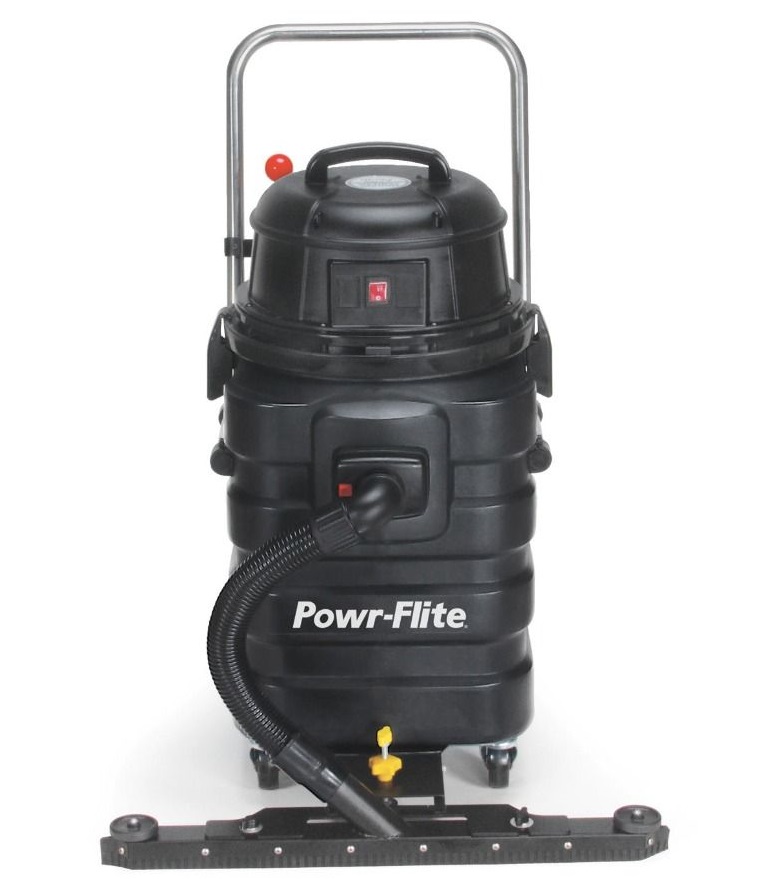 Overall, the Powr-Flite Wet and Dry Vacuum is a heavy-duty piece of kit that can operate for long periods of time and maintain a high level of suction power without kicking up a fuss. I specifically like the squeegee attachment which introduces a better way to recover water instead of attempting to do it with a wand and hose. If you're after a hard-wearing commercial cleaner that costs less than $390 you won't find a better unit than the Powr-Flite vacuum.
Benefits of the Powr-Flite Wet and Dry Vacuum
A sturdy tank built from heavy-duty polyethylene to make it long-lasting.
The 1.6 hp powerful motor is manufactured to industrial standards and is capable of lifting water quickly and picking up challenging mess effectively.
Its equipped with a noise diffuser made possible by insulating the motor to achieve a lower noise level.
There is a drain hose to the rear of the machine to simplify drainage and disposal.
Accessories include a 10′ hose, wand, crevice tool, dusting tool, carpet and squeegee attachments.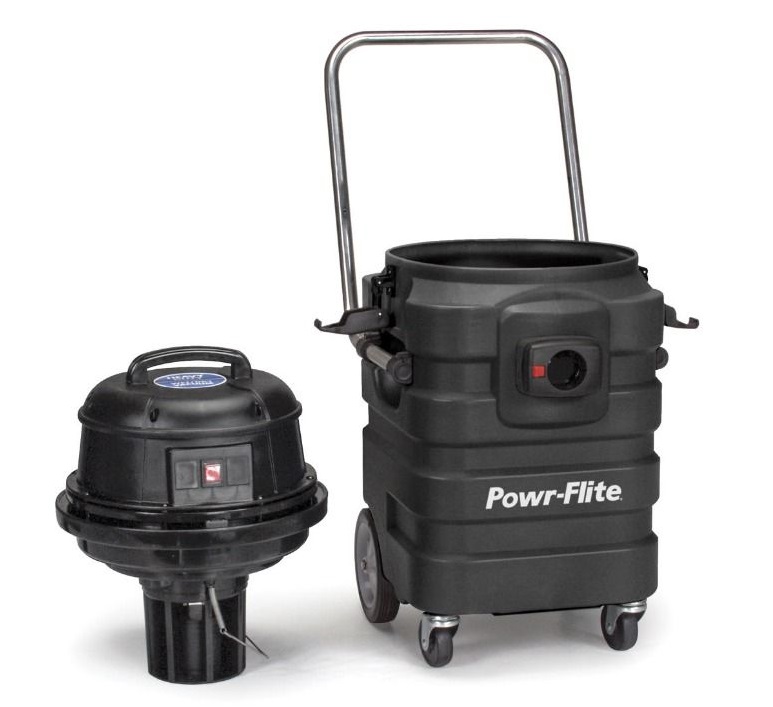 Where Can I Buy the Powr-Flite PF54 Wet Dry Vacuum Cleaner?
3. Powr-Flite PF57 Dual-Motor Wet Dry Vacuum Cleaner with 20 gal Capacity
Powr-Flite features on our list again. They must be doing something right! The PF57 is a dual motor wet and dry vacuum built to take on the challenges of a testing environment. The 2–stage filter includes a long-lasting cloth filter bag which makes it impossible for dust to escape back into the atmosphere once caught.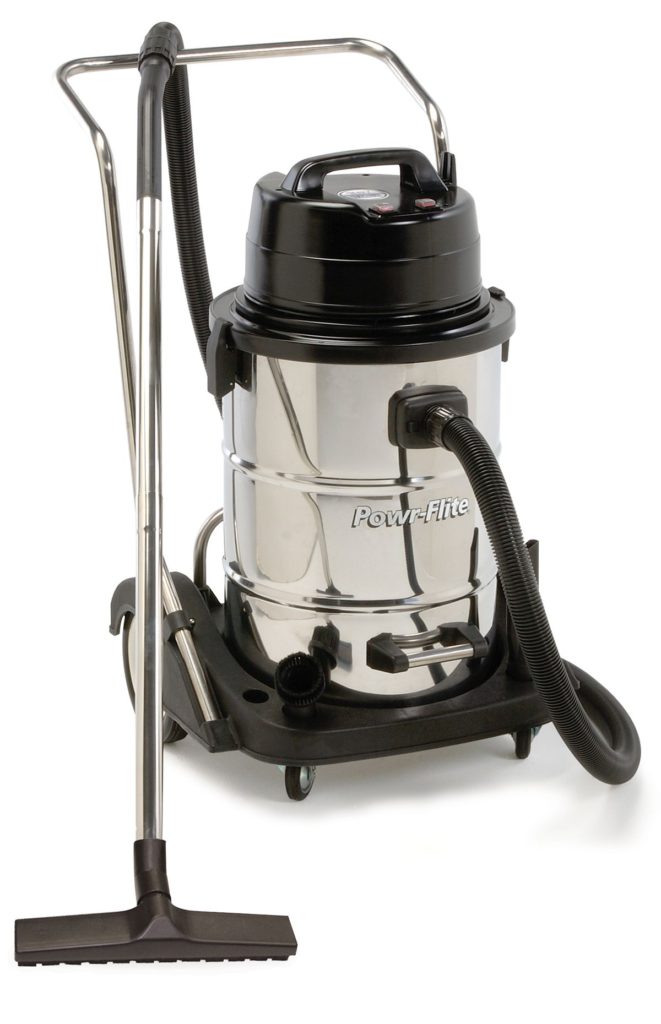 This heavy-duty machine performs with an oomph of power and excels at removing water from floors. The dual-motor distributes suction power evenly and provides consistent performance for extended periods. If you're looking for a wet and dry vacuum that can stand the test of time, the Powr-Flite PF57 is strongly recommended.
It outperforms shop vac machines and the suction power stops blockages building up inside the hose or wand. It vacuums faster and is more thorough than some of the alternatives that I've tested. The unit is hard-wearing and feels premium throughout. The Powr-Flite brand has given impressive results thus far, their appliances are manufactured to a commercial standard and you are aware of this from the moment you unbox and turn them on.
The only drawback with the PF57 is that it isn't equipped with a drainage outlet which would make disposal easier and as a result, it can be arduous to tip out the water when the tank is full.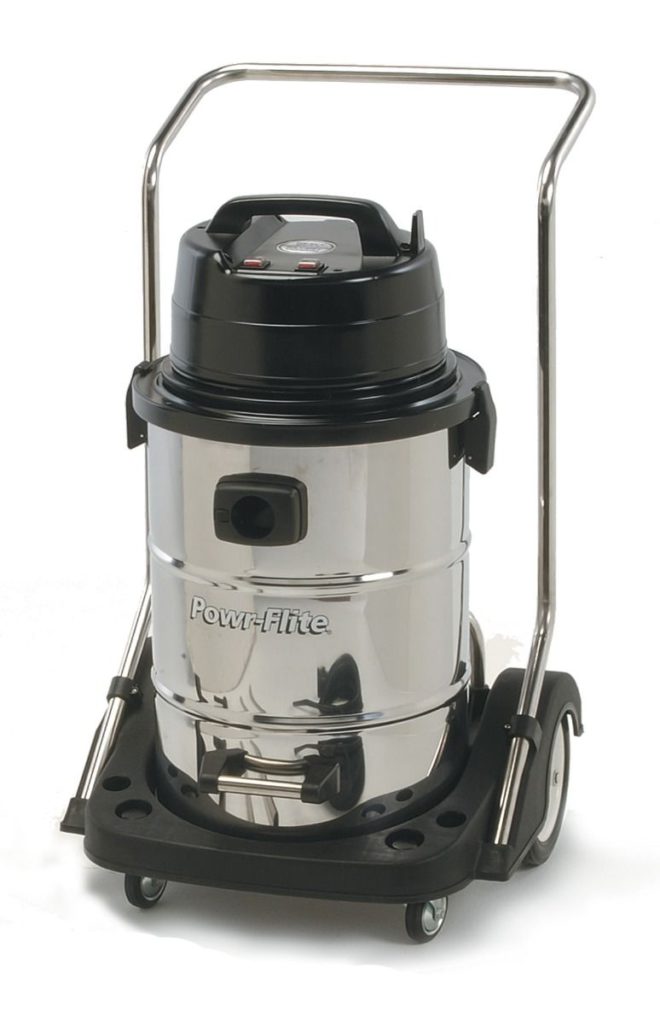 Benefits of the Powr-Flite PF57
Similar to its siblings this machine is equipped with a noise diffuser to lower the motor noise level.
The dual-motors work hand in hand to thoroughly clean up debris from workshops, building sites and other commercial spaces.
The tank is stainless steel and highly durable.
The unit comes with a range of accessories including a hose, wand, carpet tool, squeegee tool (for easier water recovery), a crevice tool and a dusting tool.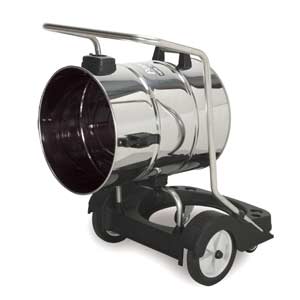 Where Can I Buy the Powr-Flite PF57 Dual Motor Wet Dry Vacuum Cleaner?
4. Rubbermaid Commercial 12.5-Gallon Wet and Dry Vacuum Cleaner
The Rubbermaid commercial wet and dry vacuum cleaner is suitable for heavy-duty cleaning on an industrial scale. The 12.5-gallon tank provides plenty of capacity for collecting huge amounts of dirt uninterrupted. The tank is sturdy and is split into 2 compartments for a seamless adjustment between cleaning dry and wet mess.
The unit is one of easiest wet and dry vacuums to handle thanks to the large wheels at the rear and rotating wheels at the front. You will also find a cord hook to store the power cable conveniently and a storage container for the attachments. I like that the machine is surrounded by a protective bumper to avoid damaging objects and scuffing of walls.
The Rubbermaid vacuum is perfect for professionals that need to regularly clean a combination of liquids and dry mess in one go. Changing between wet and dry is quick and only requires you to slide open a cover and change the hose to the appropriate tank. It only takes a few seconds to change over. An added bonus is that the machine operates quieter than it looks.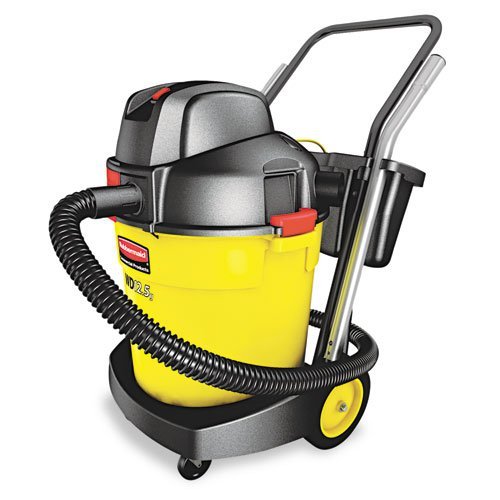 The unit sits on top of a cart with an integrated caddy to keep all of your tools within easy reach. The cart massively improves the manoeuvrability of the Rubbermaid cleaner. The cart is also necessary owing to the size and weight of the unit. The hose cleverly swivels, where it connects to the machine, to stop it from twisting
Benefits of the Rubbermaid commercial wet and dry vacuum–

The 12.5-gallon tank offers plenty of capacity for large-scale cleaning.
A smart tank that houses dual compartments for wet substances and dry mess.
HEPA filters catch and trap the smallest dust particles and prevent them from travelling back into the air.
The 11-amp motor is impressive and delivers the power required for commercial cleaning.
The clever wrap-around bumper lessens the risk of causing damage to furnishings.
The onboard caddy provides a convenient way to store all of your attachments whenever you need them.
Where Can I Buy the Rubbermaid Commercial 12.5-Gallon Wet and Dry Vacuum Cleaner?
5. Karcher WD5/P Multi-Purpose Wet Dry Vacuum Cleaner
Kärcher is a German family-owned company renowned for their high-quality appliances. Their wet and dry offering is the WD5/P which is equipped with a clever semi-automatic mechanism to clean the filters. This makes the unit highly convenient and speeds up cleaning times. The filter also allows you to change from wet to dry cleaning whilst on the move, you don't need to stop.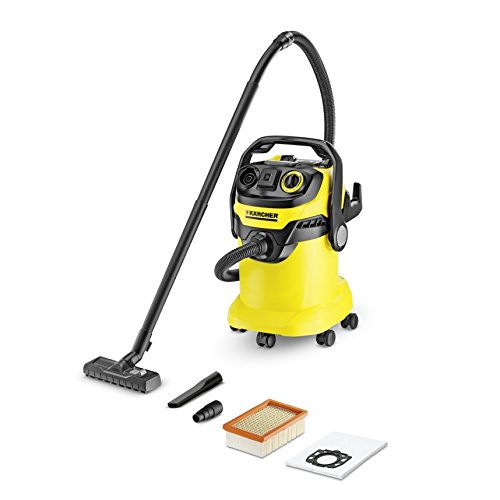 It comes with a long 7.2 ft hose designed to minimise blockages and the best bit about this machine is the integrated power outlet for your power tools, which automatically starts and stops for better tool management. This machine is a must-have for professionals and workmen. There's plenty of storage, on the machine, to keep attachments within easy reach.
The filtration system utilises a pleated cylinder filter that provides increased coverage than alternative models. Wider coverage improves the effectiveness of the filters particularly when capturing smaller dust grains. A vacuum cleaner with high quality filters, such as the Kärcher WD5/P, lasts much longer because its parts are guarded from dirt and dust.
How do you clean the filters? By simply pressing a button to activate the filter cleaning mechanism. Everything about the Kärcher vacuum is carefully crafted to simplify cleaning and make it a quicker experience whilst maintaining a high performance standard.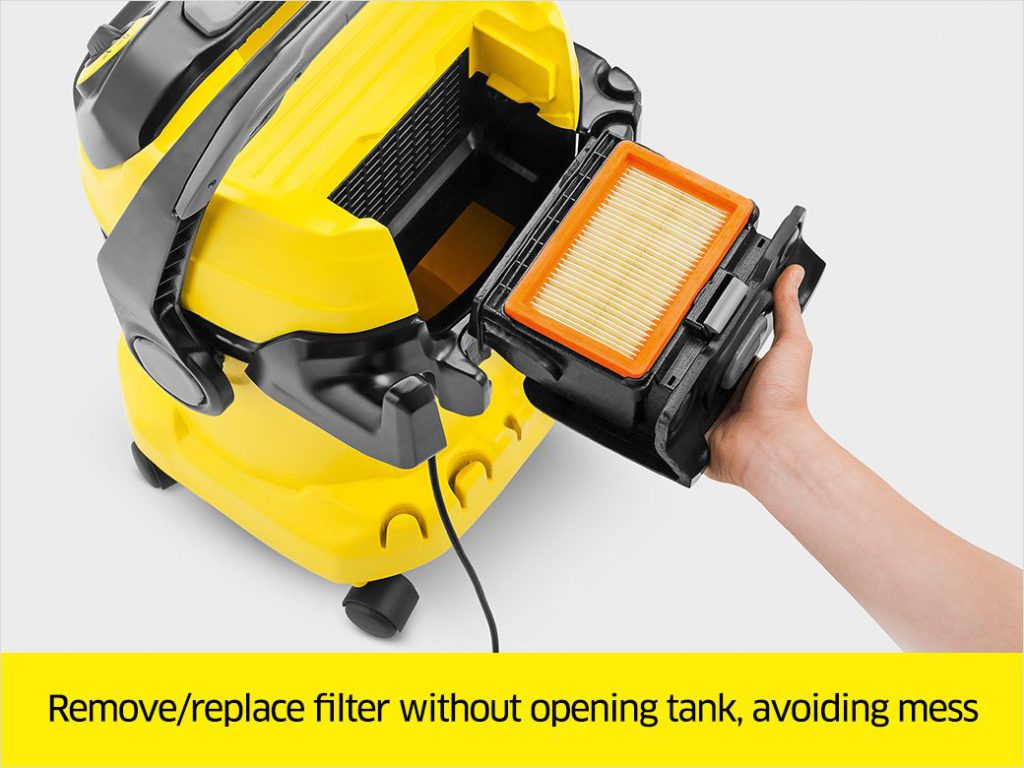 The suction power is simply remarkable. This machine is a beast on wheels. The 1800-watt motor provides best-in-class air flow which is supported by a glass filled nylon container that can cope with the additional air pressure compared to a plastic container. The adjustable suction levels gives you the convenience of enhancing the airflow to specific requirements when operating power tools.
Another thing in favour of the Kärcher wet and dry vacuum over its rivals is that it's an affordable tool-activated commercial machine costing just $192. Usually, tool-activated vacuums cost a lot more money than this. The motor is reasonably quiet for an industrial cleaning machine.
Helpful tip: Be sure to check the wattage of your power tools before connecting them to the Kärcher as its rated at 6 amps on the tool activation feature. This should be adequate for drills and Sanders but certain tools such as saws might require more power above the 6 amp threshold and as a result, might end up damaging the Kärcher vacuum cleaner. Always check the user guide for guidance before use.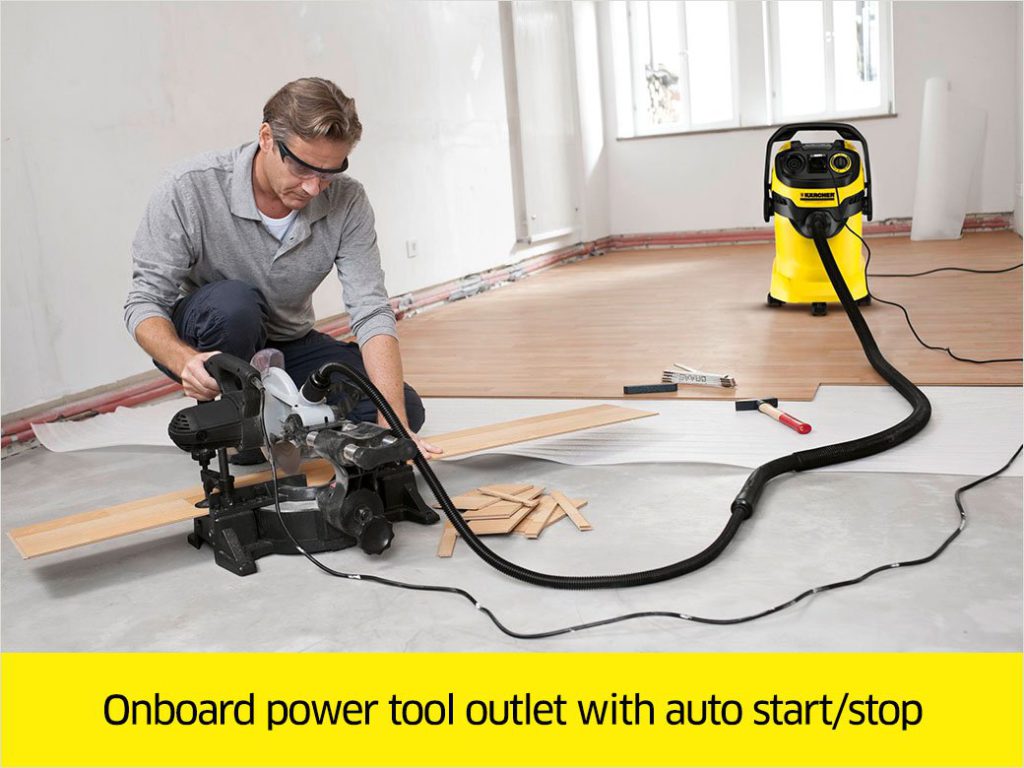 Benefits of the Kärcher WD5/P
This unit is designed with convenience as a priority. It cleans thoroughly and faster.
The 1800-watt motor matches up to the best of them and handles commercial cleaning efficiently.
I like the automated filter cleaning system as it saves time and effort.
The integrated power tool activation outlet is an added bonus usually found on vacuums that cost twice the price. It automatically starts and stops on demand.
There are various attachments included in the box such as a hand grip nozzle, floor nozzle, a crevice tool, hose, extension wand and bag to keep all of your accessories.
I saved one of the best features for last. The Kärcher can convert from vacuum to blower, therefore, you can use it to clear up leaves and debris from unwanted areas.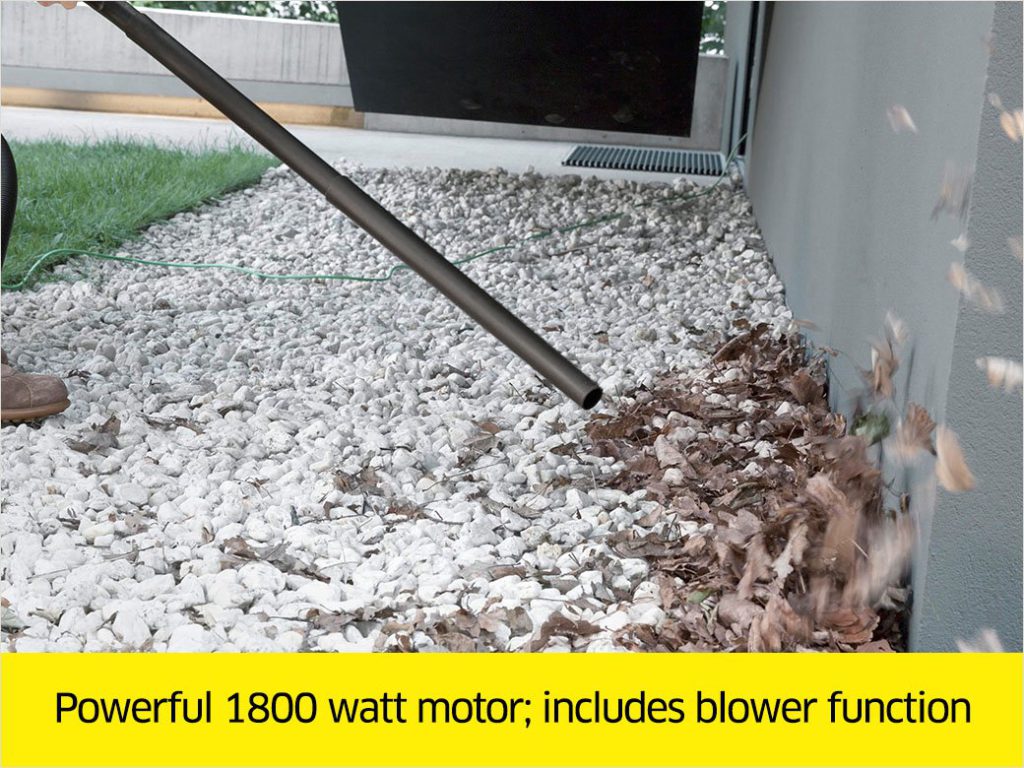 Where Can I Buy the Karcher WD5/P Multi-Purpose Wet Dry Vacuum Cleaner?
6. ProTeam ProGuard 16 MD, 16-Gallon Commercial Wet Dry Vacuum
The ProGuard wet and dry vacuum cleaner is prepared for the hardest tasks and is a suitable commercial unit to help with the daily maintenance of your business. You will find plenty of power to be utilised inside a heavy-duty body. If you're after convenience and stress-free cleaning then you've found your perfect machine.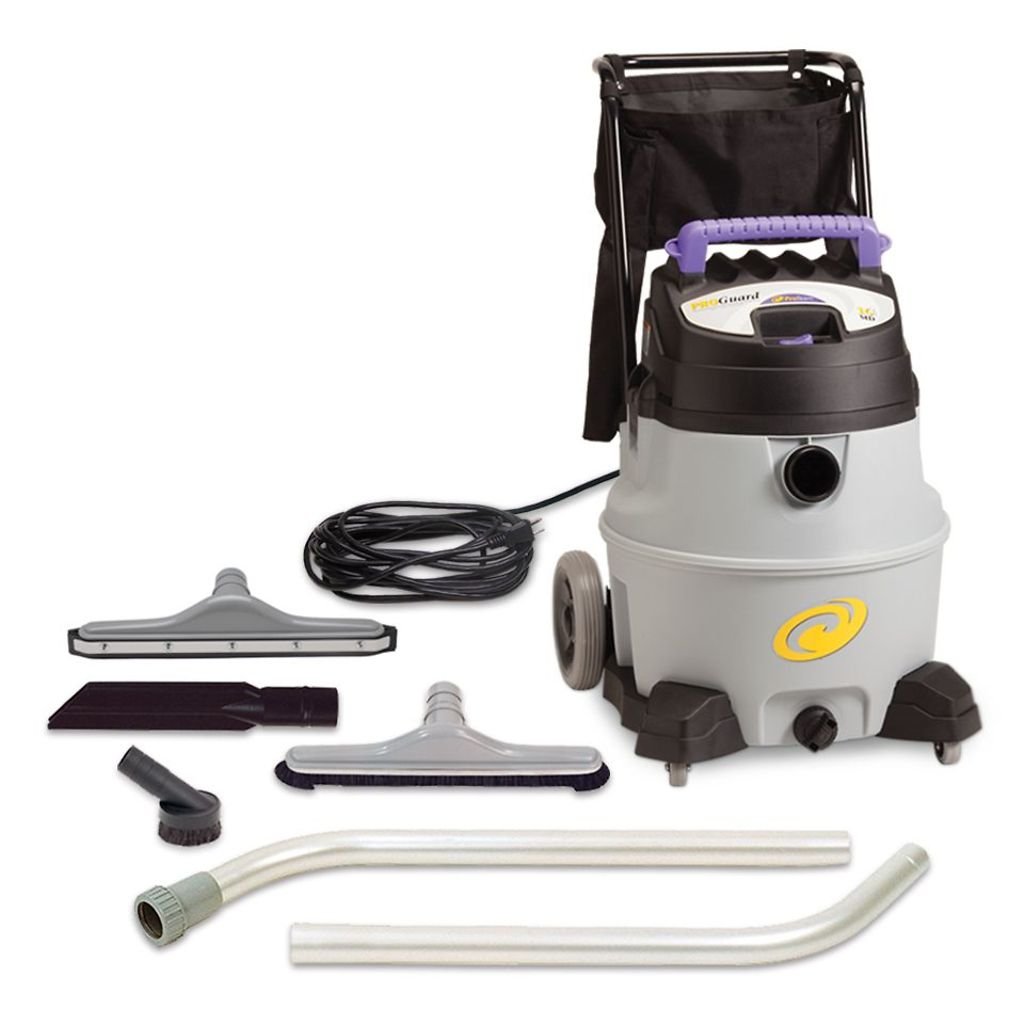 The 16-gallon tank is designed for big cleans and long cleaning sessions yet the machine is compact enough to steer around furniture and potential hazards. It rapidly collects spillages or debris left over from renovation projects.
It's smaller than alternative wet and dry vacuums making it less of a problem to store and it comes with a handy bag to store all of the accessories in one place. The tools provided are designed to take on any difficult job and get through it speedily.
The ProGuard cleaner houses a 1380 watt, 9.5-amp motor that generates a strong airflow to pick up problematic dirt such as sawdust, wood chips, liquids and rubble. The machine weighs 29 pounds but it provides a generous performance level considering that it's one of the smaller wet and dry vacuum cleaners on our list.
Recommended Reading: Best Vacuum Cleaner For Builder Dust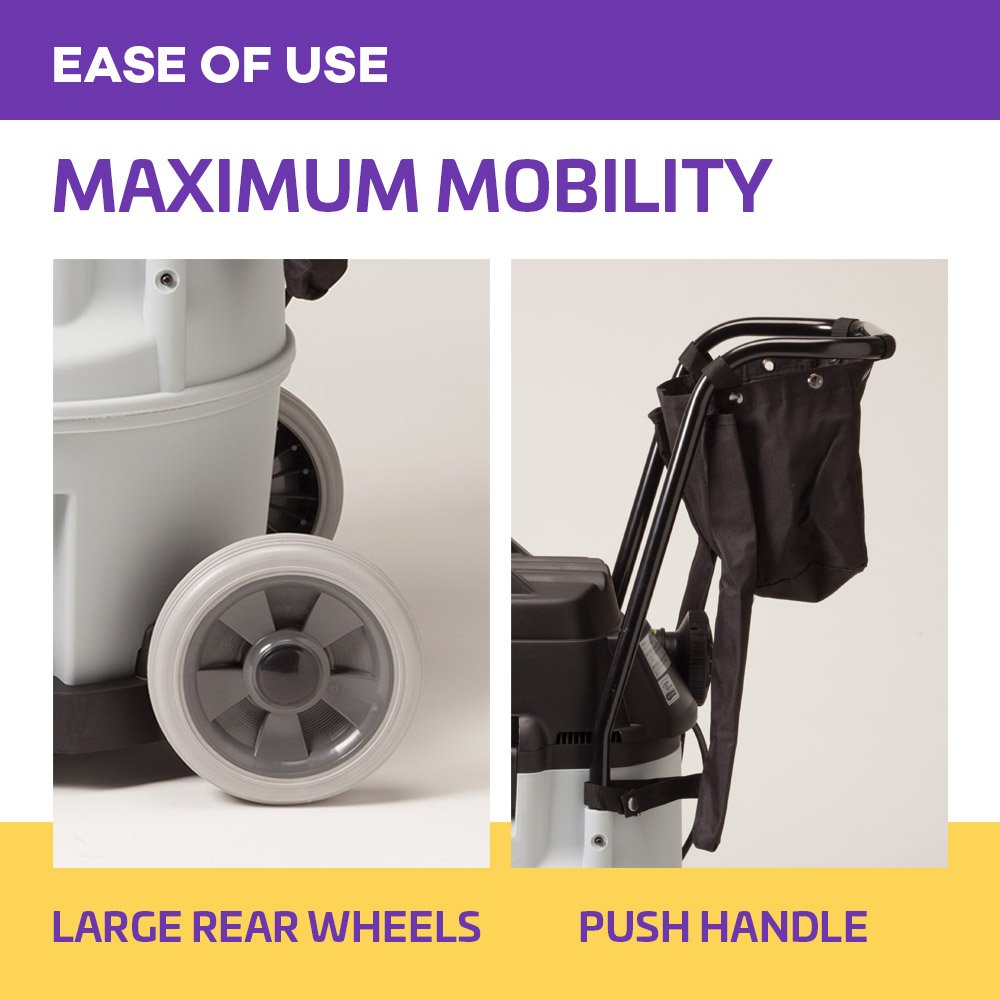 Inside the machine, you will find some unique wet and fine dust filters and a design that simplifies the process of taking them out and exchanging them. There is a heap of professional performance on offer at a cost of just $374.
The ProGuard cleaner can adapt to a variety of surfaces and can be used to clean furnishings, stairs, car interiors, vents and many other areas. This wet and dry vacuum is perfectly suited for a house cleaning business or office/store cleaning.
Benefits of the ProGuard 16 MD vacuum cleaner
It's extremely easy to handle and transport between locations thanks to the smart cart design which sits on wheels. The portable size helps to store the unit easier.
The suction power is suitable for commercial cleaning and the huge 16-gallon tank provides top-tier capacity for big jobs.
The power cable measures 50-ft so that you can reach all four corners of the room and beyond.
There is a tool caddy on the machine to keep attachments close by and readily available.
The hose measures an impressive 10-ft to clean areas that are difficult to reach.
The ProGuard 16 MD wet and dry vacuum cleaner is perfect for use in warehouses, offices, schools and many other commercial jobs.
Where Can I Buy the ProTeam ProGuard 16 MD, 16-Gallon Commercial Wet Dry Vacuum Cleaner?
7. Vacmaster – Beast Professional Series Wet/Dry Vacuum with Cart
The final wet and dry vacuum on our list is the Vacmaster Professional Beast Series. This unit houses a 14-gallon tank for constant cleaning on a large-scale. The 6.5 peak motor can take on difficult commercial jobs on big shop floors, construction sites and work shops.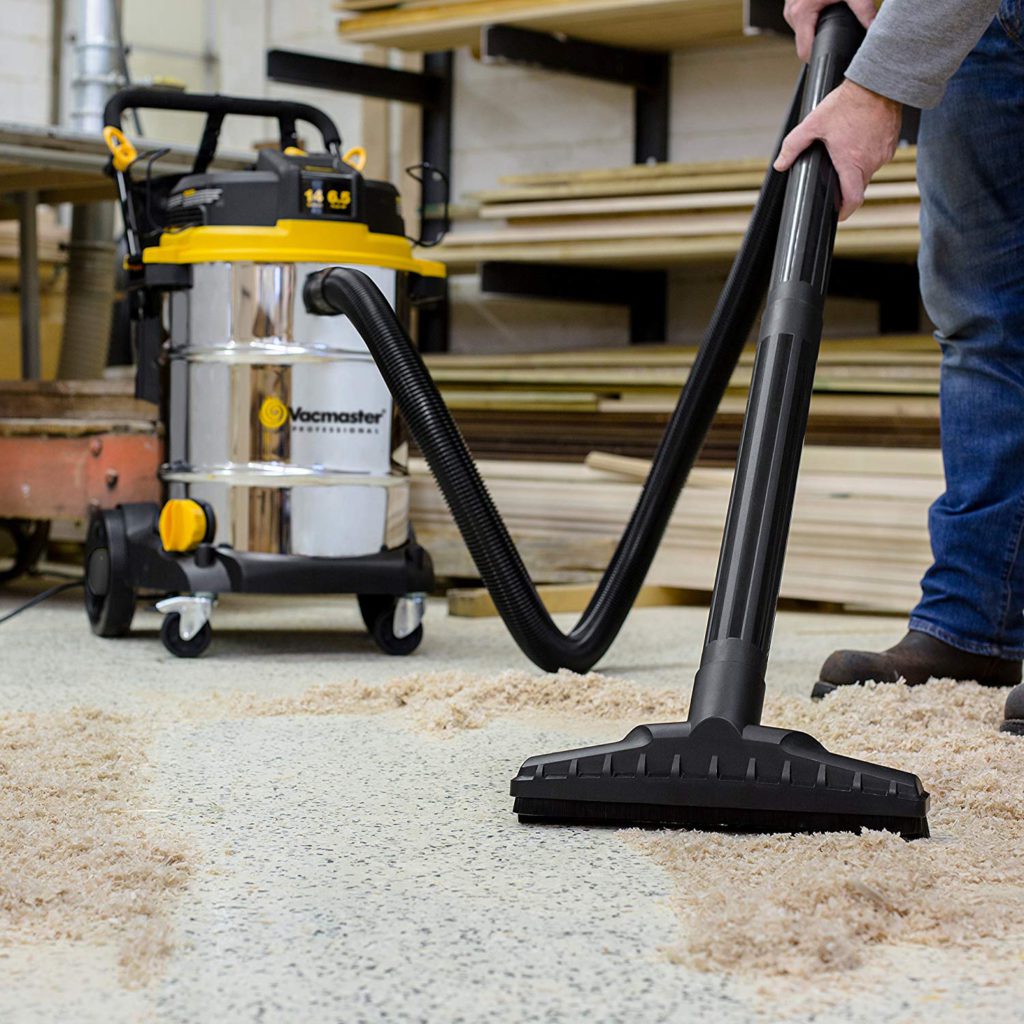 There is ample storage onboard the machine for attachments, the power cable and hose, therefore, providing the best convenience when undertaking tough tasks. You can also keep accessories at the top of the unit, for easier access, thanks to the clever flat powerhead design and a pouch that can be attached to the cushion handle.
The Vacmaster wet and dry vacuum benefits from a cart design for precise handling and steering when tackling bigger jobs. The power cable measures 20-ft which extends the range that you can clean without worrying about switching plug sockets.
The front wheel can be locked to keep the unit secured in a single area when required. The Vacmaster Beast comes with a great range of attachments to carry out virtually any cleaning task.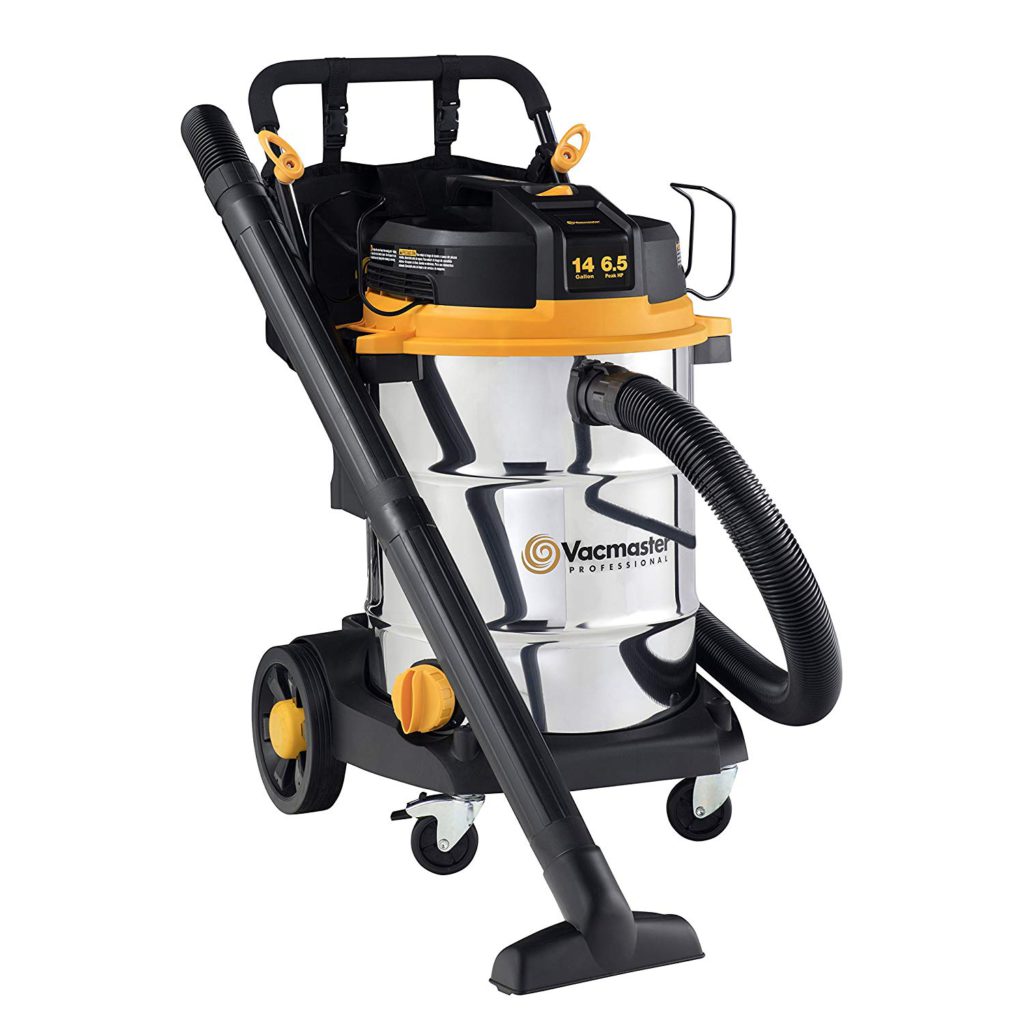 Inside the box, you will find a utility nozzle, a kink-proof hose, floor nozzle, crevice tool, two extension wands, dust cartridge filter, a noise diffuser, foam filter for liquids, a commercial floor brush and accessory storage bag.
This machine is ideal for house renovators, carpenters that need to clear up sawdust, mechanics and many other professionals that would like a high-quality finish when the job is complete. The Vacmaster vacuums flawlessly and provides commercial-level suction, it picks up dust effectively and leaves nothing behind.
In terms of durability, the Vacmaster Beast wet and dry vacuum does not compromise. The tank is made from stainless steel to ensure longevity when put to test in challenging environments. It will stand the test of time and is great value for money at a cost of just under $160.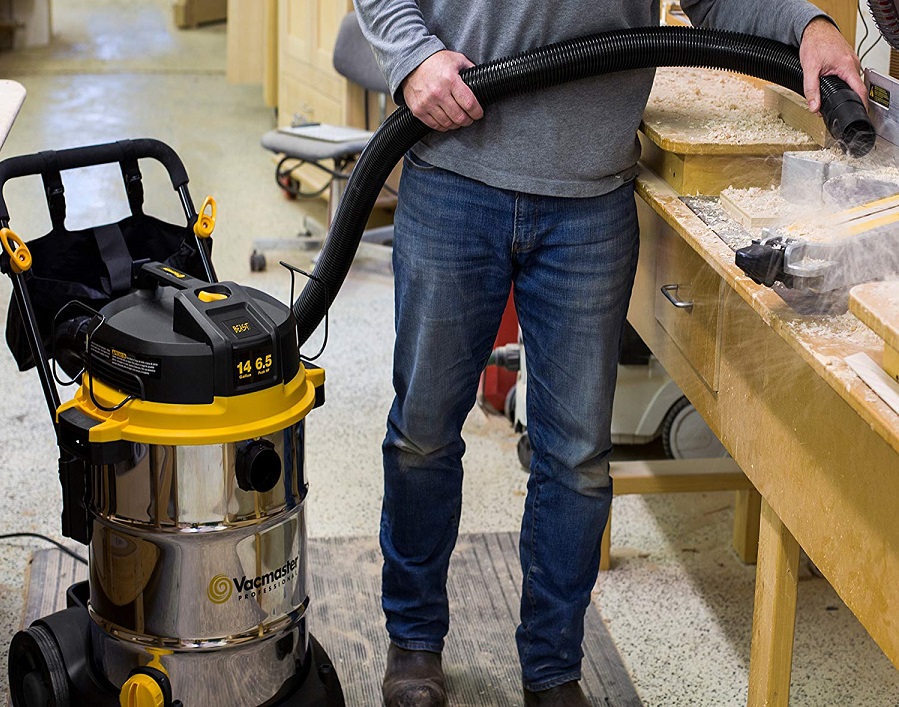 The Vacmaster is one of the best affordable industrial wet dry vacuum cleaners you can buy right now. It operates quietly but provides the power required for commercial-standard cleaning.

Benefits of the Vacmaster Beast Professional Series
A huge range of accessories are provided to carry out awkward and difficult tasks.
High-powered airflow for industrial jobs and tough mess. The unit delivers 380 air watts of airflow.
The Vacmaster is heavy-duty. The stainless steel tank is made to handle demanding jobs that a regular vacuum couldn't cope with.
The cart system provides the best possible steering, handling and onboard storage.
Long power cable measuring 20-ft and a hose measuring 7-ft both provide a 27-ft cleaning range without the hassle of changing plug sockets.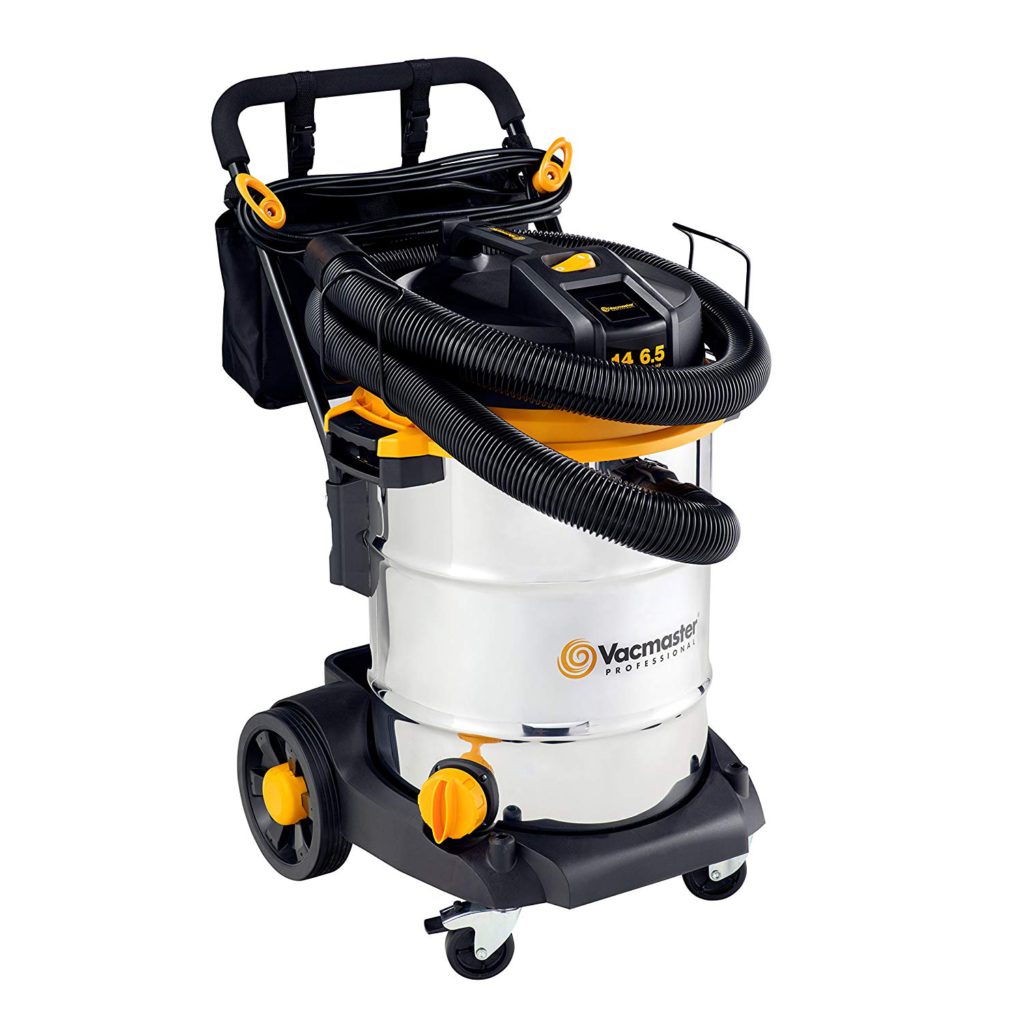 Where Can I Buy the Vacmaster – Beast Professional Series Wet/Dry Vacuum Cleaner?
To Conclude
That sums out our guide for the best industrial commercial wet and dry vacuum cleaners for 2021. If you've made it this far, you should have a clearer picture of the type of unit that best suits your business's needs.
There's a great selection of powerful professional vacuums to choose from and your choice now depends on your budget, storage requirements and tank capacity. For everything else, including suction power and performance, our shortlist meets and exceeds commercials requirements.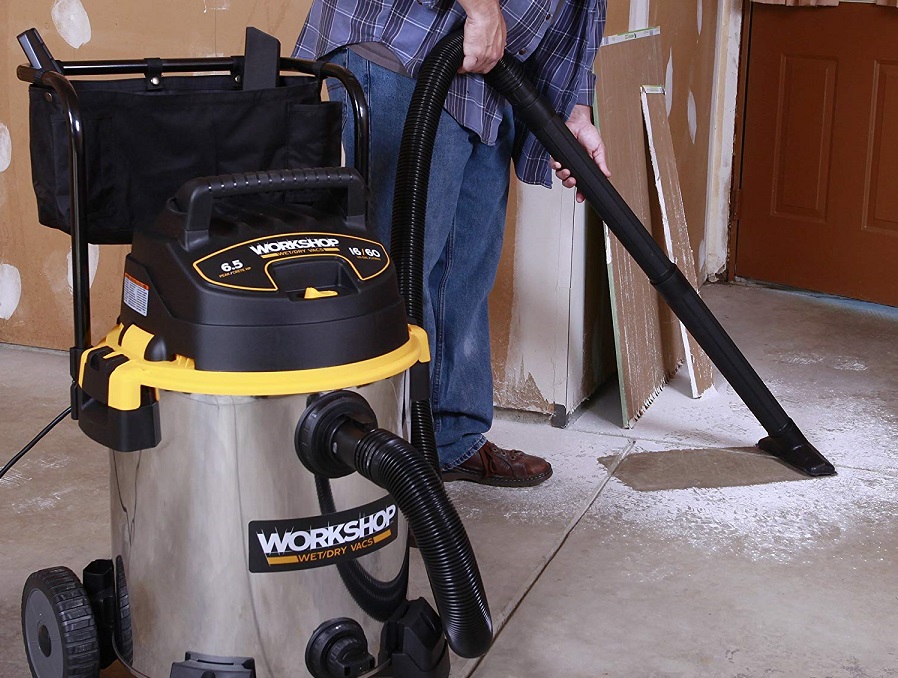 Are you considering buying a commercial industrial wet dry vacuum cleaner from our list or do you already own one? Please leave your comments in the section below. I'd love to hear from you.
Our List of the Best Domestic Appliances