Hessaire Evaporative Cooler MC18M Review
Have you ever visited a place with a lot of humidity? Your hair may have curled and your skin may have become softer, but you do seem to sweat a lot more.
People in your house will surely appreciate having a reasonably sized air conditioner in your home, especially if you reside in a place that can easily be classified as hot and humid.
It'll also be in your best interest to purchase an air conditioner that works both inside and out, but because there aren't many air conditioners that match this need, an evaporative cooler is your next best option.
If you're looking for the greatest outdoor air conditioner, the Hessaire MC18M indoor outdoor fits the bill, so it should be at the top of your list.
But what is the difference between an evaporative cooler and air conditioner? Let's find out.
Evaporative Cooler vs. Air Conditioner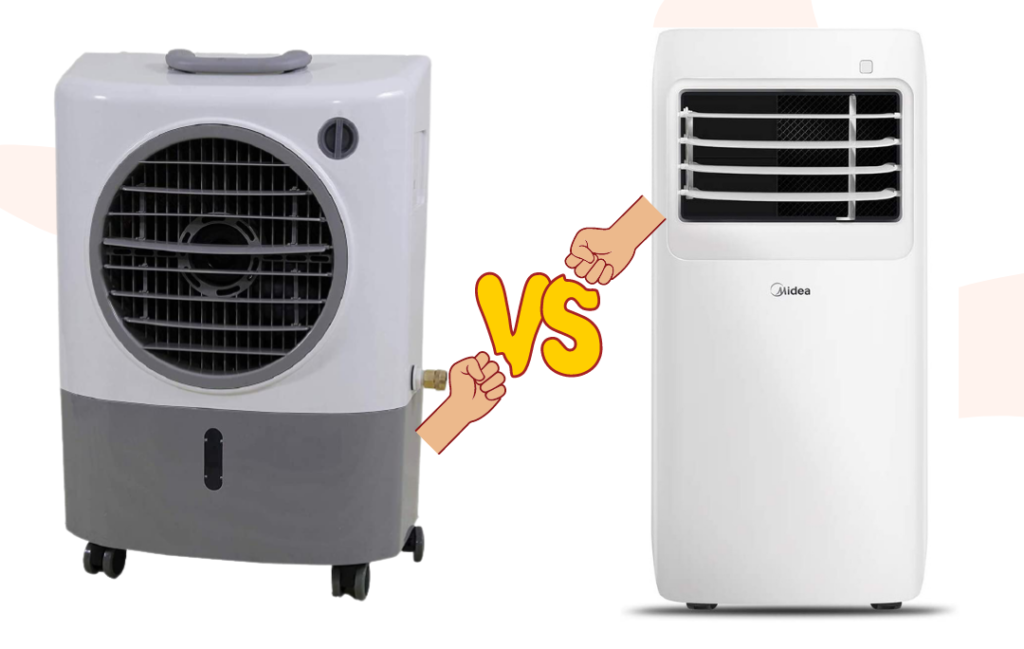 Are you a summer lover who despises the excessive heat and humidity? Cooling your home during the summer months is essential for your comfort and health, but how should you do it?
Basic fans can be set up for more air flow at a low cost, but they can only get you so far. You have two options for getting cool, refreshing air on extremely hot days: an air conditioner or an evaporative air cooler.
Each has advantages, and you'll need to know how they function to figure out one is best for you.
Air Cooler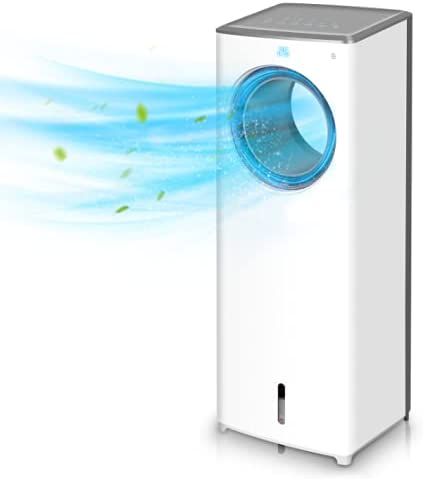 The air cooling system has a number of distinguishing characteristics that set it apart from other cooling systems. Evaporative air coolers or swamp coolers provide cool air, which use motors and water to do it. Air coolers have a lower operating cost than air conditioners because their motors use very little electricity and water is abundant in our environment.
They are available in a variety of sizes and, unlike air conditioners, do not require a ventilation system. Air coolers add dampness to the space since they use water to cool it down. An air cooler can reduce the temperature in a room by up to 20 degrees Fahrenheit.
Air Conditioner
Air conditioners are far more efficient than any other cooling method. To lower the temperature, they mostly use refrigerants and compressors. As a result, an air conditioner consumes significantly more energy than any other cooling method.
According to estimates, air conditioning accounts for 10 to 18 percent of a household's energy bill. There are numerous health advantages to using an air conditioner. .
Do Hessaire's swamp coolers offer the best value for money? How dependable, long-lasting, effective, and cost-efficient are they? Let us have a look at the Hessaire MC18M evaporative cooler.
About Hessaire
In 1996, the Hessaire company was created in Cullman, Alabama, to supply air-movement solutions to industrial OEMs such as Carrier, Trane, and Lenox. Portable evaporative coolers from Hessaire.
Its primary business strategy continues to be the design and manufacture of highly tailored props, motors, and fans for a variety of air conditioners and related ventilation applications for both household and commercial usage.
Hessaire Evaporative Cooler MC18M
When opposed to other manufacturers' comparable offerings, the MC18M, which is one of the smallest coolers in the line, is a genuine cooling powerhouse.
The Hessaire MC18M is a small evaporative cooler that can handle up to 500 square feet of outdoor space and outperforms some of the larger coolers on the market. While it has a lot of cooling power, it has a small tank and will need to be refilled after three to four hours of continuous operation without a hose.
It's great for outdoor use or bigger indoor spaces, and it includes a number of portability characteristics that make it one of the best portable swamp coolers for transferring from one location to another.
Hessaire MC18M Features
The Hessaire MC18M Portable evaporative cooler is a wonderful option to consider if you really need an air – conditioning system solution that can be used both indoors and out.
The Hessaire MC18M features up to 5 distinct cooling and fan settings, as well as a 1300 cubic foot per minute airflow output capacity.
Hessaire Evaporative Cooler MC18M Performance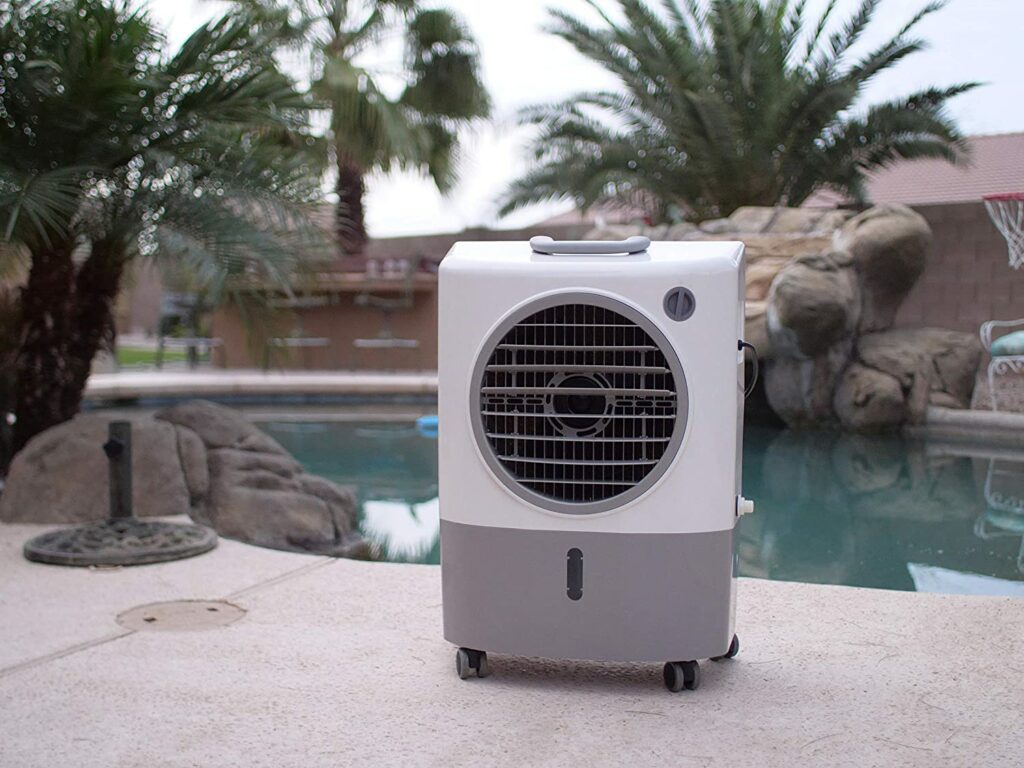 The Hessaire MC18M swamp cooler has a large area coverage of up to 500 square feet, making it ideal for anyone looking for a cool breeze over a big area on a warm summer day.
The Hessaire evaporative air cooler, unlike the Luma Comfort EC110S, has a water tank with a capacity of up to 4.8 gallons, which should be enough to keep you cold and fresh for 3 to 4 hours.
You can also avoid having to refill the tank by attaching it to a regular hose, which will ensure a constant flow of water.
Energy Efficiency
The Hessaire MC18M uses very little electricity because it is an evaporative cooler. It just takes electricity to operate the fan, which can then move air towards the cooling media, allowing the water in it to evaporate, resulting in a pleasant cooling effect.
To keep your energy expense low, the Hessaire MC18M offers five various operation modes to choose from, offering you more alternatives than other brands.
Filtration System
The Hessaire MC18M, unlike the Newair Portable Air Conditioner, contains an internal filter that prevents any undesirable particles from spreading. Your air will remain fresh and clean as a result, and after the summer season, you should only run the cooler fan for 30 minutes to dry it off before storing it.
Durability
The Hessaire MC18M portable air evaporative cooler comes with a one-year guarantee, so if yours arrives with any faults, please contact the Hessaire team, and they'll be happy to send a technician around to look it over.
Dial for Manual Control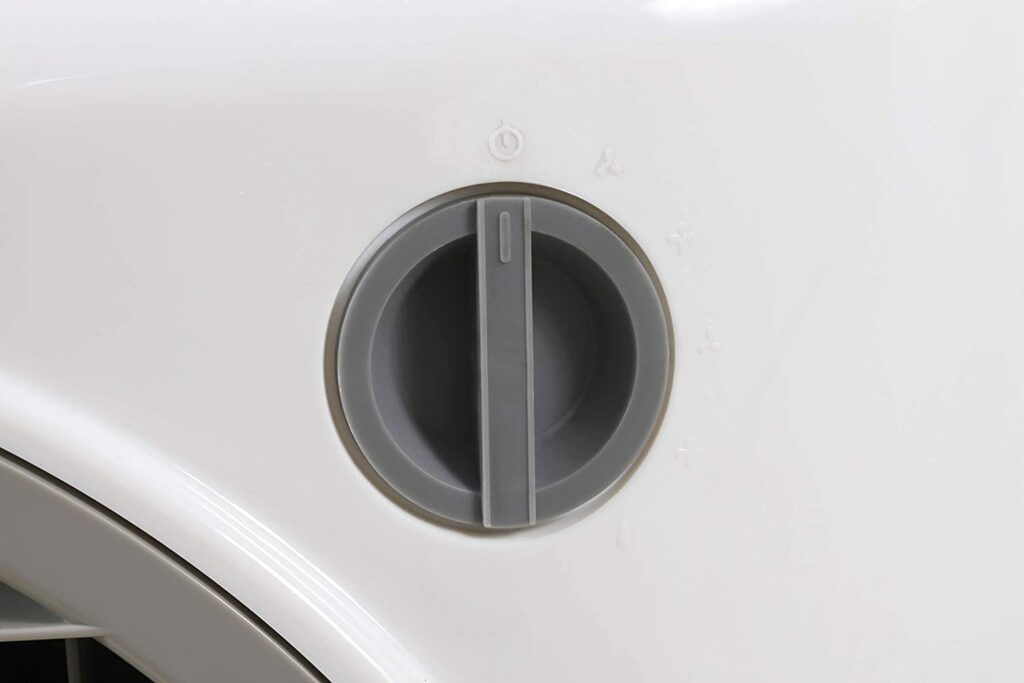 The Hessaire MC18M is characterized by its simple manual controls. Without having to fiddle with technological functions and controls, the Hessaire may be turned on with a quick turn of the knob. Cooling can be achieved quickly using controls such as:
Fan-Only Mode
Choose between a low and a high fan speed.
Activate or deactivate the device.
Water Filling Options: Indoor & Outdoor
Enjoying your evaporative cooler has never been easier with two different water loading options.
Manual Fill
Fill the swamp cooler manually for inside use by opening the front spring-loaded water fill door and accessing the water reservoir. Using the water level display, fill until you reach your chosen level or until the container is full.
Hessaire Evaporative Cooler MC18M Specifications: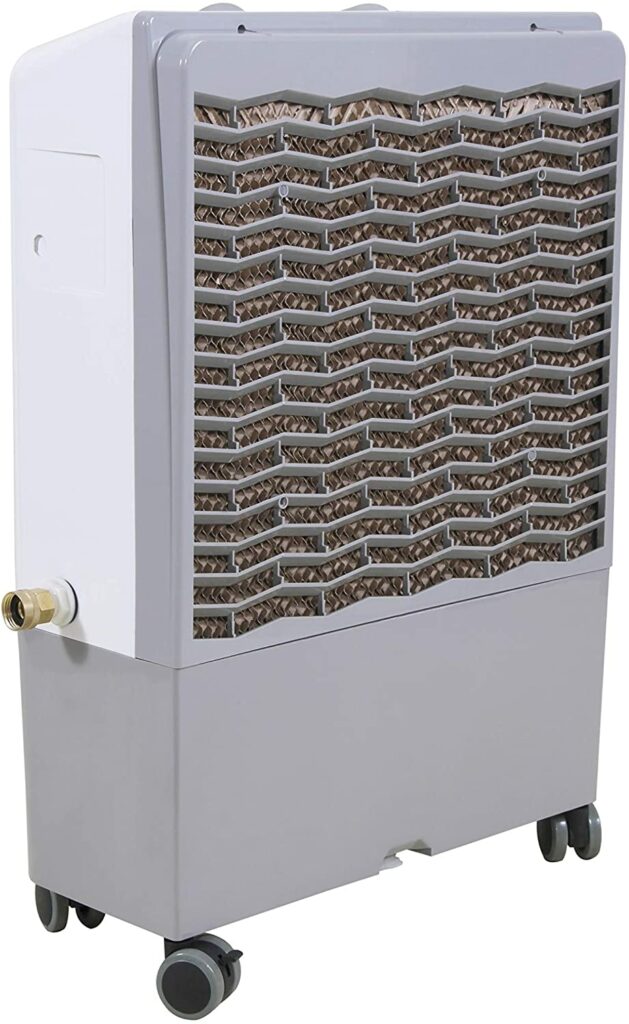 Cooler Type: Residential
Coverage Range: 500 sq. ft.
Recommended Use: Indoor and Outdoor
Height: 28 in.
Width: 22 in.
Weight: 16 lbs.
Operating Weight: 56.1 lbs.
No of Fan Speeds: 2
Max CFM: 1,300 CFM
Maximum Noise Level: 53.4 dB
Water Reservoir Capacity: 4.8 Gallons
Hose Hookup: Yes
Controls: Manual
Color: Gray
Power Voltage: 110-120 V
Wattage: 85 W
Amperage: 0.7 Amps
Power Cord Length: 6 ft.
Safety Certifications: ETL
Pros:
Compact and energy-efficient
Evaporation efficiency is high.
The water tank size is amazing at 4.8 gallons.
There is a water hose for a constant supply of water.
Three colours are available.
Cons:
Taking Care of Your Evaporative Air Cooler
Portable evaporative coolers provide effective and fantastic cooling in hot and dry climates, but it's crucial to follow the maintenance instructions to get the most out of them.
One of the most important aspects of cleaning an air cooler is to avoid mildew and a musty odor. Here are some cleaning tips for portable evaporative coolers.
Cleaning the Water Tank
If you use a portable air cooler for an extended period of time without changing the water, it may produce unpleasant aromas and may even endanger the users' health because the water is no longer hygienic.
You must keep the water tank clean at all times to avoid creating a perfect environment for germs to reproduce.
Step 1: Remove the panels and cooling pads
Turn off the water and unplug the cooler. Then remove the panels and cooling pads from the air cooler.
Step 2: Remove the water from the air cooler.
If your portable air cooler has a drain plug, remove it. It would be a simple job if there was a detachable water tank.
Step 3: Clean the cooler's interior.
Sweep the inside of the air cooler with a soft cloth or sponge. It's possible that some debris will sneak inside. Because it will develop obstructions, the cooler will become inoperable, and unclean water will circulate through it.
Step 4: Fill the water tank with vinegar and soak it.
Fill the tank halfway with water and vinegar, then let the vinegar sit for an hour. You can also use mild soap and warm water to clean the water tank.
Step 5: Scrub the water tank.
Clean the bottom of the water tank using a brush or a towel. After you've finished scrubbing, rinse with clean water.
Cleaning the Cooling Pad
Cooling pads are critical components in the function of the fan. You should clean the cooling pads once a month to guarantee that the Portable evaporative cooler runs smoothly.
Step 1: Soak the pads in lemon juice or vinegar for a few minutes.
Submerge them for 30-60 seconds in a mixture of water and lemon juice. Cleaning pads with vinegar is just as effective; mix water and vinegar in a 50-50 ratio solution.
Note: Vinegar can be used, but the scent will stick on your cooling pads and be difficult to remove.
Step 2: Use a cooling pad that has been air dried.
After properly soaking the cooling pads, rinse them thoroughly and lay them aside to dry .Because the pads must be entirely dry before being reinserted into the portable evaporative cooler.
Final Verdict
The Hessaire Evaporative Cooler Hessaire MC18M is ideal for anyone who wants to use it both indoors and out, and with up to 5 cooling and fan modes to choose from, you'll have plenty of options to find the best mode for you.
As you can see, there are a variety of coolers available to assist keep your home cool throughout the hot summer months. Just make sure you get a gadget that is long-lasting, easy to move around, and emits clean air that isn't tainted with toxins.