Inofia 30 Pint Dehumidifier Review 2020
In this review we'll be looking at everything that you need to know about the Inofia 30 Pint Dehumidifier. Is it the best dehumidifier for home basements? How much moisture will it suck out of the air? These are some of the questions we'll answer to help you make an informed decision whether this is the right device for your home. You can use it in areas such as basements, motor homes, living rooms, bedrooms and any other parts of your home where moisture builds up.
This model can be placed in a room size of approximately 1056 square feet. On a daily basis, the Inofia machine can dehumidify around 4 gallons. If you're after a compact dehumidifier that comes with an integrated 1.8 litres capacity water tank then this might just be a great solution for your home.
The Inofia dehumidifier is designed with a 2-metre long drainage pipe for continuous water drainage. It is incredibly easy to operate, and you can set it up quickly with just the press of a button. It extracts about 30 pints of water per day and does so effectively. The filter is easy to maintain and can be cleaned either with warm water or vacuuming it every couple of weeks.
The unit is fitted with a clever control panel found at the top of the machine for convenient use. You can control the speed, humidity setting, timer and also view the humidity level in the room all from one panel. This portable dehumidifier is suitable for big rooms and basements and is low maintenance.
See Where The Inofia 30 Pint Dehumidifier Ranked On Our List of The Best Commercial Dehumidifiers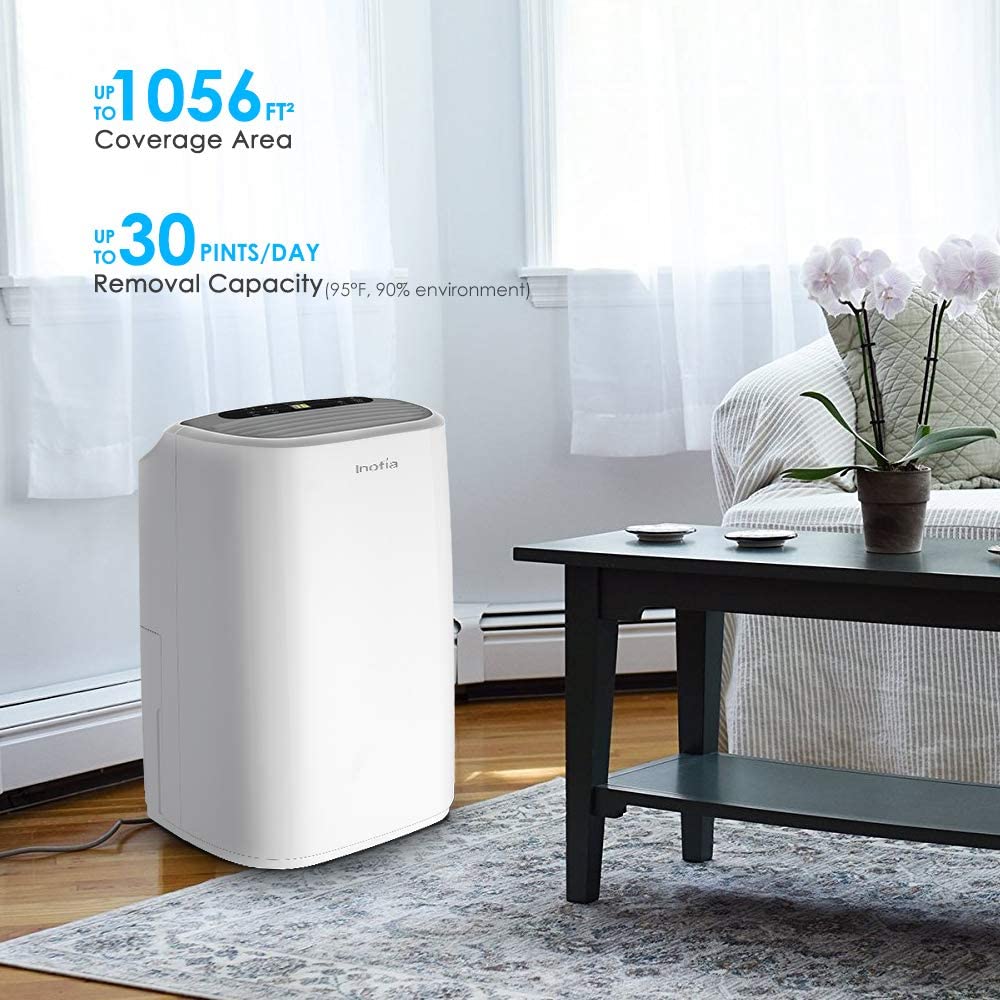 Inofia Dehumidifier Product Features
A convenient control panel that makes it easy to use.
Uses less power to operate than its rivals and is super quiet.
Choose between manual or automatic drainage.
Space-saving portable machine.
Product dimensions 17.3 x 12.2 x 8.2 inches
Dehumidifier Water Capacity
As mentioned earlier, the Inofia 30 pint dehumidifier can remove approximately 4 gallons of moisture daily. The integrated tank can hold up to 1.8 litres of water before it needs emptying. There is also the choice to set it up so that it can drain continuously and as a result, it can be left for longer periods of time in the basement without needing to check up on it.
Convenient and Simple To Operate
The Inofia dehumidifier is very easy to operate, all you need to do is press a button to get it going. Once the water tank is at full capacity, the machine swiftly turns off and notifies you with an alarm. Clever! The machine is equipped with a removable water reservoir, a smart function to control timings, a user-friendly control panel as well as a discreet handle to move it between rooms (if required).
Where Can You Use The Inofia Dehumidifier
Thanks to its portable size, the Inofia gadget can be used virtually anywhere in your home including bedrooms, basement, garage, conservatory, living rooms, pool house and the like. The appliance is suitable for any indoor space measuring 1056 square feet.
Clever Control Panel
The control panel is simple yet comprehensive enough to handle the required tasks around your home. The display panel will also show you the current humidity value in the room. You will also find settings to control airflow speed, you can adjust it to a suitable level depending on your requirements, there's a 24-hour timer as well as an automatic defrost system that allows the machine to operate in cold environments as low as 41°F.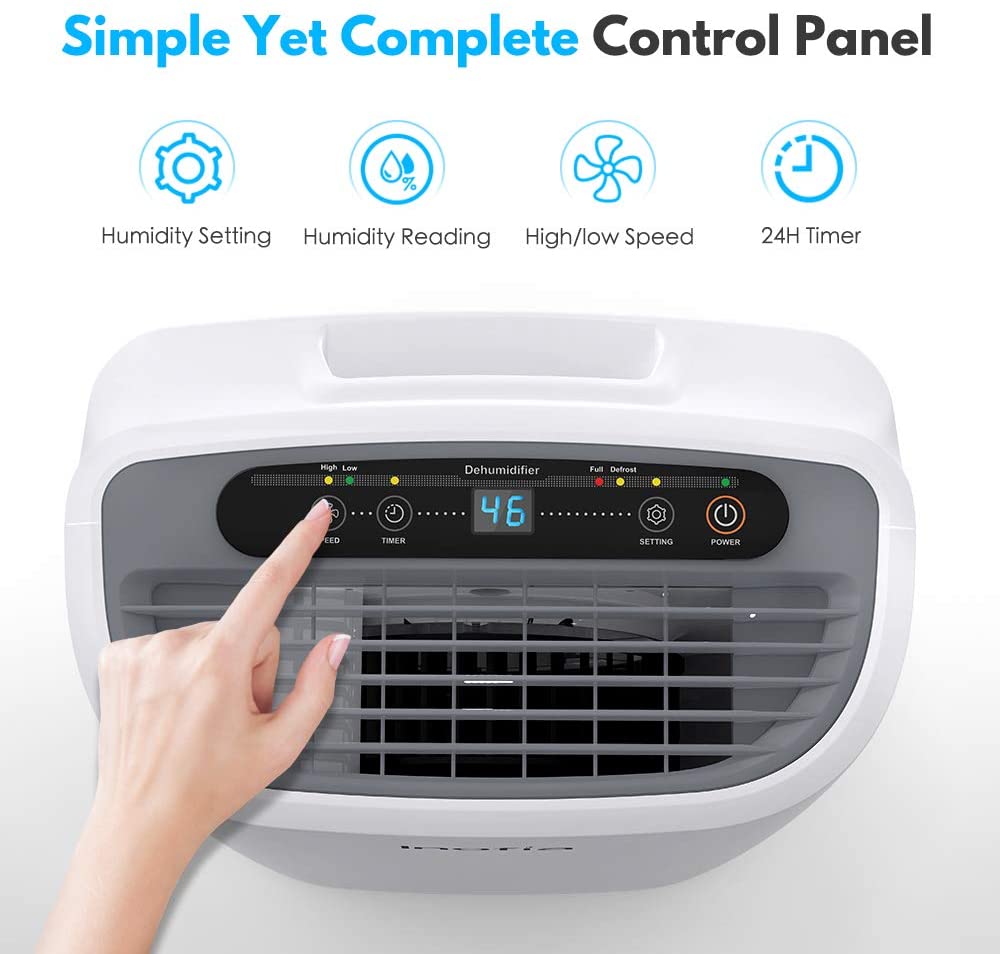 Super Quiet & Energy Efficient
Inofia is designed to operate at a very quiet noise level, therefore, never interrupting you. You can be assured that it won't disturb your sleep if you place it in your bedroom. The timer allows you to program a suitable time for the machine to turn on or off. You'll also be glad to know that it comes with energy-efficient technology inbuilt, and as such, it won't increase your energy bills.
Choose Between Manual or Auto Drainage
Another convenient function that I like is the built-in alarm that notifies you when the water tank needs to be emptied if you are manually draining the machine. If you'd prefer the appliance to drain continuously then all you need to do is attach the drainage port to the unit and install it into your drain pipes.
Portable & Powerful
The Inofia Dehumidifier is designed to be compact enough to fit into most rooms at home. It is a top-rated high-performance dehumidifier that conveniently fits into most spaces. It is equipped with a high-grade compressor that can handle the rigours of extracting large volumes of moisture from the air every day.
In addition to the heavy-duty compressor, the Inofia appliance boasts a 112 CFM fan mechanism that does a remarkable job at removing moisture.
Maintains Comfortable Dry Areas
Have you ever walked into a musky, humid room in dire need of a dehumidifier? Chances are you probably have and it wasn't a great feeling. Thankfully the Inofia is build to deal with humidity quickly and effectively. Place one of these in your basement and it will work wonders. Each time you go down there it will feel like you're walking into a different room. You'll be greeted with a fresh and inviting space.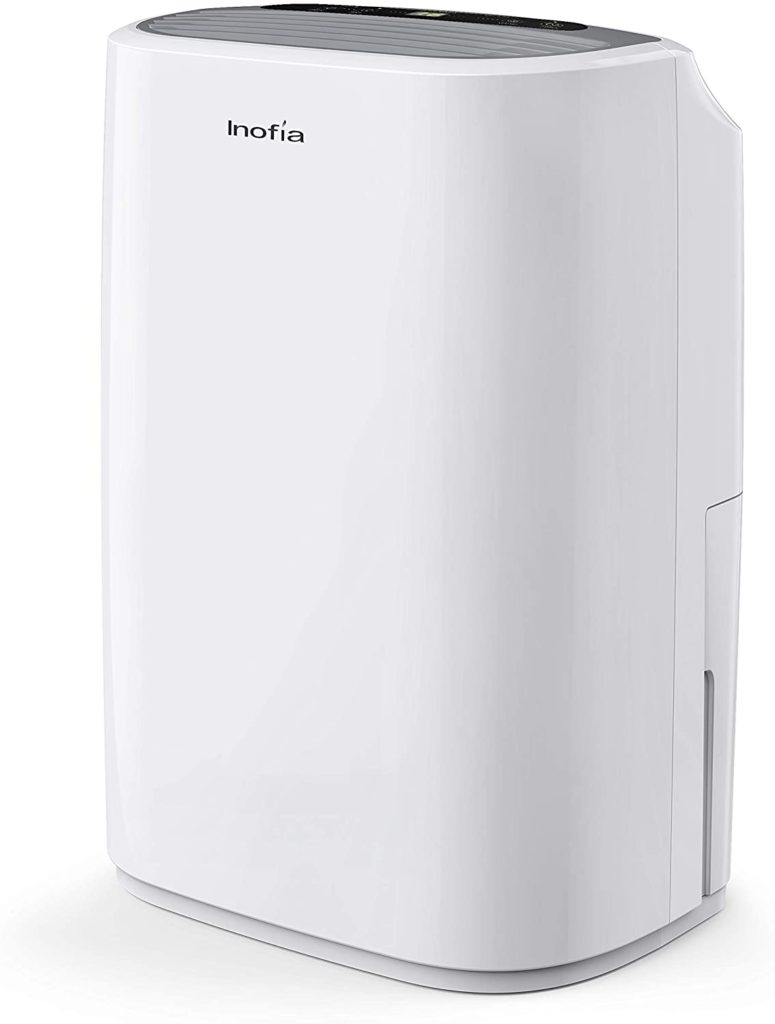 Inofia is Low Maintenance
As we've mentioned earlier, this dehumidifier is very low maintenance especially if you set it up for automatic continual drainage. The auto defrost feature keeps the unit safe from fluctuating temperatures and as a result, it can work in temperatures as low as 5°C. If the unit breaks down altogether it will provide you with an error code to help you resolve the problem. The filter is washable to ensure that the machine's internals are always protected from dust and other particles circulating in the air.
See Where The Inofia 30 Pint Dehumidifier Ranked On Our List of The Best Commercial Dehumidifiers
Smart Humidity Control
All you need to do is specify the desired humidity which ranges from 30%-80% and let Inofia do the rest. The machine will intuitively detect the humidity levels and simultaneously power down once the target is achieved. Equally, it will automatically power up when it detects that the humidity level has gone beyond the specified threshold.
Quick Tips To Get Started
Prior To Use: Ensure that the dehumidifier is left to stand for a minimum of 24 hours before turning it on for first time use.
The Continuous Setting: If you decide to set the humidity at the lowest level of 30, this will trigger the Continuous mode and as a result, the unit will dehumidify non-stop.
Inofia 30 Pints Dehumidifier Product Specifications
| Spec | |
| --- | --- |
| Product Manufacturer | GE02 |
| Model Type | Dehumidifier |
| Model Number | GA2 |
| Product Dimensions | 12.2 x 8.2 x 17.3 inches |
| Product weight | 24.9 pounds |
| Item Color | White |
| Water tank capacity | 1.8 liters |
| Suitable Usage areas | Basements, Bedrooms, Living Room, Kitchen, Home Office |
| Batteries Required | No |
| IP level | IP20 |
| Voltage | 110 volts |
| Frequency | 60 Hz |
| Part number | HD161A |
| Operating Noise Level | 44 decibels |
| Air circulation | 110 m3/h |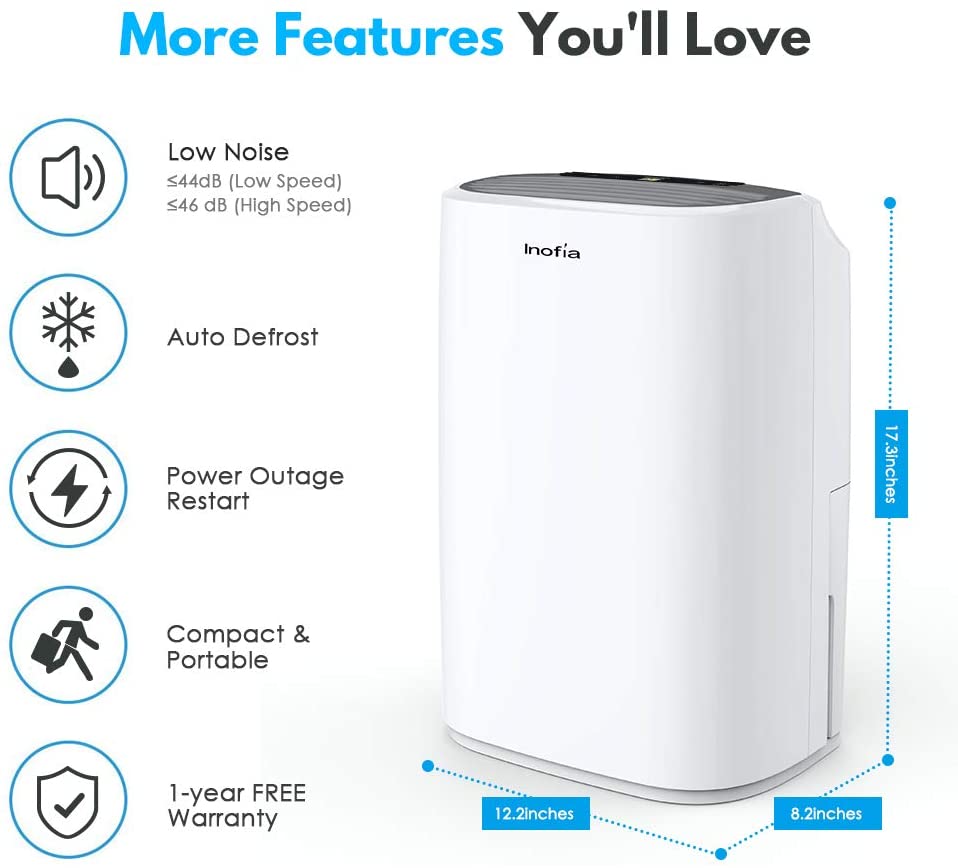 What We Like About The Inofia Dehumidifier
It's easy to use- anyone can set it up.
Supports manual and auto water drainage.
Intuitive easy-access control panel.
Works at a low noise level.
Portable and robust.
Comes with an energy-saving feature.
Decent sized water tank with good capacity.
Convenient 24-hour timer with easy scheduling.
Discreet handle for easier transportation
Frequently Asked Questions
How Do You Set Up The Inofia Dehumidifier?
That's easy. All you need to do is unpack it from the box, leave it to stand for at least 24 hours then plug it in and input the required humidity levels using the display panel. That's all.
Are You Provided With An Air Filter For The Inofia Dehumidifier?
Absolutely. It comes with a washable air filter.
How Do You Clean The Unit?
This is very simple to do. Just remove the washable filter from the machine and clean it thoroughly with warm water or a vacuum cleaner.
Is There An Auto-Defrost Function On The Inofia Dehumidifier?
Yes, the system kicks in when the temperature drops to 5°C / 41°F.
Will The Unit Restart Automatically If There Is A Power Outage?
Yes, the appliance will spring back to life as soon as power is restored.
User Reviews
One user had been battling with mould issues in several parts of their home and was suffering from respiratory problems as a result of the dampness. Things made a quick turn around for the better when the user decided to buy the Inofia 30 pint Dehumidifier. The tank had to be emptied twice within the first 12 hours of plugging it in which just goes to show how big the damp problem was.
The user placed the unit on the auto setting which initially detected a humidity level of 70%, then it dropped to 60% after the first 12 hours. The user was also impressed with the low noise level of the unit. They were able to sleep right through the night with the unit in their room. The only time it made a noise was when it needed emptying. The user would highly recommend the Inofia dehumidifier to their family and friends based on its easy usage. It was sufficient for their 2-bedroom apartment and it got rid of their moisture problems.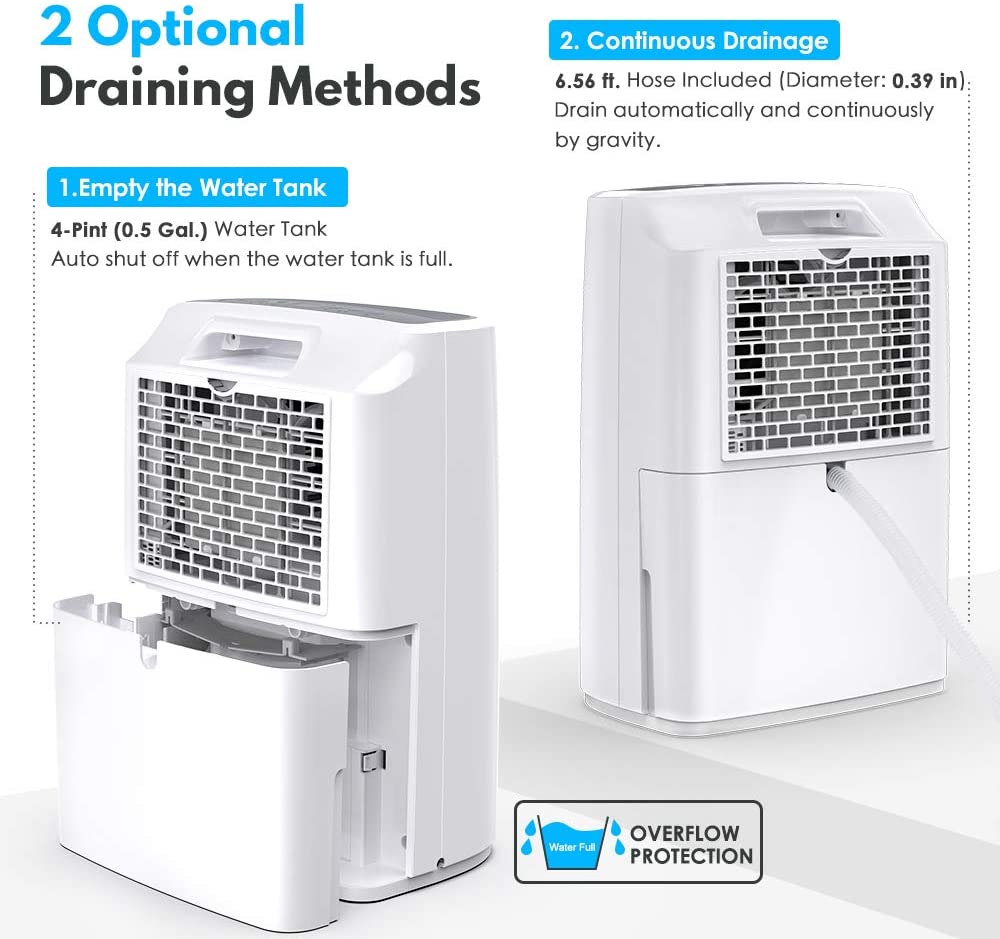 Another user purchased the Inofia to help with humidity issues in their basement. Prior to that, they had tried to use fans to air out the room, however, this wasn't sufficient and resulted in mould growing on the wood-panelled walls. The users wanted a machine that could operate continuously, didn't need babysitting and would be quiet enough to avoid interrupting anyone in the room. The Inofia 30 Pint Dehumidifier performed beyond the user's expectations!
The user attached the drainage hose and connected it to the washing machine drain. The compact design meant it could be placed on a shelf with the pipe running downwards for optimum drainage flow. The unit is also used regularly in different rooms thanks to its easy transportation. According to the user, it works flawlessly.
Pros:
The Inofia 30 Pint is lightweight and convenient to move around the house.
It runs quietly and doesn't interrupt your sleep if it's set up in your room.
It is efficient and works incredibly quick. Water starts to collect and drain in just a couple of minutes of switching on the machine.
Will reduce the humidity considerably in any given room in just 2 hours
Cons:
The water tank capacity could be larger, however, a smaller tank is what makes this unit compact and easy to move.
The drainage hose can occasionally get air-locked. Some users have recommended getting a different hose to use for continuous draining.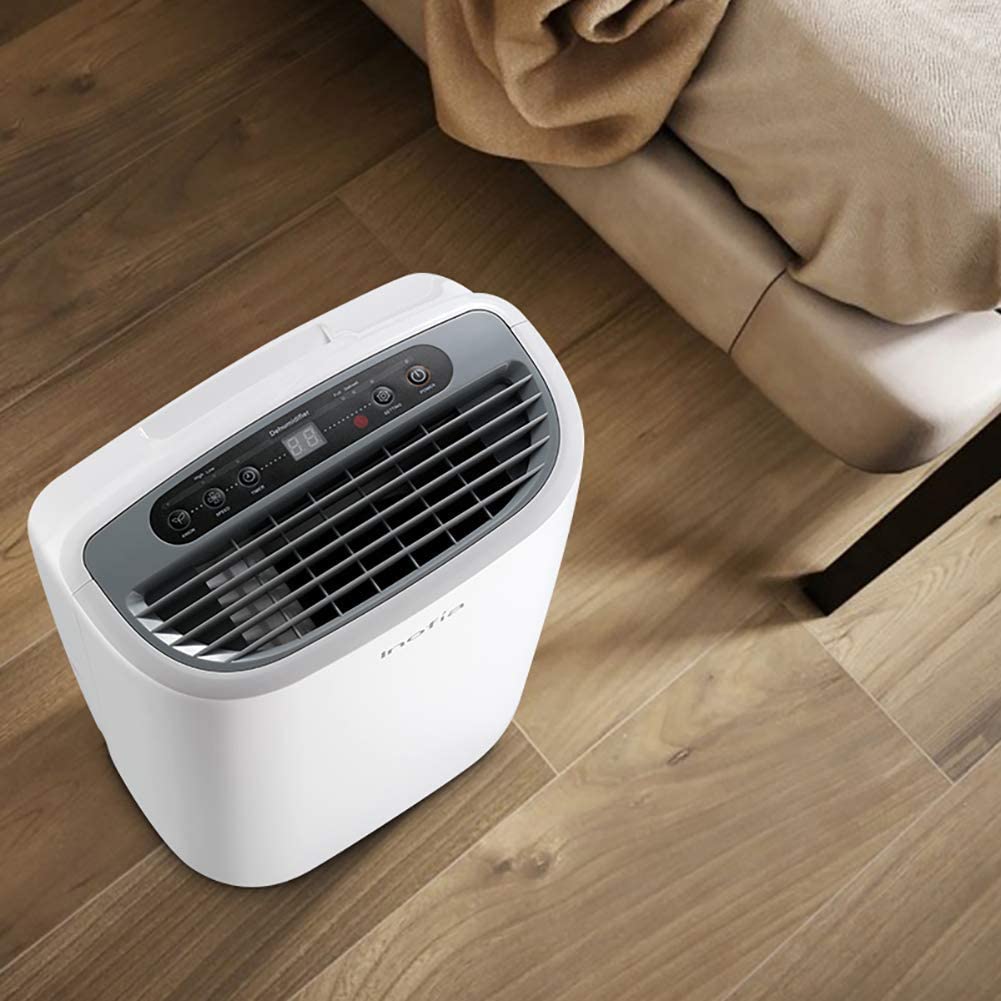 Conclusion
The Inofia dehumidifier is one of the best basement dehumidifiers. It can be used in different rooms and moved around because of the compact lightweight configurations of the unit. This is an affordable model that comes with easy-to-use features that can be accessed directly from the clever display panel which also shows you the humidity level in the room. The appliance performs relentlessly throughout the day, collecting up to 4 gallons of moisture each day yet it works quietly. It starts collecting water in just 2 minutes and if you connect the drainage hose you will see the evidence in just a couple of minutes.
I like how easy it is to use this dehumidifier, they are no complicated settings to mess around with and the water tank capacity is sufficient for most households including those with a severe damp problem. Are you thinking of buying the Inofia 30 Pint Dehumidifier or do you already own one? Please leave your comments below.
Recommended Reading: Best Commercial Dehumidifiers Buyers Guide