Levoit Air Purifier Review LV-H133
Air purifiers are great for filtering indoor air. To recirculate the air, they have fans and filters. However, when using an air purifier for effective air filtering, you must be cautious.
An air purifier, at its most basic level, is an indoor device that collects and filters dangerous particles before releasing new, healthier air. It shows that most air purifiers remove indoor pollutants including bacteria, dust, pollen, odor, and pet dander, to mention a few.
An air purifier can help humans avoid respiratory ailments and allergies by limiting the transmission of hazardous particles and allergens. This device is commonly seen in businesses, homes, learning institutions, and hospitals.
Who needs Air Purifiers the most?
With Existing Health Concerns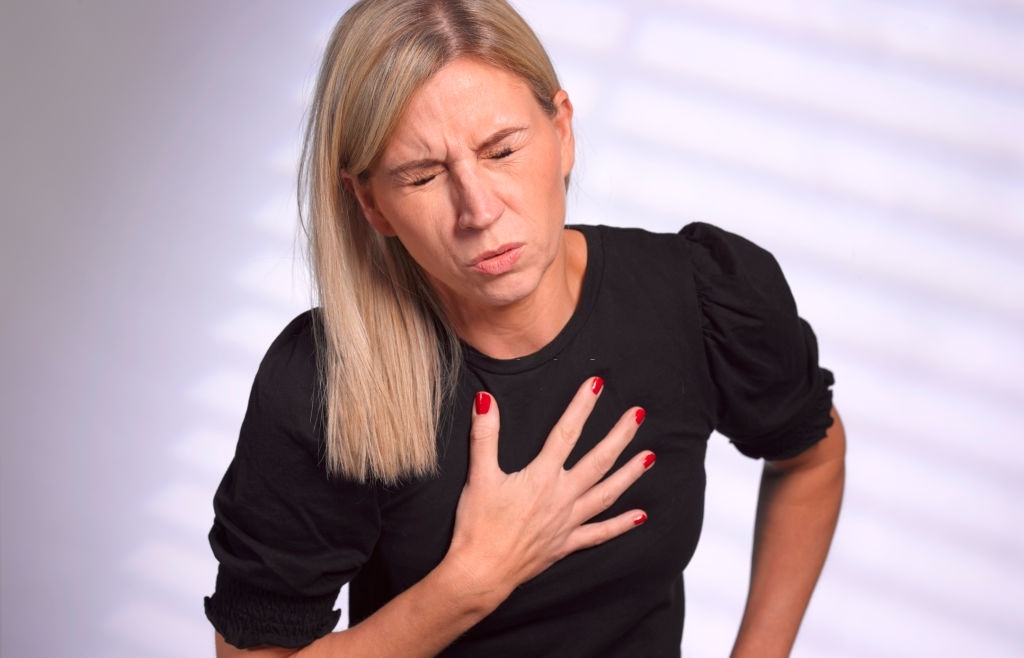 All of us, especially those with allergies and respiratory disorders like asthma, require clean indoor air. Better air quality reduces allergy and asthma triggers at your office, home, school, and car.
Live in a Modern Building or Home
Buildings in the modern time are more energy efficient. As a result, the structures are better sealed to meet the regulations. When this happens, it disrupts the airflow circulation and traps pollutants inside the home. In terms of artificial ventilation, for example, you are more likely to require an air filter.
Near Pollution Sources
Vehicle exhaust, construction chemicals, fresh paints, and other pollutants are all present in certain structures. If you live in those buildings, you can use an air purifier to remove all of these dangerous particles from your indoor air.
A perfect air purifier filters both particle and gaseous contaminants from the air without creating ozone or other potentially dangerous byproducts. The air purifiers made by Levoit are the safest on the market. They don't utilize any electrical filtration in their air purifiers and only employ mechanical filters.
We go over the features, specifications, benefits, and drawbacks of the Levoit LV-H133 in this review.
About Levoit LV-H133 Air Purifier
For those seeking a good air purifier for large spaces, the Levoit LV-H133 air purifier is a great option. Levoit is regarded for delivering some of the greatest products. They are, nonetheless, quite near to achieving success with this product.
The filtration components inside the purifier are primarily responsible for the excellent performance. To begin with, the pre-filter captures bigger particles and serves as a sort of screen for the purifier's main HEPA filter.
You'll definitely enjoy the benefits of this purifier if your home is filled with pollutants and odors. The activated carbon filter follows the HEPA filter and actively removes odors and aromas.
Effective 3-in-1 Filter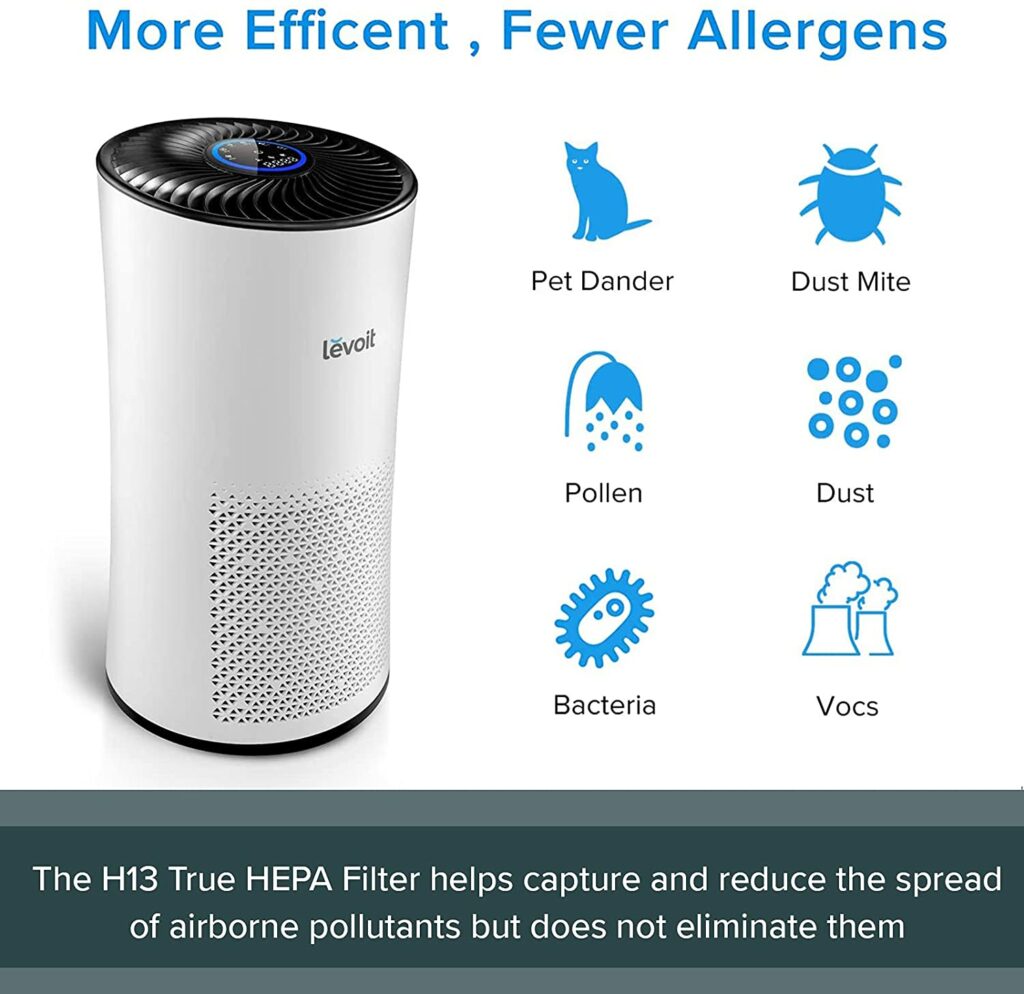 This purifier utilizes a three-stage filtration system. It includes a pre-filter, a True HEPA filter, and an activated carbon filter in a 3-in-1 cartridge. The preliminary net filter eliminates large particles such as hair, lint, pet dander, and dust.
The H13-grade true HEPA filter follows the pre-filter. The True HEPA filter does the majority of the filtration. In this manner, it removes majority of contaminants and odors.
This filter captures and eliminates particles as small as 0.3 microns from the air, with a 99.97 percent efficiency rating. Pollen, fine dust, cigarette residue, and a variety of other contaminants fall into this category.
An activated carbon filter is the final stage. The filter made of granular activated carbon absorbs cooking odors, household aromas, cigarette smoke, and VOCs.
Each of the three filters is packaged together which is simple to replace. The filter has a 6 to 8-month life expectancy. Check the filter replacement indicator to see how long your filter has left.
Touch-based Controls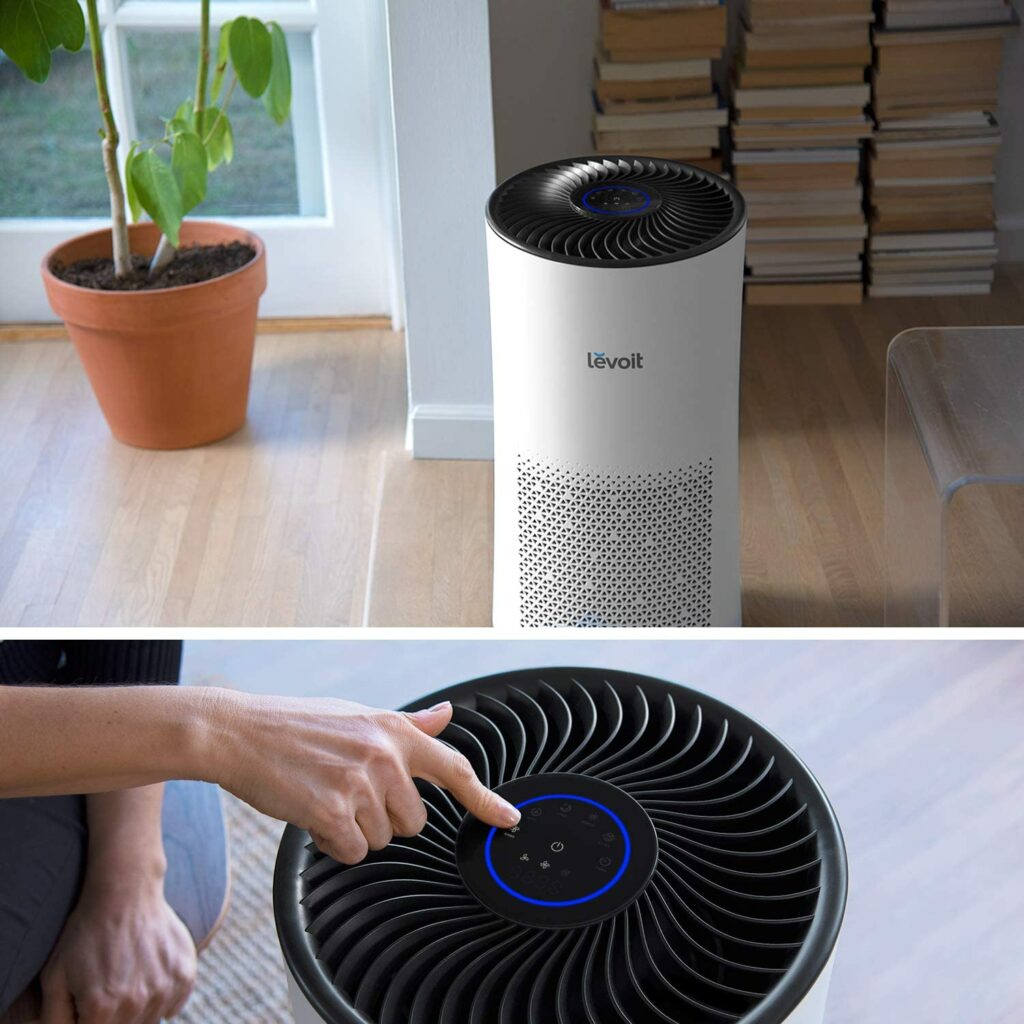 The air purifier uses touch controls to operate. Every mode and button are easy to use. That's not everything. It is appealing because of its attractive UI. Simply push the button once to modify a setting or perform a function.
Indicator for Filter Replacement
Let's take a look at the filter indication first. This button flashes when the filter needs replacement. This should happen after 6-8 months from the previous time you replaced your filter. To reset the filter after replacing it, push the button for three seconds.
Timer Button
The timer button is located after the filter indicator. In any mode, you can set the timer for up to 12 hours. Set the timer if you don't want the purifier to run all the time.
Sleep Mode
Another important feature is the sleep mode. Running an air purifier 24 hours a day, even while sleeping, is suggested. Select sleep mode to ensure that the fan does not disturb your sleep. The purifier will run at the lowest fan speed possible, allowing you to have a good night's sleep.
Air Quality Indicator
Finally, there's a gauge for air quality. The color of this indicator changes based on the air quality in the area. When it becomes blue, the air quality is good; when it turns red, the air quality is bad. To clean the air, set the purifier to the highest fan speed setting.
Sleek Design + Highly Efficient
The purifier has a CADR of 274 cfm thanks to its robust filtration technology and fan. As a result, it's ideal for medium and big spaces. It can purify the air in rooms up to 410 square feet and can clear the air in such settings in 12 minutes (5 air changes per hour).
It can clean large rooms up to 1,030 square feet in 30 minutes and uses 47 watts while doing so. When compared to most standard light bulbs, this is less. As a result, the purifier saves energy. You don't have to worry about power usage if you use it all day and night.
Levoit LV H133 Air Purifier Specifications: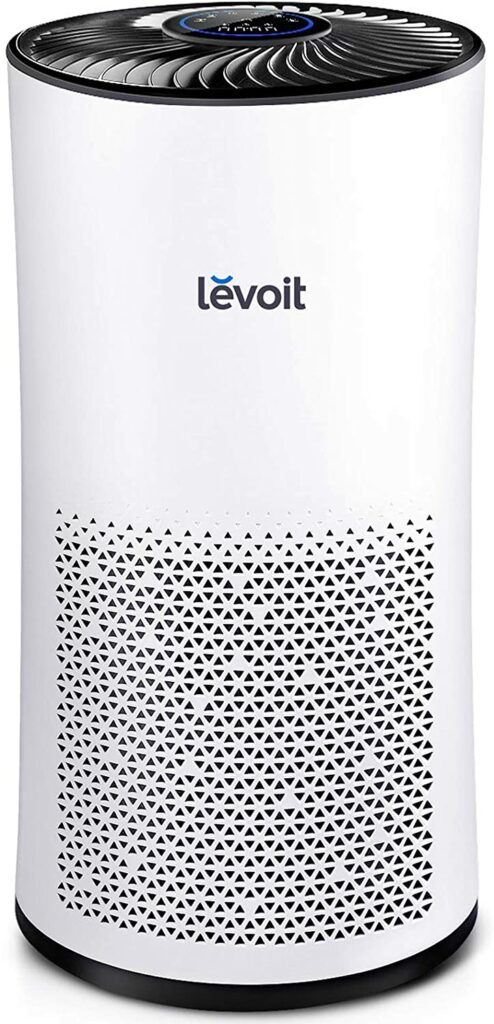 Manufacturer: Levoit
Model: LV-H133
Coverage: Up to 538 sq ft.
Diameter: 14.8 inches
Height: 25.9 inches
Weight: 18 lbs.
Air Output: 360°
Filters: 3
With: Filter Indicator: Yes
Timer: 1-12 Hour
Auto Mode: Yes
Sleep Mode: Yes
Warranty: 1-Year limited
Pros:
Touch control panel with elegant design
Three stages of filtration, all of which are mechanical.
True HEPA filter of H13 grade
Filter with granular activated carbon to eliminate odors
A dust sensor, a moderate CFM level, and auto mode
The fan is ultra-quiet at low fan speeds
Filter replacement is simple, and the magnetic lid is secure.
Energy Star Certified and CARB Approved
Warranty of two years
Cons:
There is no remote control or Wi-Fi connectivity.
Not recommended for strong odors.
There have been some concerns about its long-term durability.
The expense of replacing filters on a yearly basis is a little expensive.
Replacing the filters on a Levoit LV-H133
Changing the filters on this purifier is a straightforward process. You'll need to follow the manual's directions, but you won't need to become an engineer or scientist to figure it out.
Simply open the device, remove the filter that needs replacement, and change it with the new one.
Turn the purifier off.
Locate the filters by opening the purifier.
They should be found near the device's top.
Prepare a plastic bag. The filters should then be removed and placed in the plastic bag.
Replace the old filters with new ones.
The frequency with which you should replace the filter is determined on how frequently you use it and the filter's quality.
HEPA filters typically last 5-7 months, though this figure drops if you use the purifier frequently.
The same can be said about the activated carbon filter: the more you use it, the less it works. To keep the purifier running at higher levels, it must be replaced on a regular basis.
Is the Levoit LV-H133 Suitable for Larger Spaces?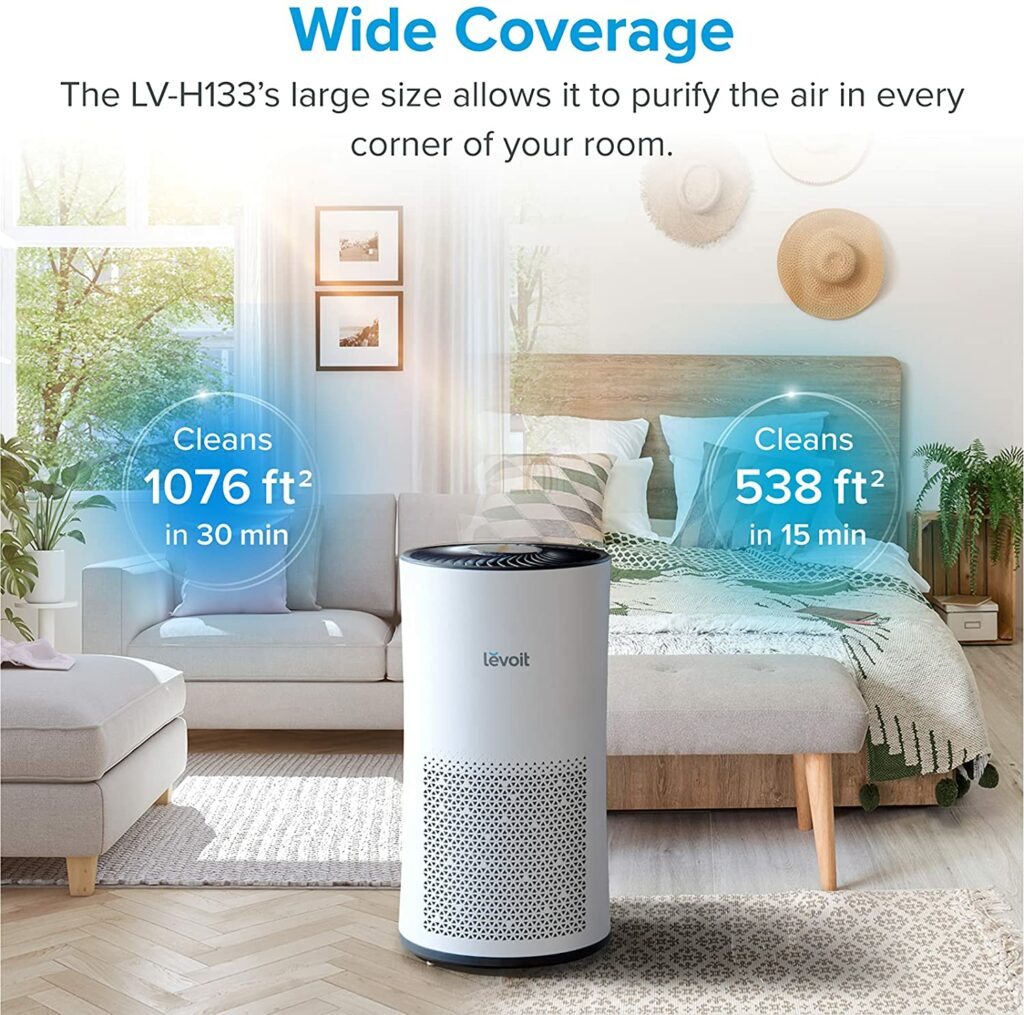 Yes, one of the nicest features of this purifier is that it works well in larger spaces. This is mostly owing to its great performance at higher fan speeds.
The purifier has three fan speeds, the highest of which can cleanse up to 800 sq. ft. of air in about half an hour. As a result, this device is a great choice for larger spaces. However, if you require a quiet performance as well as a high level of purification, this purifier will be able to meet your needs.
Simply reduce the fan speed slightly, and the purifier will continue to operate at a high degree of efficiency.
You just can't go wrong with this purifier if you're looking for a purifier for a large space. It will get the job done in your living room, basement, huge bedroom, or numerous rooms at the same time.
Is There a User Manual for the Levoit Lv-h133?
Yes, the user manual is normally included in the box when you buy a Levoit air purifier. You can always get the user manual online if you don't want to preserve it.
What is the Levoit LV-H133 Good For?
The Levoit LV-H133 purifier is a flexible piece of equipment. Whatever you ask of it, it will deliver. To begin with, it's an excellent purifier for improving the air quality in your home.
If you have asthma or are allergic to something, you should avoid it. Allergy and asthma are triggered by a variety of contaminants, and this purifier ensures that there are few to none in the air.
The 3-stage filtration system eliminates allergens such as pollen, dust and dust mites, pet dander and smells, smoke and bad smells, and other contaminants in the air.
This ensures that the purifier is a wonderful choice for people who require a good purifier to aid in the treatment of asthma or allergies.
Final Verdict
The Levoit LV-H133 purifier is one of the most cost-effective purifiers available. It's an excellent purifier for large rooms, and the greatest part is that it won't break the bank. It could be a good air purifier for allergy patients and pet owners.
An H13 HEPA filter and an activated carbon filter are included in the three-stage filtration system. Both filters are good at removing airborne pollutants and aromas from the home. The graceful design will effortlessly merge into any modern environment.
We took a closer look at the purifier in this review and analyzed its benefits and drawbacks. Hopefully, it was useful to you, and we were able to help you make a more informed decision.
Recommended for You: Best Air Purifiers for Allergies | Home Tools for a Cleaner and Safer Air