Best Air Purifiers for Mold in 2021
Affiliate Disclosure: I am grateful to be of service and to bring you content free of charge. In order to do this, please note that when you click links and purchase items, in most cases I receive referral commissions. Eventually, I may earn enough to buy a beer or two 🙂
Are you aware that your home has a mold and mildew problem? We think this since you've come to find the best air purifiers for mold and viruses in your home. To be more precise, you're dealing with the following issues:
Mold spore allergies are a problem for you (or a member of your family).
You're not allergic to mold, but you're aware that long-term exposure to mold can be harmful to your health. You don't let that happen, do you?
If you answered yes to both of these questions, it's time to find the best mold, mildew, and virus removal option for your home. They're all included in the top mold air purifiers list.
Air purifiers are a low-cost, simple-to-use approach to improve indoor air quality. Once turned on, the unit takes care of the rest. Air purifiers are built to run 24 hours a day, seven days a week, so you can breathe easier at home.
How Indoor Air Purifiers Work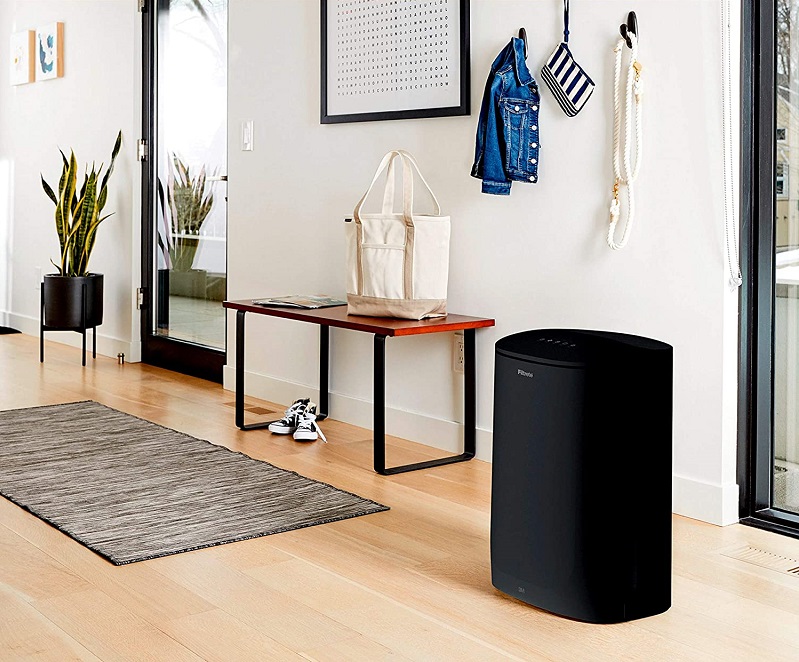 Air purifiers use a system of internal fans to pull the air in your home through a series of filters that remove harmful airborne particles like dust, pollen and bacteria. The air purifier then circulates the purified air back into the room. This process repeats itself several times an hour, keeping your environment healthy.
Why Do You Need an Air Purifier?
If you don't think an air purifier is the right choice for your home; here are some reasons to reconsider:
Air purifiers ensure your family is breathing clean air. The EPA estimates that indoor air is two to five times dirtier than outdoor air — and sometimes up to 100 times dirtier.
You can stay healthy by using a good air purifier.
Air purifiers. removes unpleasant scents. You enjoy cooking, but your weekly fish fry fills the home with the scent of, well, fish. Air purifiers not only clean the air, but also aid in the removal of unpleasant and burnt food aromas.
Air purifiers can trap pet danders and other allergens. You may adore your pet, but he or she introduces pet dander, fur, and other allergies into your home's air, not to mention the odors! Air purifiers work to prevent allergens from entering your home by trapping them.
Air filters can neutralize smoke which causes an unpleasant odor.
An air purifier can help catch smoke before it gets into your upholstery, whether it's from a friend or relative who smokes or your fondness for a blazing fireplace making your home smell nasty.
An air purifier traps dust before it has a chance to settle, decreasing build-up and reducing the amount of cleaning you have to do.
Air purifiers can get rid of up to 99 percent of microorganisms in the air. Pollen, mold spores, and other microorganisms float around in the air, making your family sick.
Our Top Picks for the Best Air Purifiers For Mold in 2021
We'll offer all of our information regarding the advantages and disadvantages of each air purifier. In addition, you should read our buying guide to learn more about why we choose this list of best air purifiers for mold, mildew, and virus in 2021.
#1 AZEUS UV Light Sanitizer & Ionizer Air Purifier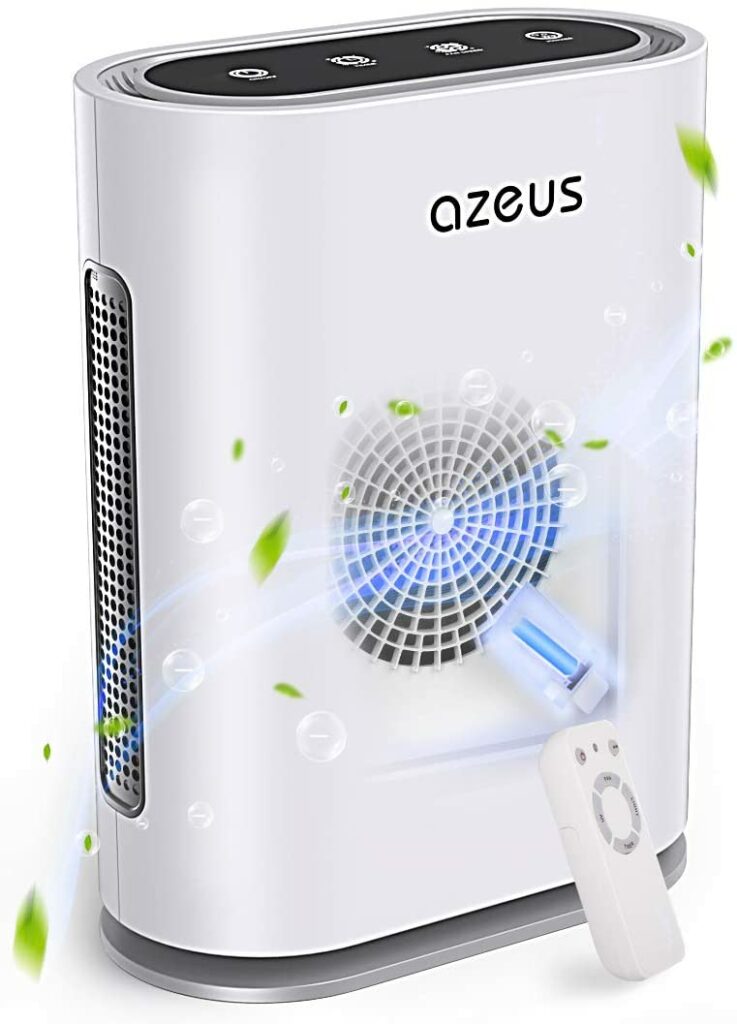 The AZEUS air purifier removes a wide range of contaminants from the air, including dust, pollutants, and allergies. Overall, it performs admirably and offers a wide range of cleaning options. Germs, allergens, pollen, smoke, dust, pet dander, and mold odors are all eliminated by the AZEUS air purifier. It's also a fantastic option for people who suffer from allergies.
This air purifier can be used in a variety of settings, including large and small rooms, nurseries, kitchens, basements, and offices.
A real HEPA filter, activated carbon filter, pre-filter, and UV light absorbed formaldehyde particles make up this seven-in-one air purification system. AZEUS is the greatest air purifier for asthma sufferers, as it reduces your chances of getting sick from indoor allergies.
Installing the Azeus Air Purifier
The AZEUS air purifier is extremely simple to install. Remove the front panel after removing it from the box to access the air filter. Keep the filter clean with a plastic cover, so it will be brand new when you first use it. After all, if you don't do this, your air purifier can cause problems since the airflow will be obstructed by the bag.
After that, all you have to do is plug it in and turn it on for it to function. Touch buttons on the top include an on/off button, a timer, fan speed, and the ability to toggle the ionizer on and off.
Auto-Air Quality Sensor With Auto Mode
The air quality indicator on the AZEUS GL-FS32 Air Purifier measures real air quality and shows several color-coded air quality levels.
The red color, for example, indicates that the air quality in the room is low. The green color indicates that the air quality in the room is moderate. The air quality is good for human health if the indicator light color is blue.
When the indicator detects poor air quality in the room, the air purifier switches to a low-speed fan mode.
Product Specifications: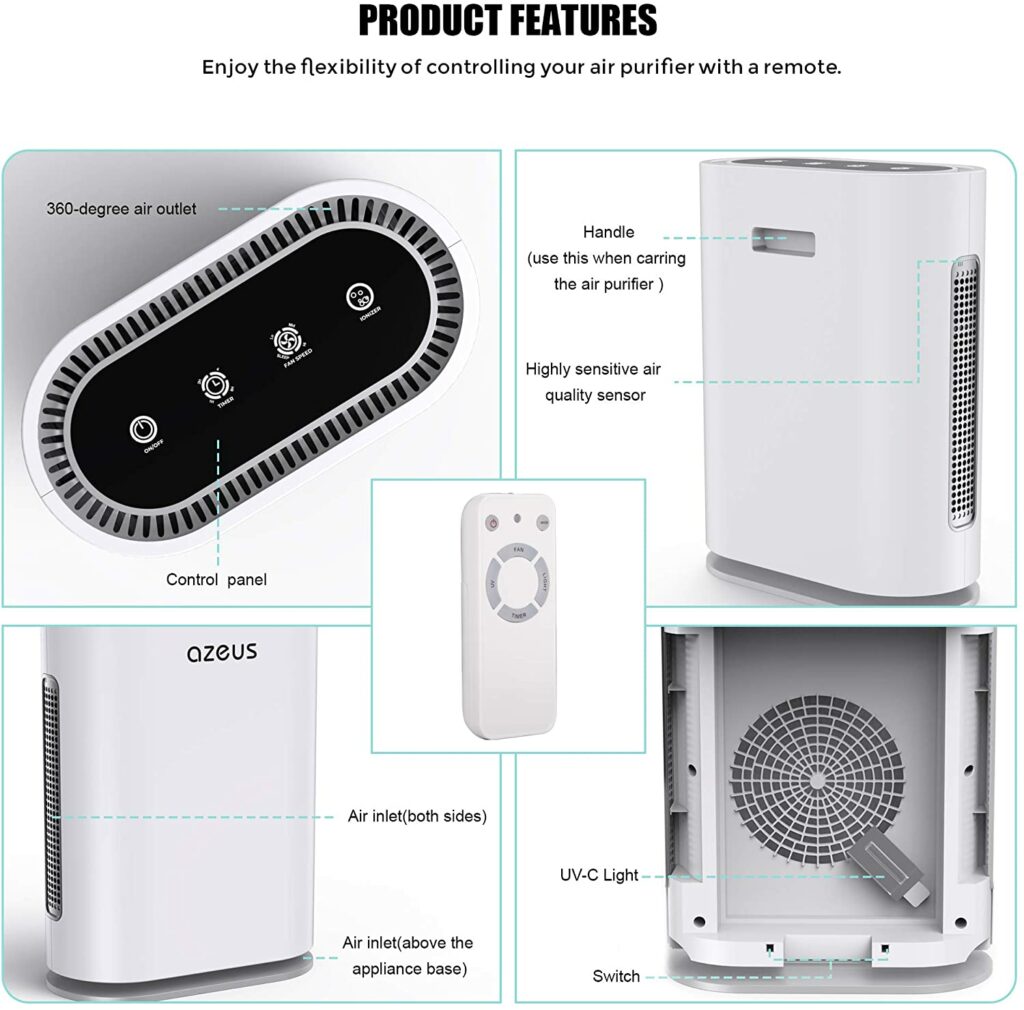 Dimensions: 8.5 x 8.5 x 12.5 inches
Weight: 3.75 lbs
Noise Level: 25 – 56dB
Coverage Area: Up to 376 sq.ft.
Filtration: 3-in-1 Filtration
Fan Speed: 3
ACH: 4.5x
Certifications: CARB, ETL, FCC, CE
Warranty: 3 Years
Pros:
Helps reduces mold, dust, pet dander, and pollen
Features a seven-stage filtration system.
Allergy and asthma sufferers will benefit the most from this product.
Includes a filter's life expectancy indicator
UV light is used to eliminate viruses and fungus in an indoor air quality monitor.
Cons:
Where to buy AZEUS UV Light Sanitizer & Ionizer Air Purifier
#2 Medify MA-40 H-13 Air Purifier
The Medify MA-40 air purifier delivers outstanding results in rooms up to 800 square feet. In a space this size, foul air is sucked in through the rear intake and clean air is expelled at a 2-ACH rate out the front outlet.
This implies that in one hour, it circulates all of the air in the room twice. The purifier also produces clean air at a rate of 330 cubic feet per minute, which is towards the top of the CADR scale.
H13 Filter of Medical Grade
Medify installed a massive three-in-one filter in the MA-40 to trap allergens, remove odors, and absorb VOCs without air escaping between the layers. An activated carbon layer, a pre-filtration layer, and a true-HEPA layer make up this filter.
Genuine HEPA filters are available in a variety of efficiency levels. This air purifier's HEPA filter is made of medical-grade H13 media. As a result, it catches 99.97% of 0.3-micron particles as well as 99.95% of 0.1-micron particles, while delivering a level of cleanliness that few other purifiers can match.
Ionizer (Optional)
Additionally, the Medify MA-40 v2.0 comes with an ionizer. It emits charged particles that attach themselves to the dust in the air.
The ionizer can only assist in the removal of particles from the air, not odorous pollutants. It normally enhances particle CADR by about 8%. A little amount of ozone is produced as a consequence of ionizer filtering. The unit, on the other hand, is ozone-safe and CARB-approved.
In fact, if you have asthma or other breathing problems at home, you should not use this feature.
Level of Noise
The noise level of the air purifier is 46 decibels at the lowest fan speed and 66 dB at the highest fan speed. When compared to the air delivery rate, the noise level is slightly higher.
The minimal noise level is 46 dB, which isn't exactly whisper-quiet. So, if you want to use it in sleep mode in the bedroom at night, keep it a bit away from the bed.
Product Specifications: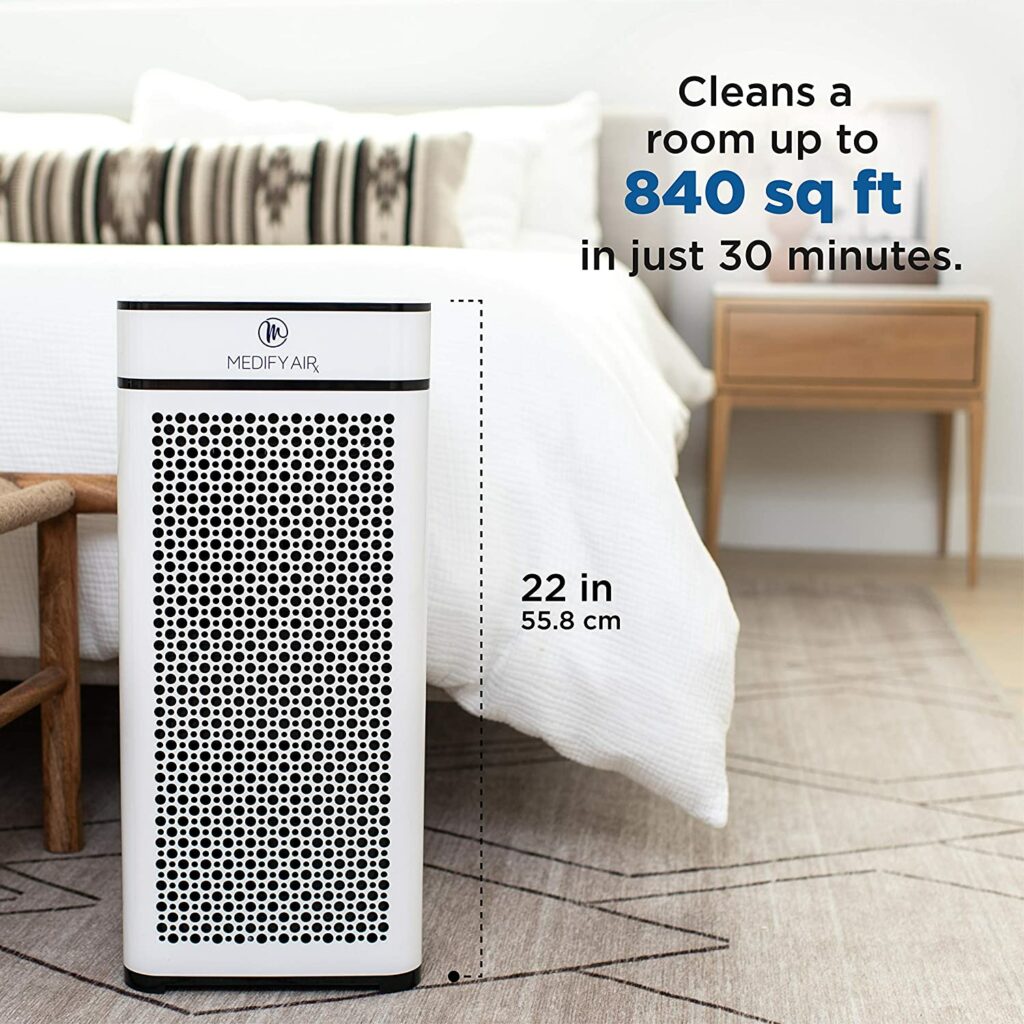 Filtration Technology: Pre-filter, HEPA filter, Activated carbon filter
HEPA Class Grade: H13 True HEPA
Filter Life: Up to 6 months
Maximum CADR: 224 cfm
Fan Speeds: 4 (sleep mode included)
Noise Level: 46 – 66 dB(A)
Rated Power: 54 Watt
Weight: 15.6 lbs
Dimensions (HxWxD): 22″ x 9.9″ x 10.9″
Pros:
The touch control panel is easy to use and has a modern look.
HEPA filter H13, with a longer filter life.
A pelletized activated carbon filter in the shape of a honeycomb is used to eliminate odors.
Filter pack with three filters in one
The ionizer does not emit any nasty odors.
CADR values in the moderate range
Sleep mode, three customizable fan speeds, and a child lock feature are all included.
It's simple to keep up with and transport between locations.
Lifetime Warranty
Cons:
Even at the lowest fan speed, the fan is a little louder.
Strong scents are impossible to get rid of which is common among air purifiers.
There isn't a separate washable pre-filter.
Where to buy Medify MA-40 H-13 Air Purifier
#3 GermGuardian AC5350B True HEPA Air Purifier

We would classify the GermGuardian AC5350B as a middle-of-the-market option to the more pricey units on the market. This all-rounder unit combines visually pleasing design features with efficient and effective performance requirements.
This will ensure that you and your loved ones remain healthy, safe in the knowledge that the air you breathe has been cleaned of practically all contaminants.
Cleaning Abilities
The Guardian Technologies GermGuardian AC5350B air purifier has a 4-in-1 system that includes an activated carbon filter, a strong UV-C filter, and a True HEPA filter.This setup is one that Guardian Technologies frequently use because it has shown to be particularly effective in some of their other devices.
You can rest assured that the GermGuardian AC5350B will function efficiently and effectively, besides, giving you a breath of fresh air for you and your loved ones, with a Clean Air Delivery Rate (CADR) of 125+.
Traps Large Airborne Pollutants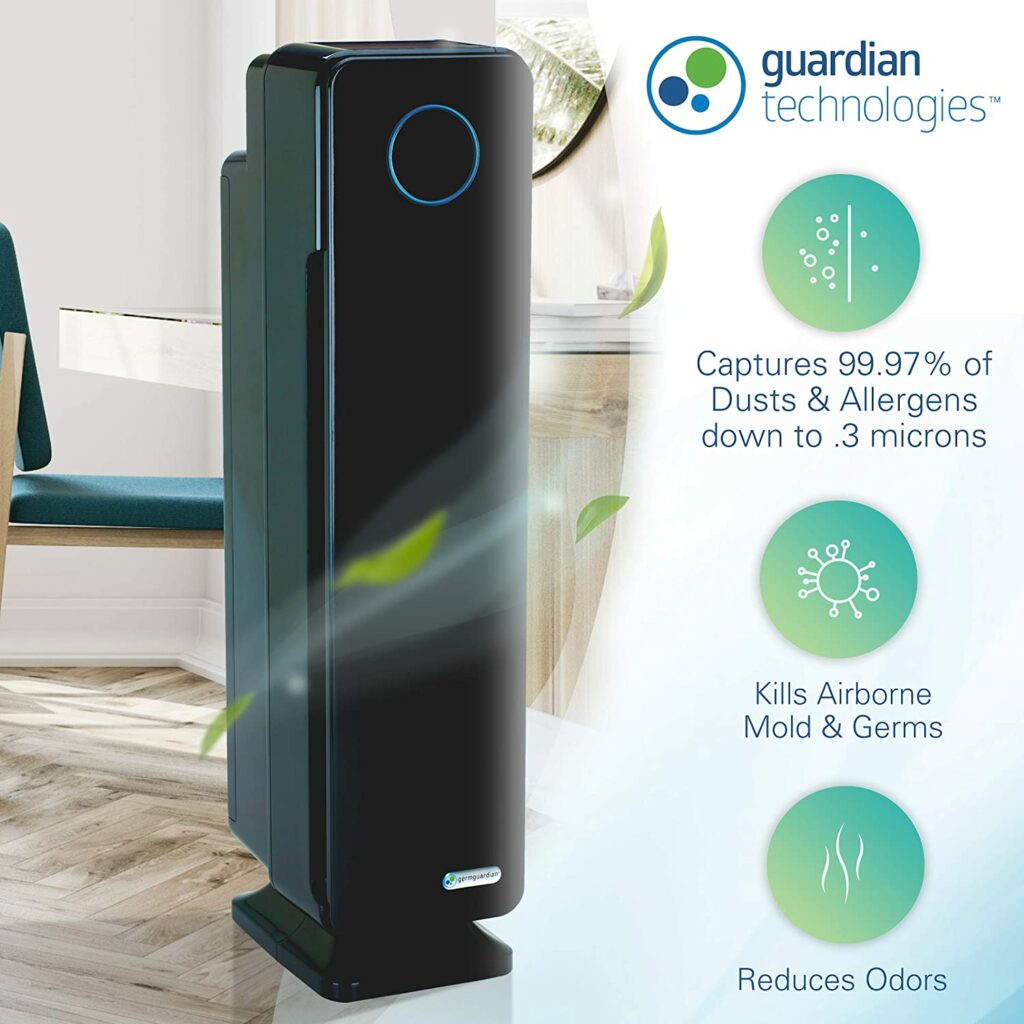 The activated carbon filter effectively traps big airborne particulates, minimizing odors in the home while also protecting the more expensive HEPA filter from potentially harmful intakes.
This device's UV-C Technology exposes bacteria to UV-C radiation, which destroys their DNA and prevents them from reproducing. Finally, the True HEPA filter, which captures 99.97 percent of airborne pollutants as fine as 0.3 microns, is the star of the show.
This device is best suited to medium-sized rooms of up to 250 square feet.
Convenience
Unfortunately, there is no wireless remote control included with this machine, therefore operation must be done manually. We believe that omitting this feature is a serious omission, and the GermGuardian AC5350B suffers as a result.
Product Specifications:
Product Weight: 11.10 lbs
Dimensions: 9.06 x 6.69 x 27.56 inches
Cord Length: 6 feet
Material: Plastic
Coverage Area: 167 sq. ft.
Input Voltage: AC120V 60Hz
Cleaning stages: 4
Filters: Charcoal, True HEPA
Fan speeds: 5
Energy Star Certification: Yes
Warranty: 5-year limited
Where to buy GermGuardian AC5350B True HEPA Air Purifier
#4 Hathaspace HSP002 Smart True HEPA Air Purifier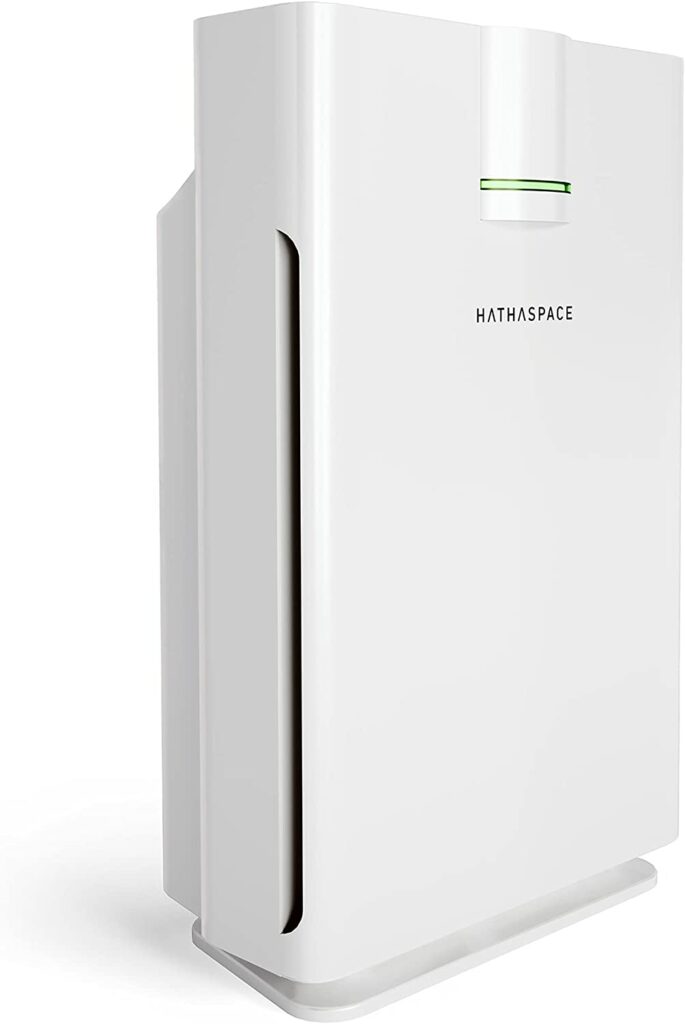 Hathaspace's Smart True HEPA Air Purifier 2.0 (HSP002) continues to dominate the mid-range market. Following the success of the Hathaspace HSP001, we all expect the Hathaspace Smart True HEPA Air Purifier 2.0 to deliver incredible performance at a price point that falls between premium and mid-range.
The Hathaspace HSP002 indeed, can be a good option for you if you're searching for a gorgeous and elegant air purifier to reduce allergens and odor in large areas. The AQI light bar, which is color-coded, will tell you whether or not the purifier is working.
With increased coverage and an H13-HEPA filter, the Hathaspace HSP002 is truly, a good upgrade to the best-selling HSP001 model.
Air filter Quality
How good is an air purifier if it doesn't have an A-grade filter? The Hathaspace Smart True HEPA Air Purifier includes a medical-grade filtration technology to ensure that you are breathing the best air possible.
You get a 5-in-1 filtration system with its H13 Medical Grade HEPA filters, which attack allergens and pollutants front on.
The washable pre-filter in this 5-in-1 filtration system is the first line of defense against bigger material. The pre-filter collects pet hair and lint, allowing the succeeding filter layers to last longer.
Smart Feature
This air purifier is intelligent, and it will monitor the air quality in your home for you.
The Hathaspace Smart True HEPA Air Purifier gives real-time feedback by continuously monitoring your air quality with its laser particle sensor, which appears as a number and color on the purifier's front panel.
When set on auto, this indicator is all the air purifier needs to customize the fan speed to maintain the ideal level of air quality. Do you want to be more hands-on with your work? That is not an issue.
You have complete control over any of the fan speeds on this air purifier, allowing you to customize the output to your liking. Finally, there's even a sleep option that allows you to use it all night long.
Product Specifications: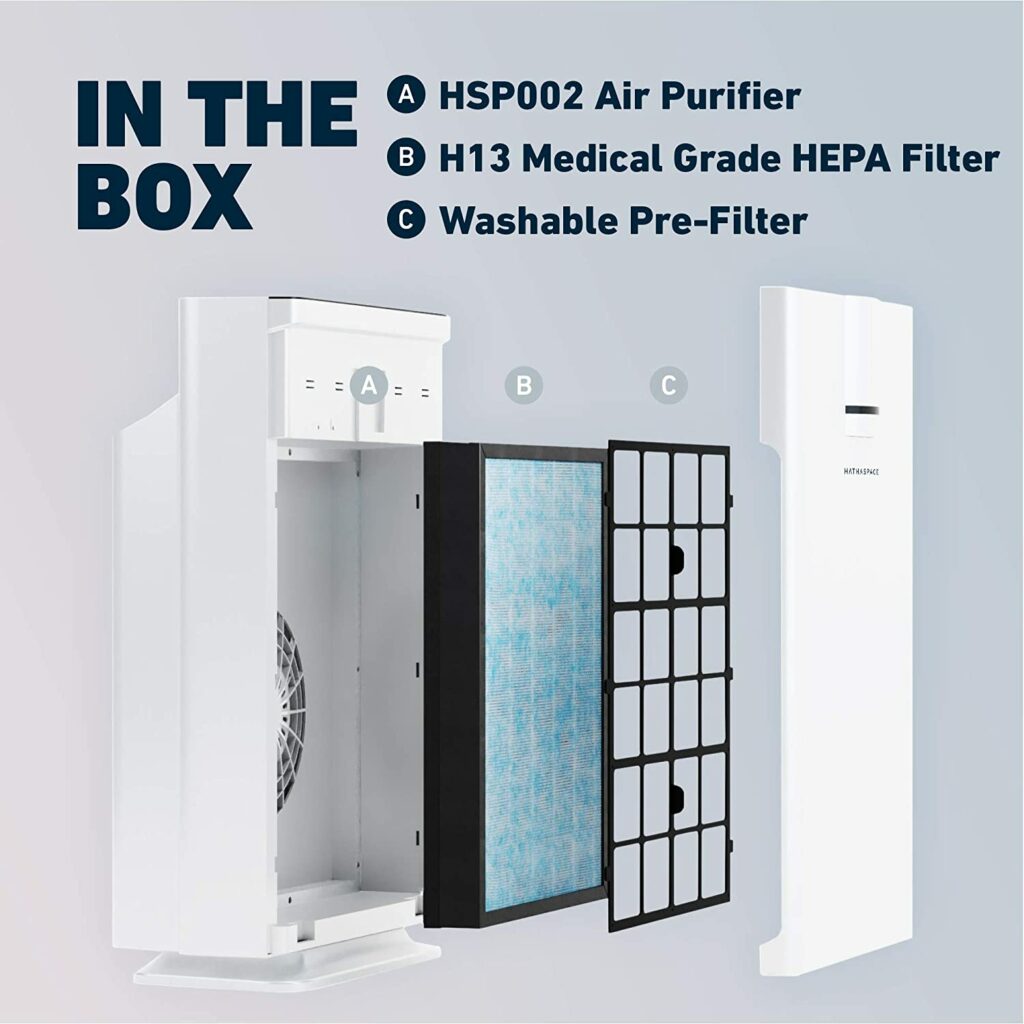 HEPA Class: H13 True HEPA
Filter Life: 4 months
Maximum CADR: 265 cfm
Coverage: 400 sq ft (calculate ACH for your room)
Sensors: Particle sensor
Fan Speeds: 3
Automatic Mode: Yes
Noise Level: 30 – 60 dB
Rated Power: 40 Watt
Weight: 25 lbs
Dimensions (HxWxL) 27″ x 9″ x 16.5″
Pros:
Uses H13 HEPA as the primary particle filter.
Pre-filter that is both permanent and washable
Zeolite is effective for odor control because it covers a vast area.
Design in a gleaming white, with a touch panel for easy control
Colored and numeric AQI display, built-in laser particle sensor
Ozone-free, CARB-approved, and Energy Star-certified
Warranty of five years
Cons
No app or Wi-Fi connectivity
Where to buy Hathaspace HSP002 Smart True HEPA Air Purifier
Check Out Detailed Product Review for Hathaspace HSP002 Air Purifier
#5 Winix 5500-2 True HEPA Air Purifier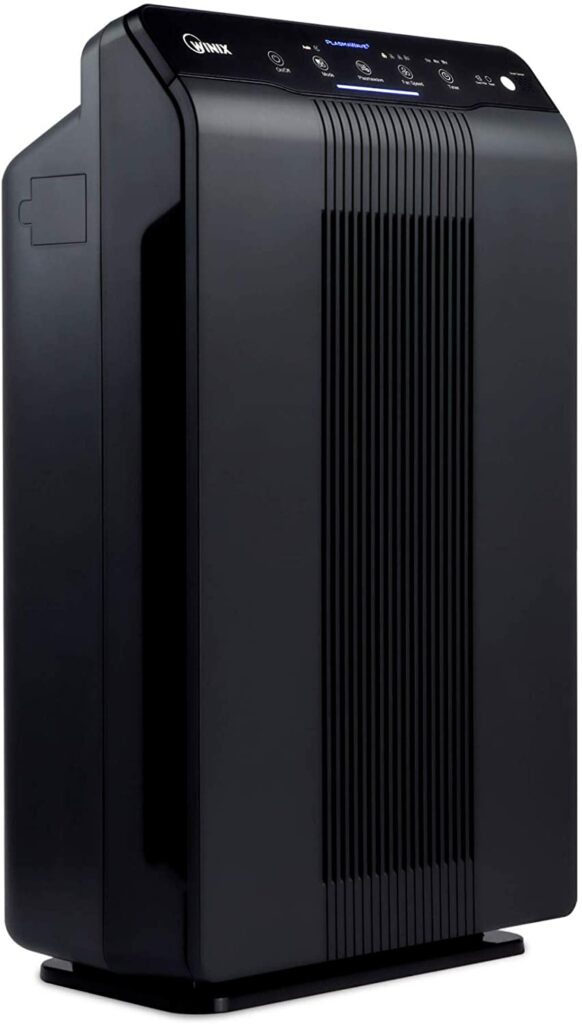 Winix 5500-2 is of course, one of the company's most popular air purifiers. It's also the first air purifier from the Korean behemoth to be named Amazon's Choice. Winix 5500-2 is one of the company's most popular air purifiers. It's also the first air purifier from the Korean behemoth to be named Amazon's Choice.
3-Stage Filtration
The Winix 5500-2 cleans your indoor air using three separate methods. As a result, it employs them in stages. The three stages are as follows:
The AOC is a non-profit organization that promotes (Advanced Odor Control) Carbon Filter: Also, this is made up of adsorbent materials that filter carbon particles from the air as it passes through its pores.
In fact, it is the first of the Winix 5500-2's three-stage purifying method. It decreases interior odors and VOCs (Volatile Organic Compounds) from cooking, pets, smoke, and other activities or substances. It's specifically made to collect airborne particles that can be found indoors.
True HEPA Air Filter
The most effective air filter is a HEPA (High-efficiency particulate air purifier). The filtration device is made up of many filters in order to filter microscopic particles and germs.
HEPA filters come in two varieties.
Product Specifications:
HEPA Class: True HEPA
Filter Lifespan: 12 months
Filter Replacement Indicator: Yes
Maximum CADR: 232 cfm
Area Coverage: 350 sq.ft. with 5 air changes per hour (ACH)
Sensors: VOC sensor and ambient light sensor
Manual Fan Speeds: 4
Automatic Mode: Yes
Dimensions (HxWxD): 23.6″ x 14.9″ x 7.8″
Product Weight: 17.6 lbs
Level of Noise: 27.8 – 54.8 dB
Rated Power: 70 Watts
Voltage: 120 V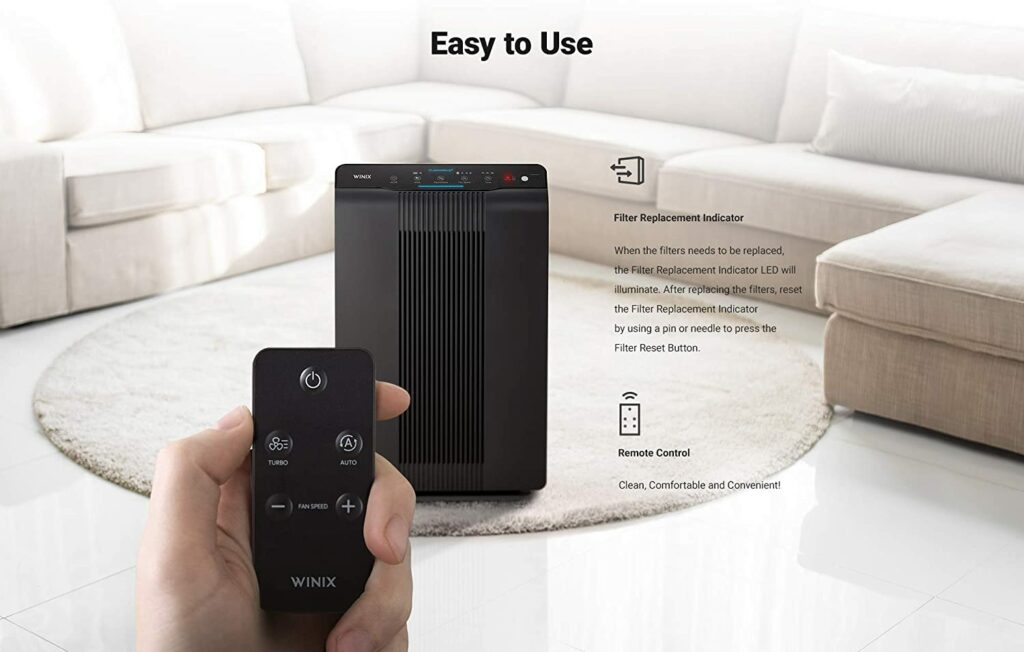 Pros:
There is a four-stage filtration system in place.
True HEPA grade particle filter with permanent pre-filter
Activated carbon filter made of honeycomb pellets that can be washed
Air quality sensors are built-in to measure air quality.
When the lights are turned off, sleep mode is immediately engaged. AHAM validated, CARB authorized, and Energy Star certified
Cons:
Carbon pellets in small quantities
There is no backlight on the remote control.
Where to buy Winix 5500-2 True HEPA Air Purifier
Check Out Detailed Product Review for Winix 5500-2 True HEPA Air Purifier
#6 SilverOnyx 5-in-1 Air Purifier for Mold, Allergies and Dust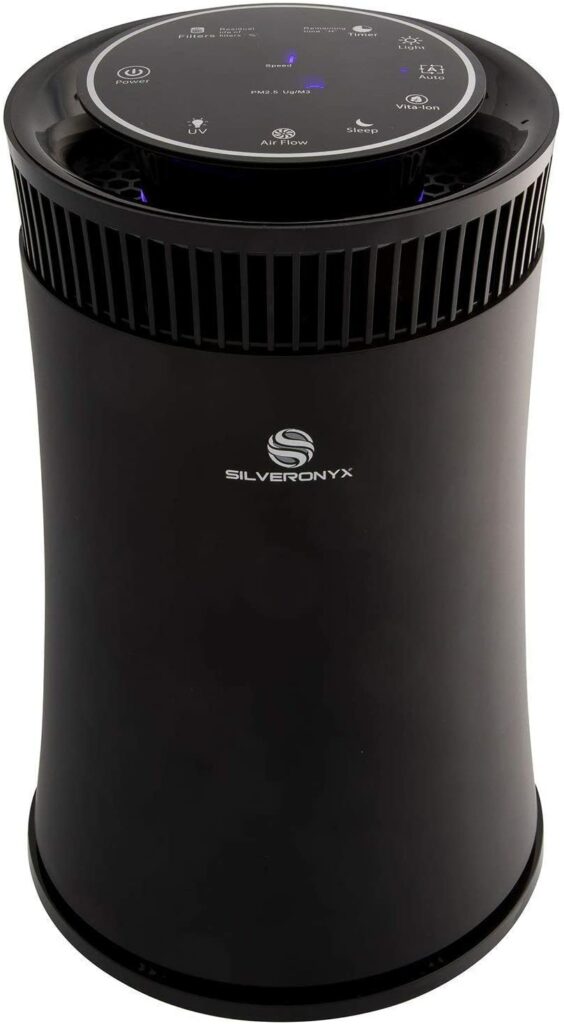 In the realm of low-cost air purifiers, there are a plethora of microbrands that may only be recognized by residents of the United States. Hence, the SilverOnyx is one air purifier from a company like that, a company that uses its own name for its most popular air purification gadget rather than coming up with a fresh unique name.
For instance, if you're looking for a break from the large air purifier manufacturers, we'd like to introduce you to the SilverOnyx Review, which is for a fantastic 5-in-1 air purifier made by a Utah firm.
The 5-stage air purification procedure gives the SilverOnyx 5-in-1 air purifier its name. With these five air filtering technologies together, an air purifier can provide some of the cleanest, freshest air conceivable.
This product, in particular, generates a sterile environment by using Ultra Violet light to eradicate airborne germs—a feature that you won't find on many other air purifiers of this size.
Types of Filters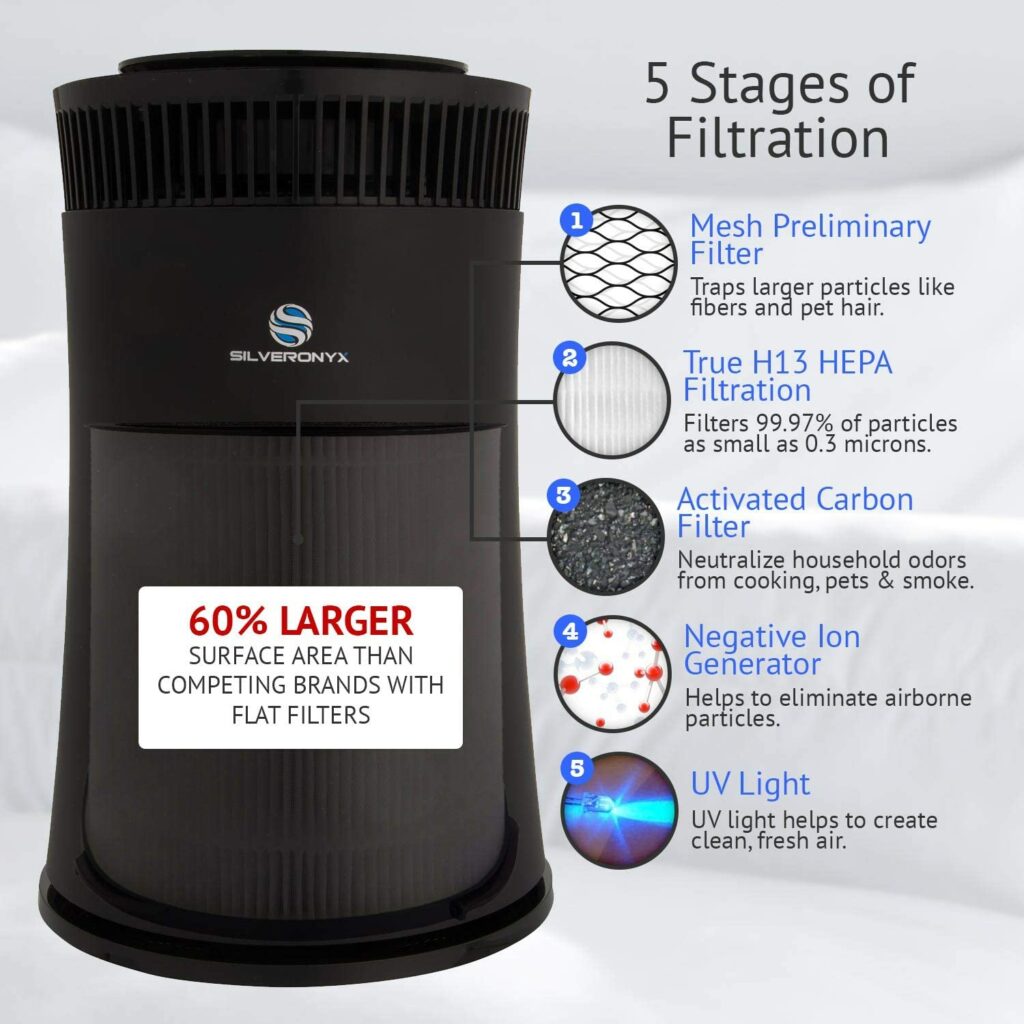 Pre-filter – This filter is the very first layer of protection against airborne contaminants. It uses a micromesh material to catch big particles including dirt, hair, dust, and other contaminants.
H13 HEPA Filter – This is a good HEPA filter that comes in second place. The HEPA filtration system collects 99.99% of hazardous particles as small as 0.3 microns. Secondly, H14 is the next level up, and it's 99.995 percent effective (or 0.045 percent )
Activated Carbon Filter: It can reduce volatile Organic Compounds (VOCs) and harmful gases such as formaldehyde and acetaldehyde. In addition, these poisonous compounds are frequently found in indoor air and can harm your health. As described in our tutorial on what an activated carbon filter accomplishes, this filter also lowers common household scents caused by cooking, pets, mold, and paints.
UltraViolet Light (UVL) – This method is used to kill bacteria, viruses, and mold spores. Thus, this creates a more hygienic atmosphere, keeping you healthier and less susceptible to illness.
Ionizer (Anion Generator) – This technology enhances the machine's air-cleaning capabilities. It operates by releasing negatively charged ions into the air to aid in the collection of contaminants by the HEPA filter. (It can be activated as well as deactivated.)
Product Specifications: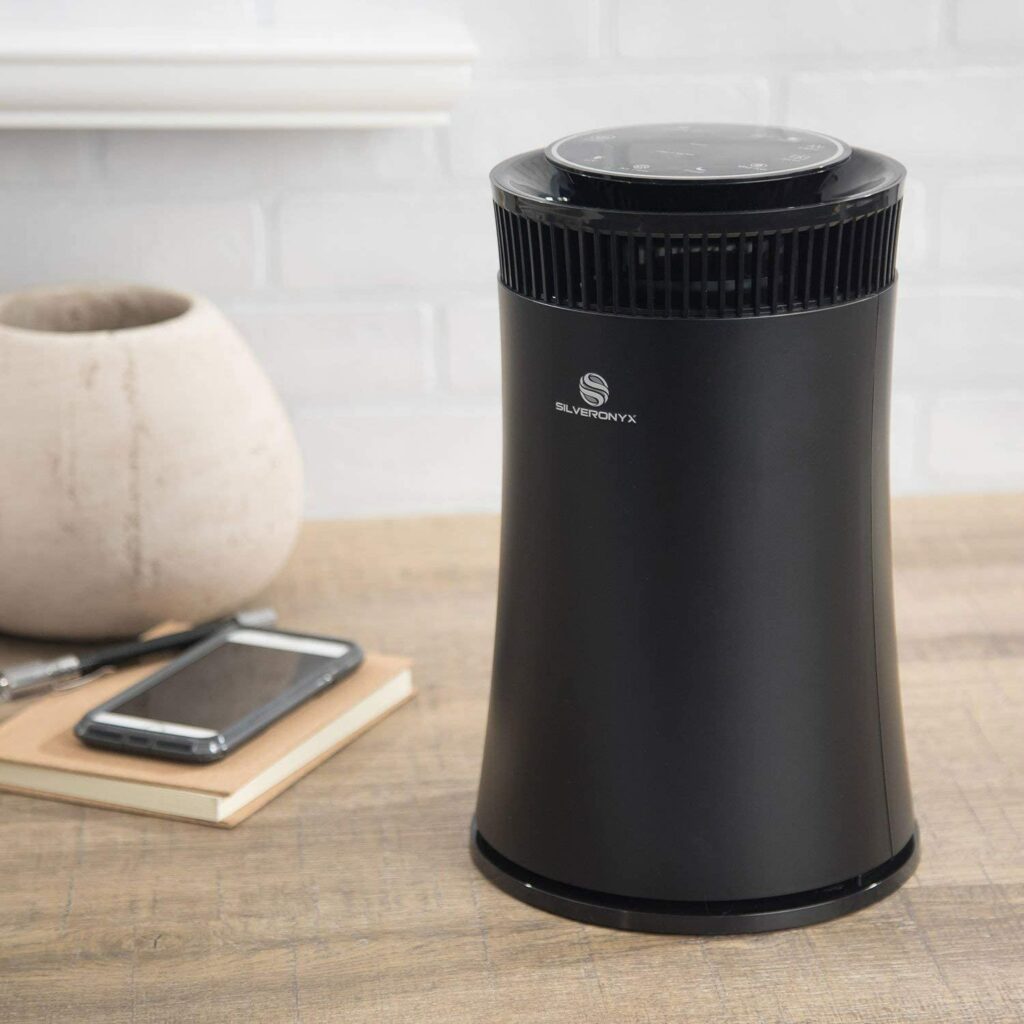 Product Dimensions: 8.4 X 8.4 X 13.1 inches
Weight: 5.1 lbs
Coverage Area: Up to 500 square feet
Number of Filters: 5
With Ionizer: Yes
With Filter Life Indicator: yes
Auto Mode: Yes
Number of Fan Speeds: 5
Air Quality Indicator: Yes
Pros:
Excellent air filtration system
Smart sensor with high accuracy and a stylish design
The Advanced brushless DC motor is extremely silent.
Cons:
Room coverage has a low CADR value.
Where to buy SilverOnyx 5-in-1 Air Purifier for Mold, Allergies and Dust
#7 Levoit LV-H133 Air Purifier for Large Room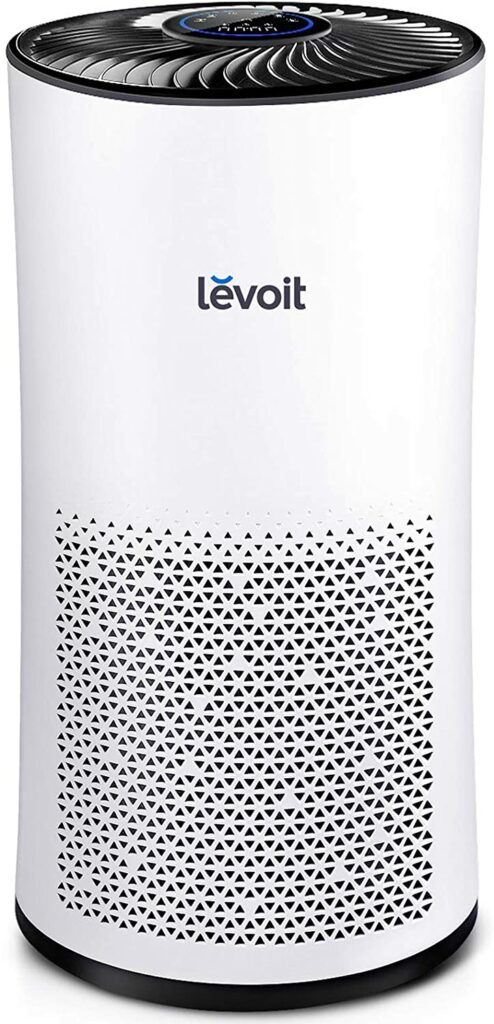 There are over a thousand distinct manufacturers of air purifiers, but Levoit is one of the most well-known and trustworthy in this particular area. In this scenario, the Levoit LV-H133 comes close to being in the middle of the pack. Sure, it's not the top-of-the-line model. It does, however, have a lot of genuine power and filtering capabilities.
The LEVOIT LV-H133 Air Purifier is a large-room air purifier. It can cover rooms up to 400 square feet in size. It has a single air filter with three layers of filtration. The LV-filtration H133's is entirely mechanical, and there is no air ionizer.
This means that the air purifier will not produce Ozone, which is a common adverse effect of air purifiers using ionizers.
Efficient 3-in-1 Filter
This Levoit purifier uses a three-stage filtering method. In a 3-in-1 cartridge, they feature a pre-filter, True HEPA filter, and activated carbon filter. Large particles such as hair, lint, pet fur, dust, and pet dander are captured by the preliminary net filter.
The H13-grade real HEPA filter follows the pre-filter. This filter catches and eliminates particles as small as 0.3 microns from the air with a 99.97 percent efficiency rating. Pollen, fine dust, cigarette residue, and a variety of other contaminants are among them.
Last but not least, there's an activated carbon filter.
Product Specifications: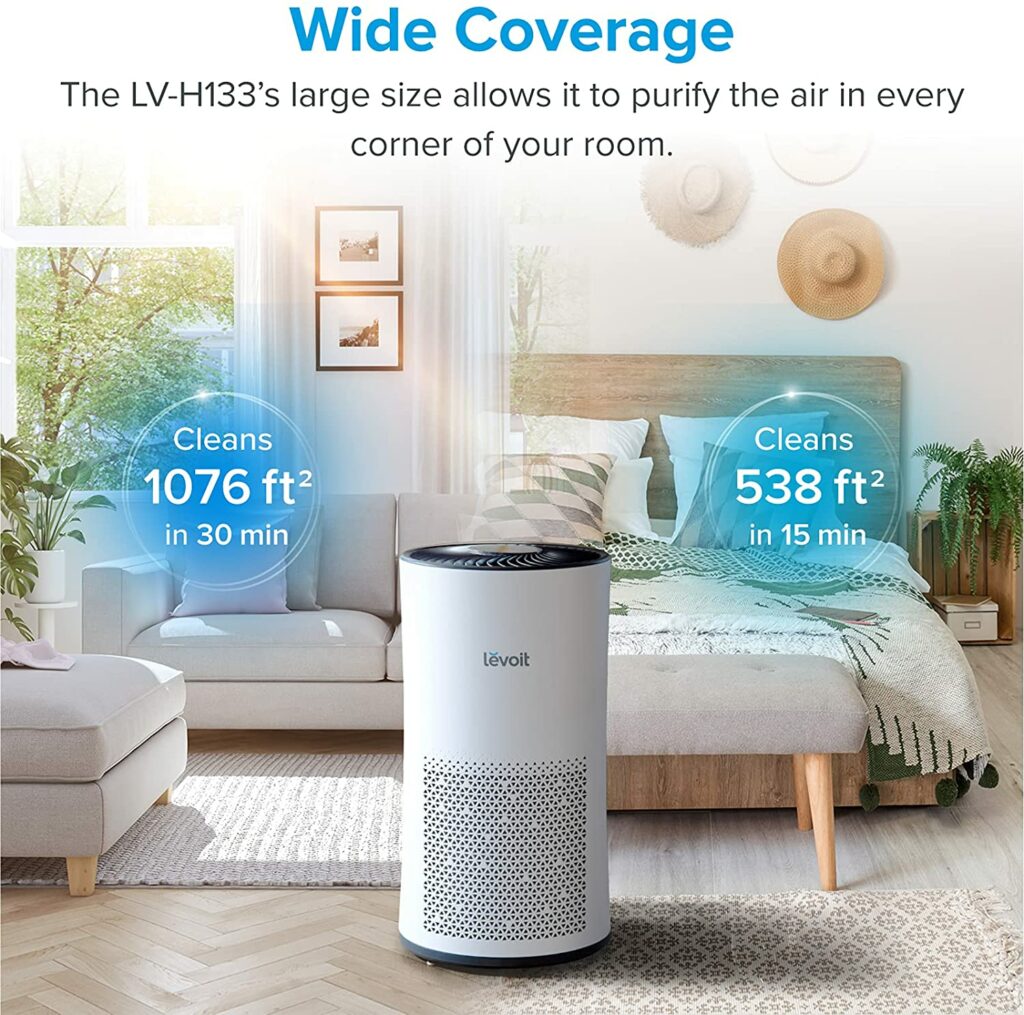 Manufacturer: Levoit
Model: LV-H133
Coverage: Up to 538 sq ft.
Diameter: 14.8 inches
Height: 25.9 inches
Weight: 18 lbs.
Air Output: 360°
Filters: 3
With: Filter Indicator: Yes
Timer: 1-12 Hour
Auto Mode: Yes
Sleep Mode: Yes
Warranty: 1-Year limited
Pros:
Convenient touch control panel and elegant design
Filtration in three stages, all of which are mechanical.
True HEPA filter of H13 grade is included.
Filter with granular activated carbon to eliminate smells
The fan is ultra-quiet at low fan speeds.
Filter change is simple, and the magnetic lid is secure.
Warranty of two years
Cons:
There is no remote control or Wi-Fi connectivity.
The expense of replacing filters on a yearly basis is a little expensive.
Where to buy Levoit LV-H133 Air Purifier for Large Room
Check Out Detailed Review for Levoit LV-H133 Air Purifier
#8 InvisiClean Aura II 4-in-1 Air Purifier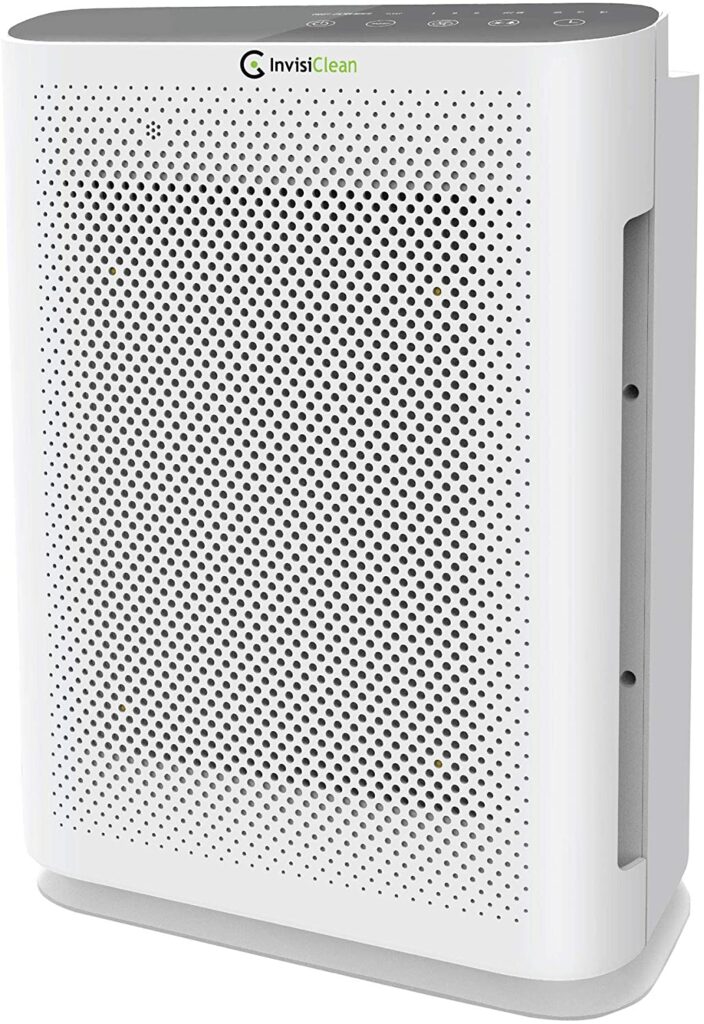 The InvisiClean Aura is the most popular air purifier from this manufacturer because it is both durable and inexpensive. It was so popular that the American company decided to release the InvisiClean Aura II this year and stop selling the previous version.
It's a worthy budget air purifier challenger with a lovely new face, and it's an improvement in nearly every category. The InvisiClean Aura II 4 in 1 is a portable air purifier with a lot of power that fits in most households.
Design and Convenience
The modern-looking exterior houses a traditional air intake site without hurting its construction quality, measuring under 18 inches in height and 12.3 inches in breadth. When it comes to build quality, the front panel is easily accessible for filter replacement, and there are no evident alignment issues like there are on some of the less expensive models.
Everything is snugly integrated, and because of the light weight of 8.9 pounds, you can move InvisiClean Aura II with ease.
When it comes to controls and functionality, the InvisiClean Aura II buttons are conveniently located on the top for quick access.
Product Specifications: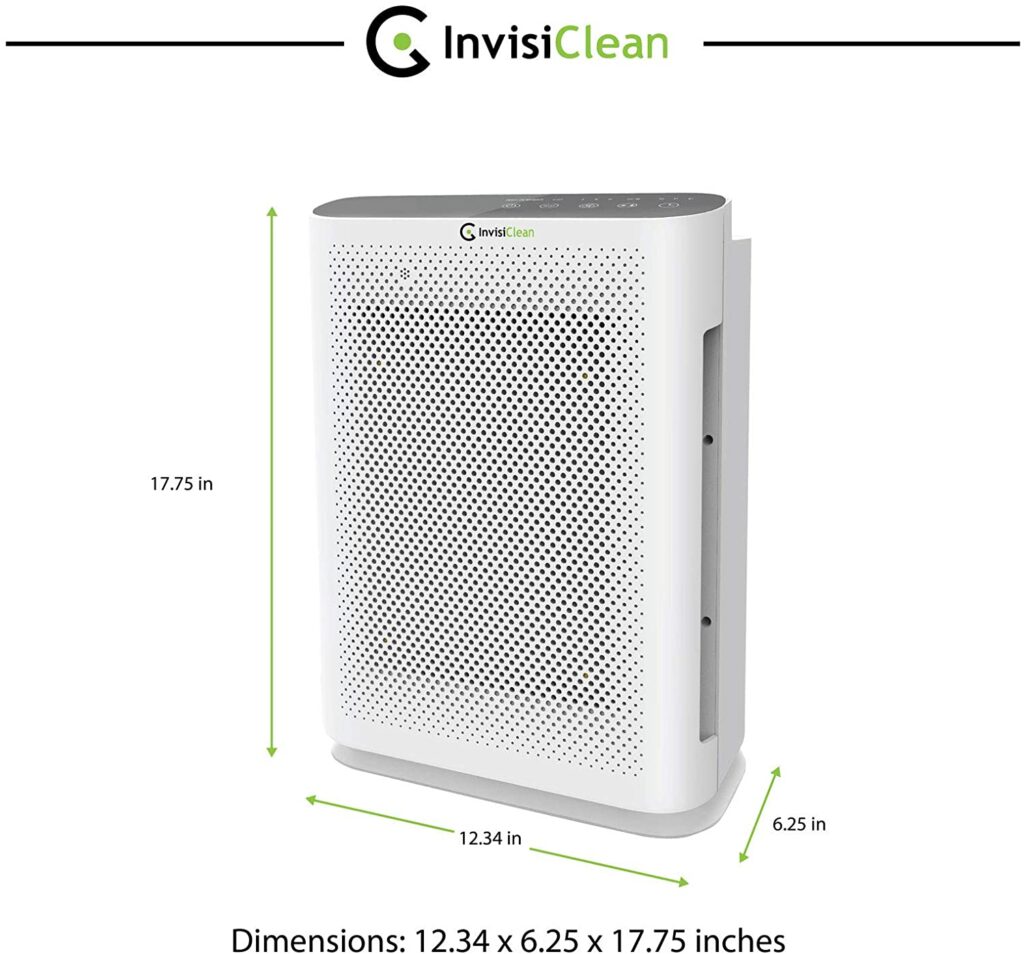 Filter Type: True HEPA
Clean Air Delivery Rate: 170 cubic feet/minute
Coverage Area: 319 sq. ft.
Air Fan Speeds: 4 (Low/Med/High/Turbo)
Voltage: 100 to 240V
Noise Level :60dB Max
Power Cord Type: Attached
Certifications: CARB, CE, UL-867
Dimensions: 12.34 x 6.25 x 17.75 inches
Pros:
Price-friendly
It's a four-in-one air purifier with an ionizer option.
It's small and light even for a console air purifier.
UV light is used to eliminate dangerous bacteria, viruses, and mold spores.
Air cleaning coverage and CADR are impressive.
Filters 99.985 percent of airborne particles as small as 0.3 microns with the genuine H13 True HEPA filter.
Cons:
The turbo speed noise level can be overwhelming depending on your tolerance level.
There isn't an auto mode or an air quality monitor.
Where to buy InvisiClean Aura II 4-in-1 Air Purifier
What Makes a Good Air Purifier for Molds and Dust?
That's an excellent question, as different air purifiers use different technology.
1. True HEPA filtration
This is a jargon term. Look for the phrase "true HEPA" on every filter. True HEPA is recommended, as well as a supplementary method of removing or eliminating mold.
2. Ultraviolet Light
Mold, germs, and viruses are known to be killed by UV-C (C spectrum) and other ultraviolet radiation.
The UV lamp is usually hidden inside or behind the HEPA filter, so its light isn't visible (not that it would be harmful).
3. Ionization
First, a word of caution: most cheap ionizing air purifiers produce ozone, which should be avoided. Even the most expensive and highly rated air purifiers produce very little ozone.
At low levels, ozone is known to irritate breathing airways. It will harm tissue in the passageways at high levels. Asthmatics are particularly vulnerable to ozone. The Environmental Protection Agency has a page with useful connections.
Now let's talk about safe ion air purifiers. Ozone is not produced or emitted by better ionizing air purifiers. Ensure that the air purifier's literature clearly states that it is ozone-free.
4. CADR Rating
The CADR (Clean Air Delivery Rate) is a measurement of how well and quickly an air purifier operates. It shows how many cubic feet of air can be filtered in one minute for various contaminants like pollen, dust, and smoke. To ensure effectiveness, larger rooms will require higher CADR values.
5. Activated Carbon Filters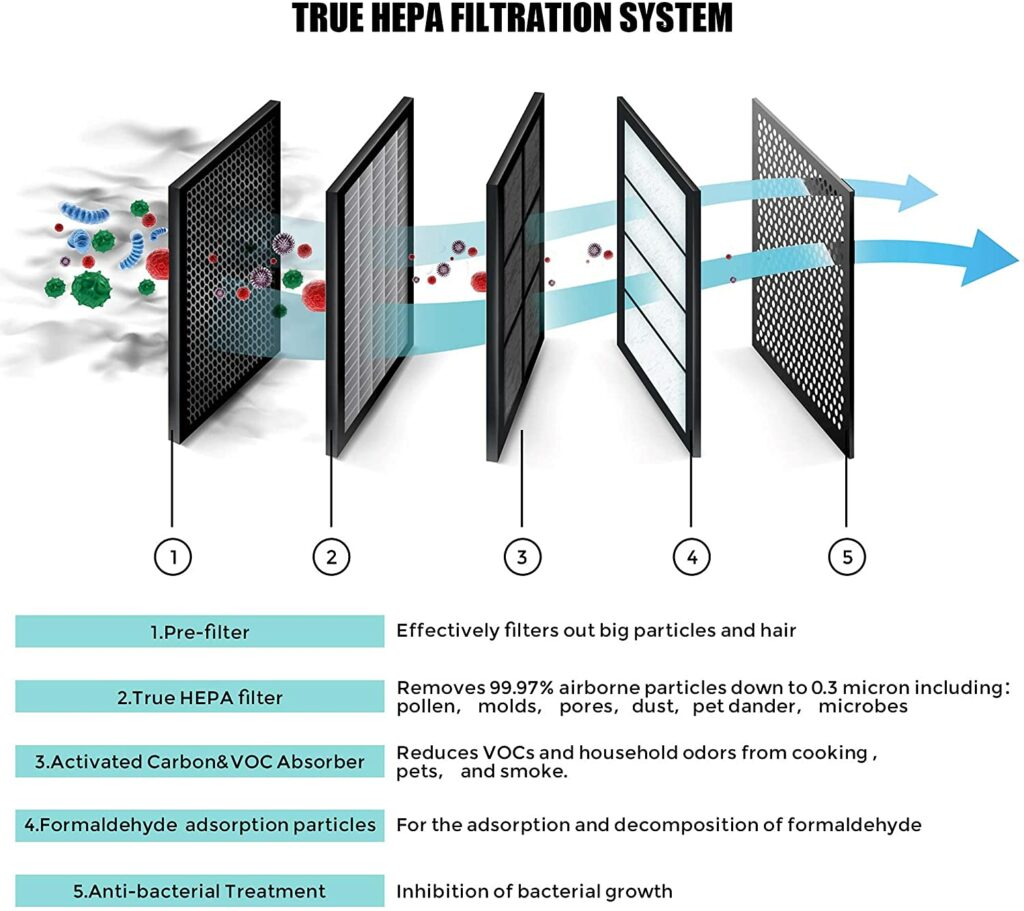 They are rarely used by themselves, but are often used in combination with other filters. Activated carbon/charcoal filters help in absorbing odors and gases thereby neutralizing smoke, chemicals, and fumes.
Reacts with oxygen to open up millions of pores that are capable of trapping a large amount of gas and odor. It's the perfect surface for connecting with chemical or vapour molecules because of this.
For optimal performance, they must be replaced once they have been saturated.
Final Thoughts
Mold contamination in the home can result in both immediate and long-term health problems. Although air purifiers won't totally eliminate the potentially dangerous fungus, they can help to lower the quantity of harmful spores in the air. When researching or remediating pollution issues, this might help provide peace of mind.
Mold can nearly always be found in the air we breathe, and as a result, it can bring a lot of illness. An air purifier can help limit exposure to certain allergens, which is especially essential for those who are allergic to them.
Finally, these best air purifiers for mold in this list captures a wide range of contaminants and allergens, making the indoor air cleaner and healthier.