Winix 5500 2 Air Purifier Review
Knowing that indoor levels of air pollution can be up to five times higher than outside air pollution. As a result, indoor air quality (IAQ) has become a major problem in recent years. This is because most individuals spend around 90% of their time indoors, especially during this pandemic.
As a result, the air purifier has become a tool for us to combat the problem of indoor air pollution. Is it, however, worthwhile to invest in an air purifier? What is the process of using an air purifier? What is the best air purifier on the market right now?
This post will address all of these concerns.
What is an Air Purifier?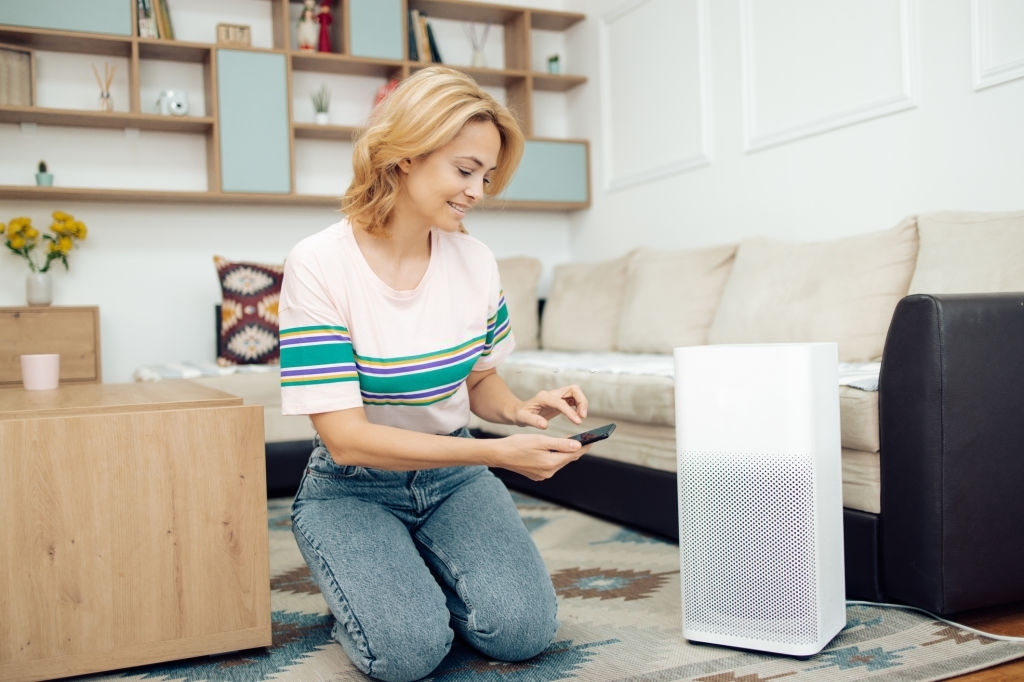 An air purifier is a device that cleans the air in homes, businesses, cars, and other enclosed spaces. Dust, germs, odors, allergens, smoking, and pet dander, to name a few contaminants, are all removed by an air purifier.
Essentially, an air purifier works in two ways to catch, filter, and eliminate any airborne pollutants:
The surrounding air is cycled through an internal filtration mechanism.
,Charged particles are released into the air to trap contaminants.
To clean the surrounding indoor air, a good air purifier can automatically detect pollutants, catch ultrafine particles, and harmful gases.
What Are the Benefits of Using an Air Purifier?
Preventing Allergens
Asthma and allergy-friendly air purifiers were verified to efficiently remove allergens from the air.
Allergen prevention is the most efficient strategy to treat allergic disorders. This strategy entails installing specific filtration devices in houses, such as an air purifier.
Ensure the Safety of Your Loved Ones
You might be the parent who is concerned about catching the flu from your children or receiving a cold from a family member. Air purifiers with an effective filtering system can prevent hazardous bacteria and viruses from spreading throughout your home.
Comfortable Environment
To make you feel better, an air purifier can remove unpleasant scents from sources such as tobacco, sweat, and pets.
Improving indoor air quality can help you sleep better by reducing irritation in your eyes, skin, and lungs. An air purifier can help you sleep better by reducing odors and providing an inconspicuous evening atmosphere.sleep.
One of the best sellers for the brand by a mile is the Winix 5500-2 air purifier. We will list down all of its features, specifications, pros and cons.
About Winix 5500-2 Air Purifier
The Winix 5500-2 is an air purifier with a True HEPA filter that is one of Winix's most popular products. Winix provides home devices since 1973 long before the invention of HEPA, but as you can see, they've kept up with the times and built a True HEPA filter air purifier.
Winix offers a variety of versions in addition to the 5500-2.
The Winix 5500-2 has a simple black color scheme that makes it incredibly neutral in any setting, designed to fit in a medium-sized room. However, this Winix 5500-2 review will show you how it has a lot of fascinating capabilities and advanced features.
Design
The 5500-2 is a high-quality air purifier with a very well-designed device. You can use this air purifier in any room due to its simple design and neutral colors.
The front panel, including each side, has air intake. The good news is that the air is released on top of the gadget once purified. This is useful because if you stand in front of it, air will not flow directly into you.
The control panel sits on top of the front panel and provides you with a wealth of options and complete control. A handle is located behind the control panel to make transporting it simpler. Because it is not heavy, Winix 5500-2 is easy to move.
Initial Operations – Winix 5500 2 Air Purifier Control Panel
Instead of a touch panel, the control panel has buttons. In other words, you'll need to press a button; simply placing your finger on a button will not be enough. For some, this is a benefit, while others prefer touch panels.
However, the controls are simple to operate, and we're confident that you will have no trouble controlling this air purifier.
All of the device's lights will turn on for a few seconds, and a sound will be heard when there is electricity. You should now be able to use the air purifier.
There are five major buttons that control various functions:
Power Button
By pressing this button, you can switch it on or off.
Mode Button
By tapping this button, you can switch between auto and sleep modes.
PlasmaWave Button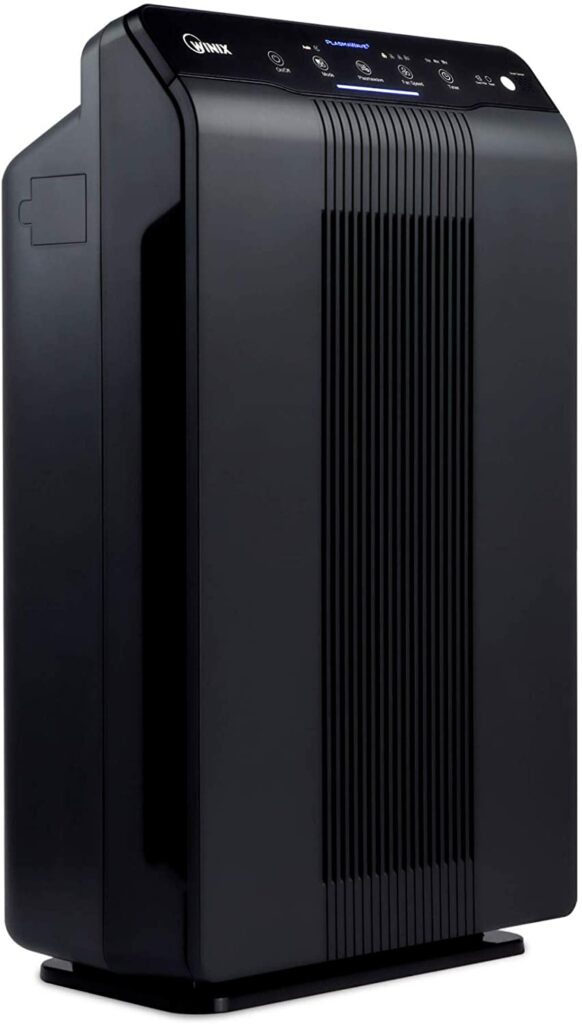 Winix PlasmaWave is a cutting-edge technology that helps to eliminate dangerous air pollution. You can turn on and off the PlasmaWave mode and a light will indicate. Check the control panel to see if PlasmaWave is enabled or disabled.
Adjusting Fan Speed Button
This button activates the manual mode, allowing you to select the fan's preferred speed. You can change the fan speed with each button press.
Timer Setting Button
Set the timer for how long you want it to run. Choose a different time and the air purifier shuts down automatically after it's finished. You can see how long the timer will run above the timer button.
Smart Sensor
A smart sensor is a cutting-edge piece of equipment that monitors air quality. The air quality indicator can switch lights based on pollution levels in the air, and auto mode can switch gears, thanks to this sensor.
Start-up and Filter Installation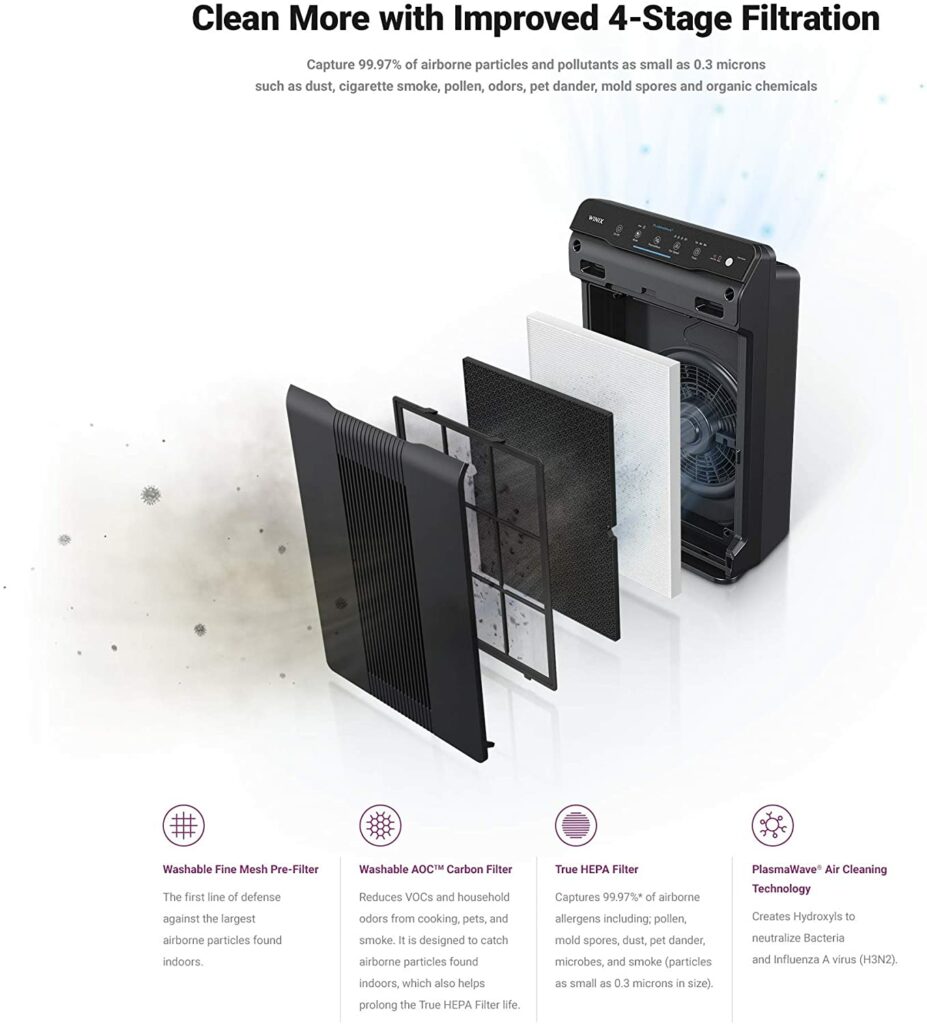 You must install the filter prior to the first startup. The air purifier's filters are enclosed in a removable plastic bag. If you don't, you risk damaging the equipment.
Remove the air purifier from the power source before using it. Grasp the top of the front panel and slowly pull it forward to remove it. Once removed, you'll notice a bag with filters. Remove the plastic bag and take them out.
You can now add filters with care. They must fit exactly and in the correct order inside. The True HEPA filter comes first, followed by the Carbon filter, and then the pre-filter. The pre-filter is the first to catch air.
Winix 5500-2 Air Purifier Specifications: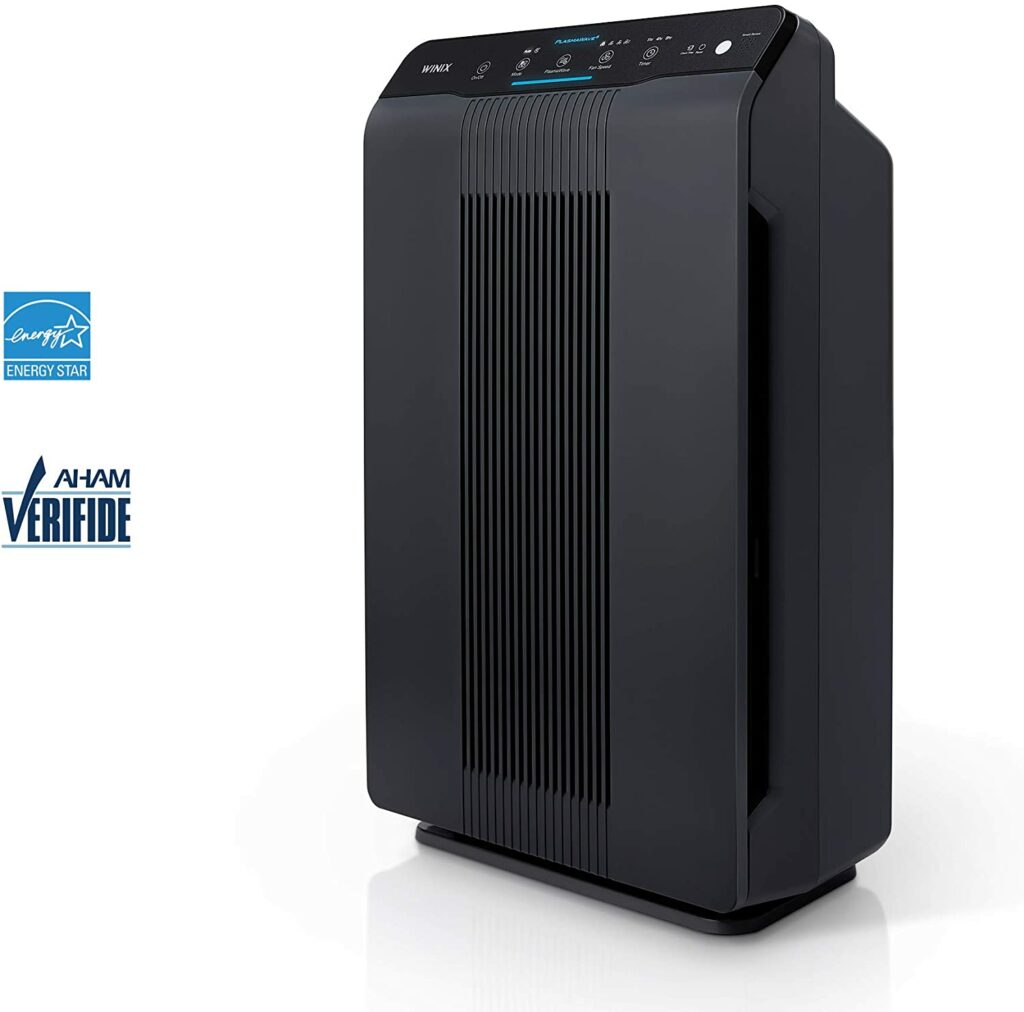 Filtration: Mesh pre-filter, Carbon, HEPA, and PlasmaWave
HEPA Filter Class: True HEPA
Filter Life: 1 year
Filter Replacement Indicator: Yes
Maximum CADR: 232 cfm
Coverage Area: 350 square feet with 5 ACH
Sensors: VOC sensor, Ambient light sensor
Number Fan Speed: 4
Automatic mode: Yes
Dimensions (HxWxD): 23.6″ x 14.9″ x 7.8″
Weight: 17.6 lbs
Noise Level: 27.8 – 54.8 dB
Power Wattage: 70 Watt
Voltage: 120 V AC 60 Hz
What We Like About Winix 5500-2 Air Purifier
It comes with a four-stage filtering system.
It has a permanent pre-filter as well as a True HEPA particle filter.
Washable activated carbon filter made of honeycomb pellets.
Air quality sensors are built-in to measure air quality.
The sleep mode is automatically activated when the lights are turned out.
CARB authorized, AHAM validated, and Energy Star certified
What We Don't Like About Winix 5500-2 Air Purifier
The PlasmaWave technology produces small amounts of ozone.
Carbon pellets in small quantities
There is no backlight on the remote control.
How To Replace Winix 5500-2 Filters?
Replace the filters every 12 months on average. Since the Winix 5500-2 air purifier has a filter indicator, you'll always know when it's time to change the filters. Replacing the filter is as straightforward as setting up the system for the first time.
Open the front panel by holding it at the top and pulling it forward. To release the pre-filter, press the tabs towards the top. You can remove the AOC carbon filter and real HEPA filter.
Remove the new filter from its bag. Insert the True HEPA filter first, then the AOC carbon filter, and finally the pre-filter. Return the front panel to its original position and close the air purifier.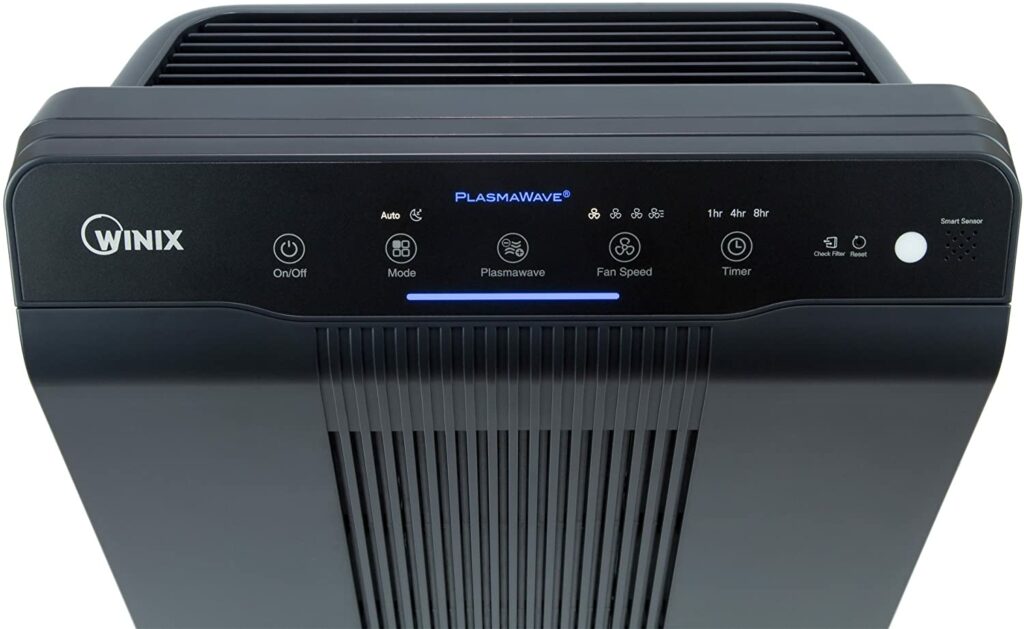 Step 1
To begin, switch off the power to the unit. Remove the front panel immediately by gripping its upper edge and gently dragging it forward.
Step 2
Press the tabs towards the top of the pre-filter to remove it, then pull out the old AOC Carbon and True HEPA filters.
Step 3
To remove any undesired dust, vacuum the inside of the lid, the pre-filter, and the air inlet.
Step 4
Finally, remove the new filters from their protective plastic cover and place them into the device. The True HEPA filter is installed first, followed by the AOC Carbon filter.
Step 5
After changing the filters, turn on the unit and push the "Reset" button for 5 seconds using a thin object, such as a paper clip, to reset the filter reset indicator.
How Often Should Filters Be Replaced?
At the very least, the HEPA and carbon filters should be replaced once a year. Keep an eye on your filters if your environment is unusually dusty, since they may fill up quickly. There is a "check filter" light, but it is controlled by the time and duration since the last filter change, not by how dirty the filters are.
Is it Possible to Clean Filters?
The pre-filter is permanent (it does not need to be replaced) and should be washed at least once every two weeks. The carbon filter may be washed as well, and Winix suggests doing so every three months.
Cleaning the Filters
Simply clean them under warm water and let them air dry. There is no need to use any chemicals or detergents; water will suffice. The pre-filter can be vacuumed for a quick clean, but if it appears to be particularly dusty, rinse it with water.
Final Thoughts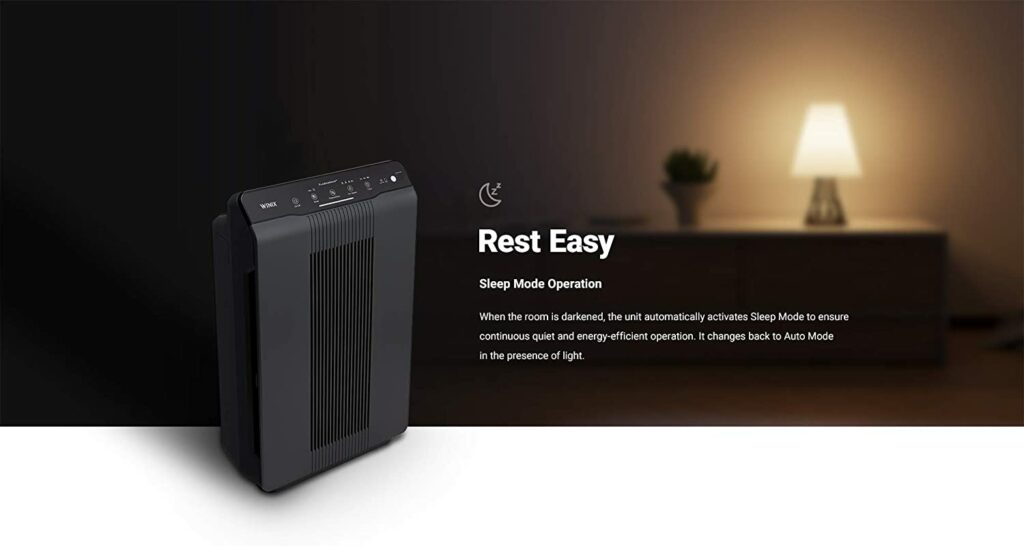 The Winix 5500-2 Air Purifier is a great addition to any home. It includes a sophisticated sensor for detecting contaminants in the air. The purifier also offers an auto mode that adjusts the fan speed automatically and a sleep option for silent night use.
It catches pollutants thanks to its four-stage filtering technology, ensuring a healthy living environment for you, your family, and your pets. It's great for both medium and big spaces, thanks to its mid-level CADR ratings.
We recommend the Winix 5500-2 if you want an air purifier that is CARB approved, Energy Star certified, and AHAM certified.