Megahome Countertop Water Distiller Review
Distillation is one of the most ancient and effective methods of water filtration. Boiling water to make steam, then distilling that steam back to the water, is a simple procedure. Making distilled water at home is now straightforward and stress-free thanks to technological advancements. 
The introduction of water distillers to the market has even simplified and improved the process of producing distilled water. However, the quality of the water distiller you buy is critical. You should get a high-quality water distiller if you want to enjoy high-quality and safe distilled water at home.
The History of Water Distillation
Distillation of water is still popular since the year 200 AD. Seawater to freshwater distillation was the most common use of the initial water distillation methods. Saltwater evaporates when heated, leaving behind the mineral salt.
In its original form, however, distilling salt water required a significant amount of time and money. Until Kleinschmidt Still was invented during World War II, the technique did not become more cost-effective. 
Seawater is now distilled using a flash-type evaporator, making it a quick and efficient means to provide clean, distilled water to a larger number of people.
What is the Process of Water Distillation?
Water distillation is a water purification method that involves vaporizing water and separating it from its pollutants using a heat source. The unfavorable elements, typically found naturally in-ground or in surface water.
Distillation is the process of heating untreated water until it reaches its low boiling point and begins to evaporate. It maintains the water heat at this degree to keep the water vaporizing while preventing other materials from vaporizing. 
This procedure also aids in the separation of water molecules from disease-causing microorganisms. The evaporated water is channeled into a condenser once it has vaporized. When the heat removes the water source, it cools and returns to its liquid state, flowing into a receiving container.
About Megahome
Megahome is known for producing high-quality, long-lasting water distillers with a variety of functions. Since 1992, Megahome Corporation has been producing high-quality countertop water distillers. 
It is the only product that they make. However, with so many Megahome water distiller models available, selecting one that meets your requirements might be difficult.
You've come to the right place if you're seeking the best Megahome water distiller on the market.  We will be reviewing the Megahome Countertop Water Distiller Model MH943TWS.
About Megahome MH943TWS Countertop Water Distiller
The Megahome Countertop Water Distiller Model MH943TWS with the glass collecting bottle is one distiller to consider. For good reason, it's one of the most popular water distillers for home usage. It's well-made, fairly priced, and performs admirably.
What characteristics does it have? Plans for it? Price, and where can I obtain one? I'll address these and other questions in this review to help you determine if this is the best water distiller for your needs.
What Makes the Megahome Countertop Water Distiller Unique?
Materials with Superior Quality
The boiling chamber, cover, and condensing coils use stainless steel. The distiller's exterior is made of enamel-coated steel rather than plastic. So you know it's tough and long-lasting.
A glass-lined nozzle directs water into a one-gallon glass collection bottle. The lid and handle use Food-grade polypropylene.
The distilled water never comes into contact with plastic, which is a major issue for many people these days.
User-Friendliness
It's quite simple to make pure distilled water. To begin the procedure, just fill the boiling chamber with water, place the collecting bottle in place, and press a button. When the chamber is empty, the distiller immediately switches off.
Compact Design
The unit is small and light, taking up little room on the counter. It'll also be easier to transport when you're on the road.
Durability & Safety
The Underwriters Laboratories approves the Megahome distiller, indicating that it has met all of the industry's safety requirements. The upper steam dome, boil chamber, and stainless condensing coils of this water distiller. 
They are all composed of 304 stainless steel, which is extremely durable, sturdy, and resistant to rust corrosion. The exterior also consisted of long-lasting and appealing material.
Megahome Countertop Water Distiller Specifications:
Product Dimensions: 9 x 9 x 13 inches
Item Weight: 11 pounds
Manufacturer: Megahome
Model: MH943TWS
Material: Stainless Steel, Plastic
Power Source: Corded Electric
Capacity: 1 Gallons
Pros:
It comes with a one-year warranty.
It includes a six high-quality activated charcoal filters as an option.
Uses a f ull 304 stainless steel throughout the interior and exterior.
Authorized by Underwriters Laboratories and is small and light.
Durable
Simple to use
It takes 5.5 hours to distill one gallon.
Cons:
Customers claim that it runs out of stock regularly.
The Megahome Countertop Water Distiller is useful for a variety of reasons. Just a few examples:

CPAP therapy machines 
removing contaminants and poor taste from drinking water
preventing mineral buildup in appliances  
watering garden plants and seedling growth 
producing better tasting baby formula 
making tasty drinks like coffee, tea and more. 
In case of an emergency,  you can make clean, safe drinking water in the distiller if your town has a "boil water" advisory.
for car batteries and radiators
colloidal silver making
FAQs
How to use the Megahome water distiller?
It's fairly straightforward. Simply fill the boiling chamber with water and close the top. Connect it to the outlet, place the glass bottle beneath the nozzle to catch the water, then press the button.
How much distilled water can the Megahome produce in a day?
The capacity of this distiller is one gallon. A gallon of water is held in the reservoir, and a gallon of water is collected in the collection jug.
One gallon of distilled water takes about 5.5 hours to make. This means you might produce up to 4 gallons each day.
Can it remove flouride from the water?
Yes! Most, if not all, of the fluoride in water, is removed during distillation.
What's inside the box?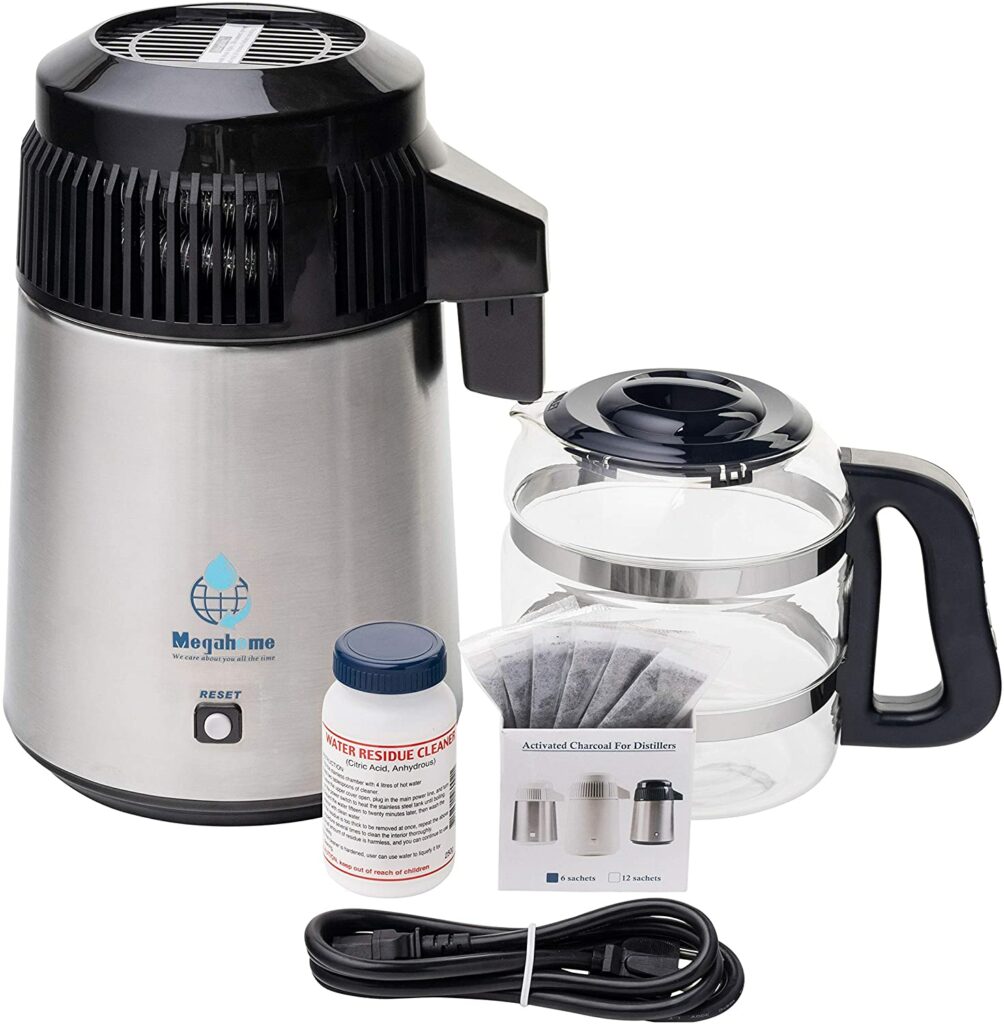 You'll get everything you need to get started when you order one of these units. This comprises both the distiller and the collection bottle made of glass.
They'll also send you 6 charcoal filter sachets and a container of citric acid residue cleanser.
What is the purpose of the activated charcoal filter?
Some VOCs survive the distillation process and end up in tap water. The charcoal filter removes all VOCs from the water. It's possible that your water doesn't contain these VOCs, in which case the charcoal filter is unnecessary.
How often should you replace the filter?
After 30 gallons, the charcoal filter should be replaced.
Is it true that it removes lead from the water?
Yes! One of the most effective ways to remove lead from water is to use a water distiller.
Is it true that a home water distiller removes all of the helpful minerals?
It's true that distillation produces water devoid of minerals. It's debatable if this is a good or terrible thing.
Some argue that because we get most of our minerals from our meals, drinking distilled water is harmless. And some people wonder if the type and amount of minerals in water do any help in the first place.
However, if you're concerned about the absence of minerals in your water, there are solutions. You can season the water with a pinch of Himalayan pink salt or Celtic sea salt. Alternatively, squeeze a lemon into a glass of water to add essential minerals.
How much electricity does it consume?
The Megahome distiller has a 580-watt rating. A gallon of water takes 5 to 6 hours to distill.
Assume it will take 5.5 hours. We can figure it out with the help of an online electricity bill calculator. It will cost roughly $0.38 to make one gallon if your power bill is 12 cents per kilowatt-hour.
That works out to roughly $11.65 per month and $139.82 per year at one gallon each day.
That's still a lot less expensive than buying distilled water in a bottle.
How do you clean a Megahome water distiller?
To clean the distiller, you fill the boiling chamber with water and add a tablespoon or two of the citric acid cleaner that comes with it.
Then you turn it on and let it heat up for about 20 minutes. Unplug it and let the water cool down. Pour out the water and wipe out any residue that's left.
If you want to save a little money, you can add 1 teaspoon of the citric acid plus 1/4 cup white vinegar to the water. Or you can try just adding 1/2 cup white vinegar.
Maintenance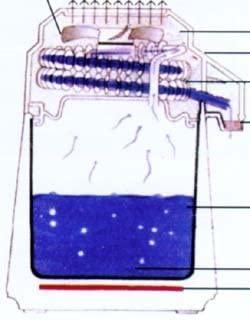 Cleaning the boiling chamber on a regular basis is recommended to get the most out of a Megahome water distiller and extend its lifespan. At least once a month, you should perform the treatment. You can, however, do this much more frequently if you want:
Take off the top.
Fill the tank with hot water. Pour until the water level has reached the top of the residue build-up.
Depending on the severity of the discoloration, add at least 1 tablespoon citric acid cleaning.
Start the distiller and let it heat up for at least 20 minutes.
Unplug the wall outlet's primary power cord.
Wait until the distiller has cooled down before proceeding.
Any leftovers should be wiped away using a cloth or dishtowels.
If necessary, repeat the procedure.
Using an abrasive brush or cleanser is not recommended. This could harm the stainless steel tank's surface, resulting in a leak.
The activated carbon filter sachets last about 30 gallons before they need to be replaced. When you notice a peculiar taste or odor in your water, it's probably time for a new one. Cost? There's no reason to be stingy when they're so inexpensive!
Final Verdict
If you're looking for a cost-effective solution to filter your water at home, this water distiller is a perfect choice. It's made to last and is simple to operate.
You will surely appreciate that the Megahome is made of stainless steel and glass, which means that the water never comes into contact with plastic. You may rest assured that the water is contaminant-free. It is beneficial to both you and the environment.
Does this seem appealing to you? With a Megahome water distiller, you can quickly make your own pure distilled water at home.