Newair AF 310 Evaporative Cooler Review, what makes this air cooler great.
With the weather warming up, summer's scorching heat is quickly approaching. If you're looking for a means to cool down, an evaporative cooler, could be an excellent option. They have extra benefits that you may not be aware of, in addition to helping you beat the heat.
While it's hard to choose one for your home, let's take a deeper look at one of the best eco-friendly, multi-purpose cooling systems – the NewAir AF-310.
But before we get into that, let's discuss the benefits of evaporative coolers in general.
How Evaporative Coolers Operate
Evaporative coolers chill the air around you by using water and wind. A powerful fan draws in the dry air passing past the media pads, from the reservoir or a garden hose.
The air is cooled and cleaned before being dispersed throughout the environment, lowering temperatures by up to 20 degrees.
Benefits of Evaporative Air Cooling Systems
Keep Bugs Away
Summer brings out the insects, as well as the warmer temperatures. This is not a fun bonus to outdoor activities! An evaporative cooler's powerful fan can move up to 11,000 cubic feet per minute (CFM). It can fan mosquitoes away from outdoor tables, deck chairs, and poolside lounges. Deck Evaporative Cooler
Direction of Smoke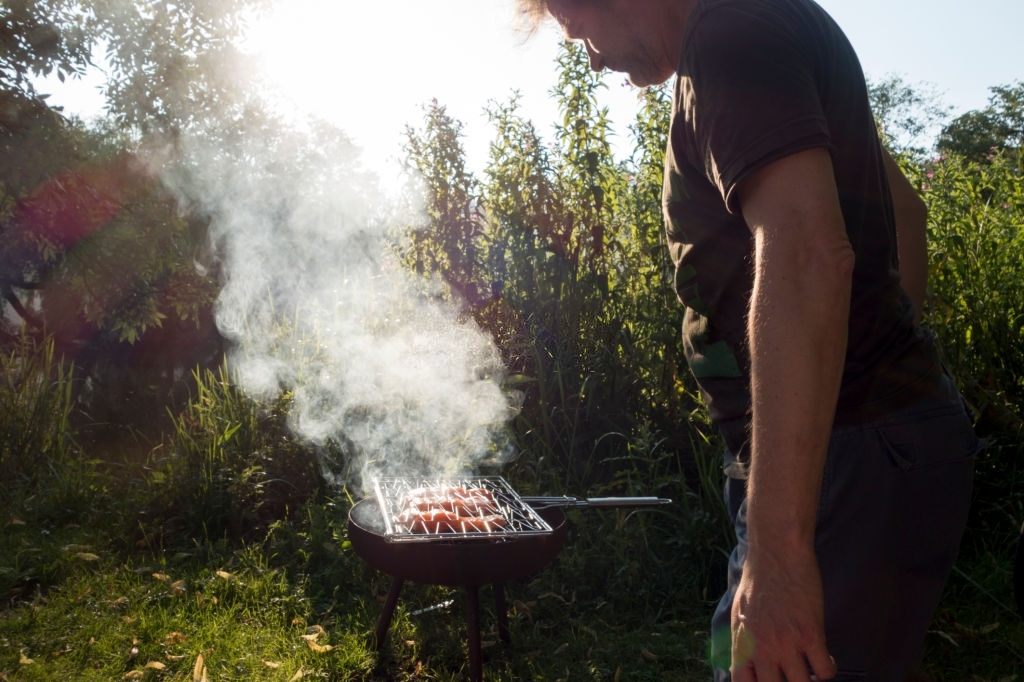 Summertime is synonymous with barbeques and cookouts, but the grill smoke may be bothersome, especially when the wind is blowing. You can use the airflow of a swamp cooler to direct the smoke in one direction, or away from you.
Keeps Dry Air, Fresh
Air coolers are commonly thought of as simply lowering the temperature, however, an evaporative cooler also provides moisture to the air. This is especially important if you live in a dry, hot area.
Because they use water, the air from the cooler is moist, making it seem both fresh and cool—as if you were standing next to a waterfall.
Spray-Free Moisture
While both misting fans and evaporative coolers give moisture to the air, an evaporative cooler distributes it before it exits the cooler. You won't have to worry about water droplets covering you or your furnishings because it wouldn't spray mist.
As the air from the cooler flows through the surrounding atmosphere, whether you're outside or indoors, this dampness has the added benefit of trapping pollen.
Keep Your Pets Cool As Well.
An evaporative cooler can actually save your life when you're about to be away from home for quite a while and your pet has to stay home. It will provide constant cooling for indoor pets, as well as pets in runs, hutches, or other enclosed outdoor places, when linked to a garden hose for the water source.
On hot, calm days, keep one in a barn or stable to keep larger animals cool. Kennels, veterinary facilities, and other venues where our animal pals dwell benefit from swamp coolers.
About NewAir
NewAir has established itself as a dependable provider of HVAC technologies that cater to a wide range of desires and requirements. NewAir reliably delivers the goods every time, from efficient wine coolers to high-tech devices like the NewAir AF-310. 
If you reside in a location with low humidity and high temperatures, we recommend that you look into this unit, especially if you have allergies. Continue reading for our complete outdoor air conditioner review.
About NewAir AF-310 Air Cooler
The NewAir AF-310 is a very outstanding device. This 4-in-1 appliance can serve as a humidifier, swamp cooler, air purifier, and fan all in one gadget.This 4-in-1 capability makes the NewAir AF-310 the most versatile tower fan we've ever seen at Air Conditioners Rated.
It servesas a one-stop shop for creating a comfortable living environment for you and your family.
Newair AF-310 Cooling Capabilities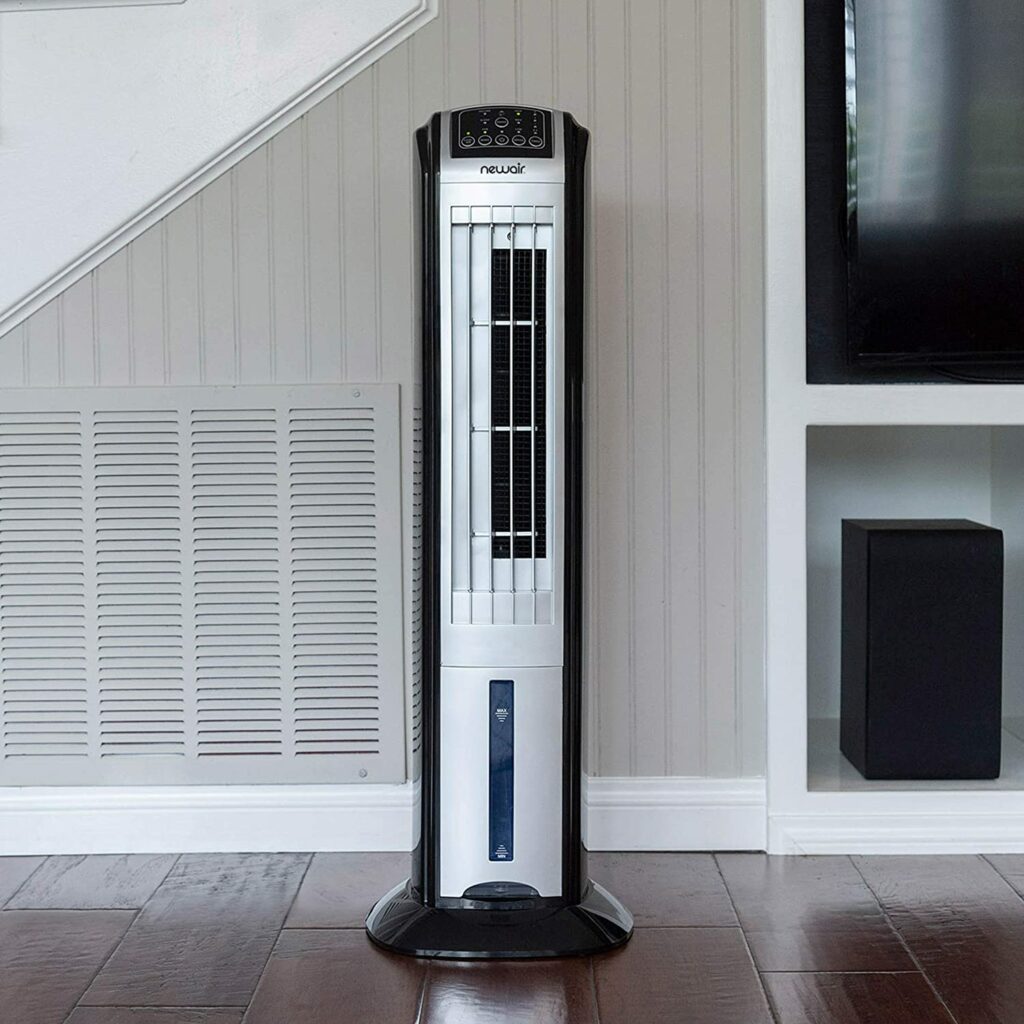 The versatility of the NewAir AF-310 to serve as numerous units in one makes it perfect for usage in dry, humid areas. A swamp cooler, also known as an evaporative cooler, cools the air by evaporating water. As a result, moistened air is produced, which helps to alleviate the heat during the summer months. The NewAir AF-310 is suitable for hot and dry areas because it has a humidifier, fan, and air purifier.
We recommend this device, which provides 312.37CFM of airflow, for use in places up to 100 square feet and in settings with a relative humidity of 60% or less.
This device's purifier feature has a built-in air ionizer that removes harmful particles in the air, such as pet dander, dust, and pollen. When used in conjunction with the swamp cooler, the outcome is clean air that effectively combats the parched dummer air.
Comfort and Convenience
This unit comes with a full-featured wireless remote control that can be used from anywhere in the room. This is undoubtedly the most significant convenience feature.
Believe us when we say that nothing is more unpleasant than having to frequently get up out of your seat during those hot summer afternoons to modify your device's settings.
Adjustable louvers provide you complete control over the airflow direction from your device; alternately, automatic oscillating louvers uniformly distribute cold, moistened air around your living space by rotating 60 degrees.
A built-in 7.5-hour electric timer gives the user more control over when and for how long their machine works. While this is a comfort feature, we would also classify it as an efficiency feature if properly utilized.
Certifications/Efficiency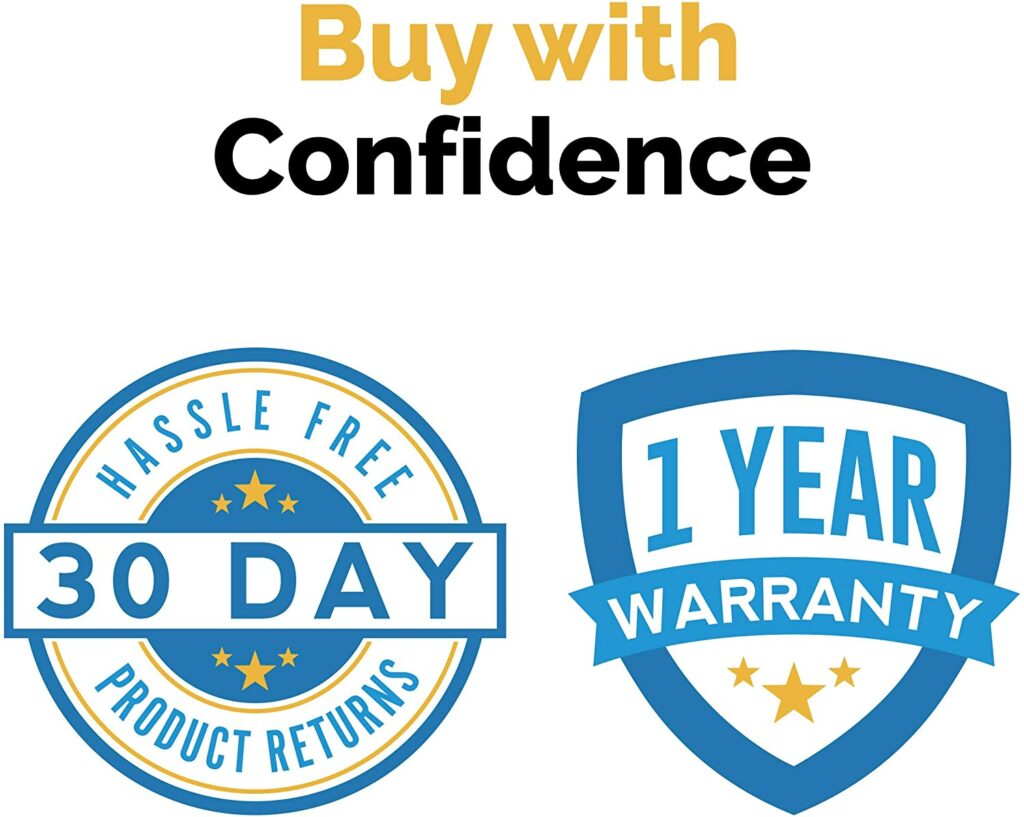 The oscillating fan of the NewAir AF-310 is developed with an energy-efficient evaporative technology system, which increases efficiency.
This works by sucking in the air around the device, moistening it with water-soaked pads, and then cooling it down by evaporating the water in the pads. Finally, the cooled air is released into the surrounding area.
This method has the added benefit of being completely eco-friendly and energy-efficient.
In terms of certificates, this unit is thankfully ETL certified, which certifies that it complies with North American safety regulations, giving the user peace of mind, which is always a great plus.
Newair AF-310 Specifications: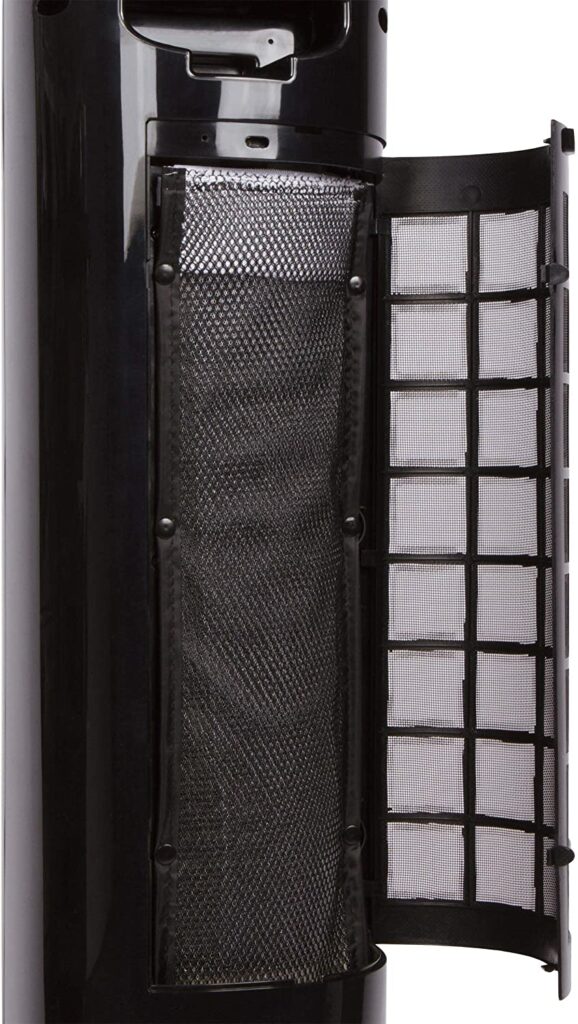 Model: AF-310
Type: Tower Evaporative Cooler
Dimensions (DxWxH): 12.20″ x 11.60″ x 34.75″
Weight: 11.60 lbs.
Type: Electric Fan
Voltage: 120 volts
Wattage: 80 watts
Amperage: 0.67 amps
Frequency: 60 Hz
Certifications: ETL
Coverage Area: 100 sq. ft.
Air Flow Capacity: 312.37 CFM
Water Tank Size: 1 gallon
Adjustable Louvers: Yes
Automatic Louvers: Yes
Water Level Indicator: Yes
Ice Tank: Yes
With Timer: Yes
Length of Timer: 7.5 hour
Remote: Yes
Air Filter: Yes
Built-In Air Filtering System: Yes
NewAir Evaporative Air Maintenance
Evaporative coolers require a little more care than portable air conditioners, although it's usually minor. In general, the best time to start maintenance of your air cooler is right before summer so that it will be ready to use when the warmer months arrive, although this can also happen during the summer when the unit is in use.
Cleaning the interior and outside of the machine, replacing the cooling pads, and inspecting the belts are all likely maintenance items. To discover how to properly maintain your swamp cooler and enhance its cooling efficiency, read the recommendations below.
Clean the Unit's Exterior Thoroughly
Cleaning your swamp cooler not only improves cooling effectiveness, but it also extends the life of your device and done every few weeks. When not in use, wipe clean the swamp cooler's surface with a gentle, moist cloth after removing it from storage.
Use abrasive chemicals or detergents carefully, as they may cause damage to the equipment. Additionally, keep the swamp cooler out of direct sunlight to avoid color shifts on the unit's surface.
Replace the Cooling Pads on a Regular Basis
Make sure that the cooling pads are in good working order. Your swamp cooler's cooling pads must be replaced at the start of the summer and during mid-season servicing if they weren't taken prior to end-of-season storage.
Replace the pads you found a crack. Remove the old pads from the unit and thoroughly clean the pad frame and retainer to remove scale and debris.
After cleaning the unit, replace the pads and restore the frame and retainer. Ensure that the pads, frame, and retainer are all in place and there are no gaps.
Make Sure the Water Tank is Clean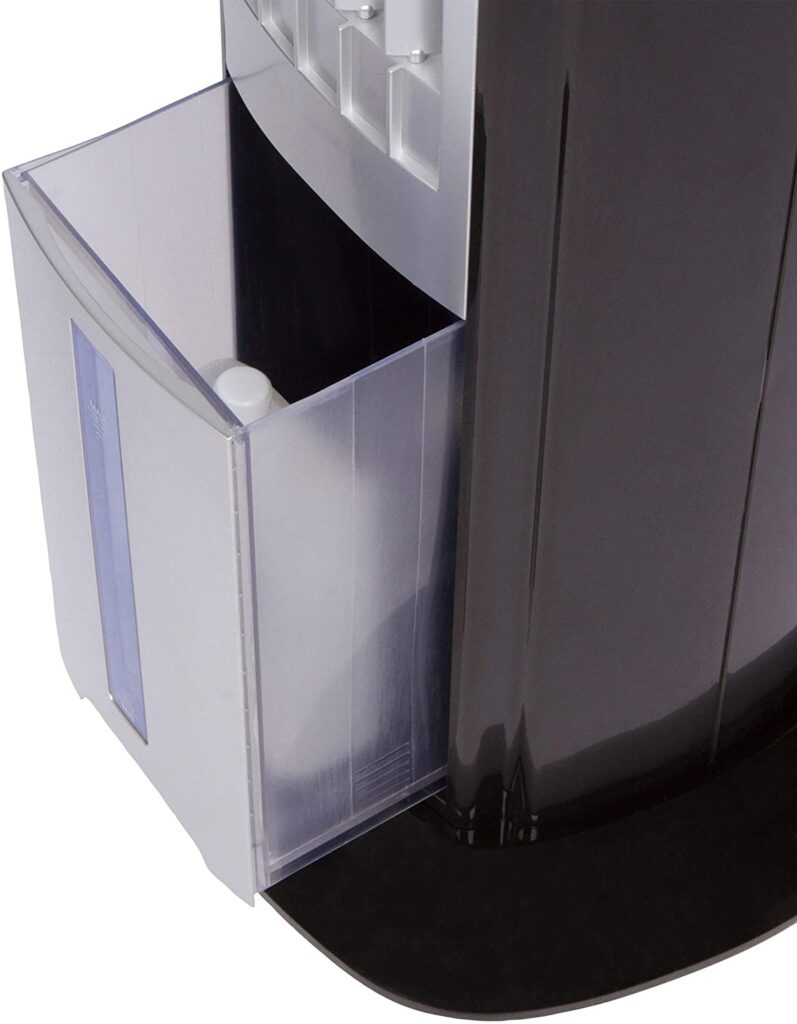 See to it that the water tank in your swamp cooler is clean before using it, and if you reside in a hard water area, this is especially critical even during the cooling season.
Start by washing the water tank with warm, soapy water, then flushing it with clean water and draining the water via the drain plug. Double-check that the back panel is properly installed before replacing and tightening the screws.
When the System is Not in Use, Shut it Off.
Switch off and unplug the evaporative cooler, turn off and drain the water supply to prepare it for storage or system shutdown. Allow the interior to dry thoroughly.
Always keep in mind that even in the summer, your swamp cooler will require routine maintenance, which usually entails making sure the pads are in good working order and are clean.
Check the water level in the unit on a regular basis, as well as the motor and pump for strange noises.
Unexpected noises or water leakage will necessitate service, and before utilizing your swamp cooler, make sure it's in good operating order.
Final Verdict
To begin with, we'd want to see more certifications for this product. Given that the majority of its competitors lack any form of certification, we're pleased that this item has gained ETL certification.
The NewAir AF-310 is a small indoor swamp cooler that is best suited to humid environments. While no swamp cooler is meant for humid environments, this one may struggle more than others in regions that aren't hot and dry. However, if you need anything more than a fan to chill a room or two in your house, this low-cost solution could be ideal.