Sentern Compact Laundry Dryer Review
We have a routine of doing laundry on a daily basis. It's something you can't avoid unless you're extremely wealthy. While this household chore has become much easier to complete due to the availability of powerful washing machines, drying clothes, especially during the winter or rainy season, is a different story.
You won't be able to dry your clothes on a snowy or rainy day. And we all know that the longer wet clothes are left on the floor, the stronger the odor becomes.
Of course, you can still use the conventional tumble dryer to dry your clothes. However, there is one significant disadvantage of using a full-size tumbler: clothes appear to wear out quickly when placed in a big tumbler on a daily basis.
Furthermore, conventional washers with dryers are big appliances that take up a lot of room in your house. If you live in a condo, apartment, or small home, this can be an issue. Fortunately, you can use a clothes dryer to solve your problem.
Reasons Why You Should Use Clothes Dryer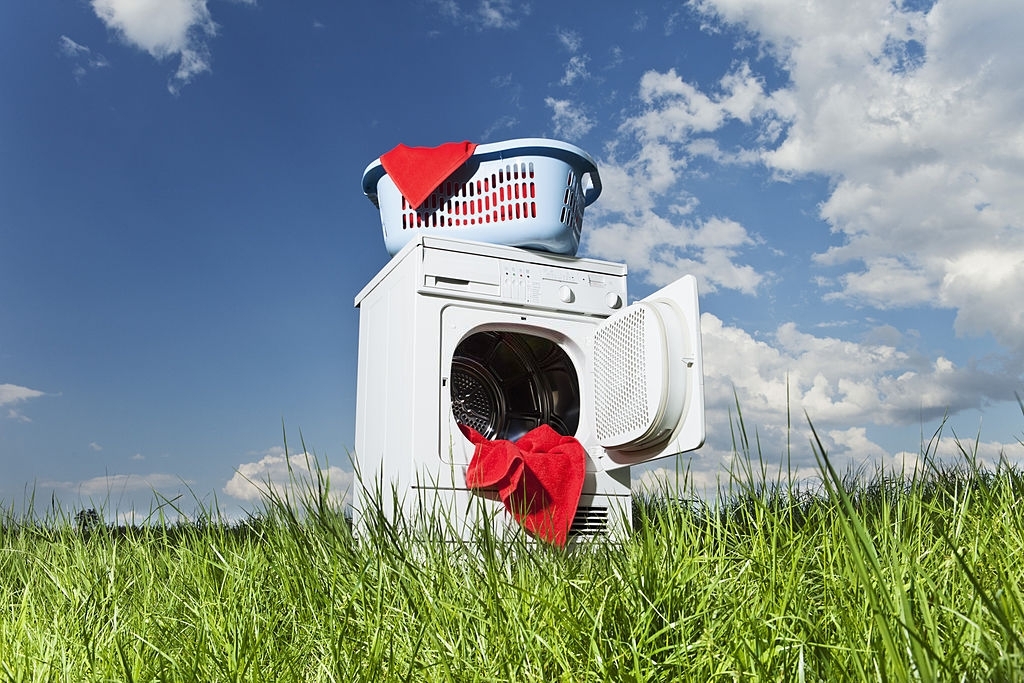 We all know how good a washing machine is for quickly rinsing dirt away. The only problem is that the clothes are soaking wet as they come out of the washing machine! You can't put them on right after they've been washed.
You'll have to wait a long time for your clothes to dry fully. At least two full litre water bottles must dissipate with every average 4kg load so that there is no trace of soaked water in your clothing!
The dryer is the newest appliance that households are investing in to solve this issue. It extracts all of the moisture and wetness from your clothing, leaving them dry and ready to wear. It's still not a common choice, but it's worth thinking about.
Let's take a closer look at the benefits of a dryer.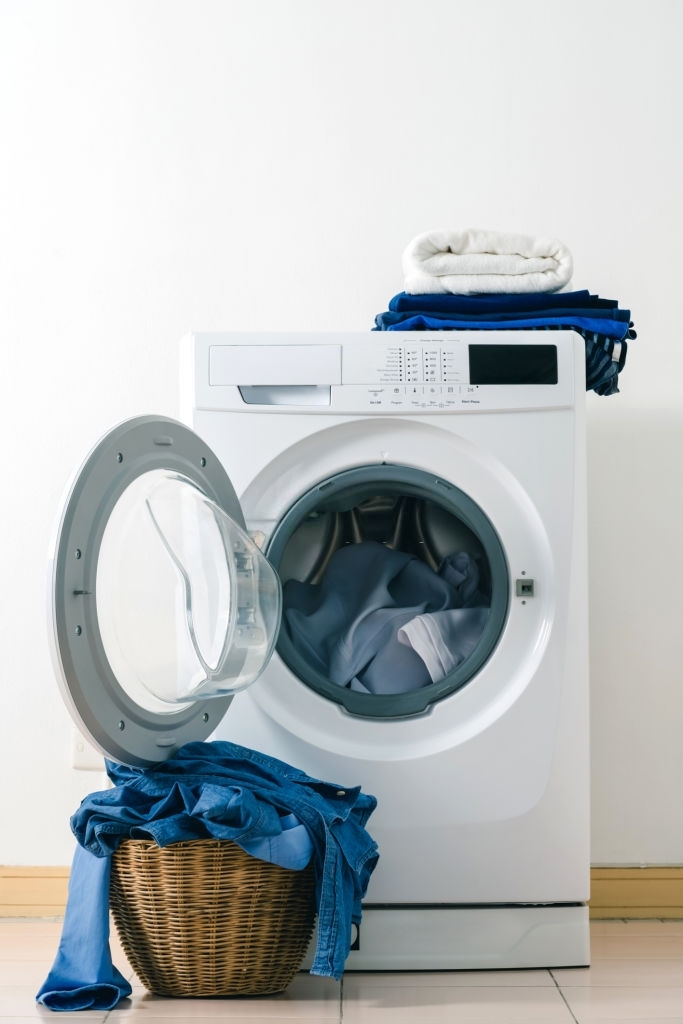 It can be used at any time of day.
The best part about having a dryer is that you can use it whenever you want. It makes no difference what the weather is like. If you hang your clothes outside, on the other hand, you'll have to wait for the sun to shine brightly. Clothing with bright colors can fade in the sun.
Ready to Wear Clothes
The primary function of a dryer is to dry clothes. The truth is that the drying cycles on a washing machine will not dry your clothes as well as a dryer. A dryer works much more quickly and efficiently than a washer.
Quick Dry Bulk Clothes
If you intend to air-dry your clothes and live in a humid environment, your clothes can take much longer to dry. Forget about drying heavy products on a clothesline; even using the heat cycle in your washing machine would not suffice.
Using a dryer is the quickest way to dry your clothes. Dryer racks can comfortably accommodate large pieces.
Spend Less Time Doing Laundry.
You can save a lot of time by using a washing machine and dryer, particularly if you have several loads to wash. All you have to do is place the previous load in the dryer while the new load is being washed in your washing machine. You will have your outfit ready much earlier than you think.
In this review, we'll look at the Sentern Compact Laundry Dryer in detail, including all of its features and design characteristics. When you've finished reading this review, you'll know everything there is to know about this small laundry dryer, including if it's right for you.
About Sentern 2.65 Cu.Ft Compact Laundry Dryer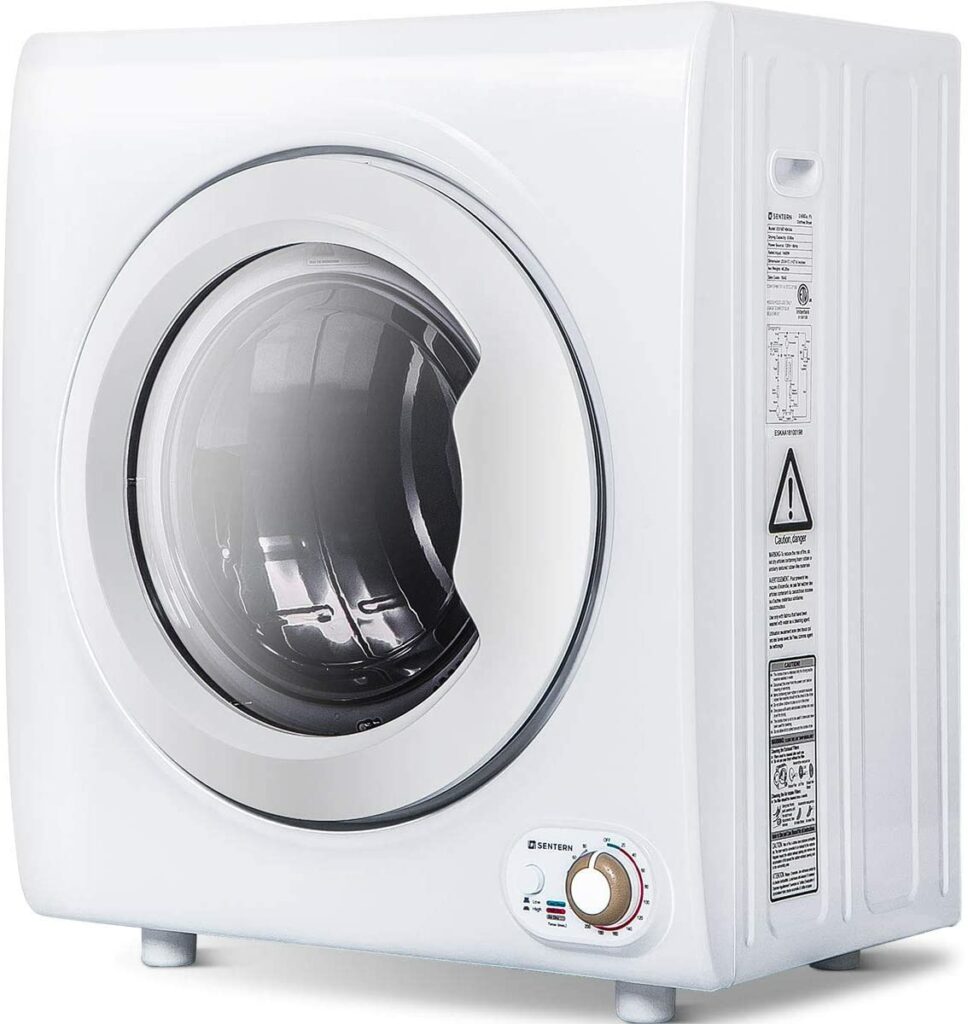 The Hommoo Sentern 2.65 Cubic Feet Laundry Tumble Dryer is a lightweight and portable unit with a 9-pound capacity and 1400watt strength that can be used in apartments. If you want to install the dryer on the wall to save space in your bathroom, a wall mounting kit is included in the box.
On this brand new release portable dryer with a classic compact design, you have a range of heating options for your various needs. Anti-Wrinkle for 30 to 60 minutes, Air Dry for 0 to 80 minutes, Hot for 120 to 200 minutes, Warm for 60 to 120 minutes, and Cool for 0 to 20 minutes are some of the options.
With a 1400-watt inner dryer motor that runs at 120V and 60Hz frequency, it provides effective and reliable drying results.
Large Clothing Capacity of 9 pounds
Since this is a portable dryer rather than a full-sized dryer, it can only accommodate a fraction of the laundry that a normal dryer can. But what's very cool about this dryer is that, despite its small size, it can still handle a lot of laundry.
This dryer, to be more precise, can accommodate a total of nine pounds of laundry at any given time. That is more than enough capacity for a single person living alone – or even a couple living together – to dry their clothes without having to run two drying cycles.
Quiet Tumbler
When you've loaded all of your wet clothes into the dryer, the tumbler will begin to spin, and your clothes will begin to dry. The fact that this tumbler makes very little noise is one of its best features.
You won't be able to hear the tumbler while it's working, so you can concentrate on something else or have a chat while your clothes dry.
Tumblers are used in most dryers, which are very loud and noisy. Those tumblers are usually helpful, but the amount of noise they make can be very distracting.This dryer, on the other hand, is very different in that the tumbler makes very little noise and allows for a very fun, comfortable, and effective drying experience.
A Wide Range Of Drying Options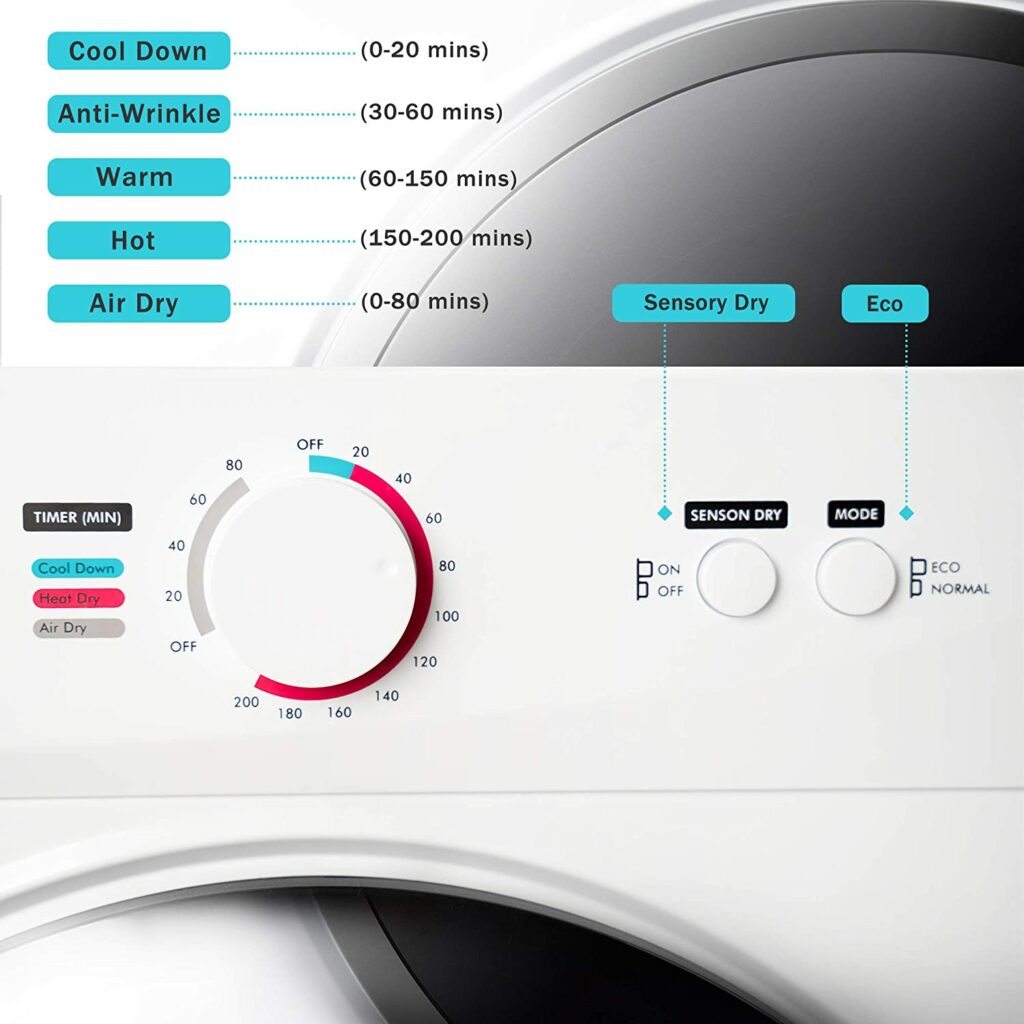 You'll find a dial on the bottom right side of this dryer. This dial allows you to choose from a number of different drying options. These drying settings allow you to control both the length of time the dryer runs and the types of drying that occur.
To give you an idea of the types of drying options available, there are options for "Anti-Wrinkle," "Air Dry," "Cool," and "Warm," among others. You can control how dry your clothes are and how long they take to dry using these settings.
That way, if all you want to do is put your clothes in the dryer for a few minutes to remove the wrinkles, you can just choose the "Anti-Wrinkle" mode.
High-Quality Construction
Each of the features we've just discussed is great, and they all contribute to a simple and enjoyable drying experience. But it's the fact that not only does this dryer have all of those features, but it's also extremely well-built that seals the deal.
The majority of the construction is made of solid metals, ensuring that the dryer lasts a long time. In addition, a wall mounting kit is included, allowing you to install the dryer on your wall.
Powerful & Efficient Drying
Because this is a dryer, the drying features of the machine are more important than the sound of its tumbler or the amount of clothing it can handle.
Thankfully, this dryer provides effective and fast drying, ensuring that your clothes are as dry as possible. As a result, your clothes will be dry and ready to wear as soon as you remove them from the dryer.
The inner dryer machine part, which functions similarly to an engine, is responsible for all of this drying.
This drying part operates at 60 Hz and uses 120 volts of power, allowing it to generate up to 140 degrees of heat. With all of that heat produced, the dryer is able to remove the moisture from your clothes while still warming them up.
The tumbler also aids in the drying process by removing most of the moisture from your clothing. If your clothes have just come out of the washing machine, this is particularly useful.
Sentern Specifications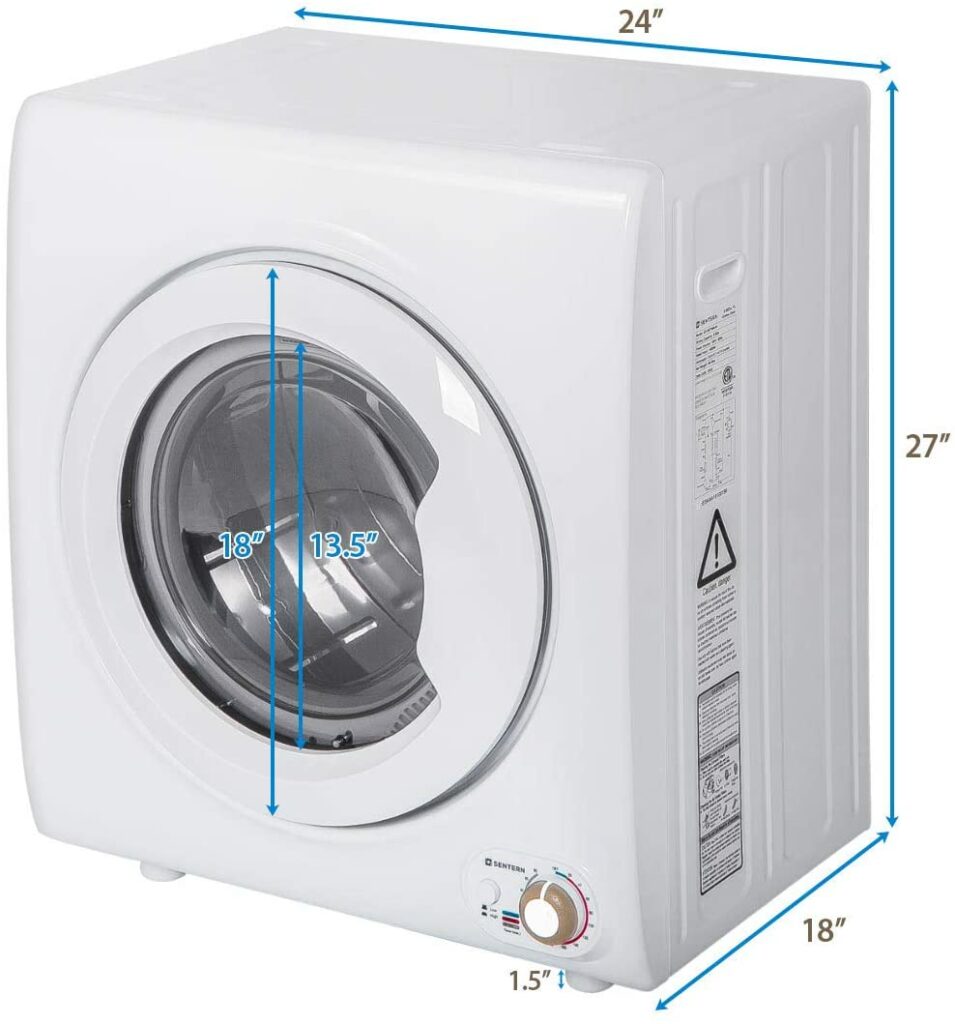 Overall Dimensions: 24x18x27 in
Clothing capacity: 9lbs
Product Weight: 66 lbs
Hot Option: 120-200 minutes
Warm Option: 60-120 minutes
Cool Option: 0-20 minutes
Air Dry: 0-80 minutes
Anti-Wrinkle: 30-60 minutes
Drying Power: 1400W
Max Temperature: 140 degrees Fahrenheit
Pros:
Its small size makes it simple to store and transport.
Quiet service causes the least amount of noise.
Smooth operation is ensured by an efficient 120V / 60Hz electric mechanism.
Cons:
A back vent's installation options are minimal.
Proper Way to Clean Your Dryer
A filthy, neglected dryer is responsible for one out of every 22 house fires. The most common cause of dryer fires is a lack of dryer maintenance expertise, and cleaning is a vital part of that maintenance.
Follow these dryer cleaning tips, which detail how often each task should be completed.
Clean the Lint Filter on a Regular Basis
This part of your dryer, also known as a lint trap or lint panel, catches a lot of the lint your clothes create as they dry.Remove lint from the filter before or after each load of laundry to ensure sufficient ventilation and avoid overheating. This is a regular duty in most households.
Clean the Drum of the Dryer Once a month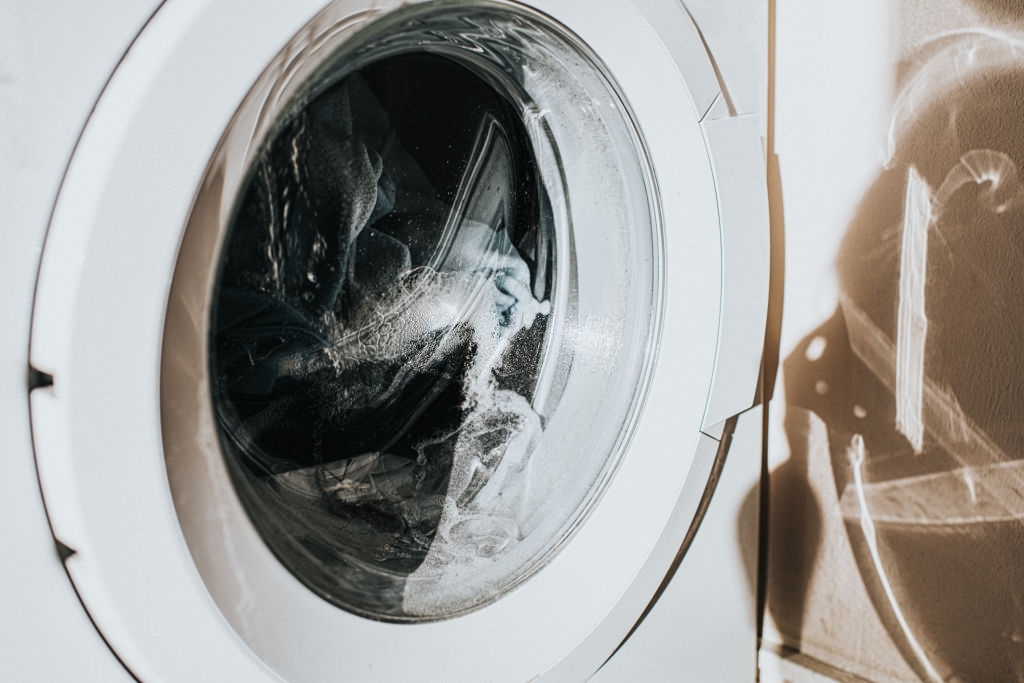 Make a 50-50 solution of water and white vinegar in a clean spray bottle.
Spray the interior of the dryer drum almost.
With a gentle cleaning cloth, wipe it down.
Using clean water, rinse the rag. After that, clean the dryer drum once more.
Using a towel, dry the drum.
Enable the drum to air out for a few hours with the dryer door open.
Clean the Lint Screen Quarterly
Remove the lint filter from your dryer once a quarter and vacuum any leftover clumps of lint that have gotten through the filter. Then, using a stiff brush, dish soap, and warm water, clean the lint panel in your sink.
Cover the screen with a paste made of baking soda and white vinegar if the sticky substance won't go down. Before scrubbing the lint panel again, let the mixture sit for a few minutes. Reinstall the screen in the unit after rinsing it and fully drying it.
Our Verdict
Finally, the Sentern Compact Laundry Dryer is a very inexpensive and simple-to-use dryer that provides a great drying experience and a lot of comfort for a low price.
After a thorough review of this dryer, we decided to give it a rating of 9.0/10.