Best Steam Cleaners For Mattresses 2021
Everybody loves a restful sleep and most people regard their beds as a place to unwind and shut off from the stresses of everyday life. But just like any other part of your home, your bed requires a good clean to maintain a comfortable level of sleep. You'd be surprised at the number of unpleasant bugs your mattress can hoard.
In addition to cleaning your bed covers and sheets, your mattress should be cleaned regularly. Mattresses are often neglected, but they should be deep cleaned often to get rid of bed bugs. The best tool for the job is a steam cleaner and today, we'll be shortlisting our recommendations to help you choose the right one for your needs.
Advantages of Steam Cleaning a Mattress
Steam Cleaners are popular accessories for getting rid of dirt from practically any surface around the home. They are very effective at cleaning upholstery, drapes, worktops, tiles, windows and many other areas. A lot of people don't know that steam cleaners are one of the best appliances to sanitize mattresses and they do the job just as good as any other area of the house.
Here are some of the advantages a steam cleaner offers-
It eliminates nasty bed bugs. If you've ever had an issue with bed bugs I'm sure you can agree on how hard it is to remove them from your bed. Most people won't notice them until the situation gets out of control, and by this stage, your options will be to chuck out the mattress or hire a pest expert to remove them. Hot steam is an effective killer of bed bugs and any eggs that they lay.
I'll spare you all the disgusting details about the amount of skin you shed every year and the amount of dead skin that accumulates on your mattress which becomes food for the bugs. But one thing that we do know is how a steamer can alleviate these issues. It's one of your best defences against bed bugs.
If you are prone to allergies I'm sure you'll agree how irritating it can be when you react to one. Your steamer can blast away allergens efficiently, leaving you with a clean mattress to sleep on and help reduce allergy triggers.
Your mattress is a hot spot for attracting stains. This can be anything from sweat or urine stains to coffee stains. Steam cleaners can remove stains from the mattress and give it a fresh look.
How to Steam Clean a Mattress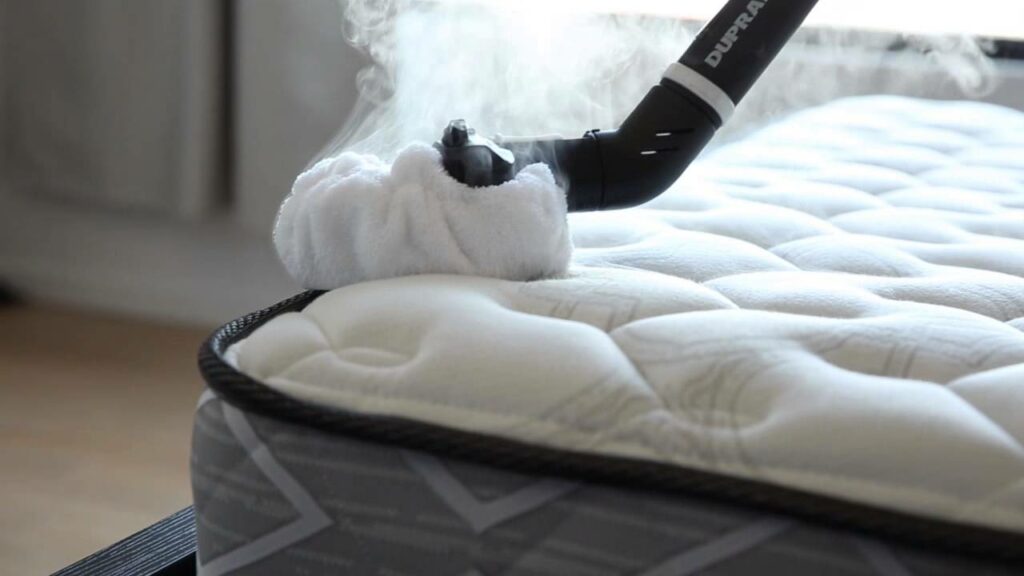 Your new steam cleaner will come with a set of guidelines detailing its usage and how to achieve the maximum benefits. But they are certain instructions to follow prior to steaming the mattress and afterwards, that might not be included in the user guide. Here's a quick overview-
Before turning on your steamer always make sure that you give the mattress a good vacuum. This will pick up any loose crumbs, food, dirt, dust and anything else that could be sitting on your mattress. This will make the job of steaming much easier.
Steamers can be used on bed covers and sheets, but it's best to launder dirty bedding regularly on a boil wash. If your pillows are machine washable you should wash them too.
The steam cleaner houses a tank that holds the water required to produce steam. Once you've connected it to the power and turned it on, it will start warming up the water. Generally, your steam cleaner will take anywhere up to 5 minutes before it's ready. Some models take just half a minute to heat up the water.
Once it's ready, you should hold the steam cleaner directly above the mattress without making direct contact. Clean slowly using long lines beginning from one end of the mattress to the other until you've steamed the whole surface.
Once the job is done you should leave the mattress to dry. It will take roughly 2 hours depending on the type of mattress. If possible open the windows to give the mattress as much ventilation as possible.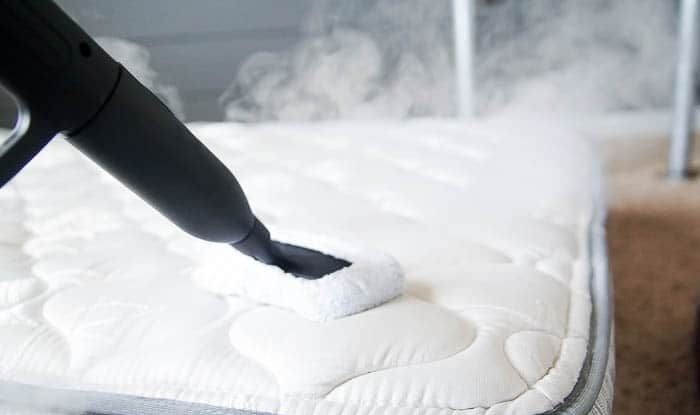 Affiliate Disclosure: I am grateful to be of service and to bring you content free of charge. In order to do this, please note that when you click links and purchase items, in most cases I receive referral commissions. Eventually, I may earn enough to buy a beer or two 🙂
Top 8 Steam Cleaners for Mattresses
We've done our research and compiled a shortlist of the best steam cleaners to freshen up your mattress. In the next few sections, we'll reveal the best appliances available right now and show you what these versatile steamers are capable of.
#1). Wagner Spraytech 0282014 915e On-Demand Steam Cleaner
The Wagner 915e On-Demand Steam Cleaner generates a powerful blast of steam to clean our mattress as well as many other sections of your home. It uses nothing else but water and its cleaning capabilities extend into the bathroom, kitchen, floors, windows and many other areas.
It comes with a vast range of accessories to tackle most jobs around the house. There are 18 nozzles and attachments to ensure that you can target the steam precisely where it's needed on your mattress. It also comes with everything needed to remove grease in the kitchen and dirt from grout, showers, sinks and so on.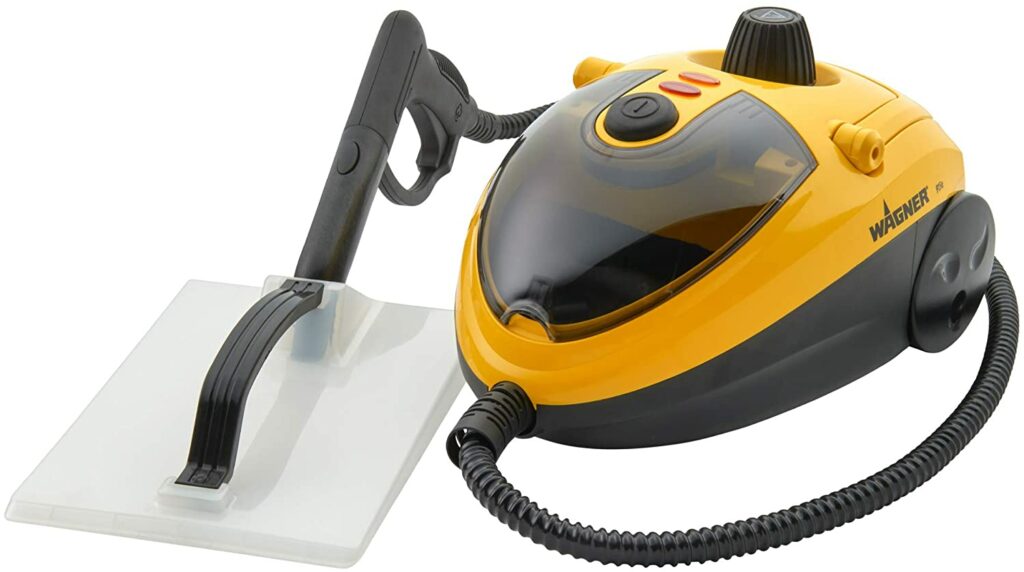 As if that wasn't enough, the steamer can be used outside to clean your barbeque area and outdoor furniture. Simply pour 40 oz. of distilled water into the tank to get 40 minutes of uninterrupted chemical-free cleaning. It even comes with a wallpaper steam plate to remove old wallpaper with nothing else but hot steam.
The Wagner 915 power steamer is suitable for all parts of your home thanks to the pressurized steam system that helps to sanitize every room without using harsh chemicals. It offers a natural cleaning process that doesn't produce any unwanted by-products. You'll find a floor-cleaning brush and cloth, a window/tile squeegee, 2 extension tubes, assorted utility brushes and a measuring cup.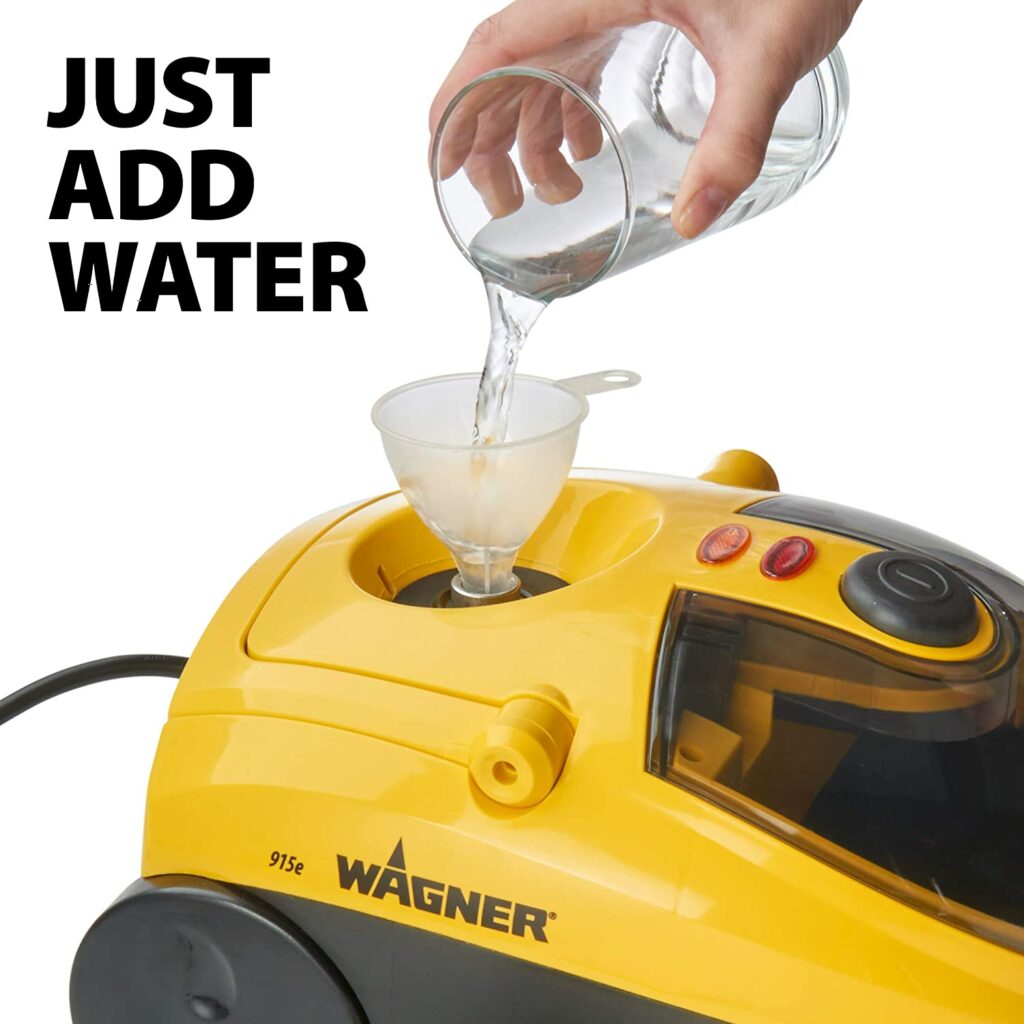 The Wagner steamer uses a power trigger that you pull to release powerful steam. It's equipped with a light which illuminates green to notify you when the machine is ready to start steaming. There's a red light which notifies you when the heating element is producing steam.
You can switch between 2 different modes for intermittent or continuous steam depending on your cleaning requirements. You will need continuous steam to clean your mattress. The unit sits on large wheels to move seamlessly across various surface types.
This model is designed to deliver fast sanitization and remove bugs more effective than non-pressurized steam cleaners. It deep cleans to ensure that bugs never get the chance to breed inside your mattress. It kills bacteria and removes stains to restore your mattress back to its former glory.
There doesn't seem to be a limit of what this machine can do. It even comes with a jet nozzle to remove mud from tyres, grease from ovens or dirt from concrete and outdoor furniture.
You can swap attachments on the go without delaying your cleaning session. Simply hold the attachment over a bucket and squeeze the trigger until steam is released and water stops coming out.
Where Can I Buy The Wagner Spraytech 0282014 915e On-Demand Steam Cleaner?
#2). Moongiantgo 2600W High-Temperature Pressurized Hand-held Steam Cleaner
Moongiantgo is one of the most powerful pressurized handheld steam cleaners. This portable machine can achieve high temperatures and pressure to kill bed bugs and get rid of stains on your mattress. It uses nothing else but water to clean and freshen your mattress.
It can reach temperatures well above 100°C to ensure that bugs are destroyed effectively and stubborn stains are eliminated. You can use it to clean ovens, shower cubicles, tiles, kids toys and many other areas.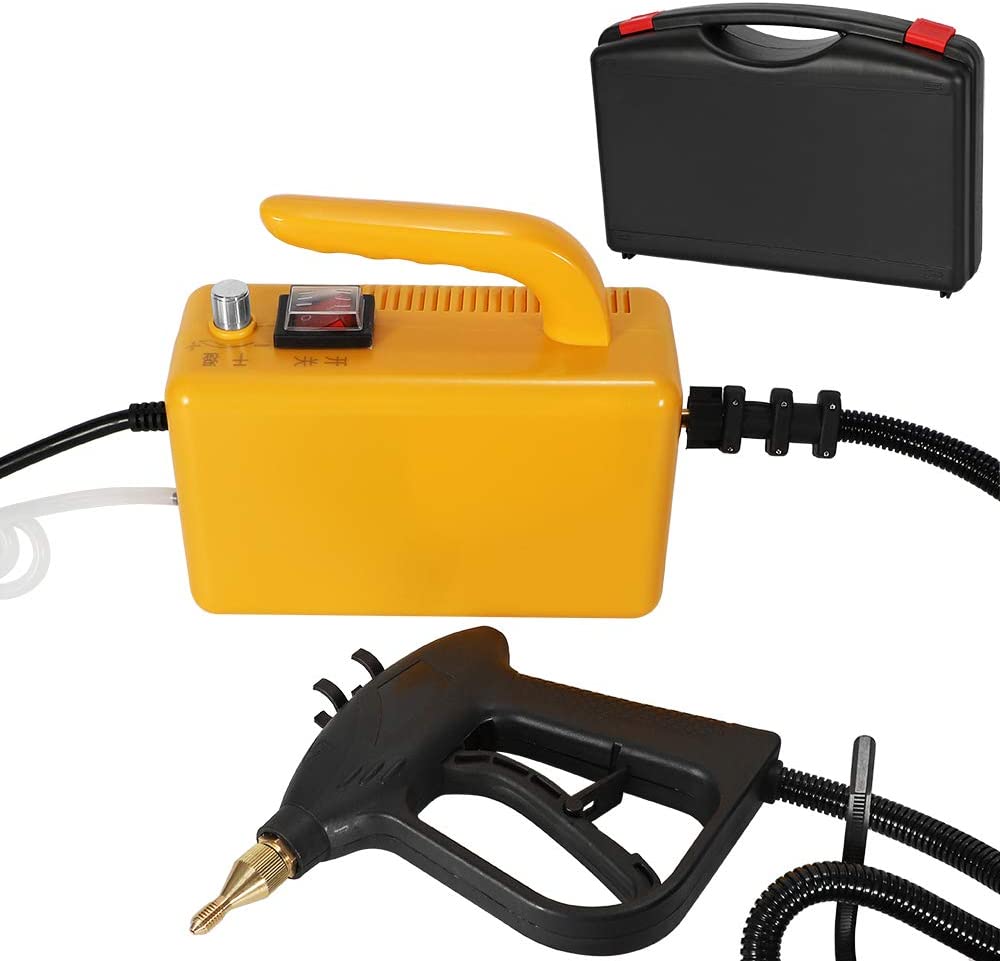 The steamer can produce 3~5 BAR of pressure which is enough to remove grease, oil, stains and dirt from grout.
It's equipped with a silicone water inlet pipe with an automatic pump which can be inserted into a bucket or sink for a continuous supply of water.
The water inlet can be controlled using the variable knob to adjust the steam humidity depending on the amount of steam that's required.
The machine is equipped with an extended 2.5m tube that expels enough steam to reach deep into your mattress and kill bugs hiding inside. The one-key operation speeds up tasks and makes light work of challenging jobs.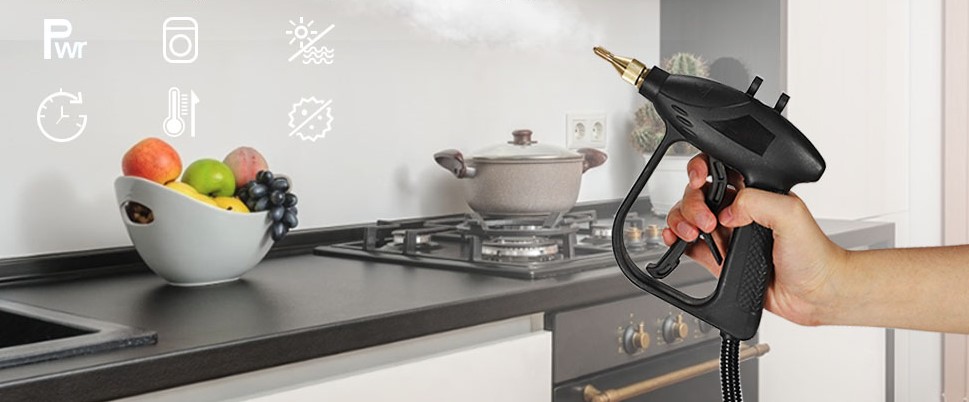 The hose is extra-long to give you an extended cleaning range. As such, you can concentrate on the task at hand without constantly moving the machine.
The Moongiantgo handheld steam cleaner is portable and powerful and it comes with a range of safety features to keep you safe. As we all know, water and electric don't mix and as such, the unit is equipped with a safety thermal cut-off, overcurrent protection, electricity leakage protection and dry heating protection.
Specs:
Voltage: 110V
Power: 1700W-2600W
Water Consumption: 100-200ml/min
Steam Pressure: 3-5BAR
Working Temperature: Average of 120°C
Length of Inlet Pipe: 1.2m
Length of Power Cord: 1.8m
Length of Steam Pipe: 2.5m
Where Can I Buy The Moongiantgo 2600W High-Temperature Pressurized Hand-held Steam Cleaner?
#3). CGOLDENWALL Portable High-Temperature Steam Cleaning Machine
The CGOLDENWALL steam cleaner generates plenty of steam power that dives deep into your dirty mattress to kill bacteria and bed bugs. It doesn't need anything else but water to thoroughly clean your bed.
What else can it clean besides mattresses? This is one of the most adaptable steam cleaners on the market. It tackles difficult oil stains and grease thanks to the high temperature and steam it produces. Furthermore, it can even be used to straighten wrinkles on clothing, so it's essentially an iron. You can clean floors, kitchen surfaces and appliances, showers, tiles and many other areas.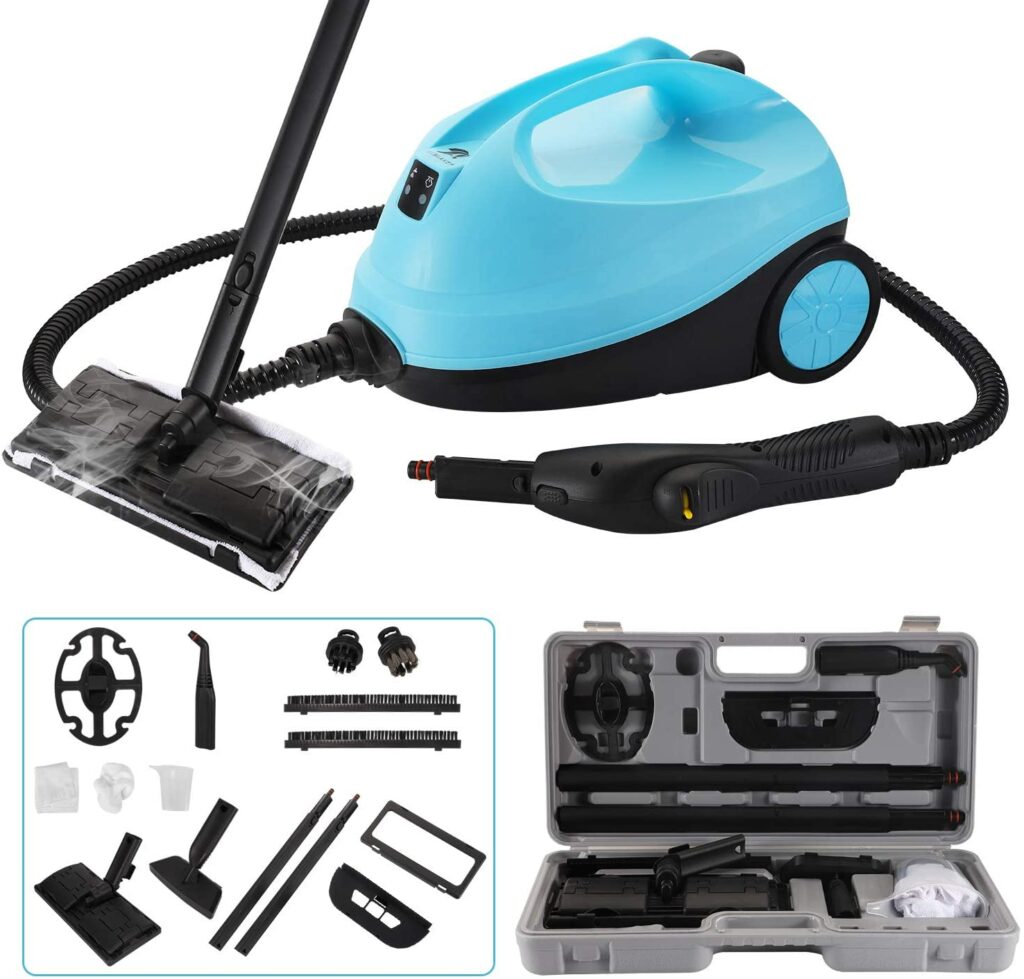 The 2-litre tank is one of the largest capacities we've seen on a steam cleaner. The machine can heat this in just 5 minutes and produces continuous steam for more than half an hour. The handle is automatic thus removing the need to keep pressing on the trigger for a prolonged period of time.
The unit releases 4 bars of high pressure that reaches a temperature of 110°C to dissolve difficult stains and kill bugs, mites and bacteria living in your mattress. If you're looking for a natural way to deep clean your home then you should consider the CGOLDENWALL steam cleaner.
For added convenience, the unit is equipped with a green light to show when it's ready and a red light when the water is running low. This eliminates the guesswork and ensures that you always have the correct amount of water for every job.
It comes with 12 different attachments to tackle various cleaning demands around the house in addition to cleaning your mattress. There's an accessory to clean glass panes, floors, carpets, clothing and greasy appliances in the kitchen. It can handle most tasks, big or small.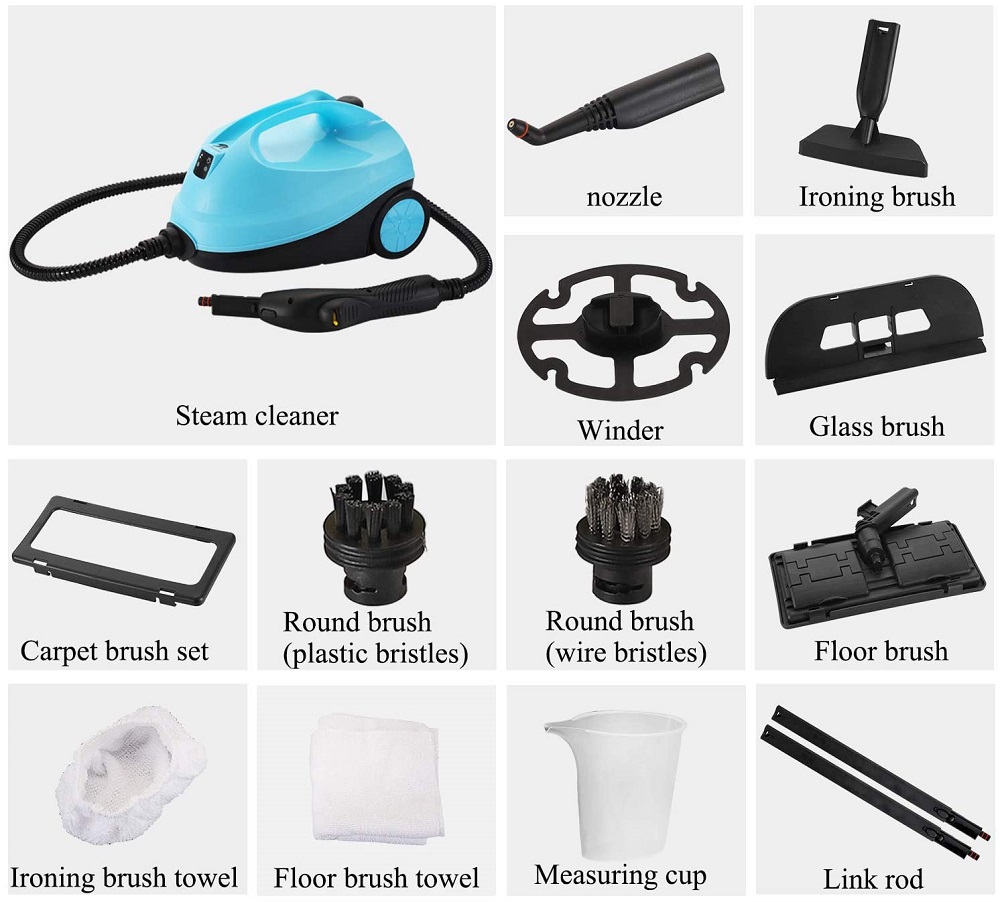 Specs:
Rated power: 2000W
Rated voltage: 110V
Water tank capacity: 2 Litres
Water heating time: 5min
Operating time: 30-60min
Maximum pressure: 4 bar
Max cleaning area: 140 ㎡
Product dimensions: 360 x 250 x 220mm
Net weight: 4.5 kg
Where Can I Buy The CGOLDENWALL Portable High-Temperature Steam Cleaning Machine?
#4). PurSteam World's Best Steamers Steam Cleaner
The PurSteam handheld steamer is a portable cleaner that thoroughly cleans your mattress as well as other areas of your home. This is a versatile appliance that operates at a low noise level during your deep cleaning sessions. It uses a trigger that's conveniently positioned to release steam directly where it's needed.
The machine is compact and comfortable to handle for extended periods and as such, it can be used to clean anything from a single mattress to a super king-size mattress without breaking a sweat. The unit is equipped with a pressurised system to ensure that steam is pushed into the deepest parts of the mattress to target bed bugs hiding there.
The PurSteam steam cleaner is supplied with 9 attachments to help you clean a variety of surfaces and areas including your bathroom, kitchen, upholstery and much more. Among the accessories, you will find a nylon brush and a bent nozzle.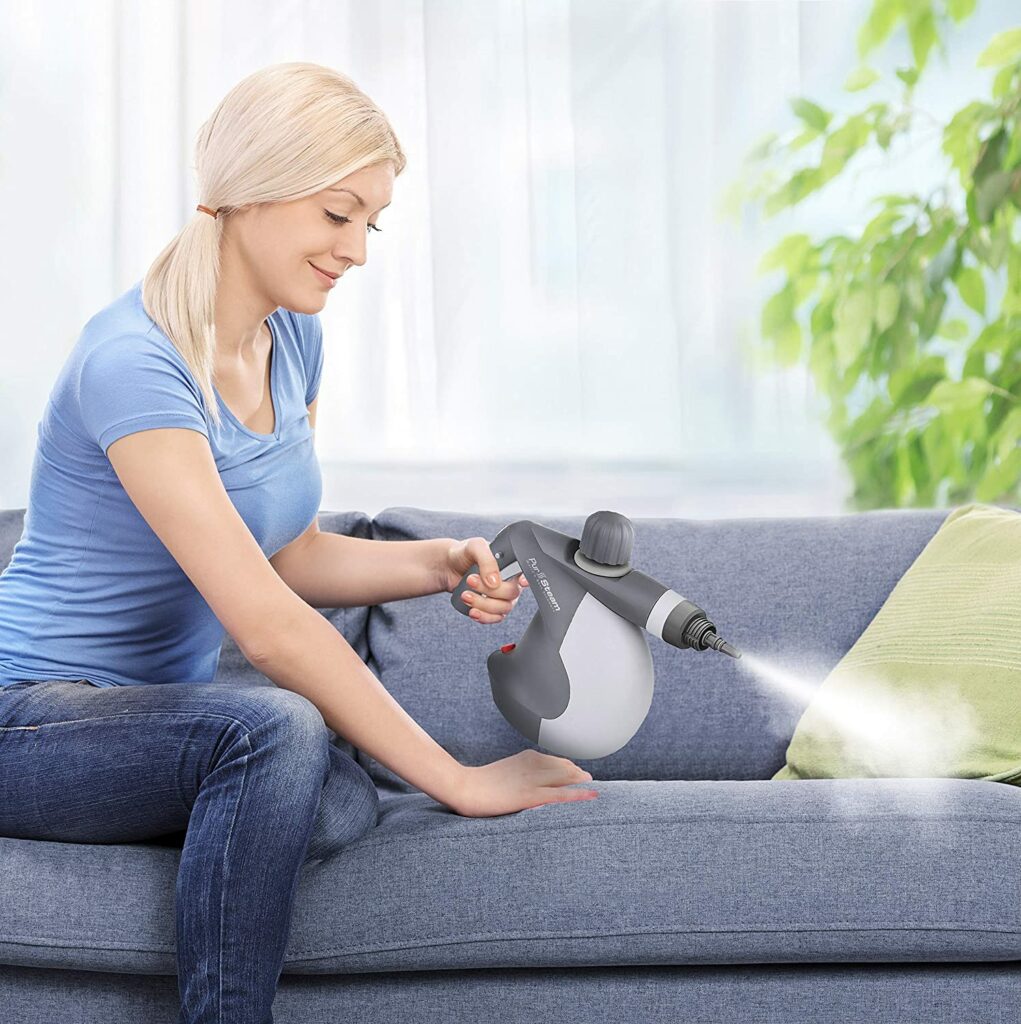 The unit weighs just 2.2 pounds making it one of the lightest and user-friendly steam cleaners to use. It includes attachments to help target mattress crevices and seams with greater precision. This compact handheld steamer offers a quick and efficient way to deep clean thanks to its portability and fast water heating time, which is less than 5 minutes.
Pros:
Quick water heating.
It comes with 9 accessories.
Lightweight and comfortable to handle.
Great for hard-to-reach areas.
Affordable
Cons:
Can't be used to clean floors.
Who Should Buy This Steam Cleaner?
The PurSteam steam cleaner is perfect for anyone looking for a compact appliance that's capable of deep cleaning mattresses as well as other areas of the house such as your kitchen worktops and ovens.
Specs:
Tank capacity: 8.5 oz.
Number of accessories in the box: 9
Weight of machine: 2.2 pounds
Where Can I Buy The PurSteam World's Best Steamers Steam Cleaner?
#5). McCulloch MC1270 Portable Power Cleaner
The McCulloch MC1270 is a versatile and powerful steam cleaner to tackle the most difficult jobs. It's perfect for larger tasks such as sanitizing multiple mattresses in a single cleaning session. It's equipped with many different accessories making it one of the most versatile heavy-duty steam cleaners currently available.
It deep cleans with just one ingredient, water! There's no need to use detergents or other chemicals to sanitize your mattress. It releases hot, pressured steam to get rid of bacteria, bugs and stains. It can be used to clean other areas beyond your bedrooms such as tiles, hard floorings, grout, kitchen appliances and even outdoor grills.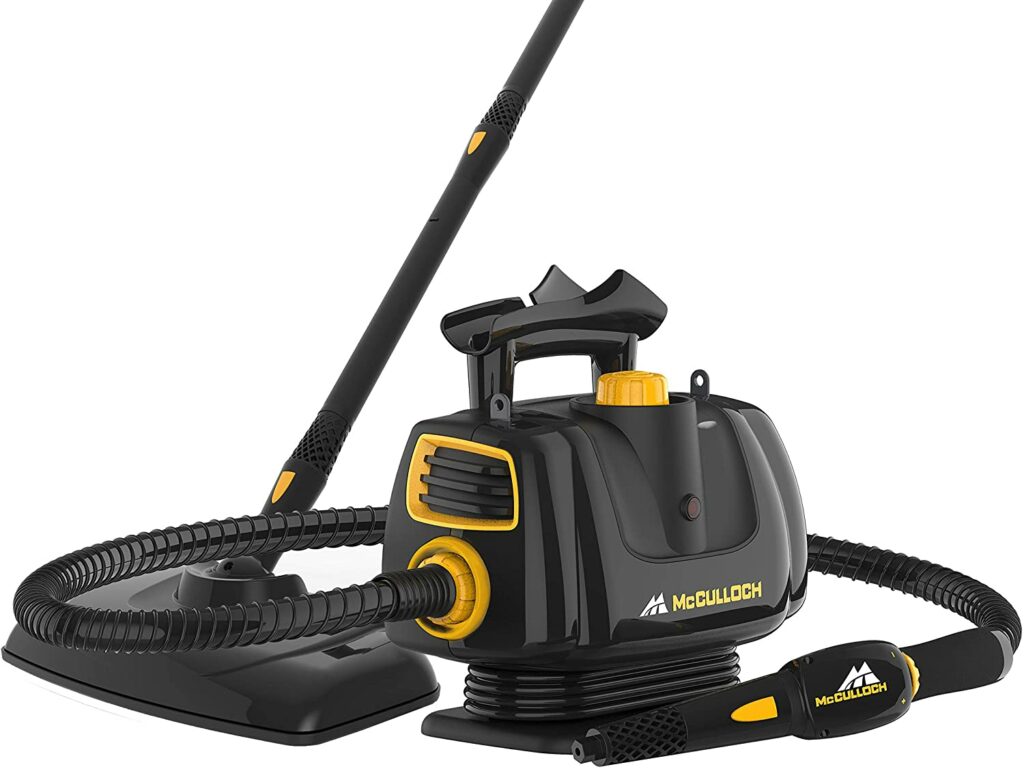 The unit features a variable steam control that allows you to increase or decrease the steam output depending on the difficulty of the job. Turn it up to target stubborn stains and grease or lower it for delicate surfaces.
It features an integrated cradle which gives you a convenient area to place the handle once you've finished using the machine.
The machine houses a large water tank with 25 ounces of capacity. Therefore, it gives you longer intervals between refills and offers half an hour if uninterrupted steam.
The MC1270 steamer offers one of the most portable high-powered steam cleaning systems with a large range of versatile accessories to clean any part of your home.
Pros:
Comes with 16 accessories.
Includes an extension hose for improved handling.
High-power pressure.
Large water tank for bigger jobs and uninterrupted cleaning.
Cons:
Some users have said that the hose could be a bit more flexible.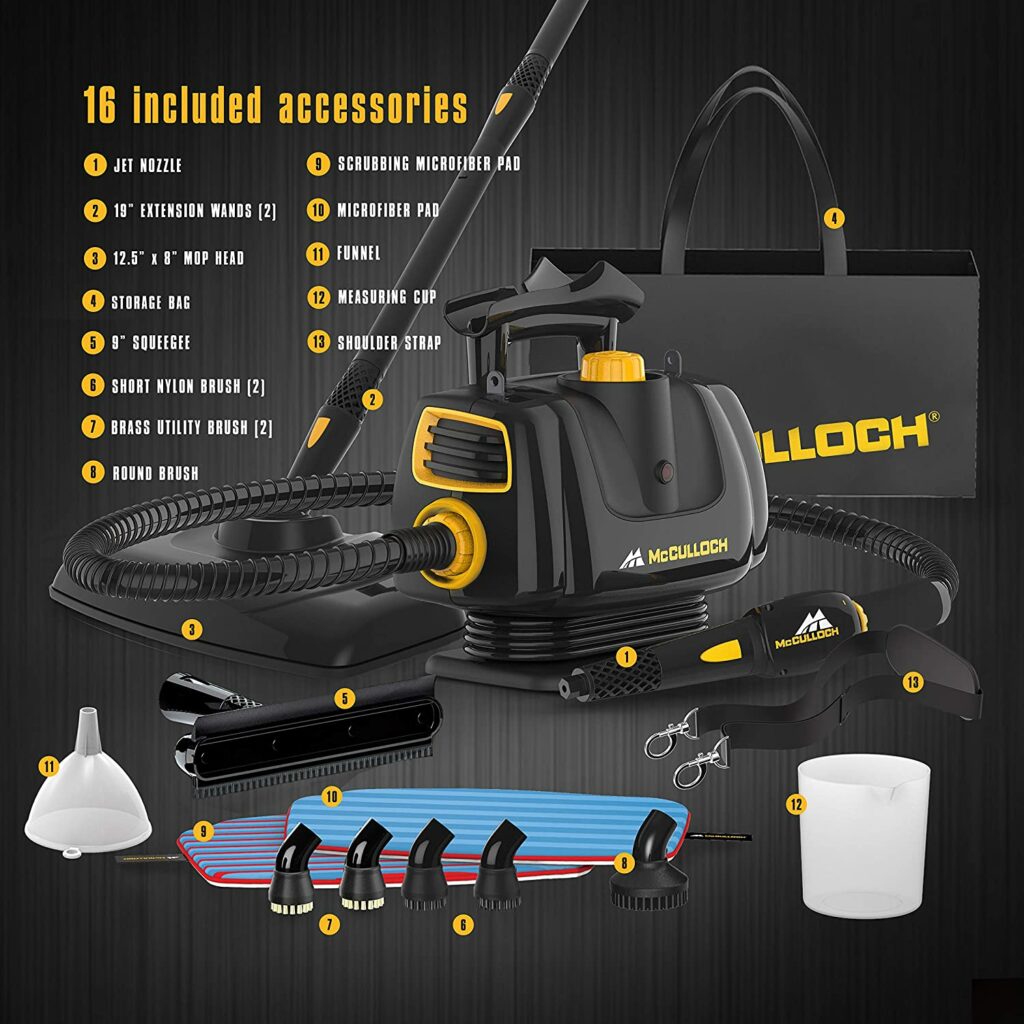 Who Should Buy This Steam Cleaner?
The McCulloch MC1270 is a powerful compact unit that releases pressurized steam for tougher tasks. It's the ideal machine for cleaning mattresses, floors and many other sections of the house thanks to a good variety of accessories that come in the box.
Specs:
Comes with a microfiber pad and scrubbing microfiber pad
It has two 19″ extension wands and a 12.5″ x 8″ mop head
It has two short nylon brushes, two brass utility brushes, and a round brush
9″ Squeegee
Powerful Jet Nozzle
Equipped with a shoulder strap for easier handling
Comes with a funnel and measuring cup
A convenient storage bag is supplied
Where Can I Buy The McCulloch MC1270 Portable Power Cleaner?
#6). Comforday Pressurized Steam Cleaner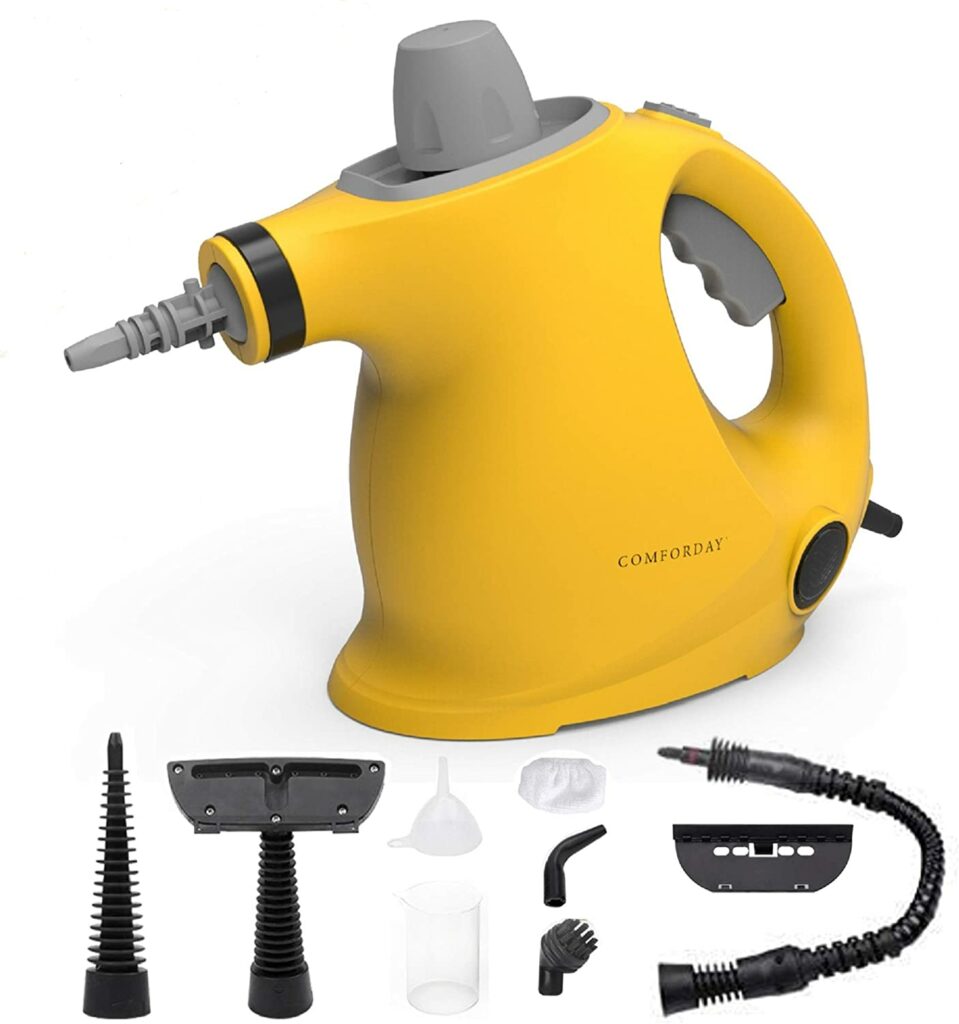 The Comforday pressurized steam cleaner is an ideal unit that allows you to clean awkward areas, which makes it a great appliance to handle bed bugs hiding in your mattress. It makes light work of difficult tasks and can achieve a temperature of 270F with an operating time of 15-20 minutes of continuous steam.
The unit doesn't require any additional chemicals and uses nothing else but water to clean mattresses of all sizes. It kills bugs, sanitizes your mattress and freshens it up so that you can get a comfortable night's sleep without sharing your bed with bugs.
The unit is supplied with a variety of different attachments such as a brush, bent spray, spray cup, long spray cup, brush plate, funnel and measuring cup. If you're looking for a low-cost steam cleaner that comes with a generous set of accessories and a higher-capacity water tank then the Comforday steam cleaner could be your perfect choice.
Pros:
Ergonomic design.
Comes with 9 accessories.
Achieves high temperatures and pressure for difficult cleaning tasks.
Doesn't require additional chemicals.
Ideal for busy homes with pets and kids.
Cons:
The power cord could do with being longer.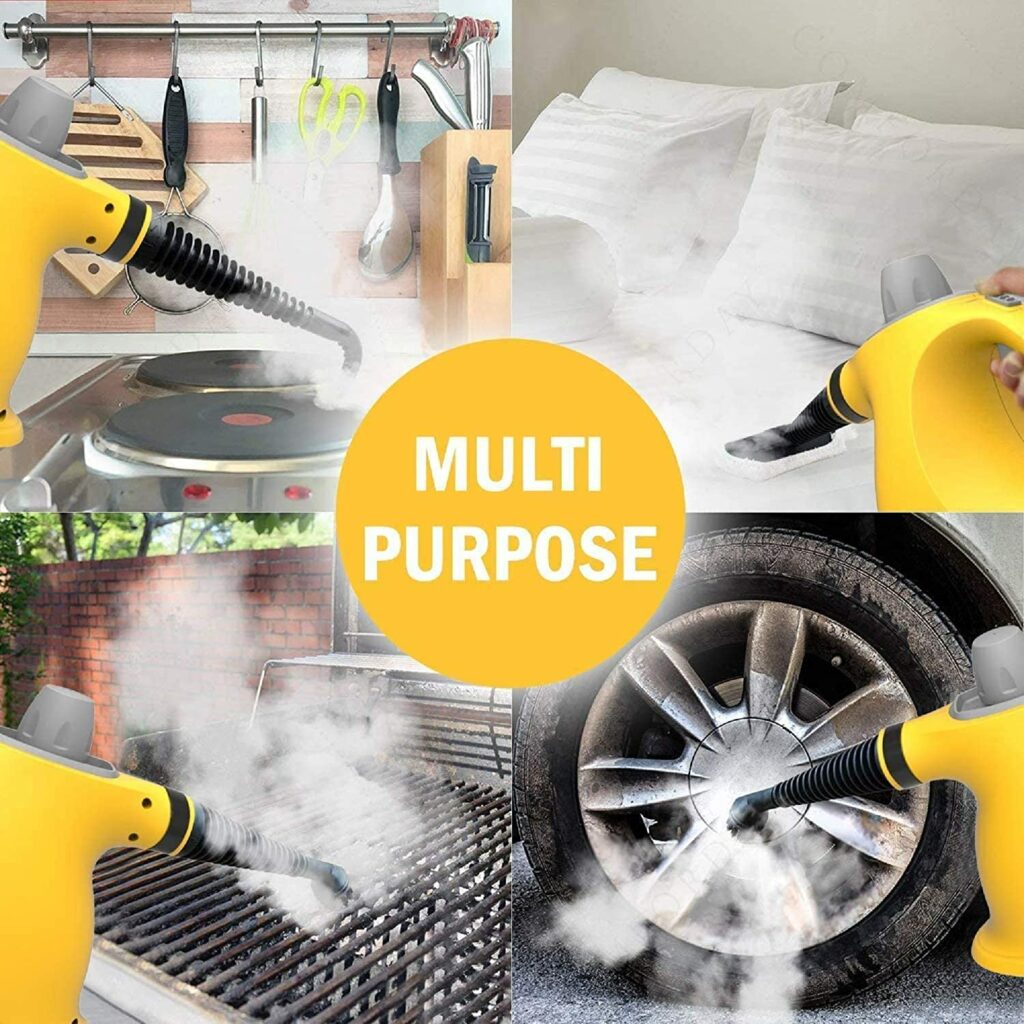 Who Should Buy This Steam Cleaner?
The Comforday is a portable pressurized steam cleaner that's ideal for people that don't want a full-sized unit but still want powerful steam at high temperatures to get rid of mattress stains and bugs. This is an affordable high-performance cleaner to suit most budgets.
Specs:
Size of Tank: 11.8 oz.
Number of accessories in the box: 9
Weight of machine: 3.79 pounds
Where Can I Buy The Comforday Pressurized Steam Cleaner?
#7). PurSteam 12 in 1 Multifunctional Whole House Steam Cleaner
The PurSteam thermapro is an incredibly versatile steam cleaner that can be adapted to tackle any cleaning job in the house including your mattress! It's equipped with a triangle steam mop to help reach tighter spaces and is designed to clean multiple surfaces and release steam directly to the areas it's needed most.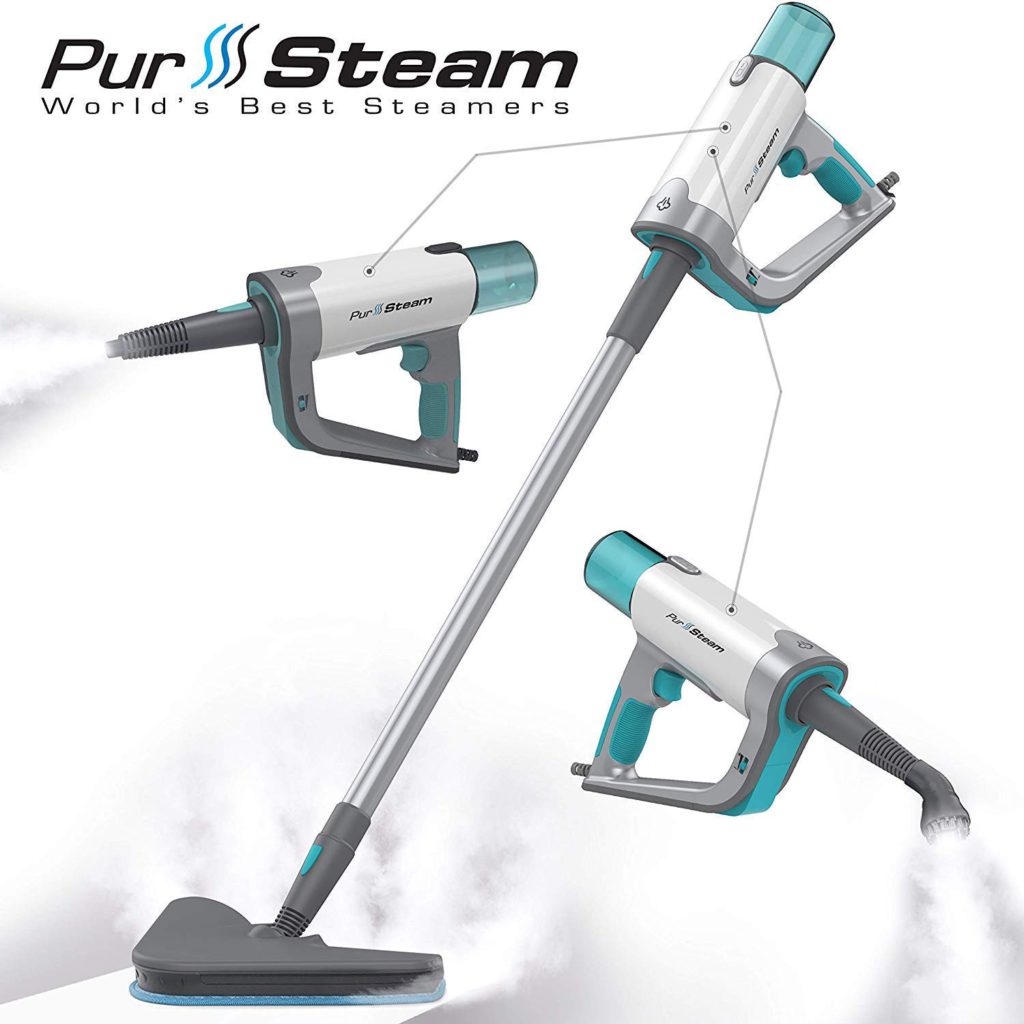 The machine can be converted from a floor steamer to a handheld steamer to clean upholstery, drapes, carpets and that all-important mattress. It heats up water in a few seconds and allows you to change the steam depending on the type of job. The powerful steam helps to break down tough stains and eliminate bacteria. If you struggle with cleaning tight spaces and hard-to-reach areas, use the PurSteam thermapro to target these areas.
The unit sanitizes surfaces with water and zero chemicals. The adjustable hot steam eliminates 99.99% of germs and removes bed bugs effectively. It comes with a lengthy power cord that measures 16ft and a pole to extend the cleaning range and speed up cleaning tasks.
The multifunctional attachment can be used on virtually any surface in your home. The option to switch between a floor cleaning steamer and handheld opens up many possibilities when you're faced with difficult clean-ups. Get rid of oil stains, grease, and sanitize all in one go.
Pros:
It comes with 7 accessories.
Can be used with normal tap water.
Easy to switch between handheld and floor cleaning.
Gets rid of bed bugs efficiently.
Cons:
Mop pad occasionally comes off during cleaning.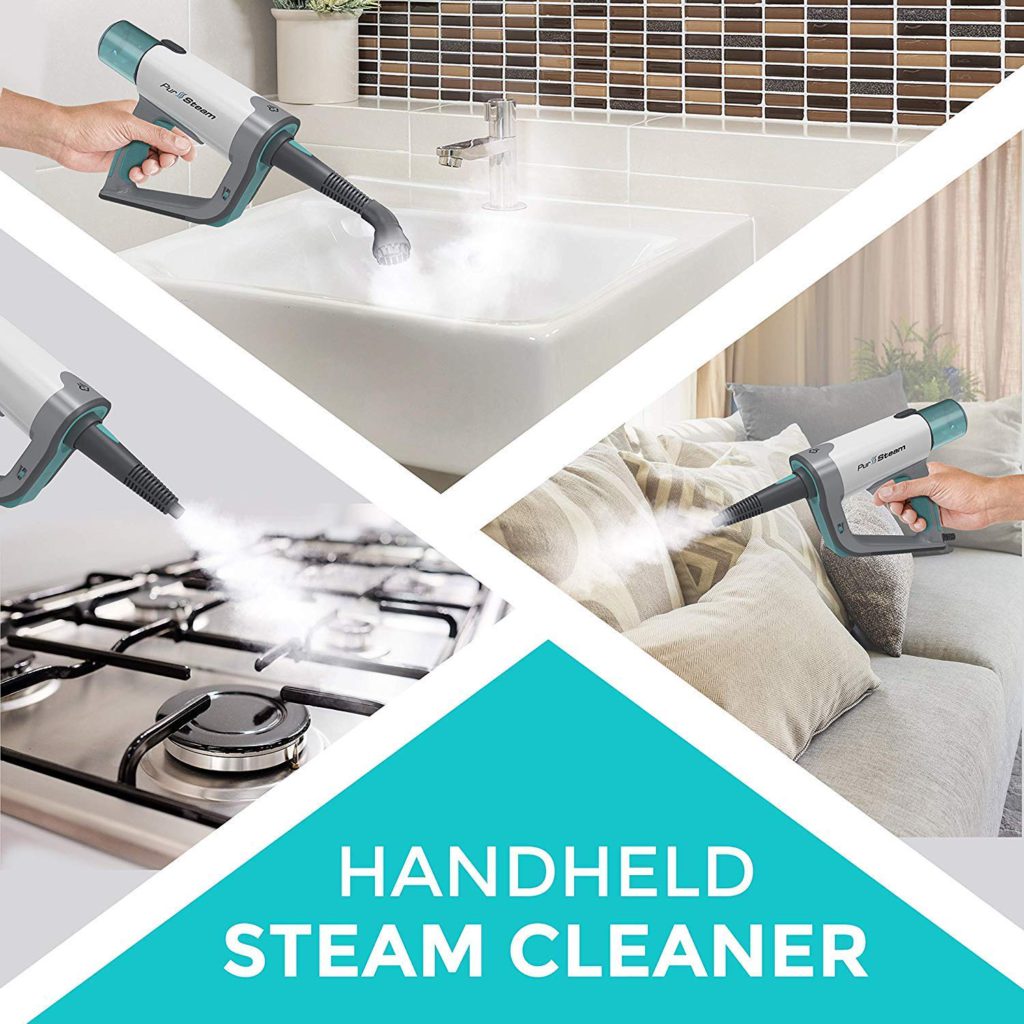 Who Should Buy This Steam Cleaner?
The PurSteam thermapro is ideal for people looking for a versatile cleaner that can clean multiple mattresses in a single session. It heats up water in a few seconds so that you can start cleaning immediately.
Specs:
Size of Tank: 8.5 fl oz/250m
Number of accessories in the box: 7
2 year warranty with customer support
Where Can I Buy The PurSteam 12-in-1 Multifunctional Whole House Steam Cleaner?
#8). Comforday Steam Cleaner
The final appliance on our list is the Comforday Steam Cleaner which offers good value for money because of its powerful steam and affordability. This handheld unit is compact, easy to handle and comes with a variety of attachments that help to sanitize your mattress and many other areas of your home.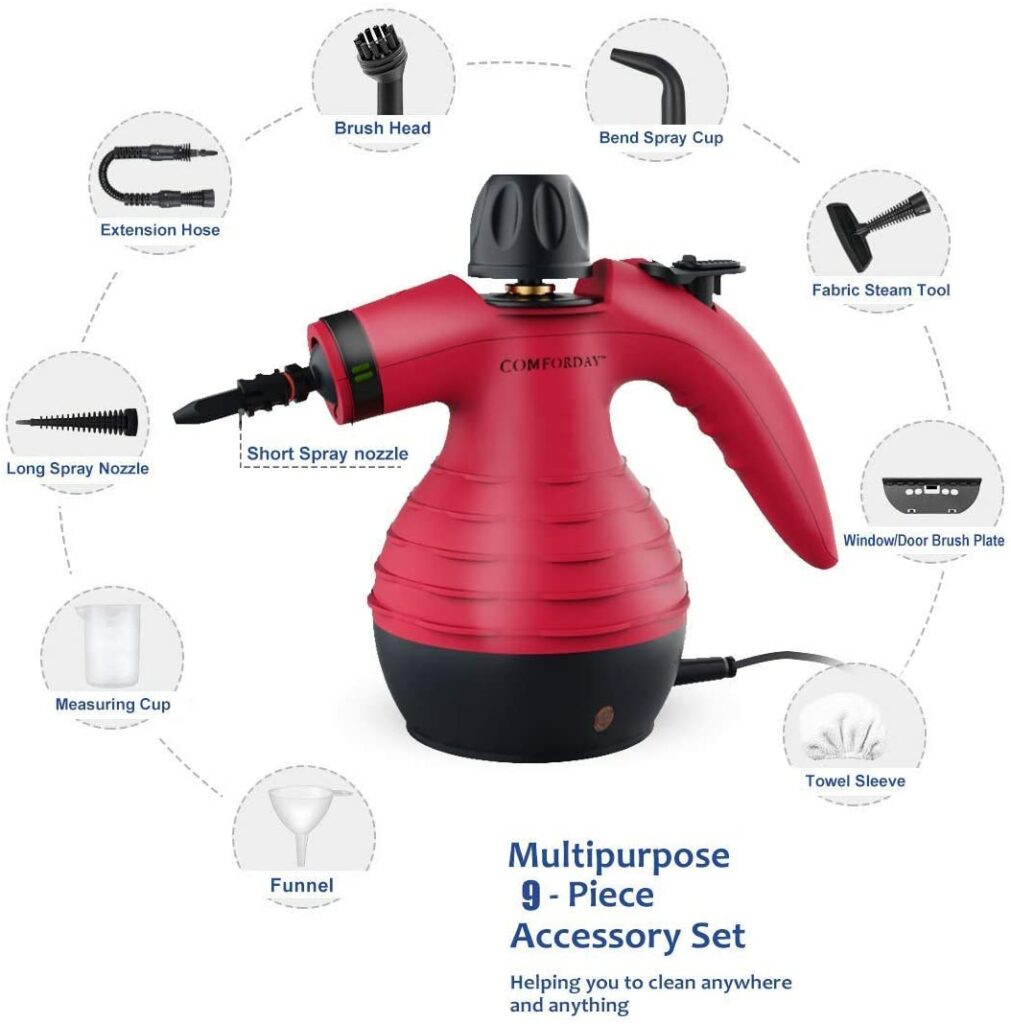 In the box, you will find a brush plate, fabric steam tool, an extension hose, a brush head, towel sleeve and various other accessories to help kill germs and bugs. The unit might be portable, but it houses an 8.5-ounce capacity water tank, which is larger than some of the alternative steam cleaners we've seen in this size.
The machine's weight is distributed evenly to help direct the steam accurately without causing any strain to your hand or wrist even when the water tank is full. Multiple accessories are provided to adapt the Comforday steamer to remove stains from mattresses, get rid of grease from ovens, clean bathrooms, upholstery and curtains.
Pros:
Comes with 9 accessories for a variety of tasks.
An extension hose is supplied.
The trigger can be locked for extended cleaning sessions.
Ideal for a variety of surfaces.
Cons:
Accessories can feel a bit wobbly.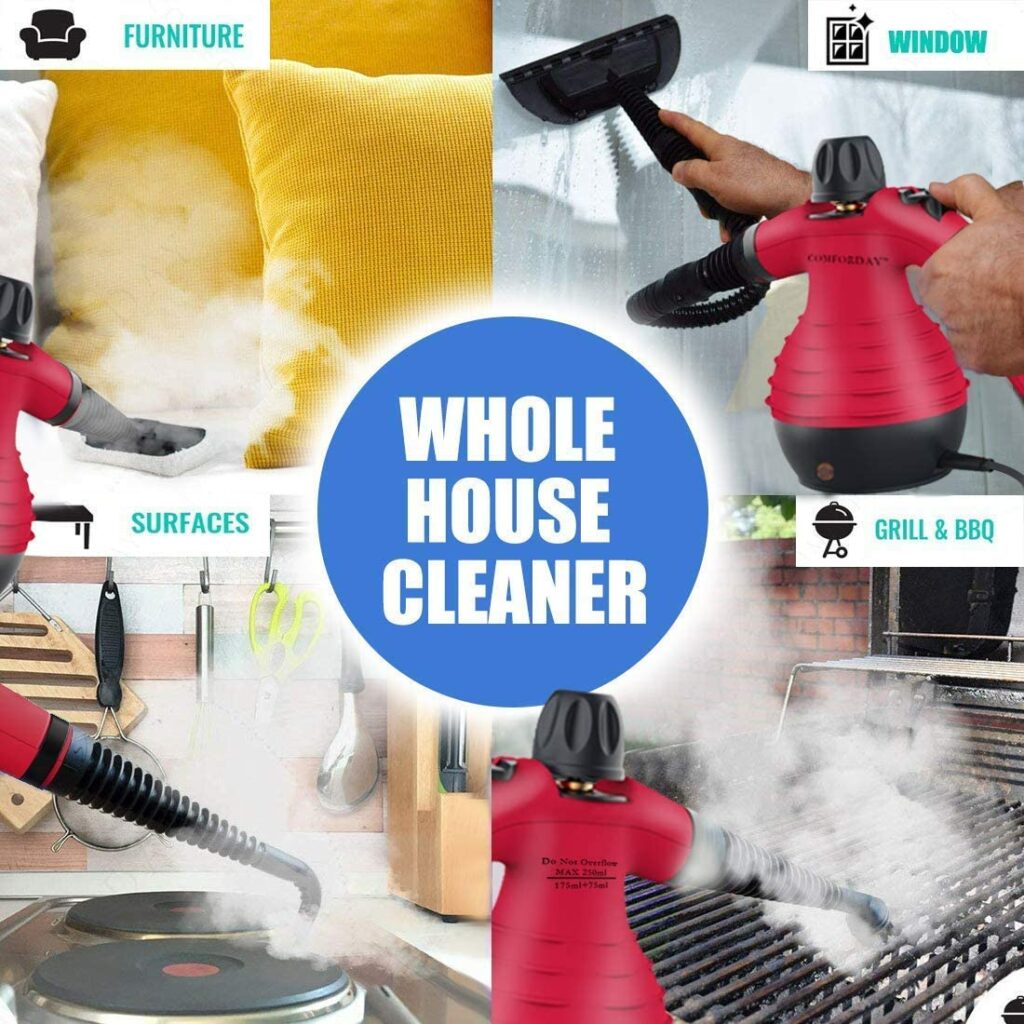 Who Should Buy This Steam Cleaner?
The Comforday steam cleaner is perfect for people looking for an affordable, portable appliance with a good range of accessories to sanitize mattresses and other awkward spaces.
Specs:
Size of Tank: 8.5 ounces
Number of accessories in the box: 9
Weight of Machine: 3.3 pounds
Where Can I Buy The Comforday Steam Cleaner?
Steam Cleaner Buyer's Guide
High-performance steam cleaners ease the burden of sanitizing surfaces and removing stains, oil and other stubborn dirt. The steamer's high temperature melts away grease, kills germs and bed bugs living in your mattress. Steam cleaners are also good for the environment because they don't require any chemicals or cleaning fluids, all you need is water which will save you money in the long run as well.
Which Type of Steam Cleaner Should You Get?
Steam cleaners are designed differently and they are 3 distinct types that you can buy which are- steam mops, cylinder and handheld steam cleaners. For a versatile solution, you can opt for a 2-in-1 model that gives you the benefits of a handheld steam cleaner and steam mop in 1 device. If you decide to buy a 2-in-1 steam cleaner, it will allow you to clean virtually any part of your home including tiles, glass panes, floors, fabrics, furniture, grout and so on.
Steam Mops 
Steam mops look very similar to a stick vacuum cleaner but instead of vacuuming dirt, they come with a pad to mop and sanitize your floors. Most models are lightweight and use a swivelling mop to glide around objects whilst cleaning corners and edges.
Handheld Steam Cleaners 
Handheld steam cleaners are compact, therefore, easier to use across multiple rooms. They don't take up too much space and concentrate the steam output via a small nozzle to clean hard-to-reach areas.
The good thing about handheld models is that they can be adapted to clean many areas thanks to the multiple accessories that come inside the box. The integrated water tank is smaller than full-sized models and as such, they are more suited for smaller jobs.
Recommended Reading: The Best Handheld Steam Cleaner (2021)- Read BEFORE Buying!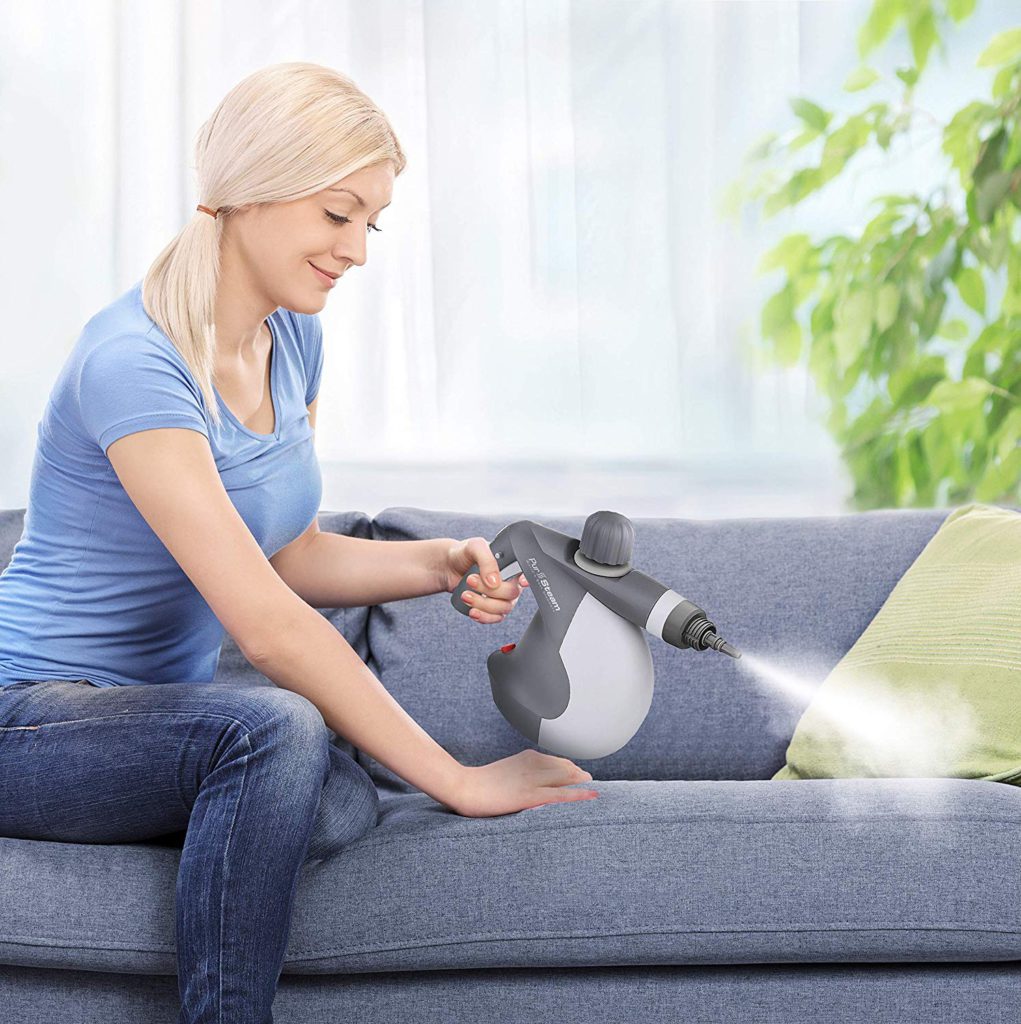 Two-in-one Mop and Handheld Steam Cleaners 
2-in-1 steamers are highly adaptable and incorporate a steam mop with a removable handheld steam cleaner. You can easily switch between both modes to handle practically any task. The drawback is they are usually pricier and heavier than a regular steam mop.
Cylinder Steam Cleaners 
Cylinder steam cleaners comprise of the main body that sits on wheels and is attached to a hose and mop. It looks similar to a canister vacuum cleaner. These models usually come with various accessories that can be attached to the hose to remove dirt from various surfaces.
A cylinder steam cleaner should be able to meet all of your steaming needs. It holds a high-capacity water tank so that you can clean for extended periods without worrying about refilling. Regular steam mops release steam continuously for about 15 minutes, but cylinders can last up to 45 minutes.
Which Steam Cleaner Accessories Should You Get?
Accessories allow you to use your steam cleaner for a range of different jobs. With the right tools, you can turn your steam cleaner into the most versatile cleaning appliance at your disposal. You can clean carpets, furniture, windows, fabrics, tiles, grout, kitchen appliances and of course your mattress. A regular steam mop doesn't usually come with a lot of accessories except for machine-washable cleaning pads.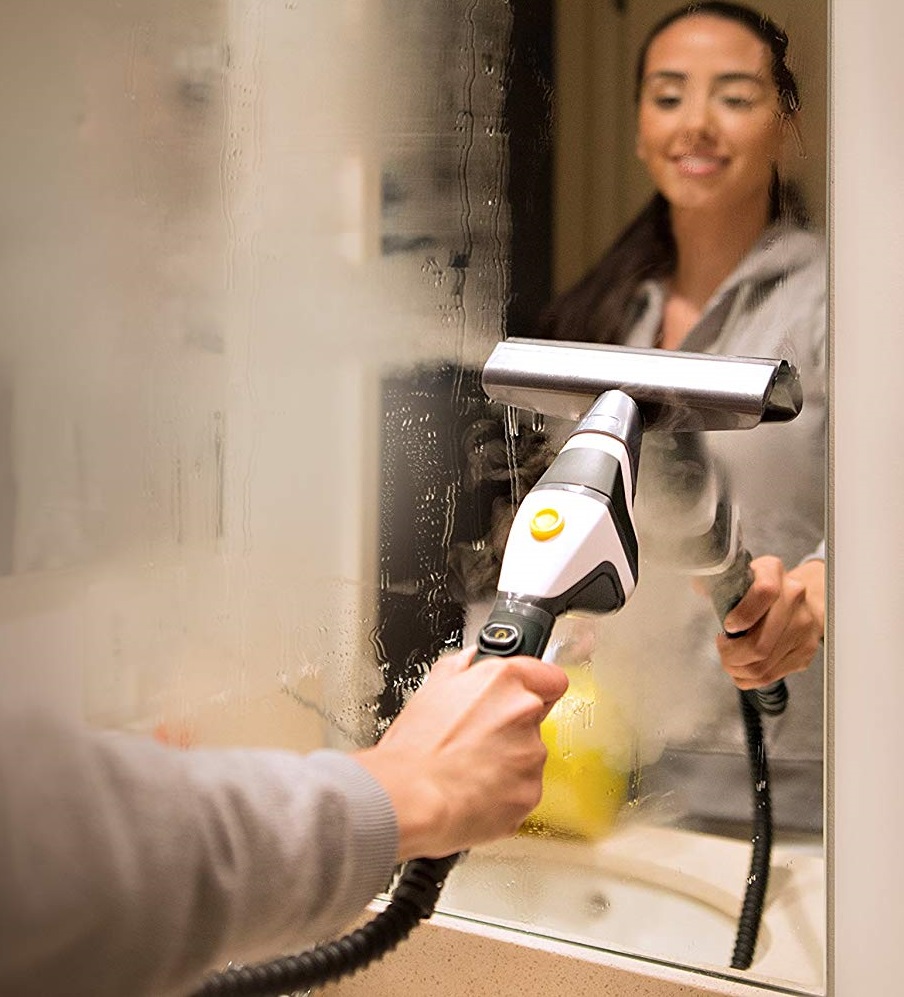 If you're trying to decide between a cylinder or handheld cleaner (either a regular or a 2-in-1 appliance), you should look out for the following things:
Does it come with Squeegees for cleaning mirrors, windows or glass?
Scrubbing brushes to loosen ingrained grime from tiles and grout.
Carpet gliders to freshen up your rug and carpets.
Cleaning pads for disinfecting various surfaces.
Upholstery tool for removing stains and cleaning fabric. These are usually made from a squeegee tool or brush with a cloth or pad that sits on top of it.
Scrubbing pad to simplify the arduous task of melting away grease from ovens.
Recommended Reading: What Is The Best Steam Cleaner For Tile Floors & Killing Germs 2021
Best Steam Cleaner Features To Look For
When it comes to deciding on the best steam cleaner for your needs you need to take into account the following:
Water Heating Time: The time it takes for the steam cleaner to be ready to start releasing steam. Generally, this can be anything up to 5 minutes, but some units can be ready in as quick as 20 seconds.
Steaming Time – how long does the machine release continuous steam before it needs to be refilled with water? This can be anywhere between 15 – 45 minutes depending on the type of machine that you decide to buy.
Steam mops are quicker to heat up compared to cylinder steam cleaners. The quickest steam mop is ready to go in just 20 seconds. Handheld steam cleaners are lightweight and easier to handle, however, the steam time doesn't last as long as other models.
That sums up our list of the best steam cleaners for mattresses in 2021. Are you considering one of the steam cleaners on our list or do you already have one? Please leave your comments in the section below. We'd love to hear from you.
Recommended Reading: Best Upholstery Steam Cleaners For Fabric Furniture and Drapes | How To Choose The Ultimate Deep-Cleaning Tool