Affiliate Disclosure: I am grateful to be of service and to bring you content free of charge. In order to do this, please note that when you click links and purchase items, in most cases I receive referral commissions. Eventually, I may earn enough to buy a beer or two 🙂
With so much choice out there how do you find the best handheld steam cleaner in 2021? We've gone out and found a selection of top-performing steamers that are perfect for getting rid of grime around the house. Steam cleaners have changed the way we clean our homes, tasks that used to take hours can now be done in a matter of minutes.
Are you wondering how to clean neglected grout in your bathroom or tiles, windows and carpets? Hot steam is incredibly effective at cleaning, therefore, it can dissolve and remove grease and dirt. One of the biggest benefits of a handheld steam cleaner is the range of different tasks it can carry out. These small appliances are versatile domestic tools that will save you time and money.
Not all steam cleaners are created equal, some will perform a variety of tasks whilst others will have specific functions. Take a steam mop, for example, it's primarily used for steam cleaning floors but wouldn't be practical for tasks in confined spaces such as ovens or microwaves. Canister steams cleaners are more agile thanks to their flexible hoses but they are much larger than a handheld unit.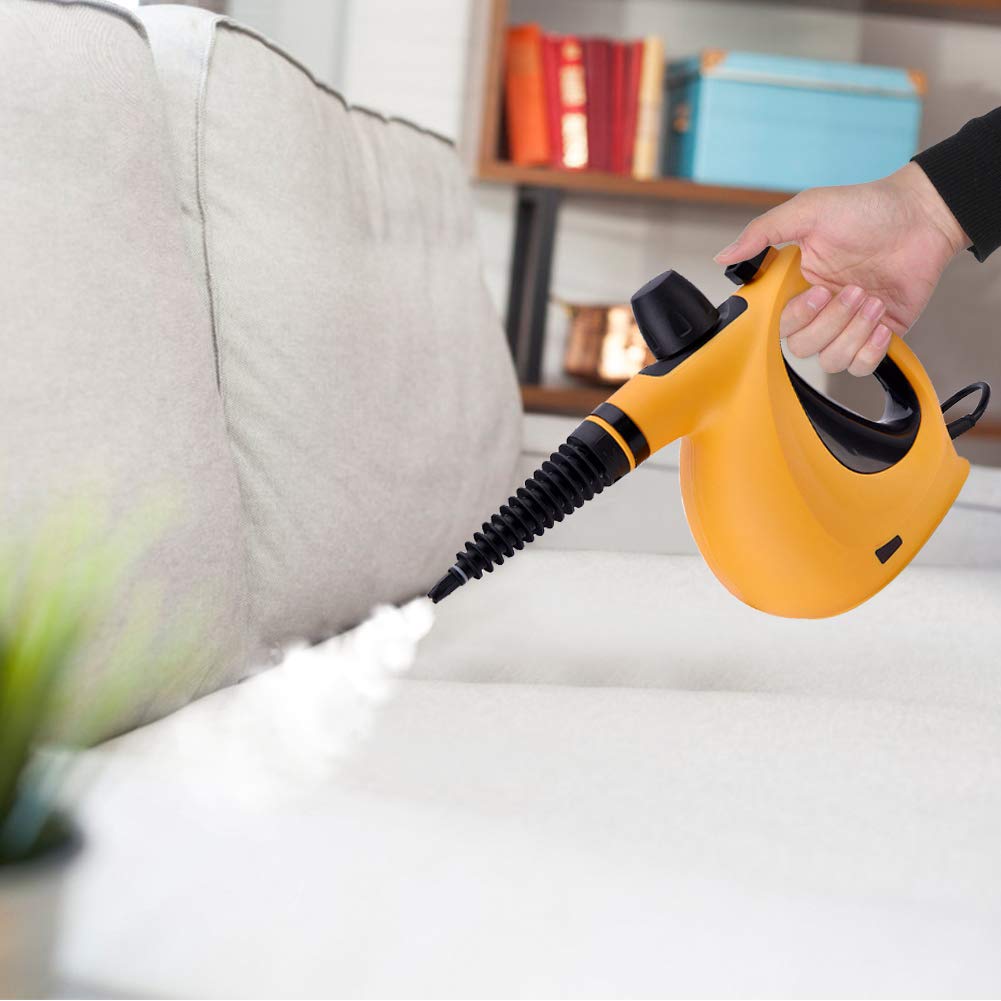 As a result of the above, handheld steam cleaners have seen a boost in popularity in recent years.
These portable machines chuck out a dense burst of steam through a tiny nozzle. They are small and painless to operate, therefore, making them ideal for cleaning awkard areas. Another great perk of handheld steam cleaners is that they cost less than full-sized machines.
Are they any Drawbacks to Handheld Steam Cleaners?
There are some downsides to using a handheld steam cleaner. For example, they wouldn't be suitable for cleaning bigger areas and their small water tanks require frequent refills. Some of the cheap models are flimsy and poor perfomers.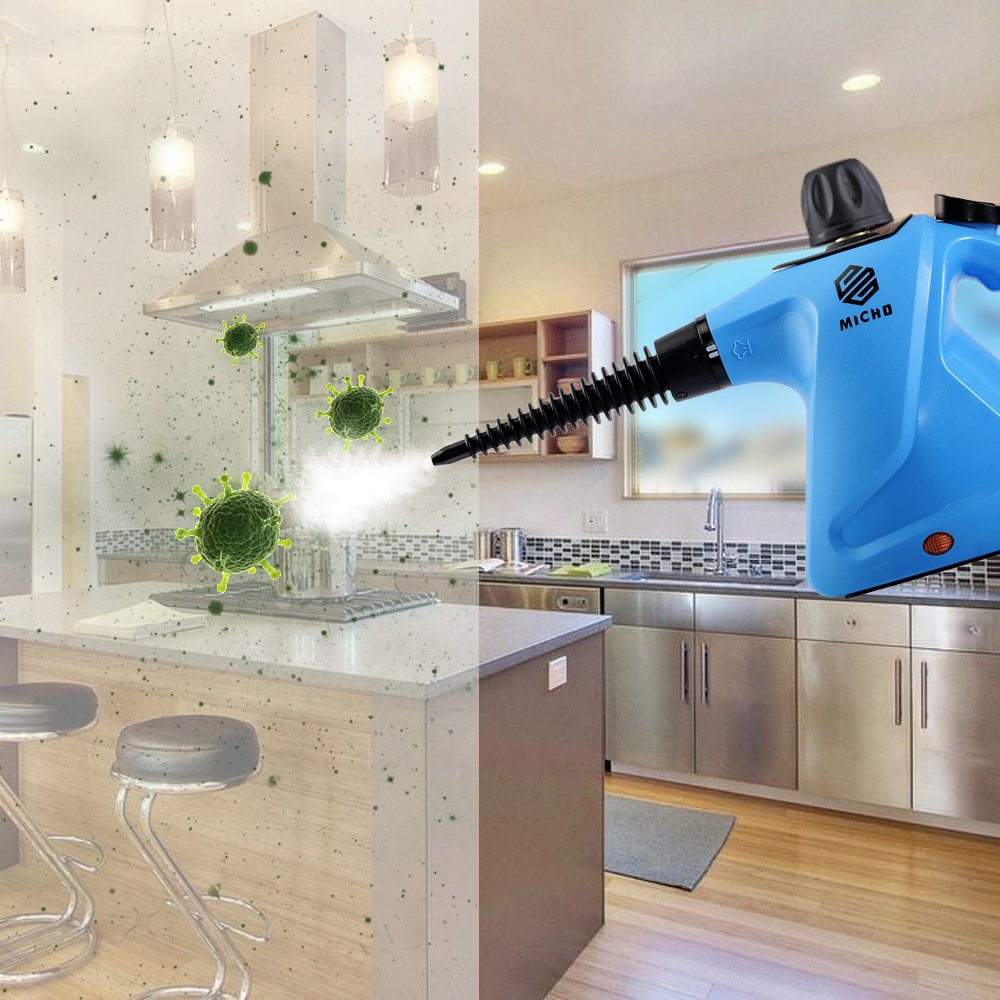 In light of the above, we've compiled a shortlist of top-rated handheld steam cleaners that are perfect for home cleaning. Each option comes with a good range of accessories for specific tasks and is priced competitively. If you're after a handheld cleaner to lighten the load of arduous tasks, look no further.
We'll jump straight into our steamiest shortlist of the best handheld steam cleaners for 2020.
1. Bissell Steam Shot Hard-Surface Cleaner, 39N7A/39N71
Why have we ranked the Bissell Steam Shot at the top of our list and why does it deserve to be dubbed the creme dela creme of handheld steamers?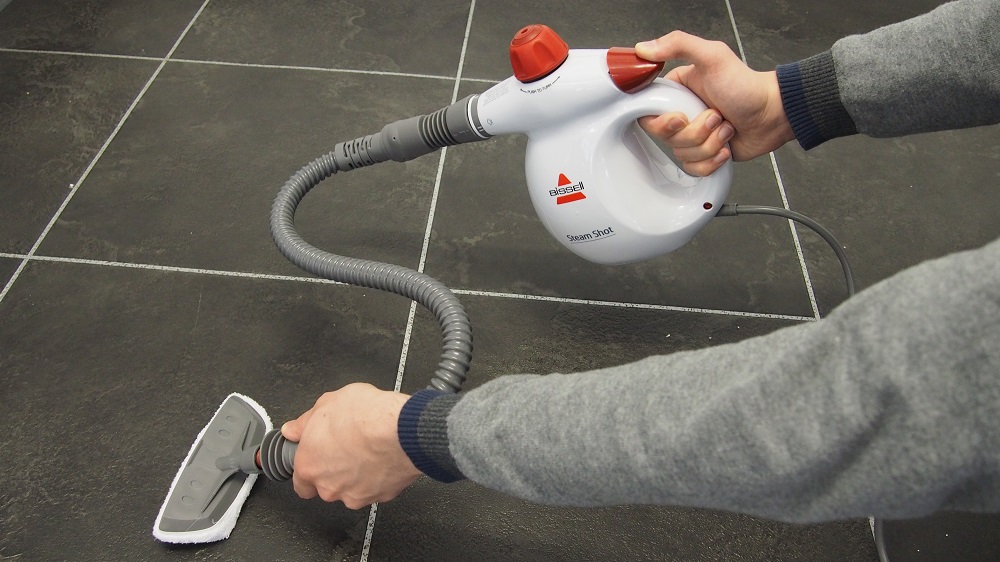 For starters, it's supplied with a great selection of accessories which include a window squeegee, brush tool, an extension hose, a grout brush and a scraping tool (perfect for scraping off wallpaper). You also get a tool for steaming fabrics such as upholstery and curtains. As you can already tell, the Bissell Steam Shot is multifaceted to tackle a wide range of jobs including cleaning shower cubicles, windows, worktops, furnishings and so on.
The steam power delivered by the Bissell cleaner is impressive given its small size. It can't compete with the steam output of an upright or canister but it certainly does a good job especially in awkward spaces that a larger steam cleaner would struggle to reach. This unit excels when it comes to eliminating mould in bathrooms and cleaning up tired-looking grout.
As mentioned earlier, handheld steam cleaners contain smaller tanks than their rivals. This one has a tank size of 360 ml. You will need to refill the water frequently in particular when you're cleaning multiple rooms. The unit will also need time to cool down after each cycle.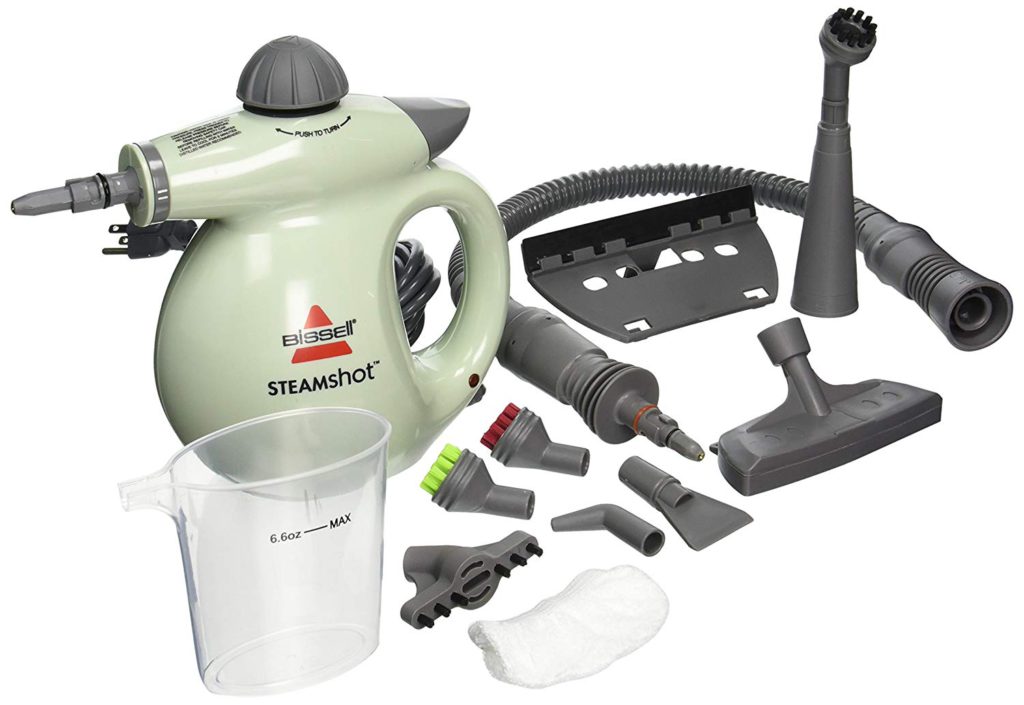 The advantage of the Bissell Steam Shot is that it produces a consistent output of steam until the last drop of water is taken from the tank, cheaper units can't often do this. The machine is equipped with a power cord measuring 15.7 ft / 4.8 metres to provide a decent cleaning range without worrying about switching plug sockets.
The steam shot cleaner has some minor drawbacks. Although it can get into small nooks, the nozzle isn't small enough to fit into smaller spaces. The limited water tank capacity can get annoying if you wanted to use the steamer for longer periods, but this is a common inconvenience of most handheld cleaners. The trade off for portability is the frequent refilling of water.
Eliminating limescale is better with a bigger machine but the Bissell Steam Shot delivers decent performance.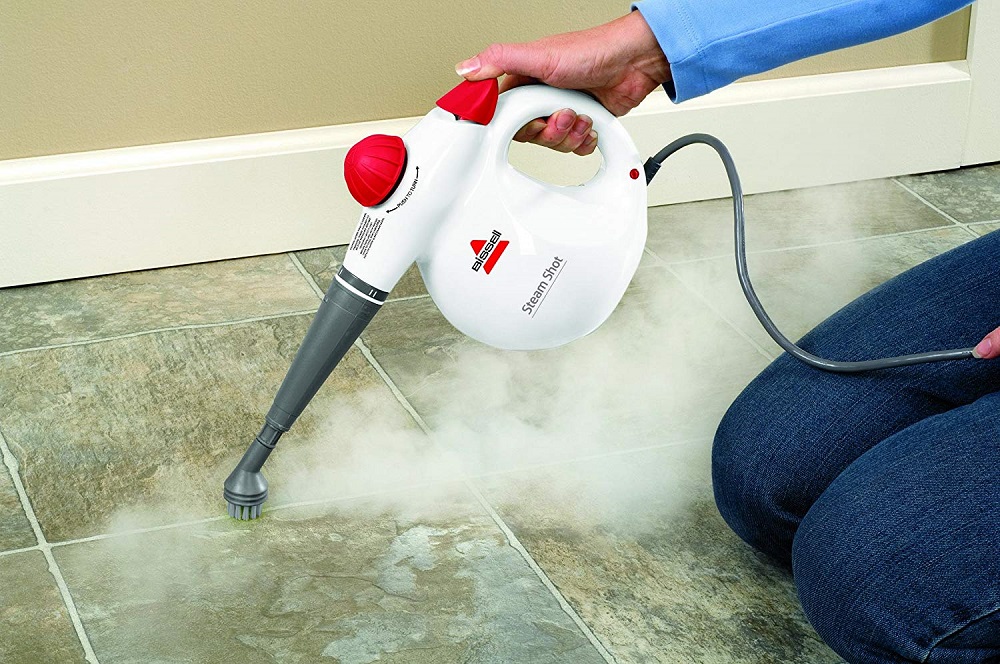 Taking into account the above, the Bissell handheld steam cleaner is a great buy and excellent value as long as you bear in mind that this model and other handheld cleaners can't be compared to robust steam cleaners that can handle bigger areas. You need to top up the water tank more often than larger units but despite this, it performs efficiently and eliminates dirt extremely well.
Pros
It comes with a large set of attachments for various tasks including a grout brush and window squeegee.
Convenient long power cord measuring 4.8 metres / 15.75 Foot.
Great cleaning power considering the machine's portability and pricing.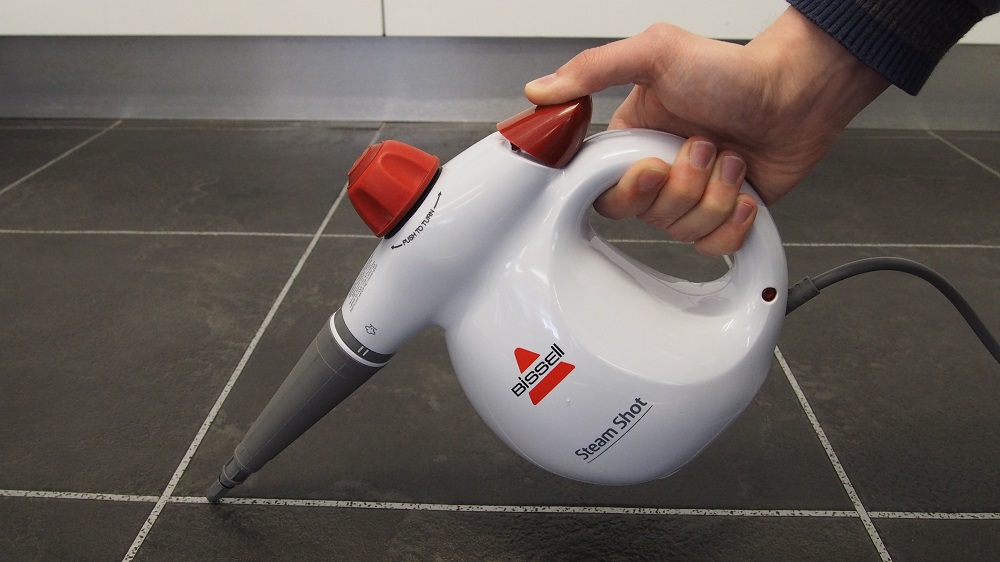 Where Can I Buy the Bissell Steam Shot handheld steam cleaner?
2. PurSteam Handheld Pressurized Steam Cleaner
If you're after a steam cleaner that can help speed up your spring cleaning or tackle the grime stuck to shower panes or remove the grease sitting on top of your cooker hood then the PurSteam cleaner is a great contender. After using this machine a few times you'll notice the benefits of steam in your fight against dirt.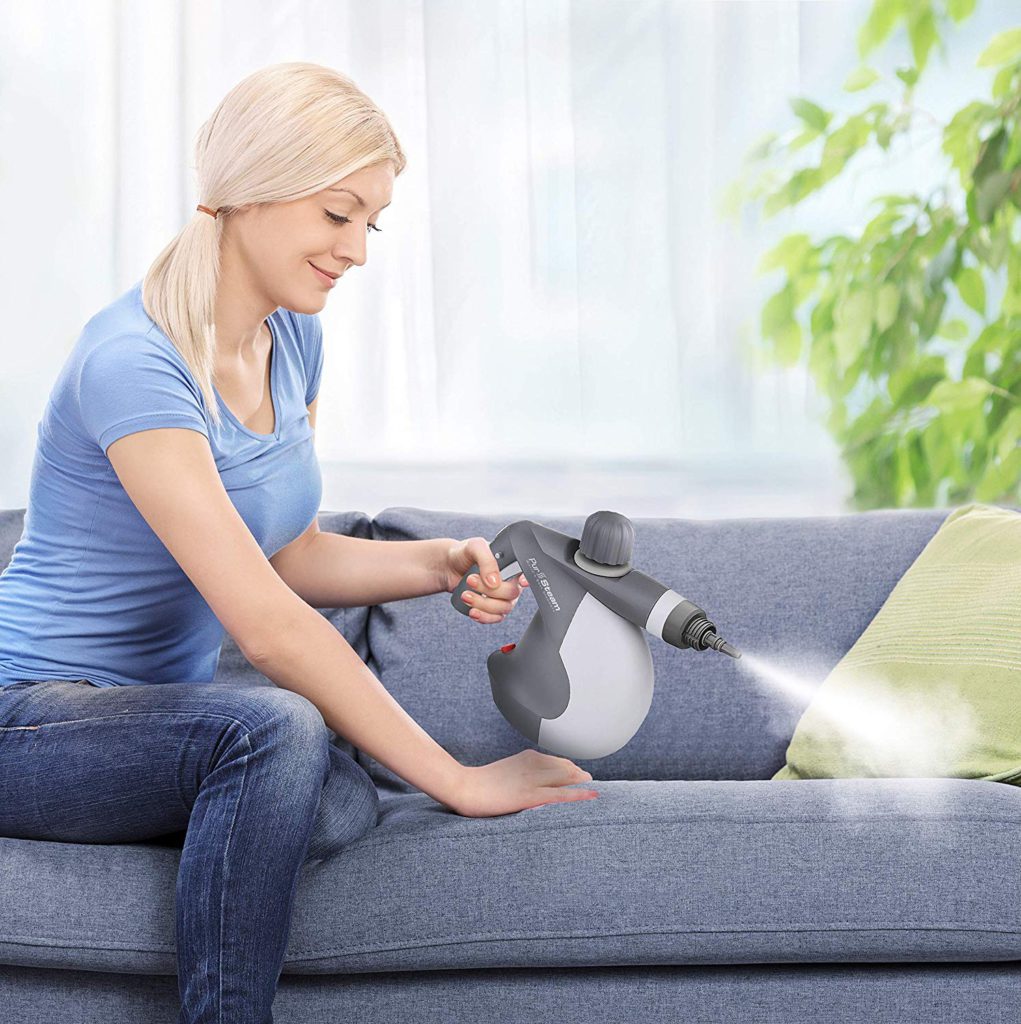 PurSteam is ideal for window cleaning and removing dirty marks from grout so that it looks good as new. Put away unnecessary detergents and rely on the natural power of steam. This unit is compact and easy to handle especially when using it in areas such as the bathroom that tend to have lots of nook and crannies e.g. behind the toilet or in between sinks.
This little steam cleaner can cope with challenging muck that would normally be difficult to manually remove with just a brush, detergent and a bucket of warm water. The PurSteam cleaner comes into its own when cleaning countertops and the grout between kitchen tiles. It leaves everything gleaming, even white grout!
It comes with accessories for steaming clothes, brush nozzles for getting rid of dirt accumulated inside your oven, window squeegee for streak-free panes. The manufacturer also provides great customer service in case you encounter any issues with your unit. The team at PurSteam answer calls and emails promptly and are always glad to support you.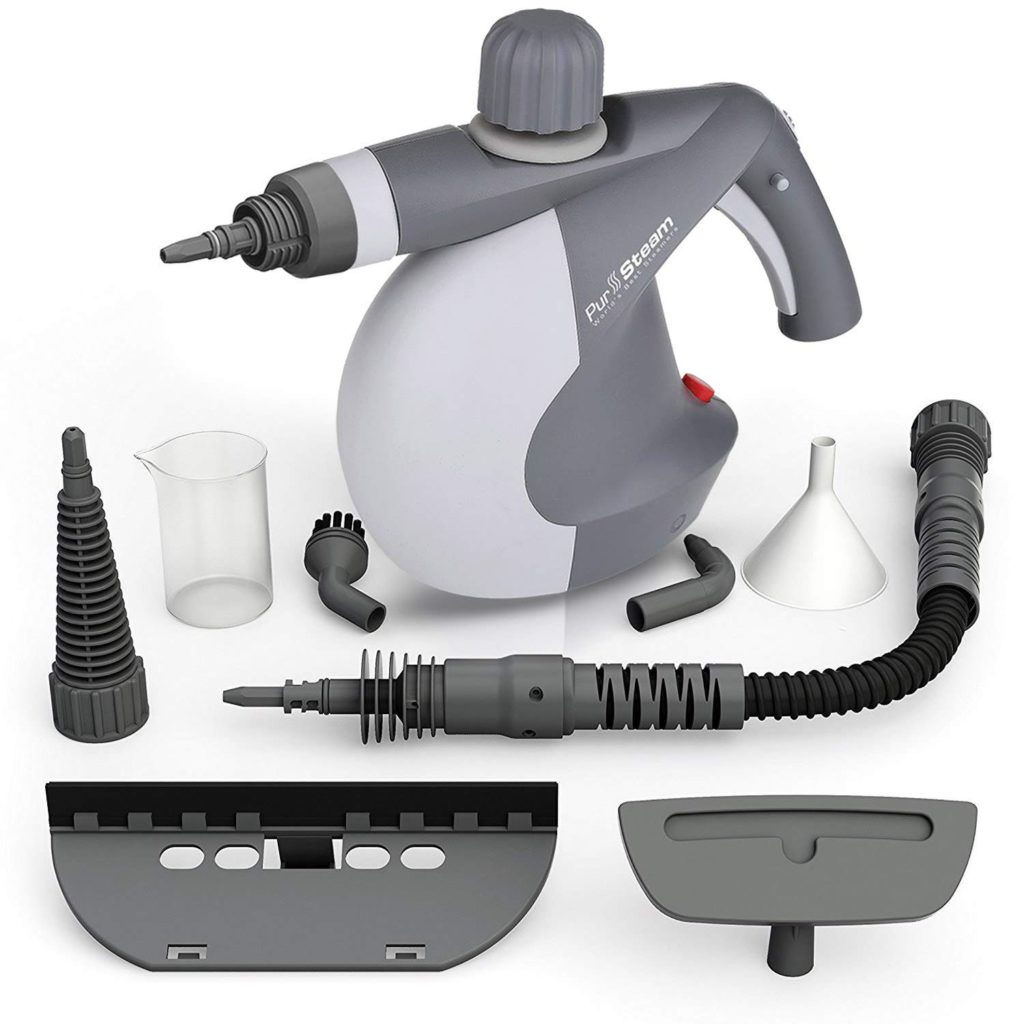 It's easy to see why this portable steam cleaner is highly favoured and why most of its buyers fall in love with the PurSteam gadget. Cleaning becomes less of a chore and more of a quick effortless task. You can even use it to clean the grills on your barbecue (and we all know how difficult that is). Simply use the wire brush and scraper attachment to scrub off burnt food stuck to the grill.
The steam produced by the PurSteam unit will help to eliminate bacteria lurking on bathroom and kitchen flooring. The heat will penetrate into those areas and clean more effectively than a brush and bucket.
The benefit of a handheld steam cleaner like PurSteam is that it can perform quick spot cleans in smaller sections of the house such as rugs and revive them. It's also easier to use a handheld appliance on upholstery and it ensures that your couches and drapes are freshened up without excessively dampening the fabric. Steam generates enough heat to dissolve stains and eradicate dust mites.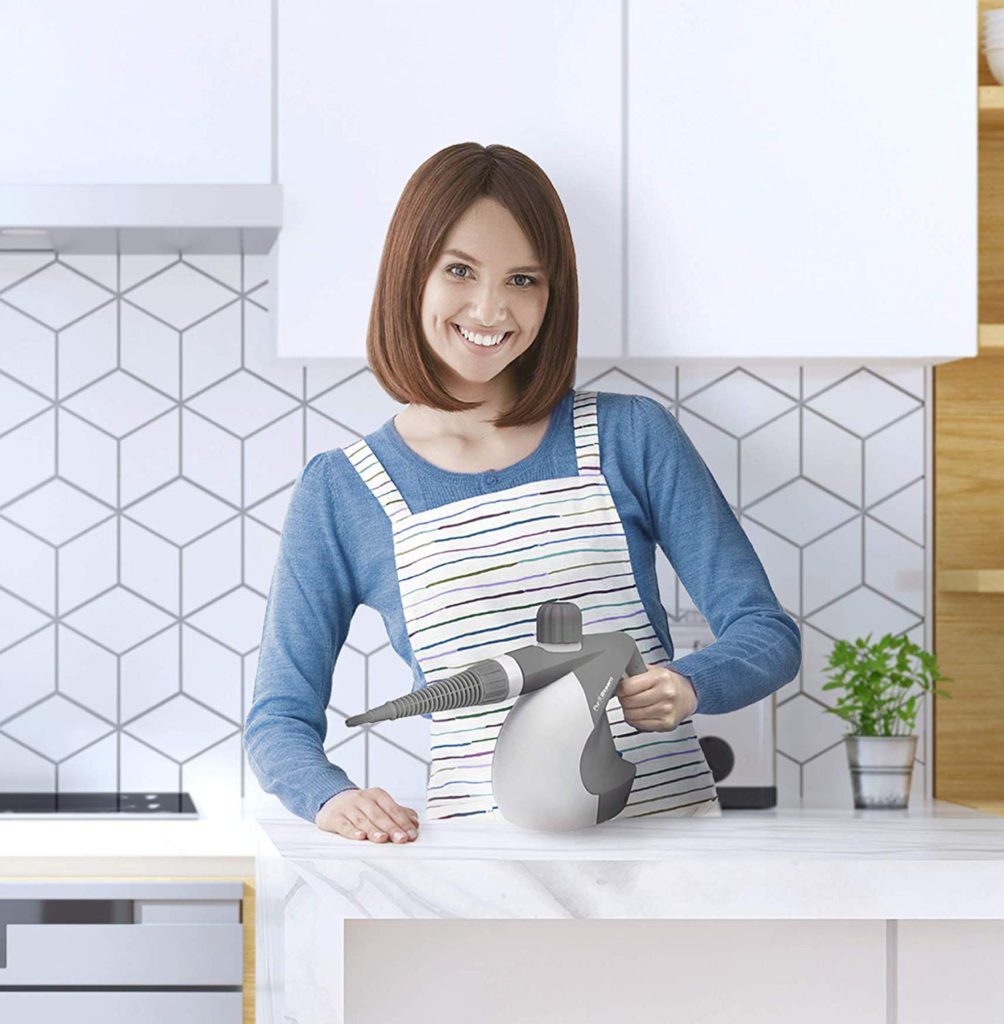 PurSteam Summary
This unit uses powerful pressurized steam and jets out almost a third more steam flow than some of the alternatives, which can often cost double the money.
The Superheated steam guarantees that dirt, stains, grease, moulds are dissolved without the need for detergents, therefore, it is kinder to the environment.
The machine is noticeably lightweight and a joy to use in awkward spaces. It's equipped with a 9.8-foot power cord that provides a great cleaning range around the house and outdoors without constantly worrying about finding a plug socket nearby.
The PurSteam cleaner is a vertisitile applaince that can be used on multiple surfaces such as granite, composite, wooden floors, laminate flooring, tiles, carpets (including wool and cotton carpets) and rugs.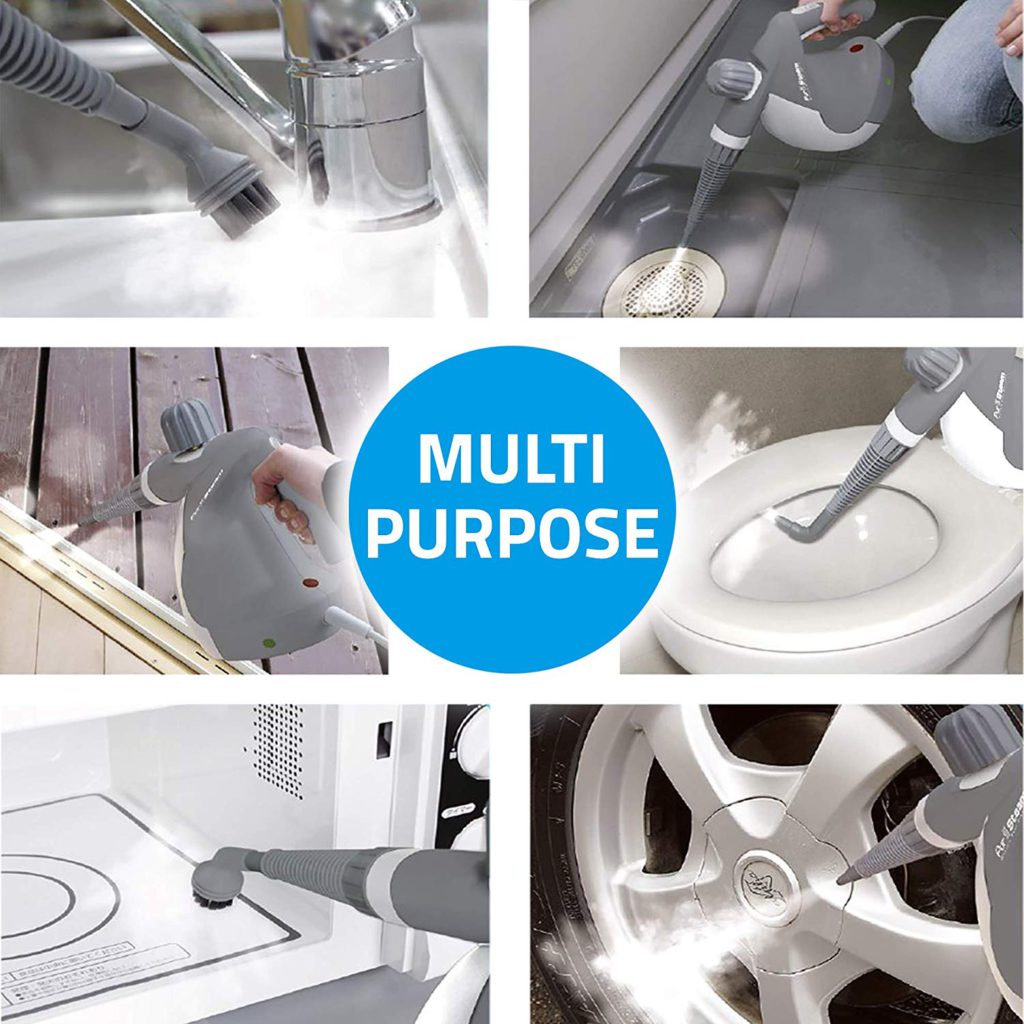 Where Can I Buy the PurSteam Handheld Pressurized Steam Cleaner?
3. MLMLANT Handheld Pressurized Steam Cleaner

The MLMLANT handheld steam cleaner is a highly adaptable appliance that covers a multitude of jobs throughout your home. The steam is generated using 1050W of power to target germs and disinfect areas that easily attract dirt. The tank holds 350ml of water and the high-pressure steamer ensures that scum and mould are kept at bay.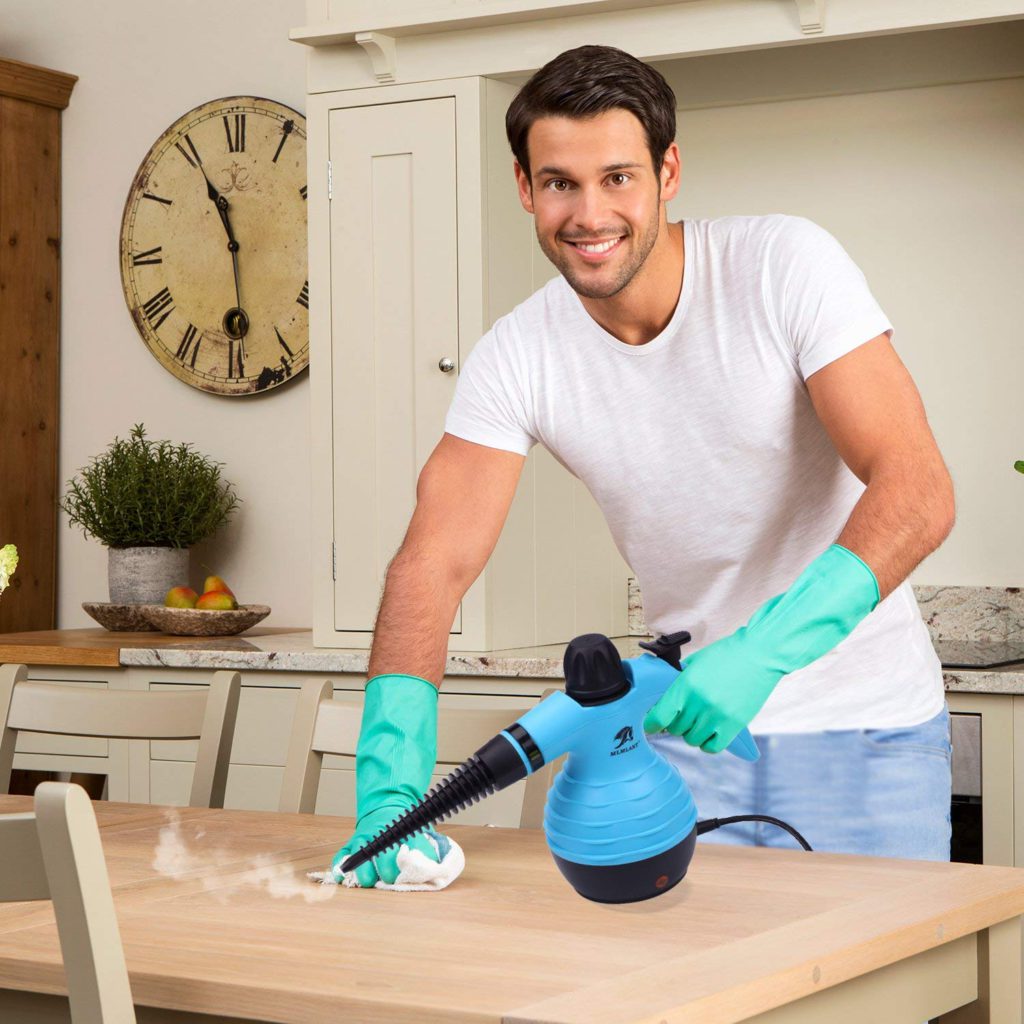 This handheld cleaner is particularly handy for cleaning greasy cooker hobs and leaves them oil-free and fresh. It's packed with additional accessories (read further down) to steam clean virtually any area with no fuss. It comes with 5 separate connectors and heats up the water in just a few minutes.
RESOURCEFUL STEAMER
The MLMLANT steaming appliance is an improvement over its predecessors thanks to the 9-Piece accessory set that accompanies it, this gives you the flexibility to steam a variety of surfaces and fabrics. You also benefit by being able to use it indoors and outside- you can even clean your car tyre rims with the long spray nozzle.
If you're looking for an affordable handheld steam cleaner that costs less than $30 then this is one of the best choices. There's an extendable nozzle to increase the cleaning proximity and access far-reaching areas easier.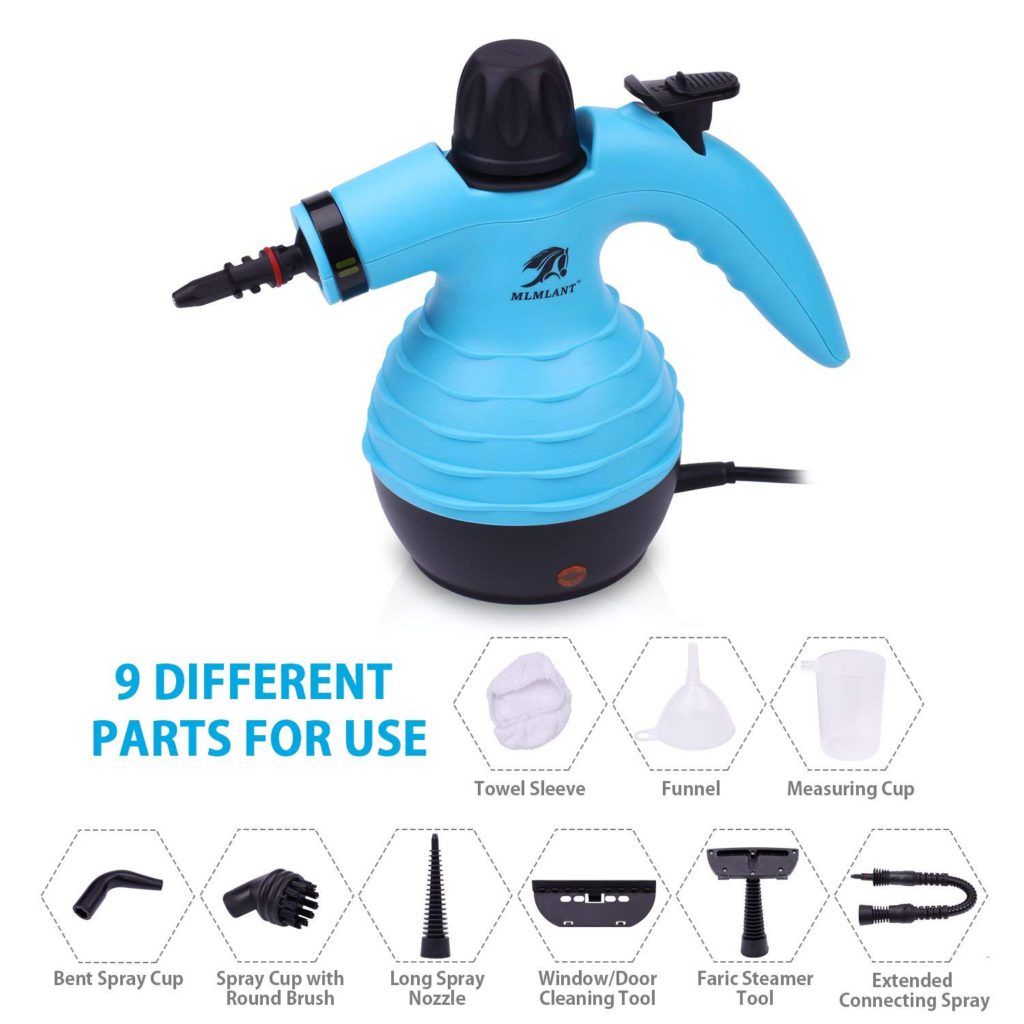 WHERE CAN YOU USE THE MLMLANT CLEANER?
Hard Surfaces- don't be fooled by the miniature size of this machine as it can clean a large selection of surfaces such as marble, granite, ceramic, hardwood and laminate. It cleans worktops, fridges, sinks, tables, chairs and various fixtures. Window cleaning is made easy with the squeegee provided and the machine excels at steaming around the bathroom and shower cubibles.
Soft surfaces- hot steam is great for eliminating bed bugs and the MLMLANT steam cleaner is a must-have for cleaning mattresses and bedding. You can give your upholstery a new lease of life and freshen up your car seats. Remove the creases from suits and shirts rather than using an iron that could potentially degrade your suit's material.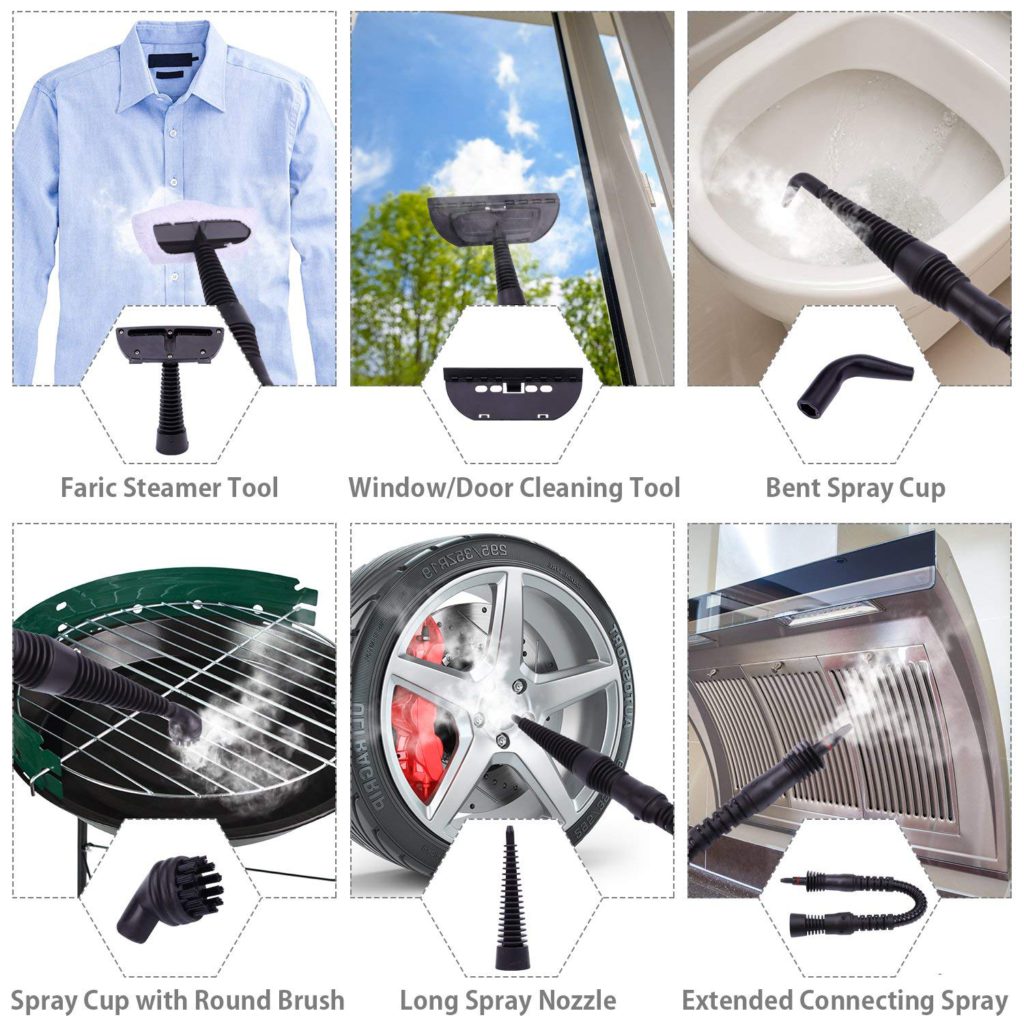 Where Can I Buy the MLMLANT Handheld Pressurized Steam Cleaner?
4. Haan HS-20R Handheld Steam Cleaner
Next up is the Haan HS-20R steam cleaner with a unique design that looks similar to a kitchen kettle at first glance. It comes in different colours although the red one appears to be the most popular. It outputs heated steam at a temperature of 212°F to do away with germs.
It provides unrivalled performance around the kitchen sinks, cookers, bathroom areas and windows. There are specialist tools provided that can be attached to the concentrator nozzle to deliver a powerful amount of steam and save you hours of scrubbing.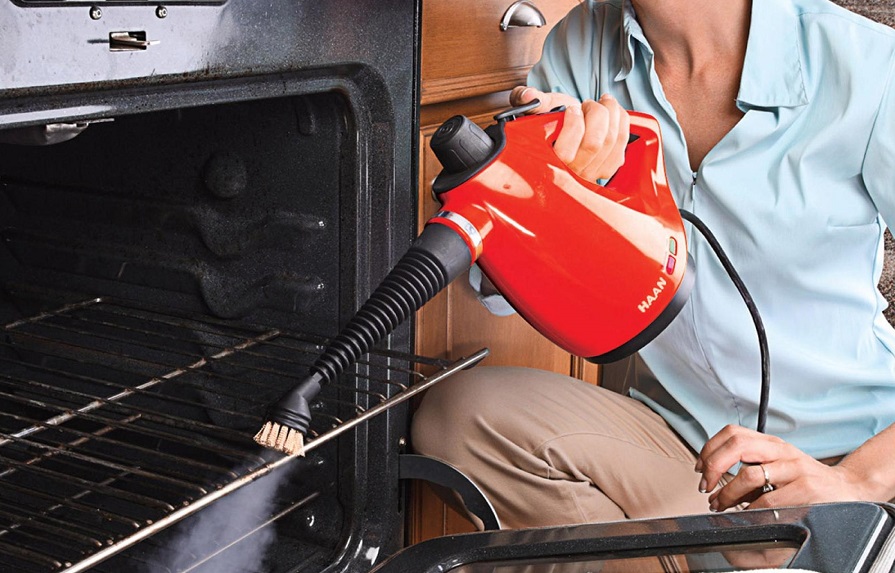 Cleaning stubborn dirt can be done quickly as the Haan handheld steamer can do the majority of the heavy lifting. Once the cleaning is complete it leaves gleaming results each and every time. The inlet for the water is very secure and tightens firmly to ensure that the concentrated hot steam can be used safely. Whenever you need to refill the tank you'll need to press down on the knob to release and turn it open.
The water tank capacity is 6.76 ounces / 200 ml and will give a steaming time of around 15 minutes. It will need refilling with water often but this is the same for the majority of handheld cleaners and is the result of the machine's portable size.
If the unit housed a bigger tank it would get rid of the benefits of a lightweight body and ease of handling. With bigger machines, you would also need to wait longer for the water to heat up to an adequate steaming temperature.

The frequent refilling is a factor to consider when deciding whether to buy a handheld steam cleaner. Personally, it's not a major issue for me because the refill process can be done in less than a minute. The benefits of easier handling and the agility of handheld appliances are more significant than water tank capacity.
It skilfully cuts through grease on kitchen appliances such as dishwashers and removes the grubby mess that would normally be hard to eliminate with regular cleaning. The Haan steam cleaner leaves your home looking fresh and slick.
Overall, this little machine is a great time-saving cleaning appliance for messy challenges. Whether you use it daily or occasionally, it's a godsend whenever you need powerful steam to thwart nuisance dirt. The Haan HS-20R is well suited for the tasks that you hate and is highly recommended for anybody that wants a reliable performing handheld steam cleaner.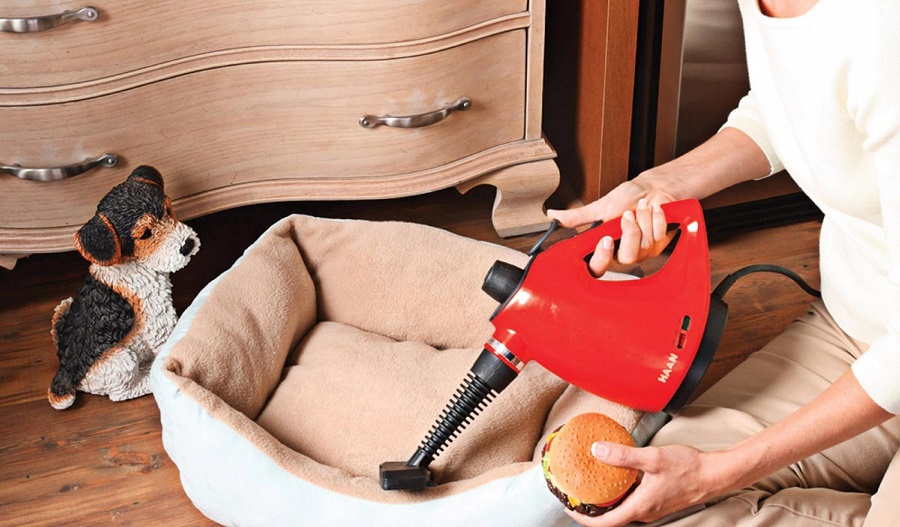 Haan HS-20R Summary
The concentrated steam nozzle is perfect for intensive tasks and disinfecting your home.
The steam heats up to a germ-killing 212°F eradicating bacteria as it cleans surfaces.
The water heating time is just 3 minutes.
It comes with a good range of accessories including an extension hose, a concentrator nozzle, an angled nozzle, a copper wire scrub brush, a soft surface sanitizing tool, a nylon scrub brush
Where Can I Buy the Haan HS-20R Handheld Steam Cleaner?
5. McCulloch MC1230 Handheld Steam Cleaner
The McCulloch MC1230 is a slick handheld steam cleaner that can handle dirt inside the house and outdoors. It generates steam at a temperature of 200 °F to blitz grime wherever it might be dwelling. It sterilises surfaces as it goes along and is armed with 11 different attachments for multiple functionalities. There's a steam trigger that can be locked for a constant stream of steam that lasts 10 minutes whenever required.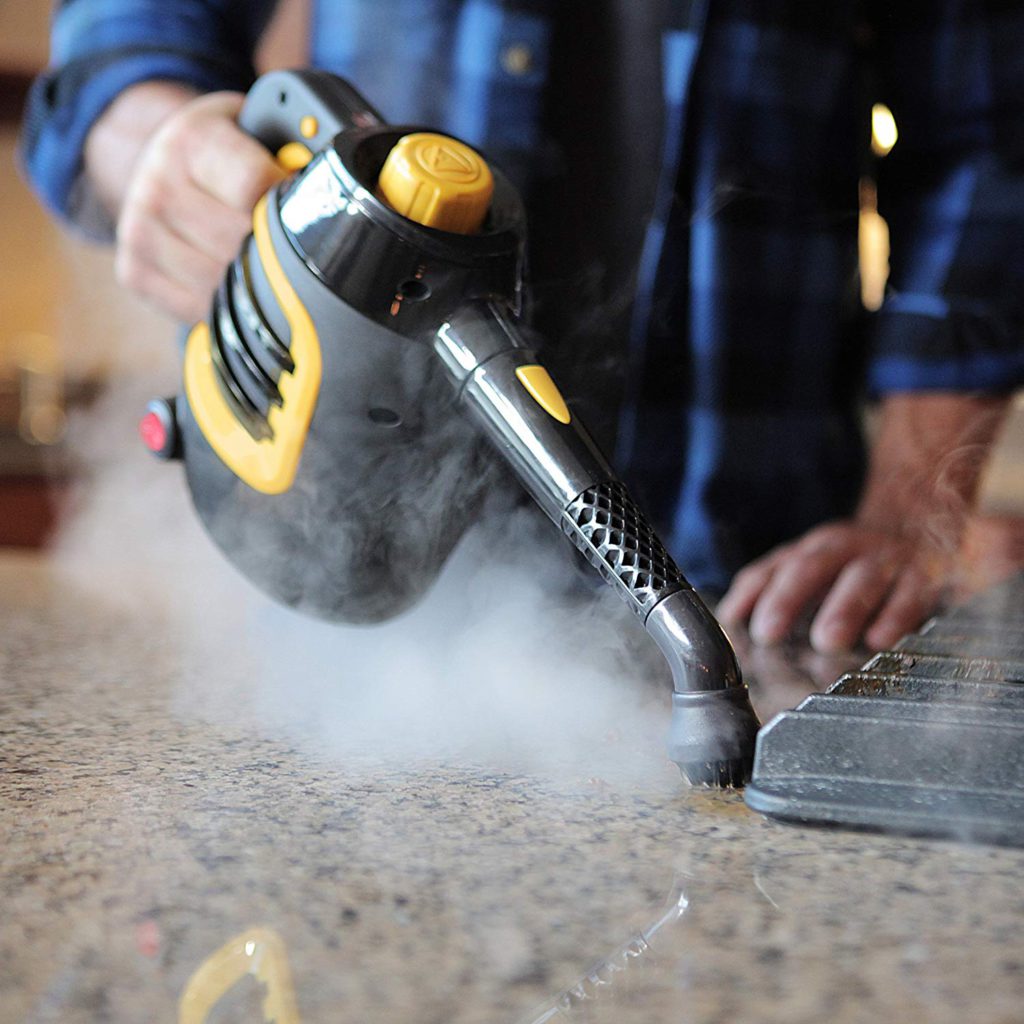 This little steam cleaner can get through years of accumulated grime with its powerful steam output and supplied scrubbing pad. If you're fed up of tired-looking tiles that could do with a new lease of life then you should employ the McCulloch MC1230 to make those surfaces gleaming clean.
As with most handheld cleaners you will need to refill the water tank regularly but thankfully the ordeal is quick and easy. The machine is conveniently compact and easy to store away and always ready for its next steamy task. If additional nozzles are required they can be bought for a reasonable $3 each.
Outdoor jobs are just as easy to carry out with the McCulloch steam cleaner. Steam clean the exterior windows without fuss and scrub off charred food from the barbeque.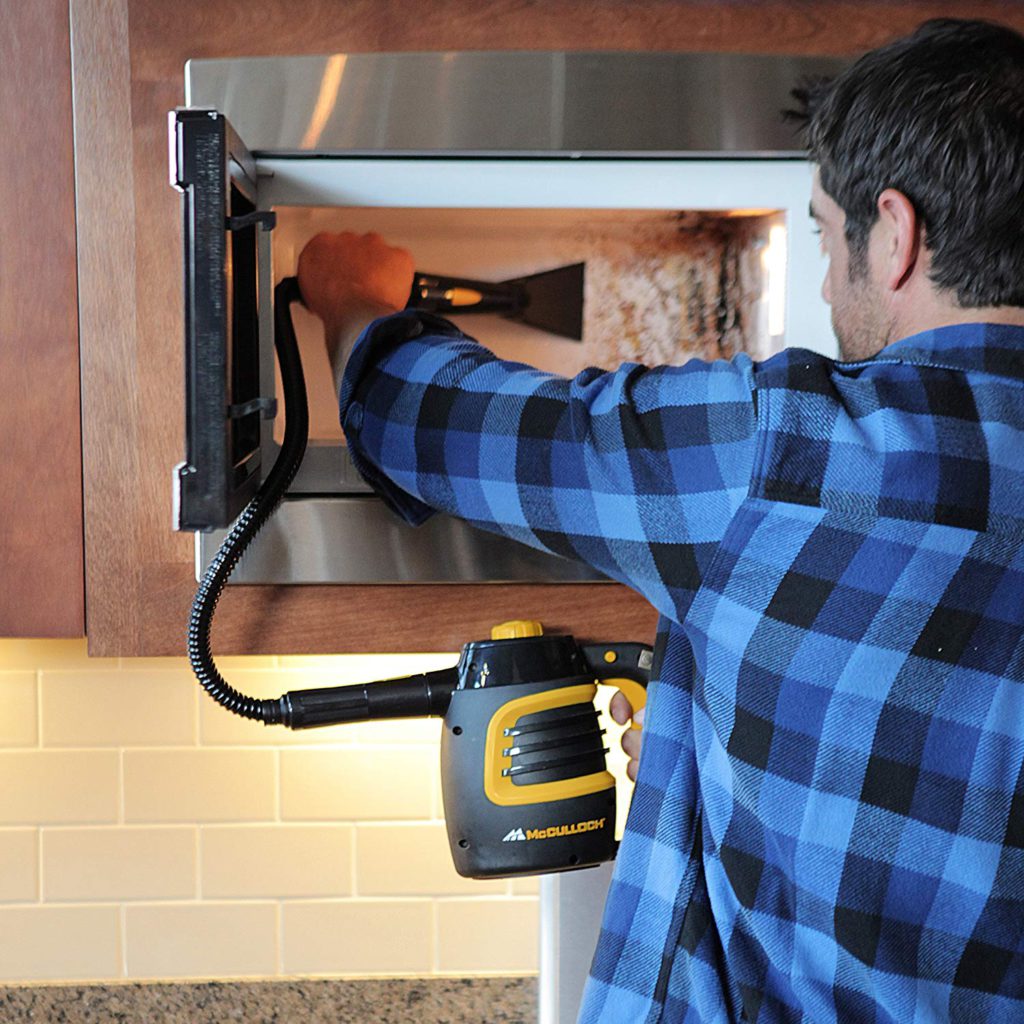 The supplied utility brushed can be attached to the unit to clean countertops, cabinets and different surfaces across the house. Steam through grease on tiles, grout and cooker hobs.
The scraper tool works miracles at removing food burnt onto your oven walls and other substances that are a nuisance to clean.
McCulloch MC1230 Summary
A unique steam trigger that can be locked into position to provide constant steam for 10 minutes.
Pack your detergents away, this handheld cleaner deep cleans with the use of steam alone.
The water tank has a capacity of 6 ounces/ 170 ml and will heat up the water in just 3 minutes.
Plenty of attachments are provided for virtually any task throughout the house, such as an extendable hose for increased reachability.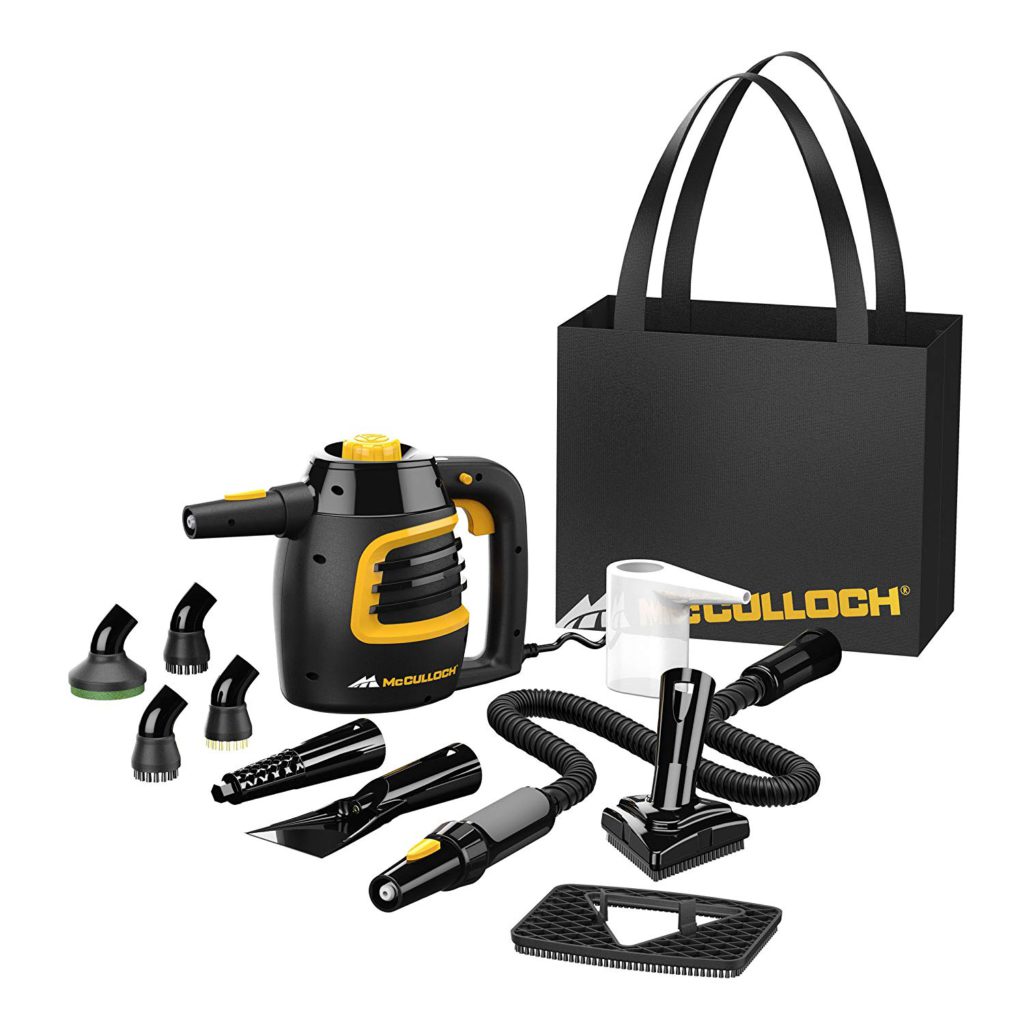 Where Can I Buy the McCulloch MC1230 Handheld Steam Cleaner?
6. Dirt Devil Easy Steam Handheld Steam Cleaner PD20005
The Dirt Devil Easy Steam Handheld Steam Cleaner is the ideal appliance for cleaning various surface types above floor level, in particular, kitchen tops, shower glass panes, windows and furniture.
It's designed with a Jet Tip Extension that delivers a burst of powerful steam directly where it's needed. This is especially handy for cleaning grease from cookers and limescale from bathrooms.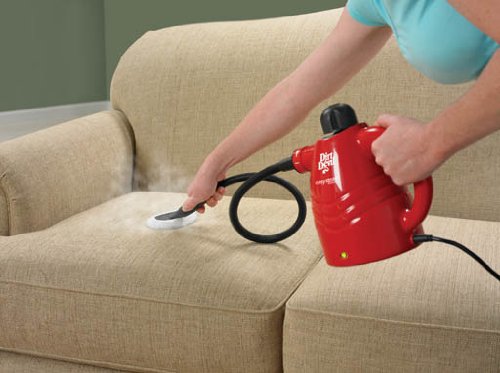 The Dirt Devil compact cleaner works like a dream. Who needs to pay for a professional window cleaner when you can use this gadget to clean the windows and bug screens yourself. The hot steam will sanitize your toilet and sinks and leave them looking squeaky clean.
If you own a pet or two then you'll be impressed with how much of a difference steam cleaning will make. Clean their basket beds and toys and by the time dirt devil is done with them, they'll look like new. It can even remove small coffee stains from carpets!
One thing to keep note of is that the unit has a green and red indicator light. You will need to wait until the light turns greens before you can clean. If it turns red during cleaning then wait for the machine to cool down- the light will change to green and you can carry on. The reason I've mentioned this is that a few users have mistakenly confused the unit shutting off with it either breaking down or running out of water. This is not the case.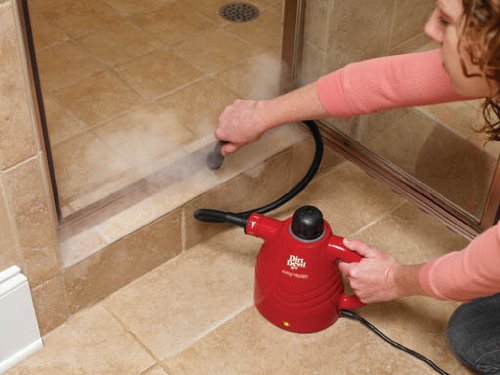 Spare steam pads are readily available online and it would be a good idea to buy a few extra. The pads are great on upholstery as well as hard surfaces. The wire grill brush is perfect for getting into corners that gather grime, especially in shower cubicles. The machine is very light to carry around and weighs just 2.6 pounds.
Dirt Devil Easy Steam Summary
Highly pressurised steam safely cleans dirt that would normally take much longer to clean manually.
This model is simple to operate and comfortably lightweight to use for a variety of chores.
The Jet Tip Extension is ideal for stains and to reach tight gaps and corners.
Versatile steam pads can be used on hard and soft surfaces.
A decent supply of accessories are provided including a wire grill brush, flexible hose, window squeegee.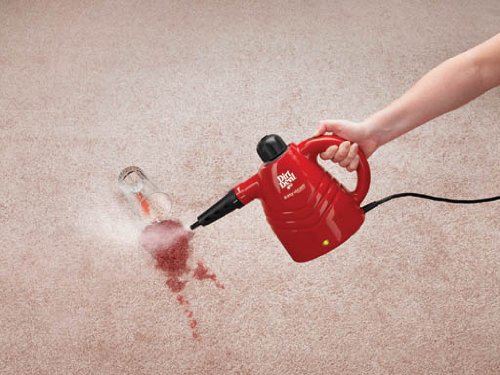 Where Can I Buy the Dirt Devil Easy Steam Corded Handheld Steam Cleaner?
7. Nugeni Steampac+ Portable Handheld Steamer
The Nugeni Steampac+ is definitely the most unique looking handheld cleaner on this shortlist. It might look futuristic but does its performance match with its aesthetics. The Steampac+ unit is designed to blast out powerful steam that kills virtually all germs in its path.
It will clean mouldy areas, bacteria and dust mites and there's no need to use detergents to achieve this high standard. The hot steam generated by the Nugeni cleaner seamlessly dislodges grime and lifts dirt with little effort.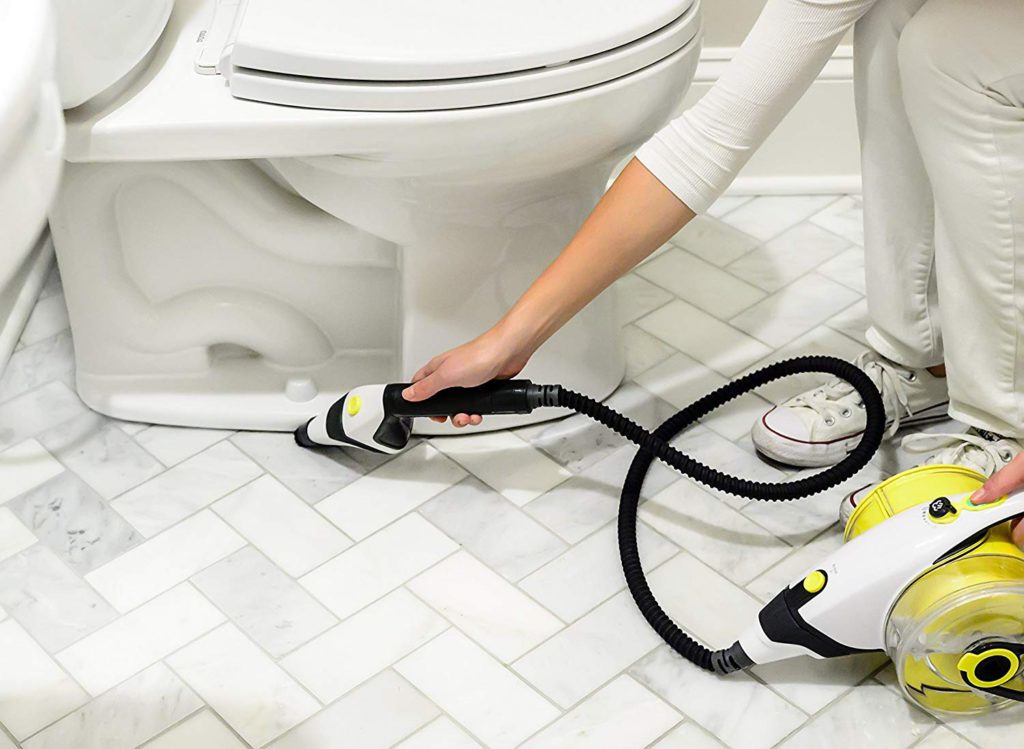 The Steampac+ handheld steamer sets the standard by the results it delivers when cleaning kitchen surfaces, fabrics, mattresses, kitchen appliances and removing carpet stains. It works wonders across the bathroom too. A session with the Steampac+ will put a sparkle back onto the sinks, toilets, shower and bathtub.
If you want to save the cost of getting a professional to clean your grout stains then it might be a good idea to consider buying the Nugeni Steampac+ steam cleaner. The full price of the machine is much less than the hiring cost, therefore, it makes sense to buy your own steam cleaner which will recoup the expense in just a single session. And once you're done, your grout will look good as new just like a professional job.
Try this machine a few times and you'll be converted- most owners have reported that the Nugeni steamer surpassed their initial expectations. Setting up the unit is straightforward and you can be up and running in a matter of minutes. It comes with plenty of accessories and a handy storage bag to keep everything in one place, therefore, there's less chance of pieces getting lost.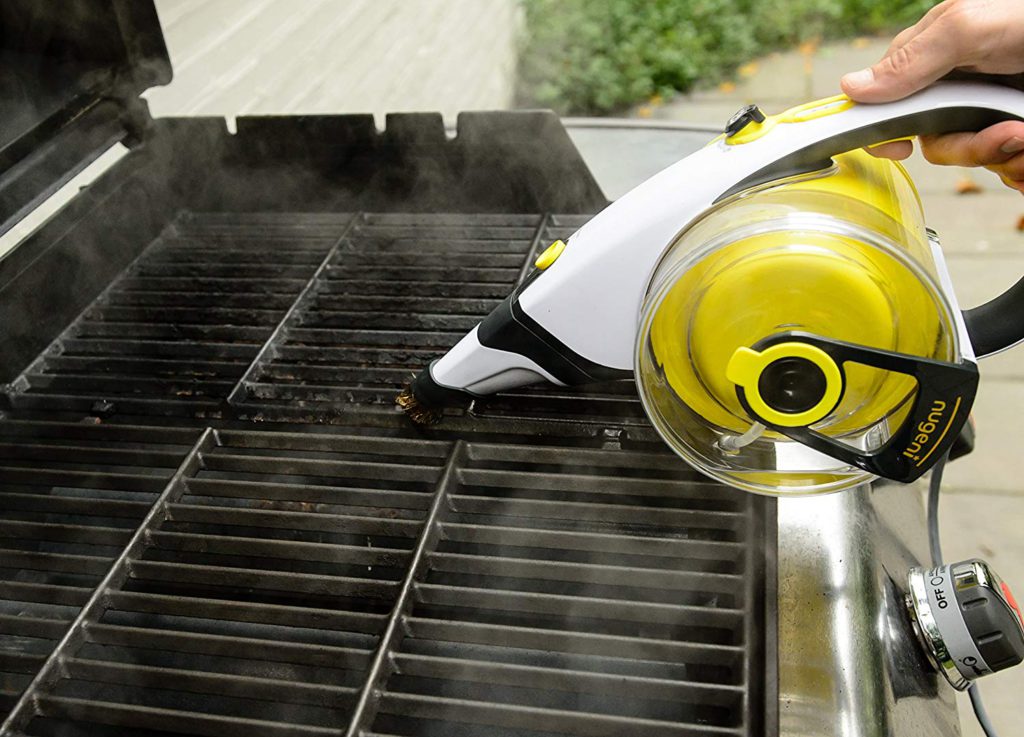 The high-pressure nozzle and scrubbing brush lifts dirt wonderfully especially around the base of the shower cubicle and sinks. If your bathroom or kitchen has a lot of nook and crannies that gather dirt then you might as well use this high-pressure gadget to reach those areas and get rid of hidden dirt. Easily done!
The machine is equipped with a squeegee accessory to clean windows (inside and out) and mirrors. It leaves them gleaming and streak-free.
Nugeni STEAMPAC+ Summary

A great design that not only looks futuristic but helps to reach tight gaps. It comes with a flexible hose that can clean between small spaces and behind furniture and appliances.
The quick-heating system ensures that water is heated up in less time than rival models. The machine will cut through grease and limescale without the need for excessive scrubbing.
The water tank is ingeniously designed to be one of the largest found on a handheld steam cleaner, and as a result, it provides an impressive 39 minutes of constant steam. Say goodbye to frequent water tank refills.
The lightweight machine is a joy to use without causing strain to your hands, wrists or back.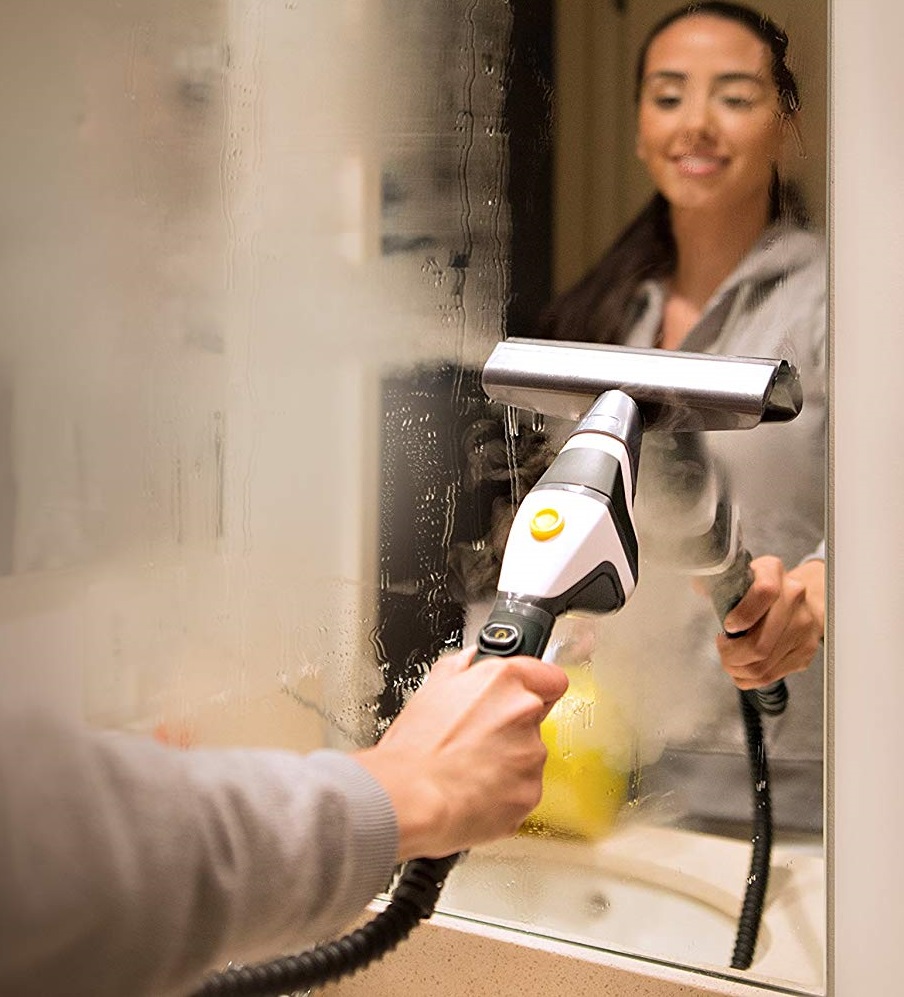 Where Can I Buy the Nugeni Steampac+ Portable Handheld Steamer?
8. Light 'N' Easy GS70002 Handheld Steam Cleaner
Last but not least is the Light 'N' Easy handheld steam cleaner. It's one of the smallest models on the market but carries out more tasks than you'd expect. You can clean the shower, sanitize kids toys, freshen the drapes and even clean the barbecue whilst you're at it. It combines both a steam cleaner and clothes steamer in one appliance.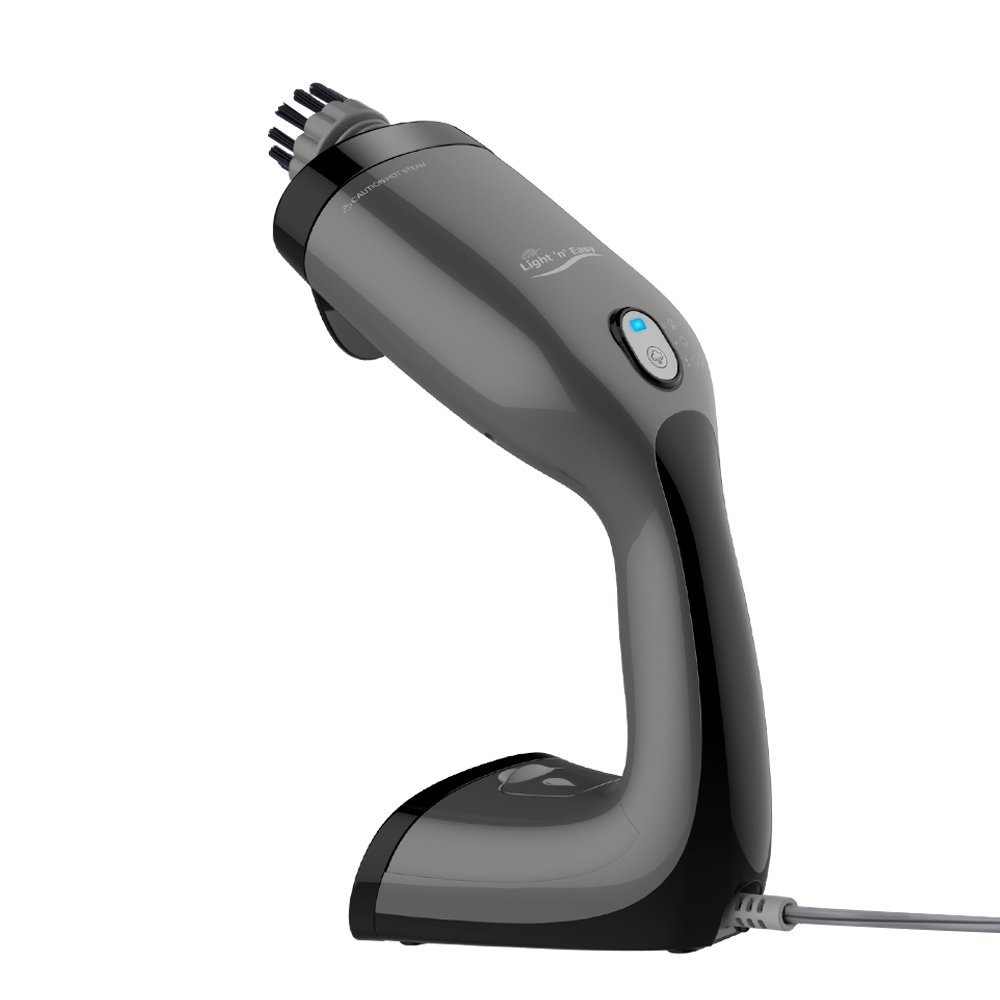 In addition to cleaning the house, you can use it to disinfect surfaces and eliminate difficult food stains. This little gadget simultaneously kills germs and removes bad odours from upholstery, therefore removing that stale smell from your fabric furniture.
The Light 'N' Easy GS70002 is one of the lightest handheld steam cleaner available right now. It weighs just 2.2 pounds or just under 1 kg and that's with a full tank of water! The power cord measures 13 ft and is an ideal length to clean multiple rooms without constantly changing plug sockets.
Guess what? This portable steam cleaner is equipped with the fastest water heating system found on any handheld steamer. Steam is produced in just 20 seconds! Impressive. In the box, you will also find 2 round brush nozzles to target stubborn dirt and remove it effortlessly. There are 3 different steaming modes depending on the type of cleaning required.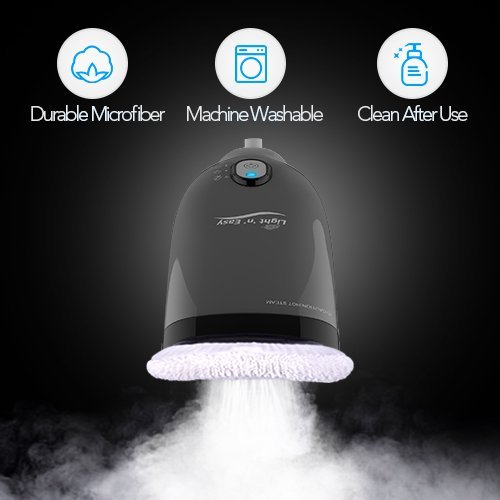 If you're after a handheld steam cleaner that also doubles up as a clothes steamer then the Light 'N' Easy GS70002 is a great choice. It will perform equally as good in the Kitchen and bathroom as it will as a garment steamer. I also like the design which provides maximum grip and comfort whilst operating the steamer. It's so easy to handle and as a result, you can direct the steam exactly where you want it to go.
The shape of the machine also ensures that you don't need to constantly press down a button for long periods, thus avoiding finger fatigue. This little handheld steamer is so easy to operate that even my 75-year old grandmother uses it without complaints. Overall, if your after a compact steam cleaner that heats up quickly and weighs next to nothing then the Light 'N' Easy GS70002 is a great buy.
Where Can I Buy the Light 'N' Easy GS70002 Handheld Steam Cleaner?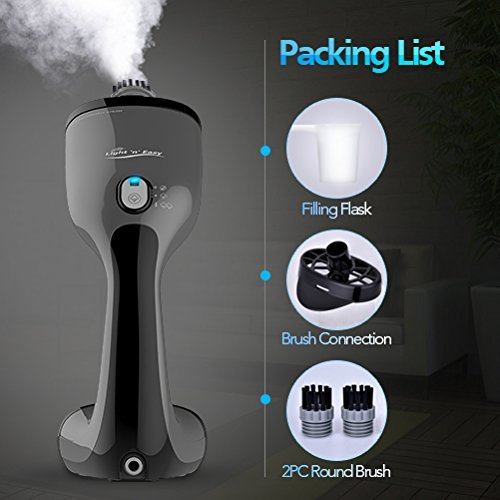 Summary
That concludes our shortlist of the best handheld steam cleaner for 2021. Our selection of machines is balanced between steaming functionality and cost. We've given you the best of both. Portable steam cleaners are great for a multitude of jobs around the house without much setup required.
Steam cleaning has many benefits- not only is it more effectively than using detergents but it's cost-saving and kinder to the environment too. You'll be avoiding the purchase of plastics and packaging that contain these detergents, thus, causing less harm to the oceans and countries that this waste is disposed of.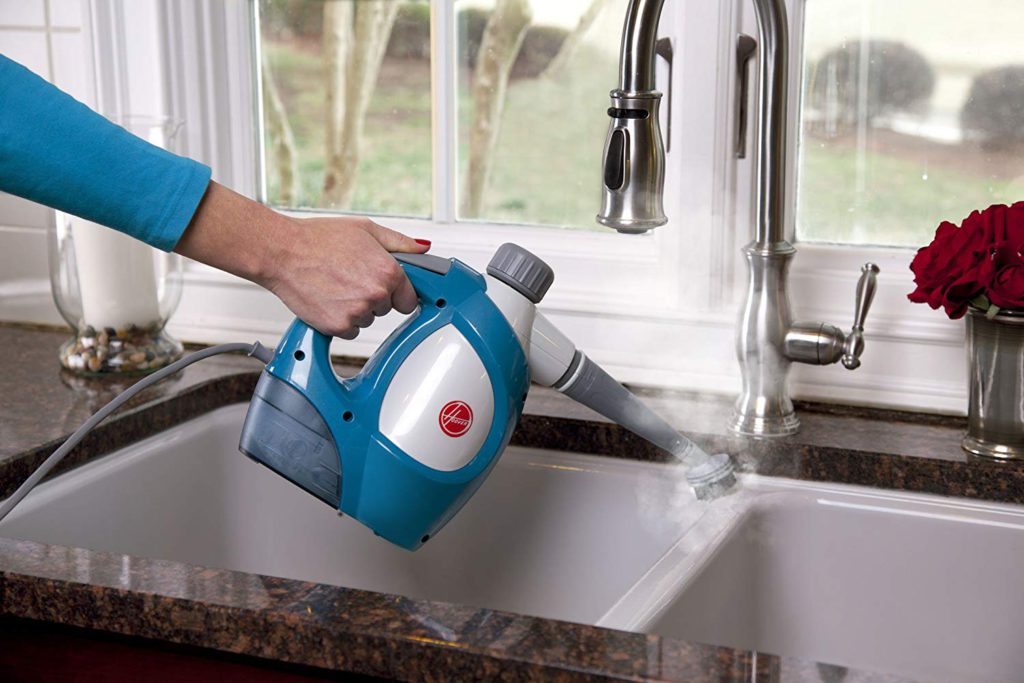 Water, when converted into steam, is one of the most efficient cleaning methods. Just 1 litre of tap water will generate up to 1.7 litres of pressurised steam which gives the equivalent cleaning time of 20 minutes, enough to clean your bathroom and kitchen in one go. It's also energy efficient as electricity is only required during water heating.
Water is the most natural cleaning substances. It doesn't leave behind any hazardous by-products and will not irritate your skin or induce an allergic reaction. Hot steam sanitises surfaces, furniture and toys so that your kids are safe whenever they put toys or anything else in their mouths.
Airborne allergens are eliminated as steam is released into the air, since the steam binds dust together and prevents it from floating around. Wet dust can't float. Steam will vastly improve the quality of air and it also reduces the effort required to remove sticky grease and limescale. It makes sense to buy a handheld steam cleaner with all these great benefits on offer.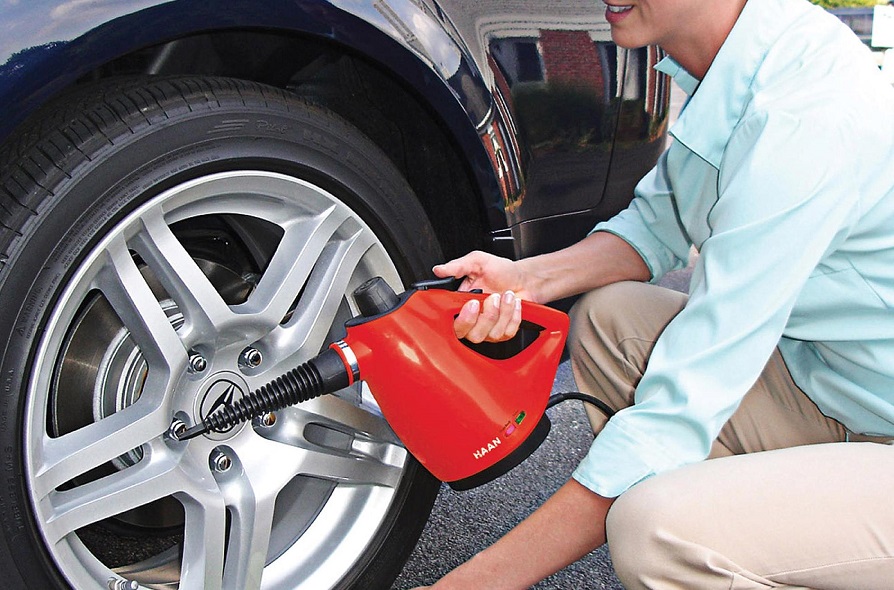 Are you considering buying one of the handheld steam cleaners from our list or do you already own one? Please leave your comments in the section below. I'd love to hear from you.
Our List of the Best Domestic Appliances