Bissell Crosswave Pet Pro Review
You adore your pets, but they may be untidy at times. The appropriate equipment makes all the difference when it comes to keeping a pet-friendly home clean. Many products claim to be "pet" friendly, but do they actually work?
The Bissell Crosswave Pet Pro is an upgraded version of the Crosswave All-In-One that is specifically developed to address common pet problems. Our Bissell Crosswave Pet Pro review will tell you everything you need to know.
Whether you already own the original Crosswave or want to improve your present gear. Let's see if this is a cleaning tool you should have in your toolbox.
What Is The Bissell Crosswave Pet Pro?

The Crosswave Pet Pro is a multipurpose cleaning tool that may be used on a number of surfaces. It simultaneously vacuums and mops your hardwood floor. Without changing tools, you can swiftly transition from your hardwood floor to your area rug.
The head has been altered to accommodate pet hair. This is, in fact, a typical complaint among pet owners. Most vacuums' bristles become clogged with pet hair, causing the equipment to lose suction and break down.
Bissell makes some of the best non-specialized cleaning tools on the market, so we were excited to find that they now have a pet line. This one is designed to be a multifunctional cleaning tool for mild stains and pet hair, removing the need for numerous cleaning equipment.
How Does It Work?
The Crosswave has two tanks: one for the cleaning solution and the other for the unclean water. The wet vacuum softly gathers up dirt and debris as you travel from surface to surface, while the bristles clean the floor. To avoid puddles, water is sucked back into the vacuum.
Pet hair and larger debris are forced out of the vacuum once inside the tank, so you don't have to worry about clogging your drain when you empty it.
Bissell Crosswave Standout Features & Specs
Buying a new vacuum cleaner and a wash for both your hardwood floors and carpets may be costly, and it also takes up a lot of shelf space, which is why Bissell designed this all-in-one solution.
The Crosswave's goal is to provide a device that can be used as a corded vacuum cleaner when needed but can also be used to clean your carpets and floors using a liquid contained in the box.
It's a novel concept and one that many cordless vacuum cleaners don't currently provide. Is this up to snuff if you're searching for something that cleans as well as vacuums? Let's have a look.
Dual-action Microfibre & Nylon Brush Roll
The brush roll of the Bissell Crosswave can clean both hard surfaces and rugs, as well as grease and grime from hard floors, which is a great benefit if you have tiny sticky fingers running about.
According to Bissell, the addition of the microfibre cloth was designed to give a scratch-free and streak-free finish with no dulling residue.
Two-tank Technology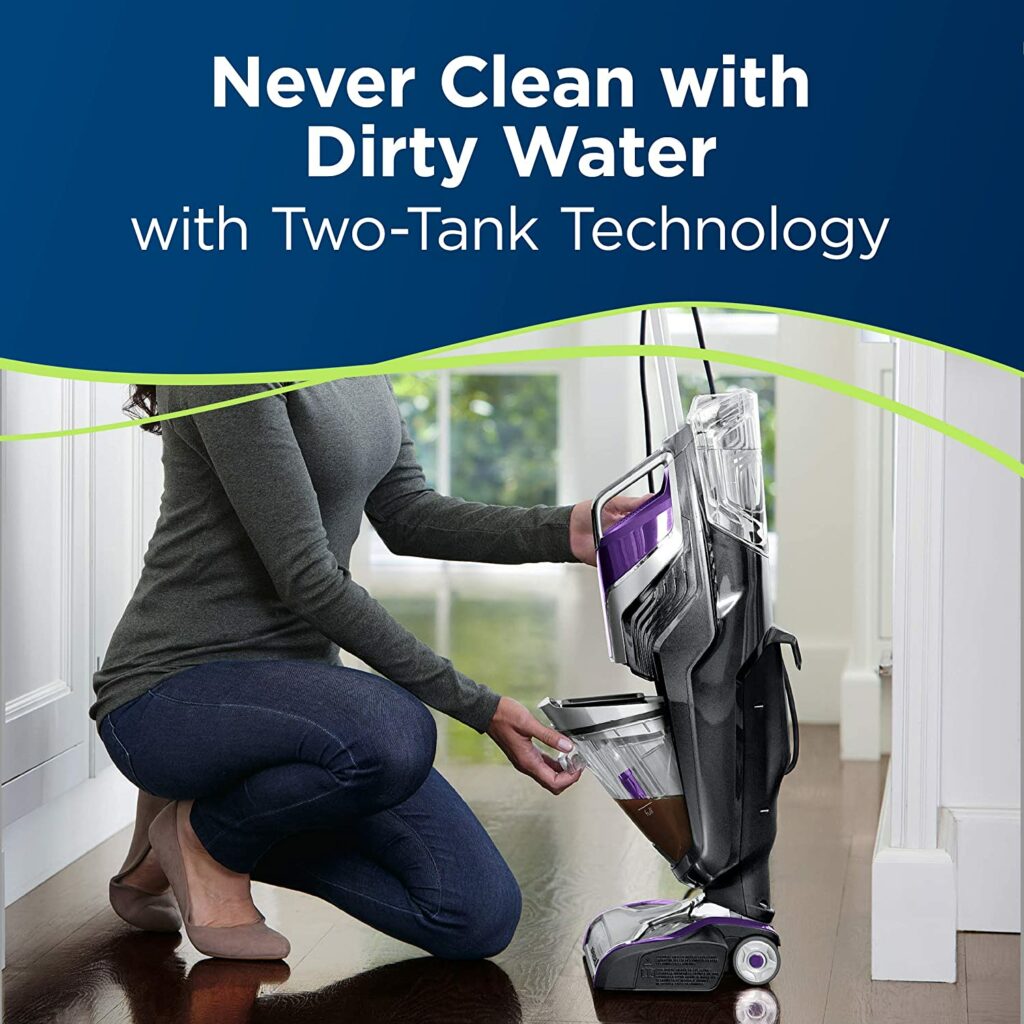 A single water tank is found in most steam mops. Clean water and your cleaning solution are kept separate from filthy water and dry debris in the Bissell Crosswave's dual tank, allowing you to clean daily messes with a fresh solution each time.
On one side, a trigger-controlled tank dispenses water and cleaning detergent, while unclean water collected from floors is stored in a separate tank. Measurements are also marked on the cleaning tank to help you figure out how much cleaning solution you'll need to clean your floors and avoid waste.
Smart Touch Controls
The Bissell Crosswave has sophisticated touch controls on the handle that let you simply select between cleaning modes for hard floors and carpets, as well as control your cleaning solution with an on-demand solution trigger that releases just enough product to get the job done.
Charging Station with Three Functions
The 3-in-1 charging station for the Bissell Crosswave Cordless and Max models cleans, stores, and charges your vacuum at the same time. A clean-out tray and rinse funnel, which will flush out your machine after cleaning work. 
A charging station and a storage tray for the machine and a brush roll are all included in the dock station. Until you need to use it again, this vacuum will take care of itself.
Dust Bin & Water Tank Capacity
The dust bin capacity on most Bissell Crosswave models is 0.4L/0.5L, while the water tank capacity is 0.8L. Because it's so little compared to other vacuums, you'll have to keep an eye on the dirt tank.
You should also empty it on a regular basis, perhaps even after vacuuming each room, which isn't ideal.
25-30 Minutes of Running time
With a 36V lithium-ion battery, the Bissell Crosswave Cordless and Max can run for 25-35 minutes cordlessly. This isn't ideal, especially because most cordless vacuums, such as the Miele Triflex HX1 Cordless Vacuum, have a cordless runtime of around 60 minutes.
If you have a wide surface area to clean, the Bissell Crosswave Pet comes with a chord, so that's an option to consider.
Cleaning Ability
Because the vacuum both collects dirt and cleans the surface, judging its cleaning power solely on suction capabilities is insufficient. As a result, we'll also discuss the agitation. Both of these aspects come into play during the cleaning process, as the machine also functions as a carpet cleaner.
The suction power of the Pet Pro ranges from 100 to 150 AW. This is sufficient to efficiently pick up dirt, especially the heavier and more difficult-to-remove detritus. The brush roll of the Pet Pro achieves 3000 rpm for agitation, which is high enough to remove debris off a variety of floors.
Filtration
The Bissell CrossWave Pro has a washable filter that traps the dirt and debris that is sucked up. Although the filter is not HEPA, it will effectively catch allergens. Make sure to wash it on a regular basis and let it dry before putting it back together.
Keep an eye on the filter for signs of wear and replace it as soon as you detect it isn't working properly.
Design
It's strange to think of vacuum cleaners as appealing pieces of technology design, but given that people now proudly display them on their walls, it's apparent that people care about how they look.
The Bissell Crosswave's design isn't particularly appealing, but it does the job. If you have a large home, it's easy to transport, and the main body of the cleaner is relatively thin, so it won't take up too much cupboard room.
Bissell Crosswave Pet Pro Specifications:
Dimensions (WxDxH): 12″x 10.5″ x 46″
Weight: 11 lbs
Cord length: 25 ft
Cleaning Path Width: 12″
Cord Storage: Wrap up
Floor Compatibility: Hard floors and area rugs
Filter: Thick pleated
Tank Capacity: 28 oz
Suction Power: 100-150 AW
Brush Roll Spin Speed: 3000 rpm
Controls: on-handle buttons with LED
Power Rating: 4.4 Amps
Noise Level: 62-68 db
Pros:
Easy to Use
Use on many surfaces
Cleaning jobs that require only light cleaning
Excellent for deep cleaning.
Long running time
Bissel provides $10 to the BISSELL Pet Foundation when you purchase a CrossWave® Pet Pro. It cleans and vacuums your floor at the same time.
It's easy to utilize touch controls.
The program's utility is increased by a number of add-ons.
It is a budget-friendly alternative for businesses.
Cons:
There have been some reports of design faults.
Vacuuming dry is not recommended.
Maintenance Tips
A vacuum cleaner that is well-maintained can last up to 20 years. Follow our maintenance and repair advice to keep yours in great shape.
Cleaning the Attachments
Before cleaning the vacuum cleaner, please ensure it is unplugged. Wipe off the casing, hoses, and attachments once a month using a moist cloth and mild detergent. Before putting the machine away, vacuum the rug/floor attachment with the crevice tool or hose after each use.
Check for Blockages
Before cleaning the vacuum cleaner, make sure it is unplugged. Wipe off the casing, hoses, and attachments once a month using a moist cloth and mild detergent.
Check for Clogs
Cut threads or fibers from the roller on the beater bar with scissors or a seam ripper if it becomes tightly coiled with threads or clogged with fibers. Before removing any obstruction, make sure the unit is unplugged.
Examine the Vacuum Bags
Vacuum bags should be changed or emptied every week or as needed. The bag circulates air, and as it fills, the airflow and suction are greatly reduced.
A bag-full indicator light isn't to be trusted. Keep an eye on the bag and make sure it's not more than three-quarters filled.
Use a Filter
If your vacuum has a removable paper filter, make sure you check it once a week along with the bag. Many filters can be cleaned, dried, and used again. A damaged or extremely dirty filter should be changed.
A clogged filter will also stop air from flowing freely through the vacuum. Never use a vacuum cleaner without a filter. Follow the manufacturer's directions for HEPA filters.
Replace the Motor Belt
It's possible that the motor's belt has stretched and you need to go over the same spot two or three times. Most models can be replaced by purchasing a new belt from the vacuum's manufacturer and following the manufacturer's instructions.
Keep it in a cool, dry place.
Wipe the belt with a paper towel or cloth to keep it clean. The belt should never be exposed to water since it may shrink. Keep your vacuum in a cool, dry place to avoid the belt becoming brittle and cracking.
Seek Professional
Take your vacuum to a dealership or a reputable repair shop once every two to three years for a professional cleaning and to have any damaged parts replaced.
Final Verdict
The Bissell CrossWave Pet Pro may not be the most inventive addition, but it will keep your home clean. It is, in my opinion, one of the most useful hybrid vacuums available. You won't need separate machines for the two duties, and you won't have to travel around your house with a mop and a bucket for cleaning floors.
It cleans by mopping and sweeping all at once. The device has an exquisite, compact form that you will find appealing right away. If you're searching for a multipurpose vacuum that you can rely on to keep your home clean at all times, I'd recommend this device.