Bissell Symphony All One Vacuum Steam Mop Review
Your pets are very important to you. They aren't just pets; they are members of the family. However, you'd prefer to spend less time cleaning up after your pets. Despite your best attempts to keep up with them, pet mishaps happen, and hair tumbleweeds can appear throughout the house.
The Bissell Symphony Pet Steam Mop and Vacuum Cleaner for hardwood and tile floors are a popular choice among pet owners, who give it high ratings. We take a deeper look at this dual-action cleaner and go through the most important features to find out why it's so popular.
Maintaining linoleum or tiled floors needs far more than vacuuming. Consider the amount of grease that accumulates on your kitchen floors. Sweeping off the debris and then mopping is a common maintenance cycle. Alternatively, if you have a vacuum cleaner, you can vacuum first and then mop.
What if you could accomplish all of these goals in a single step?
This is where the Bissell Symphony comes in; it's a 2-in-1 vacuum and steam mop that's ideal for cleaning bare floor surfaces like tile and linoleum that require steam cleaning.
What's fantastic about this Bissell is that it's considerably less expensive than the well-hyped Dyson Hard, which didn't live up to the hype.
About Bissell Symphony
Who wants to clean their floors numerous times? With a wide range of two-in-one floor cleaners on the market, homeowners may now have the power and convenience of a commercial floor machine at their fingertips.
The Bissell Symphony is a popular and reasonably priced home floor cleaner. It's a low-cost, long-lasting, and easy-to-use wet-dry machine. The Symphony combines the advantages of a bare-floor vacuum and a steam mop. Here's everything you need to know about this handy floor cleaner.
If you have pets, our Bissell Symphony Pet review may be of interest to you. Hardwood, tile, and laminate are all popular types of flooring. Their treatment is, for the most part, the same. You sweep or vacuum loose dirt, pet hair, and dust first, then mop to remove stains and restore a clean gloss.
The Bissell 1543A Symphony Pet Steam Mop has a lot to offer, including a lot of useful functions. Unlike the Shark, the Bissell Symphony allows customers to choose whether or not to use the steamer.
It may be turned on with the push of a button at any time during your cleaning! This means you may use the Bissell Symphony as a vacuum, steamer, or vacuum steamer!
Features of the Bissell Symphony
The Symphony allows for three alternative cleaning styles despite being a two-in-one floor cleaner. It can be used as a vacuum, a steam mop, or both at once. It's convenient to be able to move between modes.
In dual mode, you can quickly clean your floors. However, there are instances when all you want to do is quickly pick up some dust or steam away a sticky kitchen floor spill.
Powerful Vacuum
The powerful cyclonic movement of the Bissell Symphony vacuum is great for collecting loose trash on hard surfaces. It has just enough power for hard floors, but it's probably not a smart choice for carpets.
Because whole-house vacuums can be excessive for hard floors, the Symphony's vacuum should suffice if your floor cleaning is primarily limited to bare surfaces. There are no rotating bristles to turn off or on, as there are with single-function vacuums because the Symphony is not designed for carpets and rugs.
This is an added benefit for some, as revolving brushes can distribute material rather than aid in cleanup.
Steam Cleaning with All the Bells and Whistles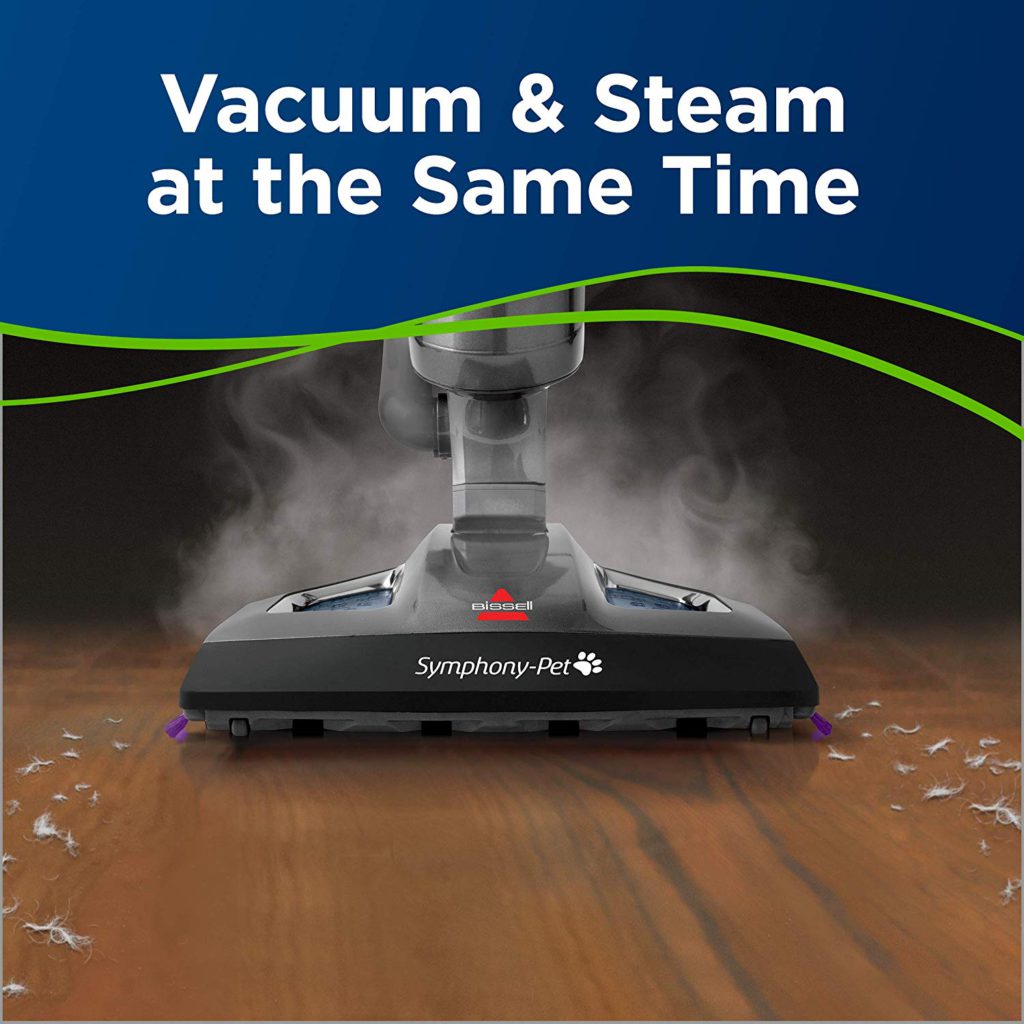 The Symphony's steam cleaning power cuts the time it takes to clean most hard flooring messes in half. Because steam is so powerful, you won't need to buy a separate floor cleaning product. All you have to do now is add some water.
Consumers can save hundreds of dollars on cleaning materials just by using this function. You don't need those harsh and expensive chemicals when you use steam.
Most typical household stains, such as beverage spills and grime, are easily removed with steam. On hardwood floors, mopping with a solvent or floor cleaner can often leave films and residues. This is avoided with the Symphony's steam cleaning pad, which leaves nothing but clean flooring in its wake.
Using a Combination of Cleaning Methods to Get the Best Results
When you flip the Bissell Symphony to dual-mode, it really shines. Its strong vacuum takes the lead, quickly sweeping up even the tiniest particles before the steam mop pad comes into contact with the vacuumed area. 
The combined action of the Bissell Symphony is a nice bonus for anyone who has previously steam-cleaned their floors.
If your floors have even a small amount of dust and grime on them, the steam pad will rapidly become dirty and ineffective at giving them an overall shine. With a clean slate created by vacuuming, steam works wonders in polishing and removing stubborn stains, and is unaffected by dirt and dust.
Steam Is Convenient
There are several steam levels to choose from, depending on how thoroughly you want to clean your floors. There are low-steam and high-steam settings, as well as a few different vacuum options.
You don't have to bend over to reach these options, unlike the Shark; they're just put at the top.
The Bissell Symphony stands up on its own with ease! If you need to take a break or answer the phone, the Symphony will be waiting for you when you return, just as it was before.
The combined vacuum and steam setting's main limitation is that it's best used in ideal circumstances, such as when cleaning a little quantity of debris and no large spills.
For example, dried coffee may require steam cleaning or pretreat on a regular basis. In these circumstances, it's probably best to vacuum first, then use the steam cleaning feature only.
Tank Capacity
The tank is non-removable and holds 400ml of water. A cup is included with the device to aid with water measurement. To fill the tank, you'll need 2 cups. The manufacturer recommends using distilled water, but tap water works just fine.
This capacity, in my opinion, may be used on around 1000 square meters, which is more than the average US home.
More Features
The ability to sweep up pet hair and steam the floors at the same time was a hit for both parents and pet owners. Even the stickiest and hairiest messes are cleaned up in no time because of the powerful suction.
Bissell Symphony All One Vacuum Steam Specifications: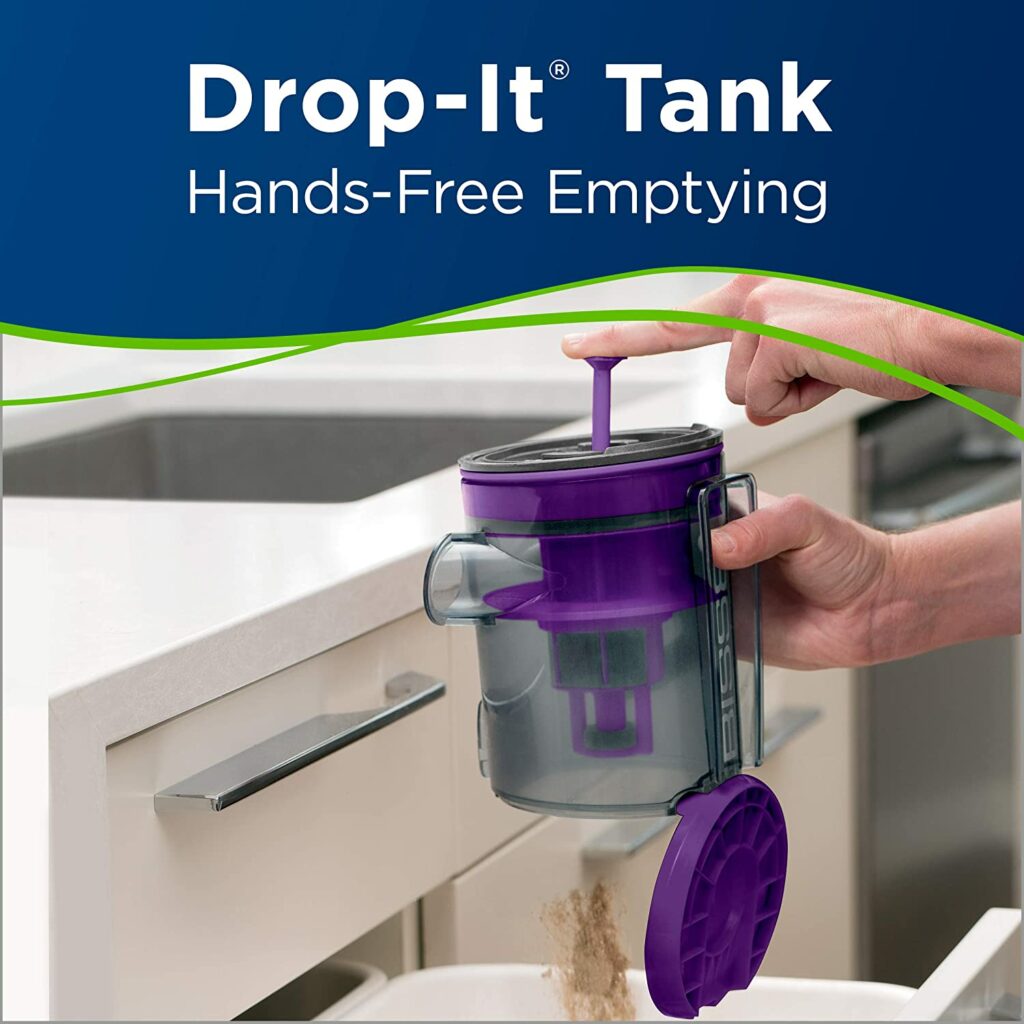 Type: Wet/Dry
Bagless: Yes
Power Rating: 1100 Watts for Steam
Power Source: Corded
Pets: Yes
Steam Cleaner: Yes
Wet/Dry Surfaces: Yes
Surface Types: Bare Floors, Hard Floors
2-In-1 Function: Yes
Carry Handle: Yes
Amps: 3.3
Cord Length: 25 ft.
Tank Capacity: 12.8 oz
Cleaning Path Width: 11 inches
Warranty: 2 years on labor and parts
Pros:
It's light and portable, making it easy to transfer from room to room.
The steam pads are excellent at removing dirt and cleaning surfaces.
It's simple to fill the unit with water.
It comes with a 25-foot cord.
Its five-way adjustable handle allows it to be adjusted to fit a variety of heights and uses.
Cons:
It can take a while for the mop to warm up to the proper steam level.
Some users expressed dissatisfaction with the lack of durability.
How to Use a Vacuum Steamer
A steamer vacuum, often known as a steam vac, can be used to deep-clean a carpet and remove tough stains. Because not all steam vacs work in the same way, it's crucial to learn about your specific model.
Before using any new appliance, always read the directions thoroughly. A steam vacuum, if used incorrectly, can cause injury or damage to your house.
#1
Vacuum your carpet to remove dust, debris, and loose particles with a standard vacuum cleaner. You can use your steam vac's "Vacuum Only" function for this task if it has one.
#2
Move any drapes or curtains away from the carpet and use foil or wax paper to cover your furniture legs. If you don't follow these precautions, the steam vacuum may harm or discolor your furniture and drapes.
#3
Fill the water reservoir with hot water after opening it. Examine the tank thoroughly for a "Fill" line. Do not overfill the reservoir or use hot water.
#4
Keep an eye out for a detergent tank. Some steam vacuums include a separate, smaller tank in addition to a water reservoir that opens and closes. Close the tank after filling it with an appropriate carpet cleaning detergent.
#5
Turn on the steam vacuum and set it in the farthest corner of the room from the door or exit. Turn on the power and select "Steam" from the menu, which is normally denoted by a little button.
Allow the machine to activate the steam for at least one minute. A little indicator light on the vacuum will turn on when the steam function is ready.
#6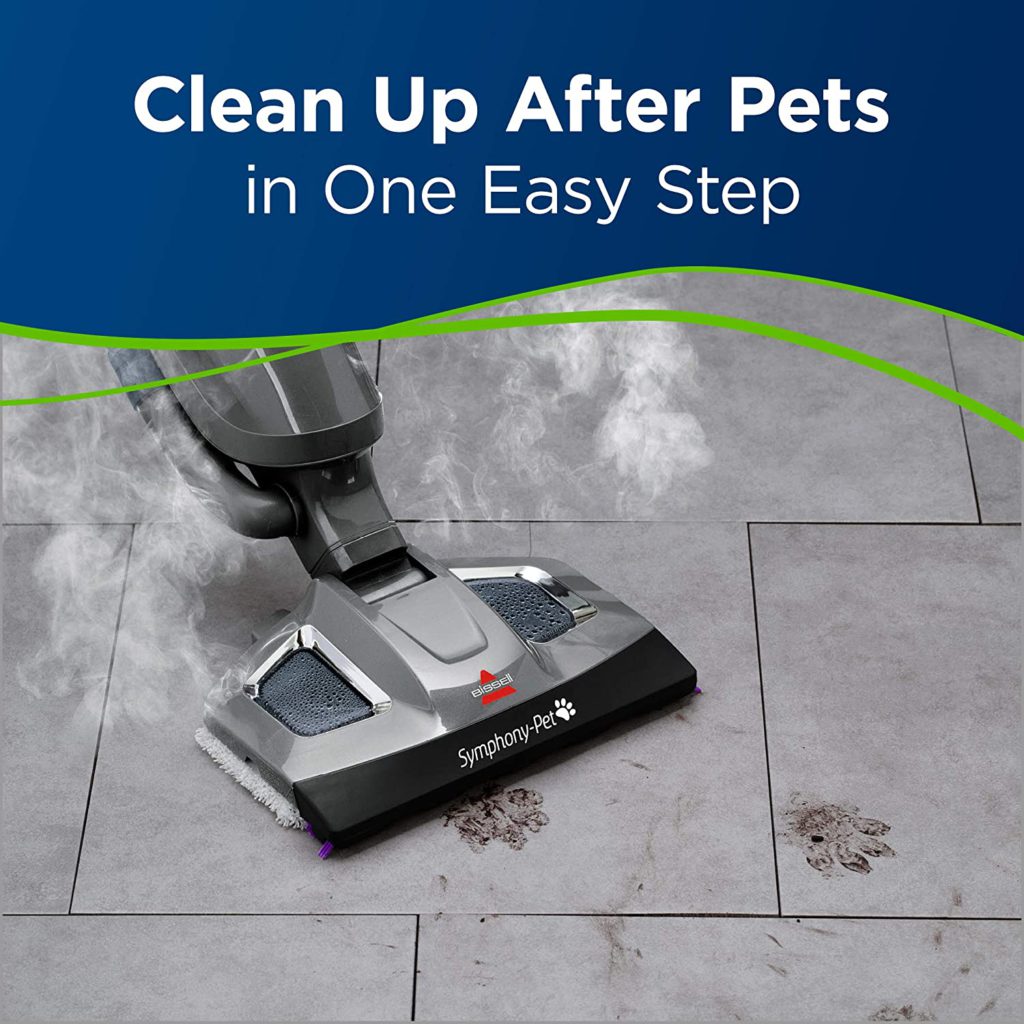 If your steam vacuum has one, squeeze the trigger on the handle. Steam is released into the carpet when the trigger is pressed. Squeeze the trigger and slowly push the vacuum ahead before releasing it and pulling it back toward you.
If your steam vac is not trigger-activated, simply move the vacuum forward and back as if it were a standard vacuum.
#7
Steam-clean the entire carpet, working in the direction of your exit, so that when you're done, you can walk out of the room and the carpet can dry without walking on it.
Final Verdict
We recommend the Bissell Symphony as a useful multi-function floor cleaner if you have hard flooring and are wary of having to clean with various equipment. It's simple to use, efficient, and backed by the Bissell name.
Separate tools may provide a better clean, but the time and convenience gained are worth the tradeoff in our opinion.