Whenever you need to clean larger spaces or an industrial-grade commercial area with tight places, stairs, walls, and a large area, the Commercial Backpack Vacuum Cleaners are the way to go.
There are, however, a number of backpack vacuum cleaners available. You'd have to look at a lot of different features to figure out which one is right for you. That isn't an issue. We've taken care of all of the heavy lifting so you don't have to.
What Makes a Vacuum Cleaner Commercial Grade?
Although home vacuum cleaners will get the job done when used infrequently, commercial vacuum cleaners are more reliable, efficient, and designed to last. Commercial vacuums are designed for heavy use and last longer than residential vacuums, which would easily wear out in a professional cleaning application.
In addition, most commercial units would come with a commercial power cord, which is useful for adhering to safety regulations.
What is a Backpack Vacuum?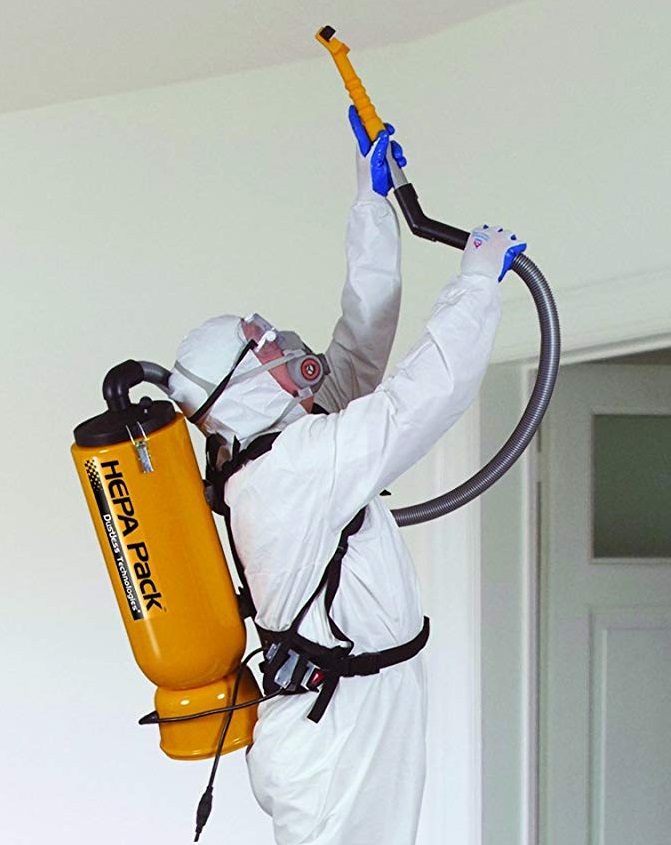 Backpack vacuums are designed to be lightweight and simple to transport, allowing workers to clean constantly for long periods of time. For employee protection, most models come with ergonomic pads and back supports, and they're light enough for people of all sizes to use.
Employees should use their hands to control the wand and power cord or shift furniture out of the way since this vacuum is worn like a backpack.
Most backpack vacuum cleaners have a feature that enables users to switch from vacuum to blower mode as necessary.
What Do Backpack Vacuums Clean Well?
Carpet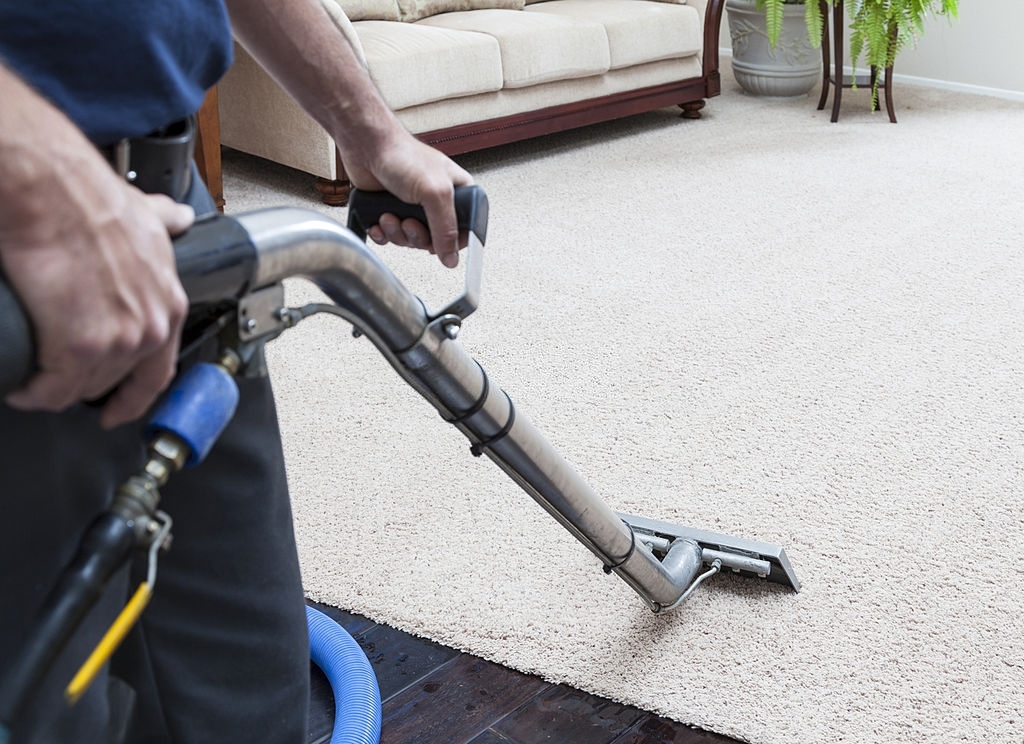 Backpack Vacuums are suitable for cleaning carpets in difficult-to-reach places such as stairwells, under furniture and appliances, and along walls. You'll have a clearer sense of what area is being covered and be less likely to skip parts since you're not dragging the whole unit around the floor.
Hardwood Flooring
When it comes to hardwood floors, a backpack vacuum is preferable to a conventional vacuum. Although most regular vacuum cleaners have a hardwood-floor setting, the wide units and wheels are ineffective and can scratch or scuff the floors throughout time. Your hardwood floors will last longer if you use a backpack cleaner.
Pet Hairs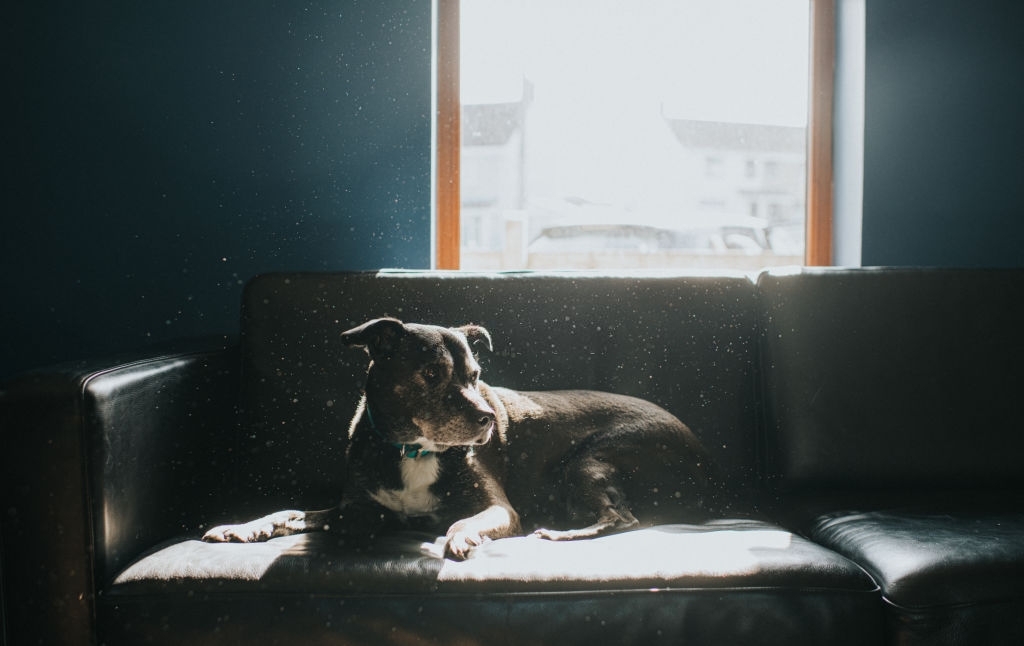 Many pet owners would testify that only handheld or backpack vacuums seem to be effective in removing pet fur from their homes. What is the reason for this? One explanation is that, with the vacuum on our backs, we can see the hairy situation in front of us more clearly.
Another explanation is that backpack vacuums' smaller heads allow us to travel in ways that a standard vacuum cannot. You can suction more tightly into an area with a lot of pet fur by adding more pressure to the head, and you'll be able to move more quickly in places where the carpet meets the wall, etc. by applying more pressure to the head.
Ceilings, Walls, and stairwells
Backpack vacuums are constructed in such a way that they allow the consumer to move about easily due to their ergonomic nature. Cleaning tough areas such as the stairs, walls, and ceilings would be much easier with a backpack vacuum.
Many of the backpacks we'll be looking at in this article come with extra accessories for these difficult-to-reach locations.
Features to Look for
Backpack vacuums are perfect for janitorial services as well as industrial cleaning applications because they provide convenience, maneuverability, mobility, and the added advantage of being lightweight. Here are the following factors you should consider:
Cleaning Capacity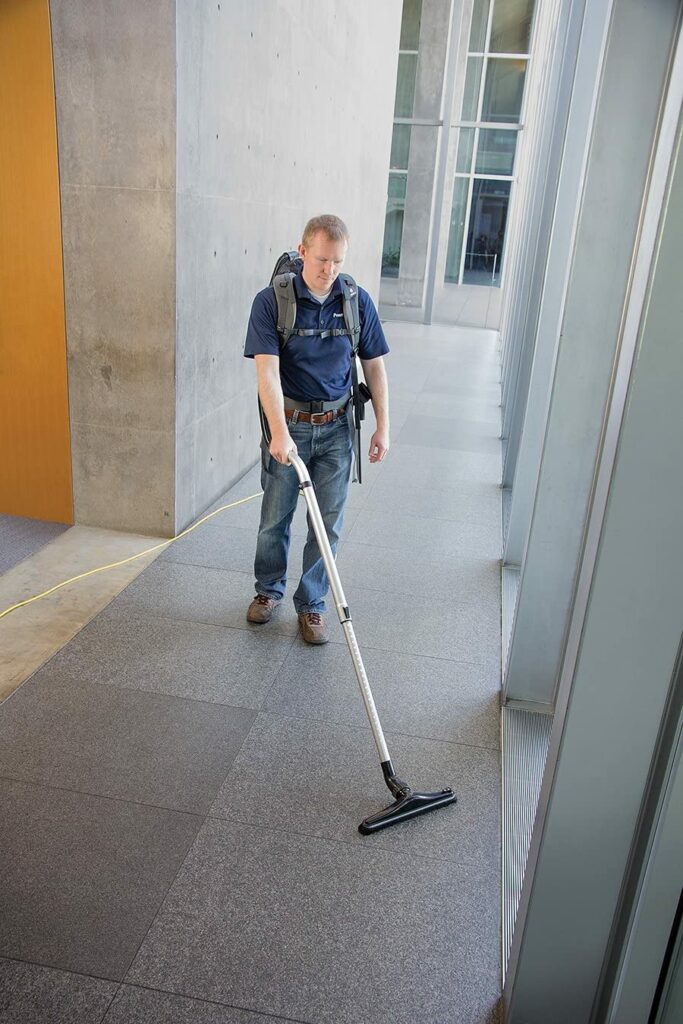 The most popular vacuum cleaning path size is 14 inches, but vacuums with paths as long as 28 inches are available for larger areas.
We suggest selecting a vacuum cleaner based on the size of the area to be cleaned. However, you must understand the potential for obstacles in the field.
Vacuuming a 10,000-square-foot open area requires a different vacuum than vacuuming a 10,000-square-foot area with desks or other furniture. Because of its size, a wide upright with a 28-inch cleaning path will appear to cover more ground in less time, but it will actually be less effective if used in a dense environment.
Power Source
Vacuums, like the majority of industrial cleaning equipment, can be battery or electric-powered.
Vacuums that are battery-operated or cordless can increase the efficiency of your janitorial staff. This is due to the fact that your cleaning crew won't have to deal with the cable. The operator has more mobility by using cordless devices.
They do not have to remain within reach of an outlet at all times, and they are free to travel beyond the length of a standard cord.
Brush Rollers
The brush roller is also called a beater bar. Beater bars are not used on backpack vacuums. Look for a backpack vacuum with plenty of airflows and lift to ensure it's picking up as much dirt as possible.
Since backpack vacuums lack the agitation provided by a beater bar to remove dirt from the carpet pile, they need more lift to do so.
Look for third-party certifications that measure the vacuum against soil removal requirements to assess the amount of soil it removes. The Carpet and Rug Institute® is one of the most well-known third-party certification programs (CRI).
CRI® assigns a bronze, silver, or gold rating to a vacuum's ability to extract soil. The highest level is gold, which ensures that the most dirt is extracted.
Bagged vs. Bagless Vacuums
Here are some items to consider when deciding whether or not the company can go bagless. First, though removing disposable vacuum bags may save money, bagless vacuum cleaners have additional filters that must be cleaned and replaced on a regular basis.
Second, since emptying a bagless vacuum cleaner can be a dusty task, staff with allergies or asthma should be mindful that this can cause side effects. A bagged vacuum cleaner, on the other hand, ensures that the majority of the dust and debris stays inside the bag for disposal.
Specialized Attachments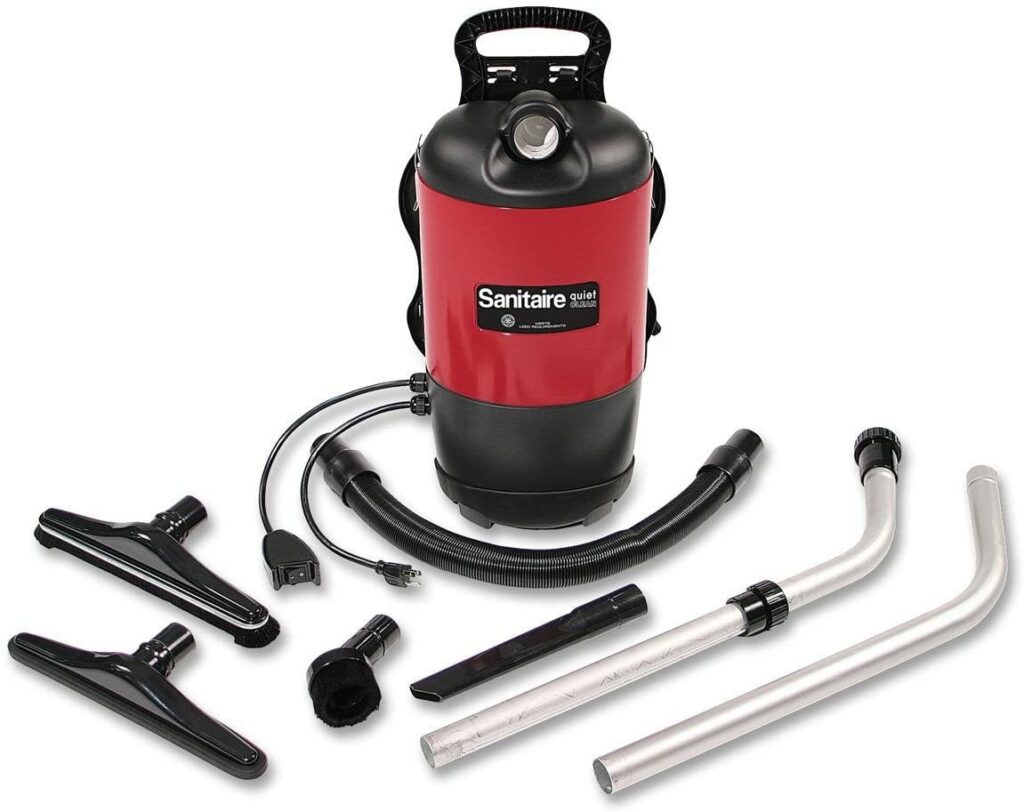 Many establishments use their vacuum cleaner for more than just carpet cleaning. Other soft surfaces, such as drapes, chairs, or high dusting, can need attention.
If that's the case, it's a good idea to look for a commercial vacuum that comes with or can be paired with specialized attachments for these particular surfaces.
Otherwise, you could need to invest in a second vacuum cleaner, such as a handheld duster or similar cleaning device. Your cleaning staff won't have to switch between machines because you can pair your device with specific attachments.
Allowing the employees the ability to vacuum these hard-to-reach or special soft surfaces quickly and easily would increase their efficiency.
Filtration System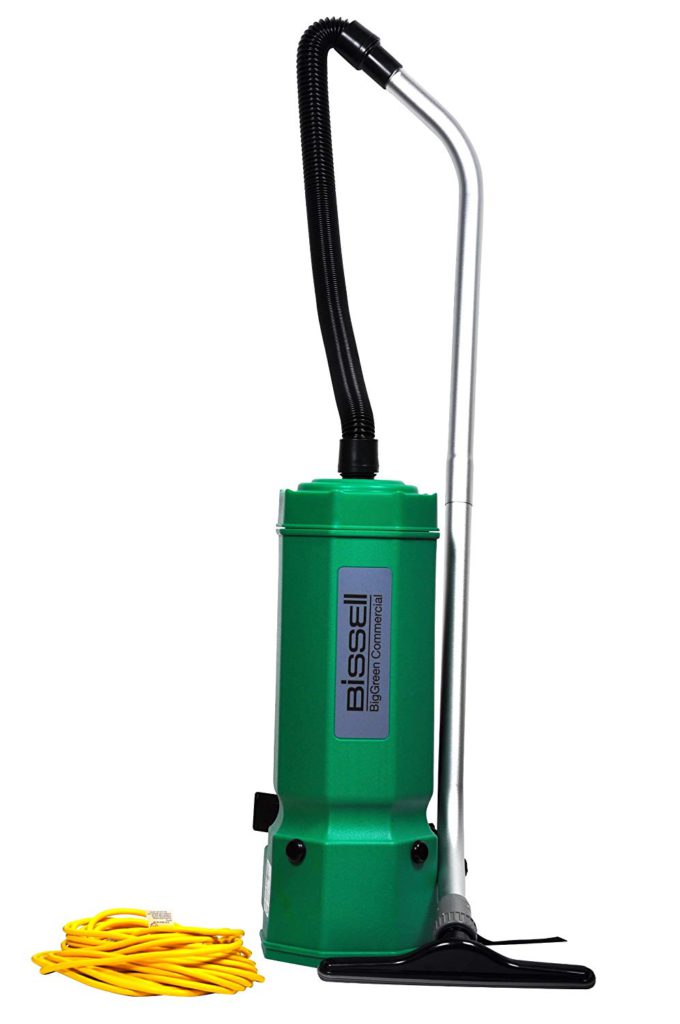 When you vacuum, you're scraping dust, dander, and other soils from the carpet, which can contribute to poor indoor air quality if they're left in the air (IAQ).
The right filtration device will help reduce the number of soils that are left behind or released back into the atmosphere. HEPA filters or similar filtration systems are recommended in commercial vacuums.
How to Fit a Backpack Vacuum Properly
Adjusting Shoulder Straps
Pull the shoulder straps all the way down until the vacuum is at your hips. There should be as little movement as possible.
The machine will slip around on the user's back if the shoulder straps are too loose, making it difficult to wear because the vacuum will be positioned lower than the hips.
Avoid overtightening the belts. Too-tight straps raise the vacuum off the operator's waist and onto the small of the back, transferring some of the vacuum's weight to the user's shoulders.
The operator's waist should always take the burden of the vacuum's weight. The weight of the body should not be supported by the shoulders or the small of the back.
When the user feels that the weight shifts from their hips to their shoulders, loosen the straps and start over.
Pull the Waist Belt tighter around your waist.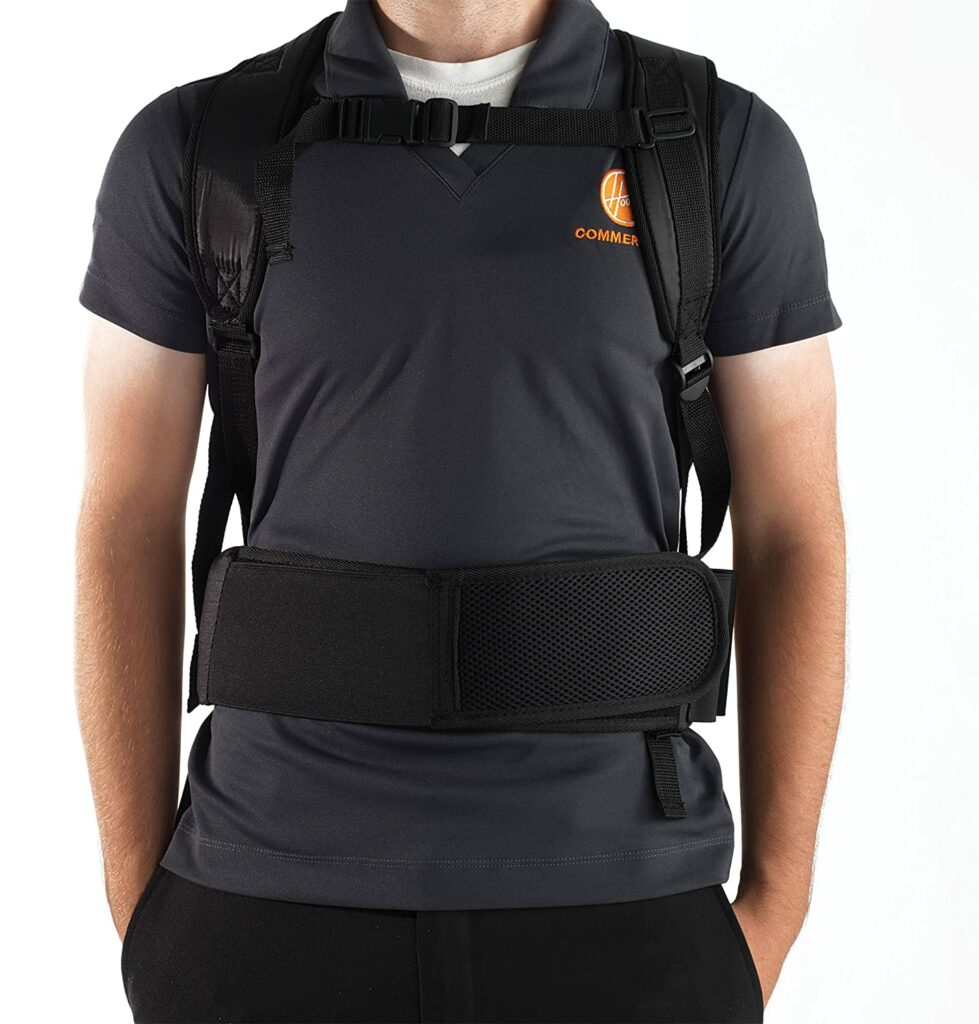 Tighten the waist strap if your backpack vacuum has one. Adjust the waist belt's tightness to your preference. There should be some flexibility.
When the consumer feels the vacuum's weight move from their shoulders to their waist, the belt is sufficiently secure. It's crucial that the user's hips, not their shoulders, bear the brunt of the weight.
Backpack vacuums distribute 90% of the vacuum's weight to the user's hips. If the weight is carried on the operator's back, he may develop bad posture and become fatigued. It may also result in operator injuries and higher insurance premiums.
Connect the Chest and Sternum Straps
Finally, the user's sternum should be tightened with the chest strap (across the middle of their chest). The unit will be balanced on the operator's back, and the shoulder pads will stay in position, thanks to this harness.
Tips to Keep Your Backpack Vacuum in Good Shape
Regularly inspect filter bags – Before starting each change, inspect the filter bag. When the bag is 2/3 full, change it. Wait until the bag is completely full before using it, as this will limit airflow and reduce performance.
Remove any dust and debris from the Micro Filter Compartment. Replace the microfilter if it is visually dirty or emits an odor while using the vacuum.
Check the motor and HEPA filters – If you have a HEPA filter, replace it when it becomes clearly soiled. Motor filters should be replaced every two years or as soon as they become clearly dirty, whichever comes first.
Keep Tool Storage Compartments Clean – Keep tool storage areas free of obstacles/debris to prevent dirt and allergens from being transferred to clean areas and to ensure that accessories function as intended
Disconnect the suction hoses and search for obstructions if you suspect a clog due to a lack of airflow.
If a clog is discovered, detach the hose and reinstall it in reverse to remove it. Check for fraying or damage to electric cables and replace as required.
Clean the tank (for wet vacuums) by removing and emptying the dirty water, then rinsing and allowing it to dry for best results.
Final Thoughts
Maintaining the appearance of your facility, extending the life of your commercial carpet, and protecting the health of your building's occupants all require keeping your carpets clean.
On commercial carpeted flooring, you should consider using commercial backpack vacuum cleaners. With proper maintenance, this equipment will last a long time in custodial departments. Managers who want to improve their staff's cleaning performance and productivity should incorporate regular training and maintenance practices as new equipment is implemented.