The Dupray Neat looks like the steam cleaner of the future. At first glance, you won't think it's a steam cleaner with its simple and minimalistic design. You'd probably think it's a high-tech machine or some kind of an Apple product. Why, you say? The Dupray Neat steam cleaner is a plain, white box with a single button in the middle and a steam hose attached.
The design is quite different compared to other steam cleaner models you will find in the market. Yet, it's sophisticated and sleek, as well as easy to use. Now, how about the performance? We'll discuss more of it in this section. Know if the Dupray Neat is the steam cleaner of your needs by reading on.
Recommended for you: Best Upholstery Steam Cleaners For Fabric Furniture and Drapes | Versatile Steam Cleaners for Deep-Cleaning
Summary of Features: Dupray Neat Heavy-Duty Steam Cleaner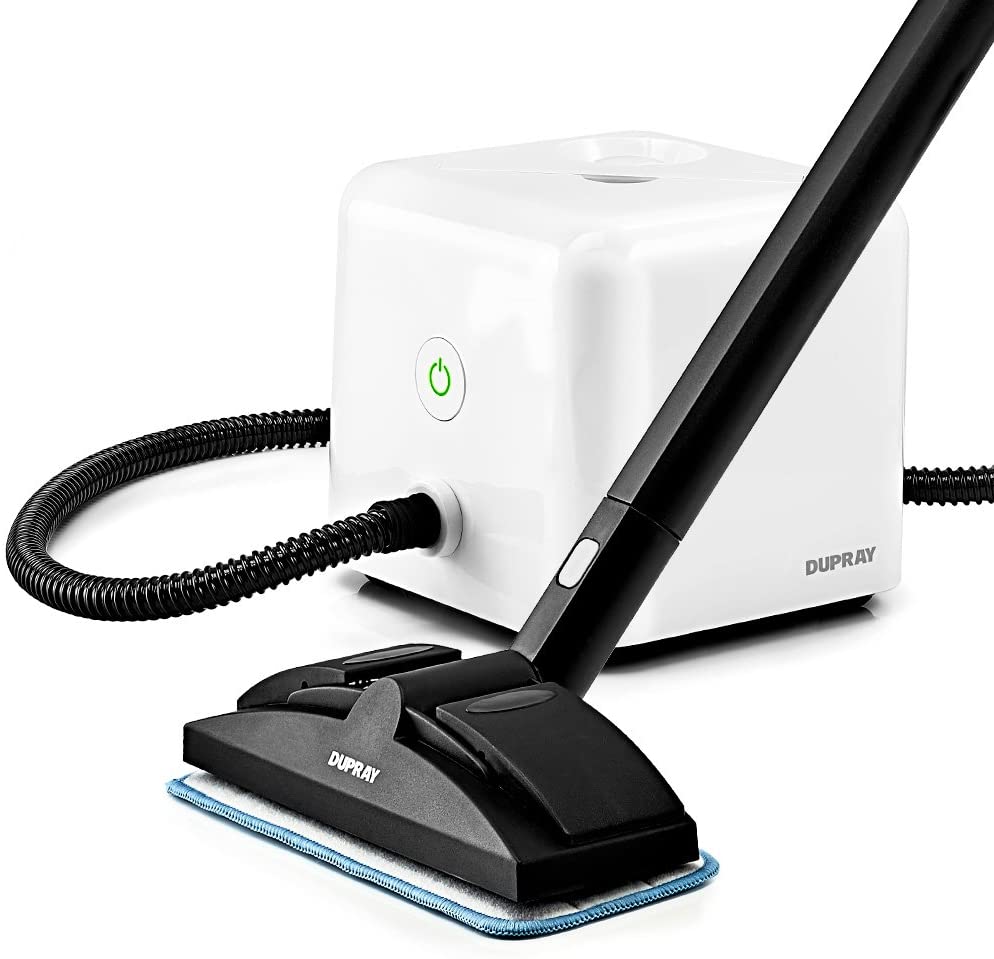 1500 W power. The decent power of the Dupray Neat's machine, assures consistent steam pressure and powerful steaming to loosen up and remove tough dirt and stain.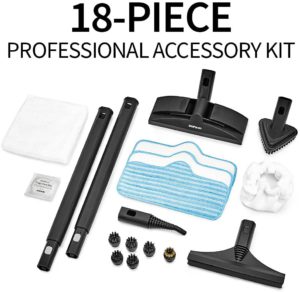 54-ounce water capacity. Compared to other steam cleaners out there, the Dupray Neat offers a relatively larger water reservoir. Water capacity is a crucial factor for this kind of cleaning tool, as usually, the length of the machine's cleaning time depends on the amount of water it can hold. 54 ounce of water capacity is enough to clean a great number of tasks.
5-meter power cord. The power cord is also another important aspect to consider when getting a steam cleaner. You will rarely find a cordless model for this kind of machine. A cord plays a critical factor when choosing a steam cleaner, as it gives you the freedom to go around and do tasks far from the socket. The 5-meter long power cord is a good length for you to do your chores freely and without the hassle and need for an extension wire.
275°F/135°C superheated steam. The heat of the steam makes the steam cleaner efficient in getting rid of dirt and bacteria. The Dupray Neat offers 275°F/135°C superheated steam, which allows it to deep-clean surfaces and gets rid of not only dirt and stain but also molds, bacteria, insects, and dust mites.
50 minutes of running time. For a lightweight and simple machine like Dupray Neat, 50 minutes of run-time is quite impressive. Some models can only last for a maximum of 10 minutes, but this model offers 5 times more. It's sufficient time to clean areas in your home without interruptions.
18-piece accessories. The 18-piece attachment tools are definitely a perk from Dupray Neat. These accessories will make cleaning more efficient. It will allow you to remove dirt, stain, molds, bugs, and more on different surface types.
Dupray Neat Heavy-Duty Steam Cleaner Review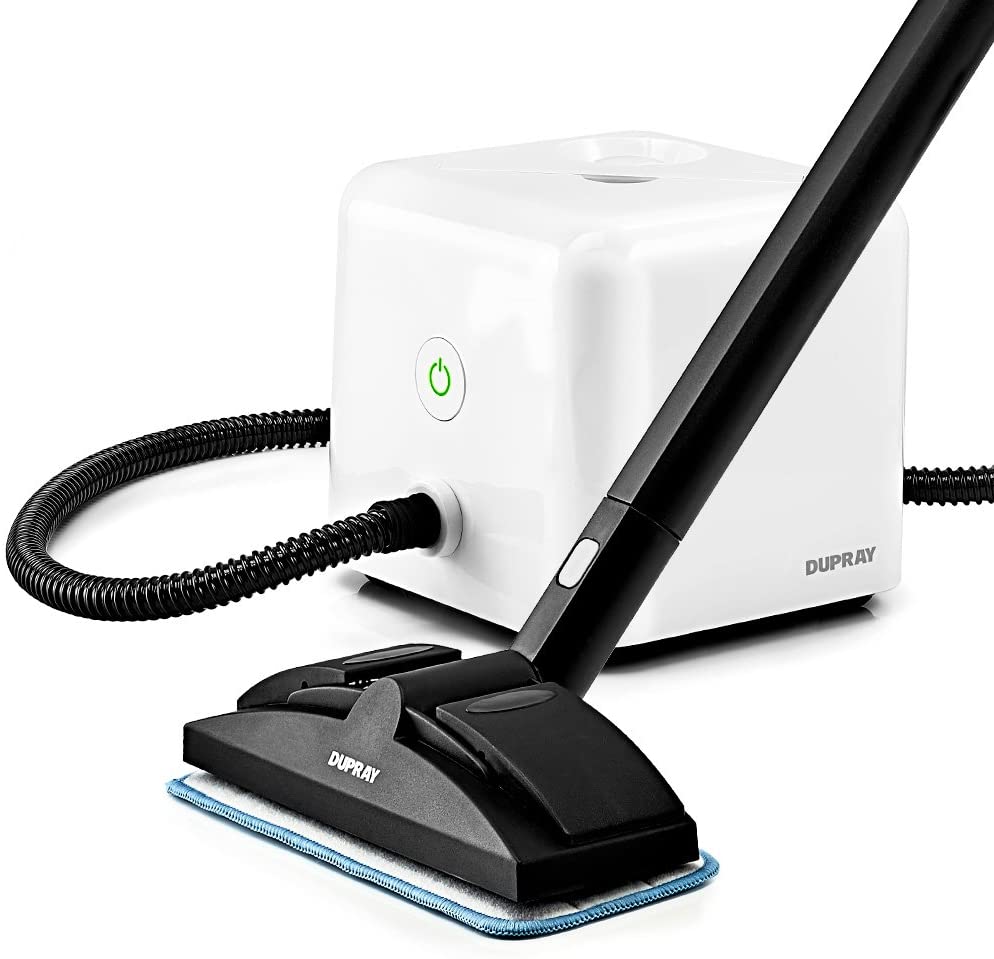 Now, I can't imagine knowing people who won't appreciate the design of Dupray Neat. Apart from the model's performance, we would also like to acknowledge the looks of this steam cleaner. We've searched around the market, and it's rare to find modern-looking steam cleaner like Dupray Neat. Most units we see appear to have outdated aesthetic features as if they came from the 90s. We can't stress it enough how the design feature took us in awe. Now, we move to performance.
The Dupray Neat offers powerful steam with a machine operating at 1500 W. This power supply supports the superheated steam at 275°F/135°C, which can remove tough stains and dirt. It's enough temperature to deep-clean upholstery, bed, fabric, and drapes, too. Using this steam cleaner, you can get rid of harmful bacteria, molds, dust mites, bed bugs, and more. With a powerful machine and superheated steam, you can keep your house safe and ultimately clean.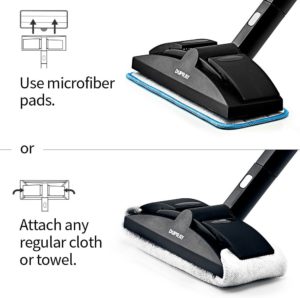 50 minutes of run-time is another highlight we like to mention about the Dupray Neat. With a large water capacity of 54-ounce, you can do your cleaning chores without interruptions for about 50 minutes. This is quite a generous amount of time, sufficient for you to do heavy chores like when doing general cleaning of your home.
Another noteworthy feature is the 18-piece accessory kit. Together with the unit, you will get three microfibers, a floor tool, two extension tubes, a window tool, a single lance, a single microfiber cloth, single triangular tool for tight corners, single microfiber bonnet for the triangular tool, five nylon brushes (which means you can have replacements when one wears out), single bass brush, and a single fragrance disc. All these extra accessories will help improve the cleaning efficiency of Dupray Neat and deal with various surface types.
When it comes to heating time, Dupray Neat takes about 7 minutes until ready. Perhaps, not the fastest heat-up time you can find, but it's a decent period in exchange for about 50 minutes of run-time use. It could be one of the downsides of the Dupray Neat, together with the lack of water-level indicator. It also takes about 20 minutes of cooling time until you can refill the tank with water again.
Overall, we still say, the Dupray Neat is one of the best steam cleaners out there. You can get at a fair price while having all the perks for deep-cleaning spaces.
Recommended for you: What Is The Best Steam Cleaner For Tile Floors & Killing Germs
Who Needs a Dupray Neat Heavy-Duty Steam Cleaner?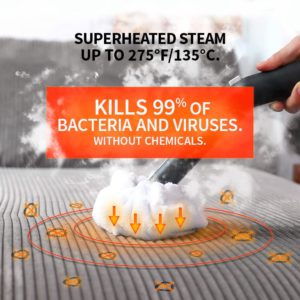 People with allergies or asthma. Steam cleaners work excellently for removing dust mites, molds, allergens, and other components that could trigger asthma or allergy attacks. The Dupray Neat is a top-notch choice for this kind of cleaning aid, as it offers powerful heat with just the right temperature to deep-clean sofas, furniture, where allergens stay and are difficult to remove. It's also an efficient machine that traps and cleans dust mites instead of causing it to spread even more just like when the wrong vacuum is used. Thus, if you have allergies or asthma, or if you have a family member who suffers from one, getting Dupray Neat can help prevent attacks and keep you home safe and clean.
For deep-cleaning of upholstery. Like we mentioned, the Dupray Neat produces superheated at 275°F/135°C that can remove dirt, stain, even bugs living underneath your upholstery. With the extra tools that go with the unit, you can find the right accessory to deep-clean your upholstery. It's a huge help to keep your home safe and save money from getting expensive cleaning services from businesses. You will also get to keep your furniture in good condition for a longer time, and your house fresh.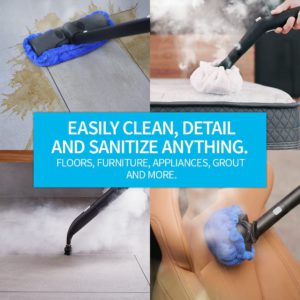 Getting rid of bed bugs. The Dupray Neat can also kill bed bugs and other insects that could be living underneath your furniture, upholstery, or mattress. No one wants that, it's also dangerous for you or your family. Good thing, this cleaning tool provides a heated steam powerful and hot enough to kill bugs and its eggs. Using the right accessory, which you can find together with the unit, you can efficiently clean surfaces, as well as underneath the surface.
For removing tough dirt and stain. Grease, burnt oil, hardened dirt, there are stubborn residues and smut that you can't just clean easily with soap and water or vacuum. With Dupray Neat's powerful steam and tools, you can get rid of this hard-to-remove soot. Especially the tough stains and dirt you can find on your oven, kitchen, or grill, you can remove them using the brass brush and leave the metal surfaces sparkling clean.
For long periods of cleaning. With 50 minutes of run time, the Dupray Neat allows you to clean a great number of chores and surfaces without interruption. If you're going to do general cleaning of your home, which can take quite a long time, you can rely on the Dupray Neat for lengthy periods of deep cleaning of upholstery or surfaces. Unlike some models that can only last about 15 minutes, this model will allow you to do extensive cleaning rather than just spot cleaning of surfaces.
Aesthetic design. If you're the type of person who's specifically after home appliances that have a sleek design, you'd surely love the Dupray Neat. Especially if you have a modern home, this cleaning aid will fit your house aesthetics.
Dupray Neat Heavy-Duty Steam Cleaner Specs
Weight: 9 pound
Running time: 50 minutes
Heat-up time: 7 minutes
Power cord length: 5 meters
Warranty: 2 years
Steam power: 275°F/135°C
Attachment tools: 18 pieces
Water capacity: 54 ounce
Recommended for you: Best Handheld Steam Cleaners Guide- Don't Buy Before Reading This!
Below are the pros and cons of Dupray Neat Heavy-Duty Steam Cleaner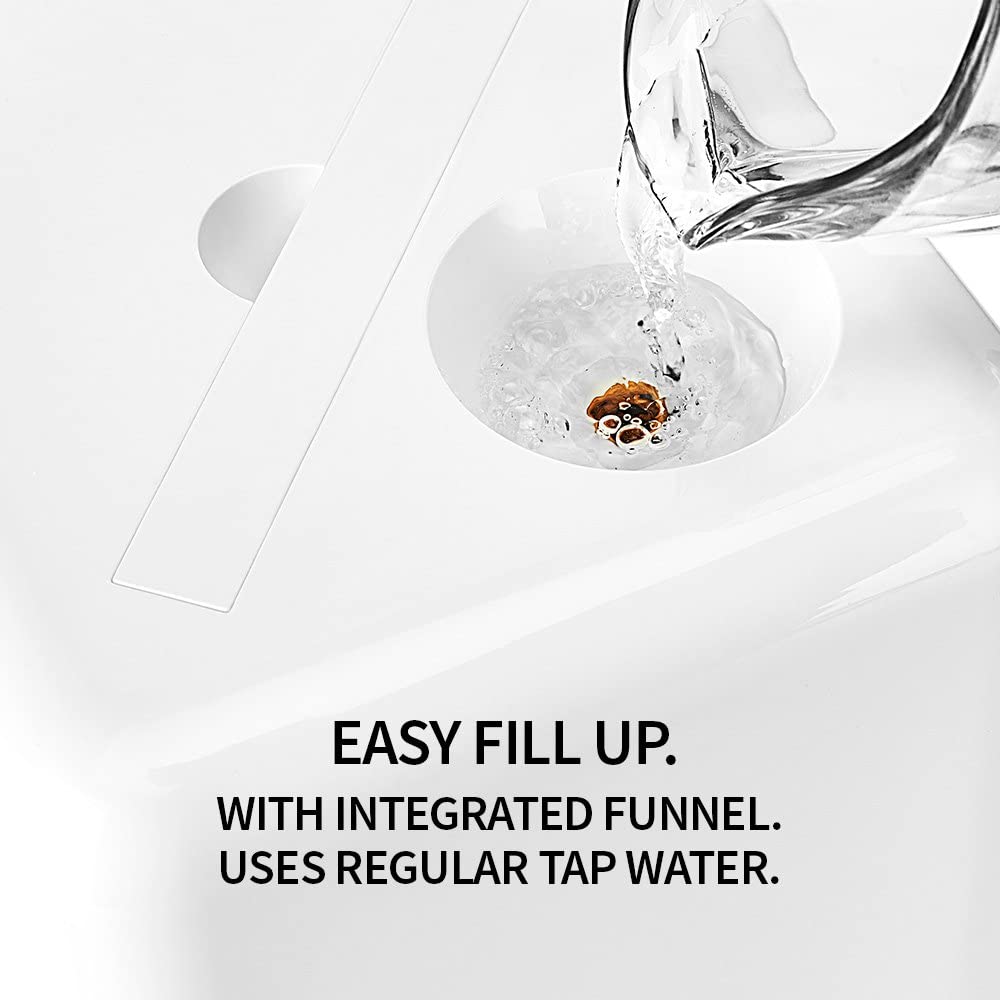 Pros
Modern, sleek design
Light
Easily portable
Efficient
Powerful steam
Versatile
Can deep-clean
Easy-to-use
Cons
Lacks a water level indicator
20 minutes cooling time to refill
Conclusion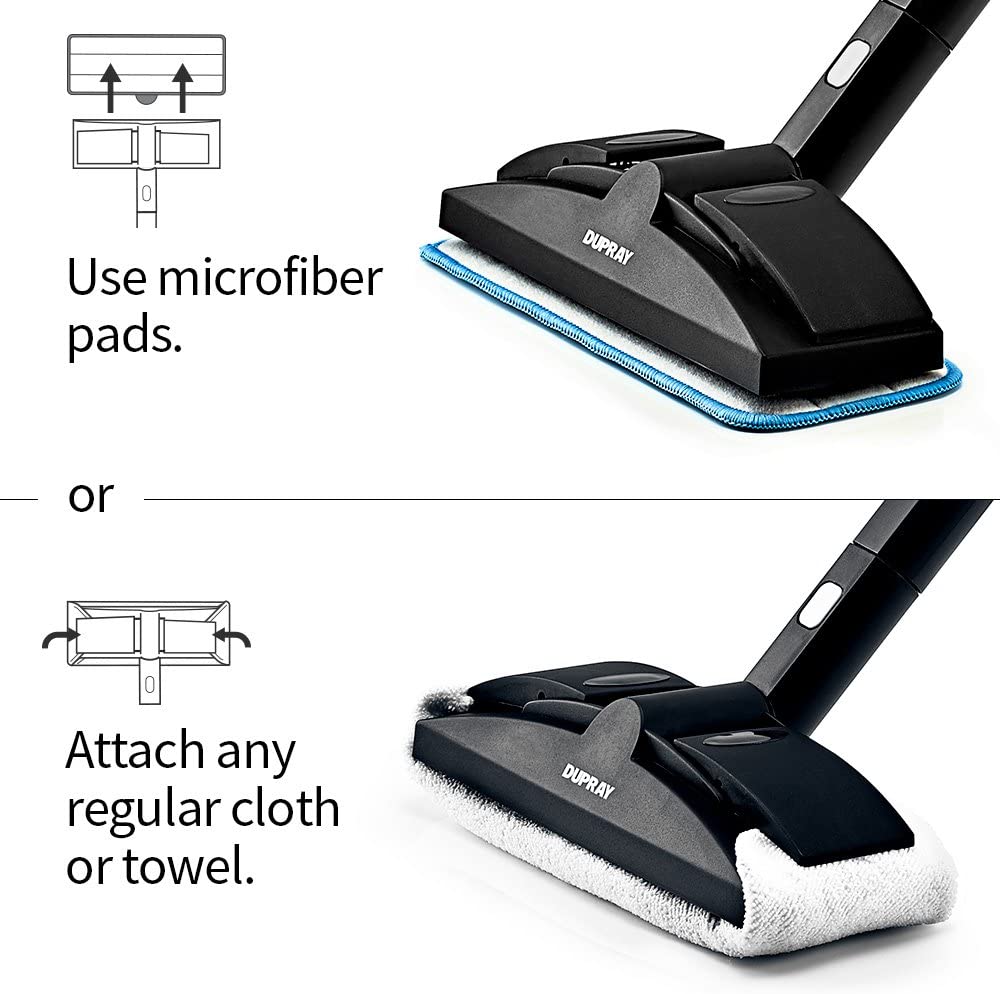 So what do you think about the Dupray Neat steam cleaner? We hope you learned a lot about this product – its strengths, highlights, drawbacks, and features. If you're thinking of getting a steam cleaner for your home, the Dupray Neat can be of an excellent choice. It's compact, modern, efficient and it comes with several tools that can even make the cleaning much more satisfying.
However, it comes with a few drawbacks such as, it lacks water-level indicator, it takes 20 minutes to cool-off and let you refill again with water, and we'd say, the heat-up time can be faster.
Overall, it's safe to assume that you will get the most of what you paid for this product. If you think the Dupray Neat is the steam cleaner you're looking for, let us know in the comment section below. We'd love to hear from you!