Are you thinking of buying an automated robot to clean your glass doors or windows? The Ecovacs Winbot 880 Robot Window Cleaner is a clever gadget for the job. It uses strong suction to attach to glass surfaces and cleans muck with its onboard high-elastic squeegees and a 5-layer microfiber cleaning pad.
The robot will clean all 4 corners of your window and repeats the process over each surface 4 times to ensure that the glass is gleaming. Sounds good?
Ecovacs has fitted their Winbot with a feature named WIN-SLAM™ 2.0 which cleverly guides the robot across windows using the most efficient method by calculating the best route and steering clear of obstructions. The gadget is also smart enough to go back to its starting point, therefore, you can place it in a low area, send it to higher sections and it will return back to the starting point where you can safely reach for it.
See Where The Ecovacs Ranked On Our Shortlist of The Best Robot Window Cleaners for Glass Doors
The Winbot 880 comes with a cutting-edge system to detect edges, which means that the robot can detect unframed and framed glass, it will then adjust its course and avoid falling off an edge or bumping into something.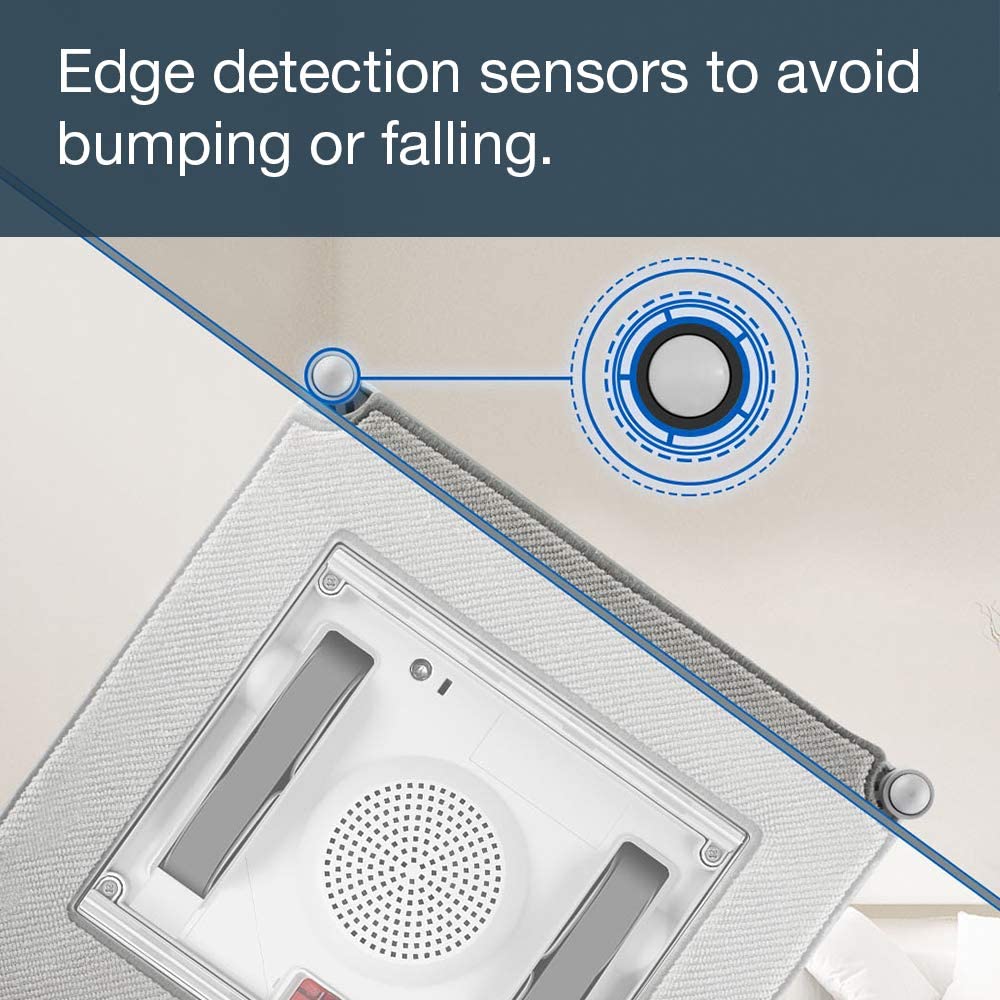 Onboard the Winbot is 2800Pa of suction power, a safety tether (in the unlikely event that the robot falls), a load-bearing suction cup, and a backup battery that lasts half an hour. The joint effort of each accessory provides a safe window cleaning experience. A remote control is provided to instruct the robot when to commence or end a job, direct it to a certain area of the window or change the direction altogether.
Ecovacs Winbot 880 Full Product Review
The Winbot 880 Cleaning Process
The Winbot 880 takes things a step further over its predecessors by offering a four-stage process when cleaning glass. The robot diligently passes each part of the window four times to make sure that it is immaculately clean. For this, it uses 2 squeegees along with the integrated microfiber pads. It never misses a spot.
To start off, the robot applies some detergent on the cleaning pad, it then begins to wipe the surface with the damp pad to scrub to moisten dirt sat on the window.
From there, the first squeegee takes over and begins the process of wiping away the loosened dirt. The second squeegee gives a double dose of cleaning to tackle any remaining bits of dirt that are tougher to remove. At the last stage, the dry section of the cleaning pad begins wiping the window dry and the result is a gleaming window.
Prior to cleaning, the little robot starts off by assessing the window to determine its size and work out the optimum cleaning route. Onboard are a bunch of sensors to cleverly map out the area and help the robot to navigate smoothly across windows while steering clear of obstructions such as window frames. Once cleaning is complete, the Winbot goes back to the original beginning point and it wait there until you come to collect it.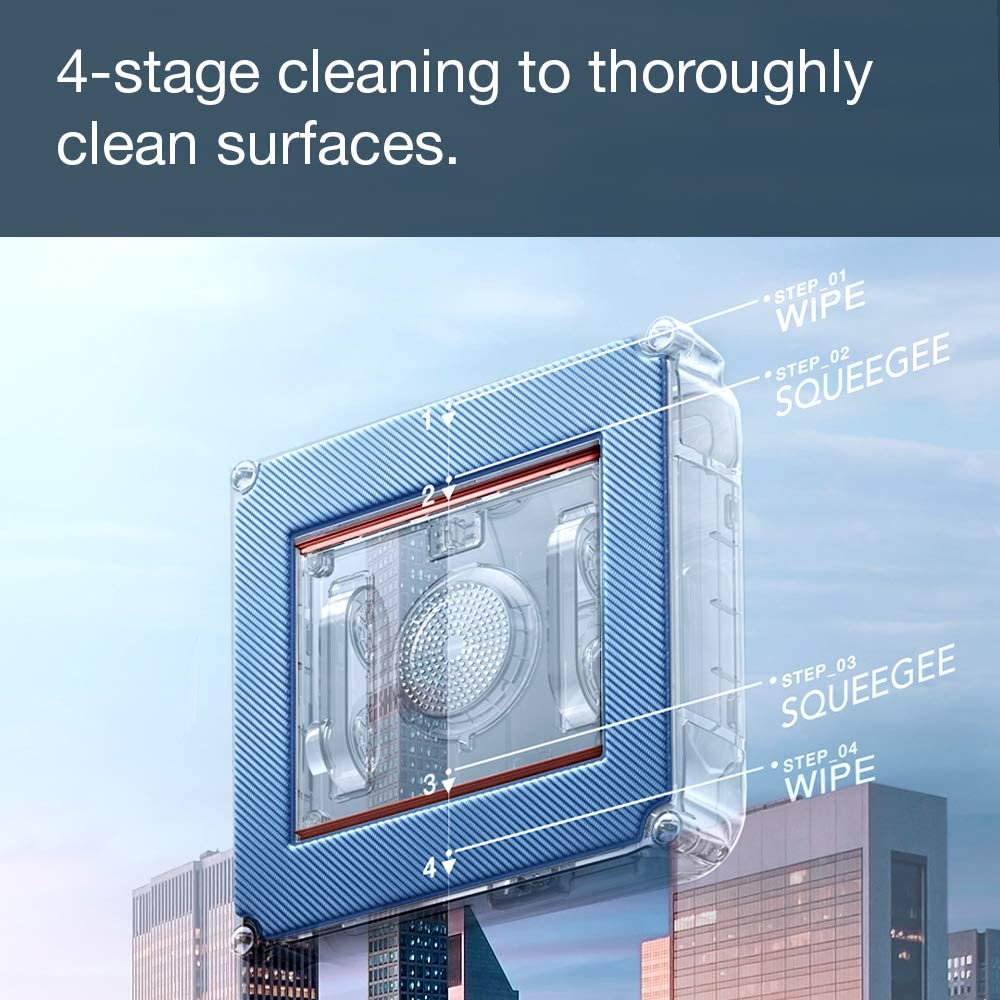 Ecovacs Winbot 880 Features
Product weight: 3.96 pounds
Route Guidance: Path planning technology
Cleaning Accessories: 5-layer microfiber pad & Squeegees
Sensors: Edge detection technology
Multiple safety systems included: High elastic rope, load-bearing suction cup, 2800PA suction power, 30-minute backup battery
Connectivity: Remote control
Guarantee: 1 Year Warranty
Recommended Reading: Best Robot Window Vacuums for Glass Panes
Winbot 880 Product Performance
As you can probably tell by now, the Winbot 880 is a great time-saving gadget that provides convenience to properties with high glass windows or glass doors. It automates the task of cleaning windows, however, it does have a few drawbacks.
Yes, this robot cleans windows autonomously and does need your input with the actually cleaning process, but it does need you to move it from one window to another. What we'd like to see for future robots is a truly automated experience where you can program it and not need to worry about it until the job is done, however, the problem of a robot moving across two different window frames is rather complicated, therefore, we won't be seeing this feature for a long time.
My favourite feature has got to be "return to home" which means that when the machine is cleaning a high-reaching area and you're concerned about how you're going to retrieve it, this is not a problem because the robot will come back to its original starting point within easy reach.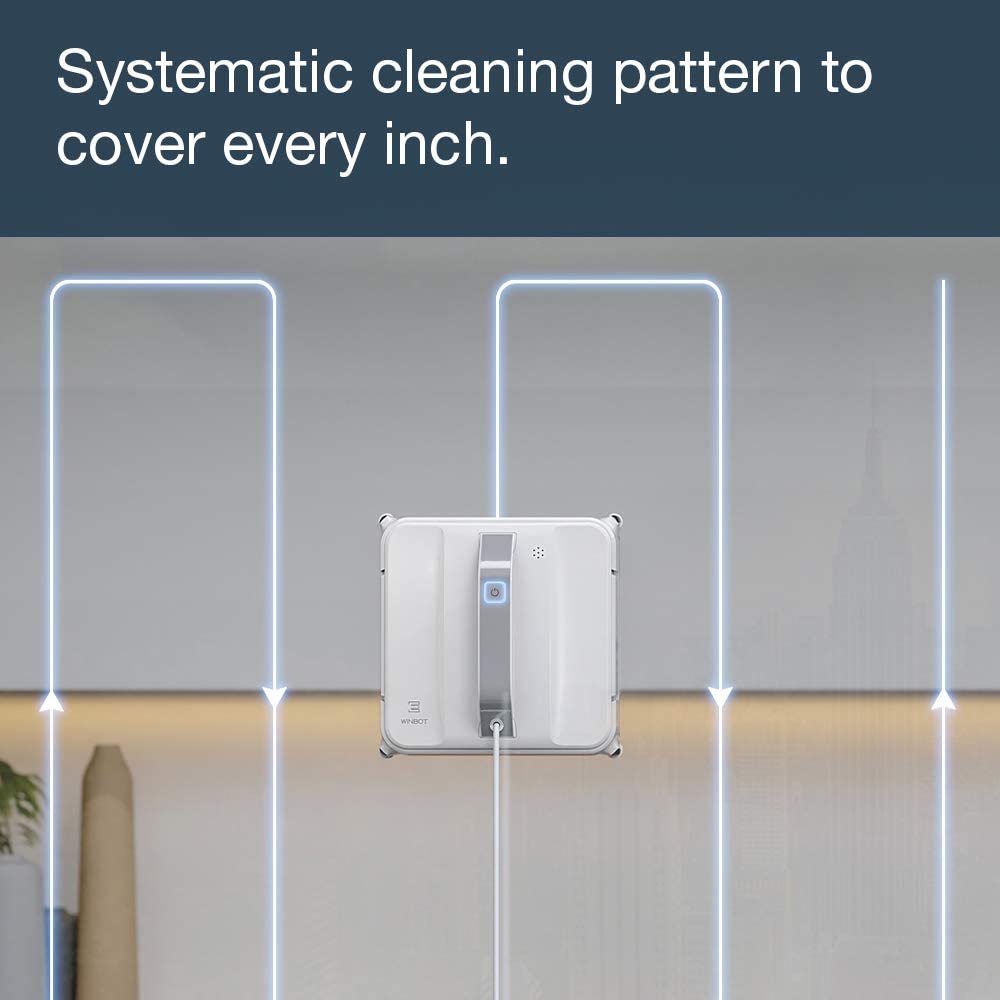 Is it any good at cleaning windows though? For such a small gadget, the Winbot 880 cleans windows exceptionally well. The machine is thorough and operates at a very low noise level, meaning that you can carry out your usual daily activities without noise disturbances. As with any other robot window cleaner it comes with its flaws, however, it's a great little resourceful gadget to add to your cleaning arsenal.
The Winbot window cleaner is a high-performance robot, but they are a few things that could be better. For example, it occasionally leaves behind streaks and it can't be used if the temperature outside is too hot or too cold.
We like that it's an easy gadget to use and it doesn't require a complicated setup. The controls are laid out in an easy format so that anyone can learn how to use it very quickly.
To begin, simply position the robot anywhere on the glass surface within easy reach, connect the tether to the safety pod, press start on the remote control and away it goes.
If you are not satisfied with the results of a certain section of the window, simply use the remote to direct the Winbot to the area of concern and it will spot clean the area.
After a task is finished, all you need to do is remove the robot from the window. It comes with a firm handle to safely move the appliance and either place it on a separate window or pack it away.
The machine weighs a little less than 4lbs (1.8kgs) which is on the heavier side for a robot window cleaner, therefore, make sure that you are at a safe and comfortable height when placing or removing it from windows.
Pros
Multiple safety features to keep you and your robot safe.
A thorough 4-stage cleaning process.
Comes with strong suction.
Control your robot with the remote control.
It cleans at a very low noise level to minimize disruptions.
The cleaning pad is washable.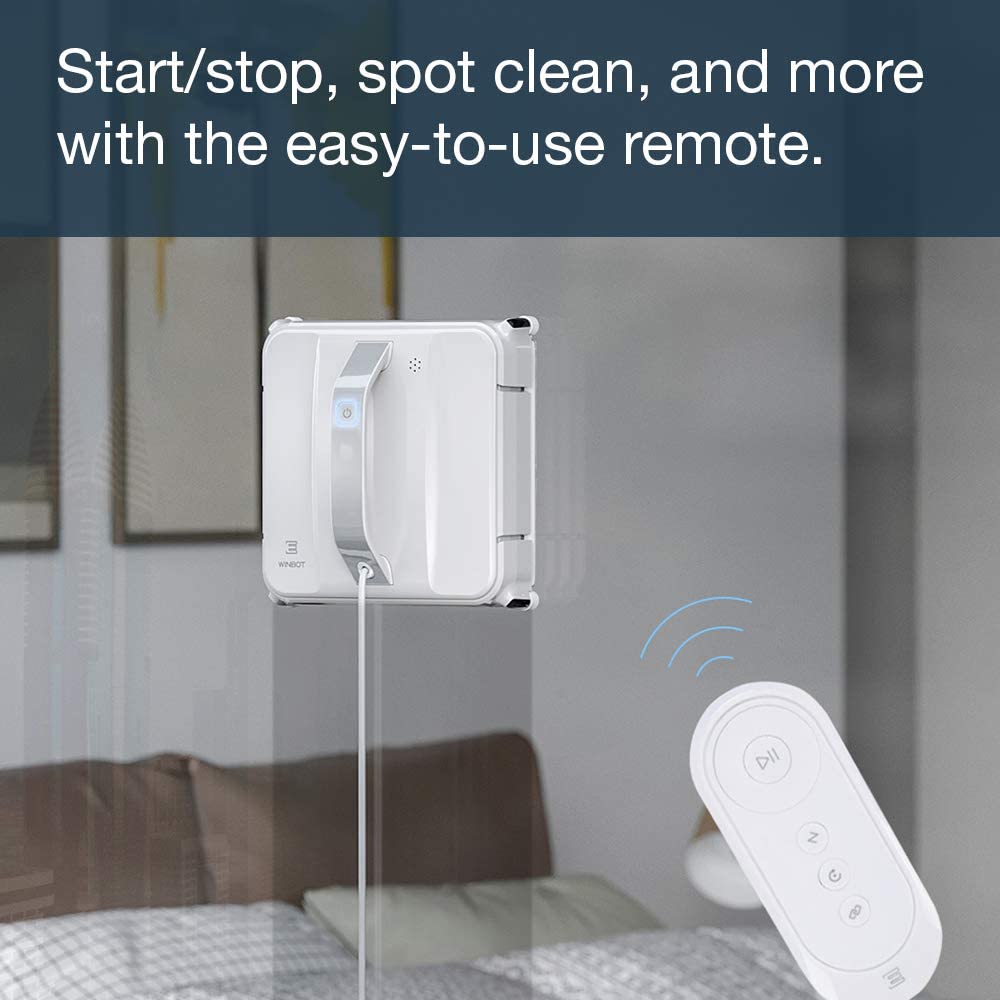 Cons
Pricier than other models.
You can't use it if the weather is too cold or too hot.
It needs to be move from one window to another, but this is a common issue with all window cleaning robots.
How Reliable Is The Winbot 880?
With the Winbot 880, you can outsource the burden of window cleaning to a robot but how reliable is it? For starters, the Winbot is a well build appliance and outperforms most of the competition.
It combines multiple functions simultaneously to complete tasks to the highest standard. The unit itself is effective at removing dirt, however, on a few occasions it can leave streaks.
Ecovacs is a reliable brand that builds sturdy machines. Their range of robot vacuums are tried and tested, (we love them) and as such, I would expect the same reliability from the Winbot robot. If you encounter any problems, the company has a brilliant responsive customer service team to help with any product issues
Maintaining The Winbot 880
How easy or difficult is it to maintain the Winbot 880? The main 2 items that you need to look after are the cleaning pad and the squeegees. The cleaning pad is washable and can be used repeatedly but will need replacing eventually.
Ecovacs advises that you should wash the pad after each use and leave it to dry out completely before using it again. You should not attempt to turn on the robot with a damp cleaning pad attached to it. The squeegees, side rollers and sensors just need a gentle wipe with a dry cloth after each use.
Try not charge the battery in a room that's too hot or too cold as this reduces the battery's lifespan. As mention earlier, try not to use the robot when the weather is really hot, humid or cold.
See Where The Ecovacs Ranked On Our Shortlist of The Best Robot Window Cleaners for Glass Doors
Additional & Ongoing Costs
The robot comes with everything that you need. No extra accessories are required and as such, you can take it out the box and set it up to start cleaning windows straight away.
Similar to rival window cleaning robots, the Winbot 880 is very low maintenance. In the box you will find squeegees and microfiber pads that are washable and reusable.
When extra accessories are required to replace the old ones you can buy them for under $20.
Winbot 880 Frequently Asked Questions
Can the cleaning pad on the Winbot 880 be replaced with a different cloth?
The robot is equipped with a set of customized microfiber cleaning pads specifically for Winbot 880 model. Swapping these with a different non-approved cloth could ruin the robot or reduce performance. You should always use Winbot microfiber cleaning pads. The pads can be washed and used again and again.
Do you need a special cleaning solution for the Winbot 880?
Ecovacs offers a special detergent for the Winbot range, however, you don't need to use it if you'd prefer to use a different cleaning solution. You can use just water or a standard detergent.
Does Winbot 880 work on angled windows?
Yes, this clever little robot can clean virtually any type of window including angled ones. The Winbot 880 will clean any surface as long as it's flat. No problem!
Is it okay to squirt my window with detergent or water before attaching the robot?
It's not advised to attach the Winbot to a wet surface or squirt detergent or water to the window. If you attach the robot to a wet window you risk the possibility of it slipping and getting ruined.
Winbot 880: Our Verdict
The Winbot 880 is a much needed update for Ecovacs given the poor performance of the Winbot 950 and Winbot X. This robot is premium and delivers a high standard of performance to match. The safety features are robust and the "return to home" feature mitigates the need to go retrieve it from areas that are out of reach.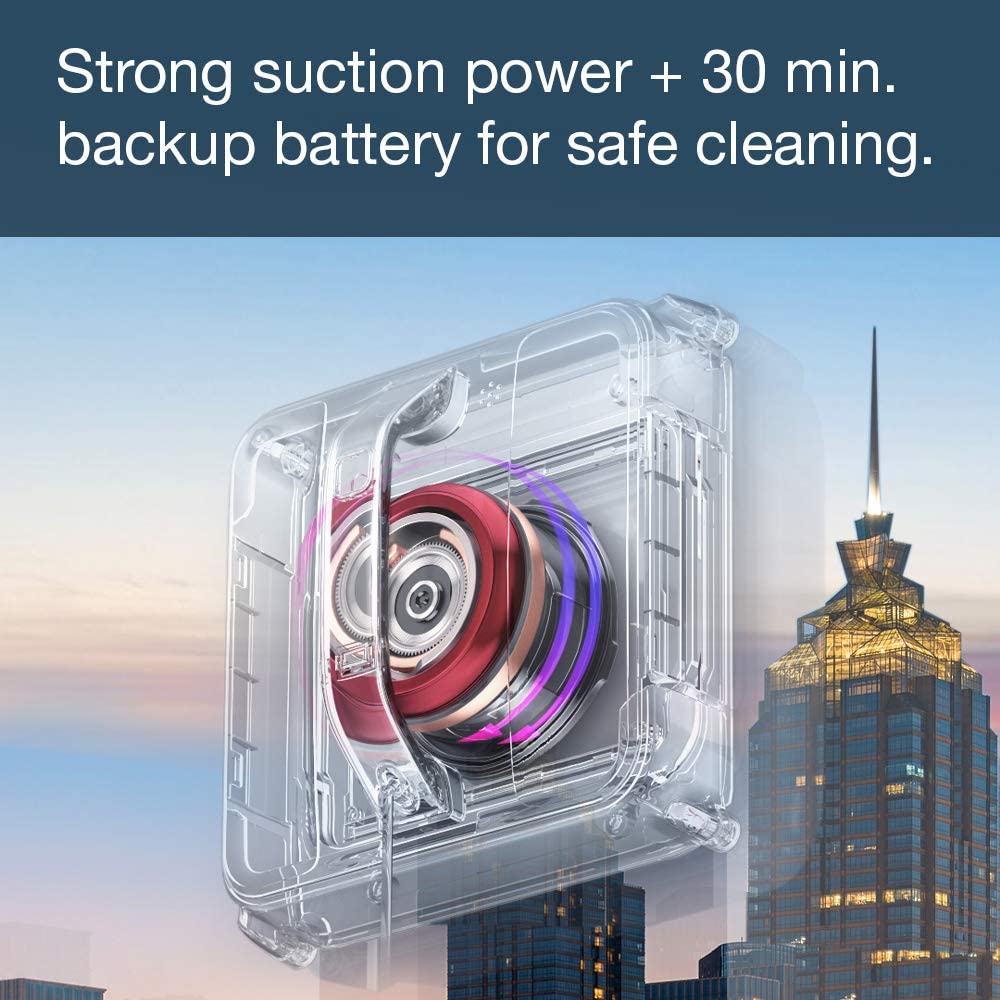 This robot is the perfect addition to a household with tall and wide windows that would either require a ladder or extension tool if you were cleaning them manually.
Setting up the Winbot 880 is a doddle and there's no high maintenance involved. If you encounter any problems with the 880, the Ecovacs support team are always available and happy to assist you. Overall customer reviews are high and the Winbot 880 is generally well received although the robot is a bit expensive for those looking for an affordable option.
See Where The Ecovacs Ranked On Our Shortlist of The Best Robot Window Cleaners for Glass Doors