The Holife handheld cordless vacuum is perhaps one of the most underrated and under-appreciated models in its class. This compact vacuum cleaner offers great potentials in cleaning with its powerful suction. Furthermore, for a handheld vacuum cleaner, its battery life is quite impressive. It's equipped with advanced technologies to even improve the product's competency.
The Holife cordless vacuum cleaner is a product you may want to check out if you're looking for a compact cleaning tool that can work on different surface types. Learn more about this vacuum, and see if this product can make your life easier.
Recommended for you Best Cordless Vacuum Cleaners for Stairs | Efficient Vacuum Cleaners to Make Your Life Easier
Summary of Features: Holife Cordless Vacuum HM036BW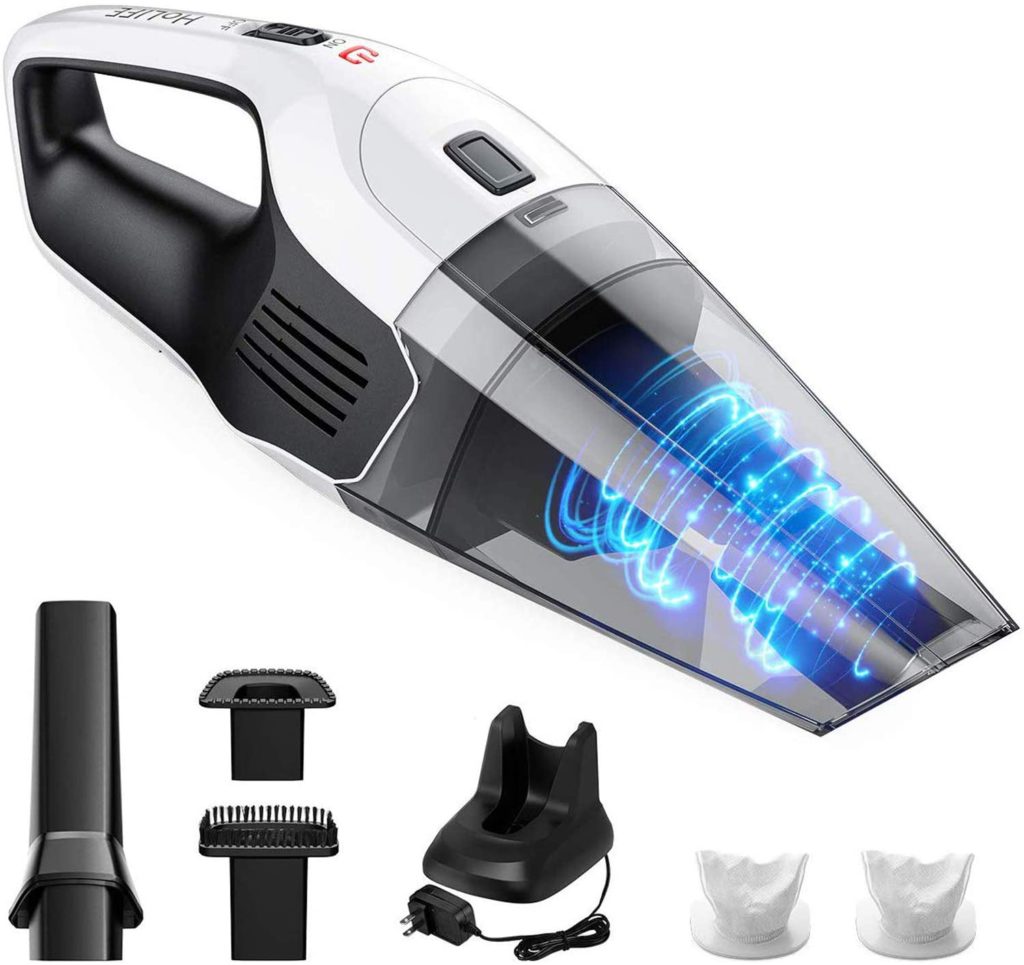 Powerful Suction. One of the main highlights of the cordless Holife vacuum is its powerful suction. The suction power can reach up to 6kpa, which you can't easily find in other cordless handheld vacs. This level of suction of power allows the product to be efficient in getting rid of dirt, even on hard-to-clean surfaces like carpet and upholstery.
Washable, stainless steel filter. This Holife's cordless vacuum is equipped with filters that can capture 99.9% of dust and pet hair. Apart from being effective, the filters are also stainless and washable. You can easily clean the filters by washing, and you can do it up to 500 times. This feature allows you to save money by not needing to buy new filters now and then.
2200mAh lithium battery. Lithium batteries have a reputation for being reliable and long-lasting. It's the reason why new vacuum models especially the cordless units utilize lithium-ion batteries rather than other battery types. The Holife cordless vacuum has detachable lithium-ion batteries, which allow it to provide long run-time and relatively shorter charging period than other models.
Added accessories. Together with the unit, you will get a few attachment tools that add to the product's efficiency. A crevice tool, a brush tool, and a long flexible hose are some of the accessories that come with the vacuum. With these attachment tools, cleaning will be easier and successful.
Versatile. The Holife cordless vac can work well on different surface types. Carpet, bare floor, upholstery, or stairs, this cleaning tool can be your reliable friend. With its various attachment tools, not only that it can pick up debris of different sizes, but you can also use this handheld vacuum cleaner for cleaning up wet messes.
Low Noise. We also like the fact that this cordless Holife vacuum produces lesser noise compared to other brands. With only less than 78dB, you can use the vacuum cleaner anytime you want without disturbing other people.
Easy-empty. You can easily dispose of the trash from the vacuum's container with just a press of a button. You can detach the dirt bin from the unit by pressing the 'push' button, and then conveniently pour out the collected dirt directly into the trash and keep your hands completely clean.
90W Turbine Motor. With a 90W motor, the Holife cordless vacuum cleaner offers powerful and efficient suction. This good quality motor keeps the unit durable and working for a longer time.
Dual Filtration System. The vacuum cleaner's dual filtration system allows this Holife model to trap 99.9% of dust and dirt. It also supports the vacuum cleaner's durability and consistent suction power.
Holife HM036BW Cordless Vacuum Review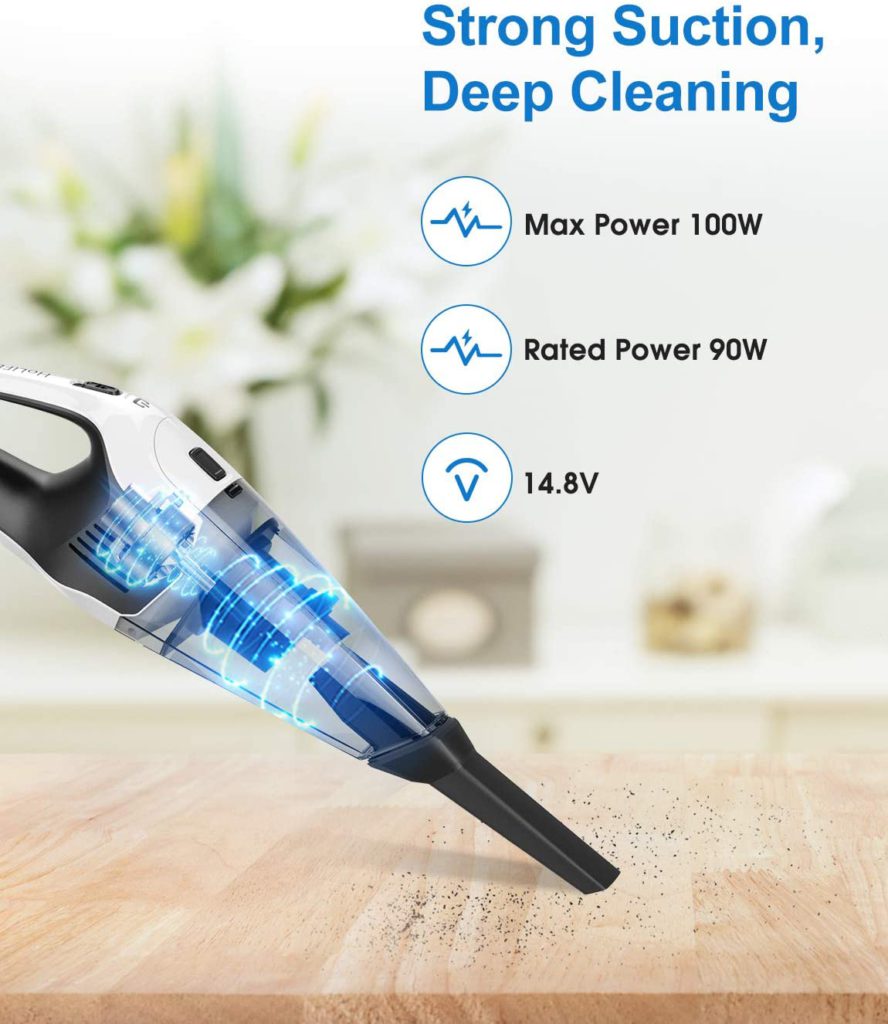 First, we want to discuss the product's design. We like the overall aesthetic appeal of Holife's HM036BW. Although we have seen similarly-looking vacuum cleaners, this model still gives out a futuristic feel. The design doesn't only favor the product's physical looks, it's functional as well. The ergonomic build of the vacuum cleaner supports comfort and convenience for every use. The buttons are smartly placed on locations for easy reach.
The powerful suction is the main highlight of Holife HM036BW. With 6Kpa, the vacuum cleaner can suck up small and large debris. It can work on multi-surface types, and can even suck up wet messes. With a dual filtration system, the Holife HM036BW cordless vacuum can trap up to 99.9% of dust and hair. Although not equipped with a HEPA filter, the efficiency of the filters and the filter system is still quite impressive. The vacuum cleaner has stainless and washable filters as well, which means you can save money from not buying filters frequently.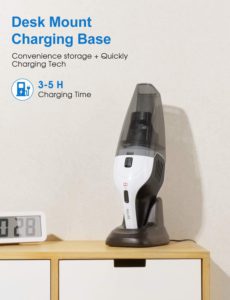 The battery life of Holife's cordless vacuum cleaner lasts about 30 minutes, which is a positive quality for a handheld vacuum. You can't usually get a 30-minute run-time from other models of the same type. However, charging time takes about 3-5 hours until the battery gets fully charged.
Each unit of Holife HM036BW comes with accessories that serve various cleaning needs. You will get a crevice tool, an extended flexible hose, and a brush tool inside the box. Each tool can help you clean dust and dirt efficiently and on different types of surfaces. The crevice tool can be handy for cleaning corners and crannies. The flexible hose, on the other hand, allows you to clean hard-to-reach areas such as under furniture. While the brush tool can work great for pet hair cleaning, and removing stubborn dirt on upholstery or carpet.
Emptying the dirt container of the Holife HM036BW is seamless as well. All you need to do is press the 'push' button, which detaches the dirt bin from the unit. Remove the filters, and you can pour the contents of the dirt cup to the trash without getting your hands dirty. Another great feature of Holife HM036BW is its low noise while on use. We don't want to disturb anyone when we clean as it limits our time for cleaning. With this vacuum cleaner, you won't worry about that, as you can use it anytime you want.
Holife's cordless handheld vacuum is almost perfect. However, it still comes with a few drawbacks such as the dirt container could be larger. Sometimes, it also struggles with cleaning carpeted surfaces, and the charging period can take some time. Overall, we think, if you're looking for a good cordless handheld vacuum, Holife HM036BW is a great option you can consider.
Recommended for you Best Handheld Vacuum Cleaners for High Pile Thick Carpets | 7 Affordable Models You Can Find in the Market
Who Needs a Holife HM036BW Handheld Cordless Vacuum
Pet owners. When you combine this vacuum cleaner's powerful suction and its brush tool, cleaning pet hair will be so much easier. Especially for surfaces like carpet or upholstery, getting rid of hair and fur cannot be easily done using vacuums with weak suction or without using the right tool. So if you have pets, and you desire to keep things tidy, getting a Holife HM036BW can help you with that.
For quick messes. Many customers buy a cordless handheld vacuum as an extra cleaning tool for quick messes. Because it's light, compact, and easy-to-use, Holife HM036BW can be the handheld vacuum cleaner that you can count on for immediate cleaning needs. It can be your cleaning tool for the kitchen, after your toddler eats, or if you spilled your coffee for the nth time.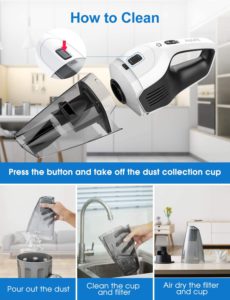 For small spaces. The Holife HM036BW is compact and will take only a small space of your storage area. If you live in a small space like a dormitory, an apartment, or a studio-type home, this vacuum cleaner is a great option for a cleaning tool. Unlike bigger vacuums such as an upright vac, it will merely take up space, but the Holife HM036BW is efficient enough to help you keep your home tidy.
For vehicles. Apart from home-use, you can also opt for Holife HM036BW as a cleaning tool for your vehicle. Because it's small, compact, handheld, and cordless, it fits just perfectly as an excellent vacuum cleaner to keep your car clean. With a battery life of 30 minutes, you will have enough time to tidy up your entire vehicle. With the attachment tools like the crevice tool, flexible hose, and brush, you can easily take care of the mess inside your car no matter what kind of upholstery you have.
Vacuum on-the-go. Some people wish for a vacuum cleaner that they can take anywhere. The Holife HM036BW is a great choice for a vacuum on-the-go. It's cordless and compact and can fit inside your backpack. Whether you wish you have a vacuum cleaner when you go camping, or when you go to the beach, this cordless handheld vacuum can have your back.
Recommended for you Best Wet Dry Handheld Cordless Vacuum Cleaners | Clean Any Type of Mess with These Handheld Vacuums
Holife HM036BW Handheld Cordless Vacuum Specs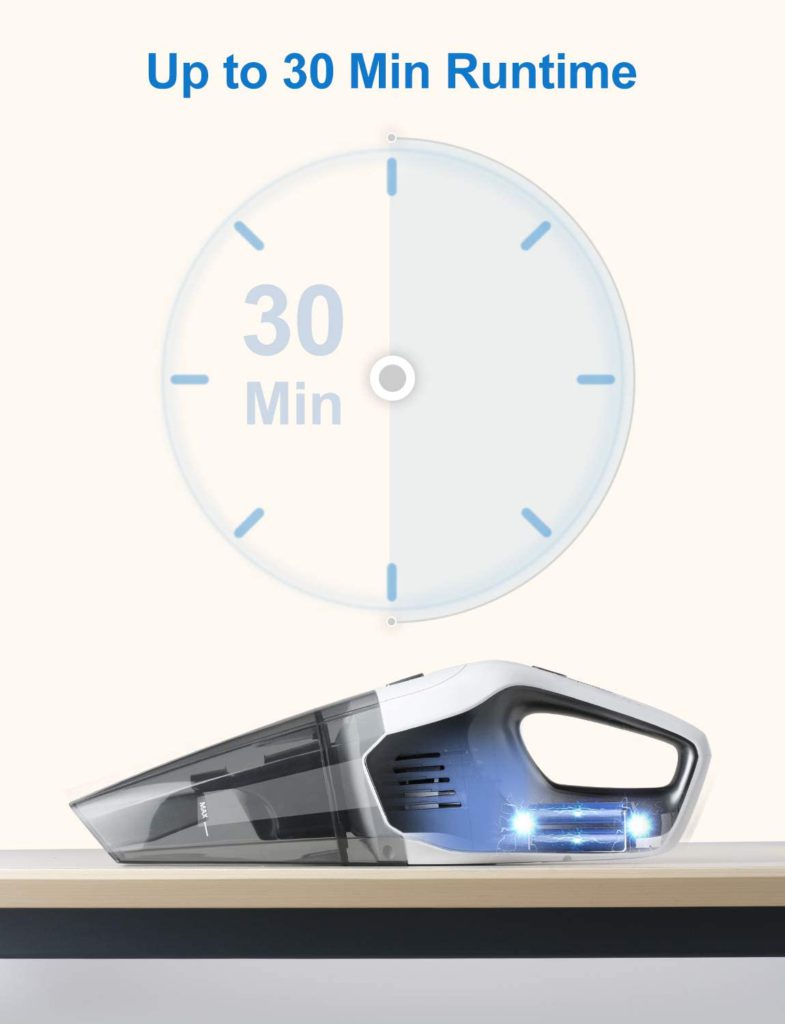 6KPA cyclonic suction power
Attachable cleaning tools
30 minutes of running time
Below are the Pros and Cons of Holife HM036BW Handheld Cordless Vacuum
Pros
Ergonomic design for comfortable use
Cyclonic Powerful Suction
Cons
Conclusion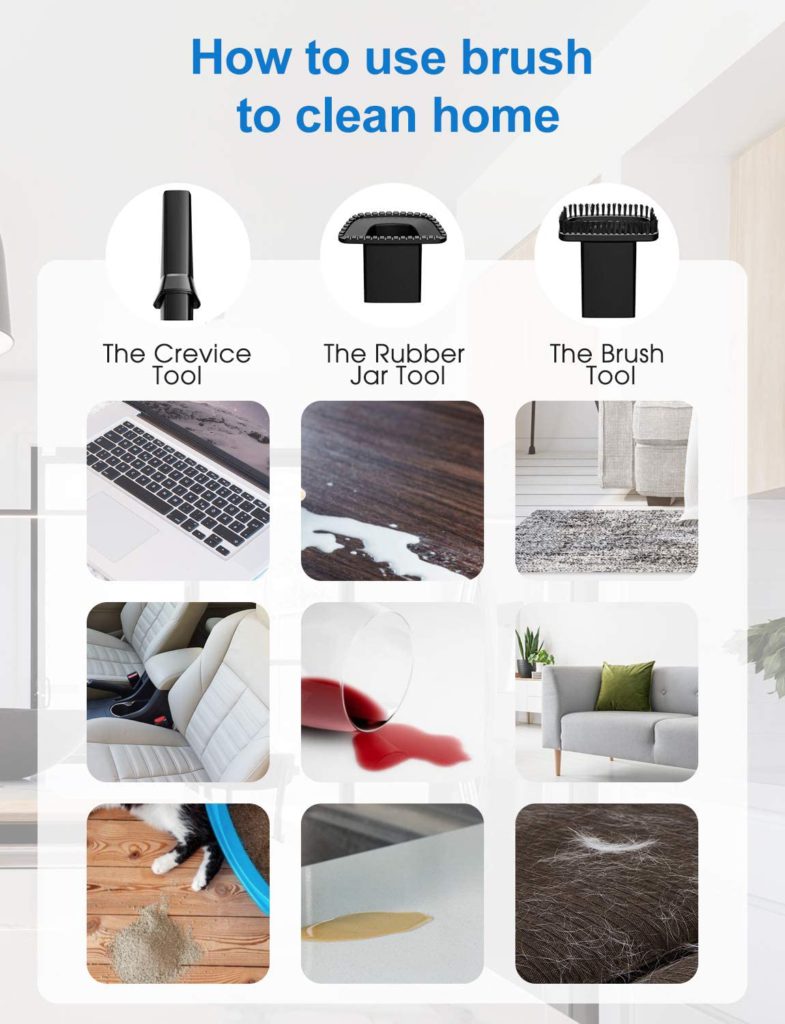 We think the Holife handheld cordless vacuum HM036BW deserves more appreciation than what it receives. It's an efficient, easy to carry and easy to use handheld vacuum cleaner that can work well on different surface types. Another amazing fact about it is it will not cost you a leg and an arm to get one. Every cent you'll spend on this cleaning tool is worth it.
It offers a ton of perks, although it still comes with a few drawbacks. Perhaps it's not a perfect handheld vacuum cleaner, as some customers complain about the durability of some parts, but all the advantages that you can get with the Holife HM036BW can override its flaws.
If you think this vacuum cleaner is the one you're looking for, let us know in the comment section below. If you know other products that you want us to make a review, leave us a message as well. We'd love to hear from you!
Recommended for you How To Buy a Handheld Vacuum Cleaner | Finding the Best Product for Your Needs