Have you finally realized that your home is a mess, and you need to start tidying it up? Do you think about the cleaning tools you can get for easier clean-up? For these tools, are you planning on getting a vacuum that doesn't cost much but is efficient? You probably answered yes to most of these questions, which led you to this post. Well, you came to the right place.
If you want to know about handheld vacuums and you want to get one for your home, we'll help you get the best product for you. Here we'll share a few tips on how to buy a handheld vacuum cleaner and some added information about this cleaning tool.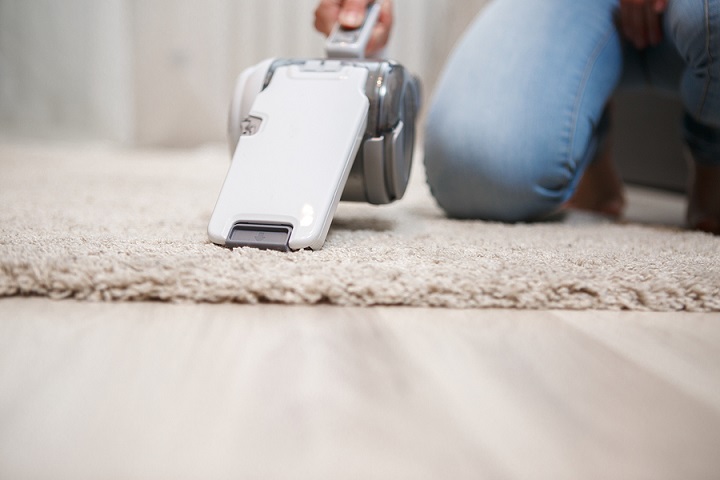 What can you expect with handheld vacuum cleaners?
Handheld vacuum cleaners are exactly what the name implies. These are small, compact, mostly spot-cleaning vacuums. You can use this tool for quick messes and other urgent cleanings. Although most models are versatile, this type of vacuum cleaners typically cleans a small space.
You can use it to clean larger areas, especially for the corded models, but it will undoubtedly take a longer time than using other types of vacuums. Most customers buy handheld vacuum cleaners as an extra cleaning tool at home. It's also a piece of handy equipment for cleaning upholstery, fabric, and stairs because of its size and how easy it is to carry.
Types of handheld vacuum cleaners
When you look around today's market, you will see a ton of different handheld vacuum cleaners. All of these have varying strengths, weaknesses, highlights, and benefits. Depending on where and why you're going to use it is a crucial question when buying your own.
In this section, we'll tell you about the different types of handheld vacuum cleaners based on some basic components. There are various types of handheld vacuums. For this section, we'll talk about corded, cordless, and the variety of filters a handheld vacuum has.
Corded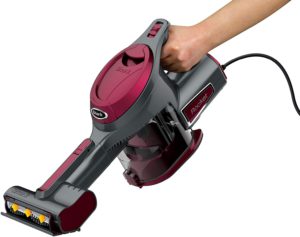 Handheld vacuum cleaners with cords typically offer more powerful suction. On the downside, however, corded vacuum cleaners, of course, has a limited area for cleaning. Some have longer cords, while others have shorter ones. When buying a handheld vacuum, it's essential to consider the length of the cable, especially if you live in a spacious home with limited sockets. Furthermore, vacuum cleaners with a cord may be less versatile, as you can't use it outdoors. For instance, if you're particularly buying a handheld vacuum for your car, you might want to opt for a cordless one. If the suction power is more important to you, a corded handheld vacuum might be more suitable for your needs.
Cordless
Cordless handheld vacuums offer more flexibility when it comes to cleaning places far from the socket. Customers who buy handheld vacuums for their car most likely opt for cordless models. Although cordless vacuums offer decent power to suck up dirt and hair on difficult to clean surfaces, vacuums with cords usually still provide more powerful suction than the cordless models. You might also want to consider the charging time, and running time of cordless handheld vacuums. When it comes to battery performance, usually, it depends on the type of battery used for the products. Lithium-ion batteries are generally more reliable when it comes to charging and running time.
Filters
Filters also vary for handheld vacuums. Because these vacuum cleaners are small, these types usually lack a HEPA filter. Meaning, if you're looking for a vacuum cleaner that can trap allergens, handheld vacuums that don't have HEPA filters are not for you. There are handheld vacuums that are equipped with HEPA filters. For these types, it may cost a bit more than those without HEPA filters.
Recommended for you: Best Handheld Vacuum Cleaners for High Pile Thick Carpets | 7 Affordable Models You Can Find in the Market
Handheld vacuums: Who is it for?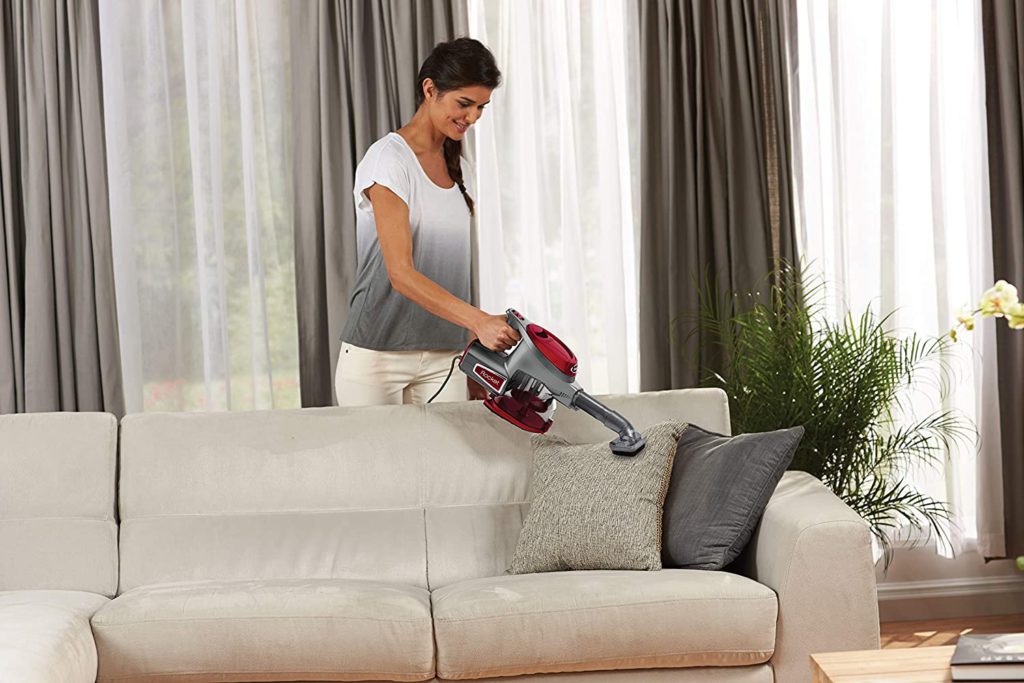 Handheld vacuums are for people who desire a clean home but don't want a bulky vacuum cleaner. It's also for those who are budget conscious as this type of vacuums typically costs lower than other vacuum types. If you need a product to clean small spaces like your car, an apartment, your RV, handheld vacuum cleaners are for you. It's also for people who have back problems, and for the elderly. If you want a vacuum that you can bring outdoors, handheld types are suitable for your needs.
Recommended for you: The Best Cordless Handheld Vacuum Cleaners. Time Saving and Mega Quick
What to consider when buying a handheld vacuum cleaner
Before you buy a handheld vacuum cleaner, there are a few points you must consider to get the best product for you. Check out the following factors so you can avoid wasting money on purchasing the wrong product.
Price
For many people, price is the number one factor to consider when buying a handheld vac. Good thing, this type of vacuum cleaners usually won't cost you an arm and a leg to get a top-quality product. You should, however, check the product's durability if you prefer vacuums on the budget-side.
Purpose
Where are you planning to use a handheld vac? This is the most critical factor to consider when buying such products. For instance, if you need a handheld vacuum for your car, you might want to opt for getting a cordless model. If you want a vacuum cleaner to keep your upholstery and carpet clean, or you have a kid who makes a lot of mess, you might want to prefer a vacuum with a cord as they usually offer more powerful suction.
Handheld vacuums are typically developed depending on the customer's needs. For instance, there are handheld vacs for pet owners, which come with unique attachable tools to remove pet hair on surfaces efficiently. Thus, when buying a product, first identify where you will most likely use the vacuum so that you will get the most of the product you purchased.
Suction power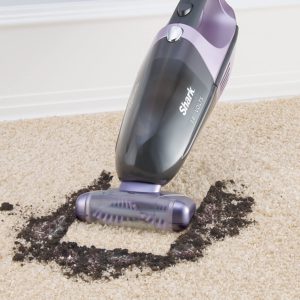 Suction power is crucial for handheld vacuums. Because this type of vacuum cleaners is usually for spot-cleaning, the product must offer enough suction power to get rid of mess on different kinds of surfaces. The suction power, the tools, and the size of the vacuum's opening also determine the types of debris it can efficiently get. The more reliable suction power, the more efficient the vacuum cleaner is for getting larger debris. If you wish to deep-clean your carpet or upholstery, you must also consider the suction power of the vacuum you're getting.
Technology
Vacuums today are equipped with different technologies to compete better in the market. For handheld vacuums, you typically see technologies like No Loss Suction, Cyclonic Action, Hygienic Emptying System among the products. These innovations improve the performance of vacuum cleaners. It depends on your needs for which technology you'd love to have for your handheld vac. For instance, No Loss Suction means consistent, powerful suction all-throughout cleaning time. You might want to consider this technology a plus if you're going to need the vac for longer cleaning time than for quick messes.
Bin capacity
The bin capacity is also a crucial factor. Because handheld vacuums are compact, it typically comes with small dirt containers. Small bins mean frequent emptying. If you're planning to get a handheld vac to clean pet hair or large debris, you may want to consider getting a product that offers more space when it comes to its dirt container.
Accessories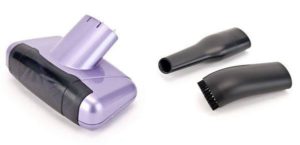 Most handheld vacuums come with other accessories for different cleaning needs. However, not all customers prefer having extra tools. Some people want a handheld vacuum, which has tools that are already built-in the product. This is because handheld vacuums with built-in tools are easy to store, unlike other models with attachable cleaning aids, which you can misplace. Detachable devices may also take space for storage.
On the other hand, handheld vacuum cleaners with extra tools, most of the time, work more efficiently for cleaning different surface types. For instance, having a tool like a motorized brush, this tool works great for getting rid of hair on carpet or upholstery. A motorized brush tool also makes cleaning fine debris on bare-floor much easier.
Battery capacity
Like mentioned, battery capacity is vital if you're going to purchase a cordless handheld vac. Lithium-ion batteries are typically more preferred than other battery types as they last longer. Furthermore, the charging time depends on the kind of battery as well. So when purchasing a product, consider battery performance. It will help you get the most of what the product offers.
Size and Weight
Handheld vacuums, although all are small and compact, the weight and size vary per product. Considering the weight of the product is crucial because these vacuums are handheld. It may feel heavy overtime when you use it for a long time. Unless you're planning to use the product to take care of quick messes only, then the product weight may not matter as much. The size is an essential factor, too.
Handheld vacuums are typically bought because they're portable and easy-to-carry. They also don't need much space for storage. Thus, the smaller the size, the better. The downside of smaller vacuums, however, they have smaller dirt bins, too. This won't help if you clean often, or you need a vacuum to clean pet hair because your furry friend sheds a lot.
Recommended for you: Looking For Cheap Low-Cost Cordless Handheld Vacuum Cleaners? Black + Decker CHV1410L
Handheld Vacuum Cleaner Maintenance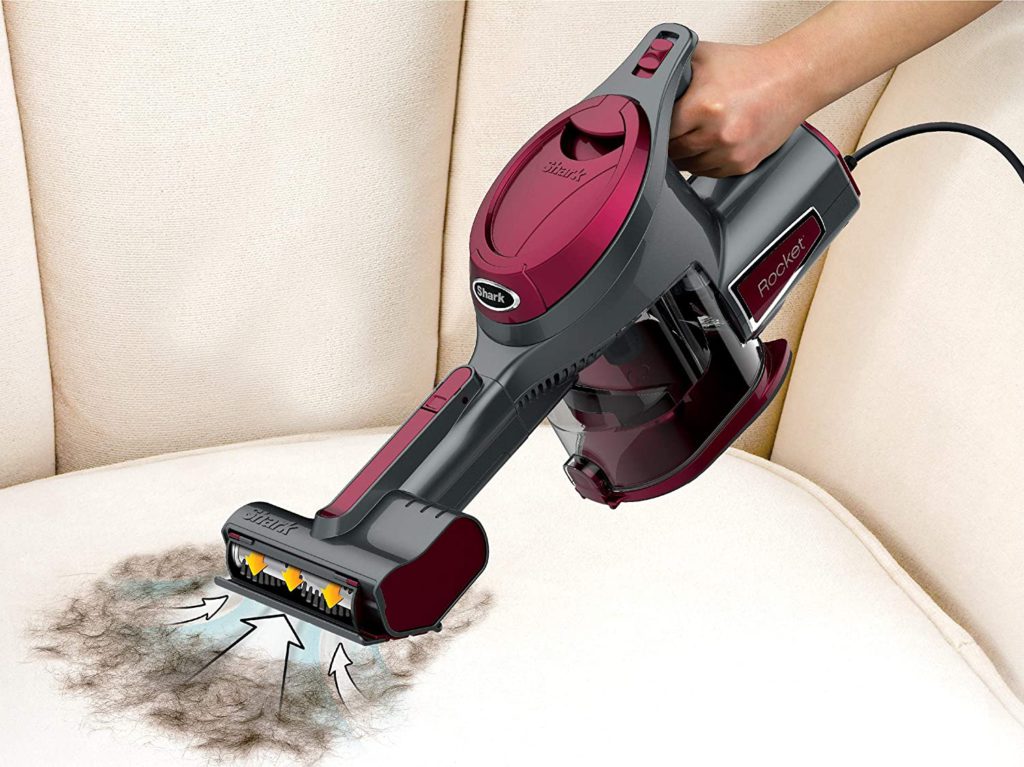 Handheld vacuum cleaners are easy to maintain. Most models come with washable filters, which means you won't need to replace the filters frequently. Some parts like the batteries are replaceable, too. For budget handheld vacs, you may want to give it extra care, as the plastic components may have issues about durability. Although you won't have to worry because these products come with a warranty. Still, you might want to check first the customer reviews about the vacuums and weigh if the warranty they offer can override issues of durability.
Conclusion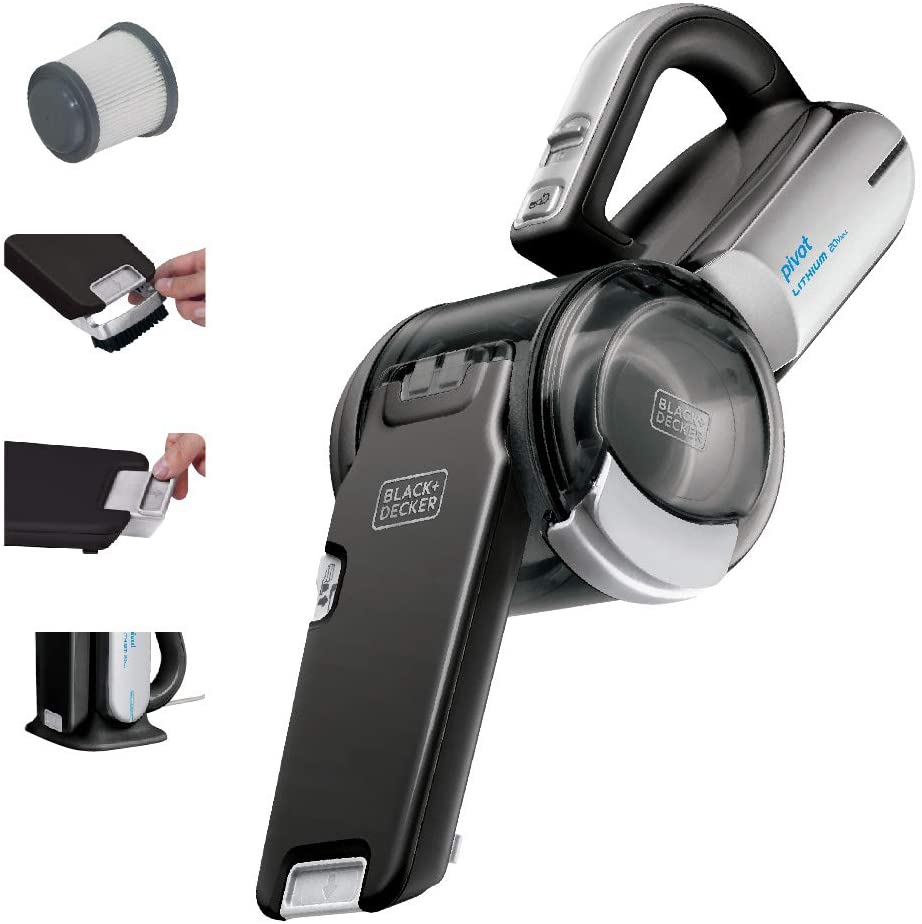 These are a few essential details to consider if you want to know how to buy a handheld vacuum cleaner that fits your needs. You can purchase products like these everywhere, whether from an actual store or online. Finding a handheld vacuum online will give you more options. On the other hand, getting the product from an actual store will allow you to test the product yourself before you buy it. Whichever you choose, always consider these tips we've provided, and you will surely going to have the best handheld vacuum for you.
Recommended for you: What is the best cordless handheld vacuum cleaner with strongest suction