Are you fed up of your cumbersome full-sized vacuum and asking yourself what is the best handheld vacuum in 2019? Handheld units are a great aid in the fight against household mess especially for busy individuals that want to get the cleaning done quicker.
These small machines are easy to handle and portable enough to keep close by, such as in the cabinet underneath the kitchen sink. Quickly grab it when cereal or breadcrumbs are congregating on your floor rather than putting it off until you decide to do a big clean. With a handheld vacuum cleaner, you can clean shelves, drapes, worktops and upholstery in a fraction of the time.
Before you go out and buy one, they are a few factors to consider to ensure that you get the perfect model for your home. For starters, you want a lightweight handheld that is less of a burden on your arms and wrists. A lighter machine speeds up cleaning times and improves handling.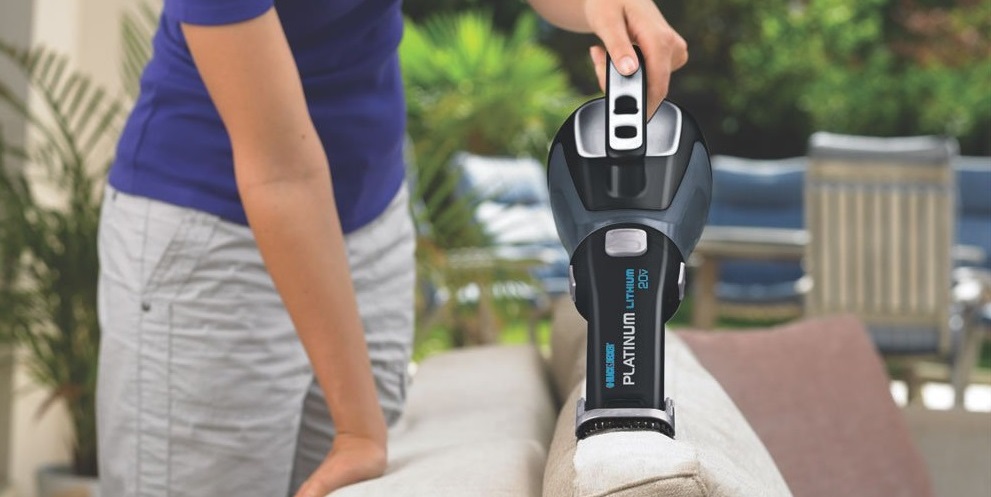 If you opt for a cordless unit, a good battery life is essential. The last thing you want is a gadget that dies partway through cleaning then needing to wait for hours to top it up before you can use it again. A decent battery will help with vacuuming bigger areas all at once.
Find models with a minimum of 15 minutes running time on a full battery. You also want to get a handheld vacuum with a range of handy attachments for dusting and to reach areas that your larger vacuum cleaner can't reach. Look for models that come with stair tools, crevice tools and dusting accessories.
Leading Overall Handheld Vacuum
Black & Decker Dustbuster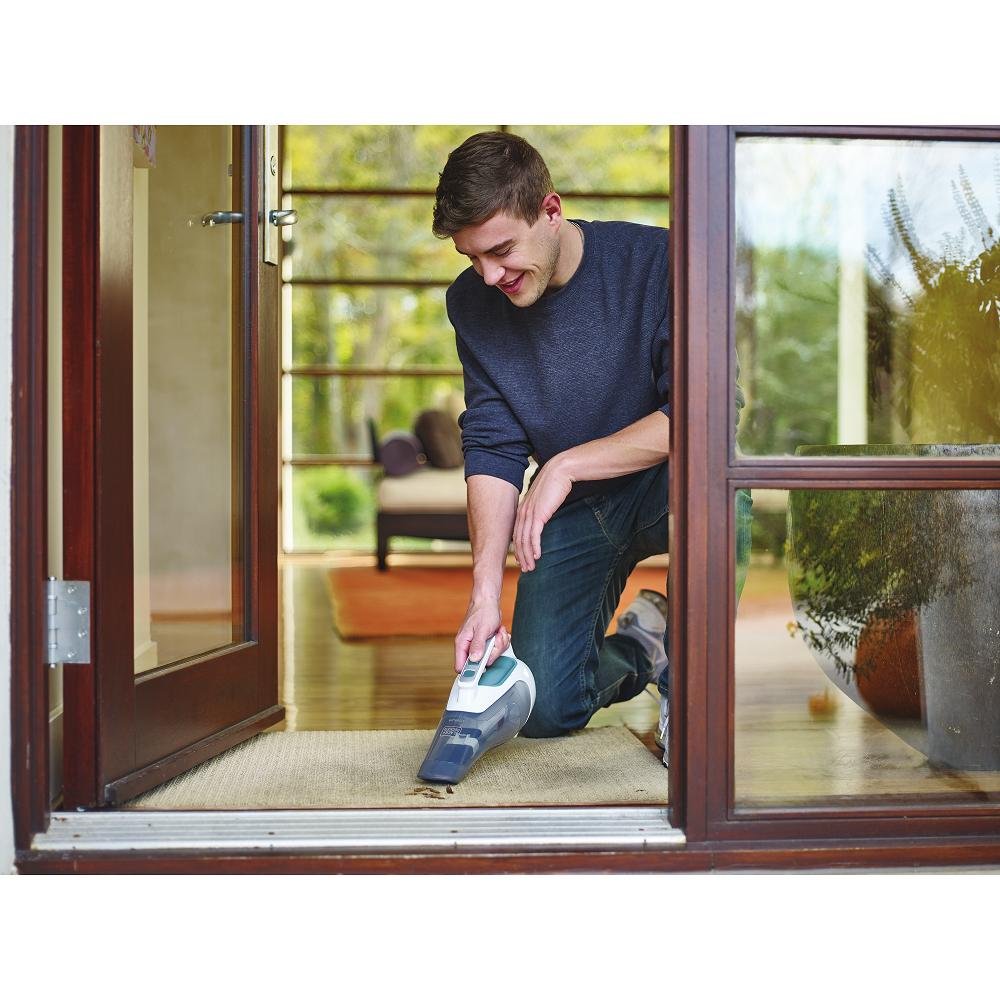 To kick things off, our top pick for overall performance is the Black + Decker Dustbuster which outranked the rest of the competition. It comes with an integrated crevice accessory to access small nooks and improve vacuuming efficiency. The Dustbuster does not shy from picking up persistent messes and it even excelled at cleaning sawdust from carpets and hard flooring.
Cordless vacuums can't really compete with the suction power found on corded machines (except if your thinking of getting a top of the range Dyson unit), however, they earn plenty of points for their labour-saving capabilities. This is where the Dustbuster comes in, it picks up dirt easily from awkward spaces such as cars interiors and pokey stairs. Performance is brilliant on multiple surfaces and it doesn't struggle to pick up larger pieces of debris, a problem that you might encounter with alternative models.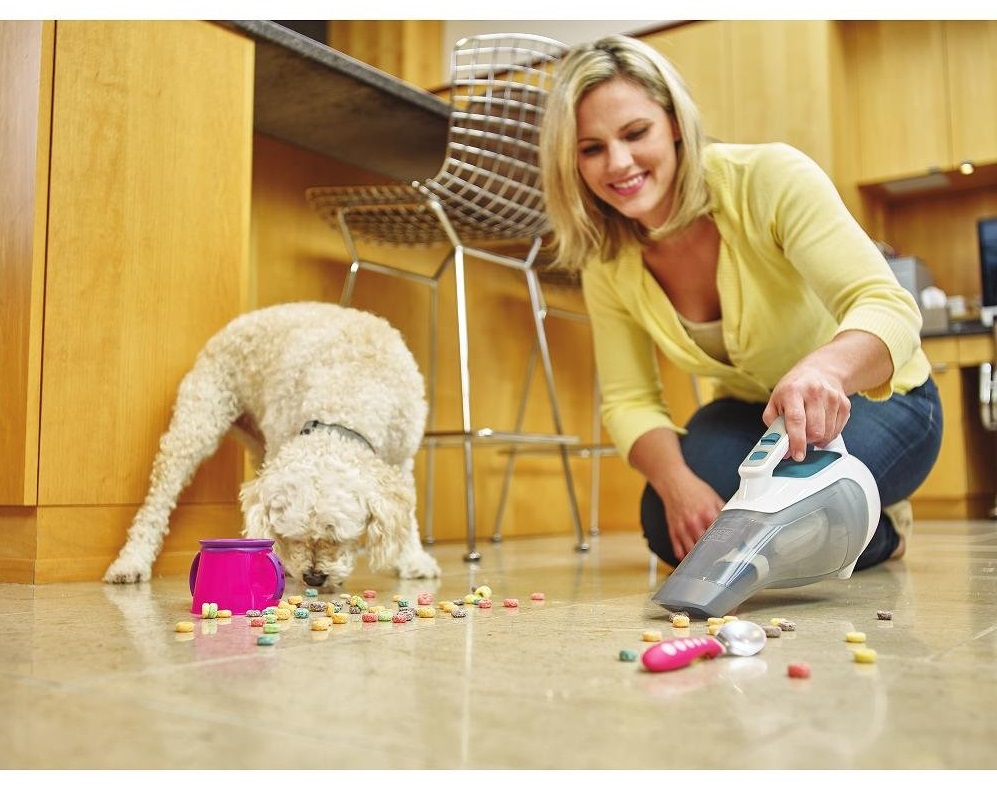 Thankfully, the Black + Decker Dustbuster actually picked up dirt instead to shifting it around- this is a common gripe with alternative vacuums. What I like about this gadget is that it cleans with less effort and it doesn't take as many passes to clean said area. One of the drawbacks is that it struggles to remove hairs from rug or carpets, however, this is a typical snag with many handheld vacuums.
There is plenty of suction power to be utilised and you get all this whilst retaining a lower noise level, therefore, you can clean without interrupting the rest of the house. The running time is a decent 15 minutes on a full charge, which is better than competing models in this price range.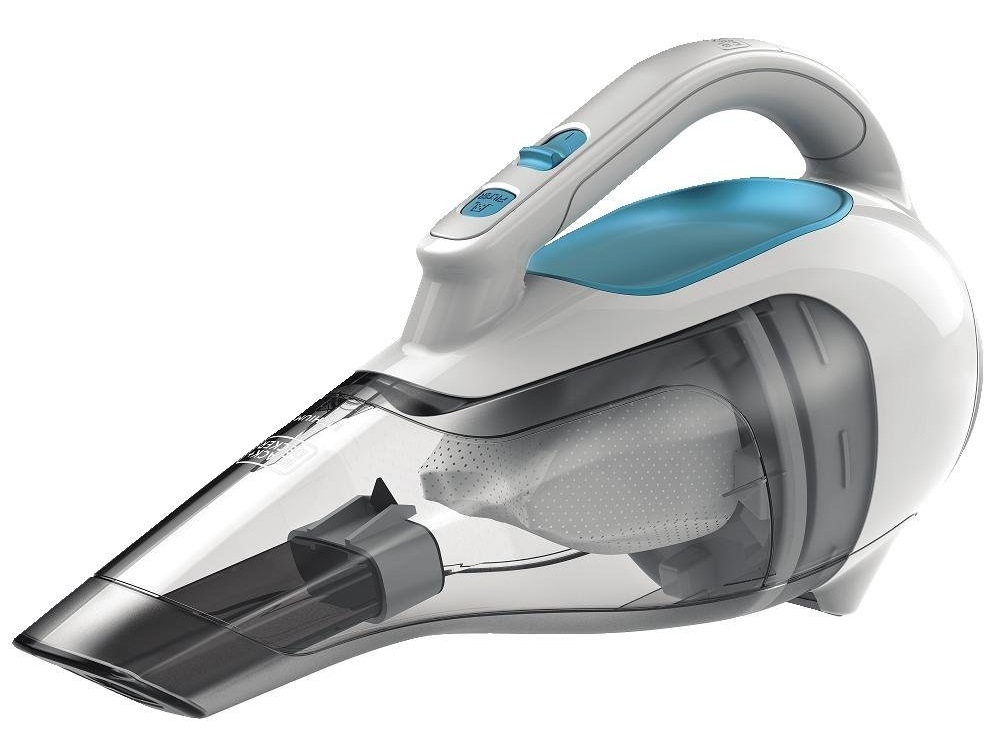 What lets it down is the long battery charging time of 8 hours, which is longer than other machines and more than we would like. The clever design enables the Dustbuster to keep the brush and crevice accessories onboard the machine and gives you convenient access to them whenever needed.
PROS
The B+D Dustbuster runs quieter than any of the other vacuums on our list.
The design is well considered and positions the exhaust at the rear to stop it from blowing dirt around.
The brush and crevice accessories are fused into the machine for better convenience.
The Dustbuster is supplied with a two-year warranty for peace of mind.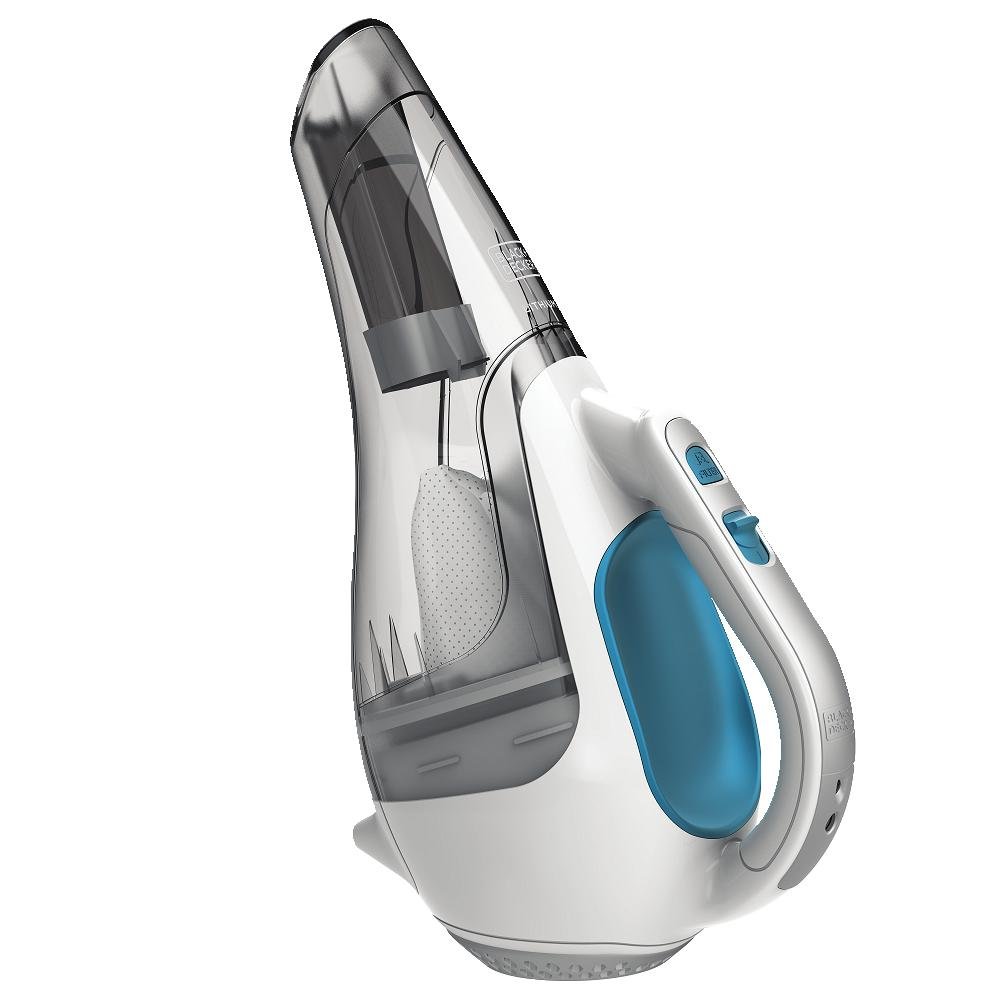 CONS
It would be nice if the Dustbuster came with more tools such as an attachable hose and a cleaner head with a wider mouth.
The 8 hour charge time is longer than we would like it to be.
This model struggles to lift animal hairs from carpet and rugs.
Where Can I Buy The Black & Decker Dustbuster Vacuum Cleaner?
Check out the latest prices for the Black & Decker Dustbuster Vacuum Cleaner here.
Best Value Handheld Vacuum Cleaner
Dirt Devil QuickFlip 
The Dirt Devil is the true definition of portable. It is remarkably small to the point that it makes other handhelds appear bulky. It doesn't provide the best suction power, however, it offers a superb degree of usability thanks to its small size. In addition to this, you can grab one for less than thirty bucks.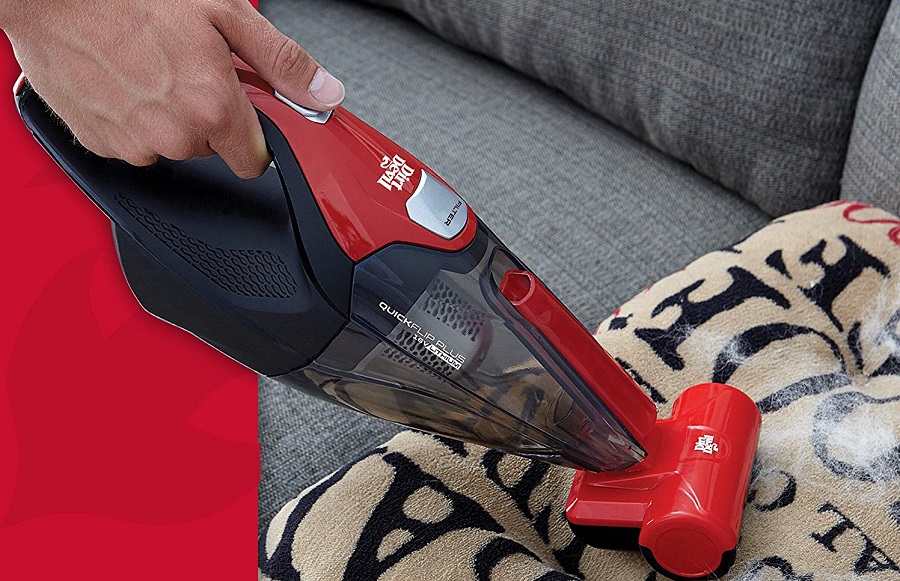 This little unit is conveniently cordless and perfect for homes with limited storage. You only get 13 minutes of battery time which isn't long enough to clean the whole house, but it's adequate for little jobs. A lot of alternative models can easily provide more suction although most of them don't give this level of portability.
The running time and suction aren't long or strong enough for all-out cleaning tasks, but the Quickflip is ideal for things like picking up crumbs, cereals and the occasional spot clean. It's handy to have a small gadget like this somewhere close instead of facing the prospect of bringing out a bigger vacuum cleaner just for a small task.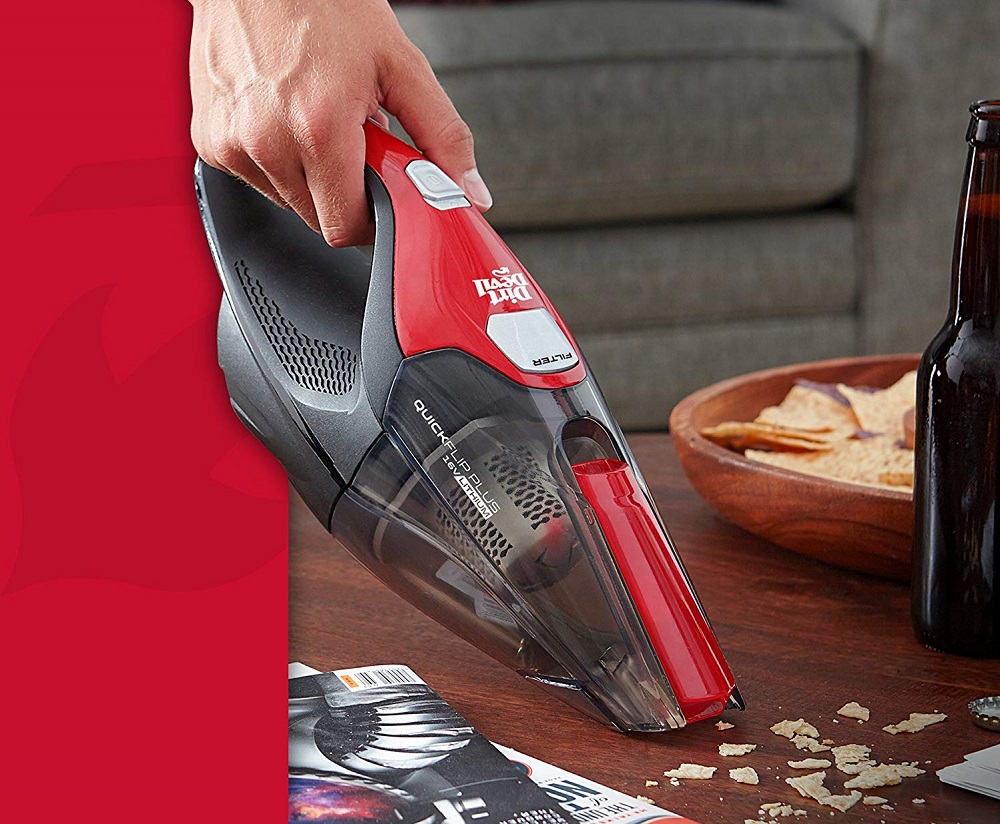 Overall, don't expect great things from the Dirt Devil Quickflip, however, it earns it places as a top value option for tiny messes that don't warrant bringing out the big guns.
PROS
This is one of the smallest handheld vacuums that you can buy.
It will cost you less than $30 and is perfect for those on a limited budget.
Cordless convenience is always welcome but when you combine that with portability then you're onto a winner.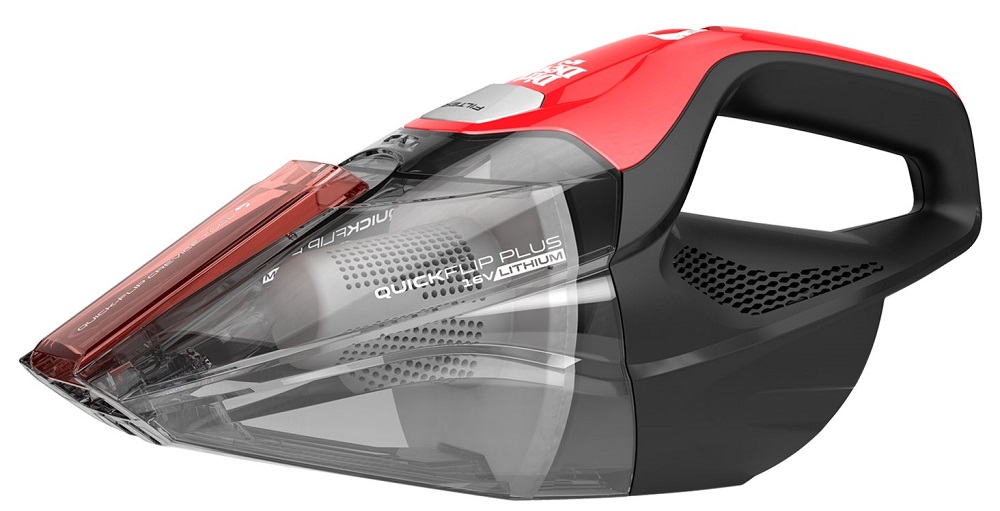 CONS
The 13-minute battery could do with being a bit longer.
Rival vacuums can easily surpass the suction power on this unit and a lot of them do.
Battery charging time is quite long.
Where Can I Buy The Dirt Devil QuickFlip Vacuum Cleaner?
Check out the latest prices for the Dirt Devil QuickFlip Vacuum Cleaner here.
Bissell Pet Hair Eraser
If you're a pet owner looking for an easy way to keep your home free from pet hairs then you should consider the Bissell Pet Hair Eraser. This unit offers a good range of accessories and it's easy on the wallet too! The machine comes with a specialised tool for pet hair removal and a flathead tool for other tasks.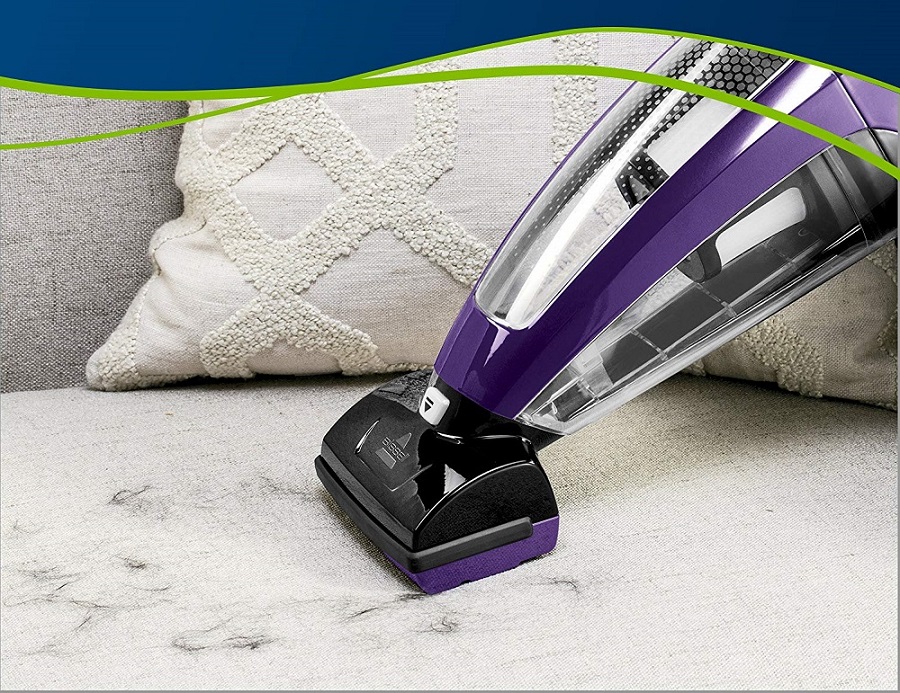 The difference with this model is that it is corded and although it might not seem like an option to go for just remember that it offers heaps of constant suction power that doesn't rely on a battery. The Bissell cleaner does what it says on the tin and totally erases animal hair from carpets, it thoroughly removes hairs burrowed deep within the carpet fibres and for that reason, it scored the highest marks.
One of the drawbacks of the Bissell handheld is that hair gets twisted around the pet hair tool and soon affects the machine's performance making it a challenge to clean if the hair is not removed. It also didn't do brilliantly at picking up other types of debris such as sawdust which was a bit of a surprise considering the powerful suction.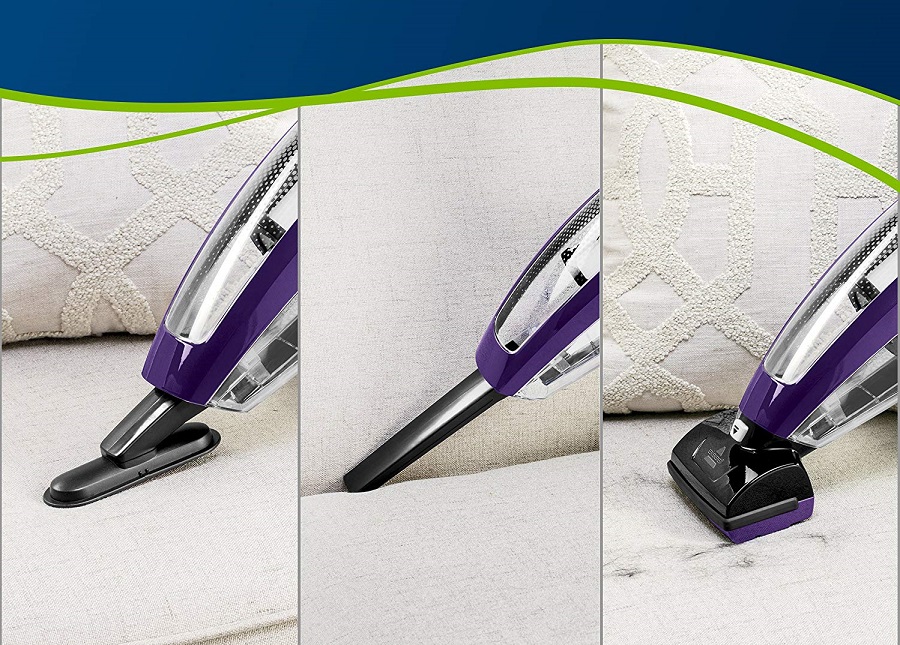 The exhaust tends to get in the way of picking up dirt effectively due to the fact that it's positioned to the side of the machine. You might need to go over some areas more than once. It's not a very practical handheld for car interiors because of the cord but if you are determined, you could always plug it into an extension cable. It doesn't come with a crevice tool which means that tight gaps and nooks are difficult to clean.
PROS
This is the best handheld vacuum cleaner for eliminating stray animal hairs.
There is plenty of suction power on offer and it doesn't depend on a battery's longevity.
The Bissell Pet Hair Eraser is an affordable option for most budgets.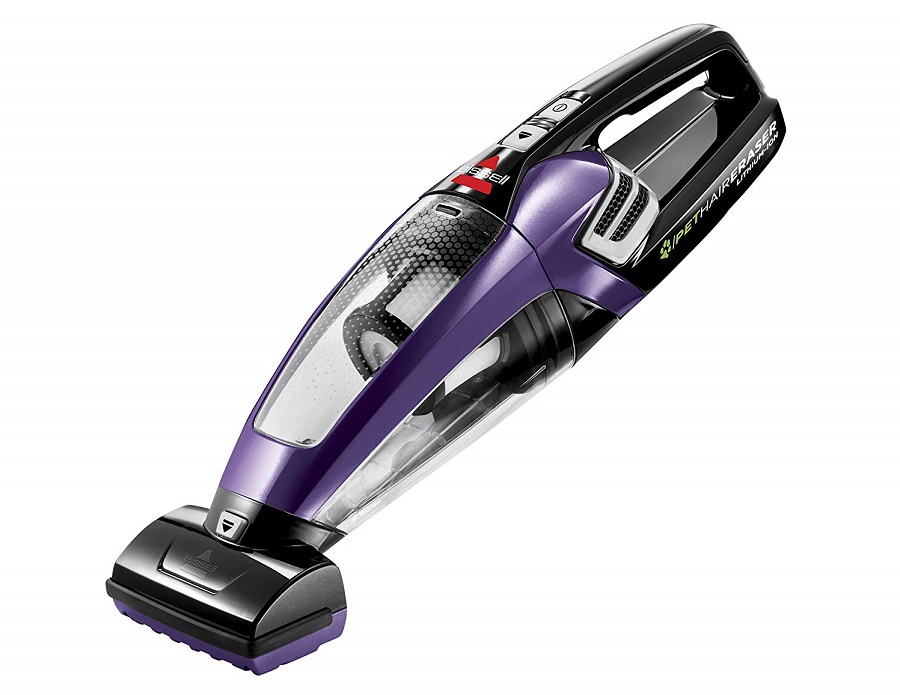 CONS
The cord can get in the way and can also be restrictive.
This model is not as lightweight as some of its rivals.
It doesn't come with a crevice for those tight gaps.
Where Can I Buy The Bissell Pet Hair Eraser 33A1B Vacuum Cleaner?
Check out the latest prices for the Bissell Pet Hair Eraser 33A1B Vacuum Cleaner here.
Handheld With the Best Accessories
Black & Decker Pivot
If it's ultra convenience that you're looking for then the Black + Decker 20V Pivot is the handheld gadget to get. It comes with a great set of tools and everything that you could possibly need for various cleaning jobs. One of the best features is that you can keep all of the attachments onboard the machine for immediate access.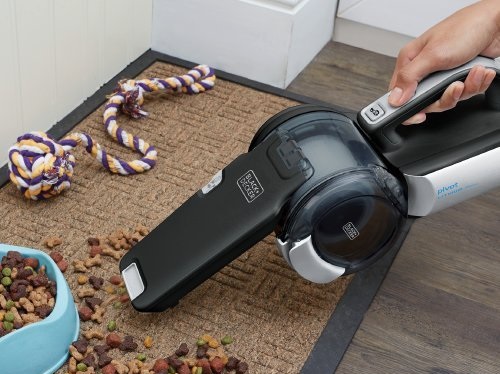 This model is all about clever design and features a crevice tool that retracts into the nozzle when it's not needed. The machine is a lot more user-friendly than its rivals and it comes with a handy storage solution- simply fold the nozzle towards the vacuum's body.
The most impressive benefit of the Black + Decker Pivot is the fast charging time which trumps everything else on the market. It takes just 6 minutes to charge and offers 17 minutes of running time. This seals the deal when you consider that rival handhelds take an average of 4-6 hours to charge.
PROS
A great range of tools that are cleverly stored onboard the unit.
It comes with a fast charging time of 6 minutes. Nothing else comes close.
CONS
Machine noise is louder than the competition.
Where Can I Buy The Black & Decker Pivot Vacuum Cleaner?
Check out the latest prices for the Black & Decker Pivot Vacuum Cleaner here.
Eureka Easy Clean
Last on the list is The Eureka Easy Clean which doesn't shy away from providing powerful suction. It isn't as portable and adaptable as some of the other units that we tested but that doesn't mean that it's not a capable machine. There are a few benefits worth mentioning.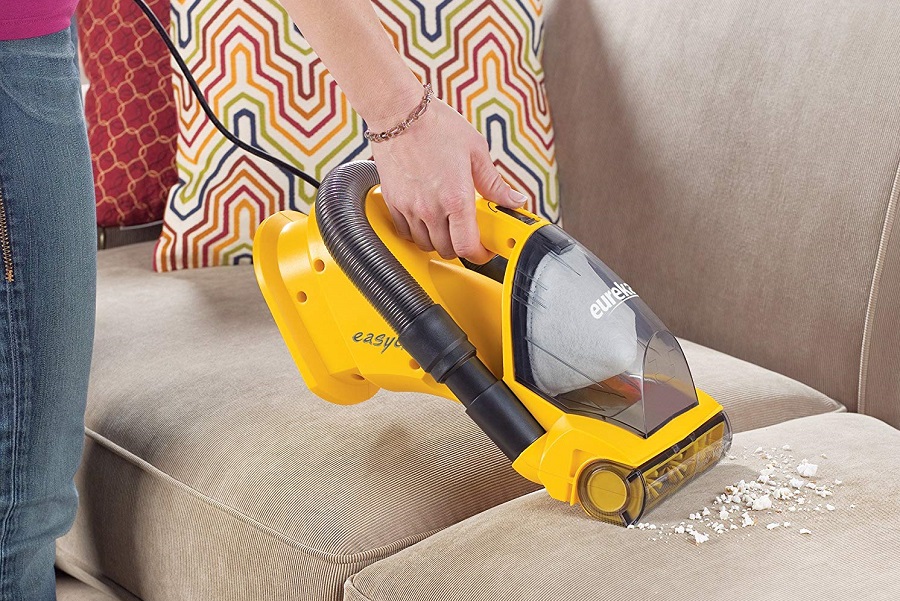 Let's start with the drawbacks first. It struggles at picking up pet hair and doesn't deliver a thorough clean on car seats, the main issue is that the powerful suction from the cleaner head fades when the hose is attached. The cord can also be a limiting factor if you're looking for a handheld that gives you the freedom to clean anywhere.
The Eureka gadget excels at vacuuming areas such as carpeted stairs and anywhere else that has carpets. The wide-mouthed cleaner head allows you to get more done in less time and it picks up various types of dirt effectively.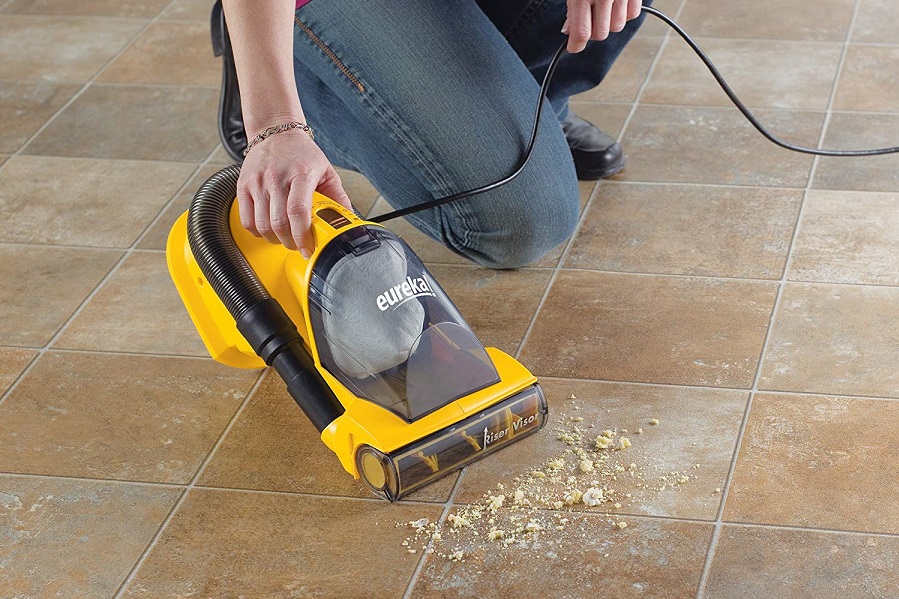 PROS
The Eureka handheld cleaner is a champion at cleaning carpeted areas.
Powerful suction comes as standard.
CONS
This machine is larger than competing handheld vacuums.
Where Can I Buy The Eureka Easy Clean Vacuum Cleaner?
Check out the latest prices for the Eureka Easy Clean Vacuum Cleaner here.
What Should You Expect To Pay For a Handheld Vacuum Cleaner?
Handheld vacuums are engineered to get rid of